When you decide to repaint your interior walls, it is very important to pick the right paint color. However, this task can also be rather tricky since you need to make sure that the color you choose will match the rest of the interior palette. This is why you will surely find this article very useful!
Today, we are going to tell you more about the color called Hazel by the Sherwin-Williams brand. In particular, you will find out what kind of color it is precisely, what undertones and light reflectance value it has, and how it reacts to light.
In addition, we will explain in what rooms it is best to be used and how it might work there.
You will also get plenty of other helpful information and tips like the paint's coordinating and trim colors, paint colors that go well with SW Hazel, and many more. All this will help you use it correctly in your home.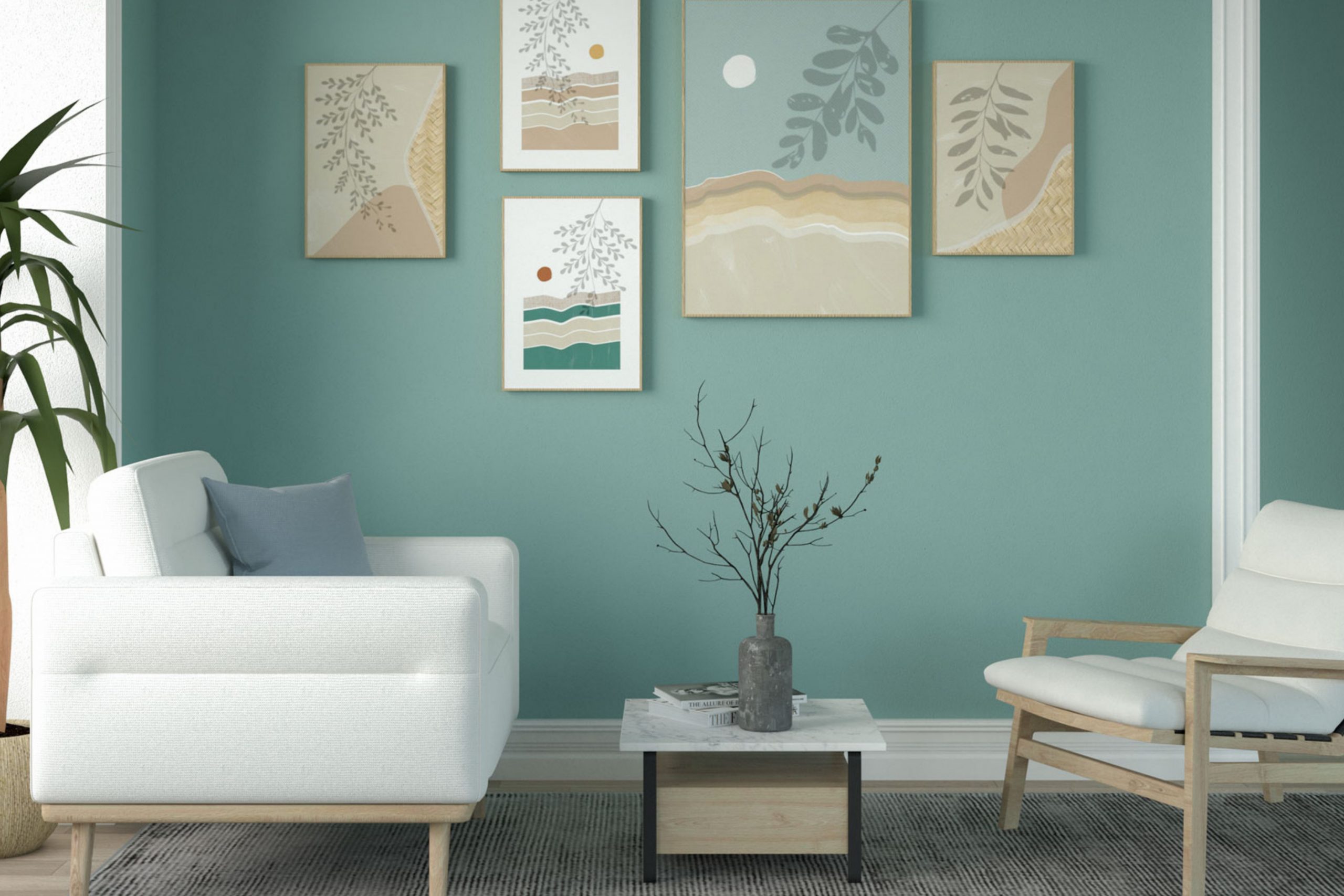 What Kind of Color Is SW 6471 Hazel?
If you have ever had to choose paint color for your interior walls, you know how complicated this task can be! The way colors look on a paint swatch is not the same as the way they read on your walls.
As Encycolorpedia says, SW Hazel is technically a blue color. However, it is also influenced by the green hue. This color can help you bring joy and cheerful vibes to any space, working specifically well in bathrooms due to its watery appearance.
If you are looking for a color that will add a vibe of calmness and tranquility to your home, SW Hazel is definitely the right choice. This serene blue-green looks refreshing and, at the same time, peaceful on the walls.
With this paint, your home will feel like an ideal retreat place.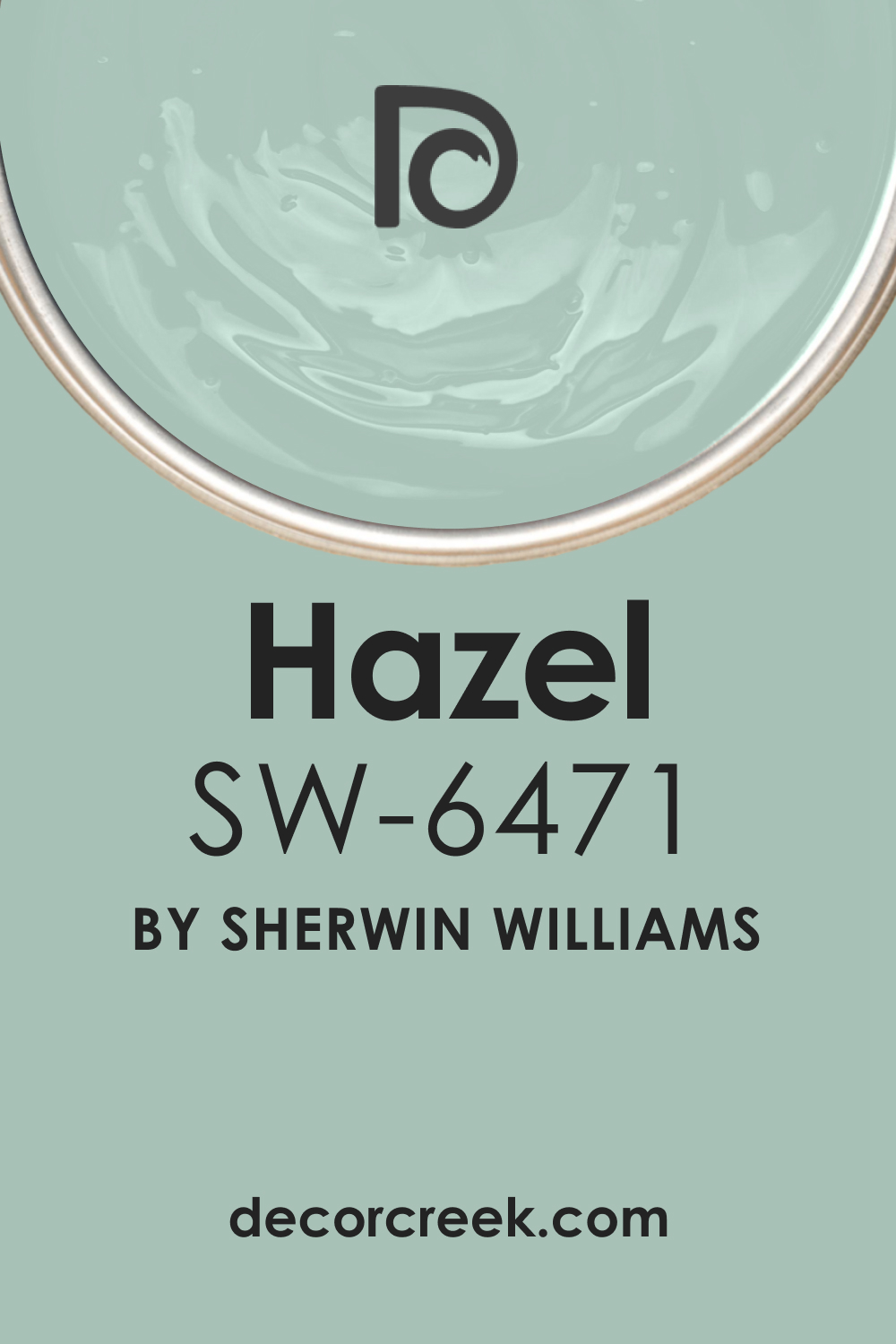 Is It a Warm or Cool Color?
Sherwin-Williams Hazel is a mid-shaded bluish-green hue with the undertones of teal. As a result, this color is inclined towards the cooler side of the color wheel. Nevertheless, it will hardly ever read cold or way too crisp on your walls!
At the same time, SW Hazel does show some crispness and coolness, but those are pretty moderate.
This is why this blue-green paint will bring a slightly chilly look and a fresh vibe to any room without making it feel icy cold.
No wonder SW Hazel is considered quite a versatile color that can work in many rooms and on many surfaces!
What Undertones Does SW 6471 Hazel Paint Color Have?
Being aware of the paint undertones is a must if you want to use it successfully in your home. The tricky thing about undertones is that they are often difficult to distinguish at first sight. In addition, they can often be noticed only in certain types of lighting.
SW Hazel is blue that has slight teal undertones, which is why it can often read greener on the walls. The good thing about it is that those undertones are perfectly blended and create a balanced look.
So basically, this green hue will hardly show up on your walls unexpectedly.
However, due to such complex undertones, this paint color can be quite tricky to use. This is why we recommend you always sample it in advance to see how it works in the space.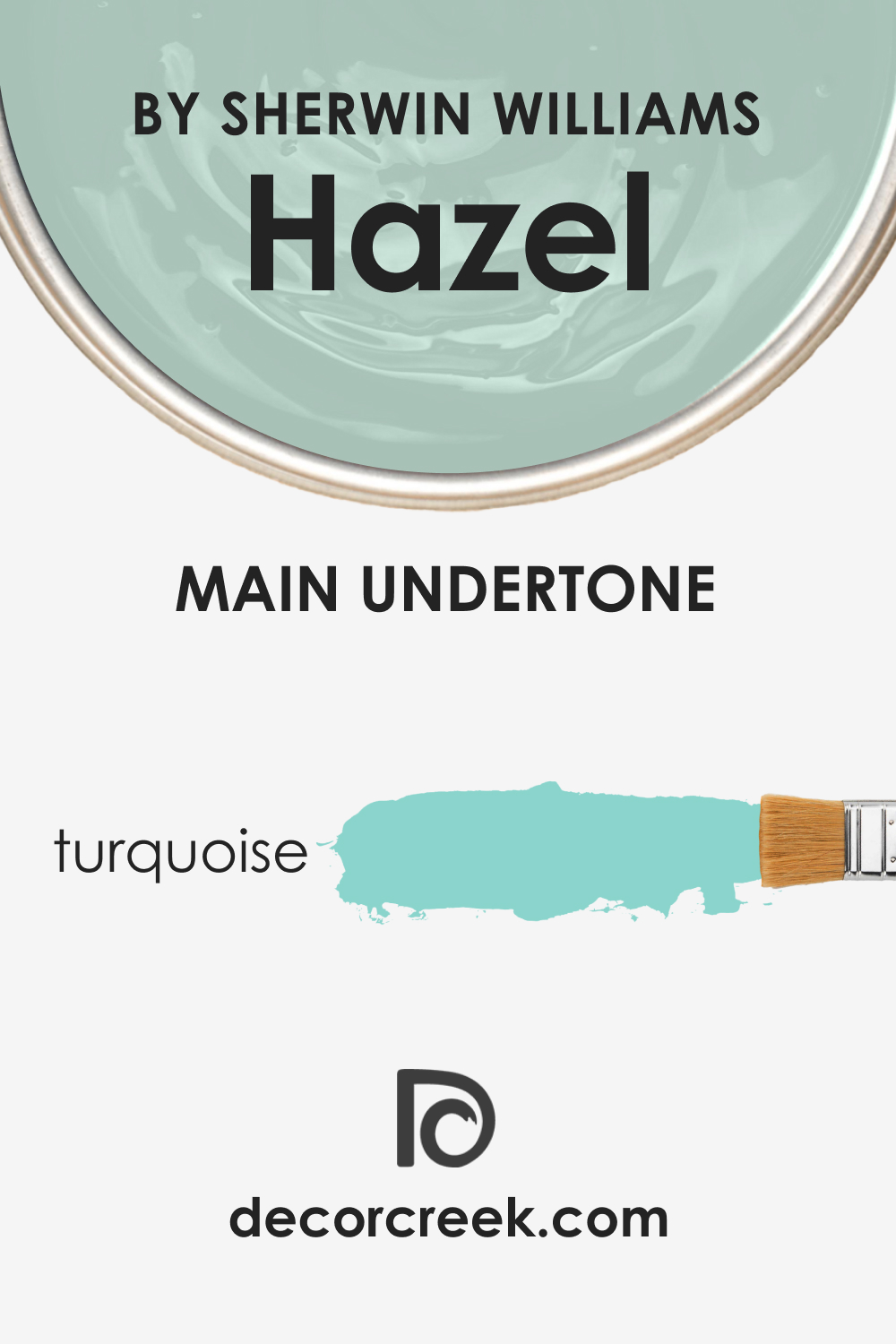 SW 6471 Hazel Paint Coordinating Colors
Being aware of coordinating colors is a must. With their help, you will create a well-balanced palette in your living space, combining the colors correctly.
However, since most of us lack proper knowledge of color theory, it's easy to make a mistake in choosing the right paints.
This is why to help you coordinate SW Hazel, we have prepared this list of colors that will highlight the beauty of this blue-green best of all:
SW 6462 Green Trance
SW 7035 Aesthetic White
SW 7038 Tony Taupe
For a monochromatic color palette, we recommend you the following paint colors:
SW 6474 Raging Sea
SW 6478 Watery
SW 9050 Vintage Vessel
SW 6473 Surf Green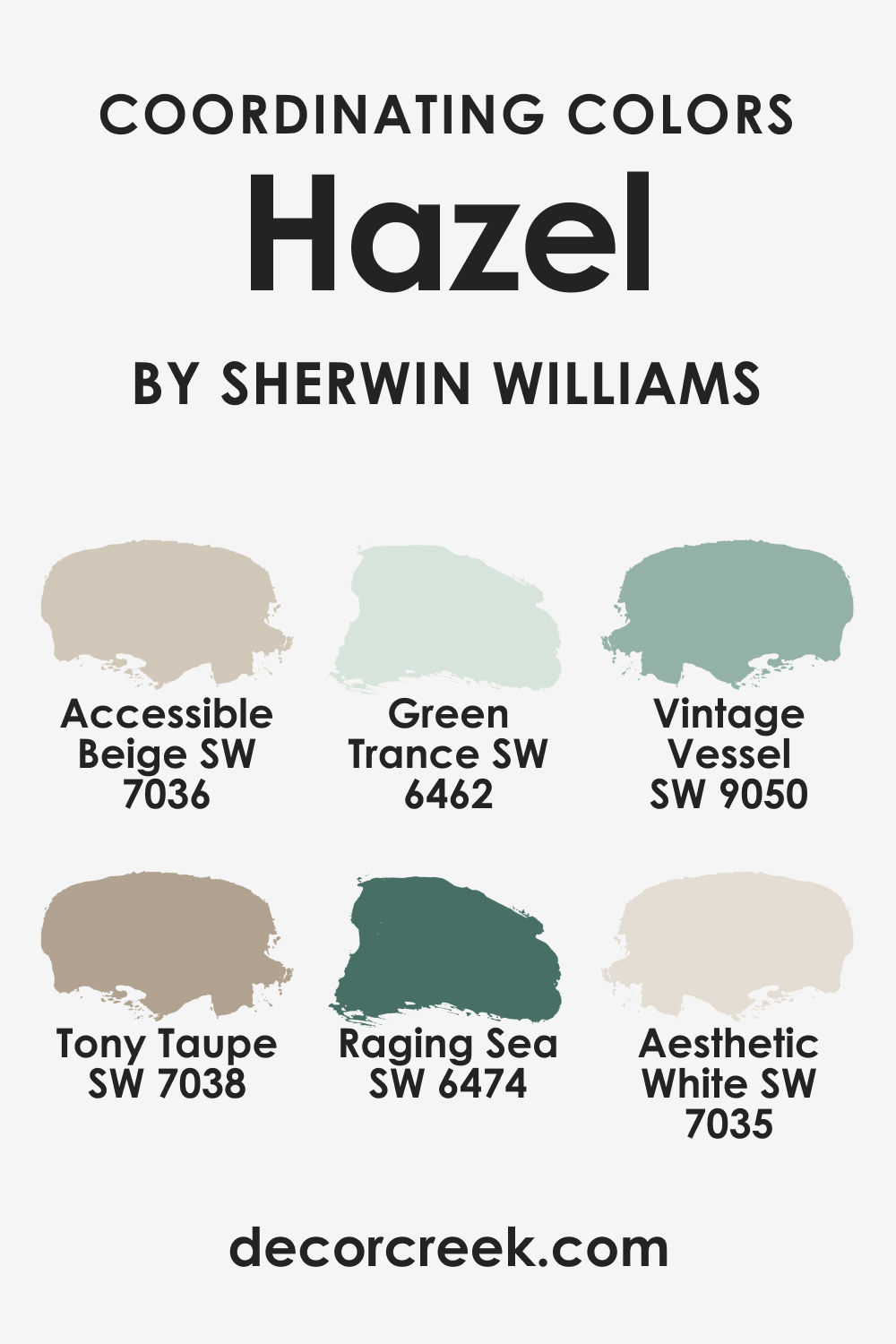 Should you prefer a more varied palette in your home, try out one of these colors instead:
SW 6470 Waterscape
SW 6008 Individual White
SW 6151 Quiver Tan
SW 7036 Accessible Beige
SW 6039 Poised Taupe
SW 6036 Angora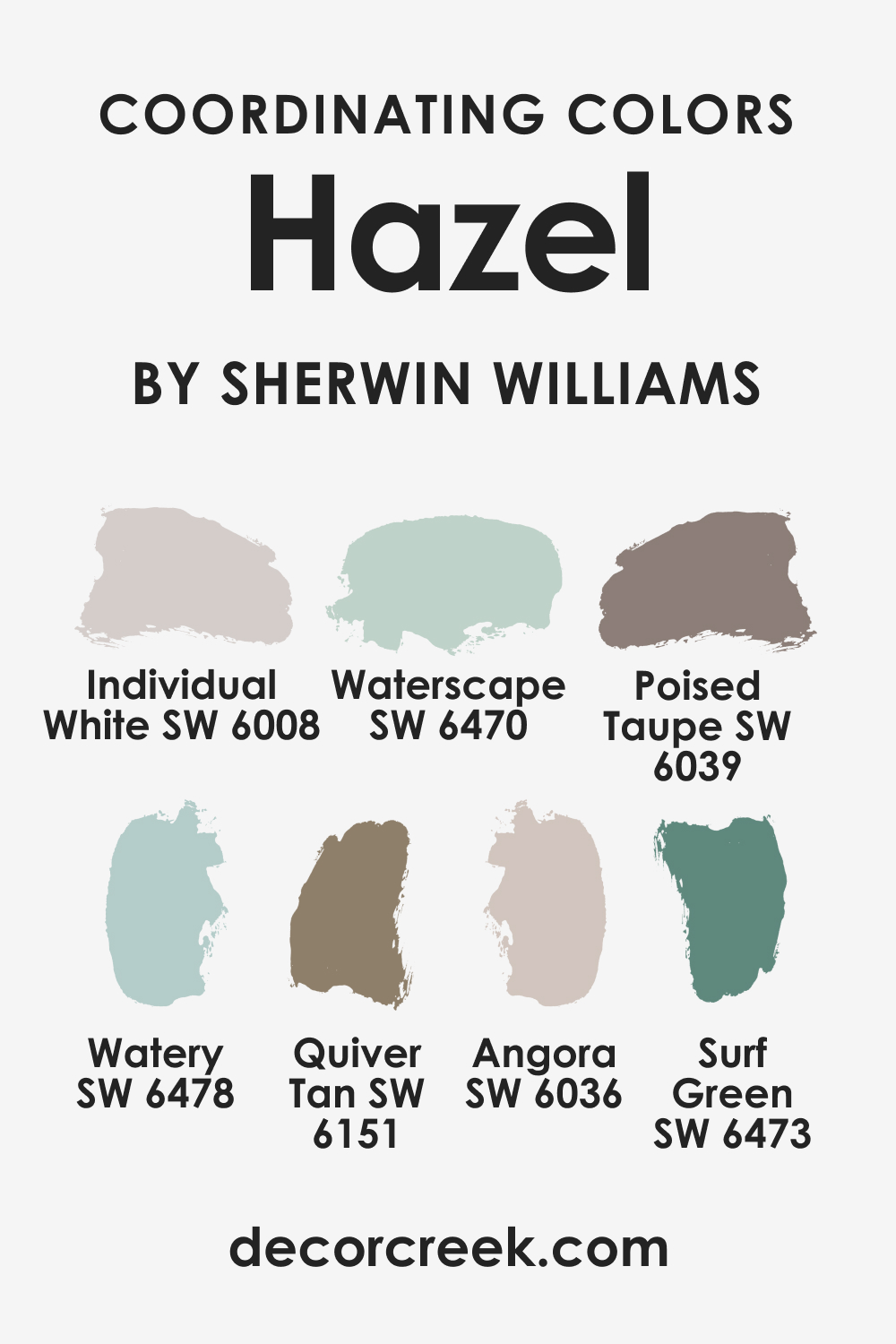 SW 6471 Hazel Paint Color LRV
Since this color has complex undertones of teal (which means it combines green and blue), you might face certain complications when using it in your home. Depending on the light in a room, SW Hazel can read differently. In some areas, it can read greener with a slight hint of blue, whilst in other rooms, it can look bluer with a slight greenish hue.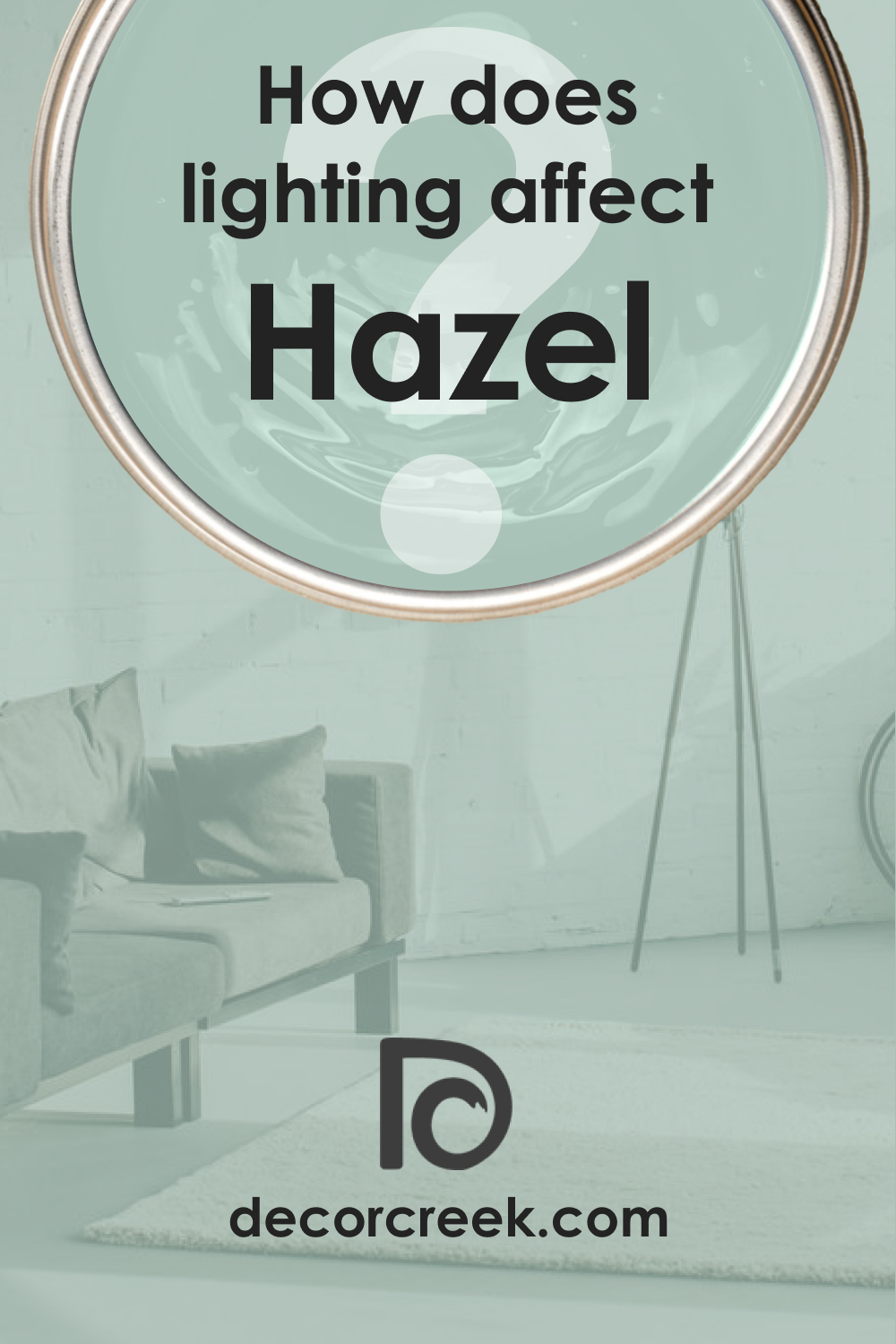 What can help you with defining undertones is LRV (Light Reflective Value). This measurement shows how much light paint reflects when it is applied to the wall. The LRV scale ranges from zero to 100, where 0 is pure black and 100 stands for pure white, respectively.
The LRV value of SW Hazel is 50, which means this blue color is right in the middle of the scale. As a result, it is neither too dark nor too light.
Thanks to such flexibility, SW Hazel is highly versatile and can be used in many rooms with equal success.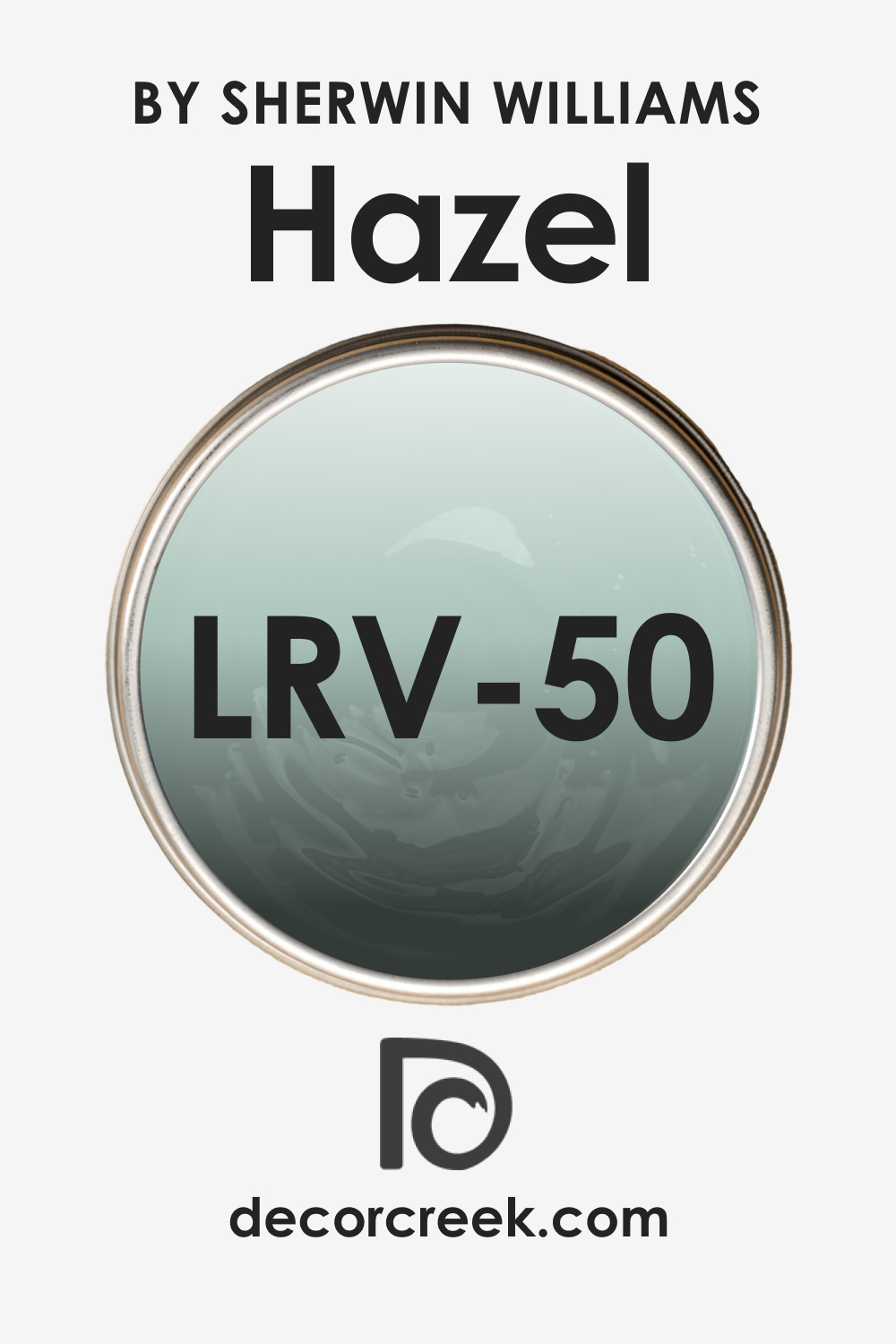 LRV – what does it mean? Read This Before Finding Your Perfect Paint Color
SW 6471 Hazel Trim Colors
If you don't know what trim color is the best, don't hesitate to opt for white since it is a universal color option! Whites pair nicely with most colors, and white will also work for SW Hazel. In particular, you might want to use the following options:
SW 7005 Pure White
SW 7757 High Reflectance White
Both will help you protrude the beauty of SW Hazel even further!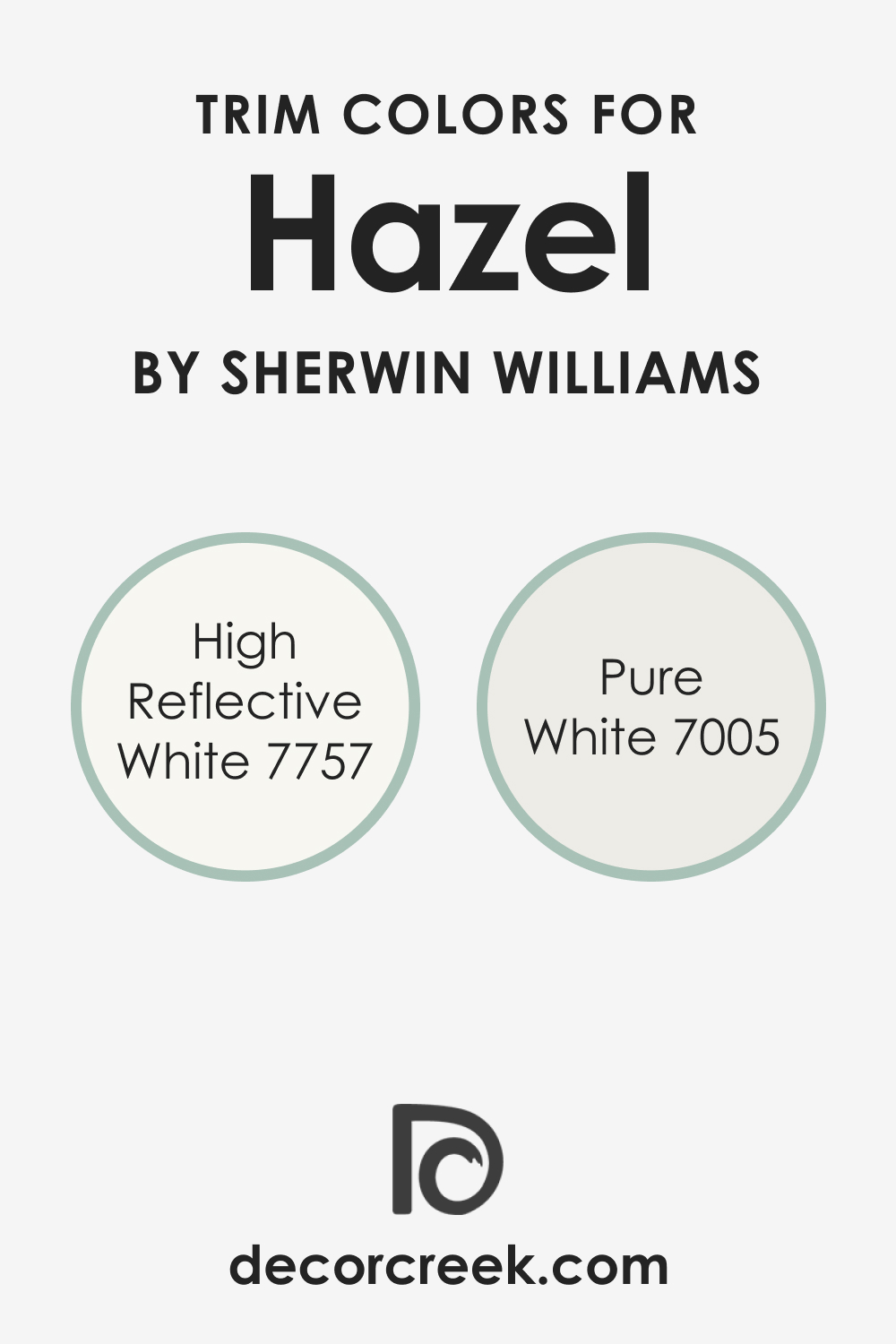 Colors Similar to SW 6471 Hazel Paint Color
There is another thing that is good to know before you start painting your interior walls. It often happens that you might want to change the paint color you initially choose and shift it to another one.
In this case, it is essential to select the color that reads and looks almost the same.
Should this happen to you when you are using SW Hazel, we suggest you check out what alternative blue-green colors you may find similar to SW Hazel:
SW 6457 Kind Green
SW 6465 Spearmint
SW Kind Green has an LRV of 51, which is why the brightness of the color is almost similar. However, it is more inclined towards greens. SW Spearmint is comparatively darker than SW Hazel and also much more subtle and bolder.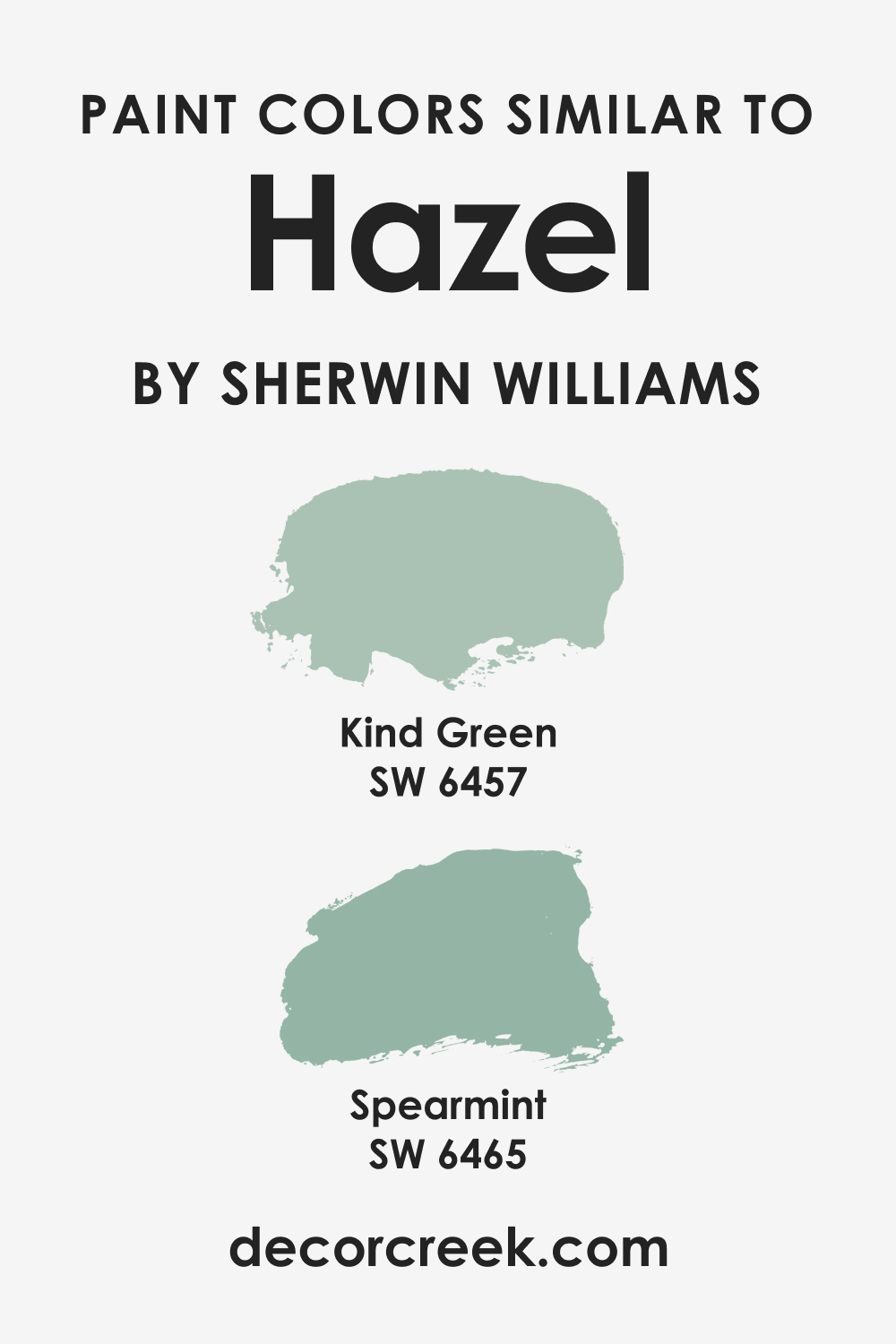 Colors That Go With SW 6471 Hazel
Since you might not want to paint all the walls the same color, other colors should also be used in your home. But in this case, you need to know how to pair them with the color of your walls to create a well-balanced palette.
In order to use colors harmoniously in the same room where the SW Hazel is applied, note what colors can go well with it:
SW 7674 Peppercorn

SW 7012 Creamy
SW 7023 Requisite Gray
SW 6415 Hearts of Palm
SW 6378 Crisp Linen
SW 7533 Khaki Shade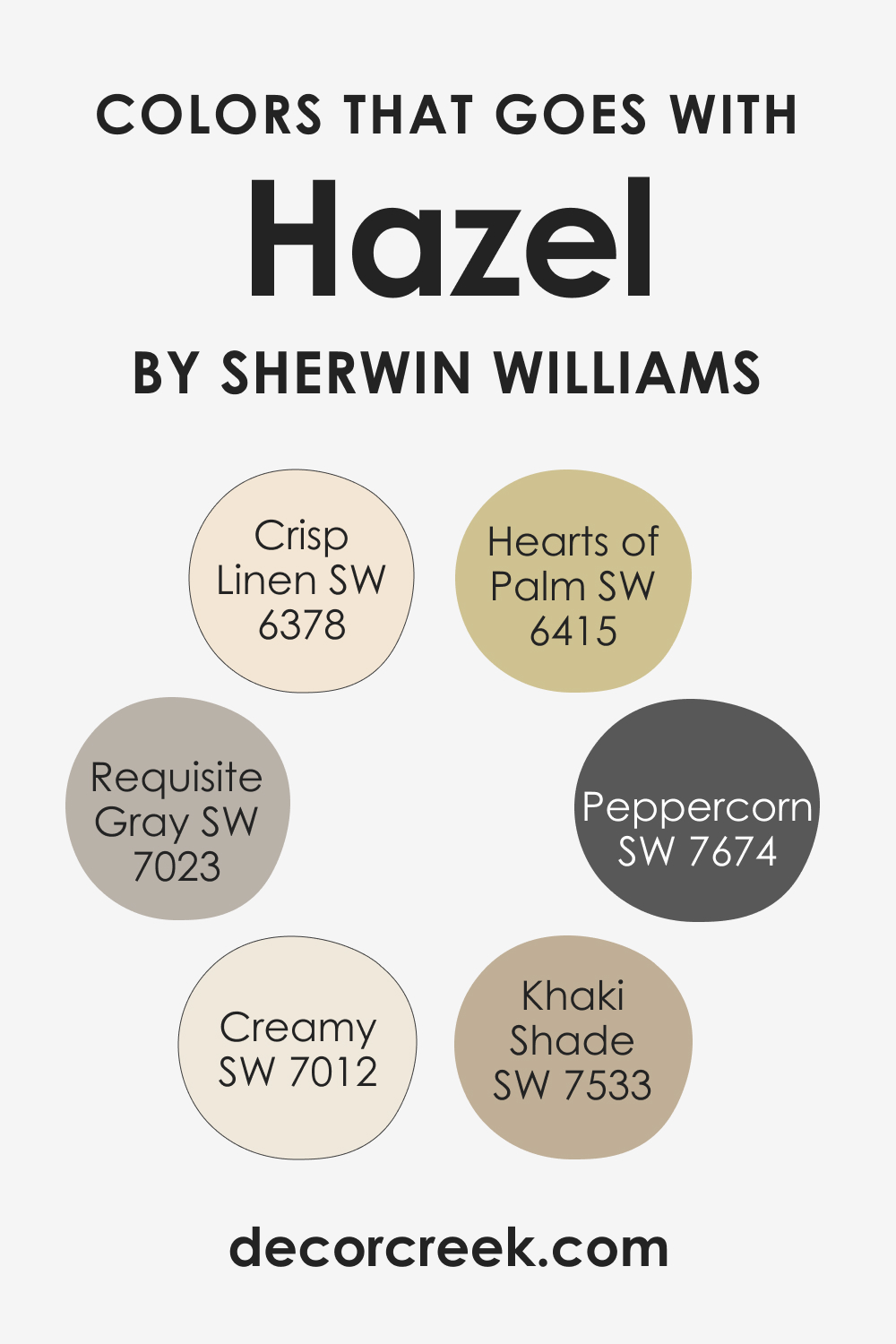 Comparing SW 6471 Hazel With Other Paint Colors
It is important to see the difference between the paint colors, especially if they are of the same color family (e.g. greens, etc.).
When you can see the distinctions in their undertones and shades, it helps you to understand whether or not they can be paired in the same space harmoniously. Below, we suggest you read about SW Hazel compared to several similar colors.
Hazel vs Restful
Compared to SW Hazel, its counterpart (SW Restful) reads greener, showing off a very slight hint of blue. Also, SW Restful looks a bit darker than SW Hazel due to the lower LRV of 39. However, both colors are mid-tone and cool-looking.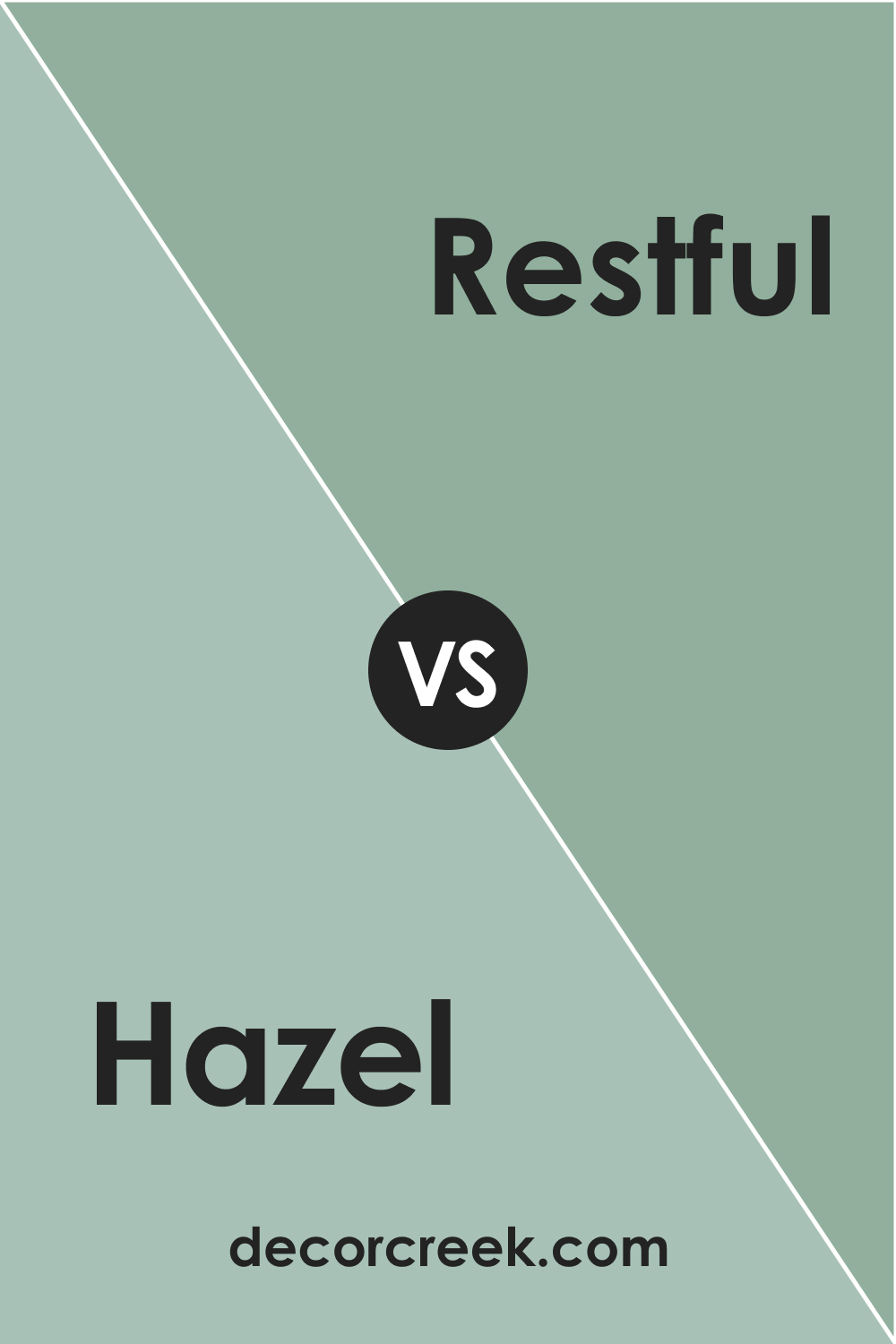 Hazel vs Drizzle
SW Drizzle has an LRV of 39, which makes it a darker color than SW Hazel, whose LRV is 50. Also, SW Drizzle reads much bluer than its counterpart, being a blue paint color with slight greenish undertones. However, both colors are mid-toned, which is their common feature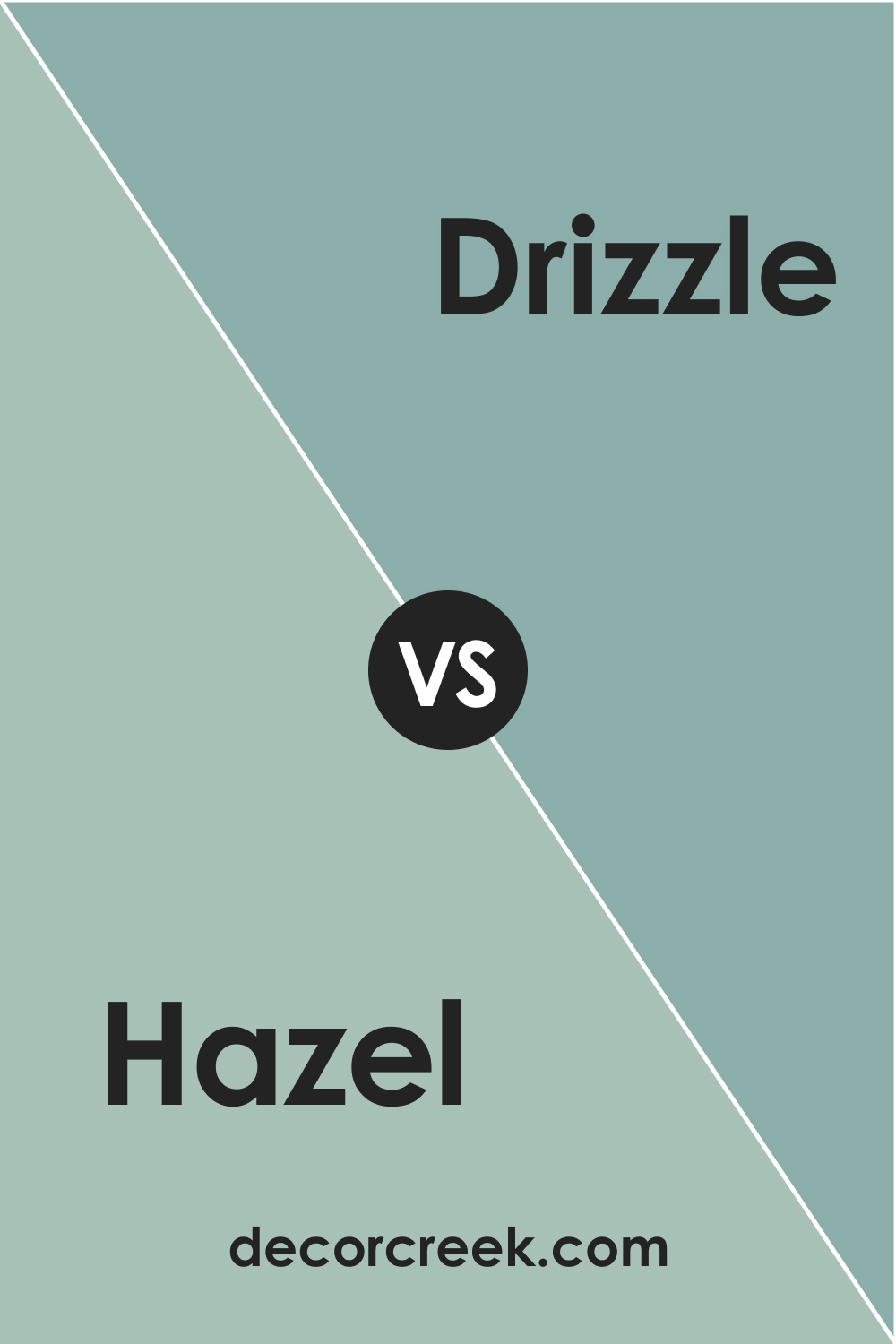 Hazel vs Quietude
SW Quietude is a calm and pastel-like color with gray undertones that make it read subtle and balanced. However, it also has a bluish hue to it! The LRV of SW Quietude is 48, which is pretty close to the LRV of 50 of the Hazel color. However, SW Hazel still reads brighter and also bluer.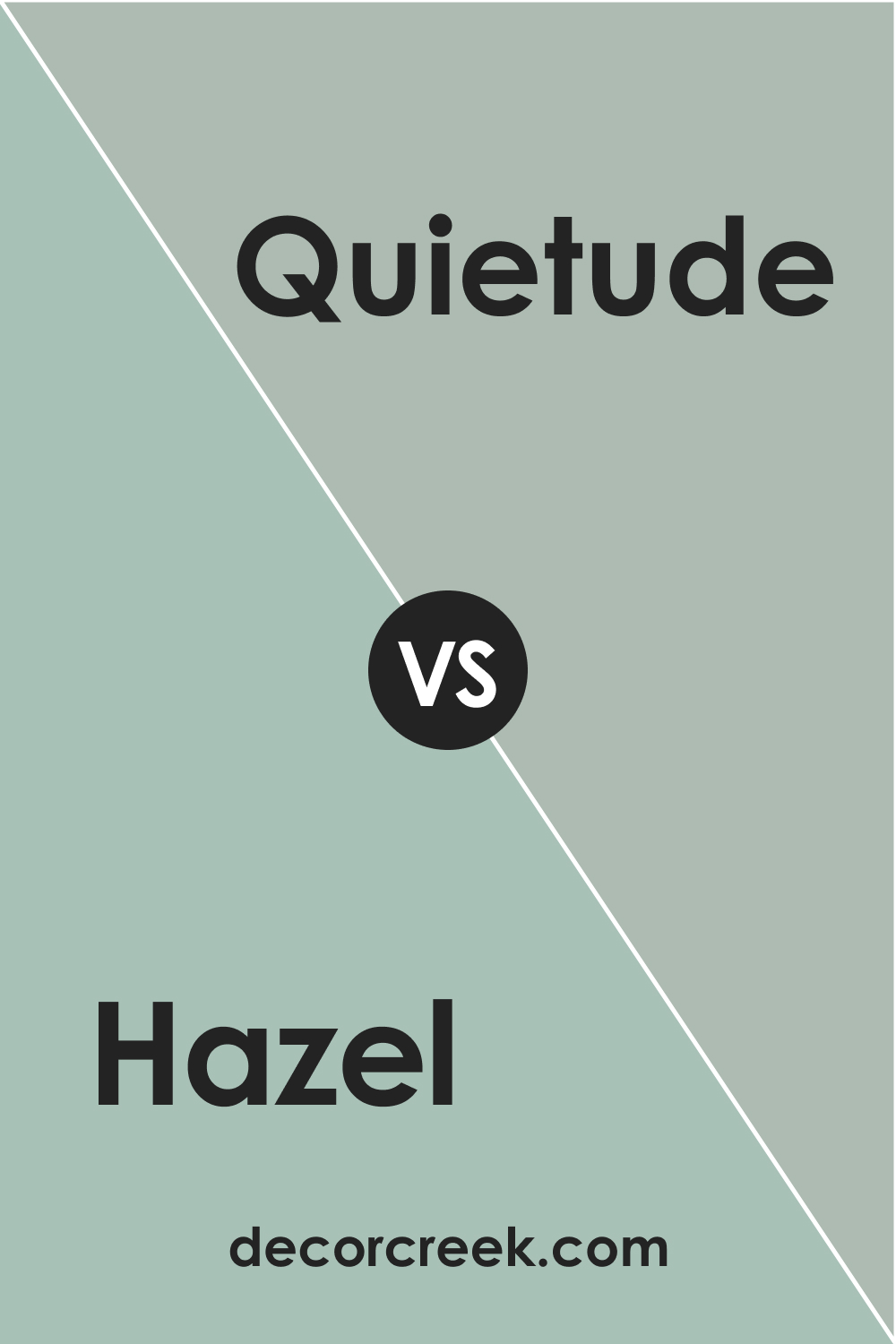 Hazel vs Jasper Stone
SW Jasper Stone is a cool green with gentle blue and gray undertones and an LRV of 32. With this LRV value, SW Jasper Stone is on the darker side of the scale, being more profound and darker than SW Hazel, whose LRV is 50.
Where to Use SW 6471 Hazel Paint Color In Your Home?
This blue-green color is highly workable in most spaces, but there are several nuances you must keep in mind. First, avoid SW Hazel if you want a warm and cozy look since it's a cool-toned color.
Second, we would highly recommend using it in bedrooms, bathrooms and nurseries, where it can give a lovely tranquil effect.
Finally, we do not recommend this color in the living room and/or kitchen unless you have a specific design that can welcome it. Below, you can read how this blue color with teal undertones can work in different rooms
Hazel SW 6471 in the Living Room
We already mentioned that this color is not the best option for living rooms. But if you want to use SW Hazel in your living room, try to pair it with natural wood textures, neutral accents and white trims. That way, you will make the color show its best and achieve a comfortable, cool vibe in your home.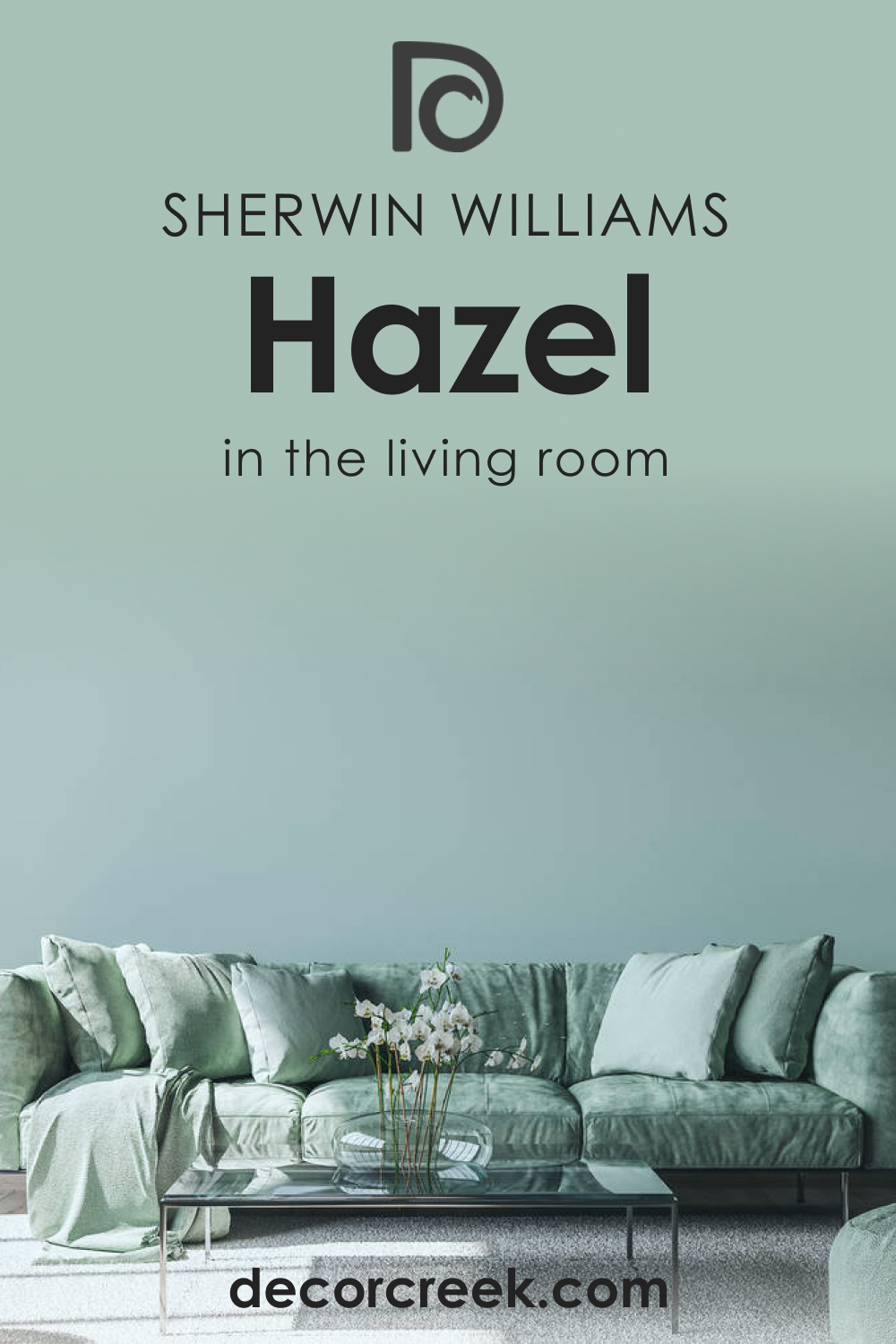 Hazel SW 6471 in a Bedroom
In bedrooms, SW Hazel works pretty well instead! You can paint all your walls in SW Hazel or paint an accent wall only. In any case, SW Hazel will make your bedroom feel spacious, relaxed, and fresh.
Also, you might want to try sheer white bedding and a few patterned throw pillows to add character to the bedroom.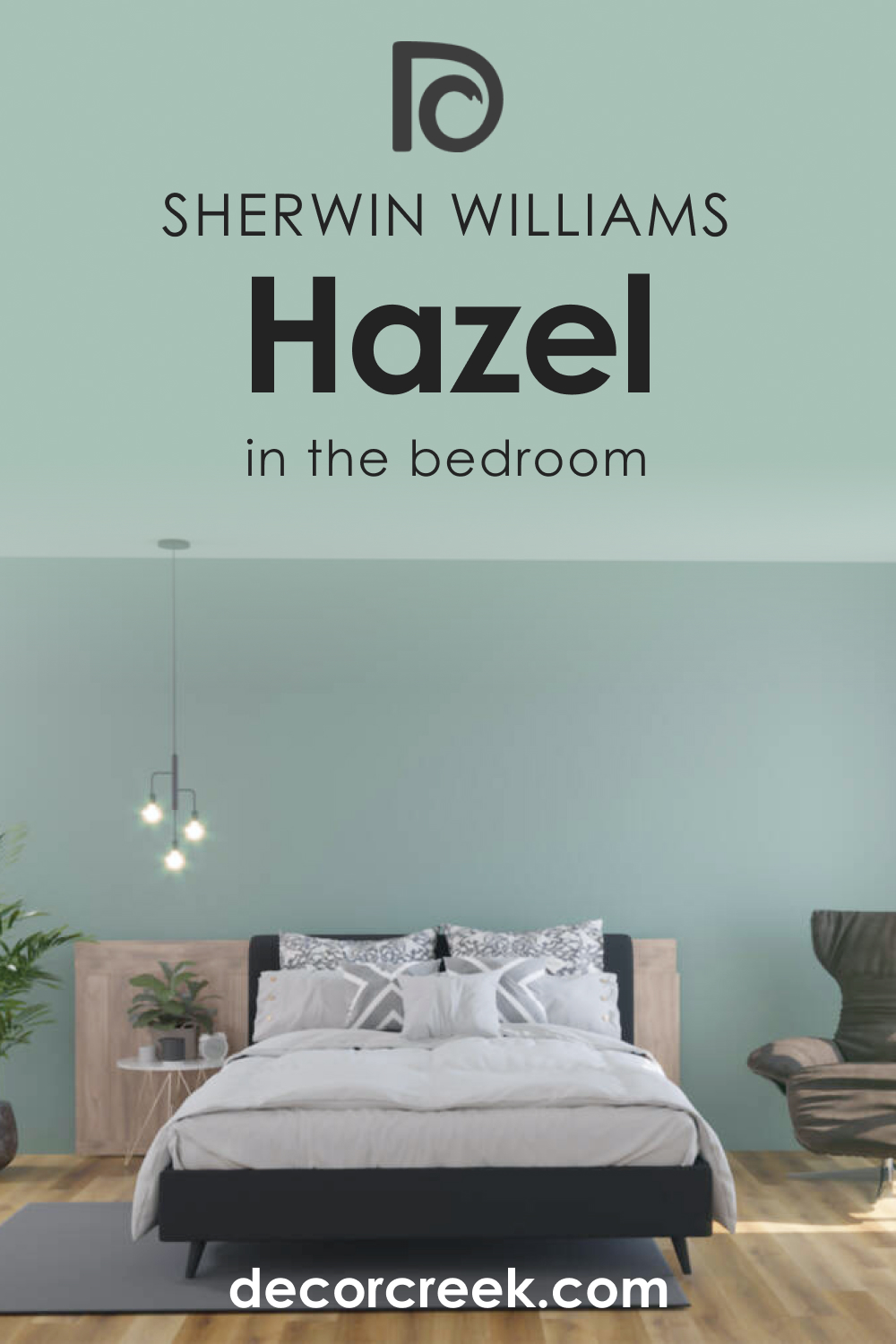 Hazel SW 6471 and Kitchen
If you are planning to use SW Hazel in the kitchen, be careful when pairing it with other colors! We recommend you use stark white cabinetry, natural wooden textures and white countertops to balance this blue-green color out.
With SW Hazel in the kitchen, you must forbid the use of any other color than neutrals.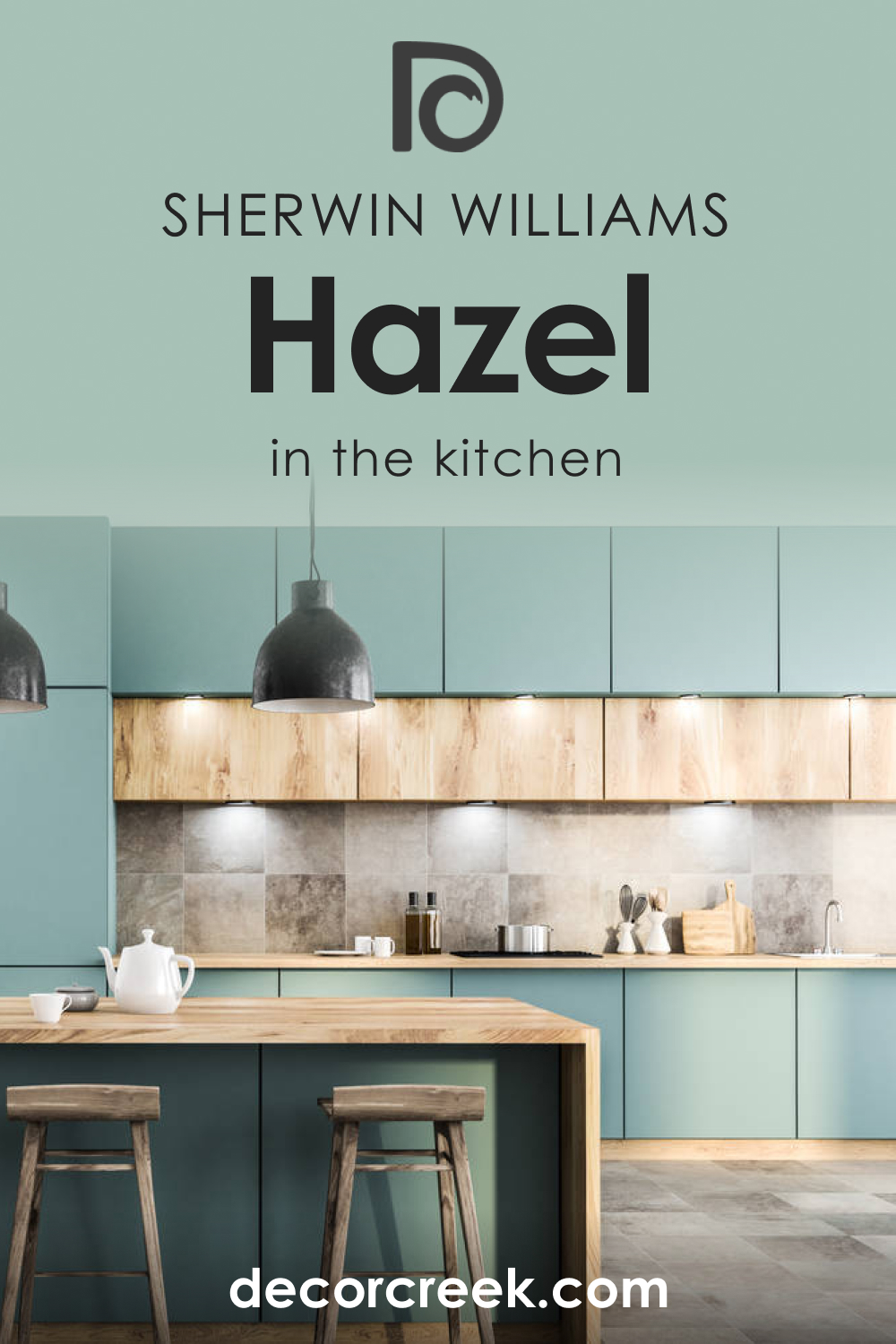 Hazel SW 6471 for the Bathroom
In your bathroom, you can use SW Hazel on one of the walls and leave the rest white. This trick will work in a small bathroom with a lack of light. But still, sample this color to see how it reads, and if it seems too warm, use it very moderately (e.g. on the vanity sink and drawers only).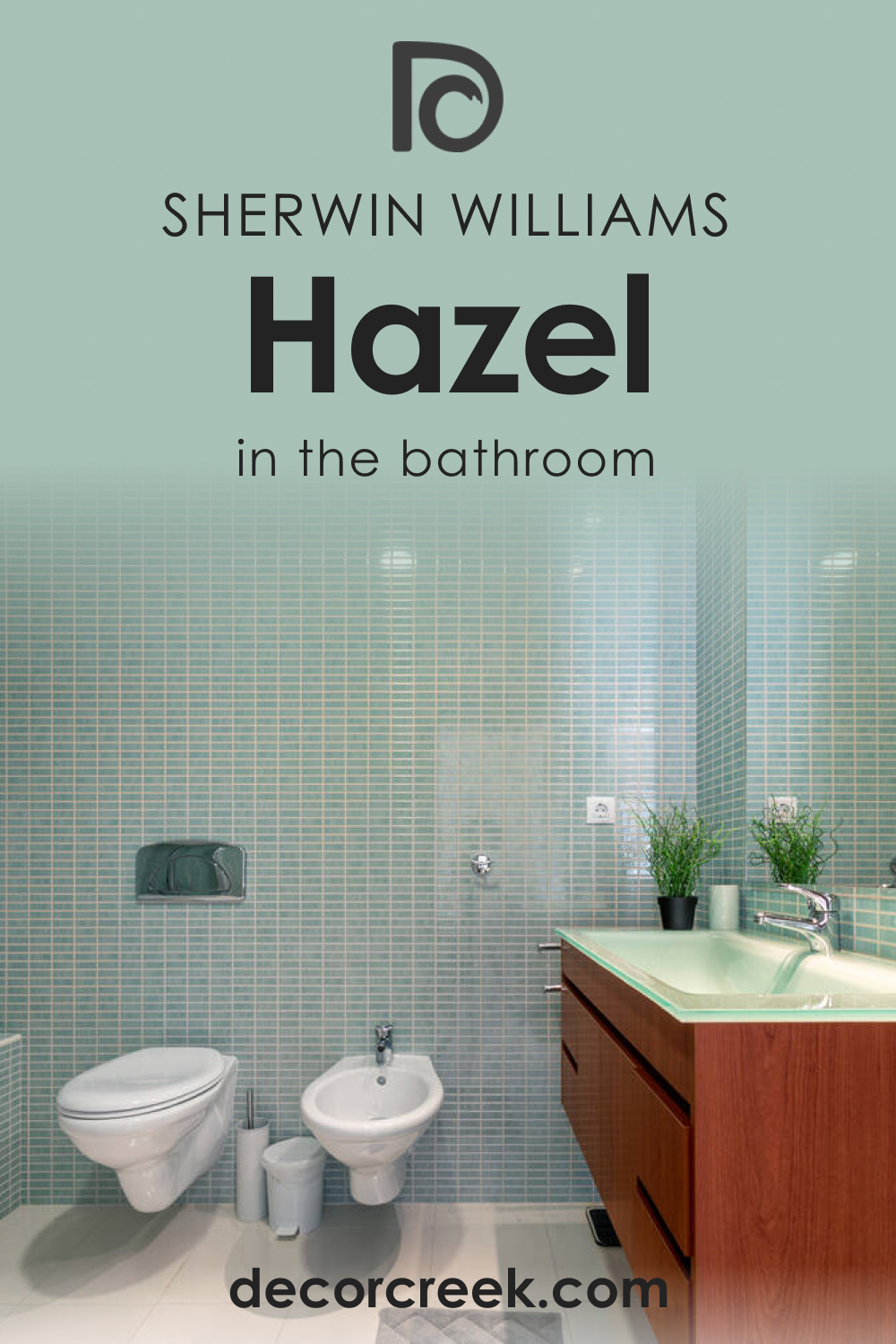 Hazel SW 6471 for the Exterior Use
SW Hazel can work surprisingly well on your exterior walls! However, you need to remember that the outdoor light often makes this teal color read brightly vibrant turquoise (sometimes even washed out).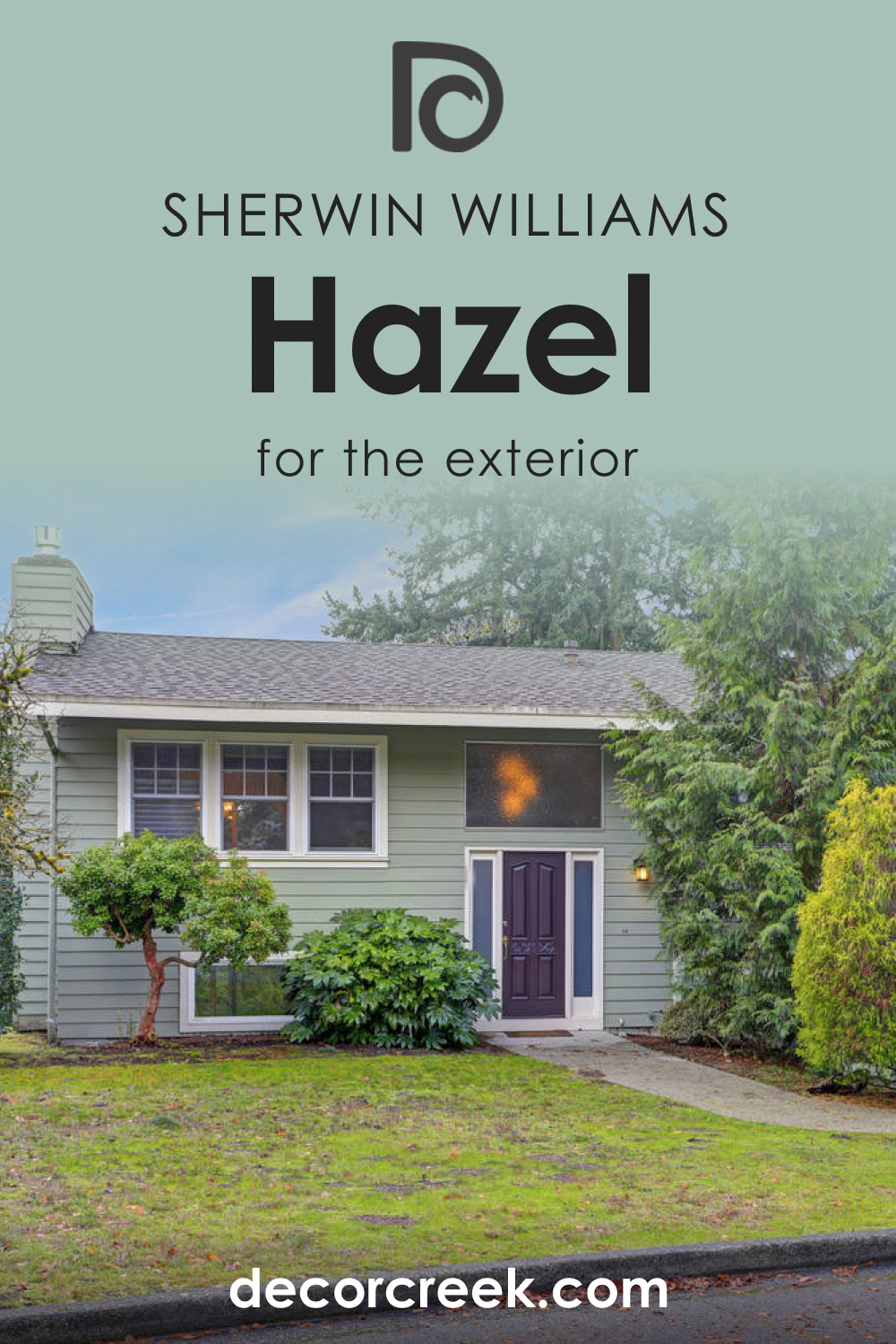 On exterior walls, you'd better pair it with stark white trims, moldings and door, as well as white window frames for a crisper and cleaner look. This blue-green will look exceptionally great on homes located by the coast or on cool-colored home facades.
Now you know what kind of color SW Hazel is. For sure, this blue-green can hardly be called a timeless and go-for color, so if you use it, you might want to repaint your home in a couple of years.
But at the same time, SW Hazel will give your home that beautiful and relaxed vibe we all crave!
With its calming and spa-like hue, this paint color can help you achieve a tranquil and balanced atmosphere in almost any room.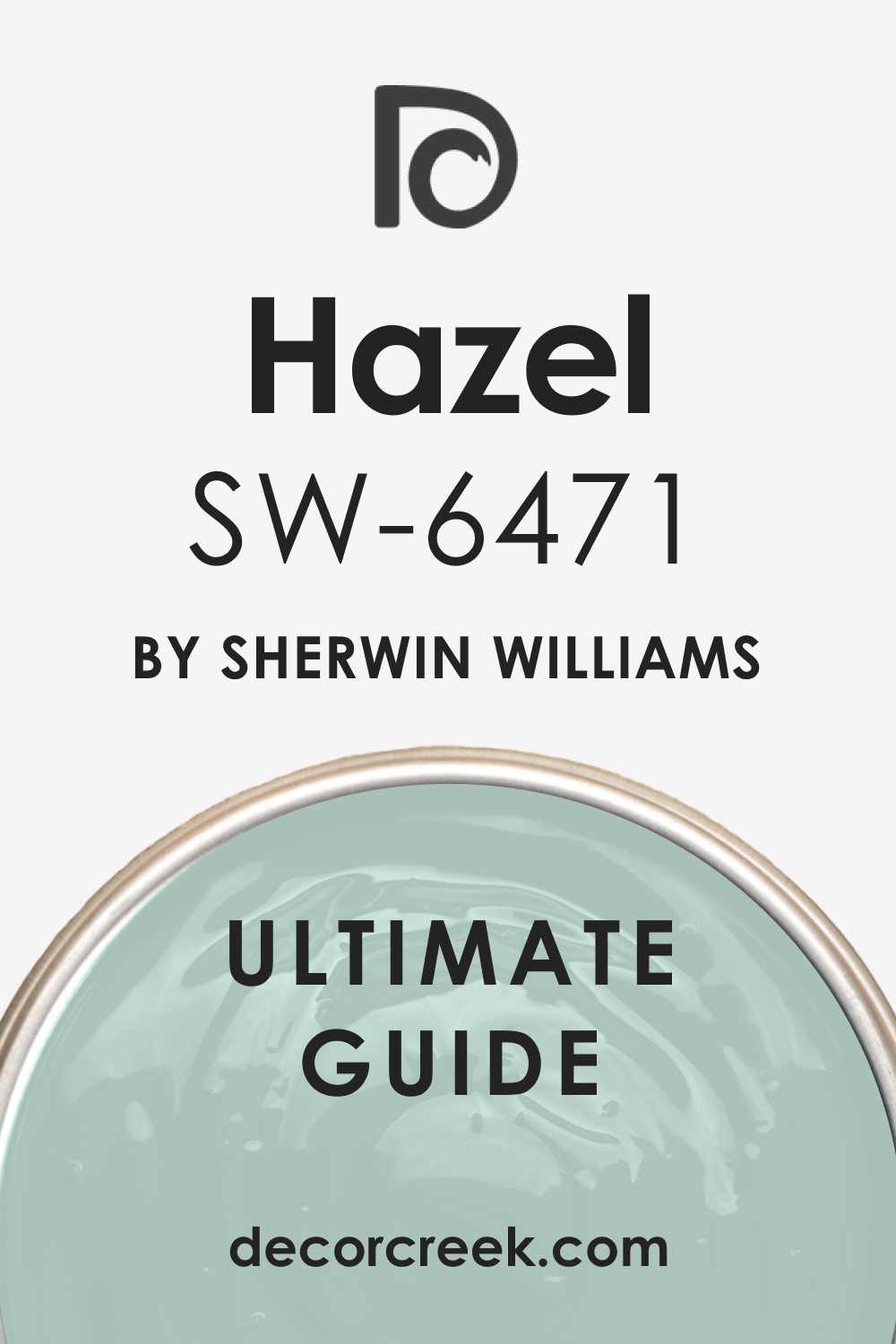 Frequently Asked Questions
⭐Does SW Hazel have gray undertones?
No, it does not have gray undertones. This blue color has teal (greenish-blue) undertones.
⭐Will SW Hazel work on the basement walls?
It will read rather dark in such a poorly lit space, making your basement feel a bit enclosed.
⭐Is SW Hazel a good color for a room with wooden floors and warm artificial light?
In this room, SW Hazel will read greener and might seem somewhat overwhelming.