Blue color can work beautifully in your home, but only when you know how to use it correctly. And even though many people think that blues are tricky colors to use indoors and outdoors, we want to prove the opposite.
Today, you will learn more about a magnificent shade of blue called Salty Dog by the Sherwin-Williams brand. We will tell you what undertones this color has, as well as how it reacts to light.
In addition, you will learn what colors it works best with. We will tell you how this shade of blue may read in different rooms and what paint colors are best to pair it with.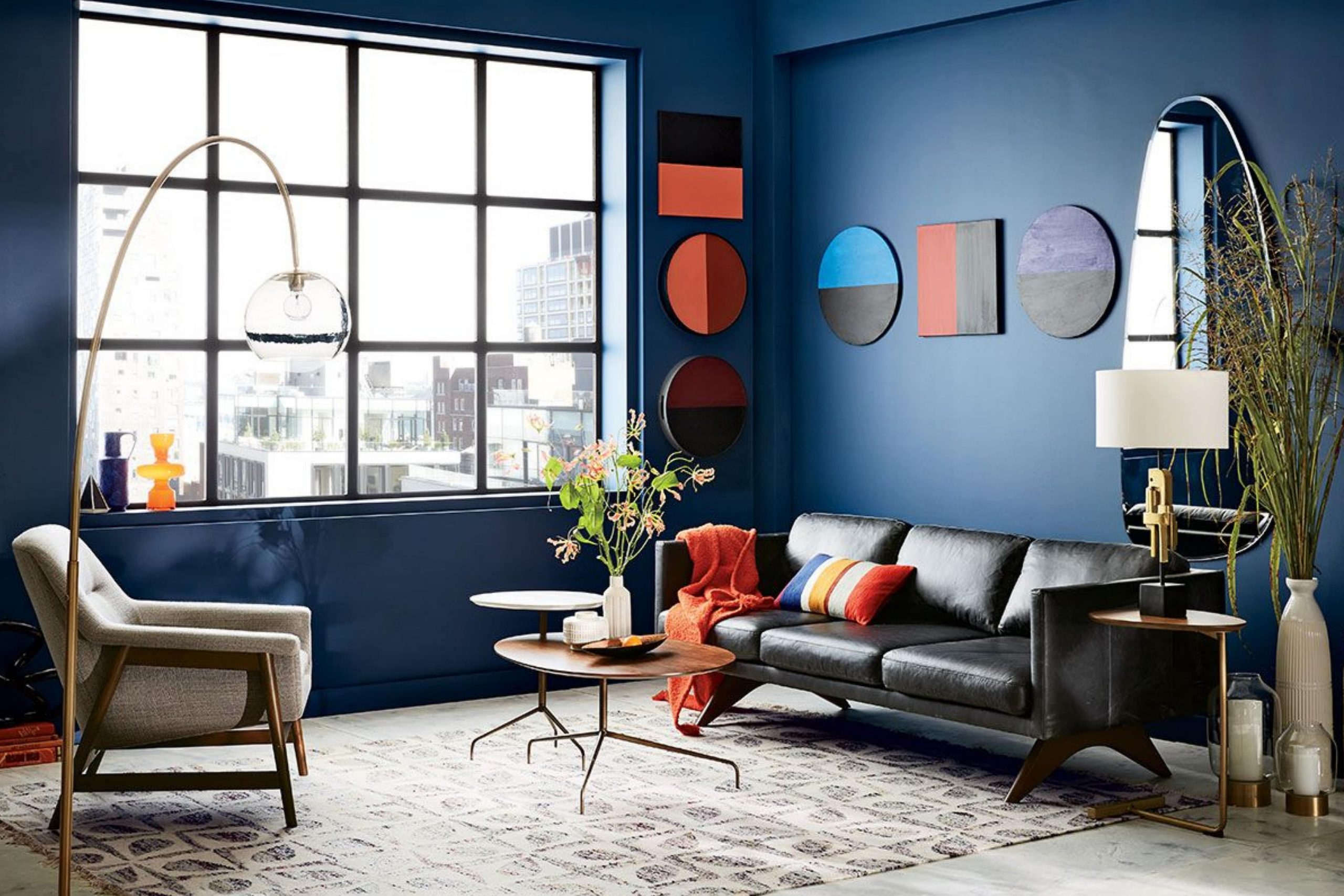 What Kind of Color Is Salty Dog SW-9177?
The Salty Dog paint color is one of the deep shades of blue in the Sherwin-Williams blue color collection. As Encycolorpedia says, this deep and saturated shade is navy blue, which is excellent for adding a pinch of personality to any room!
Despite being rather deep and dark enough, SW Salty Dog will hardly make your living space look moody because it is also neutral. Instead, if you pair it with bright whites, leather, and metal/brass, you will make any room look stylish and elegant.
But since this shade of blue is not that simple, we suggest you read on to learn how to deal with it.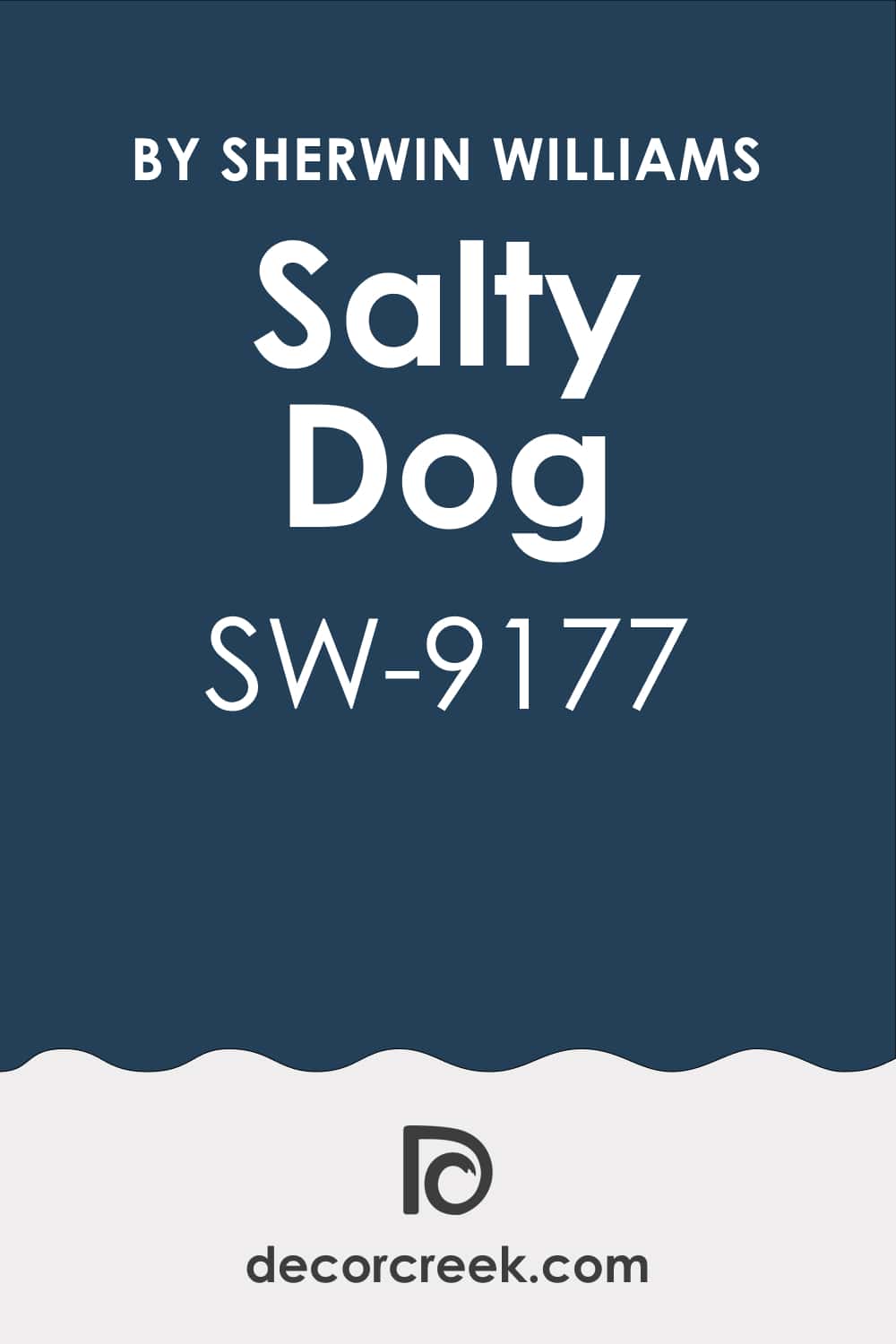 What Undertones Salty Dog SW-9177 Has?
Being aware of the color's undertones is essential since it allows you to predict how the color will read in each room of your home. And since many colors have rather complex undertones, it's good to learn them in advance.
Speaking of SW Salty Dog, this navy blue has very subtle gray undertones that are almost invisible at first. However, this slight hint of grayness makes the color read softer and less cold on the walls.
In general, SW Salty Dog reads pleasantly cool and relaxing, which is why it's highly recommended for homes in southern states that crave some refreshing vibe!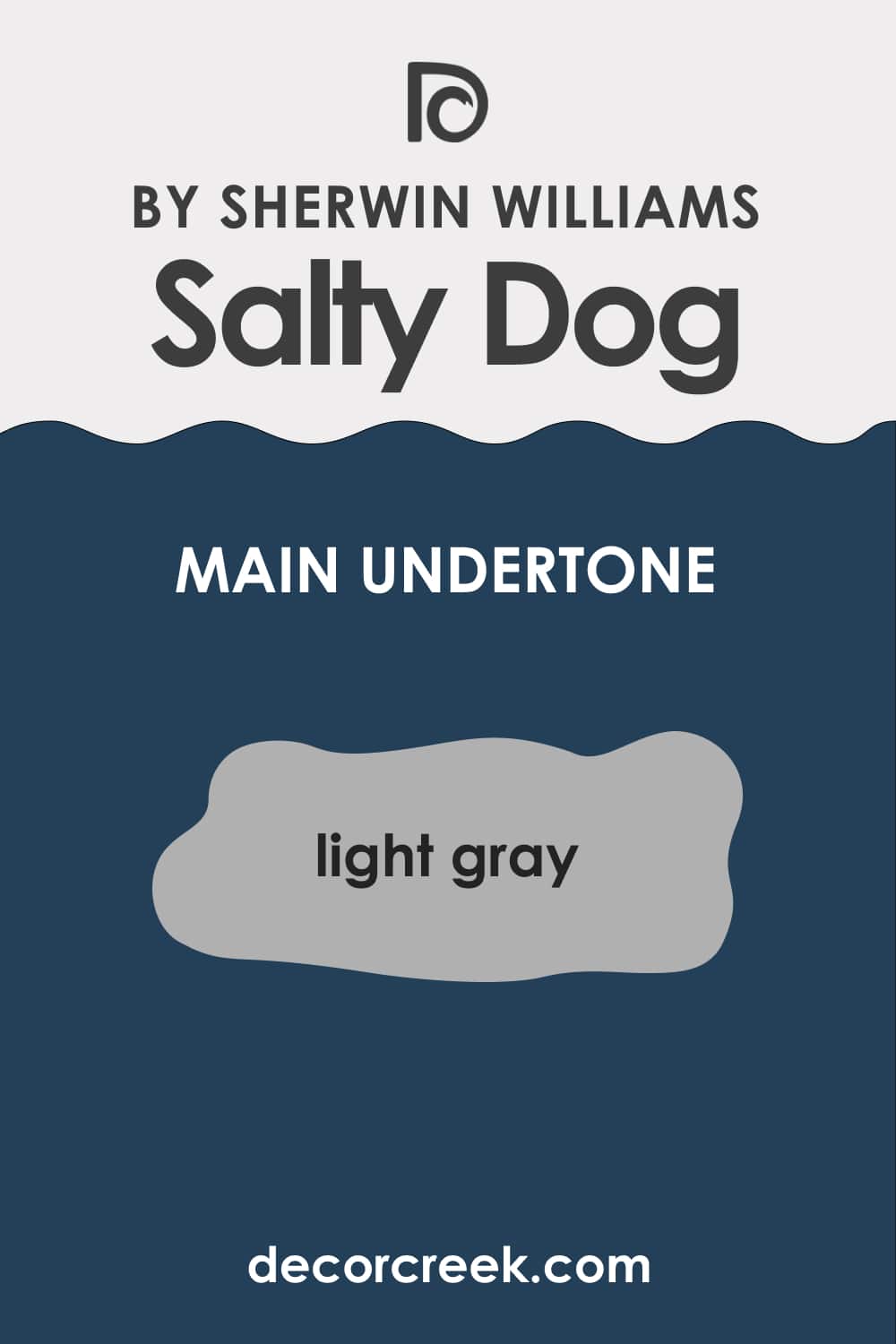 LRV of Salty Dog SW-9177 Paint Color
LRV stands for the light reflectance value. It shows the percentage of light the color can reflect from the wall. The higher the LRV rate, the lighter the color. The LRV for SW Salty Dog is 5, which means it is an extremely dark paint color. This is why Sherwin-Williams Salty Dog feels so pure and luxurious in any space.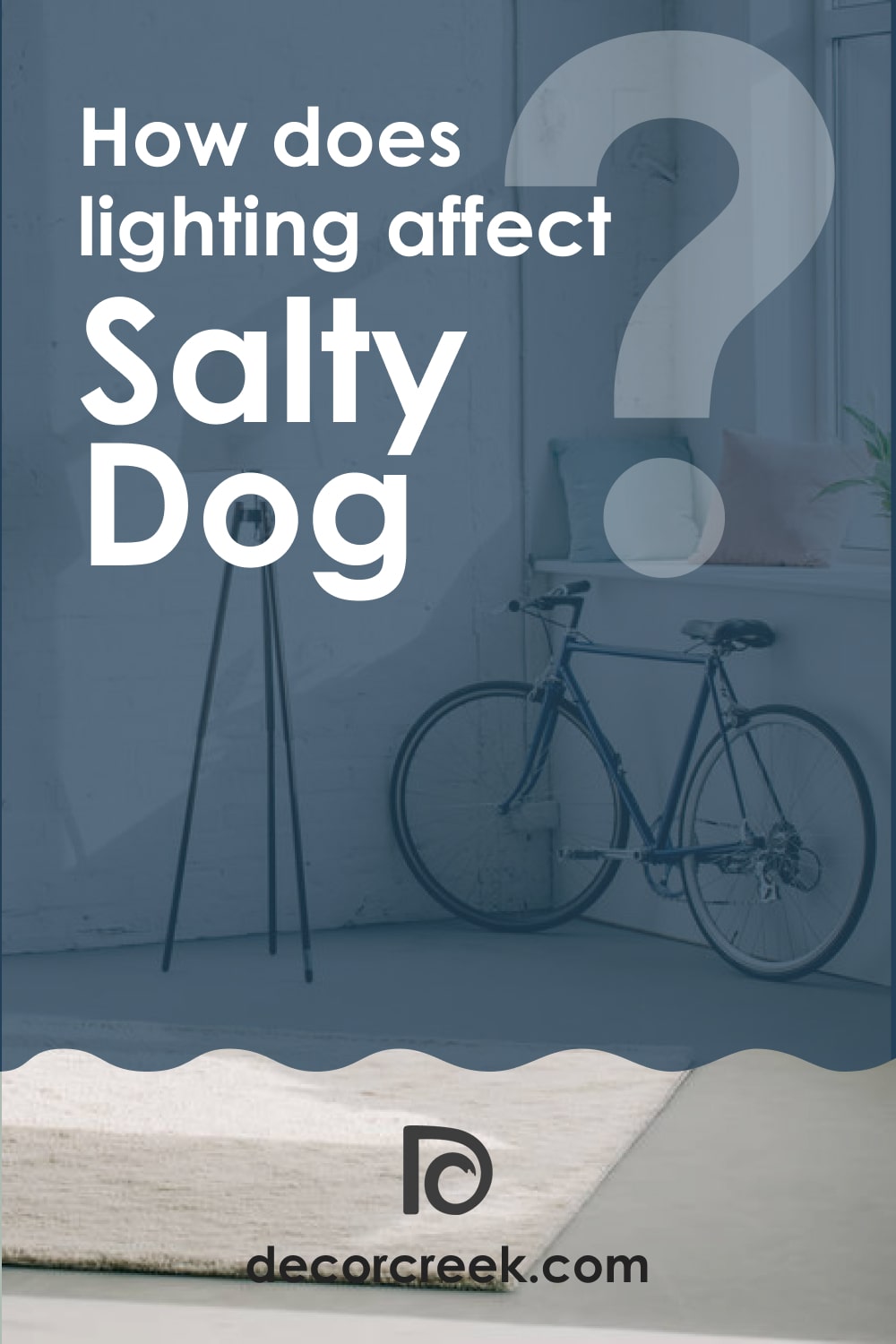 Thanks to being an extremely bold paint color, it gives your home a posh and stylish feel. The only thing you should be careful with is the amount of color you use! If you use it in the correct amounts, this shade of blue will add a bold statement to any room.
But if you plan to use it in more significant amounts, either pair it with neutrals or use this paint color as an accent.
Also, always consider the lighting in the room where you want to use this deep blue! In smaller rooms with poor or no light, this color may read almost black! On the other hand, in a well-lit space, it will read significantly lighter.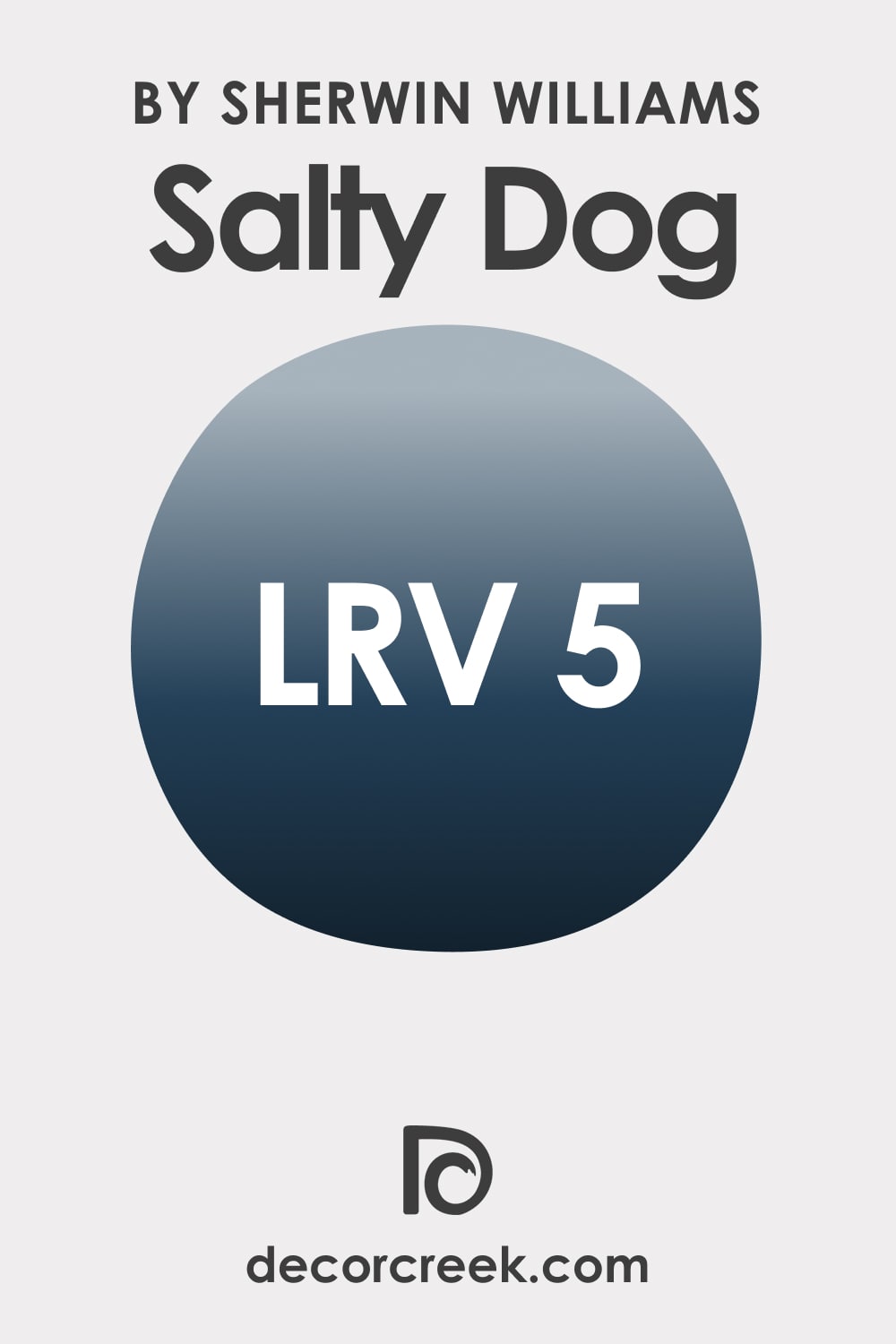 LRV – what does it mean? Read This Before Finding Your Perfect Paint Color
SW Salty Dog Coordinating Colors
Why do you need to know the coordinating colors? They will allow you to achieve a harmoniously looking space where all the colors are combined and paired based on their compatibility.
Speaking of SW Salty Dog, you might want to consider these color options to pair with this blue:
SW Pure White
SW Gray Screen
SW Favorite Jeans
For a monochromatic color palette, you could opt for the following color suggestions:
Scanda SW 6529
Revel Blue SW 6530
Indigo SW 6531
If you're more into contrasting color schemes in your home, we would recommend you these color ideas instead:
Torchlight SW 6374
Gardenia SW 6665
Monorail Silver SW 7663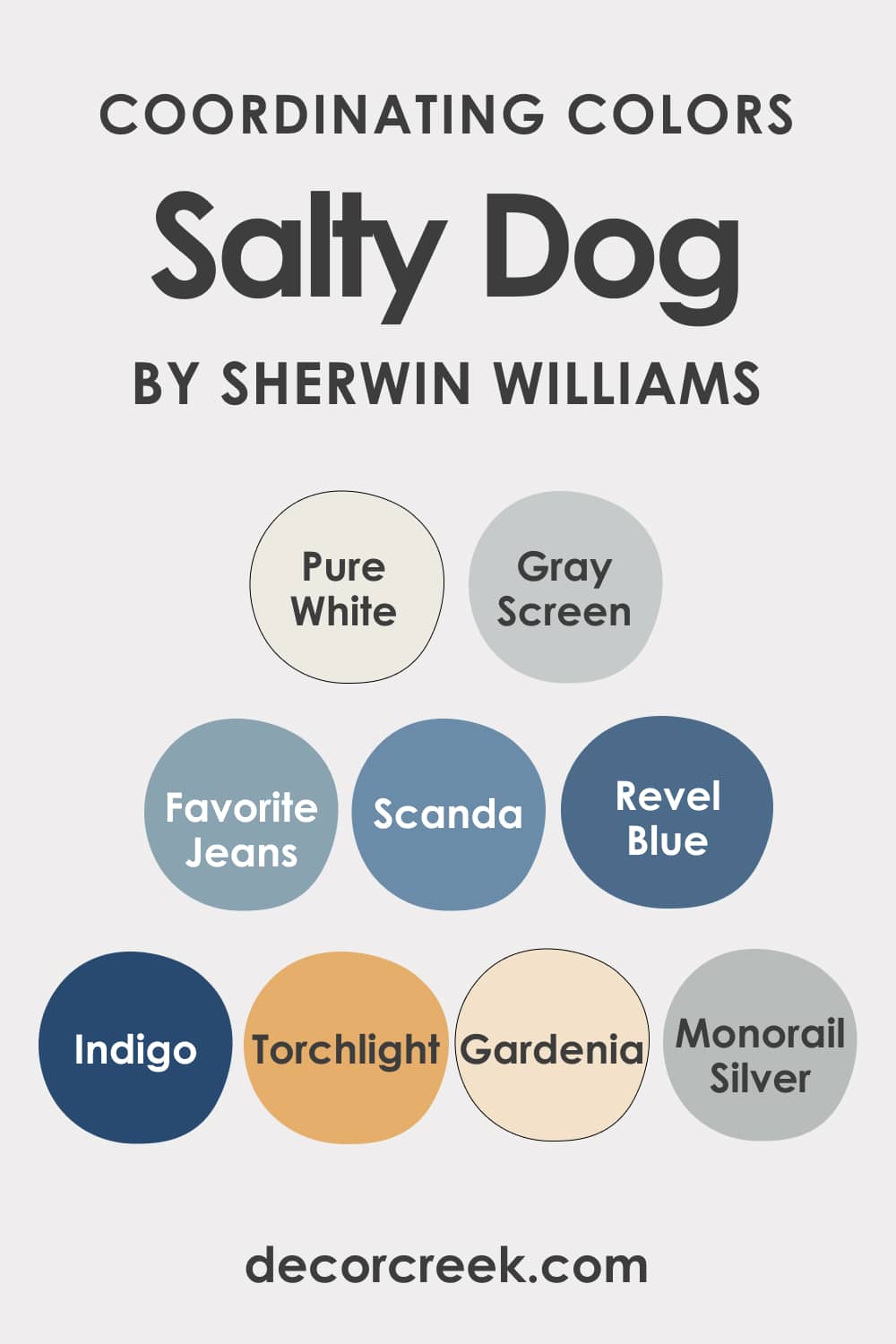 What Is the Best Trim Color to Use With SW Salty Dog?
White is considered the universal paint color to use on trim because it pairs with most colors successfully. However, it can be hard to choose the right shade of white to pair it correctly with the color on the walls.
This is why we suggest you use a hint. If you have SW Salty Dog on your walls, use SW Pure White or SW High Reflectance White as trim colors! Both will be great for adding a creamy or crisp backdrop.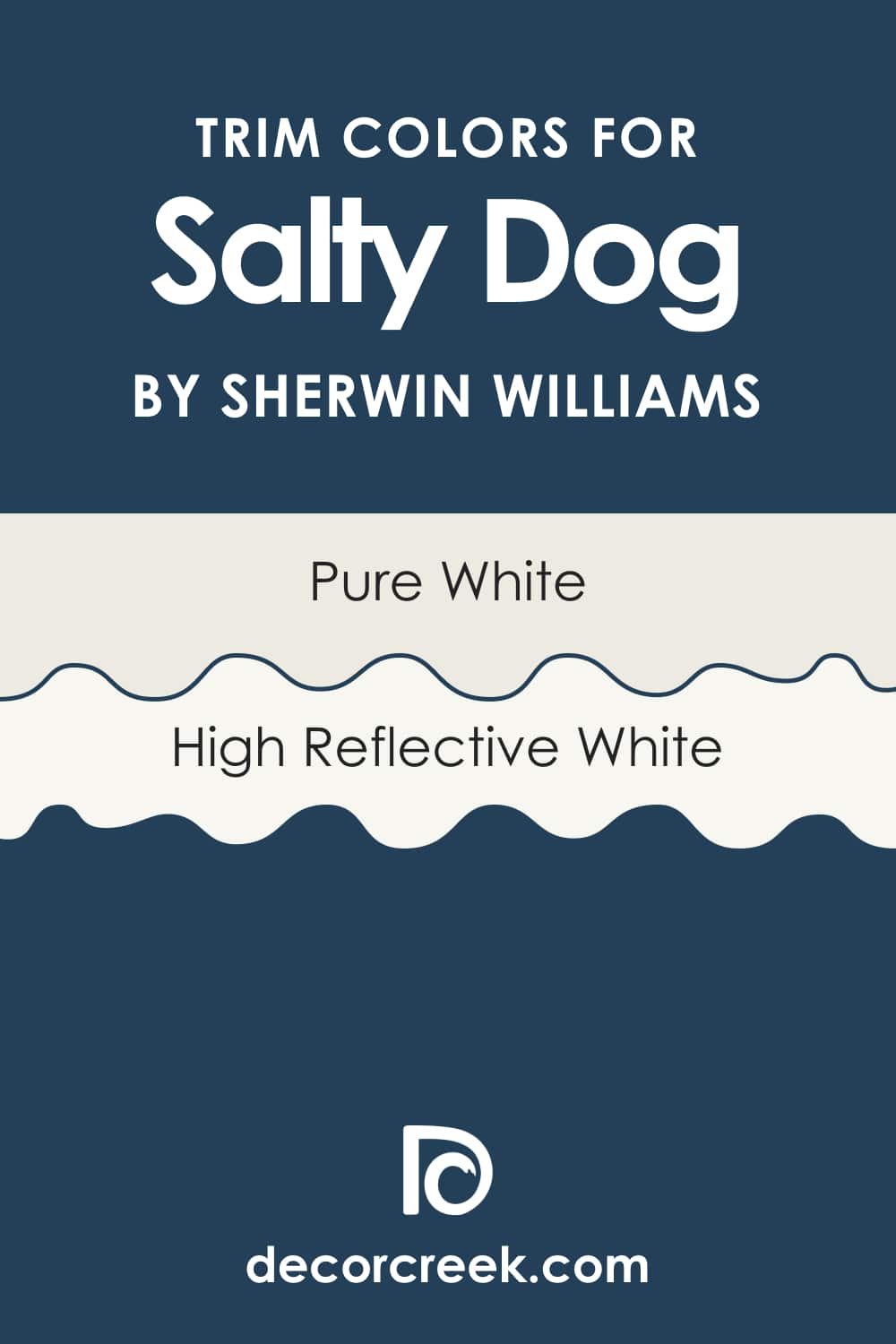 Salty Dog SW-9177 Similar Colors
It's good to know what colors are similar to the one you use on the walls. In this case, should you decide to change the wall color, you will already have a few options to choose from. But when it comes to blues, it can be hard to define what shades are simialr.
For SW Salty Dog, the two shades of blue are the closest substitute colors:
SW Naval
SW Dress Blues
They have very similar LRVs, which makes these colors read almost the same on the wall. The only distinction might be their undertones, but it's so minor that you won't see a big difference.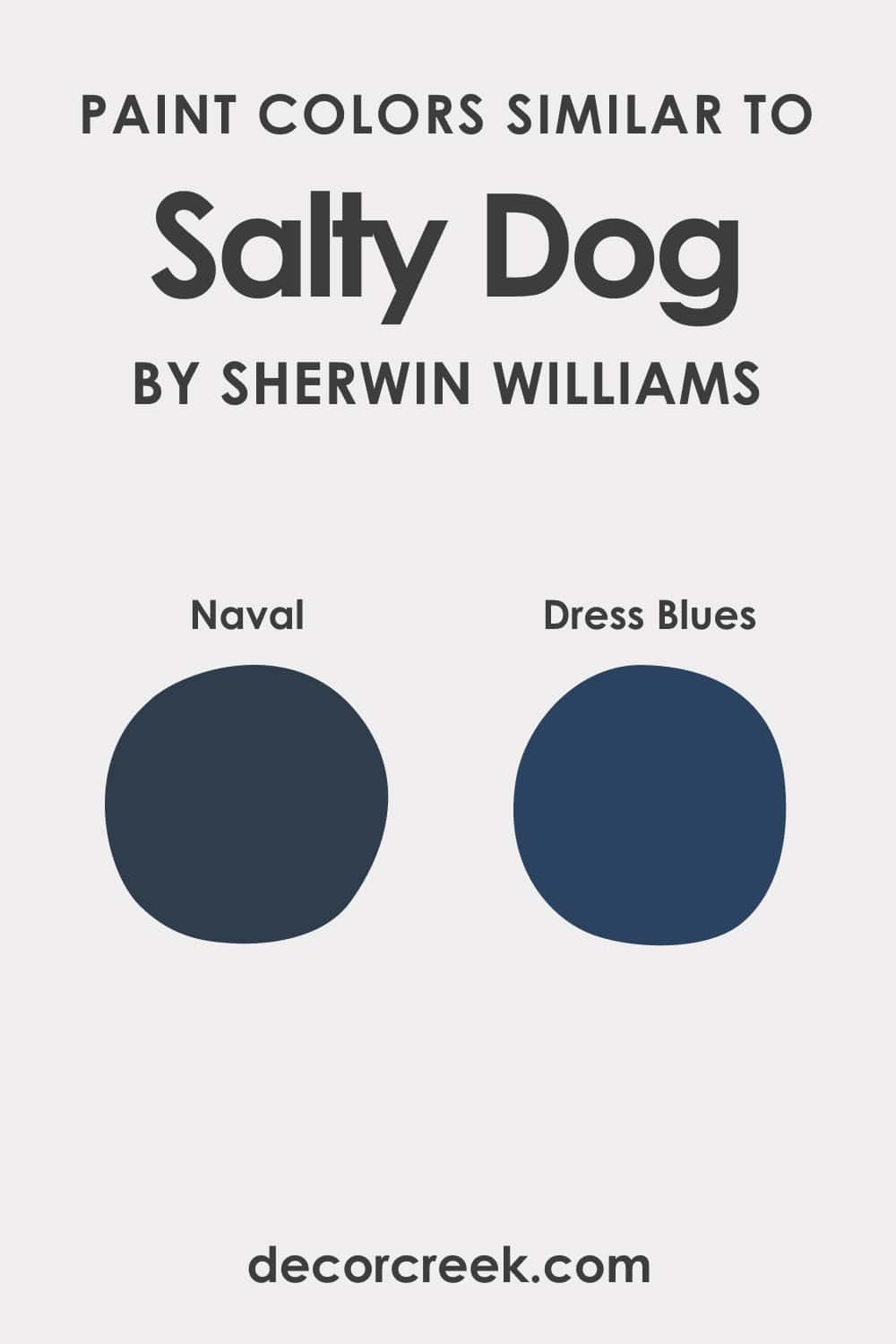 Colors That Go With Salty Dog SW-9177
To create a well-balanced color palette in your home, you must know what colors will go best with the wall colro you use. However, with such a tricky shade of blue as SW Salty Dog, it can be hard to choose the right matching colors.
So, here is a hint for you: for the best result, pair this navy blue (considering its darkness and saturation, as well as undertones), with warm yellows, shades of orange, golden tints, warm pastel colors, and off-whites.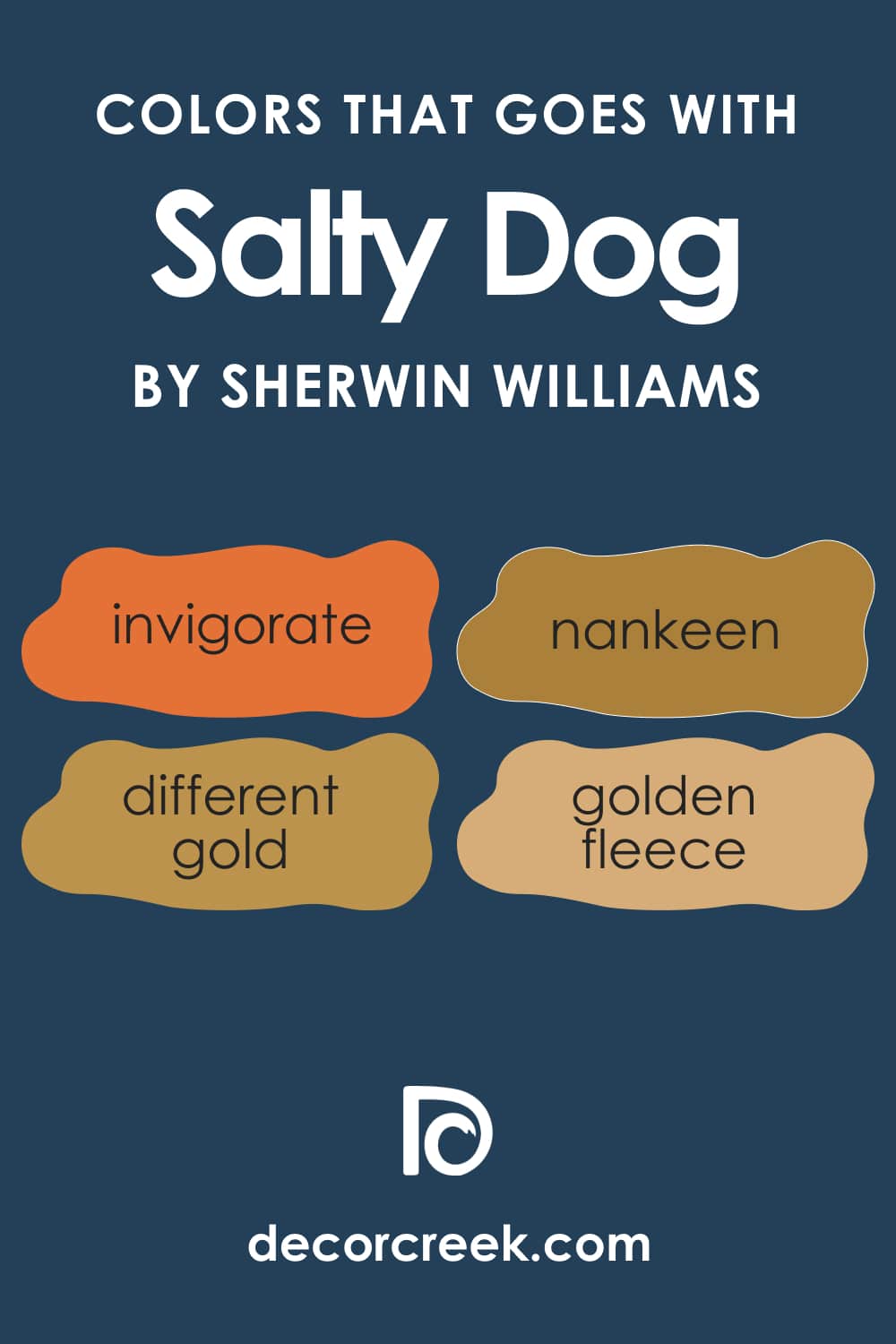 Comparing SW Salty Dog With Other Colors
To help you better see the difference in tone between SW Salty Dog and other blues that look similar, we have prepared a brief comparison of this deep neutral blue with several close shades.
Salty Dog vs Dress Blues
These colors share the same light reflectance value (LRV), but SW Dress Blues is still not as dark as its neutral (and a little bit darker) counterpart. You can successfully use these blues interchangeably.
But should you need a color that shows the most of blue, you'd better opt for SW Dress Bles.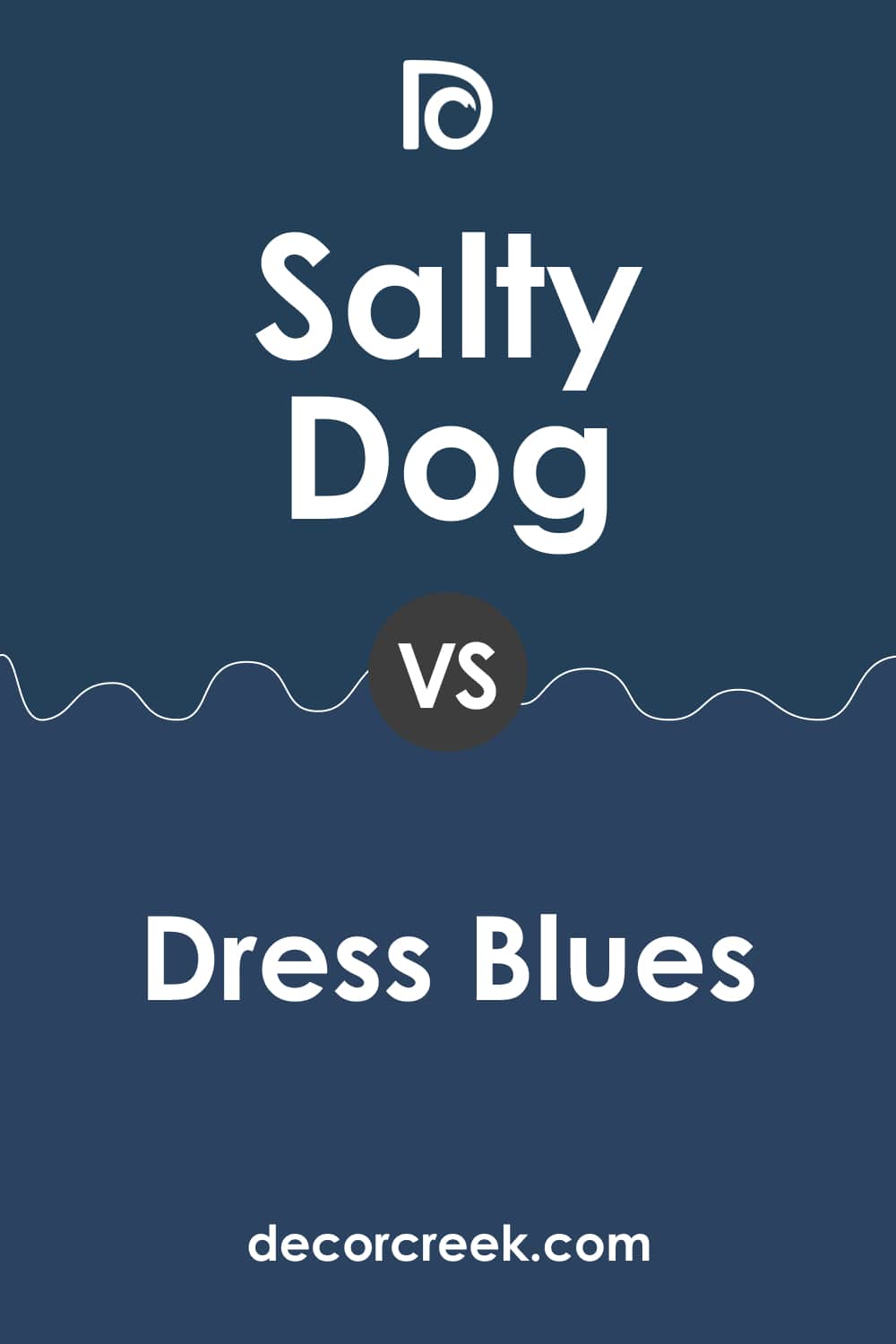 Salty Dog vs Hale Navy
Both colors share gray undertoens, but if you put them side by side, you will see how much grayer BM Hale Navy reads compared to SW Salty Dog! Compared to the Benjamin Moore blue color, SW Salty Dog has a way more pronounced blue tone.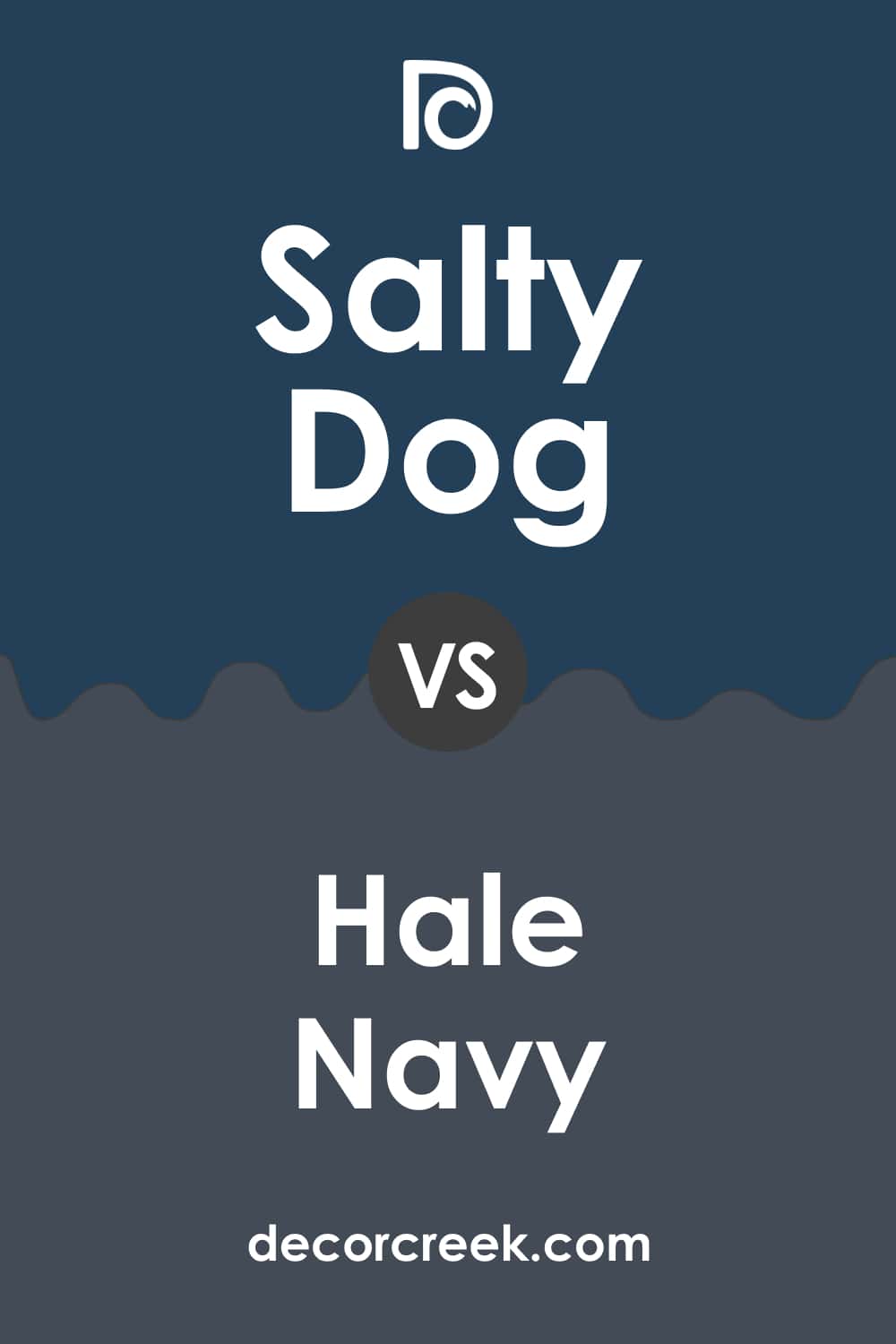 Salty Dog vs Indigo Batik
SW Indigo Batik has deep navy-blue undertones, but thanks to its subtle tone, this color doesn't read too dramatic or luxuriously royal. SW Salty Dog, on the other hand, shows more saturated blueness. This difference allows you to use SW Indigo Batik as a lighter version of the Salty Dog color.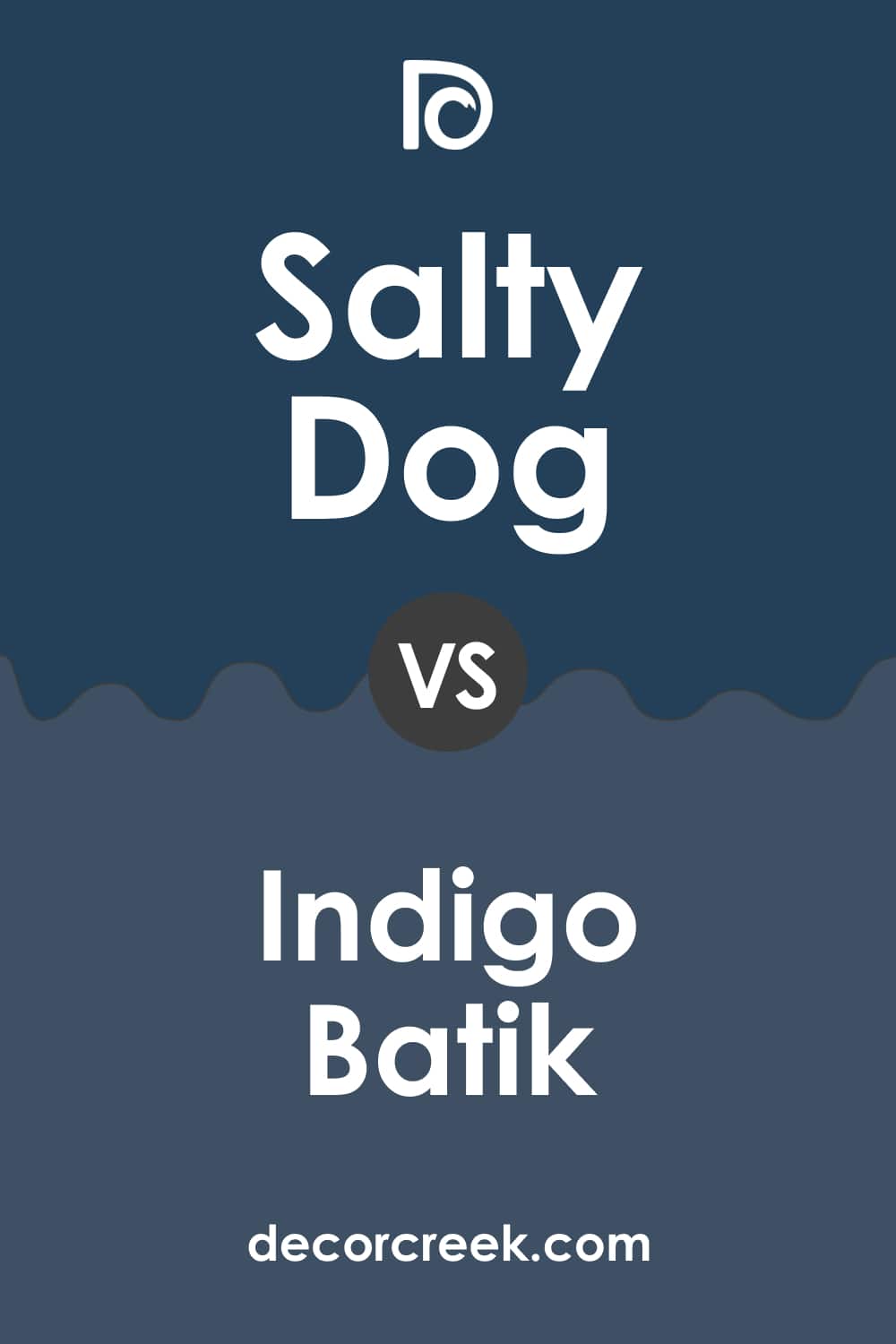 Salty Dog vs Endless Sea
SW Endless Sea has yellow and gray undertones, which already makes it different from the Salty Dog with its gray undertones only. Also, this distinction makes SW Endless Sea read brighter and lighter than its counterpart blue color.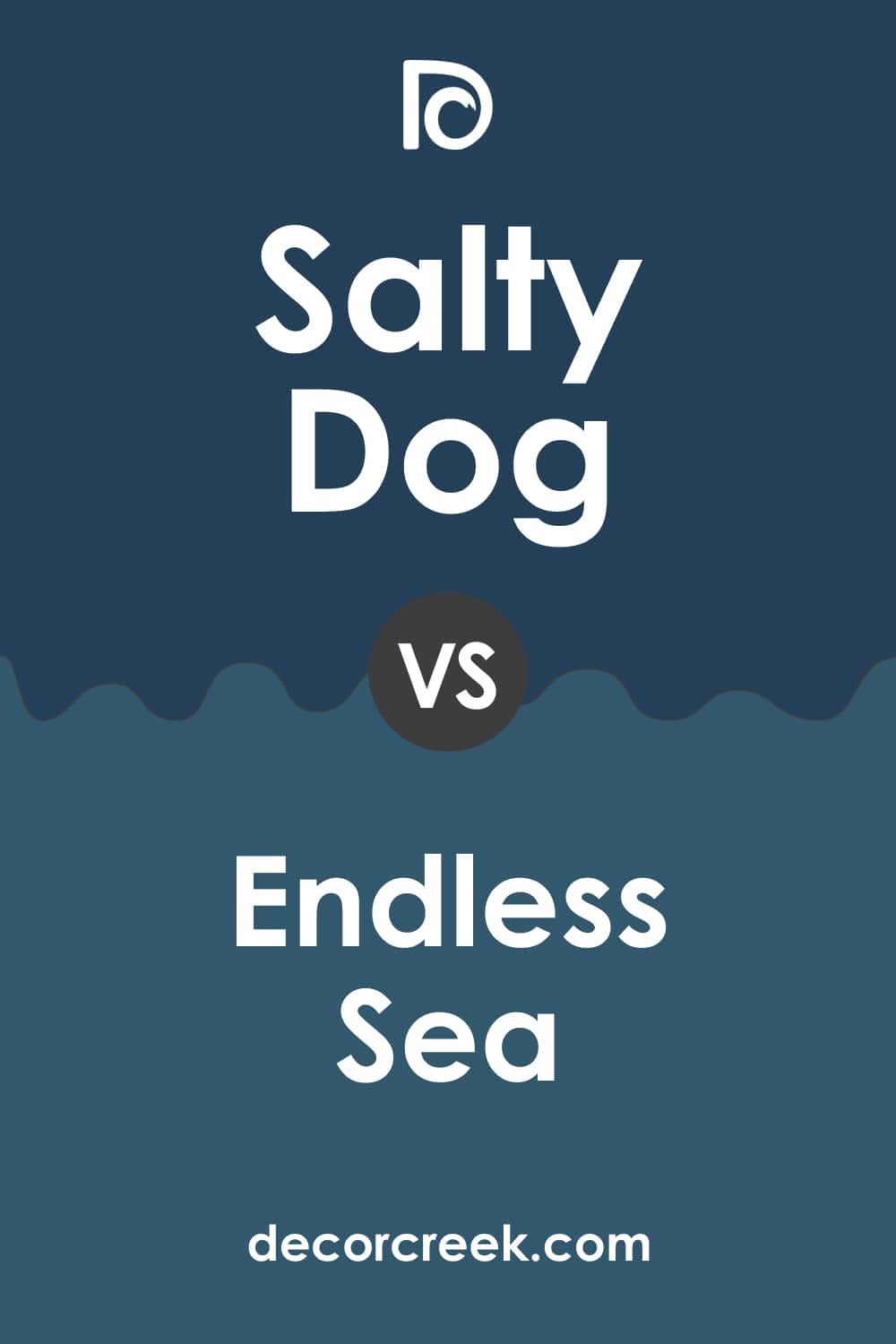 Salty Dog vs Revel Blue
The undertones of SW Revel Blue are purple, which makes it distinct from the Salty Dog color with its gray undertones. But generally, SW Revel Blue reads brighter and somewhat lighter than its counterpart, with a more pronounced blue hue.
Now you know about the general characteristics of the blue paint color called Salty Dog by the Sherwin-Williams brand. You know the type of this color and its undertones.
You also know its LRV and coordinating colors. Now let's see how this neutral navy blue color may look in different rooms of your home.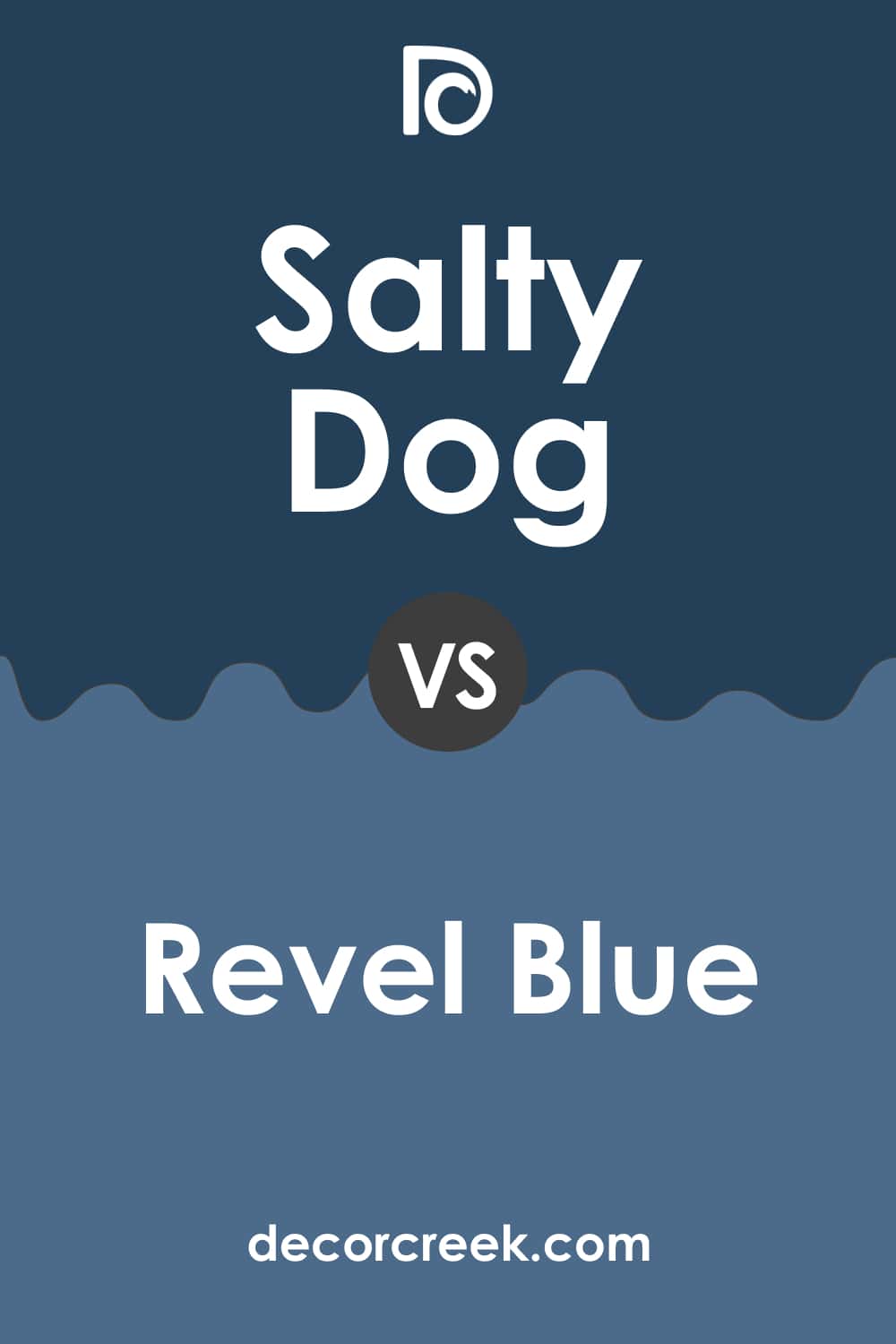 Where to Use Salty Dog SW-9177 Paint Color In Your Home?
Such colors as SW Salty Dog are not easy to use indoors due to their complex undertones. Also, you should know what colors this deep navy blue will work best with. This is why we recommend you read on and learn how this color may look in different spaces of a house/apartment.
Salty Dog SW-9177 in the Living Room
Using this color on your living room walls is an excellent way to make the space feel luxurious and elegant. You can also play with the color effect and pair this deep blue with goldens for a glam style, or add some pastels and neutrals if you want a subtle and sophisticated vibe.
You can also use this paint color in the hallways with great success by blending it with whites and off-whites.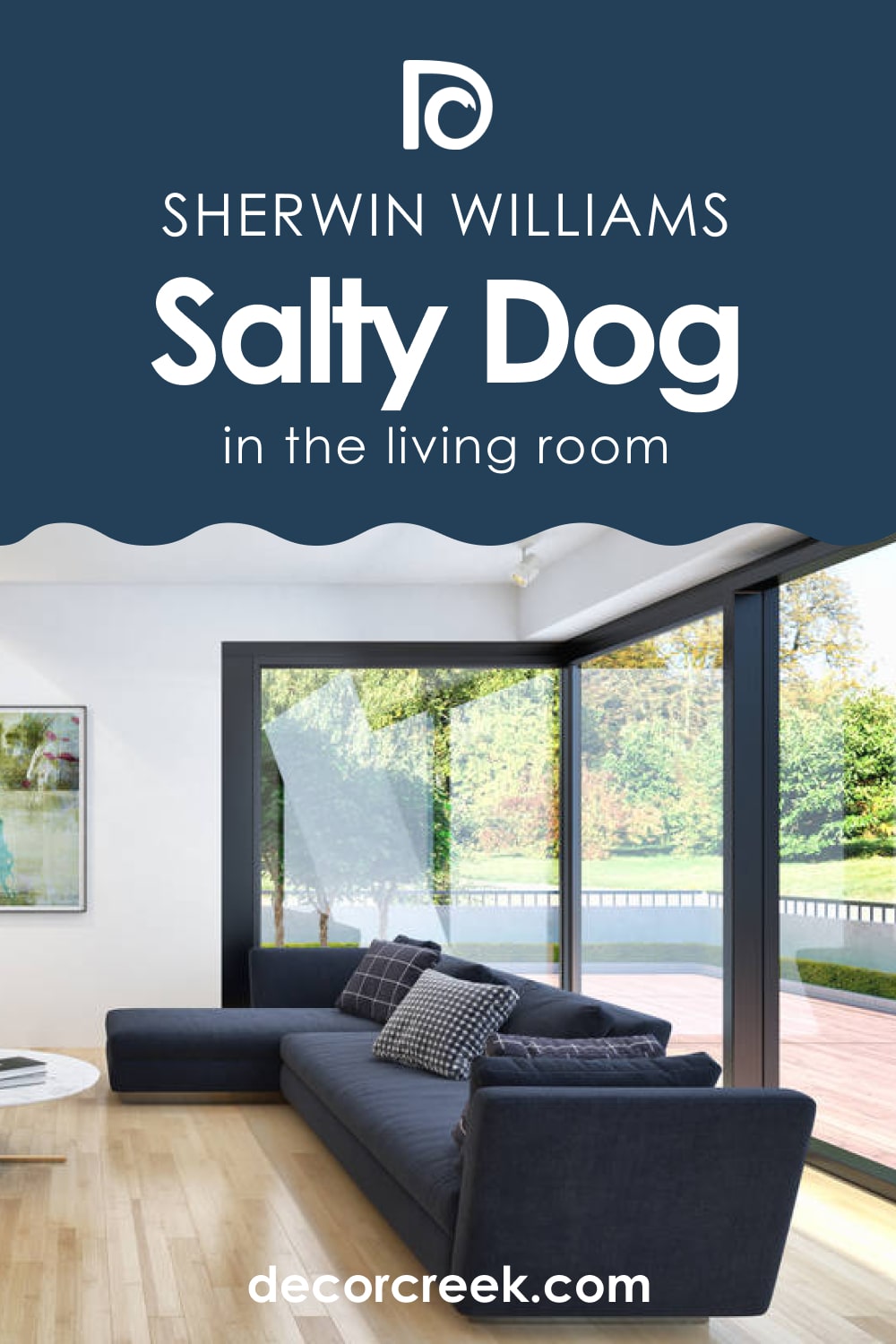 Salty Dog SW-9177 in a Bedroom
If your bedroom is not big enough, we recommend painting only one of your walls in SW Salty Dog. Ideally, it should be the accent headboard wall.
But of course, if you have a king-size bedroom, don't hesitate to paint all the walls in this rich blue and don't forget to add neutral, grey, and off-white fabrics for your upholstery to make the space less overloaded with the blue!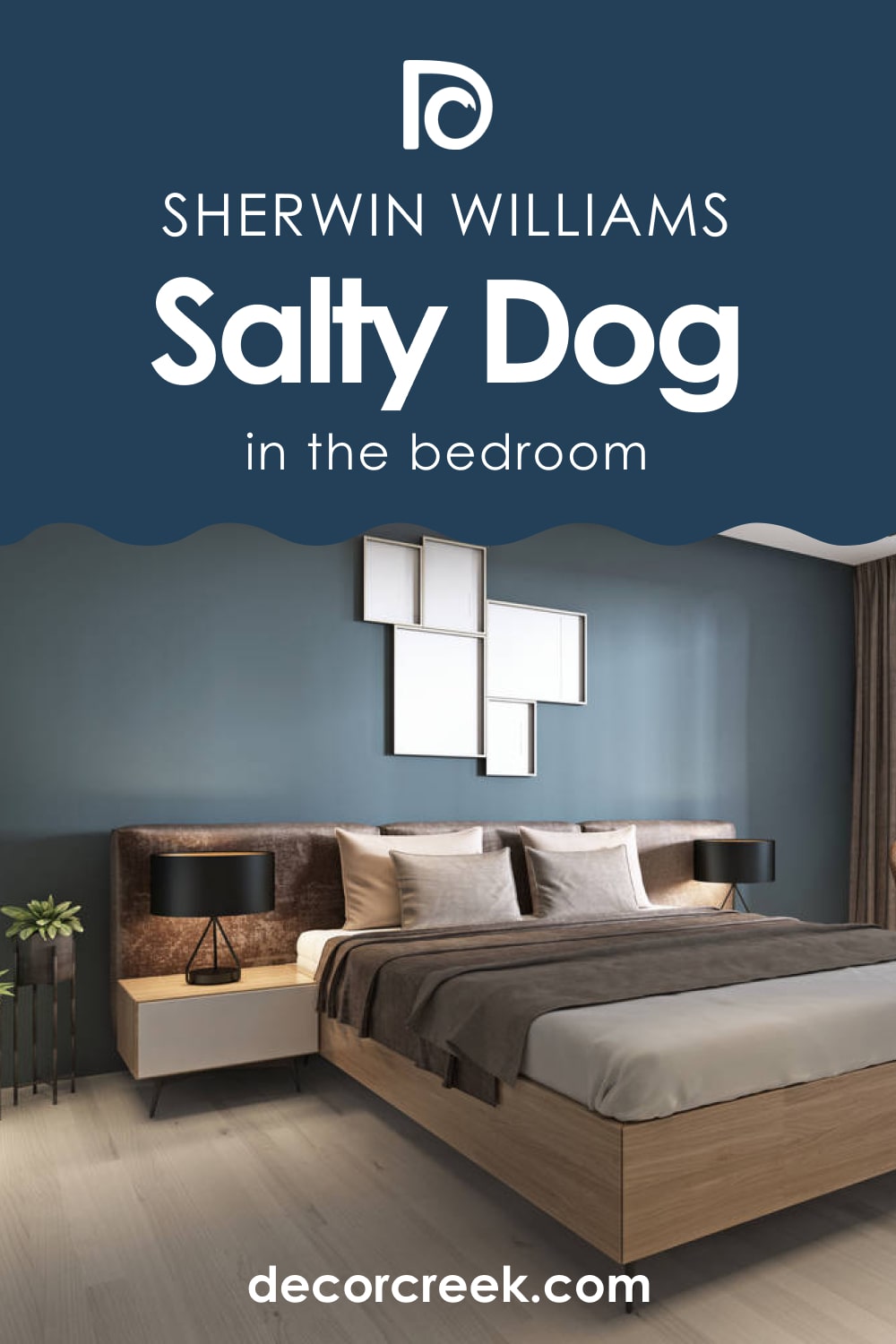 Salty Dog SW-9177 and Kitchen
In your kitchen, it's best to blend whites with this deep blue paint color. Also, you'd better use it either on the cabinets or the walls. Also, chrome hardware and golden handles or hangers will match this blue nicely in your kitchen.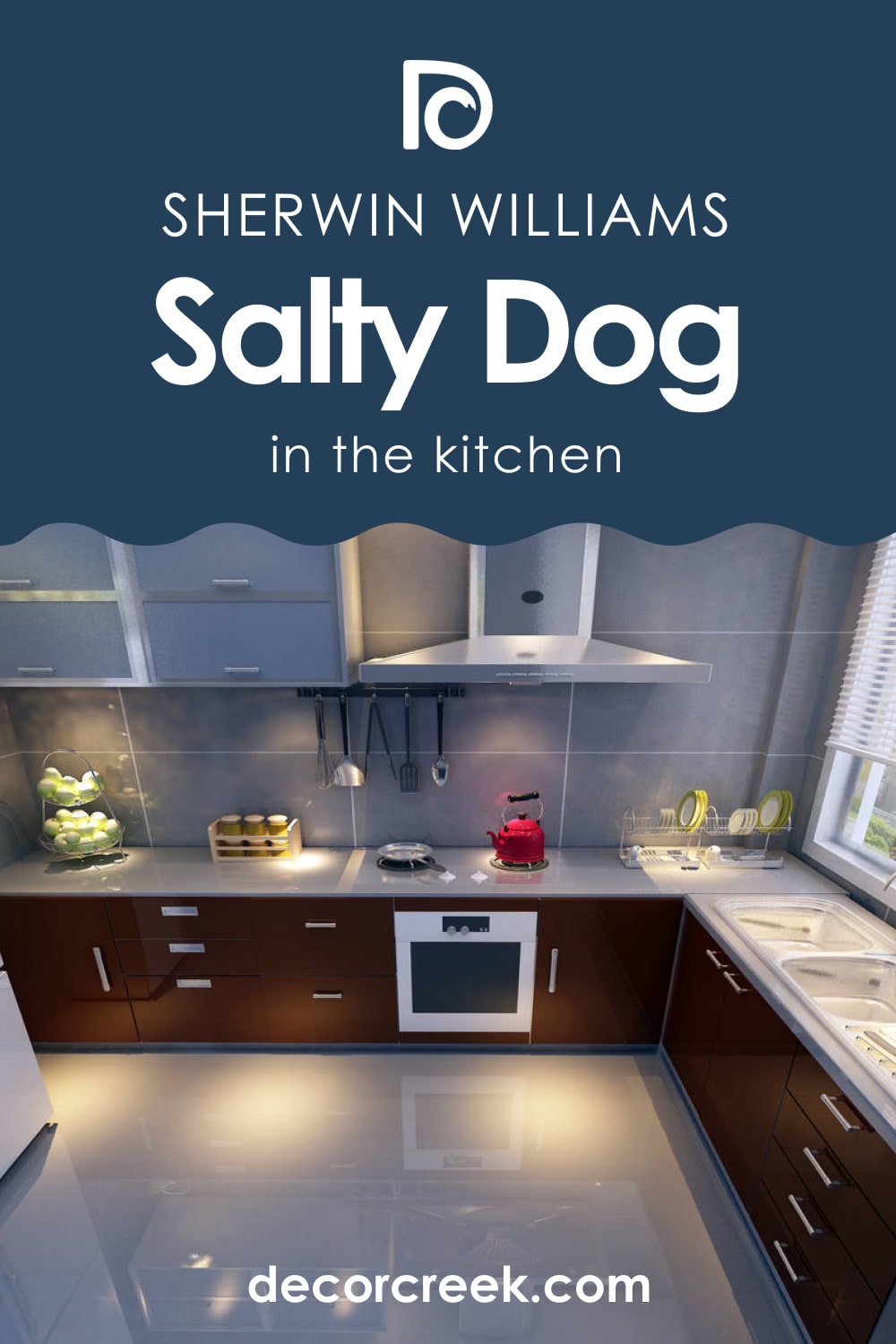 Salty Dog SW-9177 for the Bathroom
For your bathroom, this color will work best on smaller accent surfaces like cabinets or drawers. As an option, try painting your vanity sink with it. And remember to use as much white as possible! It will add airiness and brightness to the space.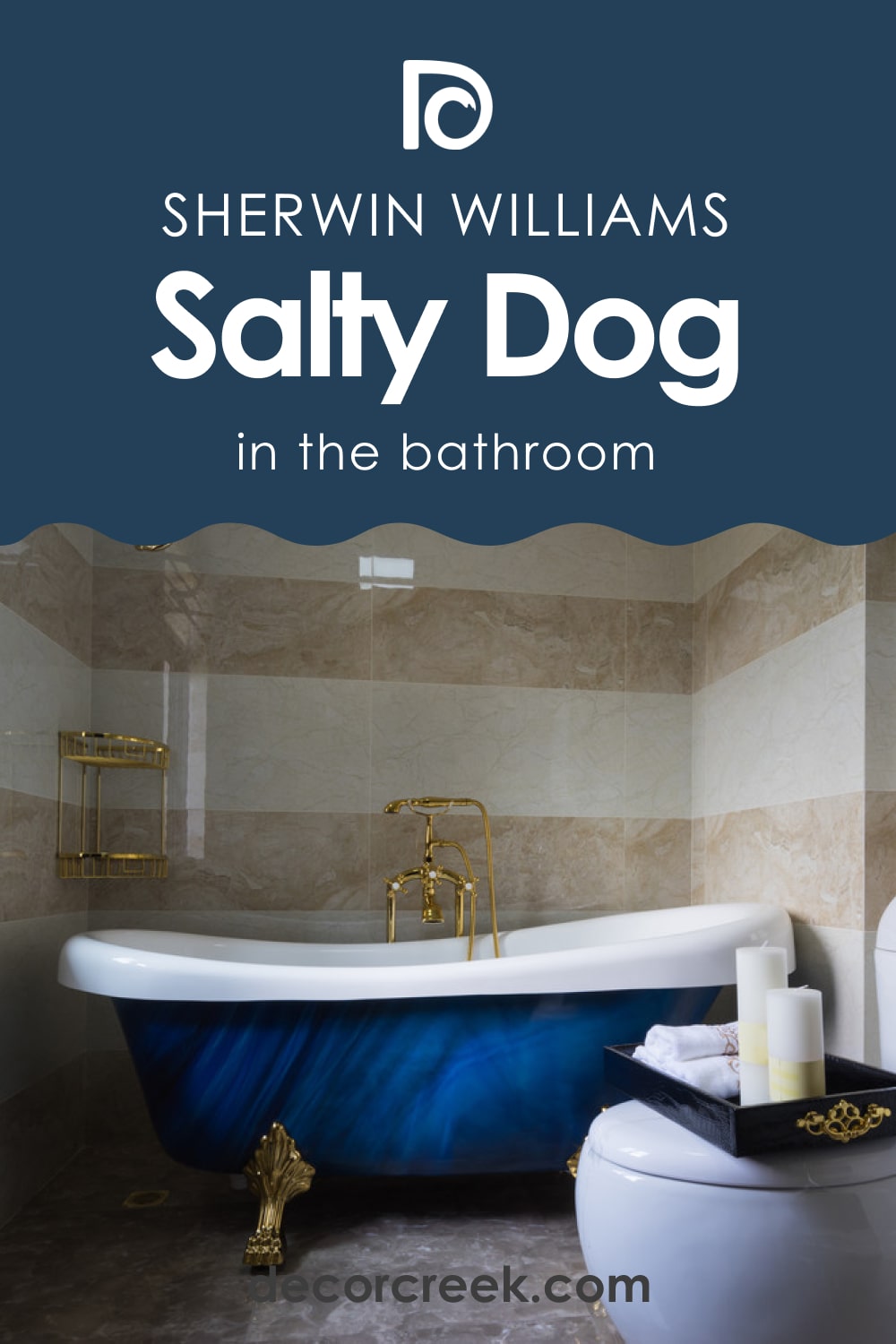 Salty Dog SW-9177 for the Exterior Use
This color might be too dark to paint the entire house, but painting the exterior door in SW Salty Dog will give a creative look to your home exterior for sure! However, if you do want to try it on the exterior walls, don't be afraid to do that!
This dark blue with gray undertones will look lighter when used on the exterior walls. Just remember to pair it with white or grey trims, moldings, and door, as well as window frames.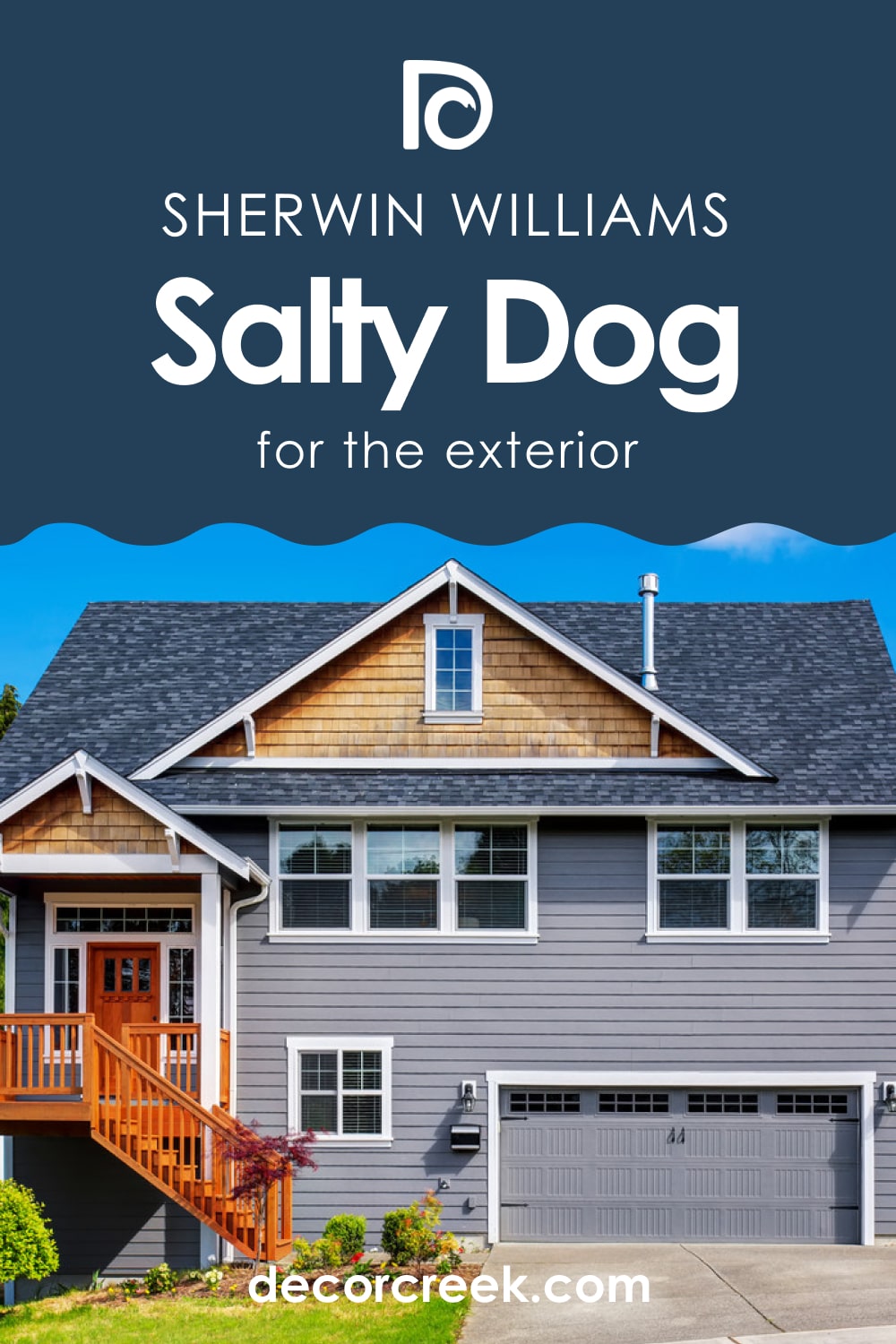 Well, now you know all about the gorgeous and elegant navy blue color called Salty Dog by the Sherwin-Williams brand. You know its characteristics and specifics, as well as the way it may read in different spaces.
You also know how it works with other colors and how this blue may react to light. All this information will help you use this amazing blue correctly and successfully in your home.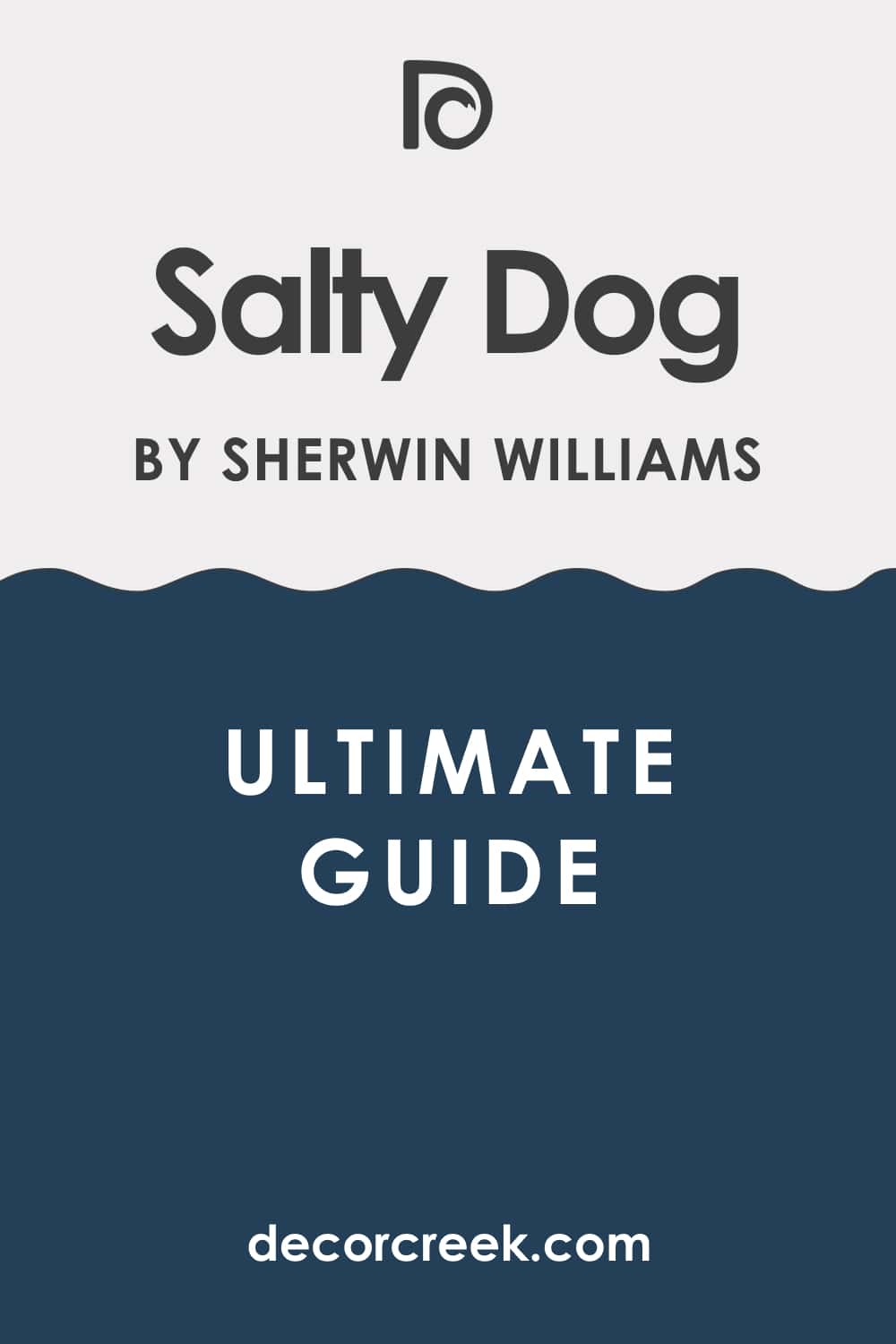 Frequently Asked Questions
⭐Does SW Salty Dog read black?
Typically it doesn't. But in a room with dim light, it may read almost like black.
⭐Does SW Salty Dog look good with yellow colors?
Yes! With brighter and more saturated yellows, as well as with muted shades of it, this blue will work exceptionally well!
⭐Is this color good to pair with leather furniture?
If the leather is not dark and the room is well-lit, it might work.