Do you use dark paint colors often in your home? Probably not, since we tend to believe that darker colors make rooms moody and obscure, and this is not the atmosphere most of us want to have at home.
However, today we want to introduce you to a lovely and rather dark paint color by Sherwin-Williams called Still Water.
This color does resemble the depth of the ocean or seawater, and we are going to tell you more about it!
You will learn what undertones it has and how it reacts to light. Also, we will recommend you the best places in your home where this color can be used.
Also, you will learn a lot of additional and helpful information, such as coordinating and trim colors that work with this paint.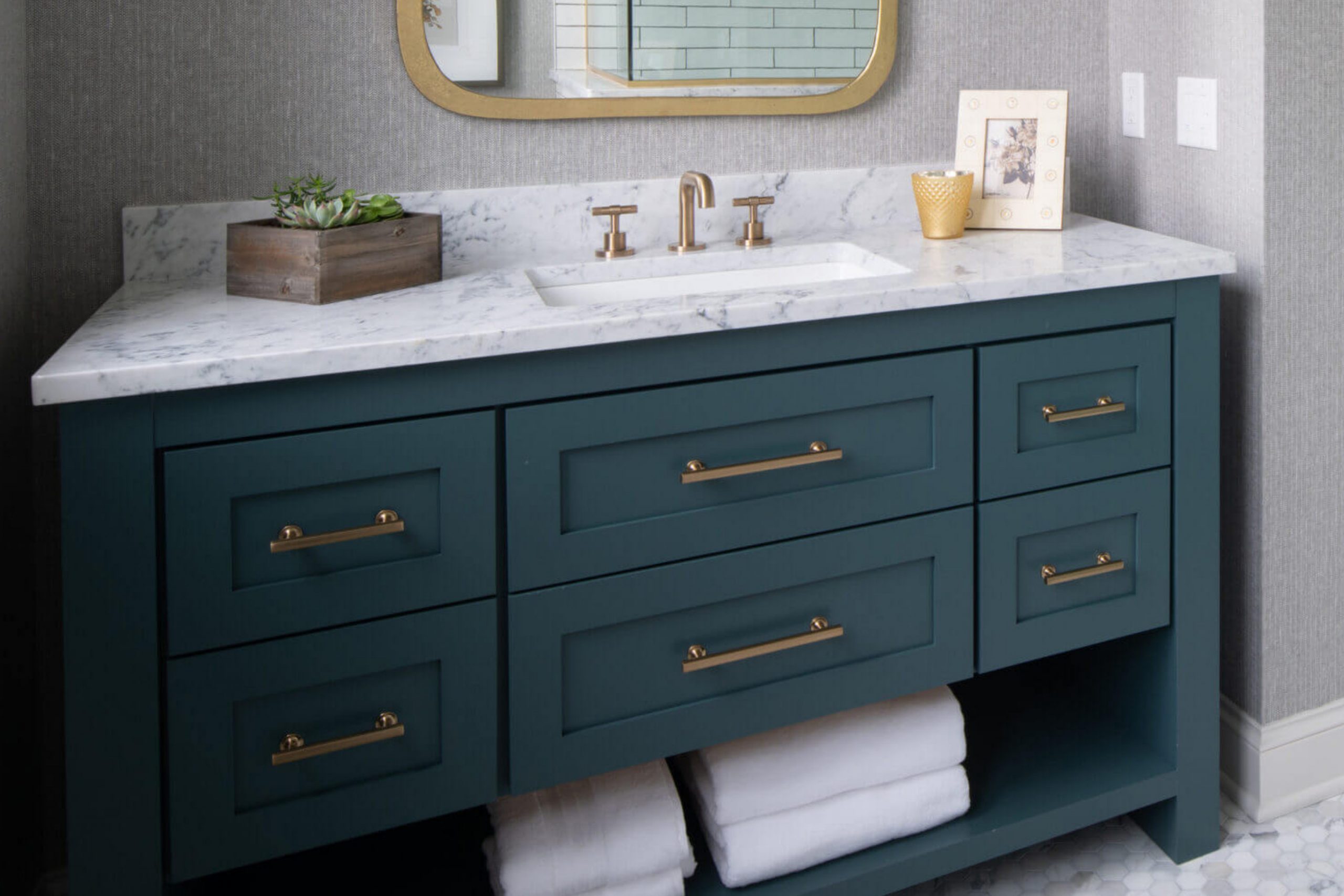 What Kind of Color Is SW 6223 Still Water?
SW 6223 Still Water  belongs to the blue color family. As Encycolorpedia says, it is a cool-toned dark blue paint color with complex green-gray undertones. This saturated neutral is perfect if you strive for a calm and mysterious vibe in your space!
Although this blue reads not extremely dark, it may still result in an enclosed feel in the room, so use it carefully after sampling only!
Nevertheless, when used correctly, SW 6223 Still Water can add a sophisticated and enchanted note to any space where it is used. This is an ideal color for making eye-catching accents and adding character to a room!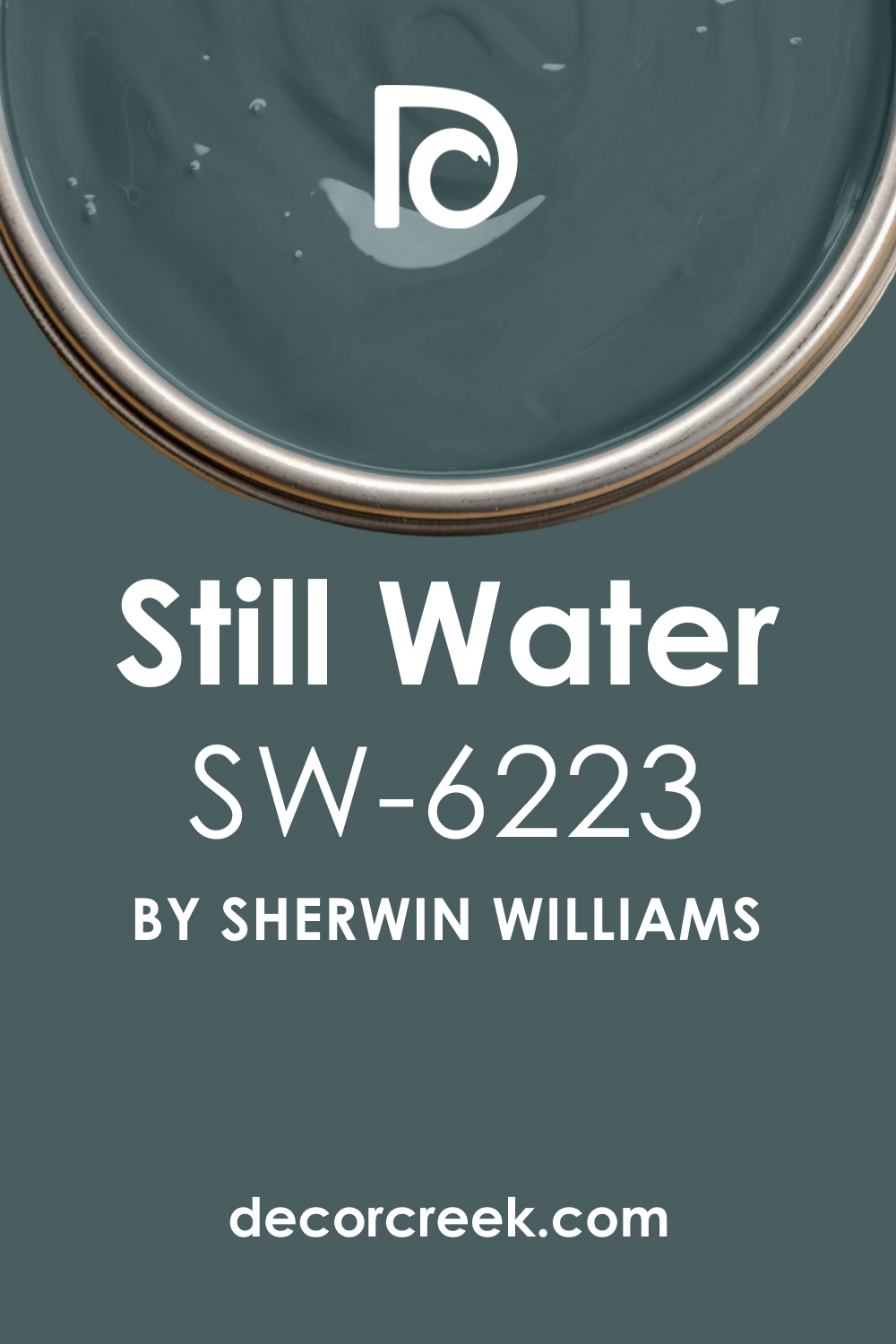 Is SW Still Water a Warm or Cool Color?
If you look at this color, you will immediately see that it is cool-toned. However, SW 6223 Still Water doesn't read cold or crispy at all! Instead, it gives off a tranquilizing and fresh feel of water, being balanced pretty well.
Thanks to its balanced tone, SW 6223 Still Water can be successfully used in cold and warm lighting. However, note that this color can read differently depending on the lighting conditions! This is because of its complex undertones of green and gray.
What Undertones Does SW 6223 Still Water Color Have?
Now, it's time to take a closer look at this color's undertones. They are really mind-twisting! As we have already said, SW 6223 Still Water has green and gray undertones that are mixed up perfectly, giving off a unique and beautiful color.
However, those undertones can play tricks on you if you use this color wrong! If you want to use this color in your home, always consider the lighting!
See, in a room with cool lighting (e.g., in a North-facing room or a room lit with cold-toned lights), SW 6223 Still Water will reveal its beautiful and cool-toned depth, reading rather blue-gray than greenish.
But wait for it! The second you use it in a room with warm daylight or in a room lit with warm-toned bulbs, its green hue will show up immediately!
In some cases, this dark blue may even read almost dark green! Quite a chameleon, so use it carefully.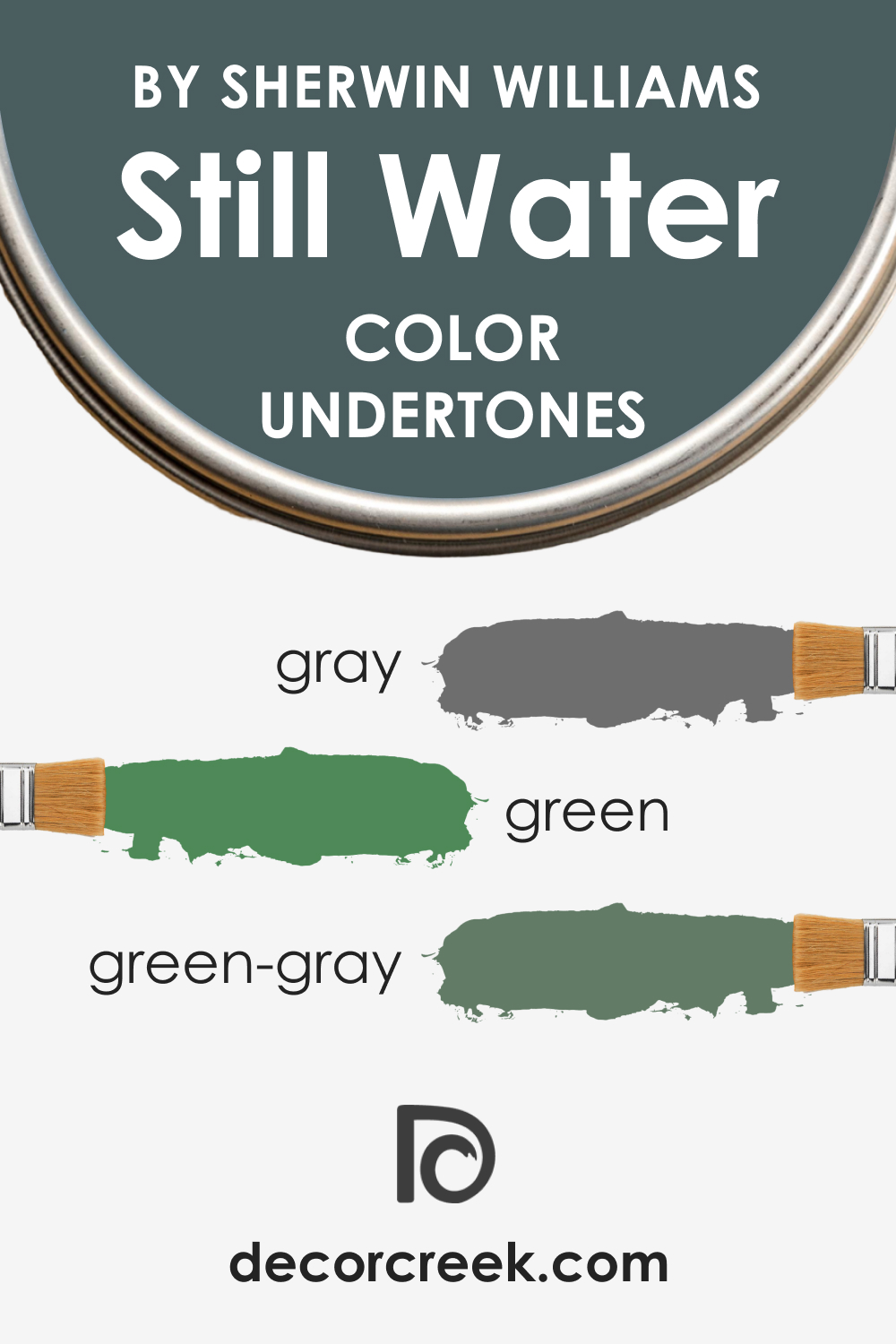 SW Still Water Coordinating Colors
To make your home welcoming, you should know how to combine different colors to make them work together. But with such a dark and tricky color as SW Still Water, it might be challenging to find the correct coordinating colors that will reveal its beauty.
This is why we have prepared several coordinating colors for you to check out. They will work with SW Still Water perfectly well. With them, you will quickly find the most suitable paints to use.
SW 6217 Topsail
SW 7637 Oyster White
SW 7633 Taupe Tone
For a monochromatic palette, you might want to try one of the following coordinating colors instead:
SW 2863 Powder Blue
SW 6222 Riverway
SW 6220 Interesting Aqua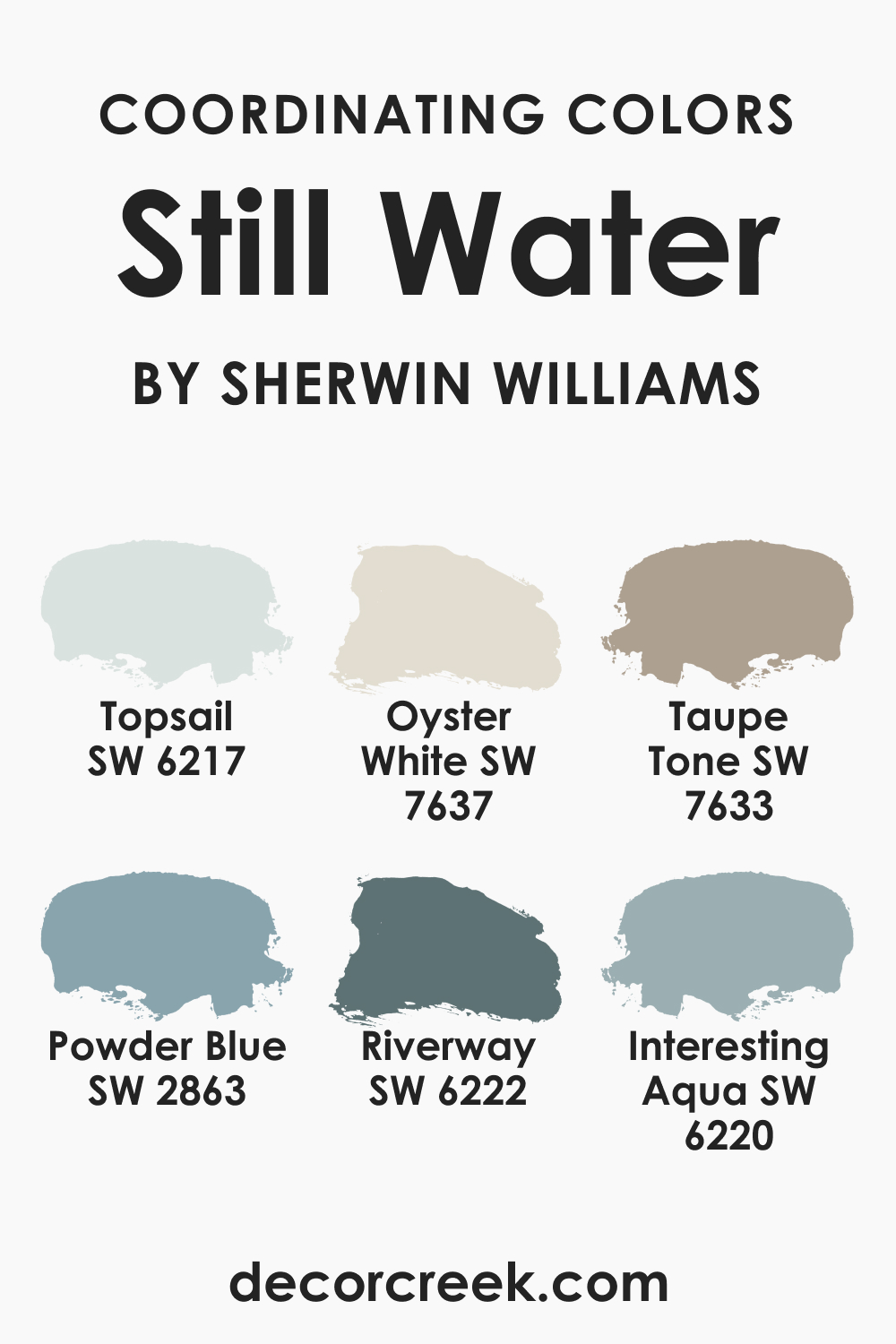 Should you prefer more varied color schemes in your home, you can use these colors as coordinating ones for SW Still Water:
SW 9157 Autumn Orchid
SW 6158 Sawdust
SW 6156 Ramie
SW 6170 Nomadic Desert
SW 9115 Cowboy Boots
SW 9134 Delft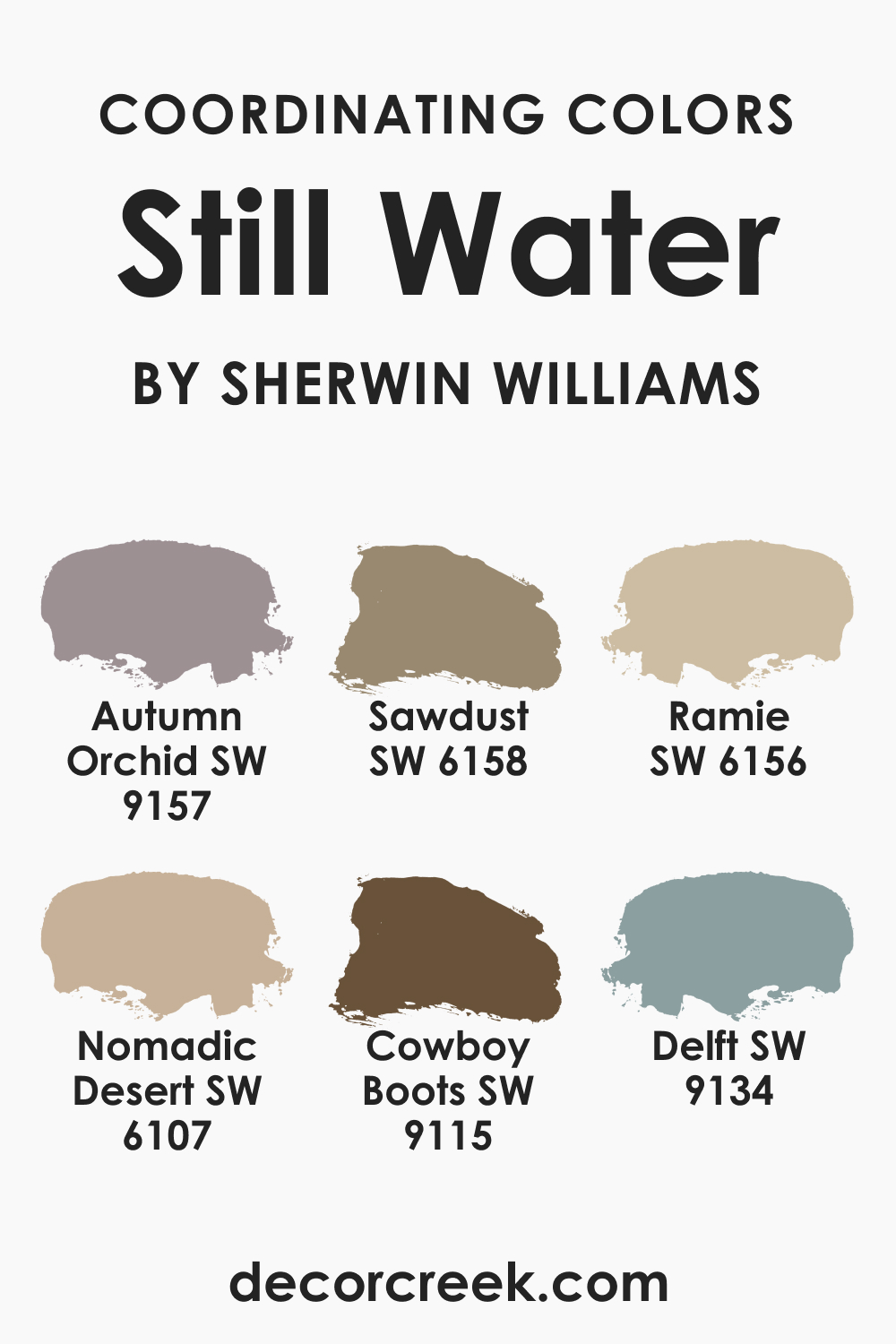 What LRV Does SW 6223 Still Water Have?
LRV stands for the light reflectance value. This measurement shows how much light a color can reflect when it is applied to the wall. The higher the LRV rate, the lighter the color, and vice versa. The closer the LRV is to zero, the darker the color. If the LRV climbs up to reach 100, the color gets lighter.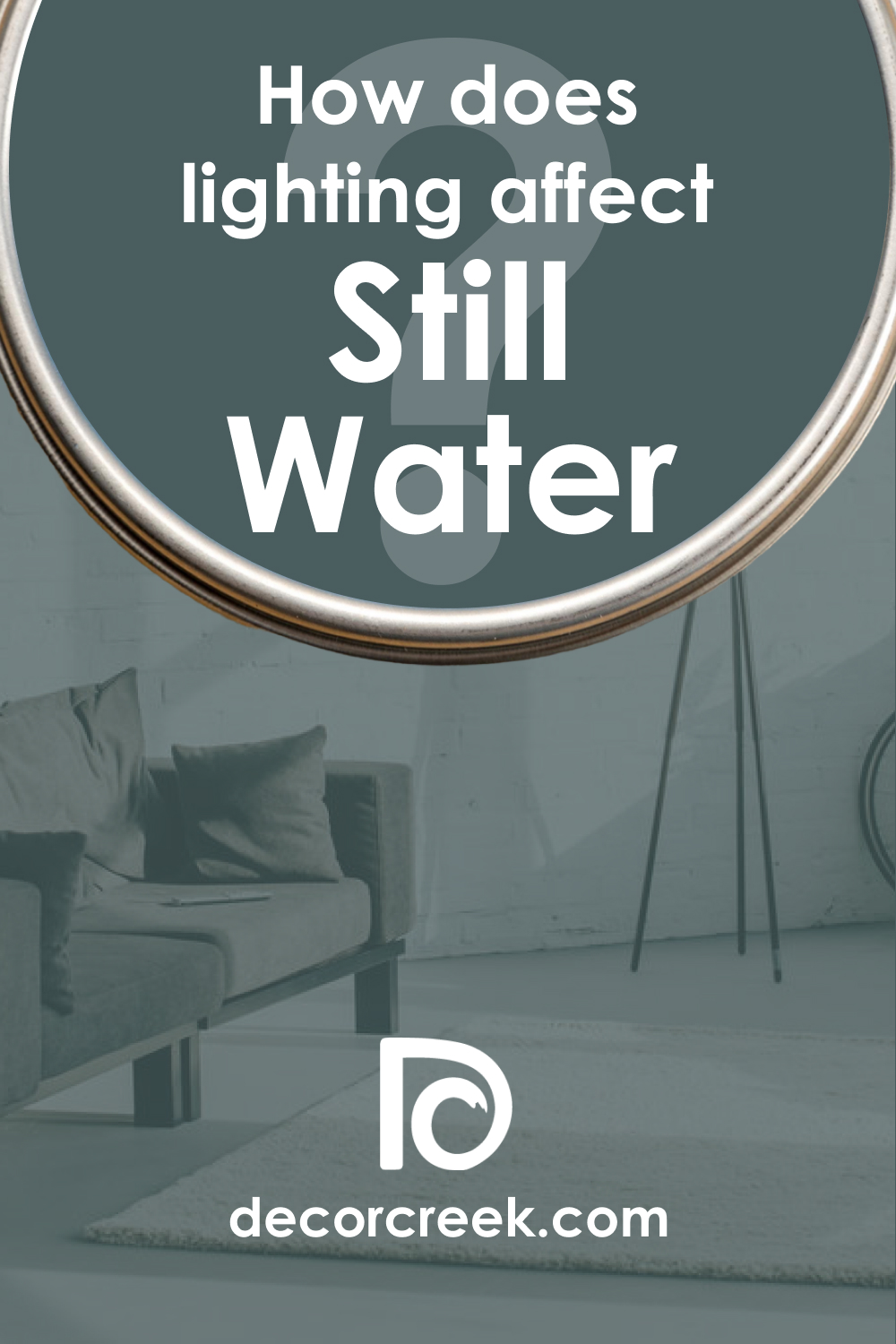 The LRV of SW Still Water is 10, which places this blue on the darker side of the light reflectance scale. However, this LRV value is not the darkest possible, which is why SW Still Water will never read black-like.
Instead, it will add a balanced note of character and drama to any space.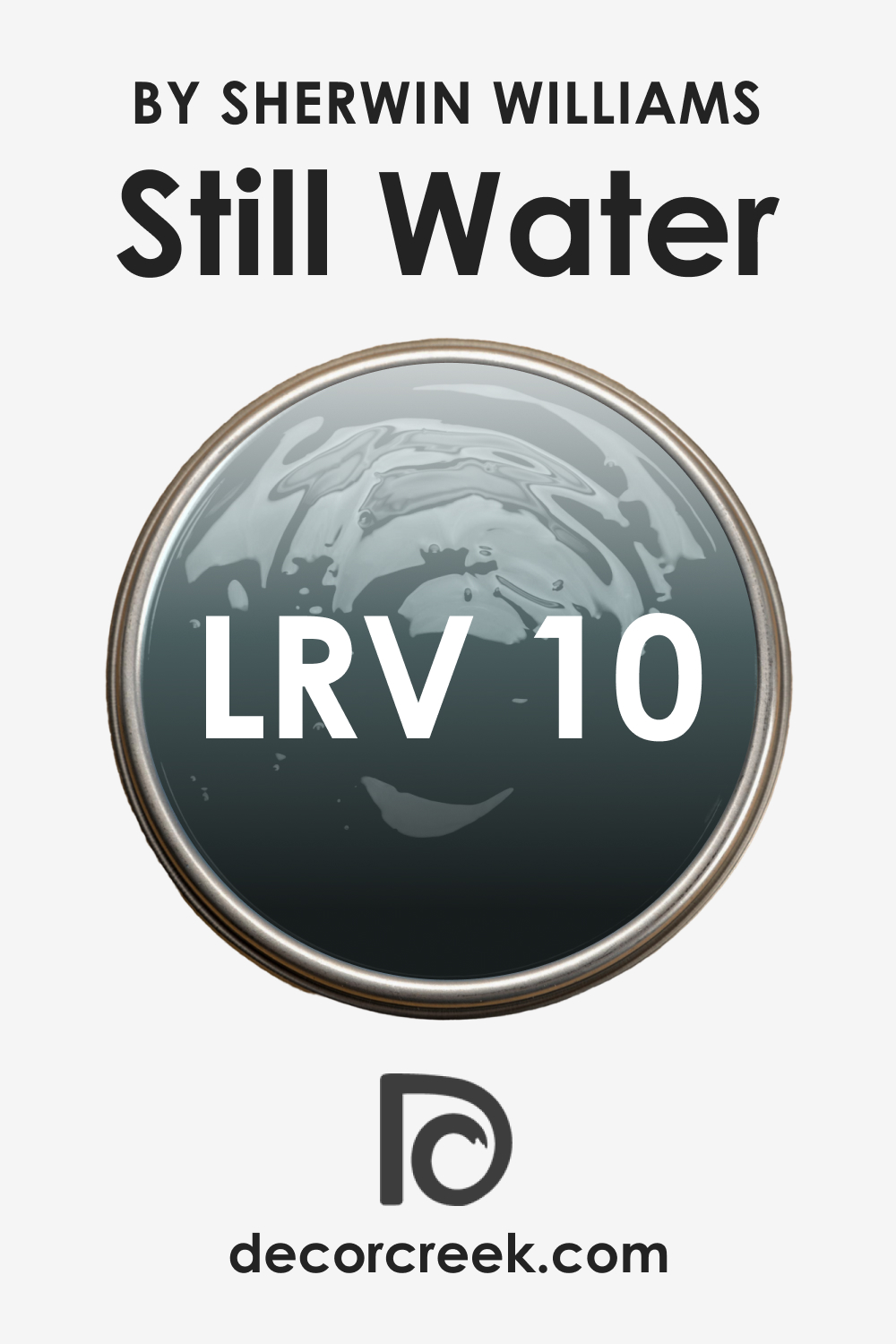 LRV – what does it mean? Read This Before Finding Your Perfect Paint Color
Trim Colors For SW Still Water
White is an ideal trim color that works almost all the time, no matter what color is used on the walls. White pairs nicely with most colors, so you just need to pick the white that will work harmoniously with the wall color.
SW Still Water is a flexible color when it comes to picking the correct trim color for it. It can work with cool-toned and neutral whites, as well as with warmer whites (just don't use it with creamy and yellowish whites!). For example, the following white colors can work on your trim:
SW 7636 Origami White
BM 2137-70 White Wisp
SW 7757 High Reflective White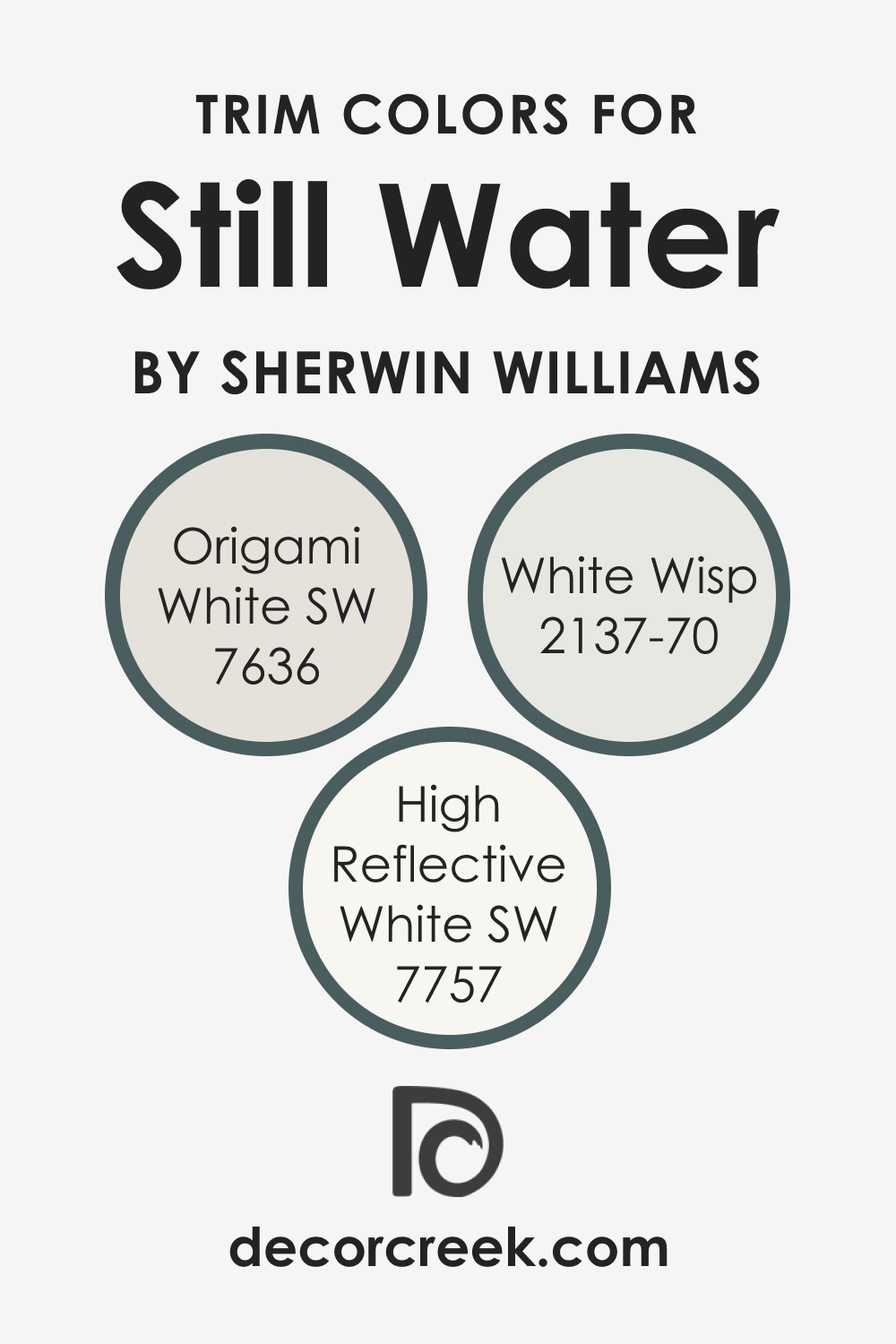 Colors Similar to SW 6223 Still Water
In case you need to find the color that reads almost the same on your walls as the one you were going to use, knowing similar colors is essential.
When you have a bunch of colors that can be used as substitutes, you can easier find the best-matching alternatives. For SW 6223 Still Water, the following colors can work as substitutes:
Behr Jungle Green
BM Vanderberg Blue
PPG Antique Slate
Valspar Sequoia Glade
Of course, note that none of these colors will be an ideal 100% match! Each color on this list will vary slightly in tone or LRV, but generally, all of them read almost identical to SW Still Water.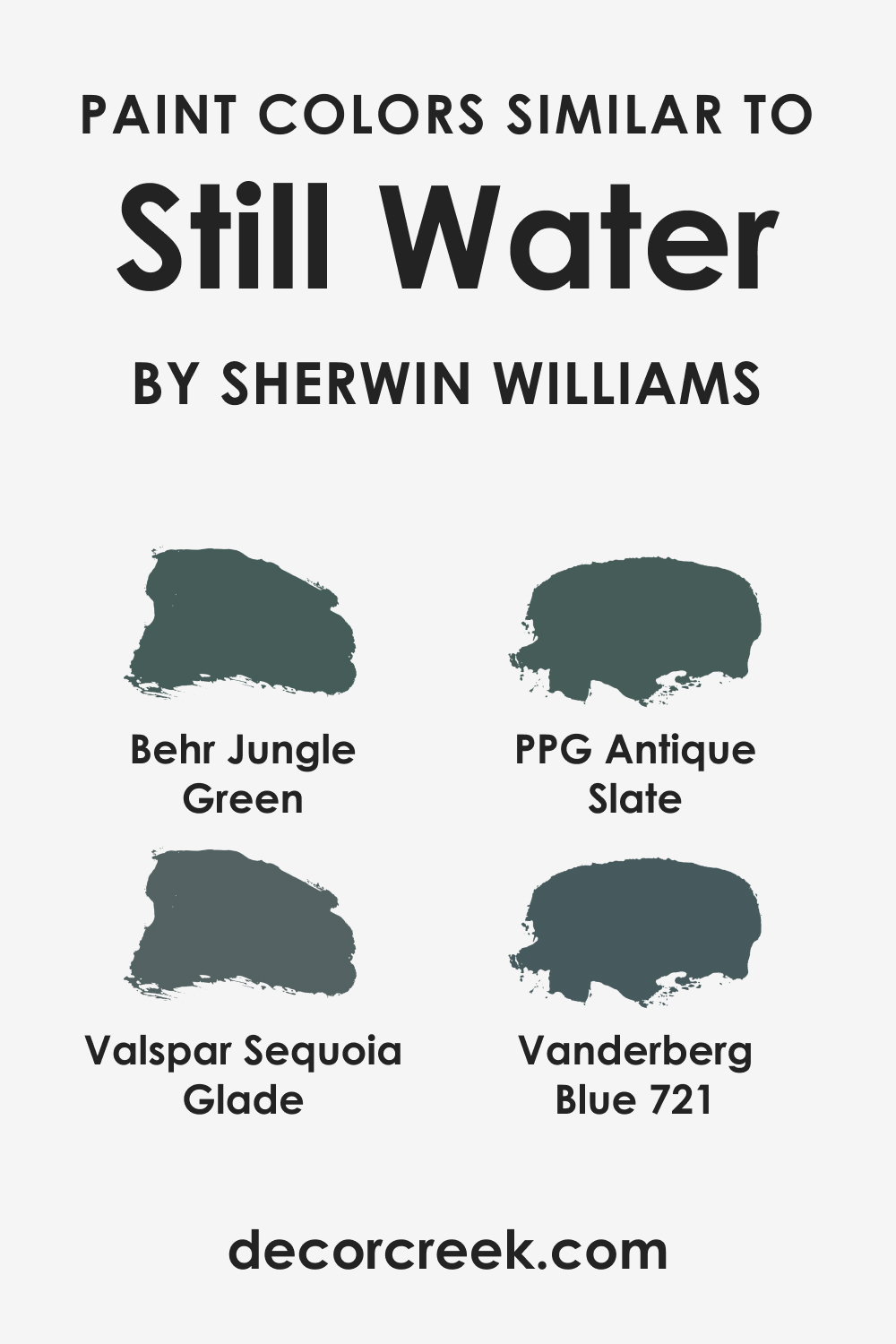 Colors That Go With SW 6223 Still Water Paint Color
To be able to achieve a balanced color palette in your home, you should know what colors will work with the wall color best of all. For SW Still Water, for example, you might want to use one of the following options:
SW 7016 Mindful Gray
SW 6258 Tricorn Black
SW 6221 Moody Blue
SW 7043 Worldly Gray
SW 6391 Gallant Gold
SW 6486 Reflecting Pool
SW 6676 Butterfield
SW 6772 Cay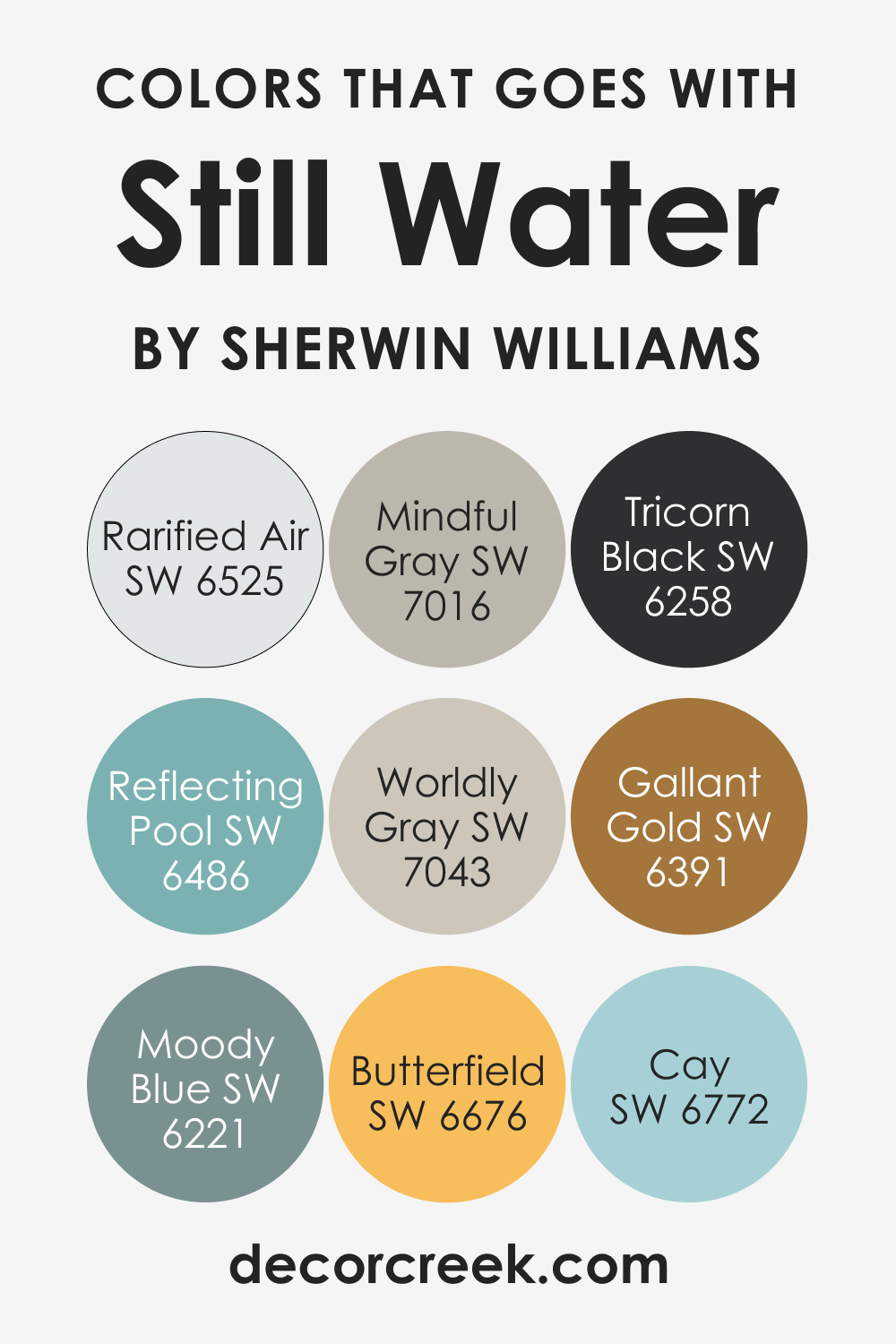 Comparing SW 6223 Still Water With Other Colors
To better understand what makes this dark blue with complex green and gray undertones distinct, we suggest you read the description of SW Still Water and a few similar blue colors that look nearly the same. This will help you better to see even the minor differences and nuances in color.
Still Water vs Waterscape
SW Waterscape is much lighter than SW Still Water due to the higher LRV value of 61. Also, SW Waterscape has green undertones that read neither cool nor warm, making this color look perfectly balanced and neutral.
The only similarity between these two is that both are considered cool-toned.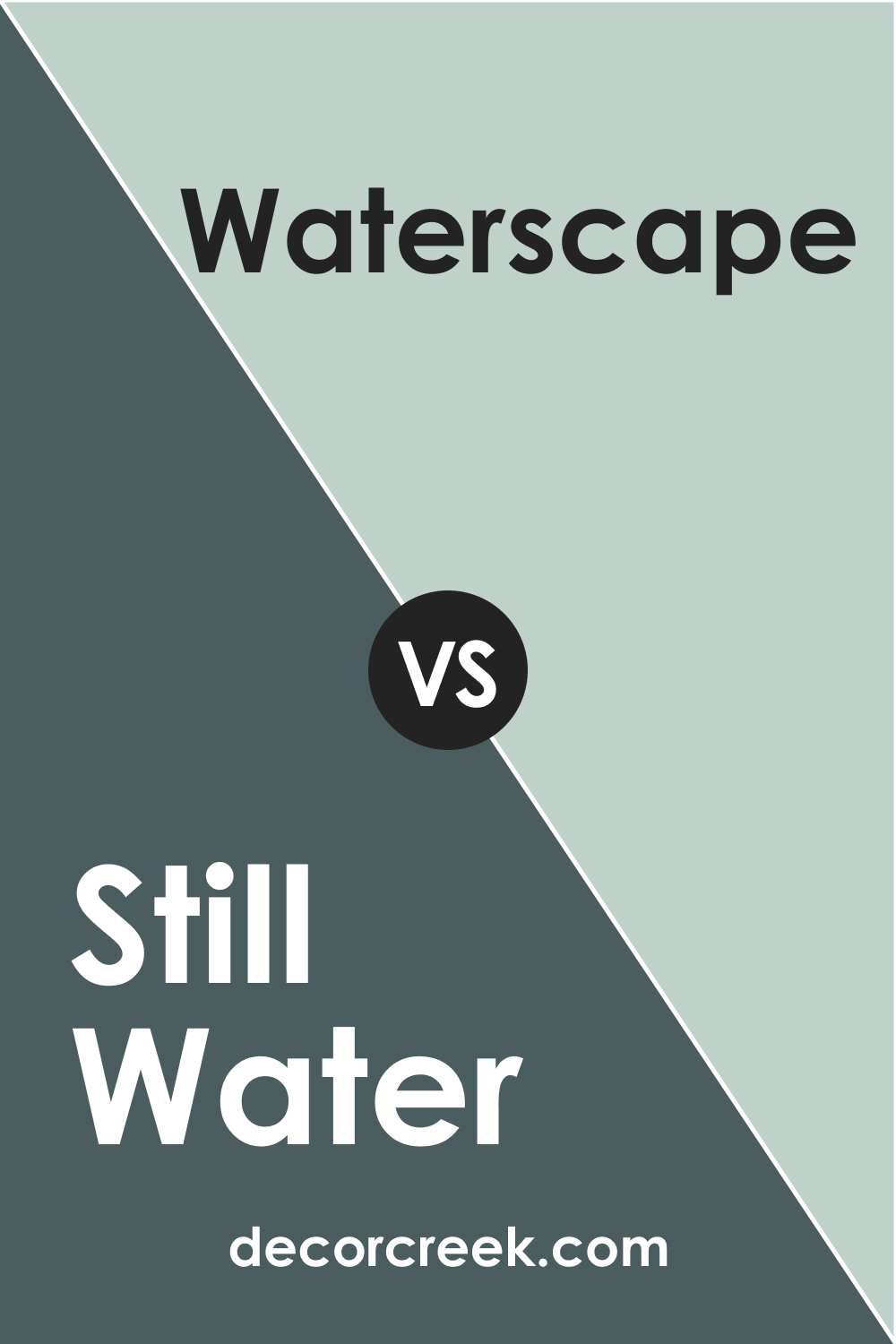 Still Water vs Sky High
SW Sky High is an airy shade of blue with a slightly yellowish undertone, which prevents it from reading crispy and cold. The color looks very light due to the LRV of nearly 78, which also places SW Sky High and SW Still Water on the opposite ends of the LRV scale.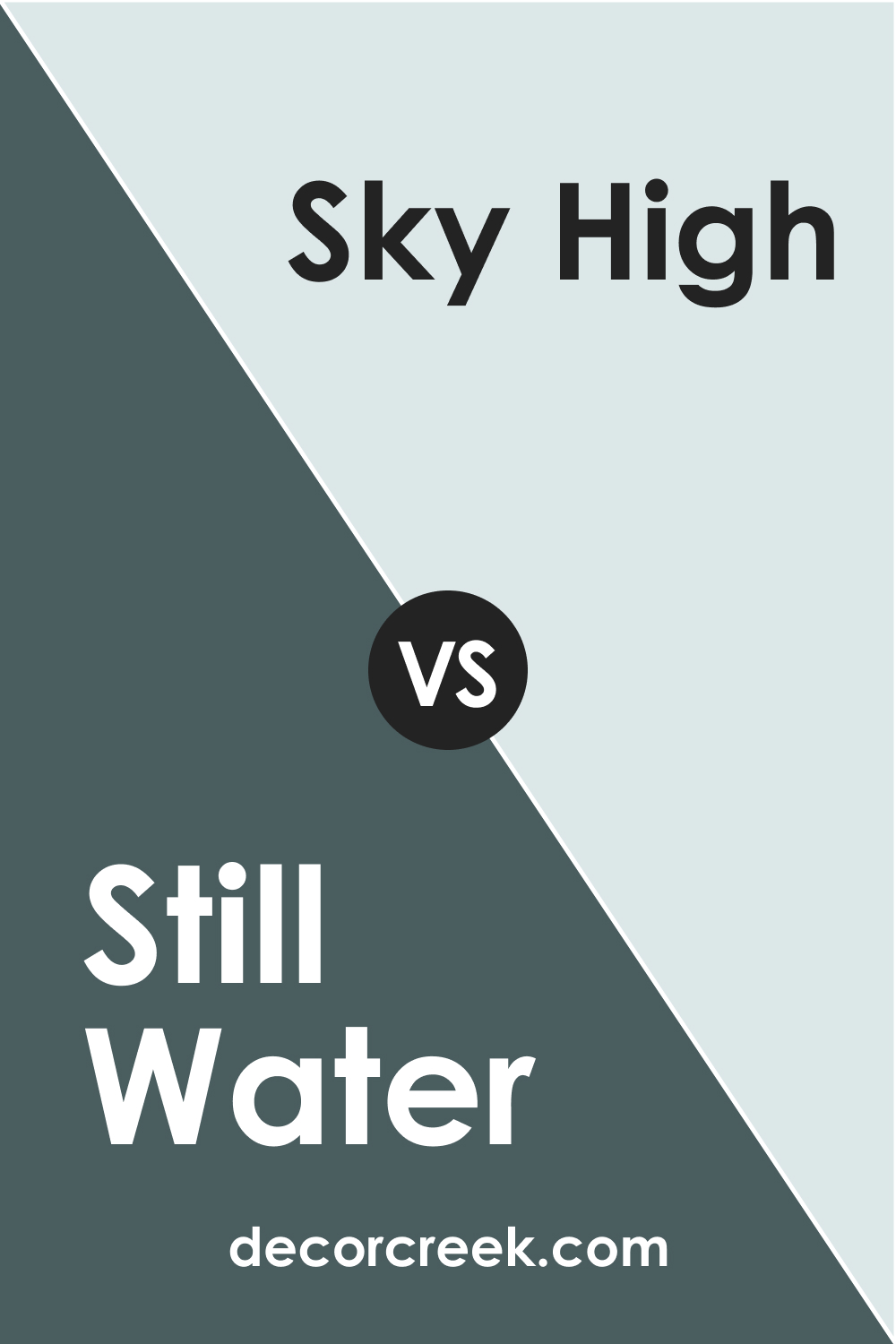 Still Water vs Topsail
Compared with SW Still Water, SW Topsail looks nearly white! With an LRV of 75, the Topsail color is much lighter than SW Still Water, whose LRV is 10. However, since both colors belong to the blue color family and both have gray undertones, they can work pretty well together!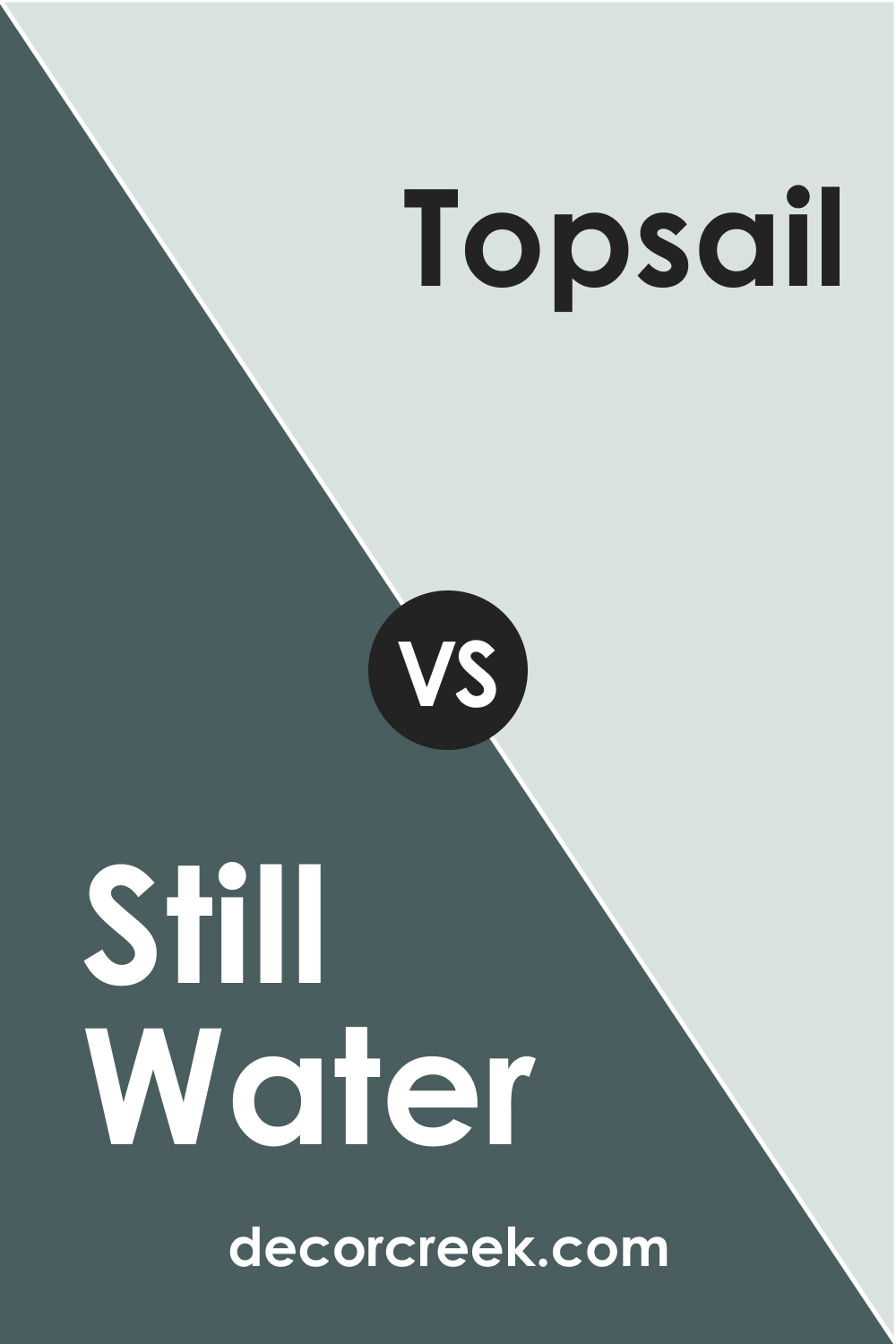 Still Water vs Breezy
SW Breezy has an LRV of 41, which makes it balanced and not too light. In fact, this blue reads pretty muted and calm, but if you compared it with SW Still Water, you will see that SW Breezy is much lighter. Also, it reads bluer.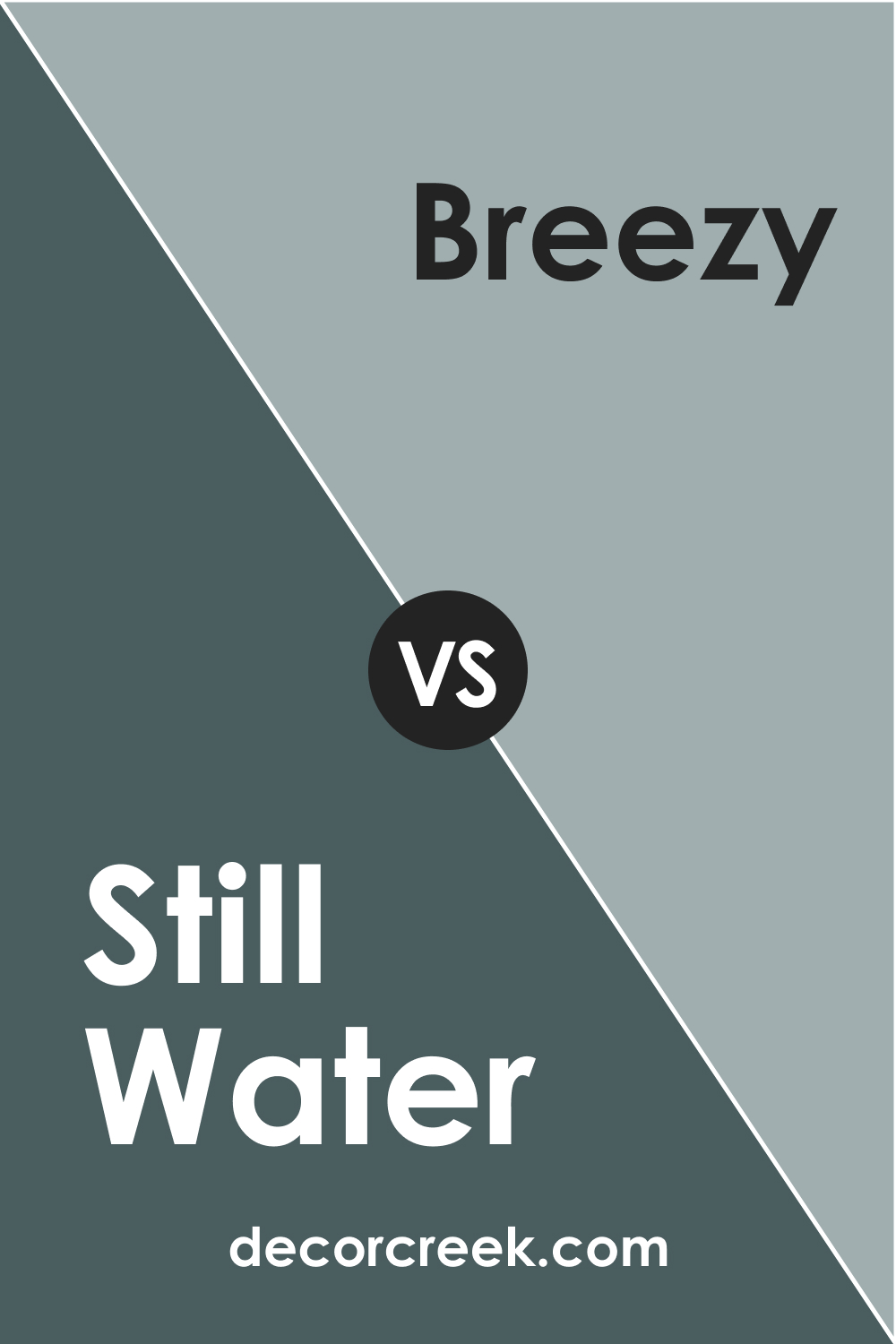 Still Water vs Tradewind
SW Tradewind is a blue color with an LRV of 61 and sneaky green and gray undertones. Since it has undertones similar to those SW Still Water has, these blues work well together.
Also, the difference in their LRVs (61 for SW Tradewind and 10 for SW Still Water) results in a lovely and balanced contrast.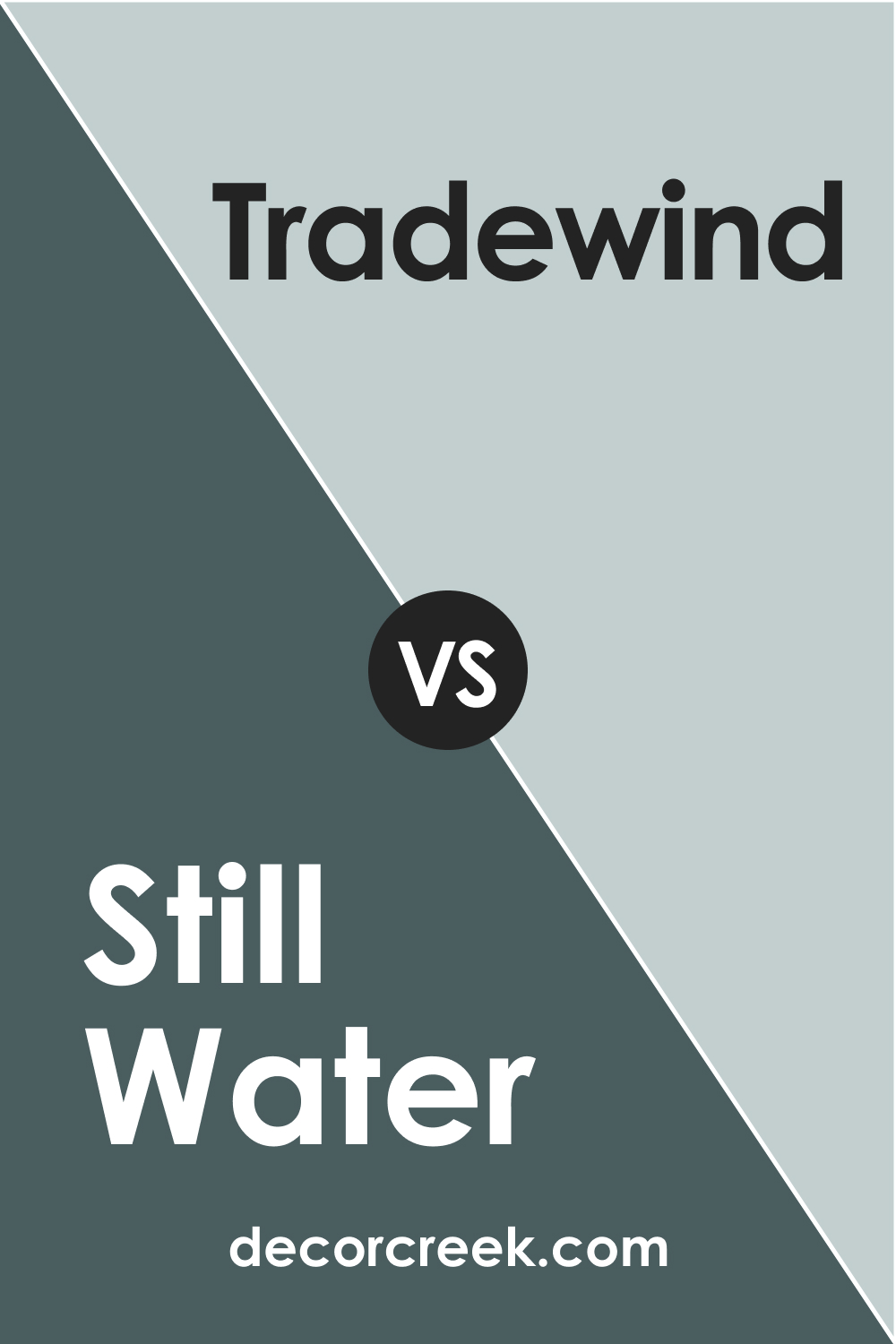 Where to Use SW Still Water Paint Color In Your Home?
Such dark colors as SW Still Water can be challenging to incorporate into home interiors due to their complex undertones and the ability to read differently in distinct lighting conditions. This is why we recommend you learn how this dark shade of blue might read in different rooms of your home.
SW Still Water in the Living Room
In a large and well-lit room, SW Still Water can read perfectly well! This deep blue will add character and style to the space, making it look elegant and noble. It pairs lovely with white trim and moldings, leather furniture, as well as golden handlers, and other decor elements.
This is why you can use it in living rooms designed in a classic style. Otherwise, it's possible to paint an accent wall with this color.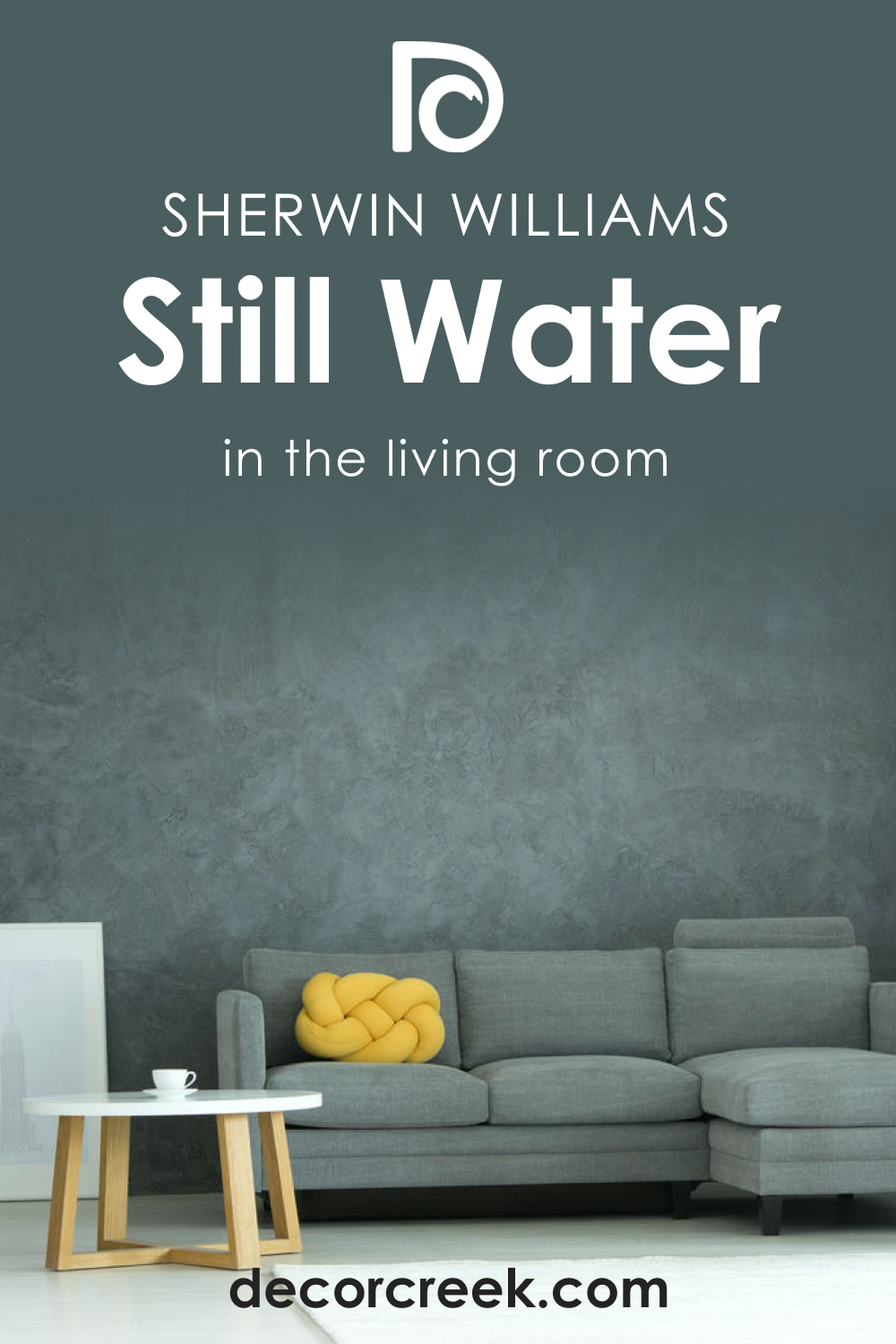 SW Still Water in a Bedroom
This color might be too dark for your bedroom if you use it on all the walls. But as an accent wall color, SW Still Water can work absolutely awesome! It pairs with wooden furniture and golden accents, as well as with natural fabrics.
It may even work as an accent wall color if you have wallpapers on your bedroom walls!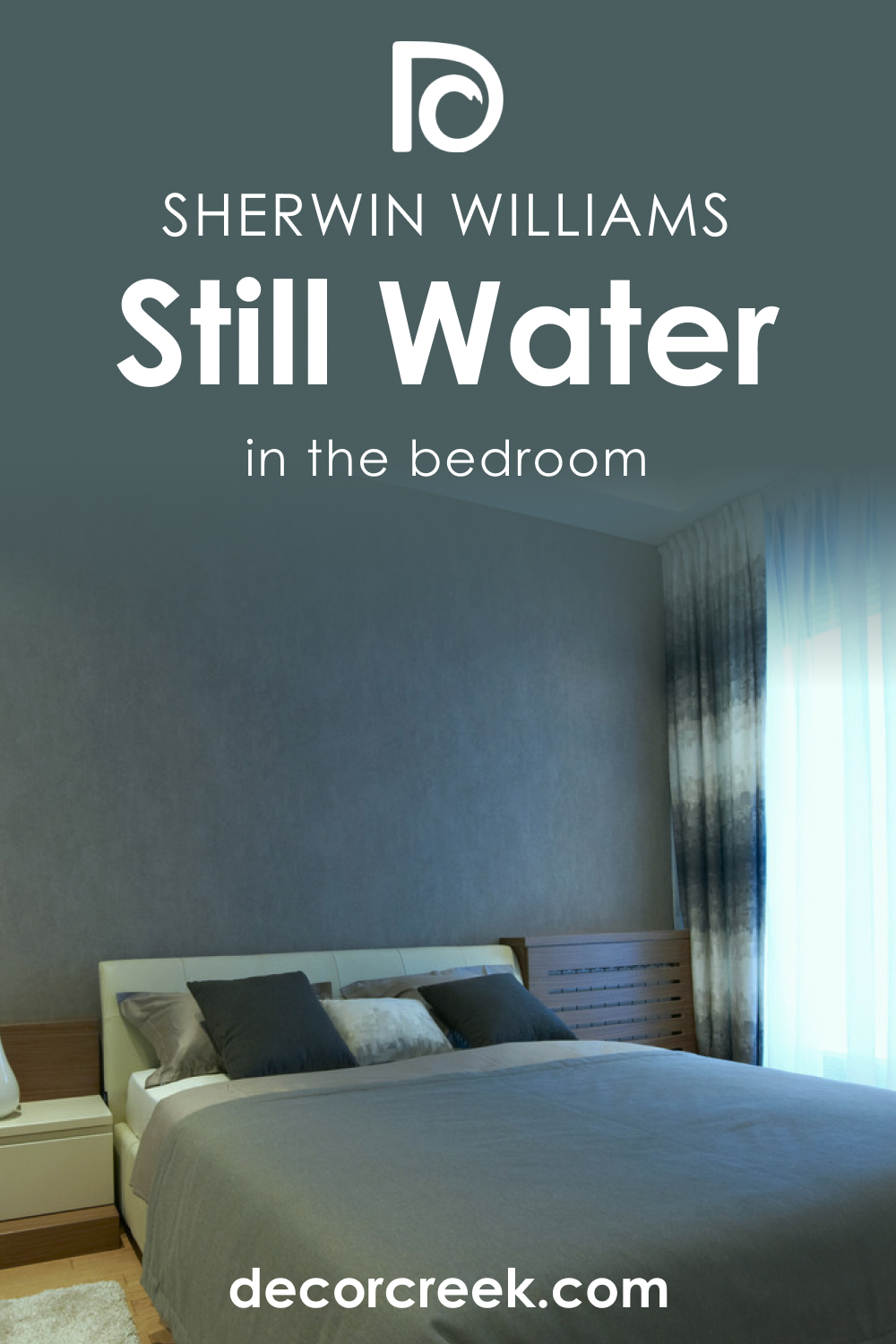 SW Still Water in the Bathroom
SW Still Water is too dark to paint all your bathroom with it. But nobody says it's forbidden to use it on the vanity sink or drawers or even paint an accent wall with this gorgeous dark blue! Paired with the white walls and tiles, this color will add a fresh and chilly vibe to the space.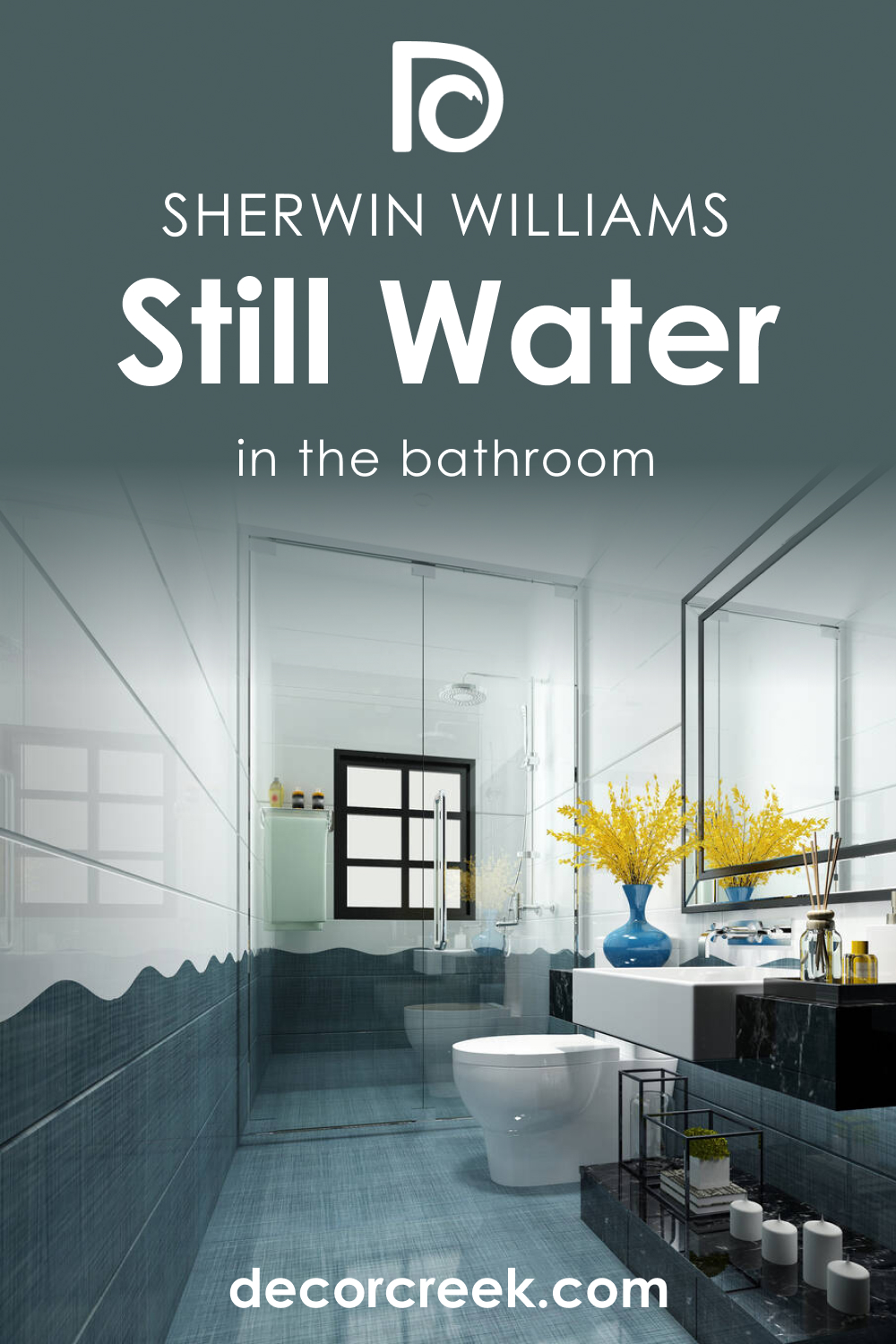 SW Still Water and Kitchen
To be honest, this color works best in kitchens if you paint your kitchen island and/or cabinets with it. As a wall color, it will probably be too much. But except for this nuance, SW Still Water will help you add color accents to your cooking space!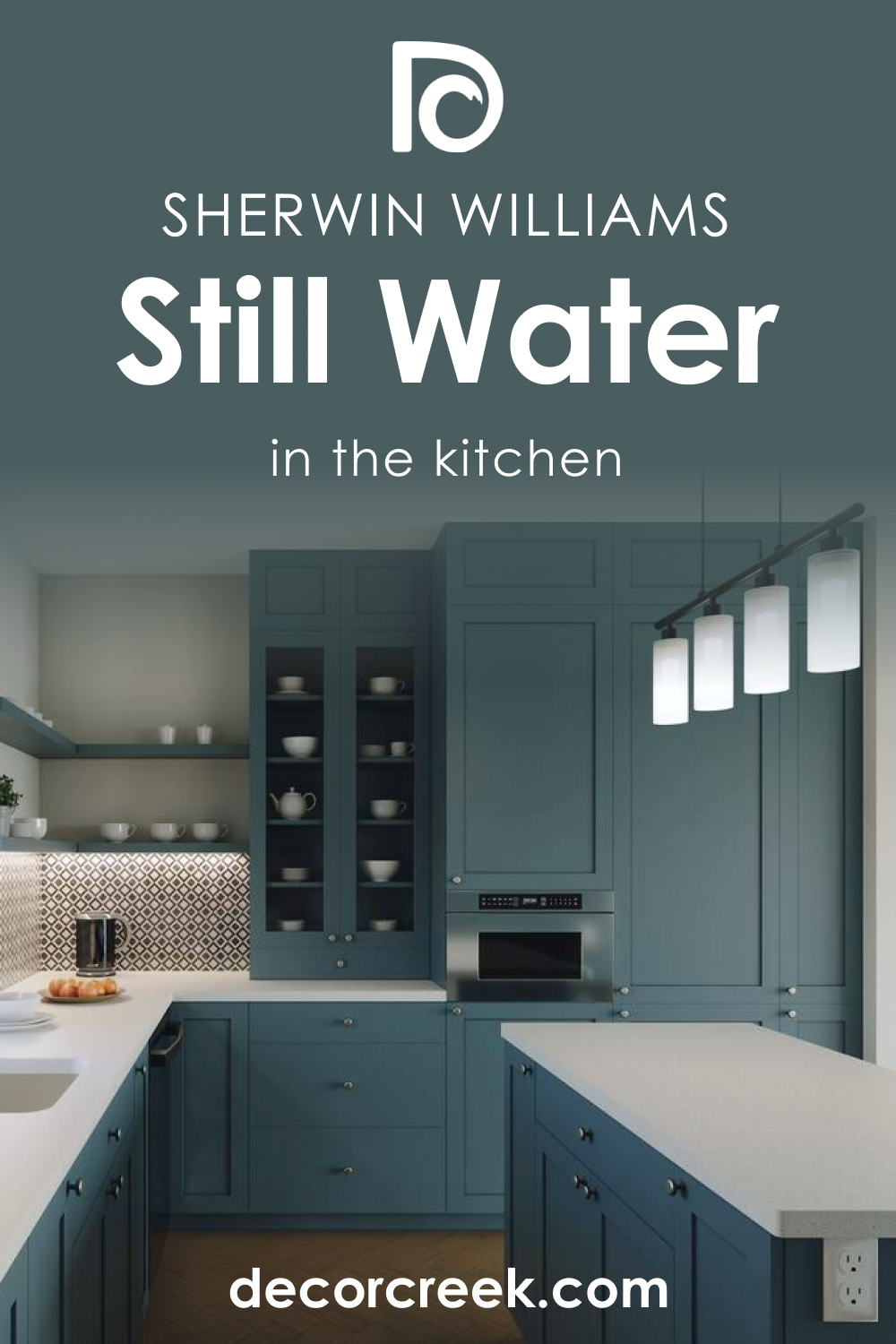 SW Still Water for the Exterior Use
This dark blue will definitely work on exterior walls, but you must consider the lighting! In warmer light, SW Still Water will read greenish, whilst, in cooler light, it will reveal its green-gray undertones more. It works great with the white trim and shutters, as well as with stone columns.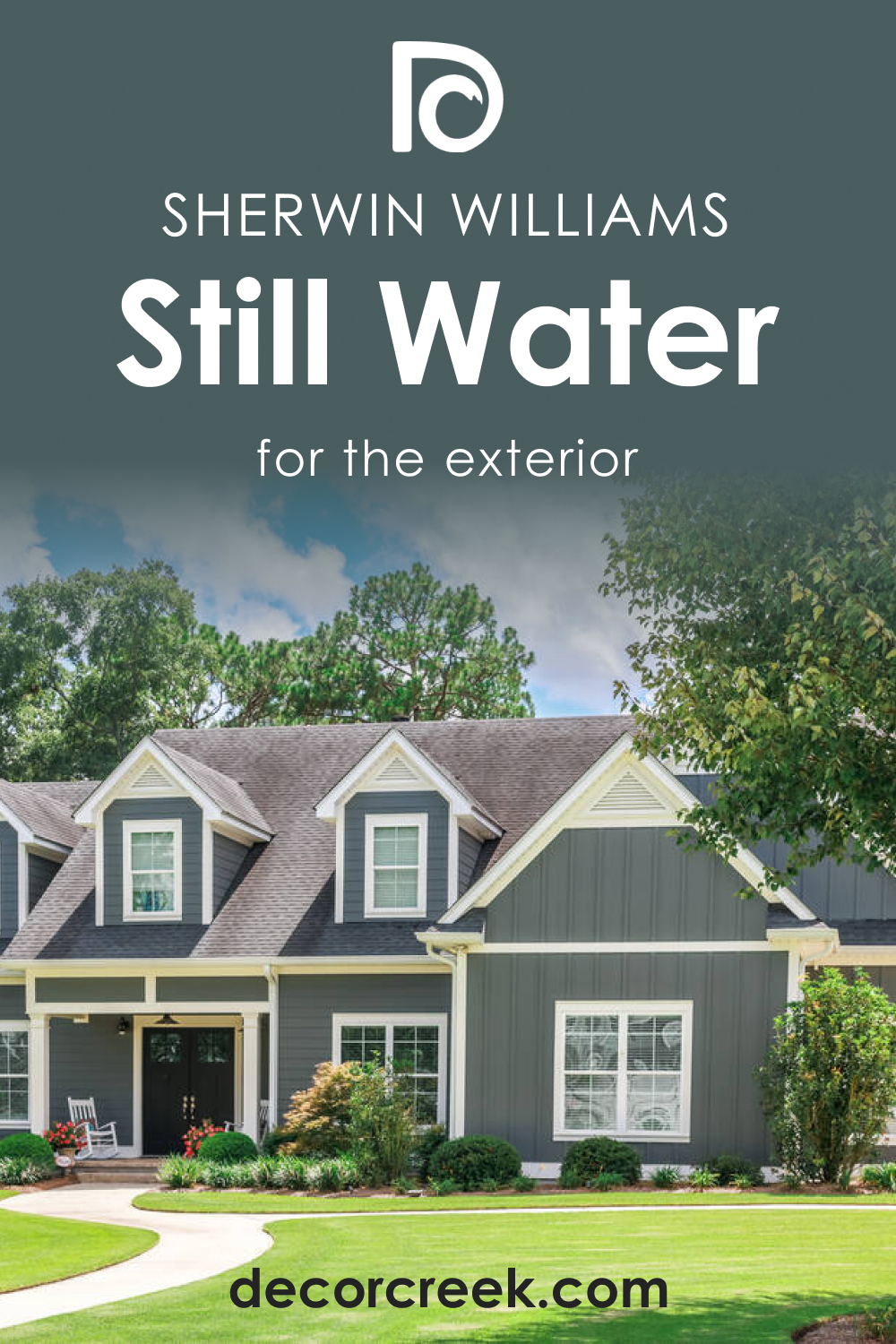 Now you way more about this gorgeous and tricky dark blue color! You know what kind of paint color SW Still Water is and how it works in different rooms. You know how it reacts to light and how it will read depending on the lighting conditions.
Also, you learned how to coordinate it and what colors will work best with this beautiful navy shade of blue. With all the tips we shared, you will find the best place for it in your home.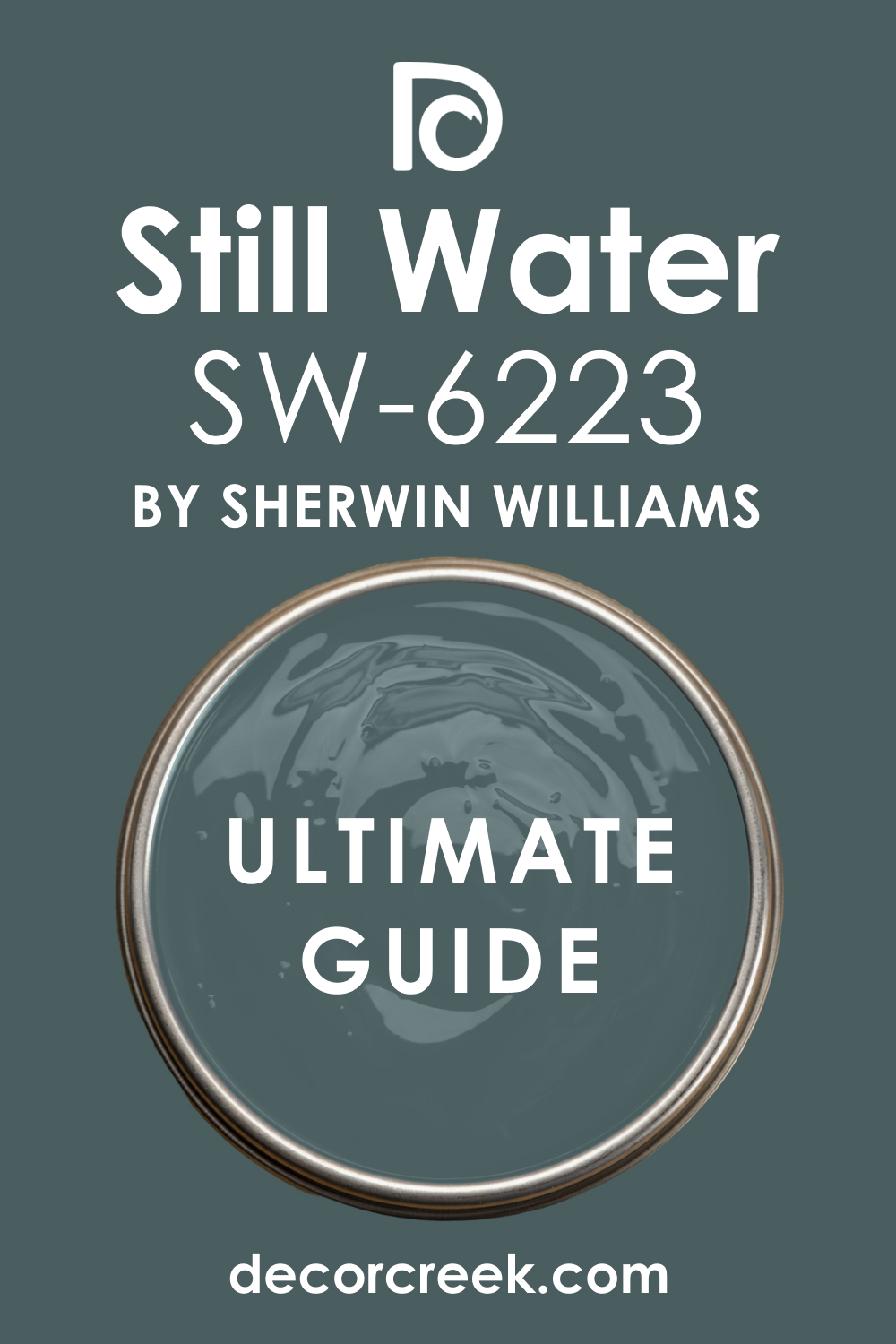 Frequently Asked Questions
⭐Does SW Still Water work with bright colors?
Yes, it does. It's an ideal background for brighter colors like yellow, helping them to glow!
⭐Can I use this color on my front door if the exterior walls are light greige?
Absolutely! But we still recommend you sample it before.
⭐My house has a dark red tile roof. Can I paint the walls with SW Still Water?
Technically, you can. But this combo might look too dark.