It may seem to many of you that blue is a simple color, however, this is not quite true. Many blues read differently on the walls, depending on different types of light. Also, this color may react to the surrounding colors, changing its appearance more or less. This is why we strongly recommend you learn more about the color you are going to use in your home!
Today, we will tell you about one of such shades of blue. It is called Icy, and it is one of the Sherwin-Williams colors.
You will learn what kind of blue it is, what undertones it has, and what peculiarities this color comes with. Also, we will explain how to use it and what colors will coordinate it so that you can make the most out of it.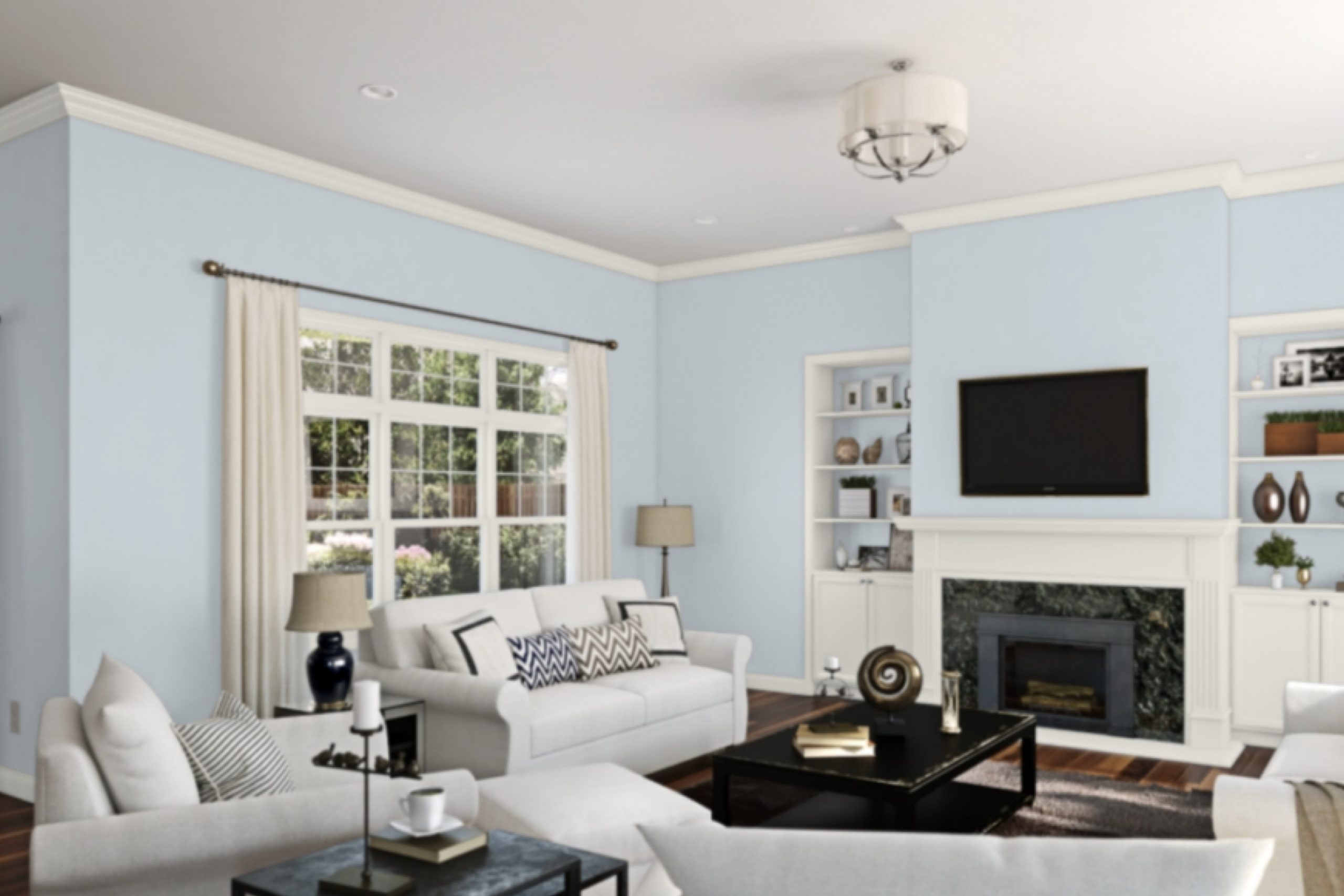 What Kind of Color is Icy SW-6534?
The Icy SW-6534 paint color is tricky and not as simple as you might think of it. See, when you look at this color on the walls, you can say that it is just a cool-toned blue. However, this color is technically considered…blue-gray with a violet tinge!
In particular, Sherwin-Williams describes it as a wintery and cool icy blue with violet and heavy gray undertones.
The color reads calming and tranquil, creating an effect of balance and harmony. This is why SW Icy is one of the most popular colors for bathrooms and bedrooms.
However, this color is way more versatile than just a bathroom/bedroom color, and we will prove this to you!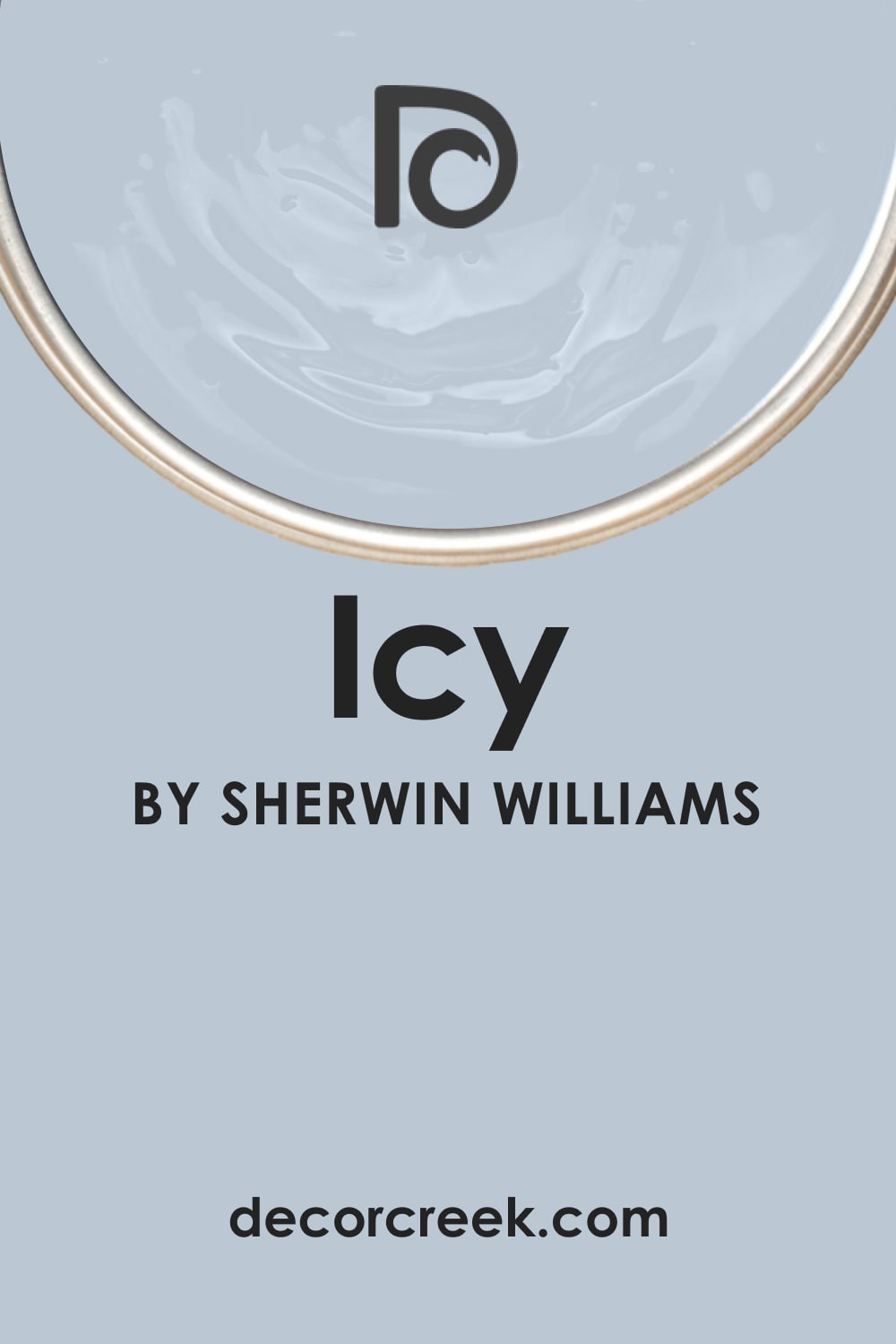 Undertones Of Icy SW-6534
As we have already said, SW Icy has heavy gray and slight violet undertones. But you should not be afraid of the word "icy" in the name of this paint! This color doesn't read cold and frosty on the walls at all! Instead, you get a calming and moderately chilled vibe with a note of freshness.
But since this muted and light blue paint color has violet undertones, you should use it with caution. When SW Icy paint is used with certain colors, it may reveal its violet nature more prominently.
For example, violet undertones will become more pronounced if you pair this color with colors that have pink or purple undertones.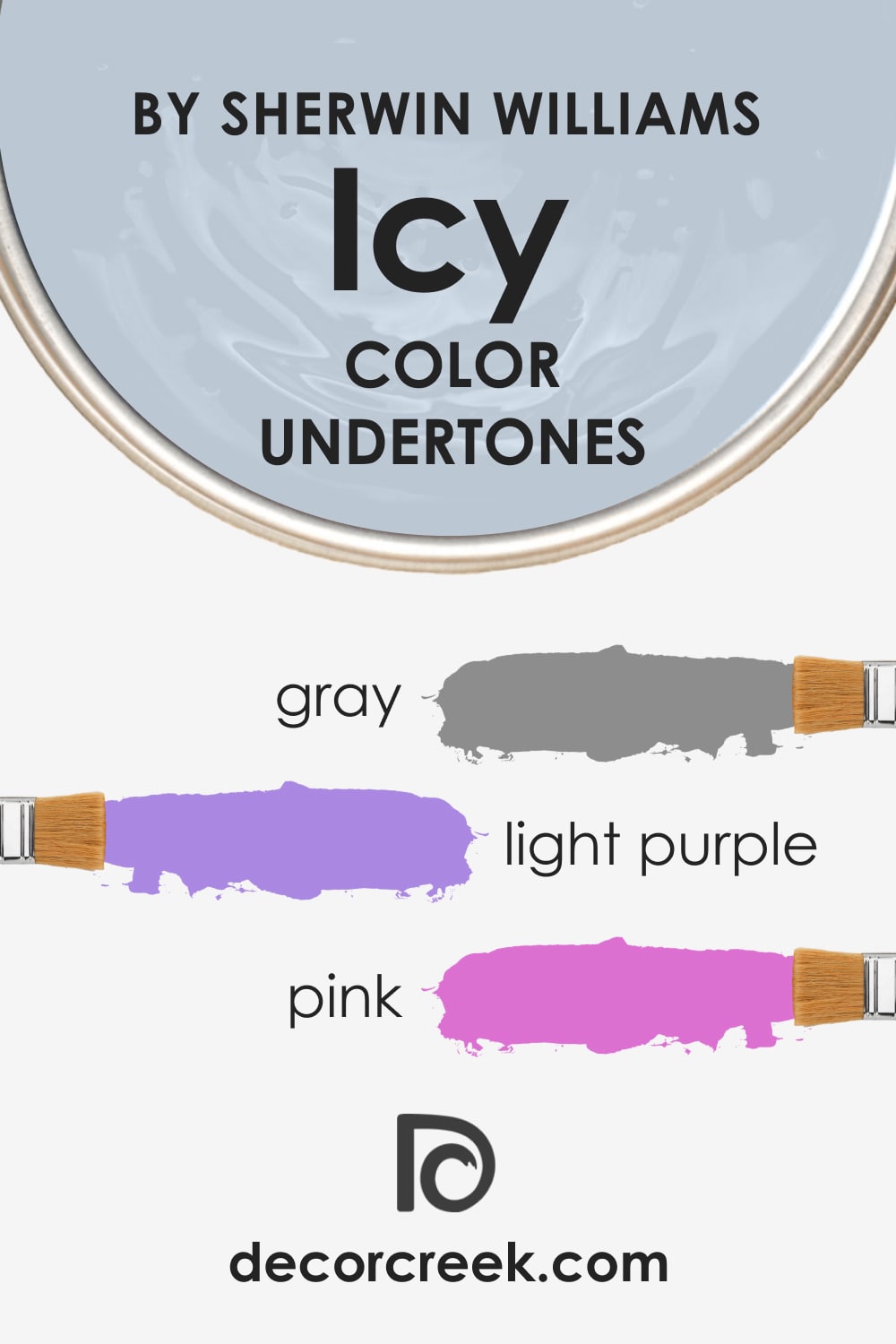 LRVof Icy SW-6534
Just to remind you what LRV is, it is Light Reflective Value. This is the measurement of how much light a color reflects around. LRV is measured with a scale of 0 to 100, with 0 being pure black and 100 being pure white.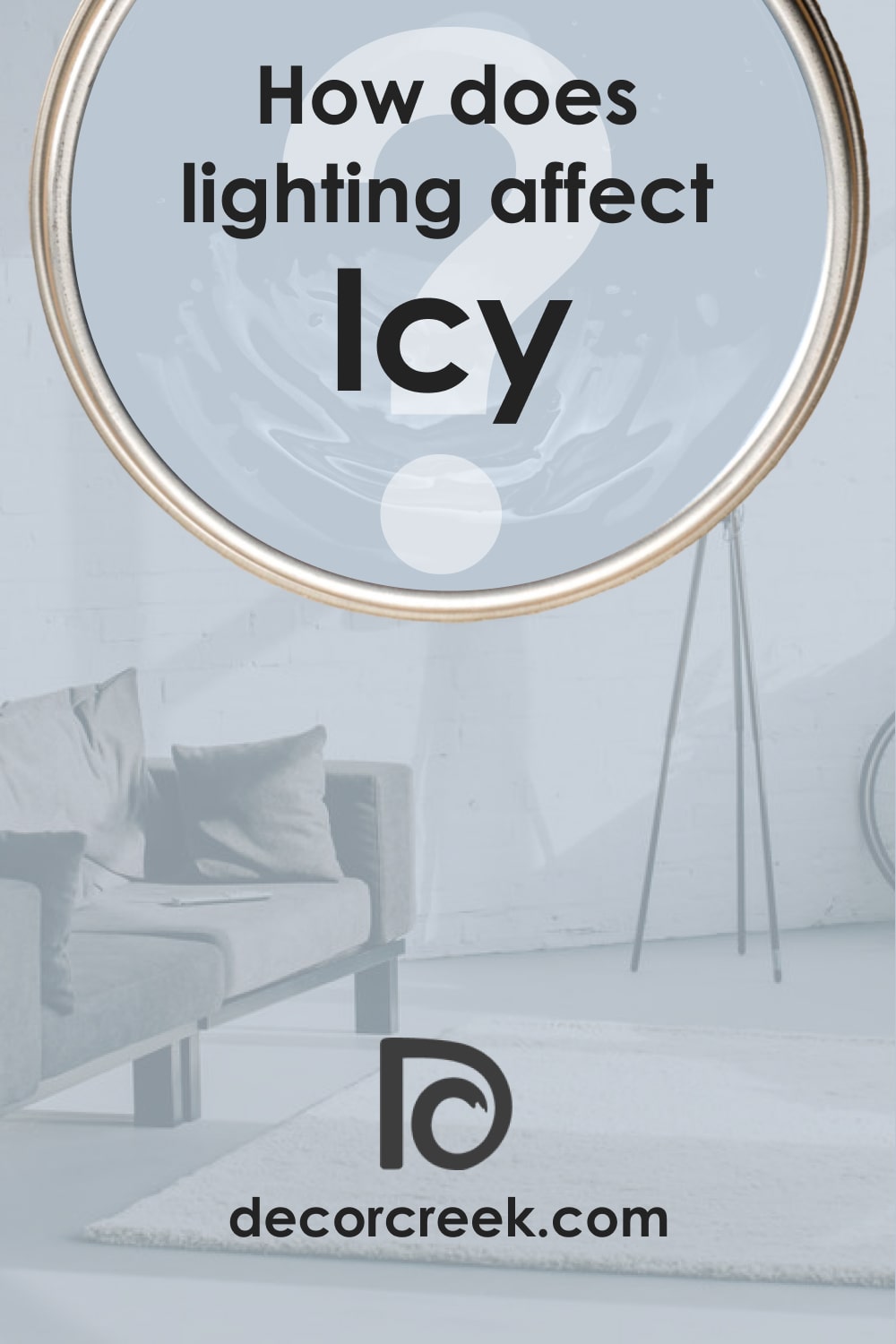 The SW Icy paint color has an LRV of 56. It means that this color is somewhere in the middle of the scale, being neither too dark nor too light. This is why this blue with gray and violet undertones reads so balanced in almost any space where you use it. It is a mid-toned color with a good amount of color depth to it.
You can be sure that this color will not read too flat on your walls, and definitely, it will not look like the color of a baby boy's nursery! The SW Icy color could read a little purple if you pair it with warmer light, for example, in south-facing rooms or rooms lit with yellow-tinted light bulbs.
In the north-facing rooms or spaces with cool-toned light, the icy blue tones will be more visible. In fact, this color could look very cool in those conditions!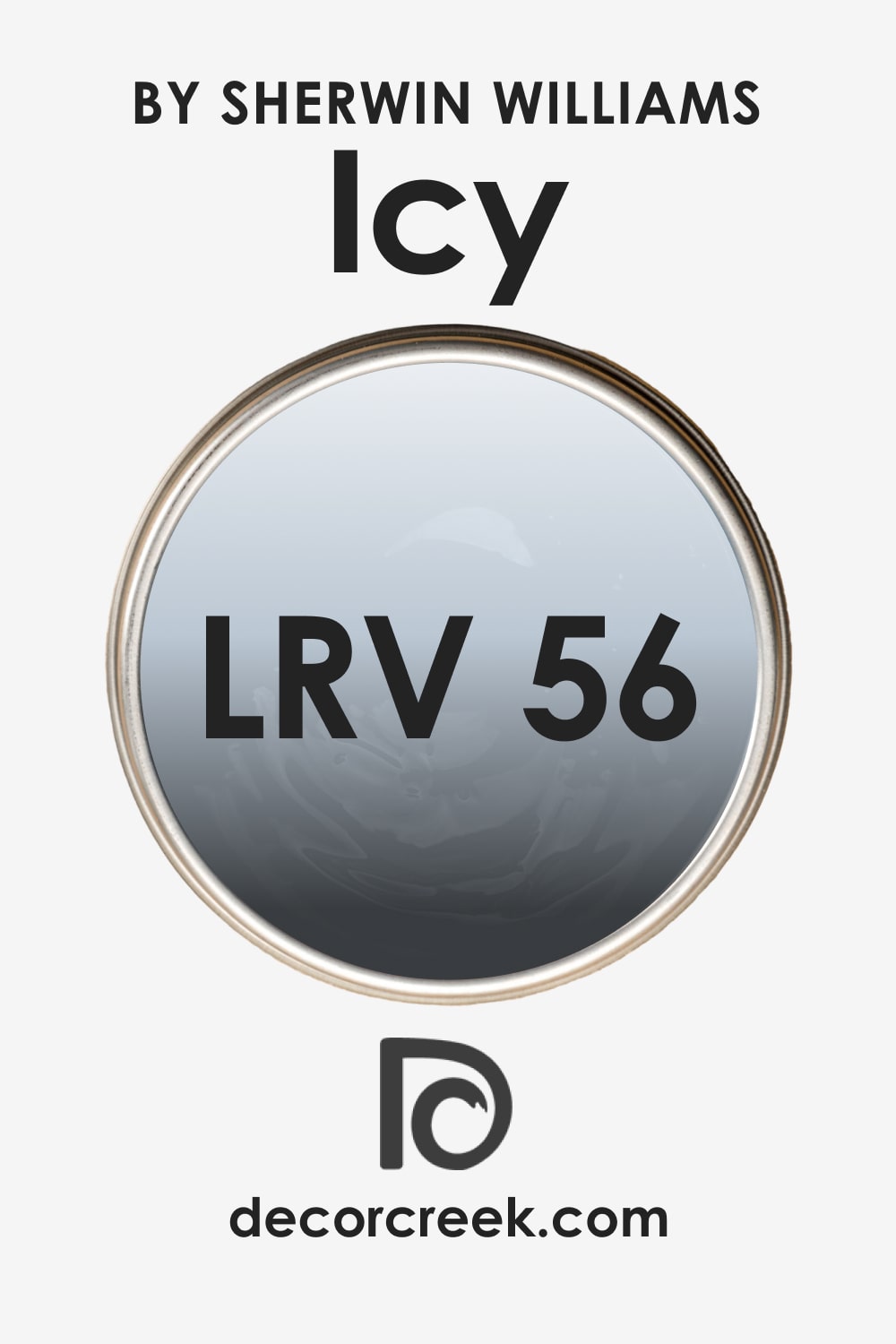 LRV – what does it mean? Read This Before Finding Your Perfect Paint Color
Icy SW-6534 Coordinating Colors
When you know what colors to use to coordinate the wall color you have, you can surely create a balanced and varied color palette in any room of your home! However, we mostly find it difficult to pick up the right colors.
This is why, if you have such a complex paint color as SW Icy on your walls, take the following colors into account to coordinate it.
First of all, note that SW Icy pairs well with teal greens, navy blue, or creamy greiges.
SW Halcyon Green
SW Rain
SW Tradewind
SW Dusty Heather
SW Granite Peak
SW Sunbleached
SW Drift of Mist
SW Mindful Gray
SW Trusty Tan
With this selection of colors to choose from, you can easily find the most suitable color options to pair with the Icy paint and make this blue work in your home.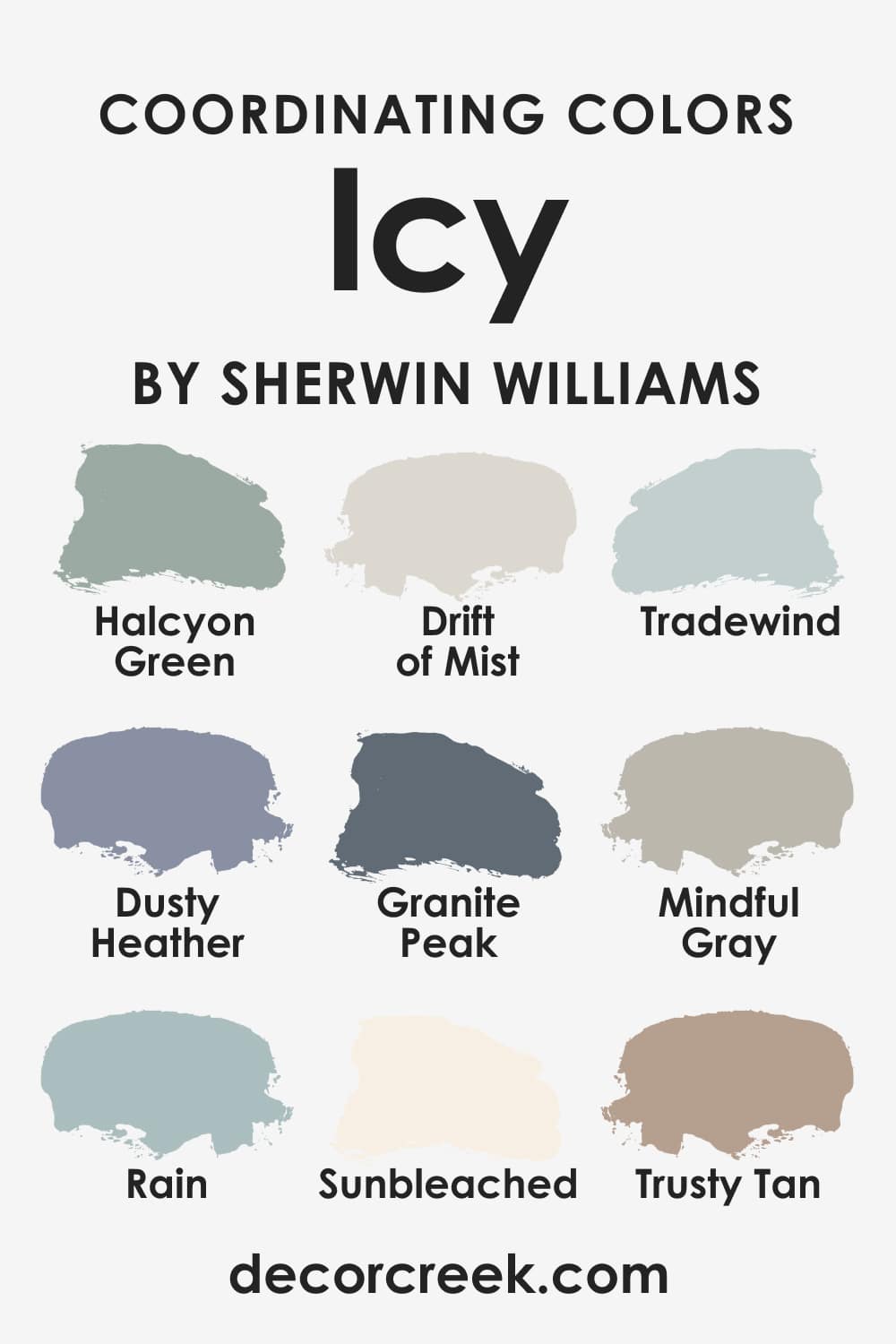 Colors That Go With Icy SW-6534
To create a well-looking color palette in your home, you should know what colors work well with the wall paint color and what colors should be avoided by all means if you don't want your home to look like a piece of patchwork.
For SW Icy paint color, we would recommend you pay attention to the following colors. They are varied and will help you to create a vivid yet calm color palette in any room:
SW They Call It Mellow
SW Storm Cloud
SW Naval
SW Harmonic Tan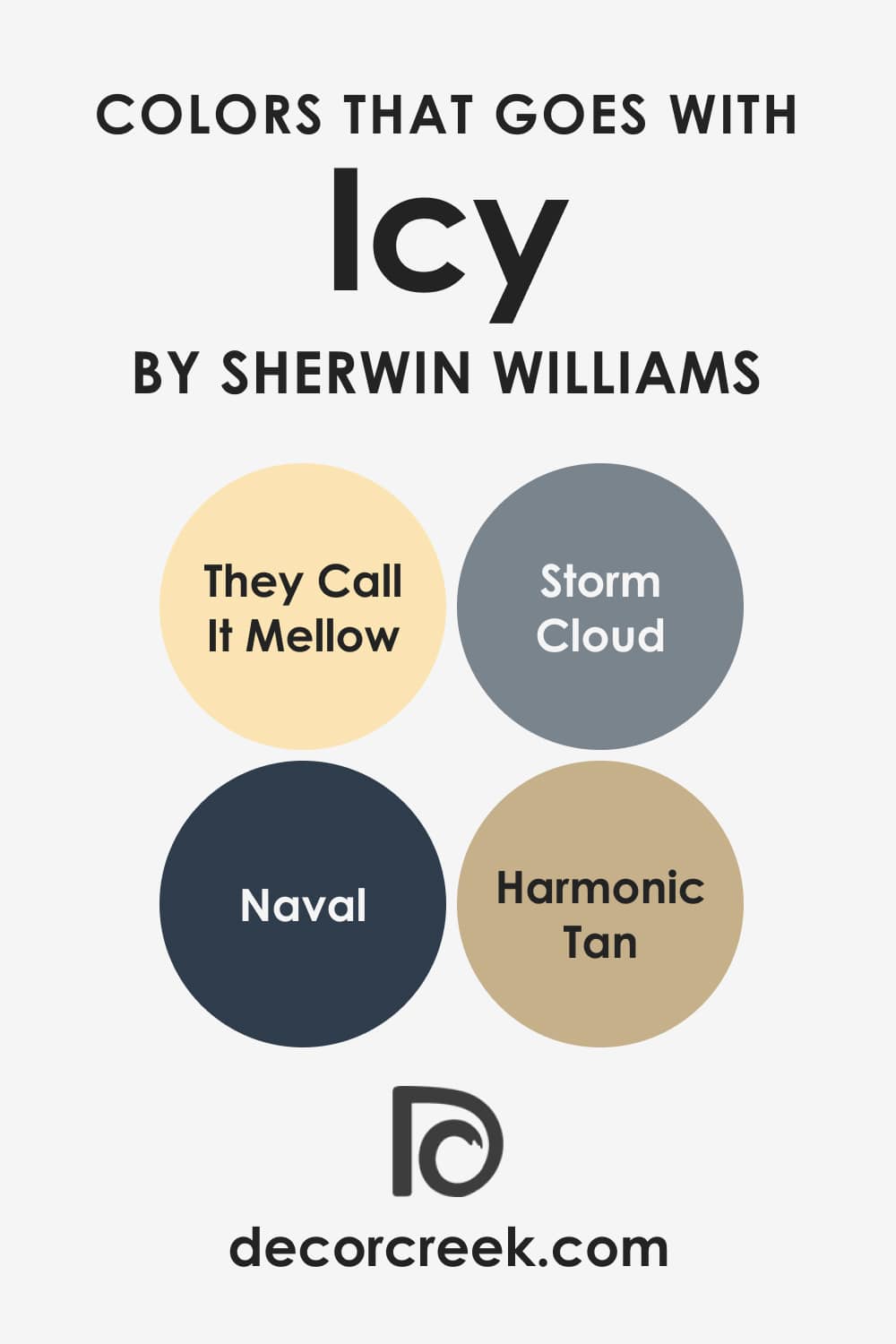 What Is the Best Trim Color for Icy SW-6534 ?
We recommend you pair SW Icy with a creamier, soft white as a trim color. For example, you might want to consider the following white color options:
SW Alabaster
BM White Dove
Behr Cameo White
Since these whites are pretty soft, they will not create a too sharp contrast with the Icy paint color.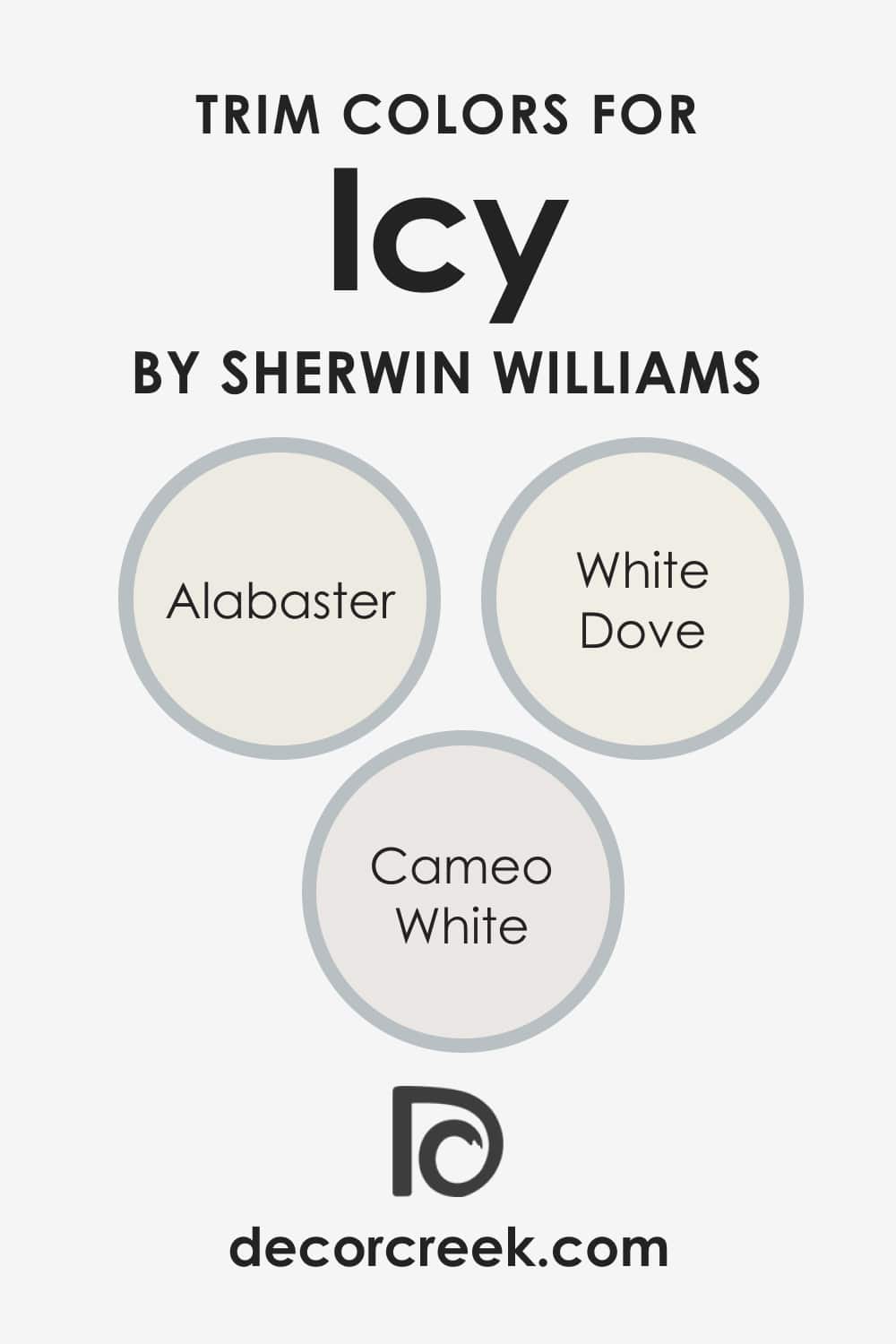 Similar Colors to Use Instead of Icy SW-6534
Homeowners often ask why it is recommended to have at least a couple of alternative colors at hand when they start painting their homes. It's because, during the sampling stage, you may find out that the color you were initially going to use on your walls doesn't match the rest of the palette well enough.
Maybe, you realize that the color reads lighter or darker than you need. Or you may find out it doesn't work well with other colors (e.g., the color of the upholstery or ceiling/floors). In this case, substitute colors will become handy.
Should you choose SW Icy as your wall color, we recommend you consider these alternative colors to be its substitutes if needed:
Sherwin-Williams Upward
Sherwin-Williams Mild Blue
Sherwin-Williams Hinting Blue
Benjamin Moore Instinct
Behr Remembrance
Behr Journey's End
Valspar Blue Fog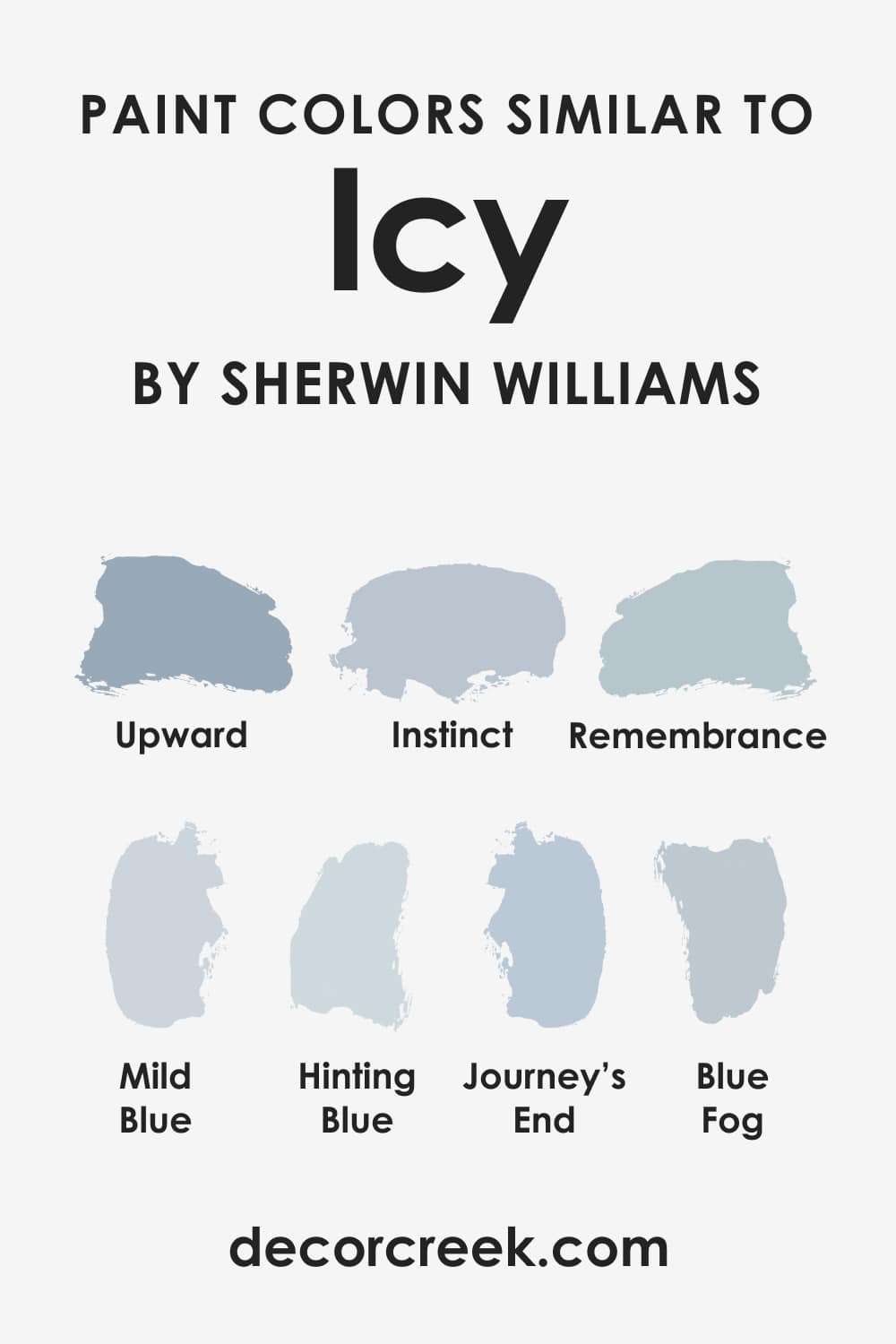 Comparing Icy SW-6534 With Other Colors
Color comparison is a good idea when you are in the middle of the color selection process. Each color has plenty of shades, but some colors may look very similar! This is why you should be able to see the distinctions in tone to decide which color will work best for your home.
If you want to use SW Icy paint color on your walls, we'd recommend you learn how it compares with other blues.
Icy vs. Upward
These colors may seem nearly the same, but if you take a closer look at them, you will see the difference. SW Icy reads cooler and icier compared to SW Upward, which looks more muted with a more pronounced gray undertone.
That's because SW Upward is a denim blue with calm gray undertones, and SW Icy is blue with gray undertones. This denim hue is what makes the difference.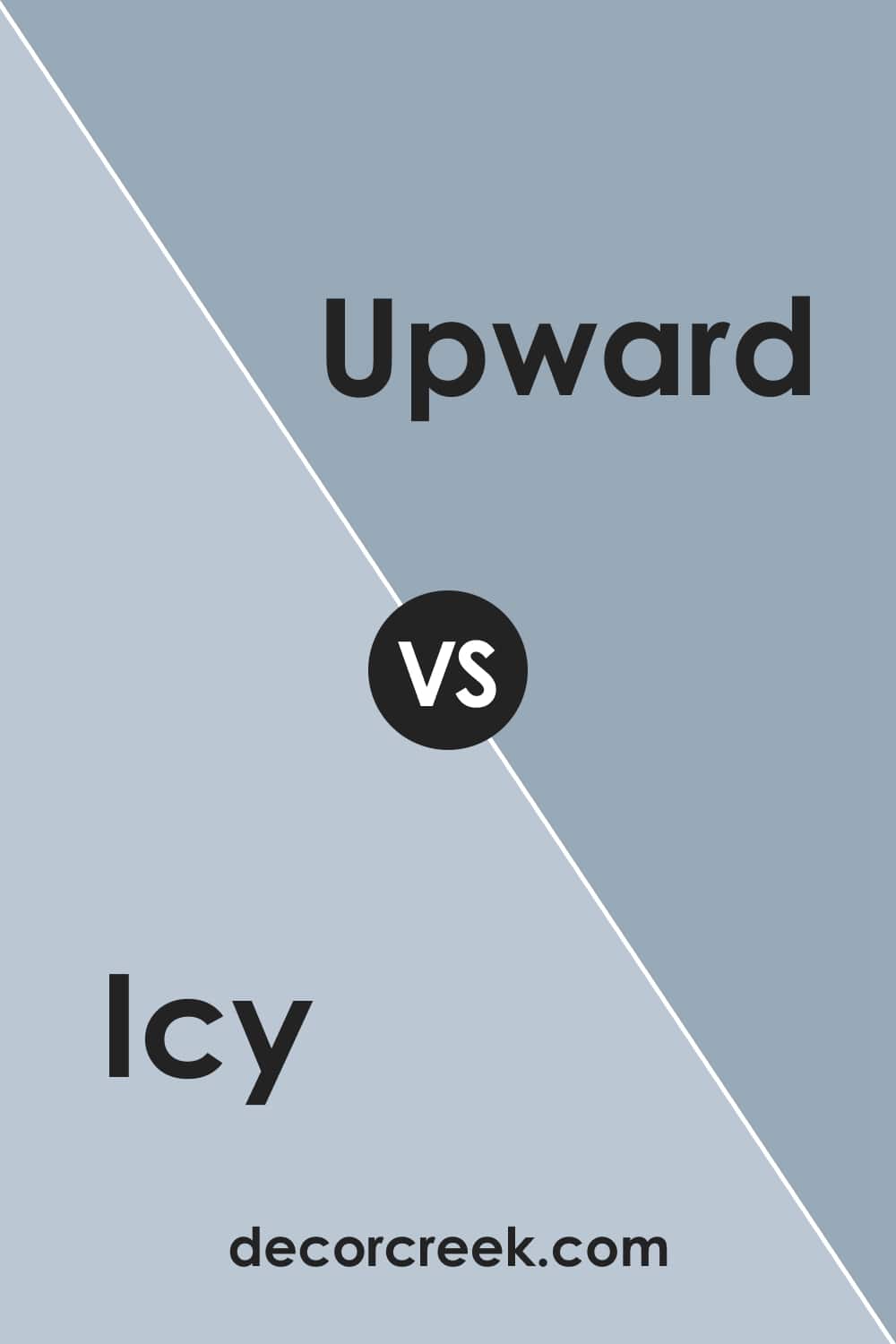 Icy vs. Quietude
SW Quietude is a complex green-blue/gray color, which means that it has a green-blue undertone. Compared to SW Icy, it reads dusty green, although it still remains muted and calm. But since the colors are too different, they won't work well in the same space.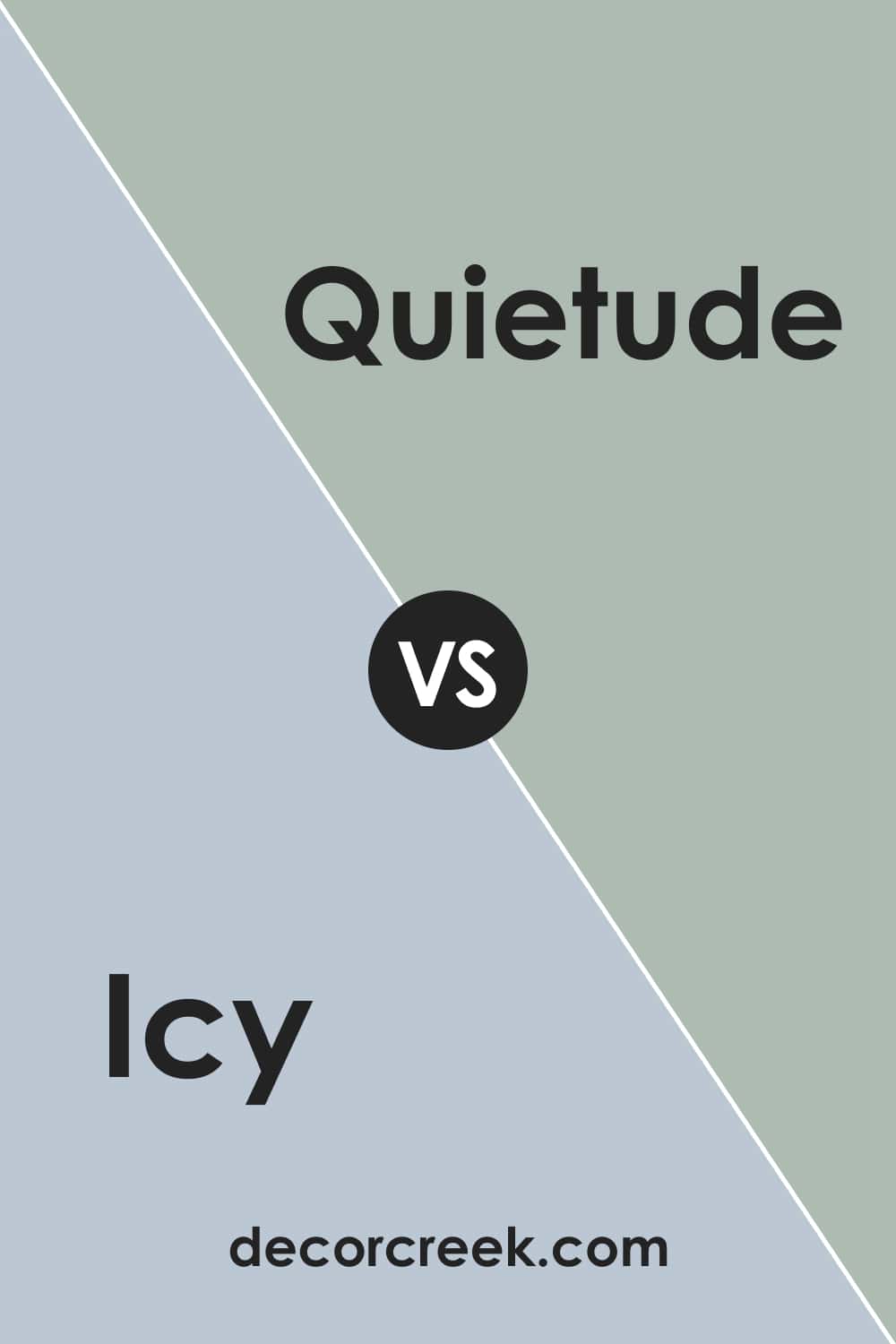 Icy vs. Krypton
Sherwin-Williams Krypton is crisp blue and super cool, with a hidden gray undertone. And since SW Icy also has gray undertones, these colors seem pretty similar. However, SW Krypton reads somewhat more muted whilst the Icy color is brighter and cooler.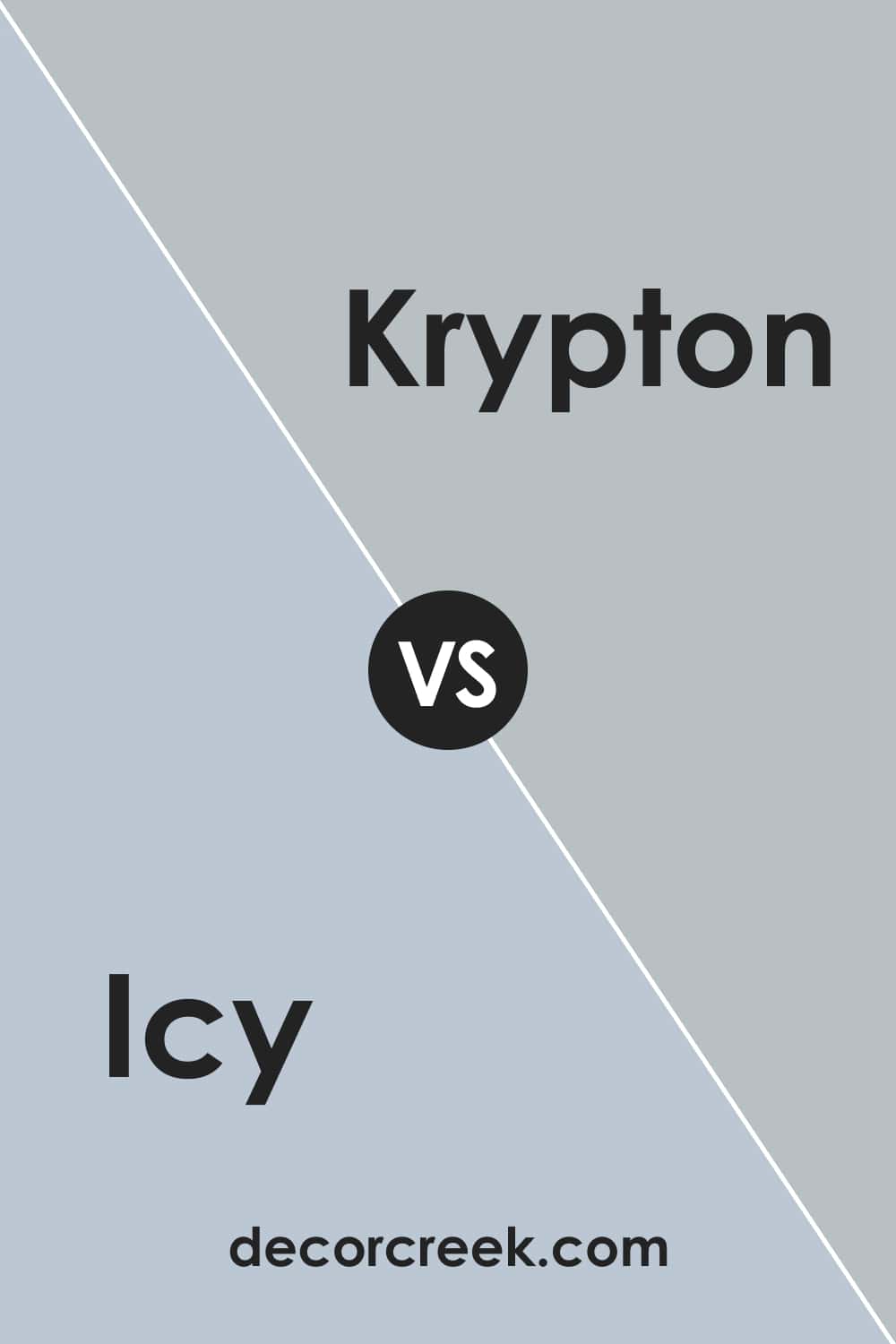 Icy vs. Jubilee
SW Jubilee is a slate-gray blue with cooler gray undertones. But even though it shares gray undertones with SW Icy, these two are different since SW Icy reads brighter and much cooler. Instead, SW Jubilee looks more muted and gray compared to it.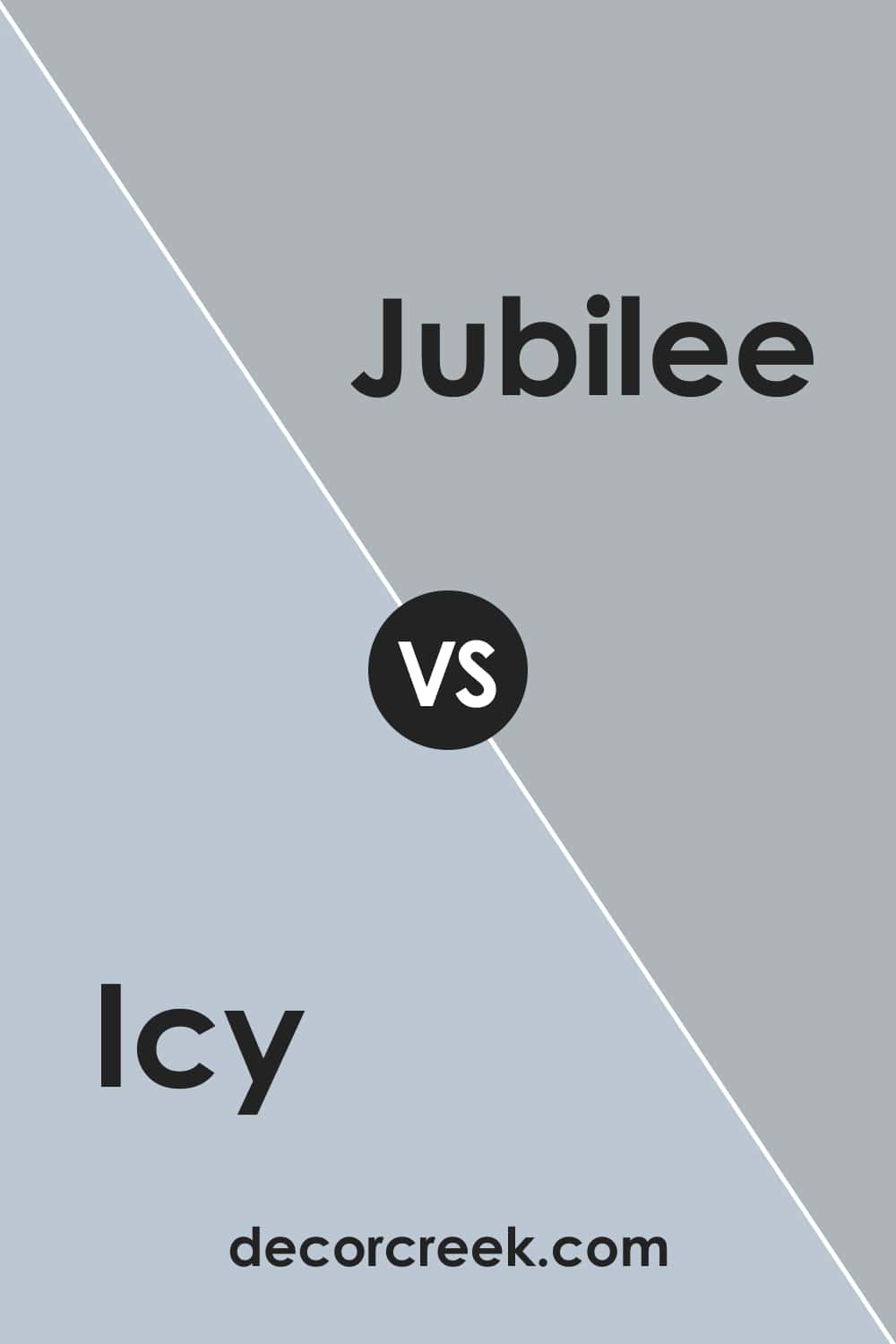 Icy vs. North Star
SW North Star is a light blue with strongly pronounced gray undertones. However, even having similar undertones to Sw Icy, it doesn't look the same. In fact, SW Icy reads brighter and bluer, revealing its hidden purple undertones if you place it next to SW North Star. Also, the North Star color is lighter and calmer.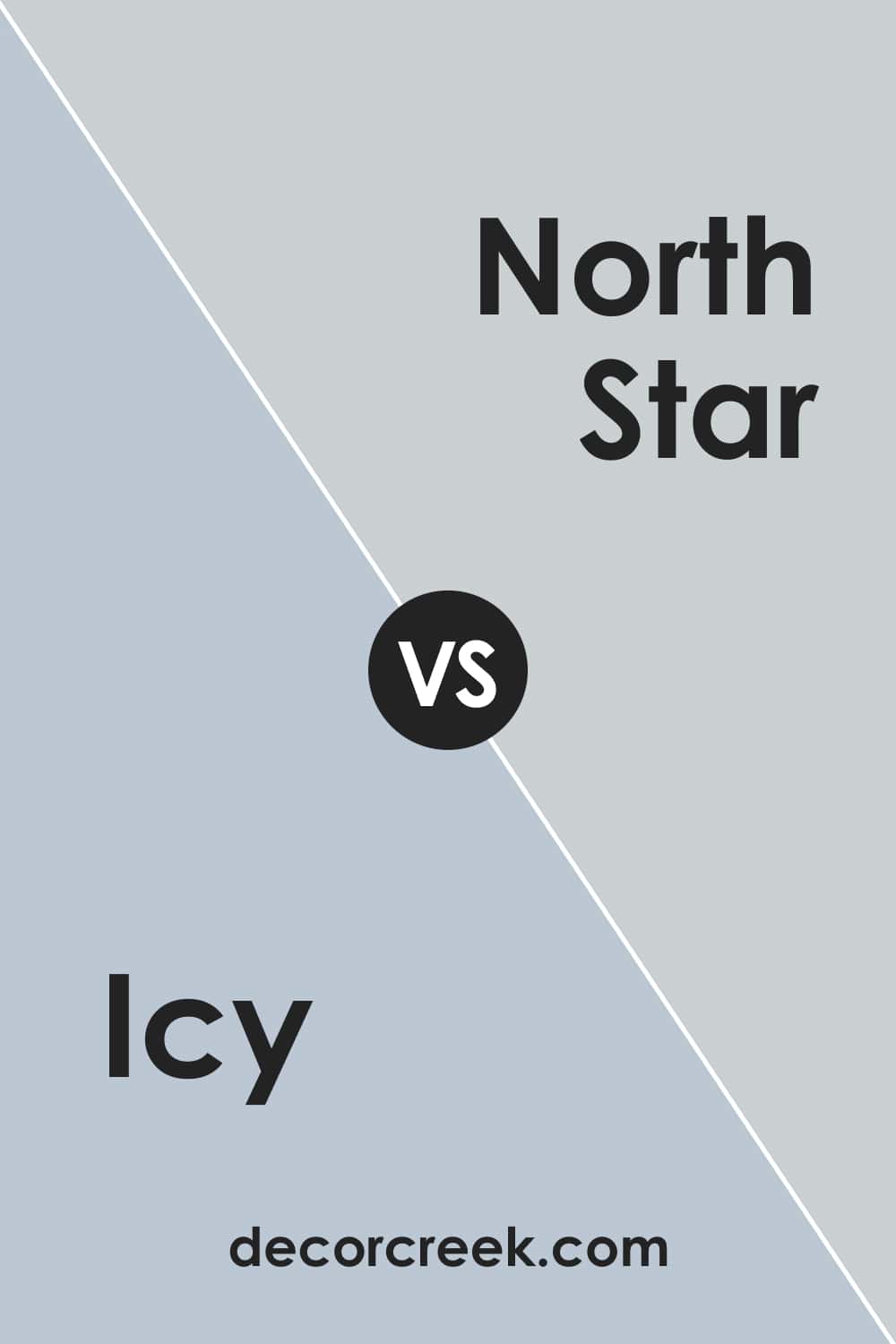 Icy vs. Morning Fog
These two are different because SW Morning Fog is a medium-toned gray color with crisp, cool undertones. It looks heavier and darker than SW Icy, revealing way more grayness!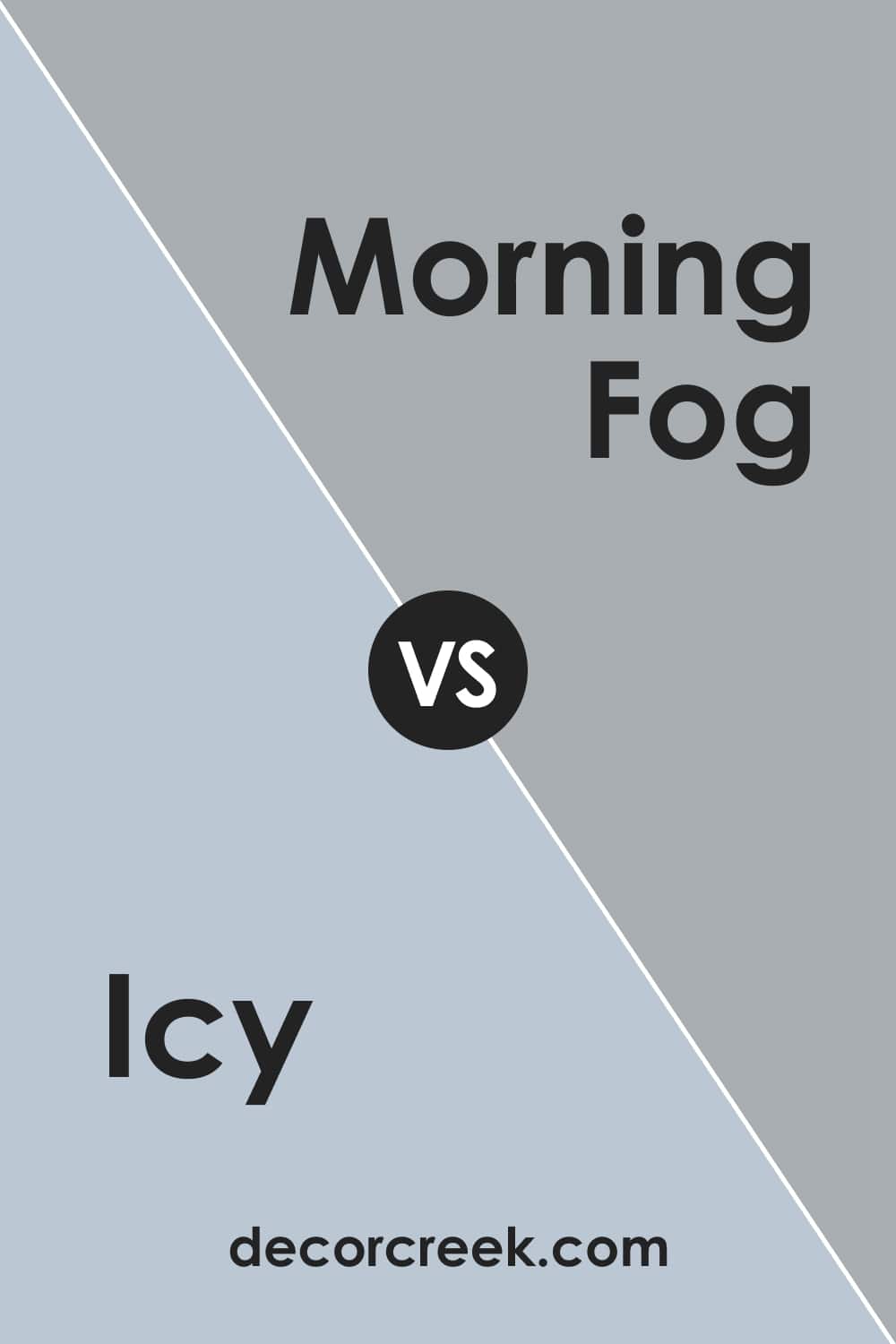 Where This Color Can Be Used In Your Home
To use any color correctly, you should know how it may work in different rooms of your home. This is why we want to help you out a bit! Below, you can read how SW Icy may look in different rooms and spaces of a house or apartment.
Icy SW-6534  in the Living Room
This color may work wonderfully in your living room if it is large enough and has plenty of natural light. Also, it is essential that the light is cool-toned. Otherwise, the color may reveal its gray side more, which can weigh down the lightness of the blue.
But even if your living room lacks light, you can use more of cooler whites in it to add that crisp vibe.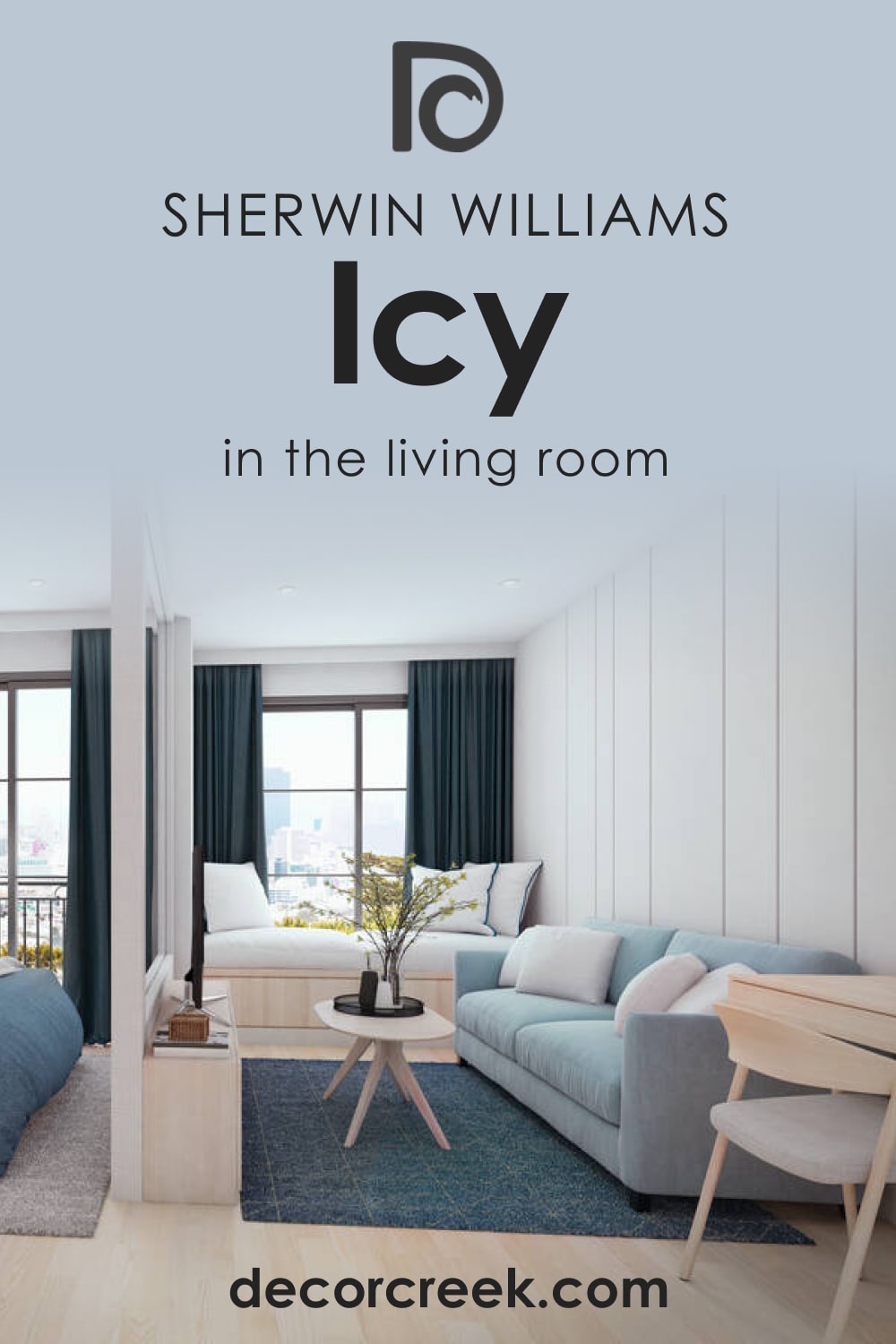 Icy SW-6534 and Bedroom
Since SW Icy is a calm and balanced color, it is an excellent option to use on your bedroom walls. Pair it with whites and soft and light beiges, and your bedroom will look fresh and tranquil without reading cold.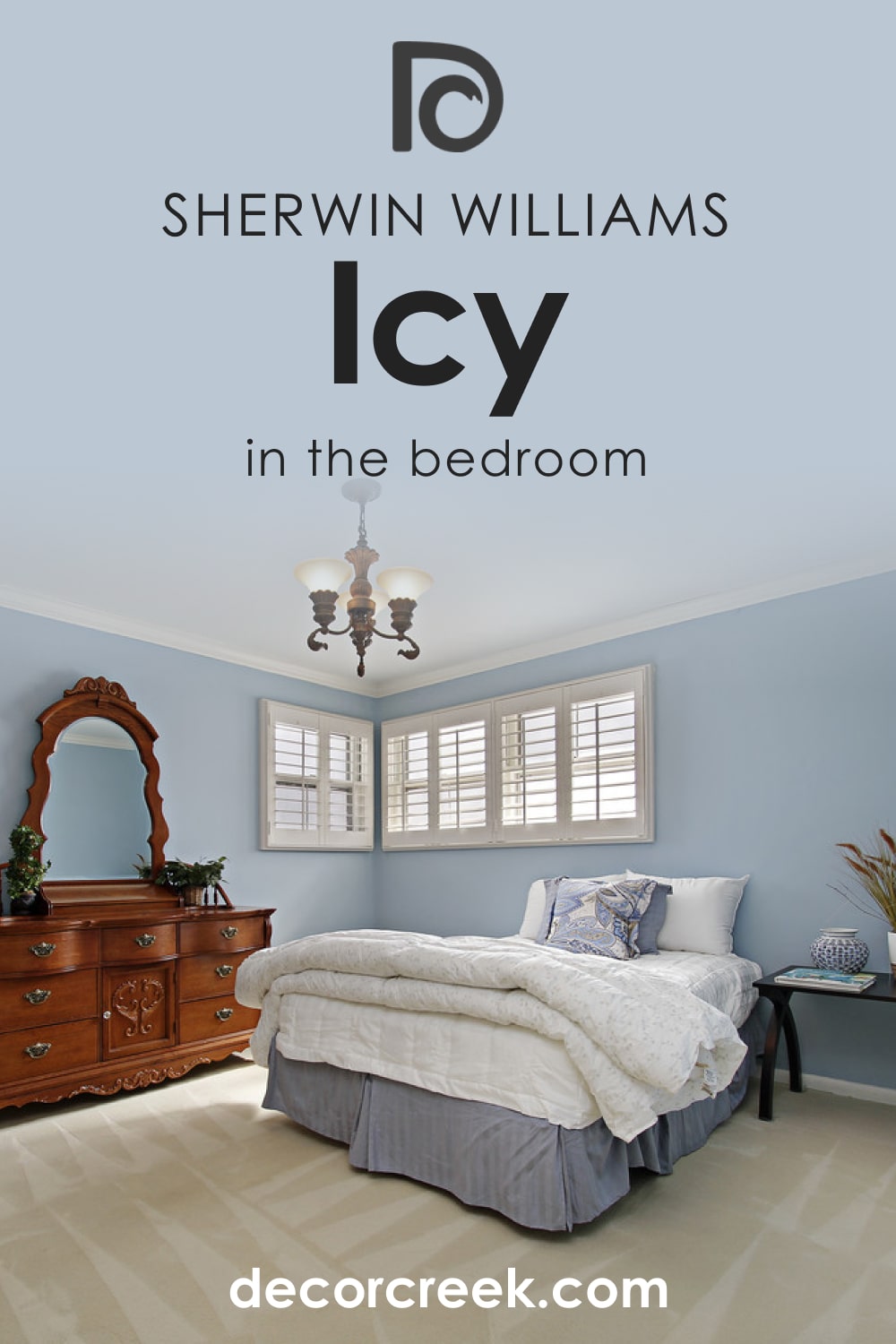 Icy SW-6534 for Bathroom
Since this shade of blue is cool-toned, it's a good color choice for bathrooms. When used with whites, SW Icy will create a refreshing and chilly atmosphere in the room, making it feel spacious and airy.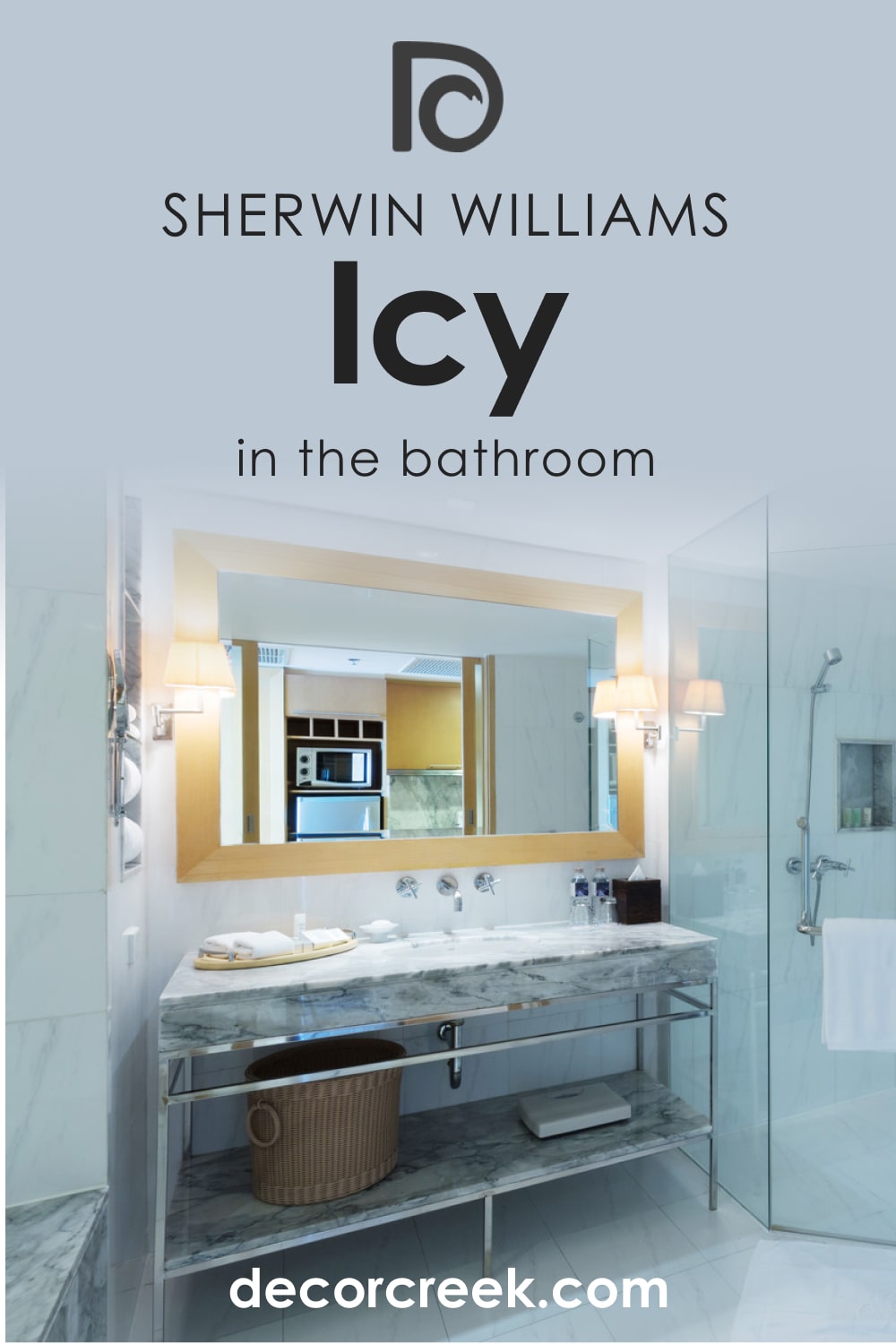 Kitchen with Icy SW-6534 Paint Color
Perhaps, blue is not the ideal color to use on kitchen walls, but you can always make use of it partially! Paint your cabinets or drawers, or use it on the accent wall, leaving the rest white. Like that, you will add more color to the space and avoid it from reading too cold and "watery."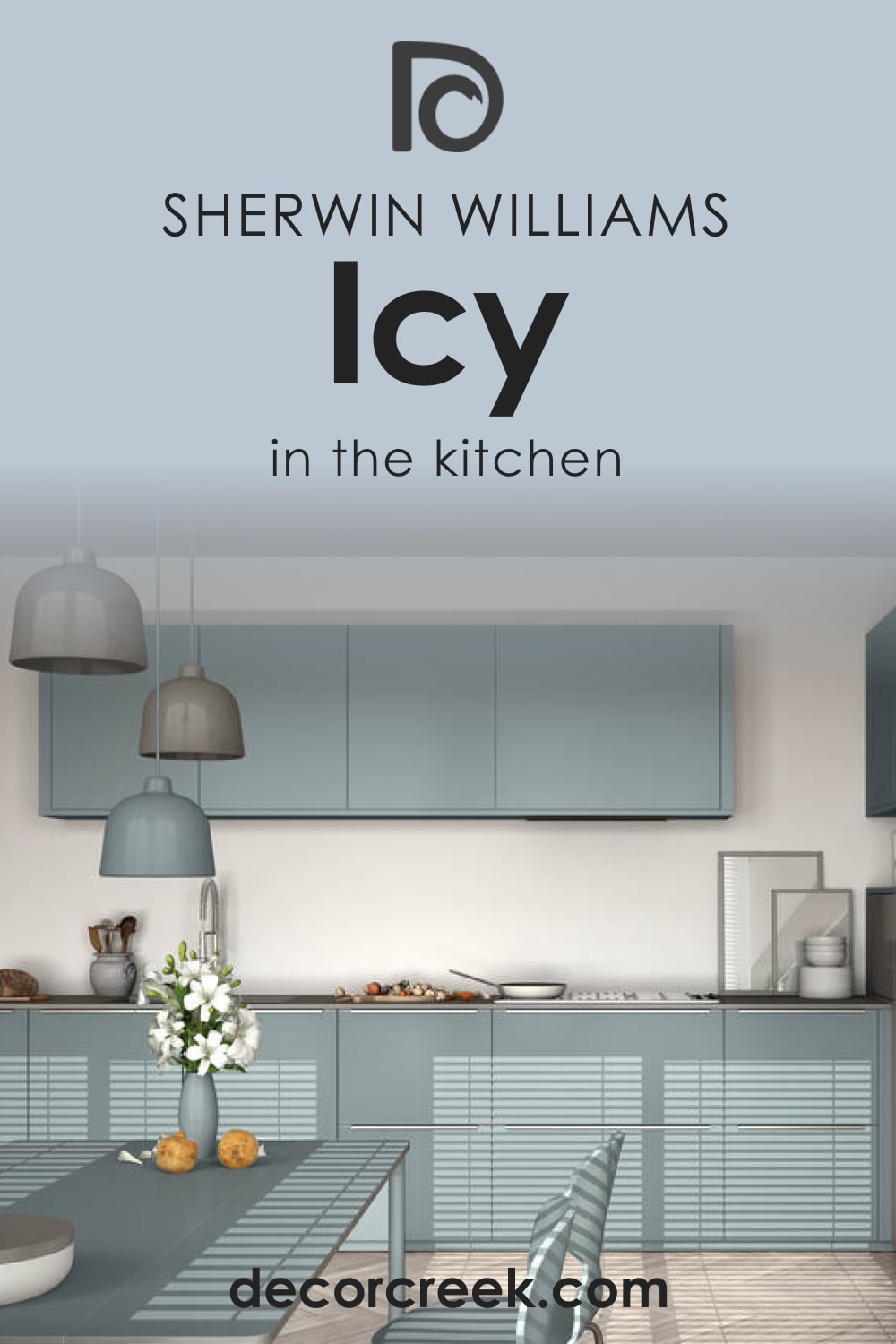 Icy SW-6534 for Exterior Use
You will be surprised to know that this blue reads nicely on exterior walls too! If you pair it with white trims and window frames or shutters (or both), you will easily make the entire building look lighter. Besides, SW Icy is a perfect color for coastal-style homes!
So, now you know what kind of color SW Icy is and how to use it correctly. With these tips and recommendations, you will match and coordinate this tricky cool-toned blue with violet and gray undertones like a pro.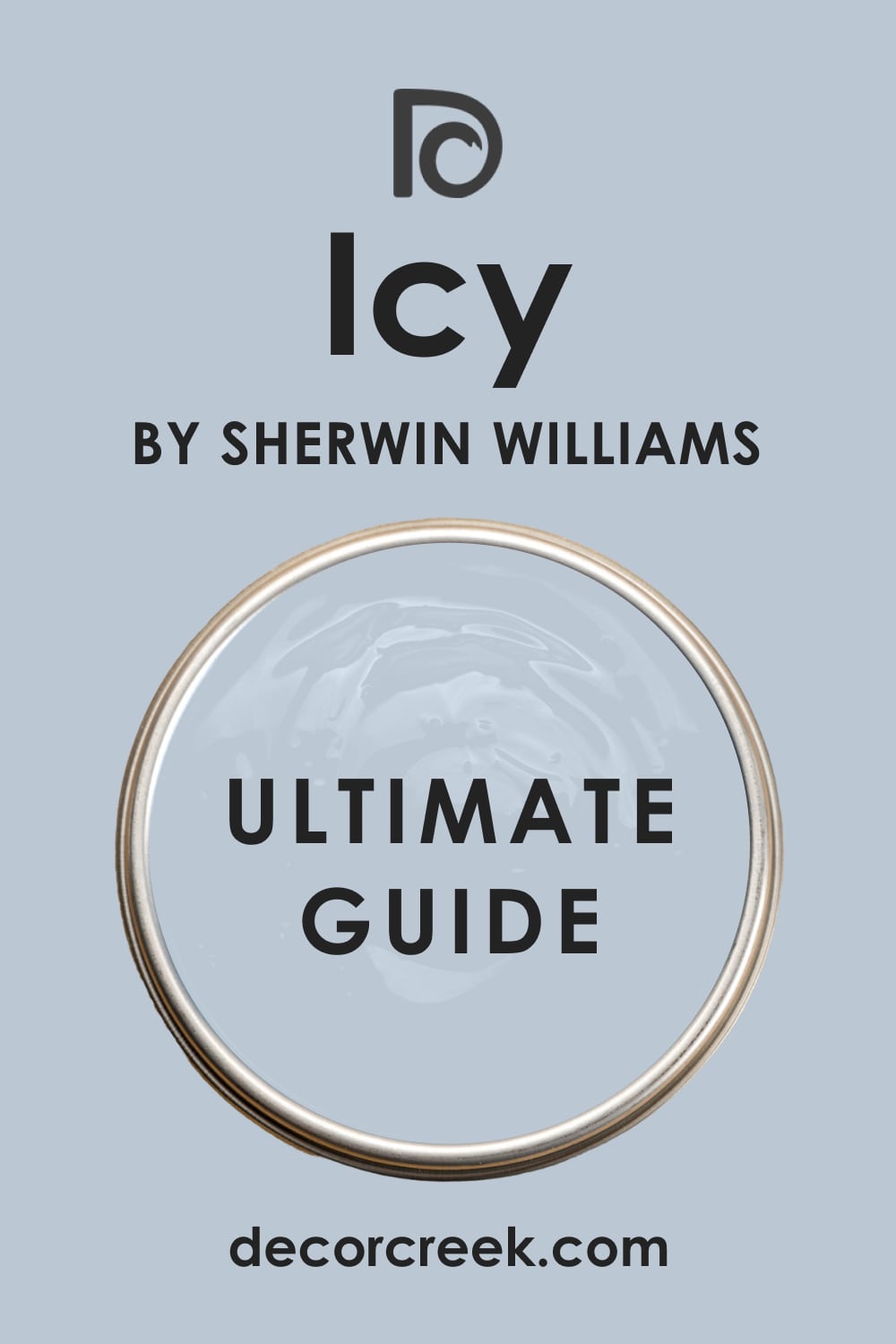 Frequently Asked Questions
⭐Is SW Icy a blue or gray color?
This color is a light and cool-toned blue with heavy gray undertones.
⭐Does SW Icy read violet?
No, this color doesn't read violet, but it may reveal a slight violet hue in certain types of lighting.
⭐Is SW Icy a good color for the nursery?
Yes, it can be a nice color for a nursery due to its calm and balanced nature.