If you are fond of blue colors in your home interior, you may find it difficult to select the most suitable ones due to the wide range of blues on the market. Besides, many of those paint colors have such similar tones that it's almost impossible to tell the difference between them sometimes!
Today, we will introduce a beautiful paint color called Stardew by the Sherwin-Williams brand. You will learn what makes this soothing blue hue so unique.
In particular, we will tell you about its LRV and undertones, explain what trim colors are best to be used with this color, and also you will learn how this blue color may react to different types of light.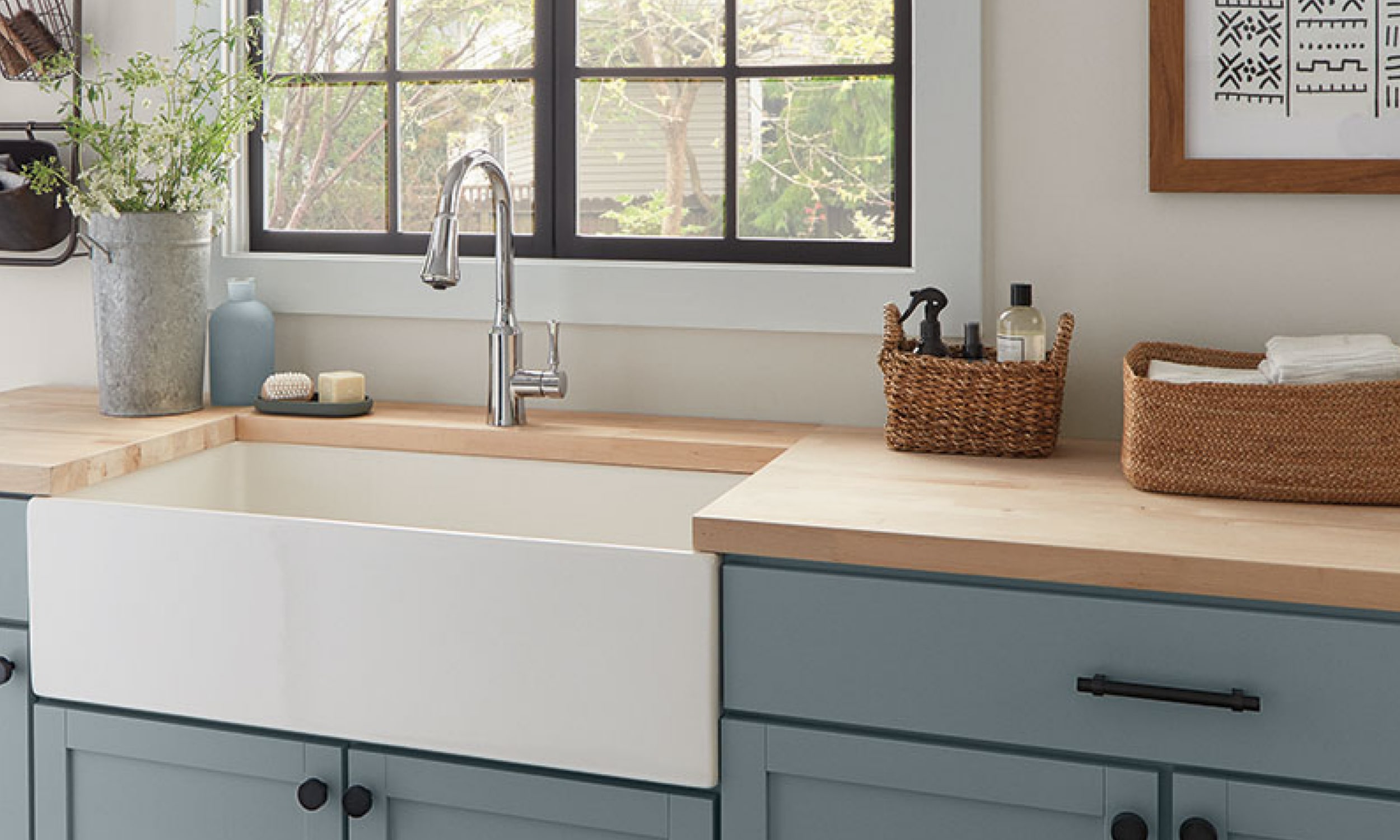 What Color Is Stardew SW-9138?
If you take a look at SW Stardew color , you will easily see that it is a blue paint color with a very soft and delicate hue. This softness is achieved thanks to muted grays that are added to true blues.
As a Encycolorpedia says, we get a delicate and calming stellar shade of blue with subtle and muted blue-gray undertones that make it read lovely and pastel!
Although Sherwin-Williams describes it as a cool-toned color, we would rather say this blue is muted. You will not notice the stark clarity of blue in it. Instead, this color is filled with softness and delicacy thanks to its gray undertones.
Also, this shade of blue is neither dark nor light. It is perfectly in between, reading an excellent medium paint color that appears darker with less light and a bit lighter with more.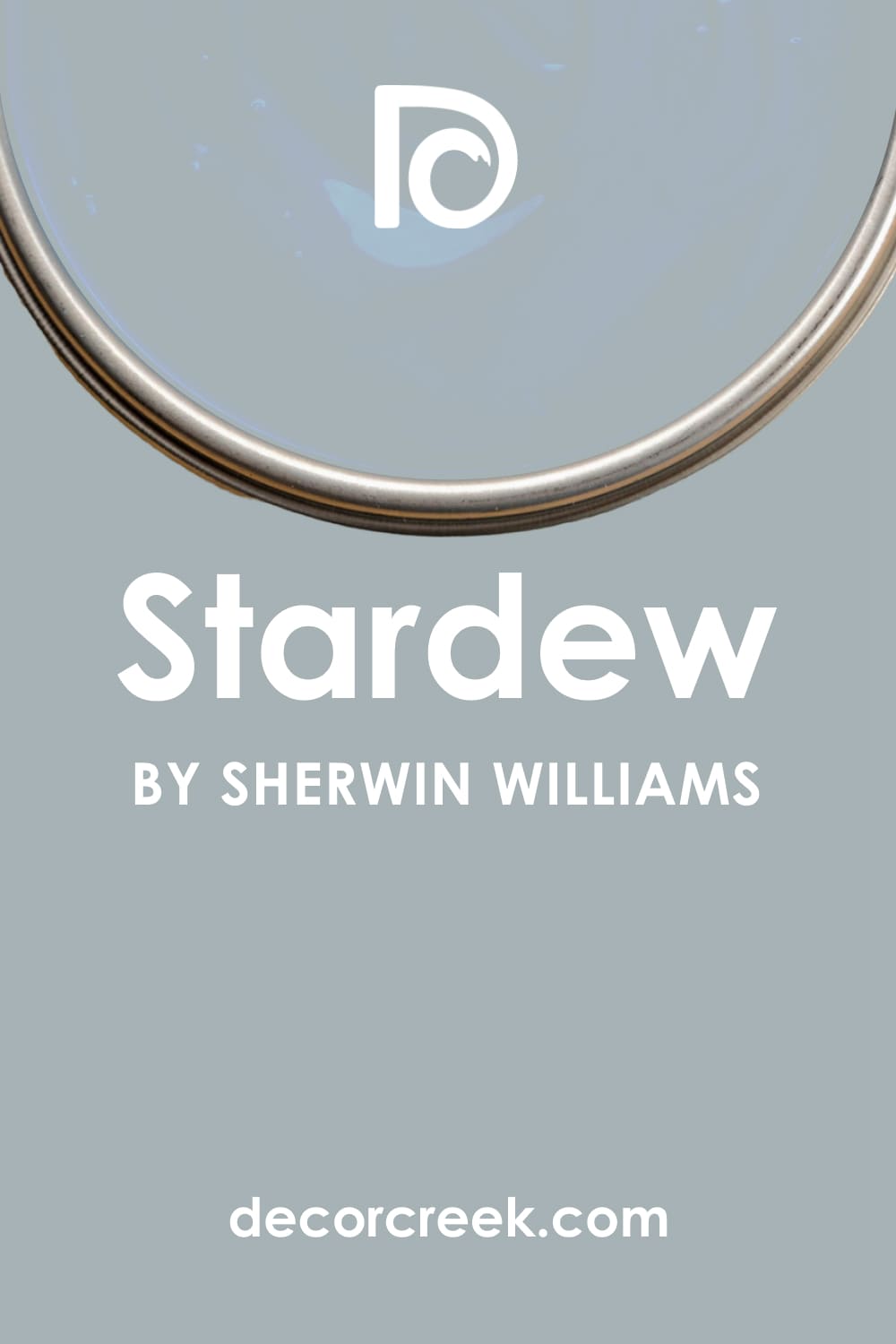 What Undertones Does Stardew SW-9138 Pint Color Have?
As we have already mentioned, SW Stardew paint color has gray-blue undertones. The softness of gray makes this cool-toned shade of blue read less cold. They say it also has the slightest bit of a green undertone to it, but usually, you won't see any green in this paint color. However, it could show up depending on what decor you pair it with and what room you paint it in.
Stardew is considered a cool, crisp blue, but it can feel slightly warmer depending on what you pair it with. Also, although it is cool in tone, it doesn't feel cold. But if you want to use this blue color in your home, you should be careful when choosing the room for it!
Depending on other colors there, the Stardew paint may read differently on the walls!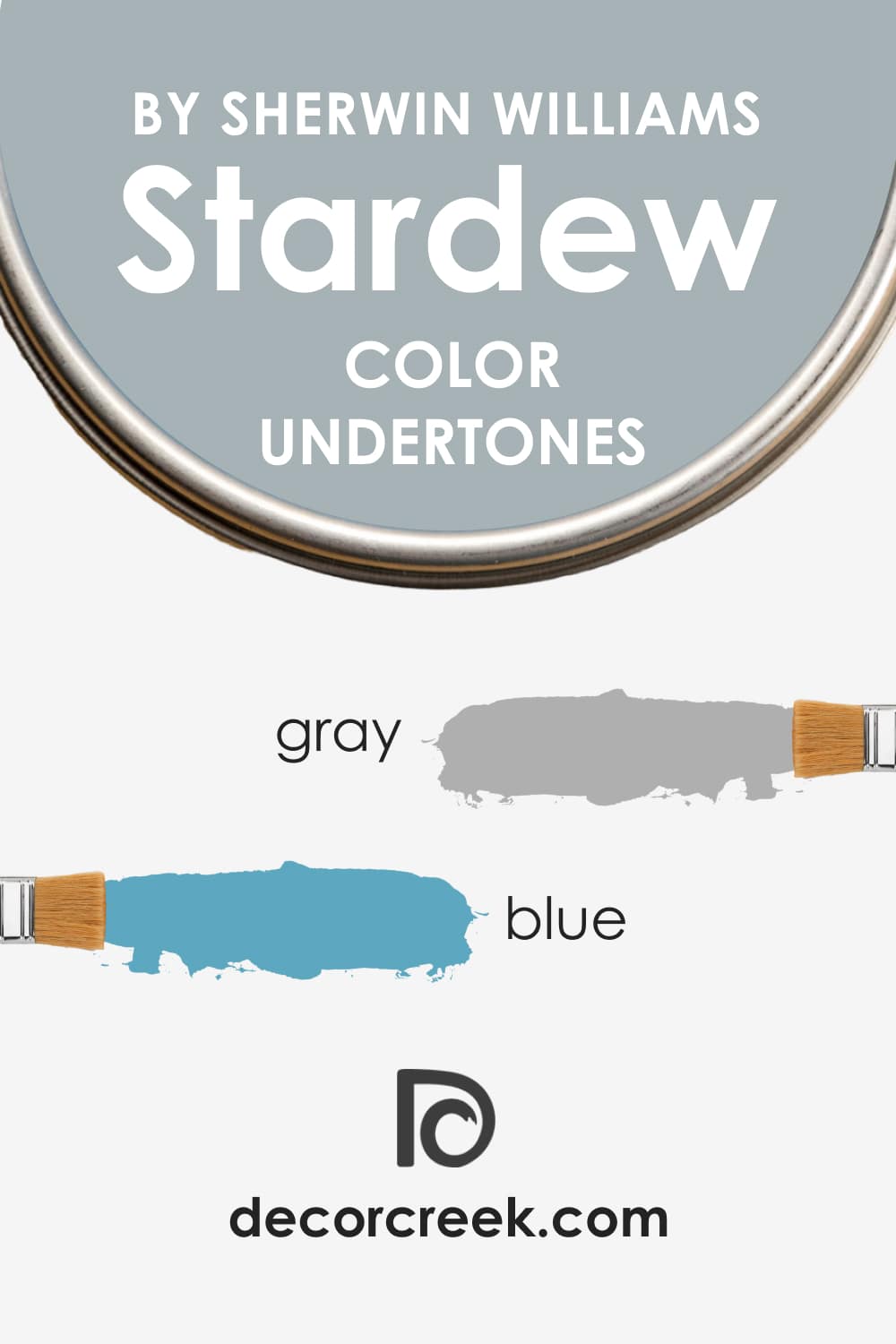 LRV of Stardew SW-9138
The LRV of SW Stardew is 43, which means Stardew is quite medium to lighter in tone. This is why this color can definitely be used as a base or a neutral. Also, with the LRV of 43, you should not expect this color to be super reflective!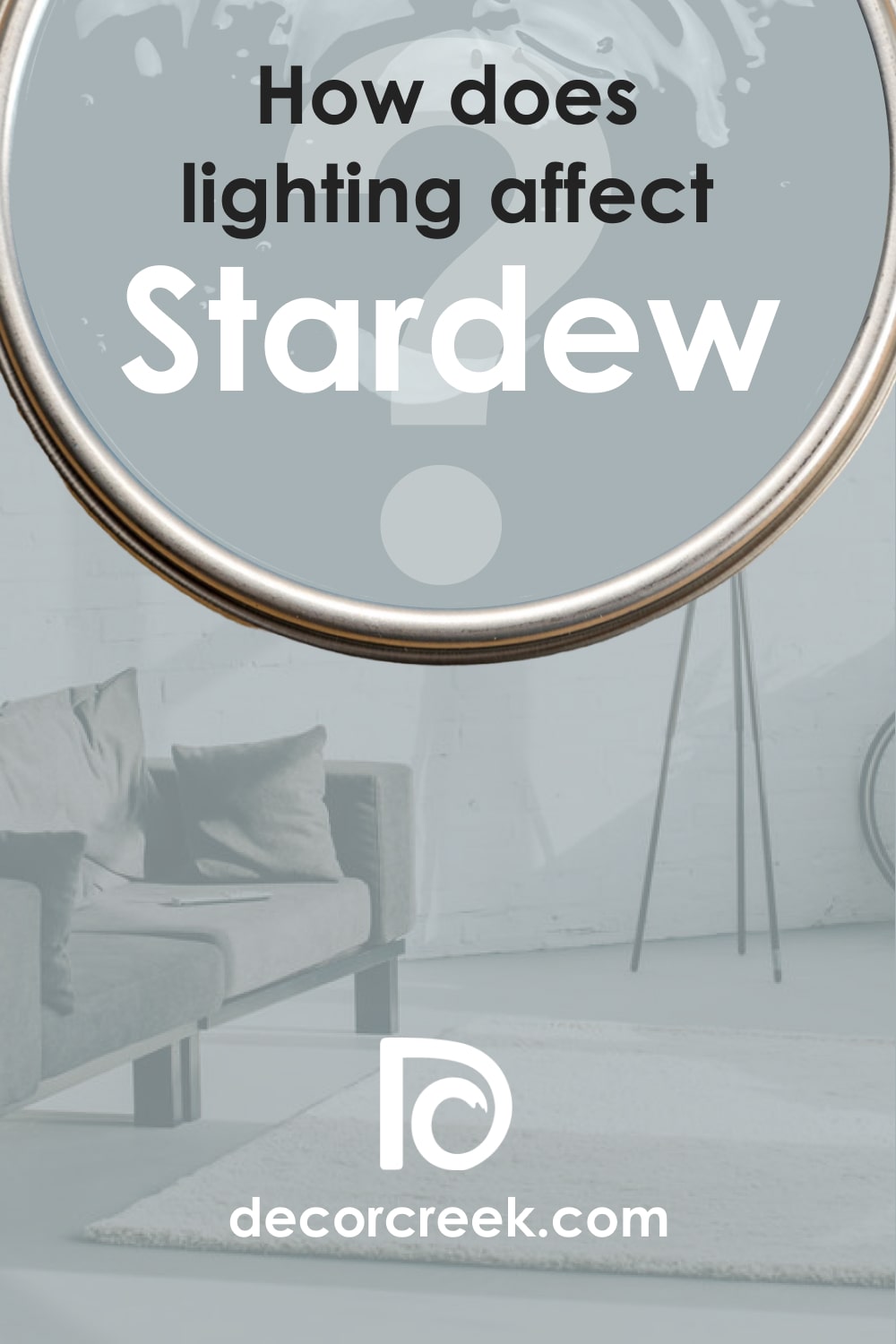 On the other hand, it will not absorb a lot of light either. So with SW Stardew color on the walls, you should not be afraid that the room might look darker or smaller. However, this paint will also not make a space seem airier or larger.
For those who don't know (or don't remember) what LRV is about, here is a hint. LRV stands for the Light Reflectance value, and it shows how much light paint color can reflect when it is applied to the wall.
The greater the LRV, the lighter the paint, and vice versa. The LRV scale ranges from zero to 100, with zero standing for black and 100 standing for pure white.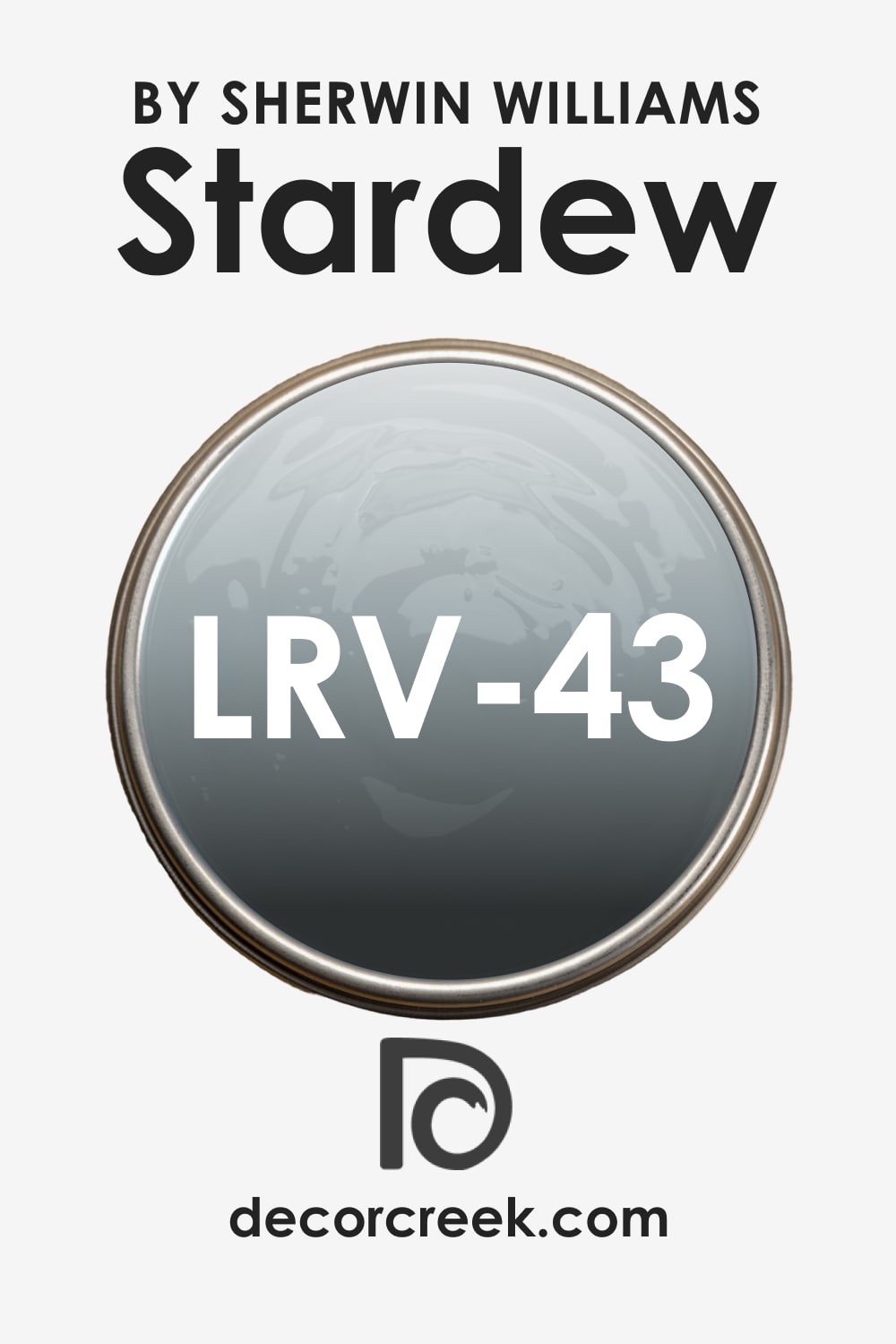 LRV – what does it mean? Read This Before Finding Your Perfect Paint Color
Coordinating Colors For Stardew SW-9138
SW Stardew is a good color option for you to use at home because many colors and shades coordinate well with this gray-blue. For example, you can coordinate it with such colors as a deep navy, a mauve, or even some black (for example, Black Onyx will work nicely with this color). Earthy green shades will also look great with this calm blue.
There are the colors that can be used to coordinate them with SW Stardew:
Sherwin Williams Pressed Flower SW 6304
Benjamin Moore Black Onyx BM 2133-10
Benjamin Moore White Dove OC-17
Sherwin Williams Navy SW 9178
Benjamin Moore London Fog BM 1541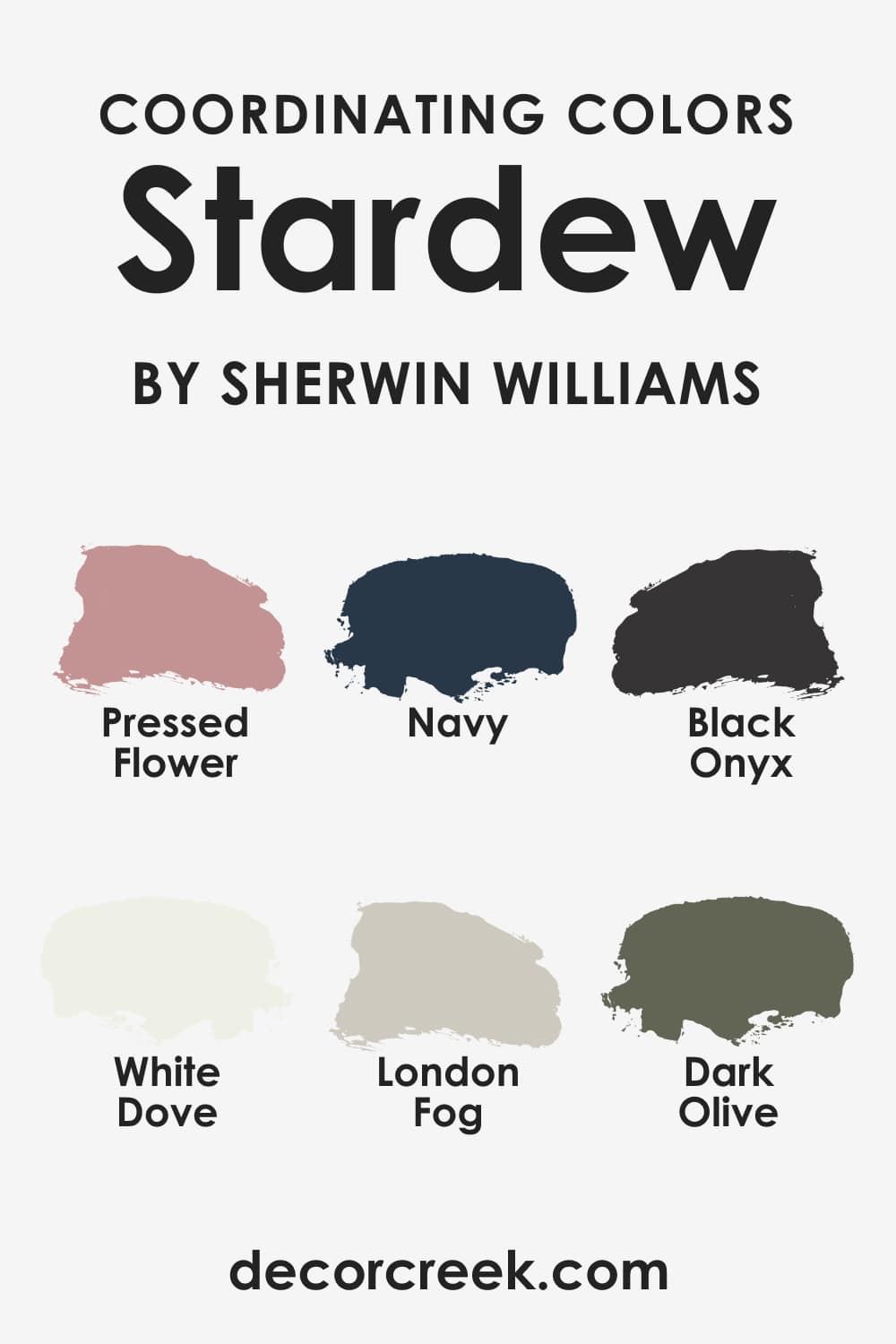 Benjamin Moore Dark Olive BM 2140-30
SW 9137 Niebla Azul
SW 9139 Debonair
SW 9140 Blustery Sky
SW 7006 Extra White
SW 6309 Charming Pink
SW 7038 Tony Taupe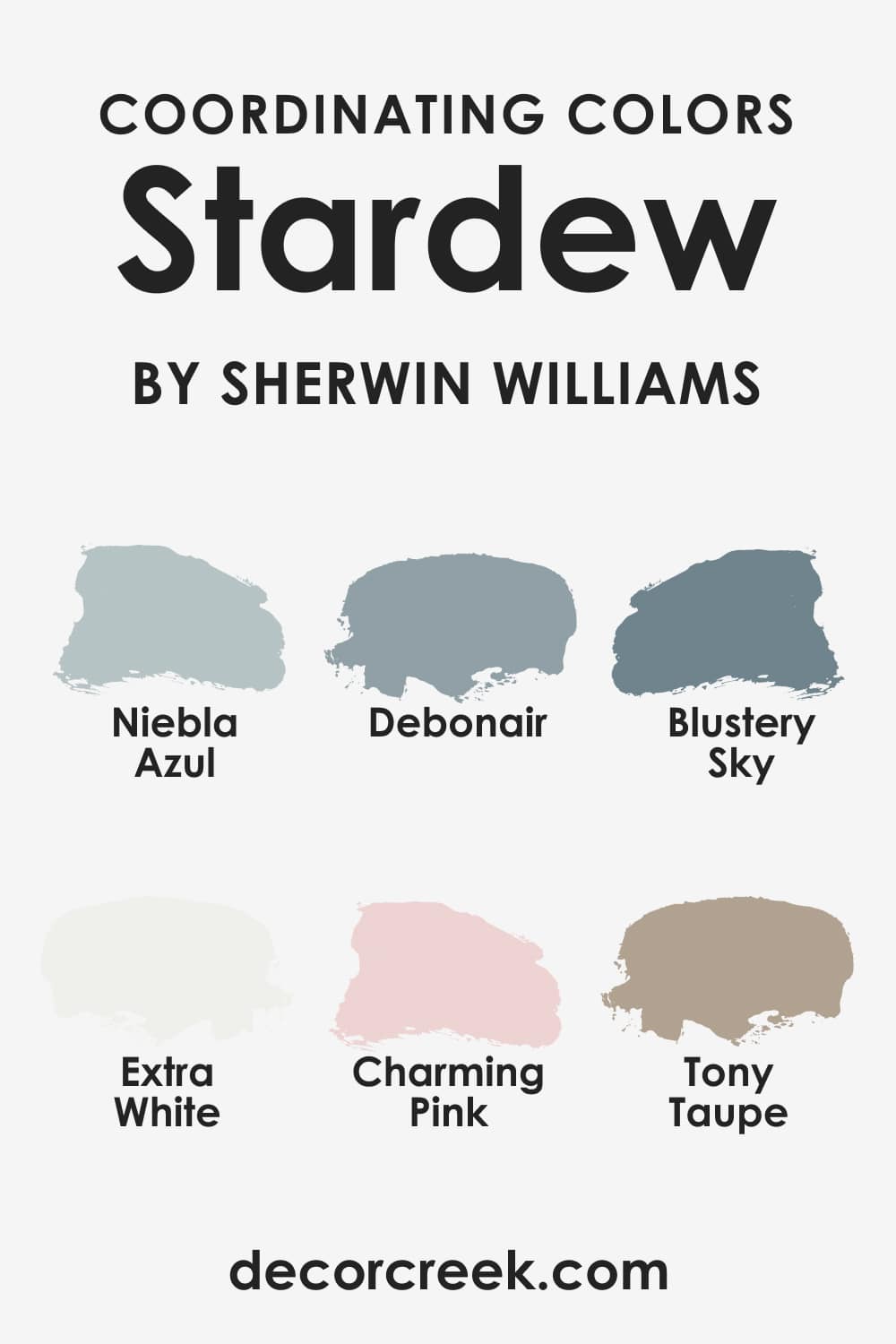 Colors That Go With Stardew SW-9138 Paint
To be able to create a harmonious and balanced color palette in your home, you should know what colors will read well with the color used on the walls. If you have SW Stardew color as the major color in the room, we recommend you take a closer look at the following paints to sue them there:
SW Zircon
SW Snowbound
SW Summit Gray
SW Blustery Sky
SW Poised Taupe
SW Rave Red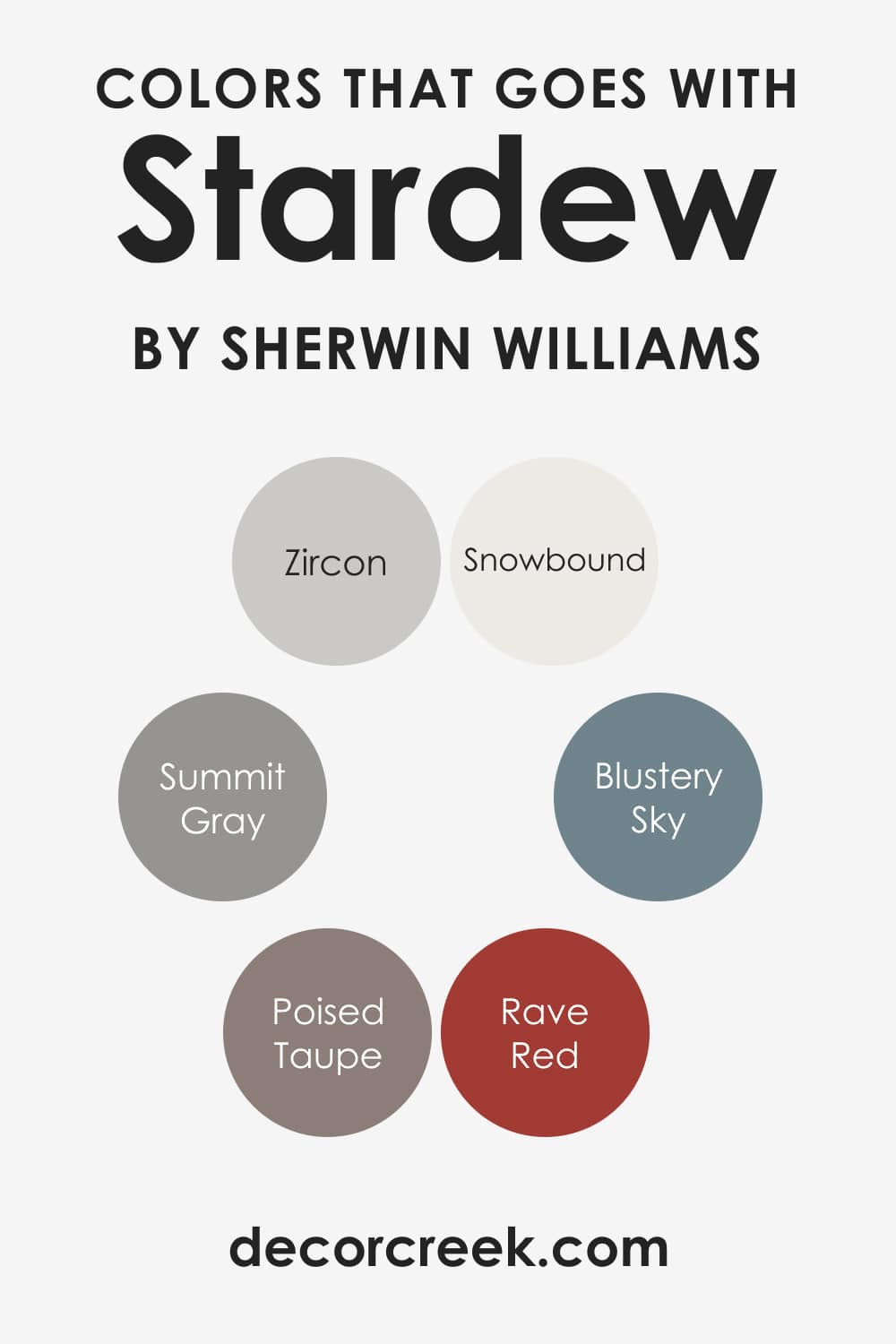 The Best Trim Color to Use With SW Stardew Paint
When you pick the trim color correctly, you make it possible to not only highlight the beauty of the wall color. You also make the space read more balanced and create a better contrast between the different colors used in a room.
For SW Stardew blue-gray color, the following will be good trim color options:
SW High Reflective White
SW Extra White
Of course, if you want, you may use bolder whites with a crisp look. Such white colors will highlight the cool tones of the Stardew color, revealing its crispness better.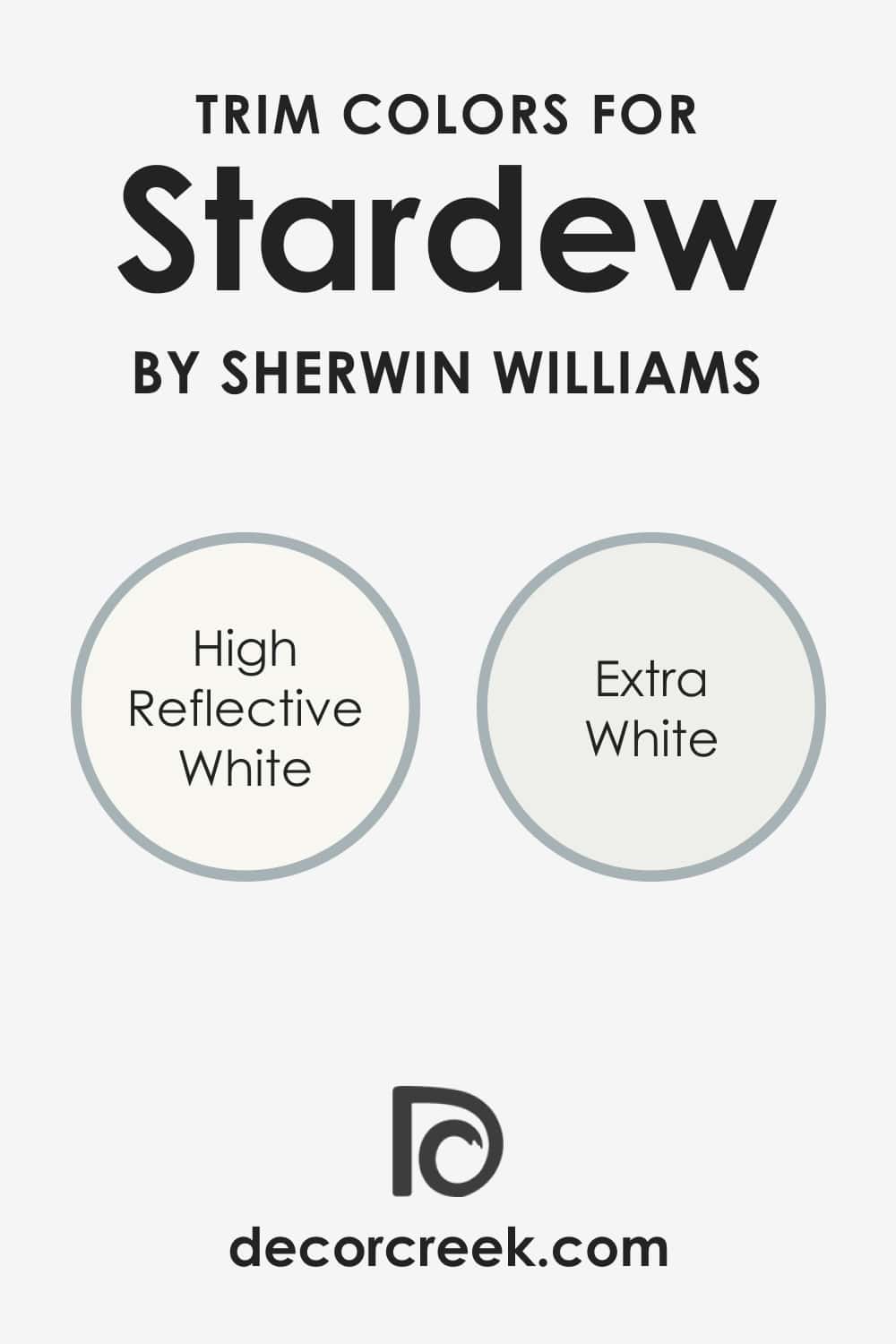 Paint Colors Similar to Stardew SW-9138
Why would you need to know what similar paint color you can use instead of the color you already have (or plan to have) on your walls? Well, you may suddenly decide you want another shade of the existing color, one that is darker or lighter.
Also, you might want to use a color that has distinct undertones. Finally, the color you have now might not be entirely suitable and well-matching with other colors in a room.
For SW Stardew color, the following colors will be similar.
Behr, Bay View
SW Windy Blue
SW Silvermist
SW Jubilee
SW Nimbus Gray
Of course, note that there won't be a 100% match! Some of these colors are nearly the same as SW Stardew whilst others differ a bit due to slightly distinct undertones.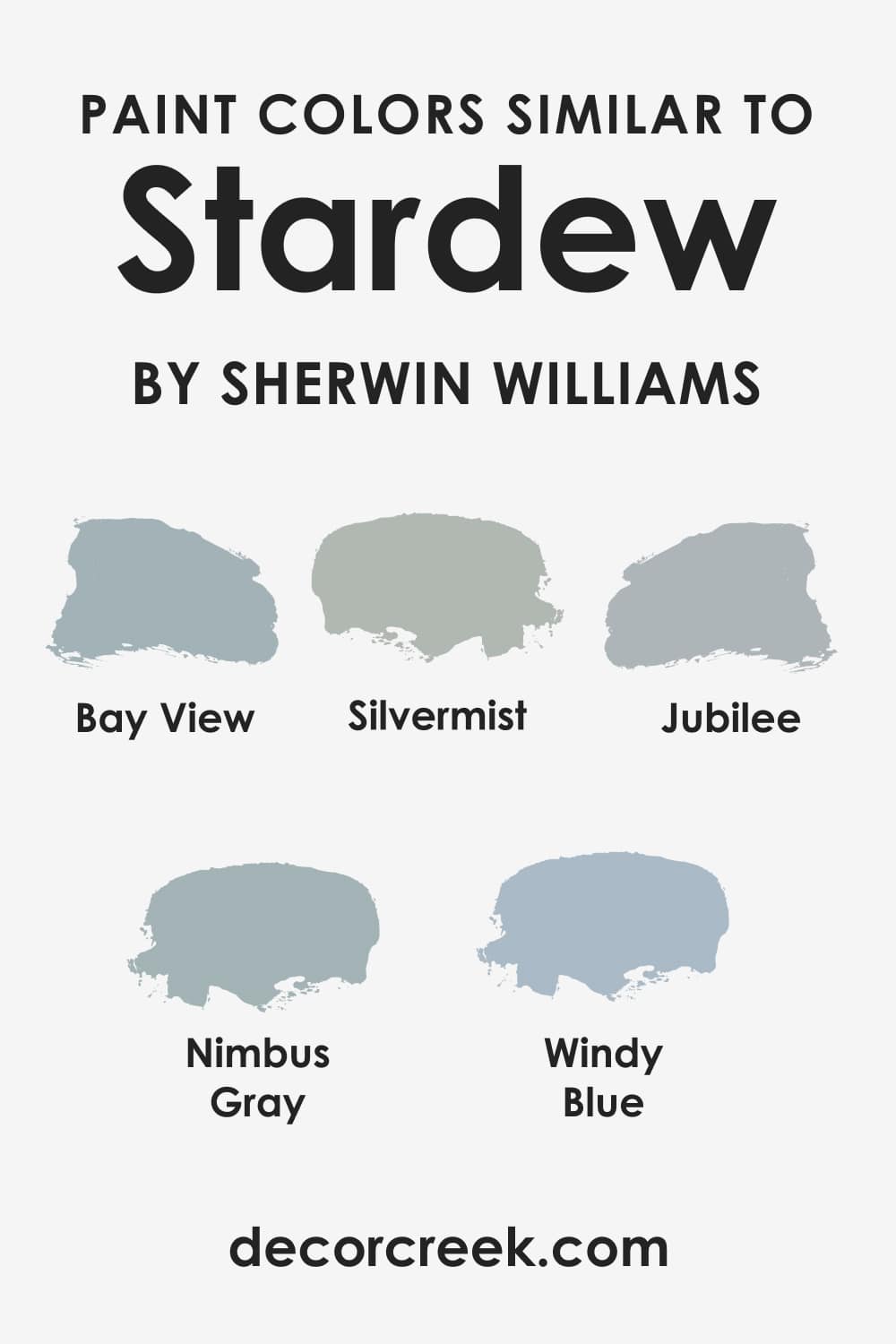 Colors to Compare With Stardew SW-9138
To better see the specifics of the color you are going to use on your walls, it's a good idea to compare it with a few other similar colors. By comparing different undertones and shades of the same color, you will see clearly how varied each color can be and what to pay attention to when choosing the right paint for your home.
SW Stardew vs SW Jubilee
SW Jubilee is very close to SW Stardew since it is a deep blue color with gray undertones as well. It also gives that feeling of calmness while adding a relaxed blue vibe to your home. And just like its counterpart, it feels neither too dark nor too light.
With an LRV of 45, SW Jubilee is only slightly darker than the Stardew color. When you compare these colors side-by-side, you will see that SW Jubilee is grayer than SW Stardew, but it is still a good option to consider if you need a nice blue-gray shade.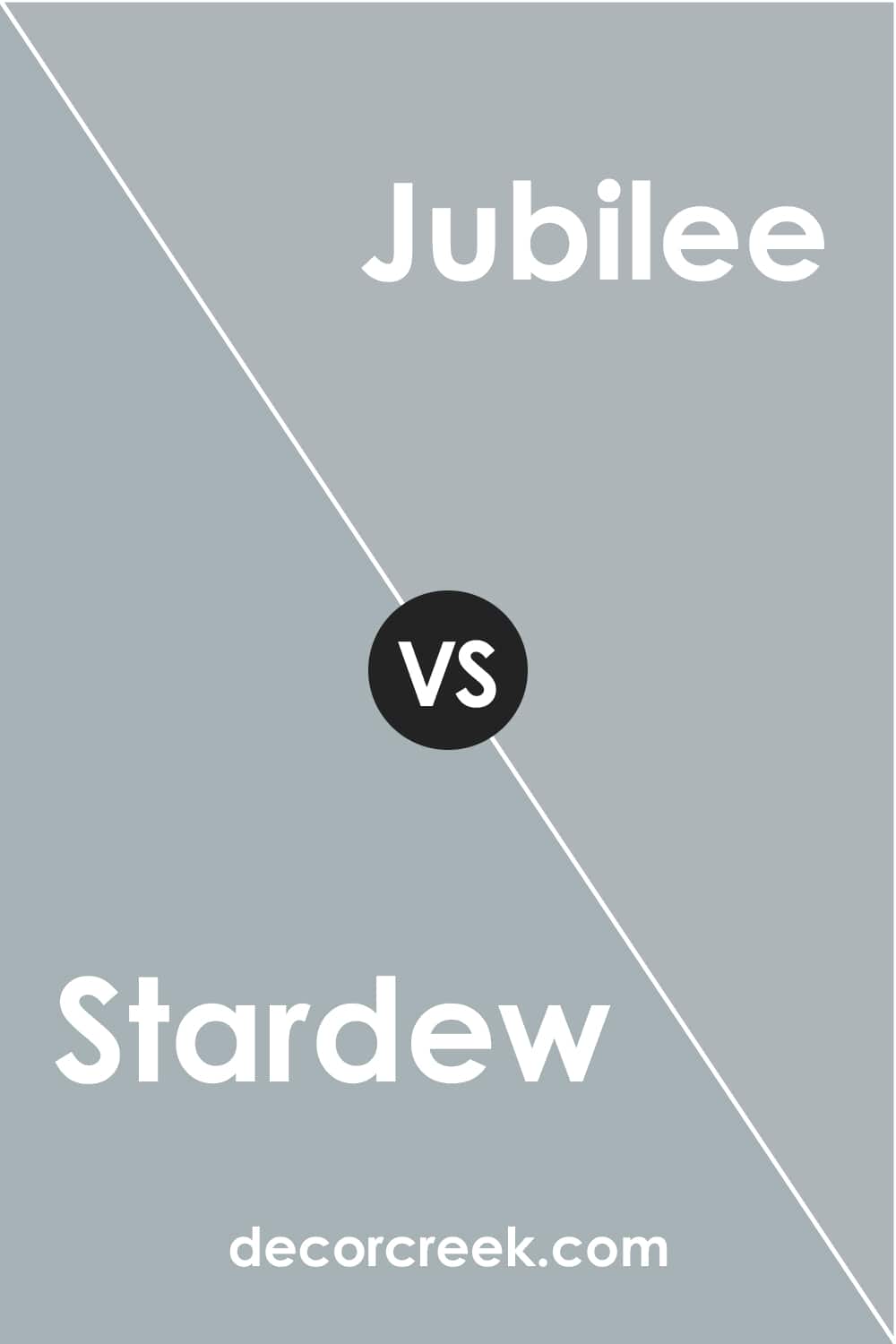 SW Stardew vs SW Indigo Batik
SW Indigo Batik is a very deep and dark navy blue color, which makes it stand out compared to a much lighter SW Stardew. Also, the undertones of these colors are different. SW Indigo Batik has deep blue undertones whilst SW Stardew has blue-gray undertones. However, since both colors are muted, they read well-balanced if used together.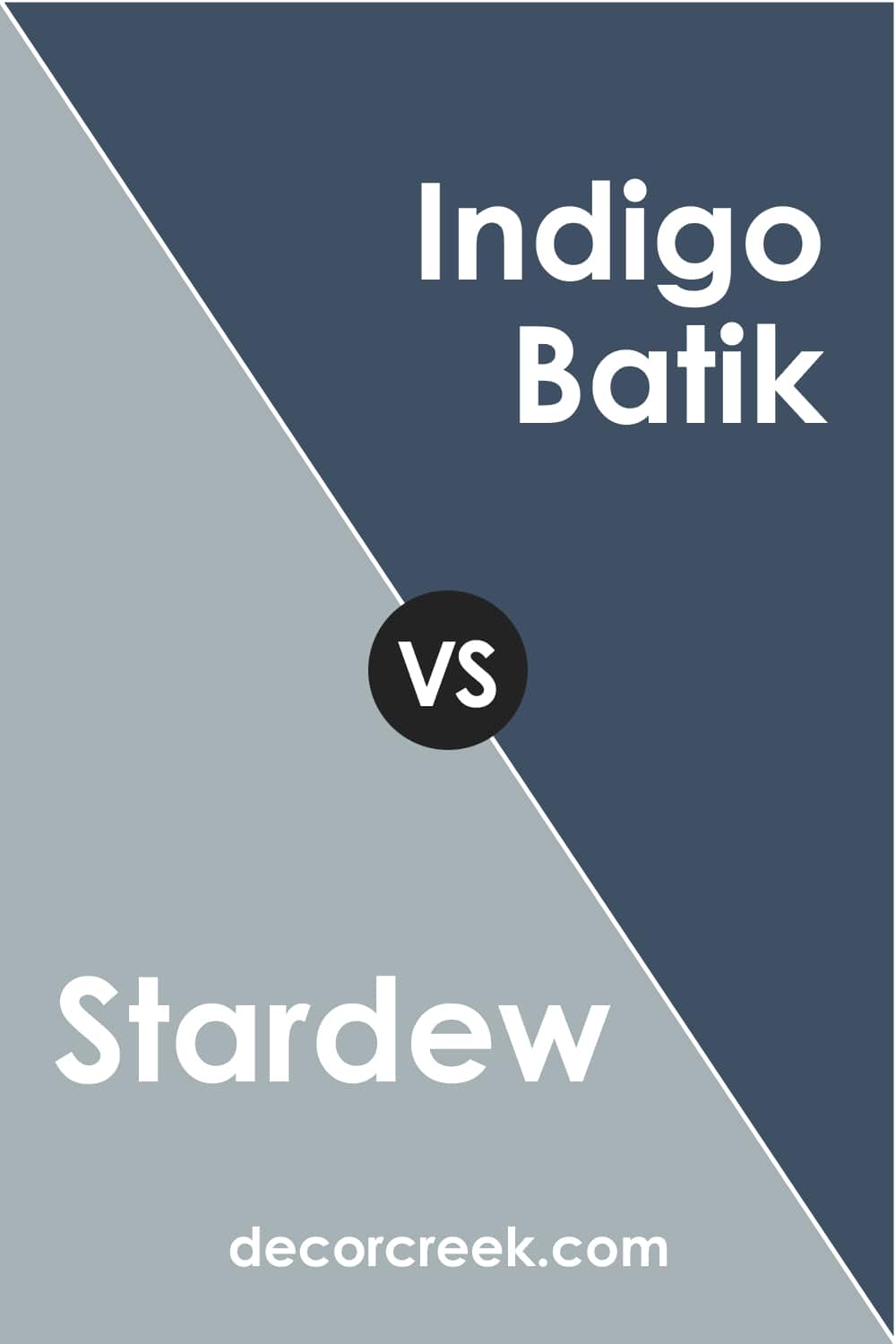 SW Stardew vs SW Aleutian
Compared to SW Aleutian, SW Stardew has significant grayish undertones. The Aleutian paint color, on the other hand, reads bluer since its undertones are pronounced blue. Both colors are muted, but since they don't create a sharp contrast, we would not recommend you use them together.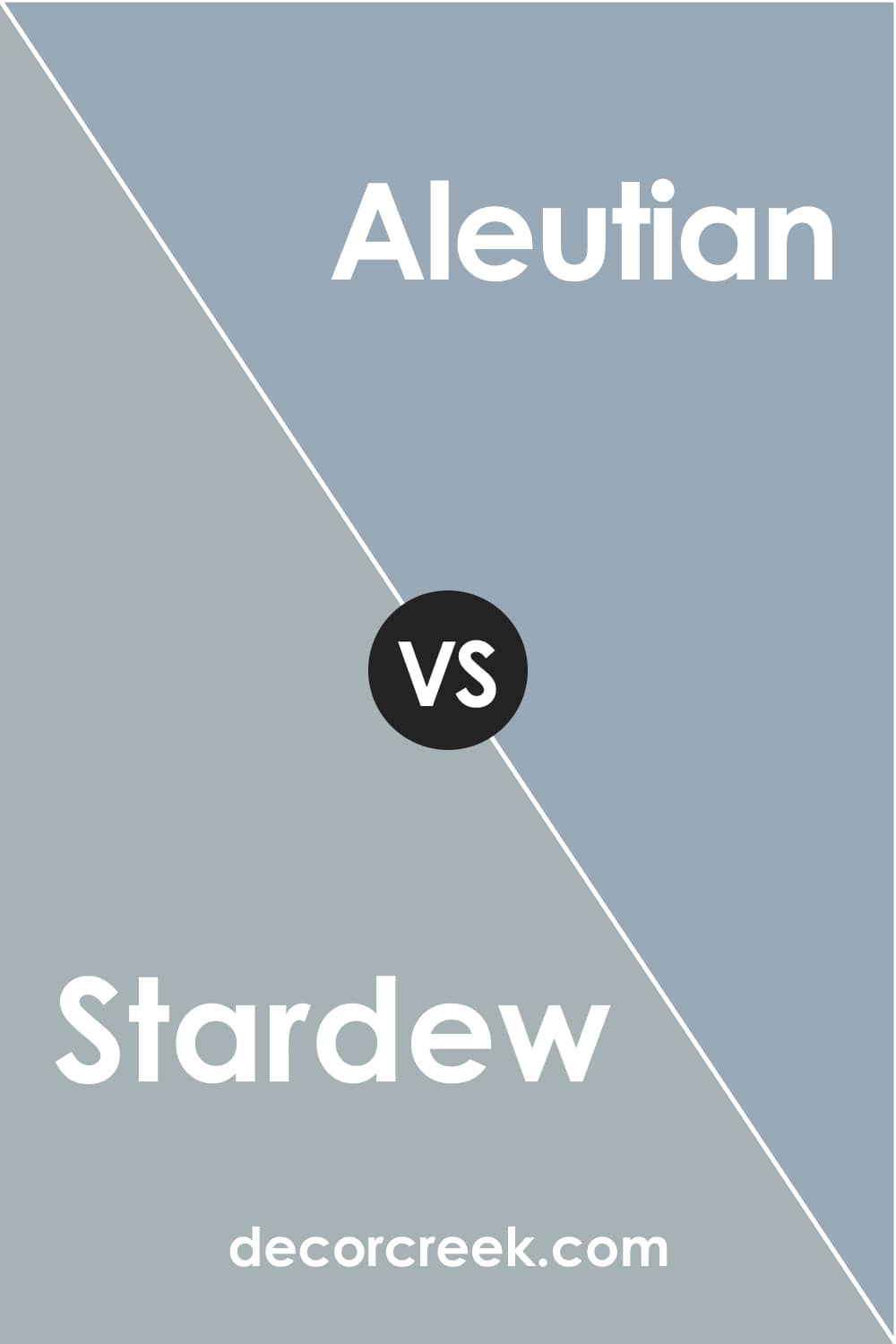 Stardew vs Upward
This pair of colors is completely different compared to the previous one. SW Upward is lighter and has bright blue undertones compared to SW Stardew with its grayish nature that makes the color read a bit "dusty" in this combo.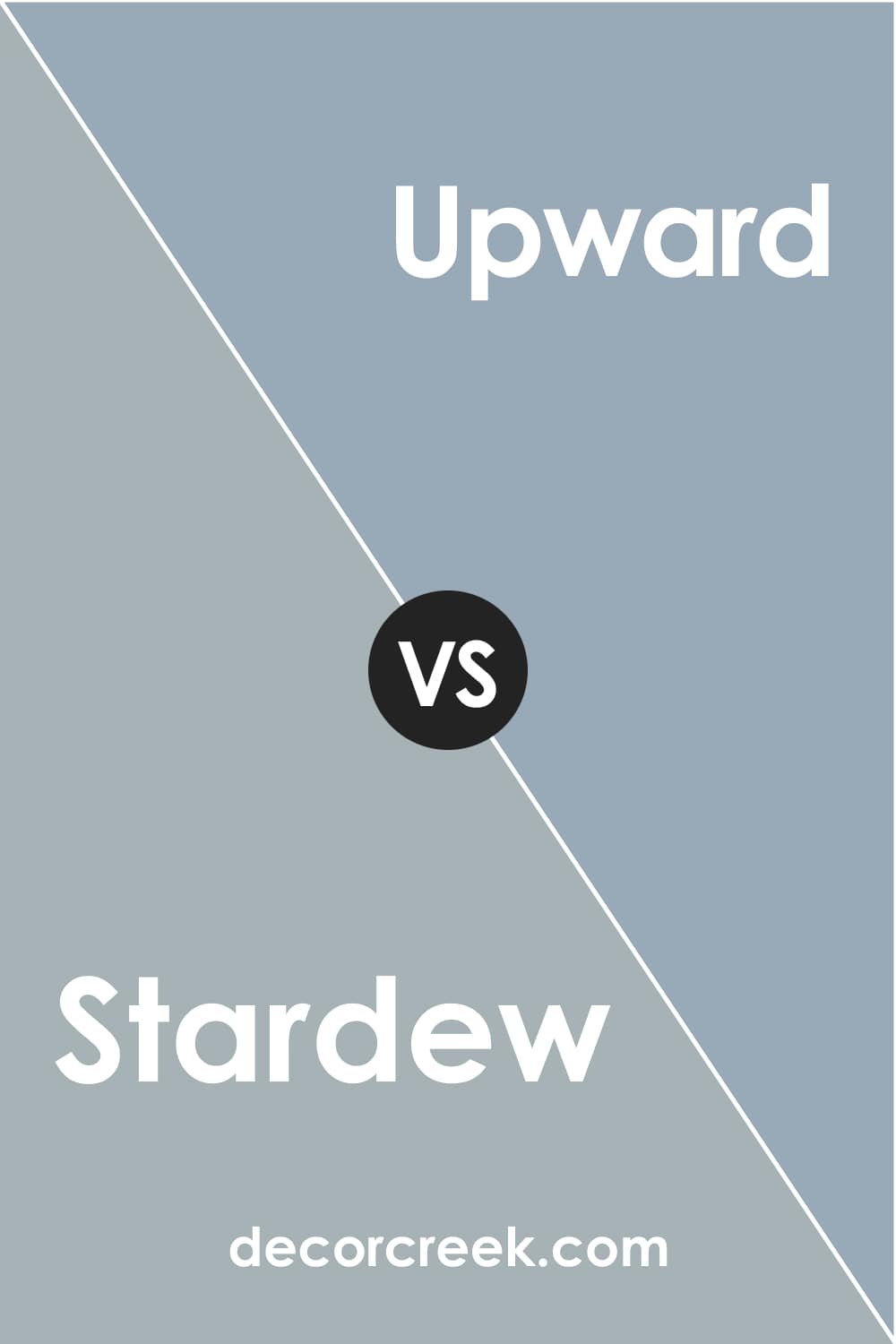 Where You Can Use This Paint Color In Your Home?
Blue is quite a tricky color to use indoors! It often has complex undertones that show up only in certain types of light, which is why some shades of blue may read differently on a color swatch and on the wall. That's why we have prepared a brief description of the rooms where SW Stardew will work the best! With this guide, you will surely use the color correctly.
Stardew SW-9138 in the Living Room
Although this shade of blue is considered a cool-toned color, it doesn't mean SW Stardew will make the room read airy and spacious! On the contrary, in the wrong light, it may read dusty, making the room seem dull and poorly lit!
This is why we recommend you use it in a well-lit and large living room that has plenty of natural light. In this room, SW Stardew will create a calm and relaxed feel. You can pair it with white paints such as SW Extra White on the trims, moldings, and door and window frames. This will make the space read a bit crisp and fresh.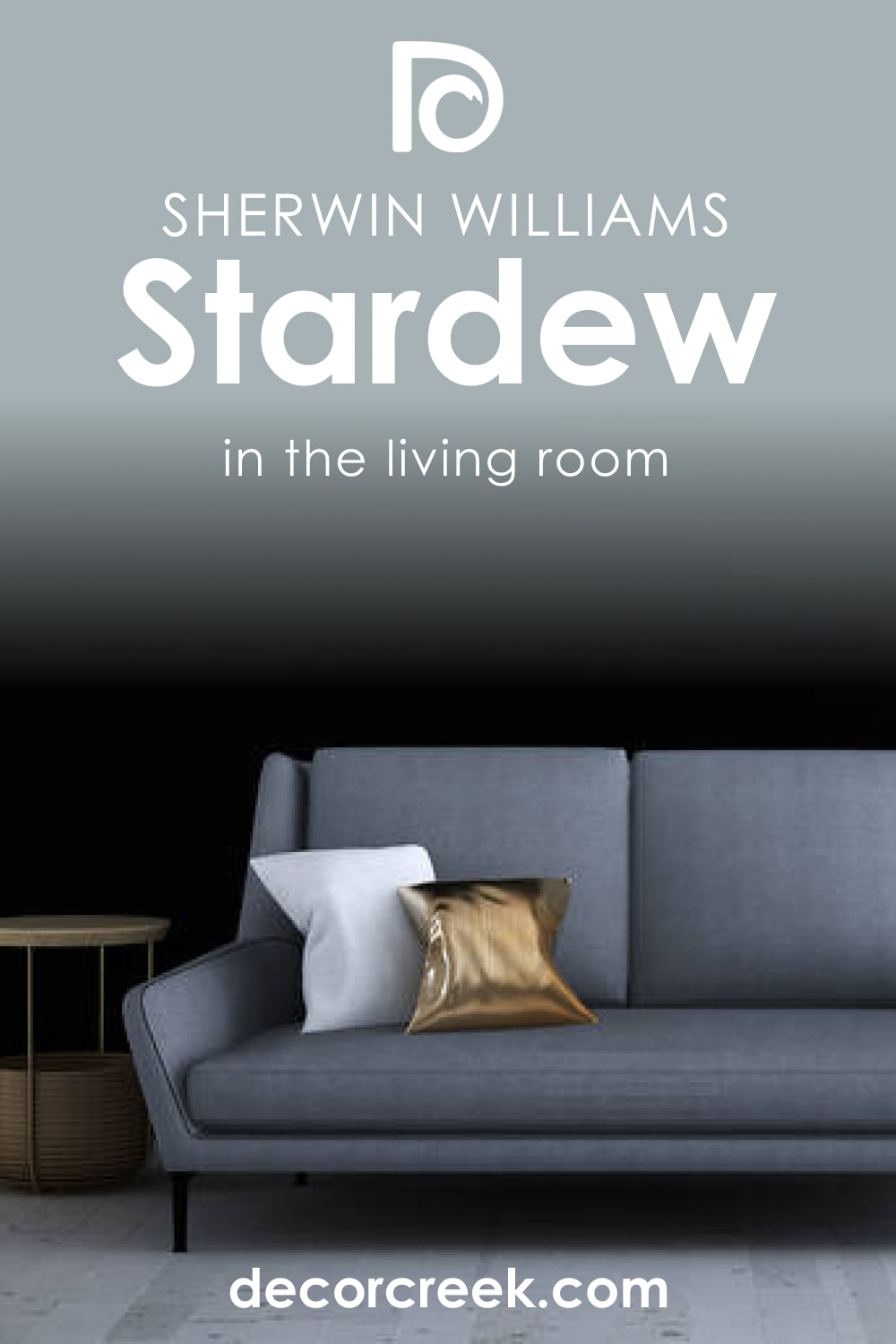 Bedroom and Stardew SW-9138
For your bedroom, this color will be a win-win solution thanks to its calming nature. You can use it either on the headboard wall or all the existing walls. White sheer curtains and bright linen upholstery will help you create an airier, coastal vibe. Stardew is calming and soothing and just the right shade for a bedroom to make you feel relaxed and tranquil.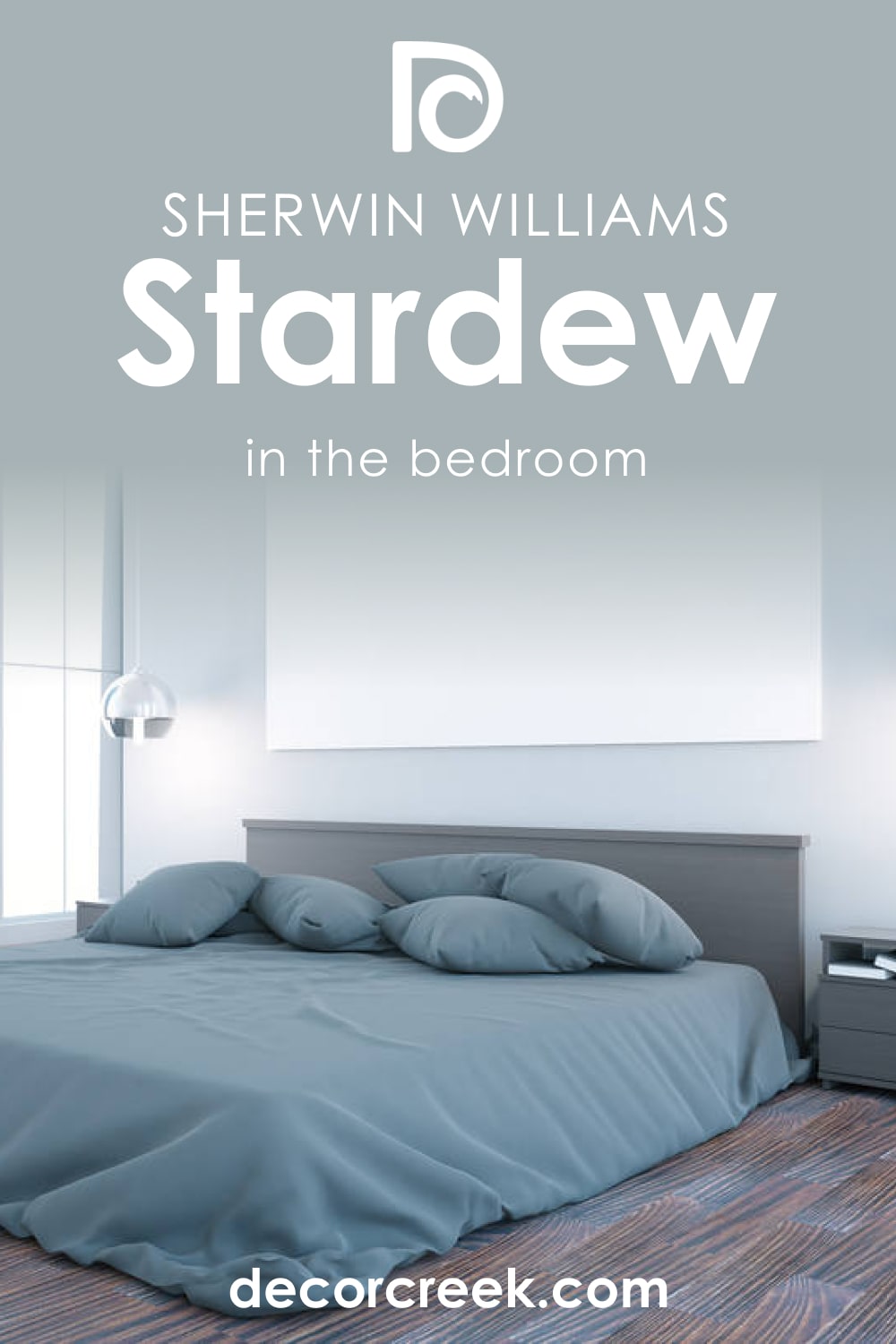 Bathroom with Stardew SW-9138 Paint Color
This shade of blue would be gorgeous in a bathroom! SW Stardew pairs lovely with white/light oak surfaces and gives depth to a space that would otherwise look flat. However, this blue with gray undertones will do its best in a big enough bathroom with enough light!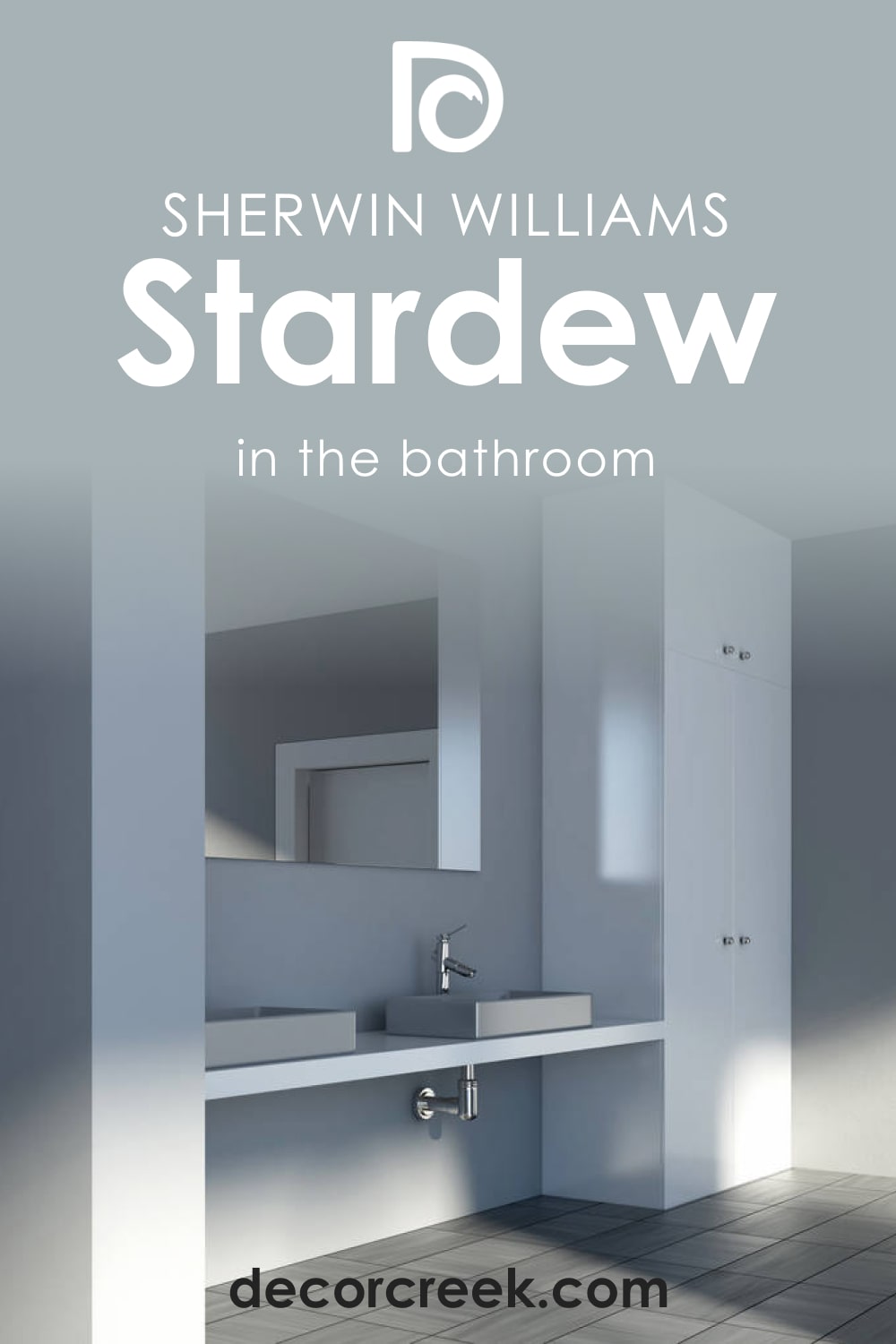 Stardew SW-9138 for the Kitchen
If you need to brighten and open up your kitchen space, use SW Stardew on kitchen cabinets while adding just the right amount of color. Paired with white walls and quartz of marble countertops, this calming and soft blue-gray will make your kitchen shine!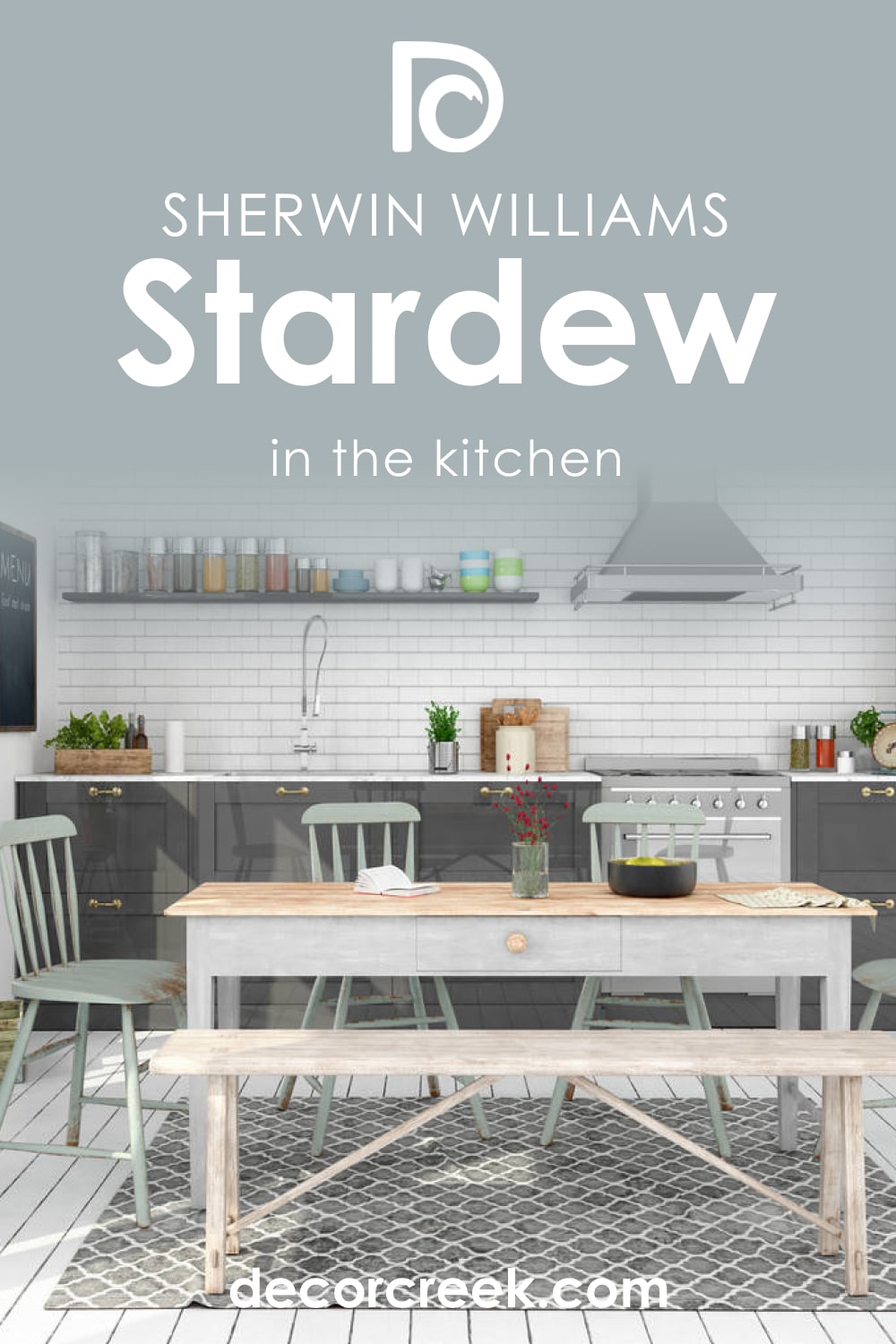 Stardew SW-9138 for the Exterior Use
Some of you may think that blue is not a suitable color for a home exterior, but this particular one will be quite eye-catchy and breezy! SW Stardew can definitely be used on the exteriors. This blue-gray color will never wash out. However, you need to ensure it is paired with true whites to create a cohesive and attractive exterior color palette.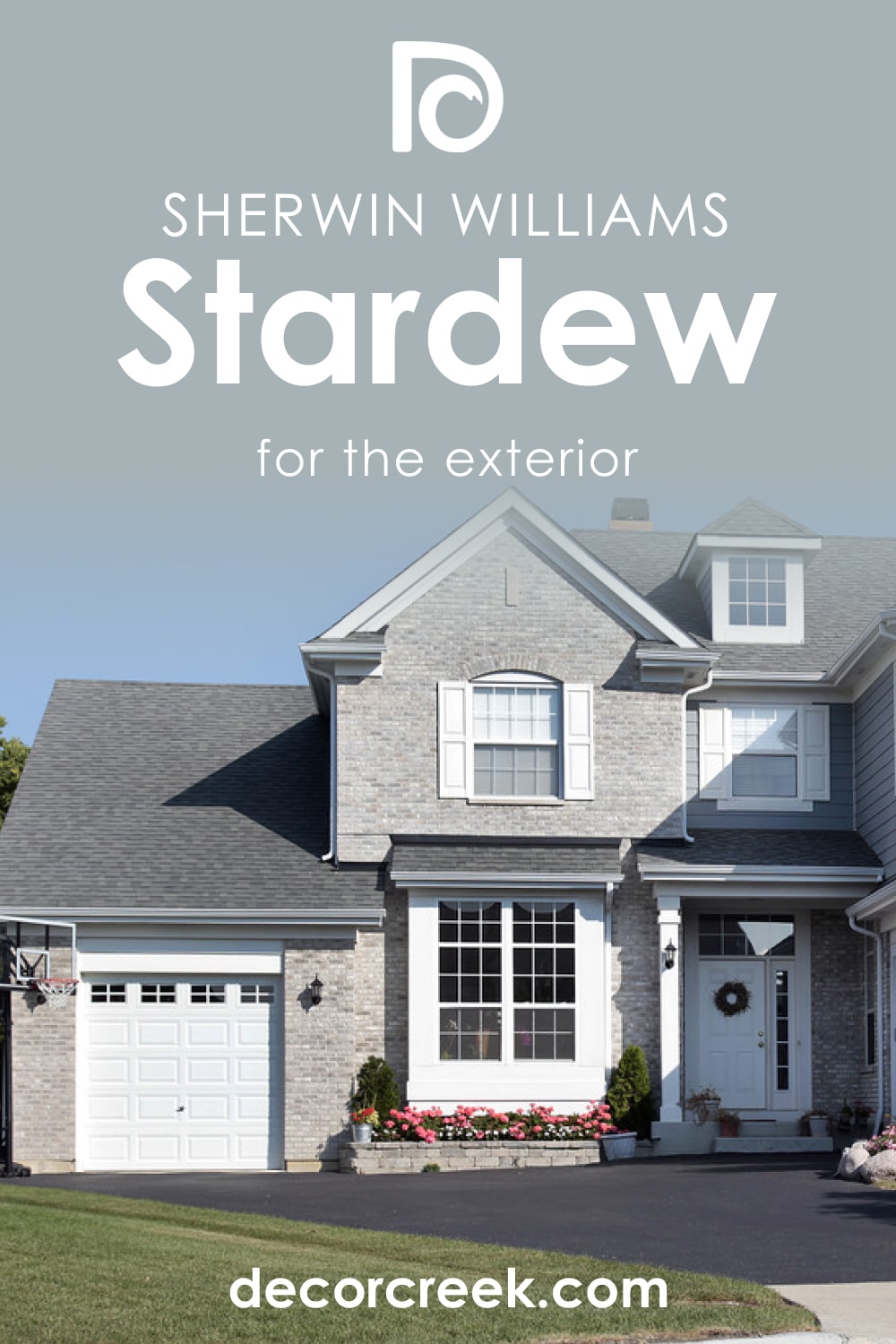 Well, now you know all you need about the beautiful blue paint color called Stardew by the Sherwin-Williams. You learned its undertones and LRV; you learned what trim colors should be used with this blue and what colors will coordinate it best of all.
Finally, now you know in what rooms this blue should be used to create a calming and relaxing vibe in your home.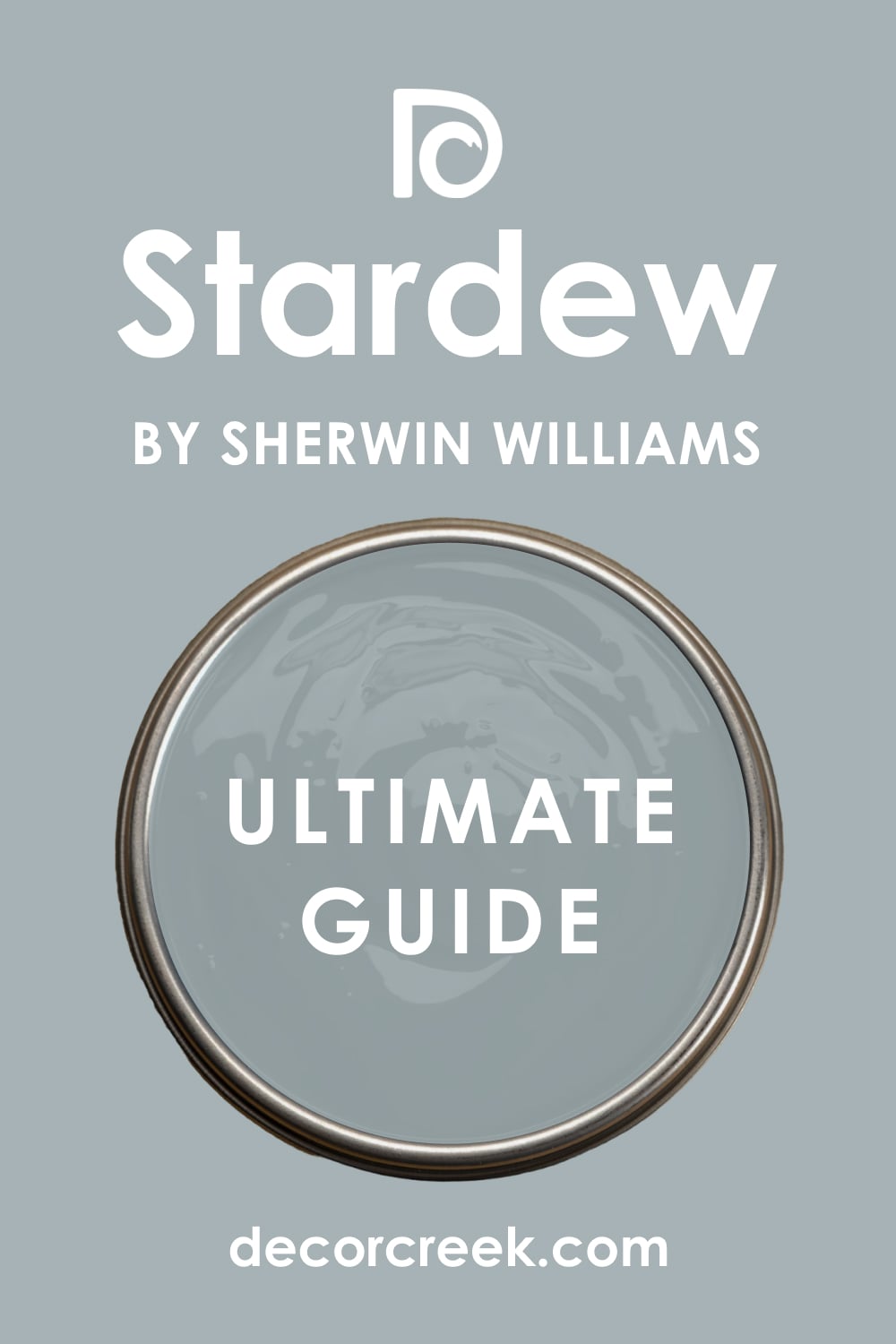 Frequently Asked Questions
⭐What textures and materials will SW Stardew work with?
This blue will work well with matte black metals, metal-framed furniture, gray or black linen upholstery, and walnut-toned wooden textures.
⭐Is SW Stardew blue or gray?
This color is blue with gray undertones.
⭐Is SW Stardew a popular color?
It's hard to call it popular, just like most blues, to be honest. Due to the specifics of the color, few people really like it.