Choosing the right color for your home painting project is not always easy. You need to know what type of color you want, what undertones it should have, and how this color might react to light. This is why quite many homeowners feel puzzled and stumble when it comes to selecting the paint color.
In this article, you will learn more about the color called Silver Mist by the Sherwin-Williams brand.
We will explain what kind of color it is, how it reads in space, and how to pair it with other colors to get awesome results!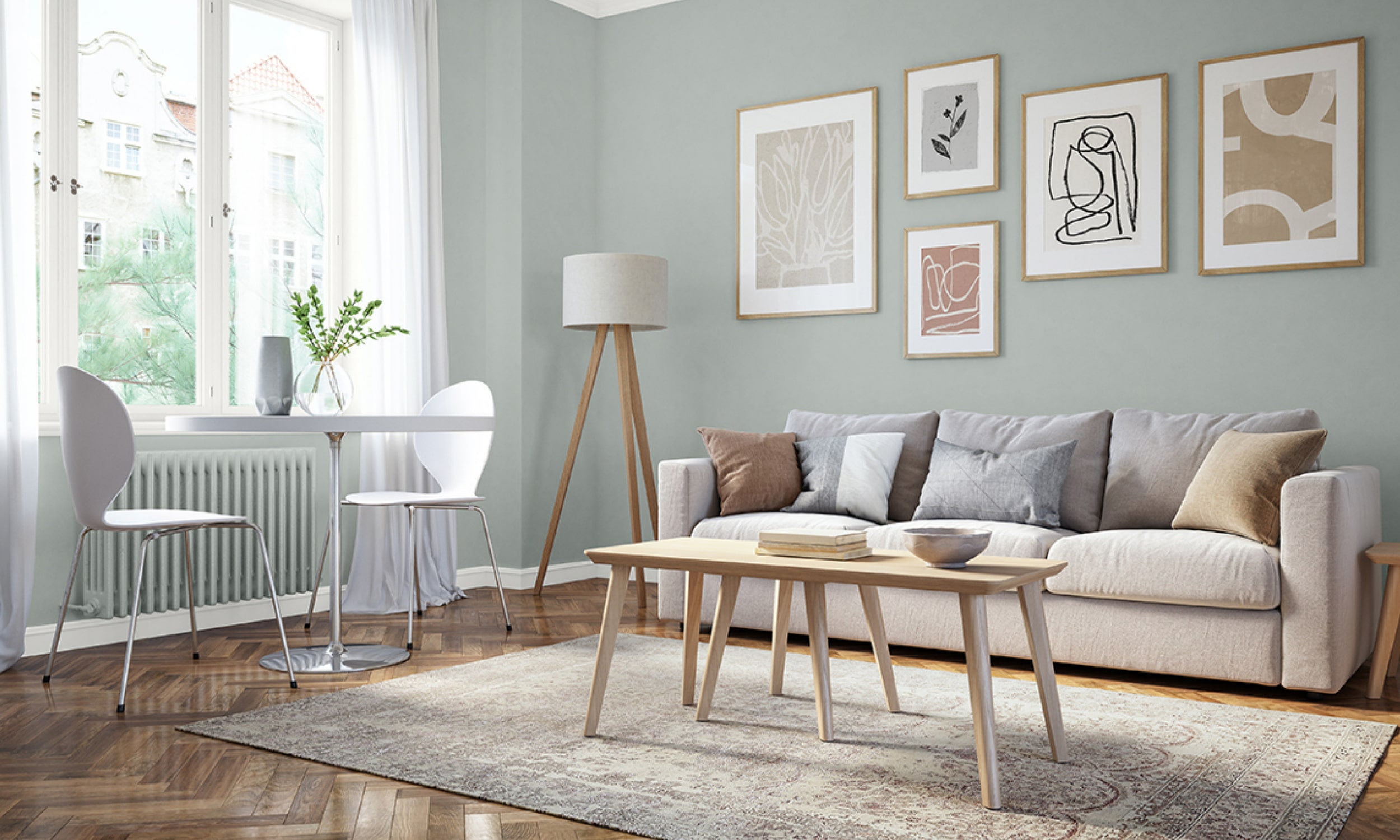 What Color Is Silver Mist SW-7621?
At first sight, SW Silver Mist may seem green, but this is only a part of its true identity. See, this color is actually a blend of green, gray, and blue! Quite a mixture, isn't it? And since it is a blend, there are dominating colors that show up more prominently.
In the case of SW Silver Mist, the dominating color would be gray with a green and blue hue on its back. However, you should not worry about these hues! All three are perfectly balanced. As a result, you get a calm and muted gray with a lovely blue-green base to it, as Encycolorpedia says.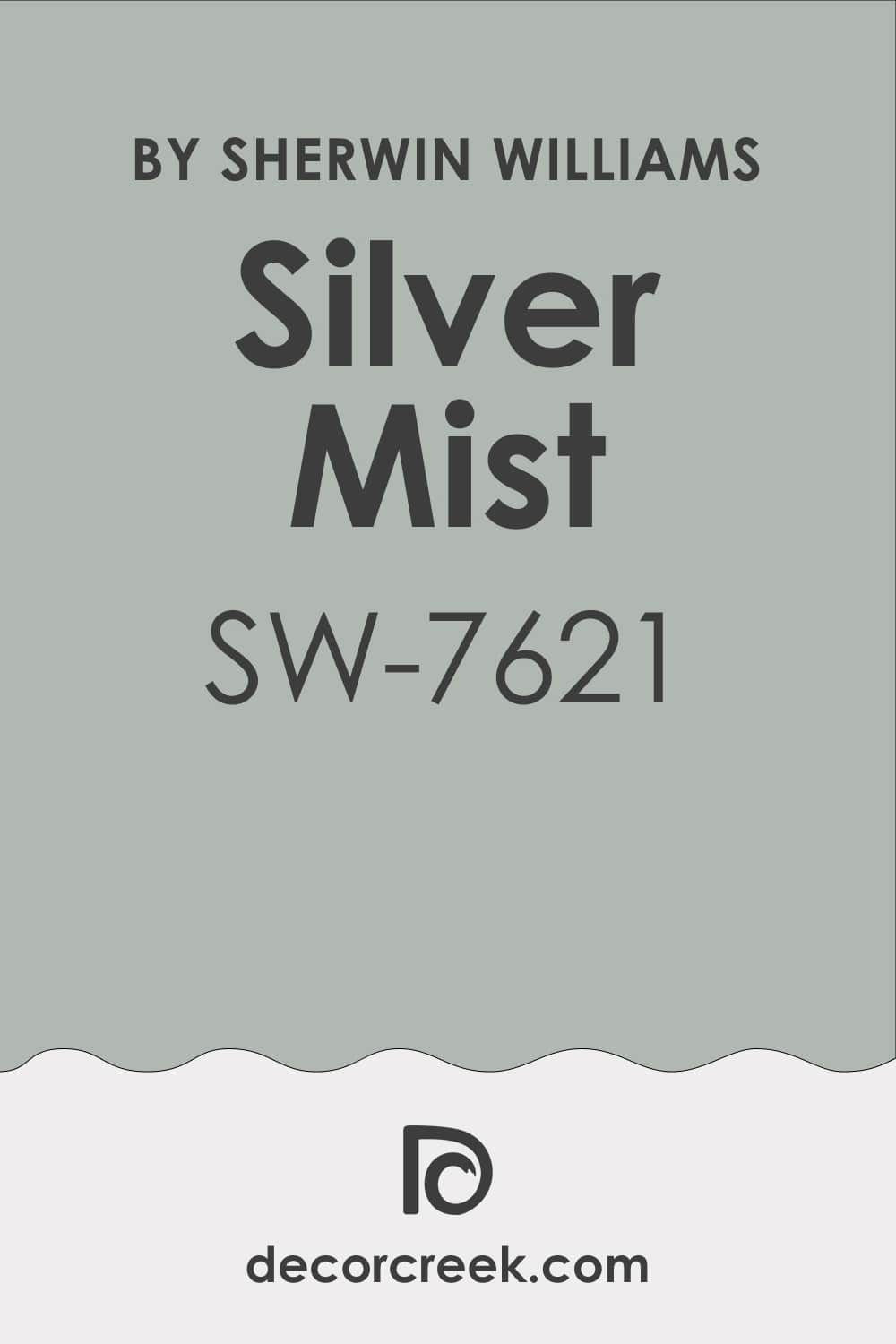 Undertones Of Silver Mist SW-7621
As we have just mentioned above, SW Silver Mist has blue and green undertones, being a blue-green blend. However, gray is not always a leading color in this blend! In fact, gray serves as a soft back for the green to flourish! As for the blue hue, it may sometimes appear in certain types of light, but you should definitely not expect it to be there all the time!
With that gray, green, and blue hue, SW Silver Mist reads as a warm and earthy color, perfectly soft and balanced. You won't see those bright teal notes in it. Instead, it will appear calming and relaxed.
Being aware of undertones is essential since it helps you to select other colors for the room respectively, depending on their compatibility. Also, knowing what undertones your paint has allows you to tell in advance how the color will read on the walls. It will make the result of its use more predictable.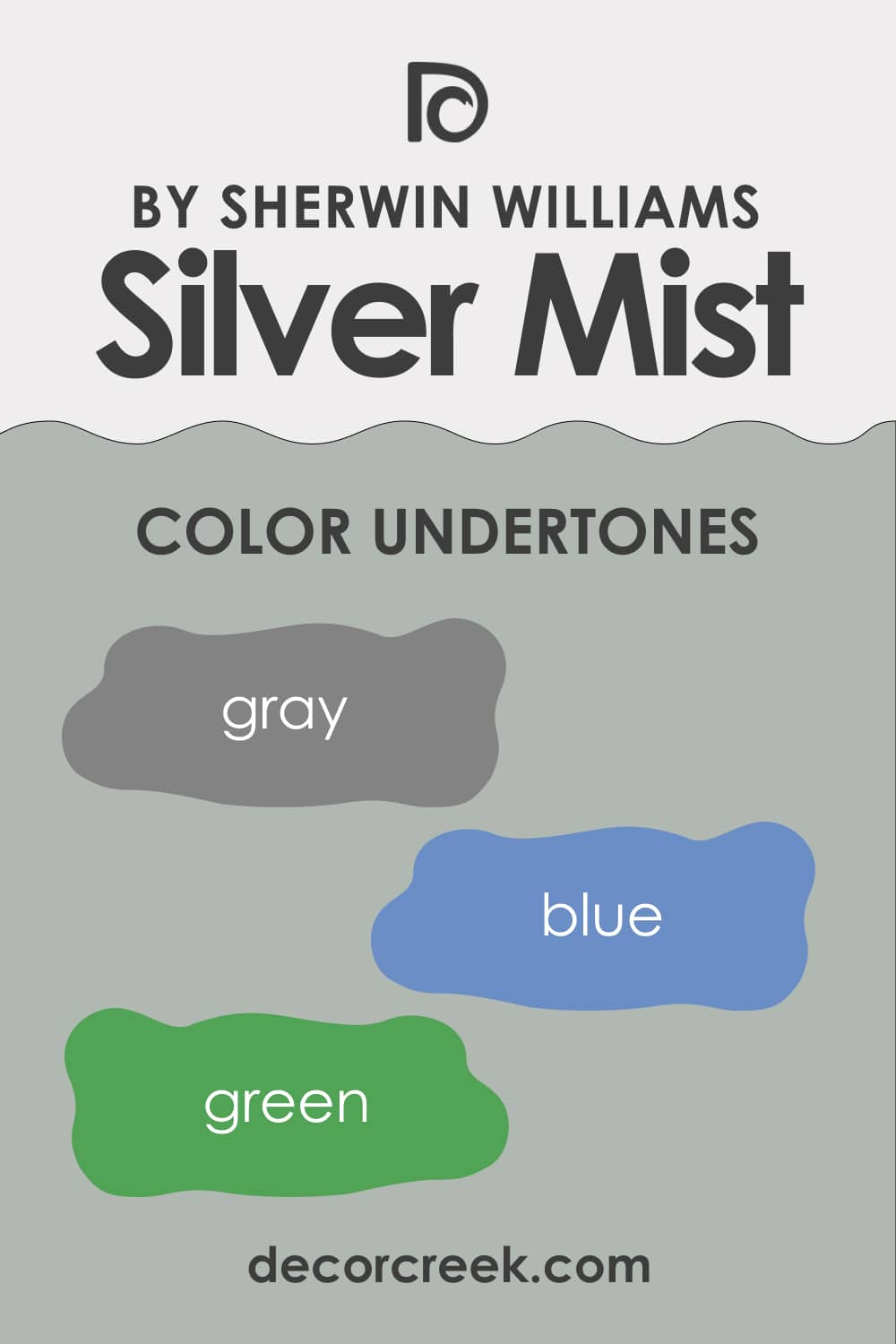 LRVof Silver Mist SW-7621
LRV stands for Light Reflectance Value. It shows how much light the color can reflect when it is applied to the wall. The higher the LRV, the lighter the color. Respectively, the lower the LRV, the darker the color is.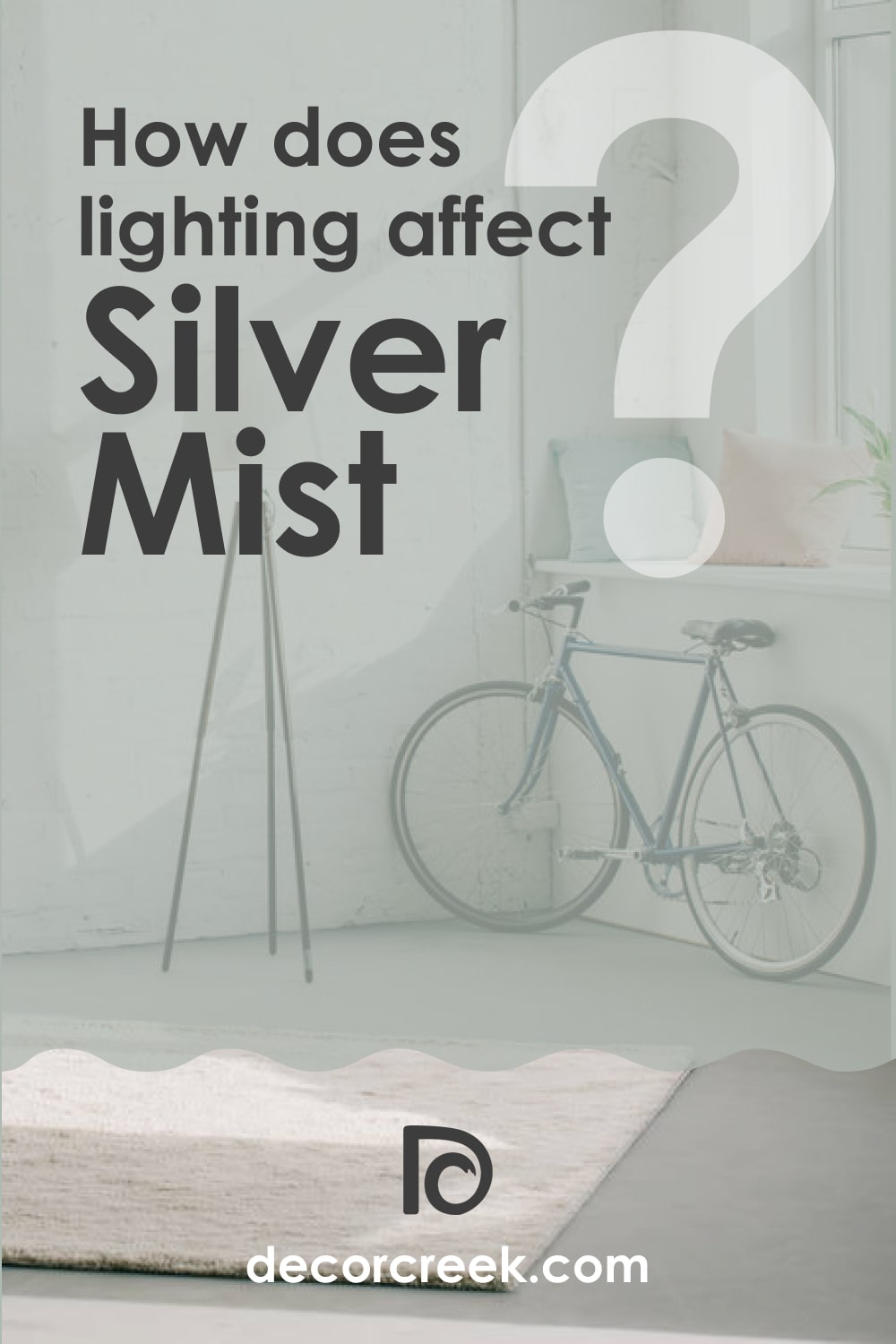 SW Silver Mist paint color has an LRV of 47. This is a medium-depth paint color but not what you would call a heavy medium. While it has some heaviness indeed, it's not quite as dense as some medium-depth paint colors.
If you use this color in north-facing rooms, it will most likely read cool-toned and reveal its blue undertones much more. But if you use it in a south-facing room or a room with plenty of afternoon west-facing sunshine, SW Silver Mist could add a nice balance to the warm sun rays.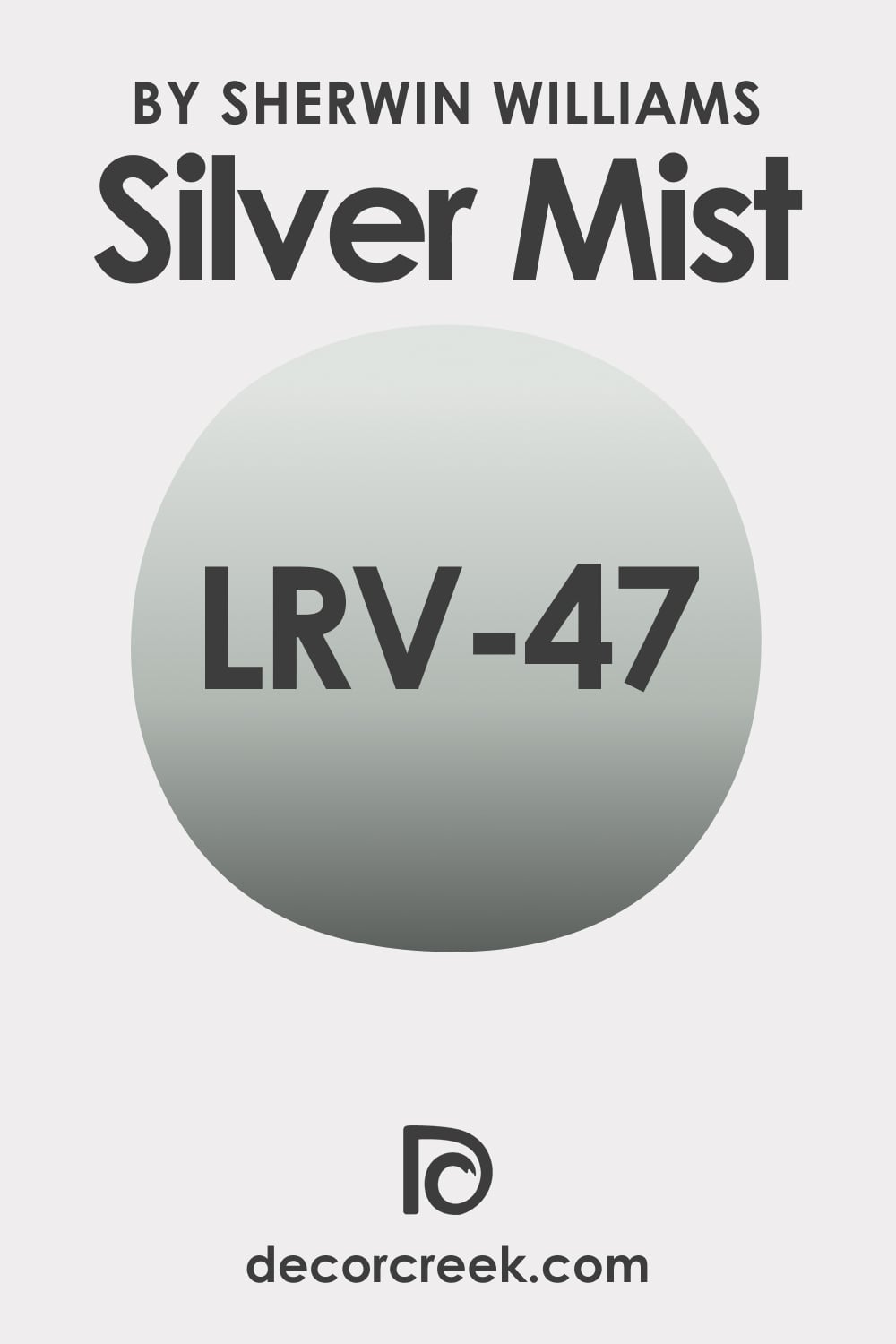 LRV – what does it mean? Read This Before Finding Your Perfect Paint Color
Silver Mist SW-7621 Coordinating Colors
When you know what colors can coordinate with the color on the walls, you can make the entire room look balanced and homogeneous. But if you have such a complex color as SW Silver Mist on your walls, finding coordinating colors might be a tricky task. So here is a hint for you:
SW Extra White
SW Reserved White
SW Attitude Gray
These colors will coordinate the Silver Mist paint best of all.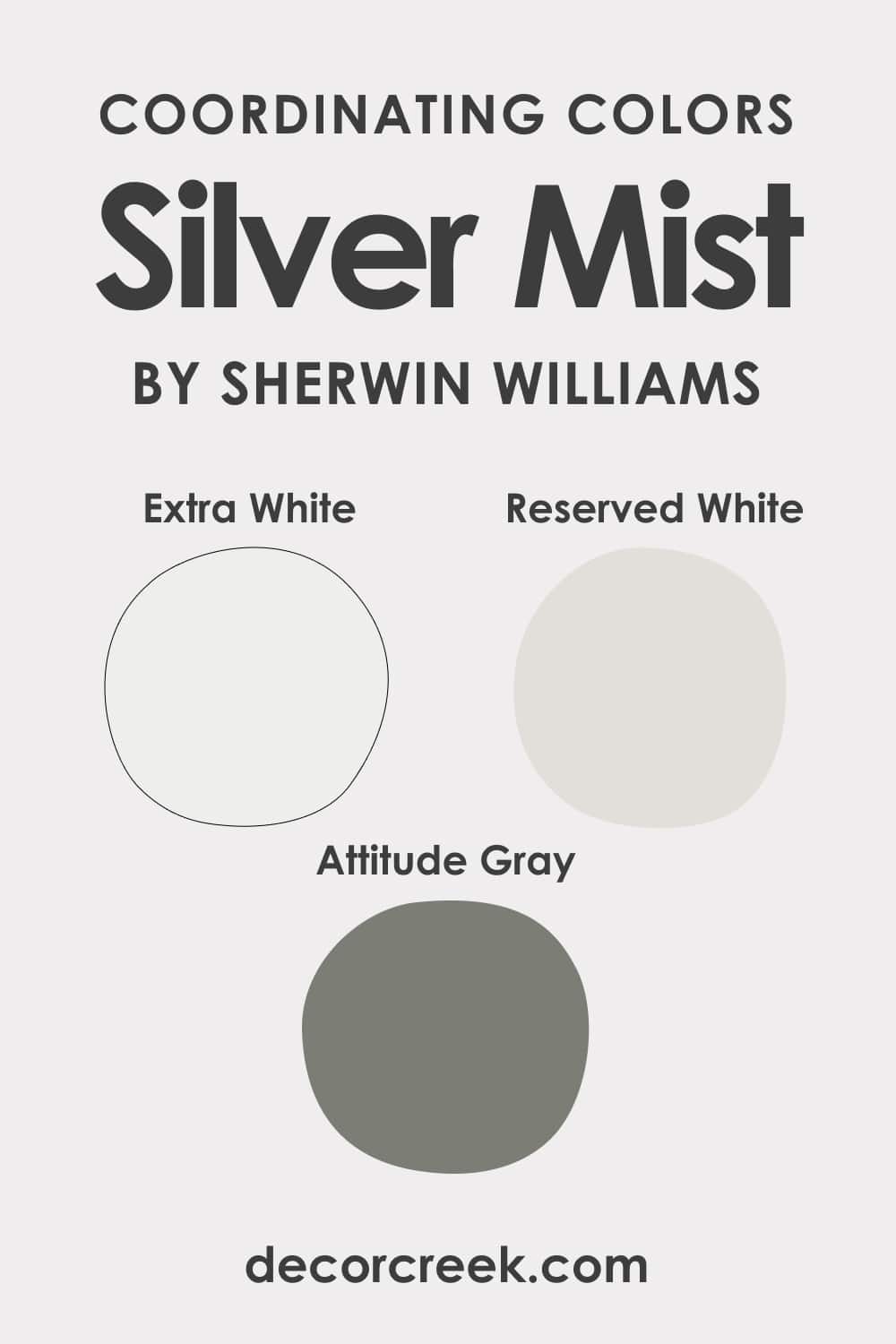 What Is the Best Trim Color of Silver Mist SW-7621 ?
On molding and trim, you can add a bit of softness with Sherwin-Williams Pure White. However, if you want to get a clean look, Sherwin-Williams High Reflective White would do the trick. Anyway, white is considered the traditional color choice for trim and moldings, so you just need to know what shade of it to use to make the wall color reveal its full beauty.
Similar Colors of Silver Mist SW-7621
If you know what similar colors can be used instead of the color used on the walls, you can easily find a better color alternative. Also, with a few similar colors in mind, you can find a suitable substitute for the wall color anytime you need it!
For SW Silver Mist, you can think about the following similar colors to use instead of this gorgeous blue-green-gray blend on your walls:
SW Stardew
SW Comfort Gray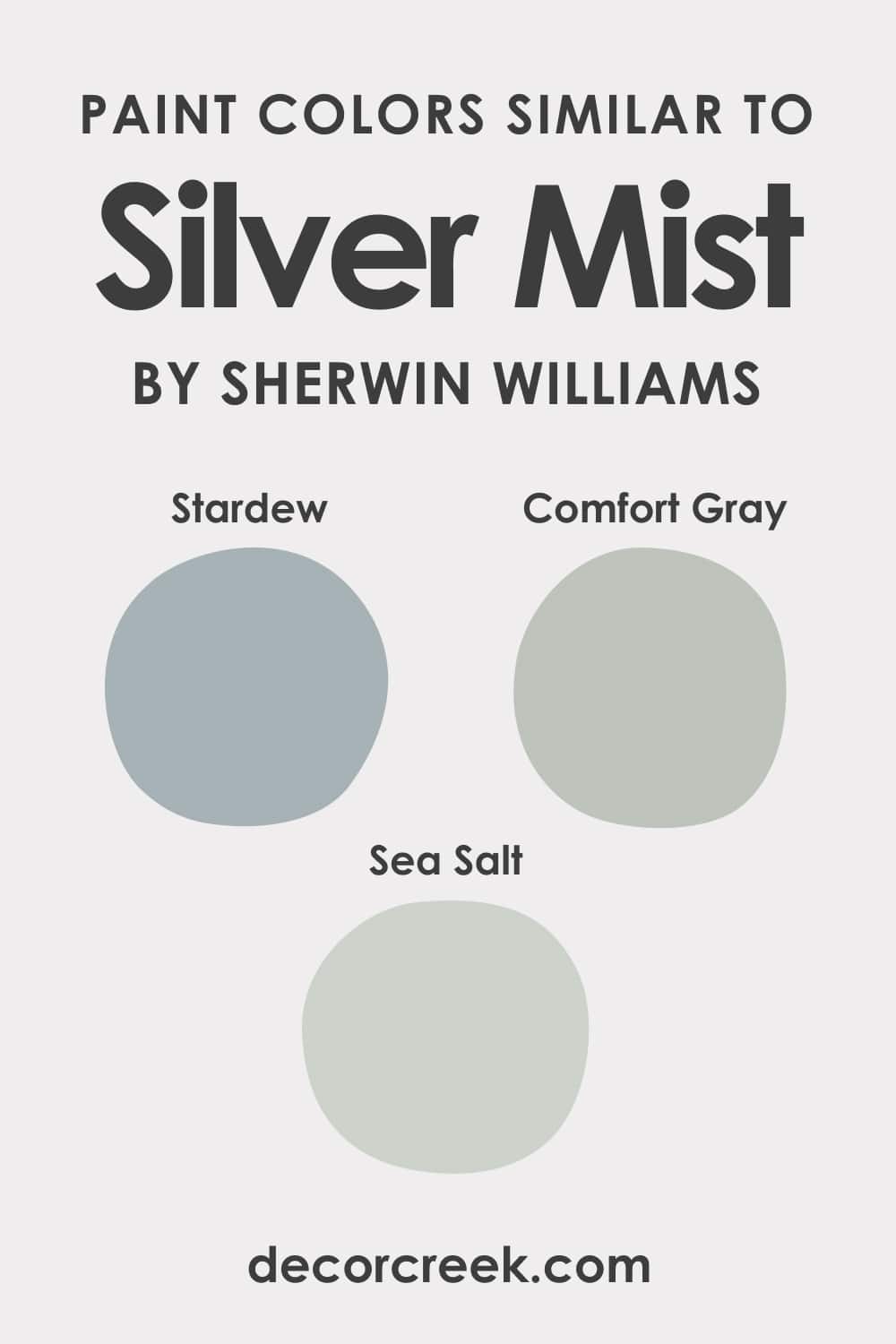 Colors That Go With Silver Mist SW-7621
If you are not sure what colors to use if you have SW Silver Mist on your walls, you might not be able to create a balanced and harmonious color palette in a room. So grab a few ideas:
SW Ice Cube
SW Peppercorn
SW Rose Colored
Since all these colors are balanced and muted, you will get a calming and varied color palette. But if you'd like to stick to darker colors instead, you might like one of these:
SW Smoky Blue
SW Naval
SW Salty Dog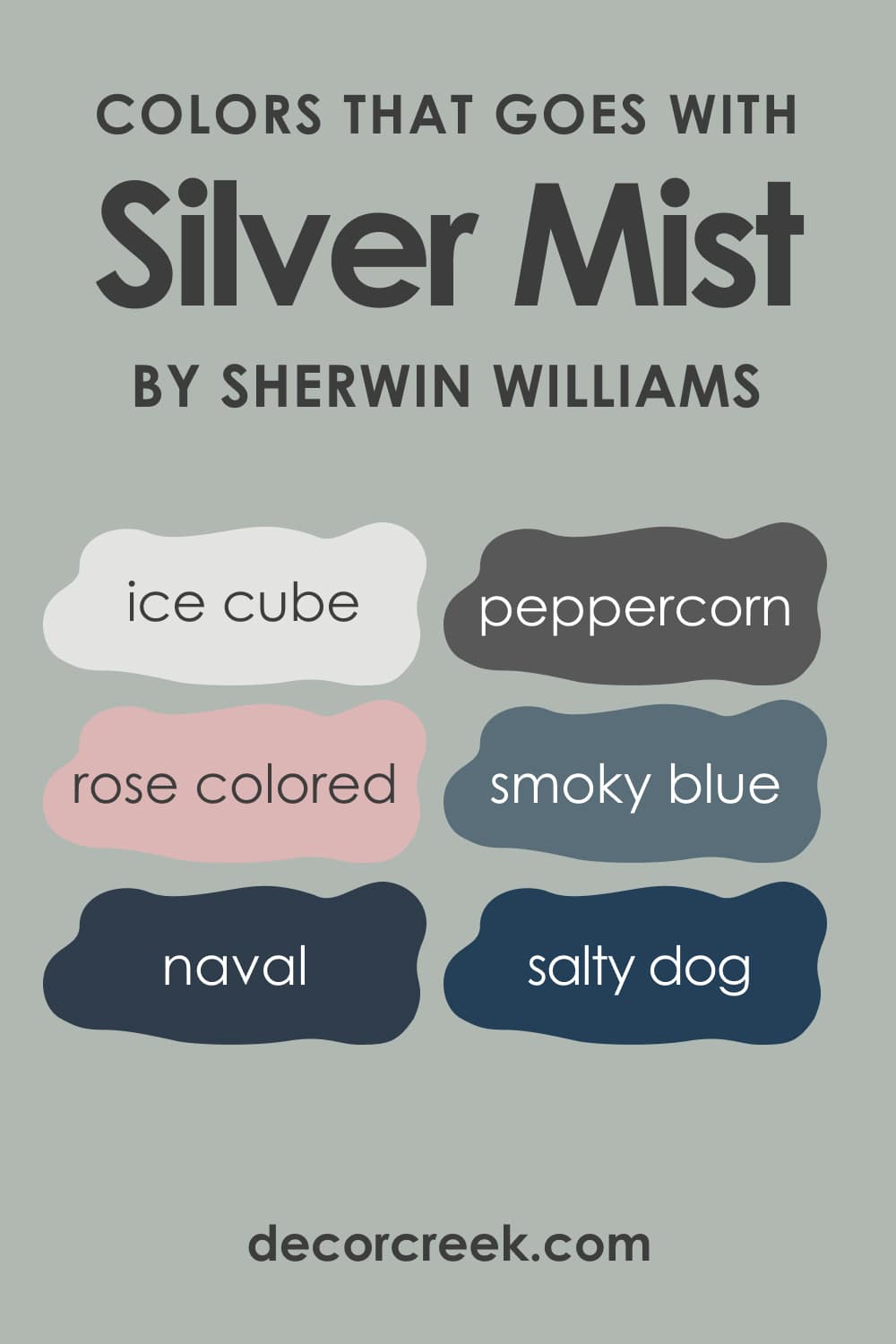 Comparing SW Silver Mist With Other Colors
Since SW Silver Mist is a complex color with multiple undertones, you might find it difficult to see the distinctions between it and colors that are very close to it. So here is a brief comparative guide for you.
See how this blue-green-gray blend differs from other paint colors that look more or less like it.
SW Silver Mist vs SW Sea Salt
SW Sea Salt is much lighter than its counterpart. Besides, SW Sea Salt has more pronounced gray undertones. Compared to it, SW Silver Mist reads greener and darker, but not too much. The contrast between the colors is pretty well seen, but still, we would not recommend you pair them in the same room.
It will make the space look weighed down a bit.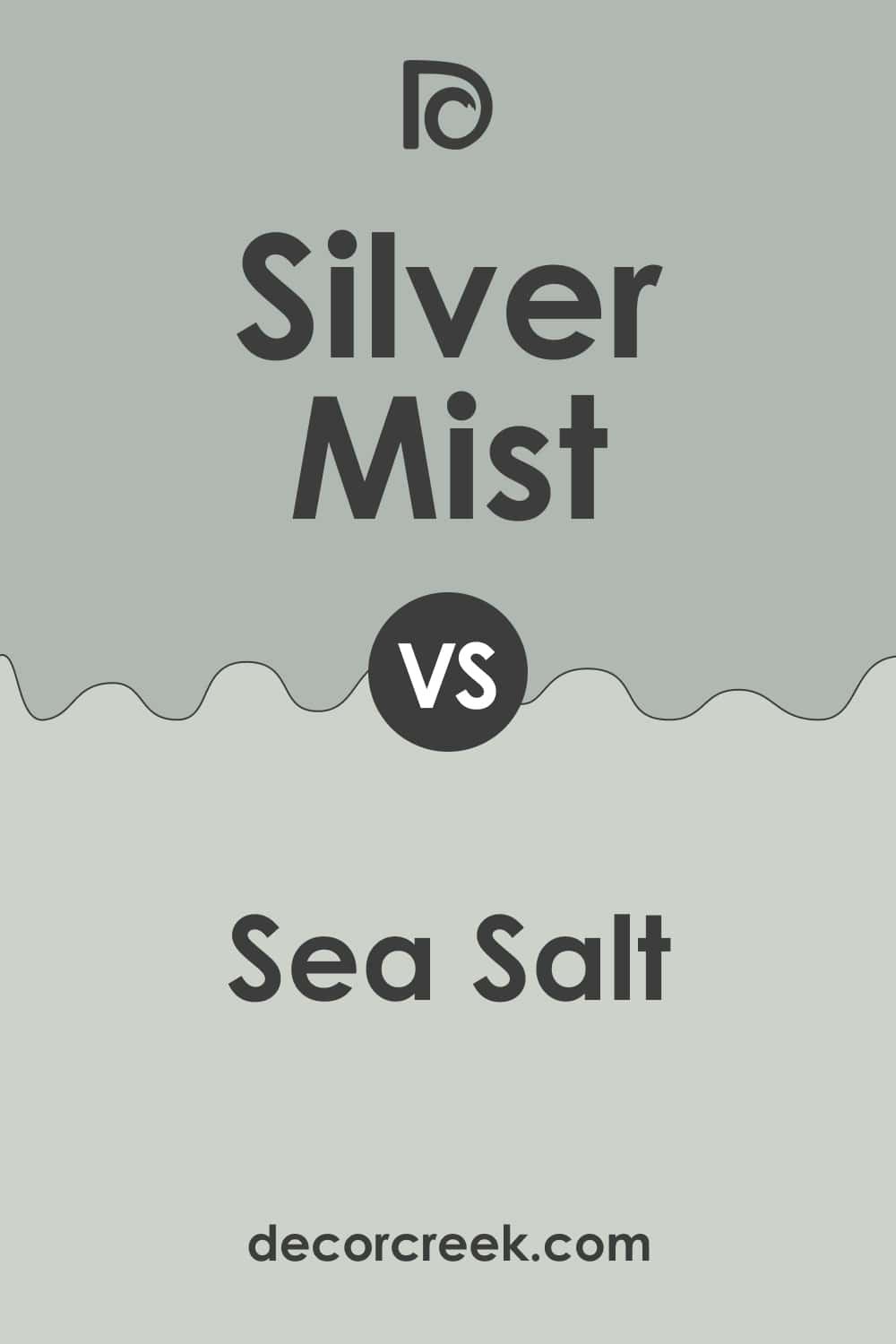 SW Silver Mist vs SW Silver Strand
SW Silver Strand also has green undertones that are pretty visible in this color. Thanks to this feature, SW Silver Strand paint color reads as a much lighter version of SW Silver Mist.
But still, these two colors should not be used in the same space since they look too much alike (of course, except for the difference in their lightness).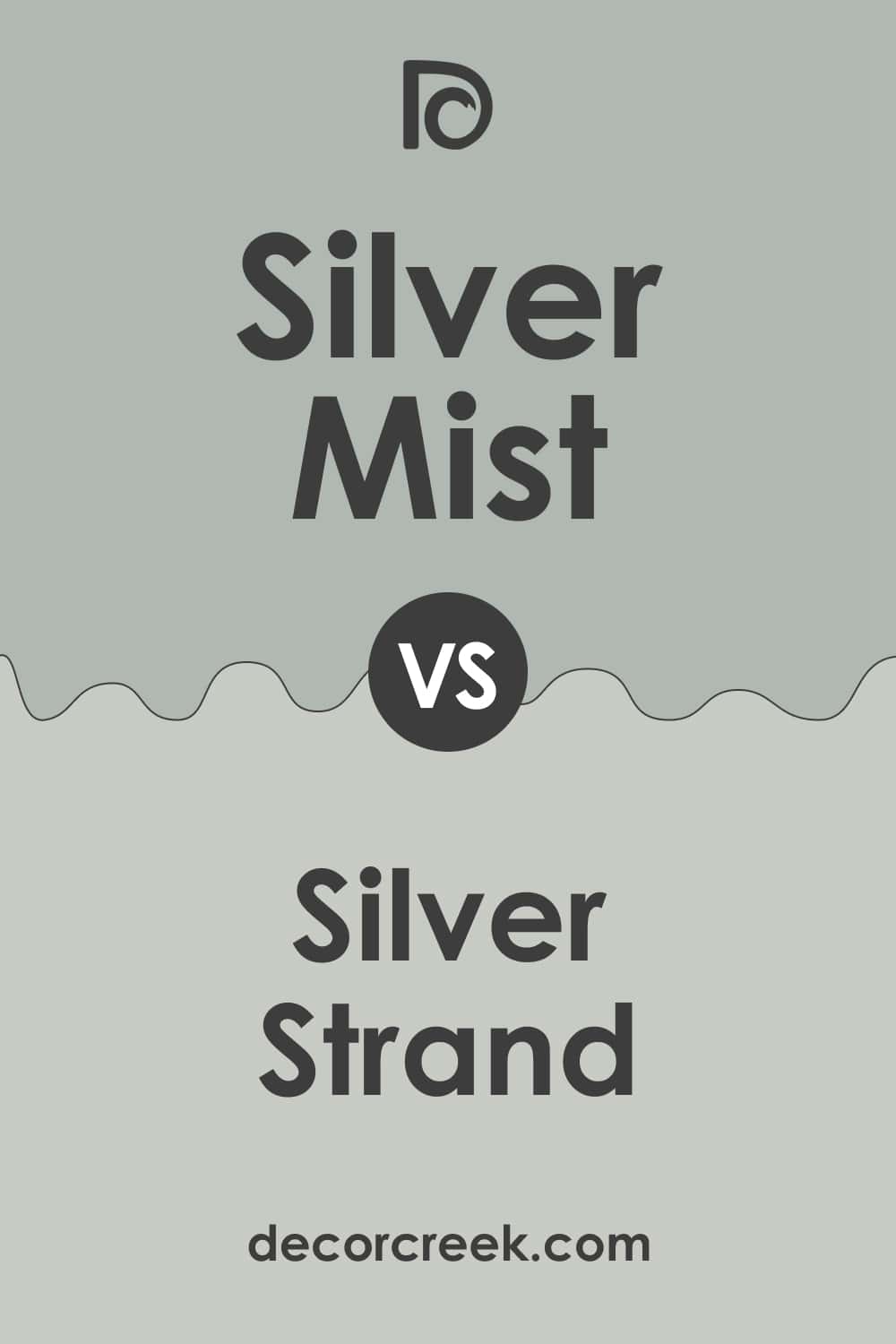 SW Silver Mist vs SW Comfort Gray
These two are not the best colors to pair in the same room, and this is the reason why. Both are pretty muted and earthy; besides, they don't differ much in terms of lightness. It makes these colors read nearly the same. But if you need a substitute color with more prominent gray undertones, you should definitely stick to SW Comfort Gray!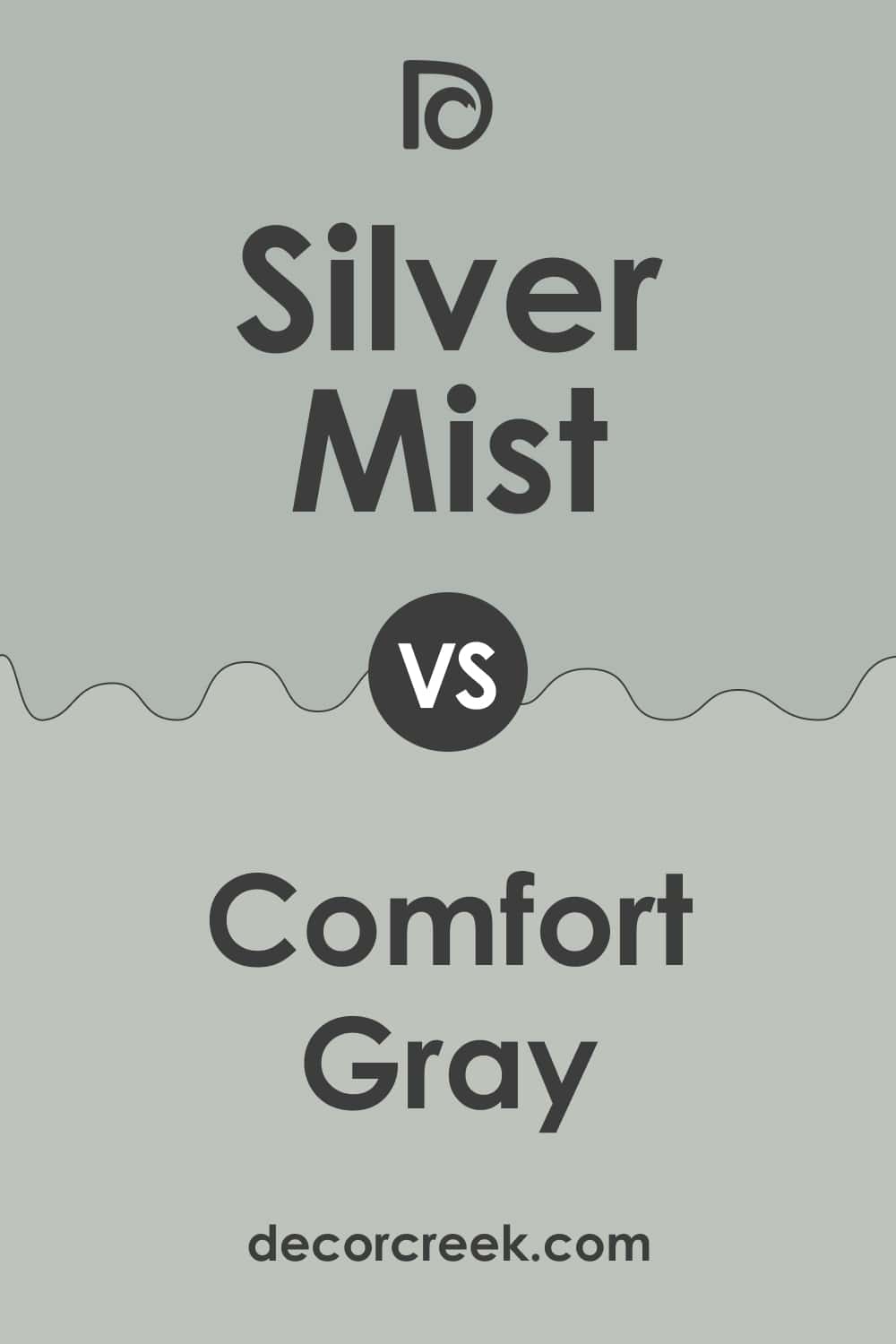 In What Rooms and Spaces to Use Silver Mist SW-7621?
Not all of us can imagine how different paint colors will look in our homes. For that, you need to imagine precisely how it will pair with other colors in the space and take many additional factors into consideration.
This is why to be sure that the color you want to use will be suitable, we recommend you read how it may work in different rooms.
Silver Mist SW-7621  in the Living Room
In a living room, this color may look pretty nice, calming, and relaxed. However, you need to make sure the room is spacious enough. Besides, the lighting also matters! In a north-facing room, SW Silver Mist might read cooler and grayer.
Whilst in a room with warmer light, it will look greener and softer.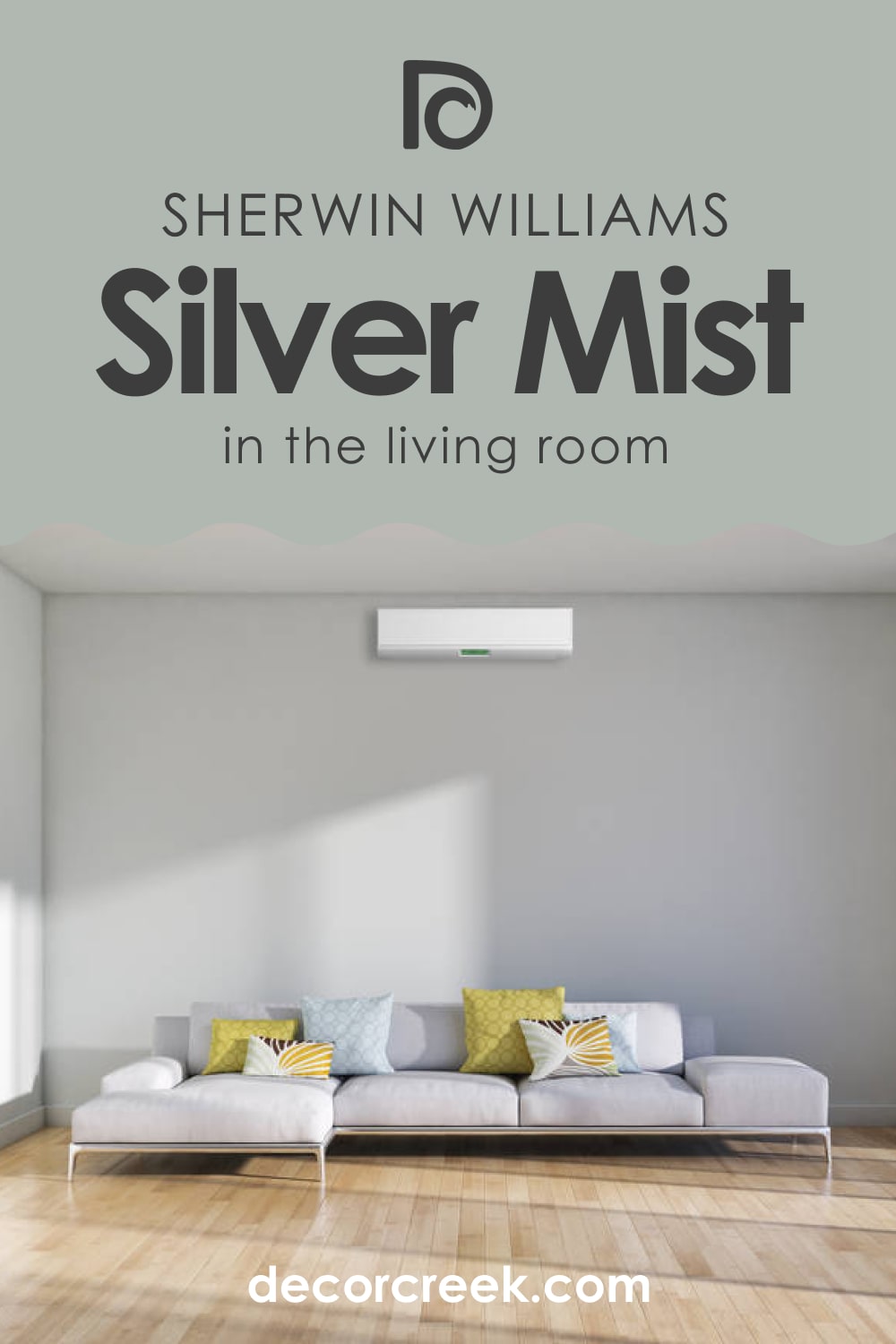 Silver Mist SW-7621  and Bedroom
If your bedroom has plenty of natural and warm light, as well as other green elements there (pillows, cushions, curtains, etc.), SW Silver Mist may read pleasantly greener. But in a room with north light, it will read grayer, so take that into consideration.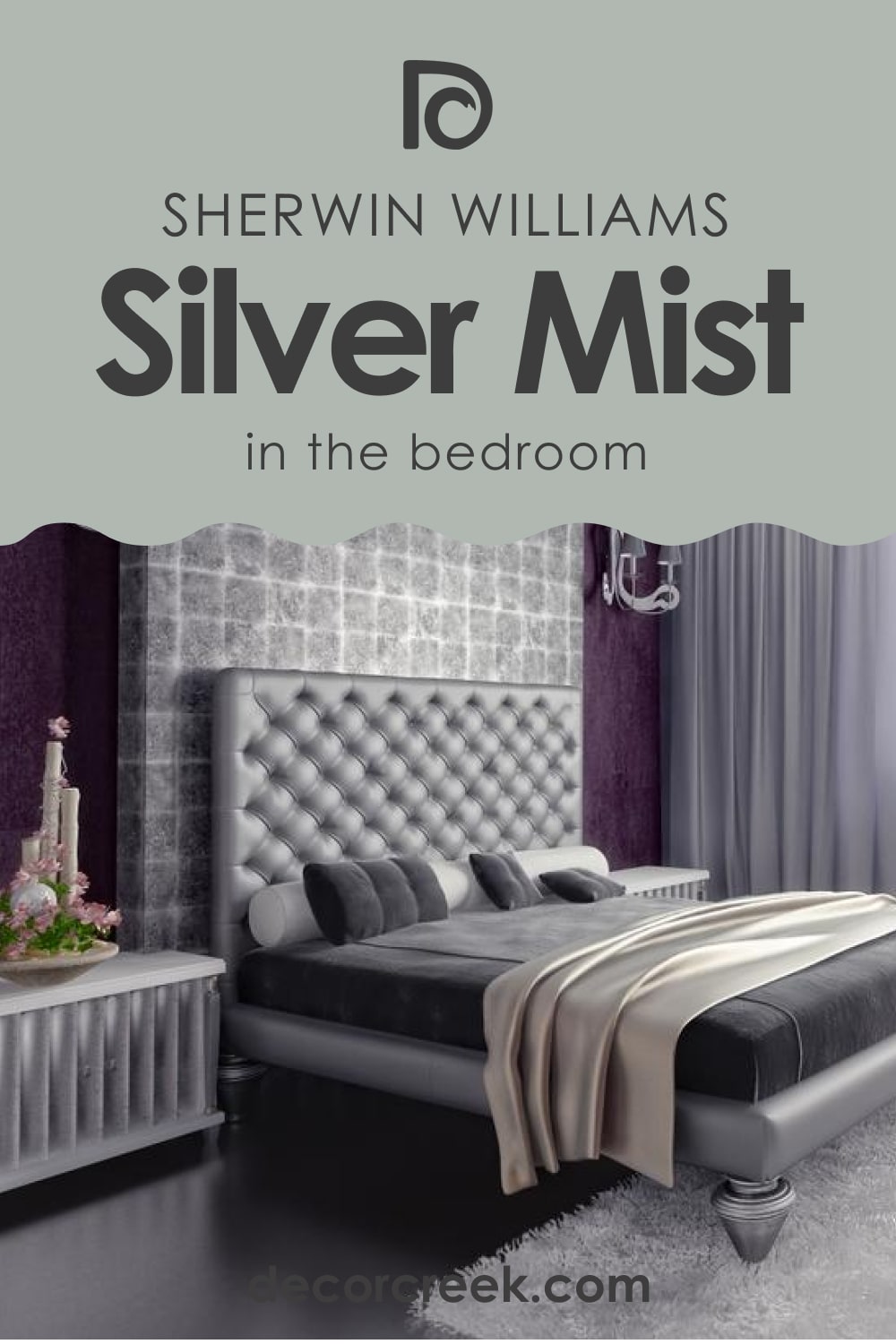 Silver Mist SW-7621  with Bathroom
Since bathrooms are often quite small and typically have no windows to let some natural light in, you need to be ready that the Silver Mist color may read greener and weigh the room down a bit. But if your bathroom has at least one window, this color will look cooler and even make the space read airy!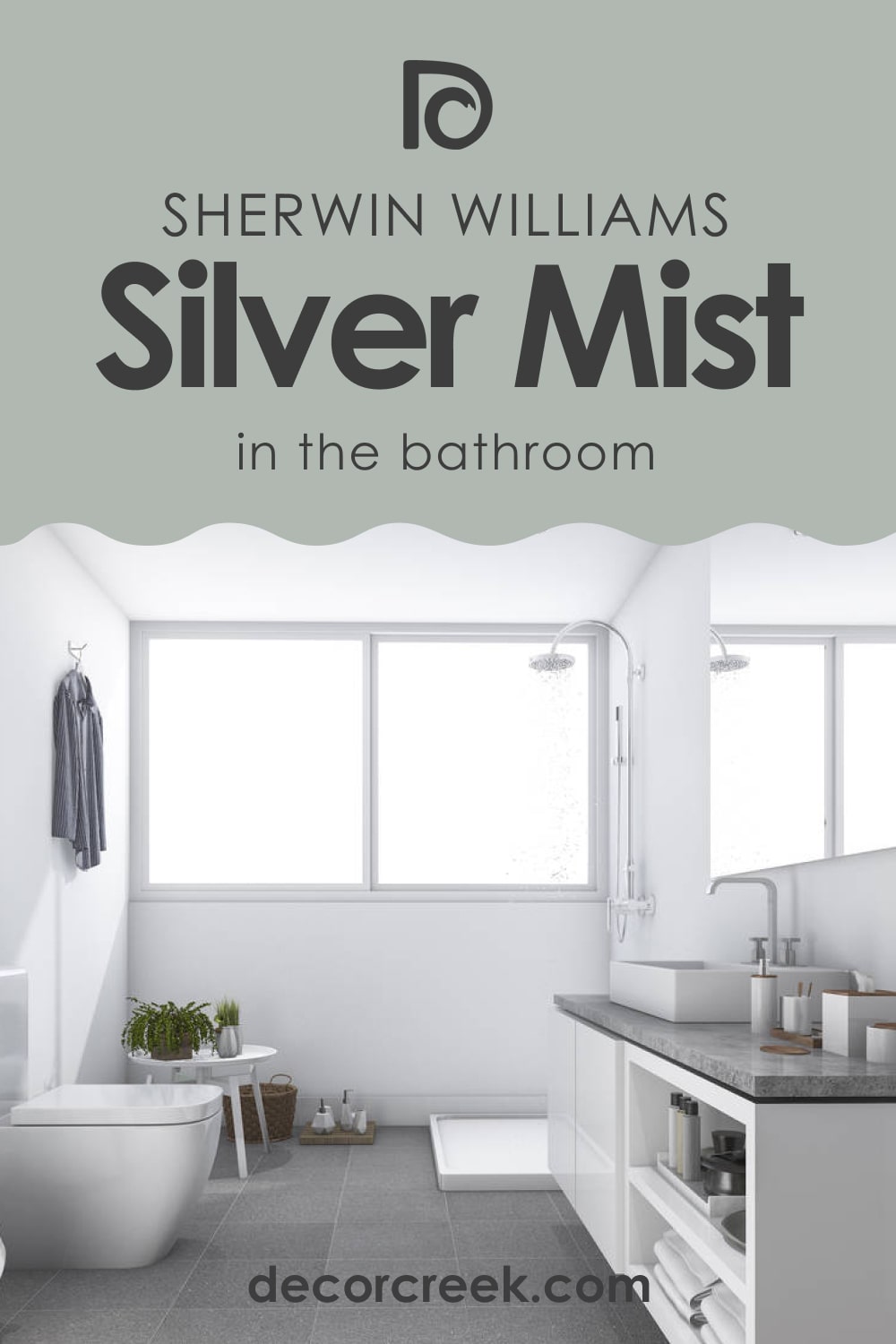 Silver Mist SW-7621  for Kitchen
This color is not the best selection of paint color for the kitchen walls. But for the cabinets, it can work quite well! So if your kitchen walls are white and the cabinets (and kitchen island, if you have it) are Silver Mist, this ensemble will read pretty nice and relaxing!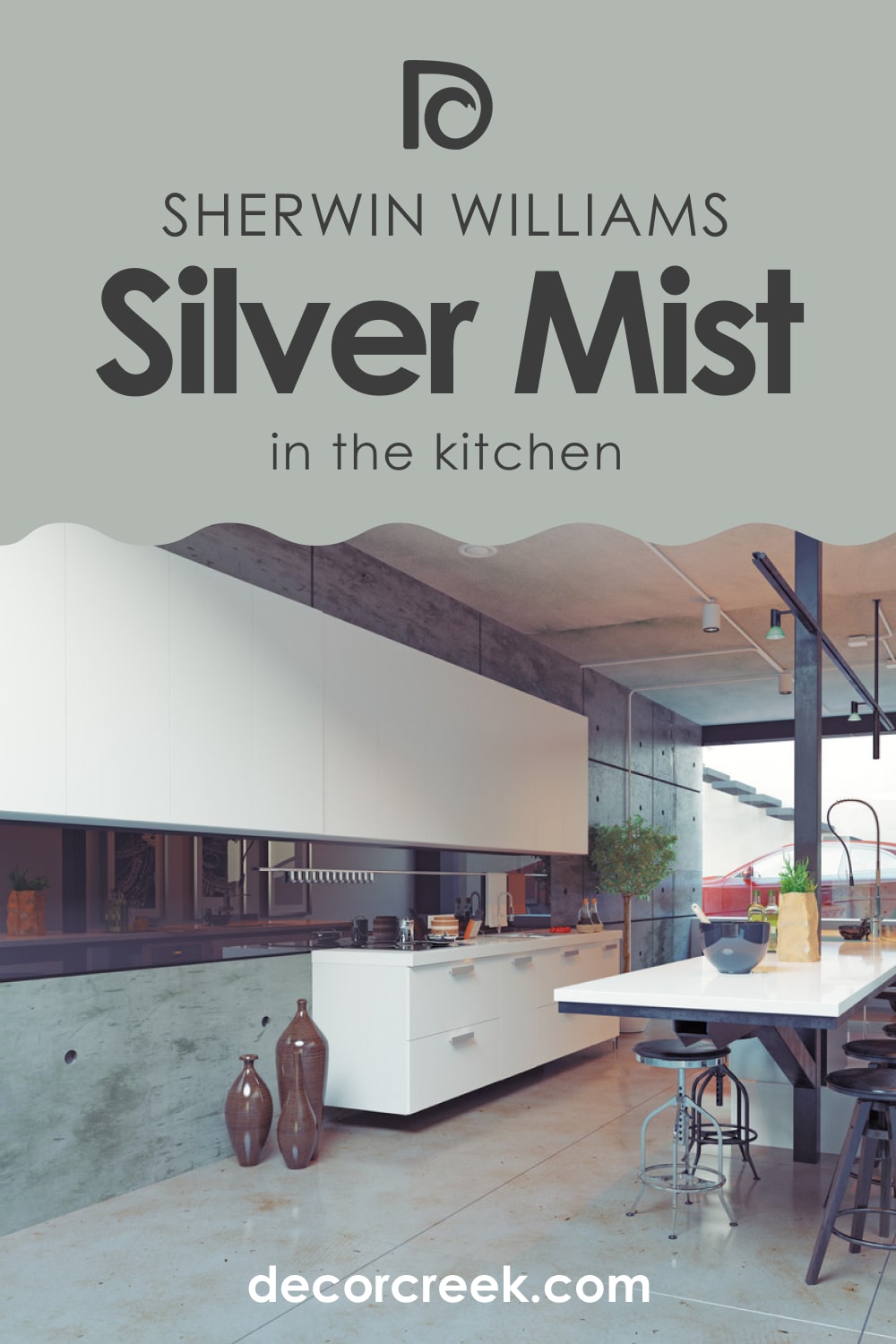 Silver Mist SW-7621  for the Exterior Use
As an exterior color, SW Silver Mist can work both on the walls and as a color for the front door and/or shutters. You just need to consider the light in your area, as well as the landscape around the house. In areas with cloudy weather, this color will read grayer, whilst in areas with a lot of sunshine, it will look greener.
Now you know what kind of color SW Silver Mist is. We told you about its undertones, LRV, coordinating, and trim colors. You know in what rooms to use it for better effect and how this color may react to light.
With all this in mind, you will use this complex and tricky green-gray-blue blend much easier.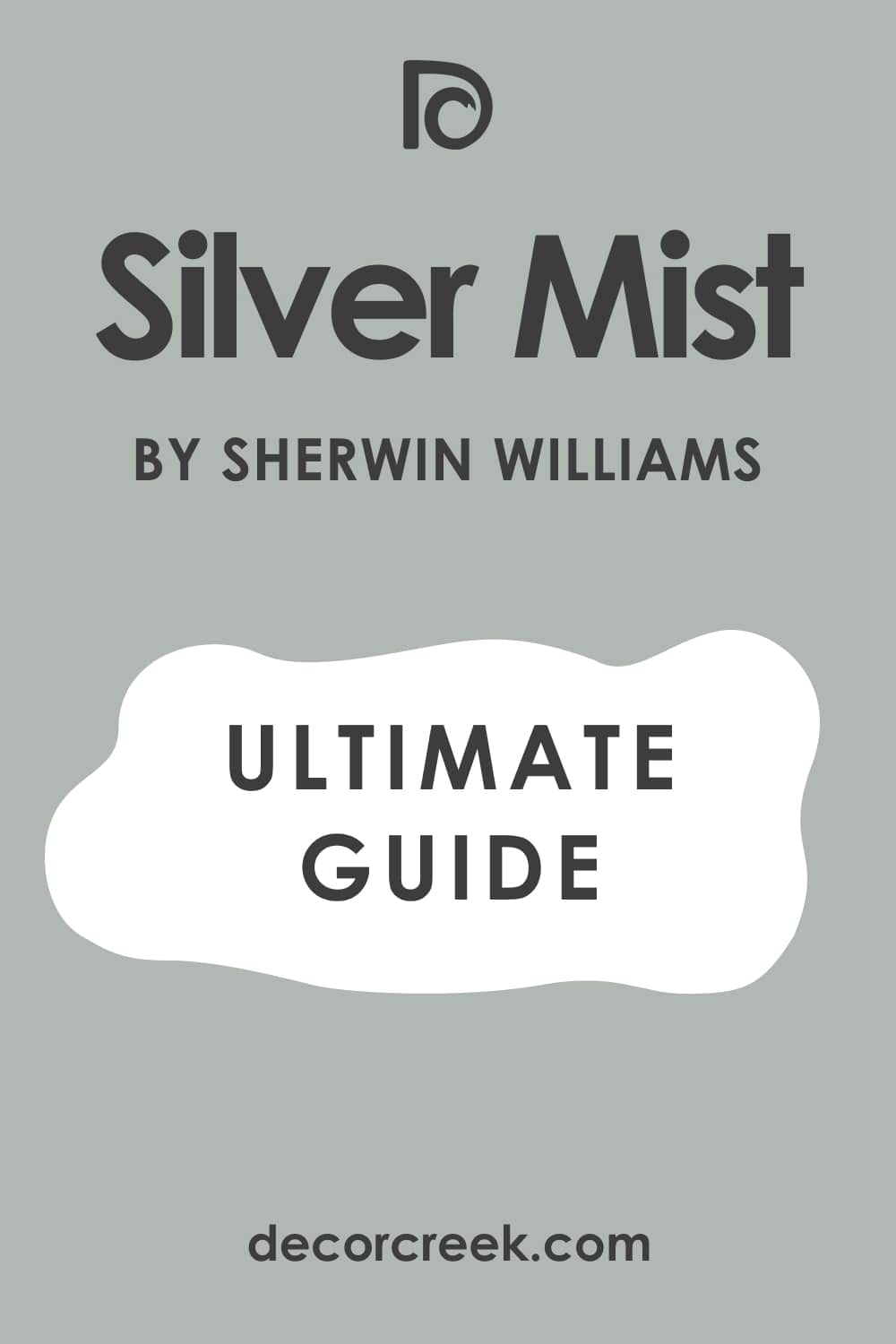 Frequently Asked Questions
⭐Why isn't this color popular?
It's not the color, it's the depth. With an LRV of 47, its depth can weigh down a room if it doesn't have enough light.
⭐How to sample this color?
You can use regular color samples to see how the color will read on your walls.
⭐Is SW Silver Mist green?
No, this color is a blend of green, gray, and a very slight hint of blue.