Green is one of the calmest and most natural-looking colors (unless we talk about its neon shades!). Its leafy appearance allows you to create a refreshing and forestry atmosphere in your home, bringing in relaxation and peace.
Today, we will introduce you to one of the most beautiful greens by Sherwin-Williams called Dried Thyme. You will learn all the essential characteristics of the color such as LRV, trim colors, and more.
Also, we will explain where in your home this color will work best of all.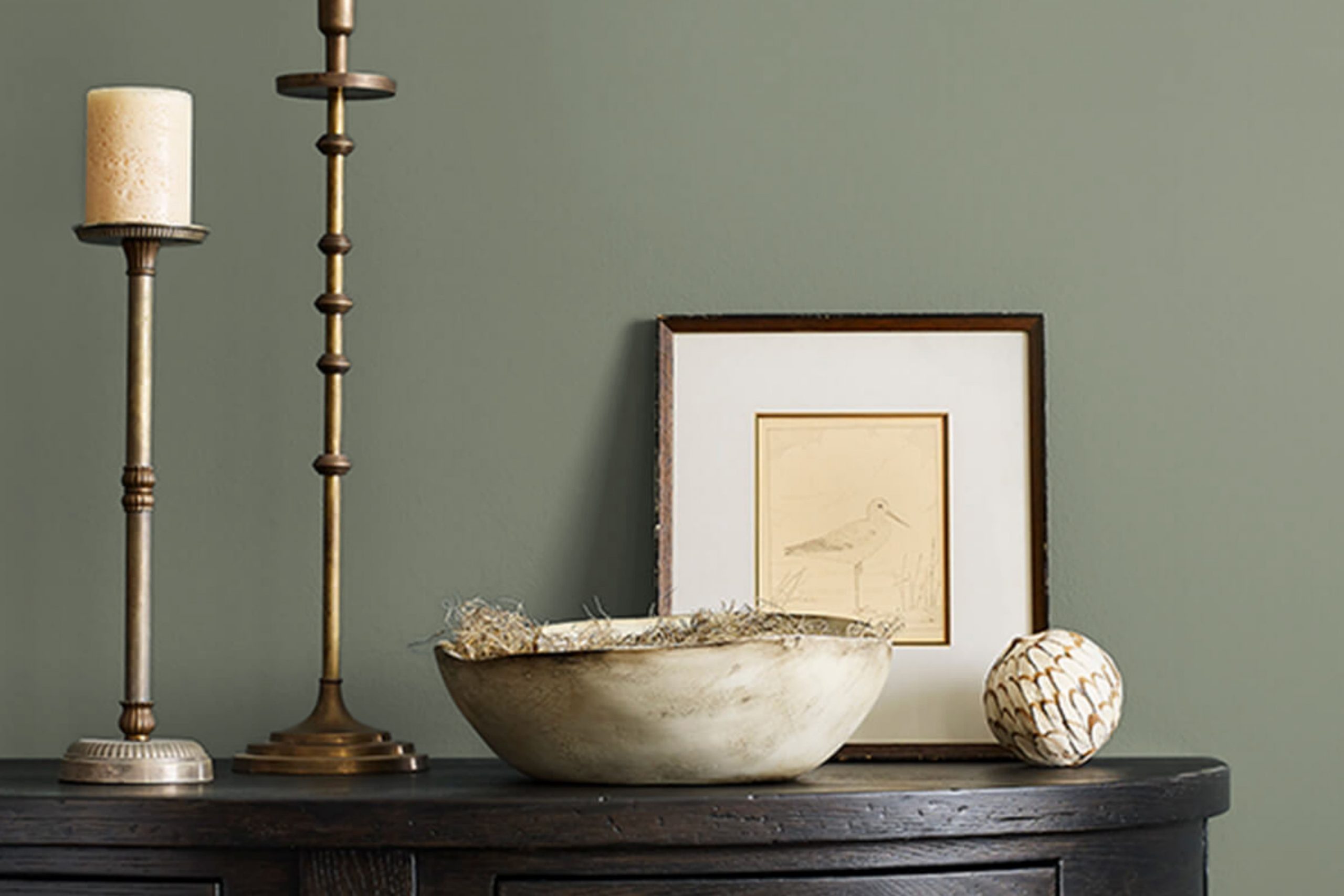 What Kind of Color Is Dried Thyme SW-6186?
SW Dried Thyme color  is an organic, fresh, and sophisticated shade of green. As Encycolorpedia says, it is a medium to dark-toned sage green.
It features a slight hint of a calming blue hue, which cools it down a bit. No wonder this paint is excellent for making a statement in any space of your home, be it your kitchen cabinets or exterior walls!
Despite quite a dark appearance and low light reflectivity, the Dried Thyme paint by Sherwin-Williams is pretty versatile. You can use it in many rooms and on various surfaces as long as you take its undertones and lighting conditions into consideration.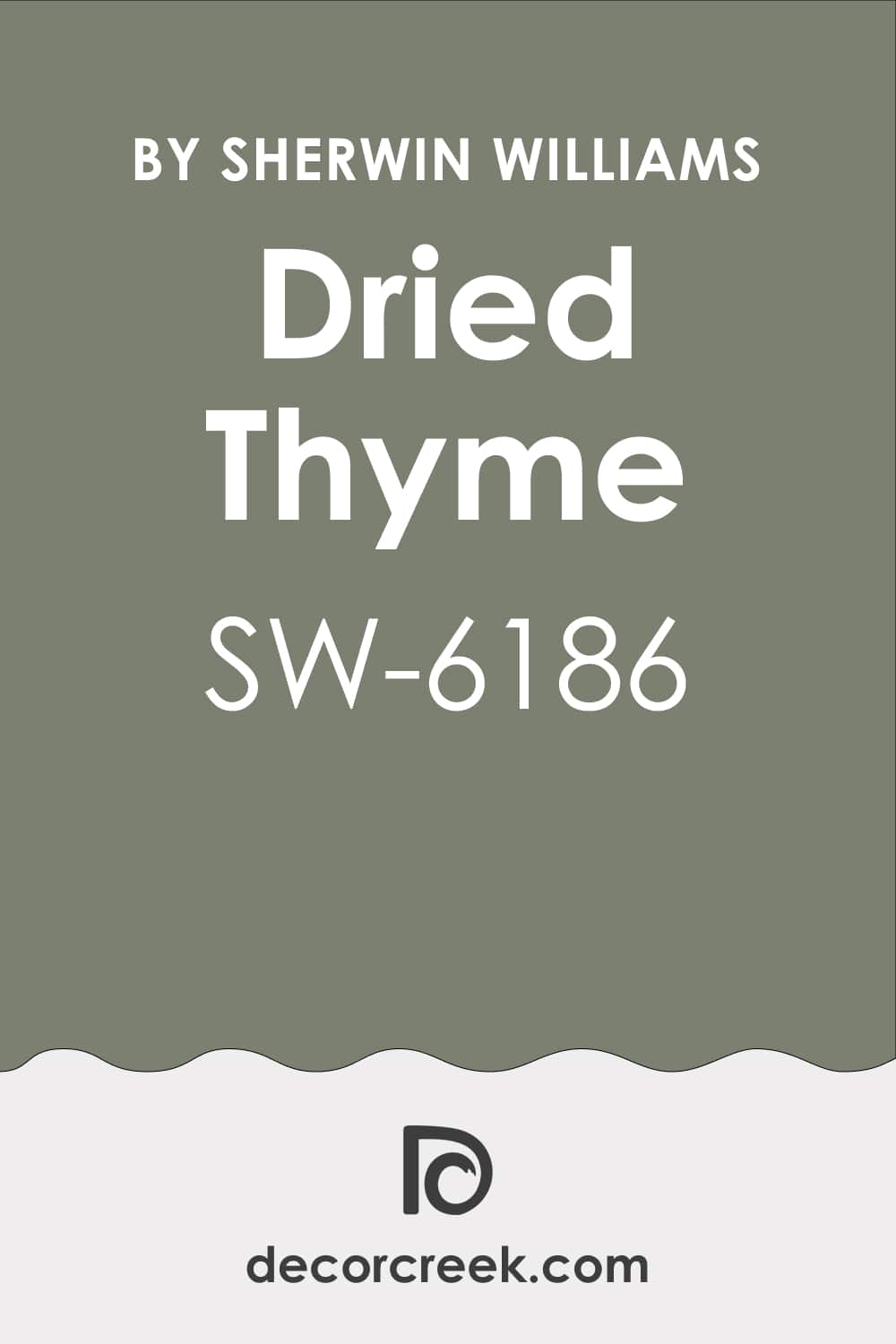 What Undertones Does Dried Thyme Paint Color Have?
This shade of sage green has gray and slight bluish undertones. The color doesn't read clearly blue or gray, of course, but this blue hue helps to cool down this green, making it read refreshing in any space.
Depending on the lighting conditions, this sage green may read slightly differently on your walls, revealing either gray or blue undertones more prominently.
Usually, in cooler light (e.g., in a north-facing room), SW Dried Thyme will look bluer, whilst in natural and warmer light, its gray side will be better noticed.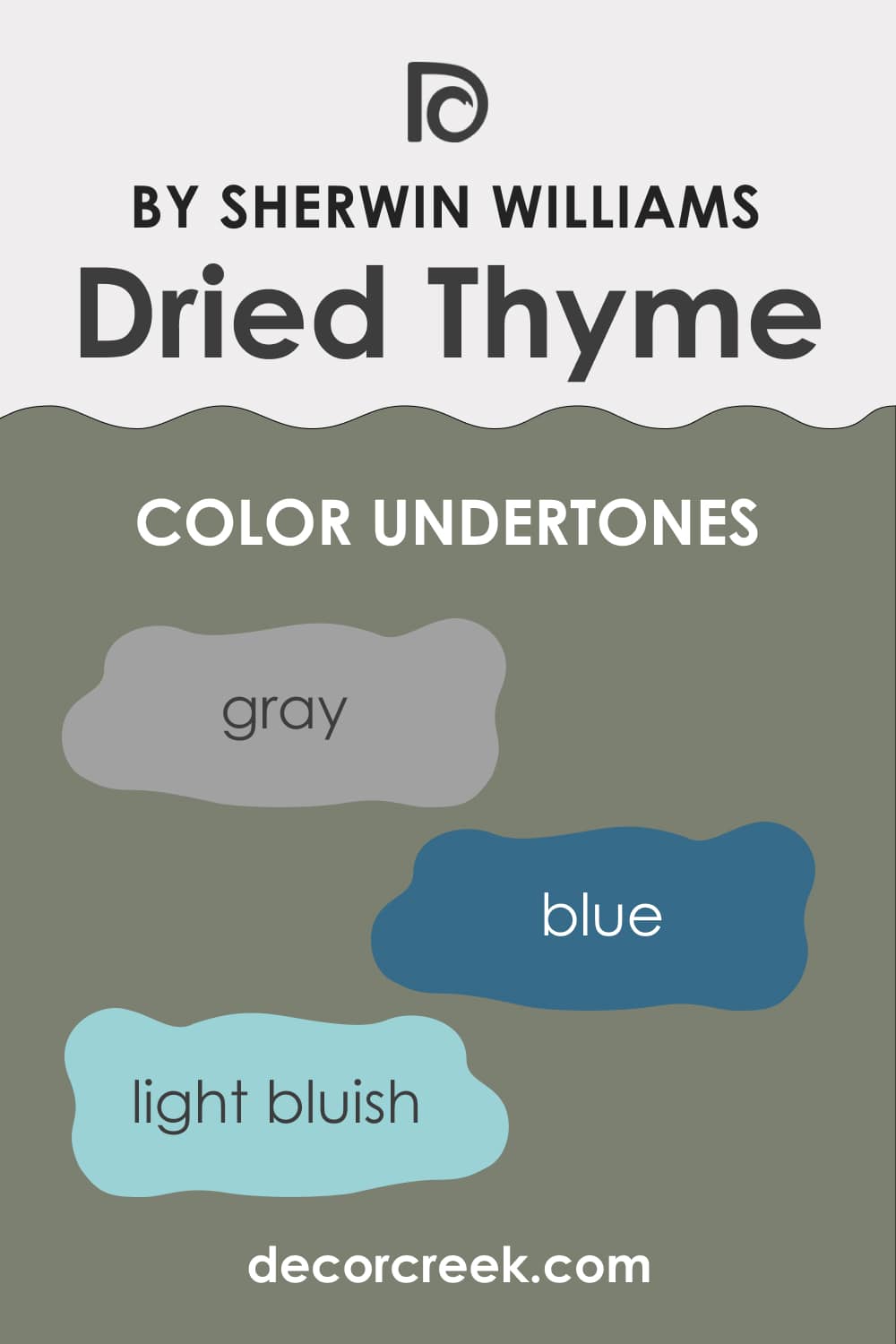 What LRV Dried Thyme SW-6186 Has?
The LRV (light reflectance value) of this refreshing and cooling green is 21, which means it falls on the medium and darker end of the LRV scale. In other words, SW Dried Thyme is neither too dark nor too light.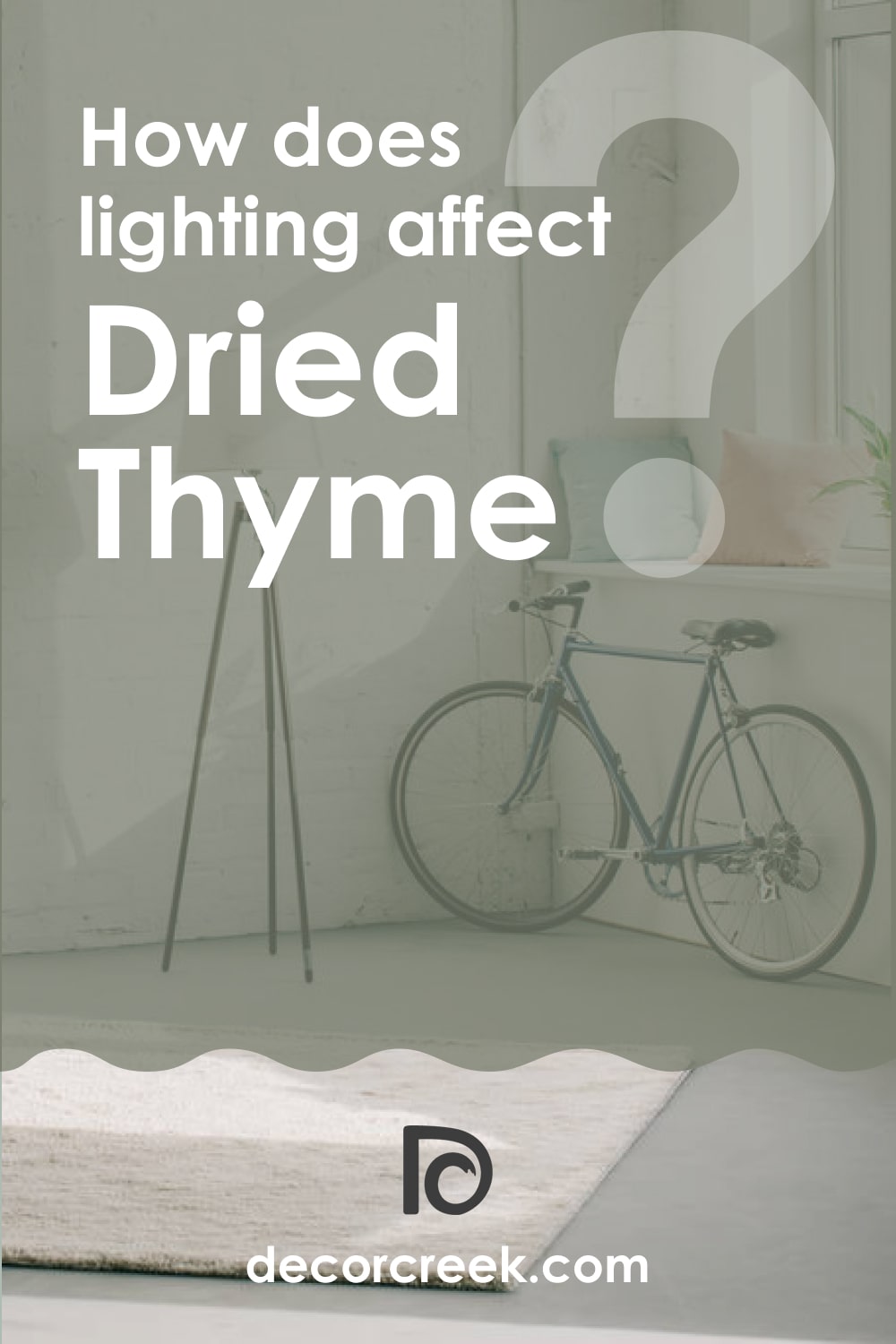 As you probably know, the LRV scale ranges from zero to 100, where zero stands for pitch black and 100 is pure white. The higher the LRV percentage of the color, the brighter it reads on the walls, reflecting more light. And vice versa.
With an LRV of 21, SW Dried Thyme reads moderately dark, reflecting enough light not to make the room seem smaller than it is.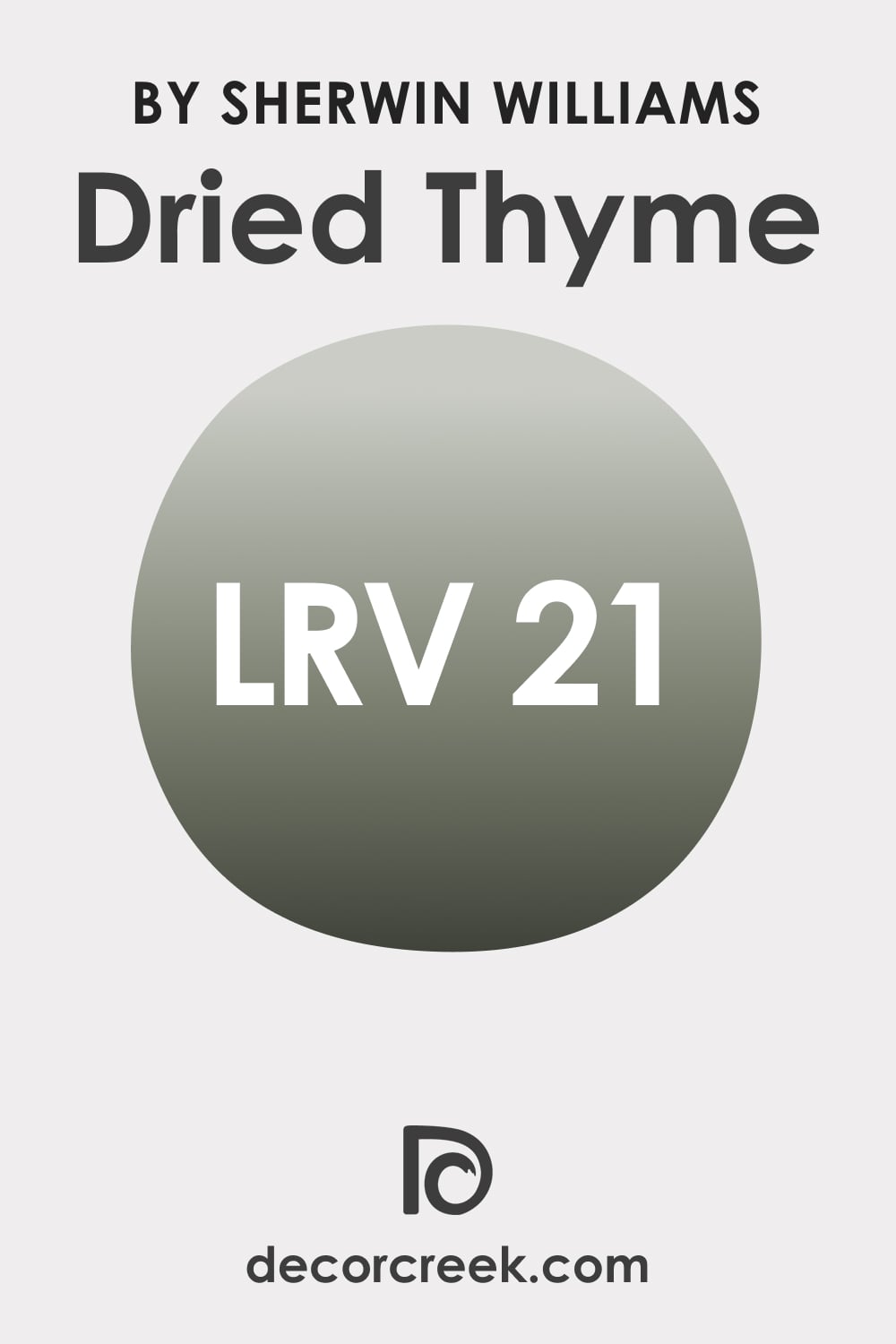 LRV – what does it mean? Read This Before Finding Your Perfect Paint Color
Dried Thyme SW-6186 Coordinating Colors
To achieve a harmonious color palette in your home, it is essential to coordinate all the colors correctly. With this sage green paint, it's ideal that you use neutral whites, lighter shades of beige, and also taupes. Lighter shades of gray, burnt umber, mustard colors, rust and ample metallic gold accents will also work great. For example, you might want to try these color options to pair with SW Dried Thyme:
SW Ethereal White
SW Grecian Ivory
SW Prairie Grass
For a monochromatic palette, here are a few color options we would recommend you use:
SW 6185 Escape Gray
SW 6184 Austere Gray
SW 6183 Conservative Gray
For a contrasting color palette, you'd better opt for a more varied color palette:
SW 7512 Pavillion Beige
SW 7004 Snowbound
SW 7707 Copper Wire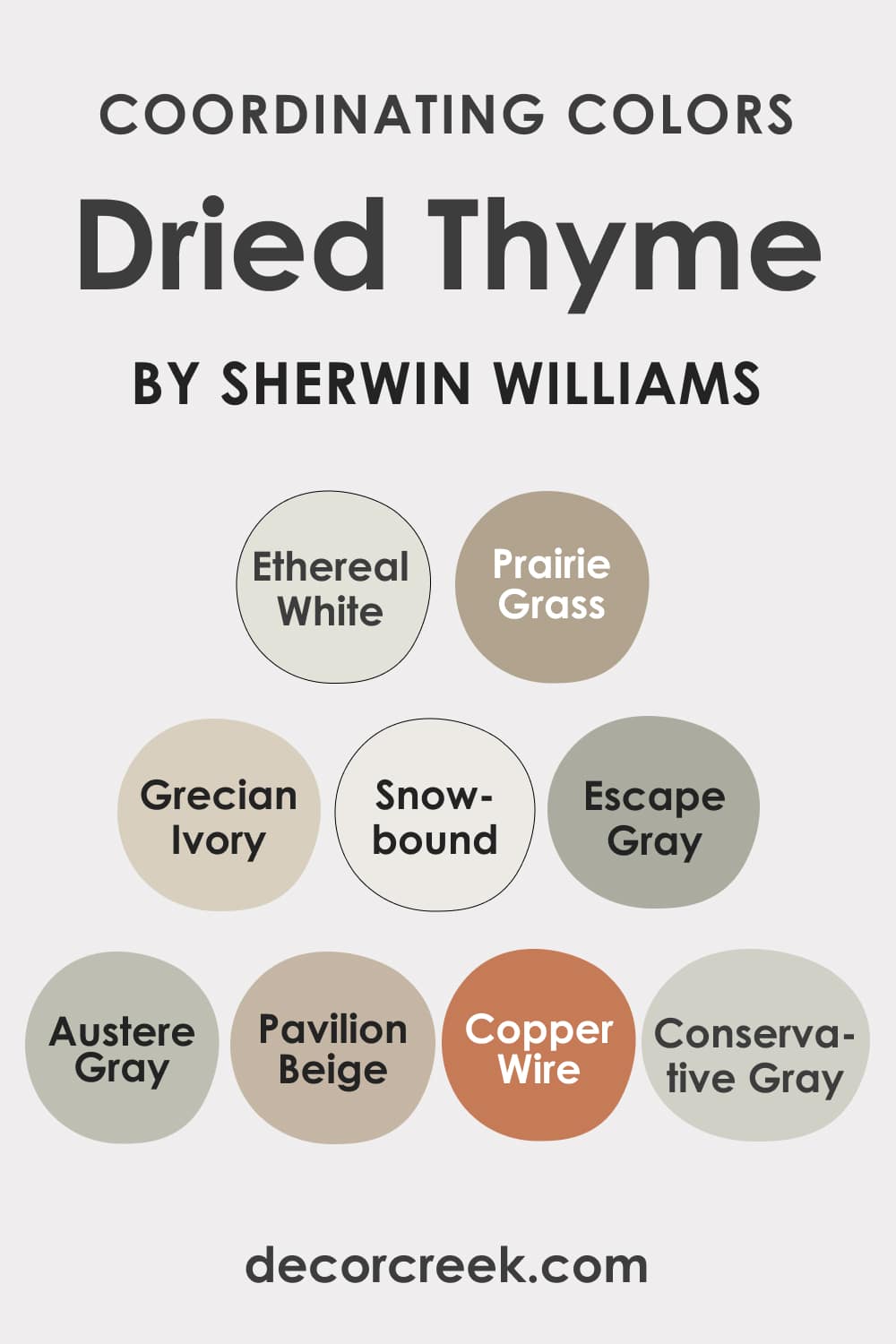 What Is the Best Trim Color to Use With SW Dried Thyme?
You probably know that white is traditionally considered a universal and optimal trim color due to its ability to work with almost any color in space!
That means whites will also pair nicely with the Dried Thyme paint by Sherwin-Williams. For the ideal color match, we suggest you consider these shades of white for your trim:
SW Pure White
You might also use similar shades of white from other brands if you want. The paint brand you use doesn't actually matter as long as the trim color pairs well with the color used on the walls.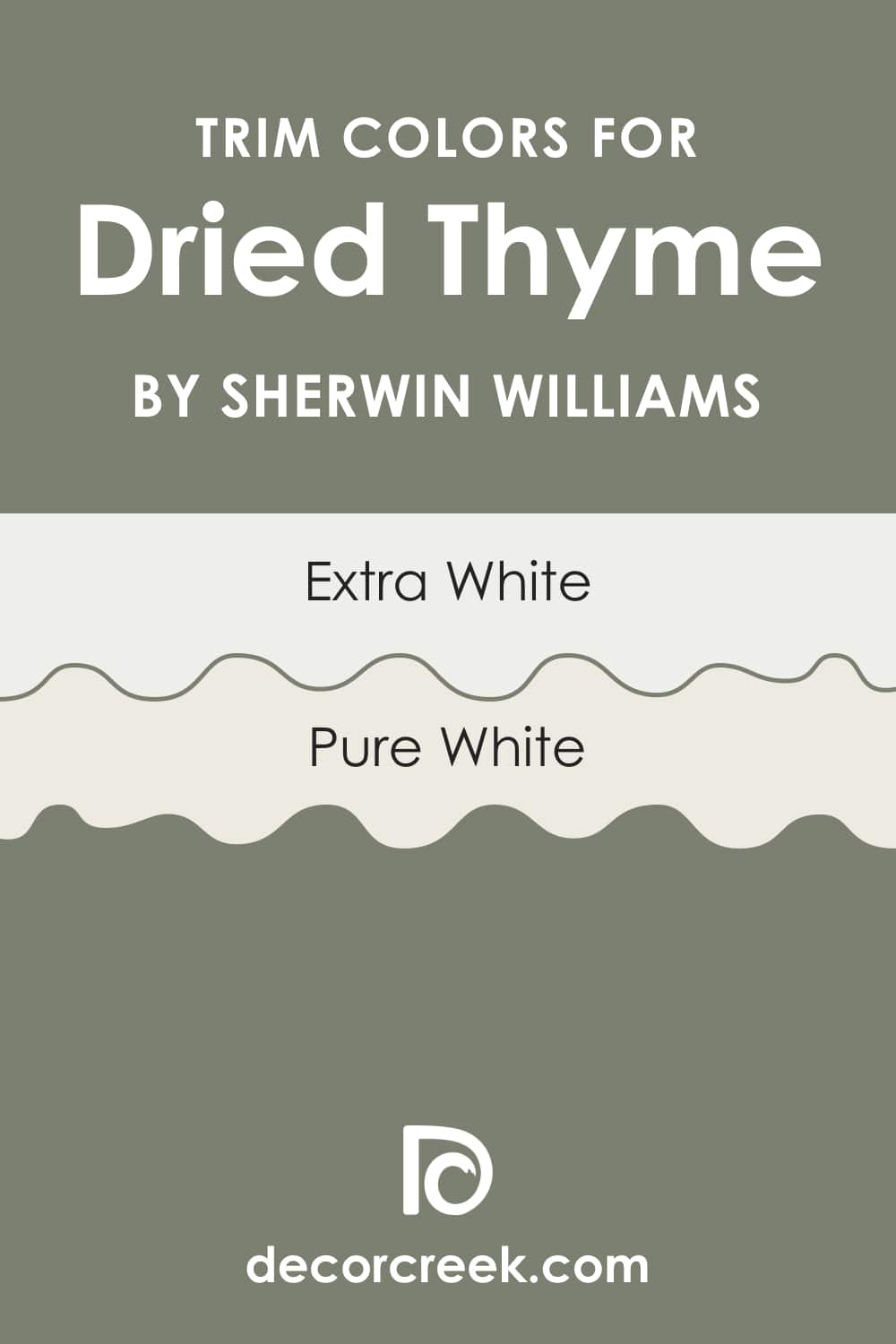 Paint Colors Similar to SW Dried Thyme Paint
It may seem that picking similar colors is easy, but in real life, it's a challenging task! You must know what undertones the alternative colors have to be able to substitute the existing paint correctly without making a big difference.
For SW Dried Thyme, the following greens will work as the best similar colors:
Sherwin-Williams Evergreen Fog
Sherwin-Williams Retreat
Farrow & Ball Card Room Green
Sherwin-Williams Jade Dragon
If you need darker alternatives to use instead of SW Dried Thyme, try one of the following colors:
Benjamin Moore Kendall Charcoal
Sherwin-Williams Rosemary
Benjamin Moore Amherst Gray
Of course, you should realize that none of these alternative color options will make a 100% match! There will be distinctions in tone anyway. Also, as you can see, some colors read noticeably darker than SW Dried Thyme.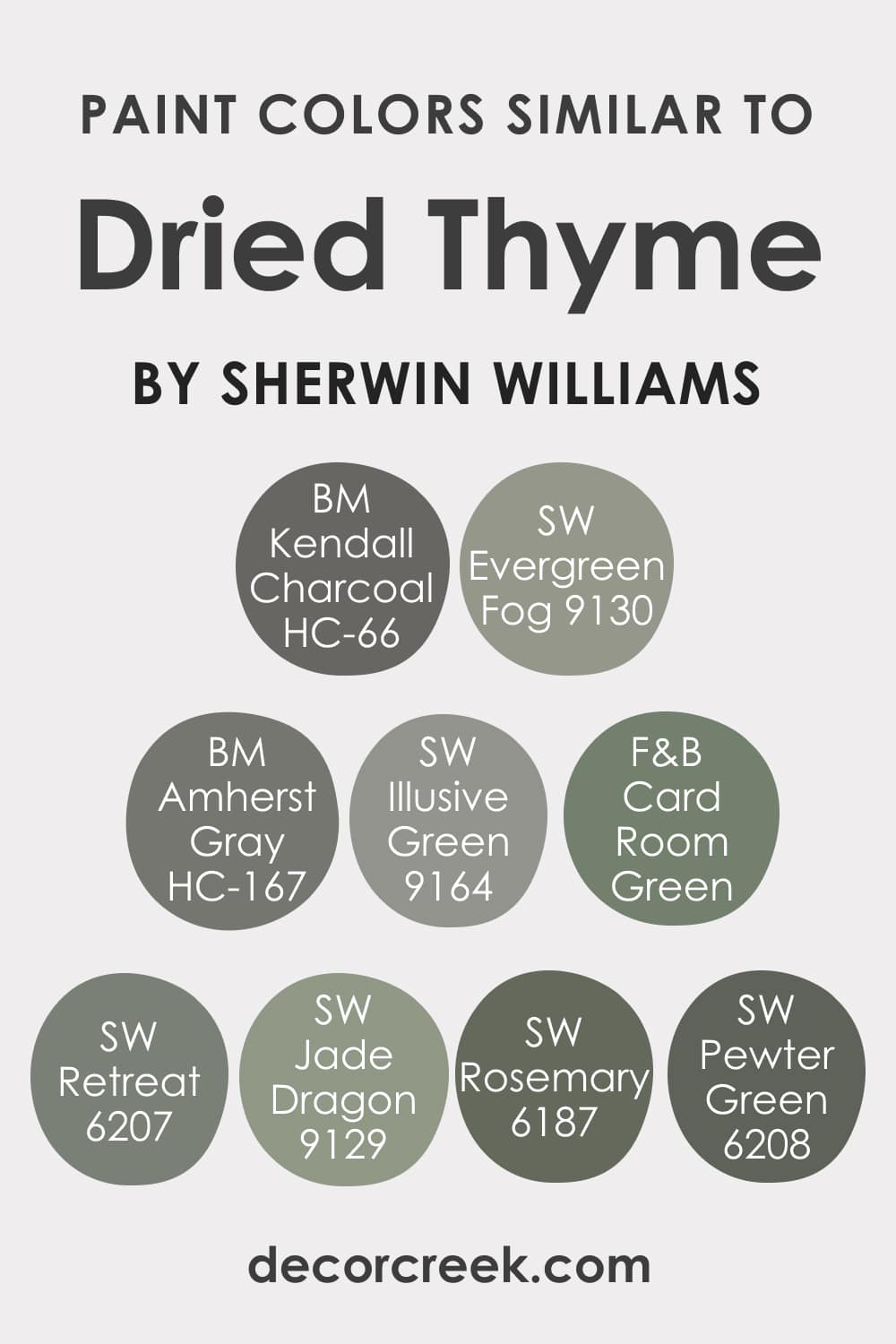 Colors That Go With the Dried Thyme Paint by Sherwin-Williams
When you know what colors go well with the paint used on the walls, it's a guarantee of a successfully selected color palette for your interiors!
But since it's often complicated and challenging to choose the colors that will work perfectly well altogether (especially with such a complex color as SW Dried Thyme on the walls!), here is a hint for you.
The following colors will work best if you pair them with this sage green to make your living space look more appealing and cozy:
SW Dover White
SW Autumnal
SW Toile Red
SW Believable Buff
SW Cordial
SW Footlight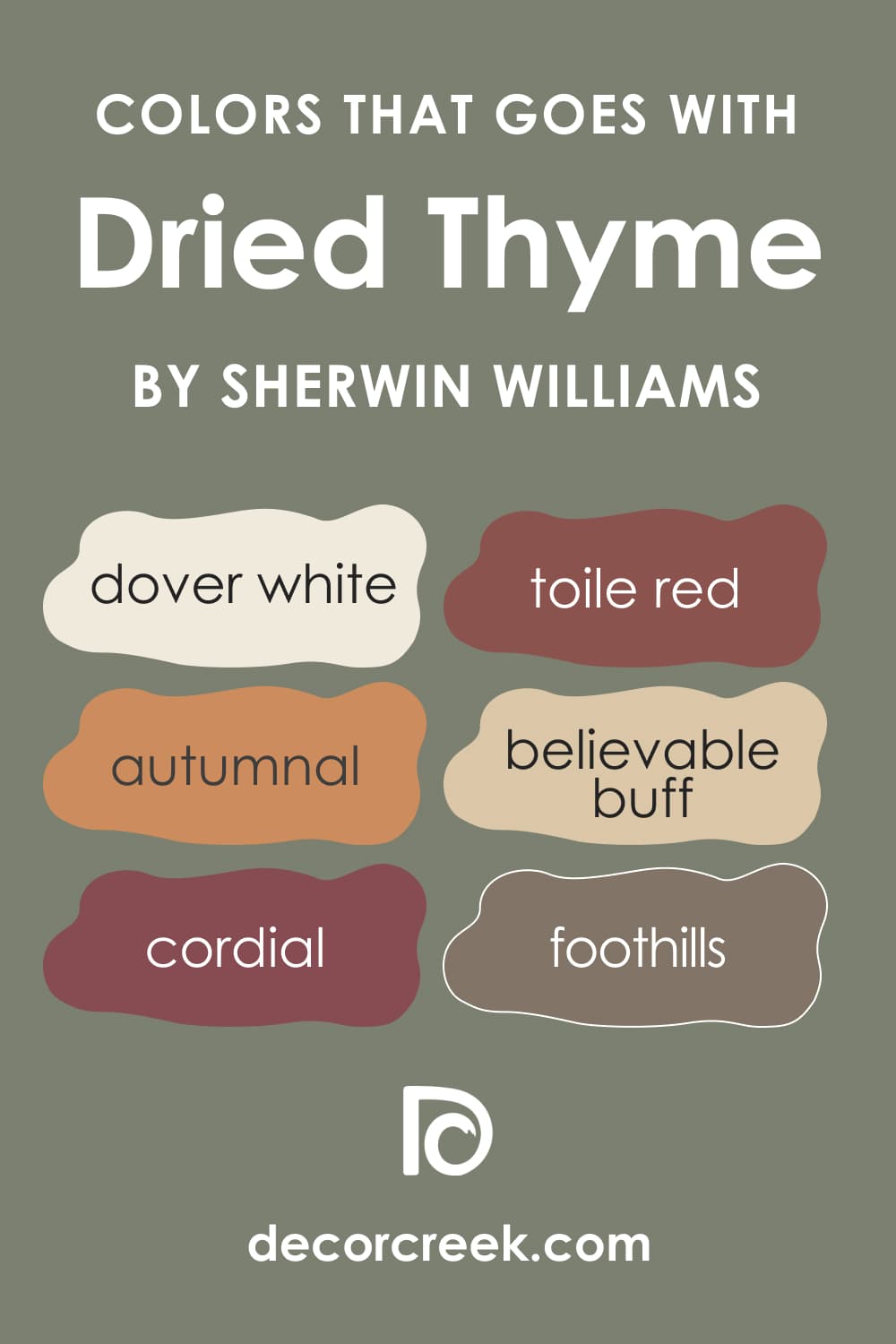 Comparing Dried Thyme SW-6186 With Other Colors
Why would you need to compare the wall color with other paints that read the same (or nearly the same?). Well, simply because it will help you better see their distinctions and unique features! As a result, you will get more skill in picking the right colors for your home interiors based on their undertones and more.
Dried Thyme vs Rosemary
This pair of colors look rather contrasting due to the darker appearance of the Rosemary color. Also, SW Rosemary has a more prominent dark green hue.
The difference between these two is that SW Rosemary has slight olive undertones without visible yellowness or blue hue. In its turn, SW Dried Thyme has bluish and gray undertones that come out rather noticeably.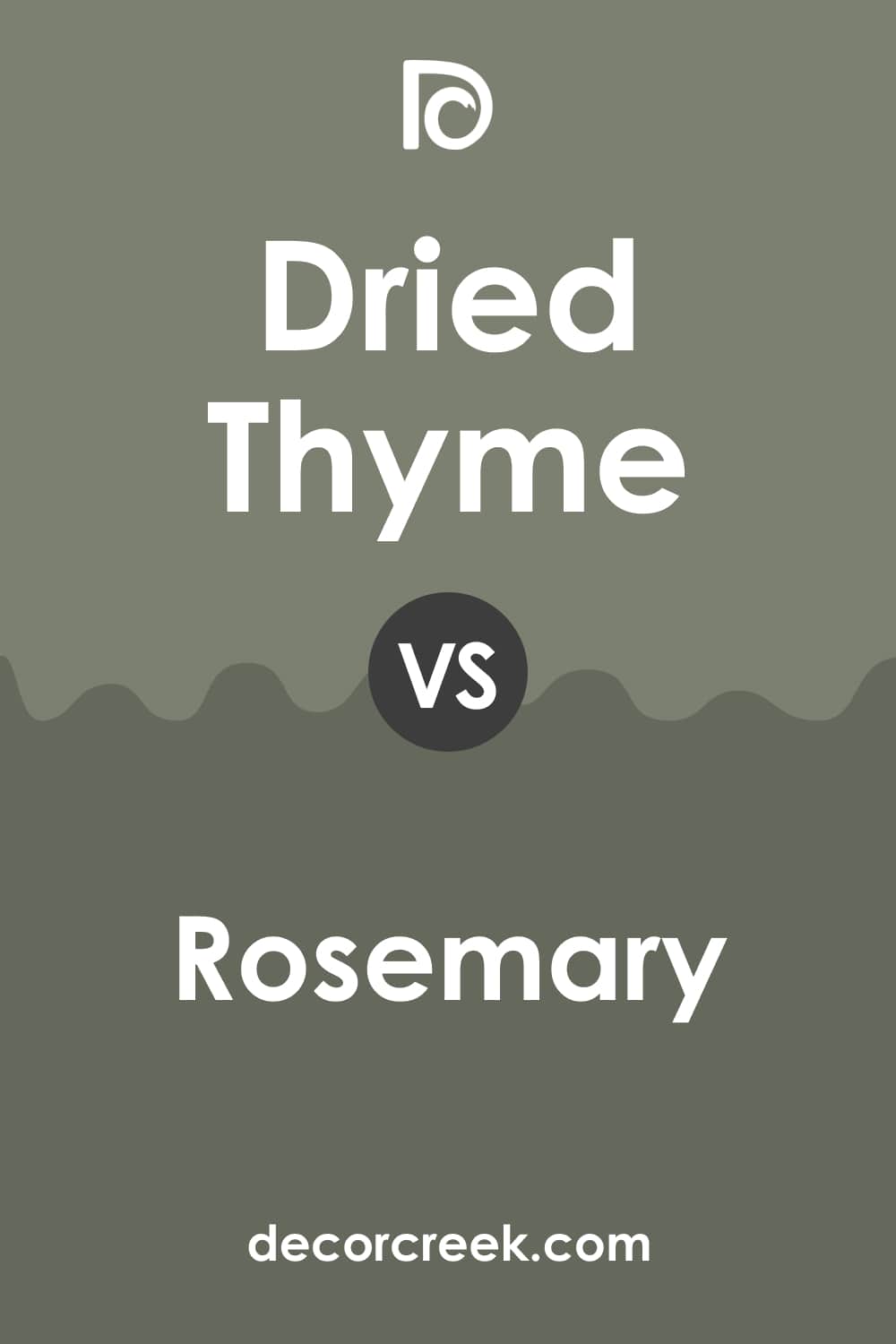 Dried Thyme vs Mossy Oak
Benjamin Moore Mossy Oak is a warm-toned sage green paint color that has a bit of a yellow and brown hue. This green has an LRV of 21.5, which is just 0.5% higher than the LRV of SW Dried Thyme. Moreover, there is also a tiny hint of gray that makes this paint color relatively neutral!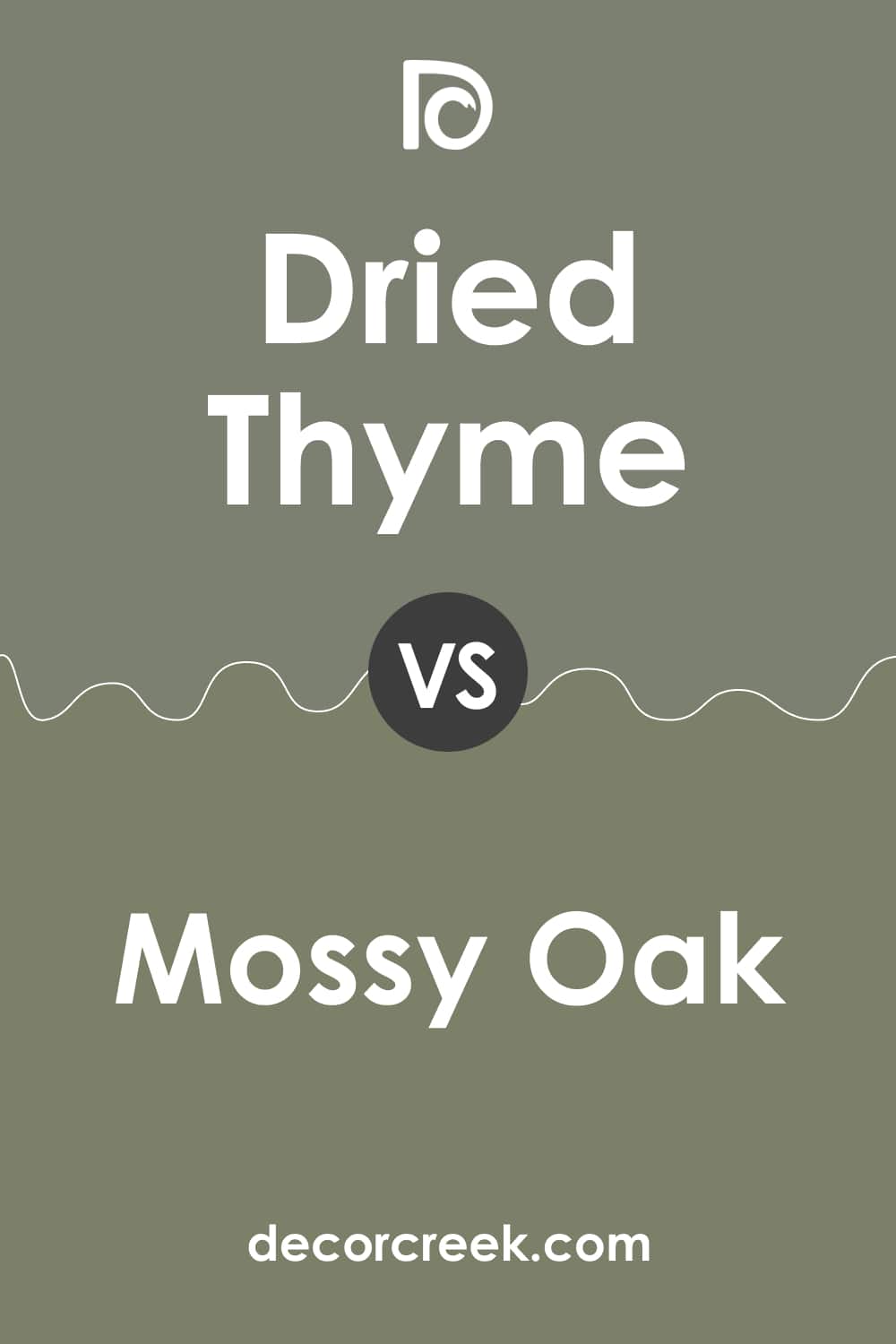 Dried Thyme vs Green Earth
SW Green Earth is a blend of cool green with warm yellow-gray undertones. This yellow hue is evident if you compare the Green Earth color with SW Dried Thyme! Unlike a warmer and yellower SW Green Earth, the Dried Thyme color reads more cool-toned, revealing its gray-blue hue better.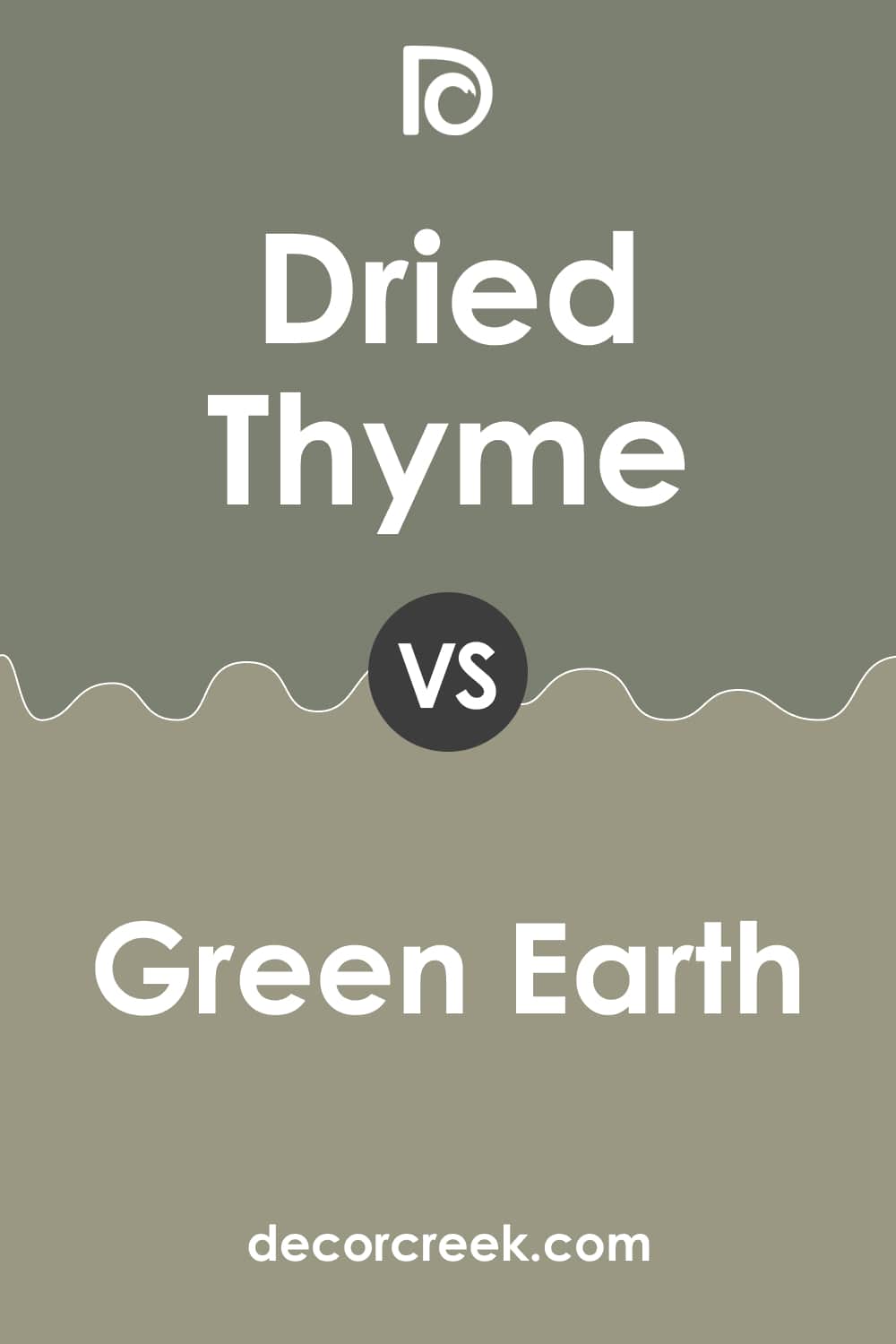 Dried Thyme vs Sweet Basil
BM Sweet Basil is a deep forest green that reads robust on the walls. Its LRV is 13, which makes this green rather dark and profound. Compared to it, SW Dried Thyme reads lighter and somewhat dull, revealing its bluish0gray undertones better. The Sweet Basil, in its turn, reads pronounced green.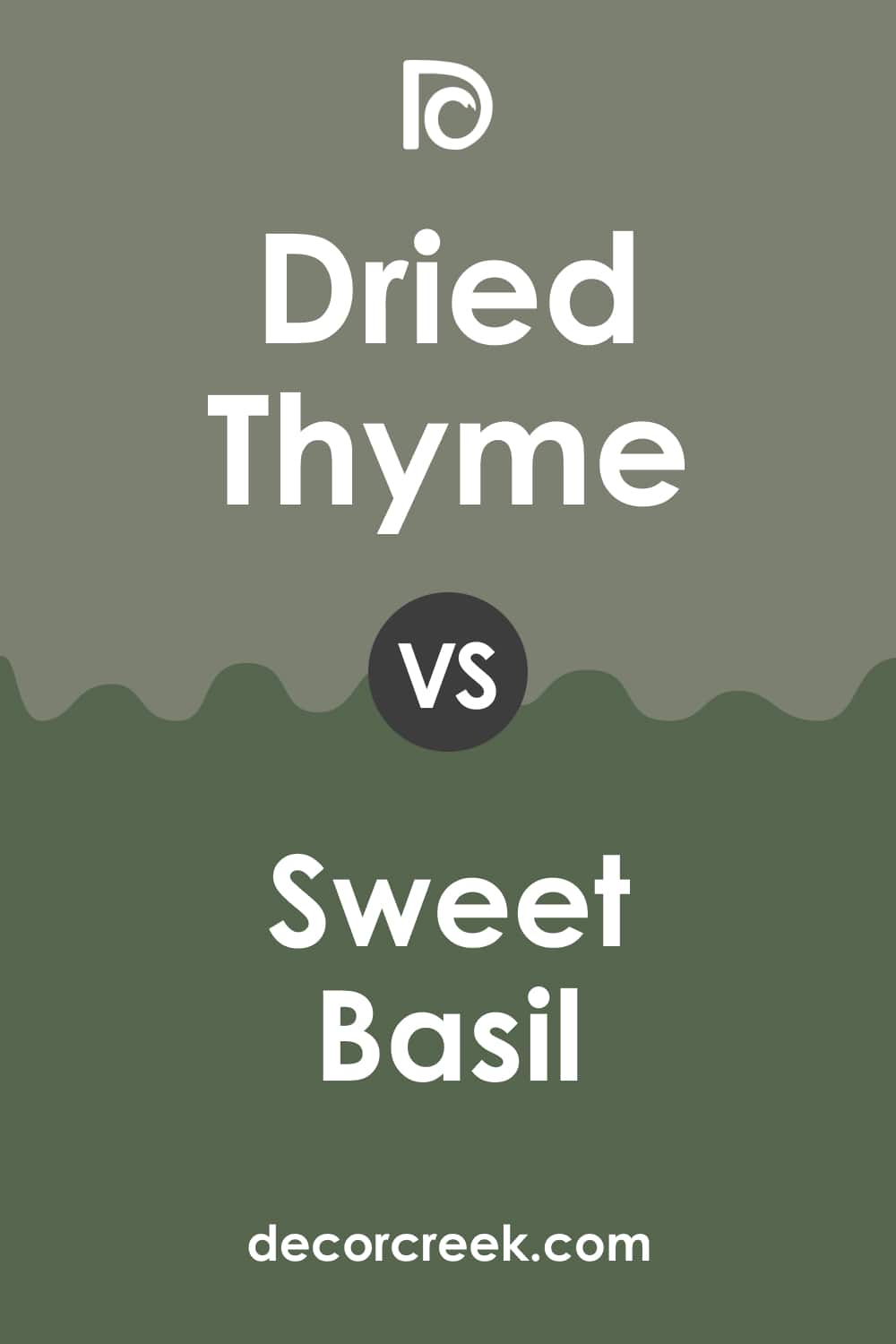 Dried Thyme vs Shade Grown
SW Shade Grown is a deep and vintage green with brown undertones. Its LRV is nearly 8, which makes it read much darker than SW Dried Thyme (whose LRV is 21). But thanks to the difference in LRVs, these colors read very contrastingly.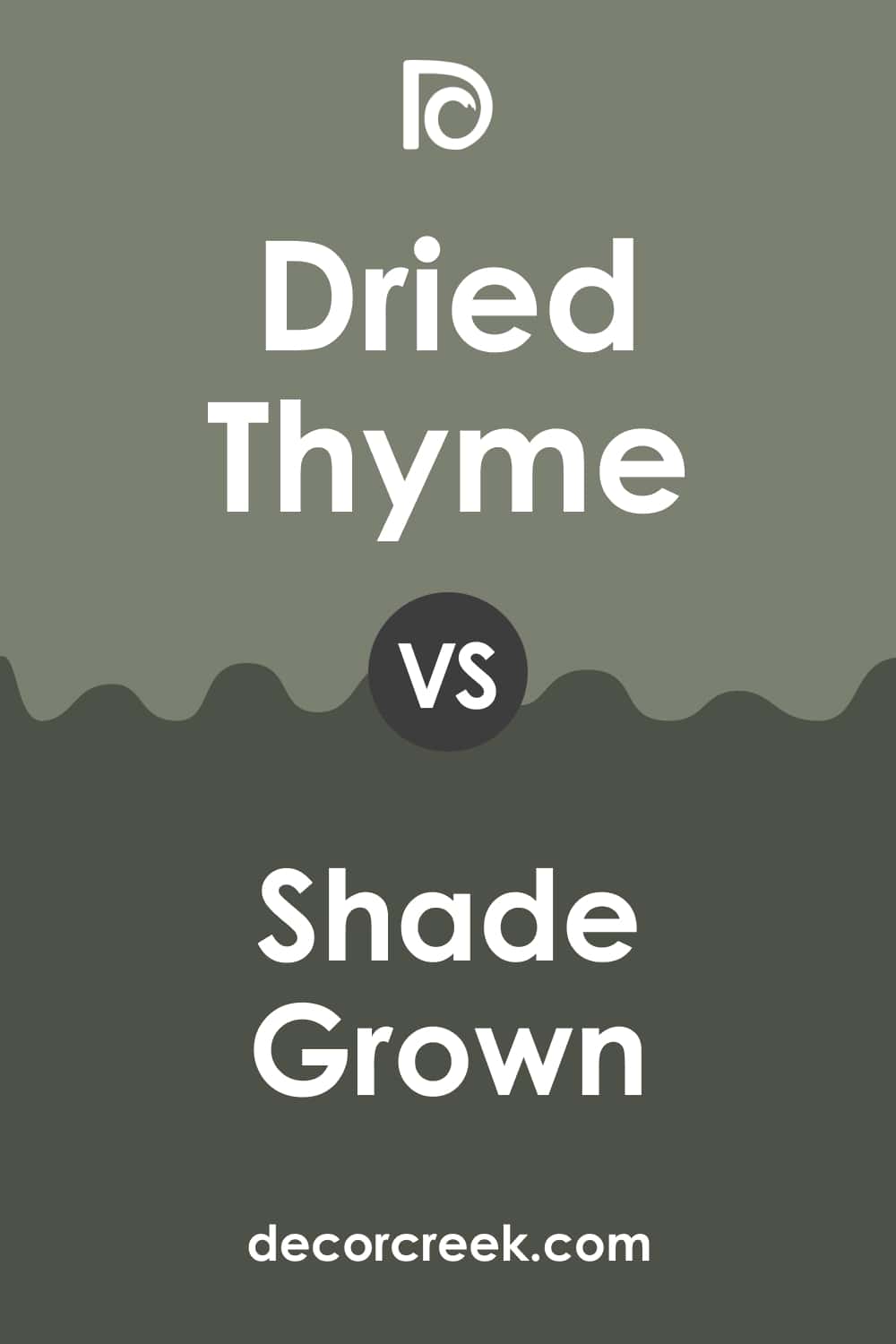 Where This Color Can Be Used In Your Home?
Sherwin-Williams Dried Thyme is a rather versatile color considering its cool-toned and pretty dark sage appearance! This shade of green paint can be used in almost any corner of your home!
In will work equally well in your kitchen on cabinets and/or walls, as well as on exterior and interior walls and furniture frames. Also, don't hesitate to use this green in your living room, kids' room, and nursery. It will add a natural and organic vibe everywhere.
Dried Thyme SW-6186 and Living Room
In the living rooms, you must use this paint color very specifically. We highly recommend painting it on the accent wall of your living room. Otherwise, the space will be overwhelmed with color!
It would also be a good idea to add ample wooden textures to make this sage green look more organic and natural. Generally, this green paint color will work well with beiges, taupes, greiges, and creamy off-whites.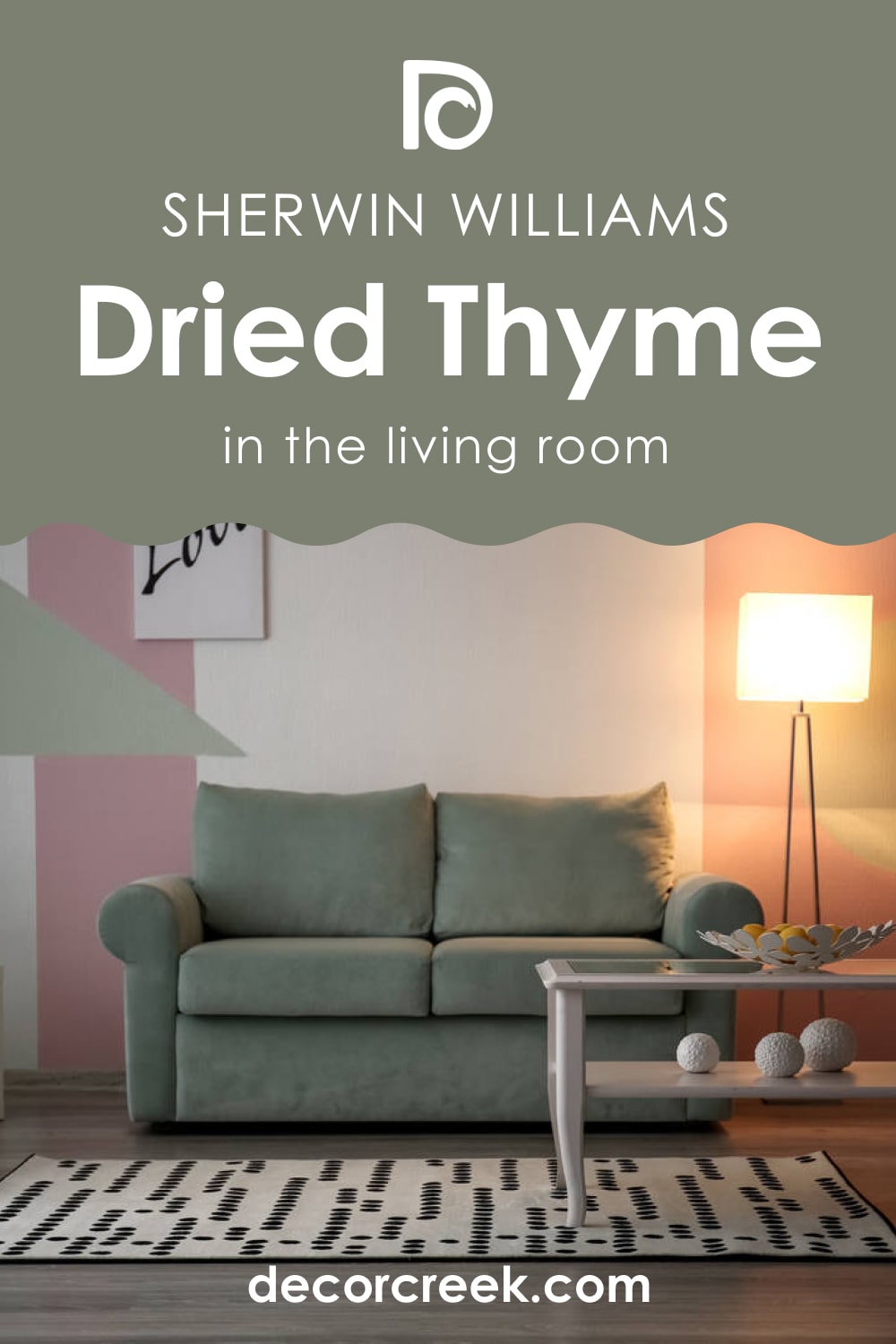 Dried Thyme SW-6186 in the Bedroom
In bedrooms, we are used to lighter colors like whites, greiges or grays, which is why green might seem unsuitable for this space at first. But if you want to add a bit of an organic and relaxing vibe to your bedroom, use SW Dried Thyme green with no hesitation!
It will work great with wooden textures on the bed frame, nightstands, and console table.
By the way, a couple of indoor plants on the empty corners or side tables will look very suitable in such a green bedroom! This will make the room feel lively and add a natural atmosphere.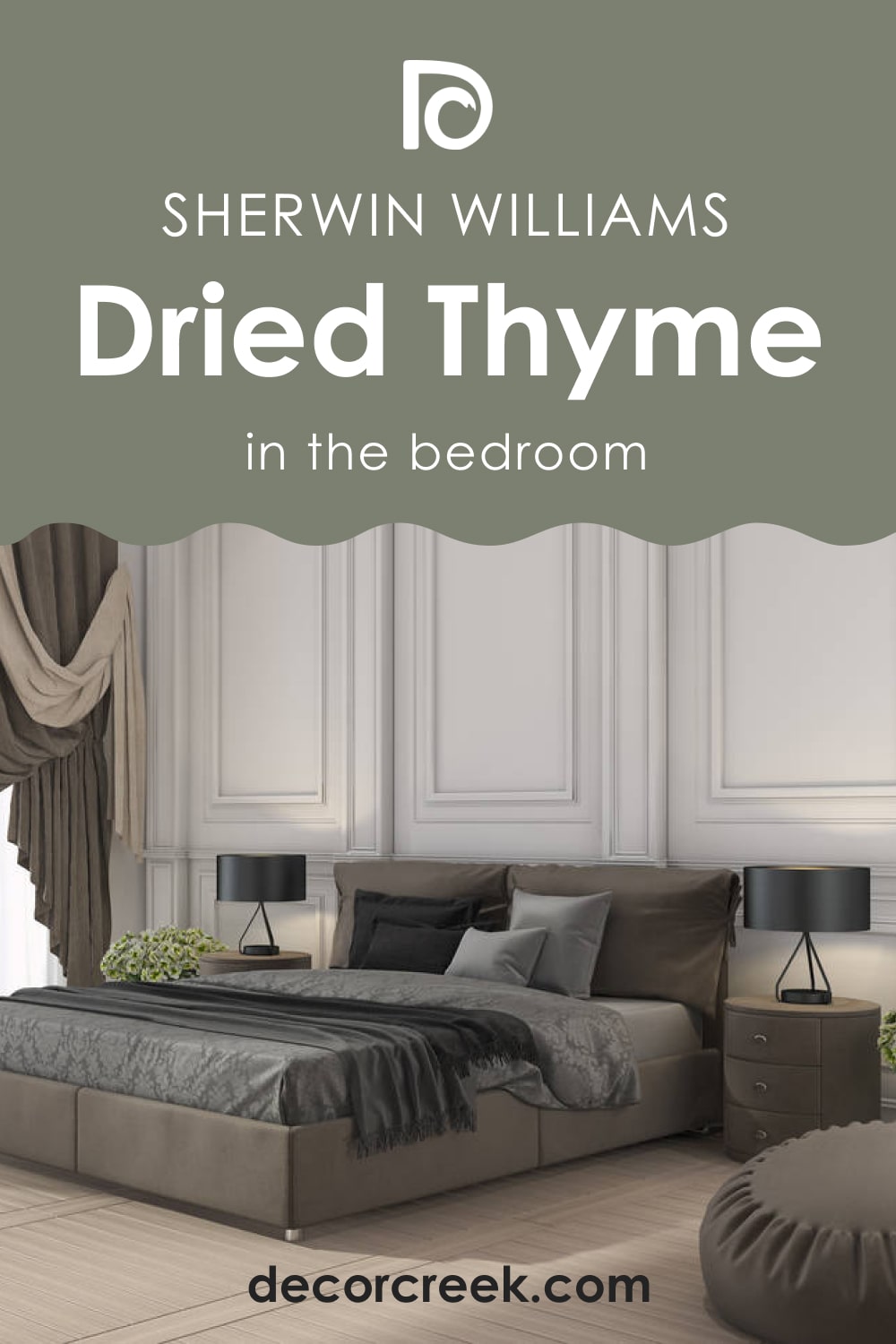 Dried Thyme SW-6186  in a Bathroom
In your bathroom, we recommend using this sage green on the accent wall or on your bathroom vanity sink. For all the walls, this color might be too dark, making the room seem smaller.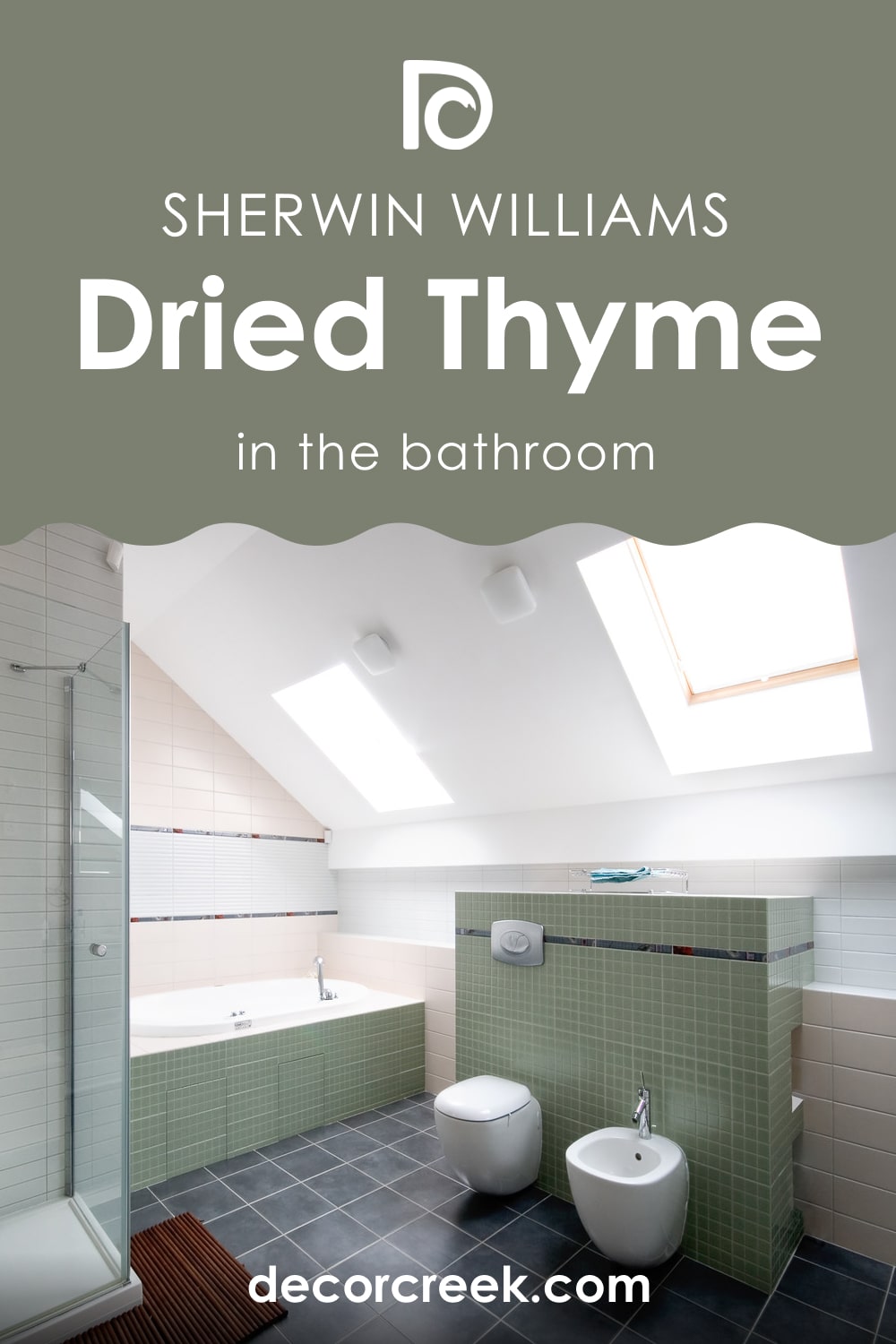 Dried Thyme SW-6186  in a Kitchen
You can paint this sage green paint on the kitchen cabinets and choose white for the backdrop wall. However, it's ok to paint one of the walls with SW Dried Thyme and leave the rest white. This color works well with wooden textures and brass hardware, so it will match almost any kitchen interior!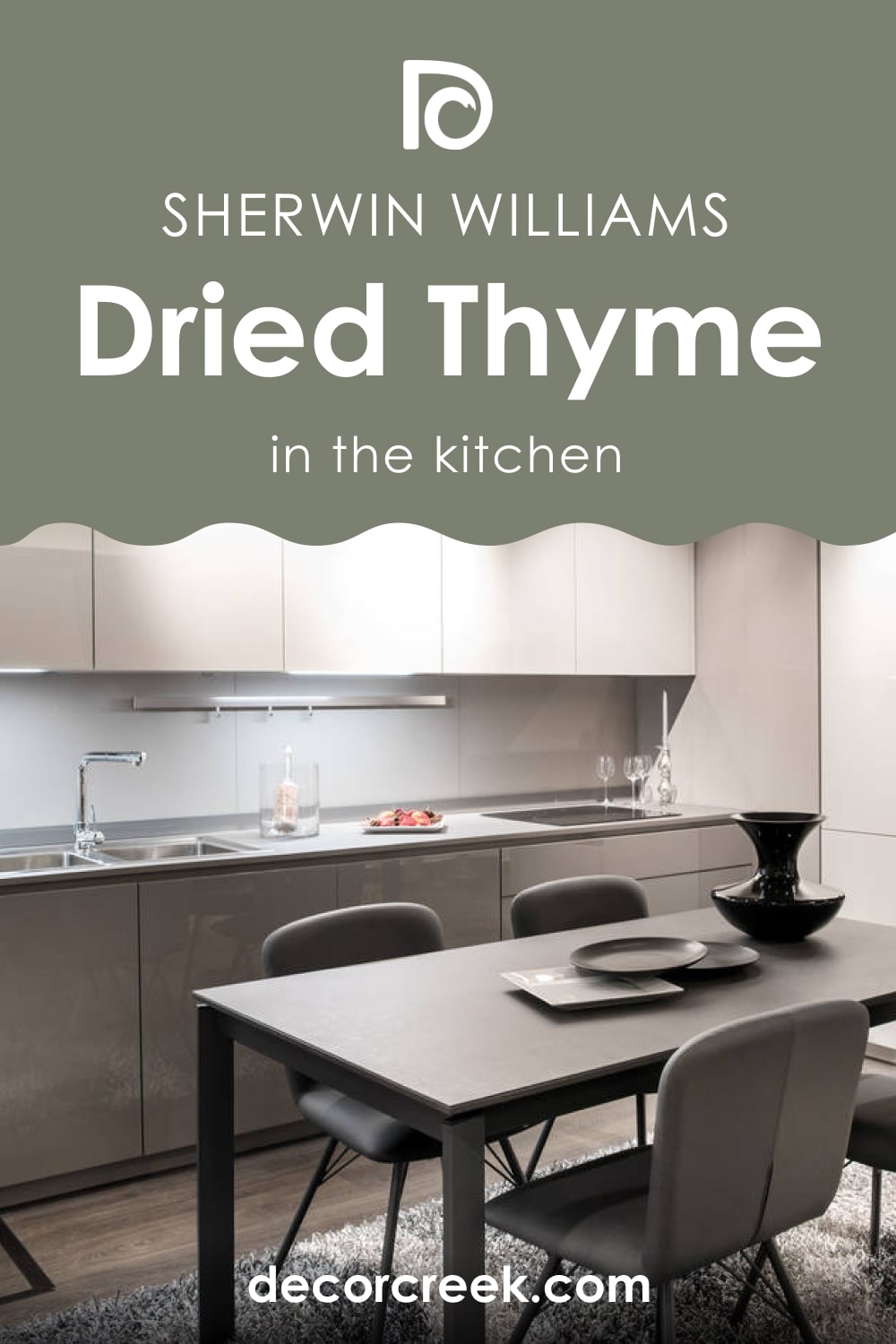 Dried Thyme SW-6186 for the Exterior Use
This green is especially suitable for Coastal, Caribbean, transitional, traditional, and ranch-style homes, adding a statement of style. You can use it with gray Spanish tiles on the roof and crisp white on the trims, front door and window frames.
Or choose vice versa. In case you want to add an eye-catchy accent – consider adding burnt orange, black, or mustard on the entryway doors and window frames.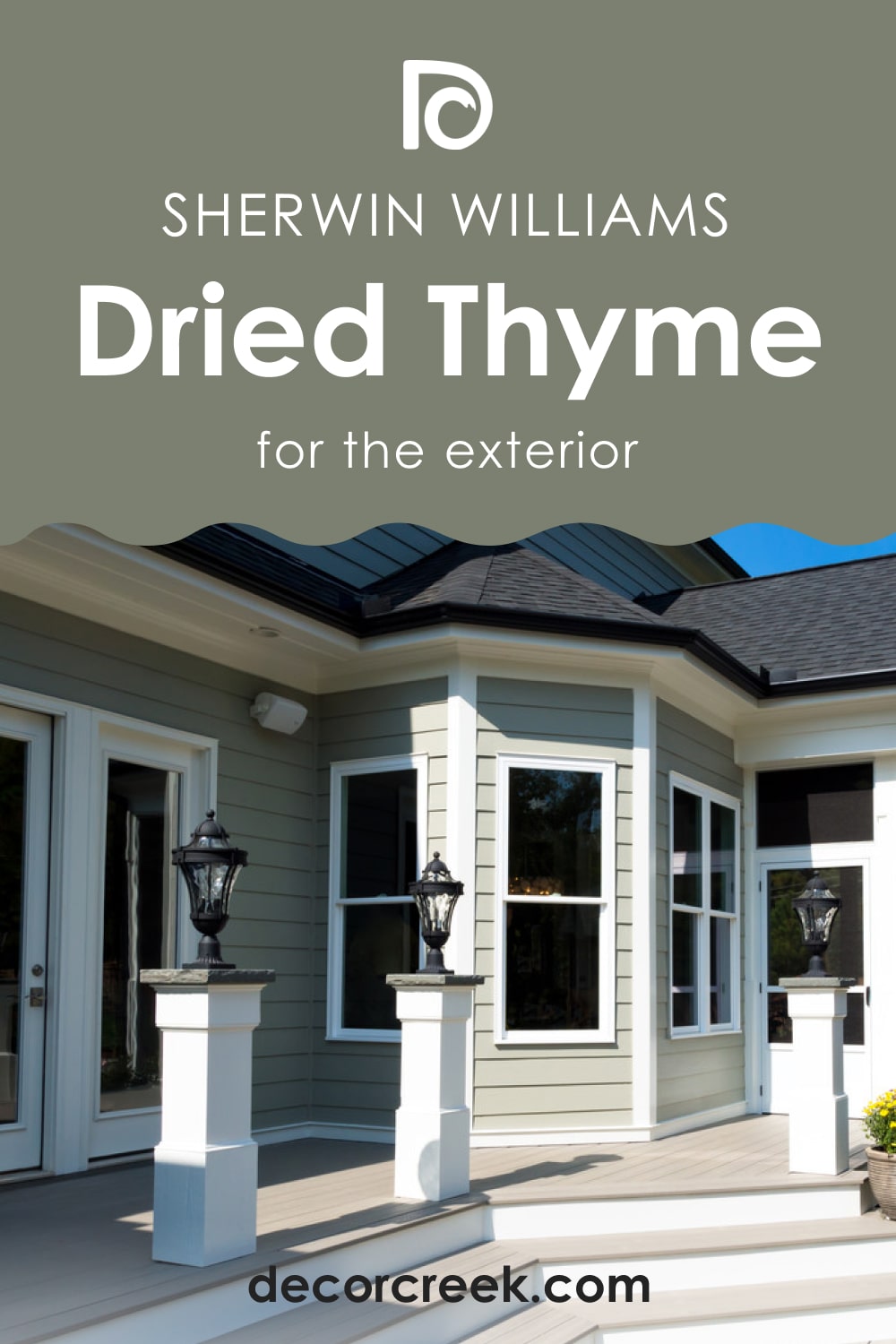 Now you know more about the sage green color called Dried Thyme by Sherwin-Williams. You know its LRV and trim colors, as well as colors to coordinate with it.
Also, we explained how this green reacts to light and in what rooms it's best to be used. This information will help you make the best out of this beautiful color in your home!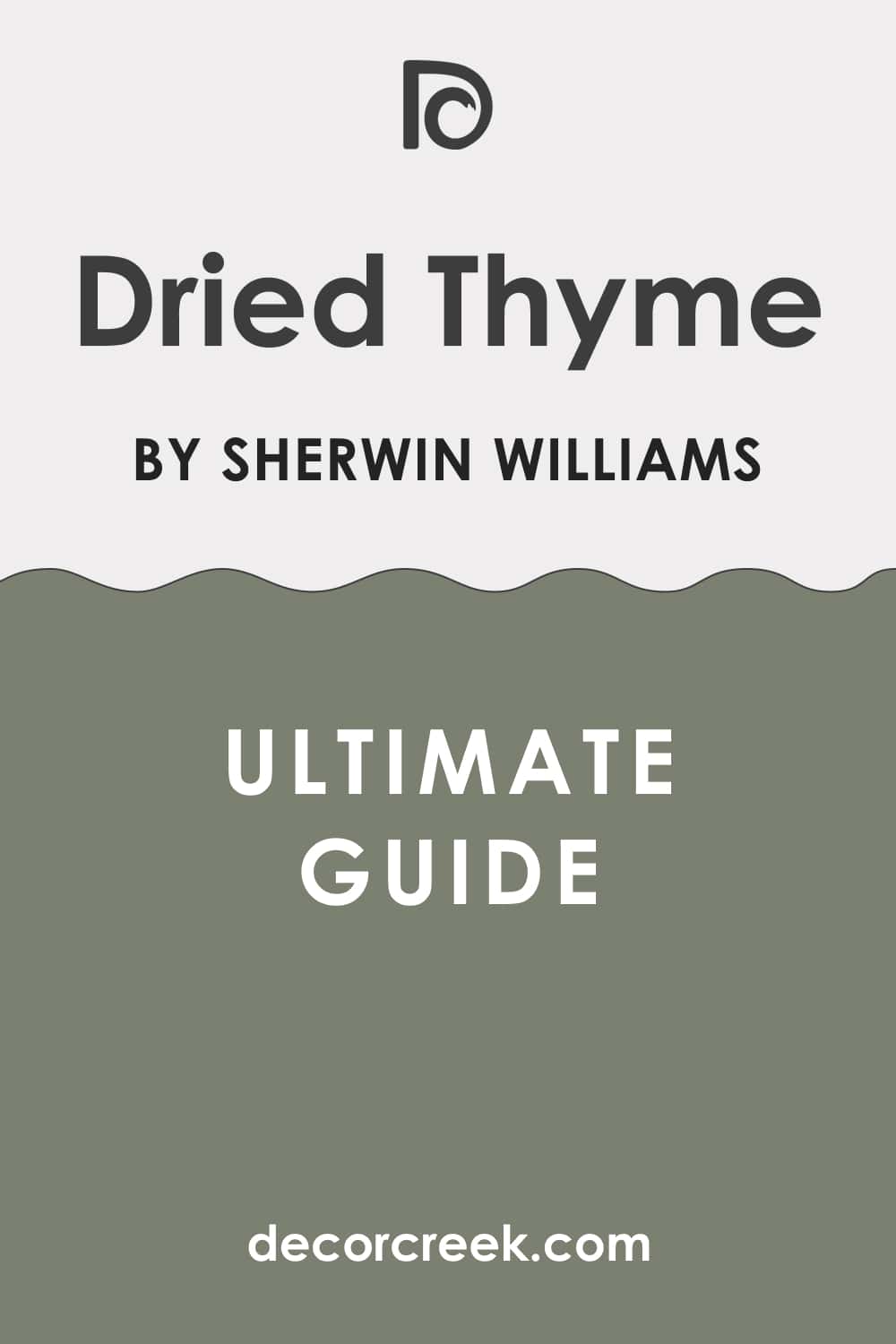 Frequently Asked Questions
⭐Does SW Dried Thyme have yellow undertones?
No, this sage green has blue and gray undertones only.
⭐Does SW Dried Thyme work well with black?
Basically, it does. But you should use black very carefully and moderately!
⭐What is a darker shade of SW Dried Thyme?
You can use SW Rosemary or SW Pewter Green if you need a slightly darker shade of this color.