In the extensive palette of Sherwin-Williams, one color that stands out due to its timeless appeal is the SW 6447 Evergreens. Capturing the spirit of lush, dense woods, this color exudes an earthy vibe that is calming and grounding.
It's a tone that, while associated with nature, can blend seamlessly into any space when used appropriately.
This comprehensive guide provides a deep dive into this beautiful hue, explaining its characteristics, uses, and comparison with similar colors.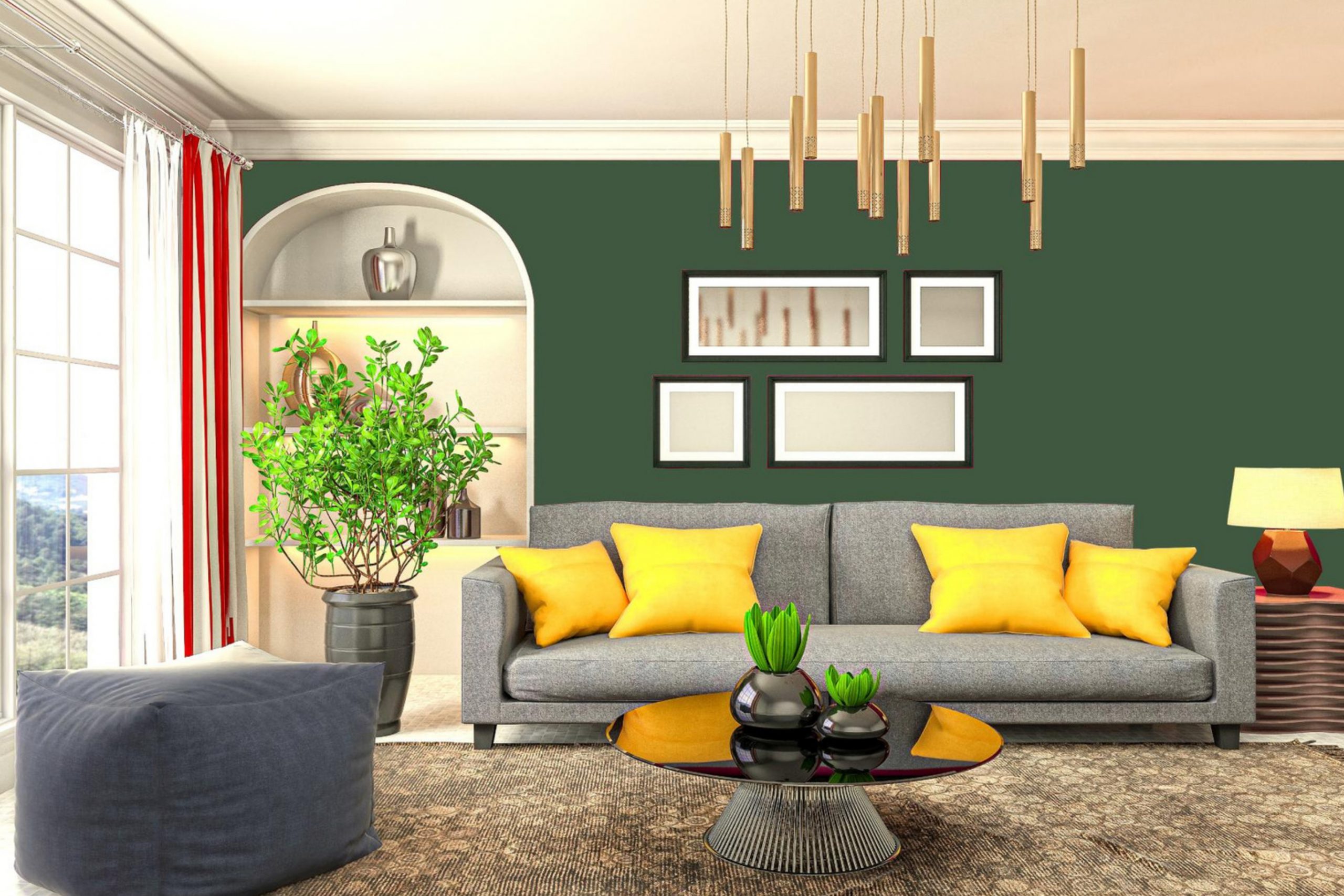 What Color Is SW 6447 Evergreens? Is It a Warm Or Cool Color?
As Hextoral says, SW 6447 Evergreens is a deep, dark shade of green. While green is generally considered a cool color, the depth and richness of Evergreens give it a warm undertone. This balance makes it versatile, allowing it to work well in both warm and cool color schemes.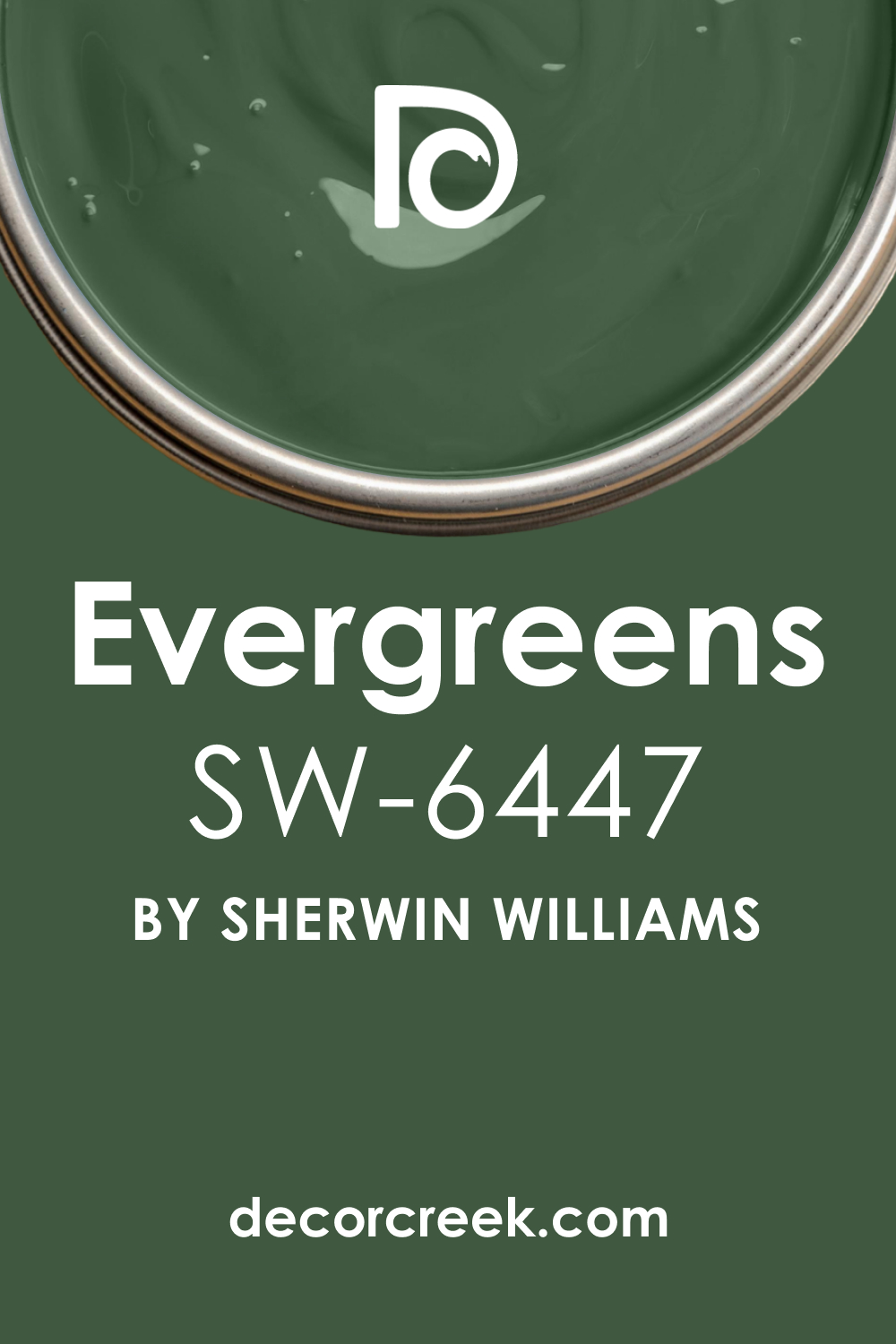 Undertones of SW 6447 Evergreens Paint Color
Knowing colors' undertones is a must if you want to use the hue correctly and be able to tell how it may read in your space. Speaking of SW Evergreens, this rich and vibrant green has several undertones you should know about:
Olive: This undertone helps to bring out the earthy, nature-inspired quality of Evergreens.
Dark Brown: The dark brown undertone adds depth to the hue, lending it a touch of sophistication.
Black: The black undertone amplifies the darkness of Evergreens, making it an impactful color choice.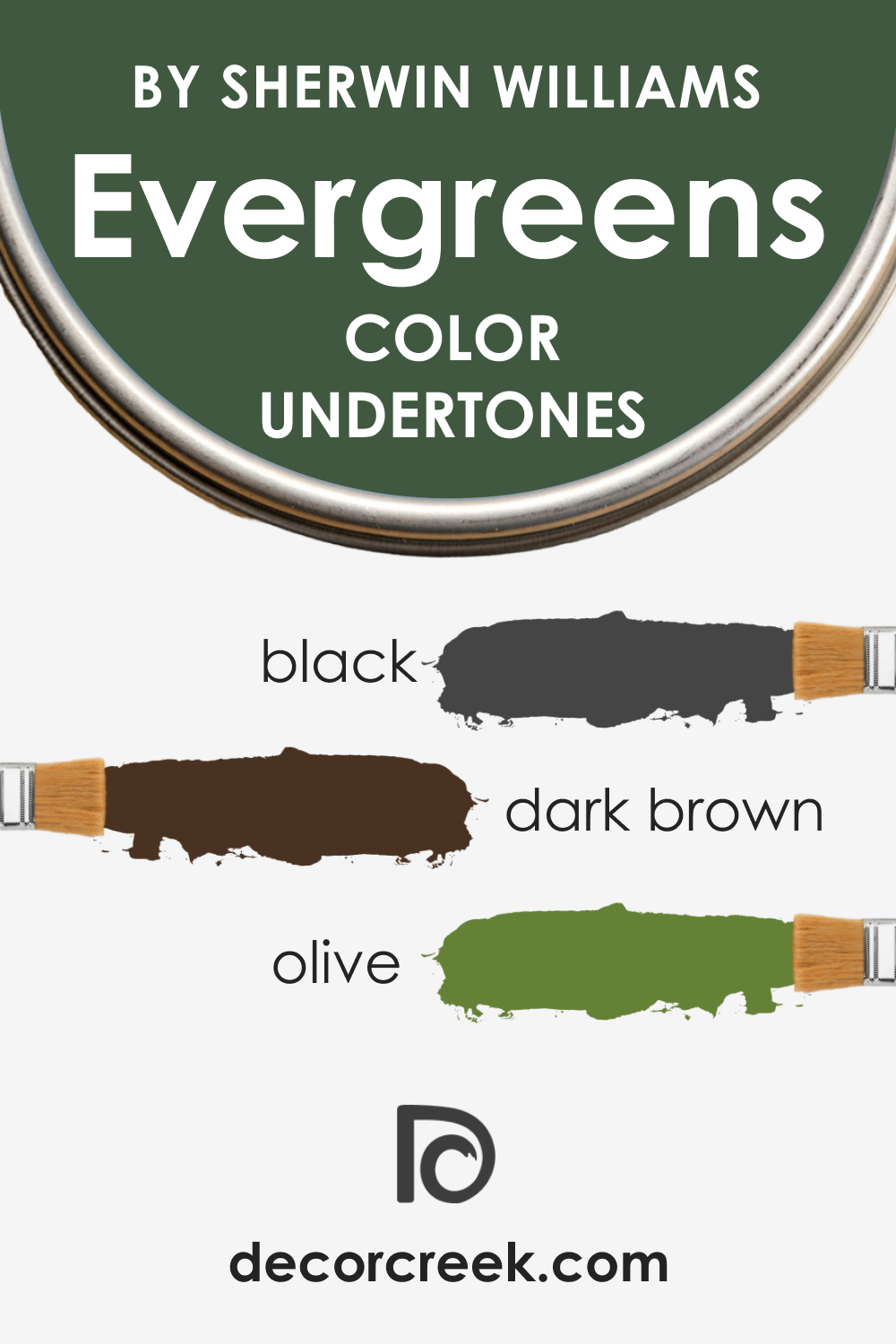 Coordinating Colors of SW 6447 Evergreens
To coordinate the color correctly and highlight its natural beauty, you must know what colors to use for this purpose. For such a complex hue as SW Evergreens, we recommend you the following coordinating colors that will succeed:
SW 6441 White Mint: This cool, airy white provides a refreshing contrast to the intensity of Evergreens.
SW 9180 Aged White: A softer, creamier hue, Aged White lends a vintage charm when paired with Evergreens.
SW 9121 Sawgrass Basket: A muted green shade, it complements Evergreens by highlighting its earthy qualities.
Three additional similar colors to consider:
SW 7741 Willow Tree: A mossy green that pairs well with Evergreens, creating a lush, forest-inspired palette.
SW 6148 Wool Skein: This neutral beige color provides a soft contrast, enhancing the warmth in Evergreens.
SW 7749 Laurel Woods: A deep, dusky green, it shares the same rich intensity as Evergreens, making them a cohesive pair.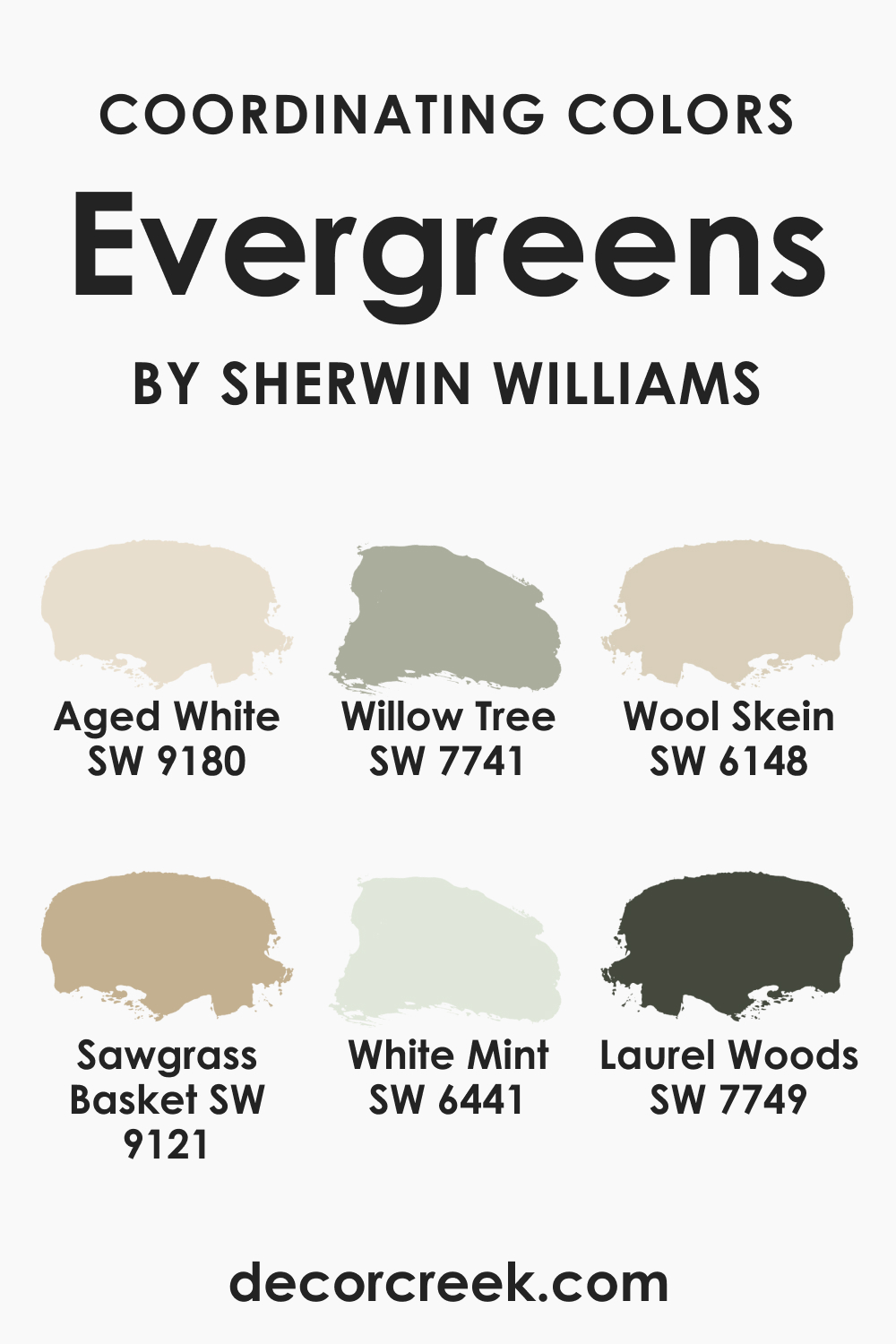 How Does Lighting Affect SW 6447 Evergreens Paint Color
The influence of lighting on SW 6447 Evergreens cannot be overstated. In natural light, the green undertones shine through, creating an inviting and refreshing environment. However, in artificial light, the darker undertones become more pronounced, giving the color a more serious, somber tone.
In a space with ample sunlight, SW Evergreens exudes a vibrant, dynamic aura. The color appears lighter and more lively, enhancing the perception of space.
On the other hand, in rooms with less natural light, this color creates an intimate, cozy atmosphere, which can be great for spaces meant for relaxation or concentration.
LRV of SW 6447 Evergreens Paint Color
The Light Reflectance Value (LRV) measures the percentage of light a color reflects. The LRV of SW 6447 Evergreens is 8.4, which implies it's a darker hue. This low LRV means it absorbs rather than reflects light, making spaces painted with SW Evergreens appear smaller and cozier.
However, this characteristic also means the color can add depth and dimension to a room. Moreover, in rooms with plenty of natural light, this rich color can strike a balance between warmth and coolness, creating a versatile backdrop that can be used in various décor styles.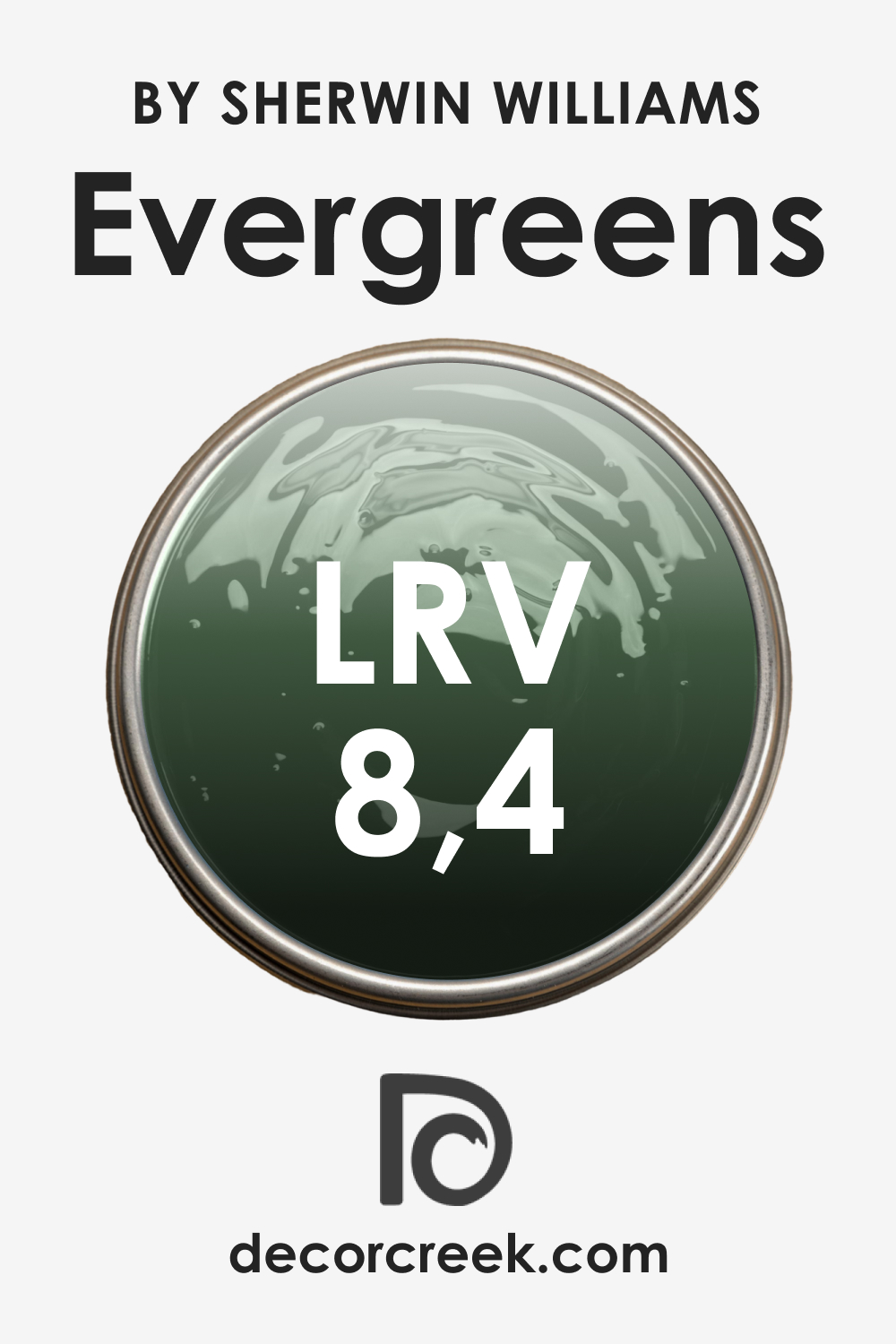 LRV – what does it mean? Read This Before Finding Your Perfect Paint Color
Trim Colors of SW 6447 Evergreens
When considering trims for SW Evergreens, opt for shades of white from Sherwin-Williams, such as:
SW 7005 Pure White: The clean, crisp nature of Pure White offers a refreshing contrast to the depth of SW Evergreens.
SW 7008 Alabaster: Alabaster's warm undertones harmonize with the earthiness of Evergreens, creating a cozy atmosphere.
SW 7001 Marshmallow: This soft, creamy white can help soften the boldness of SW Evergreens while keeping the space feeling light and airy.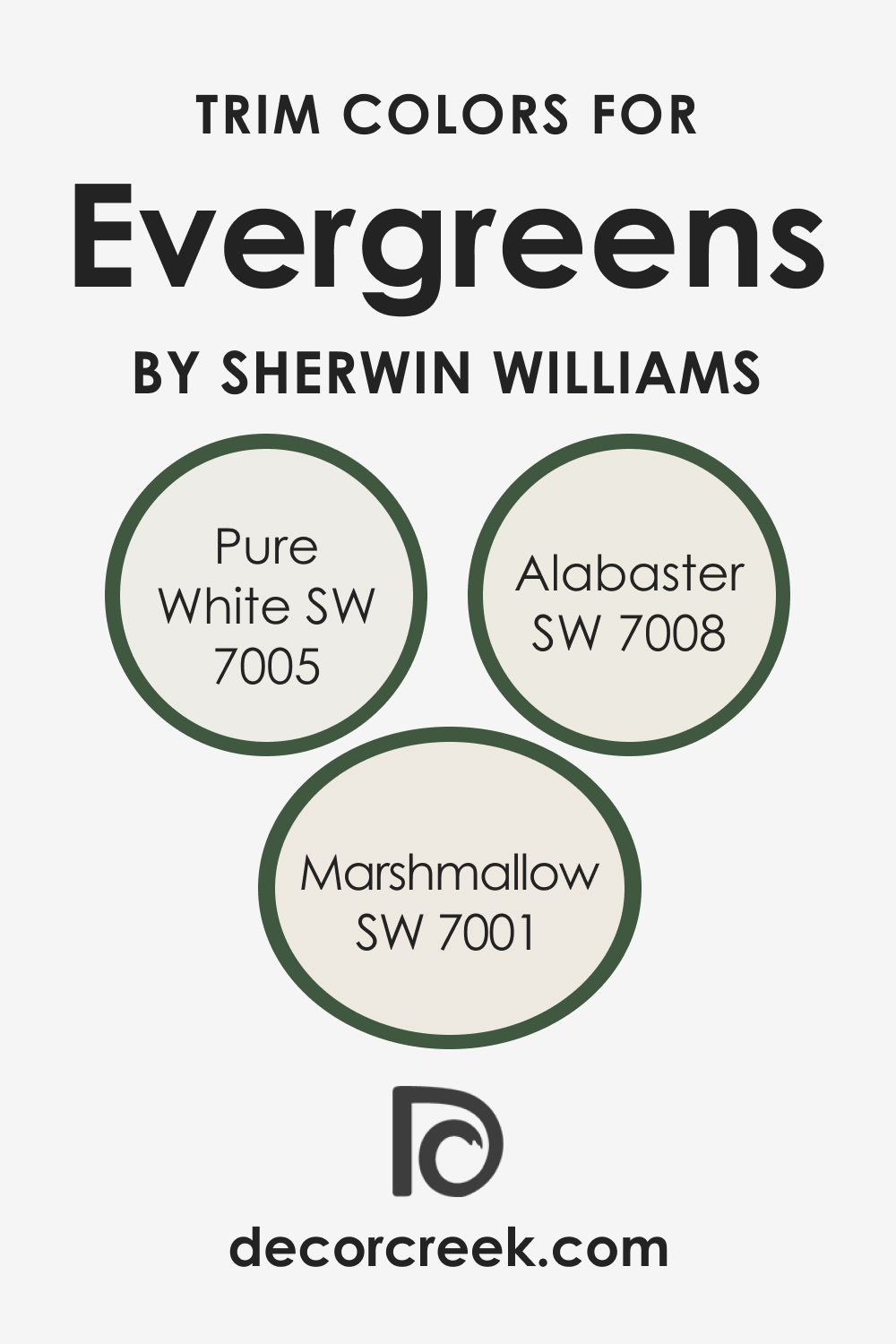 Colors Similar to SW 6447 Evergreens
Looking for colors with a similar vibe to Evergreens? Consider the following shades from different paint brands:
Isle of Pines (SW 6461)
Courtyard (SW 6440)
Arugula (SW 6446)
PPG Still Searching (PPG13-31)
PPG Royal Hunter Green (PPG1133-7)
Valspar Wilderness (6009-5)
Behr Deep Viridian (S400-7)
BM Colonial Verdigris (CW-530)
BM Sweet Basil (455)
Knowing the alternative hues can help you choose the color that will work instead of the color you initially chose (in case you are not happy with how SW Evergreens work).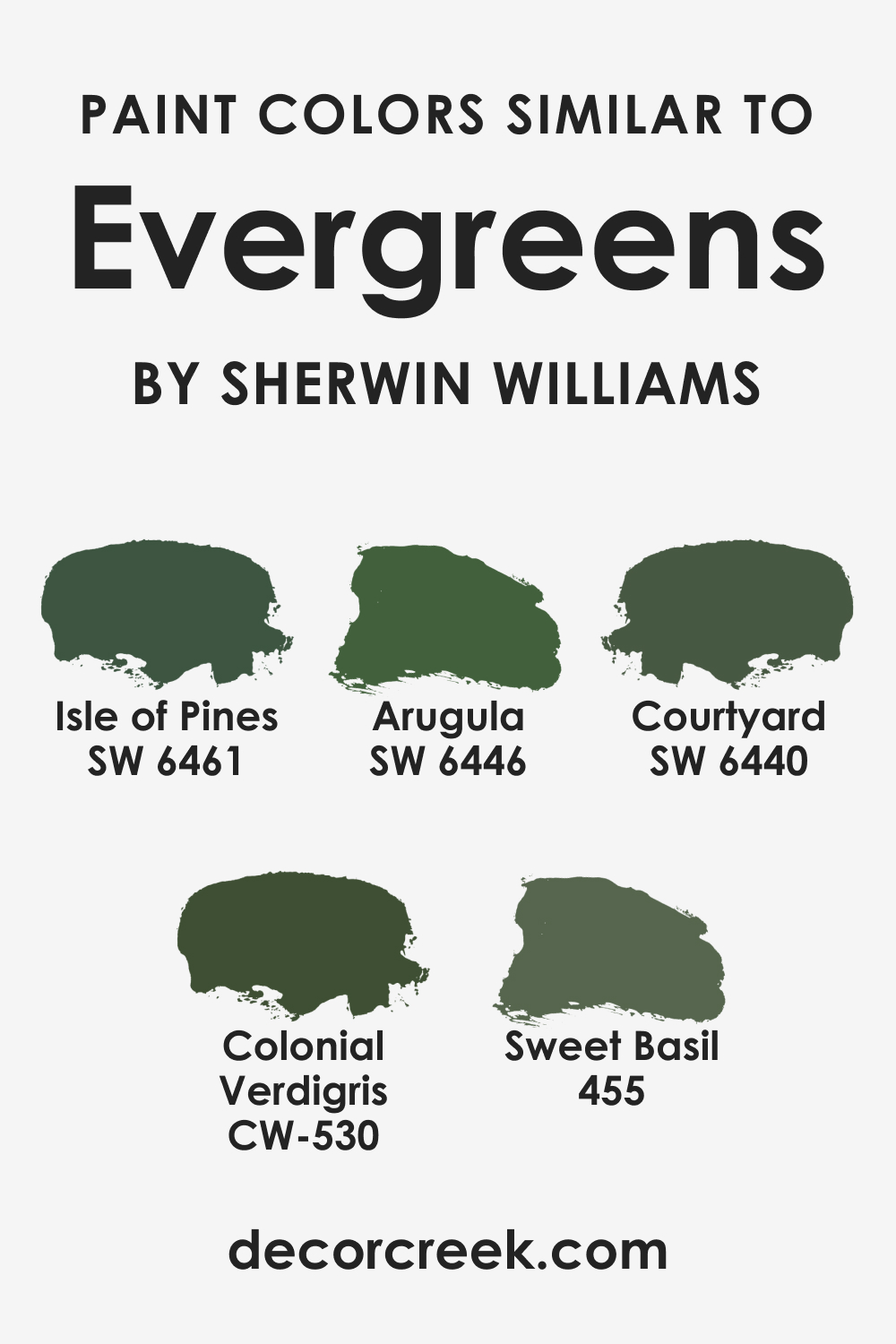 Colors That Go With SW 6447 Evergreens
To achieve a balanced and appealing palette in your home that looks welcoming, you should know what colors will work with the hue you use on the walls. The following paint colors will work great if you pair them with SW 6447 Evergreens in your home:
SW 9178 In the Navy: This deep navy blue complements the rich intensity of Evergreens.
SW 6191 Contented: A softer, lighter green, it creates a gradient effect with Evergreens.
SW 6039 Poised Taupe: This earthy, gray-brown offers a muted contrast to Evergreens.
SW 2848 Roycroft Pewter: A muted blue-gray, it brings out the cool undertones of Evergreens.
SW 7742 White Russet: This creamy off-white offers a stark contrast to Evergreens.
SW 6347 Chrysanthemum: This rich, earthy red balances the coolness of Evergreens.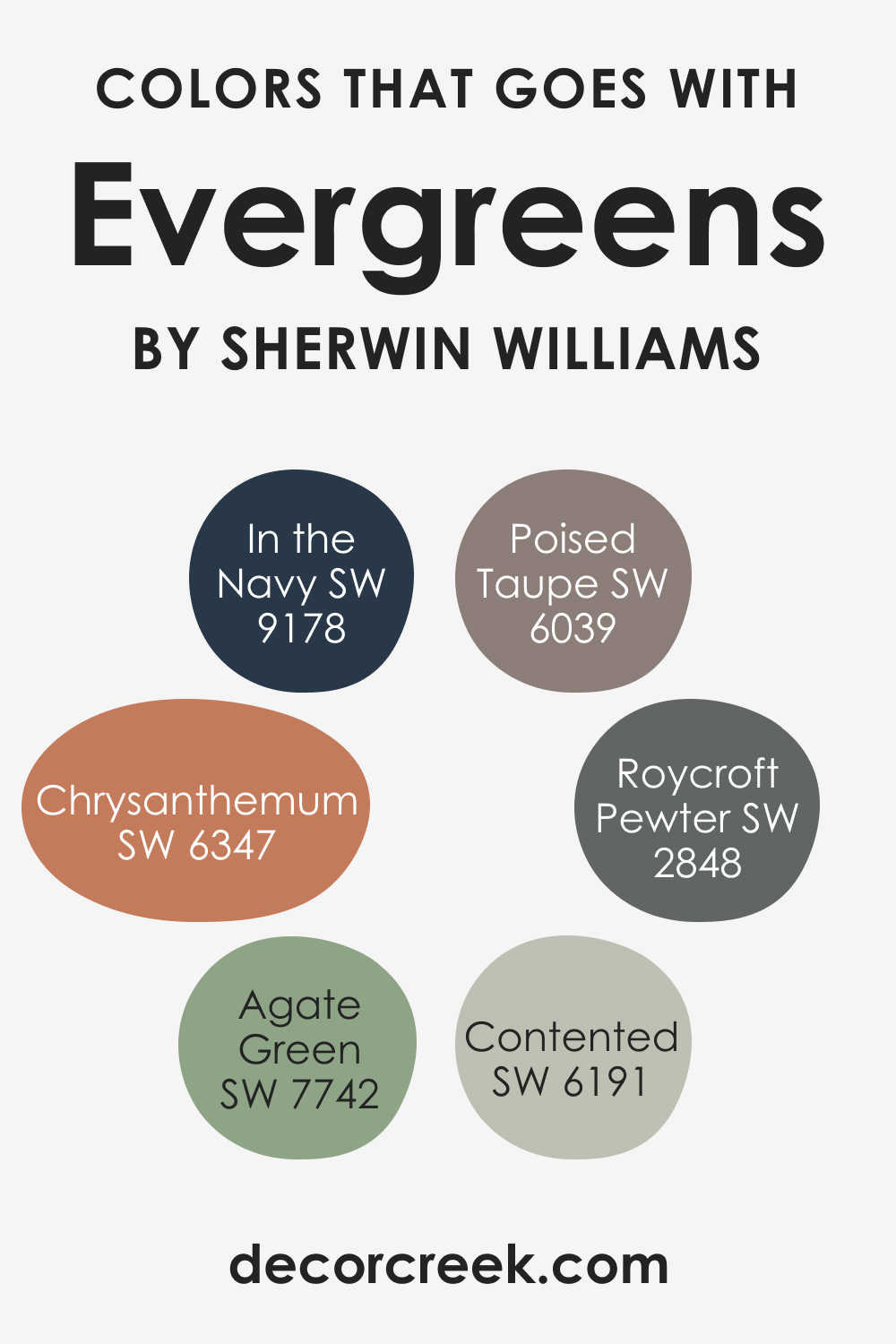 How to Use SW 6447 Evergreens In Your Home?
Here you can read how SW Evergreens may work in different rooms of your house or apartment. This way, you can better imagine what to expect from this green color and in what space it will work best.
Evergreens SW 6447 In the Bedroom
In the bedroom, SW 6447 Evergreens can be used to create a calm, soothing environment that encourages relaxation. It pairs well with earth-toned fabrics and wooden furniture, promoting a natural and organic aesthetic. Consider painting one wall with SW Evergreens as an accent wall while keeping the others in a lighter color to avoid the room feeling too dark.
SW Evergreens is also a beautiful color for a feature wall behind the bed. Paired with warm whites for bedding and curtains, it can make the room feel cozy and inviting. The color's natural tranquility can be enhanced with elements such as indoor plants or artwork featuring landscapes.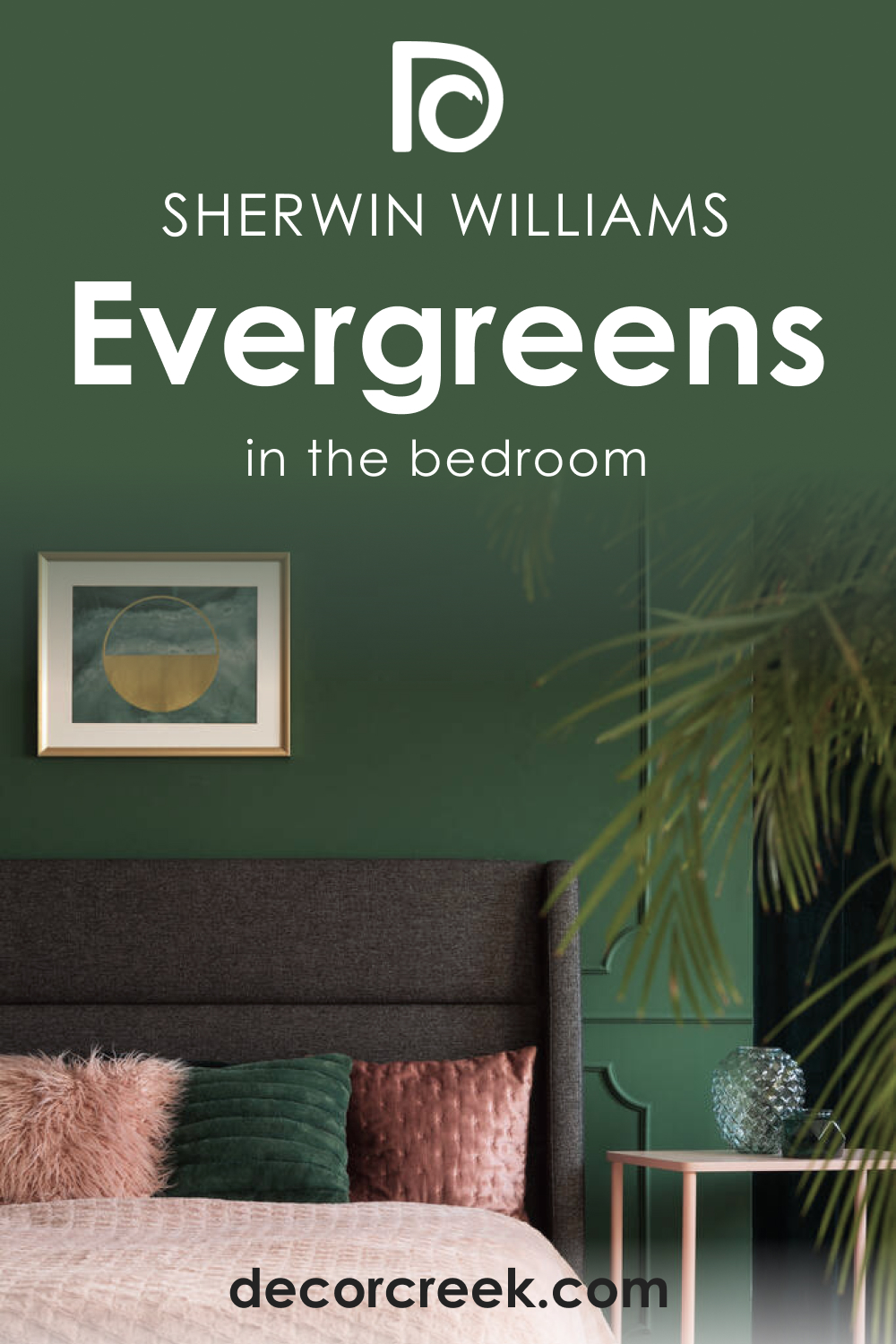 Evergreens SW 6447 In the Bathroom
SW 6447 Evergreens can create a spa-like ambiance in the bathroom, invoking a sense of calm and serenity. Its richness can be contrasted with white or cream fixtures for a fresh and clean look. Alternatively, pair it with brass or gold accents for a luxurious feel.
SW Evergreens can also work well with other cool hues like blues and grays in a bathroom. This can create a relaxing, cool-toned color scheme that is soothing to the eye. If your bathroom has good natural light, this color can look particularly vibrant and refreshing.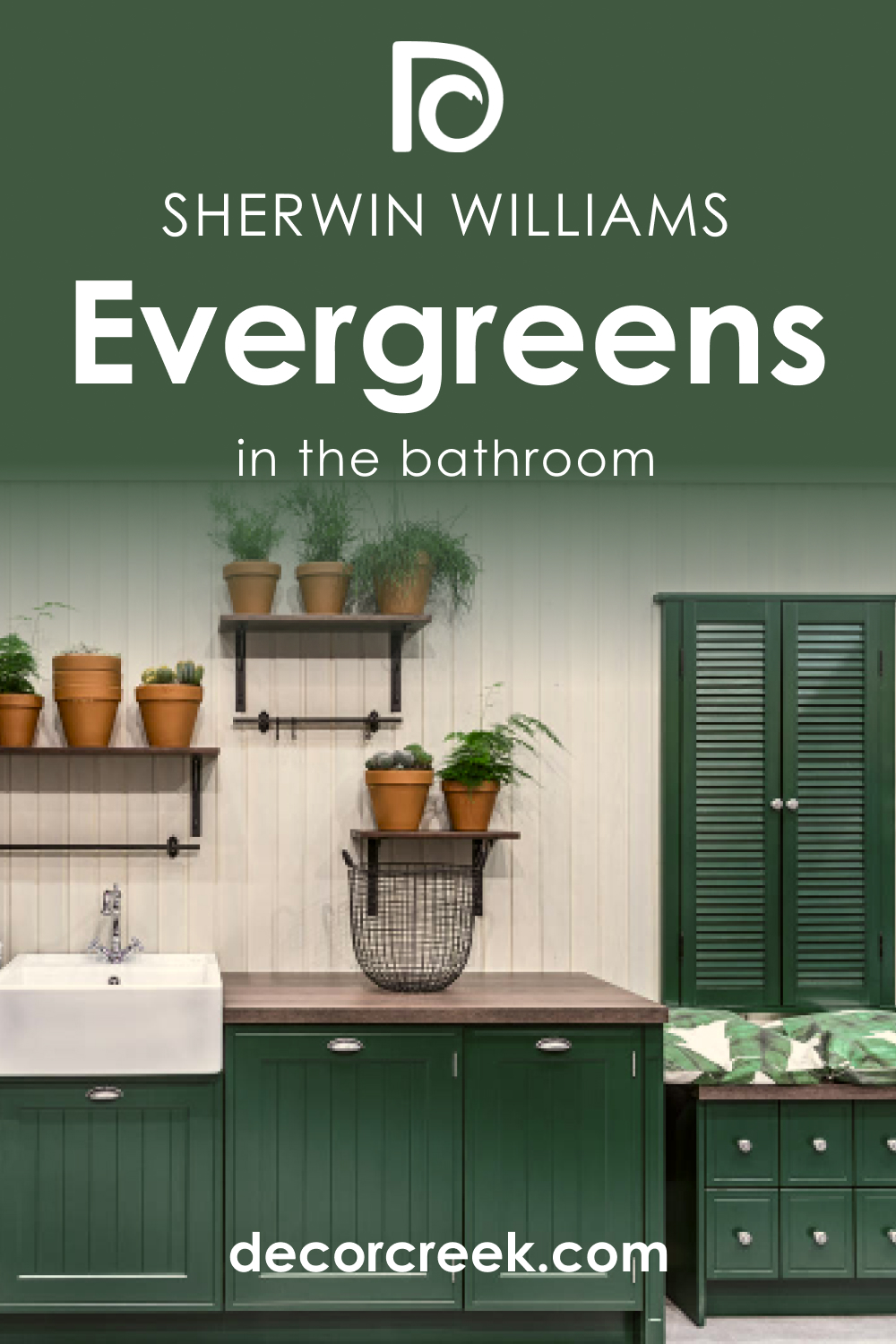 Evergreens SW 6447 In the Living Room
SW Evergreens can add depth and sophistication to a living room. It's a great choice for an accent wall or highlighting architectural features. Pair it with a neutral color scheme to let it shine or with brighter hues for a more vibrant, eclectic vibe.
The color also works wonderfully with a variety of textures and materials. Leather furniture, chunky knitted throws, or sleek modern pieces can all look stunning against an SW Evergreens backdrop.
The key is to balance the richness of the color with lighter or contrasting elements to prevent the room from feeling too heavy.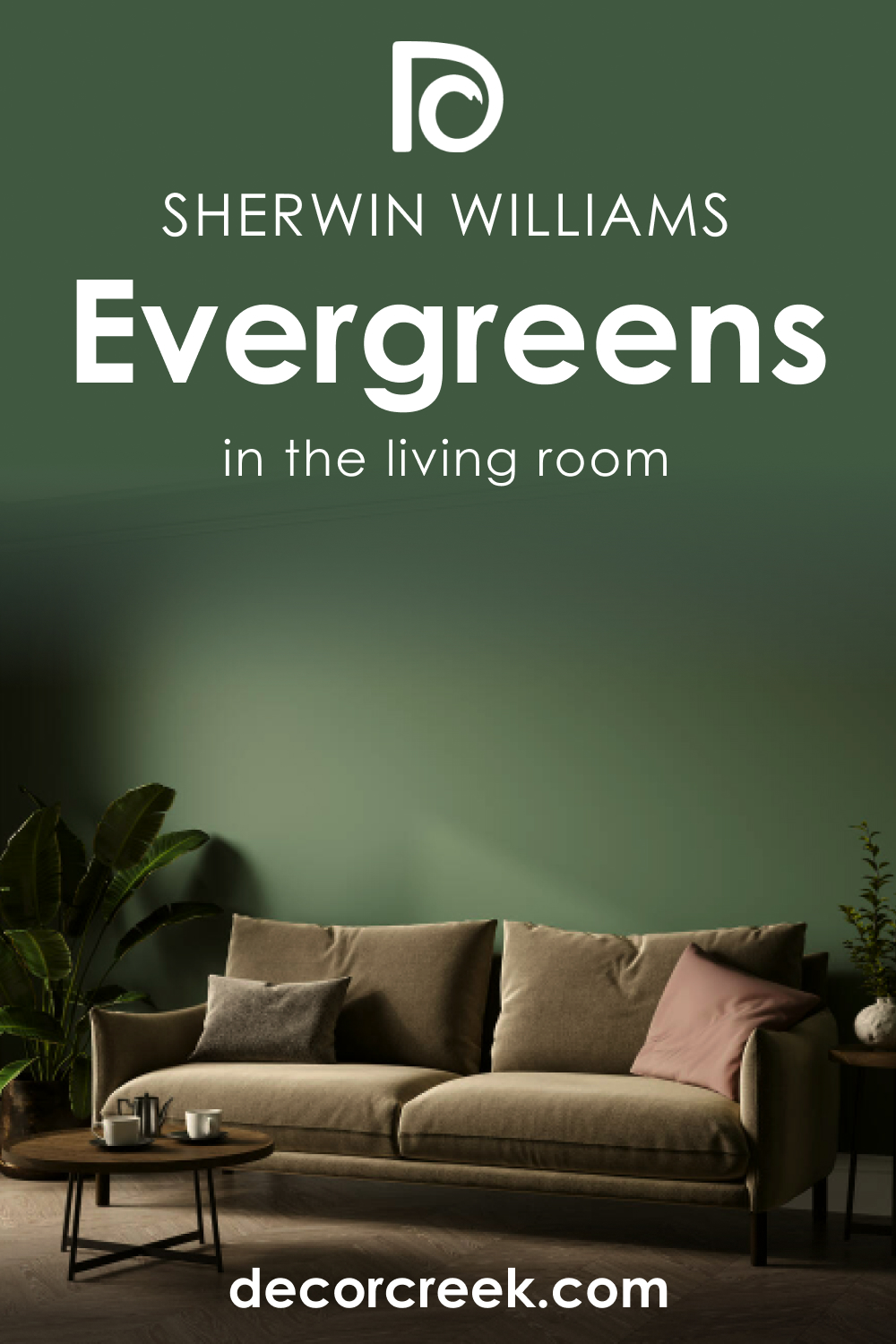 Evergreens SW 6447 In the Kitchen
SW Evergreens is a bold yet timeless choice for kitchen cabinets. Paired with a light countertop and backsplash, it can make a striking statement. Alternatively, consider using it on an island or lower cabinets paired with white or light-colored upper cabinets for a two-toned look.
The color can also beautifully complement wooden elements in a kitchen, making it a great choice for a rustic or farmhouse-style space. In a modern kitchen, contrast SW Evergreens with sleek metallic finishes for a chic, contemporary look.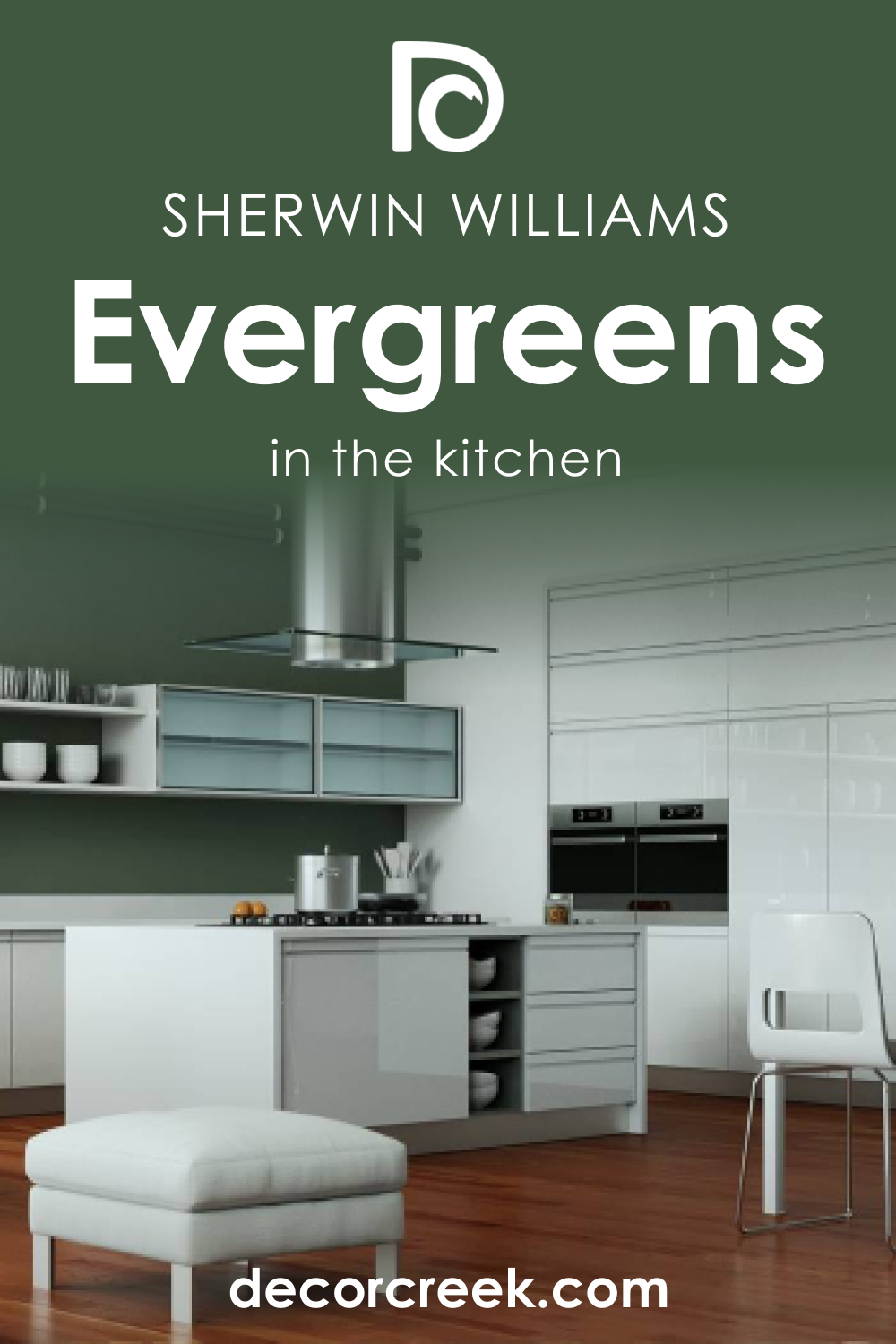 Evergreens SW 6447 For an Exterior
SW Evergreens can bring a classic, earthy charm to a home's exterior. It pairs well with stone or brick and can beautifully complement natural surroundings. Consider using it for trim or accents on a lighter house for a touch of elegance.
For a bolder look, painting the entire exterior in SW Evergreens can make a stunning statement. Pair it with white or cream trim to keep it from feeling too dark, or with rich wood tones for a rustic look.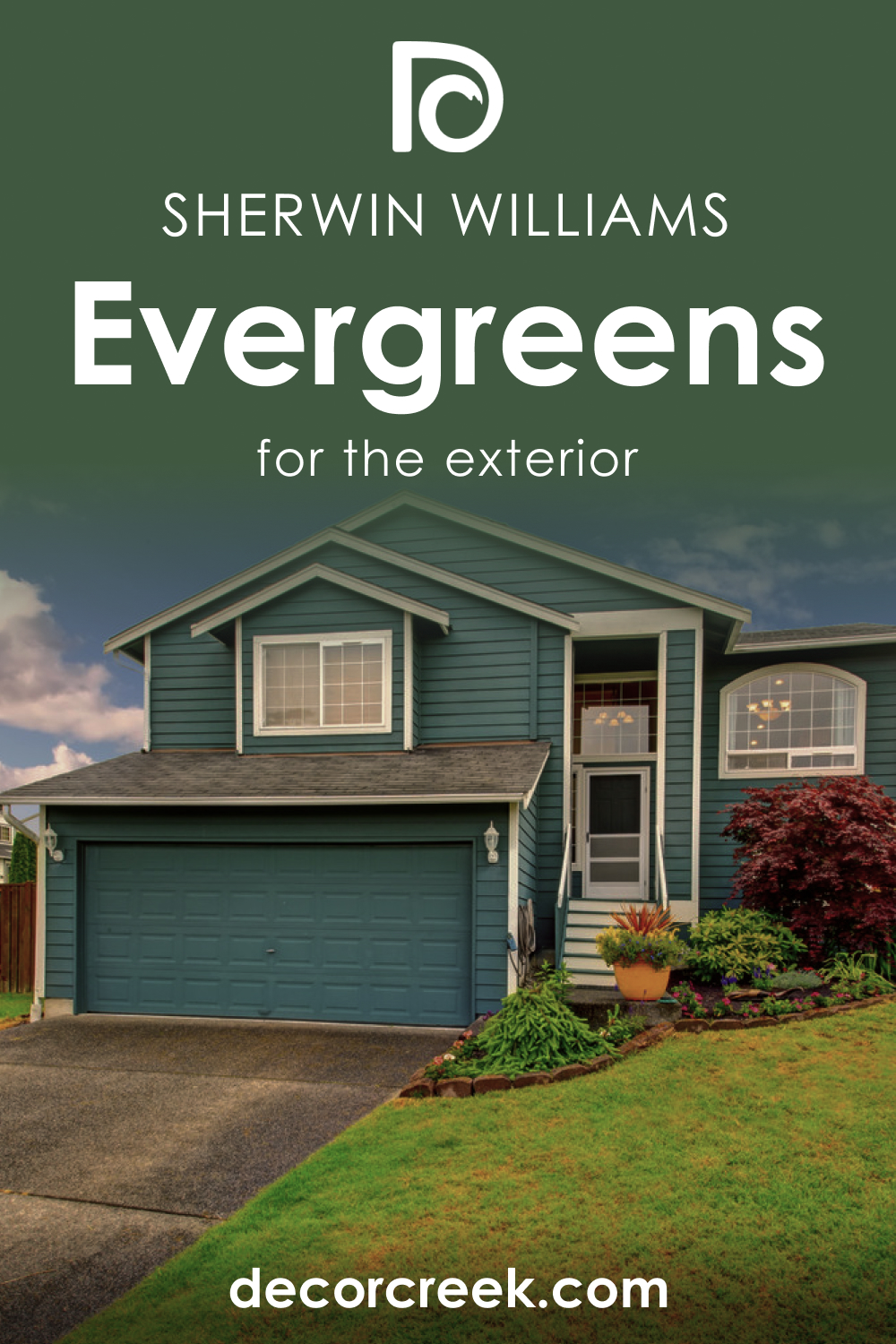 Comparing SW Evergreens With Other Colors
Here you can read how this beautiful and rich green color compares to other colors. This will help you better see this color's unique features and understand how LRVs and undertones work, making colors unique.
SW 6447 Evergreens vs Sherwin-Williams SW 6449 Topiary Tint
SW Topiary Tint is a lighter, more pastel shade of green. It's a calming, serene color that works well in bedrooms and bathrooms. Compared to the depth and richness of SW Evergreens, SW Topiary Tint feels more airy and light.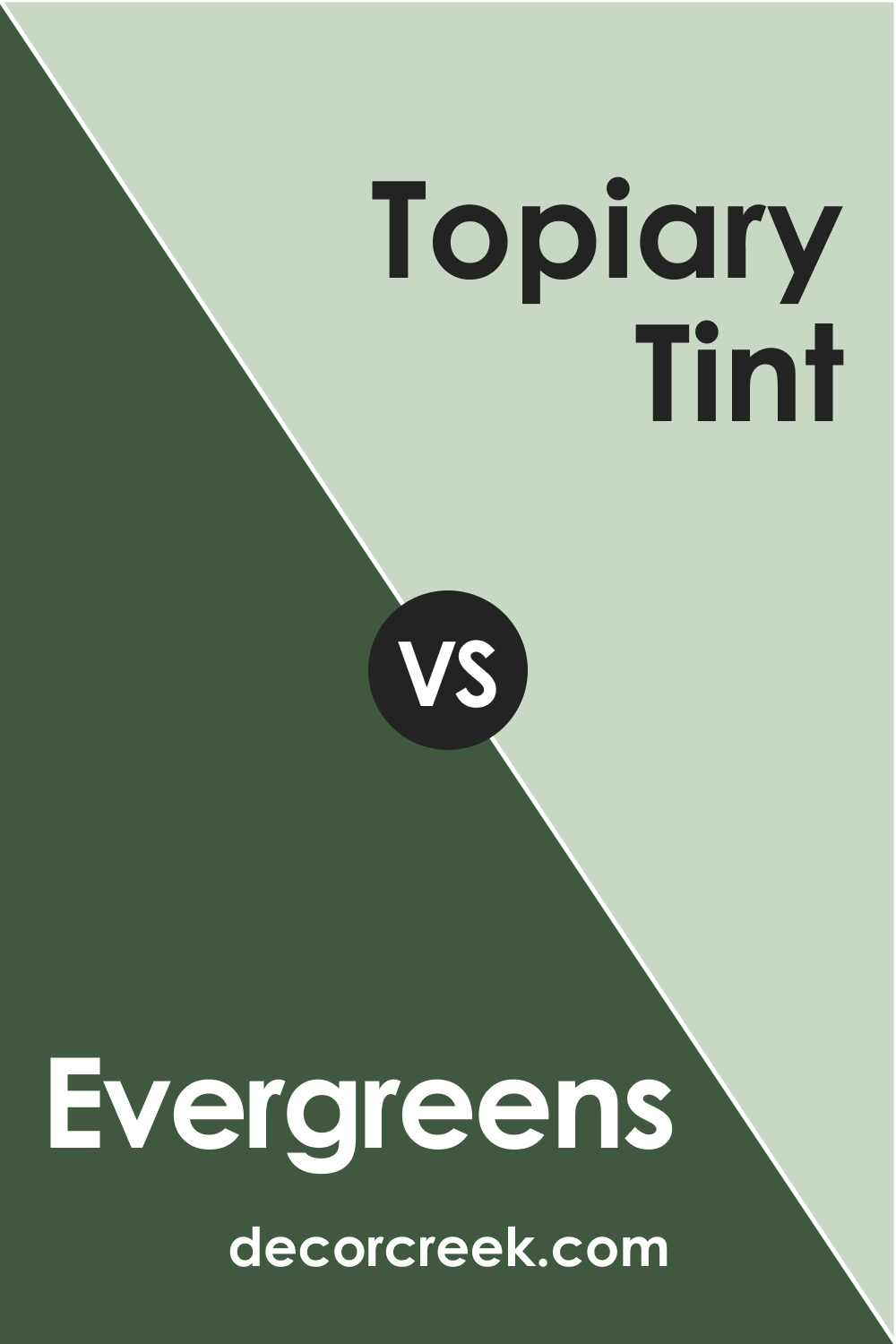 SW 6447 Evergreens vs Sherwin-Williams SW 6450 Easy Green
SW Easy Green is a mid-tone green that is warmer and less intense than SW Evergreens. It has a cheerful, inviting vibe that can brighten up any space. SW Evergreens, on the other hand, is more dramatic and sophisticated, making it a better choice for formal spaces or dramatic accents.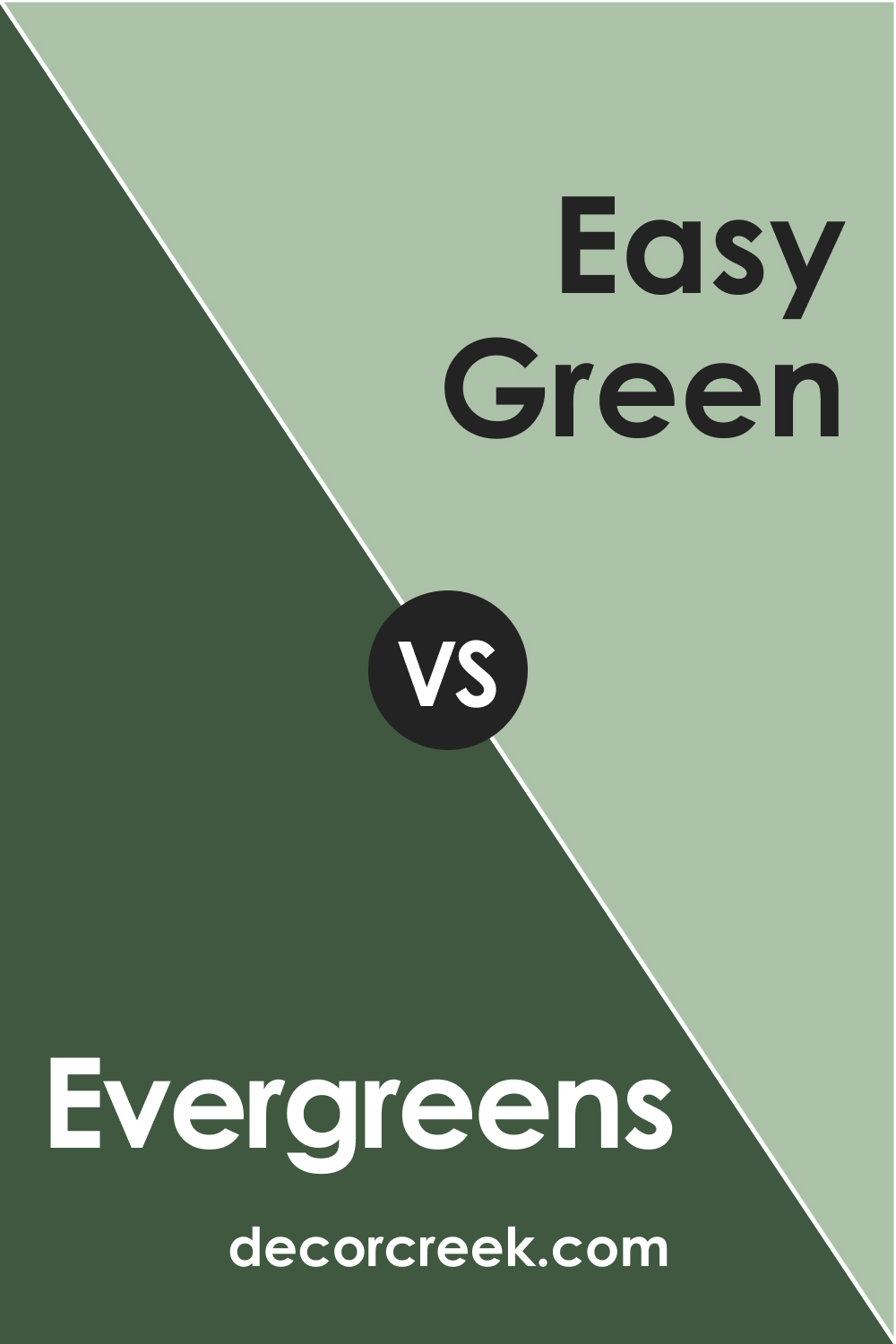 SW 6447 Evergreens vs Sherwin-Williams SW 6451 Nurture Green
SW Nurture Green is a soft, muted green with gray undertones. It's a versatile neutral that works well in a wide range of spaces. Compared to SW Evergreens, SW Nurture Green is less bold and more calming, making it an excellent choice for a relaxing bedroom or a tranquil bathroom.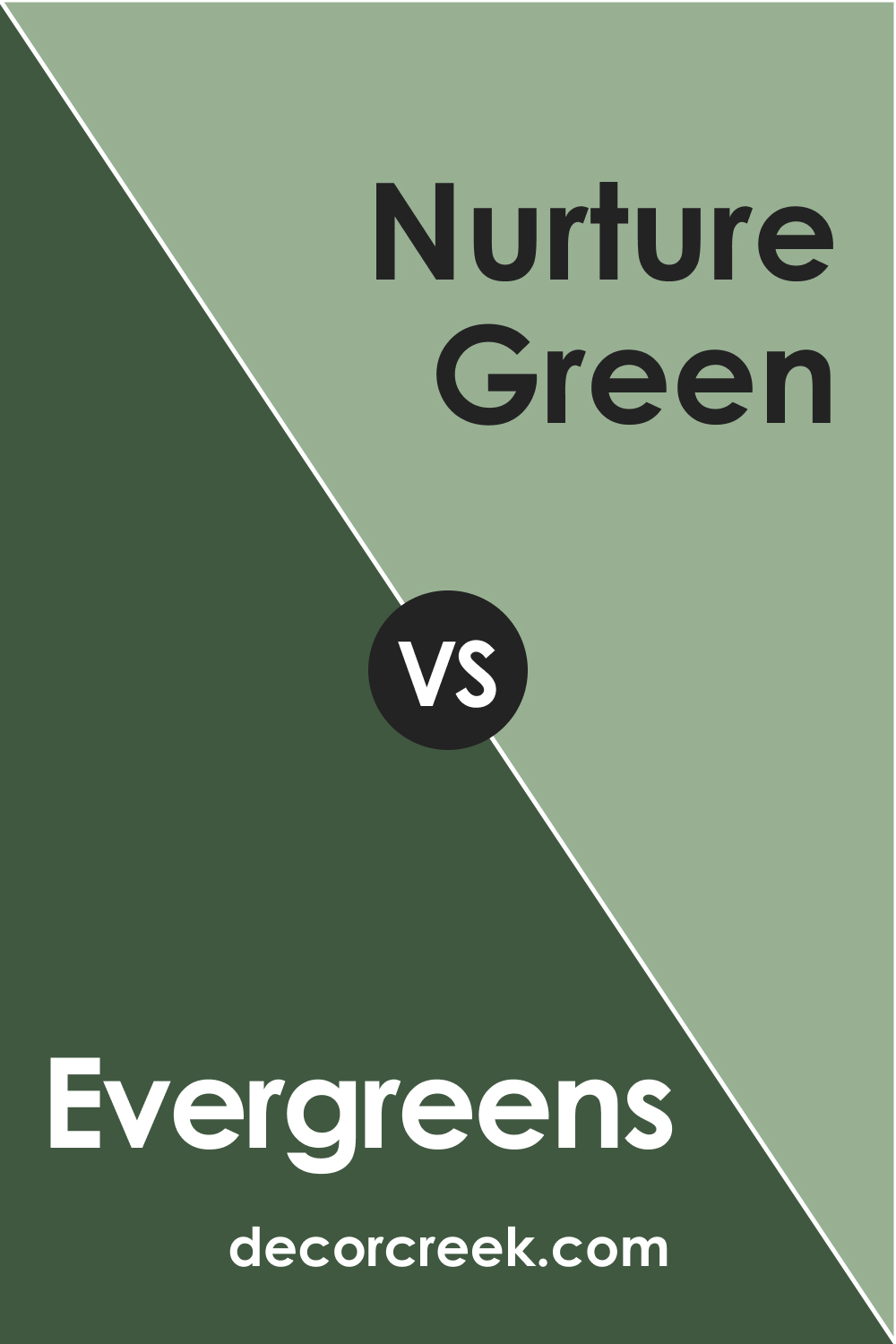 SW 6447 Evergreens vs Sherwin-Williams SW 6446 Arugula
SW Arugula is a darker green, almost bordering on black. It has a moody, dramatic quality that can make a strong statement in a room. SW Evergreens, while also a deep color, is less intense and has a more balanced, harmonious feel.
SW 6447 Evergreens vs Sherwin-Williams SW 6452 Inland
SW Inland is a green-gray color with a more subdued and earthy feel. It's a great neutral that can pair with a wide variety of colors. In contrast, SW Evergreens is a deeper, more vibrant color that can dominate a color scheme.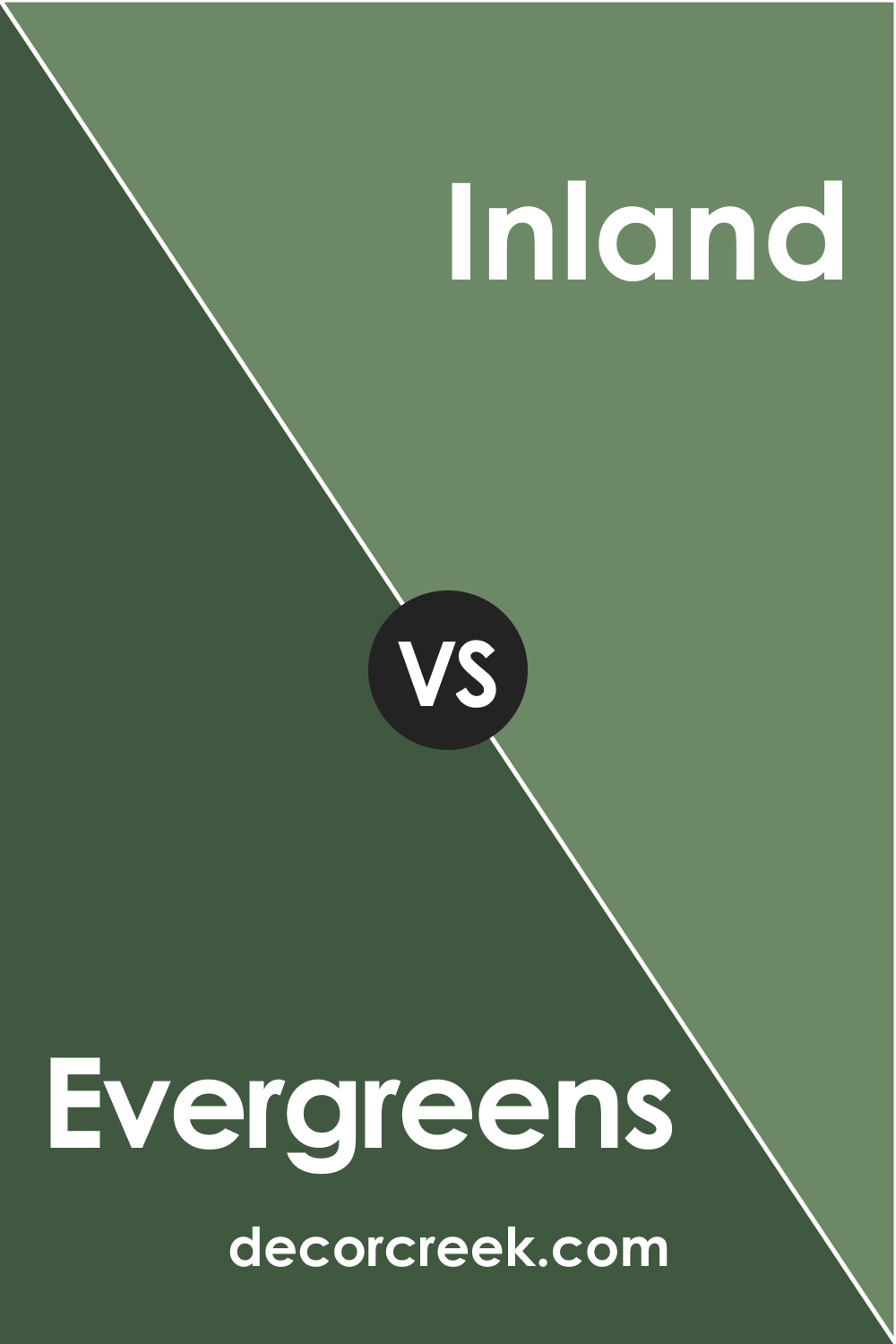 Conclusion
SW 6447 Evergreens is a rich, sophisticated shade that brings a touch of nature into your home. Its earthy undertones and deep intensity make it a versatile color that can add depth and character to a variety of spaces.
Whether you're using it as an accent or a primary color, SW Evergreens will surely bring a unique charm to your décor. Understanding its characteristics and how it compares to similar colors can help you use this beautiful shade to its full potential.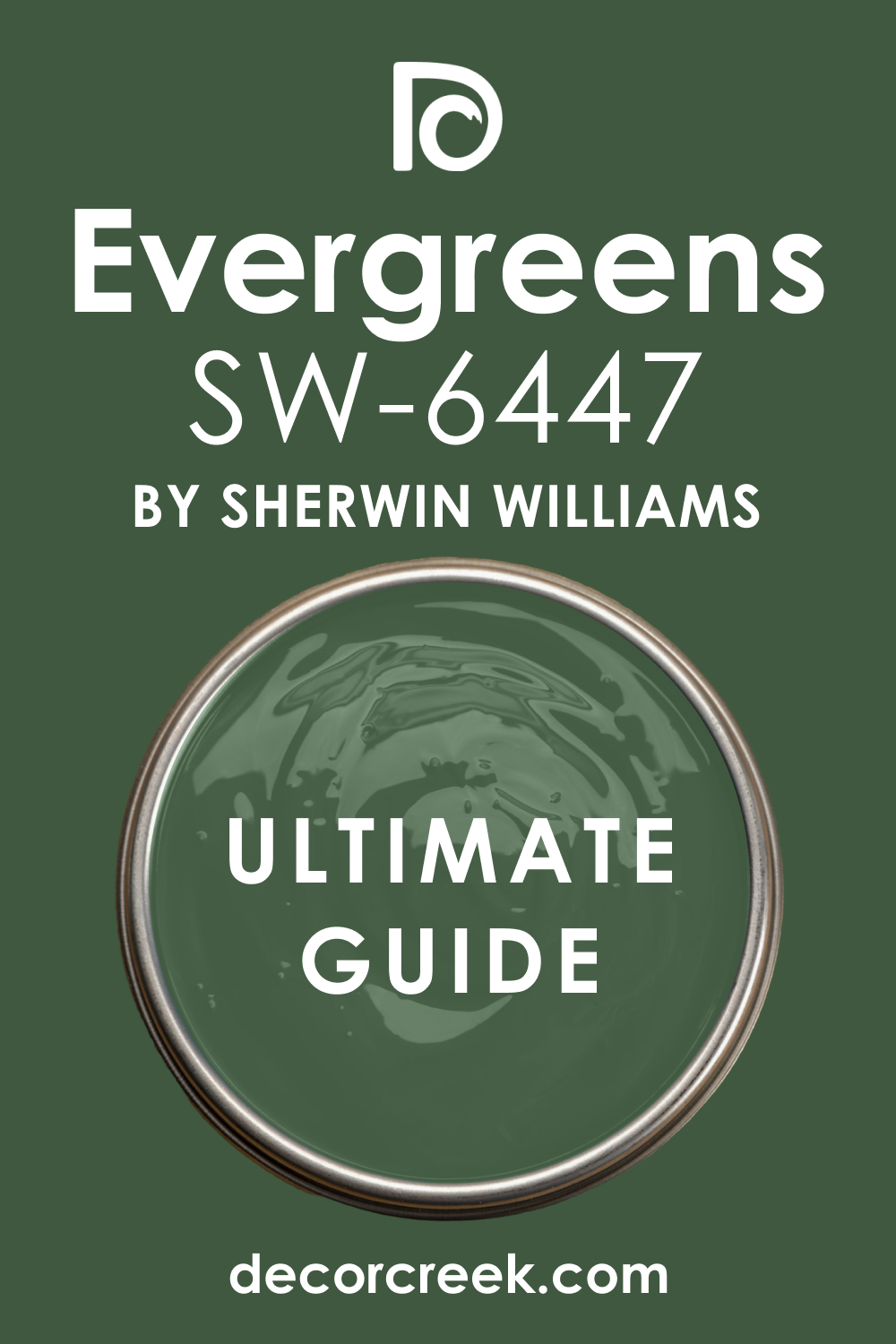 Frequently Asked Questions
⭐What is the color palette of SW Evergreens?
The SW Evergreens color palette consists of various shades of green. It includes deep, rich greens as well as lighter, more vibrant greens. The specific shades may vary depending on the particular product line or collection within the SW Evergreens range.
⭐Can SW Evergreens colors be used for both interior and exterior applications?
Yes, SW Evergreens colors are designed to be versatile and can be used for both interior and exterior applications. Whether you want to create a calming green ambiance in your living room or give your home's exterior a fresh, natural look, the SW Evergreens colors are suitable for a wide range of surfaces and environments.
⭐How do I choose the right SW Evergreens color for my project?
Choosing the right SW Evergreens color for your project depends on various factors such as the desired mood, lighting conditions, surrounding decor, and personal preference. It's recommended to obtain physical paint swatches or use digital color tools provided by Sherwin-Williams to visualize how the colors will appear in your space. Additionally, considering sample applications and consulting with design professionals can also help you make an informed decision.
⭐Are SW Evergreens colors compatible with different design styles?
Yes, SW Evergreens colors can be adapted to various design styles. Green is a versatile color that can complement a range of aesthetics, from traditional to contemporary and everything in between. The different shades of green within the SW Evergreens palette offer flexibility to suit different design preferences, whether you're going for a natural, earthy feel or a more vibrant, modern look.
⭐How do I maintain and care for surfaces painted with SW Evergreens colors?
Maintaining surfaces painted with SW Evergreens colors is similar to caring for any other painted surface. Regular cleaning with mild soap and water is usually sufficient for day-to-day maintenance. Avoid using harsh chemicals or abrasive cleaners that could damage the paint. In outdoor applications, periodic inspections and touch-ups may be required to address any fading or wear due to exposure to the elements. Sherwin-Williams provides specific care instructions and product recommendations that can help you maintain the integrity and appearance of surfaces painted with SW Evergreens colors.