Dark colors are often banned in our homes due to their depth and darkness. People mostly strive for bright and cheerful interiors or stick with balanced and cool-toned neutral palettes. As a result, darker colors often remain underrated.
But today, we want to fix this! We will tell you about a gorgeous dark blue called Gale Force by Sherwin-Williams.
You will discover this color's beauty by learning about its undertones, trim colors, and other details that can help you realize why SW Gale Force should have a chance in your home!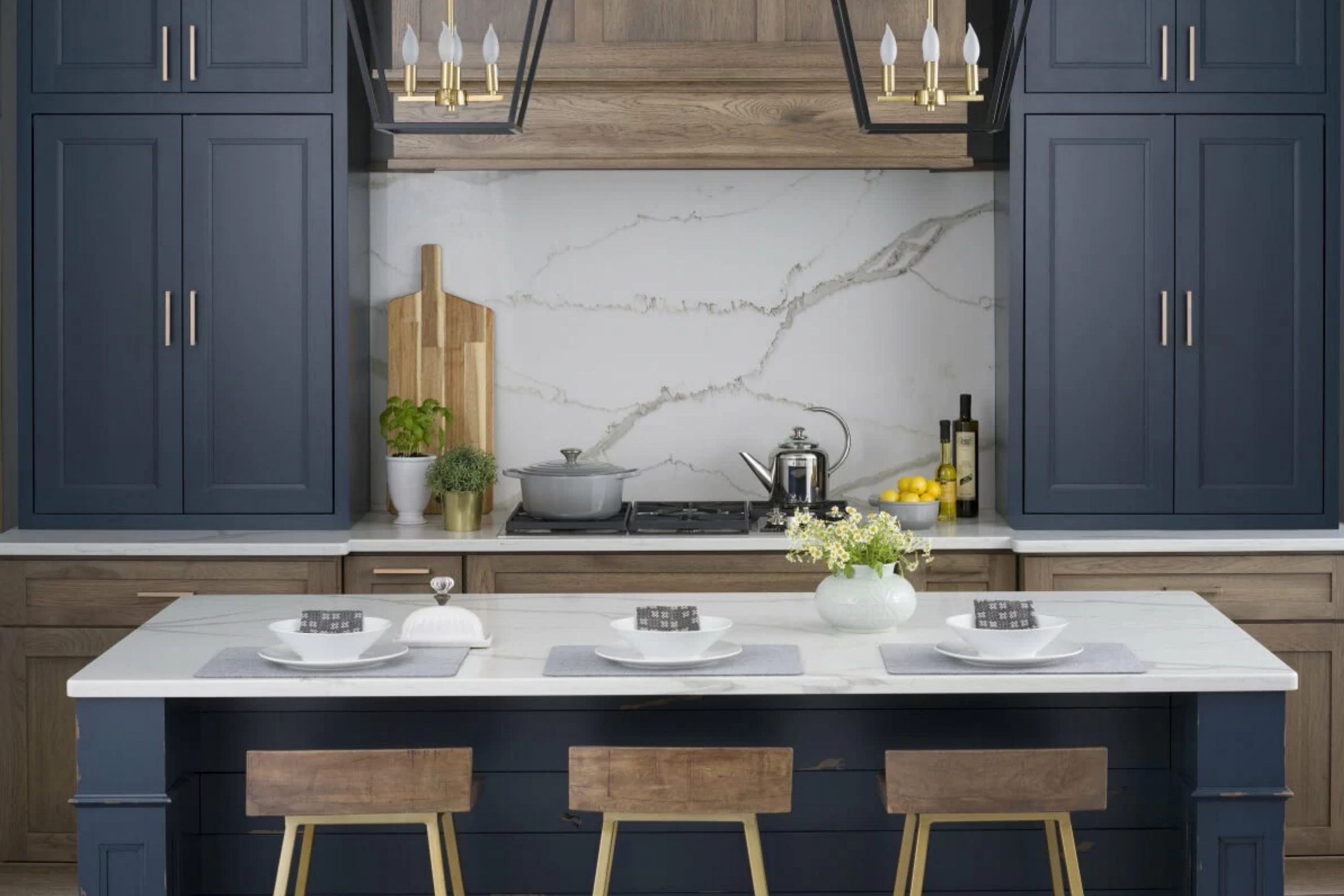 What Kind of Color Is Gale Force SW 7605?
SW Gale Force paint color  is not simple, and you can notice it by the very first glance at this gorgeous blue! As Encycolorpedia says, this is a moody and dark blue color that will wrap the room in its cool, reserved, and saturated hue.
However, it's not too dark, which is why SW Gale Force will never read black-like on your walls!
Typically, this blue reads quite dark unless it is hit by direct light on the wall (this can make it show more color). Due to such a dark nature, we recommend you pair it with a warm taupe or with a cool white.
In the first case, taupe will help you soften the dark power of the blue, and white will help you make this deep color stand out instead.
Is it a Warm or Cool Color?
SW Gale Force is absolutely cool-toned! However, this color doesn't read cold or crispy on the walls. In most cases, it will not make a room feel chilly or unwelcoming cold.
Nevertheless, we recommend you use warmer colors like taupe to add some coziness and a homey vibe to the space where this rich blue is used on the walls!
Lighter color accents on curtains, carpets, and cushions are also welcomed if you strive for a less obscure feel.
Gale Force SW 7605 Paint Color Undertones
Most colors have visible undertones that can come out in different types of light. This is why it is essential to know what undertones your wall color has to be able to tell in advance how it can read in the room.
SW Gale Force is not an exception. This noble and deep blue has green and gray undertones. In most cases, they are not clearly seen, but in certain lighting conditions, this blue may read noticeably greener or grayer!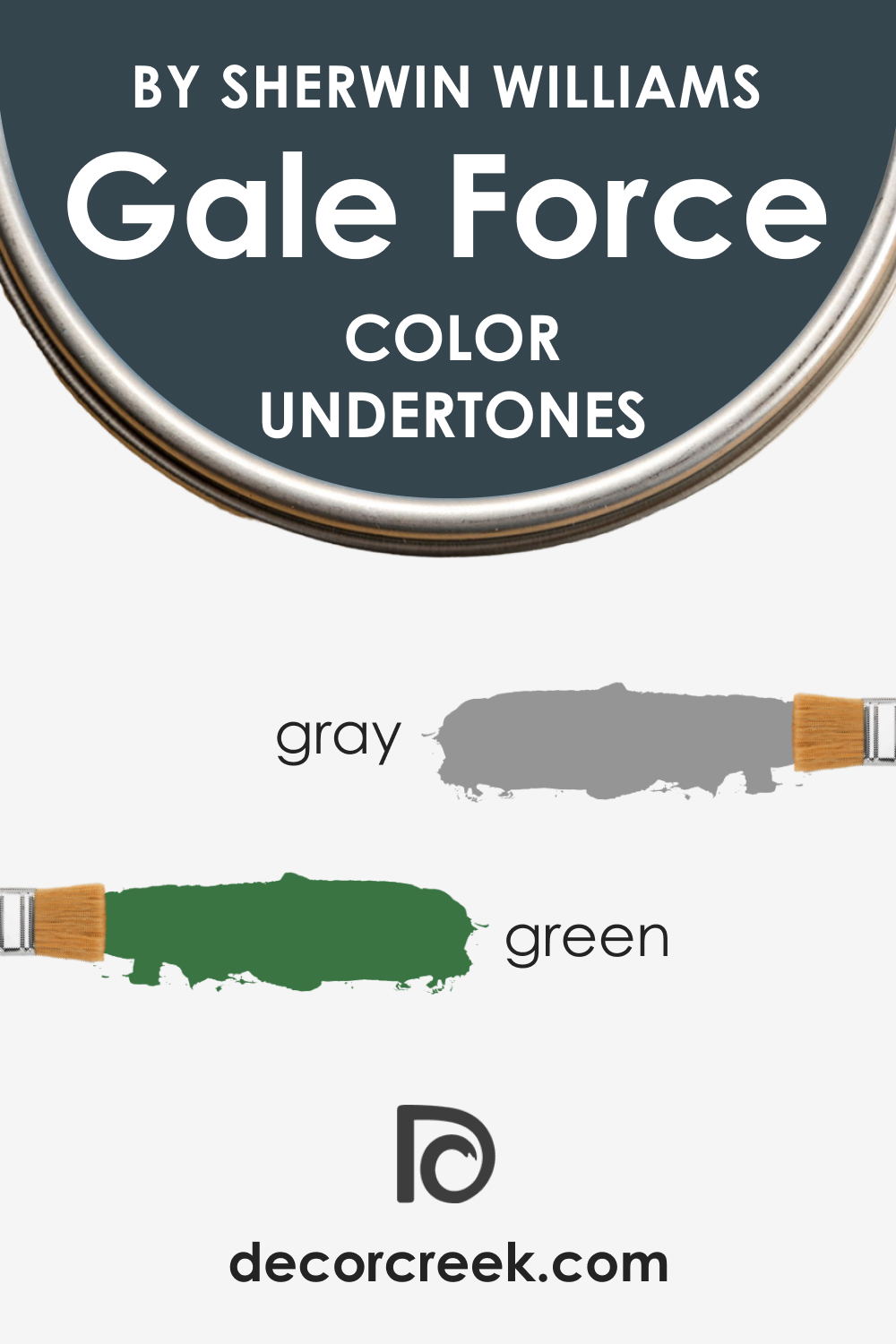 Coordinating Colors to Use With SW Gale Force
Creating color palettes can be a fun task to do, but for most of us, this is more like a challenge due to the lack of knowledge in color theory! Indeed, trying to pick up the colors that work with the wall color and match it properly is not an easy thing to do.
This is why it's always a good idea to have a few color options at hand in advance. For SW Gale Force, you might want to check out the following colors for different palettes.
For the analogous color scheme, try these paint colors:
SW 7625 Mount Etna
SW 7620 Seaworthy
SW 2810 Billiard Green
If you prefer monochromatic interior designs, you might want to use the following coordinating colors instead:
SW 9058 Secret Cove
SW 9139 Debonair
SW 6230 Rainstorm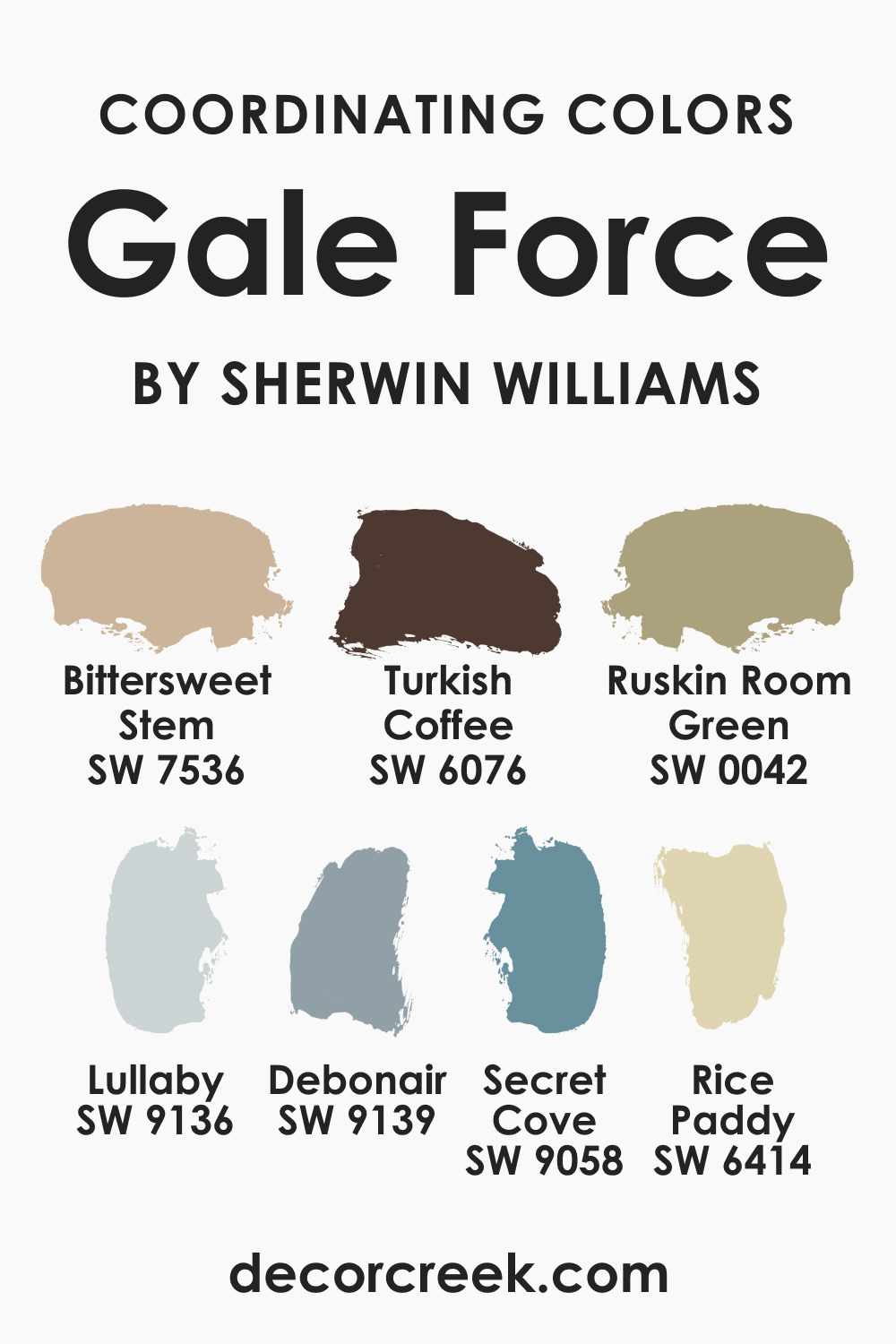 Finally, if you want to add more color to your home and make the interior feel vivid and appealing, we recommend you consider these colors:
SW 0001 Mulberry Silk
SW 0042 Ruskin Room Green
SW 6414 Rice Paddy
SW 7536 Bittersweet Stem
SW 9136 Lullaby
SW 6076 Turkish Coffee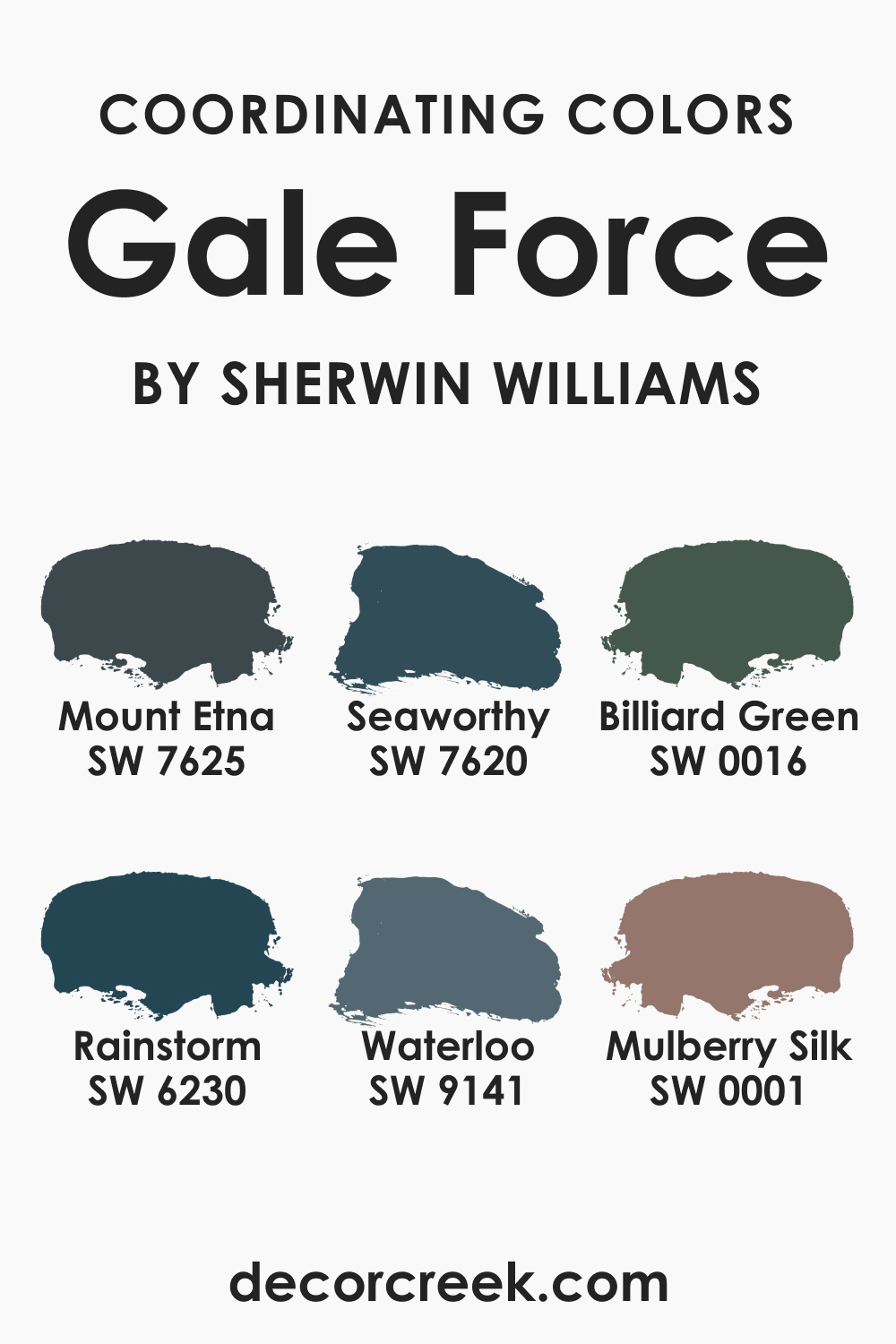 LRV of SW Gale Force Paint Color
LRV (light reflectance value) is the measurement that shows how much light colors can reflect from the wall. The higher the LRV value from zero, the lighter the color, and vice versa. Respectively, on the LRV scale, zero stands for black, and 100 stands for white.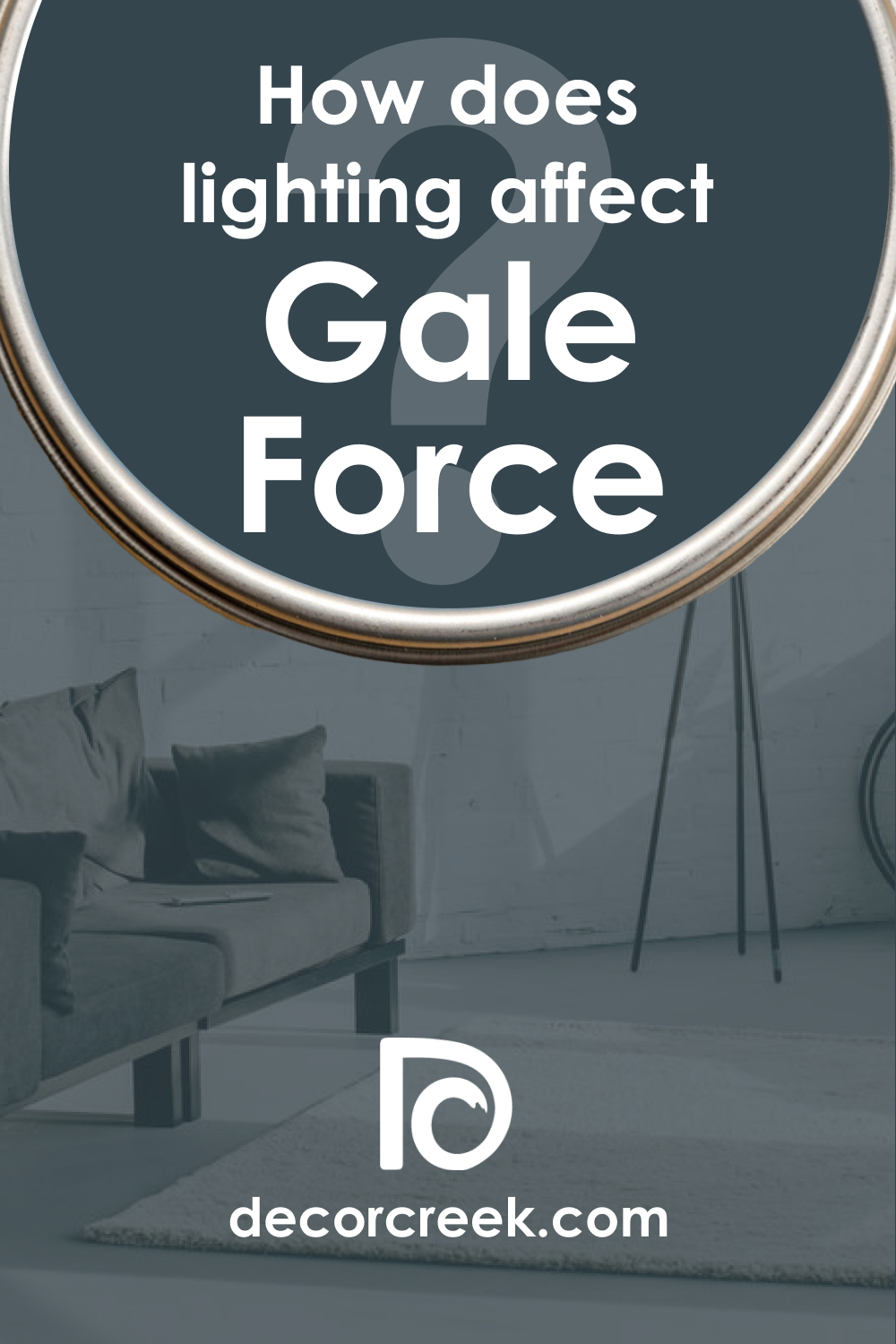 The LRV value of SW Gale Force is 8, which places this color on the darker side of the light reflectivity scale. Also, such a low LRV means that this color is not able to reflect much light.
Simply speaking, you should avoid using it in enclosed, small, and poorly-lit rooms since it will only make them seem smaller and cave-like!
Also, consider how well the room is lit if you want to paint its walls in this dark blue since SW Gale Force may read differently in a distinct light.
For example, in cold northern light or in a room with a cool-toned palette, SW Gale Force may show its gray hue much more. On the other hand, when surrounded by warm-toned colors (or in warm lighting conditions), this dark blue will read noticeably greener.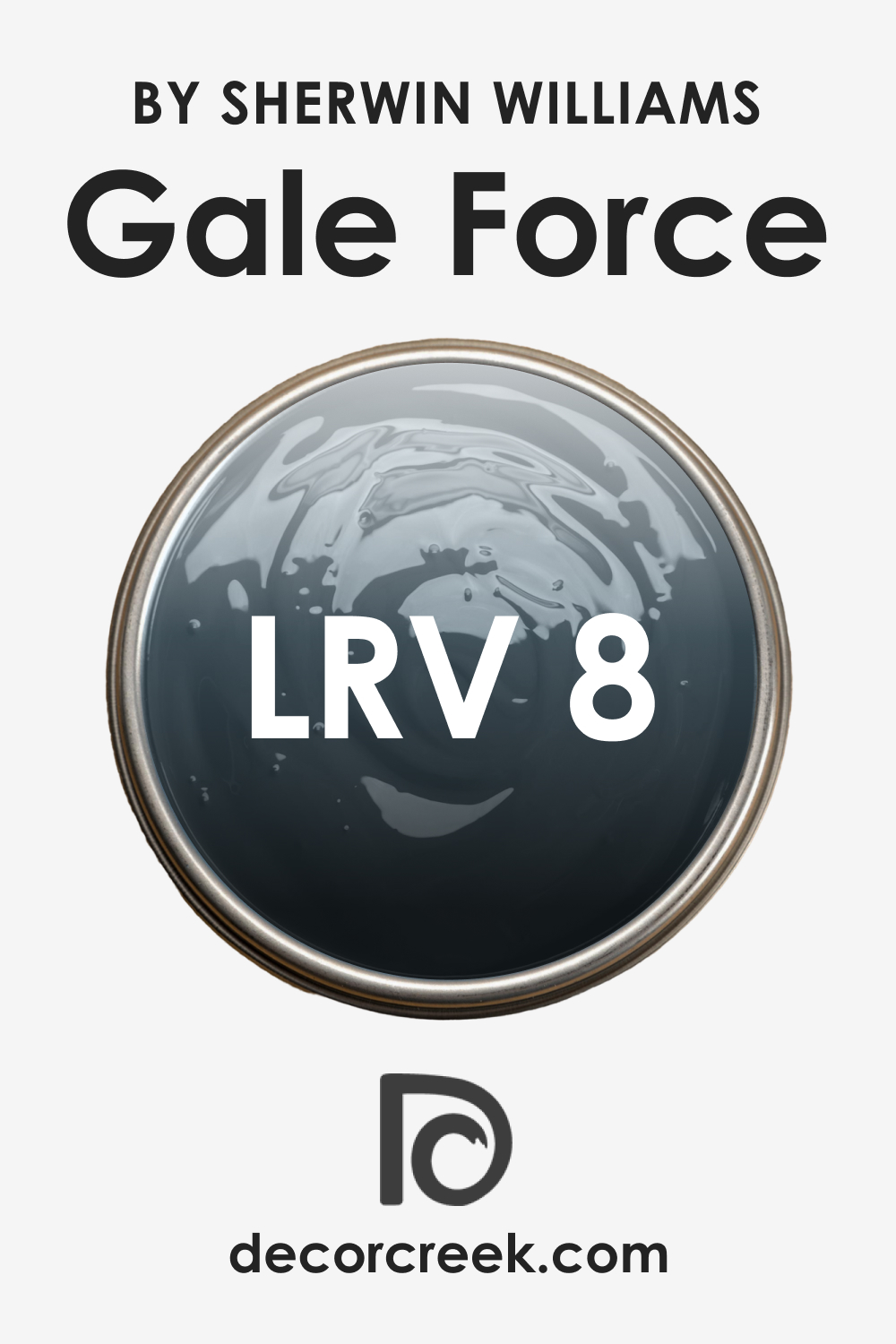 LRV – what does it mean? Read This Before Finding Your Perfect Paint Color
What Is the Best Trim Color For SW Gale Force?
If you don't know what trim color to choose, stick with white, and you won't make a mistake! For SW Gale Force, this rule of thumb works as well. Since this blue is pretty dark and moody, using white trim can make the room feel brighter. Besides, white accents will highlight the depth of SW Gale Force, too.
As for the white colors to choose from, we recommend you try BM White Wisp 2137-70 to achieve a softer contrast. BM White Wisp will make SW Gale Force read brighter and, at the same time, help this blue reveal its depth and true color.
You may also want to use SW 7006 Extra White or SW 7757 High Reflective White for a crisper look.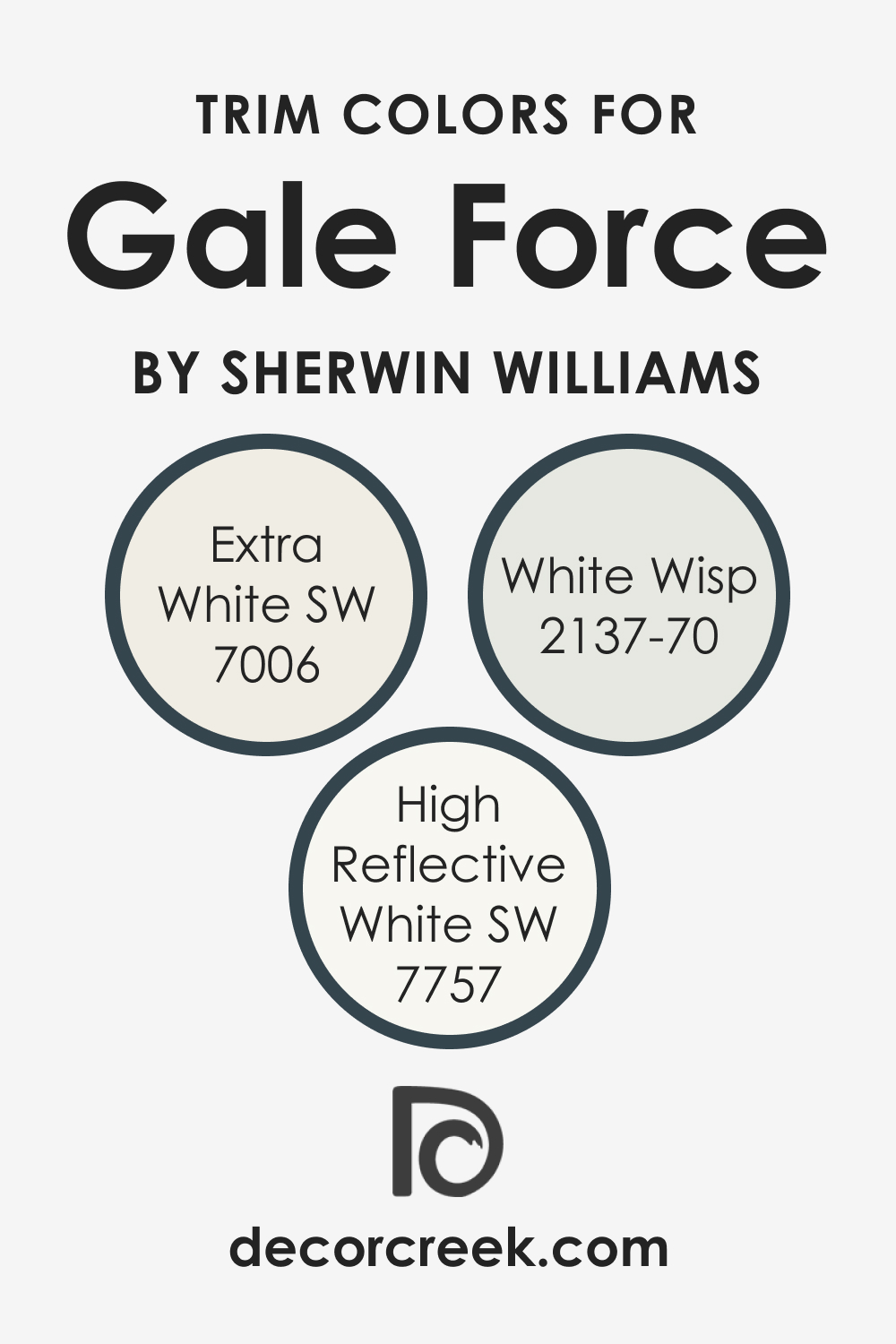 Colors Similar to SW Gale Force
If you need a color that reads the same or nearly the same as SW Gale Force but has slightly different LRV or undertones, it can be challenging for you to pick up the best alternative. This is why check out this list of similar colors we have prepared for you below:
BM Gentleman's Gray 2062-20
Behr Night Shade
PPG Midnight Hour
SW 7615 Sea Serpent
Farrow&Ball Hague Blue
Of course, you should realize that none of these colors is an ideal match. They will still differ a bit due to the distinct undertones and varying LRVs.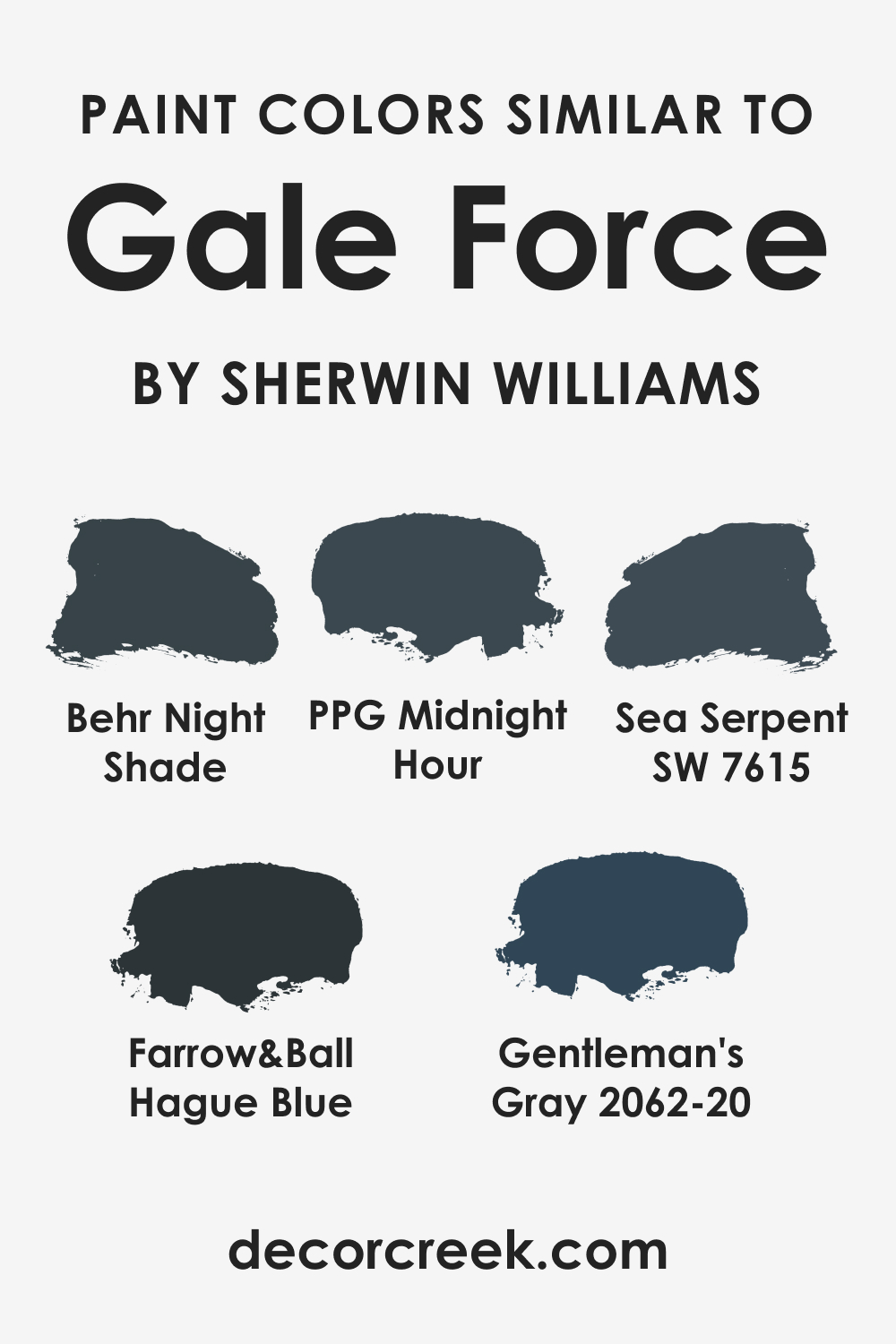 Colors That Go With SW Gale Force
People often believe that such dark colors are hard to pair with others, and to a certain point, it's true. The only color that comes to one's mind is white when you try to think what can work with SW Gale Force. However, this dark blue can pair with a few other colors successfully!
SW 7527 Nantucket Dune
SW 2855 Sycamore Tan
SW 6342 Spicy Hue
SW 6649 Tango
SW 6258 Tricorn Black
SW 2801 Rookwood Dark Red
SW 6202 Cast Iron
SW 7074 Software
SW 7076 Cyberspace
SW 6117 Smokey Topaz
Comparing SW Gale Force With Other Colors
To help you see the unique beauty of SW Gale Force better, we compared it to several other colors that come from the same color family. This way, you will get an idea of how distinct LRVs and undertones work, making even related colors look different.
Gale Force vs Smoky Blue
SW Smokey Blue is lighter than SW Gale Force, and also, it reads bluer, although this color is also pretty deep in tone. However, these two work pretty well together due to the cool tone and grayish undertones they share.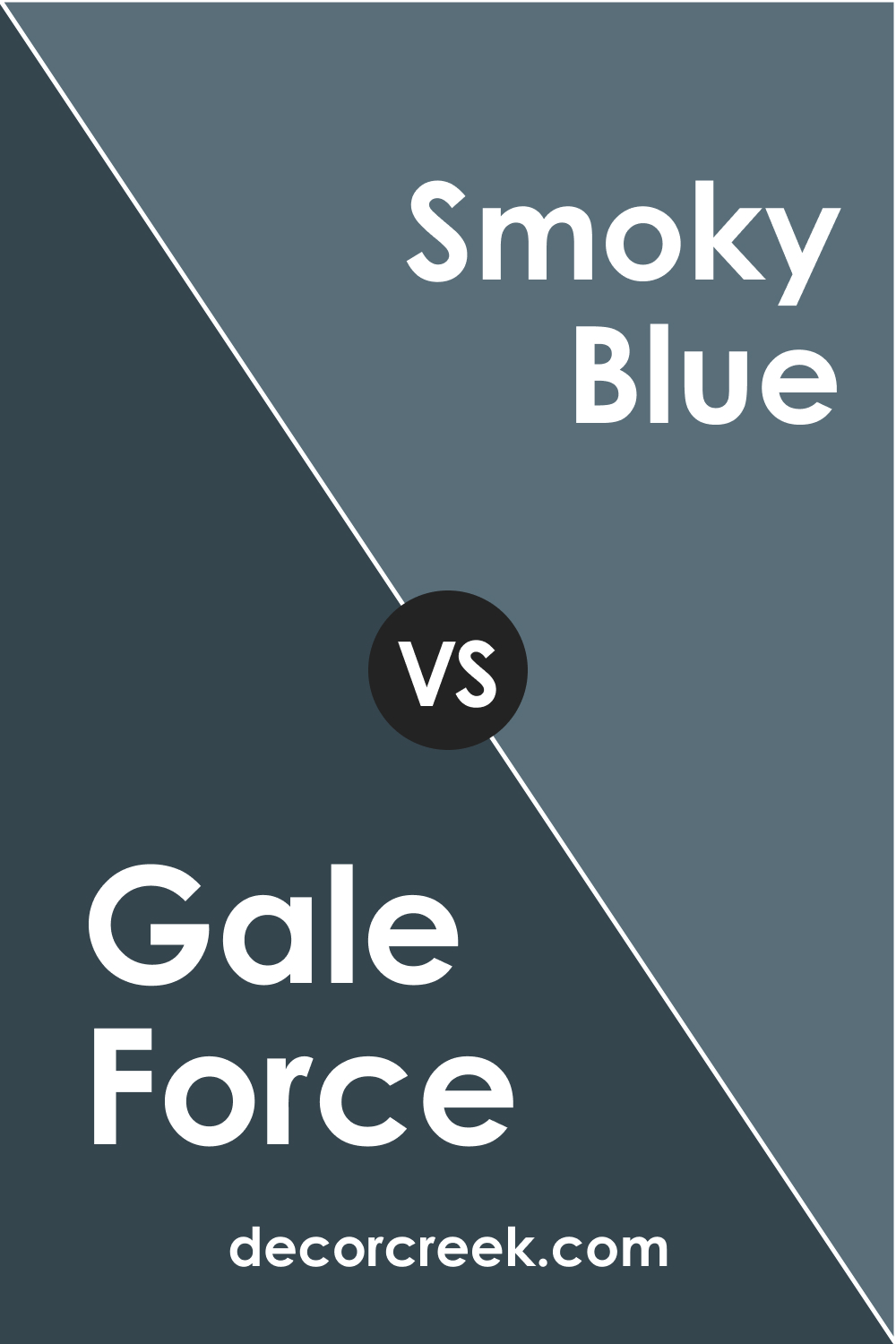 Gale Force vs Old Navy
SW Old Navy is darker than SW Gale Force. Also, SW Old Navy has a more prominent navy blue undertone, which makes it different from SW Gale Force with its green-gray base. Compared to SW Old Navy, its counterpart shows its greenish hue way more.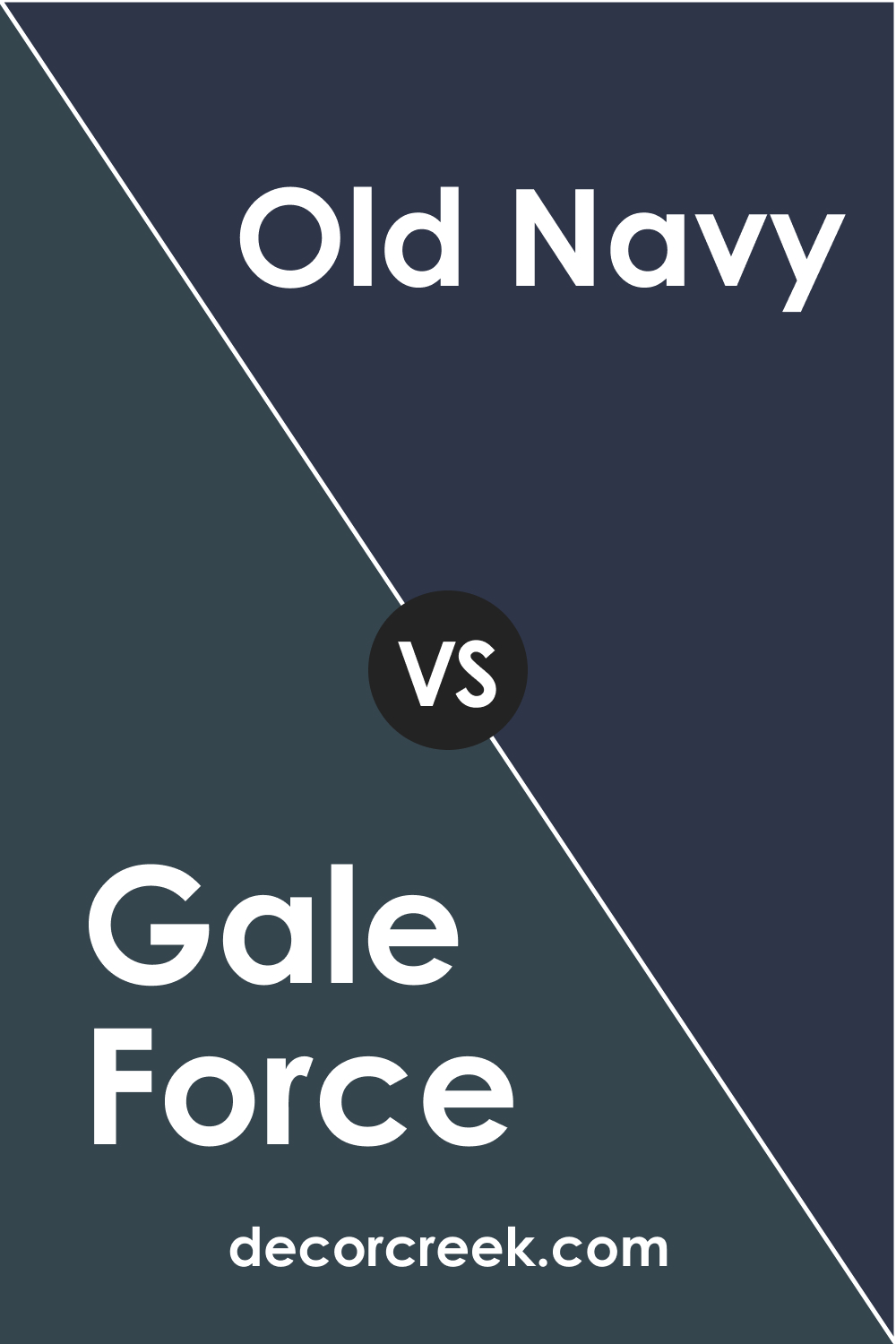 Gale Force vs Moonmist
SW Moonmist has an LRV of 67 and cool gray and yellow undertones. With such a high LRV, it is much lighter than SW Gale Force. Also, despite of gray undertones these colors share, SW Moonmist reads clearly bluer than its moody counterpart.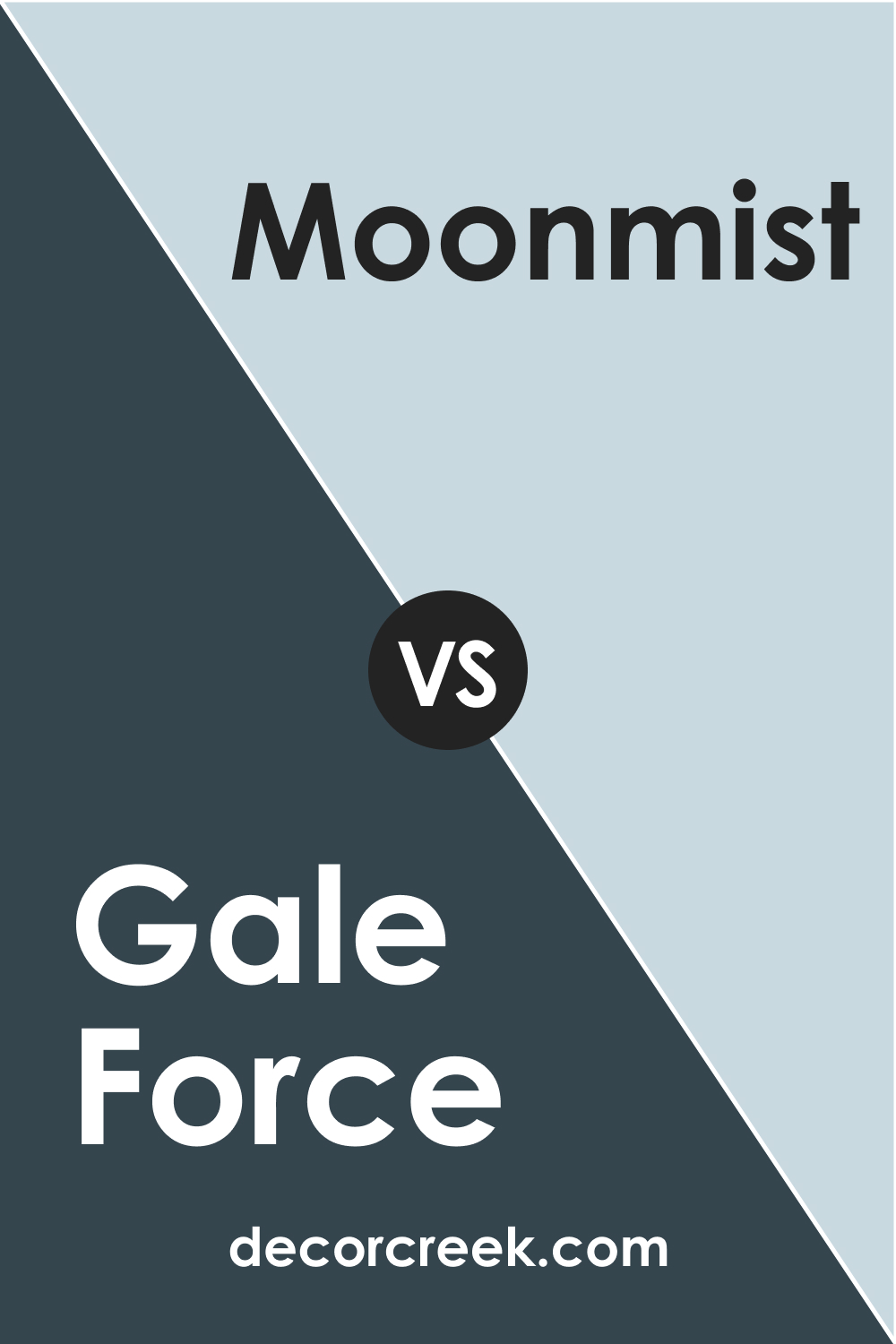 Gale Force vs Mild Blue
SW Mild Blue is also much lighter than SW Gale Force. Besides, SW Mild Blue has a purple undertone, which makes it different from SW Gale Force with gray and green undertones. However, although being both blue, these two colors don't work well together.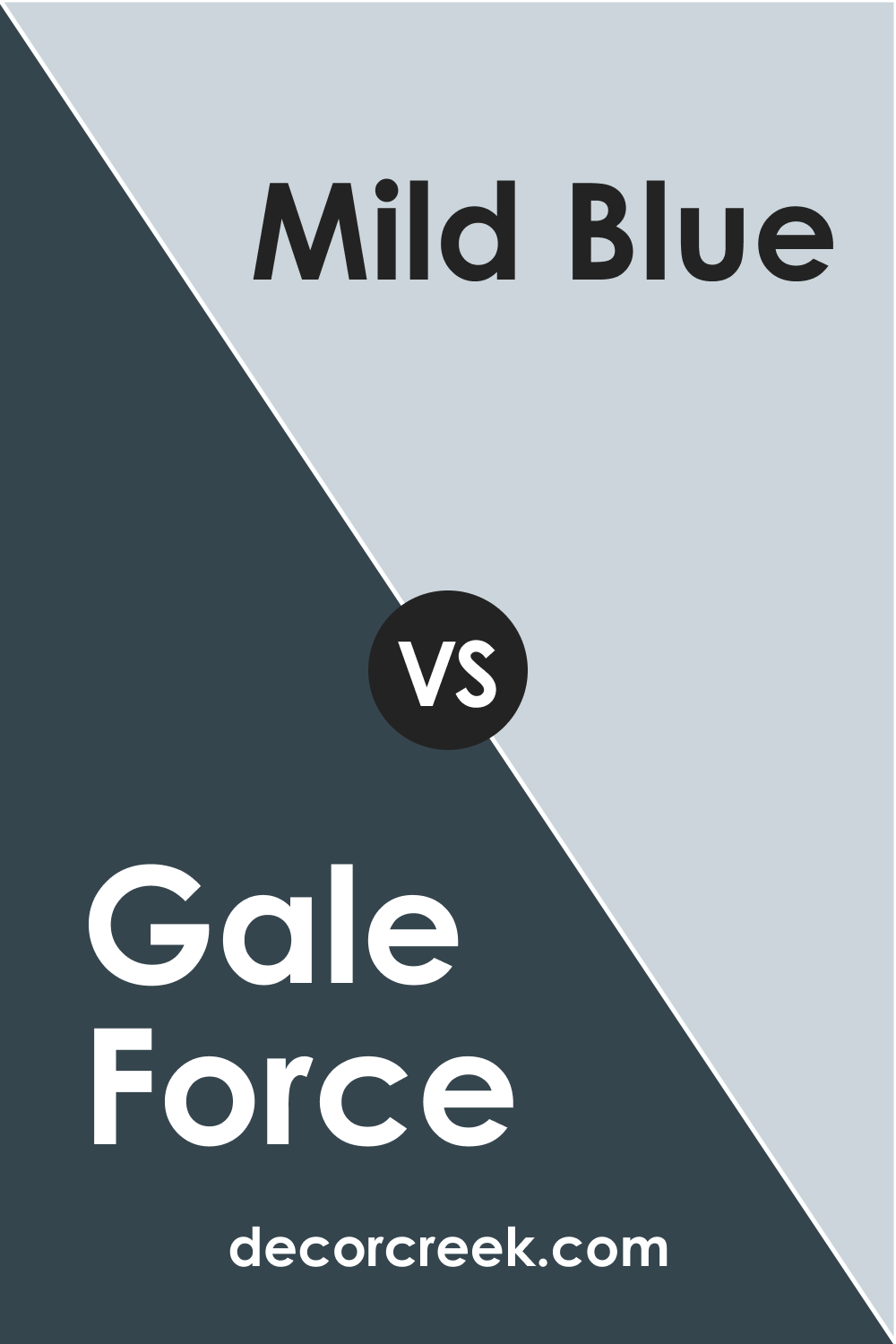 Gale Force vs Poolhouse
SW Poolhouse is a cool blue with slate undertones and an LRV of 29. Compared to it, SW Gale Force looks much darker. Nevertheless, these two might work pretty well if you add white to their duo.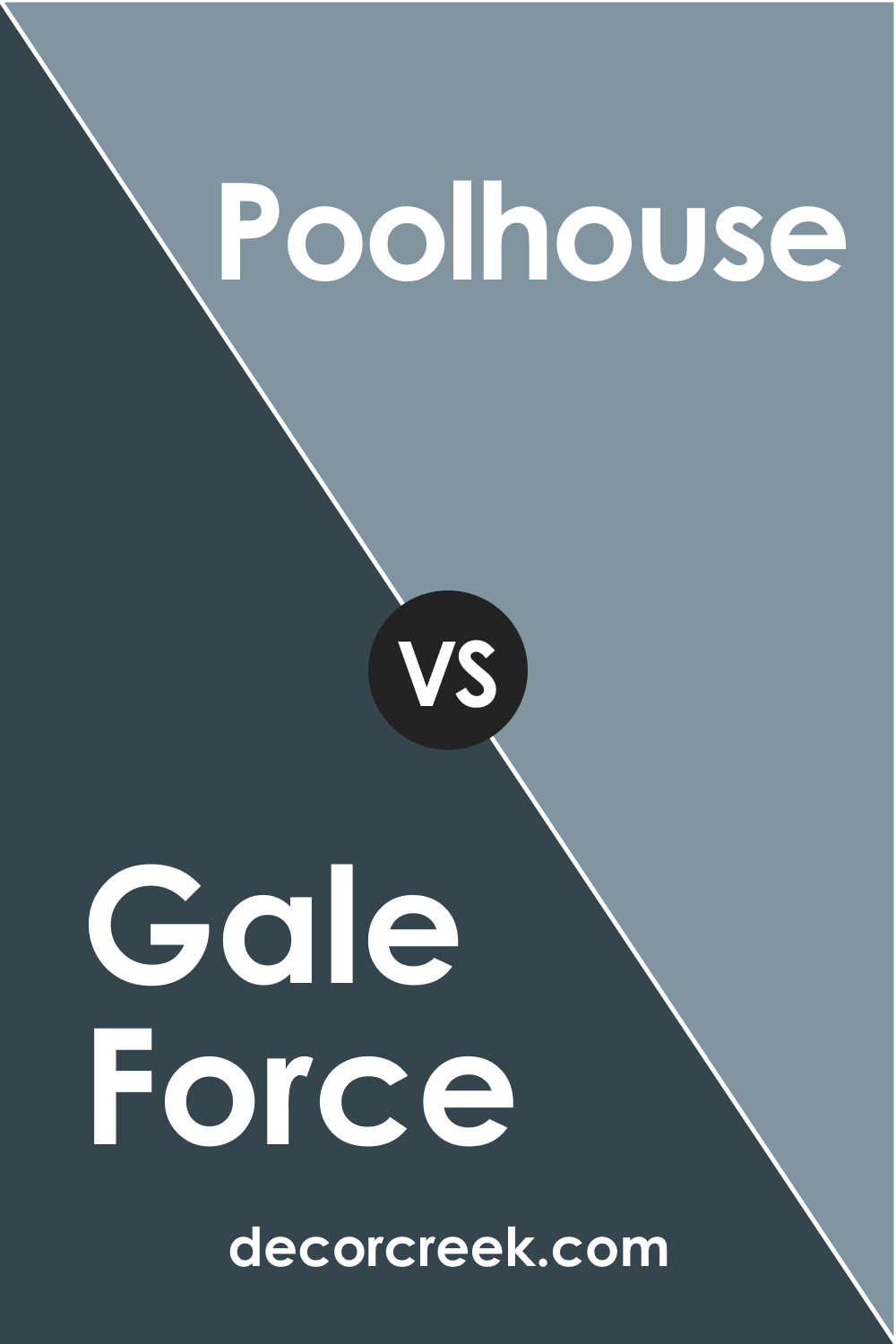 Gale Force vs Naval
SW Naval, with its gray undertones and an LRV of almost 5, is even darker than SW Gale Force, whose LRV is 8. However, compared to SW Gale Force, SW Naval reads bluer, making the green hue of its counterpart become more visible.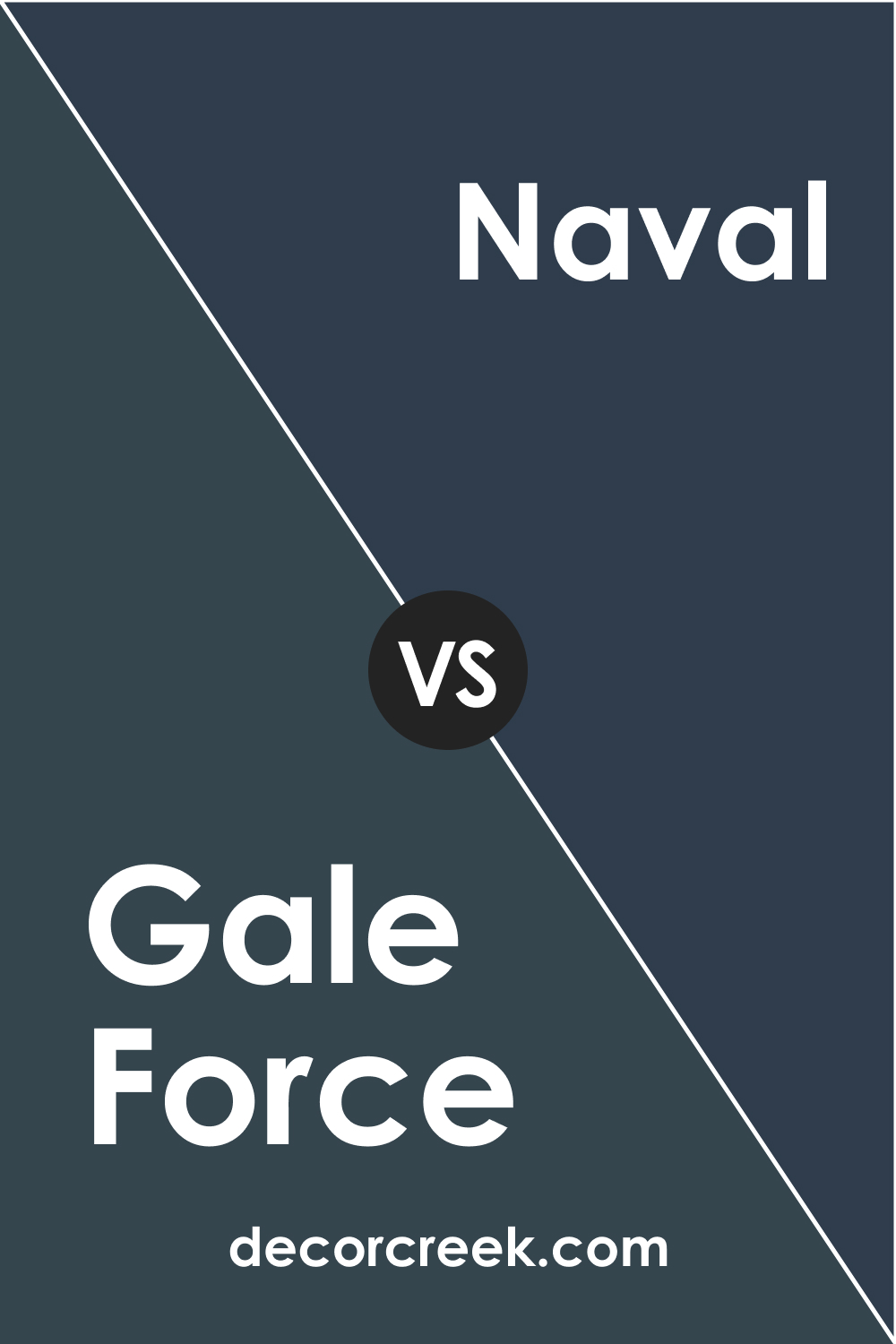 Where to Use SW Gale Force Paint Color In Your Home?
Although this blue is dark enough, you can still find a lot of places in your home where SW Gale Force will make a statement! Below, we describe several rooms where this dark blue may work incredibly well.
SW Gale Force in the Living Room
This blue might not be an ideal color to paint all the walls, but as an accent wall color, it can definitely make a statement and add character to the space!
Pair it with white trim and use a few lighter taupe or white accents on the curtains, carpets, or cushions, and your living room will look brighter, helping SW Gale Force reveal its true color.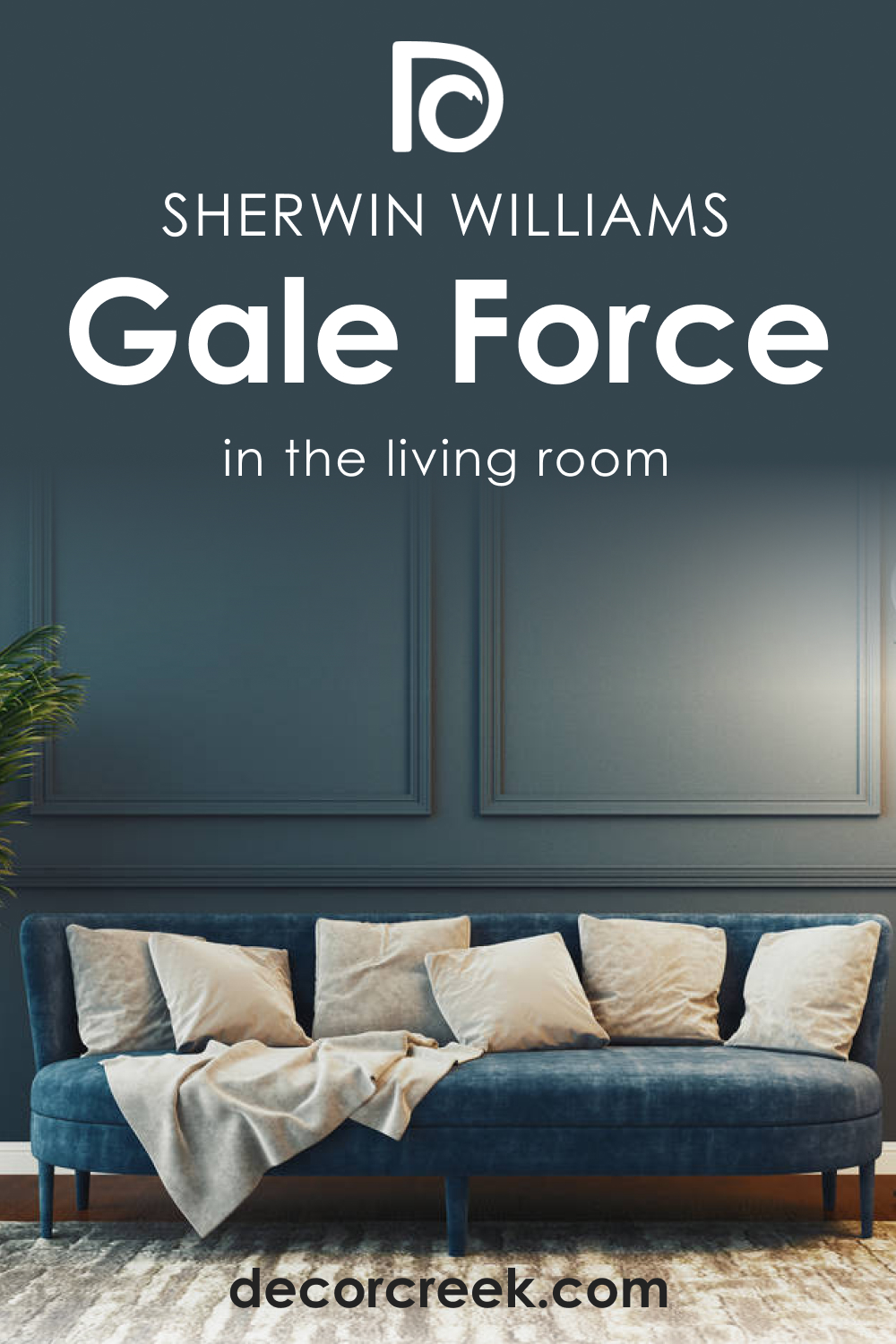 SW Gale Force in a Bedroom
In bedrooms, this blue works best as an accent color. We recommend you use it with a lot of white and other lighter colors to make the room feel airy and cozy. Also, don't hesitate to add colorful accents if you want to make your bedroom feel lively!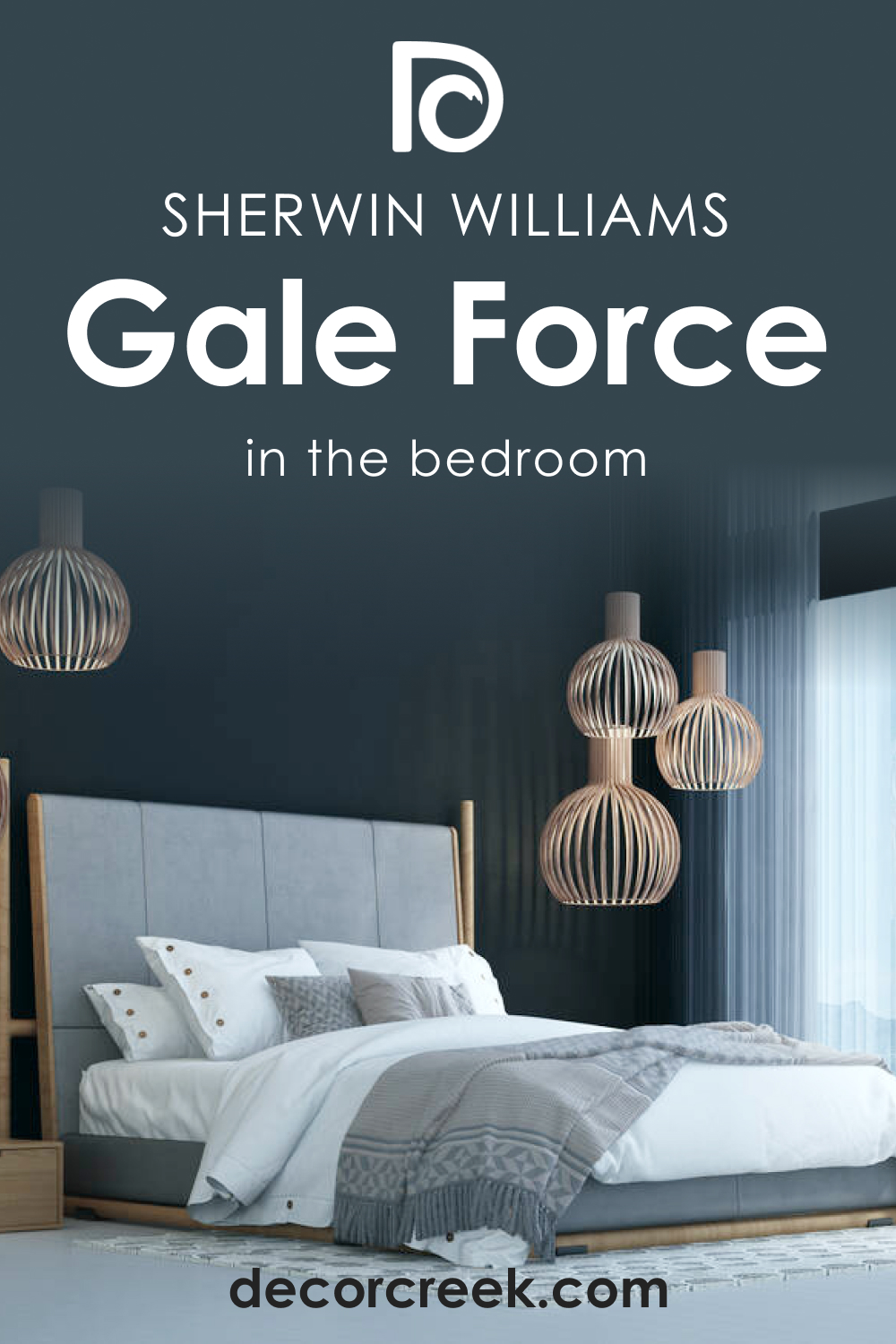 SW Gale Force in the Bathroom
In bathrooms, you'd better use this dark blue on smaller surfaces only (e.g., it will work great on the vanity sink or drawers). The walls are best to be left white. This way, you will make the space seem larger and airier and create a few attractive accents with the help of SW Gale Force!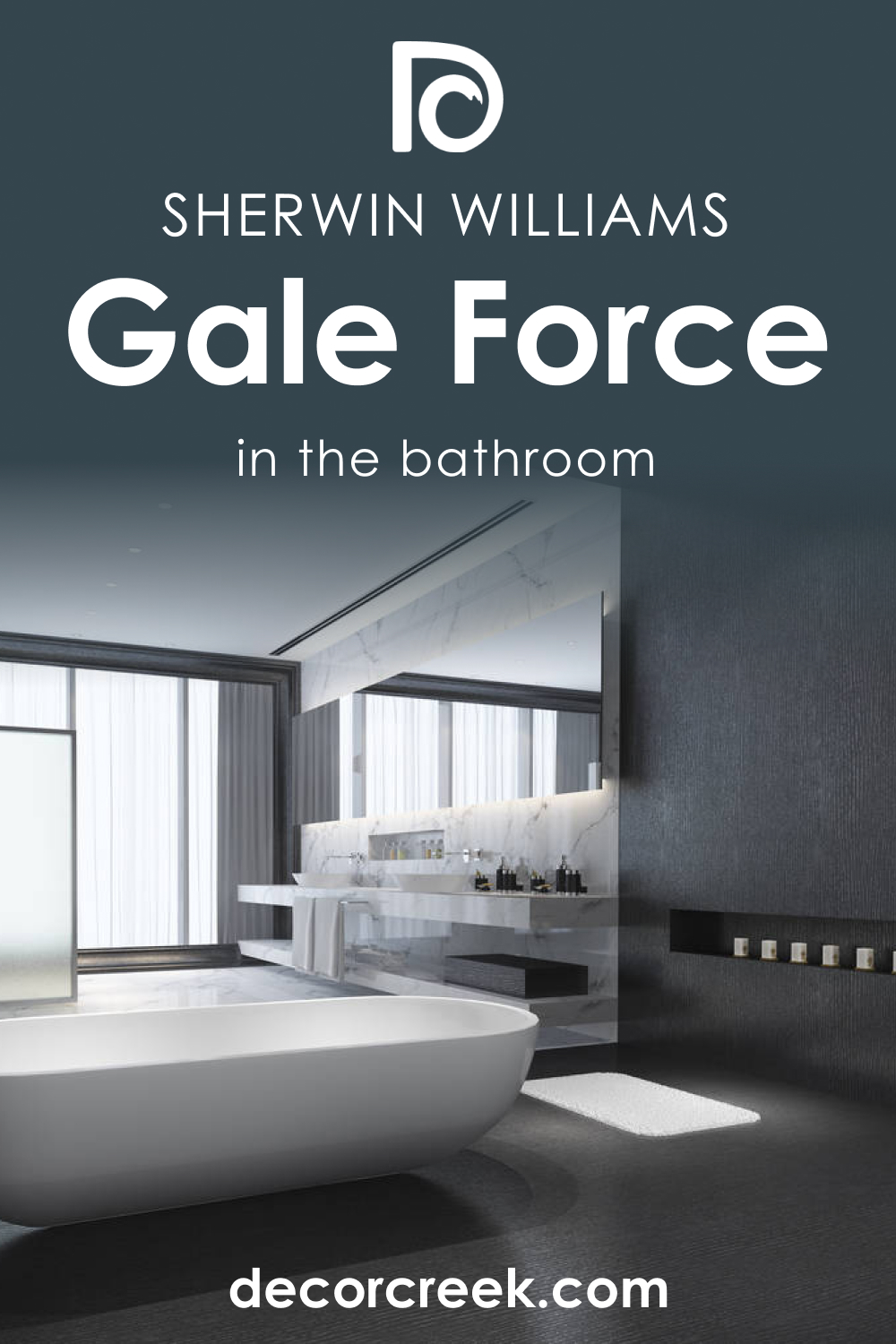 SW Gale Force and Kitchen
Paint your kitchen island or upper/lower cabinets with SW Gale Force and leave the walls white. This will make a statement and give the space a feel of freshness. Pair SW Gale Force with brass or gold pull handlers and hangers, and don't hesitate to use it along with the tile backsplash!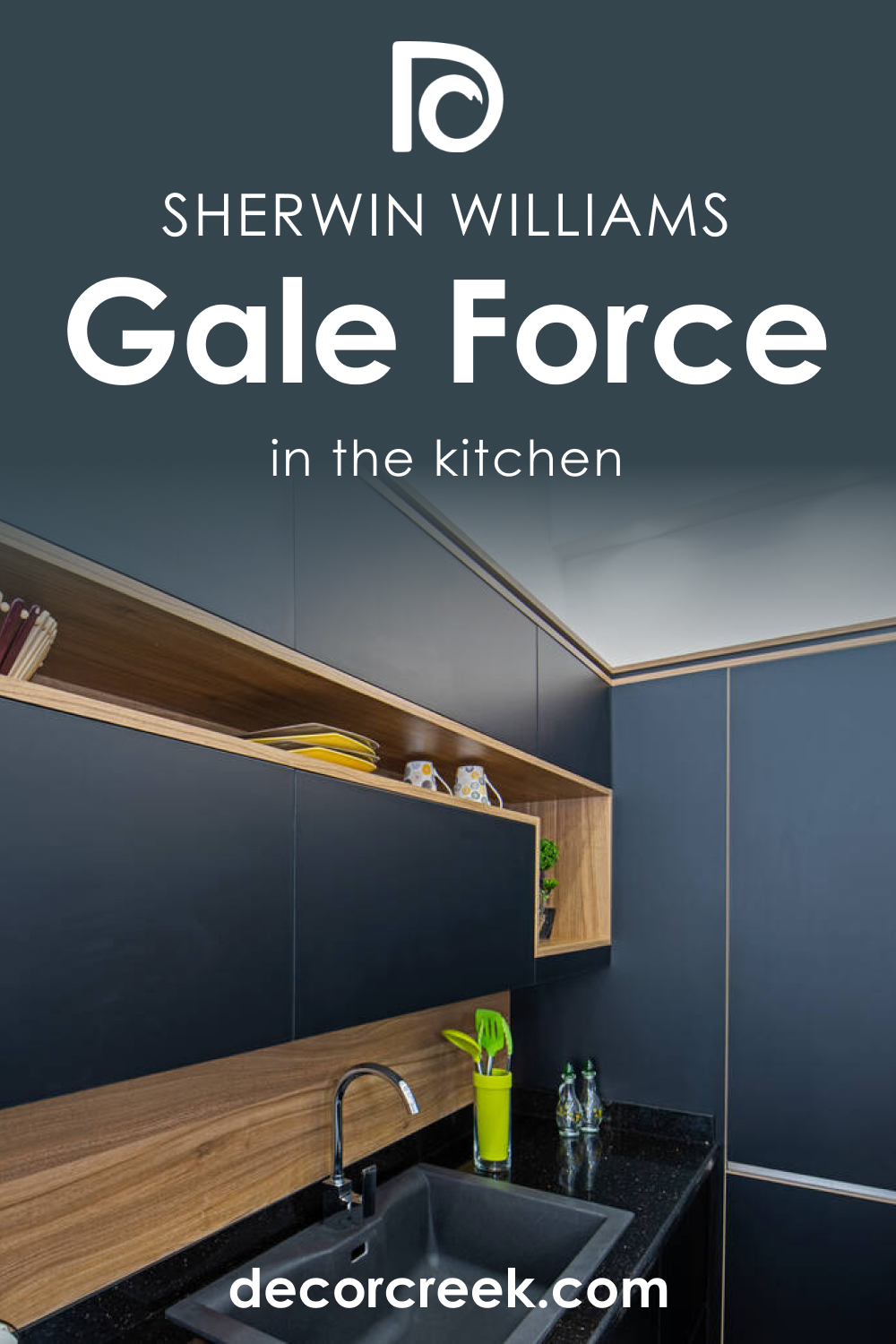 SW Gale Force for the Exterior Use
If you want to paint exterior walls with this dark blue, consider the light. In cool lighting conditions, SW Gale Force will read colder and darker, whilst, in warmer light, it will show its green hue more clearly.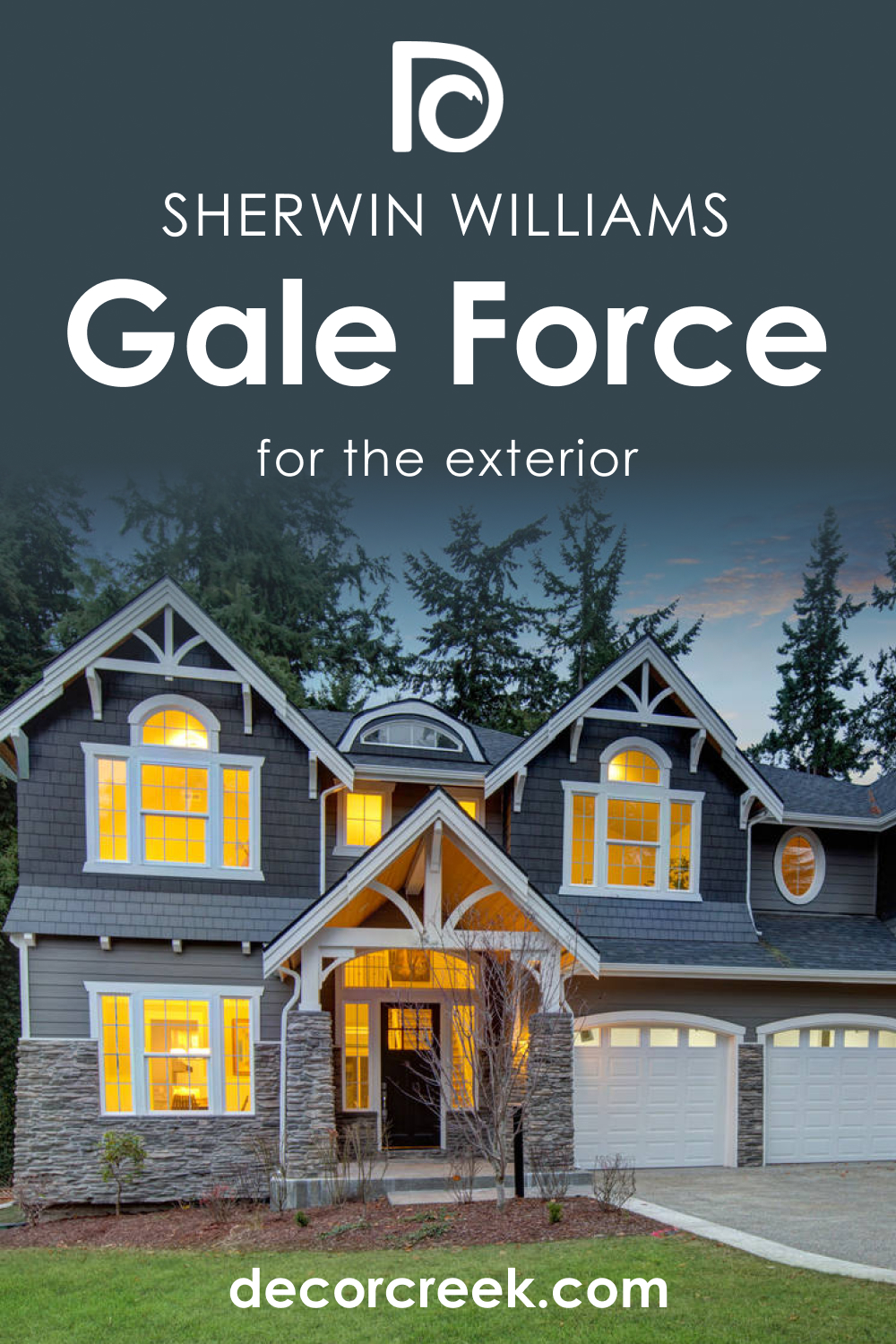 This is how SW Gale Force can work in your home and read in different lighting conditions. This dark blue is very beautiful and can easily make a statement in any room where you use it!
However, you must always consider its LRV and undertones, as well as take other colors into account, if you want to achieve a balanced and welcoming vibe in a room even though this blue is so dark and moody.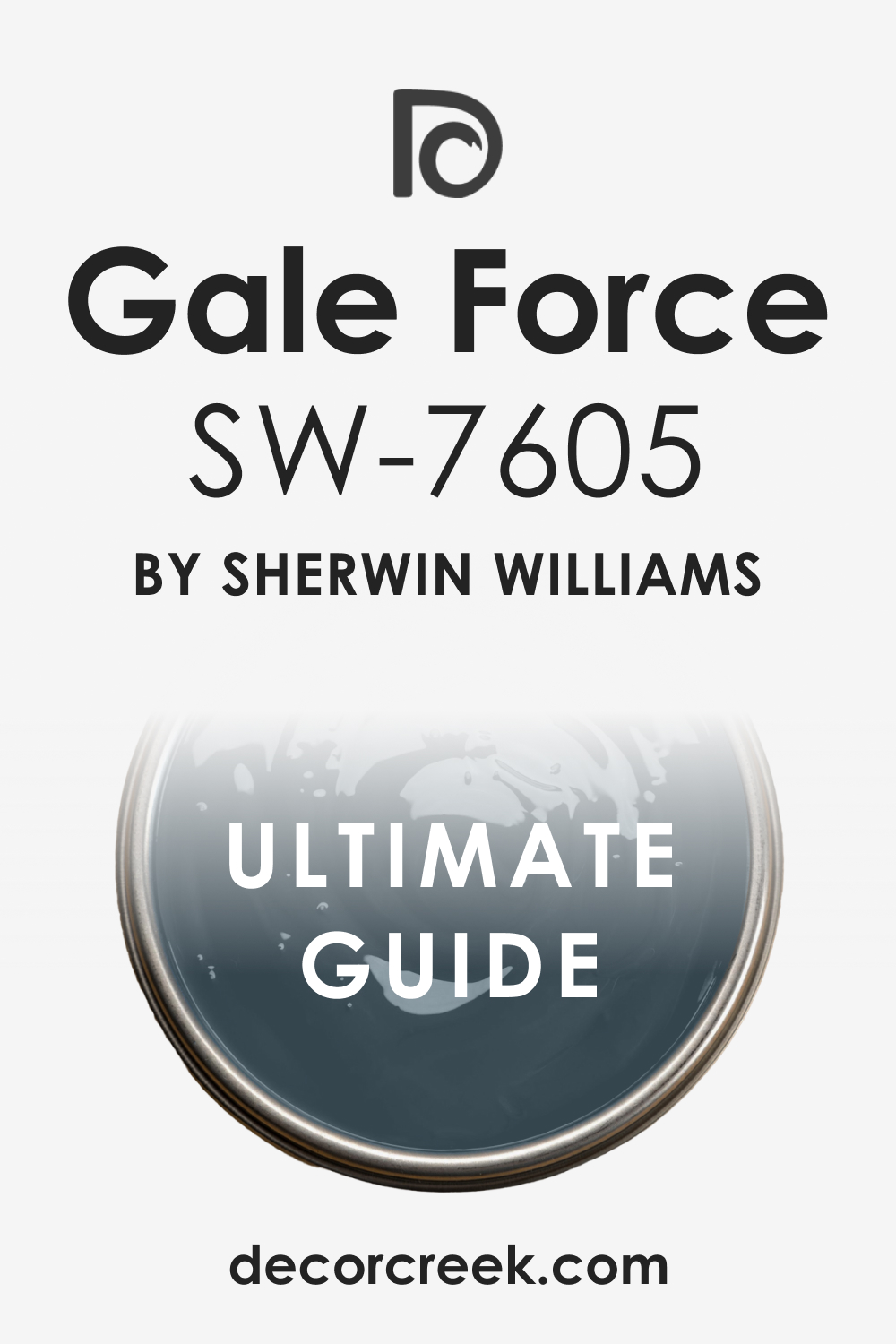 Frequently Asked Questions
⭐Can SW Gale Force be paired with black?
Yes, this blue works well with black, but use black very carefully and in limited areas!
⭐Will this blue look good in a room with hardwood floors?
Yes, it will. SW Gale Force works well with wooden textures.
⭐Can I use live plants in a room that's painted in SW Gale Force?
If this color is used moderately (e.g., on the accent wall) and the rest of the space is well-lit and bright, plants will look lovely there.