If you want to try out the blue color in your interior but you don't know which shade to use, or you are afraid you might use a way too dark blue, we want to recommend you a lovely color. It is called Poolhouse.
In this article, we will explain what kind of blue it is, how it works in different rooms, and how to coordinate it.
Also, you will learn in what rooms this blue will work best and more helpful information.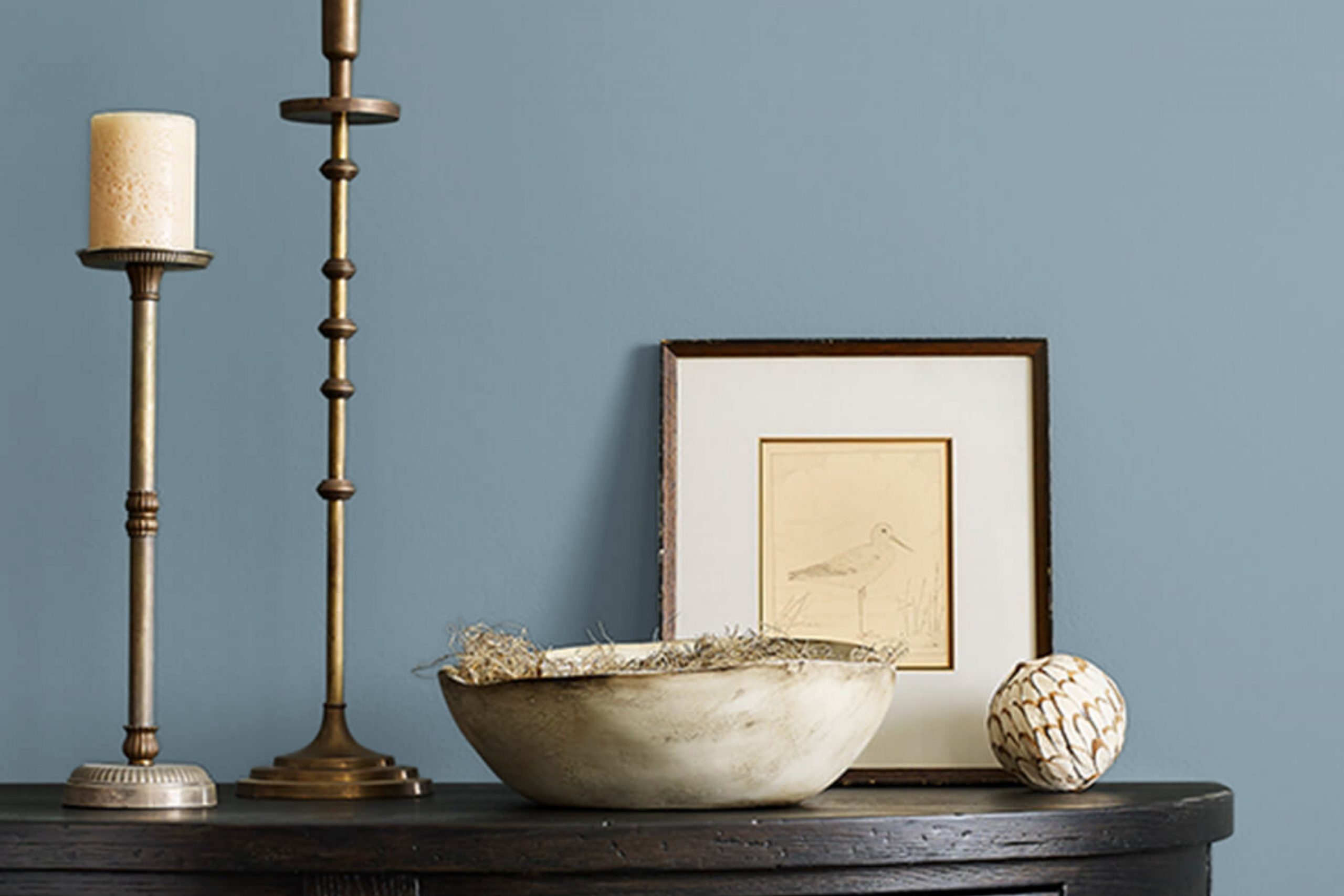 What Kind of Color Is SW 7603 Poolhouse?
SW Poolhouse is a cool-toned blue color with a slate undertone. As Encycolorpedia says, this blue looks so soft and calmly balanced that it easily creates a laid-back, mellow mood in any room where you use it. If you pair this color with a bright white, this duo will bring out the sophisticated nature of SW Poolhouse.
This is an ideal blue to start with if you have never used this color in your home before! SW Poolhouse is not very dark, which means it will not make your home feel cave-like.
Also, it has enough saturation and color to add a refreshing and tranquil vibe to your interiors.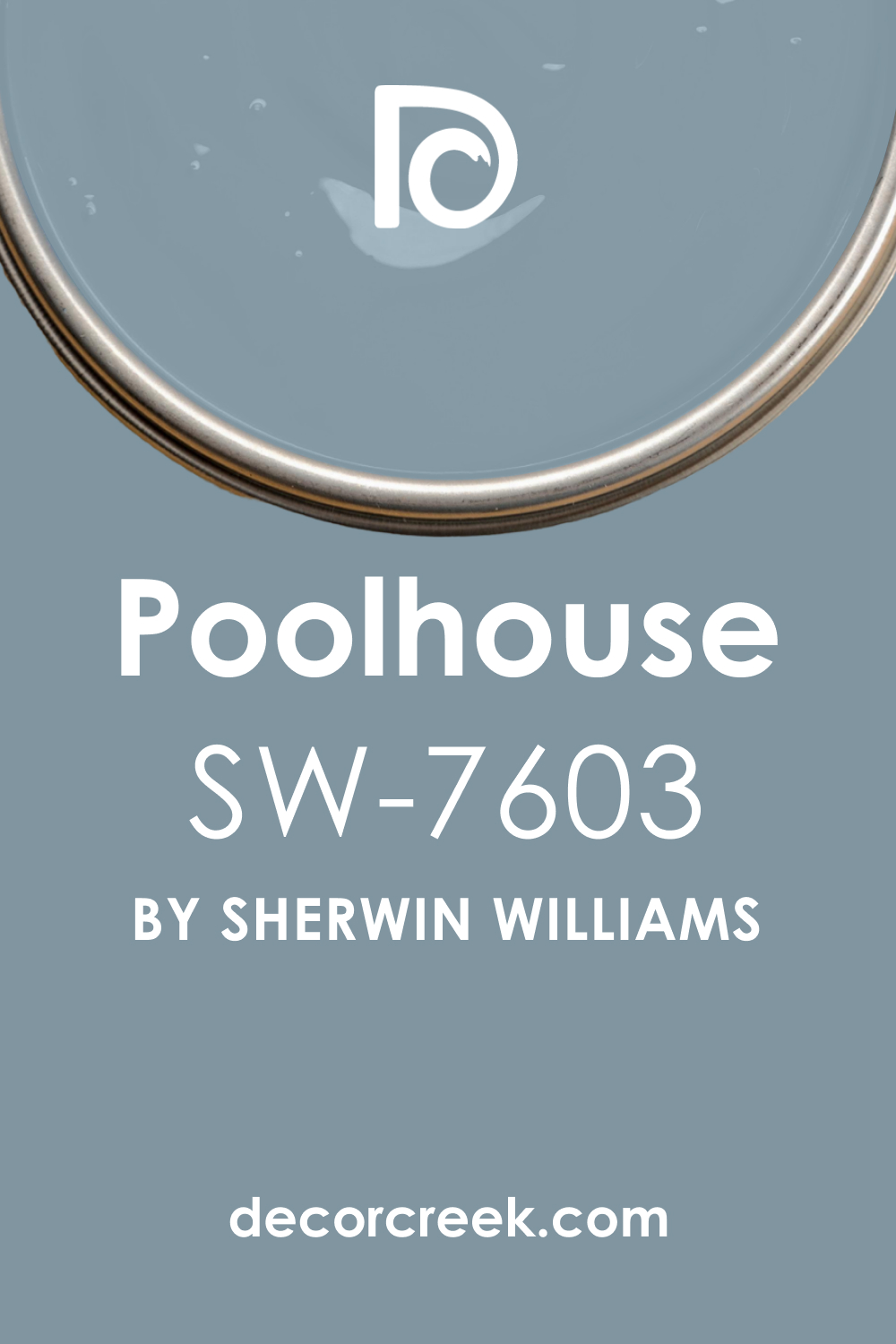 Is It a Warm or Cool Color?
SW Poolhouse is definitely a cool-toned color. However, it will not give off an icy or excessively chilly feel! Instead, its soft appearance will help this shade of blue read pleasantly cool on your walls.
Also, thanks to its balanced coolness of tone, SW Poolhouse is more flexible when it comes to using it with other colors. Unlike most cool-toned blues (and not only blues), this color can work well with cool-toned and warm-toned colors.
Nevertheless, note that it still won't read harmoniously with colors that have prominent yellow or creamy tones!
What Undertones Does SW 7603 Poolhouse Paint Color Have?
As we have already mentioned, SW Poolhouse has slate undertones. Slate is a dark shade of gray with earthy undertones, and this softness is clearly seen in the Poolhouse blue color. Thanks to its undertones, this shade of blue doesn't read cold or crisp.
Instead, it gives off a balanced hue that is neither too stark nor too warm. However, note that in specific lighting conditions, this color may reveal its slate base more prominently! As a result, SW Poolhouse may sometimes read softer and warmer than it is.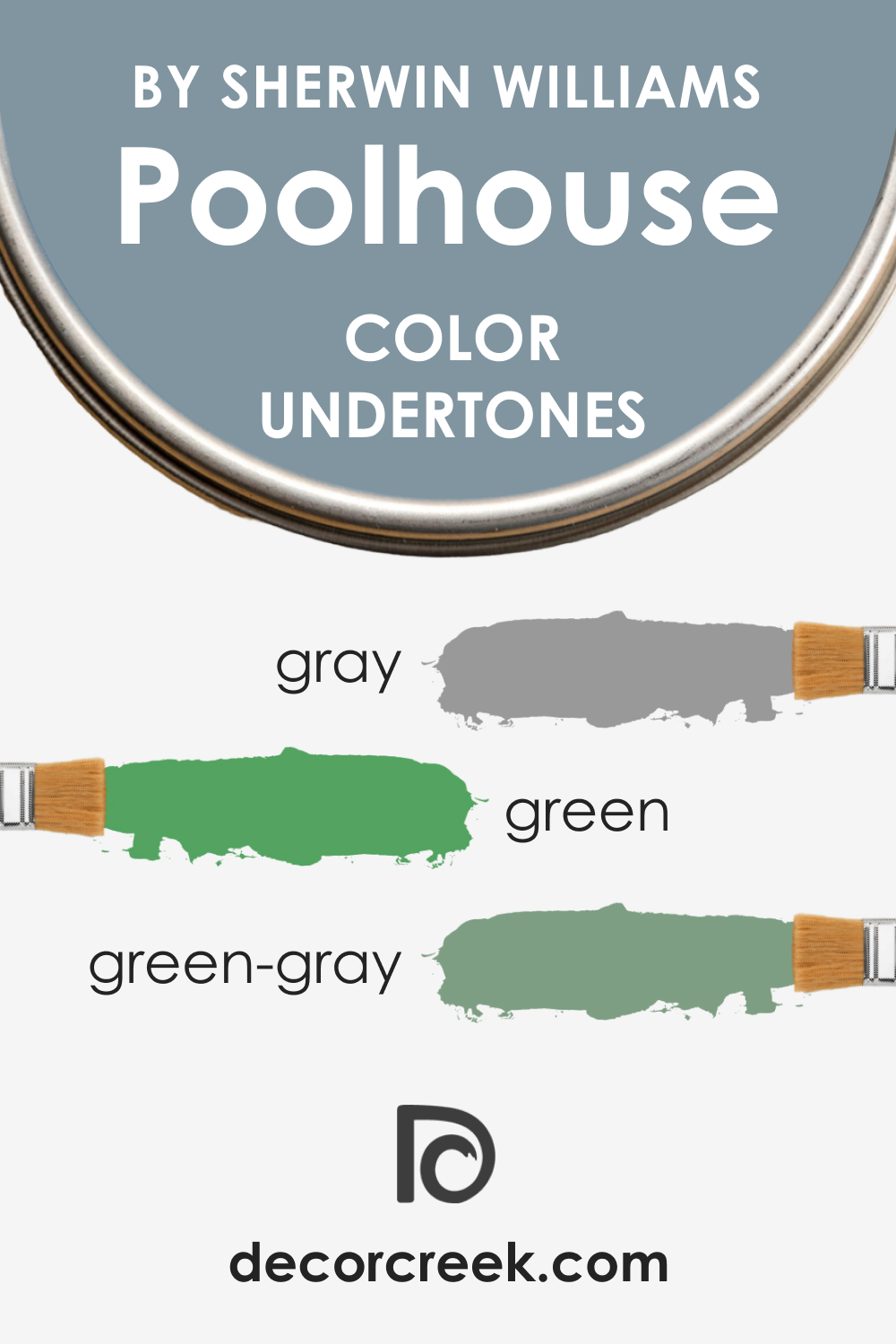 SW 7603 Poolhouse Coordinating Colors
Selecting the proper colors to create the best color palette for your home can be a fun task, but for most homeowners, this is more like an impossible mission! Indeed, trying to pick up the colors that suit the wall color and match it properly is not an easy thing to do.
This is why it's always a good idea to have a few color options at hand in advance.
For SW Poolhouse, we recommend the following coordinating colors to use with this blue:
SW 9136 Lullaby
SW 9178 In the Navy
For the analogous palette, try these colors instead:
SW 7614 St. Bart's
SW 7610 Turkish Tile
SW 7609 Georgian Revival Blue
SW 7609 Blue Cruise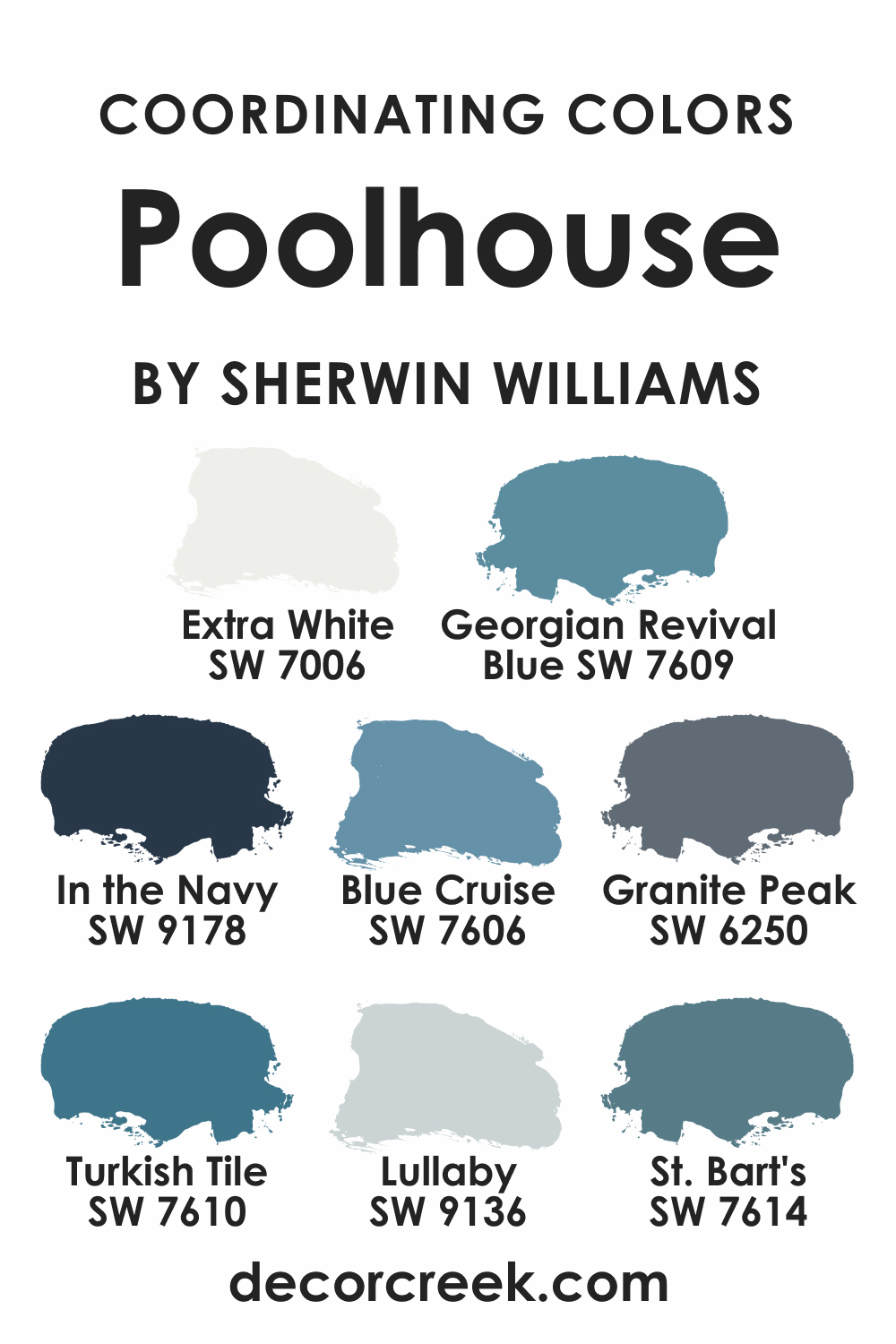 To create a monochromatic interior palette, consider using the following colors to coordinate with SW Poolhouse blue:
SW 6250 Granite Peak
SW 6248 Jubilee
SW 6249 North Star
Finally, should you prefer more varied and colorful palettes in your home, you might want to try slightly different coordinating colors:
SW 6050 Abalone Shell
SW 9112 Song Thrush
SW 9109 Natural Linen
SW 6236 Grays Harbor
SW 9108 Double Latte
SW 6106 Kilim Beige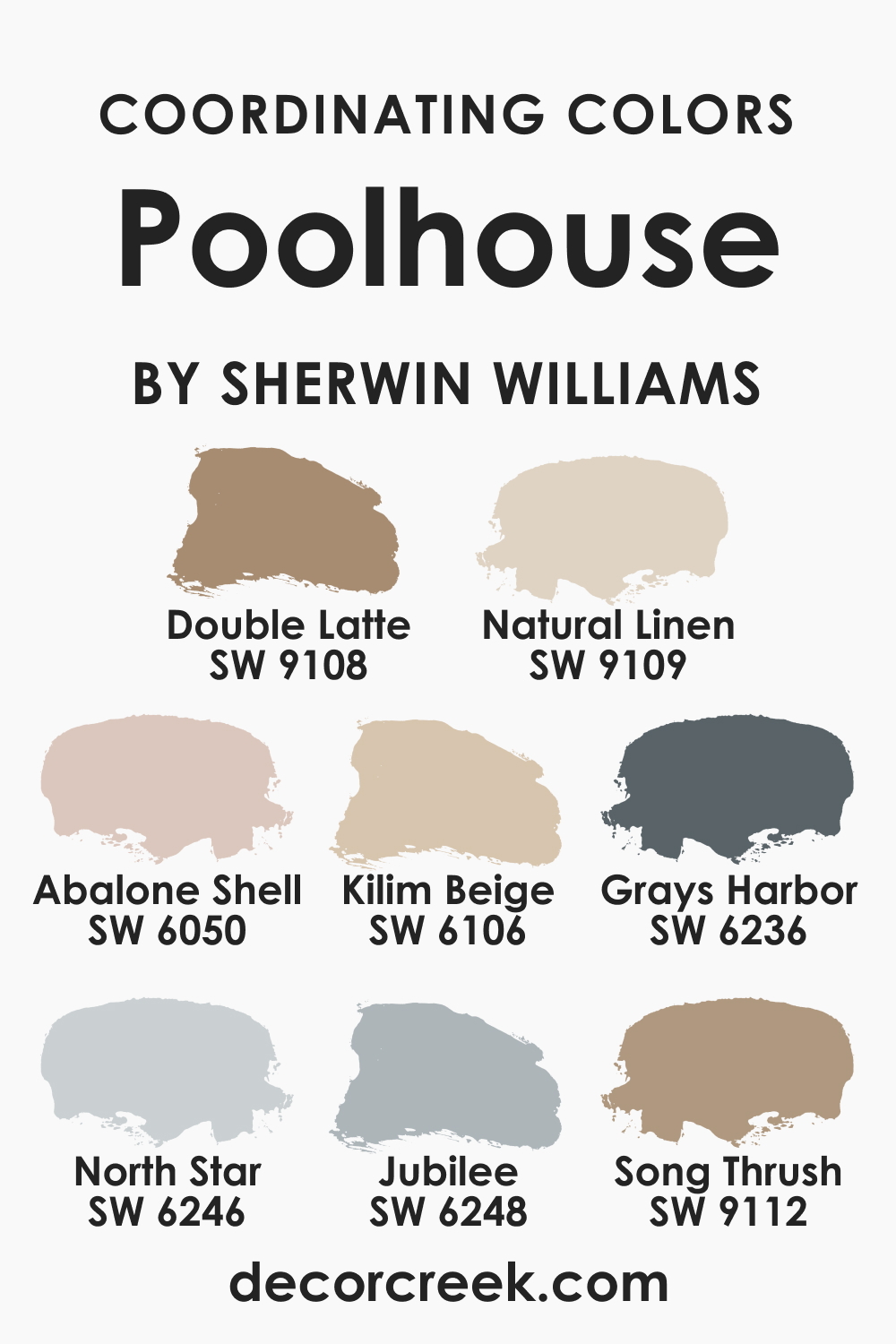 What LRV Does SW Poolhouse Paint Color Have?
LRV (light reflectance value) is the measurement that shows how much light colors can reflect from the wall. The higher the LRV value from zero, the lighter the color, and vice versa. Respectively, on the LRV scale, zero stands for black, and 100 stands for white.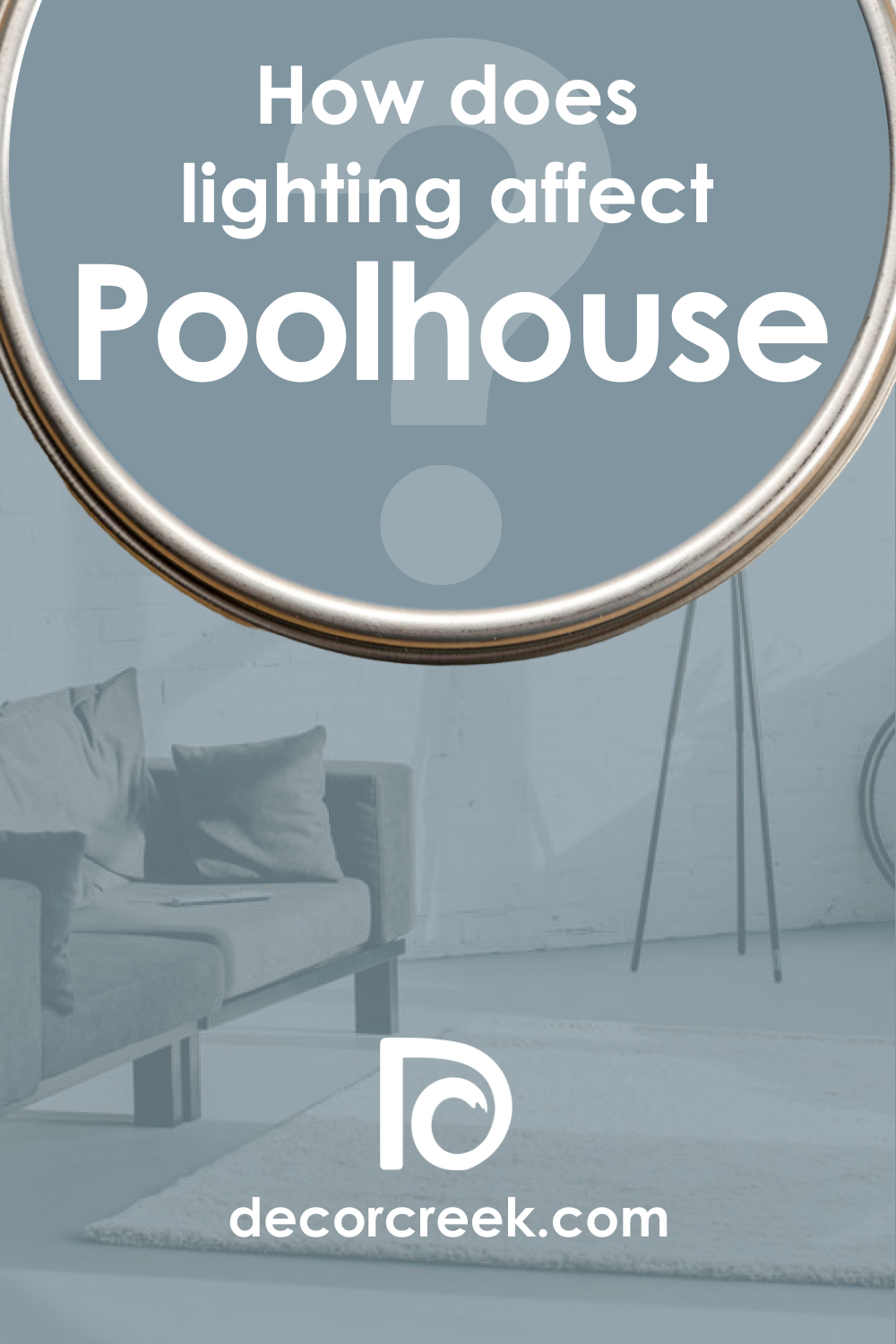 The LRV value of SW Poolhouse is 29. It means this slate blue is not very reflective. Also, this LRV places SW Poolhouse closer to the darker end of the LRV scale. However, an LRV of 29 does not make the color read dark!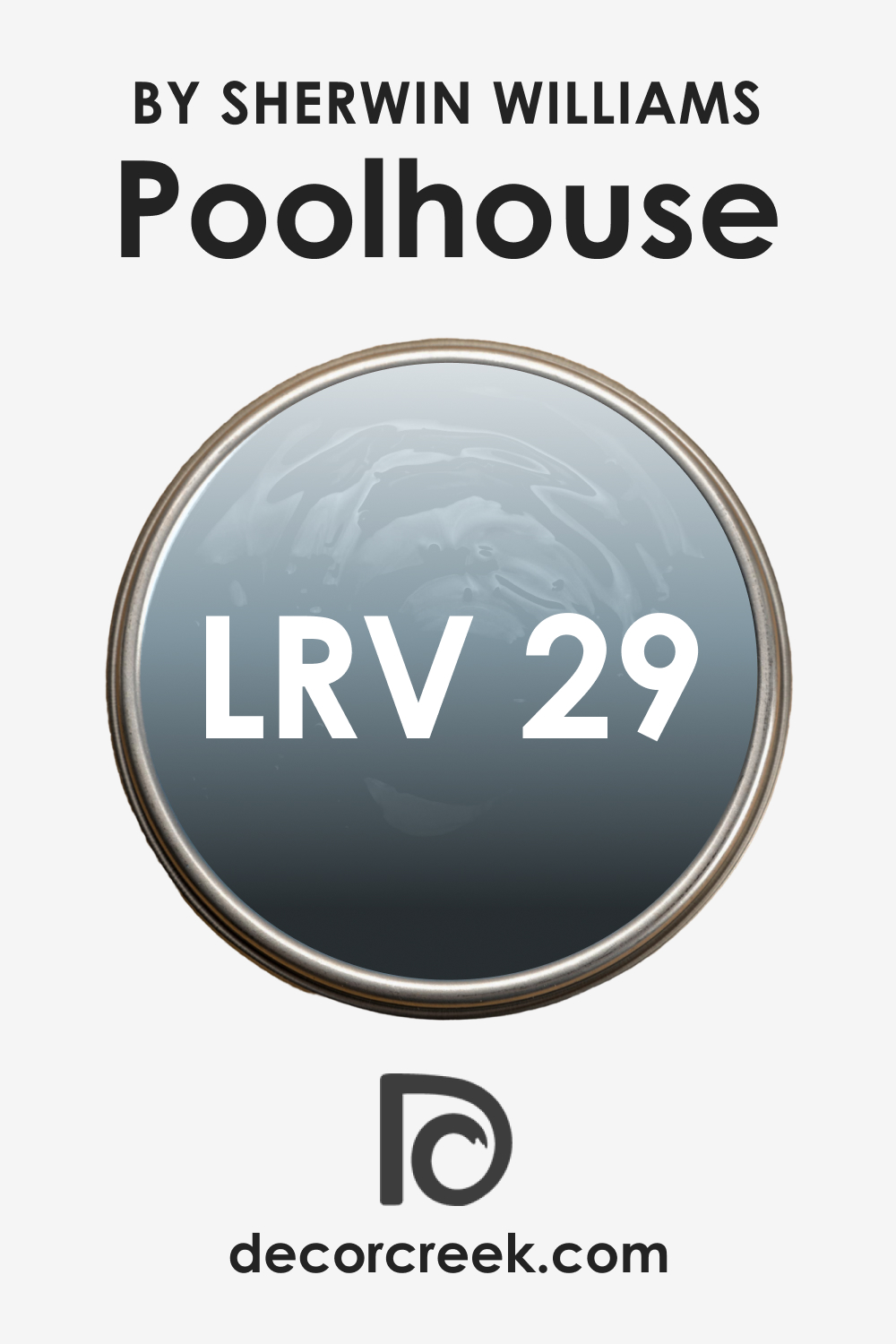 Of course, SW Poolhouse is not very reflective, and you can't use it in a room to make it seem spacious and bright. But this blue still shows enough color on the walls, adding a lovely and beautiful statement to any space where it is used.
LRV – what does it mean? Read This Before Finding Your Perfect Paint Color
What Are the Best Trim Colors to Use With SW Poolhouse?
White is traditionally the optimal trim color since it is versatile and pairs well with most colors on the color wheel. However, picking the correct shade and tone of white might be challenging for you, especially if you don't have deep knowledge of color theory.
This is why we have prepared a few white color options to check out if you're searching for the best trim color to use with SW Poolhouse:
SW 7567 Natural Tan (to soften the blue hue of SW Poolhouse)
SW 7631 City Loft
SW 7008 Alabaster (to highlight the cooler side of the blue color)
SW 7006 Extra White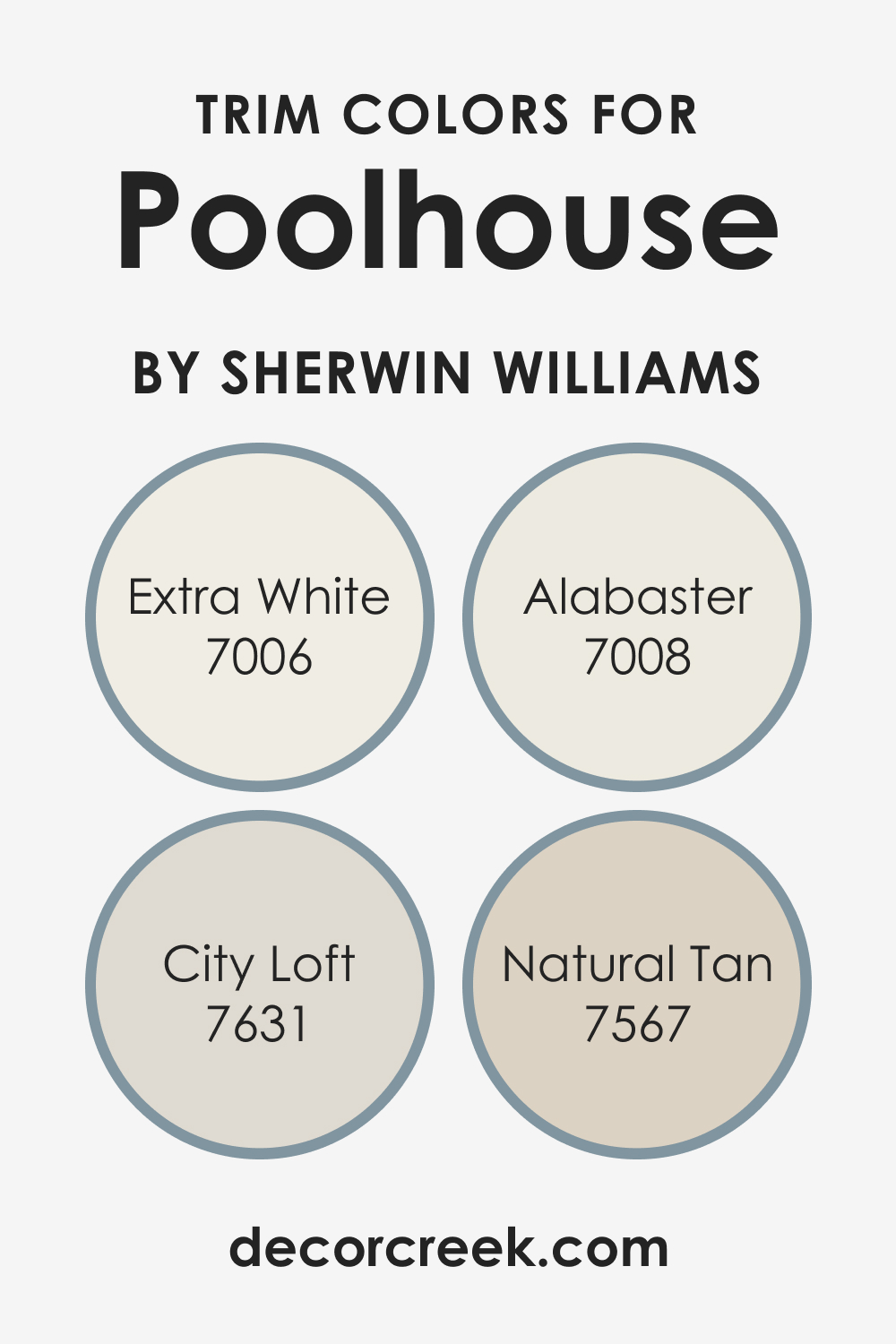 Similar Colors to Use Instead of SW 7603 Poolhouse Paint Color
Knowing similar colors can help if you need to adjust the overall palette a bit in your home and use a color with a slightly different LRV or tone. For SW Poolhouse, with its tricky undertones, we recommend you opt for one of the following similar blues:
Behr Coastal Vista
BM Amsterdam
Farrow&Ball Stone Blue
PPG Sea Stone
Valspar Gray Lavender
SW 9135 Whirlpool
PPG Chalky Blue
PPG Serene Stream
Of course, these colors won't read exactly the same. But at least they will look very close to the Poolhouse paint color in terms of undertones and reflectivity.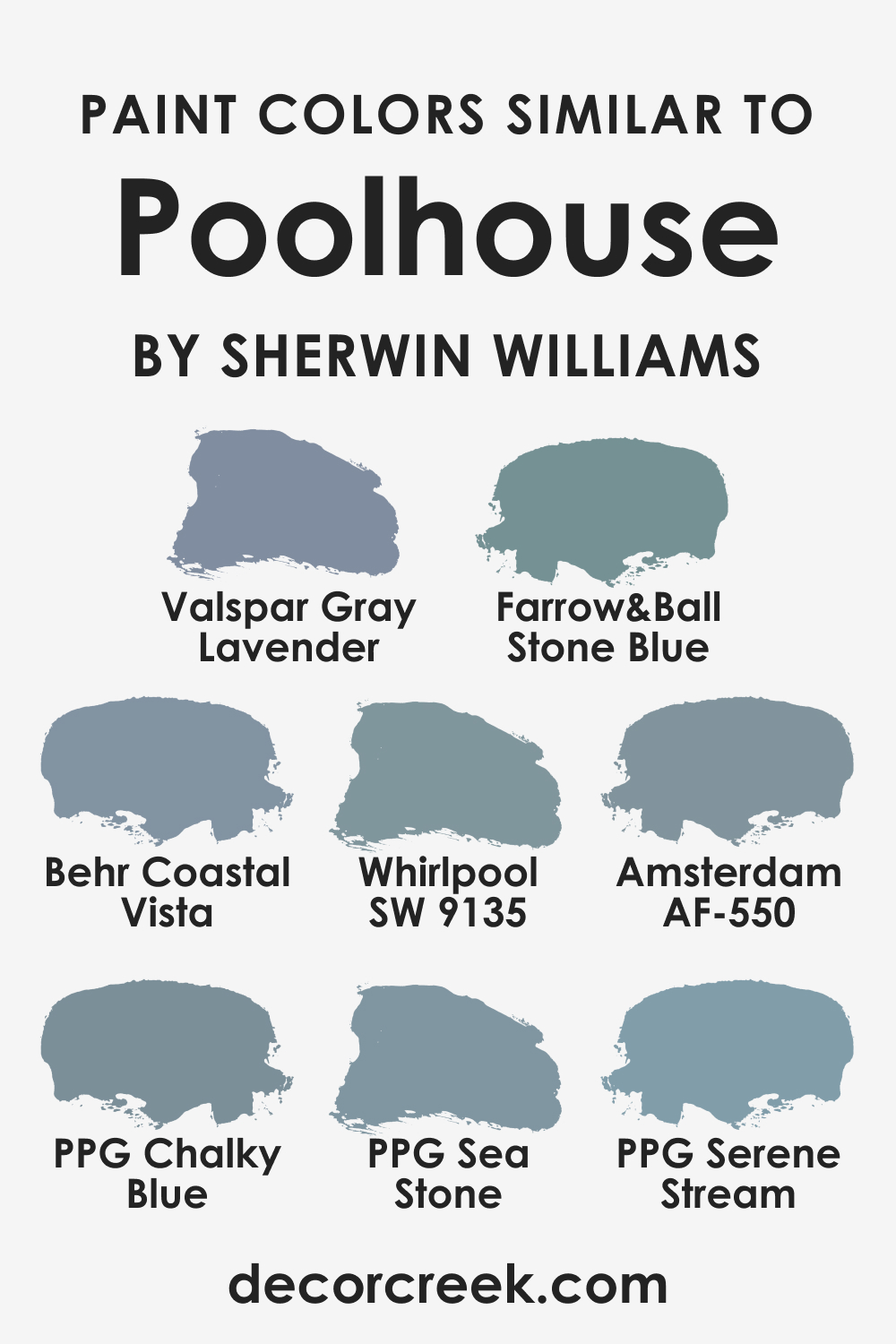 Colors That Go With SW Poolhouse
If you are not sure what colors will work well with this smoky and soft blue with earthy gray undertones, check out the list we have prepared for you below. Of course, this is not a complete list of colors, but at least you can use it as a starting point in your search for the best matching colors!
SW 6424 Tansy Green
SW 7674 Peppercorn
SW 6258 Tricorn Black
SW 7673 Pewter Cost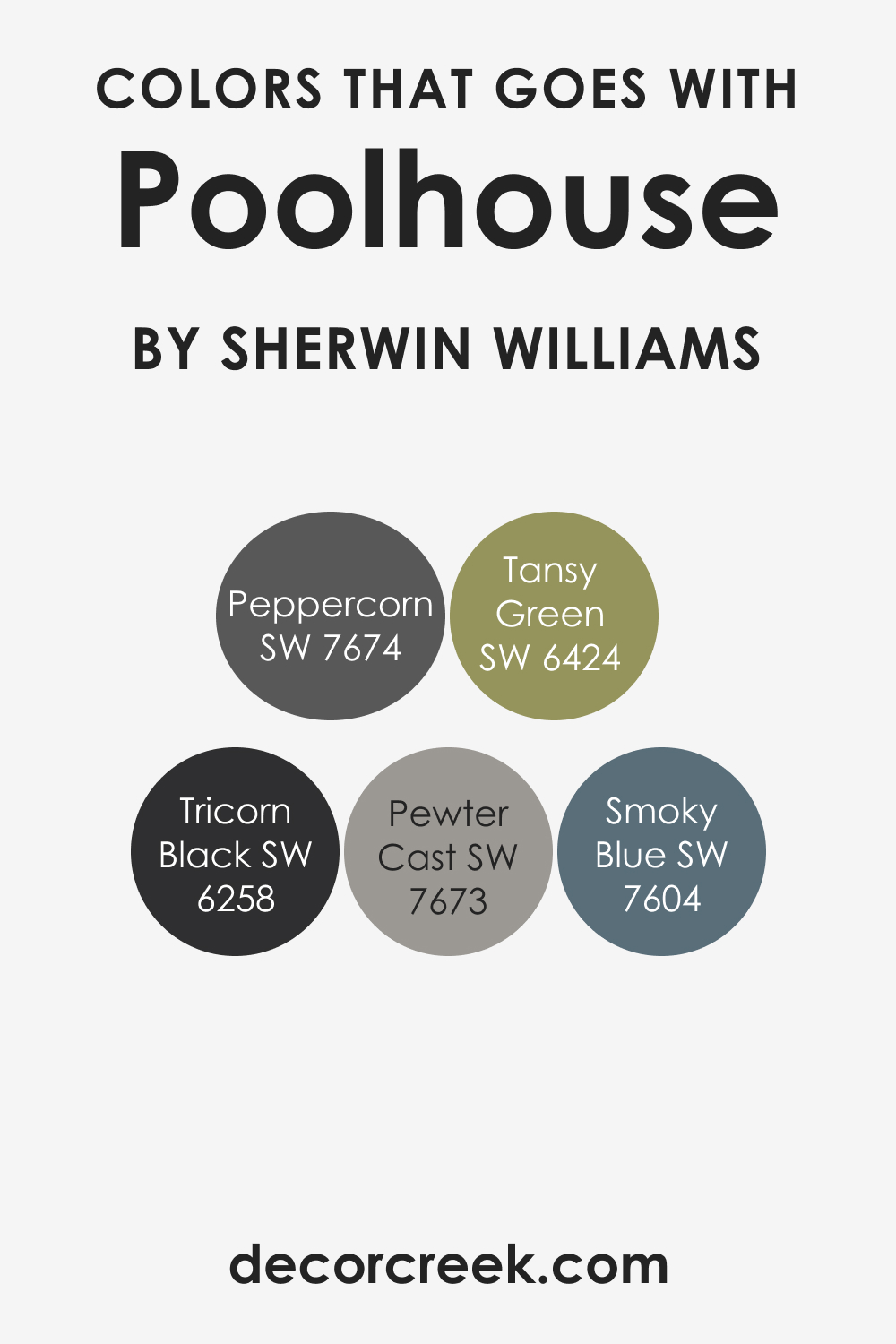 Comparing SW 7603 Poolhouse With Other Colors
You will better understand the difference between the colors from the same color family when you read how they differ. Below, we compare SW Poolhouse to several other blues to help you see how distinct LRVs and undertones can make related colors read absolutely unique!
Poolhouse vs Smoky Blue
Both blues come from the Sherwin-Williams brand, but they read differently. SW Poolhouse is lighter than SW Smoky Blue, which reads more saturated and deep.
Also, SW Smoky Blue shows more gray undertones than its counterpart. However, these two look pretty well together!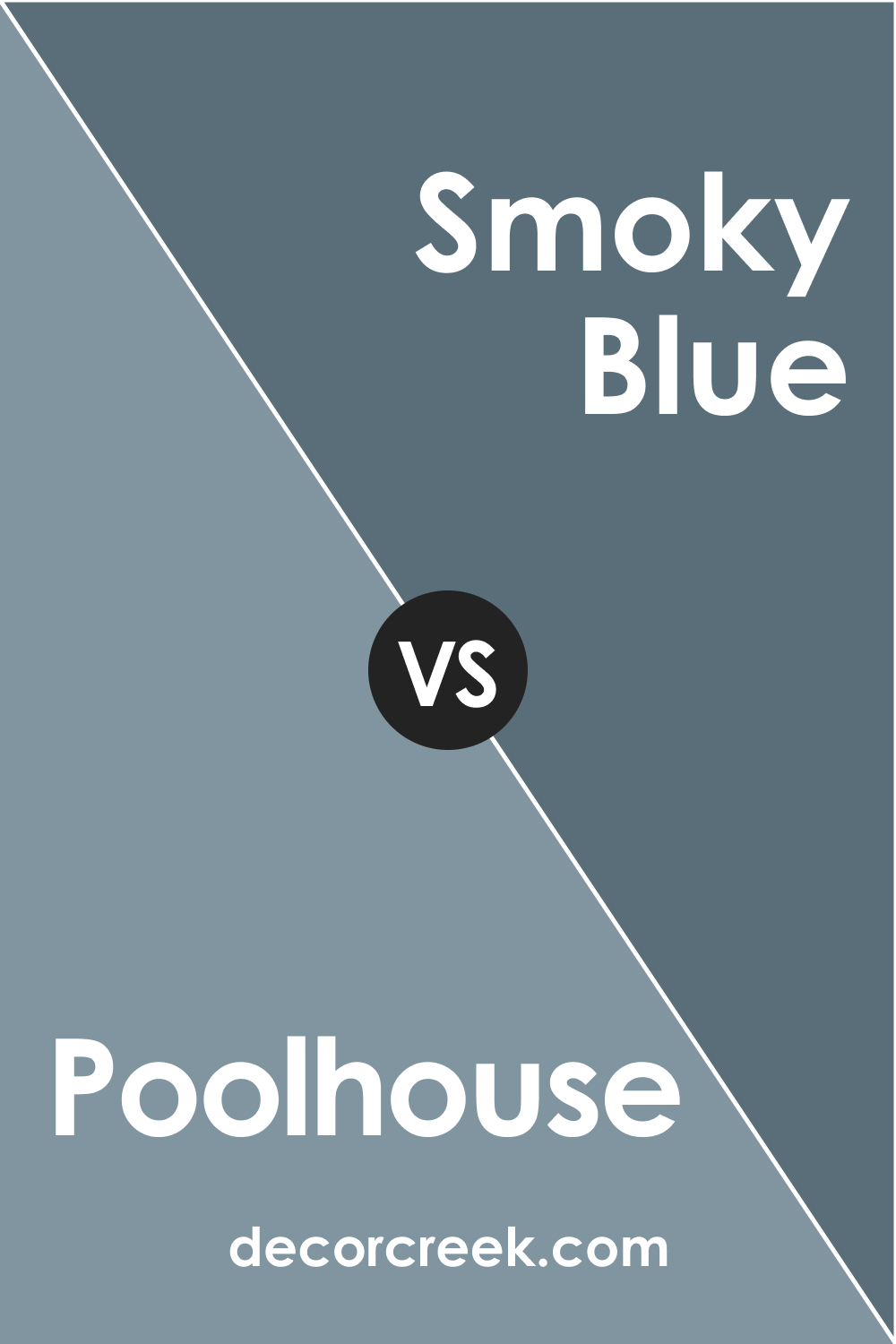 Poolhouse vs Stardew
Both colors are soft and muted, with prominent gray undertones. However, SW Stardew is lighter than its counterpart. Due to its muted and subtle blue-gray undertones added to the true blue, this color feels more like a pastel tone. SW Poolhouse, on the contrary, looks more saturated and apparently bluer.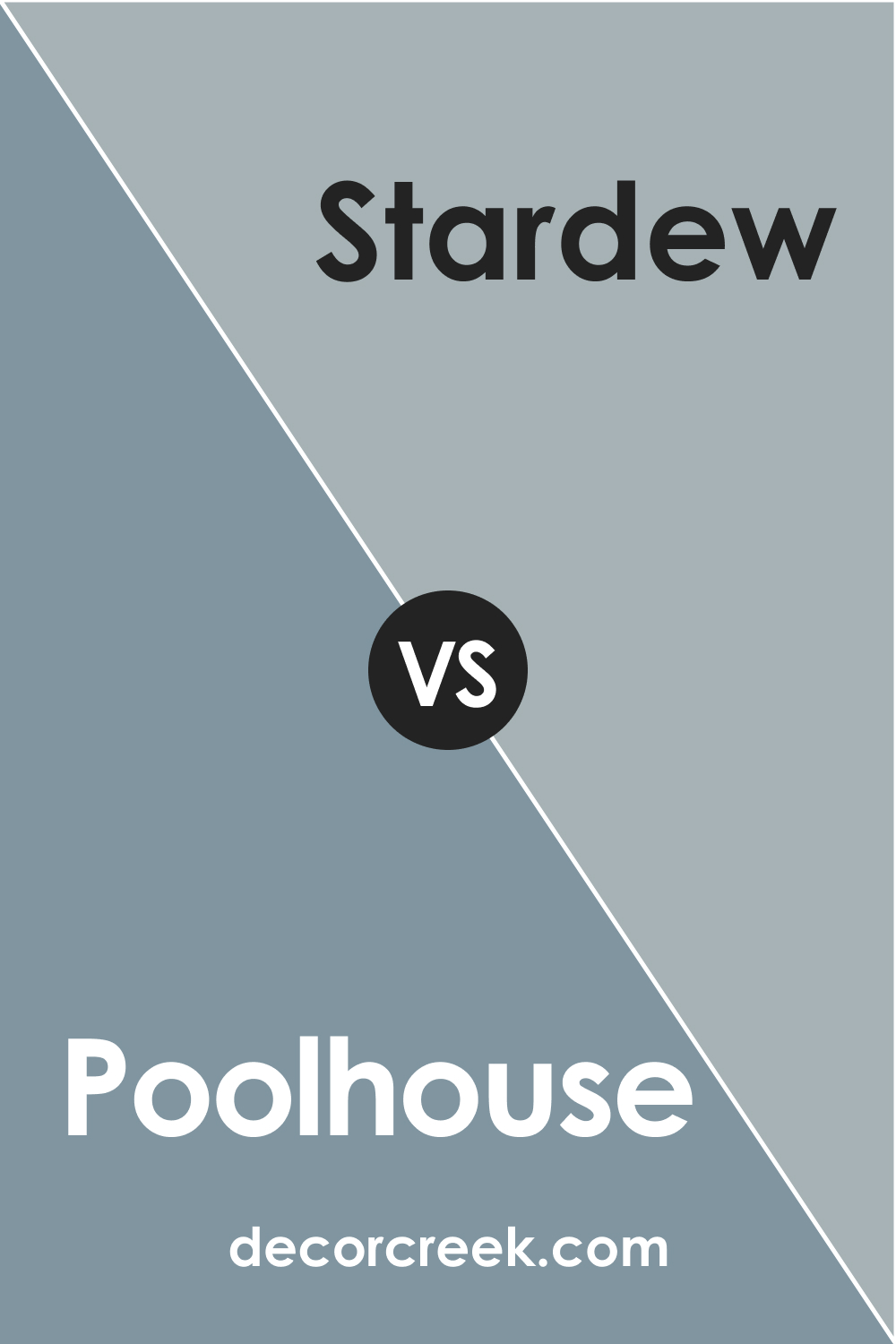 Poolhouse vs Daphne
Compared to SW Poolhouse, SW Daphne reads bluer and a bit brighter. Also, SW Poolhouse reveals its slate-gray undertones more noticeably when placed side by side with SW Daphne.
But since the LRVs of these colors are pretty close (29 for SW Poolhouse and 32 for SW Daphne), the colors have very similar reflectivity.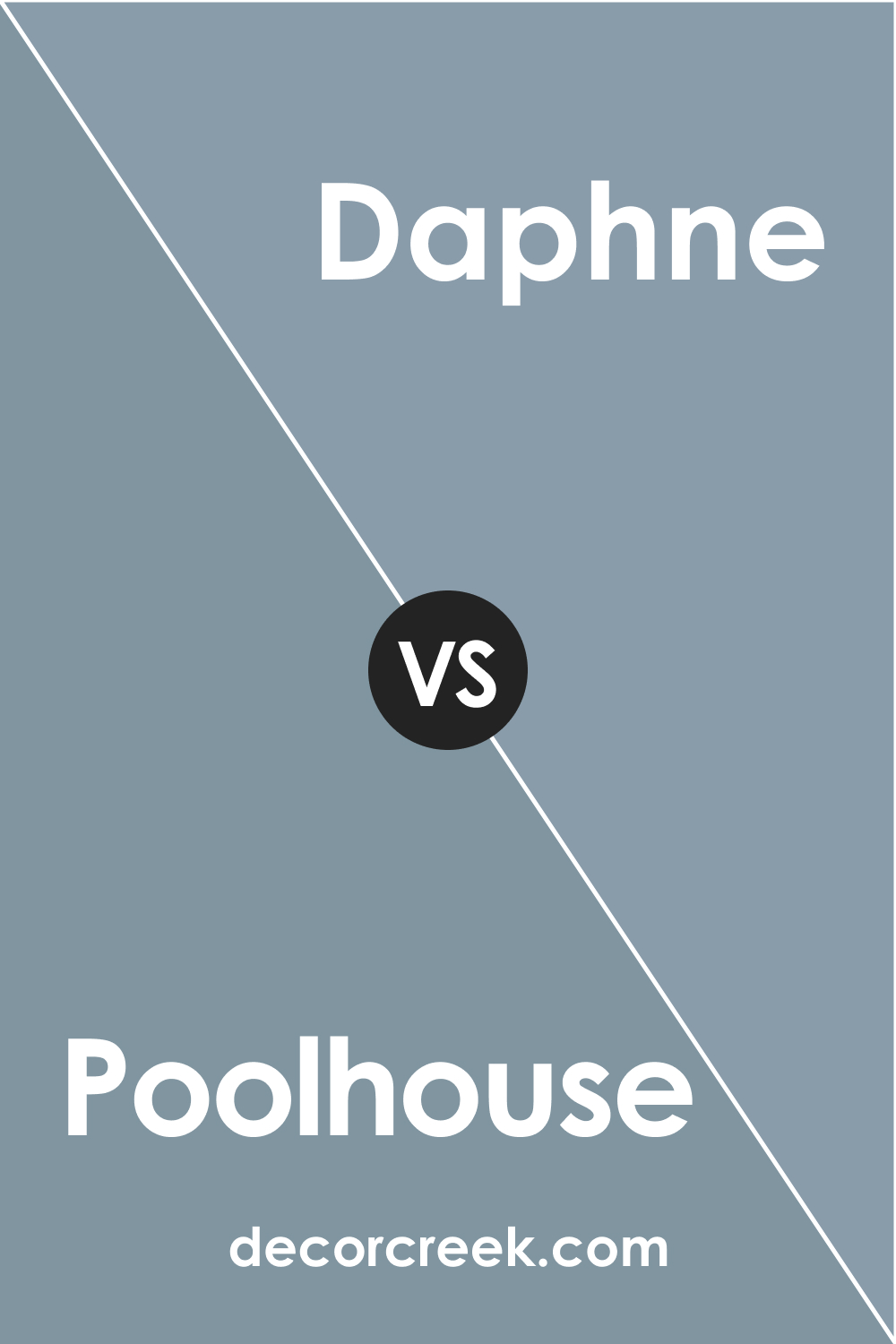 Poolhouse vs Whirlpool
SW Whirlpool is a medium blue with gray undertones. Compared to SW Poolhouse (with its slate undertones), the Whirlpool color reads softer and reveals more gray. Unlike this shade of blue, SW Poolhouse reads bluer and a bit more cool-toned.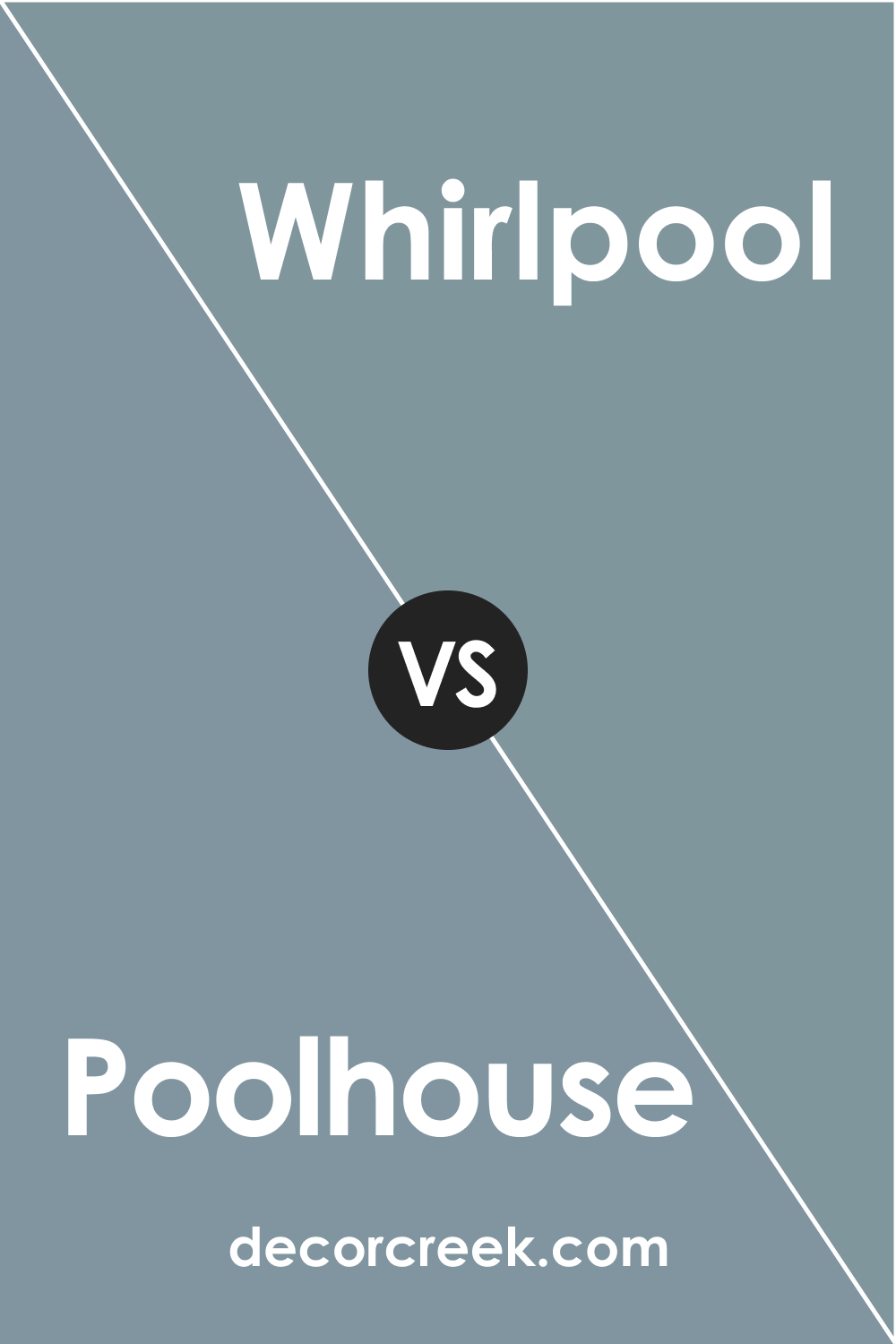 Poolhouse vs SW 6243 Distance
SW Distance is blue with denim and gray undertones that give this color its subtle depth. Also, its LRV is 15, which means this blue is less reflective and is apparently darker than SW Poolhouse. Nevertheless, despite these distinctions, these blues read surprisingly harmoniously together!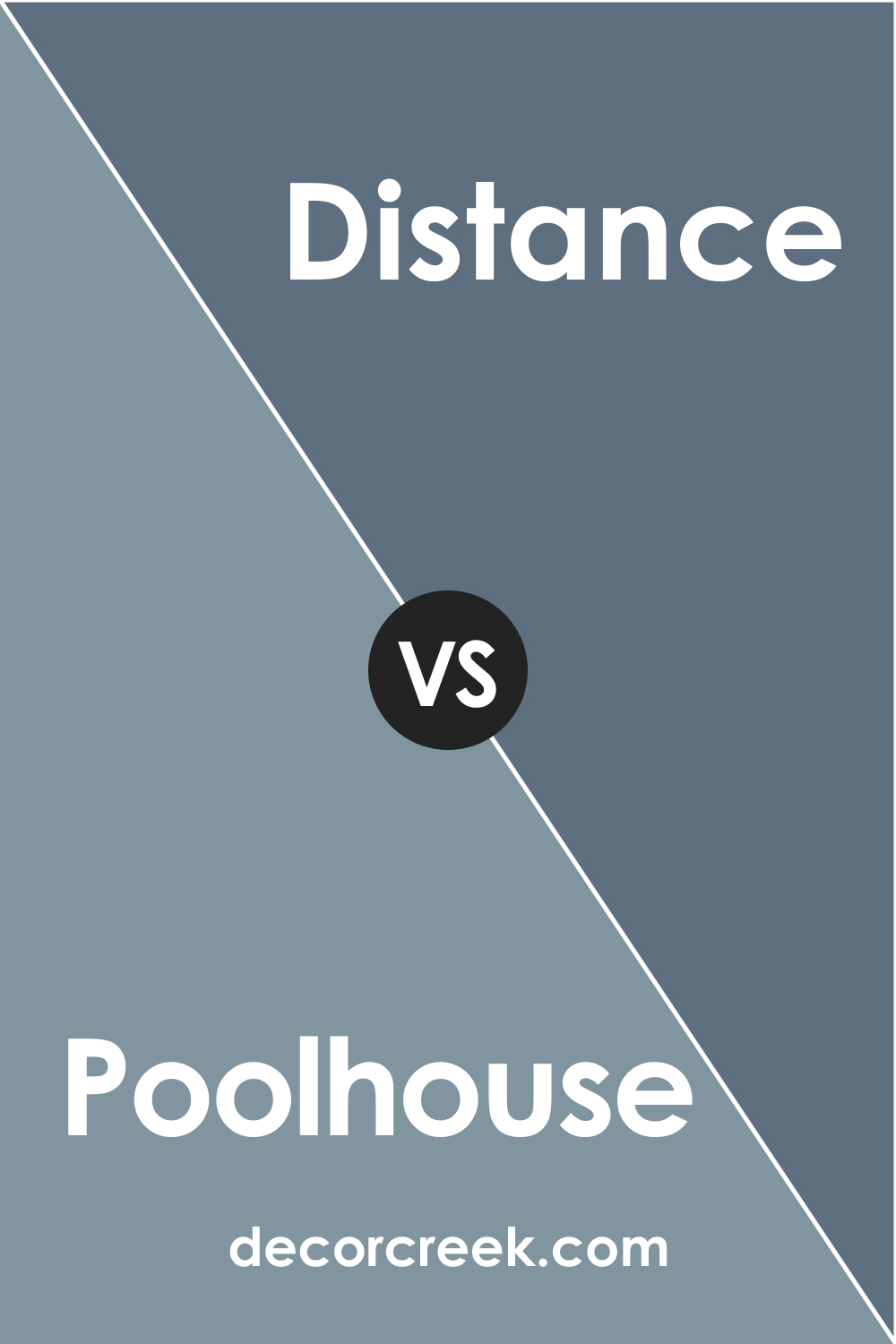 Poolhouse vs SW 6228 Refuge
SW Refuge is a cool-toned blue with gray undertones, which gives this color its depth and tranquility. Compared to SW Poolhouse, SW Refuge reads more saturated and deep, showing its gray base more prominently.
Also, SW Refuge is darker due to the lower LRV of 15. SW Poolhouse, in its turn, looks lighter (with an LRV of 29) and bluer. Generally, both blues look soft and pleasantly muted.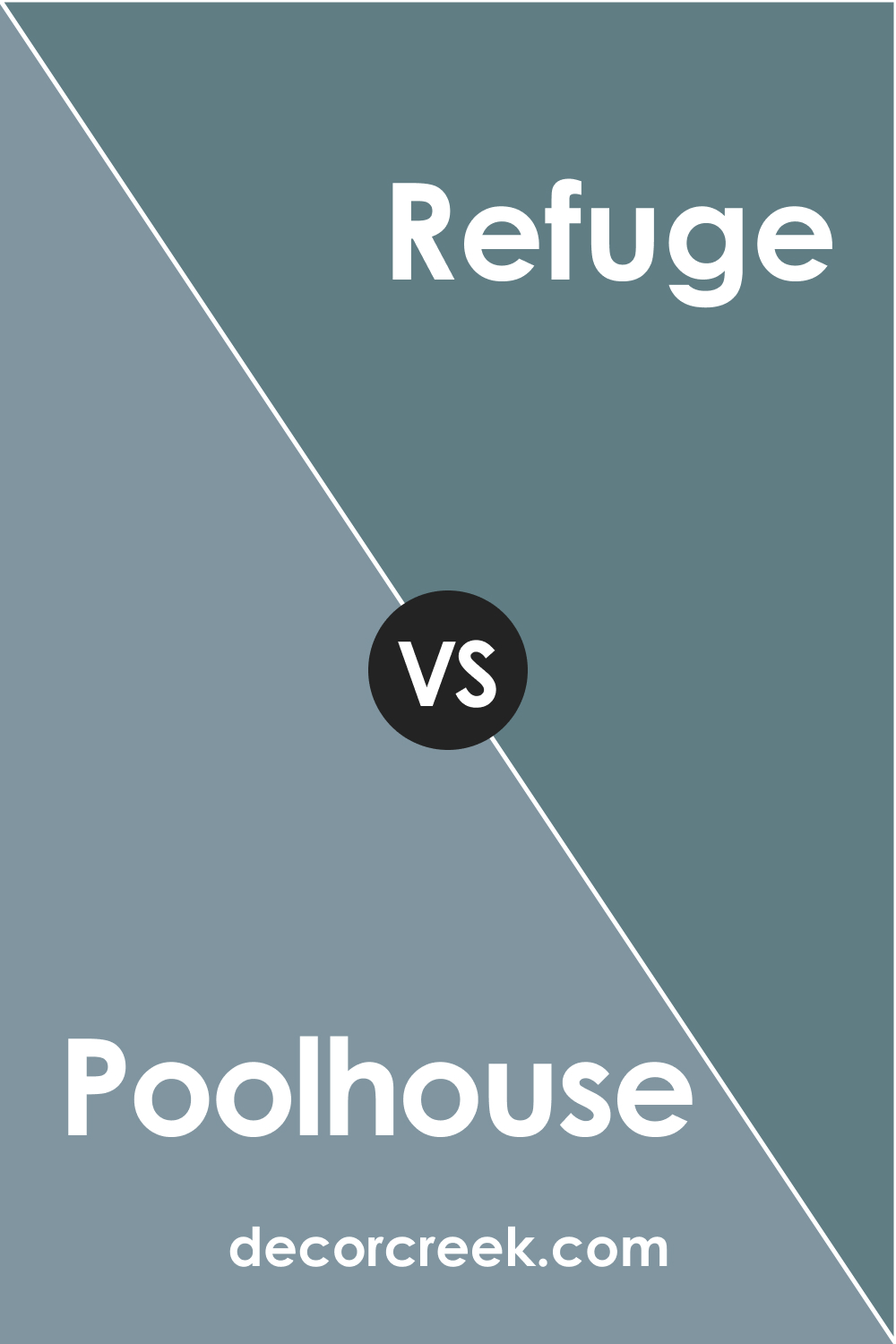 Where to Use This Poolhouse Color In Your Home?
You may think that SW Poolhouse is hard to incorporate into your home, but in fact, this blue is pretty versatile. Below, we have described how it may work in different rooms to help you imagine what you could expect from this paint color in your home.
Poolhouse in the Living Room
In a living room, SW Poolhouse can make a lovely color statement when used on the accent wall. Also, if your living room is spacious and has plenty of natural light, you can try using this blue on all the walls.
However, note that this blue works best in spaces that are not enclosed and have enough natural light! Otherwise, in a poorly-lit room, SW Poolhouse may read grayer and duller.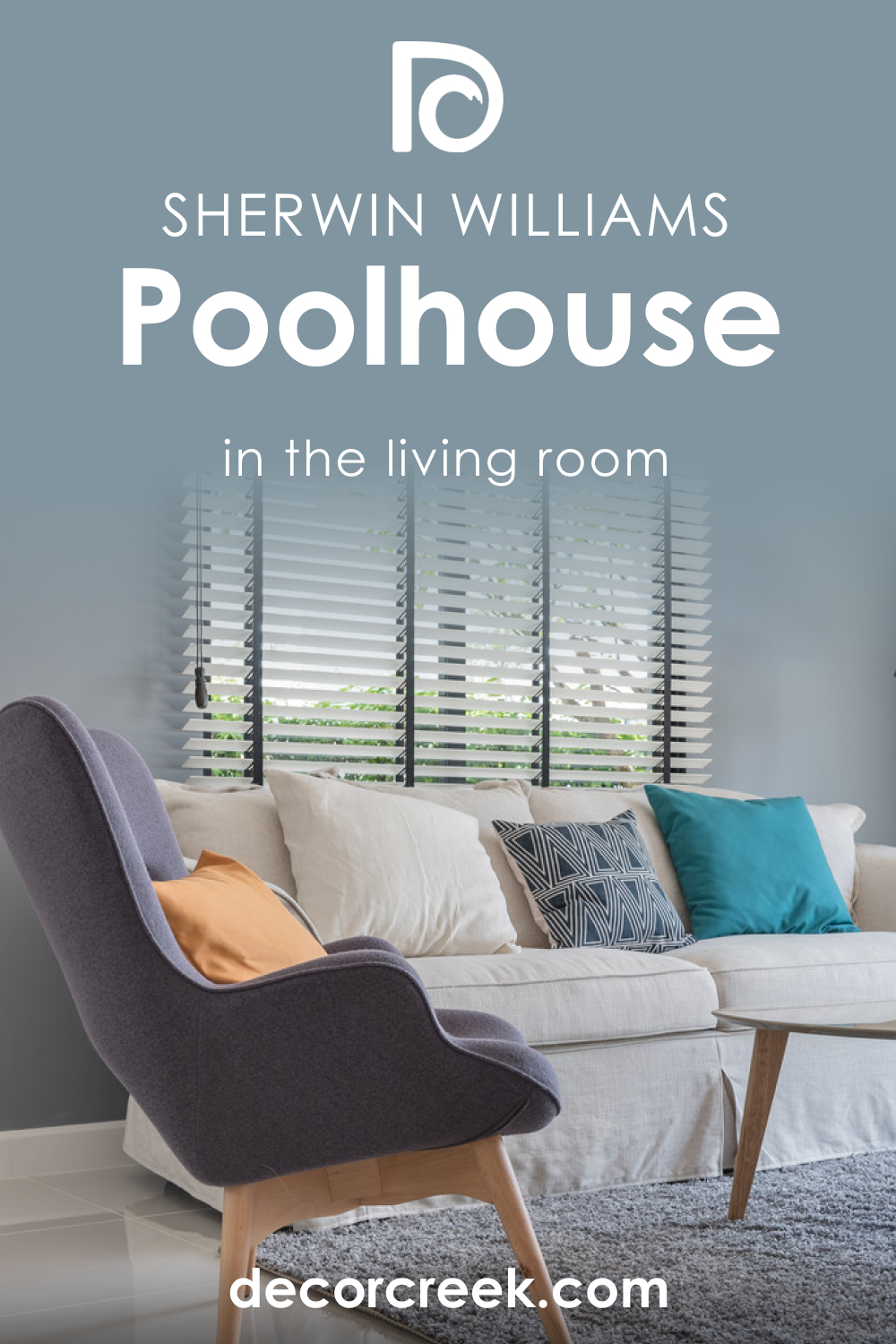 Poolhouse in a Bedroom
This can be a perfect color for your bedroom if you strive for a calming and relaxing vibe. For the best effect, paint an accent wall in SW Poolhouse and leave other walls crisper white.
This blue works great with natural fabrics and textures like wood, but we don't recommend you use a lot of warm colors with it! Browns, beiges, greiges, and other similar colors will look imbalanced in tone if you pair them with SW Poolhouse.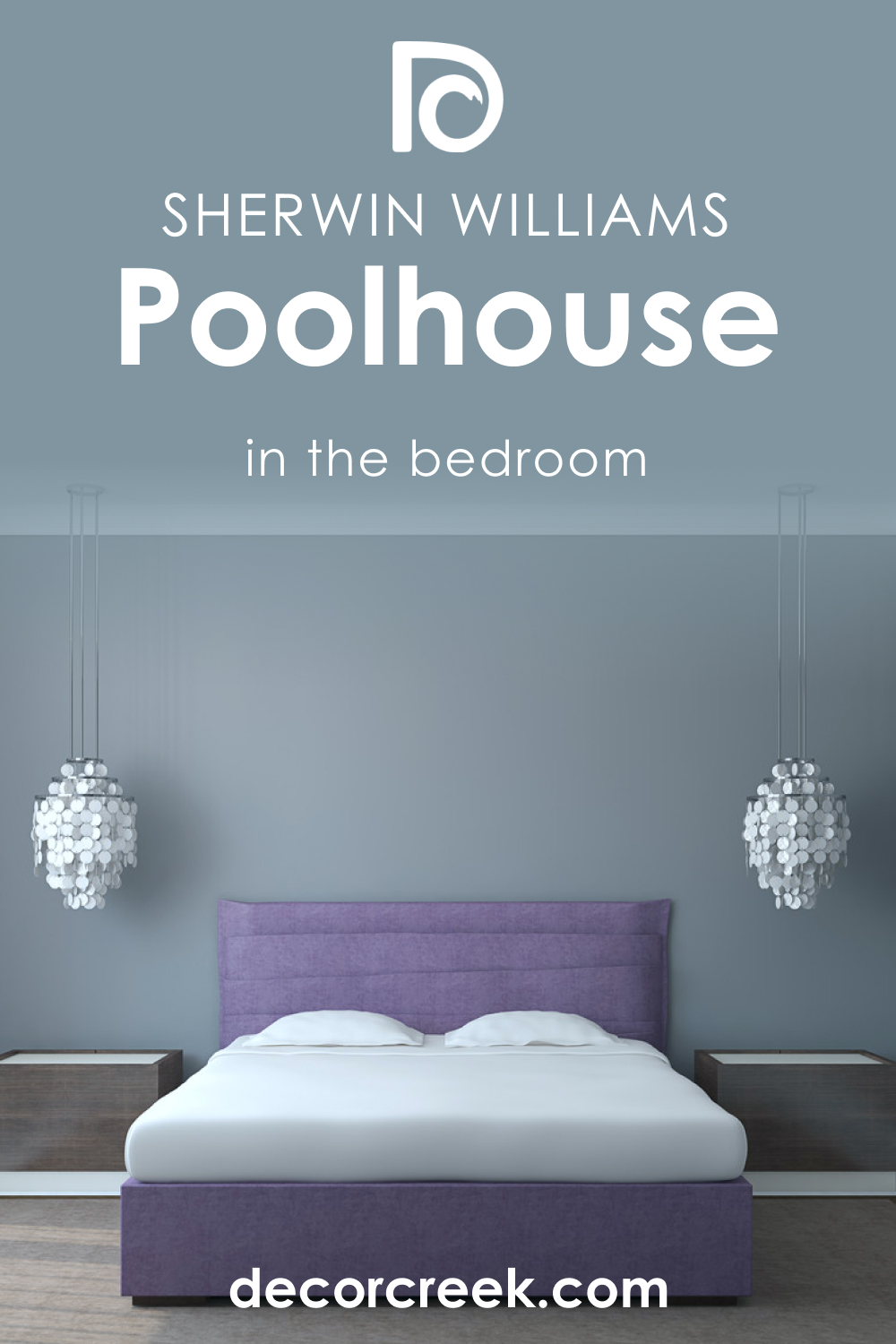 Poolhouse  on the Bathroom
In your bathroom, use this blue on smaller areas like the vanity sink or drawers. Since bathrooms are typically small and lack natural light, this color should be used moderately. Besides, you'd better pair it with as much brighter white as possible to make the space read airy and bright.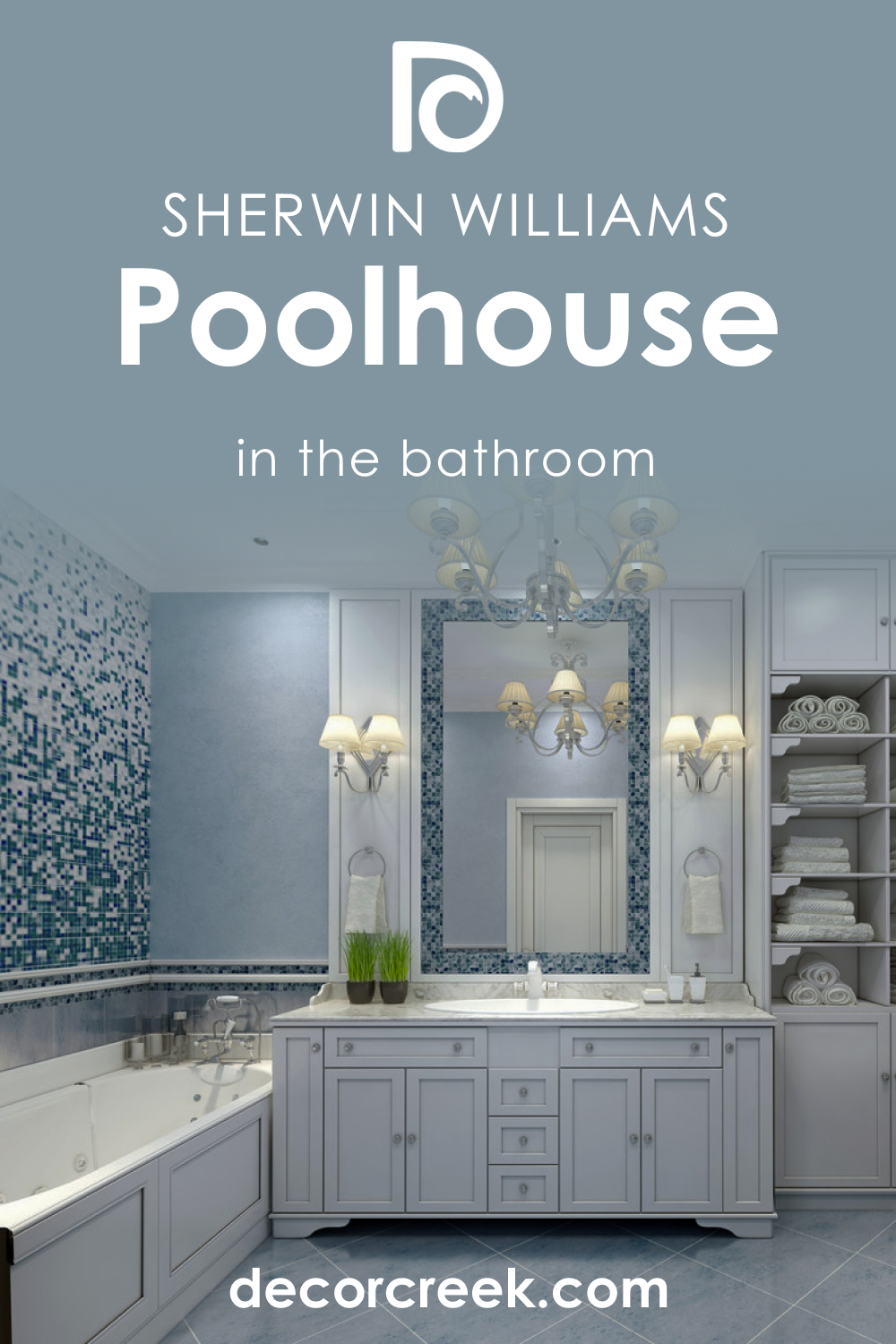 Poolhouse and Kitchen
The best way to use SW Poolhouse in your kitchen is to paint the lower and upper cabinets in it, leaving the walls white. If you have a kitchen island, you may also want to paint it in this soft blue.
Since SW Poolhouse looks pretty soft, it won't make your kitchen feel crispy or chilly. Instead, this muted blue will add an accent to the space, making it look more appealing.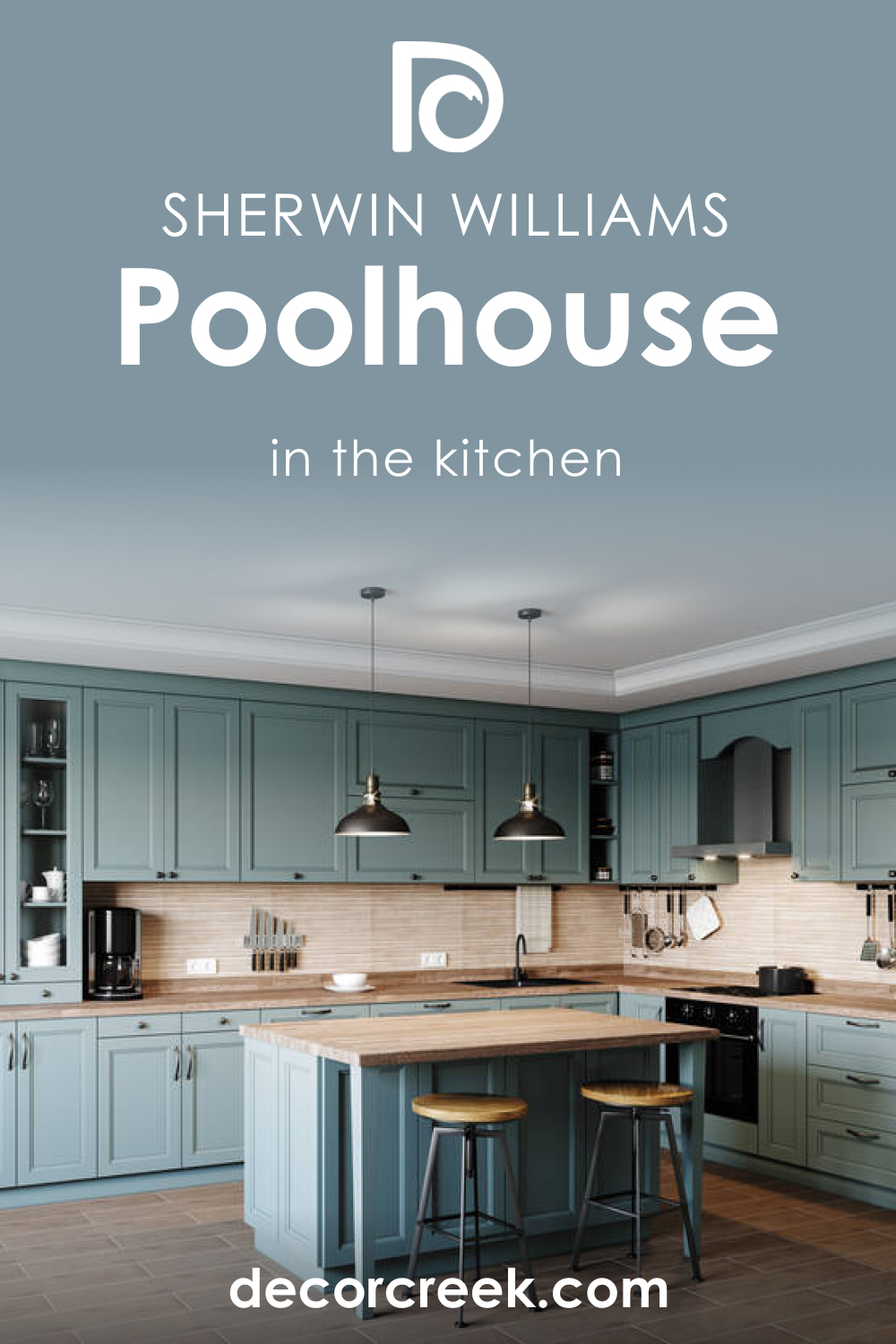 Poolhouse  for the Exterior Use
If you want to use this blue on exterior walls, be careful and consider the light! This color may look overwhelming if used on the exterior walls, especially if you live in an area with not enough sunshine.
Nevertheless, you can always use SW Poolhosue on your front door, as well as shutters (especially if you pair it with the bright white trim)!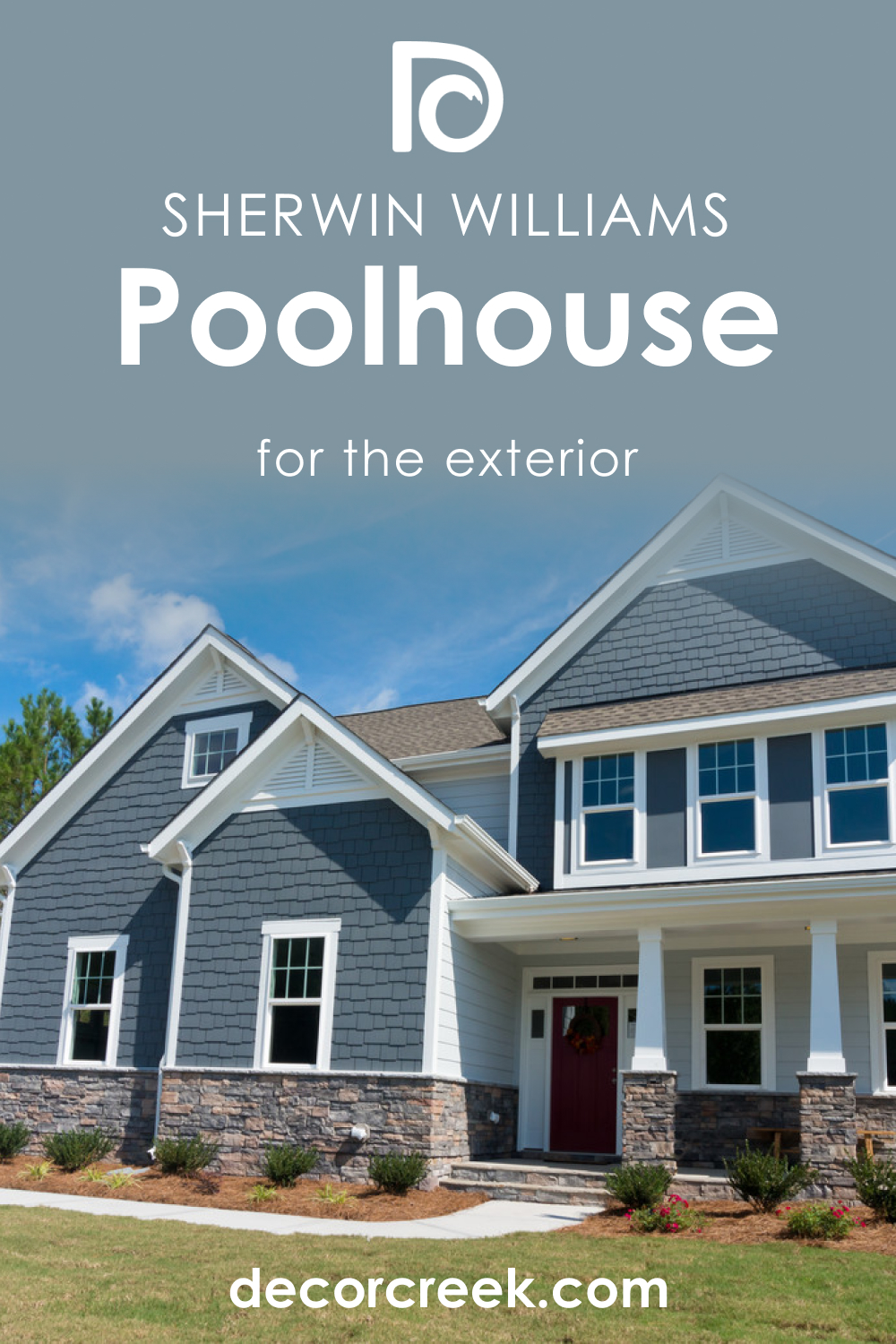 Now you know more about this beautiful and tranquil shade of blue called Poolhouse by the Sherwin-Williams brand. Although it is not very light, this color can be used in many rooms and even on exterior walls.
And since now you know more about its undertones, LRV, trim colors, and more, you will easily find the best place for its beauty in your home!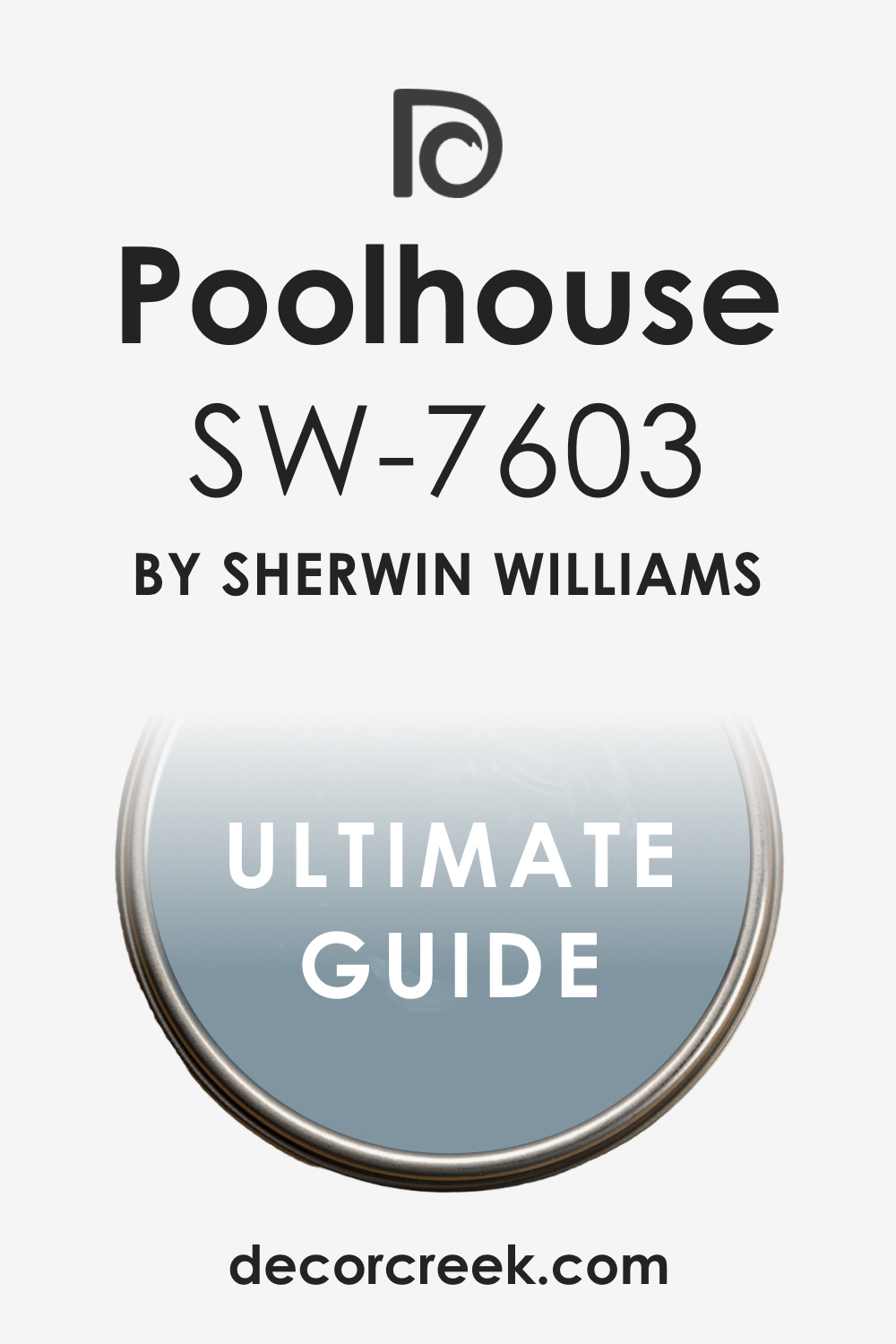 Frequently Asked Questions
⭐Does SW Poolhouse read gray?
No, this blue doesn't read gray, although it has slate gray undertones.
⭐Will this color work with black?
Yes, you can pair SW Poolhouse with black, but do it moderately.
⭐Does SW Poolhosue work with other blues?
Of course! Especially if you pair it with deeper and darker blues.