We rarely consider blue as a paint color that best suits home interiors. Most people believe blue is hard to use in their homes and pair with other colors, so this paint is typically used on cabinets, doors, or accent walls only.
However, today we want to introduce you to one of the shades of blue that can be used almost anywhere in your house due to its versatility. This shade of blue is called Waterloo and it is one of the blues by Sherwin-Williams.
In this article, we will tell you more about it, including undertones, LRV, and trim colors. Also, you will learn in what rooms this shade of blue is best to be used and how to coordinate it correctly.
With this information, you will be able to make this color work for you like a pro!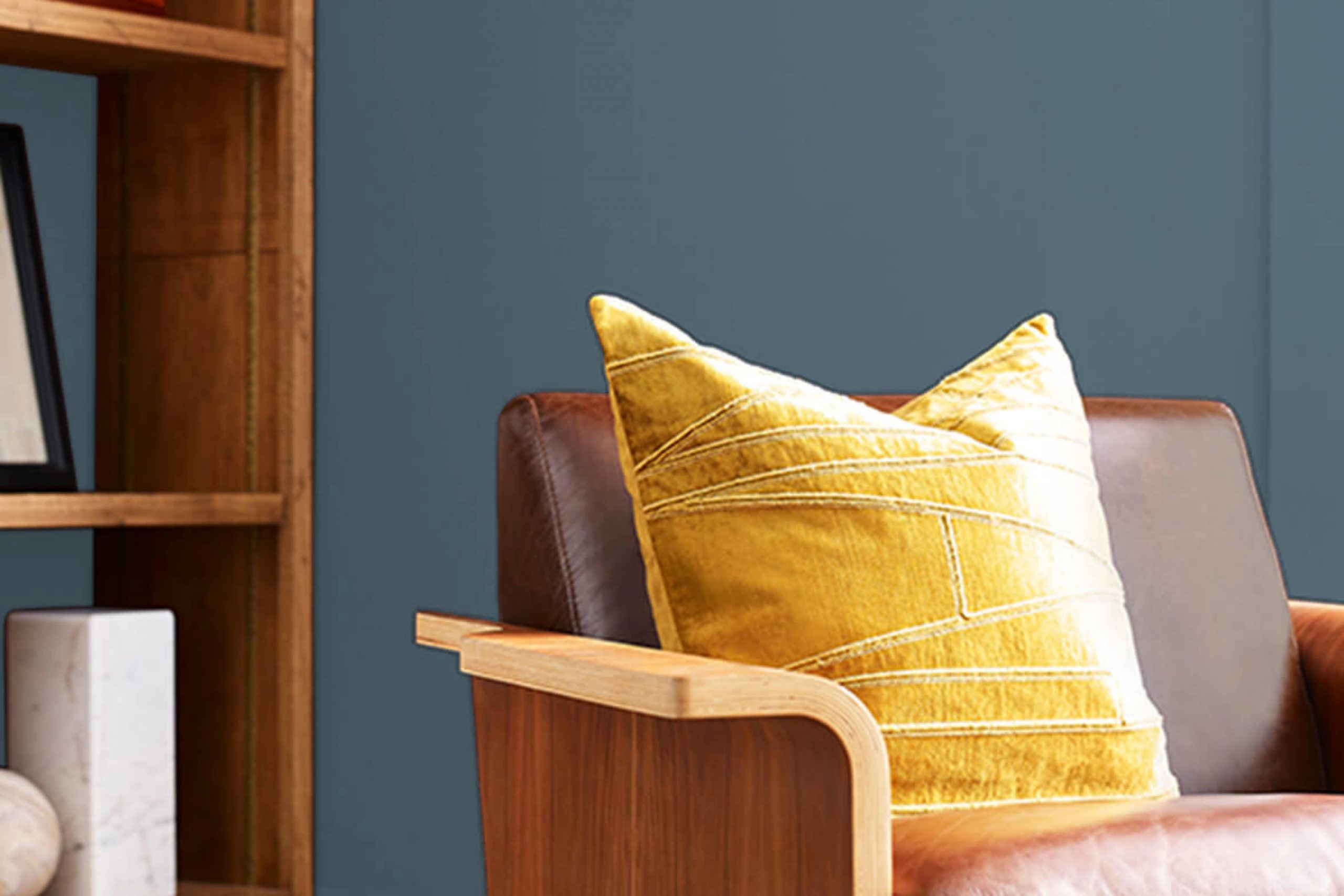 What Kind of Color Is Sherwin-Williams Waterloo SW-9141?
There are many blues out there, but SW Waterloo is hard to pass by! As Encycolorpedia says, this paint color is perfectly deep and soaked with rain-like blueness. Unlike a common belief, SW Waterloo blue is not very dark (although it's on the darker side of the scale). Thanks to this moderate darkness and soft depth, you can use it to add your home a tranquil yet luxurious vibe.
We bet you thought that such a deep and rich color will have limited areas of use. Nevertheless, this blue is pretty versatile! You can make use of it in different rooms and on different surfaces.
The only thing you must always keep in mind is lighting since it affects how this color reads in different spaces.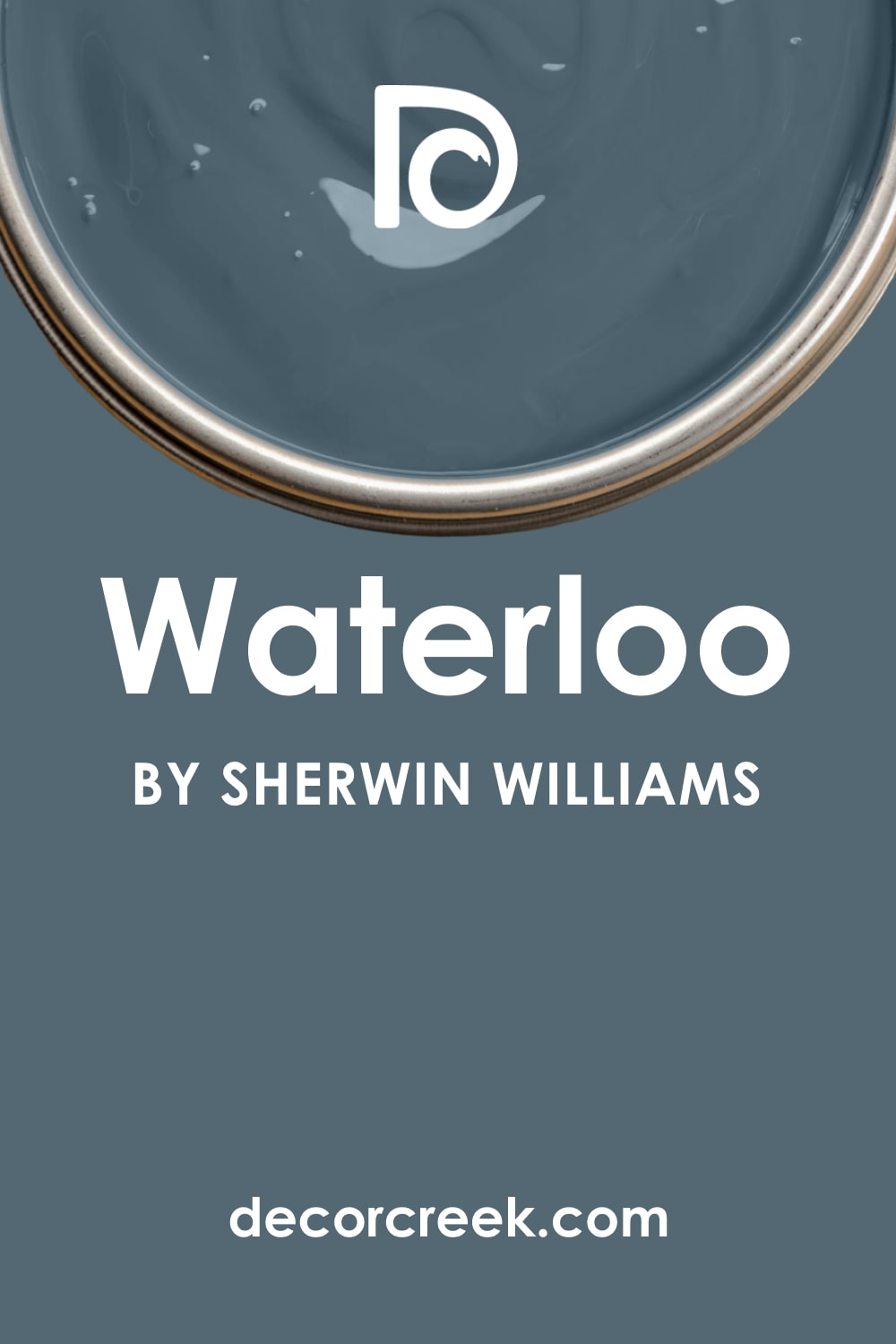 What Undertones Does Sherwin-Williams Waterloo Paint Color Have?
It is important to know what undertones a paint color has. Why? Knowing its undertones, you can predict more or less precisely how the color will read on the walls in different lighting conditions and in different color palettes.
Speaking of SW Waterloo blue, this color is tempered by very slight tones of gray, which makes this color pleasantly soft and perfectly balanced in warmth. Thanks to such undertones, SW Waterloo reads calming and perfectly deep on the walls.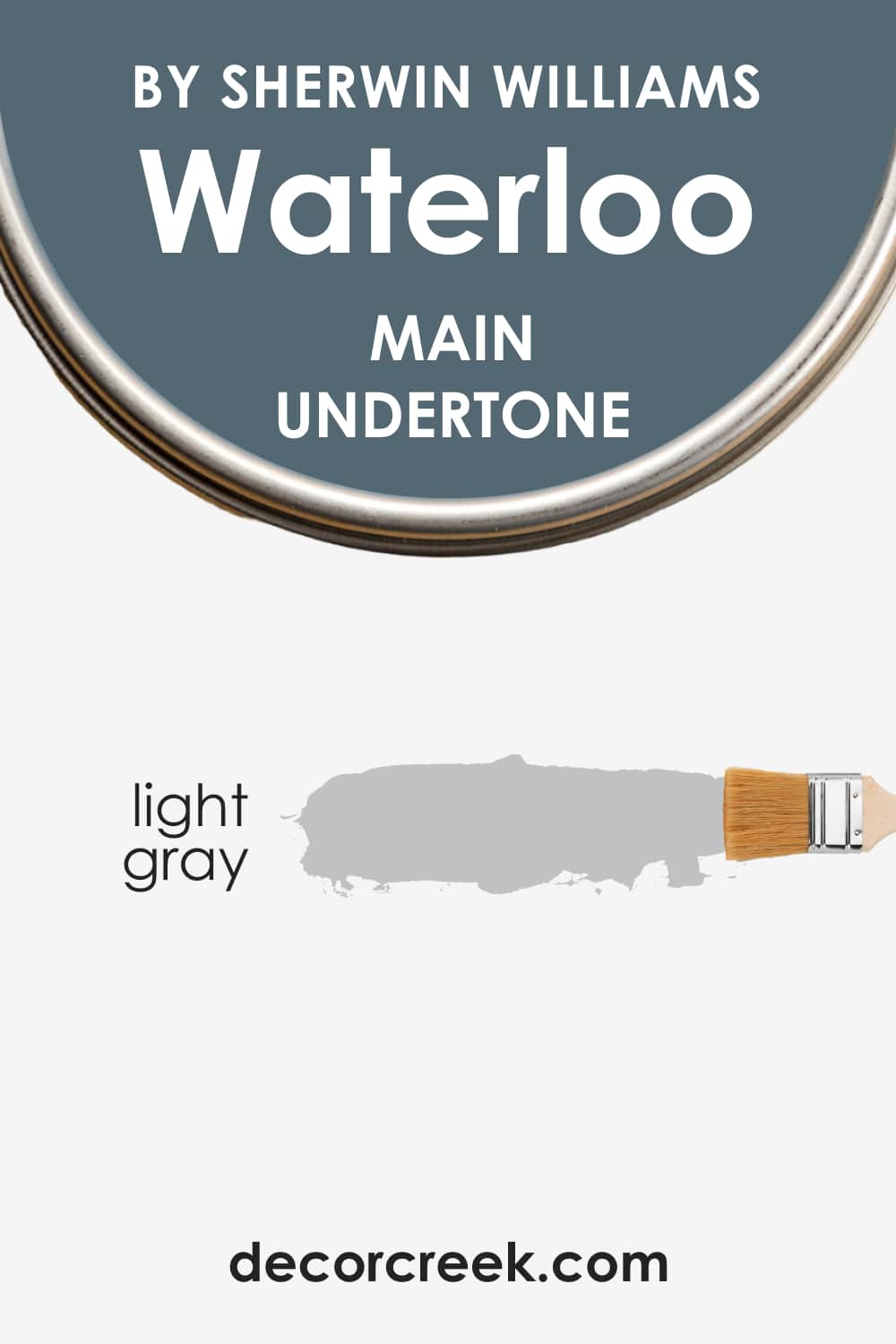 What LRV SW Waterloo Paint Color Has?
LRV (light reflectance value) is another essential feature you must know about paint colors. This measurement shows how much light the color can reflect when it is applied to the wall.
Darker colors have lower LRV meaning, whilst lighter colors have higher LRVs. There are also neutrals that have LRVs around 50. Simply speaking, the higher the LRV rate, the lighter the color. And vice versa.
The LRV rate of SW Waterloo is 13, which means this blue is rather dark in tone. This is why you might want to use this rich aquatic blue as an accent color in your home rather than painting all the walls with it!
When used moderately and adequately coordinated, SW Waterloo reads quite bold. That is why it will easily add character and depth to the walls!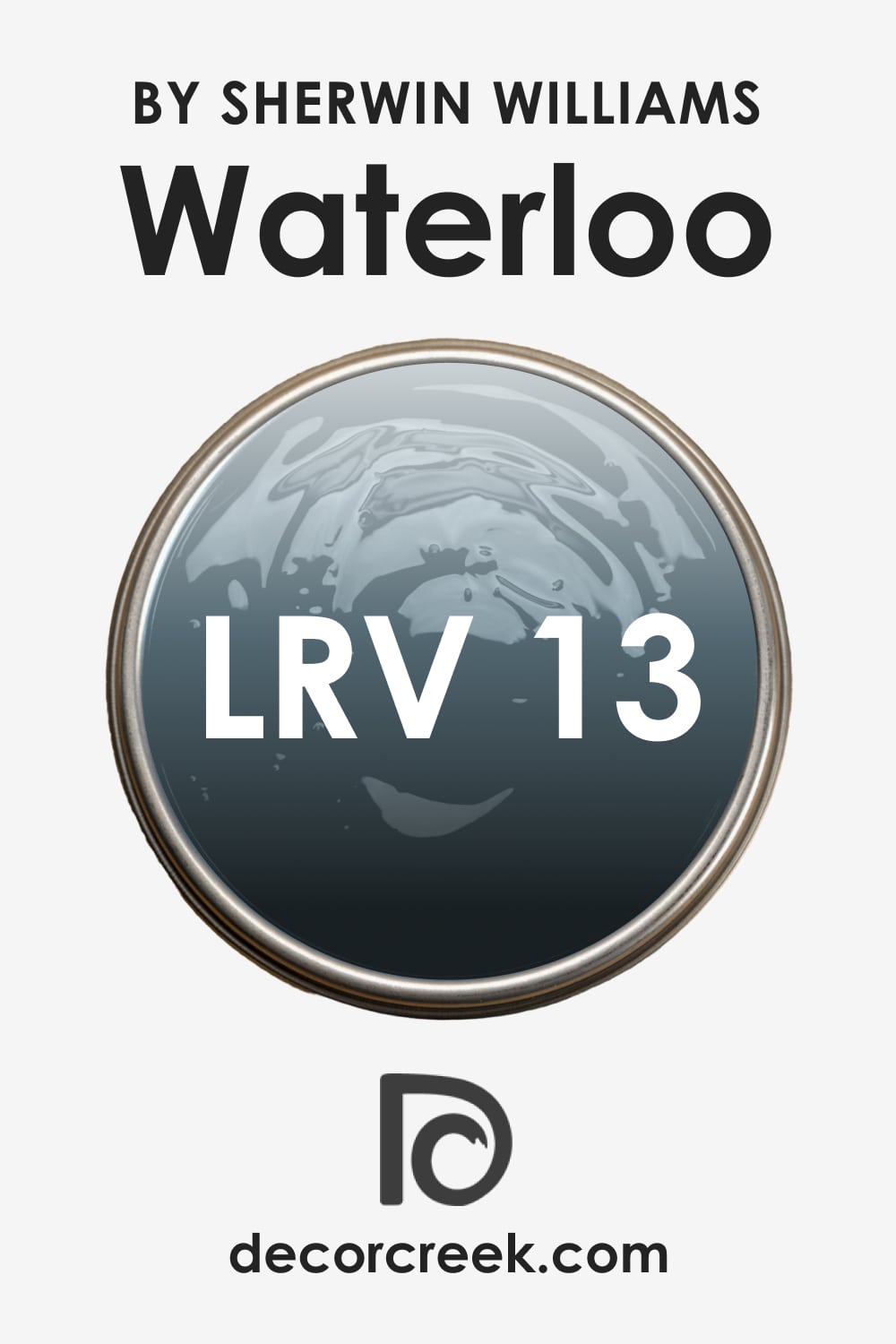 LRV – what does it mean? Read This Before Finding Your Perfect Paint Color
How Does SW Waterloo React to Light?
You already know that paint colors may react to light differently. Some of them may look lighter, whilst others may read darker depending on how well they are lit. SW Waterloo is exactly the color that is very reactive to light!
Although you can use it in quite many directions (east, west, north, and south) in your home, this blue color still has a tendency to make your space seem smaller, bringing the walls closer.
The only way you paint all the walls in this specific paint is to do it in larger-sized rooms. Otherwise, in smaller and poorly-lit spaces, the Waterloo color will appear much smaller and more concise.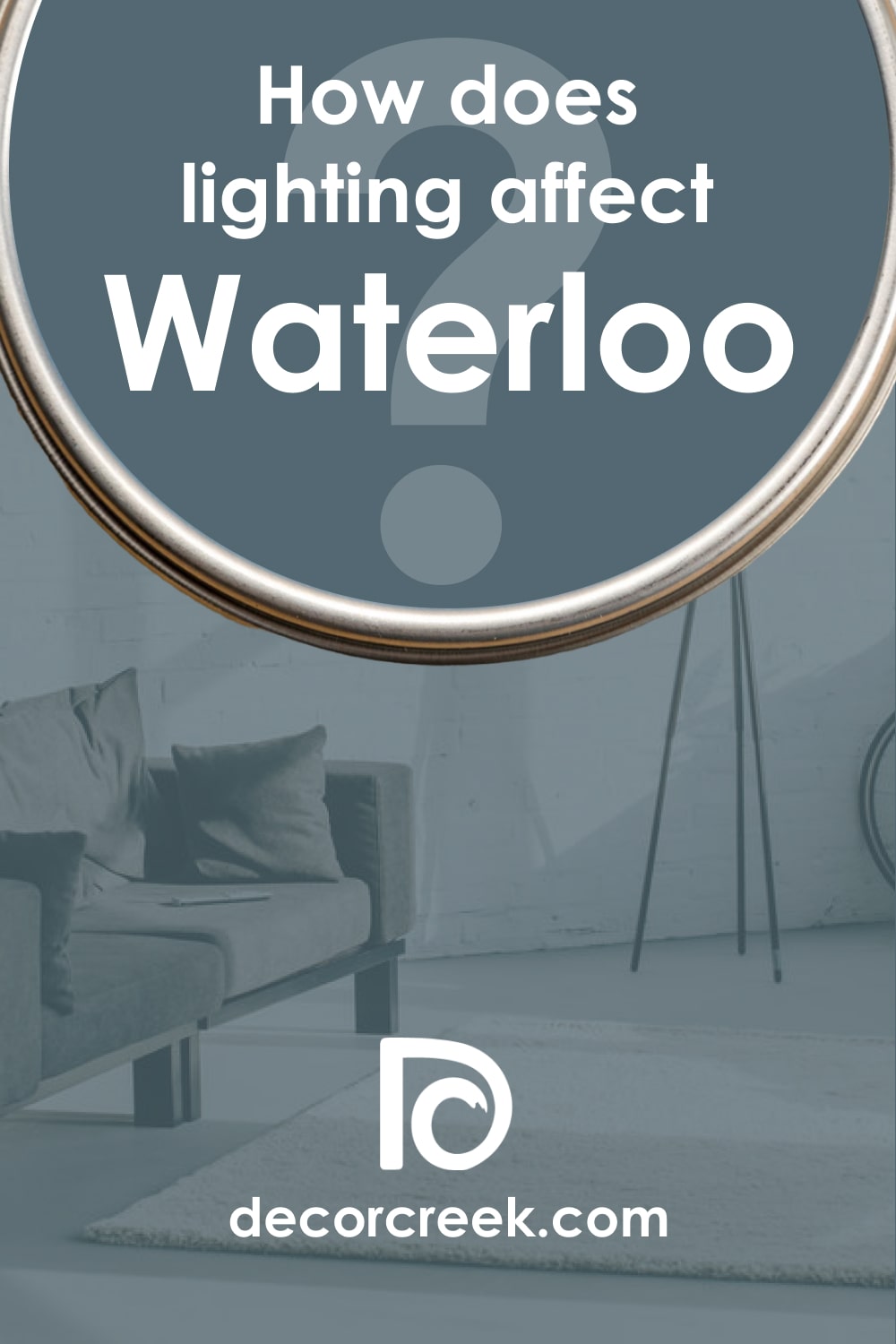 Is Waterloo SW-9141 a Warm or a Cool Color?
Speaking of how this aquatic and calming blue reads, warm-toned or cool-toned, we would say it is somewhere in the middle. If you look at it on the color swatch, you will see SW Waterloo is neither warm nor cold.
However, depending on lighting conditions, it may reveal a cooler or slightly warmer hue indeed! For example, when this color is lit directly, it looks lighter than it actually is, revealing the true hue.
On the other hand, in rooms with very little to no light, SW Waterloo reads darker, closer to a deeper blue or almost black in some conditions. This is why we strongly recommend you sample it before applying the paint!
What Are the SW Waterloo Coordinating Colors?
To achieve a good-looking and balanced color palette in your home, you should know how to coordinate paint colors correctly. This is why here is a brief guide for you below that will help you pick the correct coordinating colors for SW Waterloo:
SW Kestrel White
SW Coral Clay
For a monochromatic palette, we would recommend you the following colors to use with SW Waterloo:
SW 9139 Debonair
SW 9140 Blustery Sky
SW 9142 Moscow Midnight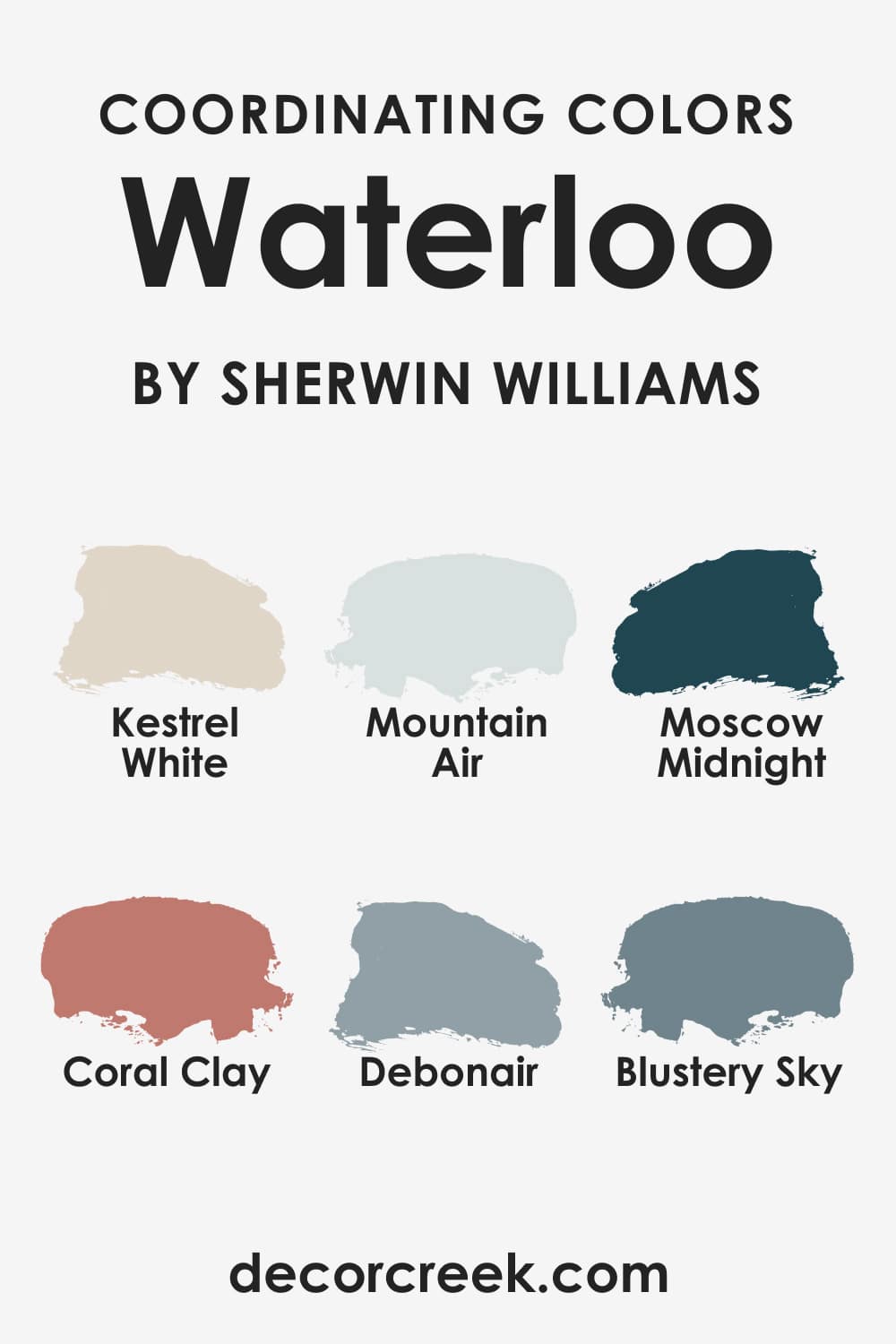 What's the Best Trim Color For SW Waterloo?
White is the best paint color to use on trim and moldings. It is highly versatile and can pair well with most colors in the space, fitting many color schemes and palettes. For SW Waterloo, we would also recommend using whites on your trim. To be precise, the following whites will be most suitable:
SW Pure White
SW Extra White
Each of them will help you easily protrude the true hue of this magnificent blue!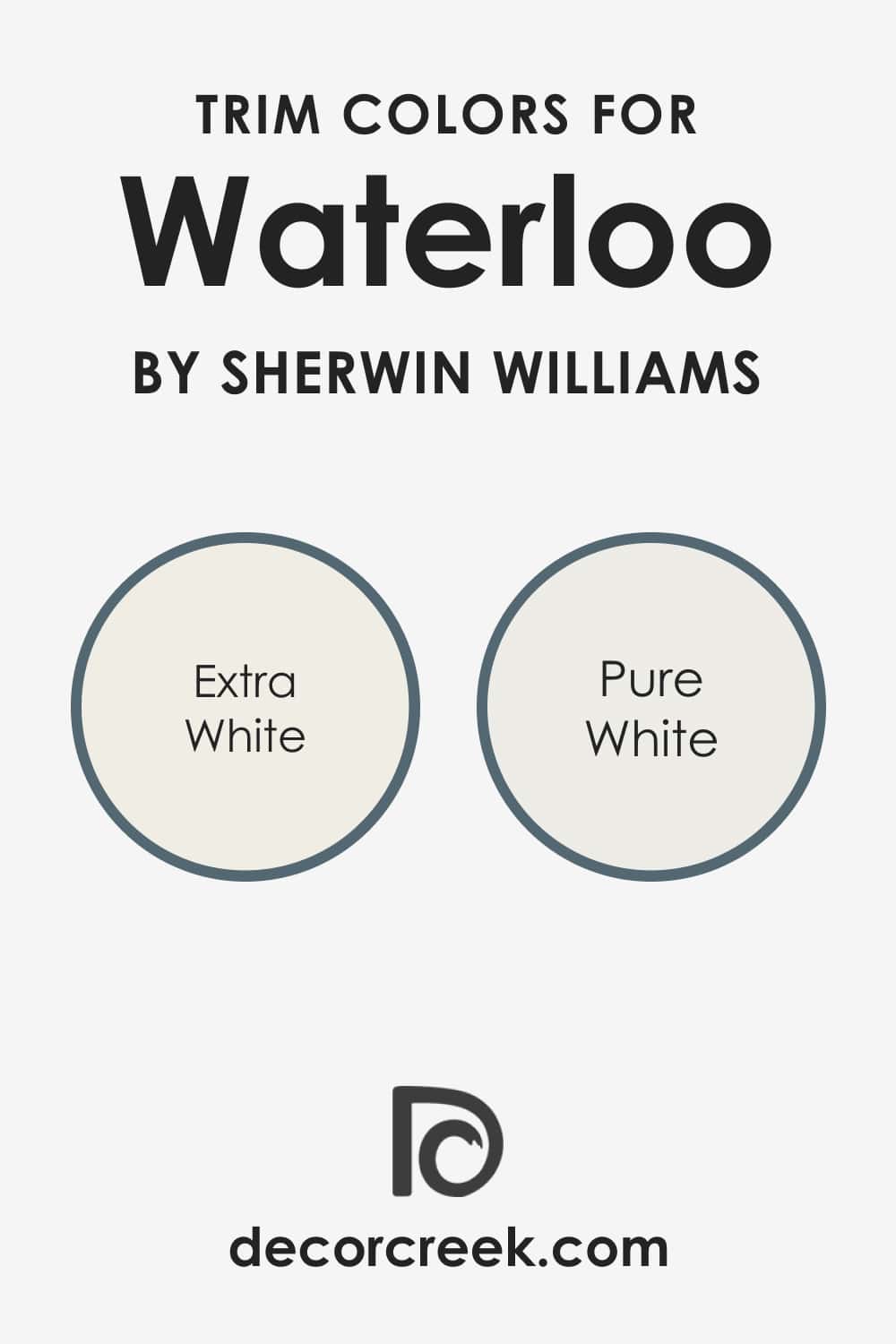 Paint Colors Similar to SW Waterloo
Should you need to find the color that reads almost the same as the one you were initially going to use, knowing similar colors is a must. When you know what colors can be used as substitutes, you can find the best-matching alternatives quickly.
For SW Waterloo, the following colors will work as substitute colors best of all:
SW Needlepoint Navy
Behr Rush Hour
BM Andes Summit
Farrow&Ball Inchyra Blue
PPG Silent Night
Valspar Prussian Cadet
Of course, you should realize that none of these colors is a 100% match! Each of them will vary slightly in tone or LRV.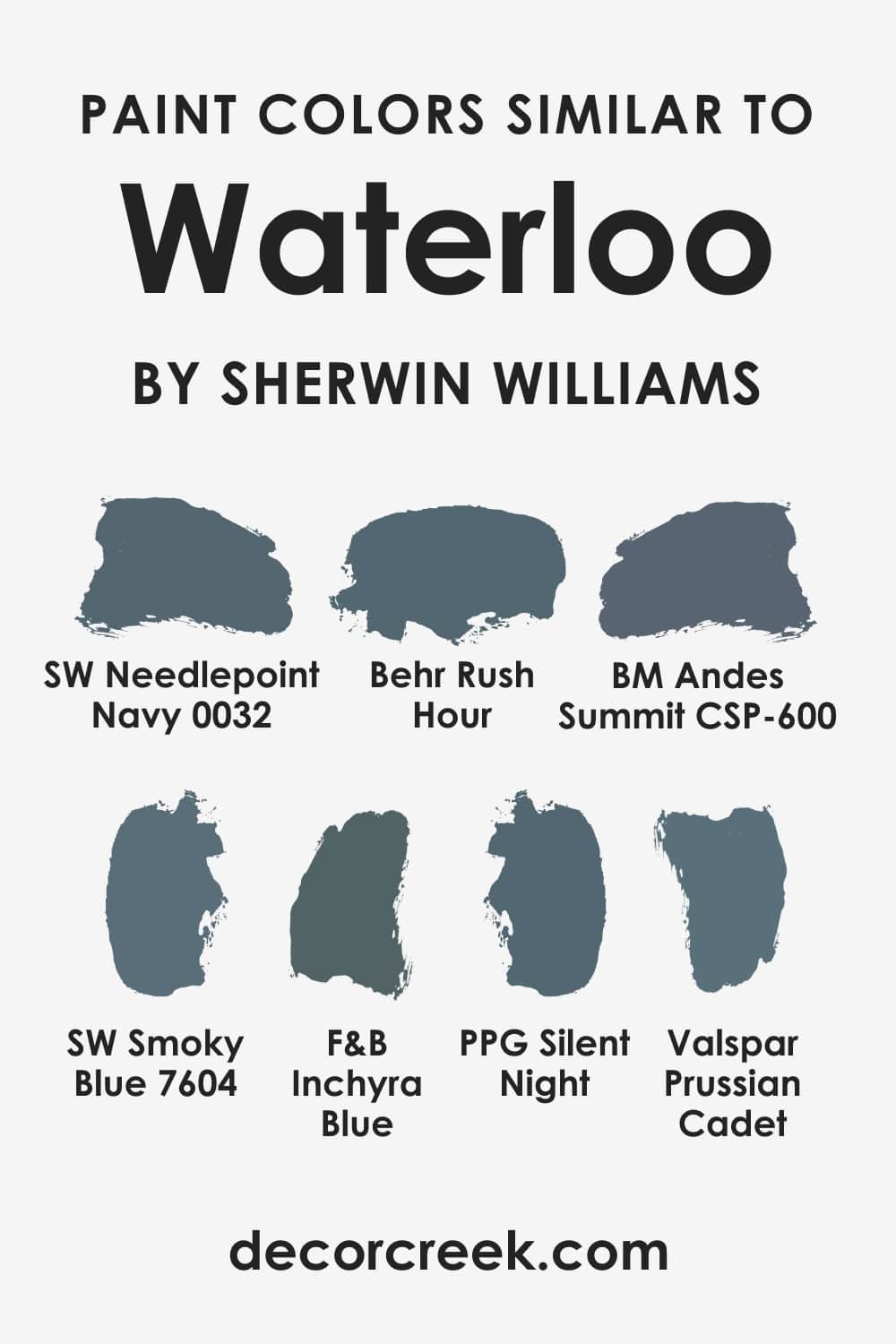 Colors That Go With SW Waterloo
To select the most harmonious color palette for your home, you should know what colors work well with the blue you are going to use as your wall color.
At this point, note that blues work well with golden colors, off-whites, whites, shades of grey, mustard yellows, browns, and greiges. For example, you can use this rich and deep-toned blue with the following colors:
SW Rhinestone
SW Malted Milk
SW Warming Peach
SW Coral Clay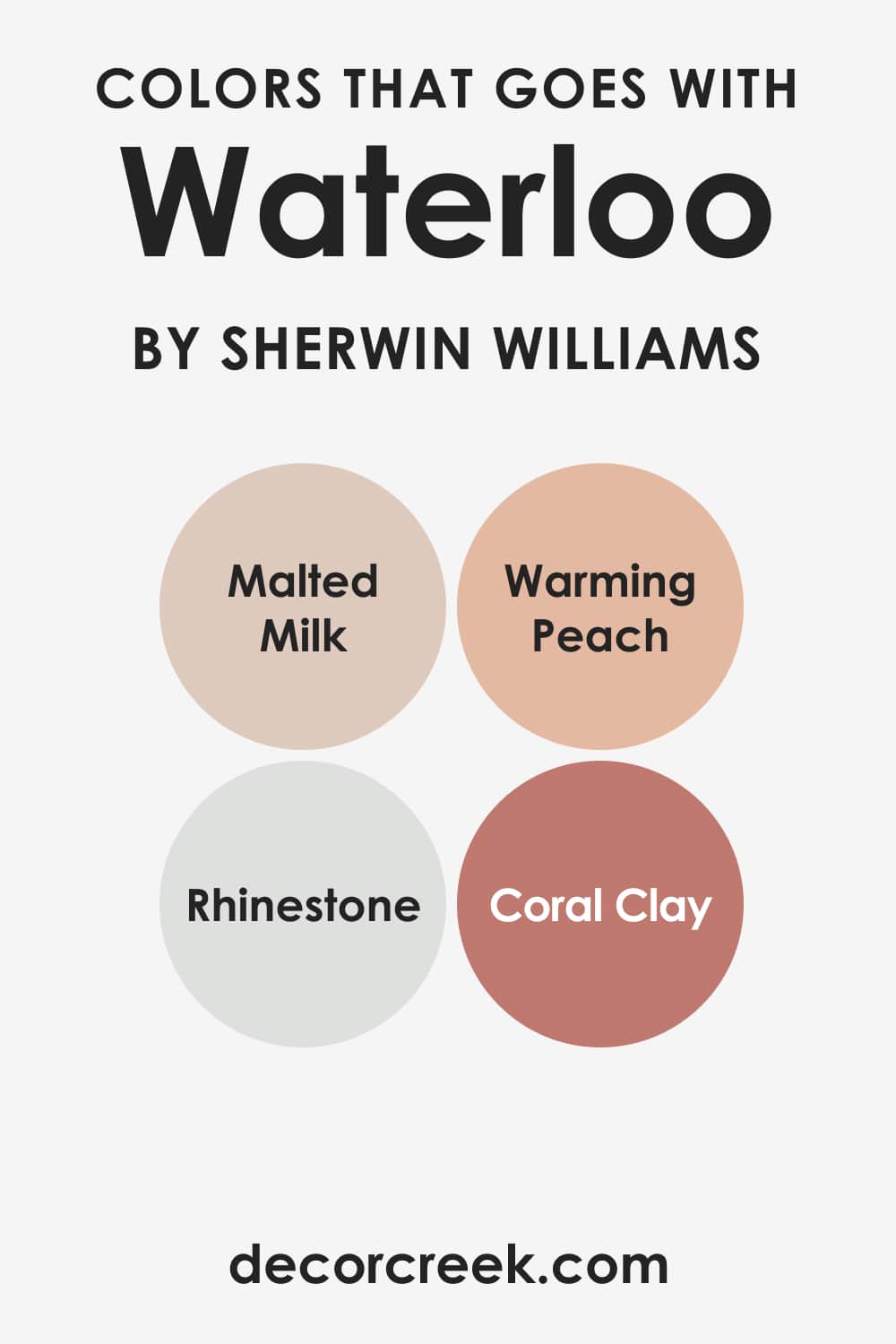 Comparing SW Waterloo With Other Colors
To help you better get the differences and tone nuances between similar colors, we have compared the Waterloo paint by Sherwin-Williams with other shades of blue that read more or less alike. Read on to discover what makes them distinct and unique.
Waterloo vs Smoky Blue
Compared to SW Waterloo, the Smoky Blue color reads bluer and a bit lighter. Its counterpart, on the other hand, reveals its gray undertones more prominently, which makes SW Waterloo read darker and deeper.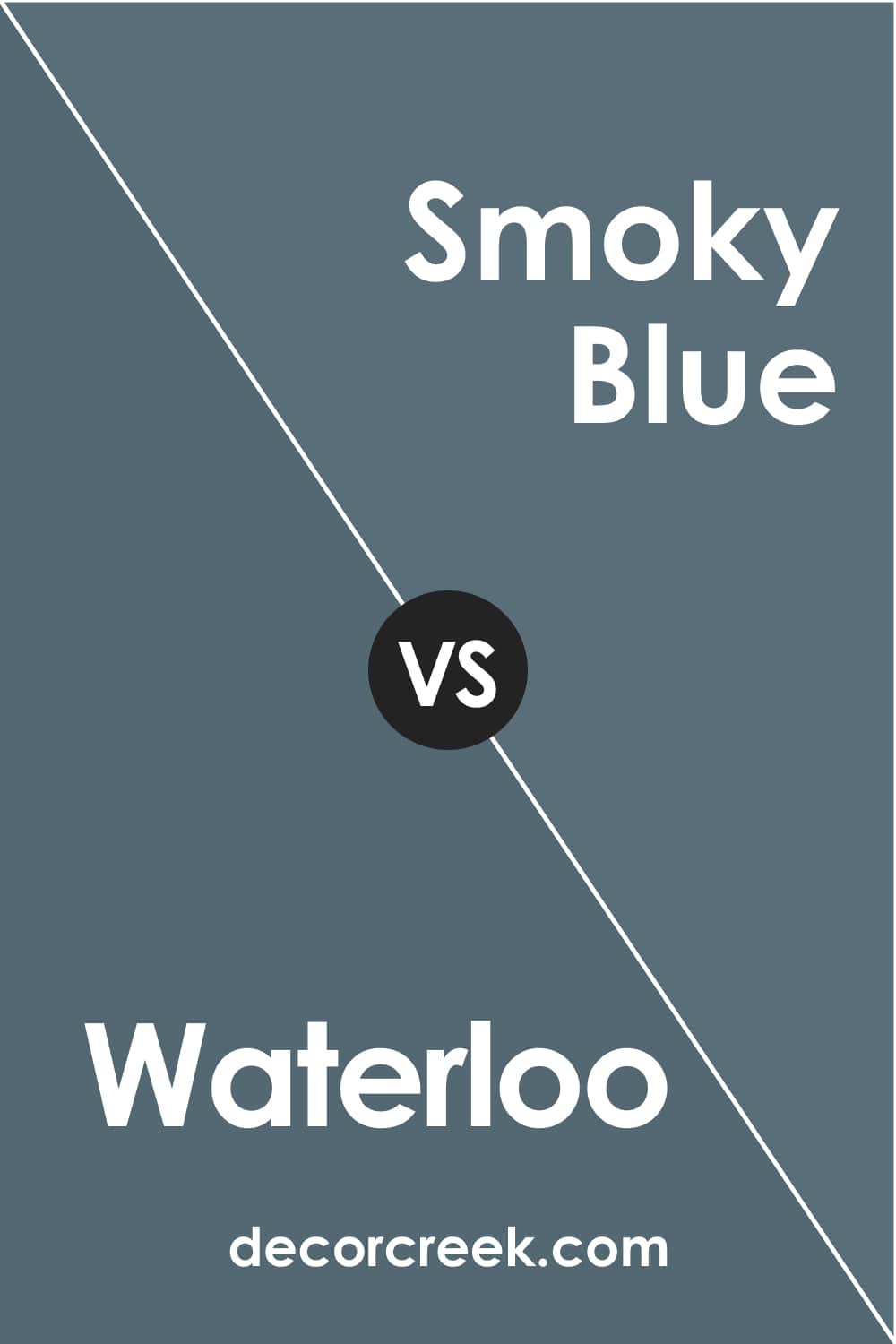 Waterloo vs Riverway
Compared with SW Waterloo with its blue-gray hue, SW Riverway reads prominently greener. This is the most significant distinction that's hard not to notice! However, both colors are almost equally dark, and this is what makes them related to a certain point.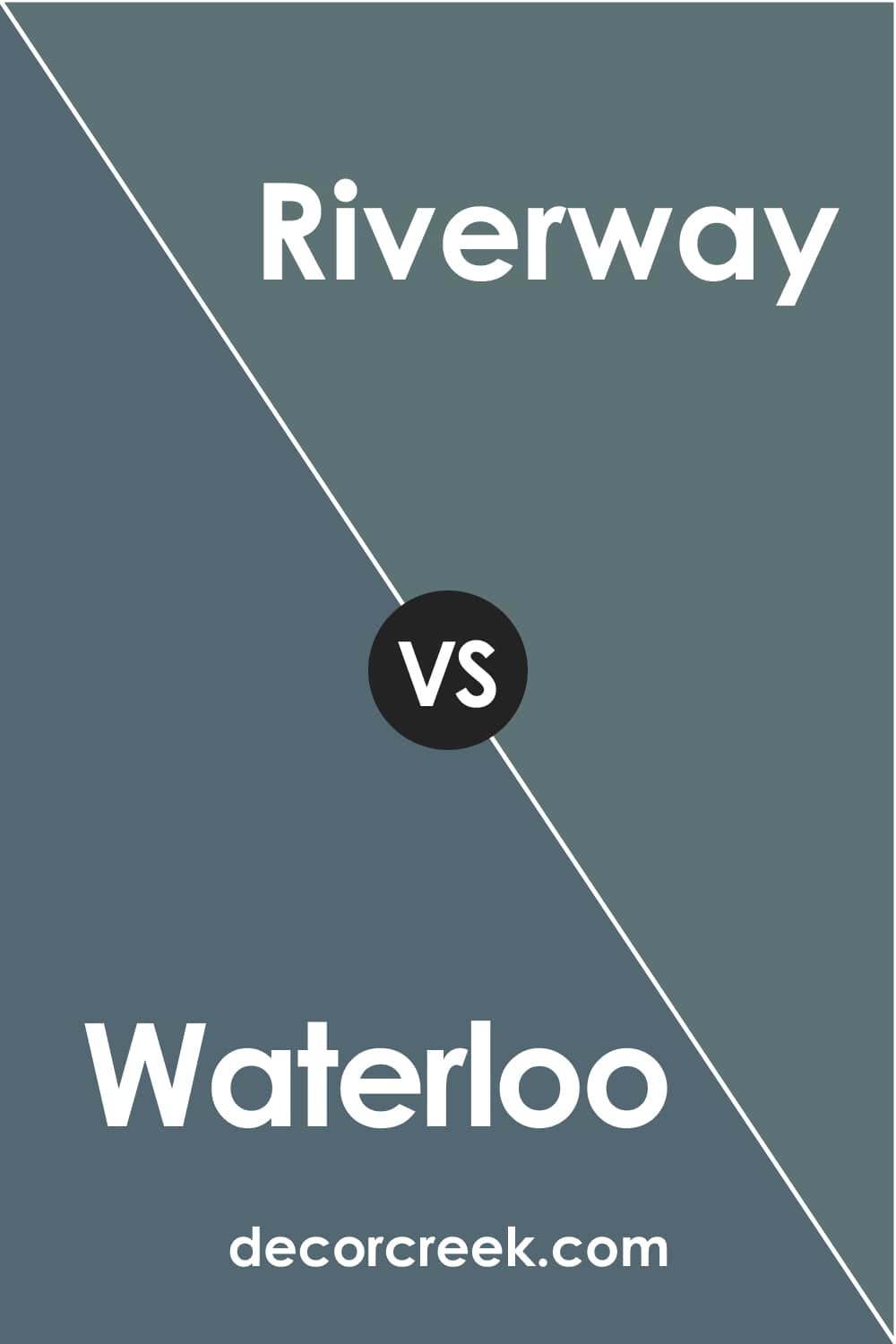 Waterloo vs Slate Tile
SW Slate Tile has undertones of gray, but you can also find a hint of green in this color. Compared with the Waterloo blue, SW Slate Tile reads slightly grayer, showing a barely seen hint of green sometimes.
Waterloo vs Hale Navy
BM Hale Navy is a complex color because of its undertones. Hale Navy is a deep, dark blue with gray undertones, but it also has a very slight hint of green. Compared with SW Waterloo, the Hale Navy color reads darker and bluer, with a more pronounced navy undertone.
Waterloo vs SW Distance
If you compare these two, you will see that SW Distance reads slightly lighter and much bluer than SW Waterloo with its dark grayish hue. Both colors are pretty dark-toned, but due to a brighter blue tint, SW Distance seems less oppressing.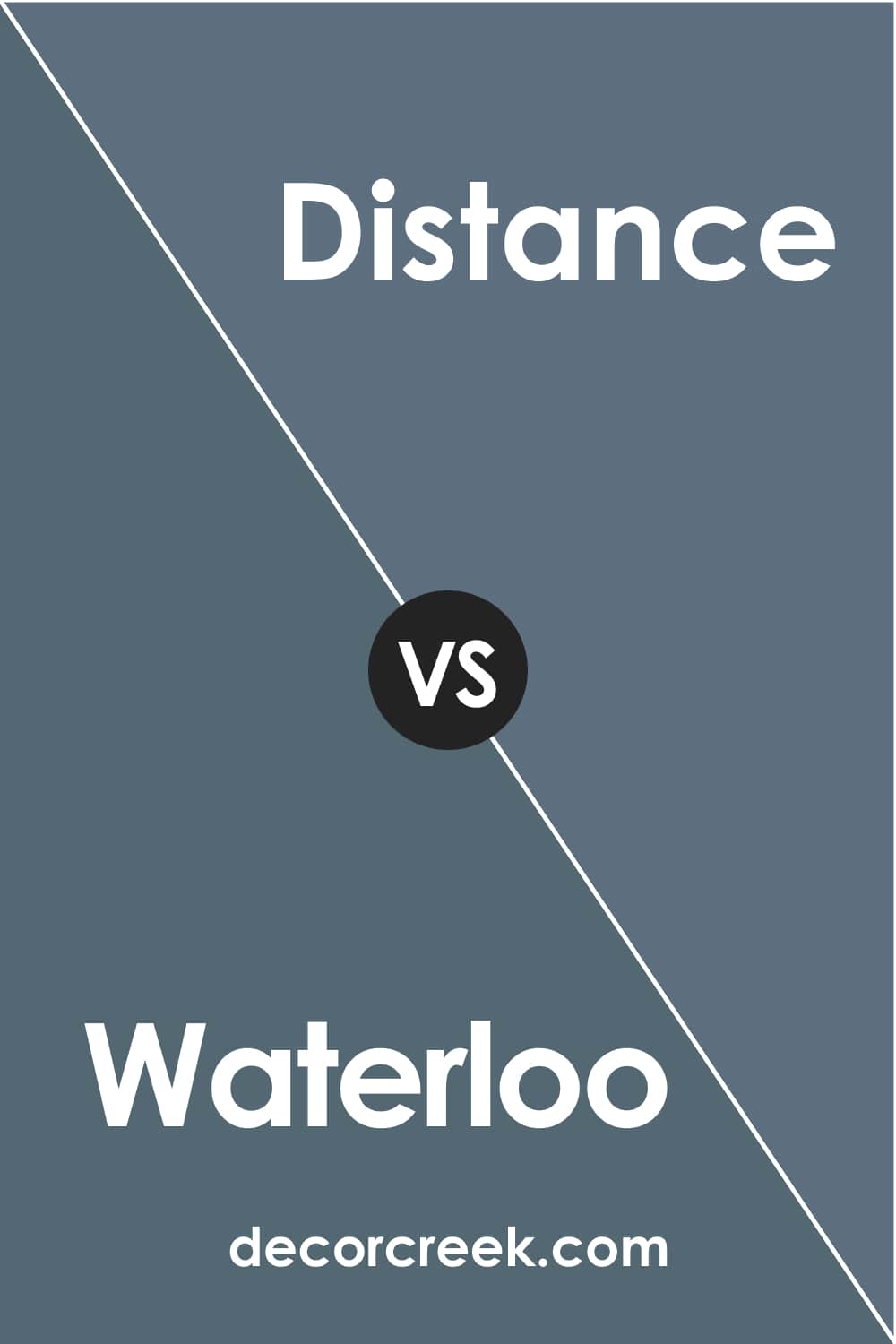 Where In Your Home to Use Waterloo SW-9141 Color?
SW Waterloo is quite a dark color. Besides, it is also rather complicated due to its ability to read differently in distinct lighting conditions. This is why it's good to know in advance how it might work in various spaces in your home. Below, you can find out how this color might read in the most common areas of your house or apartment.
Waterloo SW-9141  in a Living Room
Don't be afraid to use this color in your living room, but consider using it as accent wall paint on either the focal fireplace wall or any adjacent accent wall.
In your living room, we recommend you pair this blue with greys, cool whites, off-whites, and also warm-toned greys. Also, it will work nicely with greiges, taupes, mustards, pinks, and mauves.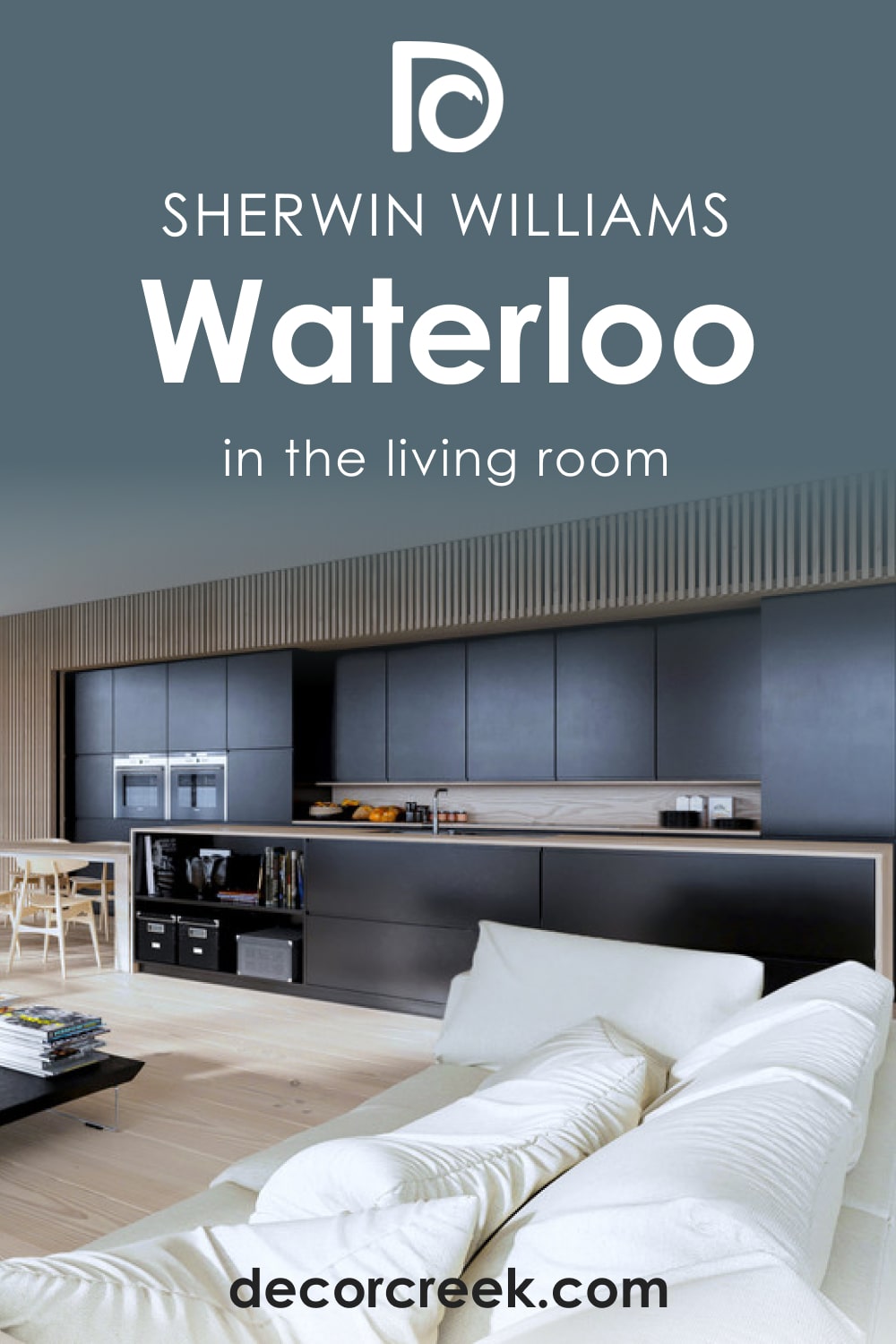 Waterloo SW-9141  in a Bedroom
This paint will do its best as an accent color behind the headboard of your bed. As an option, you can try to pair it with natural materials and textures, as well as incorporate some whites, off-whites and grays into the space (e.g., through throw pillows, curtains, and other decorative accents).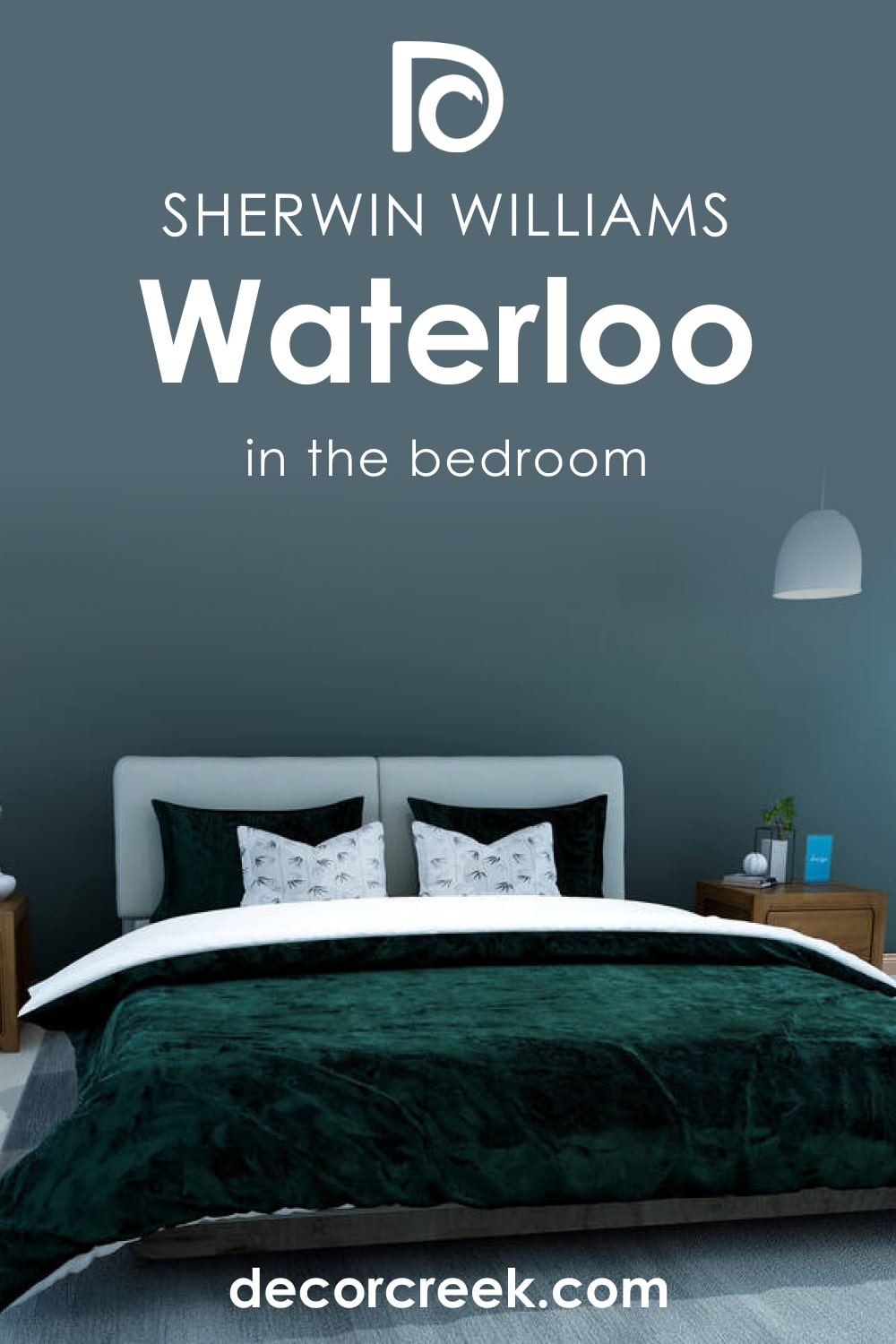 Waterloo SW-9141  for the Bathroom
Since this blue is rather dark, avoid using it on all bathroom walls. If the size of the room allows, paint an accent wall with SW Waterloo. Otherwise, this blue might work great on your vanity sink or drawers.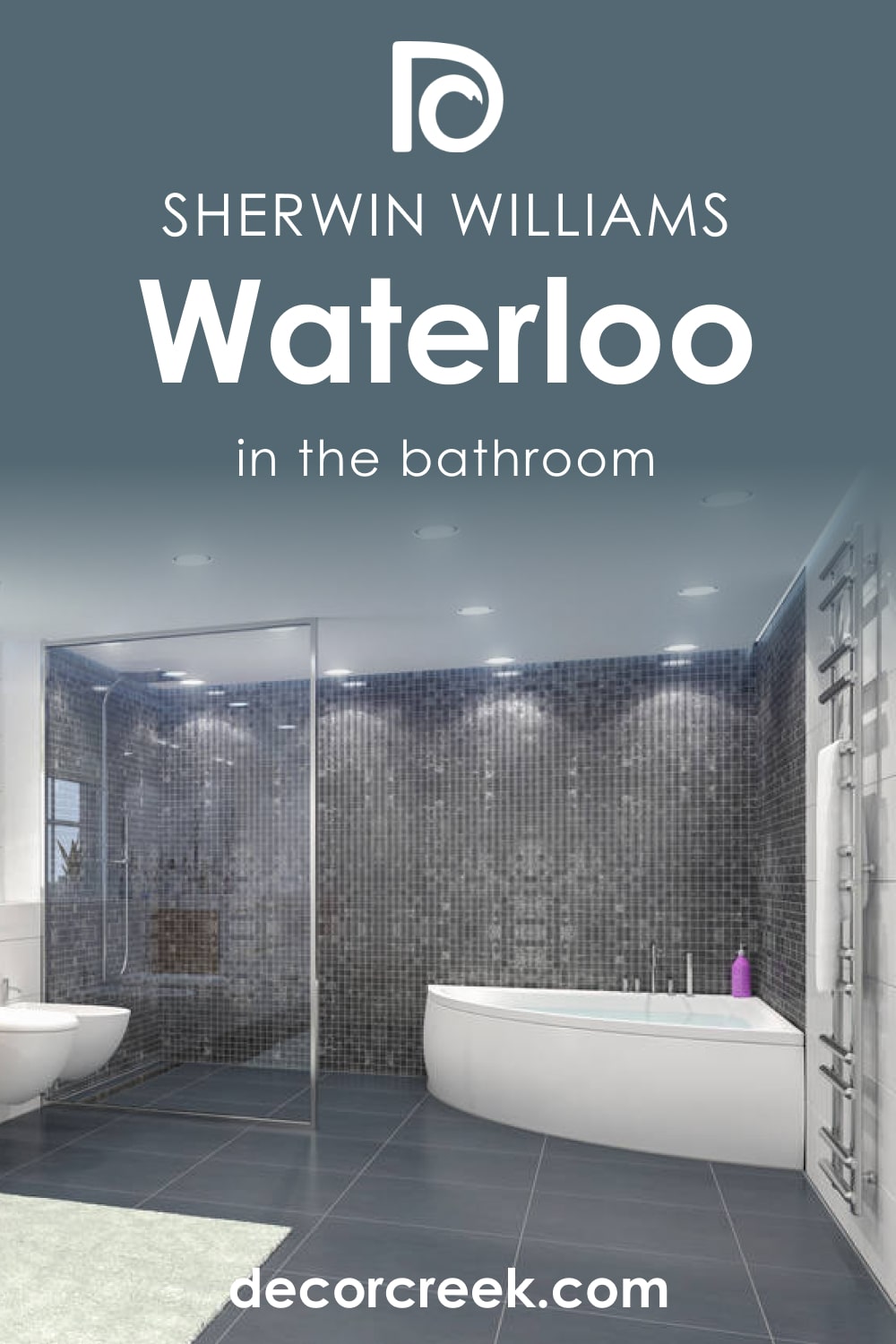 Waterloo SW-9141 and Kitchen
Speaking of kitchens, we highly recommend SW Waterloo as the color for either lower or upper cabinets. However, if you like, you can use it on both.
To complement this dark shade of blue, you'd better pair it with white backsplash tiles and a marble white-veined countertop. Nickel or golden-tinted pull drawers and handles will add a lovely and bright accent.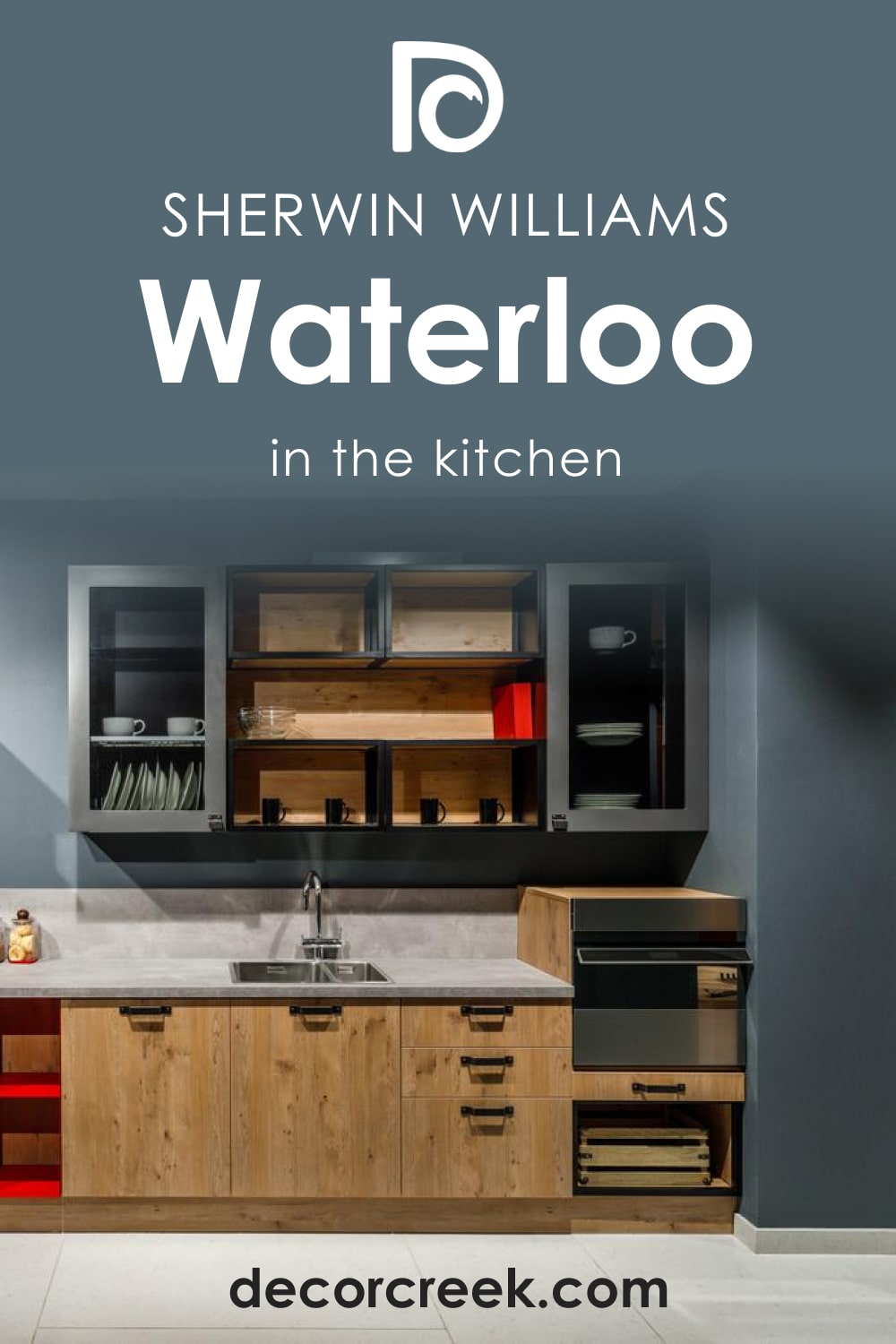 Waterloo SW-9141 for the Exterior use
This paint color can also be used on exterior walls, but you must note that it will definitely wash off there. So, if you are planning to use it to paint your house, we recommend pairing SW Waterloo with lighter greys and whites on the door and window frames and trims.
Well, now you know more about this gorgeous color! You not only learned what kind of blue SW Waterloo is. You also discovered how it works in different rooms.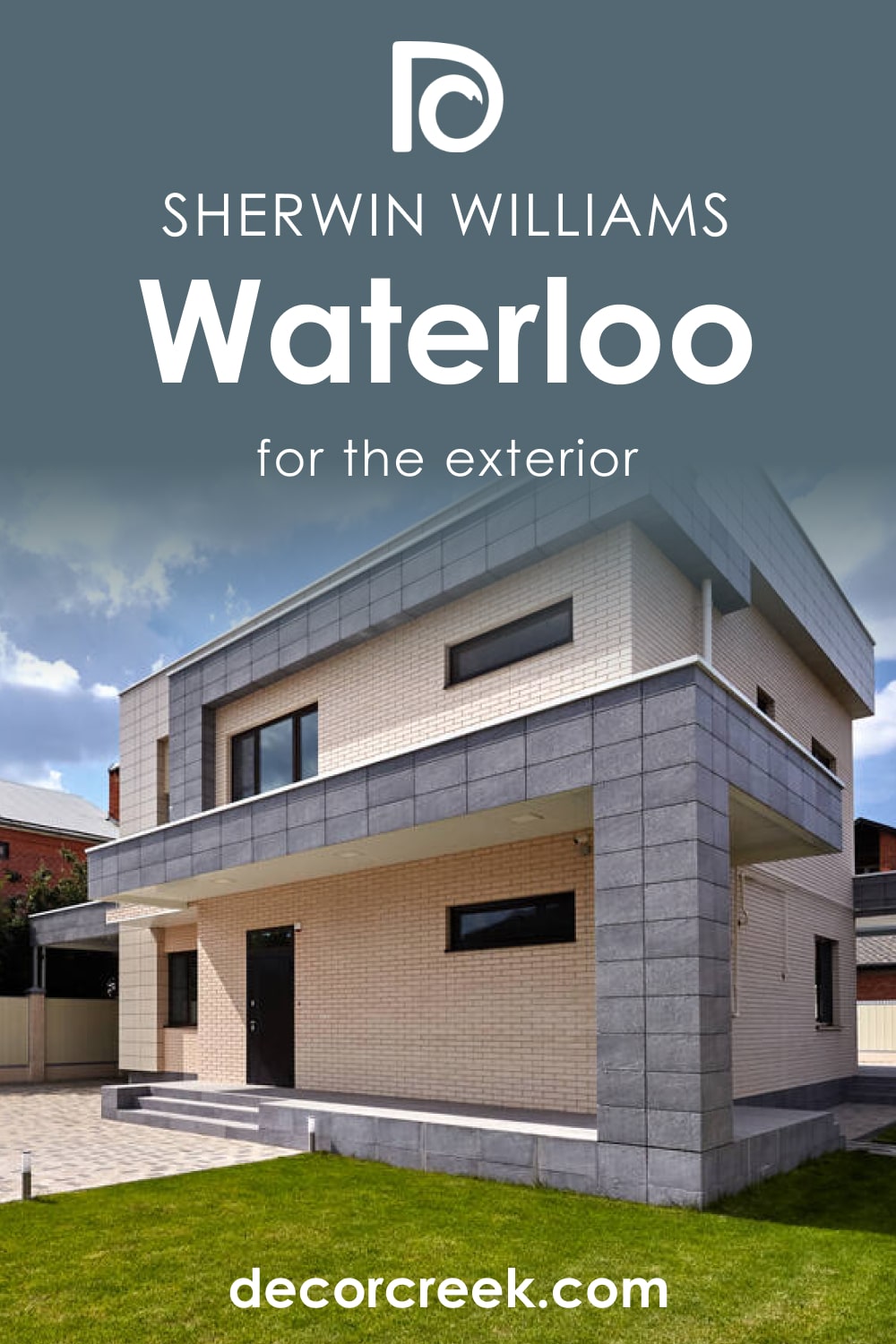 Also, now you know how to coordinate it and what colors will work best with this beautiful shade of blue. With all the information we shared with you today, you will find the best place for this blue in your home very quickly!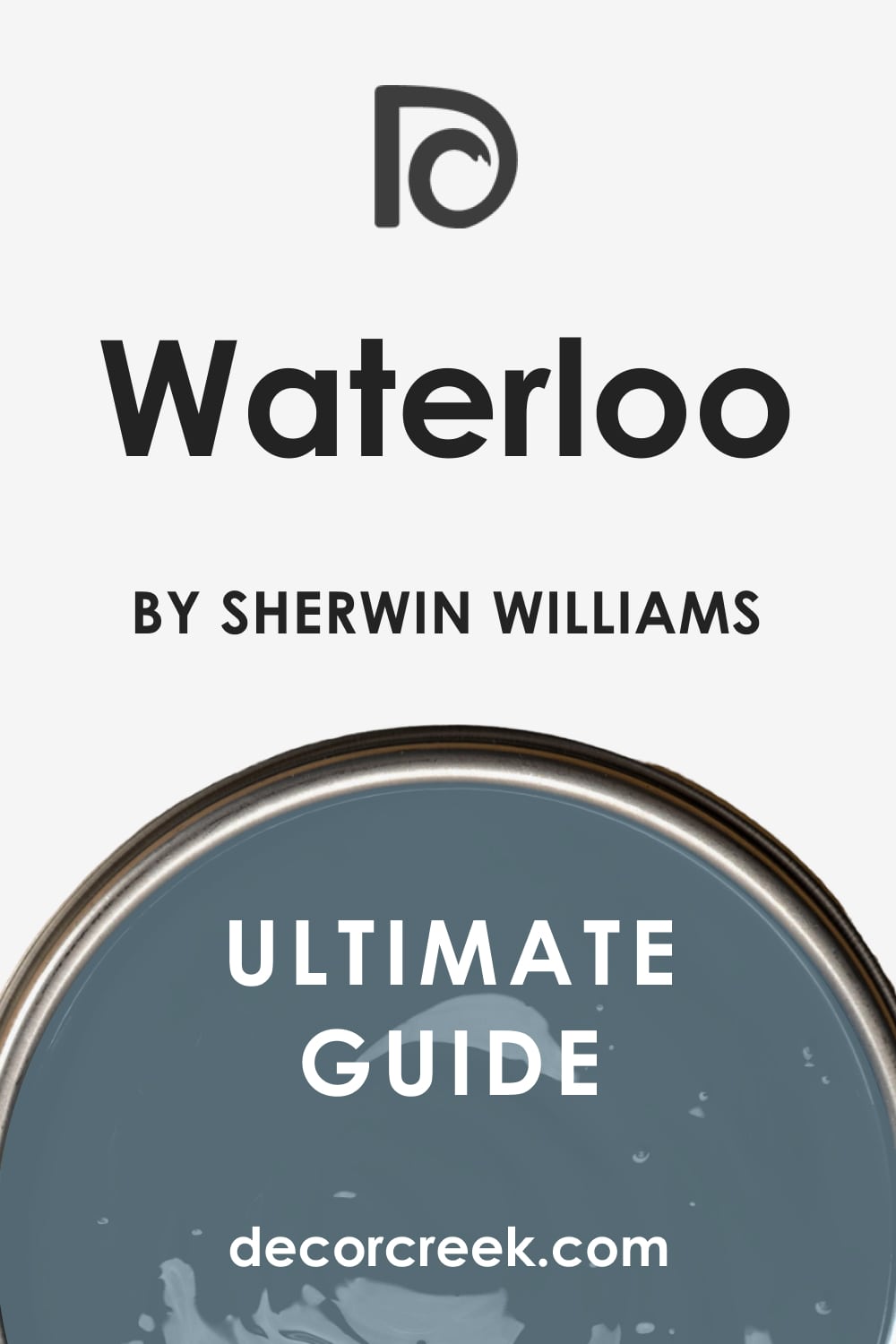 Frequently Asked Questions
⭐Does SW Waterloo read grayish?
No, typically, it doesn't. But in spaces with dim or little light, it can indeed seem darker, revealing its gray hue more.
⭐Will this blue work on cabinets in the white kitchen?
Yes, this shade of blue will work with white pretty well, especially if it's a crisp white.
⭐Does SW Waterloo work with wooden surfaces?
In most cases, this aquatic blue goes well with wooden surfaces, be it floors, furniture, or countertops.