We often believe that blue paint colors are not very suitable for interior walls. Blue is often considered a cool-toned color that gives off a watery feel.
Besides, blues are believed to pair difficult with other colors. And since homeowners prefer something cozier and simpler, as a result, people stick to warmer colors. As an option, we use neutrals to pair them with other colors easily.
However, today we would like to introduce you to one of the most beautiful blue colors by Sherwin-Williams that will make your home look unique and also give it a cozy vibe.
Meet SW Grays Harbor! We will tell you what kind of blue it is, what it has in common with gray colors, how it works in different rooms, and what specific features it has.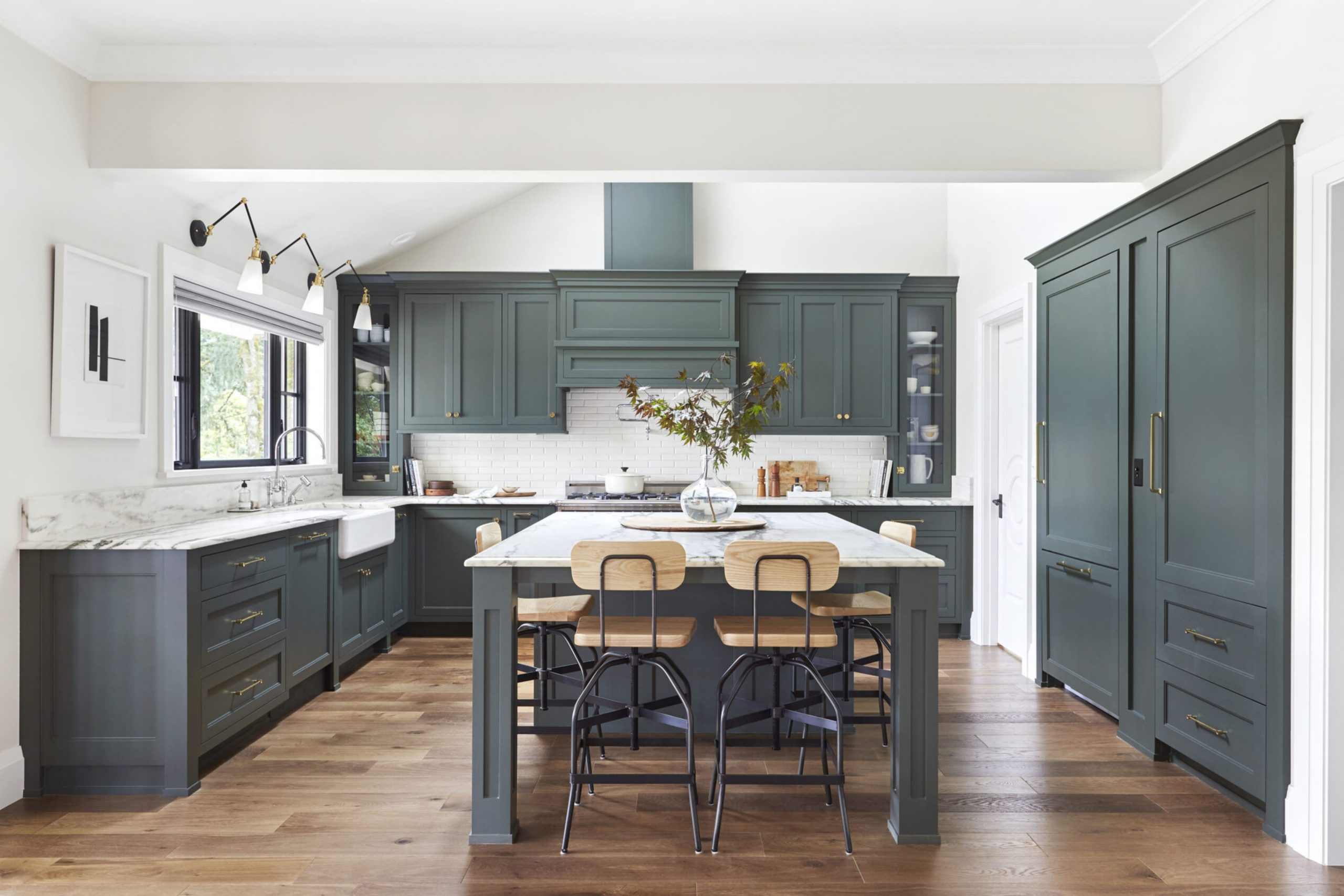 What Kind of Color Is Grays Harbor SW 6236?
As Encycolorpedia says, SW Grays Harbor is a beautiful and bold dark blue-gray paint color. If you are looking for a neutral and deep blue that won't make your home feel cave-like, but still reveal enough color, SW Grays Harbor might be your option.
If you are fond of accent walls, cooler colors and a bit of dramatic vibes in your living space. opt for this blue-gray.
SW Grays Harbor will give a fresh feel to your home and ultimately transform the atmosphere of any room, making it feel timeless and more dramatic.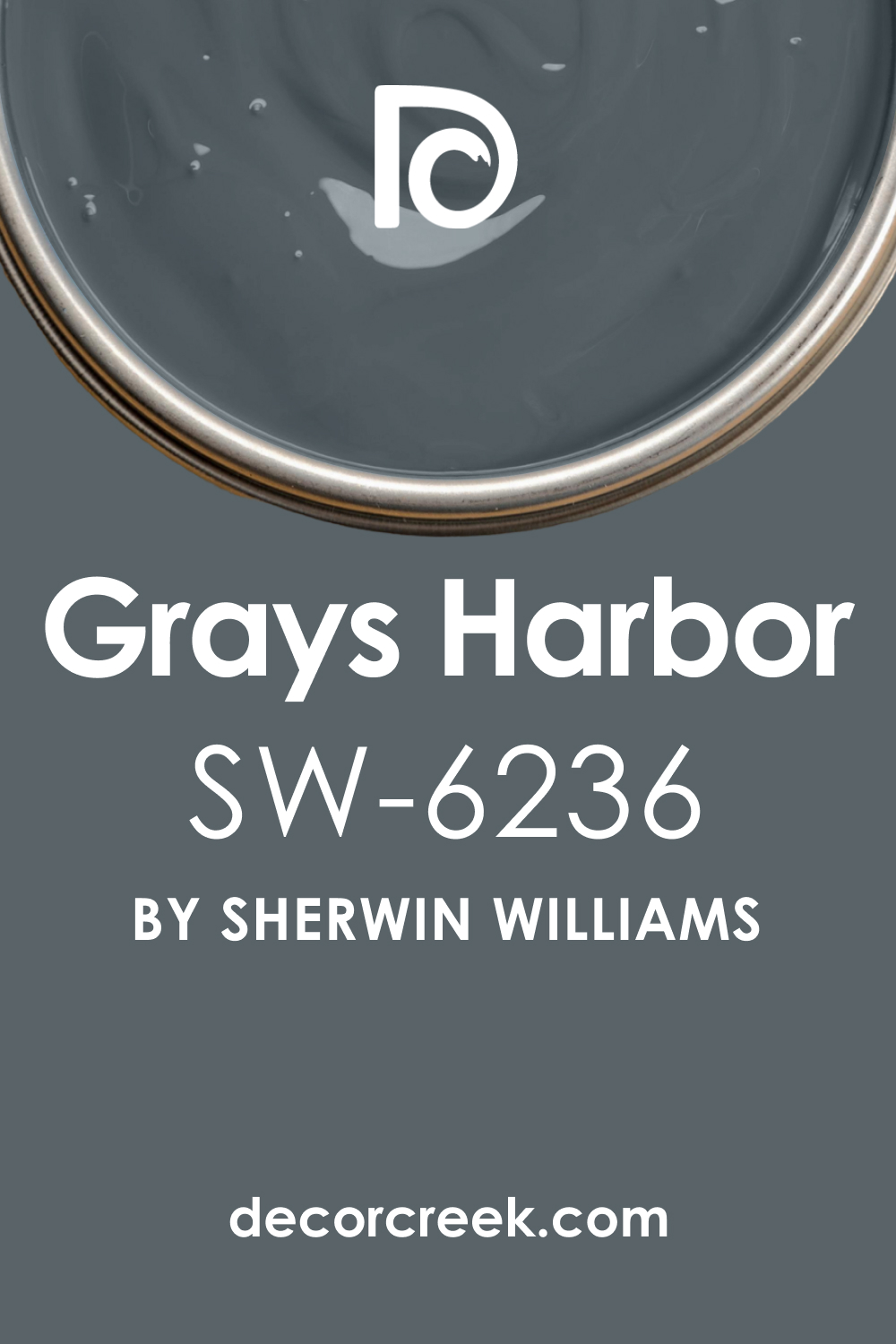 Is It a Warm or Cool Color?
SW Grays Harbor is definitely a cool-toned paint color. So, if you prefer warmer interiors that read creamy or beige, you'd better stay away from this reserved and sophisticated paint color!
However, those who are not afraid of adding a pinch of coolness to their home will absolutely acknowledge the depth of this beautiful color by Sherwin-Williams!
What Undertones Does Grays Harbor SW 6236 Have?
Knowing paint's undertones is a must if you want to use different colors correctly in your home and avoid unwanted effects on your walls. However, undertones are often not seen at first sight. This is why it's good to learn about them in advance and then sample the color, considering its base.
Speaking of SW Grays Harbor, this color is technically considered blue, and it does read blue on the walls, but it also has a significant dose of gray undertones. But you should not be afraid of this gray hue!
On the contrary, the cool gray base SW Grays Harbor has is what makes this paint color so well-balanced. As a result, it looks fresh yet not cold or icy on the walls.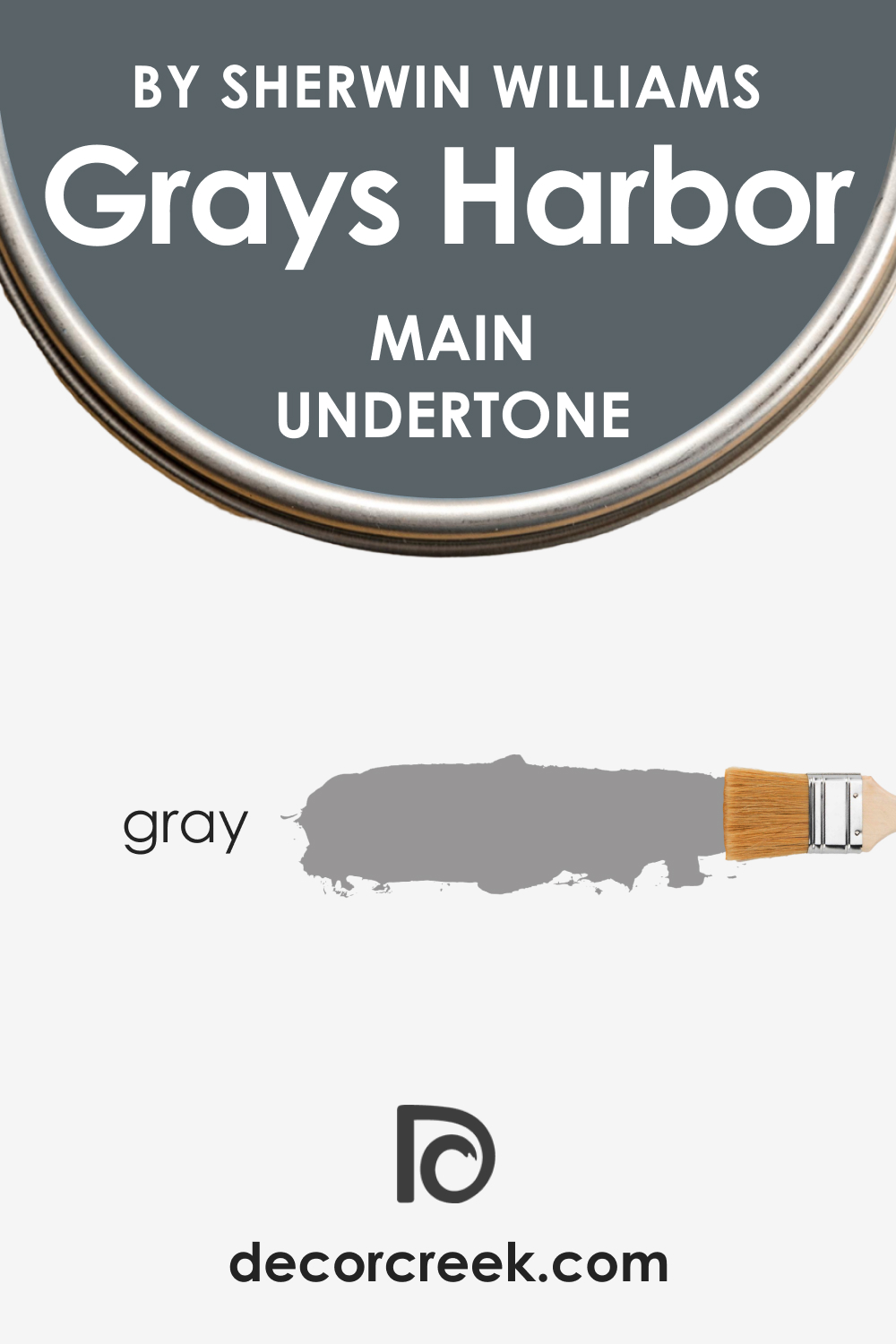 Coordinating Colors to Use With Grays Harbor SW 6236
Since it might be challenging for you to coordinate this darker shade of blue correctly (taking its undertones and depth into consideration), we have prepared a few coordinating colors that will work best with SW Grays Harbor, making your space look varied and contrasting.
SW 7036 Accessible Beige
SW 7005 Pure White
SW 6340 Baked Clay
For a monochromatic palette, opt for these colors instead:
SW 6234 Uncertain Gray
SW 9143 Cadet
SW 6235 Foggy Day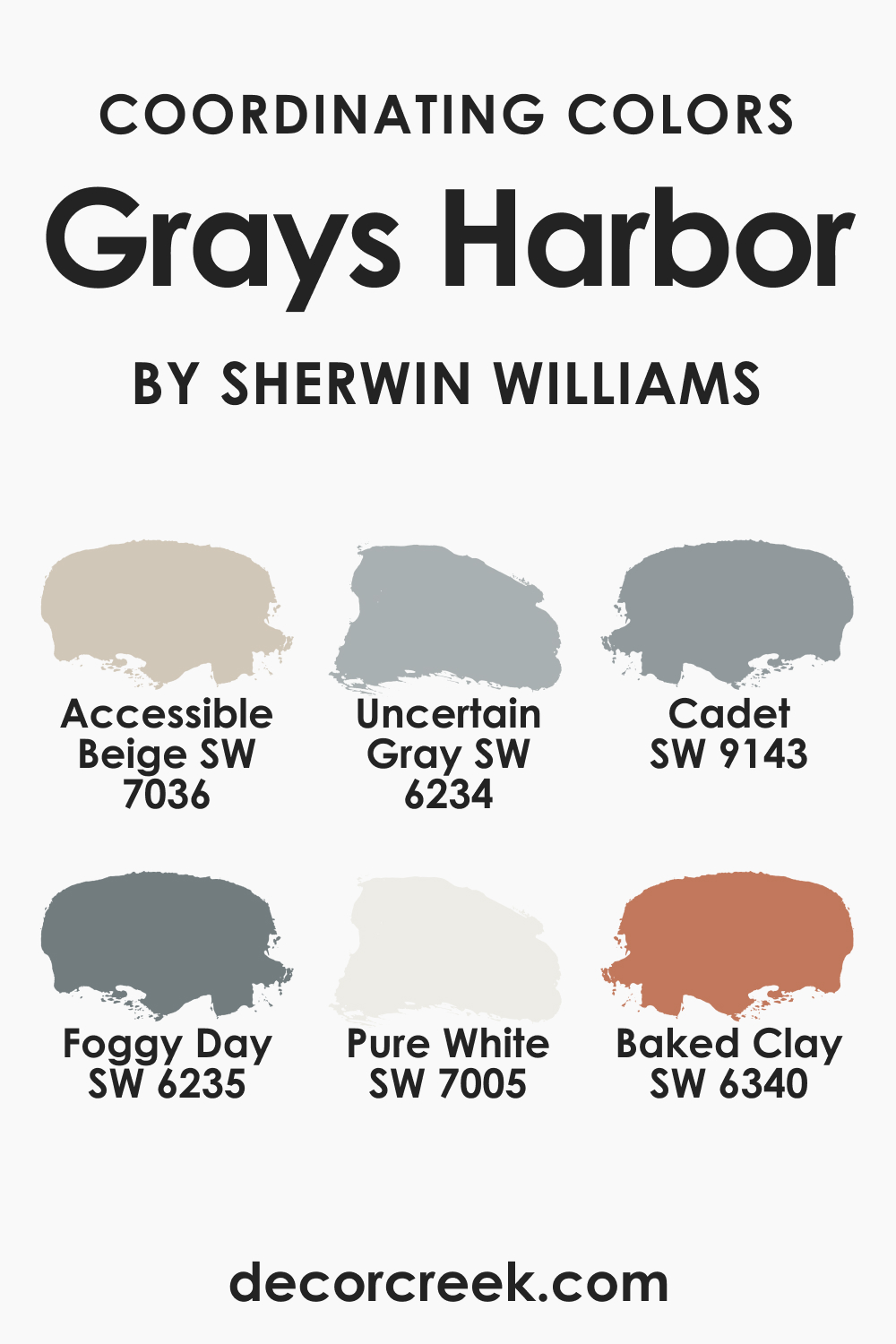 What LRV Values Does SW Grays Harbor Have?
For those who don't know or forgot, LRV stands for the light reflectance value. This measurement shows how much light a color can reflect when it is applied to the wall. The higher the LRV value, the lighter the color, and vice versa.
The closer the LRV is to zero, the darker the color. And the opposite, if the LRV value of a color climbs up to reach 100, the color gets lighter and more reflective. This is why it's recommended to use colors with higher LRVs if you need to make the room seem brighter and more spacious.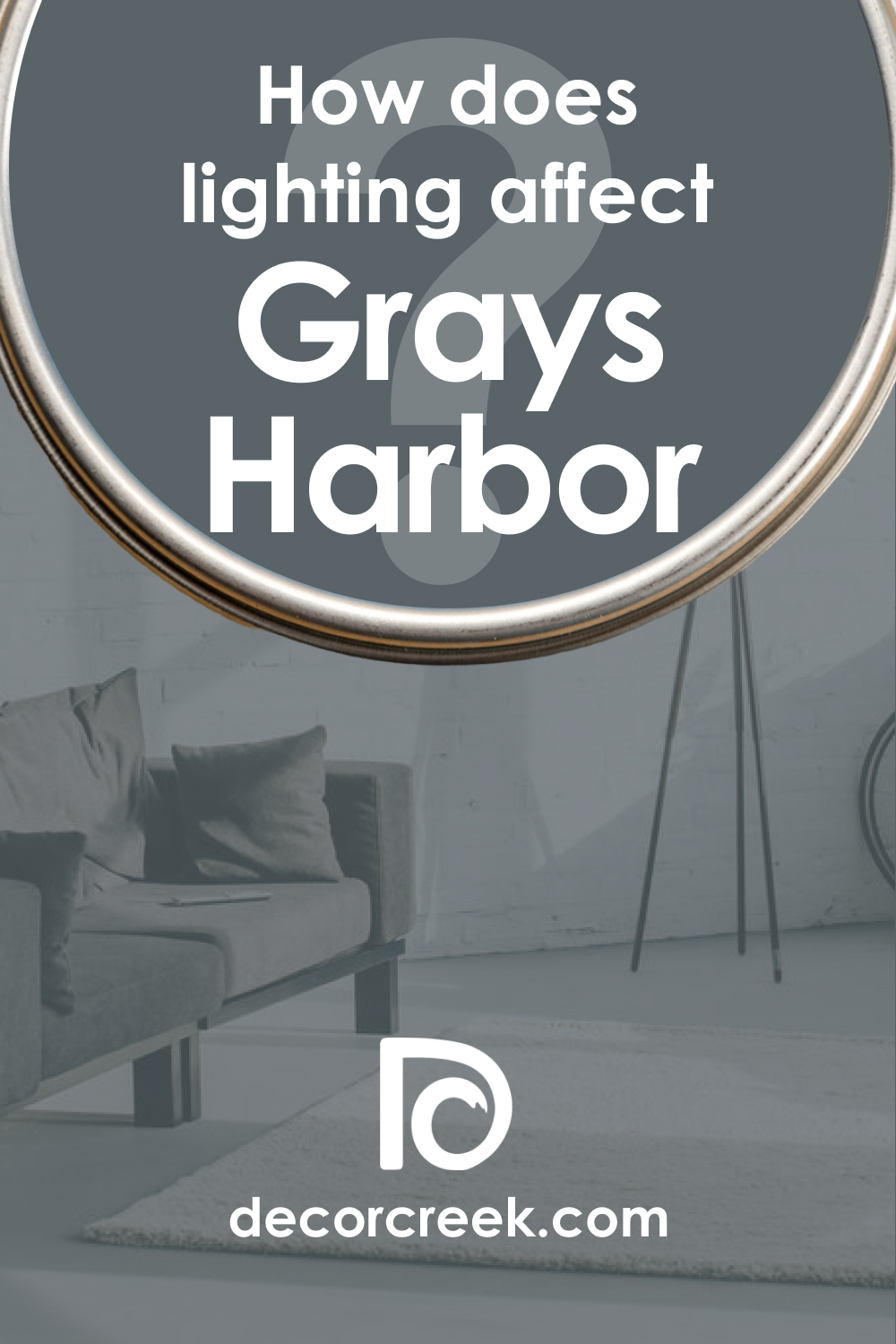 SW Grays Harbor has an LRV value of 12, which means this blue-gray paint color falls on the darker end of the light reflectance scale (but not too dark, though).
Of course, this bold and dark blue will not seem black in your home, but we still recommend you sample it in advance! This way, you will ensure the color works precisely as you want.
Also, note that this color may react to different lighting conditions, changing its appearance more or less. If you use it in smaller rooms with little to no natural light, be ready that SW Grays Harbor will make the space feel even more enclosed!
On the contrary, with plenty of natural light (especially cold northern light, for instance), this blue will reveal its beauty fully, adding a crisp and fresh vibe to the space and making it feel balanced!
In rooms with the north-facing natural light, this blue color will tend to incline to a gray undertone, whereas, in the south and west-facing rooms, SW Grays Harbor may appear more blue than gray.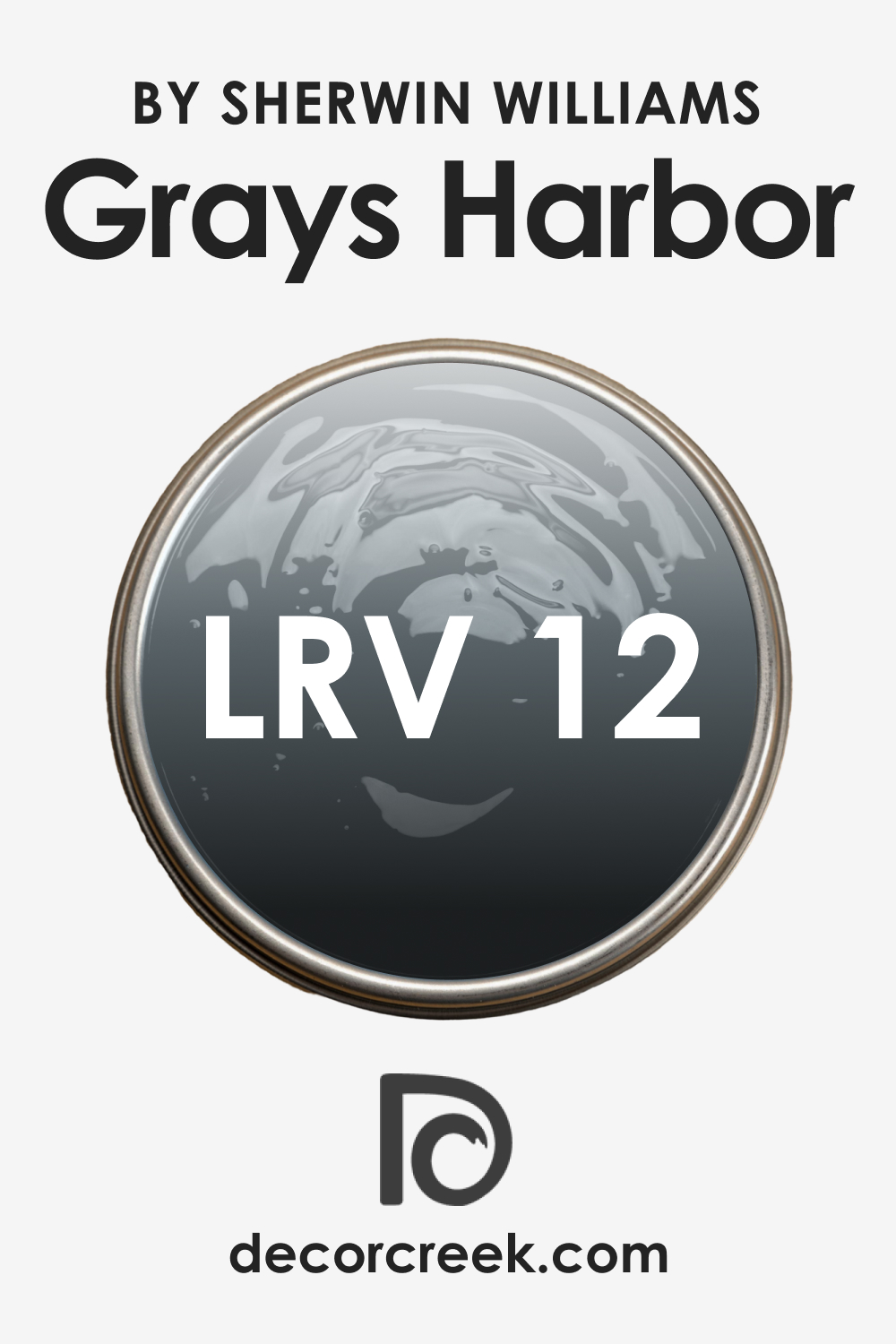 LRV – what does it mean? Read This Before Finding Your Perfect Paint Color
What Is the Best Trim Color For Grays Harbor SW 6236?
White is considered the best and the most optimal paint color to use on trim and moldings. That's because white is very versatile and can pair well with most colors in the space. For SW Grays Harbor, white is also an optimal trim color.
In particular, we recommend you SW Extra White or SW Pure White to protrude a true hue of SW Grays Harbor.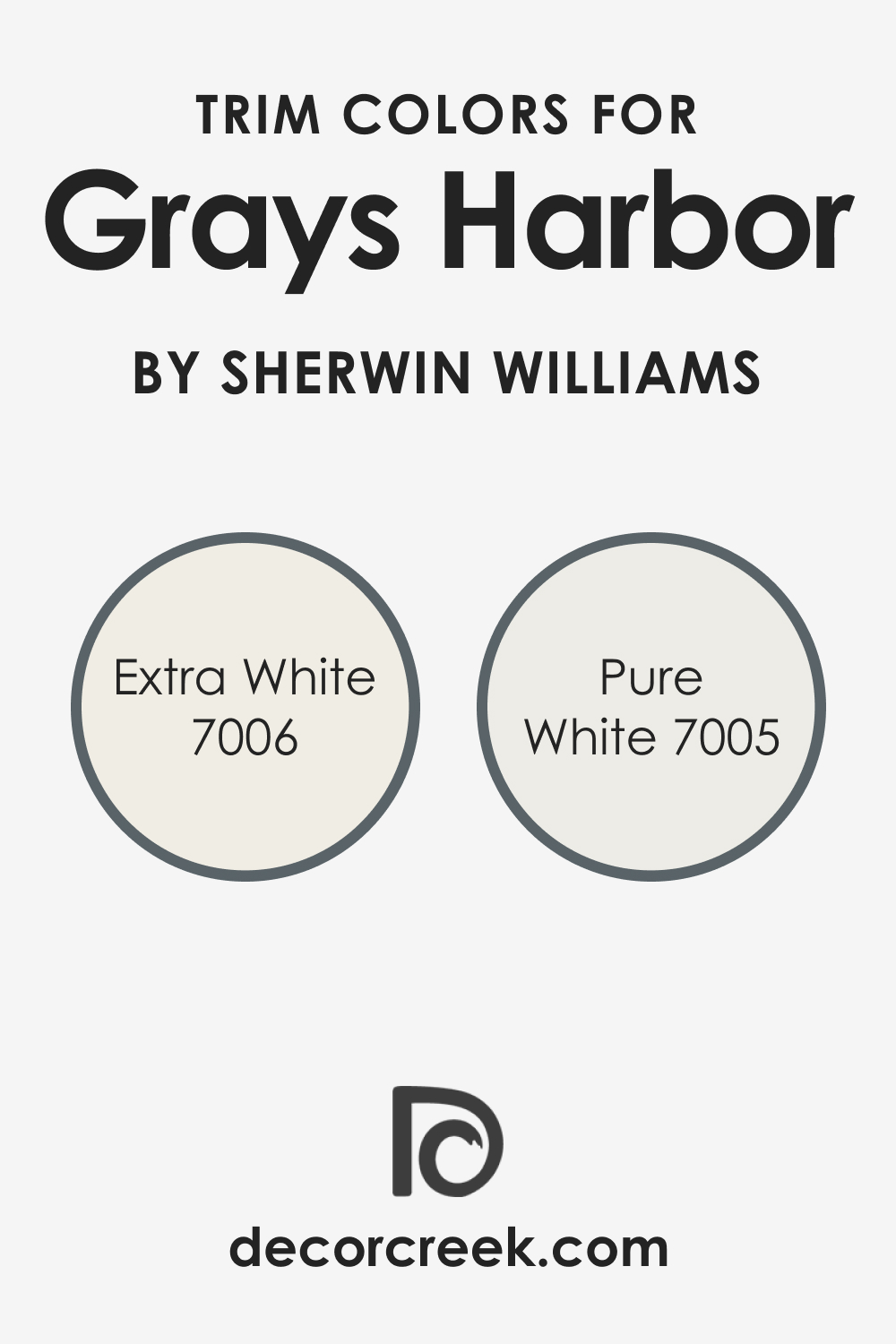 Colors Similar to SW Grays Harbor
In case you need to find the color that reads very close to the one you were going to use, knowing similar colors is essential. When you have at least a couple of alternative colors that can be used as substitutes, you can easier find the best-matching options for your interiors without ruining the overall palette.
For SW Grays Harbor, consider SW 6251 Outerspace as the similar color.
SW Outerspace has the same LRV of 12 as SW Grays Harbor, and it's also a blue-gray color. However, it also has navy undertones, which is the distinction between the two.
Of course, you should realize that this paint color will not be an ideal match. It will vary slightly due to the distinct undertones anyway.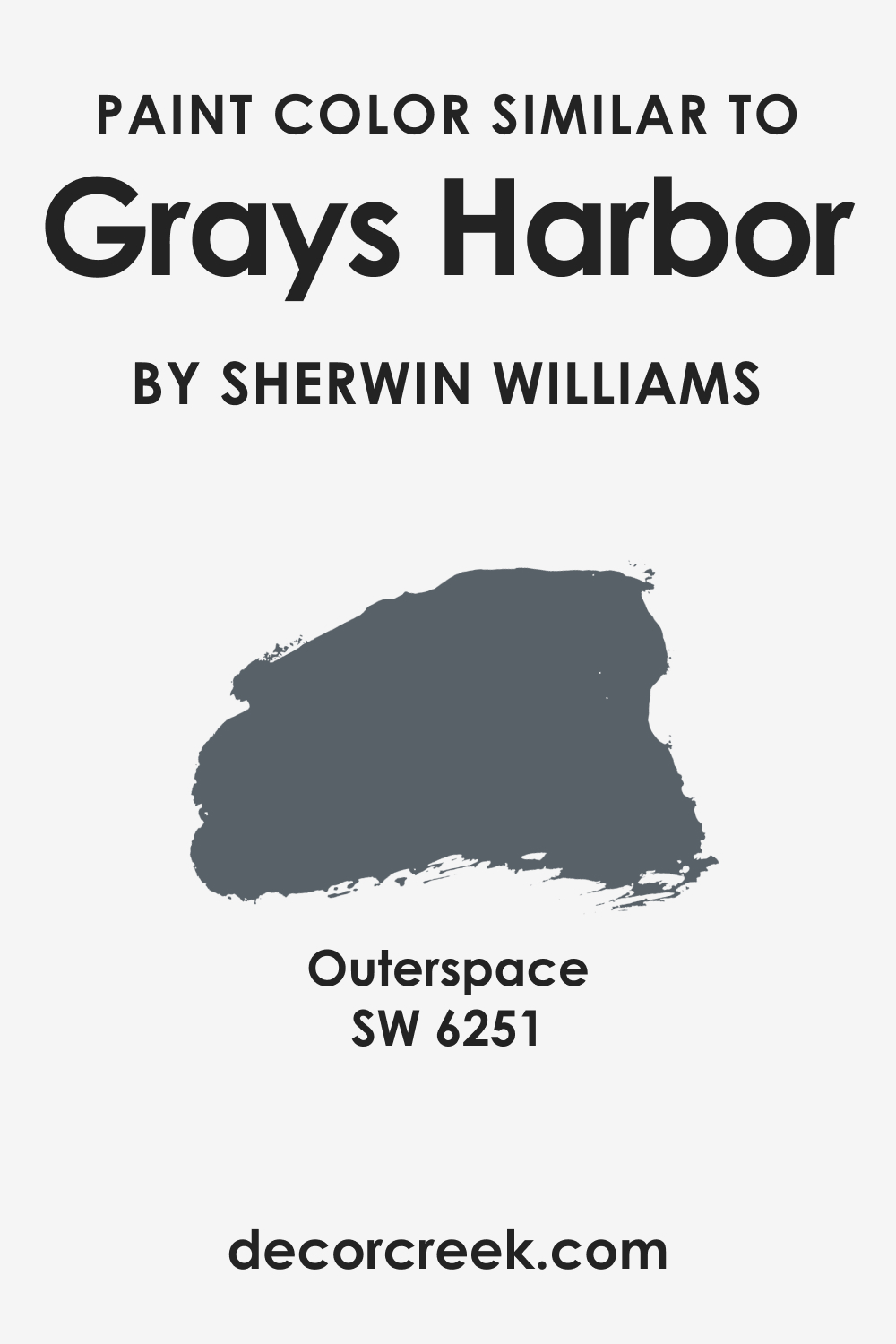 Colors That Go With SW Grays Harbor 6236
To be able to achieve a balanced palette in your home that will look pleasing to the eyes, you should know what colors will work with the wall color best of all. However, with SW Grays Harbor on your walls, it might be tricky to find the most suitable matching colors that will pair nicely with this dark blue.
This is why we suggest you a list of colors that will surely work when used with this cool-toned blue on the walls!
Behr Castle Path
SW 6255 Morning Fog
SW 7058 Magnetic Gray
SW 6228 Refuge
SW 9146 Faded Flaxflower
SW 7057 Silver Strand
SW 6221 Moody Blue
SW 6470 Waterscape
Also, note that generally, SW Grays Harbor best pairs with burnt umber, mustard, clean white, beige, tan, and greiges.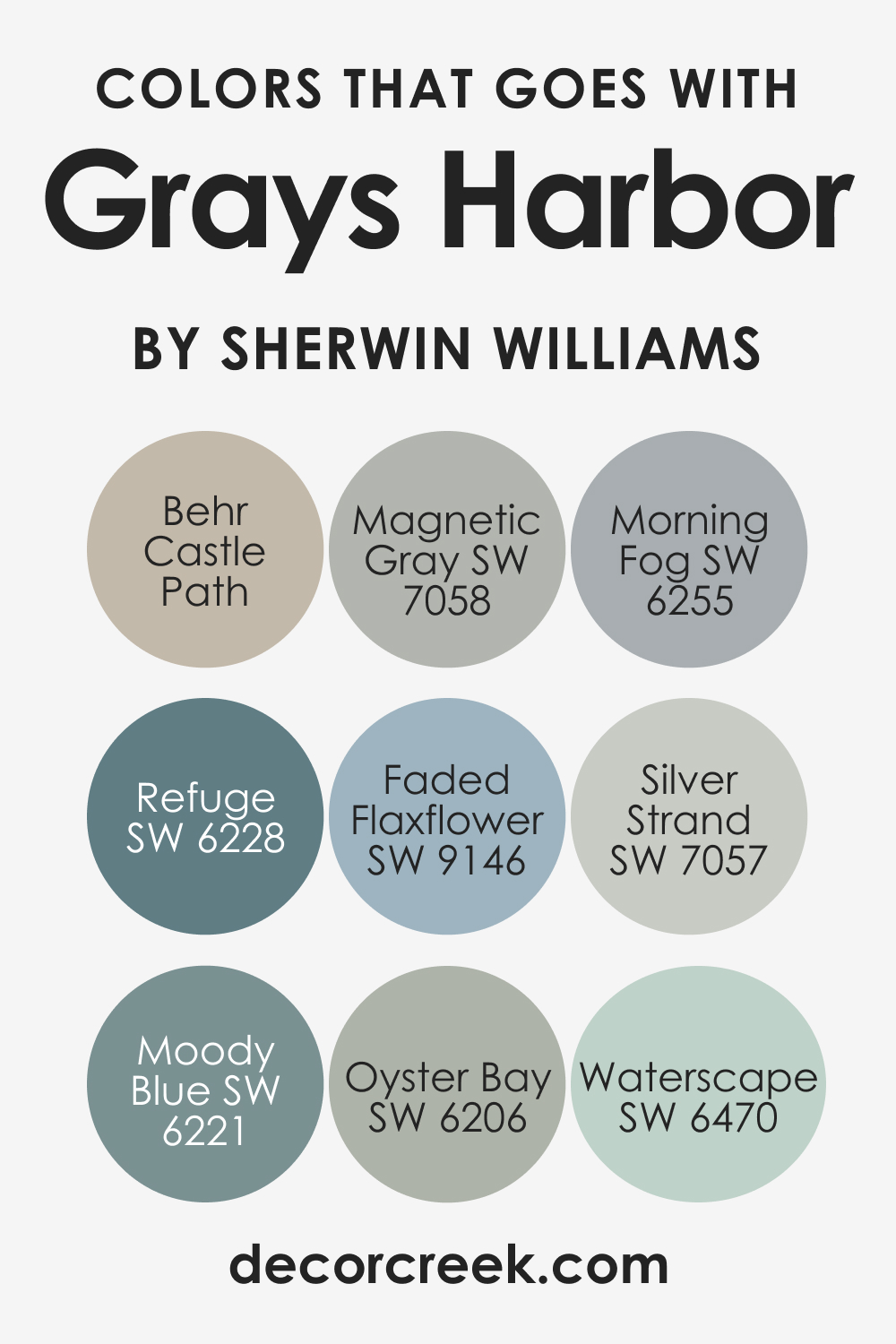 Comparing SW Grays Harbor With Other Colors
To help you better understand what makes this cool-toned dusty blue distinct from other similar colors, we suggest you read the description of SW Grays Harbor and a few similar blues that look nearly the same. This will help you understand how different LRVs and undertones work.
Grays Harbor vs Outerspace
These colors are both blue-grays that share certain similarities. But also they have differences. One of the significant differences is the undertones. SW Outerspace has a dominant blue-gray color with a slight hint of navy.
However, both colors have the same LRV value of 12, which is why the light reflectivity value is alike for the two.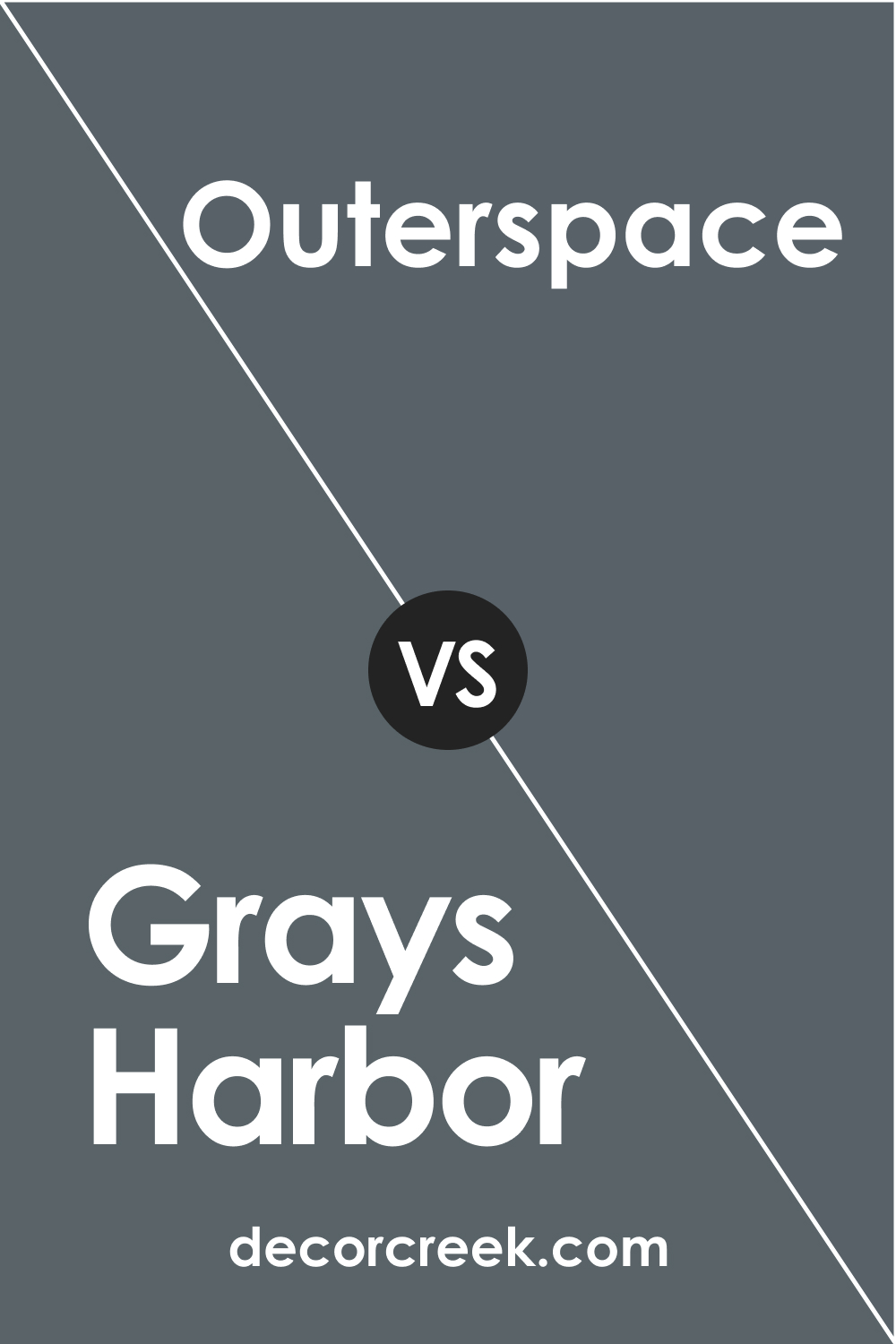 Grays Harbor vs Moscow Midnight
Sherwin-Williams Moscow Midnight SW 9142 is a very dark blue color with some green undertones and an LRV value of 5. Compared to it, SW Grays Harbor is somewhat lighter, having an LRV of 12. Also, SW Moscow Night reads noticeably greener.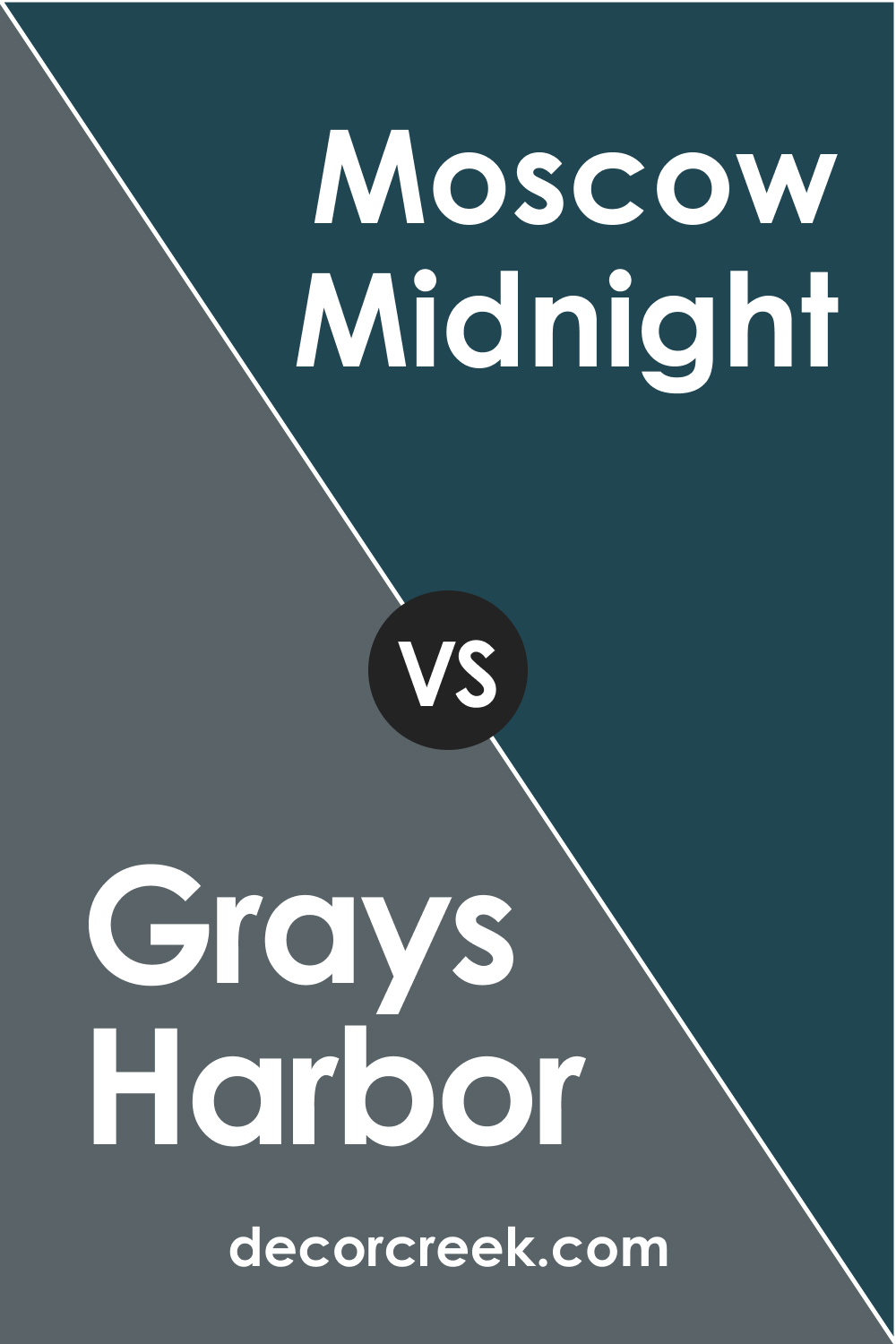 Grays Harbor vs Daydream
SW Daydream is a mid-tone violet with an LRV value of 54, which makes it much lighter and completely different from SW Grays Harbor. In fact, these two look like completely distinct colors, which they truly are!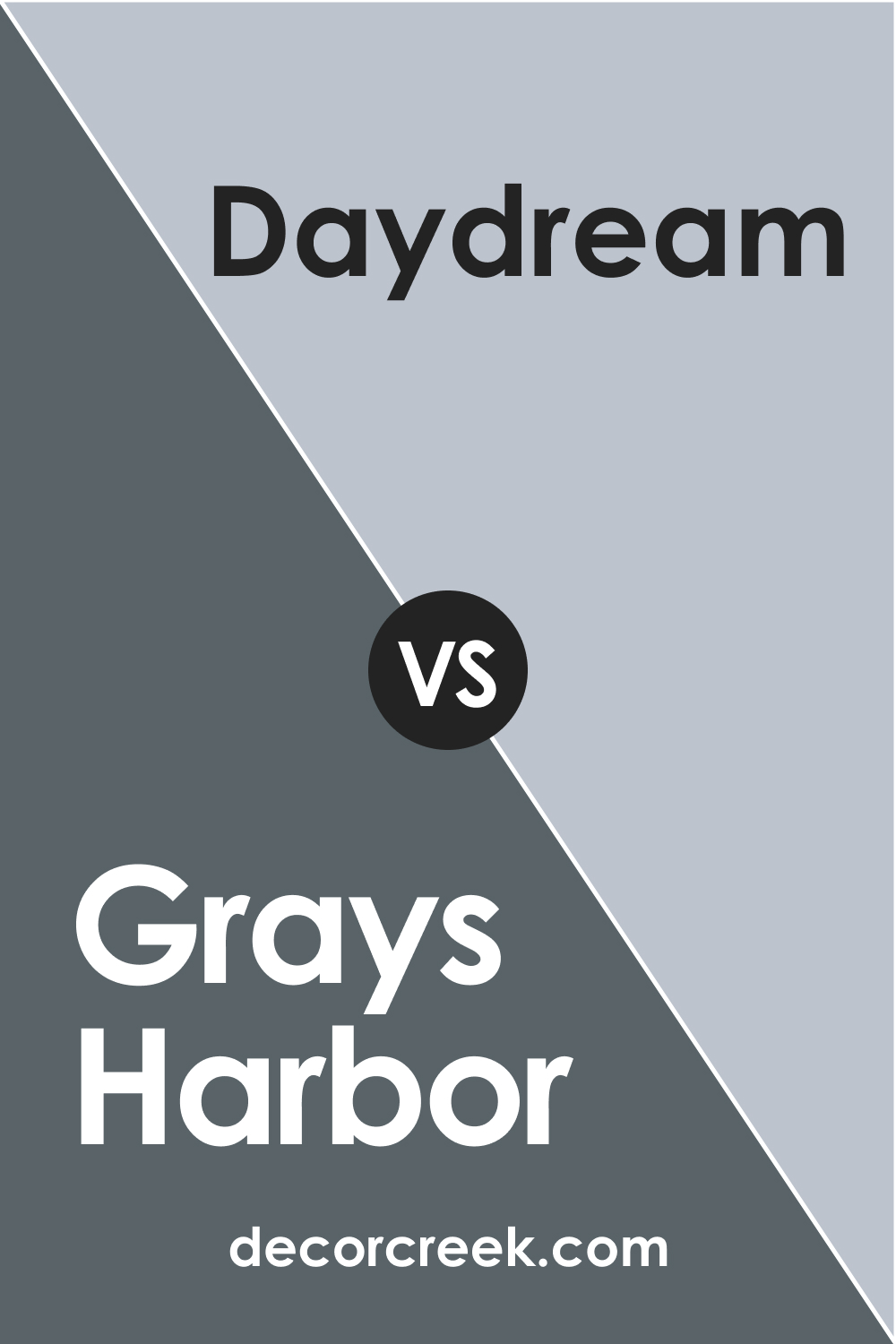 Grays Harbor vs Inky Blue
SW Inky Blue has an LRV value of almost 15, which makes it a medium-dark color. Also, it differs from SW Grays Harbor in undertones since SW Inky Blue has yellowish undertones. The only similarity they share is that both colors are cool-toned.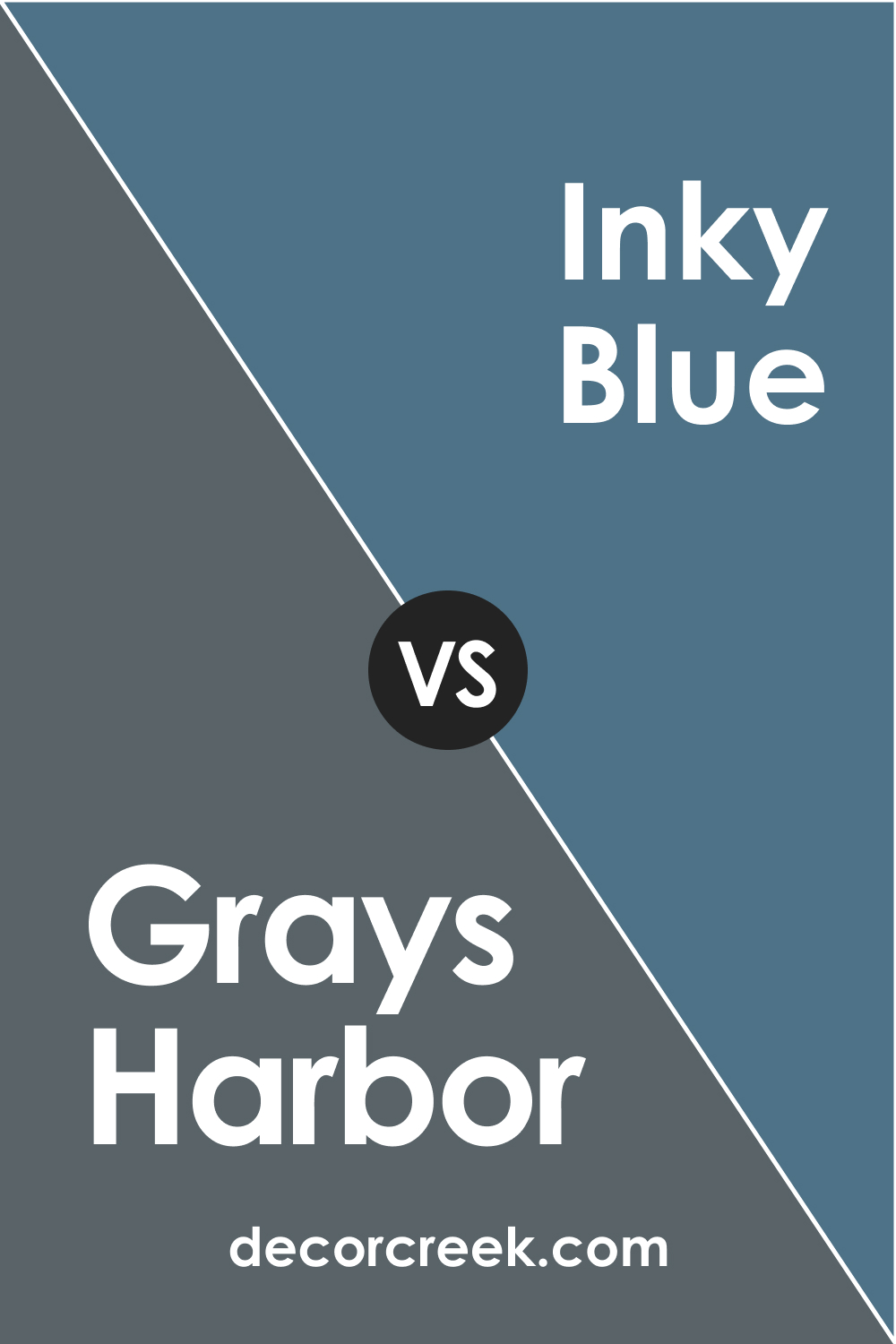 Where to Use SW Grays Harbor In Your Home?
Despite being rather dark and cool-toned, this beautiful and bold color can be used in most of the spaces of your home. It will work equally well on your kitchen cabinets, exterior walls, furniture frame, bedroom accent walls or home office built-in cabinetry.
Grays Harbor SW 6236 in a Living Room
SW Grays Harbor will work lovely on the living room accent wall. To make the space read brighter, you can pair it with SW Extra White or SW Pure White on the adjacent wall and use ample clean whites on the doors and window frames.
Should you desire striking visual accents, try to add burnt umber or mustard on the throw pillows and throw blankets. For the furniture, an off-white linen upholstery or something in dark gray will work well.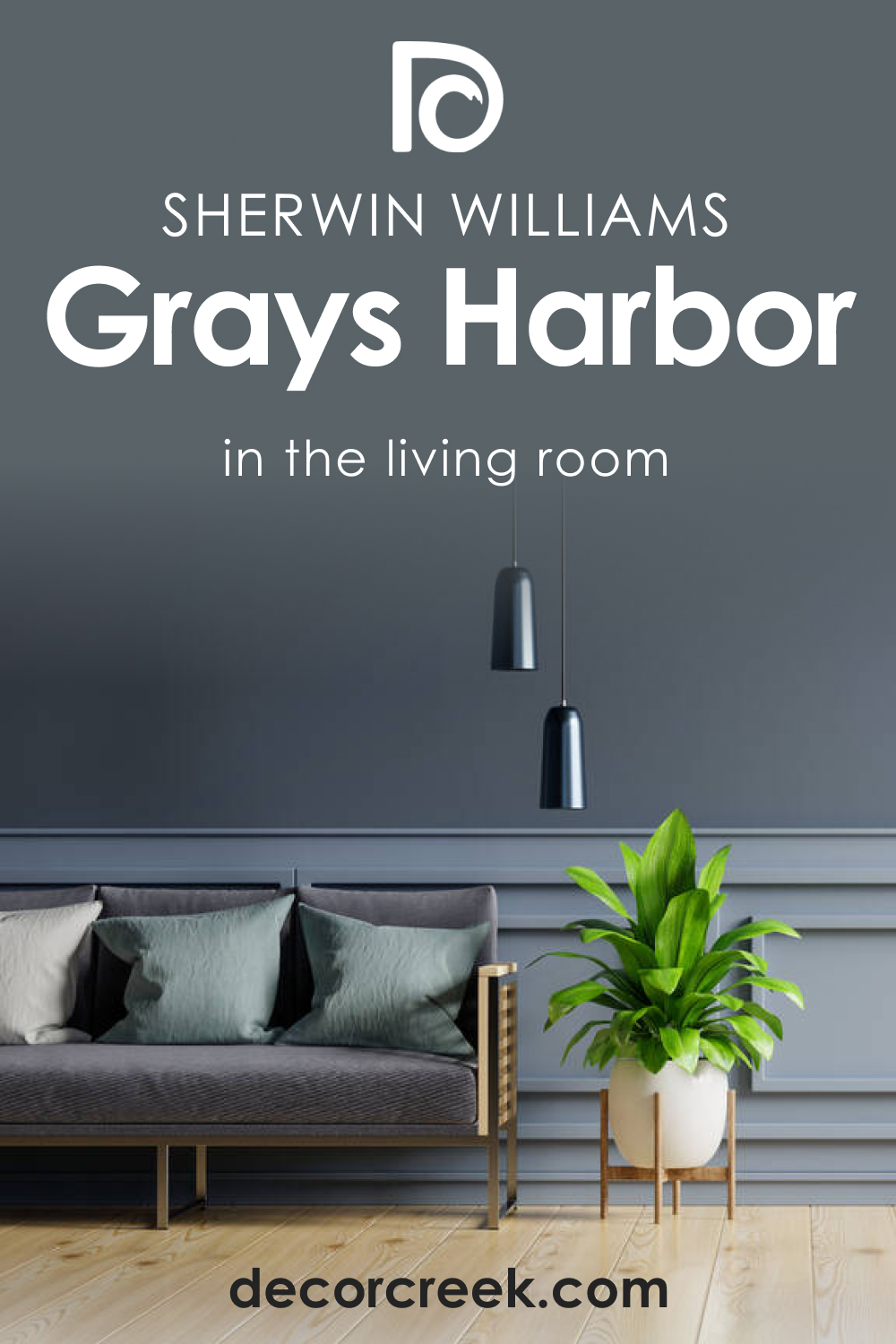 Grays Harbor SW 6236  in a Bedroom
In the bedrooms, you can use this dark blue paint color on the accent wall, pairing it with crisp whites on the adjacent wall. For the accent, choose light gray or burnt umber (e.g. on covers or throw pillows).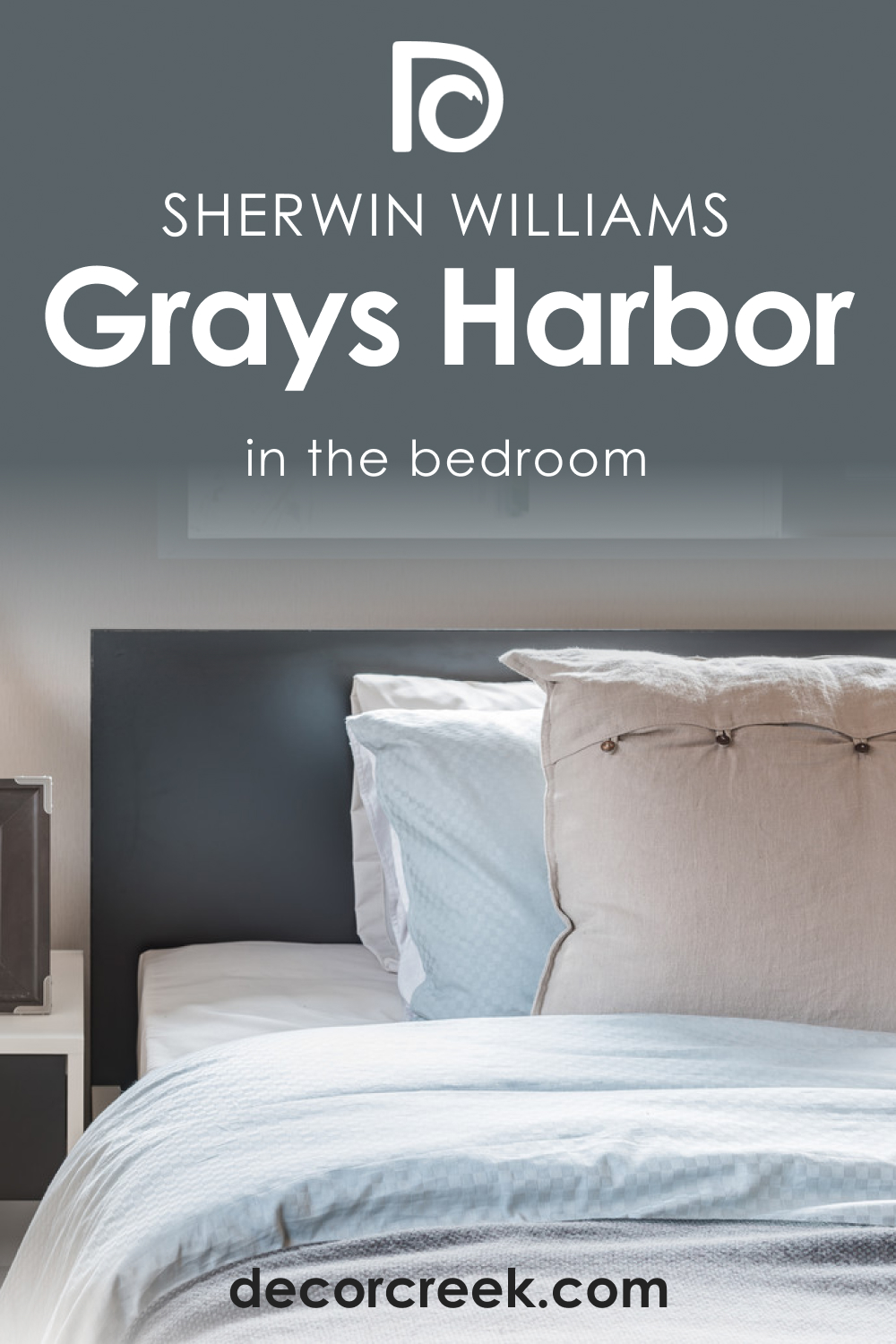 Grays Harbor SW 6236 for Kitchen
You can use this paint color on the kitchen cabinets, both upper and lower. Also, you might want to consider pairing SW Grays Harbor with clean whites on the backdrop wall and white backsplash tiles. For the pull handlers, opt for brushed brass or glossy gold finish to make a statement.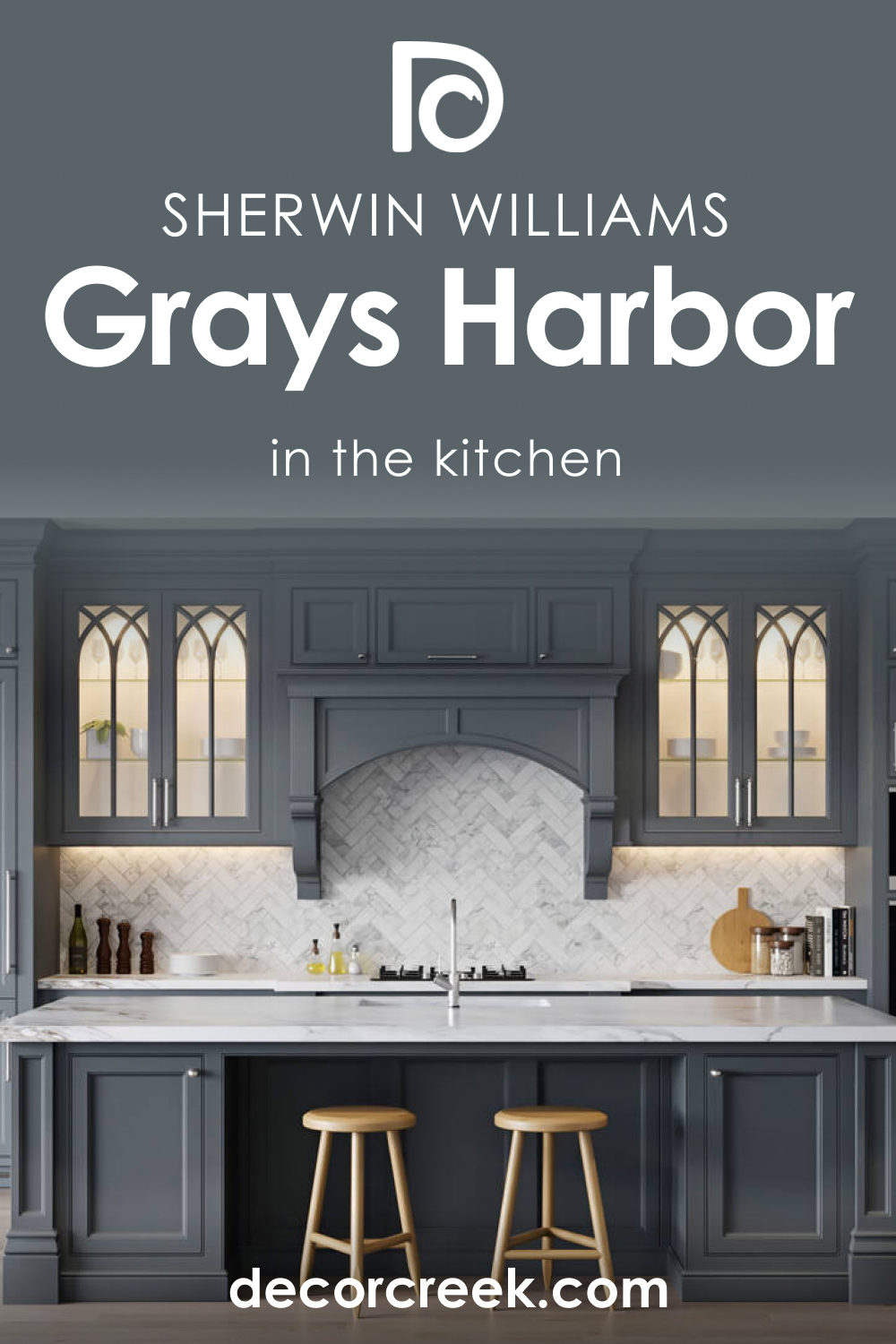 Grays Harbor SW 6236 on the Bathroom
In bathrooms, use this color moderately since it can make the space seem smaller. The best option is to paint the vanity sink with it or (if the bathroom size and lighting allow) use it on the accent wall, leaving the rest of the space white.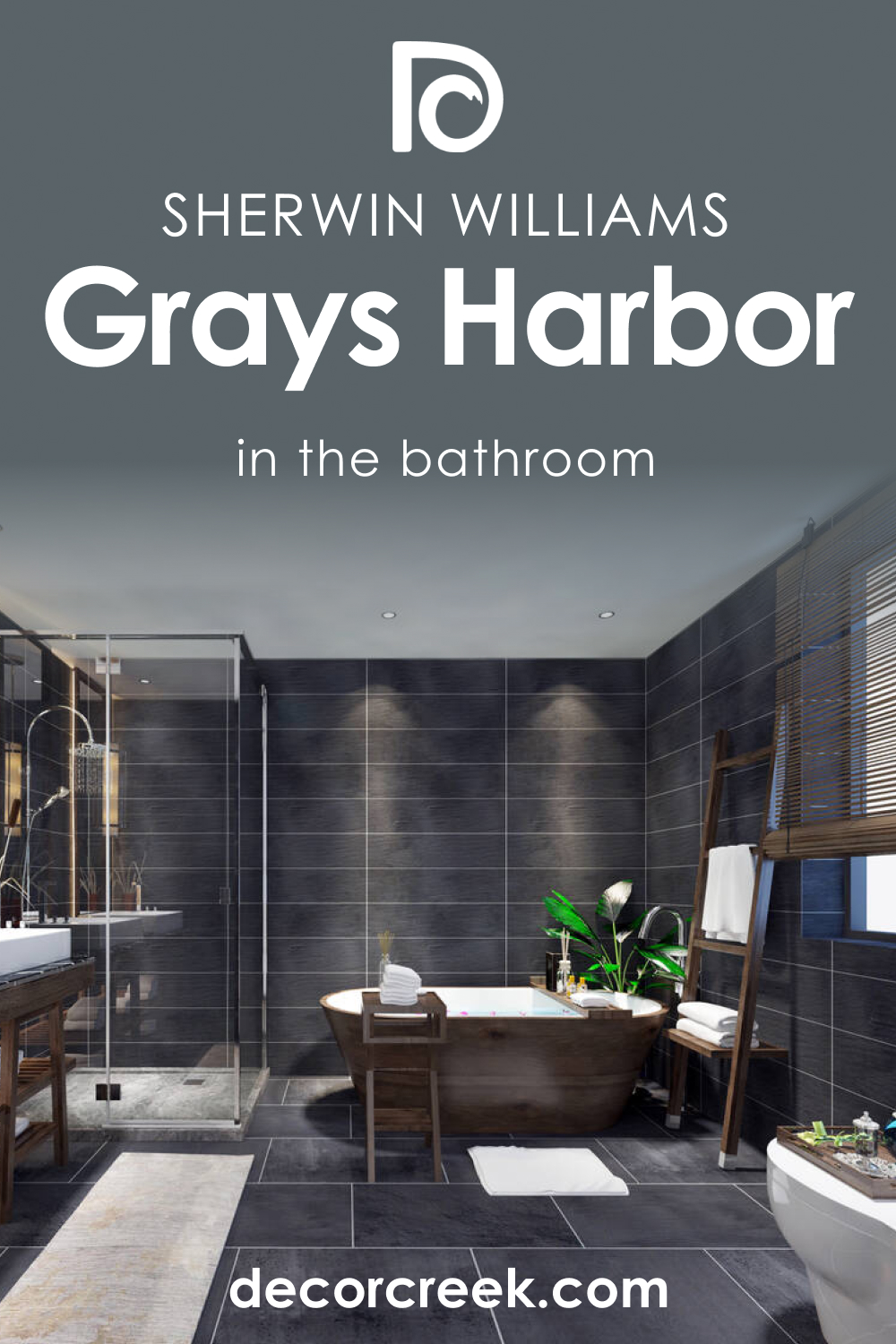 Grays Harbor SW 6236  for the Exterior Use
Sherwin-Williams Grays Harbor can make a wonderfully bold statement on your exterior walls. If you paint the walls in this color, leave the trims and moldings pure white.
Also, white will work on the shutters, door and window frames. For the front door, try cherry reds, walnut browns, or burnt umber to make it stand out.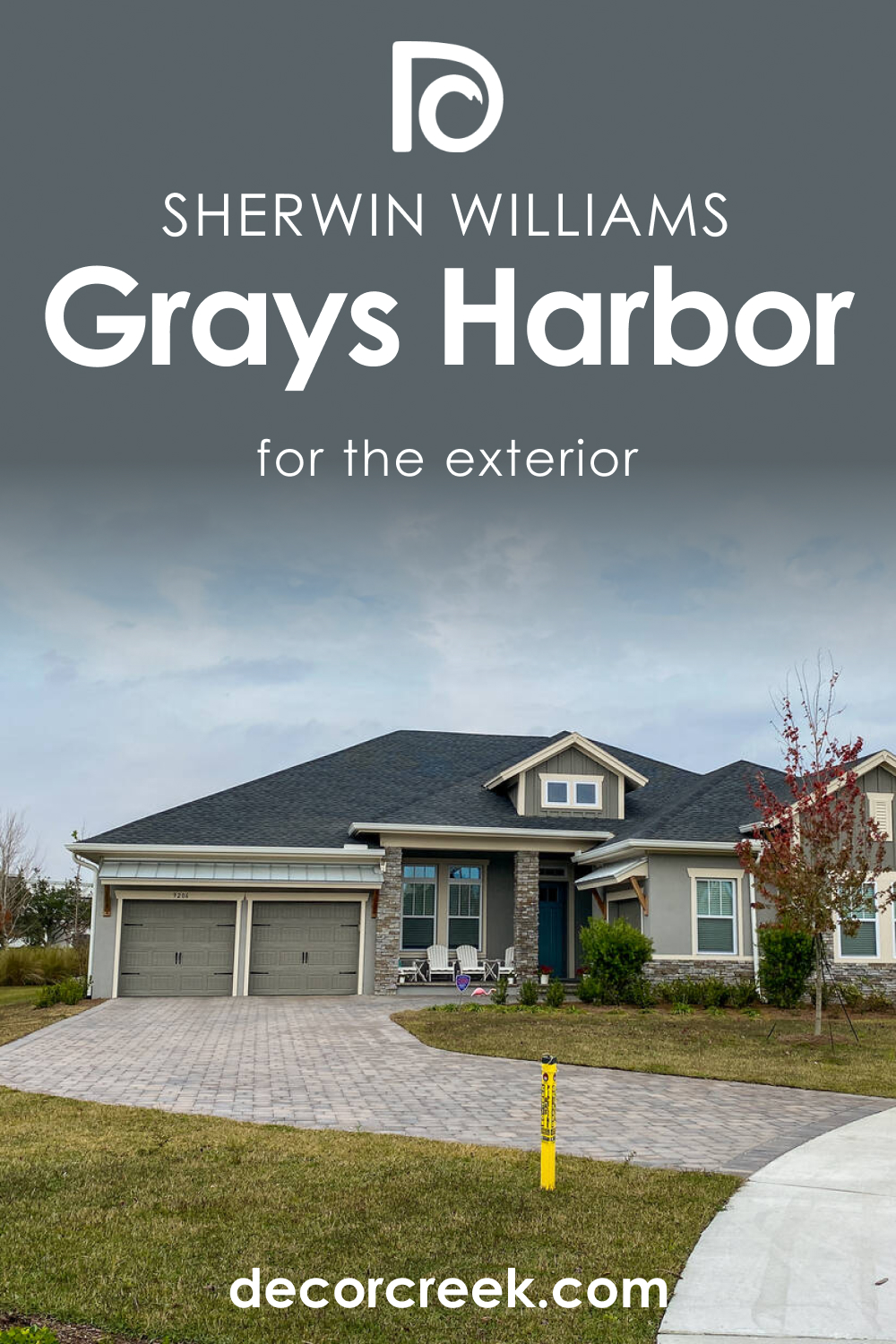 Well, now you way more about this gorgeous dusty blue! You know what kind of paint color SW Grays Harbor is and how it works in different rooms and with different lighting.
You also know how to coordinate this blue to make it work in a room. Also, you learned what colors will go best with this beautiful shade of blue on your walls.
With all this information and recommendations, you will find the best place for SW Grays Harbor in your home.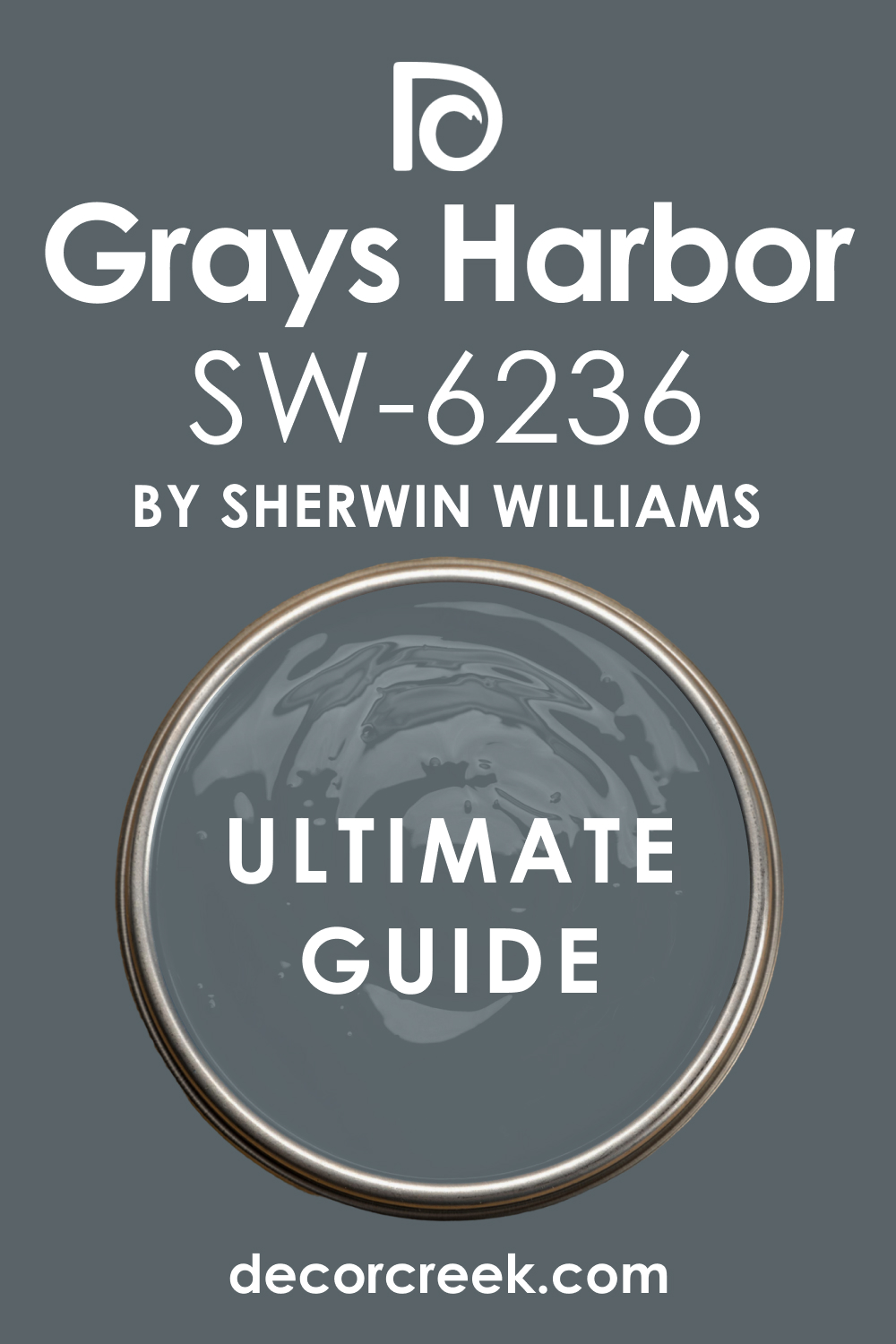 Frequently Asked Questions
⭐Does SW Grays Harbor look dark?
Yes and no. See, this color doesn't typically look very dark on the walls, but does have some depth to it.
⭐Is SW Grays Harbor a neutral paint color?
Yes, you can call this blue-gray a neutral color.
⭐Does SW Grays Harbor work with greiges?
Yes, this blue can work with quite many greige colors.