If you want to add a calming and natural-looking vibe to your home interior, green is one of the best colors to use for this purpose. Its relaxing and balanced appearance creates a tranquil and harmonious atmosphere in any room where this color is used.
However, you should still be aware of how to use green correctly in your home!
Today, you will learn more about the green color called Green Onyx by Sherwin-Williams. We will tell you what LRV and undertones it has and teach you how to coordinate this paint color correctly.
After you read this article, you will be able to make use of it in any space of your home!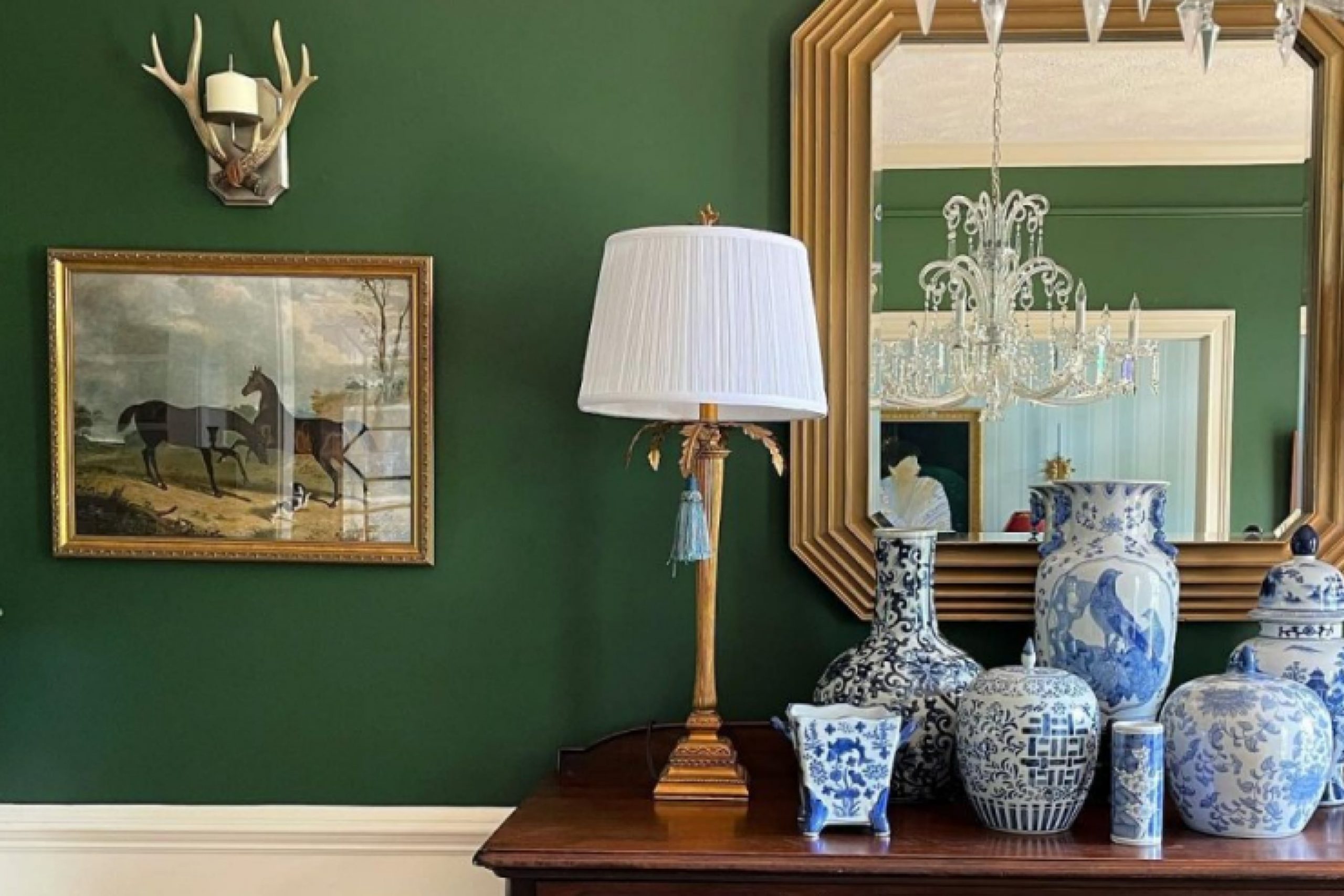 What Kind of Color Is Green Onyx SW 9128?
SW Green Onyx paint color by Sherwin-Williams belongs to the Green color family (hue). This medium, muted green gives off a welcoming and relaxed vibe. As Encycolorpedia says, its warm yellow-grey undertones make this neutral color versatile enough to complement any space in your home.
Despite seeming a tricky color, SW Green Onyx is pretty versatile. You can use this color on your interior or exterior walls with equal success.
The only thing you must keep in mind is this color's undertones and LRV, as well as the lighting that surrounds it. Depending on them, SW Green Onyx may read somewhat differently.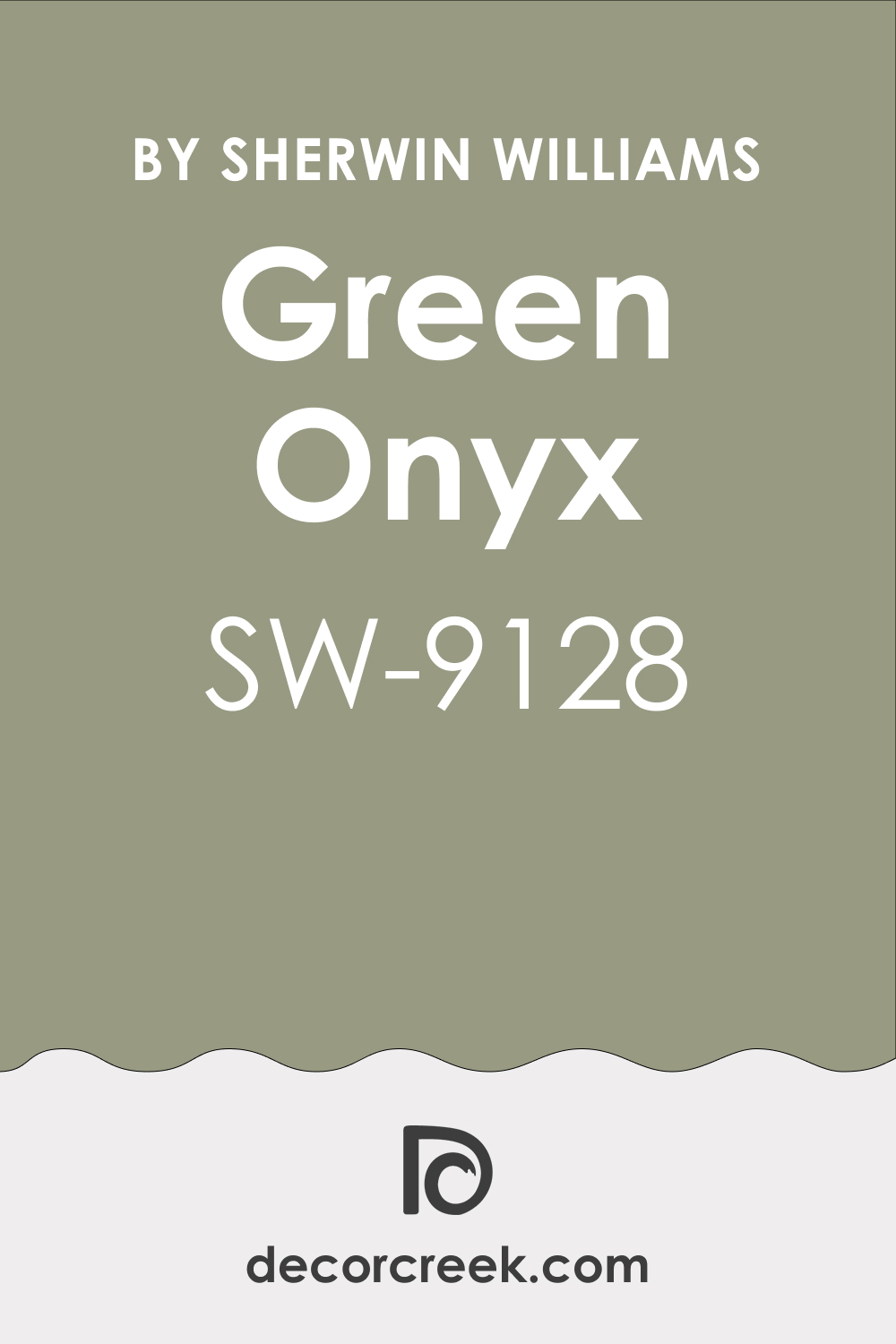 What Undertones Does Green Onyx SW 9128 Have?
Undertones define how paint colors read on the walls. And since undertones can often be hidden deep within the paint color, you must know them ahead of time to tell in advance how the color may work in different rooms.
SW Green Onyx has warm yellow-grey undertones. Thanks to them, this green is very versatile in terms of use. It reads warm enough to match different rooms and spaces of your home, and at the same time, it doesn't read yellowish too much to be a challenging color to use.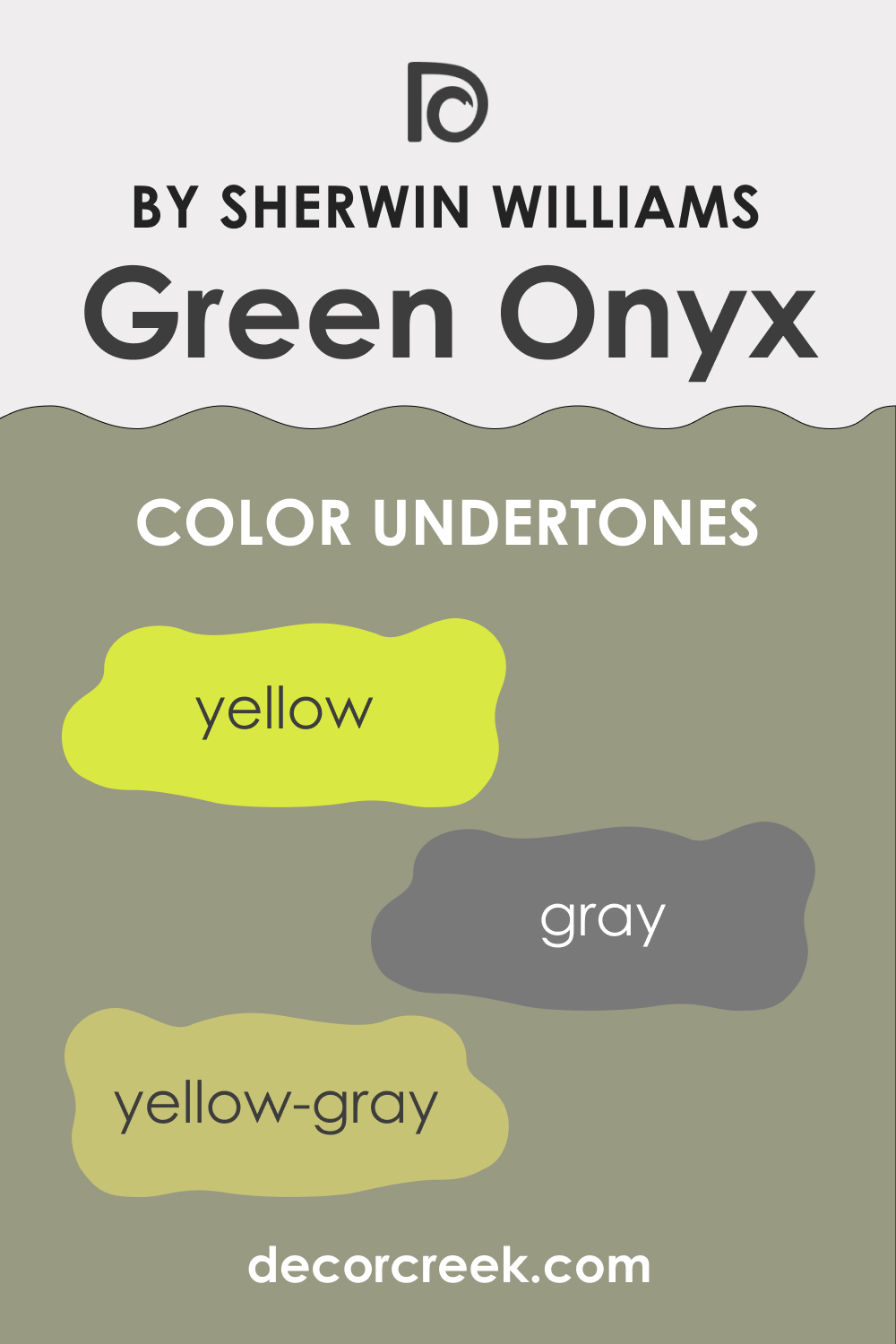 What LRV Green Onyx Paint Color Has?
LRv stands for the light reflectance value. This measurement shows how much light the color can reflect from the wall. The higher the LRV value, the lighter the color, and vice versa.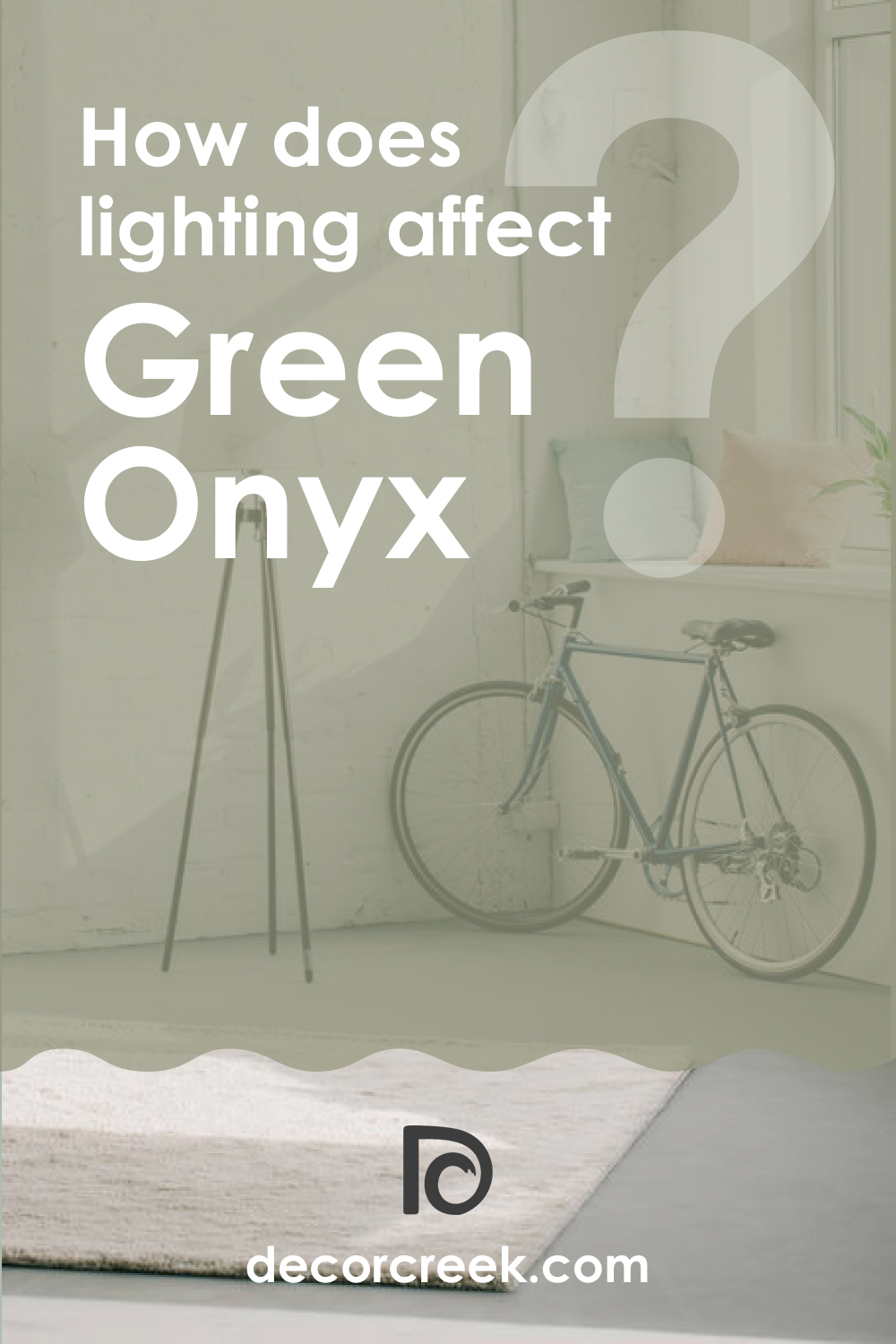 SW Green Onyx SW 9128 has an LRV of nearly 31. By LRV value, it is a medium color, which means it is reflective enough, so this green will hardly make a room read dark or gloomy.
However, you should still consider the lighting conditions and other colors used in the space when you use this green paint in your home!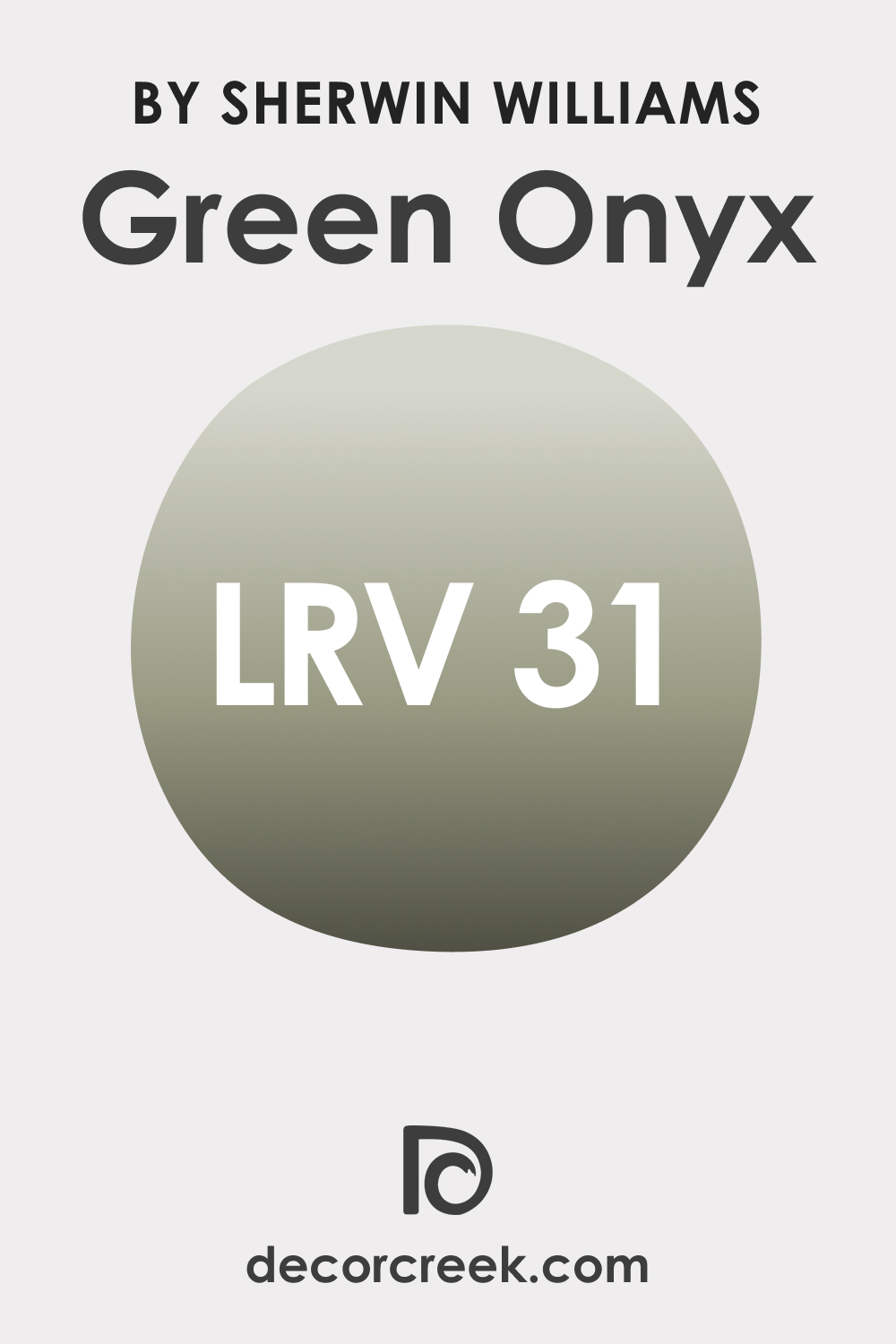 LRV – what does it mean? Read This Before Finding Your Perfect Paint Color
Green Onyx SW 9128 Coordinating Colors
Sometimes, it can be challenging to choose the best and most suitable coordinating colors that will work with the paint you use on the walls.
This task can become even more complicated if the wall color has complex undertones like SW Green Onyx with its yellow and grey base.
This is why we have prepared a few color options that will surely coordinate this natural and beautiful green:
SW Sagey
SW Bungalow Beige
SW Foothills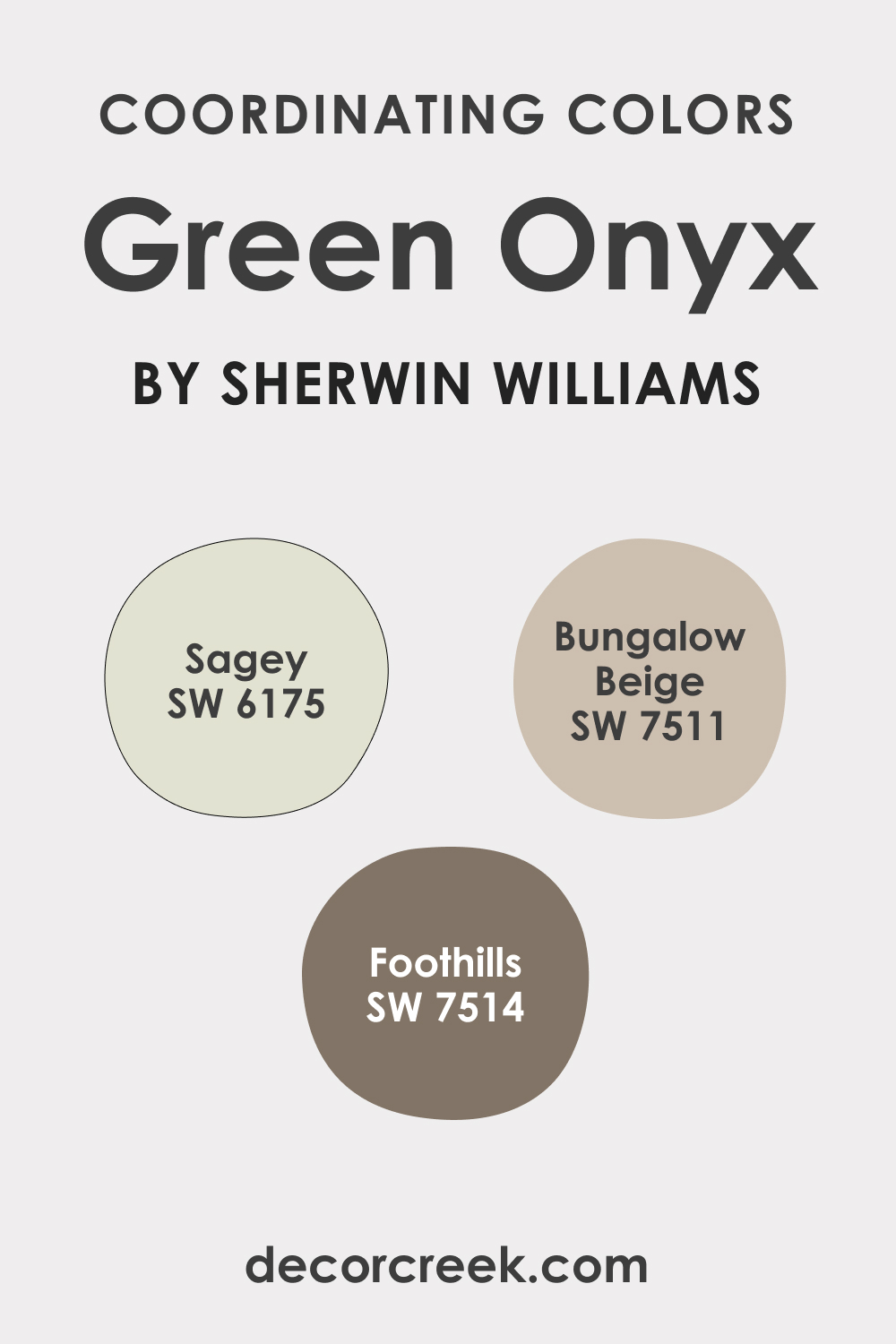 What Is the Best Trim Color to Use With Green Onyx SW 9128?
White is typically the most widely used trim color due to its versatility and ability to pair with almost any color on the walls. However, it doesn't mean you can grab any shade of white and paint your trim and/or molding with it! It's still essential to take the undertones and LRV of the white color into consideration.
For SW Green Onyx, white is also the optimal trim color. In particular, we recommend using softer whites that give off a very slight warmth (but no yellowish hue!). At the same time, cooler whites may also work well with this green.
For example, these are very good examples:
SW High Reflective White
SW Shell White
Use SW High Reflective White if you need a crisp and stark contrast, and opt for SW Shell White for a softer and warmer appearance.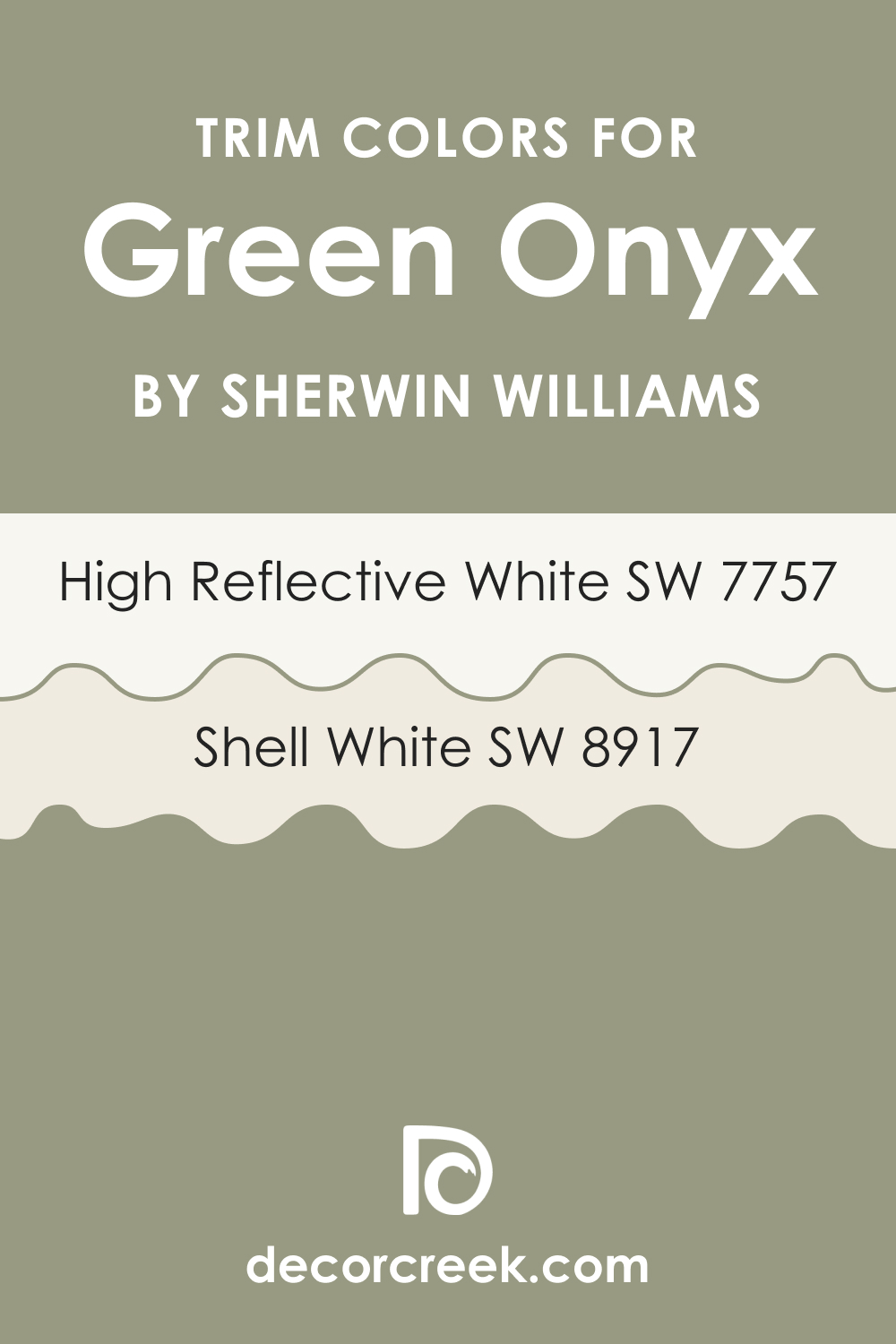 Similar Colors to Use Instead of SW Green Onyx
Before you start painting your walls with the color you chose, consider finding at least a couple of alternative colors that can be sued as substitutes for it. Why is that, you may wonder? For example, to make it easier to change the wall color should you need a lighter or darker shade. Or if you realize you need the color with somewhat distinct LRV or undertones.
For SW Green Onyx, we suggest you consider the following green colors as the best alternatives.
Sherwin-Williams Evergreen Fog
PPG Cavern Moss
Farrow & Ball Card Room Green
Behr Milkweed Pod
Dunn-Edwards Battle Harbor
Dunn-Edwards Fair Spring
BM Mistletoe
PPG Zebra Grass
PPG Edamame
Of course, note that they will differ anyway! However, these are the closest color matches that read very similar to SW Green Onyx.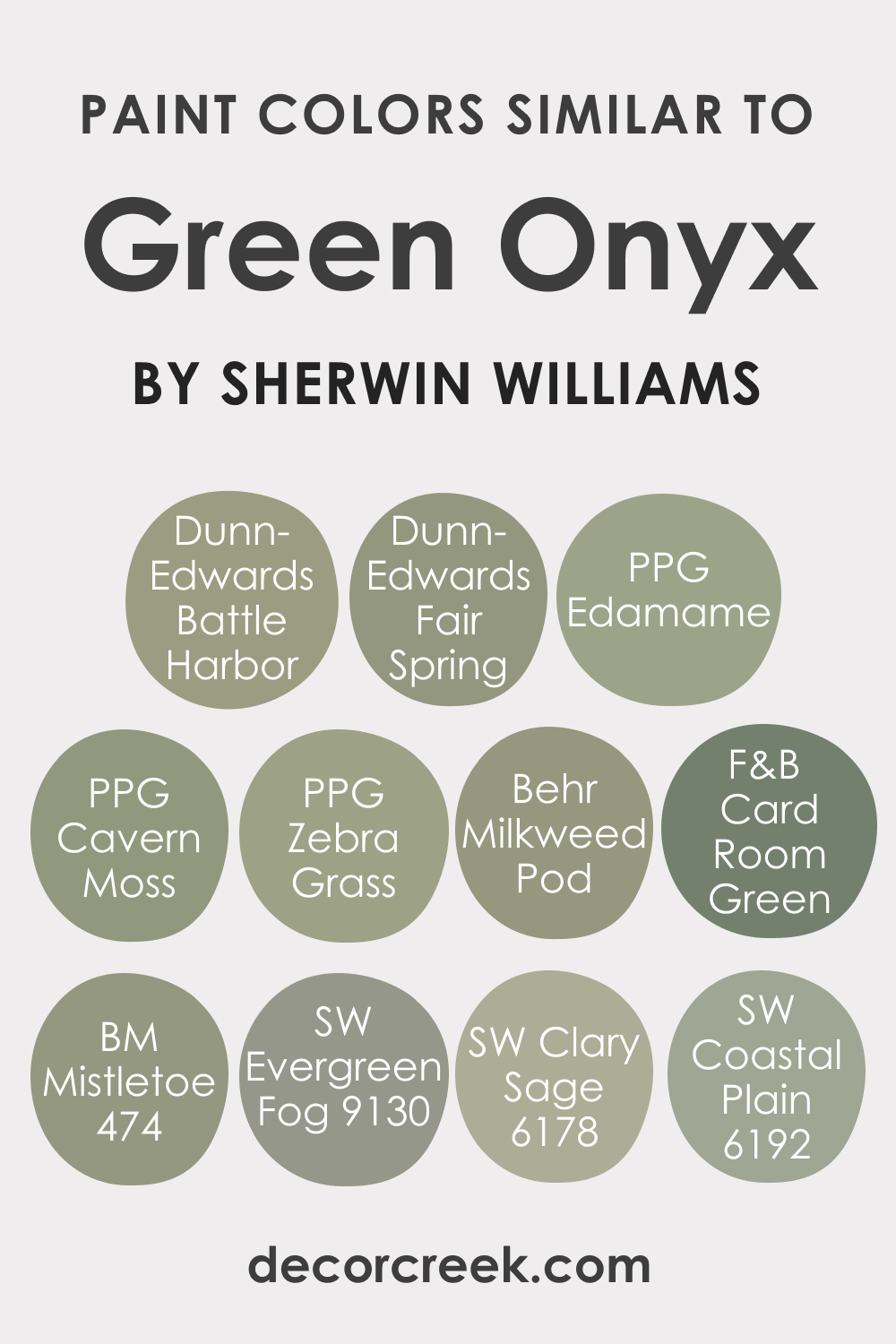 Colors That Go Well With Green Onyx SW 9128
To achieve a balanced and good-looking color palette in your home, it's essential to know what colors will work best with the paint you use on your walls.
But if you are going to paint your rooms with SW Green Onyx, you may find it challenging to pick the most suitable colors to use in the same space.
This is why we have prepared a few color ideas for you to consider.
SW Tricorn Black
SW Ripe Olive
SW Cordial
SW Homburg Gray
SW Aloof Gray
SW Caviar
SW Malabar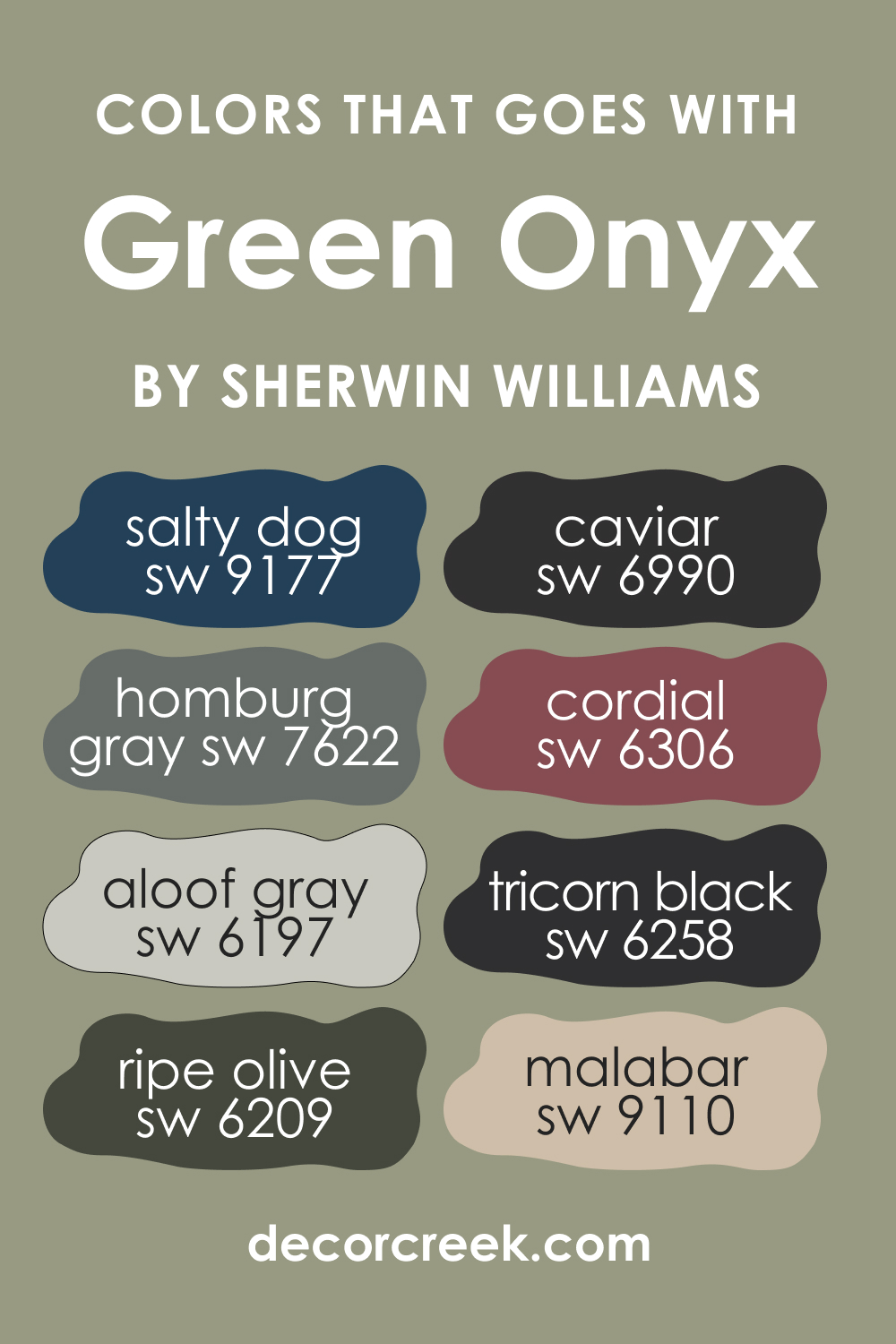 Comparing Green Onyx SW 9128 With Other Colors
You can better understand what makes each paint color unique only when you compare it to other colors that look the same or very similar to it. Also, comparing distinct colors (e.g. contrasting ones) can help you better see their distinctions and features.
Below, you can read about how SW Green Onyx differs from various shades of green color.
Green Onyx vs Coastal Plain
Compared to SW Coastal Plain, the Green Onyx color reads warmer and reveals more yellowness due to its yellow undertones. SW Coastal Plain, in its turn, looks greener and a bit more cool-toned because of its blue undertones.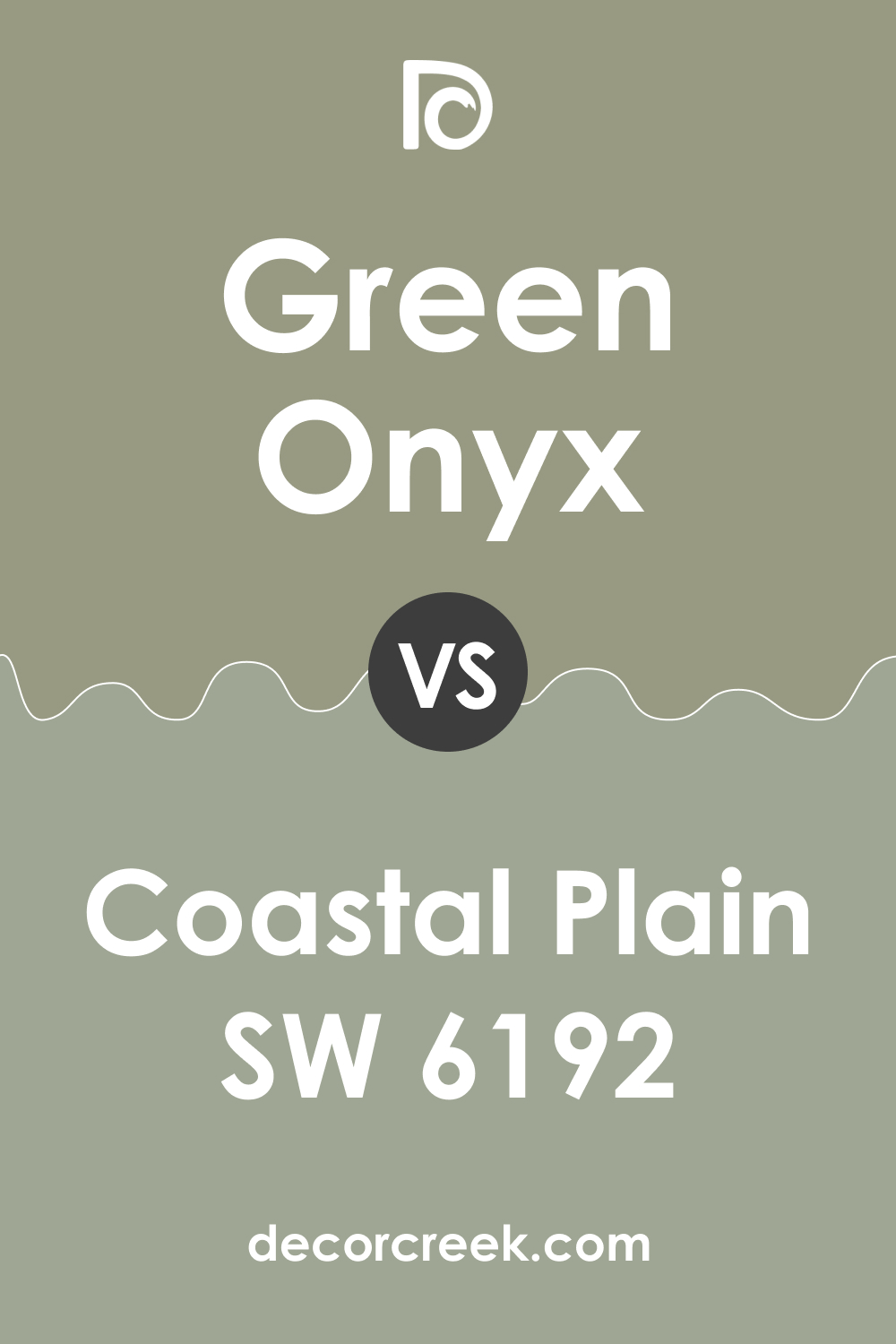 Green Onyx vs Green Sprout
SW Green Sprout has prominent yellow undertones that make this color look grassy and warm. Compared to it, SW Green Onyx looks somewhat greener, although the same warm-toned and soft. Both colors have similar light reflectivity, which is why they have a pretty close level of brightness.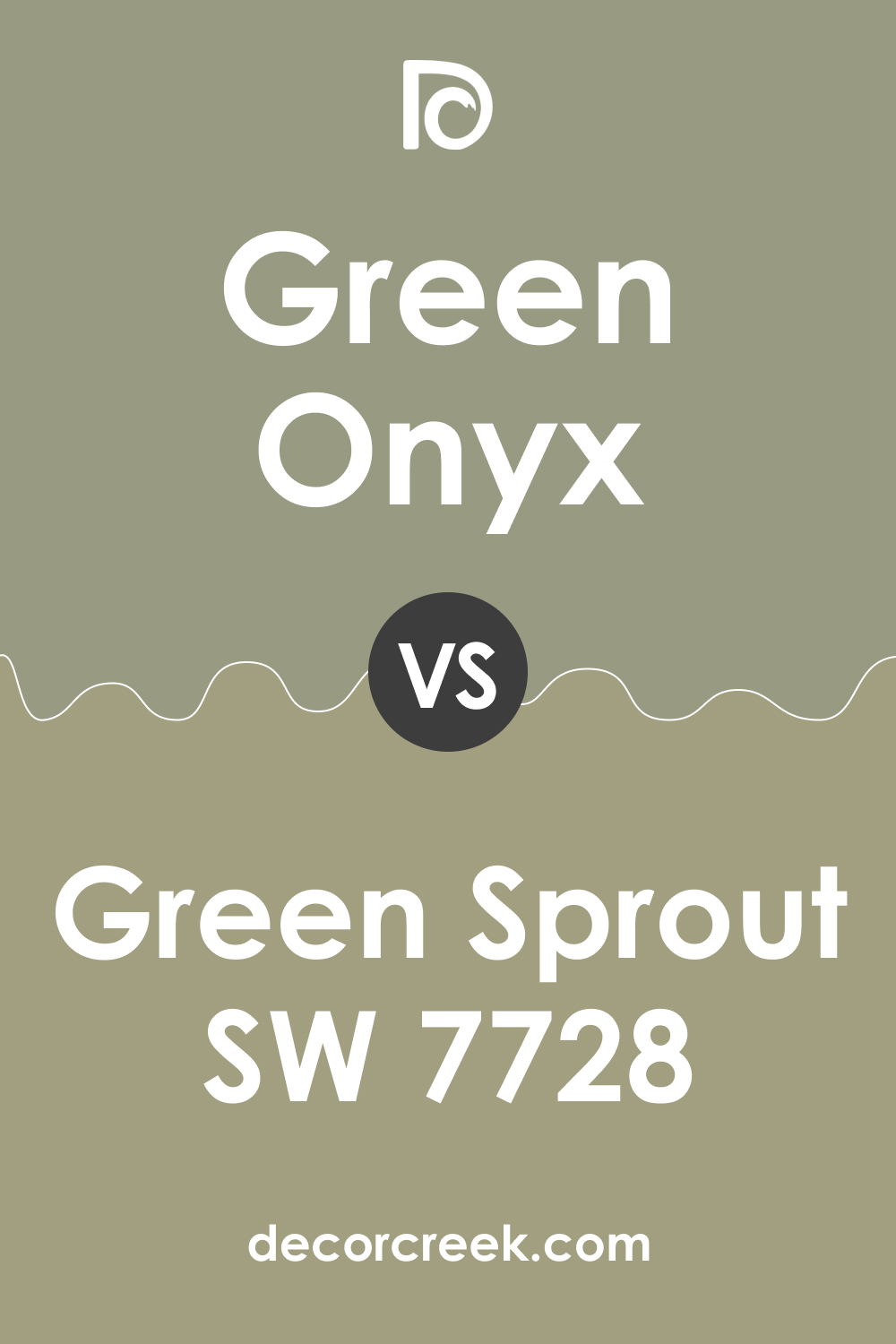 Green Onyx vs Verdant
SW Verdant has prominent golden-yellow undertones that make this green color read warm, vivid, and noticeably yellowish on the walls. However, it's not too bright due to the LRV of 20, which puts this golden green on the darker side of the LRV scale.
Compared to it, SW Green Onyx reads more muted and significantly greener, although its yellow undertones make it look warm-toned too. Also, SW Green Onys has a higher LRV value of 31, which makes it more light-reflective.
Green Onyx vs Gecko
SW Gecko looks bright and juicy, being a vivid and saturated green with yellow undertones. Gecko (SW 6719) has an LRV of nearly 22. By LRV value, it is a medium-dark color. Compared to it, SW Green Onyx looks calmer and more muted. Also, with an LRV of 31, SW Green Onyx is technically a lighter color.
However, SW Gecko looks brighter due to its juicy undertones.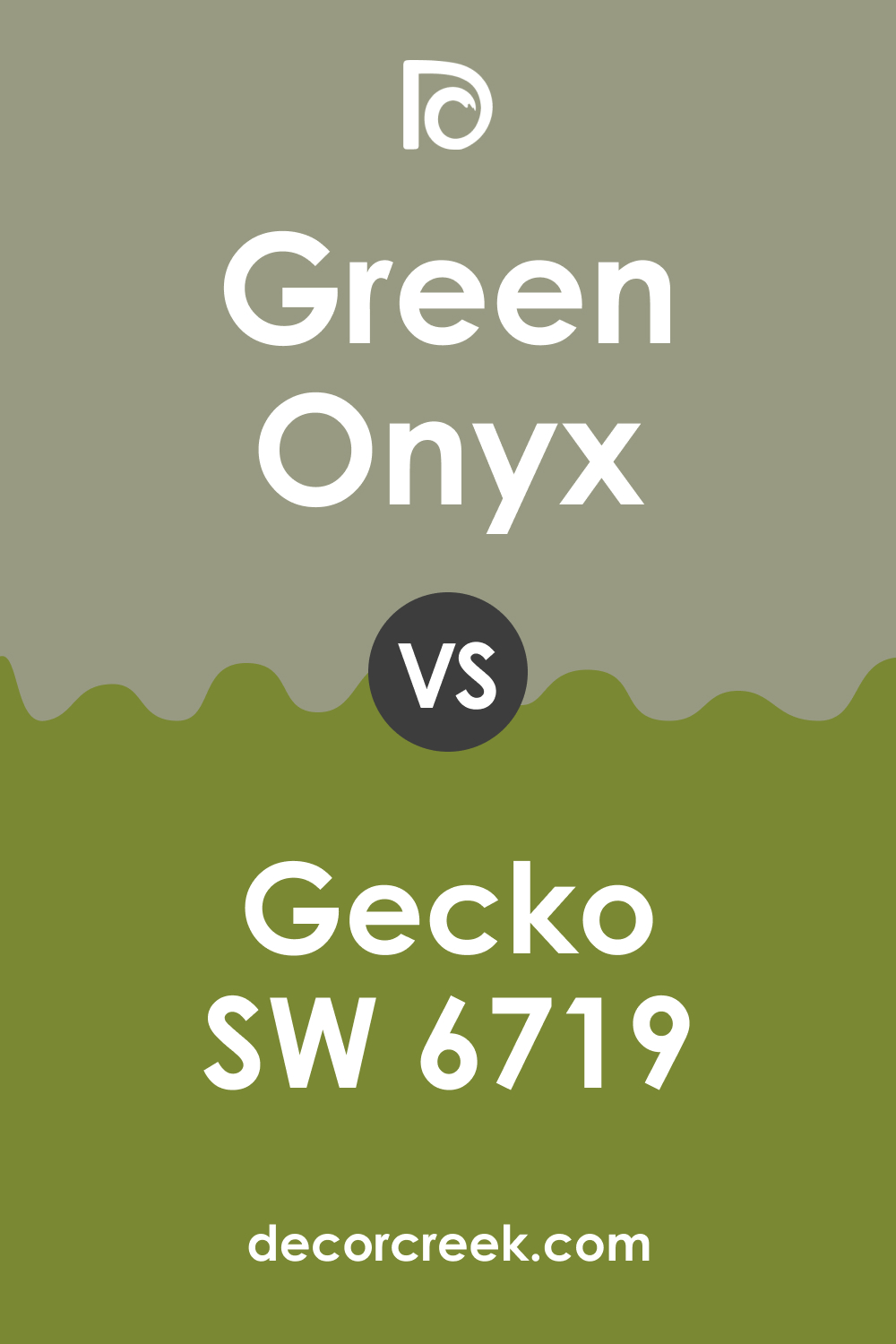 Green Onyx vs Basque Green
Basque Green SW 6426 is a rich olive green with a blend of deeper yellow and green undertones that create a balanced hue. Its LRV is 11, which means that SW Basque Green is on the darker side of the scale.
Compared to it, SW Green Onyx reads calmer and less saturated, although you can't say it's much lighter (even despite a higher LRV of 31).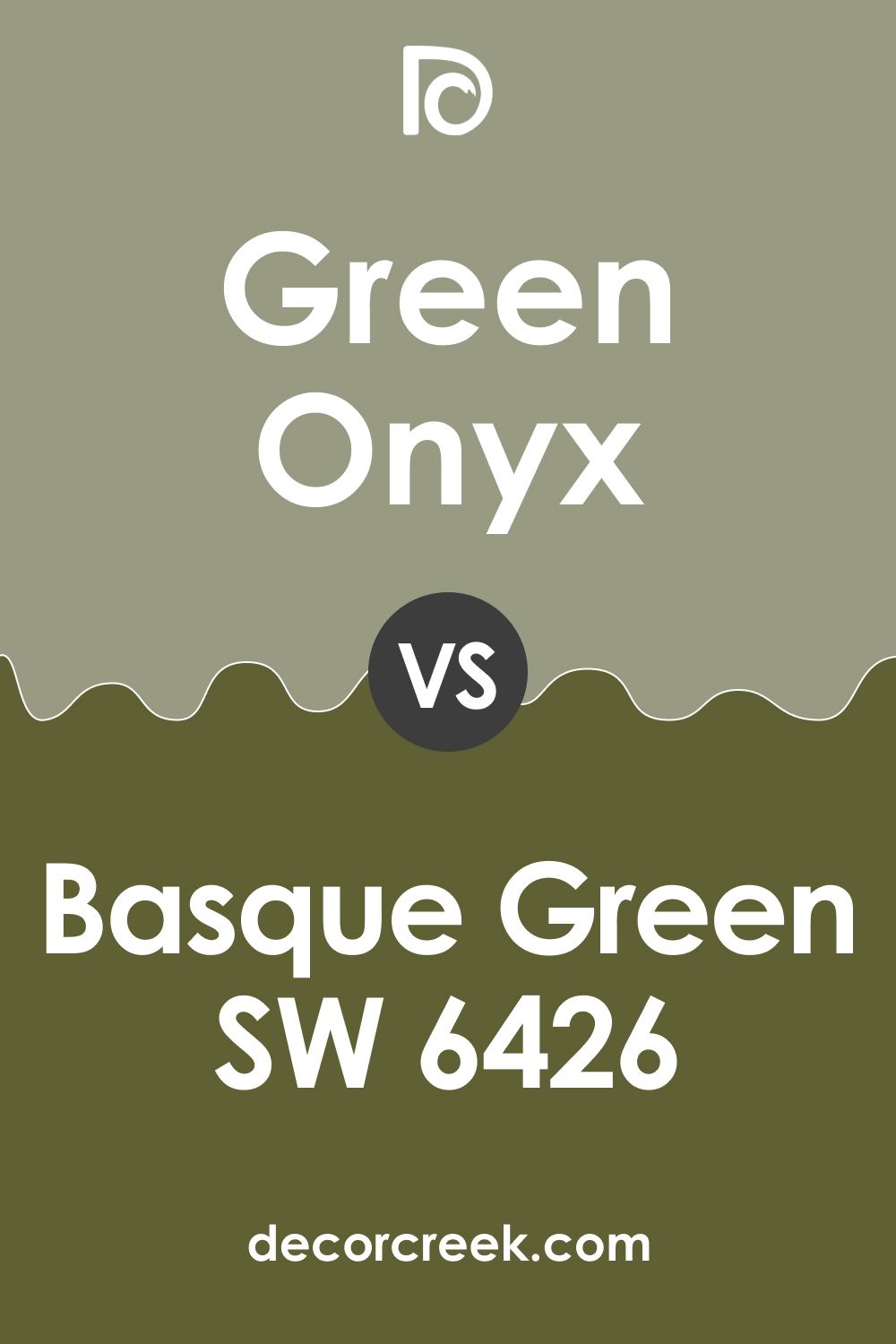 Green Onyx vs Luau Green
Luau Green (SW 6712) has an LRV of nearly 29. By LRV value, it is a medium color. Also, this LRV value makes it pretty close to SW Green Onyx with the LRV of 31.
However, compared to SW Luau Green, the Green Onyx color looks more muted and less saturated, with a much less pronounced yellow hue.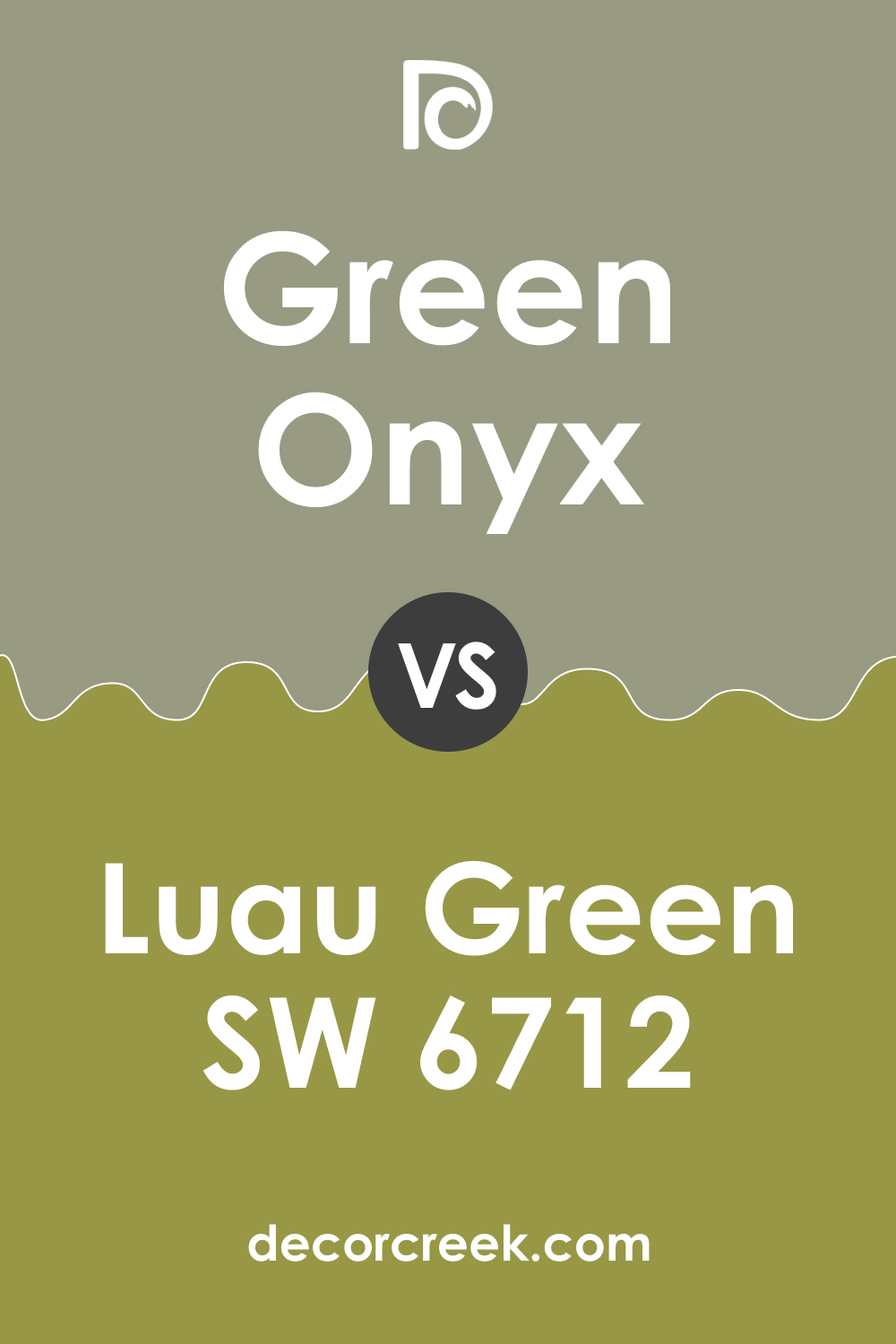 Where In Your Home to Use Green Onyx SW 9128 Paint Color?
Despite its complex undertones, SW Onyx Green is pretty versatile. You can use it in many spaces of your home, but you must keep its LRV and undertones in mind all the time! This will help you tell in advance how this green will work in different lighting conditions.
Green Onyx SW 9128 in the Living Room
Paired with white trim and molding, this green will give your living room a natural and relaxing vibe without making the space look dark or gloomy. However, we still insist on using this color in well-lit spaces only with plenty of natural lighting!
In a living room with little or dull light, SW Green Onyx may seem a bit darkening.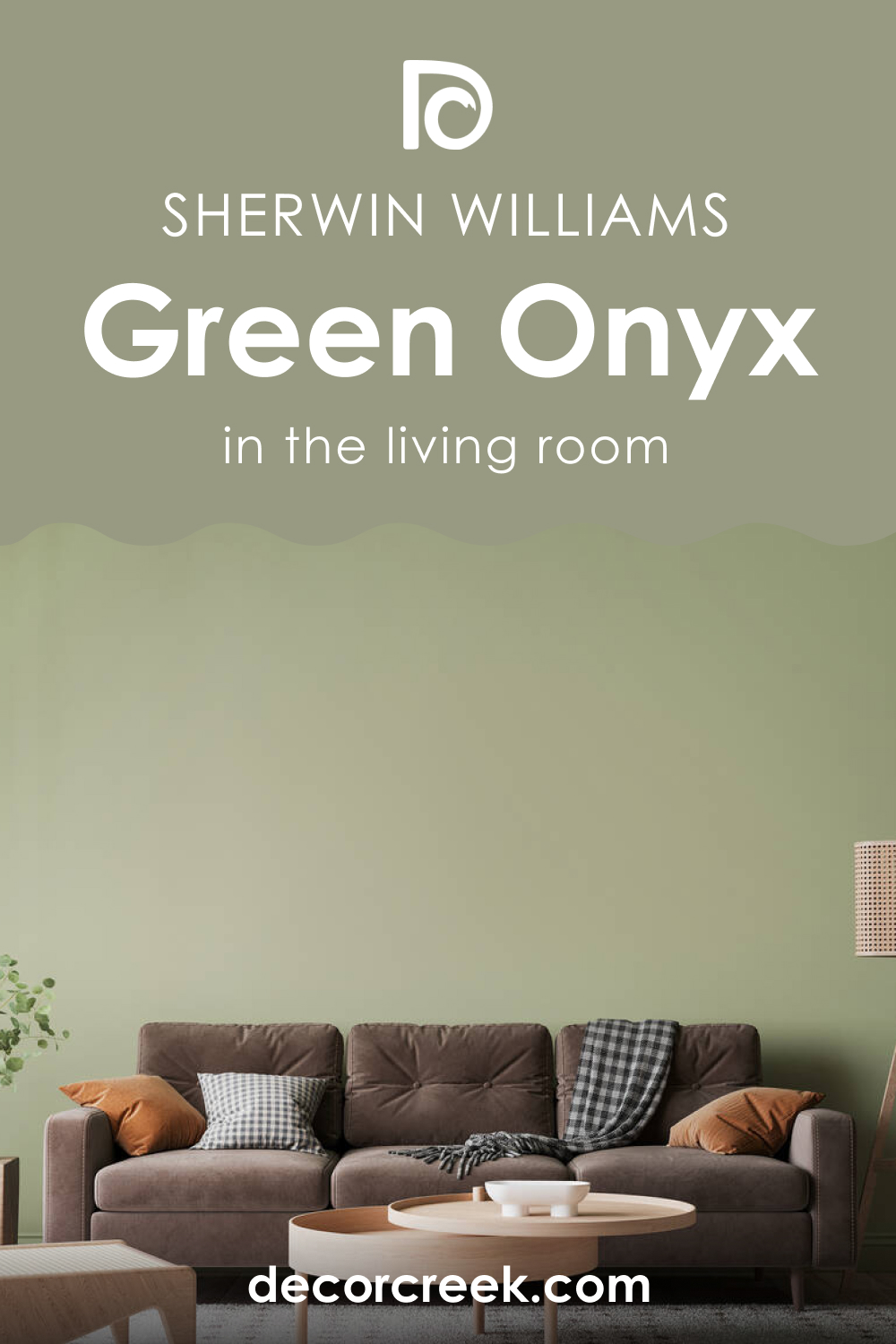 Green Onyx SW 9128 and Bedroom
To make your bedroom feel tranquil and soothing, use this green color on an accent wall or all the walls if the size of the room allows that. Also, ensure your bedroom has enough daylight. Otherwise, SW Green Onyx can make the space seem a bit enclosed and moody.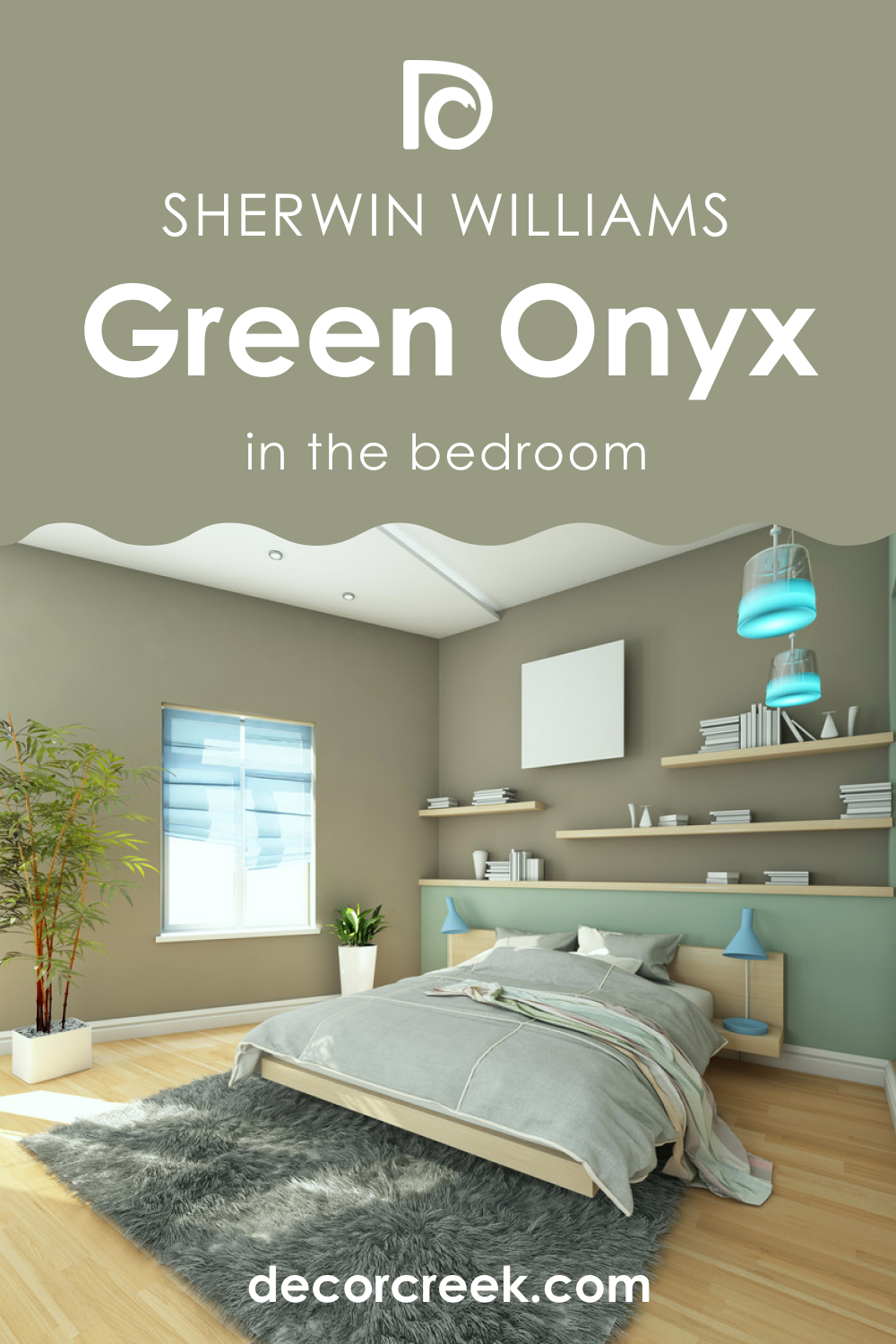 Green Onyx SW 9128 for Kitchen
In your kitchen, this green is best to be used on upper/lower cabinets, with the walls being white or neutral. SW Green Onyx pairs successfully with wooden and stone textures and countertops.
Besides, it will work nicely with a tile backsplash too! And if you add some brass accents like kitchen hardware, they will warm up this green a bit.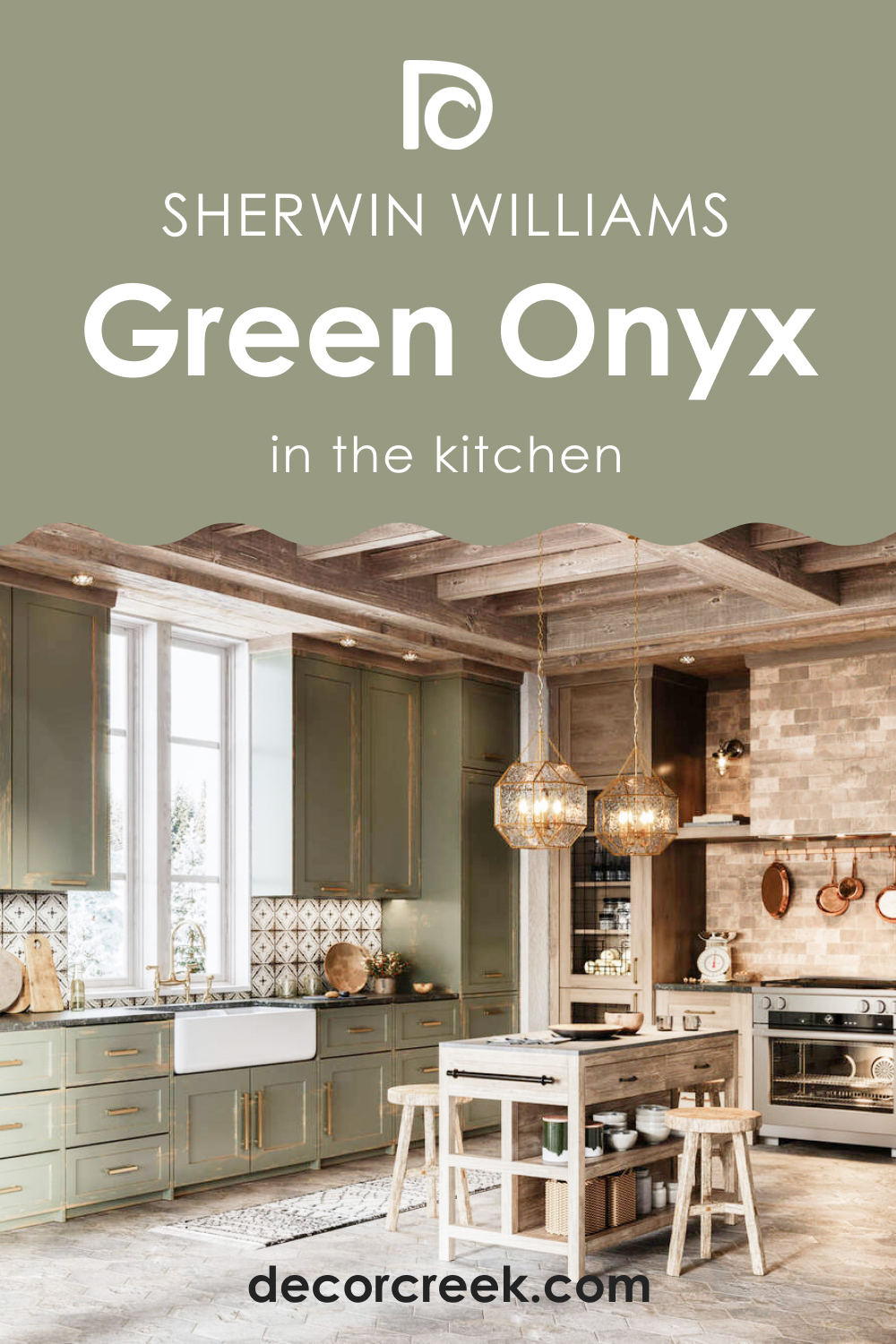 Green Onyx SW 9128 on the Bathroom
Green is not a go-to color for bathrooms, but if you want it there, you'd better use it on the accent wall. As an option, in a very small bathroom, green will work well on the vanity sink, with the walls remaining white, for example.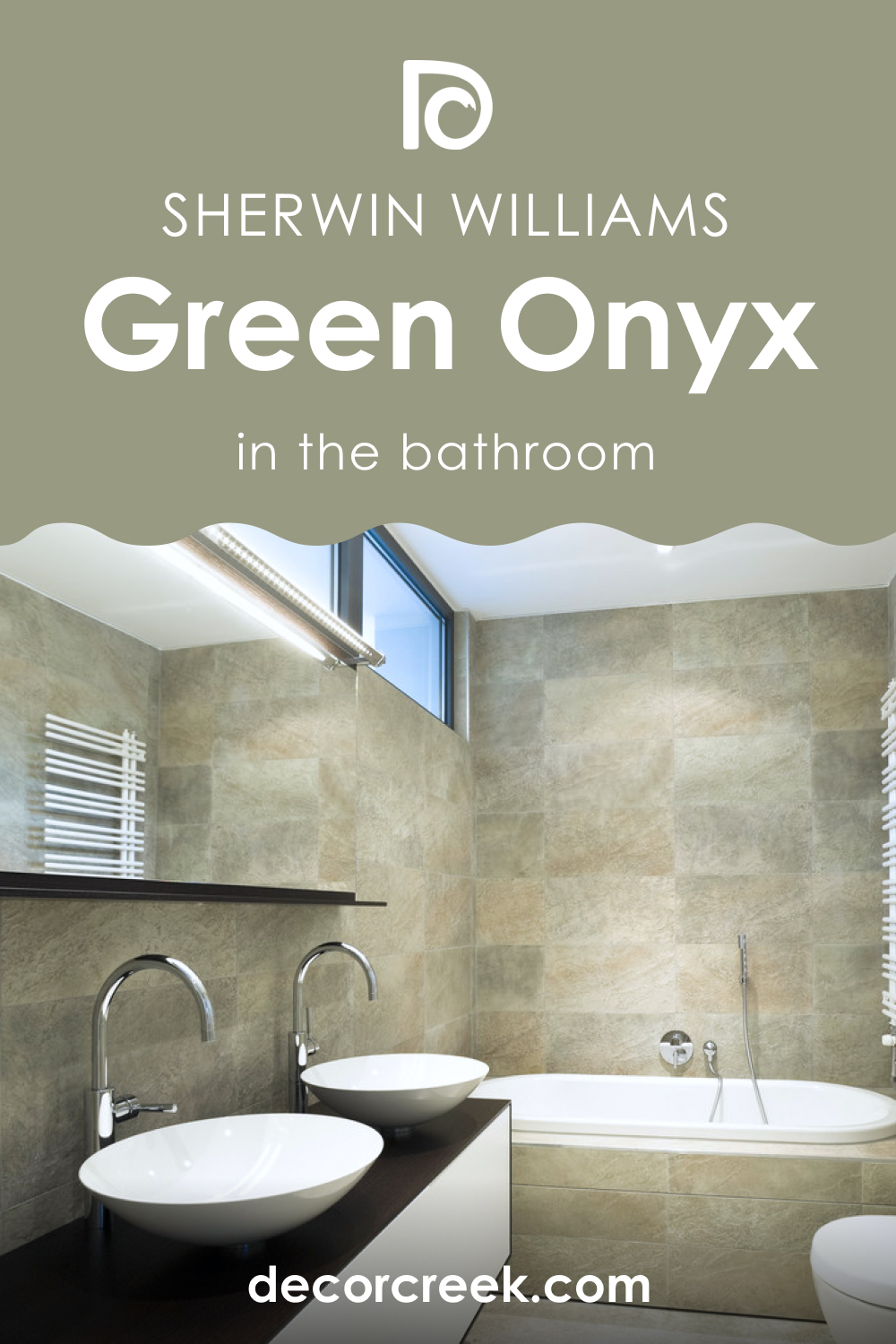 Green Onyx SW 9128 for the Exterior use
Basically, SW Green Onyx reads well on exterior walls, but you must realize that lighting conditions will affect how it works. For example, on cloudy days, this green may read more cool-toned, whilst, on a sunny day, it may reveal a more yellow hue, reading warmer.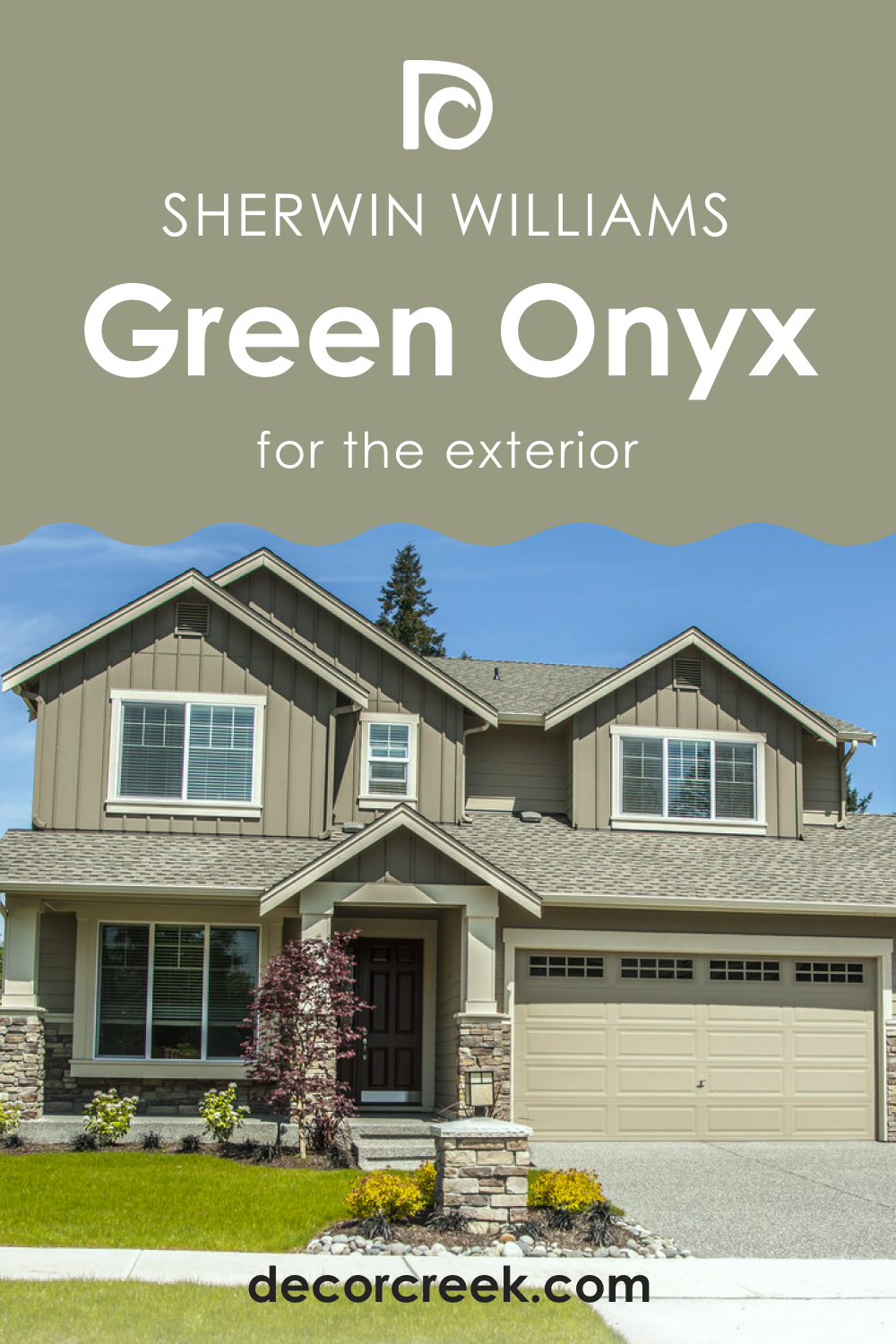 Now you can see how important it is to know all the details about the paint color you are going to use in your home! Speaking of SW Green Onyx, now you know all you need to make it work in any room of your house or apartment!
You know its LRV and undertones, and you know how to coordinate this green to incorporate it into your interior perfectly well.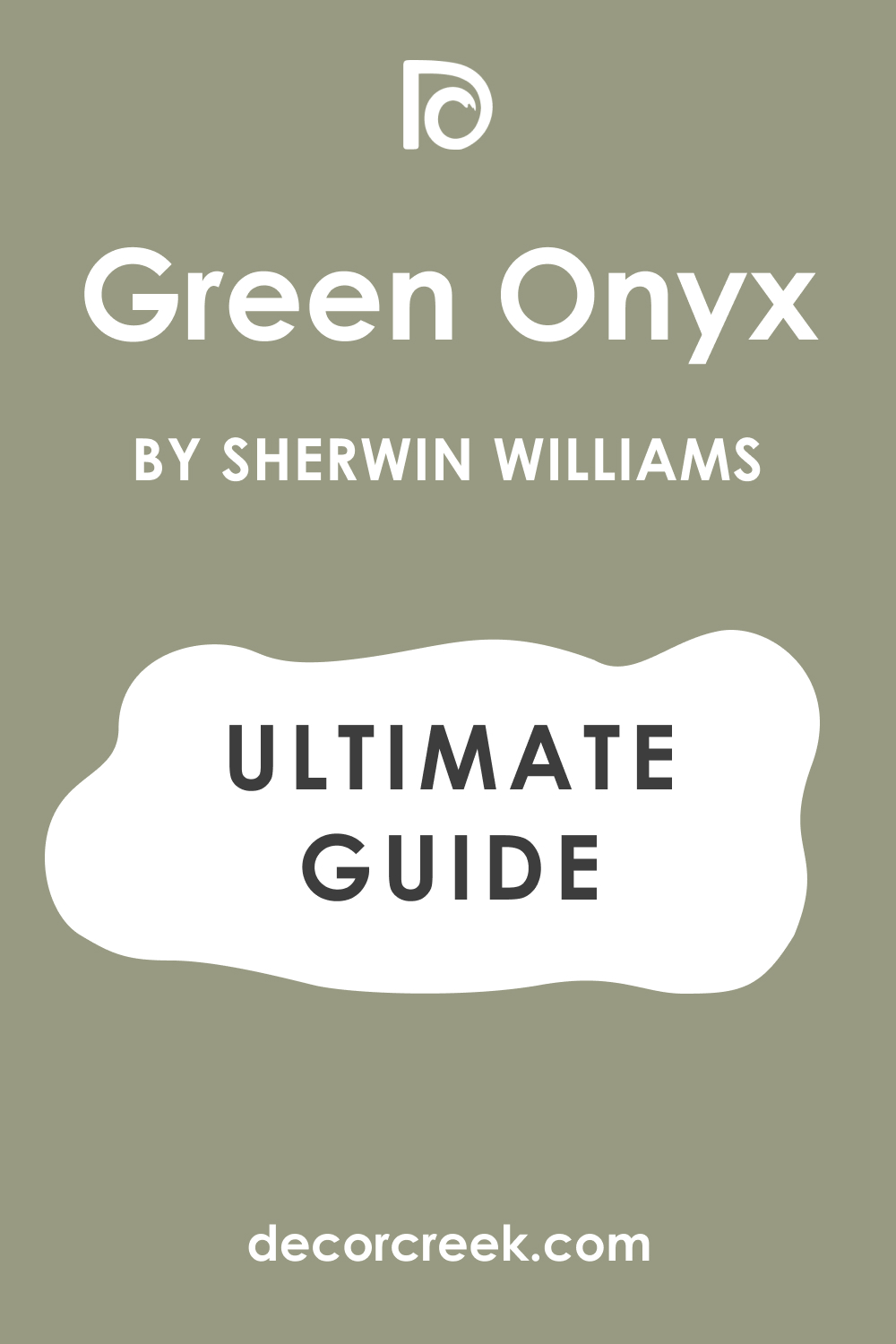 Frequently Asked Questions
⭐Is Green Onyx (SW 9128) a cool or warm color?
SW Green Onyx is a warm color.
⭐Does SW Green Onyx read yellow?
No, this color may give off a yellowish hue, but it never reads yellow.
⭐Will SW Green Onyx work on exterior walls if the roof is grey?
Yes, it will pair with the grey roof since this green has grey undertones.