We typically don't use blue colors often in our homes. Blue is considered a tricky color to use indoors. Besides, people often find it pretty challenging to pair it with other colors.
However, if you know how to work with the blue color, you can make it work in your home remarkably well!
Today, we will tell you more about one of the most beautiful shades of blue called North Star by the Sherwin-Williams brand. You will learn what kind of blue color it is, how it works with other colors, and how to coordinate it in a living space.
We will also explain how this color reacts to light and share other helpful information.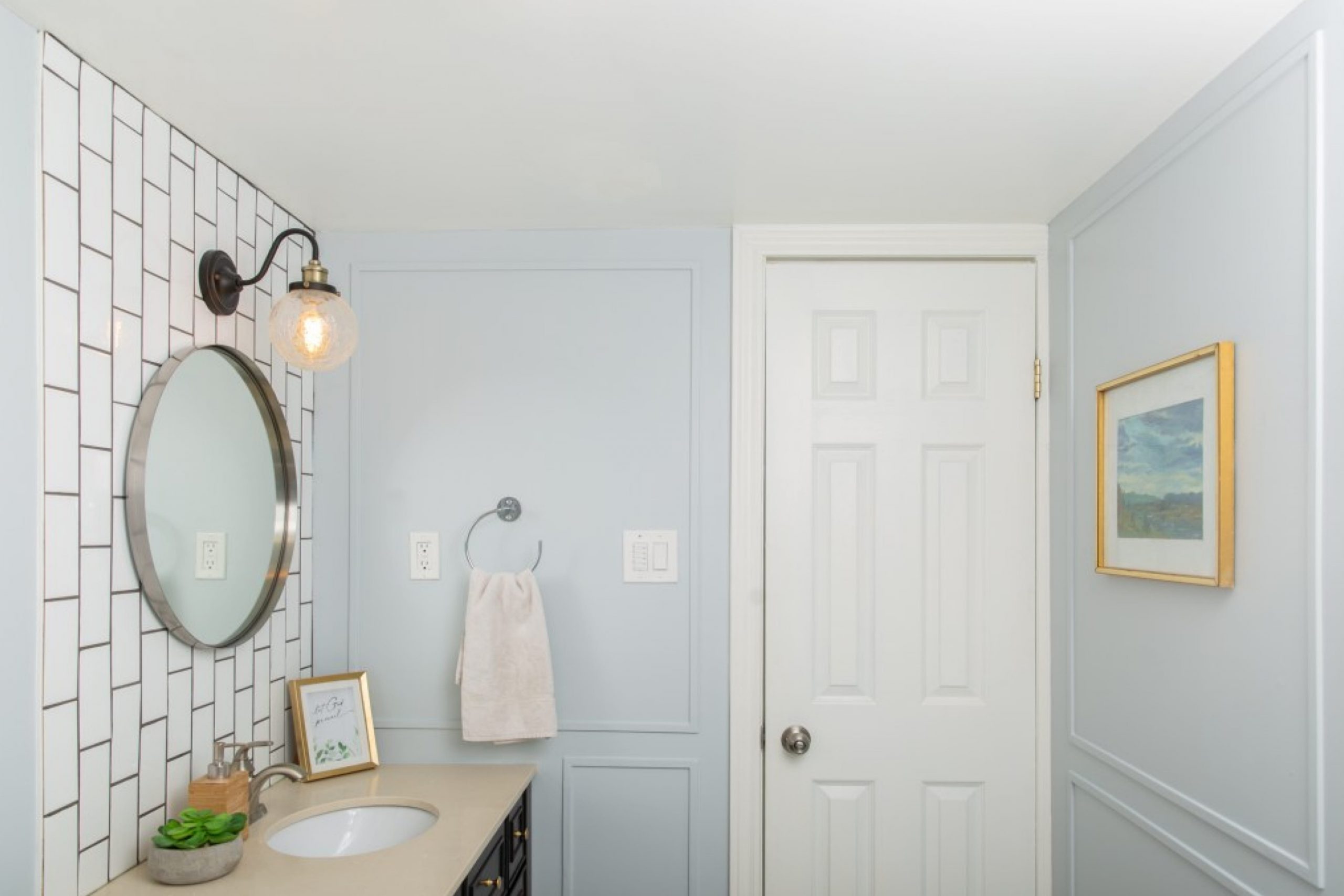 What Kind Of Color Is SW North Star SW-6246?
Although you may think that SW North Star is a blue color, it is more correct to call it a blue-grey color. As Encycolorpedia says, it combines blue and gray so harmoniously that in the end, you get a perfect neutral that shows equal blue and very slight gray tones.
Generally, SW North Star reads a subtle and delicate blue on the walls, giving the room a crisp and cool effect. This is why this color is very popular among homeowners that live in southern states where the weather is hot and sunny!
With this refreshing blue on interior walls, your home will get a chilly and relaxing vibe easily. Besides, thanks to its lightness, this subtle color makes the space read larger and airier.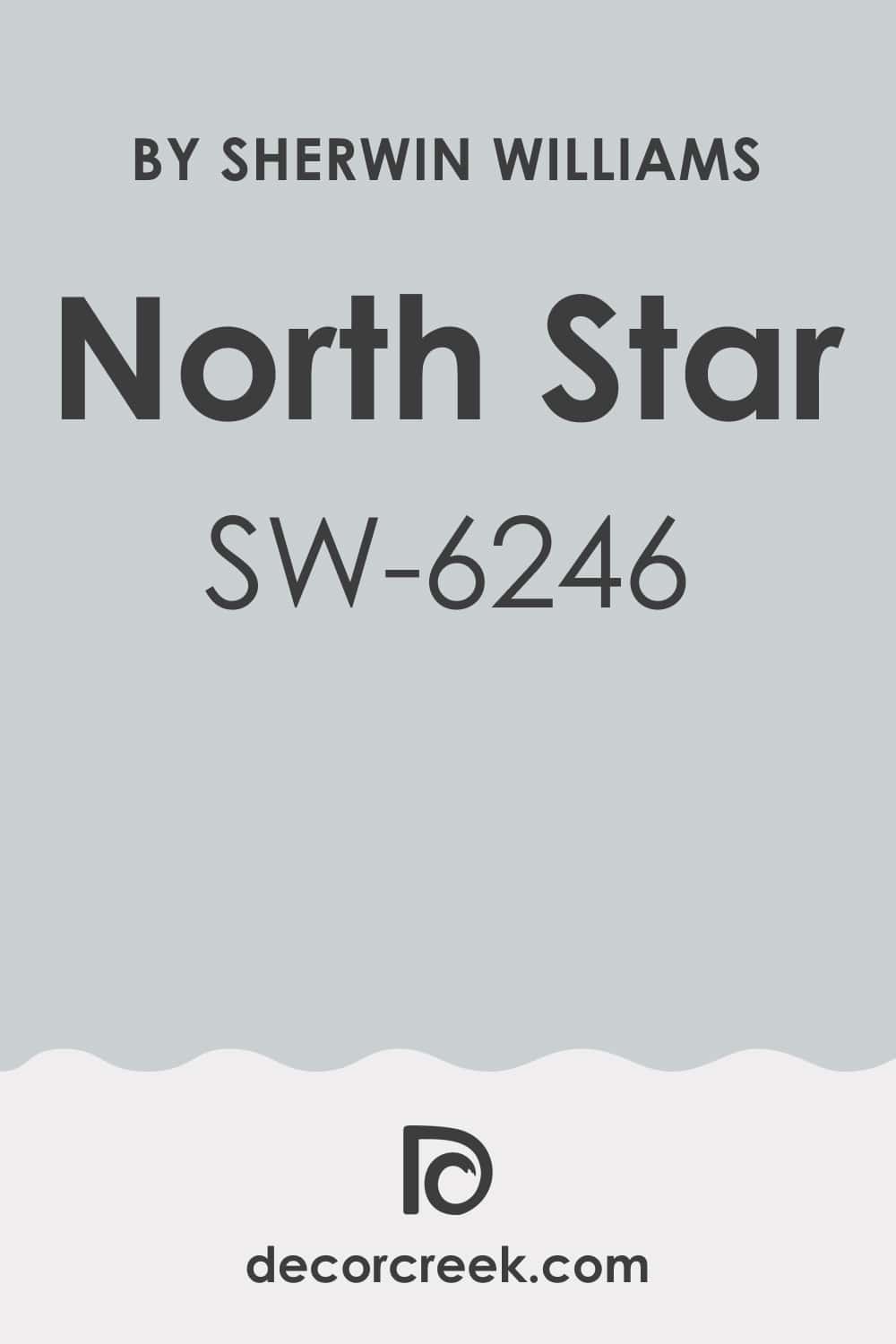 What Undertones Does SW North Star Color Have?
As we have already mentioned, SW North Star has mixed undertones, blue and gray in particular. However, this feature is exactly what makes this color so tricky and hard to use!
See, this paint color often reads gray but in fact, it is blue. And you must be very careful using it indoors. Pay very close attention to other colors you use in the room where SW North Star is used on the walls. Otherwise, you can get the opposite effect completely!
You can help this light-shaded blue reveal its tinge of crispness better if you pair it with crispy and stark whites. Also, using this color in north-facing rooms with cooler light would be much better. In this case, SW North Star will show its cool-toned beauty much more thoroughly.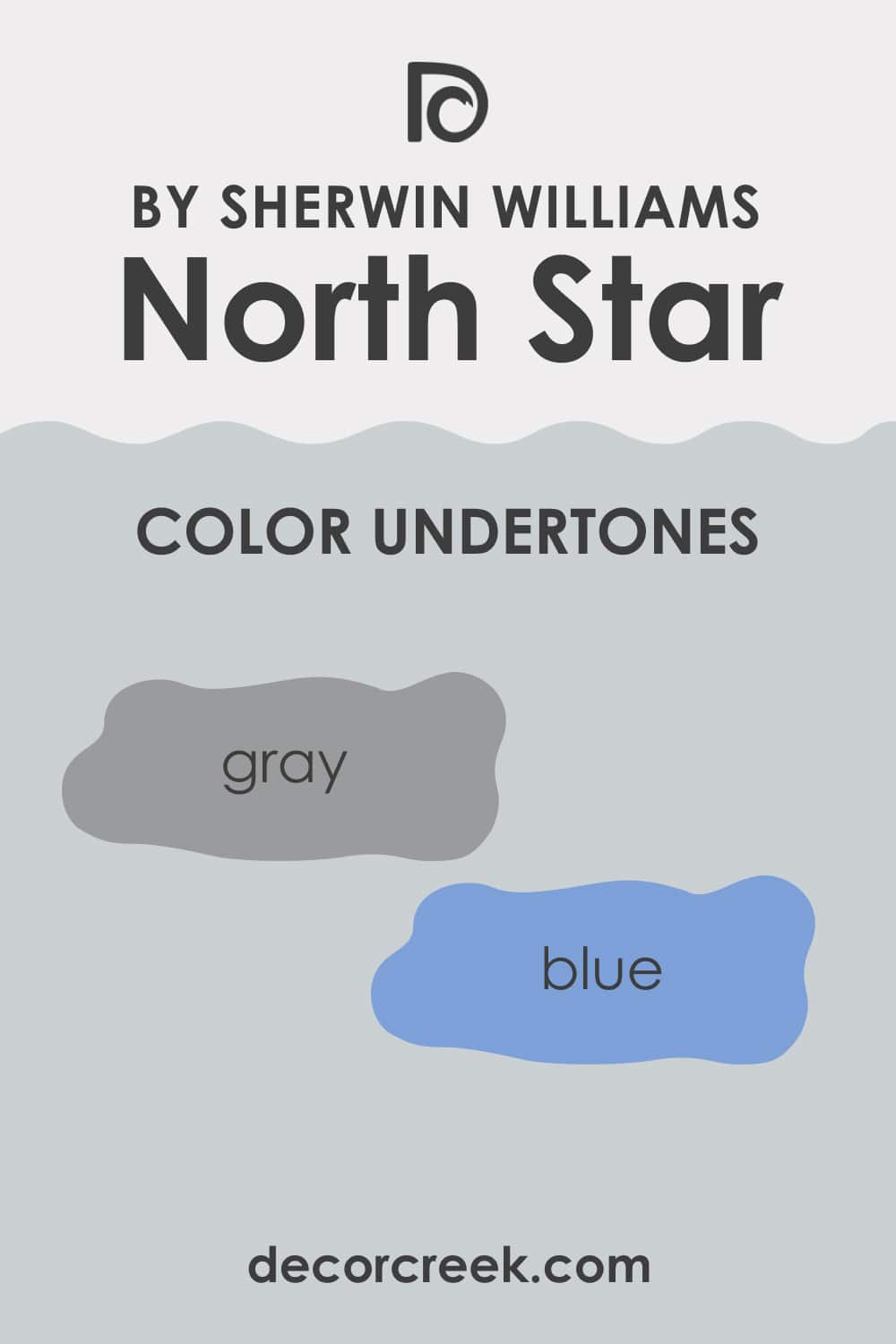 LRV North Star SW-6246
The LRV is another essential aspect of the paint color you must be aware of. LRV stands for the light reflectance value and it shows the amount of light (in percent) that the color can reflect from the wall.
The LRV scale ranges from zero to 100, where zero is black and 100 is pure white.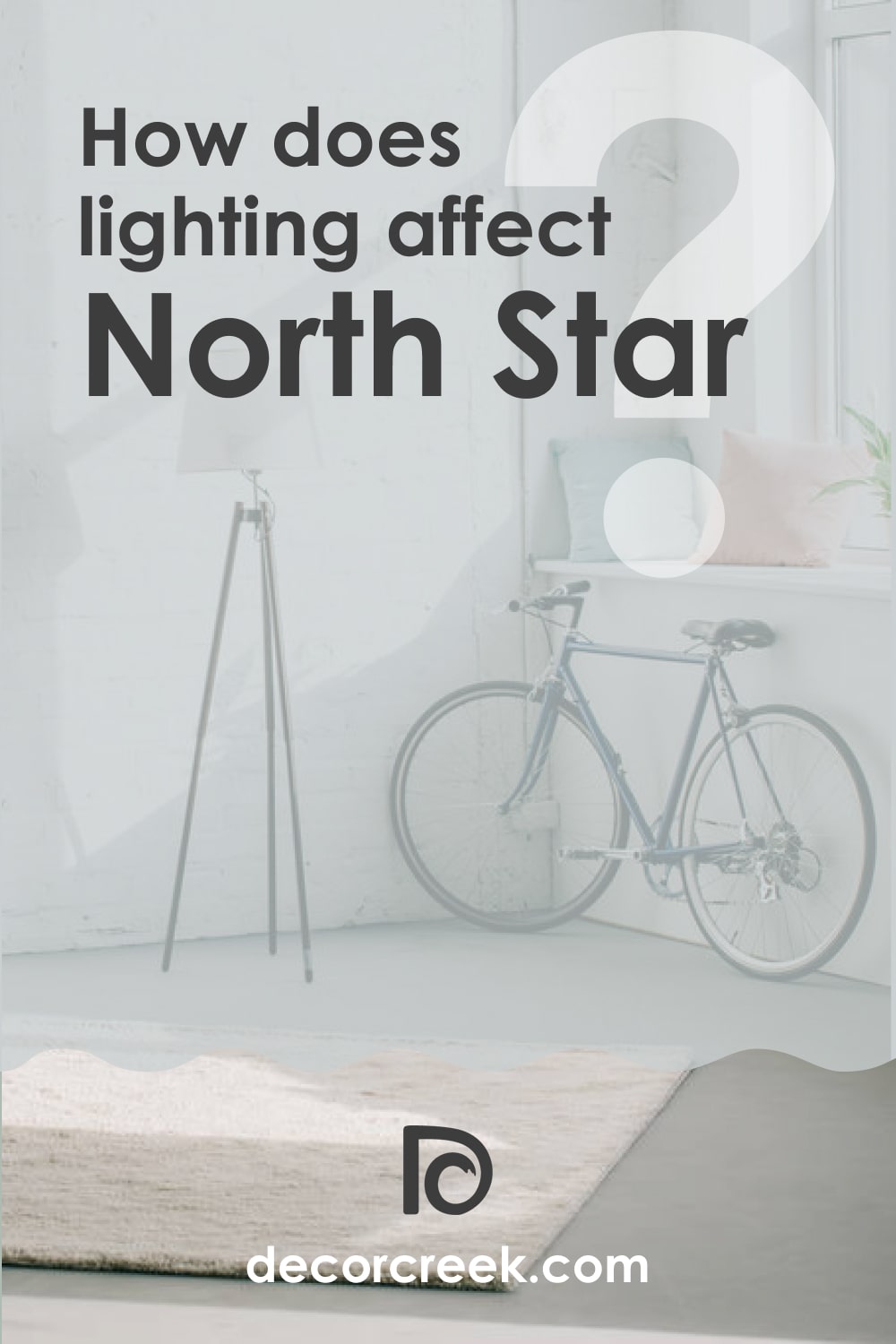 Speaking of SW North Star, the LRV of this color is 62, which makes it lean more towards the lighter end of the scale. On the walls, this blue-gray will read neither dark nor too light.
It will give the balanced yet fresh enough feeling that is so appreciated in hot climates or in rooms with warmer daylight.
However, you should know that this paint color can read differently depending on the lighting in the room! In the daylight, SW North Star appears to be a light, cool-toned and bright blue-grey color.
But during the night in artificial lighting, it may appear to be somewhat darker with grey highlights!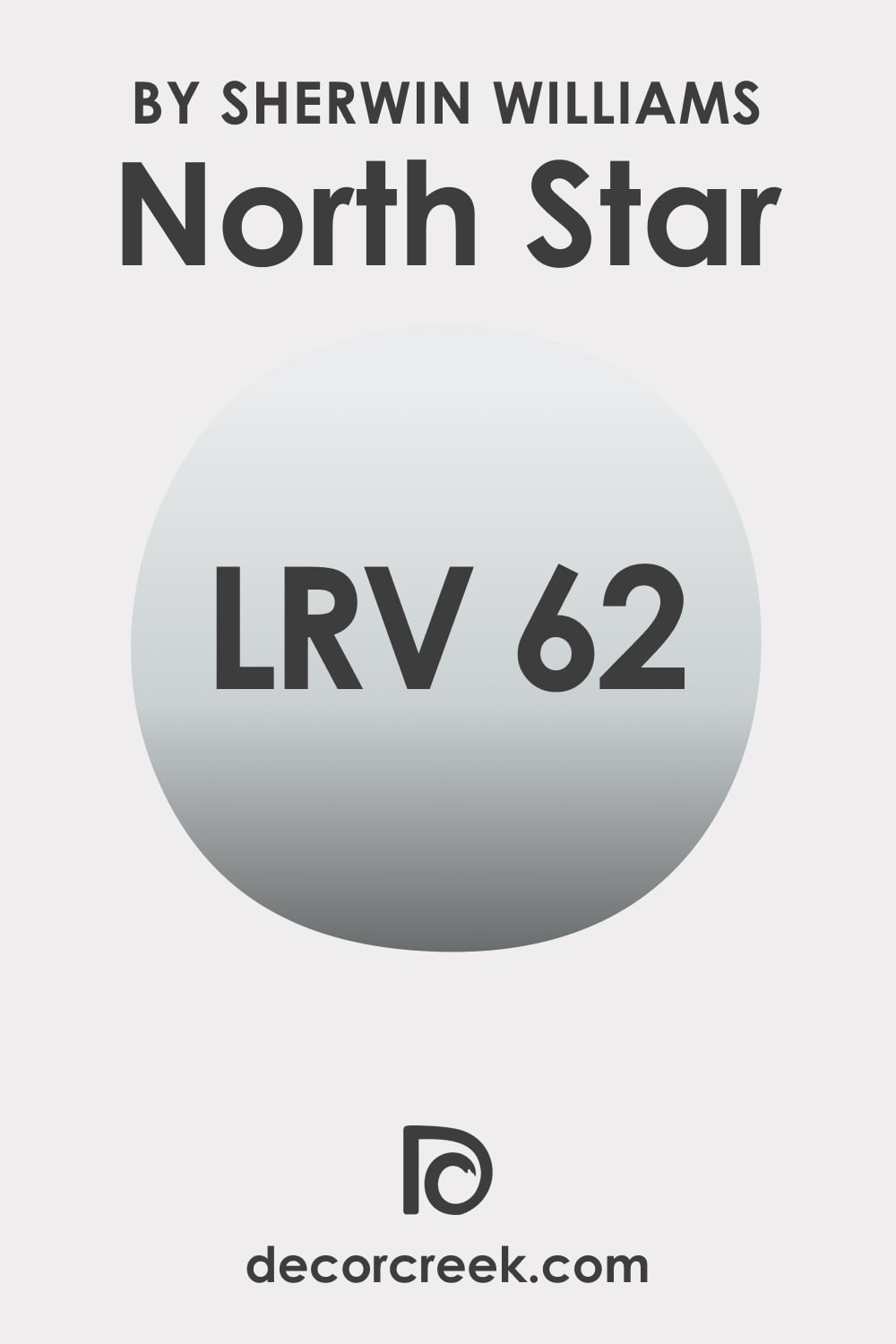 LRV – what does it mean? Read This Before Finding Your Perfect Paint Color
What Coordinating Colors Does SW North Star Color Have?
Coordinating colors help you highlight the natural beauty of the wall color and make it work better in the space of your home. However, people often find it difficult to choose the right colors to coordinate with the color on the walls.
With blues, the task can be even more challenging. This is why here is a hint for you! For SW North Star, the following colors will work best as coordinating ones:
SW Quicksilver
SW Alabaster
SW Cadet
For a monochromatic color palette, we recommend you use the following colors:
SW Outerspace
SW Let It Rain
SW Granite Peak
Finally, if you prefer contrasting color schemes in your home, you might like the following color combination:
SW 7005 Pure White
SW 9178 In The Navy
SW 9161 Dustblu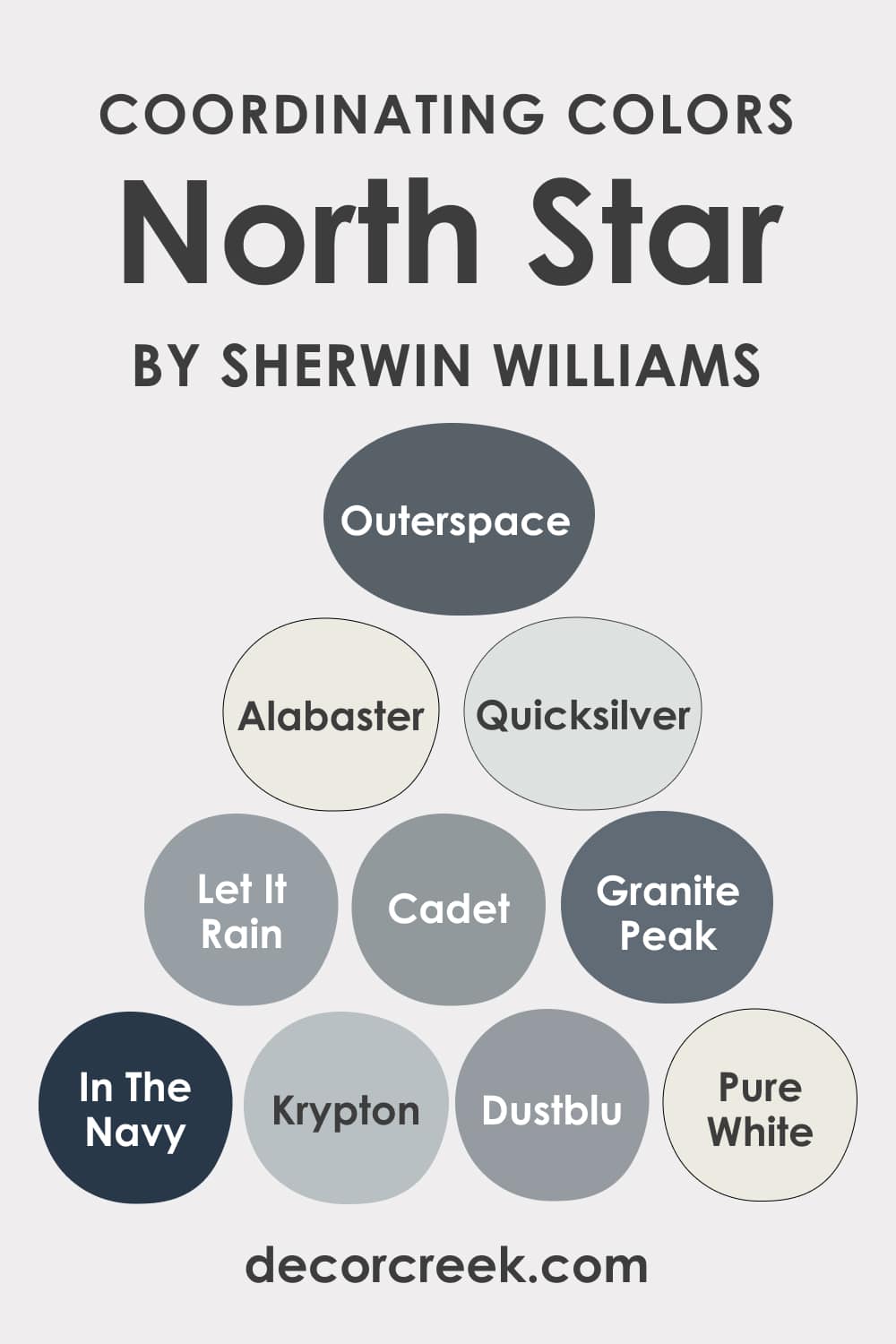 What Is the Best Trim Color for North Star SW-6246?
SInce SW North Star tends to read darker in certain types of light, you must consider this when choosing the trim color. Your goal is to find the color that looks bright and stark enough to make this blue-gray read fresher and brighter as well! For this purpose, we recommend you one of the following whites:
SW High Reflective White
SW Pure White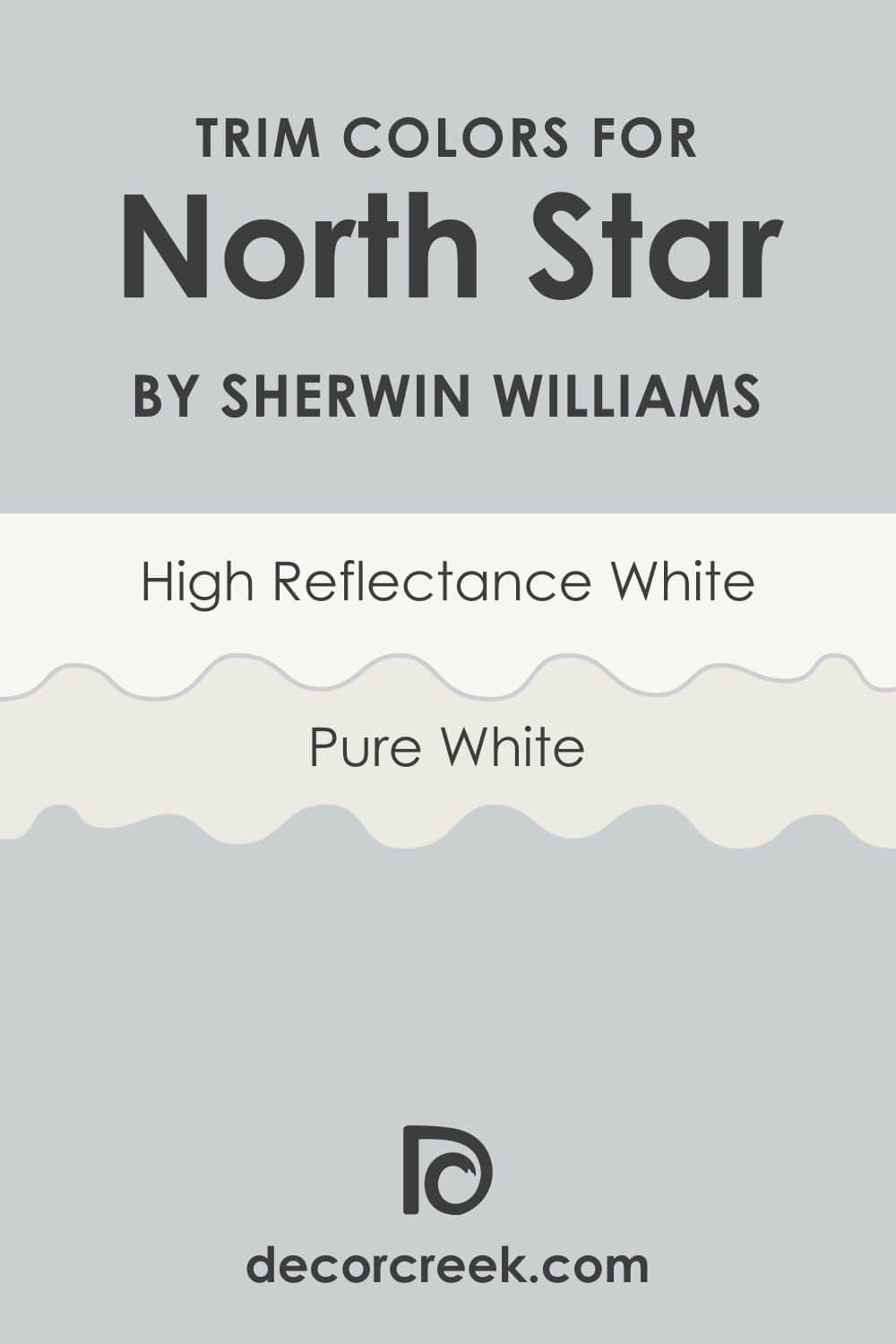 Paint Colors Similar to SW North Star
If you sample SW North Star and you are not quite satisfied with how it looks in your home, it's good to have a couple of extra color options to use instead. This is why we always highlight the necessity of keeping several alternative paint colors in mind should you decide to use another one!
For SW North Star, you can try the following colors as alternative ones:
They are the closest matches since they have similar LRVs and read almost the same on the walls.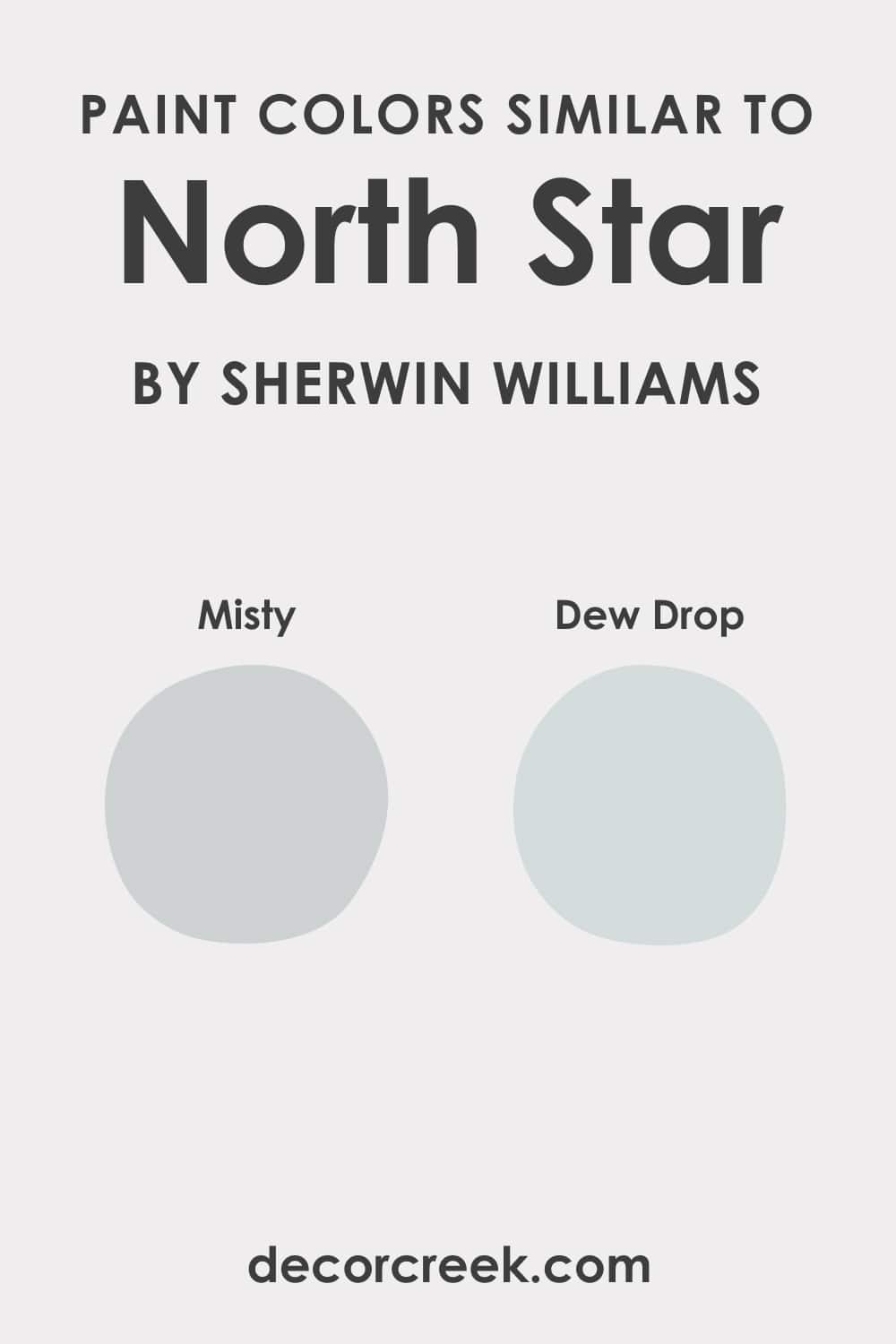 Colors That Go With SW North Star Color
Since SW North Star is a chameleon color, you might have problems with choosing the right colors to use with it. This is why we have selected a few color ideas to help you figure out which ones will work best:
SW Grays Harbor
SW Uncertain Gray
SW Tiki Hut
SW Anew Gray
Generally, we recommend pairing this color with the hues of clean whites, off-whites, darker gray colors, midnight or cobalt blues, beige, and blush pink. With any of them, this subtle blue-gray will work best of all.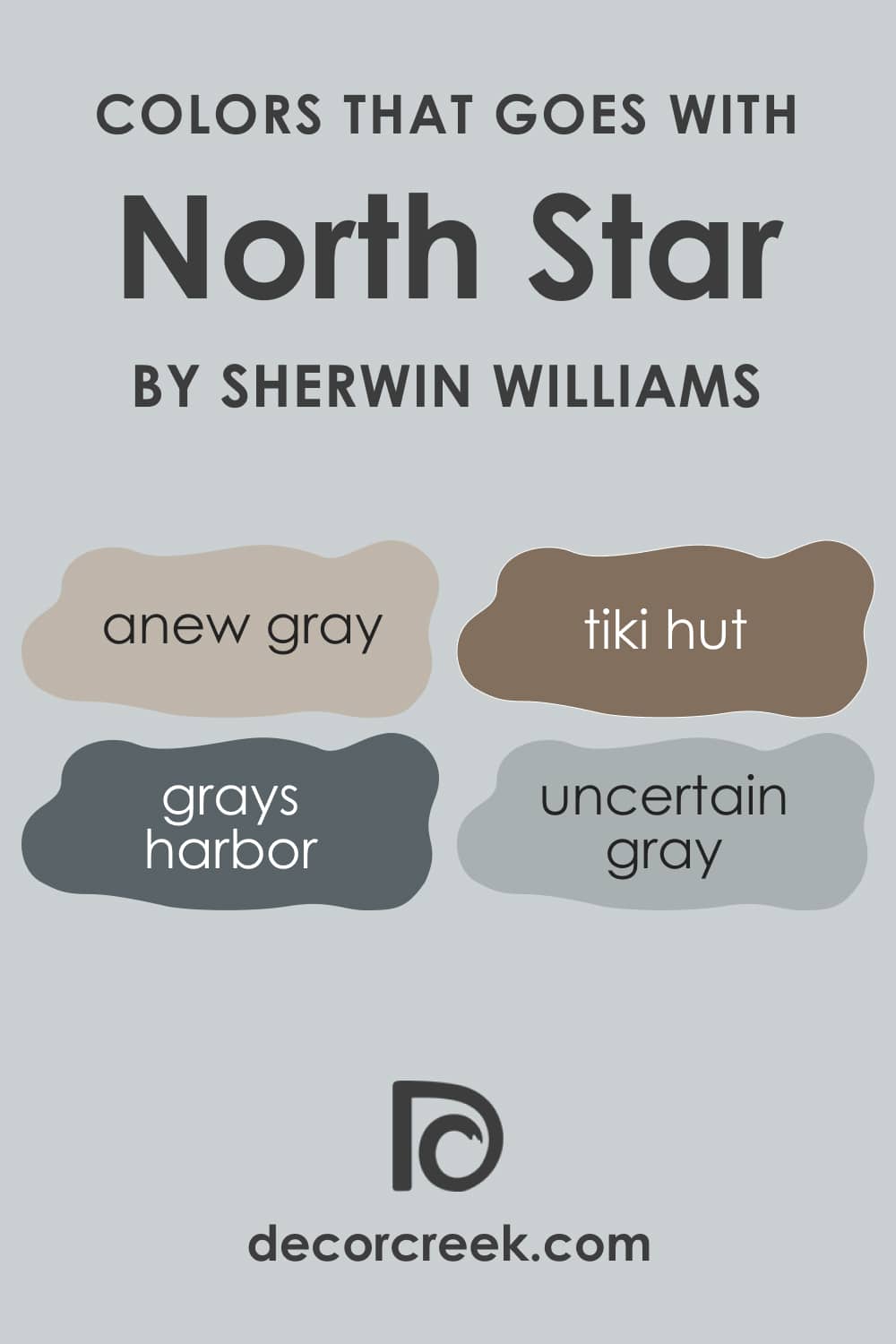 Comparing SW North Star Color With Other Colors
To help you better see the difference between SW North Star and similar colors, we suggest you read the comparative description below. It provides some basic differences and specific features of SW North Star and alternative colors that will help you understand their shade and tone nuances better.
North Star vs Krypton
SW North Star is lighter than SW Krypton, revealing its blue undertones better. Also, the Krypton color reads more pronounced due to gray undertones that show up more clearly. However, both colors read almost the same subtle on the walls.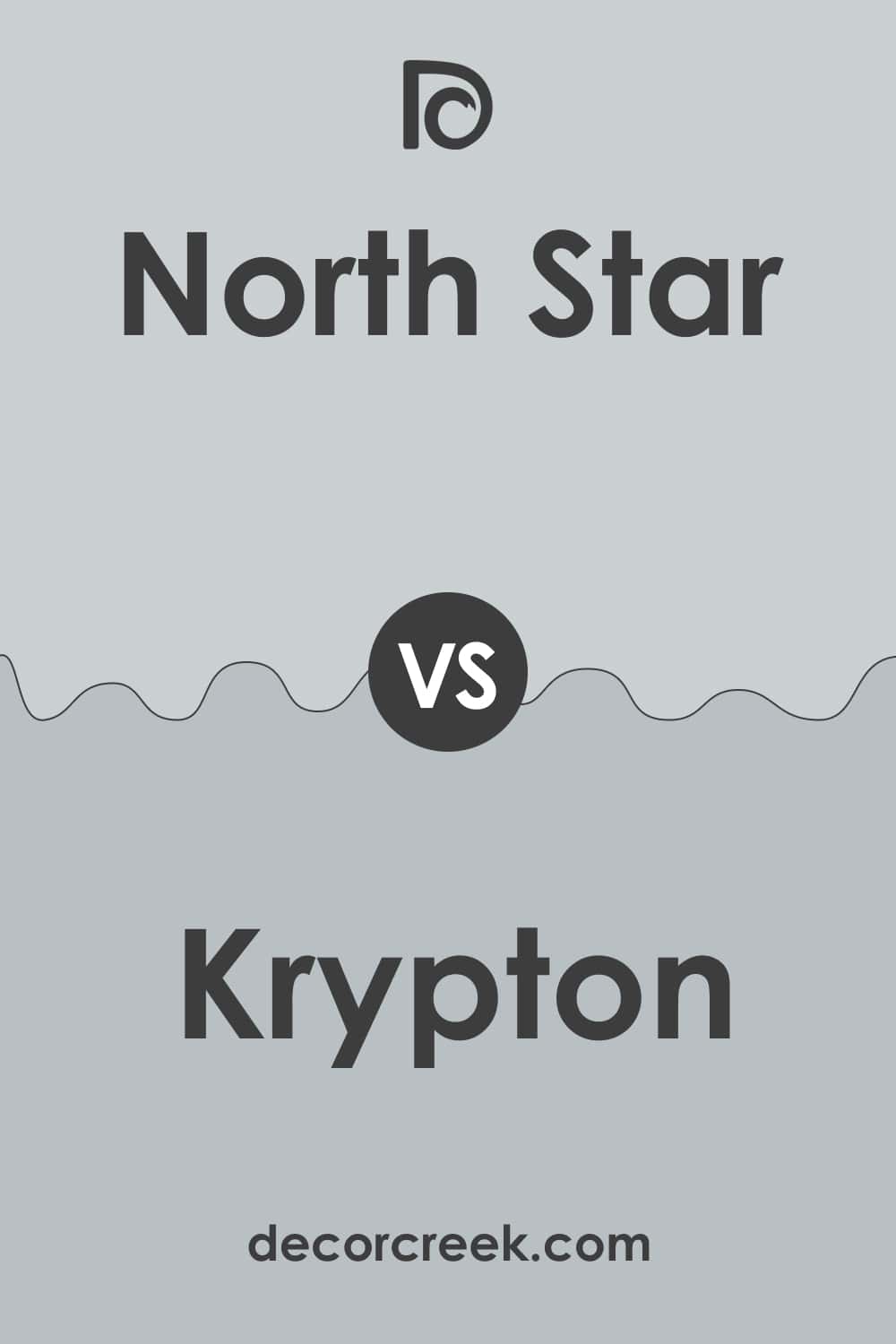 North Star vs Misty
Both colors have an LRV of 64, which makes them almost equally bright with quite a similar tone. However, if you take a closer look, you will see that SW Misty is a more neutral and cool-toned blue-grey. With natural lighting, it typically reads more gray!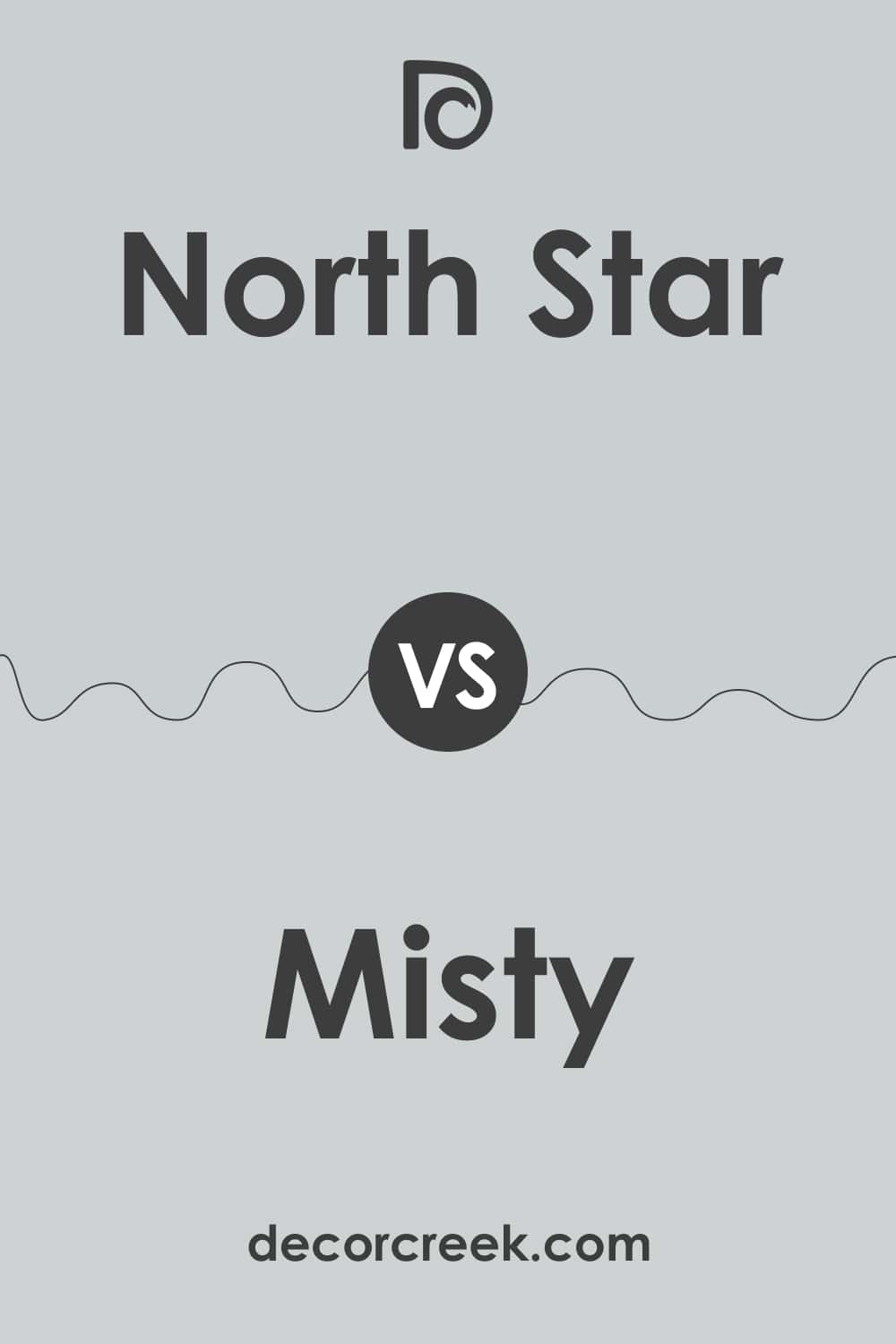 North Star vs Jubilee
This pair of colors is pretty contrasting because SW Jubilee reads deeper and more pronounced than its lighter and airier counterpart. Also, SW Jubilee shows more gray undertones compared to SW North Star, which reads bluer.
Finally, different LRVs make these colors so contrasting too (and LRV of SW Jubilee is 45, and SW North Star has an LRV os 62).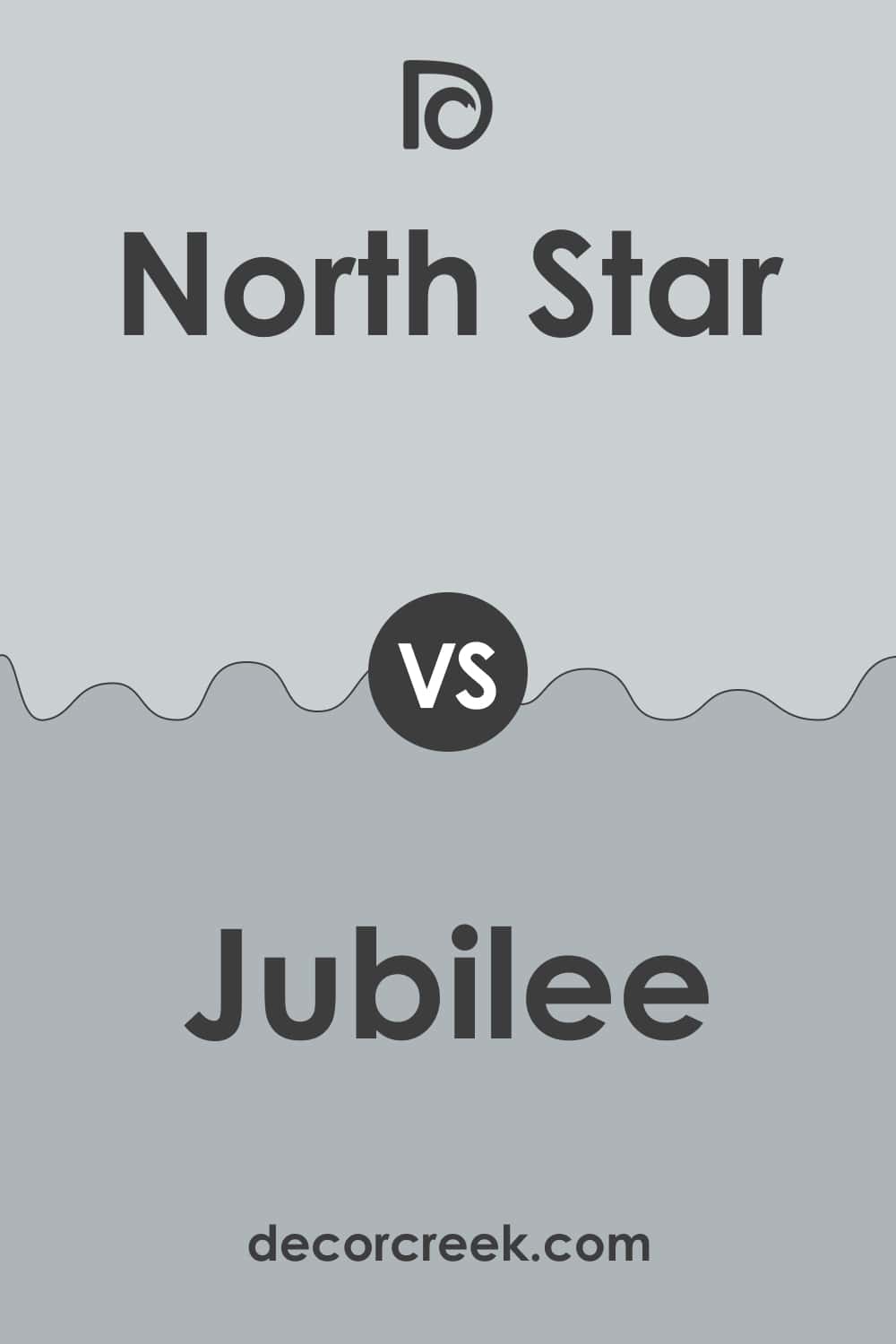 North Star vs Storm Cloud
SW Storm Cloud is a moody gray color with muted blue undertones. Its LRV is 23, which means the color is pretty deep and may read somewhat dark. Compared to SW Storm Cloud, the North Star color is much lighter with an LRV of 62.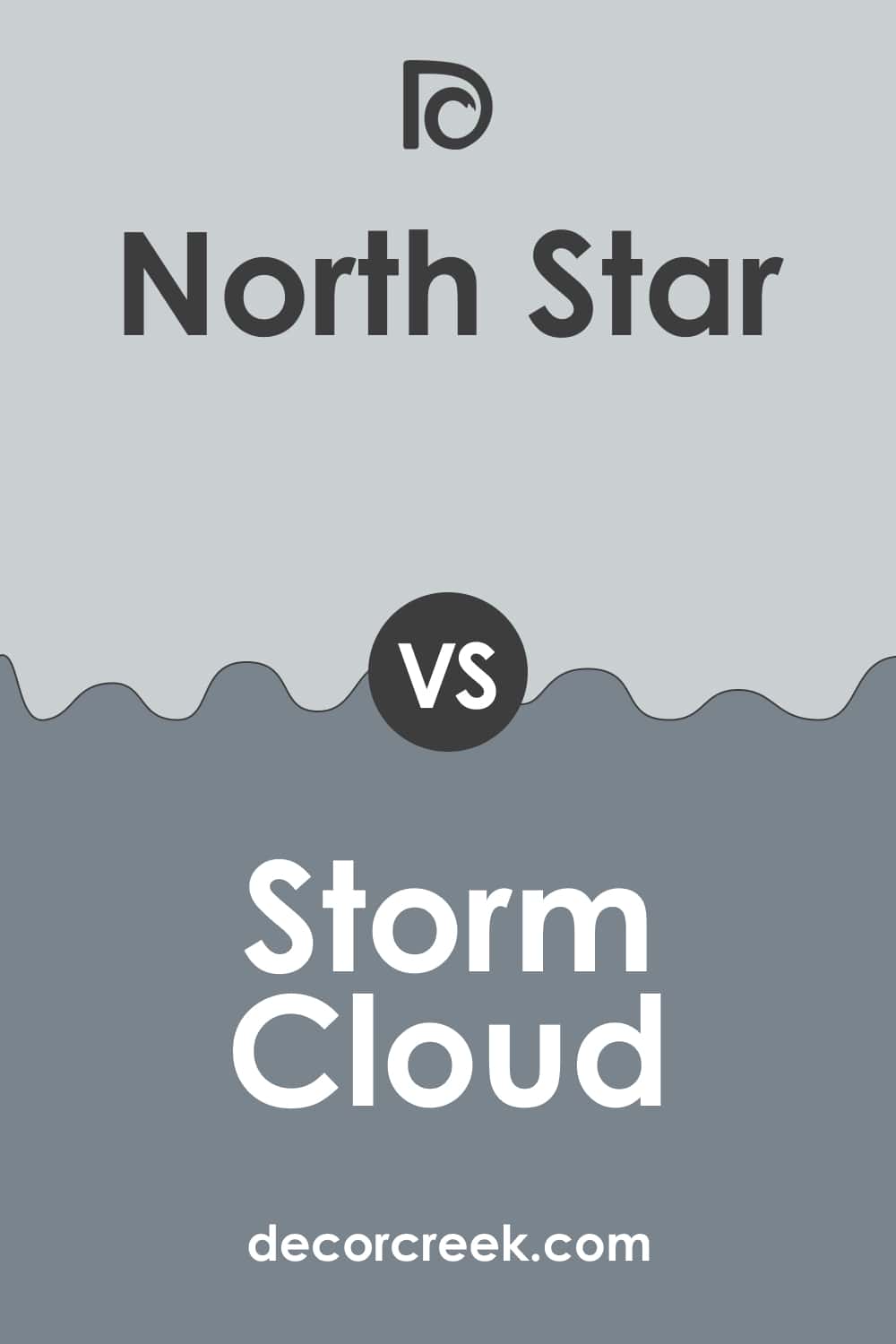 North Star vs Debonair
The LRV of SW Debonair is 34, which means it's darker than SW North Star with its LRV of 62. Also, their undertones differ. The debonair color has blue and green undertones, whilst ita counterpart has gray undertones.
Now that you know the basic characteristics and features of the SW North Star color, let's see how it works in different rooms of a house/apartment.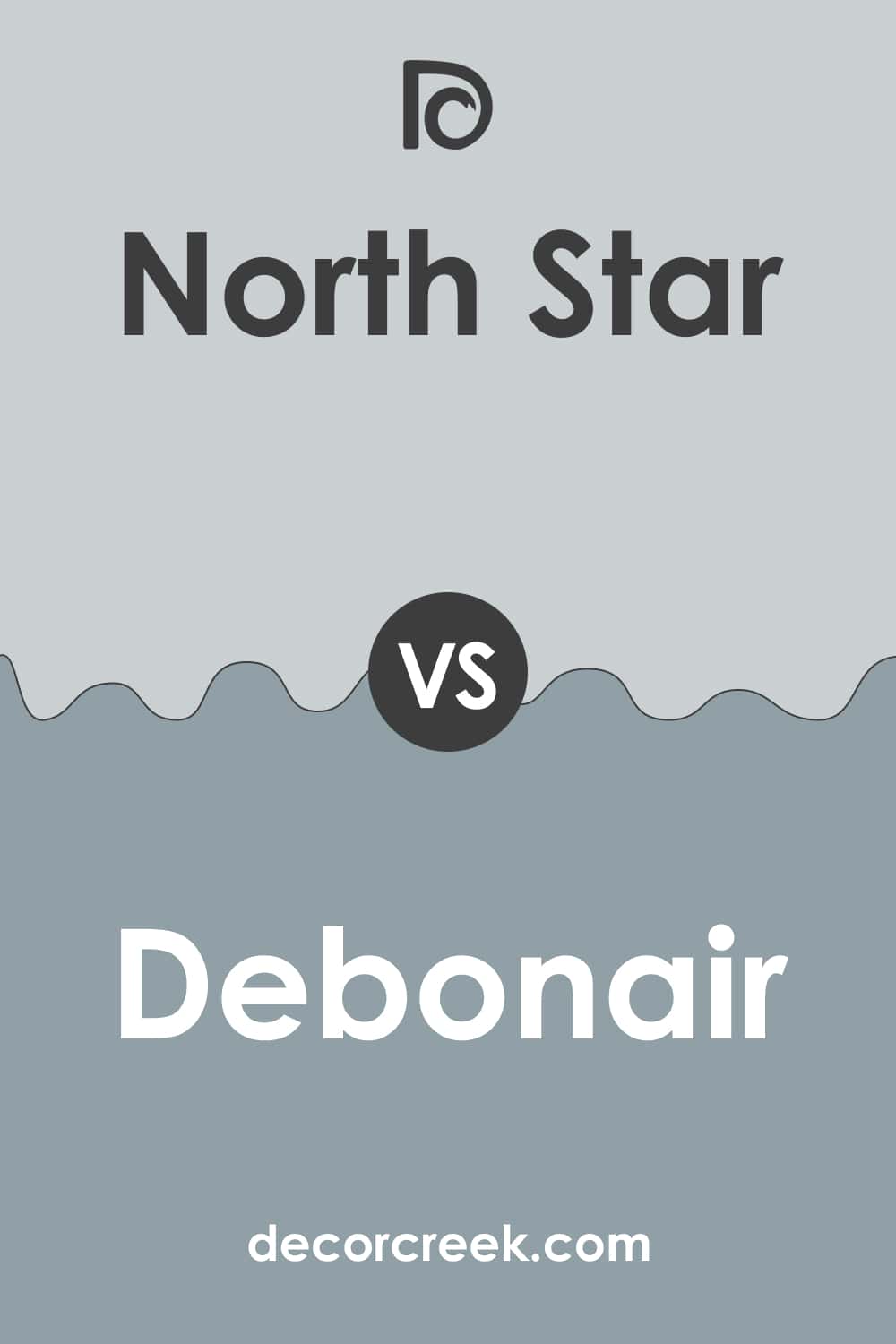 Where to Use North Star SW-6246 Color In Your Home?
Despite being tricky, SW North Star is pretty versatile! You can use this subtle and refreshing blue-gray color in many rooms and on many surfaces. The only thing you must always keep in mind is the gray undertones it has. Well, and let's not forget about the lighting too!
North Star SW-6246 in the Living Room
In a living room, this color will work great on the walls, making the space look larger and airier. But you should consider the lighting. If the room is poorly lit, this subtle blue-gray may read darker than it is. The same effect will occur if there are many dark colors in the room.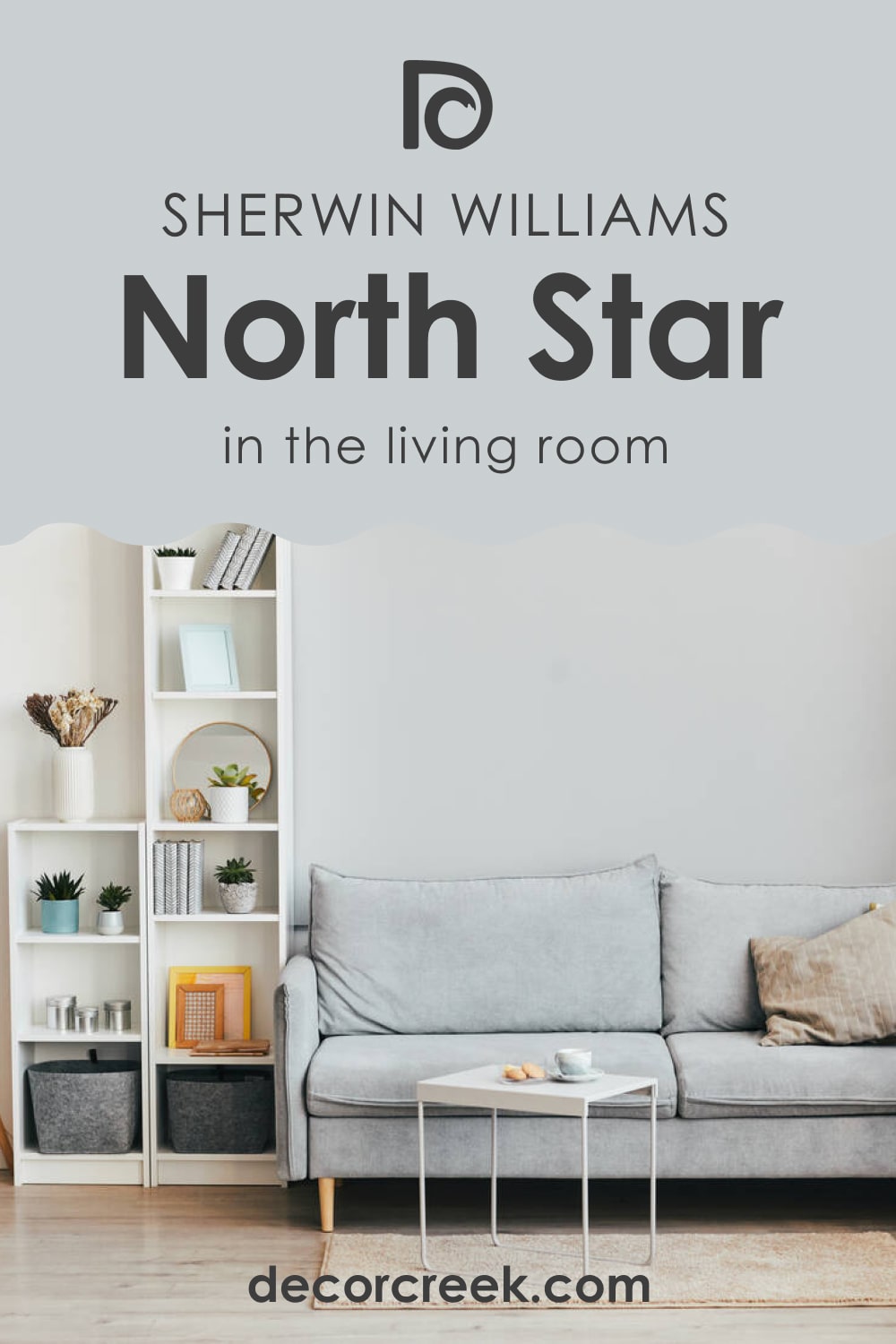 North Star SW-6246 in a Bedroom
If you crave a fresh and relaxing atmosphere in your bedroom, SW North Star is the right color for you! Just ensure the room has plenty of light to make this beautiful color shine and reveal its crisp tone!
Also, it would be great if you had enough stark whites in your bedroom. This color will help SW North Star read cleaner and bluer.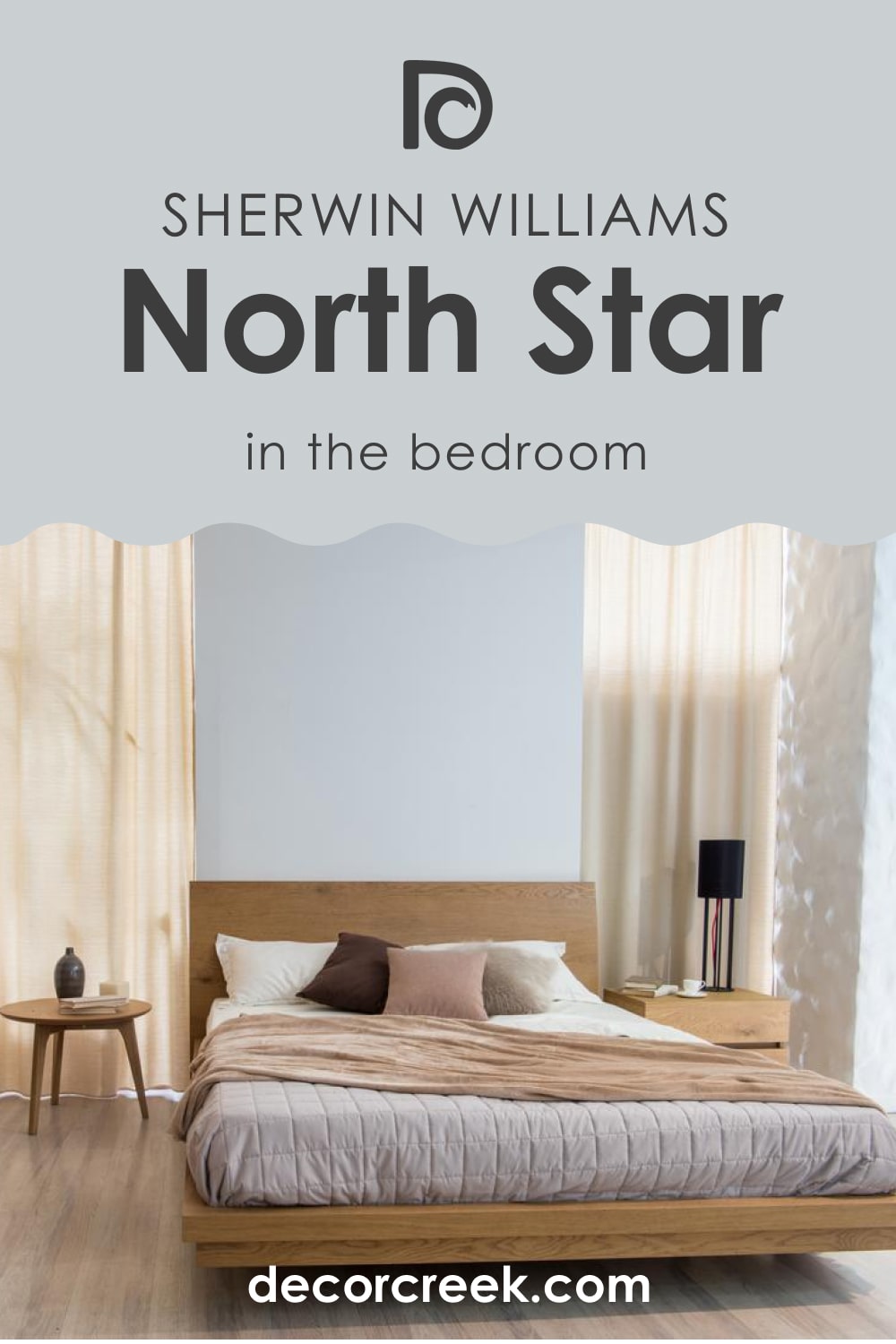 North Star SW-6246 for the Kitchen
On kitchen cabinets, this blue-gray color will look exceptionally well! Paired with white walls and brass or metal hardware, it will add a crisp note to your kitchen. And since it works great with wooden furniture and tiles, you will easily incorporate it into any kitchen style!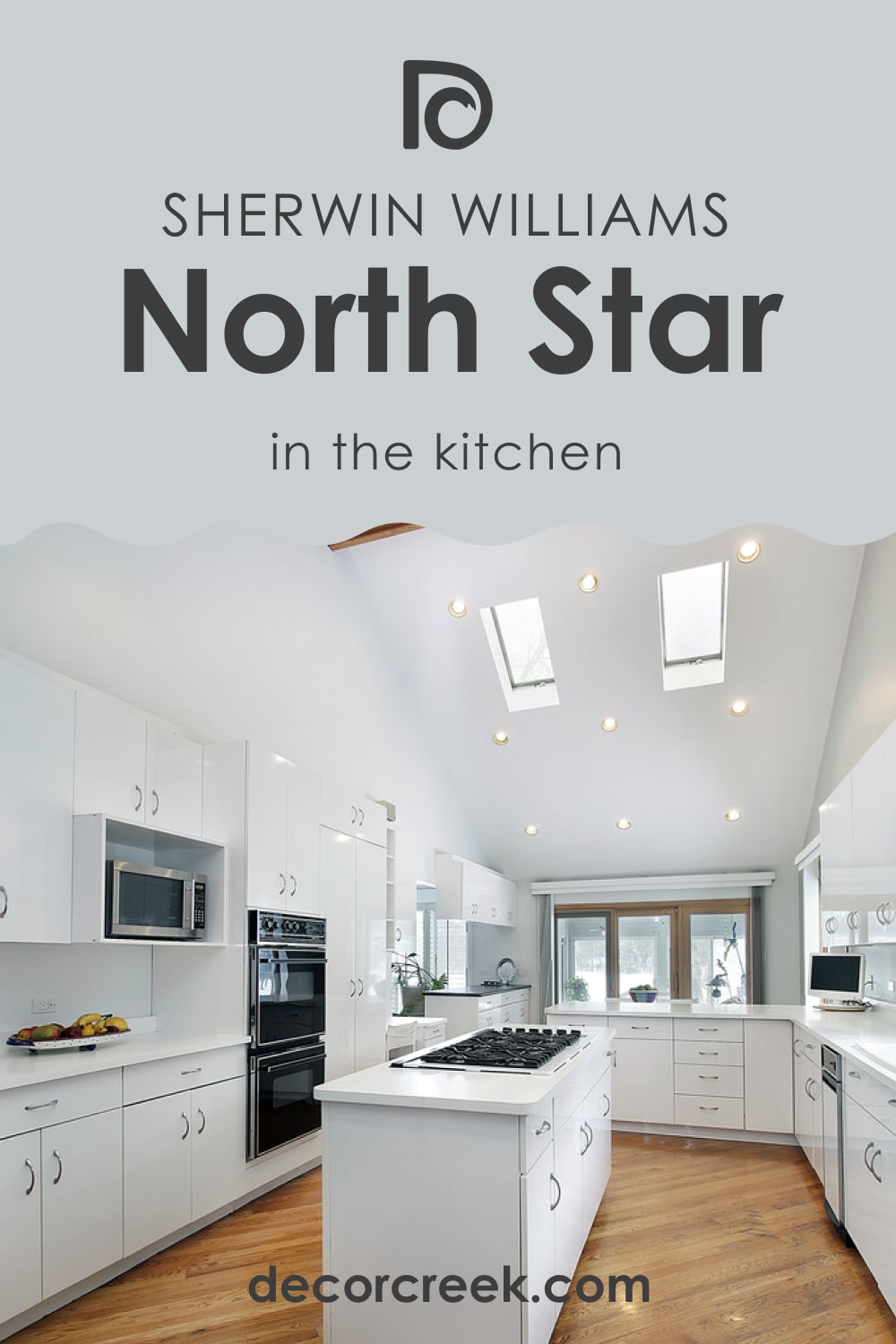 North Star SW-6246 and Bathroom
The bathroom is probably the ideal place to use this blue color! Its crispness and freshness will flourish in this room, adding a watery feel.
However, it might not be suitable for smaller bathrooms, as well as for bathrooms with dim light. In such spaces, SW North Star may read darker.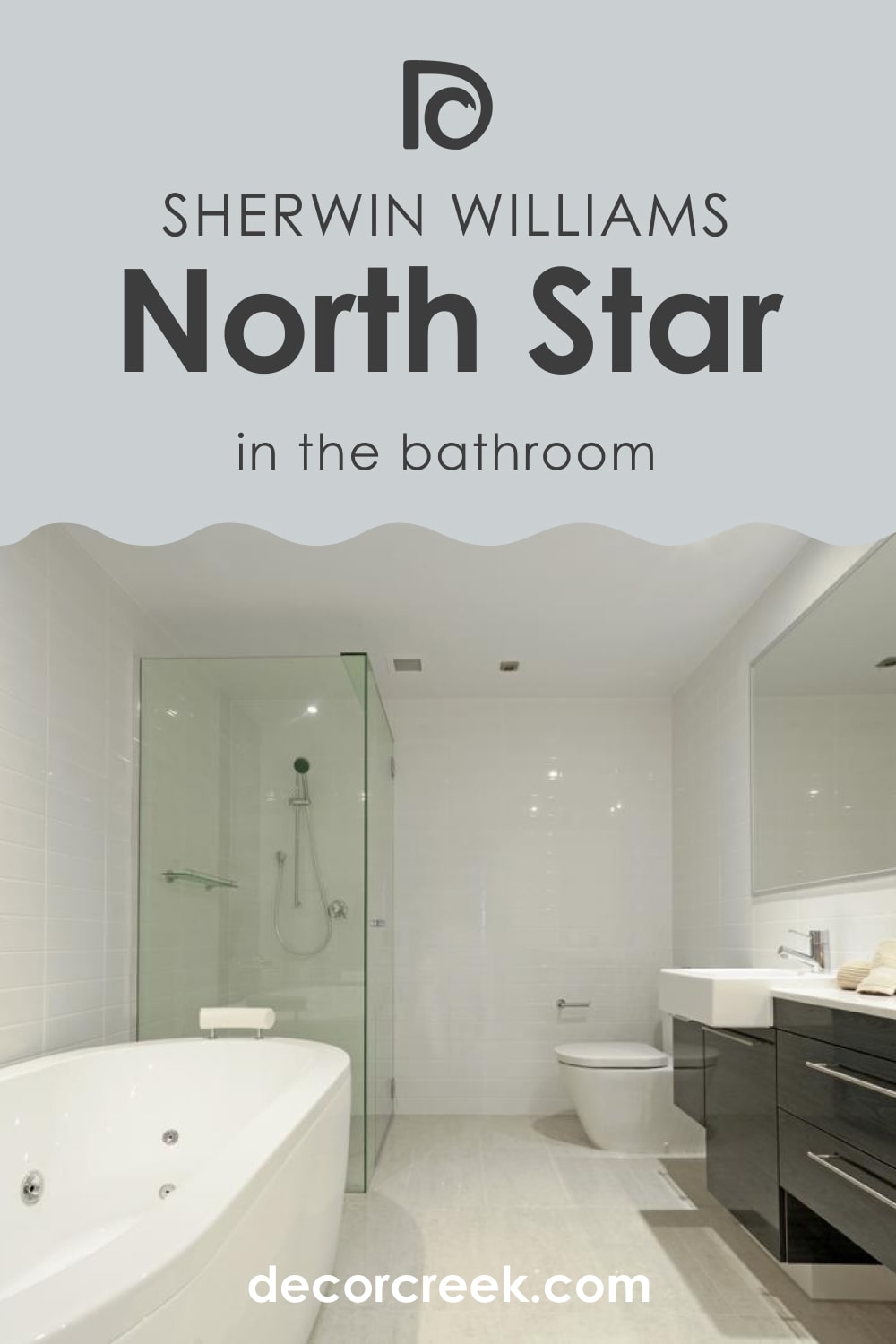 North Star SW-6246 for the Exterior Use
On exterior walls, this subtle blue color with gray undertones reads very delicately and elegantly. In most cases, SW North Star will read relatively light on exterior walls. It won't look bright, of course, but still, it will read much lighter than on a color swatch.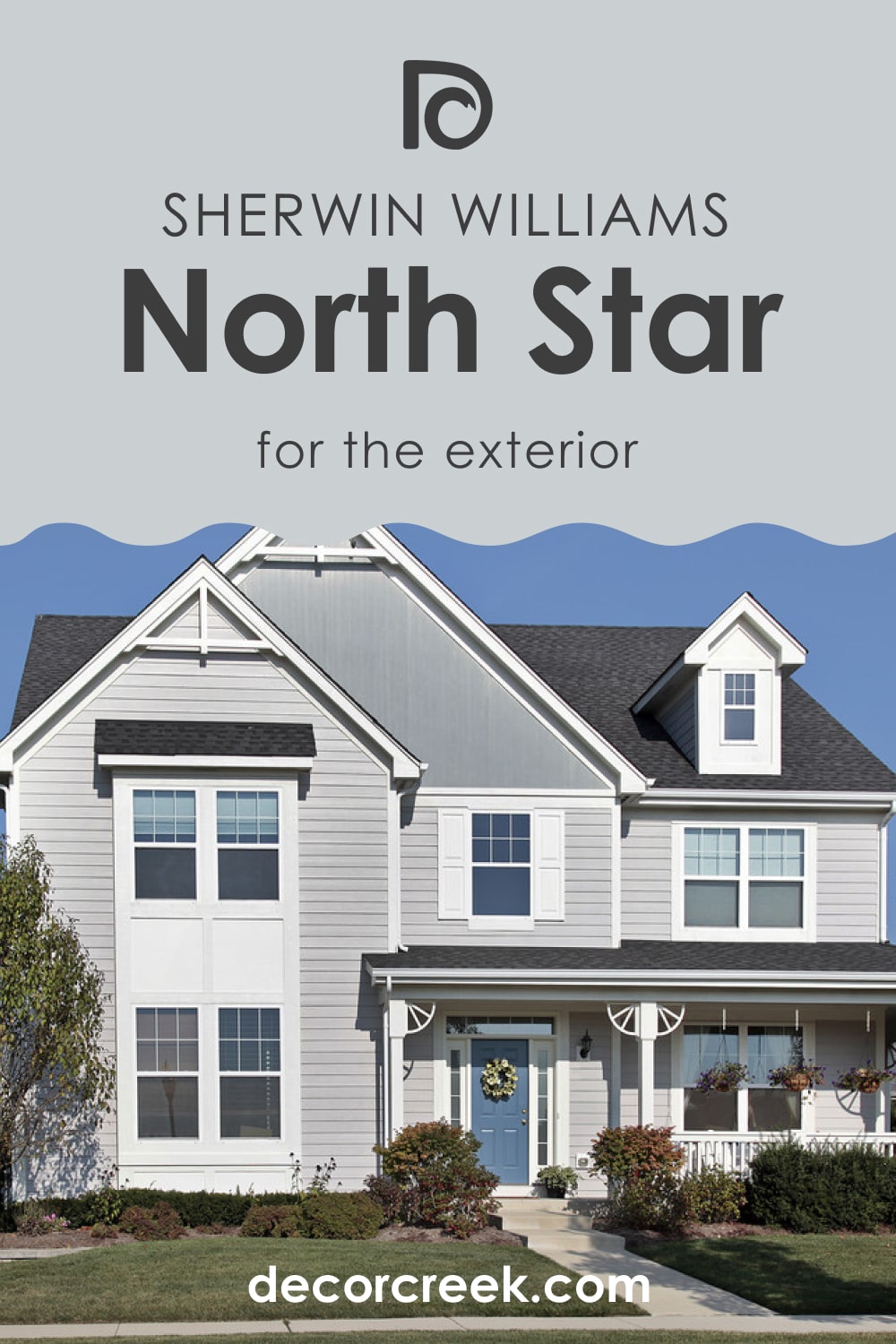 Well, now you have a complete guide that have introduced you to the beautiful and subtle blue-gray color of the Sherwin-Williams brand. You know its undertones and LRV, as well as its trim colors and more.
This will help you choose the most appropriate location for this color in your home and incorporate it into your interiors correctly.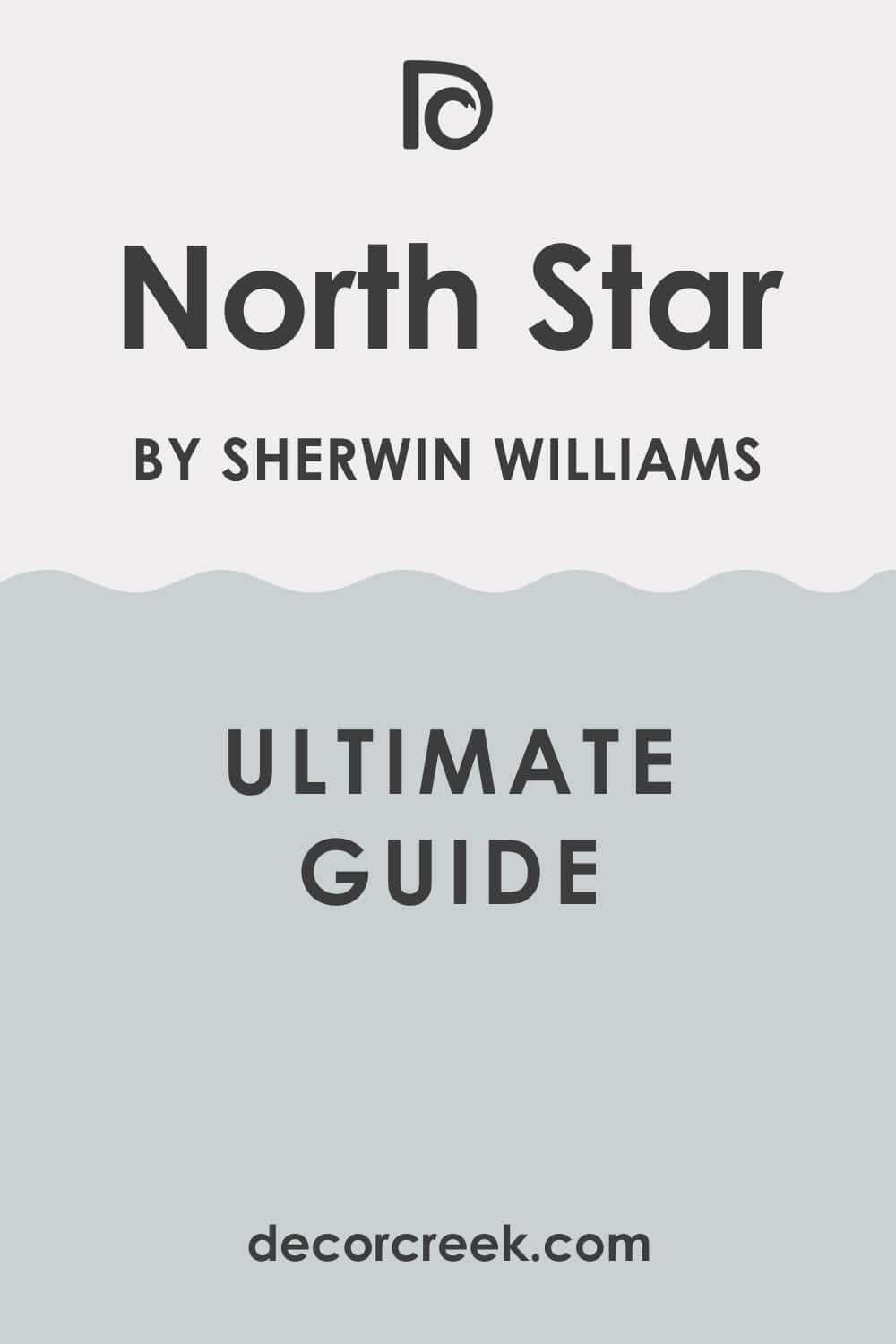 Frequently Asked Questions
⭐Which color is lighter, Sherwin-Williams North Star or SW Krypton?
Sherwin-Williams Krypton has LRV 52. It is very similar to SW North Star, only a little darker. It means SW North Star is lighter.
⭐Can I use Sherwin-Williams North Star as exterior paint?
Yes, you can use this paint for both exterior and interior, as well as for trim and cabinets.
⭐Is SW North Star a neutral color?
It can be considered neutral due to its balanced tone.