If you want to try a blue color in your home, but you don't know which shade to use, we would like to recommend you a lovely option. This color is called Misty, and it's one of the blue colors from the Sherwin-Williams brand.
We will tell you what kind of blue it is and how to use it in your home correctly.
You will learn what undertones it has, how it reacts to light, and what colors can make this hue show its true beauty. With the help of this article, you will be able to use SW Misty like a professional interior designer!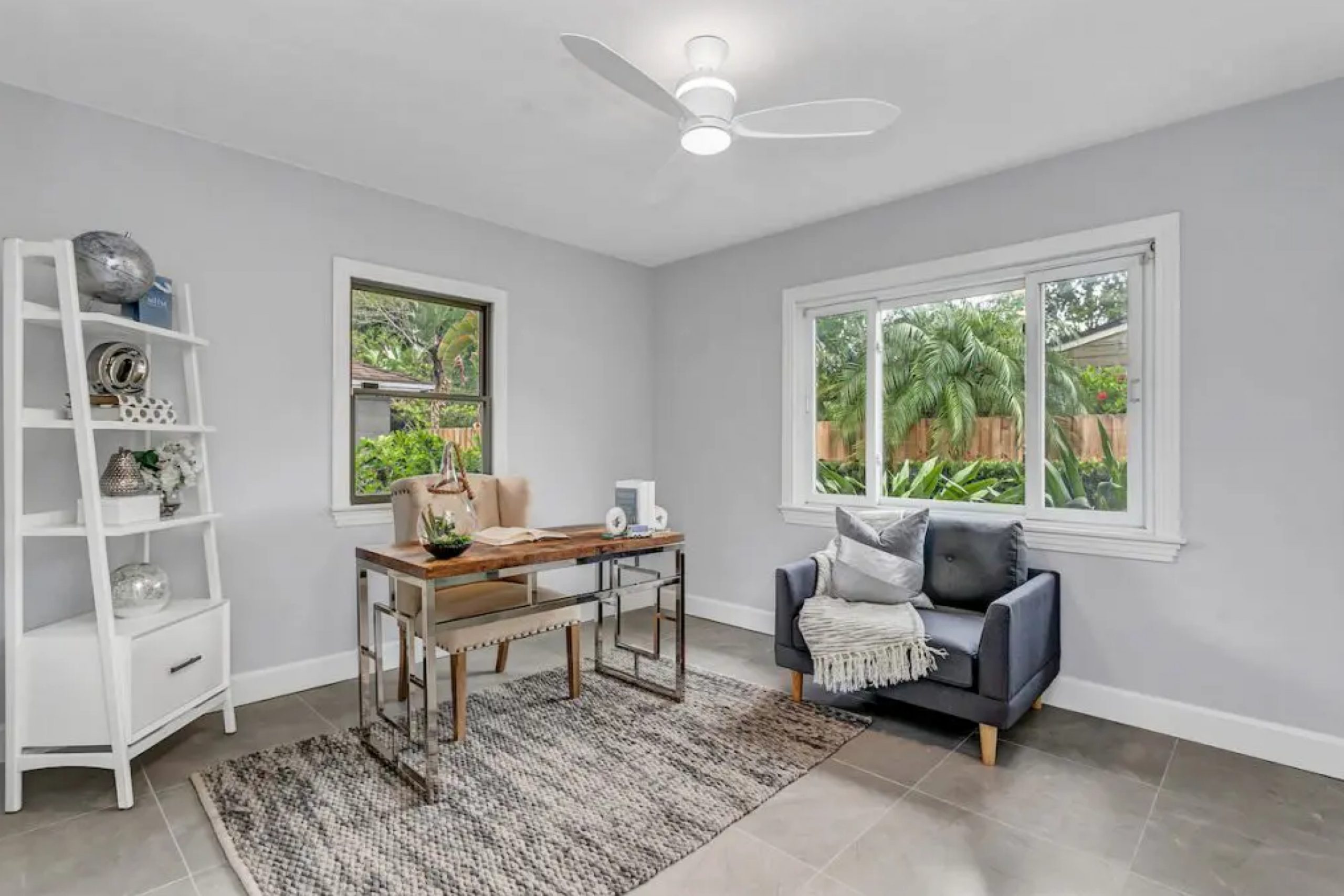 What Kind of Color Is SW 6232 Misty?
When we think of blue color, we imagine a sky-blue and light, airy hue. However, there are so many shades of this color that some of them even look not quite blue! For example, SW Misty is one of those. If you look at this paint color, it may seem to you that it is gray with a bluish tint. As Hextoral says, SW Misty is a blue color.
To be precise, it is an airy and soft shade of blue with slate-gray undertones. The light and cool color reads aquatic and fresh, making any space where it is used read relaxed and peaceful.
This is probably the reason why SW Misty is so popular and highly trending these days!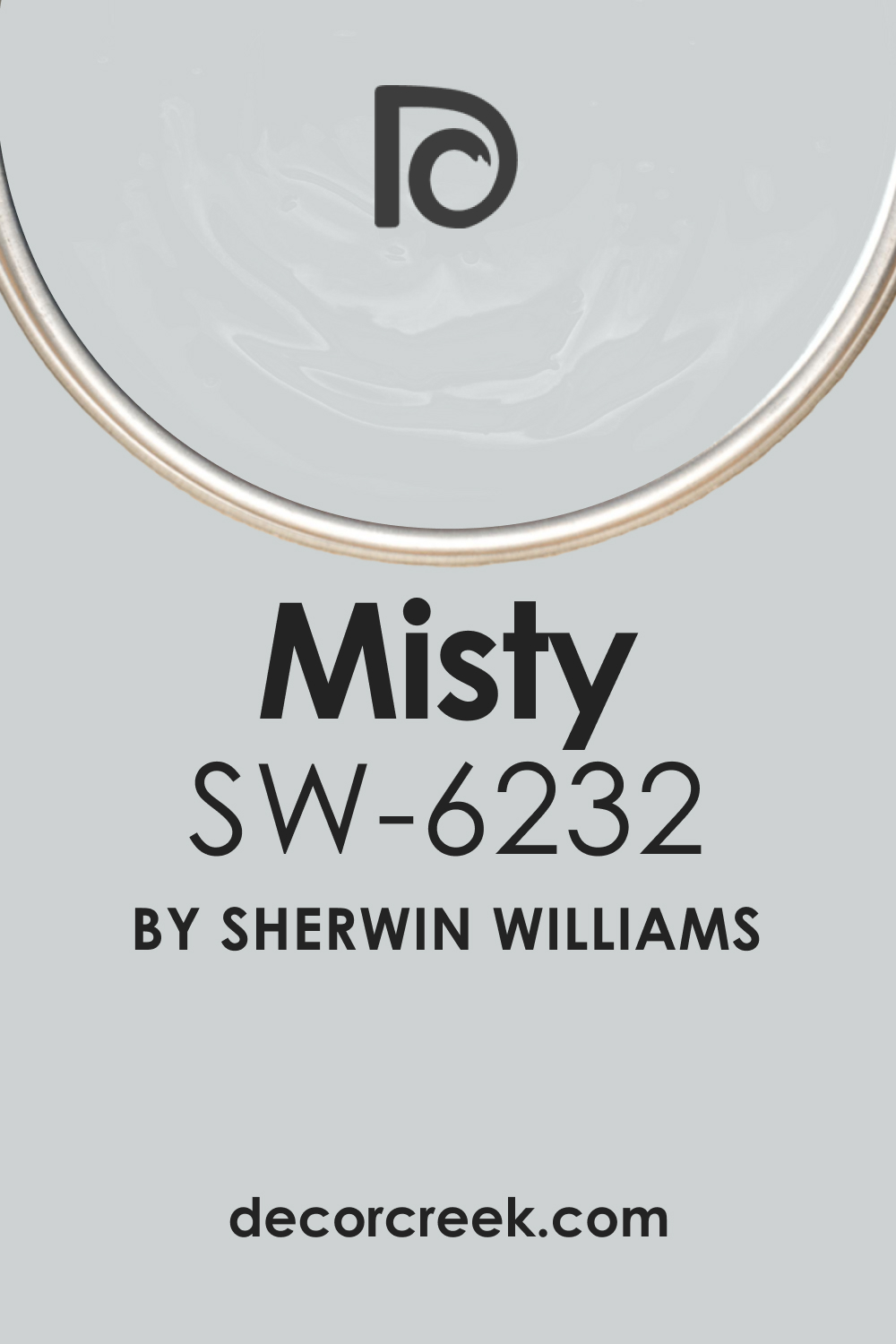 Is It a Warm or Cool Color?
For sure, SW Misty is a cool-toned blue color, taking its breezy and fresh-looking gray undertones into account. Thanks to this delicate grayness, this hue feels soothing and tranquilizing without looking excessively crisp or cold. This is why SW Misty will work in homes that crave a bit of tranquility and freshness, especially in warmer climate areas.
What Undertones Does SW 6232 Misty Paint Color Have?
SW Misty is a blue color that has balanced gray undertones. Thanks to this gray tint, the color doesn't seem cold or crisp on the walls, displaying a more soothing and relaxed look. Also, gray undertones make SW Misty read pretty soft in a room, which makes it more versatile in terms of use (compared to cooler alternatives).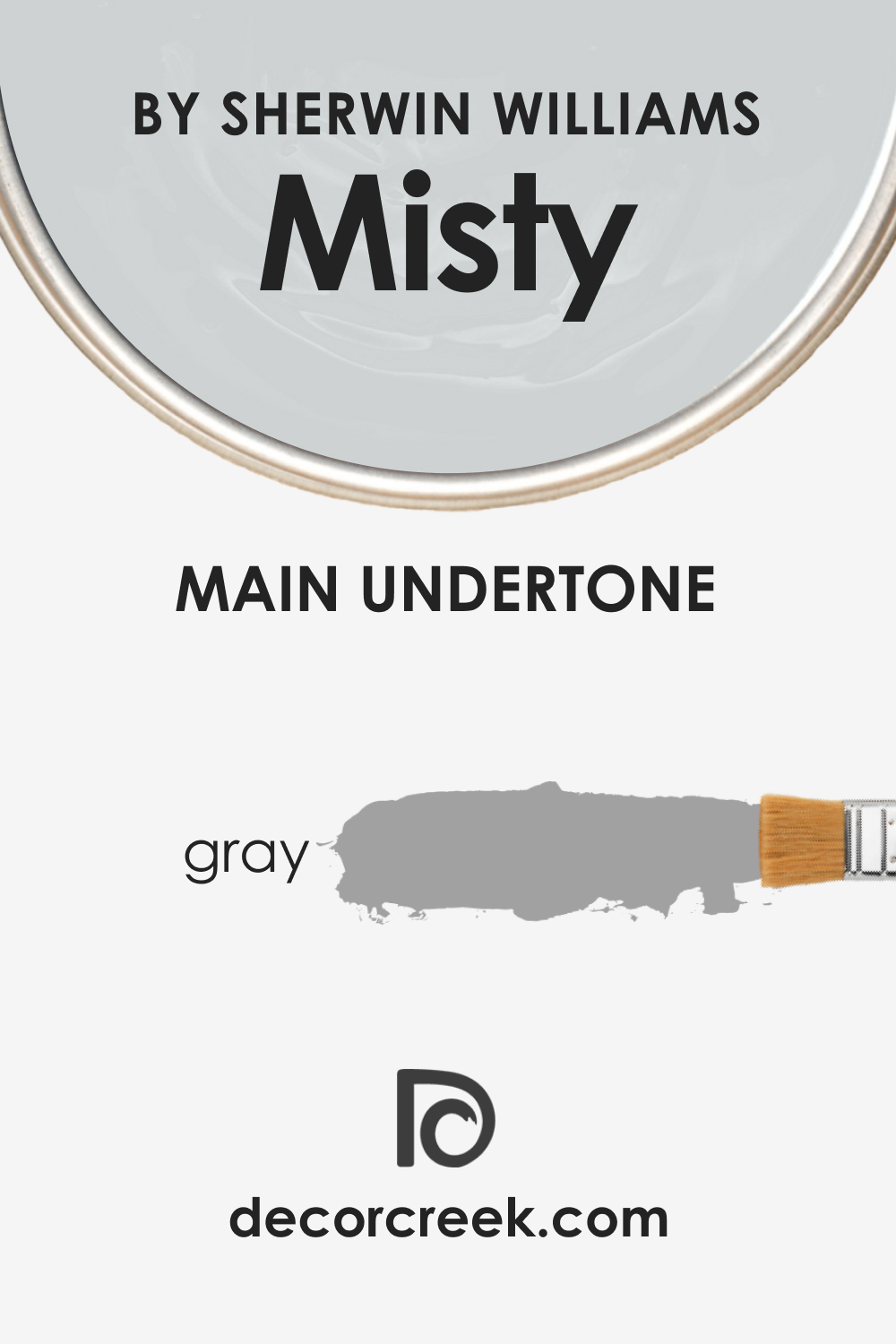 Coordinating Colors to Use With SW Misty
Since this color may seem gray to some of you, whilst others see it closer to blue, it can be a challenging task to choose coordinating colors for SW Misty! This is why we have prepared a few coordinating colors that you may find helpful:
SW 6231 Rock Candy
SW 6385 Dover White
SW 6393 Convivial Yellow
For a monochromatic palette, consider the following coordinating colors instead:
SW 6233 Samovar Silver

SW 6234 Uncertain Gray

SW 9143 Cadet
For a contrasting color palette, we recommend you these colors to coordinate with SW Misty:
SW 7018 Dovetail
SW 6991 Black Magic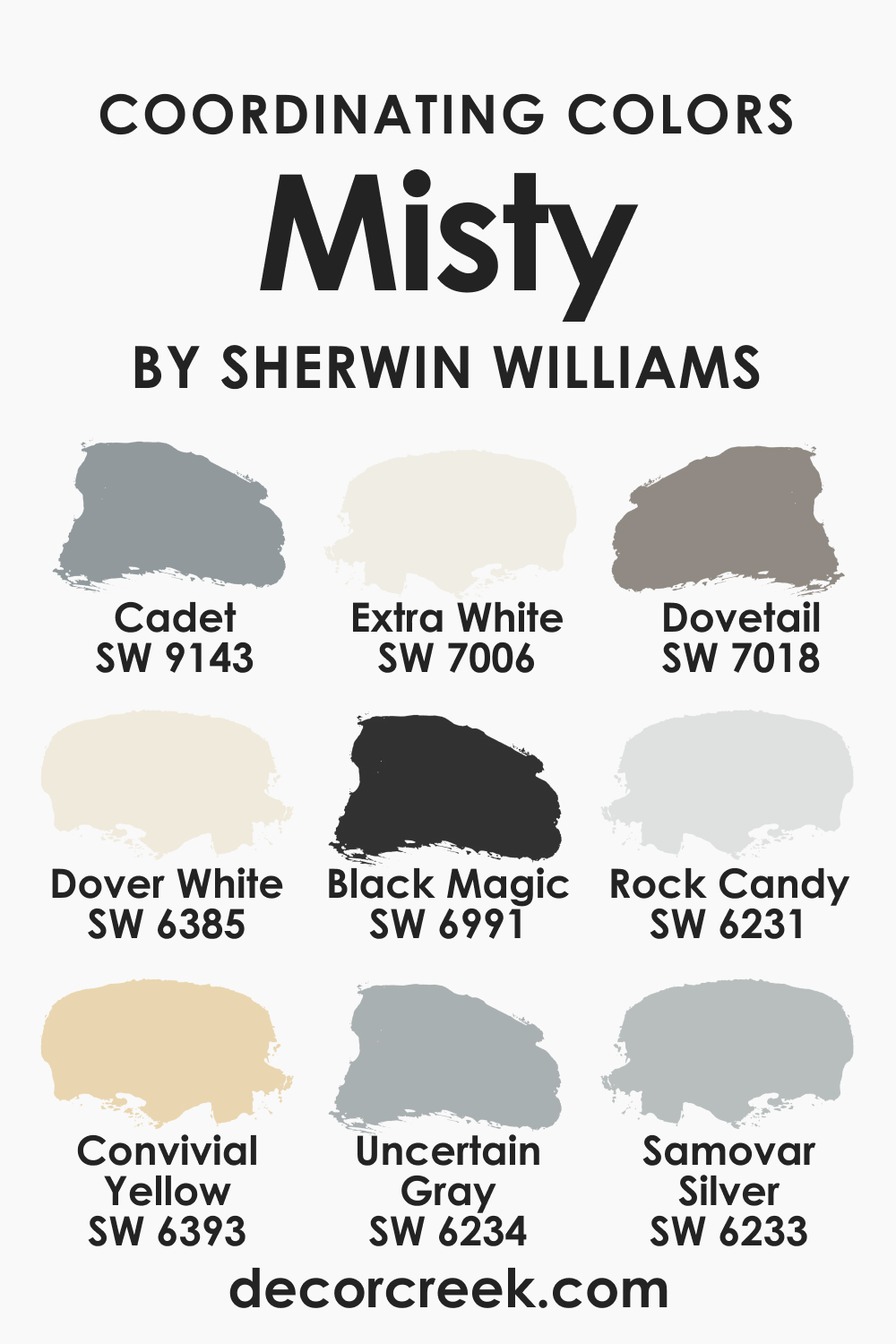 What LRV Does SW Misty Have and How It Reacts to Light?
With an LRV (light reflectance value) of 64, Sherwin-Williams Misty feels light, airy, spacious, calm, and soothing. Because of the high light reflectivity, this paint color will be making your space look larger than it already is. This is why this hue is a great solution for smaller-sized apartments and rooms. Furthermore, it will work especially well in warm and tropical states, making your home feel cool and calm.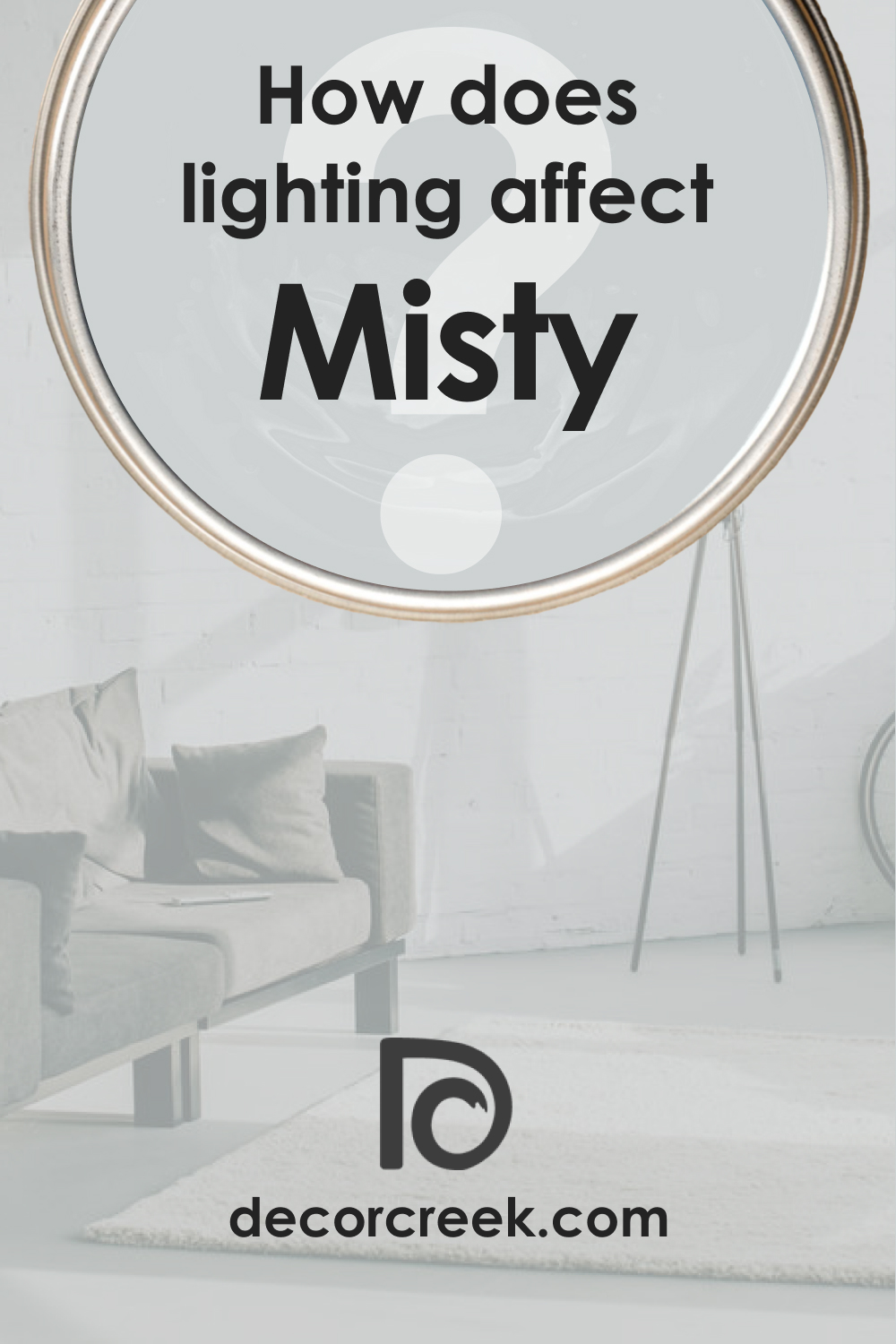 If you use this fresh blue in a room with little to no lighting, remember to add artificial lighting to add character to your living space. Else, this blue-gray paint color will feel lighter due to its high reflectivity.
Ideally, SW Misty should be used in the west or south-facing rooms. In case you use it in the North or South-facing rooms, you are likely to feel cooler and calmer. On the other hand, if it's used in rooms that face West or East, this hue will most likely feel warmer and lighter.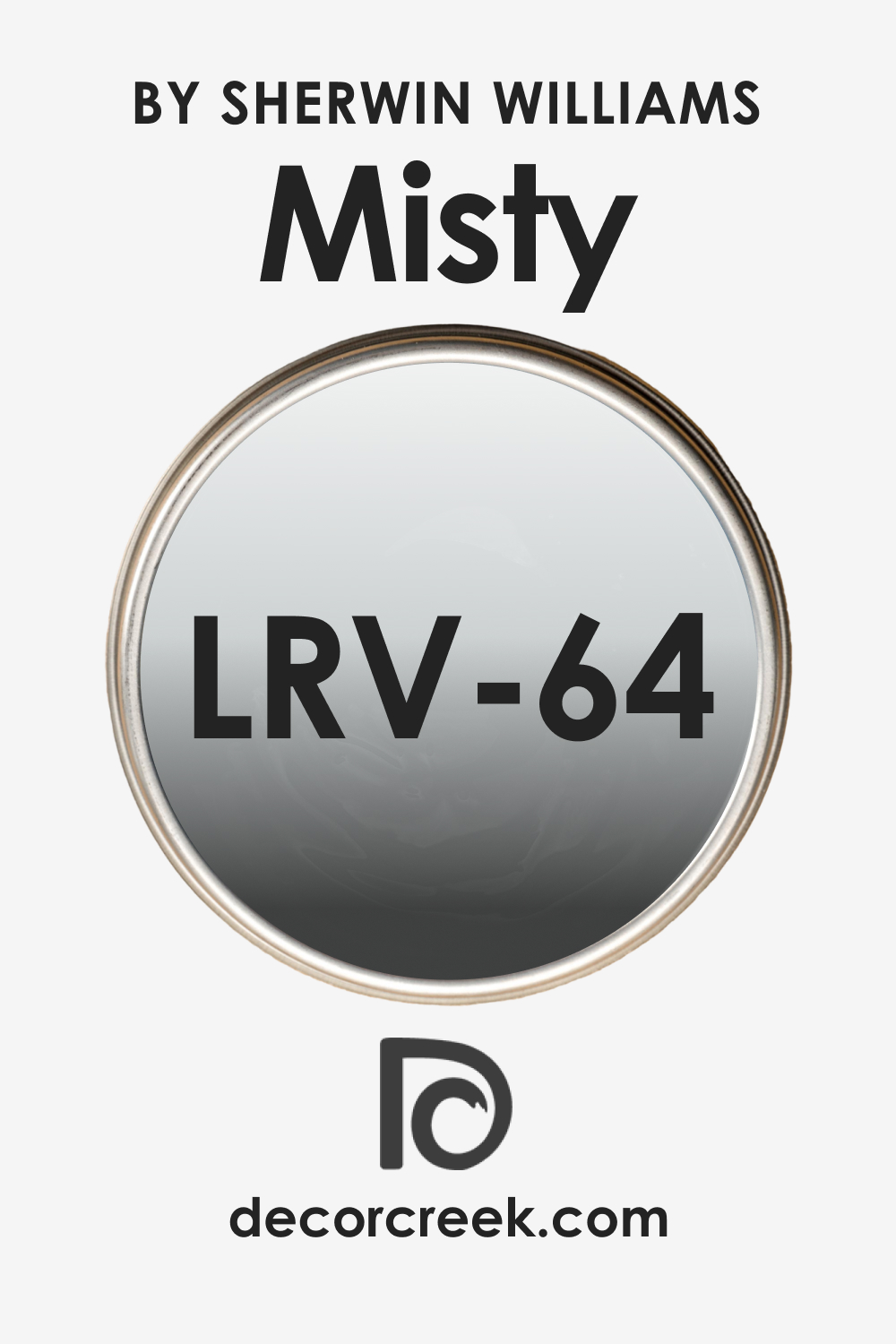 LRV – what does it mean? Read This Before Finding Your Perfect Paint Color
What Is the Best Trim Color to Use With SW 6232 Misty?
White is a traditional trim color since it is versatile and can work well with most wall colors. However, it is essential to choose the correct shade of white, whose tone complements the hue you use on interior walls. For SW Misty, we recommend you opt for SW Extra White on your trim and moldings. This white will also work as a ceiling paint color successfully.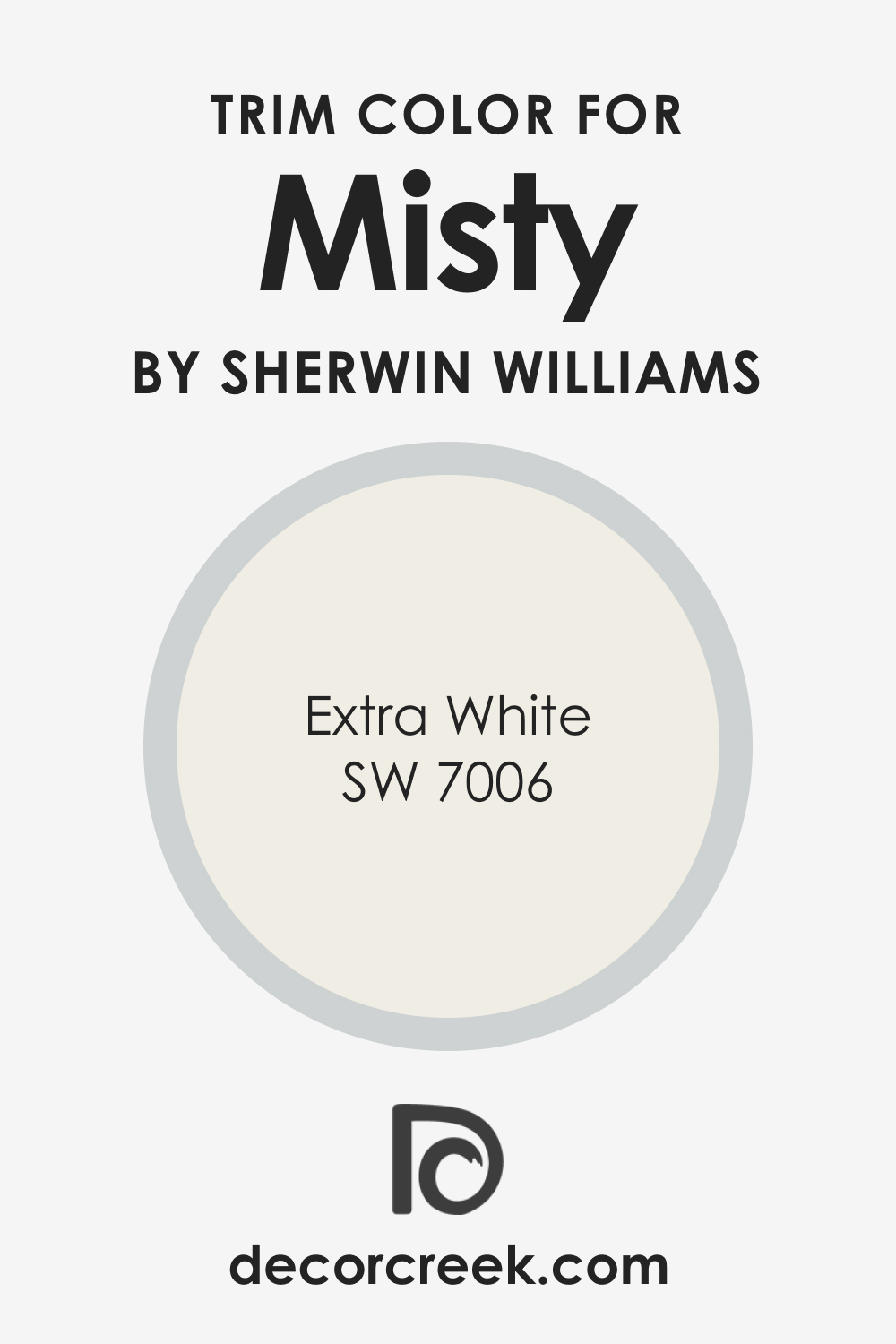 Colors Similar to SW 6232 Misty Paint
Sherwin-Williams can offer a wide selection of blue colors to choose from. However, it can still be challenging for you to pick up the hues that read similarly to SW Misty. In case you need to have a few alternative blues at hand, we recommend you take the following colors into account:
SW 6253 Olympus White
BM Gray Cloud
SW Reflection
BM Bunny Gray
However, although all these blue colors have gray undertones and read calming and tranquil, they will still differ a bit in tone and light reflectivity.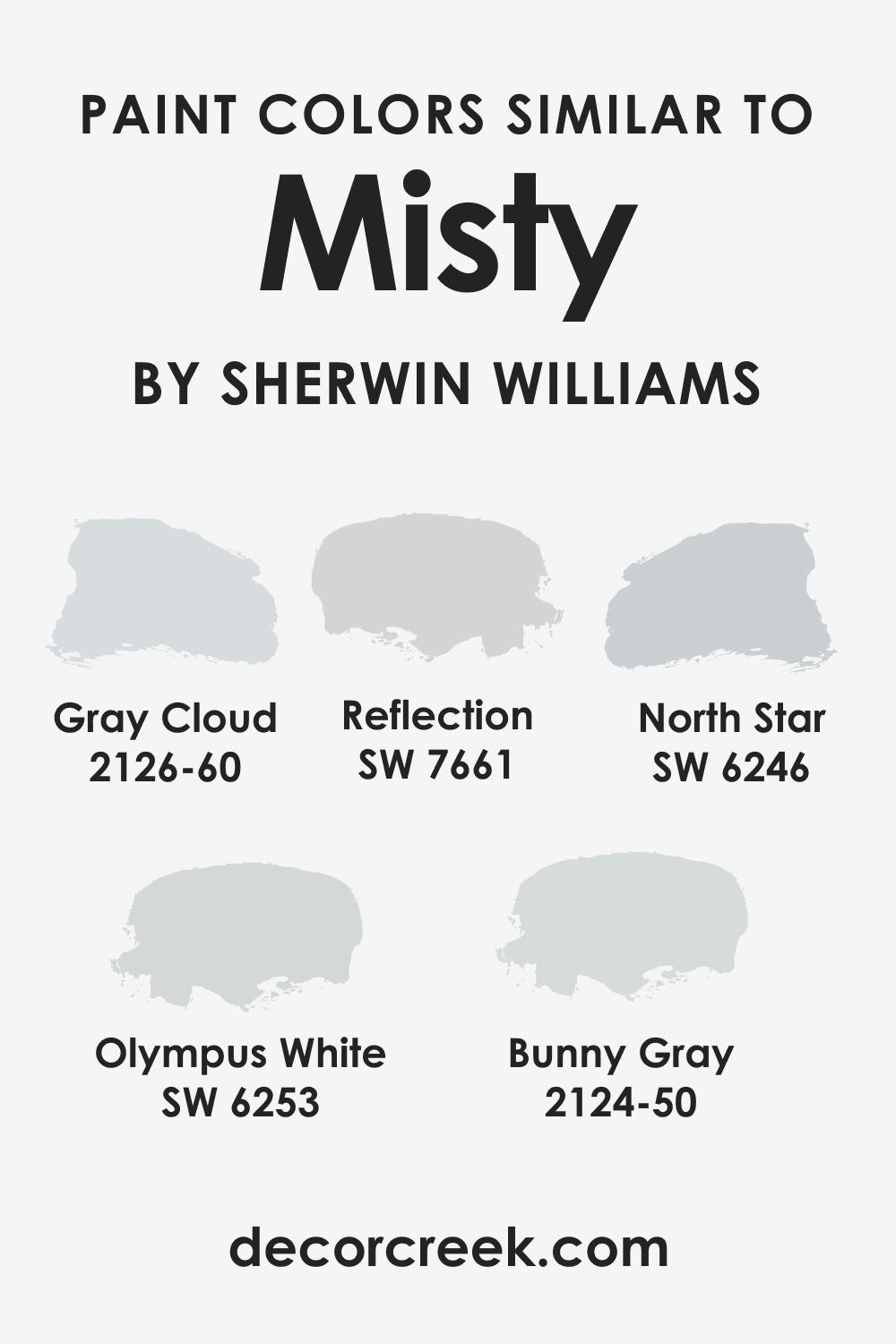 Colors That Go Well With SW Misty
To achieve a good-looking palette in your home and make all the colors work together, you need to know what hues will work with the paint color you use on the walls. If you decide to paint your interior with SW Misty, we would recommend you consider other neutrals since SW Misty complements well with them.
For the perfect white match, for example, try SW Dover White. Other great neutrals will be beiges and browns. For example, you might want to consider SW Balanced Beige or SW Virtual Taupe.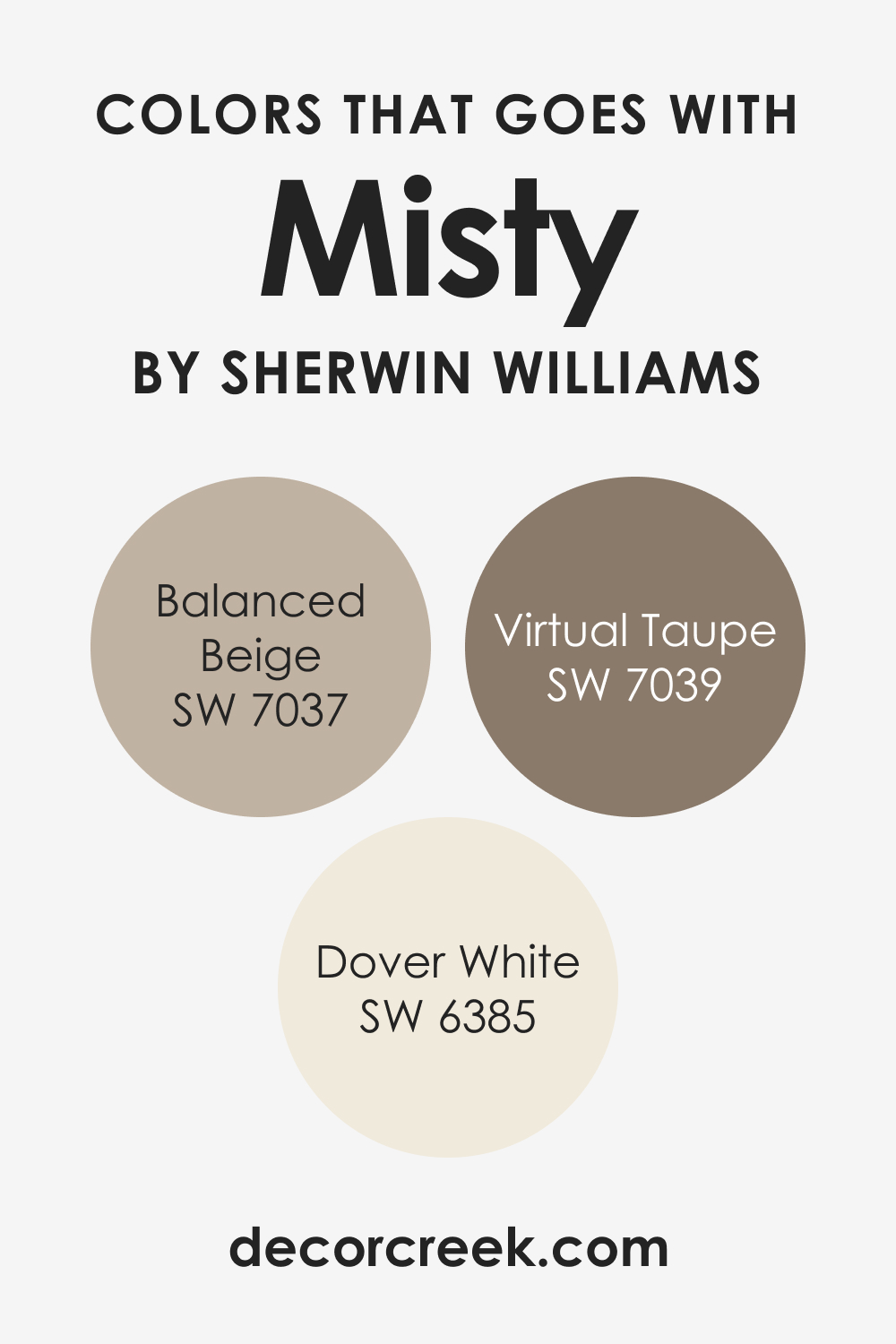 Comparing SW 6232 Misty With Other Colors
Here we compare SW Misty with other colors to let you see how they differ from each other, although being hues from the same color family. This will help you better understand the role LRVs and undertones play in how colors read in your home and cooperate with each other.
Misty vs. SW 6217 Topsail
SW Topsail is a clean and clear blue with gray undertones, and this is the common feature these colors share. However, their LRVs differ. The LRV value of SW Topsail is 75, whilst its counterpart has an LRV of 64. It means SW Misty reads somewhat darker and more muted than its brighter partner. Also, SW Topsail looks bluer than SW Misty, which seems grayer.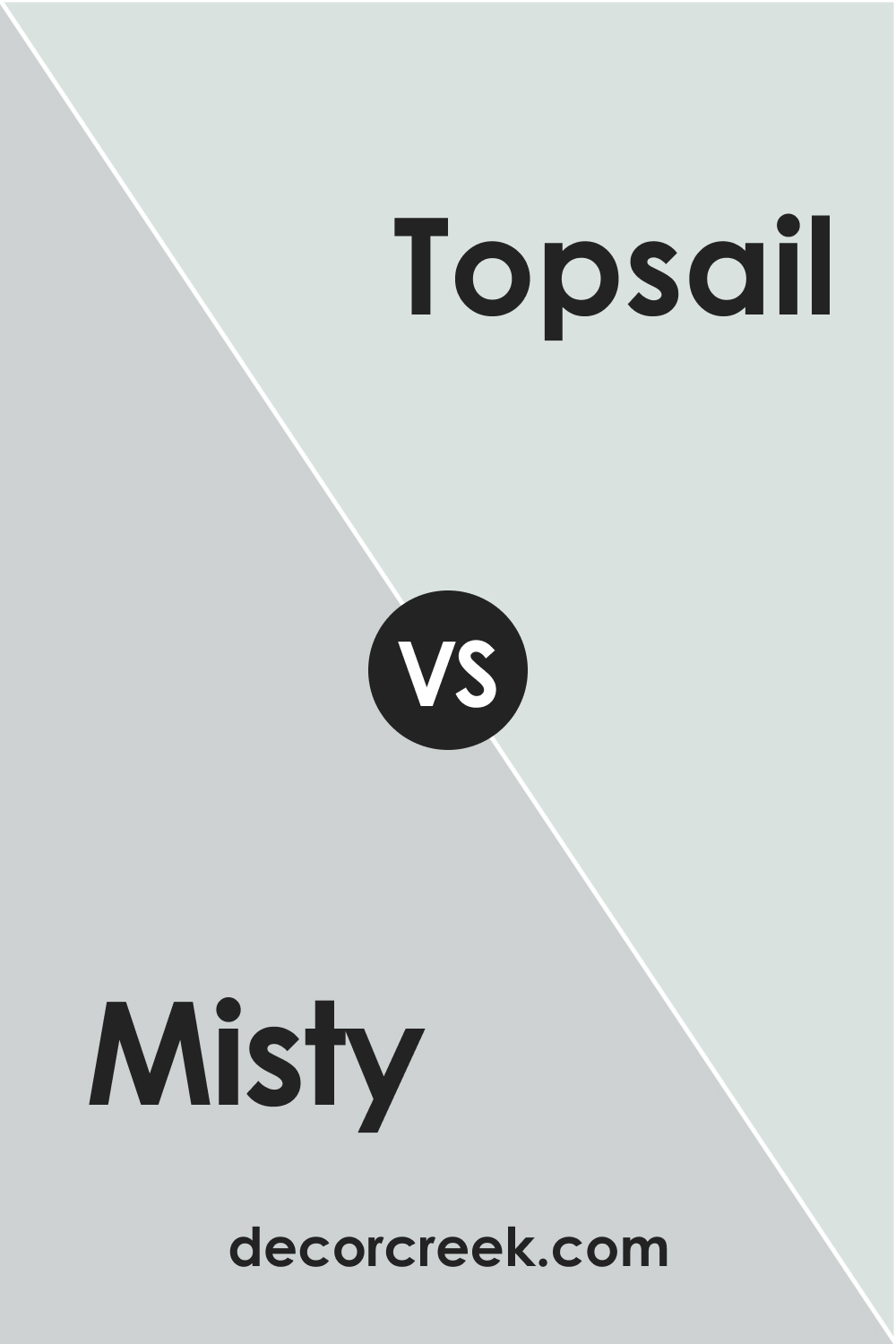 Misty vs. SW 6244 Naval
These two are completely different! SW Naval is a dark blue with a low LRV of 4, gray-green undertones, and a rich and deep hue. Compared to it, SW Misty looks much lighter with an LRV of 64. Also, it displays gray undertones more, which is why the hue seems cooler.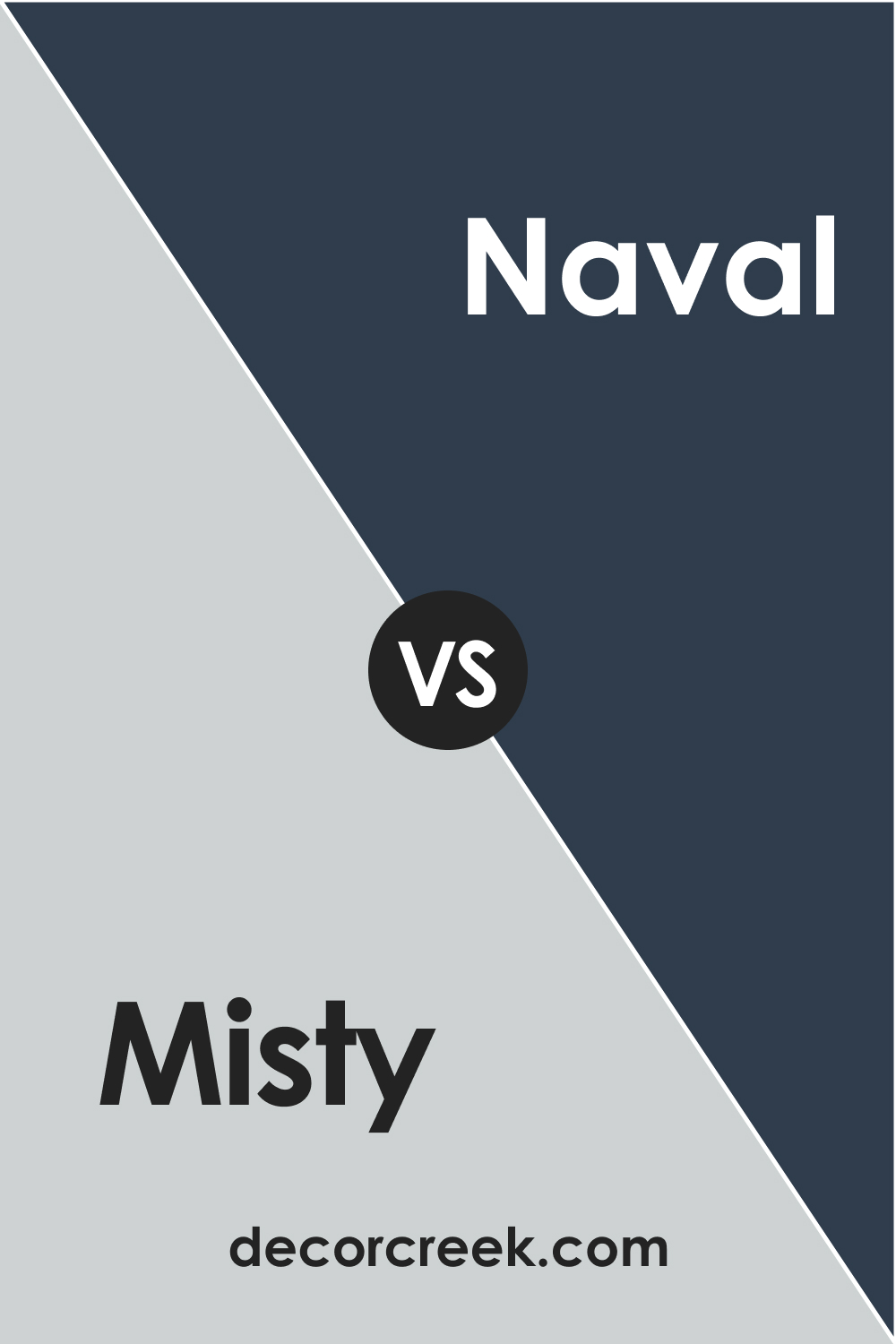 Misty vs. SW 6205 Comfort Gray
SW SW 6205 Comfort Gray has greenish undertones. However, it still reads clearly blue. With an LRV of 54, it's more muted than SW Misty, and thus it seems a bit darker. Compared to SW 6205 Comfort Gray, SW Misty reads grayer, making its partner reveal its greenish hue more.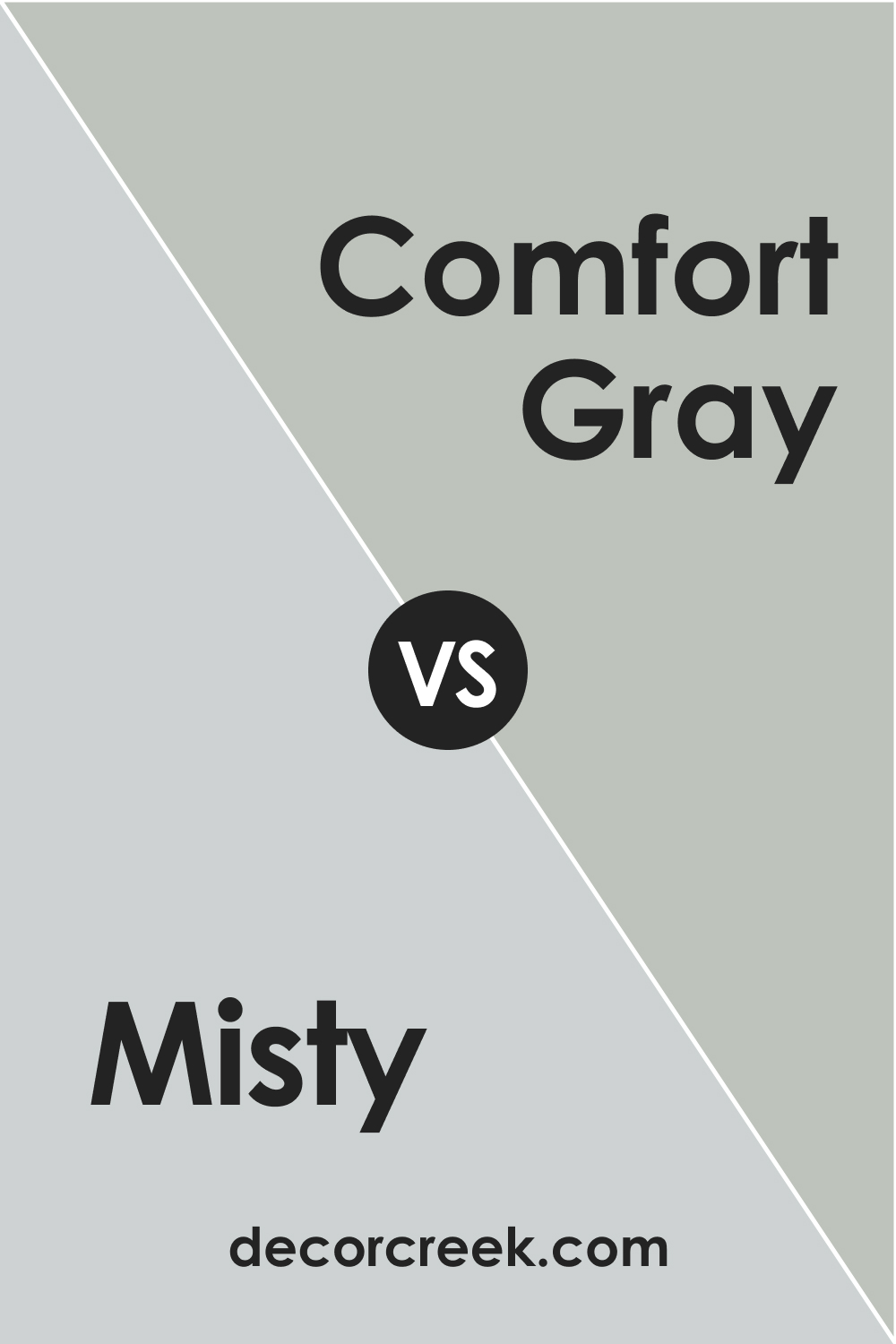 Misty vs. Silver Lake
These two look pretty much alike, with cool gray undertones and a dominant blue hue. Also, their LRVs are pretty close (SW Misty has an LRV of 64, and SW Silver Lake's LRV is 61). In fact, they can work well as alternative colors for each other and be used interchangeably!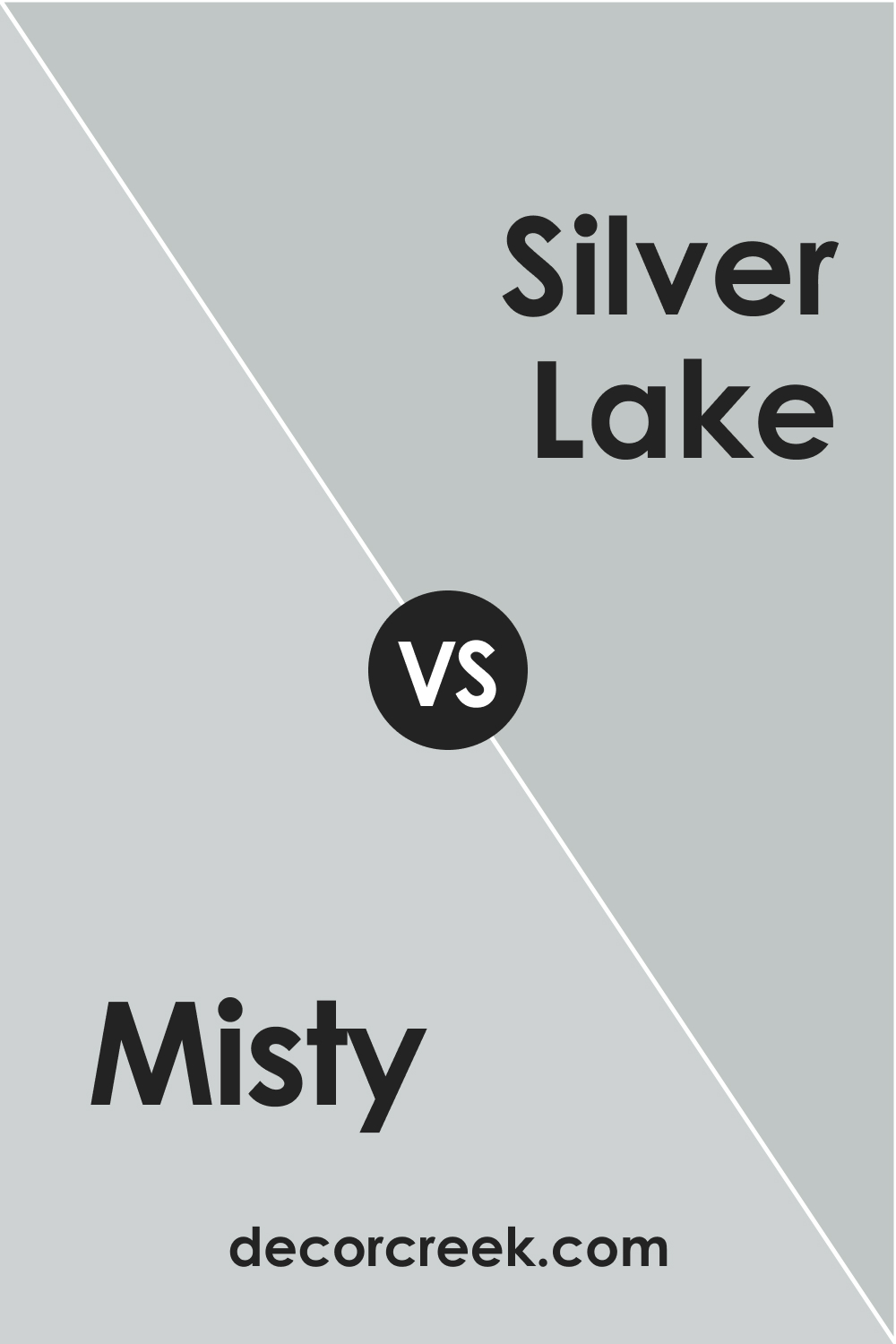 Misty vs. SW Tradewind
SW Tradewind is a soft blue that looks brighter and somewhat glowing, unlike a more muted SW Misty. Also, SW Tradewind has a prominent green undertone if you compare it side by side with SW Misty, which looks grayer.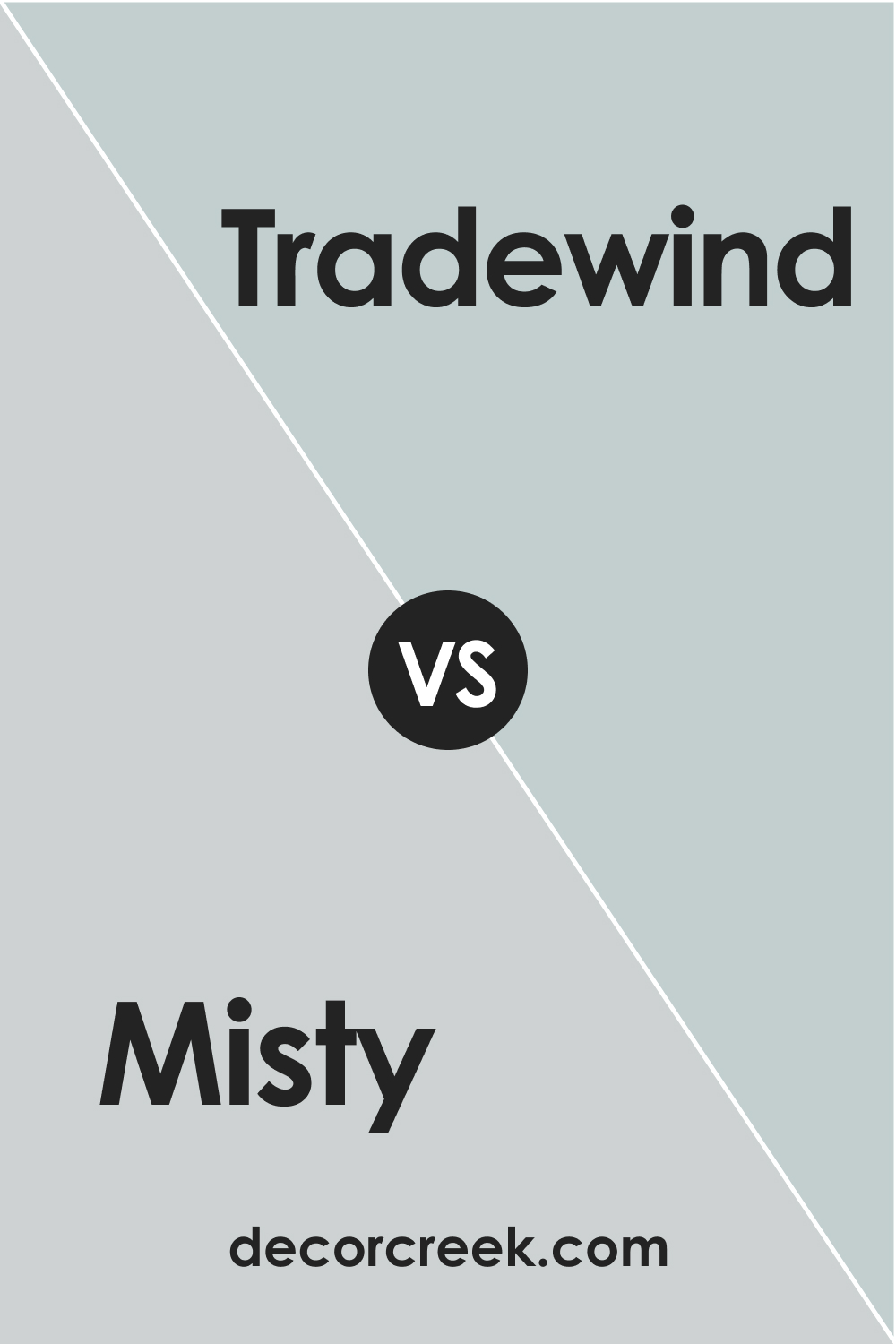 Misty vs. Krypton
Sherwin-Williams Krypton is crisp and cool-toned blue with a hidden gray undertone and an LRV of 51. It all makes it different from SW Misty, whose LRV is 64, making it much lighter.
Also, SW Misty looks grayer compared to its counterpart, with a noticeable blue hue.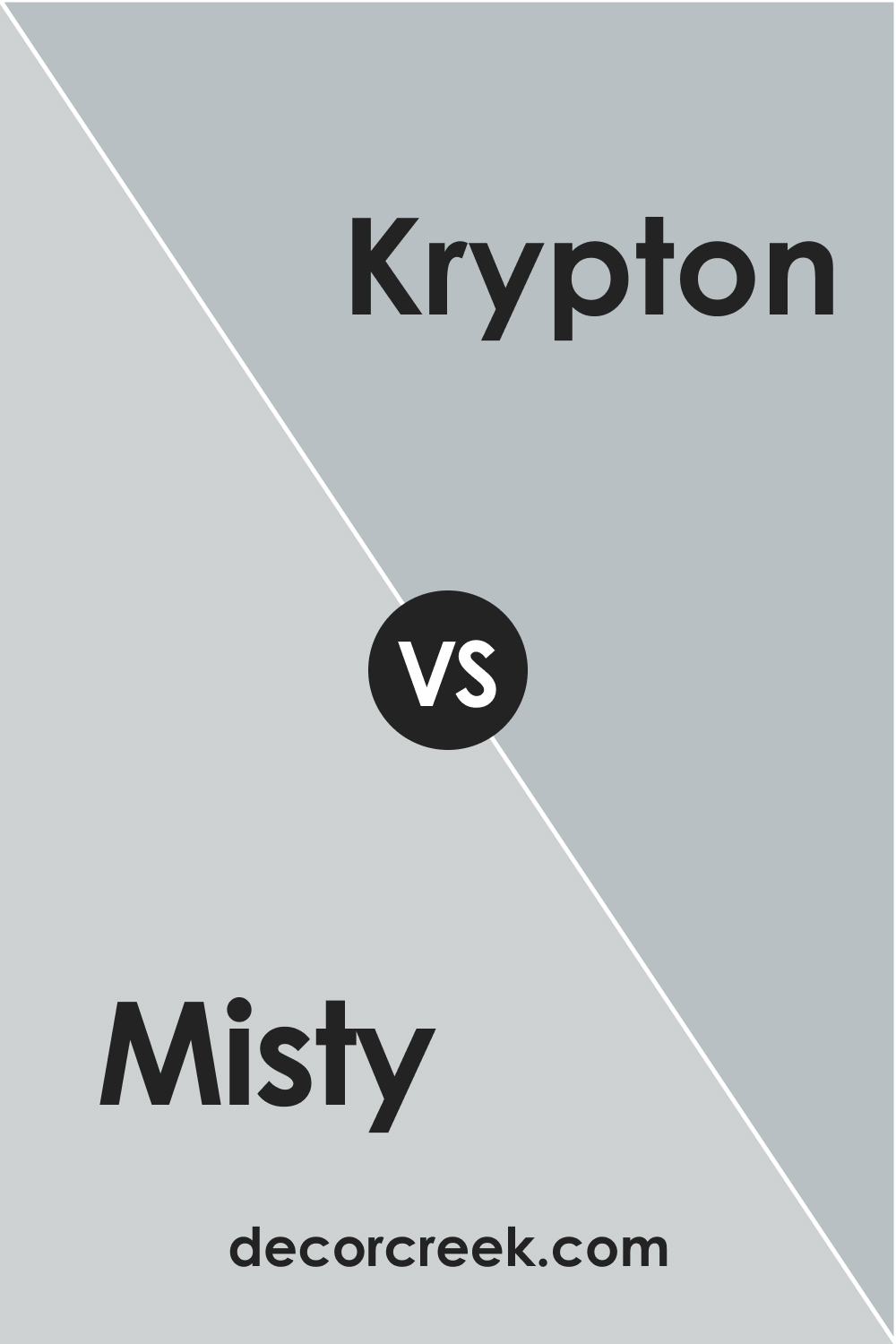 Where to Use SW Misty Paint Color In Your Home?
SW Misty can make a soothing backdrop anywhere in your home. In particular, you can make it work in your hallways, bedrooms, living room, or kitchen. You can either paint all the walls in this hue or use a bold contrast in the form of accent walls. Below, we describe how exactly it may read in different rooms.
Misty SW 6232 in the Living Room
You can absolutely use SW Misty in the living room. It will work anyway, whether you paint all the walls or simply use it as a neutral. Pair it with creamy whites and deeper blues and grays should you need to create a stark contrast in the room. You can also use lighter beiges through the furniture upholstery and rugs or curtains.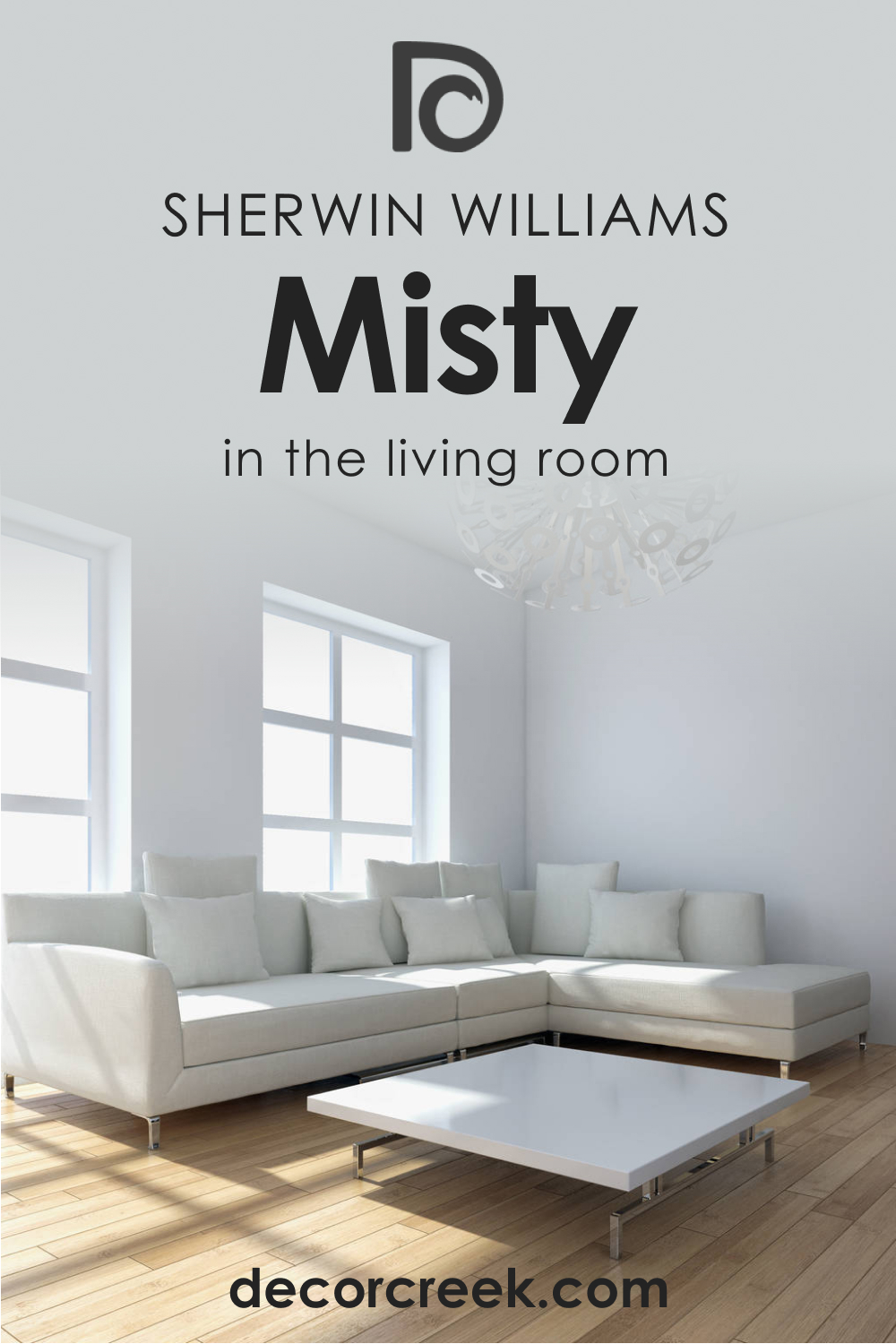 Misty SW 6232 in a Bedroom
In a well-lit bedroom with ample light, this color will read fresh and tranquil. Also, it will look bluer and somewhat brighter. But if your bedroom lacks proper light, be ready that SW Misty may seem more muted and dull! Nevertheless, it will never make a space seem dark or enclosed.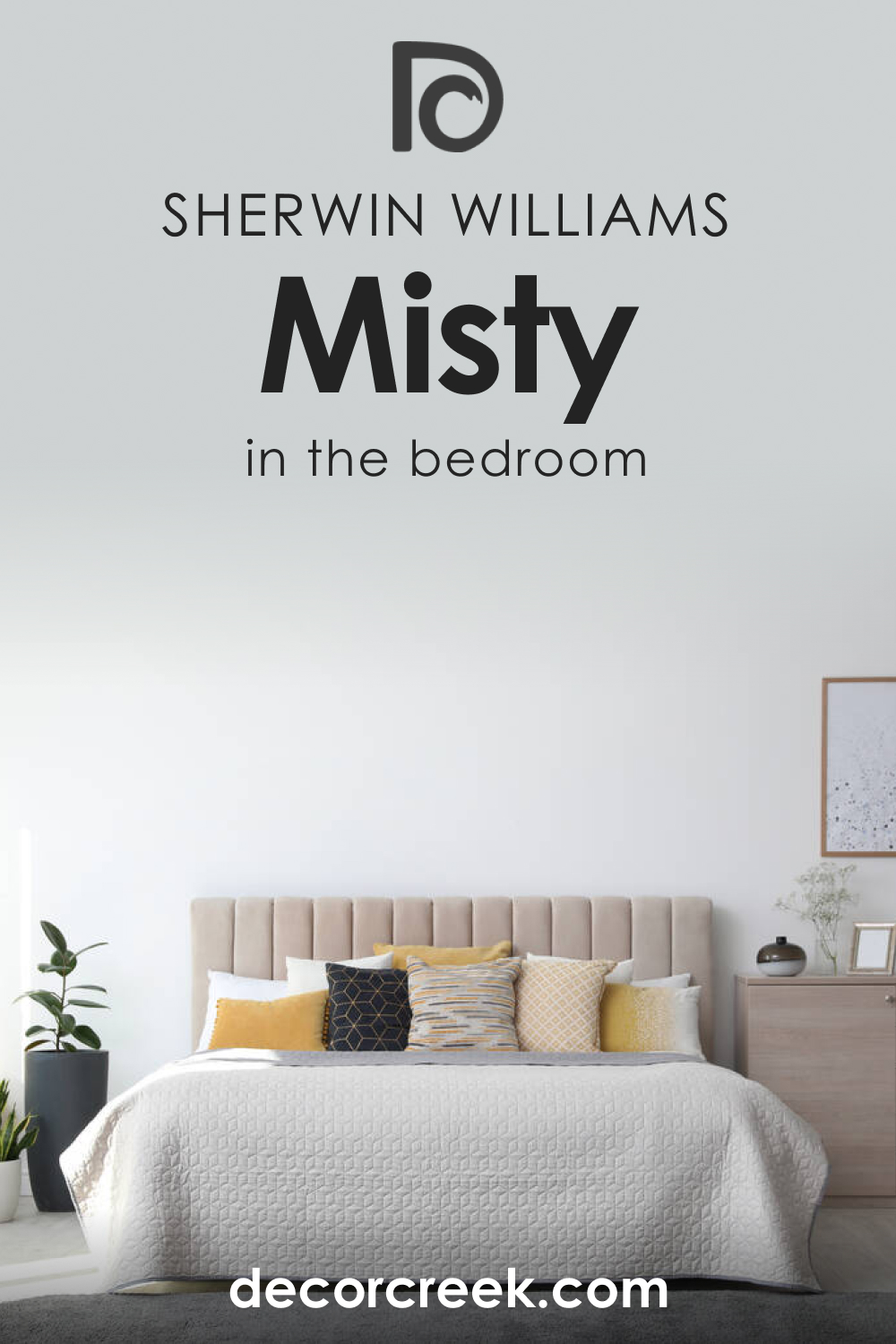 Misty SW 6232 on the Bathroom
In your bathroom, SW Misty will work great on a bold accent wall, especially if you pair this color with creamy whites and lighter beiges. For a minimalist backdrop, use metals and glass for a refreshing vibe to add some airiness to the room.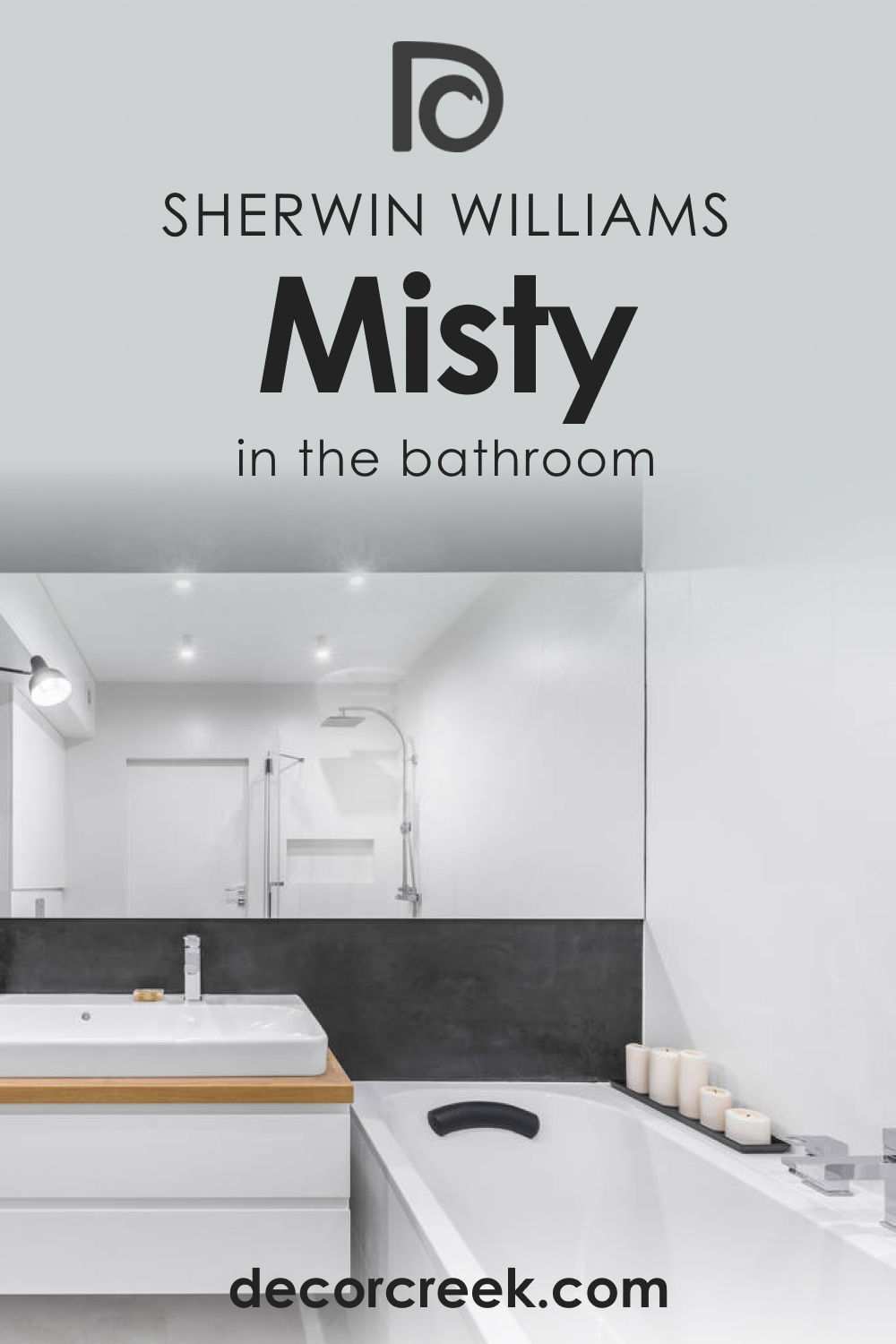 Misty SW 6232 and Kitchen
Cool-toned kitchens are not quite trendy, but it doesn't mean you can't use SW Misty in smaller kitchens to make them feel lighter and brighter! Try pairing this hue with chrome-finish fixtures and pull handles for a seamless look and enlighten your kitchen with a darker blue-gray paint on the lower cabinets.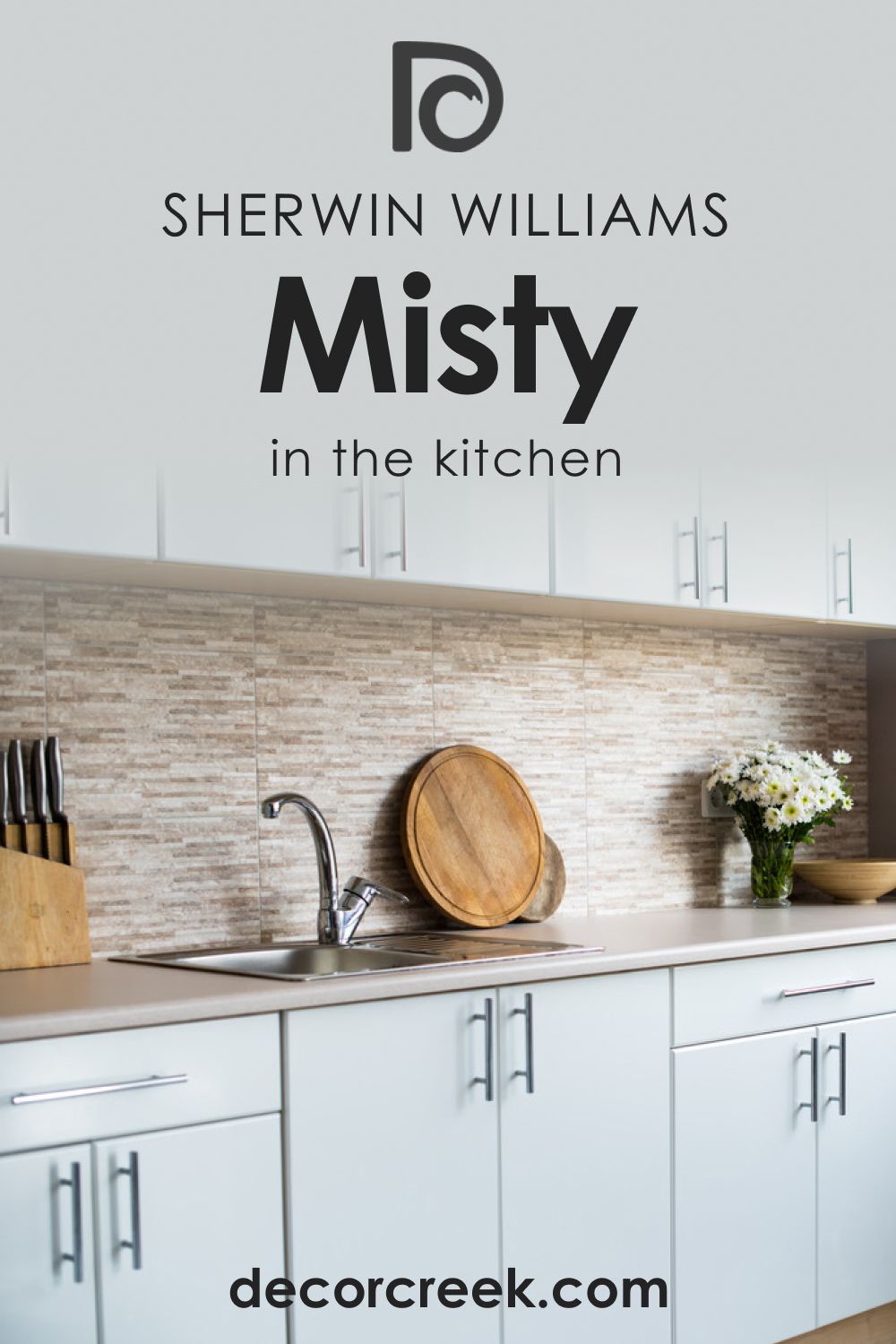 Misty SW 6232 for the Exterior Use
SW Misty can work on exterior walls, too, especially for Cape Cod, Caribbean, and Coastal home styles. You can either pair it with white or dark gray on your trims, moldings, and door and window frames. You can also opt for gray or beige natural stone wainscotting for the patio columns.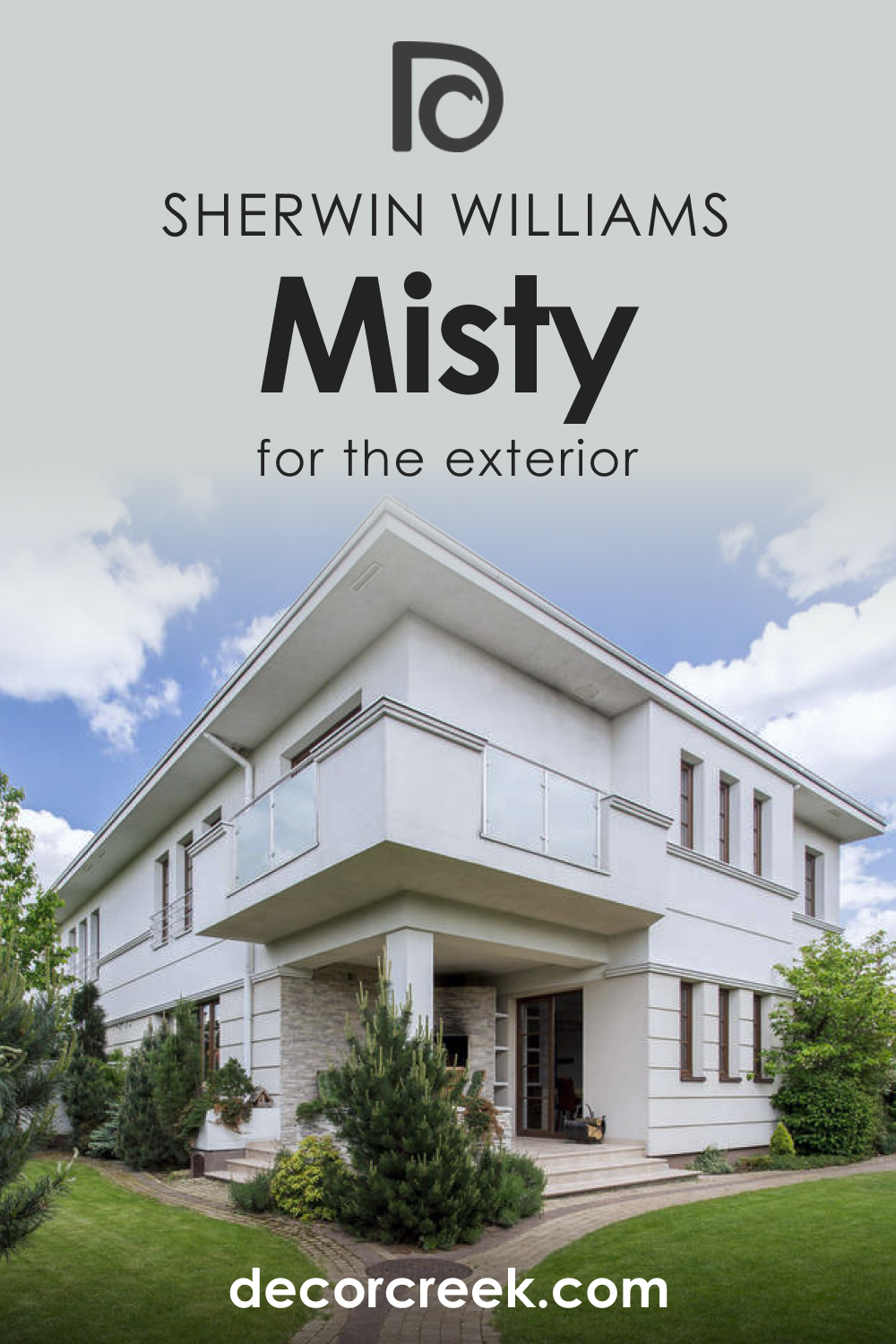 Well, as you can see now, SW Misty is pretty versatile and even popular despite being a light and cool-toned blue! Now you know how this beautiful and calming hue works in different rooms and lighting conditions.
Also, you have a better idea of how it pairs with other colors and how it should be coordinated. All this will help you use this hue correctly in your home, revealing its true beauty!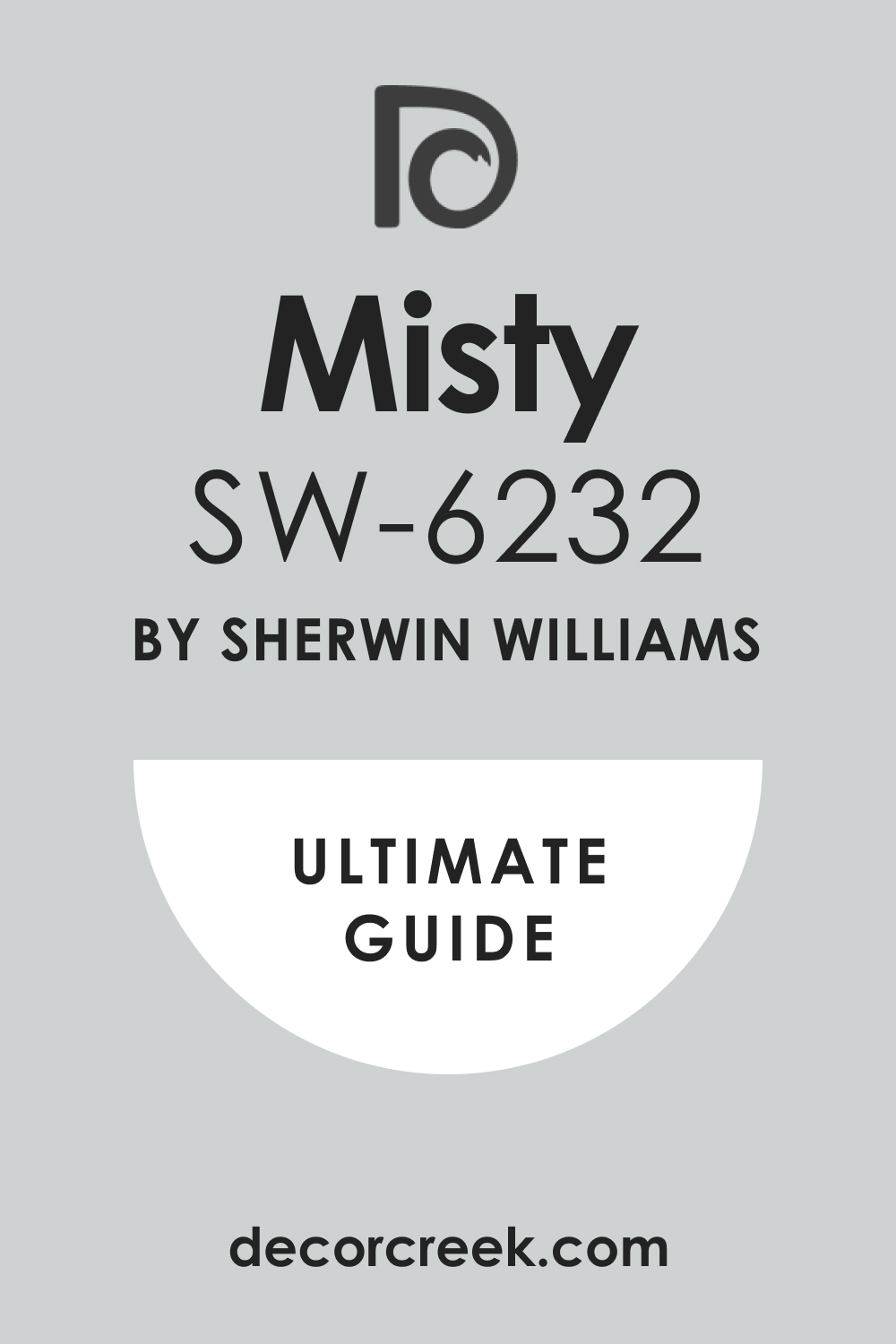 Frequently Asked Questions
⭐Does SW Misty look gray?
It doesn't look gray, but it can reveal grayish undertones more noticeably occasionally.
⭐Is SW Misty a trendy color?
Yes, you may call it trendy since it remains popular among homeowners.
⭐Does SW Misty have green undertones?
It doesn't. This blue color has gray undertones.