A splash of color can transform a room, and Sherwin-Williams SW 6944 Pool Blue does just that. This vibrant color evokes feelings of a refreshing summertime dip, brightening any space with its cheerful vibe. This article will delve into the intricacies of SW Pool Blue, from its undertones to the coordinating colors, and how it can be best utilized in your home.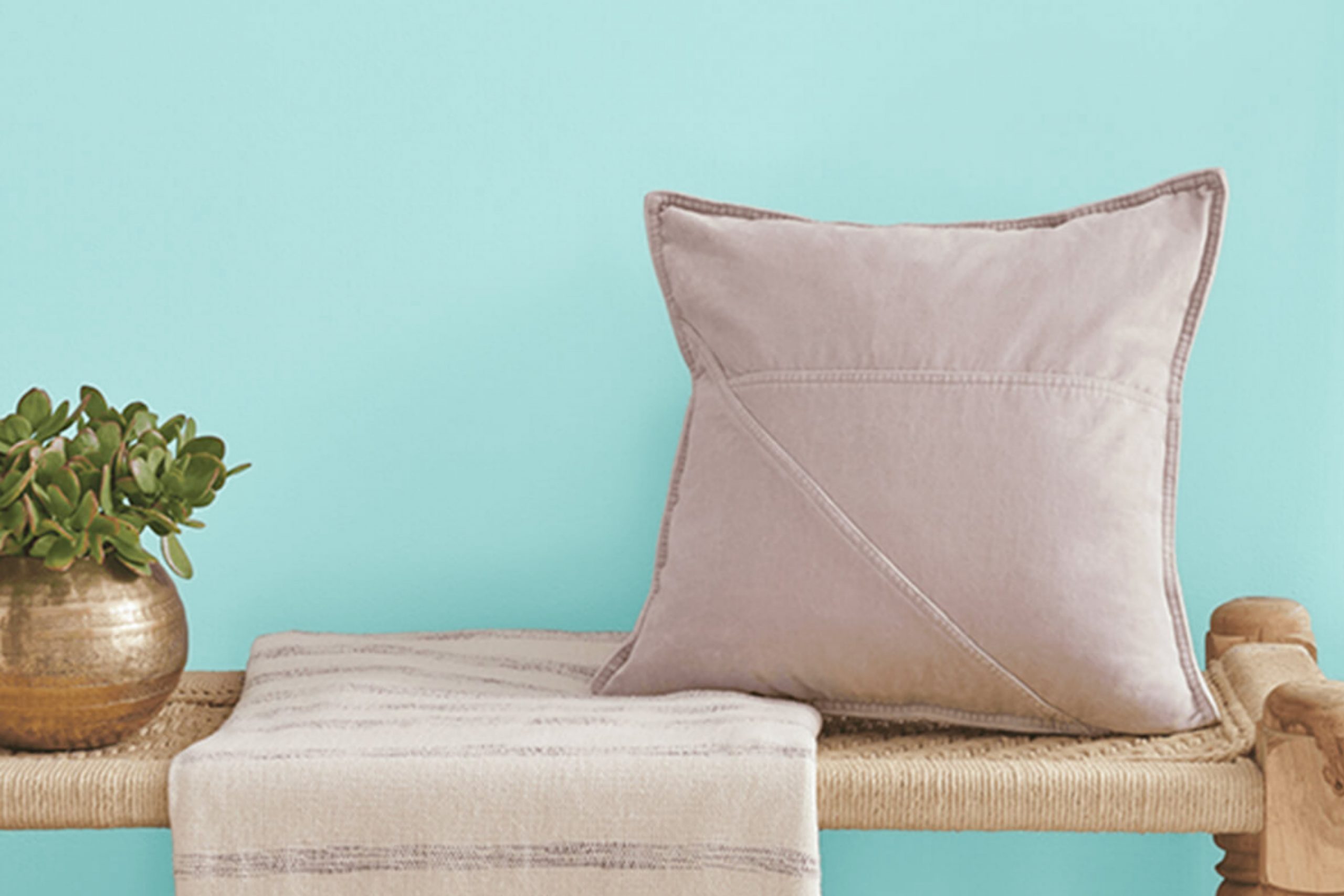 What Color Is SW 6944 Pool Blue?
Sherwin-Williams 6944 Pool Blue is a captivating, fresh medium to light blue hue reminiscent of a clear summer sky or a sparkling swimming pool under the sun's radiant warmth. This color embodies the uplifting spirit of a perfect summer day, capturing the essence of the season's invigorating energy. It's a vibrant color, exuding brightness and a certain playfulness that can breathe life into any space.
SW Pool Blue, as the name suggests, resonates with a waterside feel, creating a soothing yet lively atmosphere. The color is cool-toned, carrying the inherent calmness of blue, yet its vibrancy adds a dose of cheerfulness, making it an incredibly versatile hue.
Whether you're going for a coastal theme, a modern minimalistic look, or just want to inject a dose of color into a room, SW Pool Blue is a fantastic option to consider.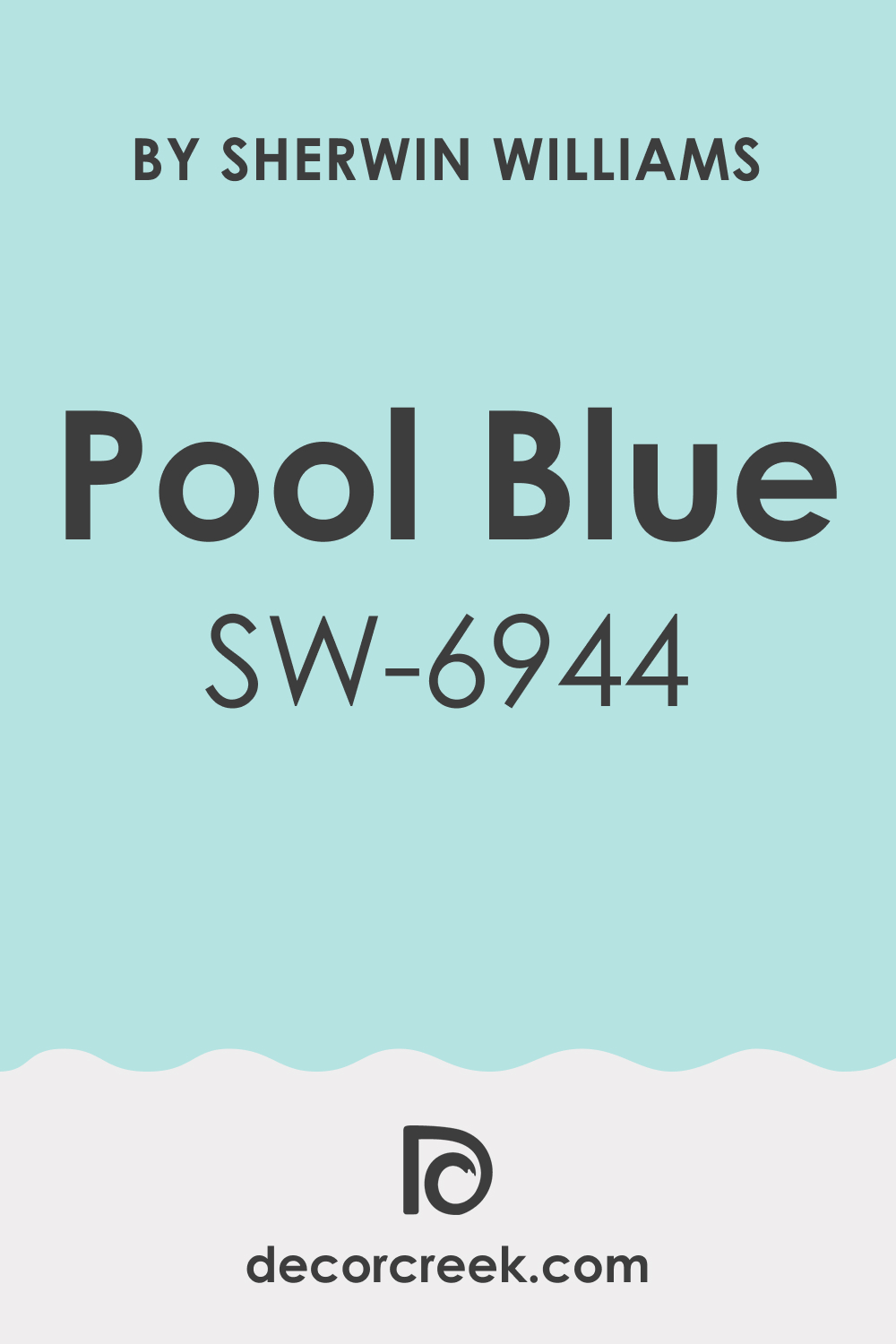 Is It a Warm Or Cool Color?
SW 6944 Pool Blue is a cool color. Cool colors are often associated with water, sky, ice, and snow, and SW Pool Blue is no exception. It embodies the refreshing chill of a pool on a hot day, making spaces feel open, airy, and fresh.
Undertones of SW 6944 Pool Blue Paint Color
SW Pool Blue can be considered a complex color due to its multiple undertones:
Cyan: The primary undertone of SW Pool Blue is cyan, contributing to its fresh and vibrant feel.
Green: There's a subtle green undertone that adds an organic touch, enhancing its natural feel.
Aqua: An aqua undertone plays into the coolness of SW Pool Blue, deepening the connection to water and sky.
Undertones can affect how we perceive a color based on its warmth or coolness and the other colors they're paired with.
In the case of SW Pool Blue, its cyan and aqua undertones play up its coolness, while the green undertone adds a bit of warmth, giving the color balance and depth.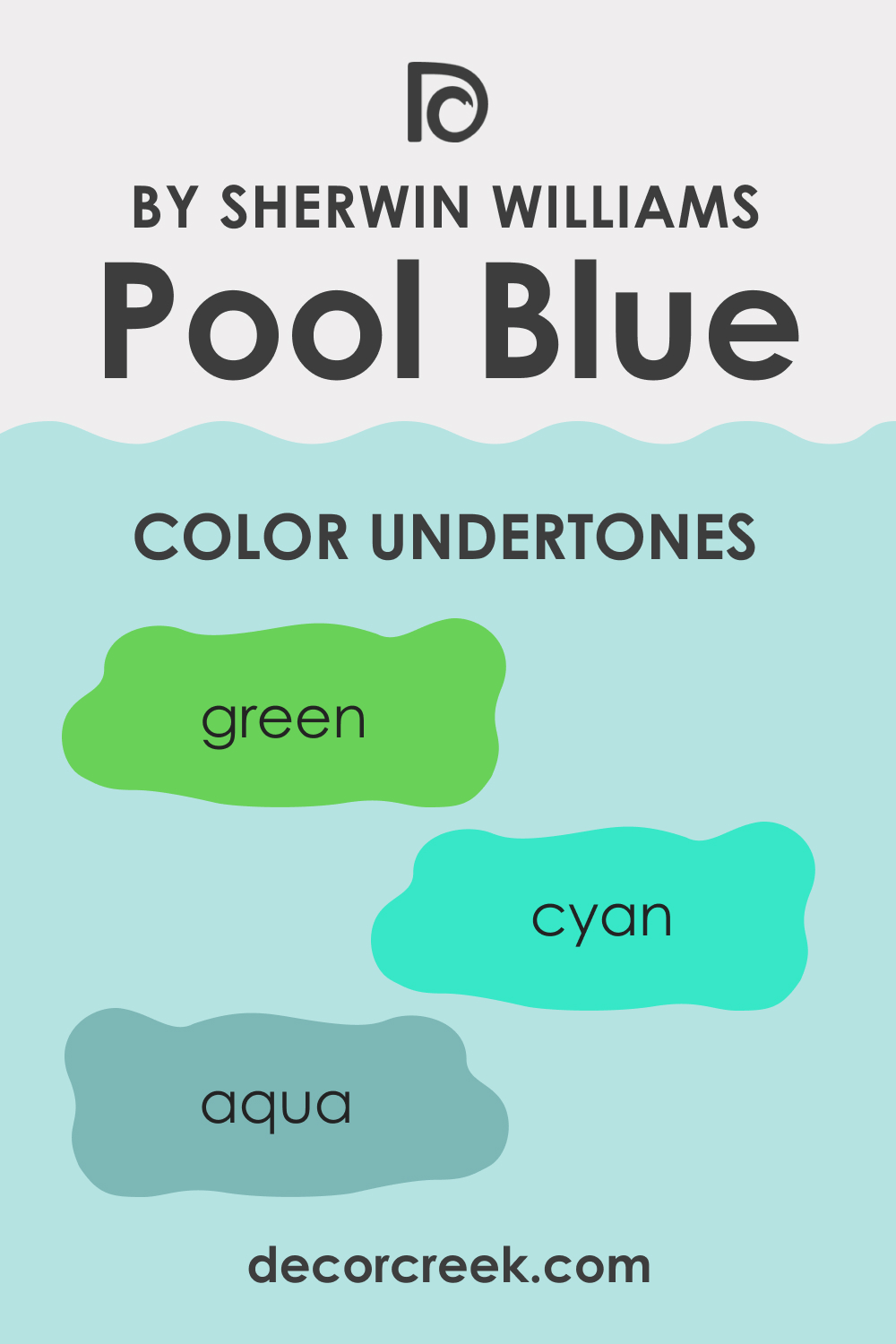 Coordinating Colors of SW 6944 Pool Blue
Coordinating colors are essential to creating a harmonious color scheme in interior design. They refer to colors that work well together, complementing and enhancing each other's presence in the space. The goal of using coordinating colors is to create a visually appealing, balanced, and unified look.
SW Pool Blue can be hard to coordinate if you are a novice in color theory, so we have prepared several color options for you to check out:
SW 2841 Weathered Shingle: A muted gray-green, Weathered Shingle offers a contrast to the brightness of SW Pool Blue while tying in with its green undertone.
SW 7610 Turkish Tile: This deep, moody blue can serve as a darker counterpoint to SW Pool Blue, adding depth to your color scheme.
SW 7688 Sundew: Sundew's light, airy quality complements the freshness of SW Pool Blue, creating a soft, calming palette.
SW 6679 Full Moon: This soft yellow brings out the brightness in SW Pool Blue, creating a fun and cheerful color combination.
SW 6511 Snowdrop: Snowdrop is a cool, bright white that offers a crisp contrast to SW Pool Blue, highlighting its vibrancy.
SW 6992 Inkwell: A deep navy blue, Inkwell provides a striking contrast, making SW Pool Blue pop even more.
SW 6720 Belize: Belize is a darker yet equally vibrant shade of blue-green, offering a rich contrast to SW Pool Blue.
SW 7006 Extra White: Extra White provides a stark, clean contrast to SW Pool Blue, allowing its bright personality to shine.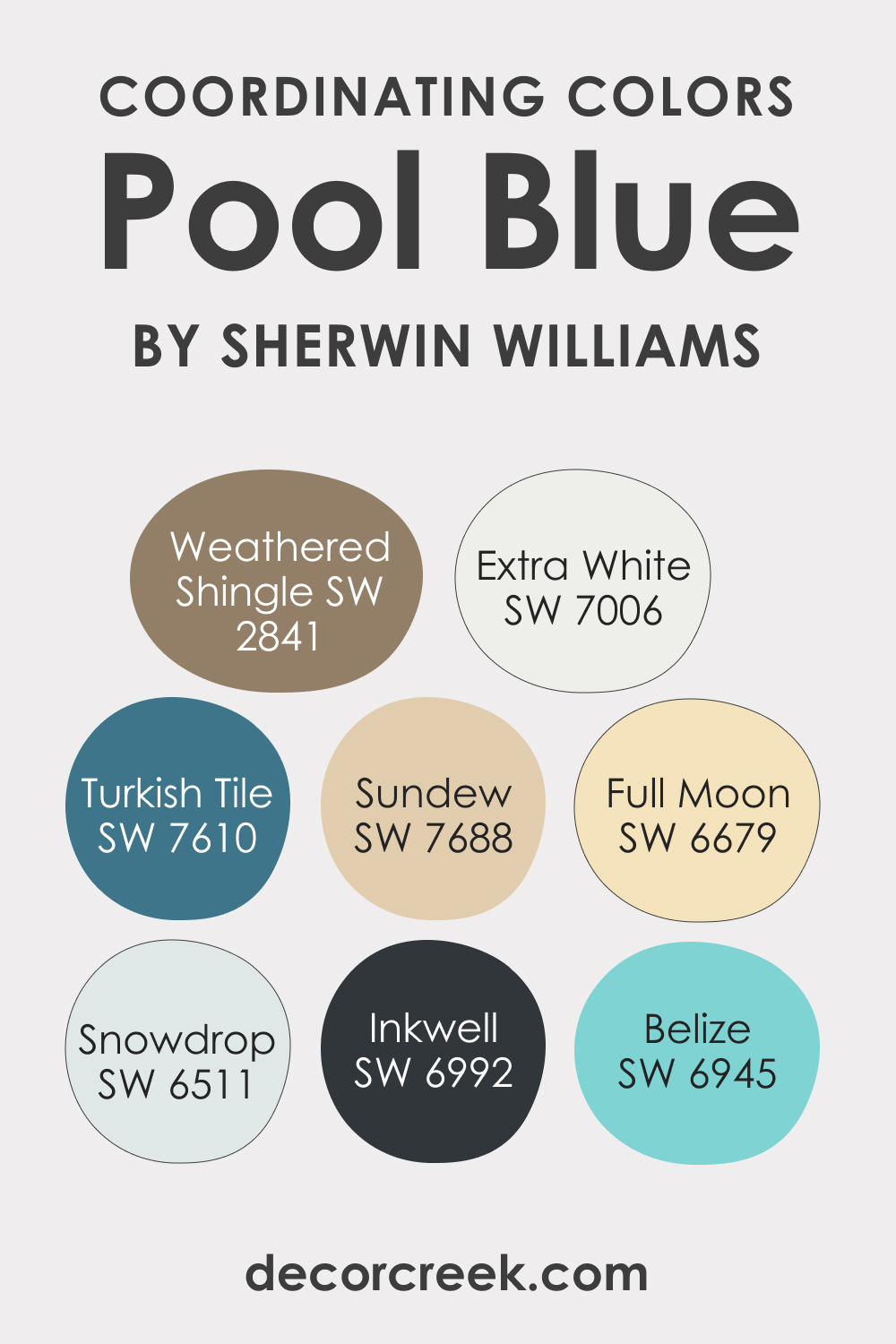 How Does Lighting Affect SW 6944 Pool Blue Paint Color?
Lighting can significantly affect how we perceive SW Pool Blue. In natural light, the color appears brighter and more vibrant, emphasizing its cheerful personality. In artificial light, the color may seem a bit more muted but retains its refreshing quality. Testing the color in your lighting conditions is always a good idea.
LRV of SW 6944 Pool Blue Paint Color
The Light Reflectance Value (LRV) of color measures the percentage of light it reflects. SW 6944 Pool Blue has an LRV of 70, making it a relatively light color. It's bright enough to open up a space and reflect significant light, yet has enough saturation to make a strong visual impact. Having a higher LRV means it's a great choice for smaller rooms or areas with limited natural light, as it will make the space feel larger and more open.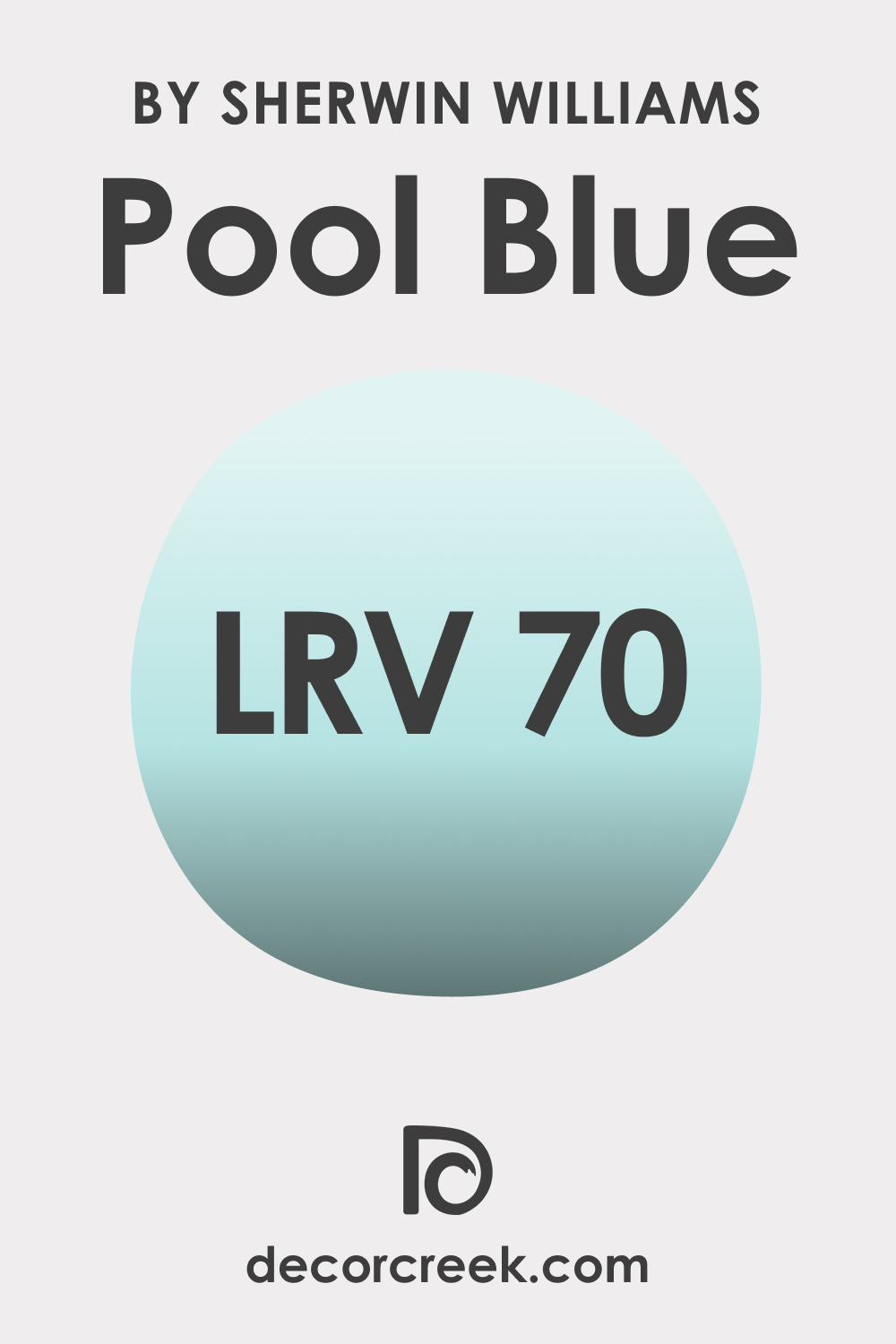 LRV – what does it mean? Read This Before Finding Your Perfect Paint Color
Trim Colors of SW 6944 Pool Blue
Selecting the right trim color can provide a crisp, polished look. Here are three options that will work best with SW Pool Blue:
SW 7006 Extra White: Extra White offers a stark contrast, making SW Pool Blue pop and providing a modern feel.
SW 7008 Alabaster: A slightly warmer white, Alabaster complements SW Pool Blue without competing with it.
SW 7014 Eider White: Eider White is a soft gray-white that offers a subtle contrast.
Trim colors are crucial because they can frame and highlight your wall color, provide a sense of continuity, and tie together other elements in the room.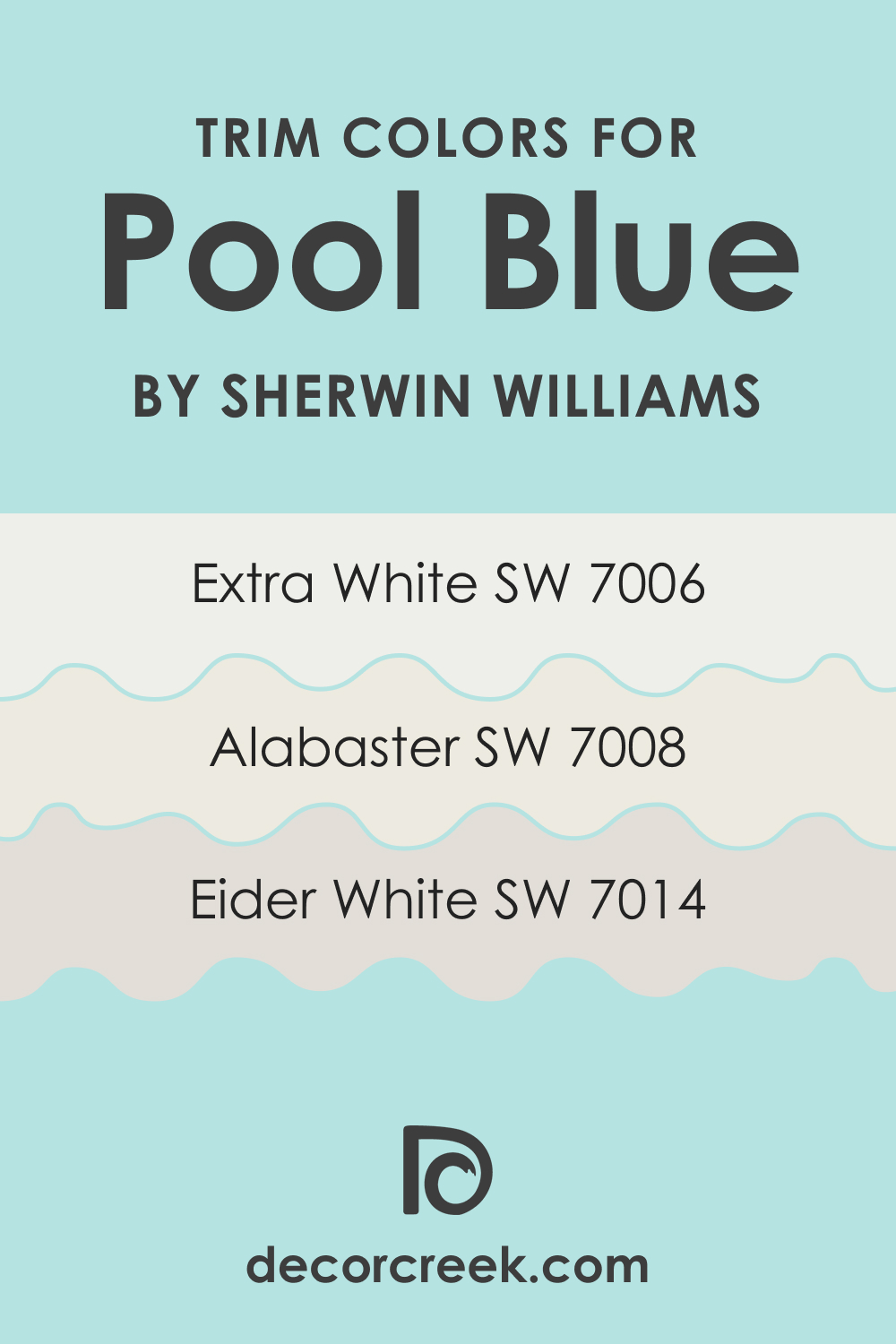 Colors Similar to SW 6944 Pool Blue
SW Pool Blue has a distinctive personality, but if you're seeking something a bit different, here are a few similar colors you might want to consider:
Behr Refreshing Pool
BM Blue Diamond
PPG Seascape Green
Valspar Frosty
These colors can help you if you realize that SW Pool Blue doesn't work well for your interior.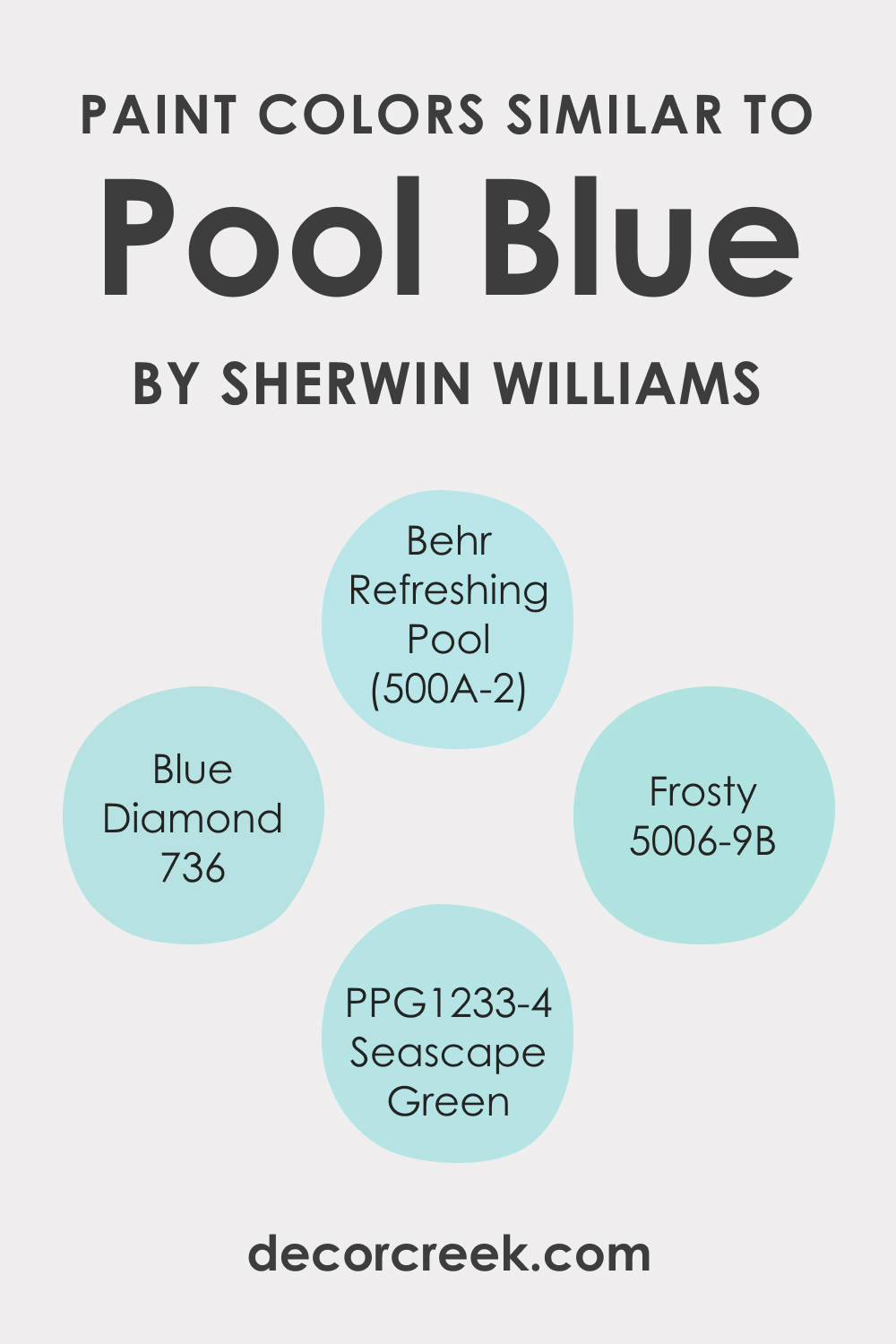 Colors That Go With SW 6944 Pool Blue
To create a harmonious color scheme, consider these colors that pair well with SW Pool Blue:
SW 6752 Larchmere
SW 0064 Blue Peacock
SW 6033 Bateau Brown
SW 6495 Great Falls
SW 6383 Golden Rule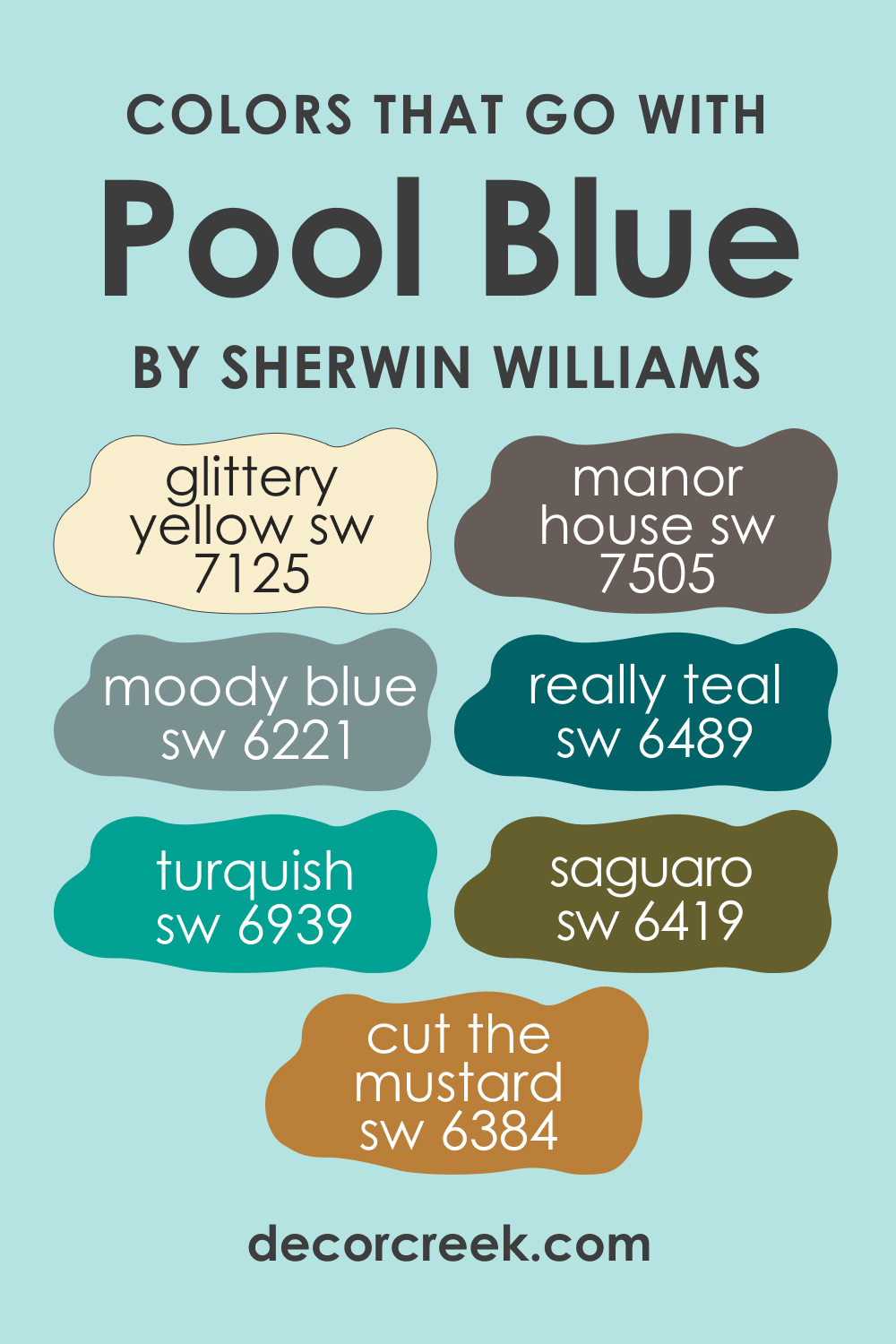 SW 6687 Lantern Light
SW 6384 Cut the Mustard
SW 7125 Glittery Yellow
SW 6221 Moody Blue
SW 6489 Really Teal
SW 6419 Saguaro
SW 6939 Turquish
SW 7505 Manor House
They will help you create a balanced and varied palette in your home, making it feel brighter and more lively.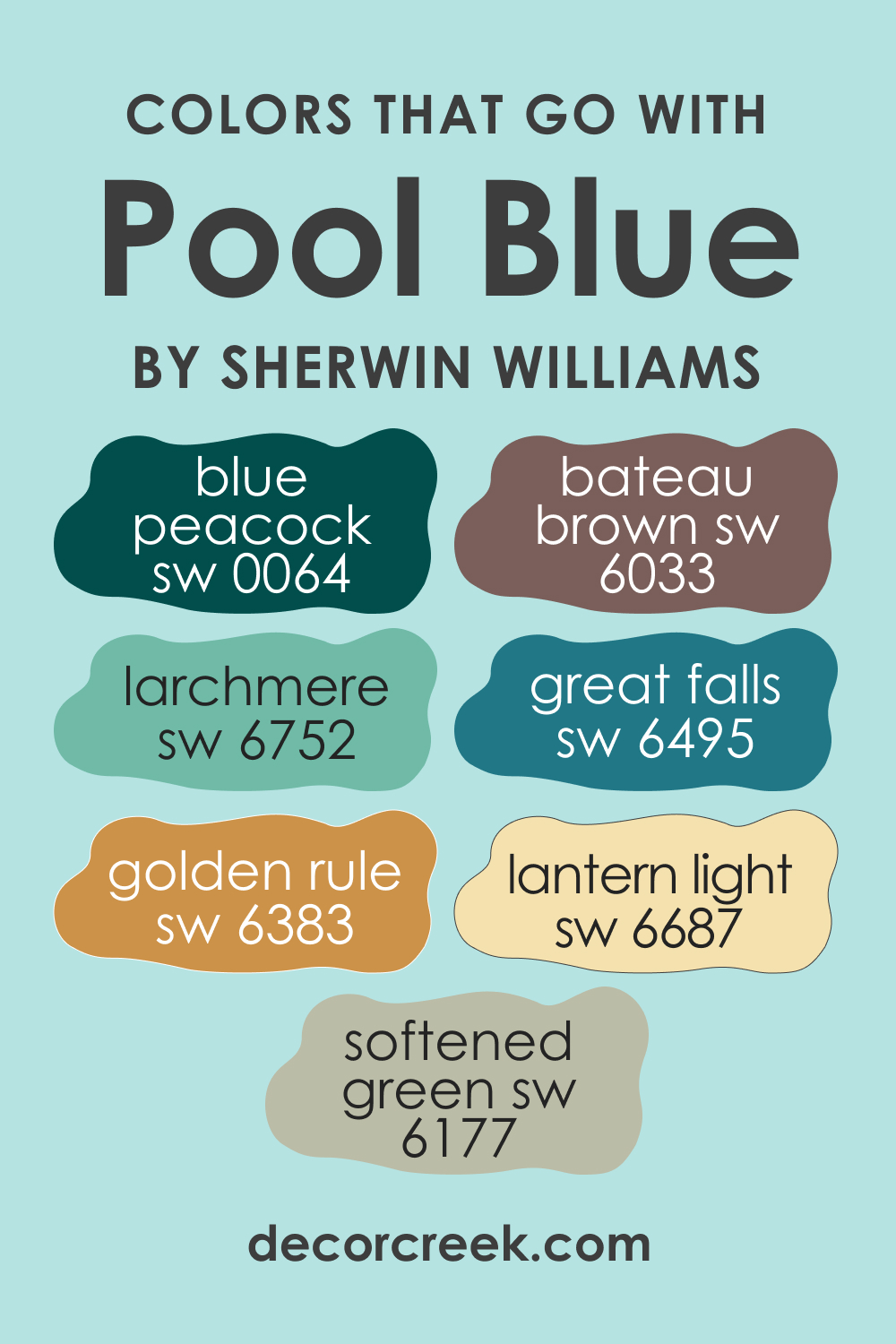 How to Use SW 6944 Pool Blue In Your Home?
SW Pool Blue is a versatile color that can be used in a variety of rooms and design styles. It's an ideal choice for creating a coastal or tropical vibe, and it can also work well in modern and contemporary designs due to its bright, fresh nature. Bedrooms, bathrooms, kitchens, and even exteriors can benefit from its refreshing feel.
How to Use SW 6944 Pool Blue in the Bedroom?
In the bedroom, SW Pool Blue can create a tranquil, relaxing ambiance. It can be used on all four walls for a fully immersive experience or on an accent wall for a pop of color. Pair it with crisp whites and soft grays for a peaceful, airy feel. Soft, warm textures and natural materials like wood and rattan can complement SW Pool Blue's coolness.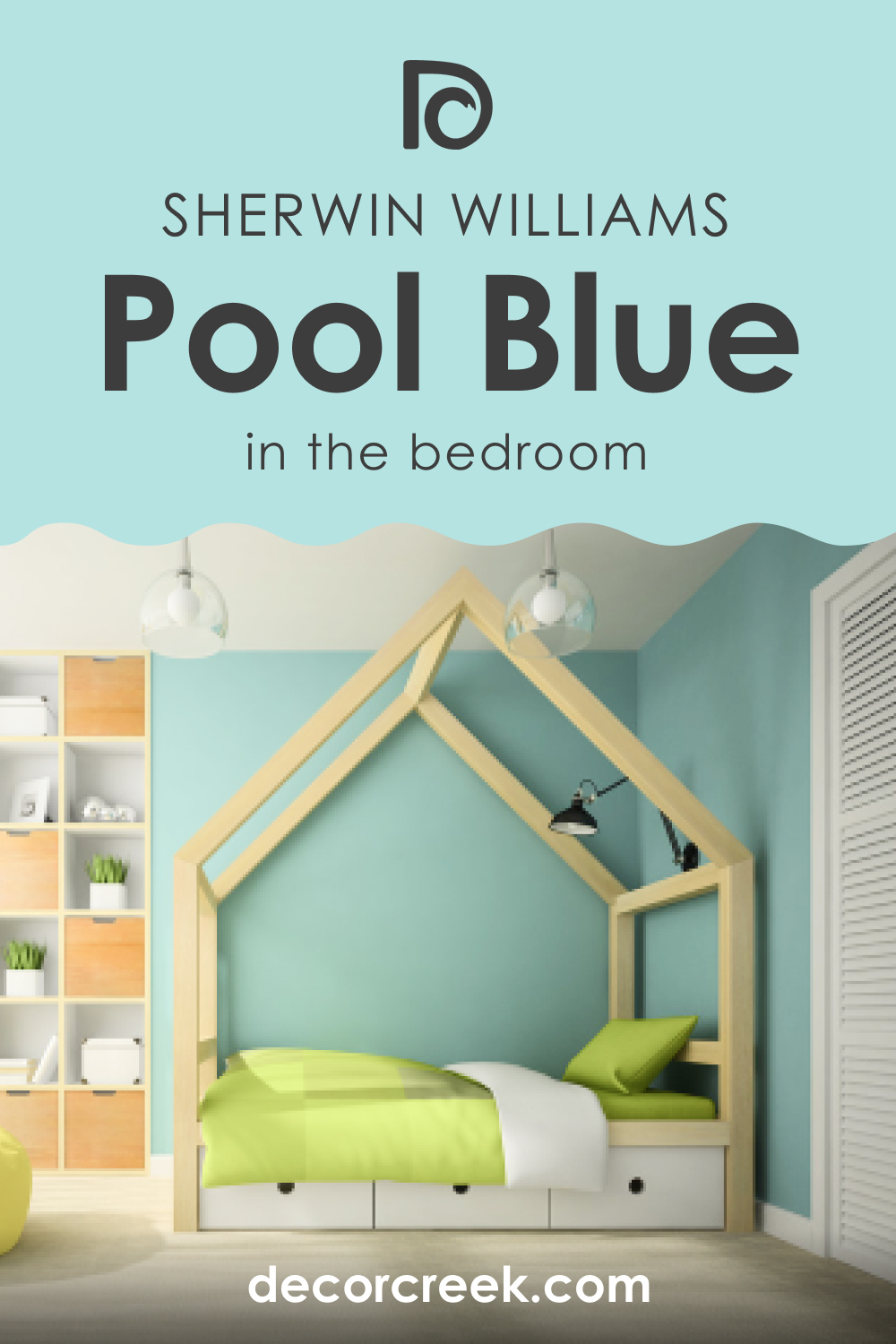 How to Use SW 6944 Pool Blue in the Bathroom?
In the bathroom, SW Pool Blue can make you feel like you're stepping into a tropical oasis. Use it on the walls, cabinets, or even the ceiling for a spa-like feel. Pair it with bright whites for a crisp, clean look, or go bold with contrasting colors like yellow or coral.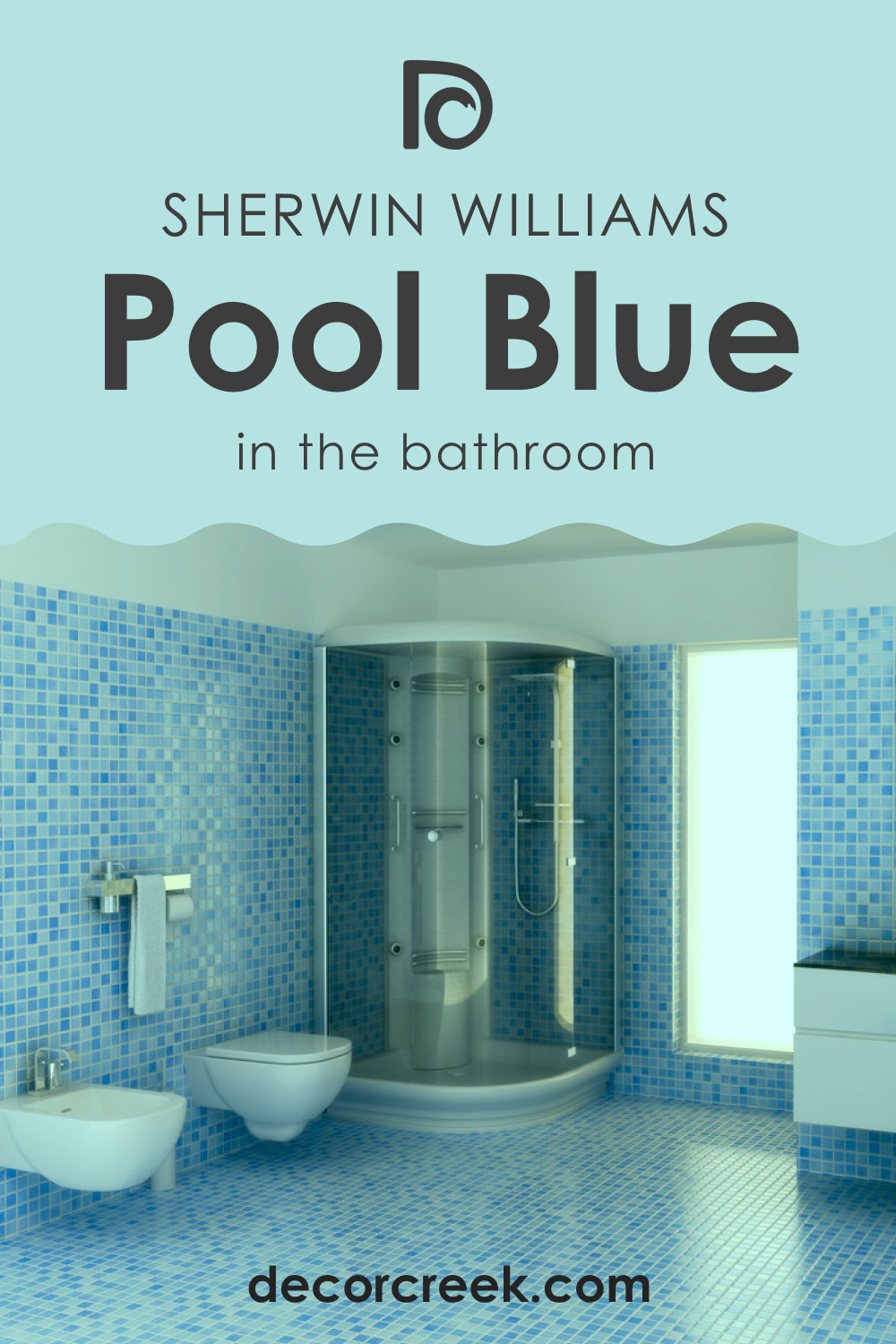 How to Use SW 6944 Pool Blue in the Living Room?
In the living room, SW Pool Blue can create a vibrant, inviting atmosphere. It pairs beautifully with neutrals, warm woods, and a variety of textures for a layered, eclectic look. Or, keep things fresh and modern with white and gray accents.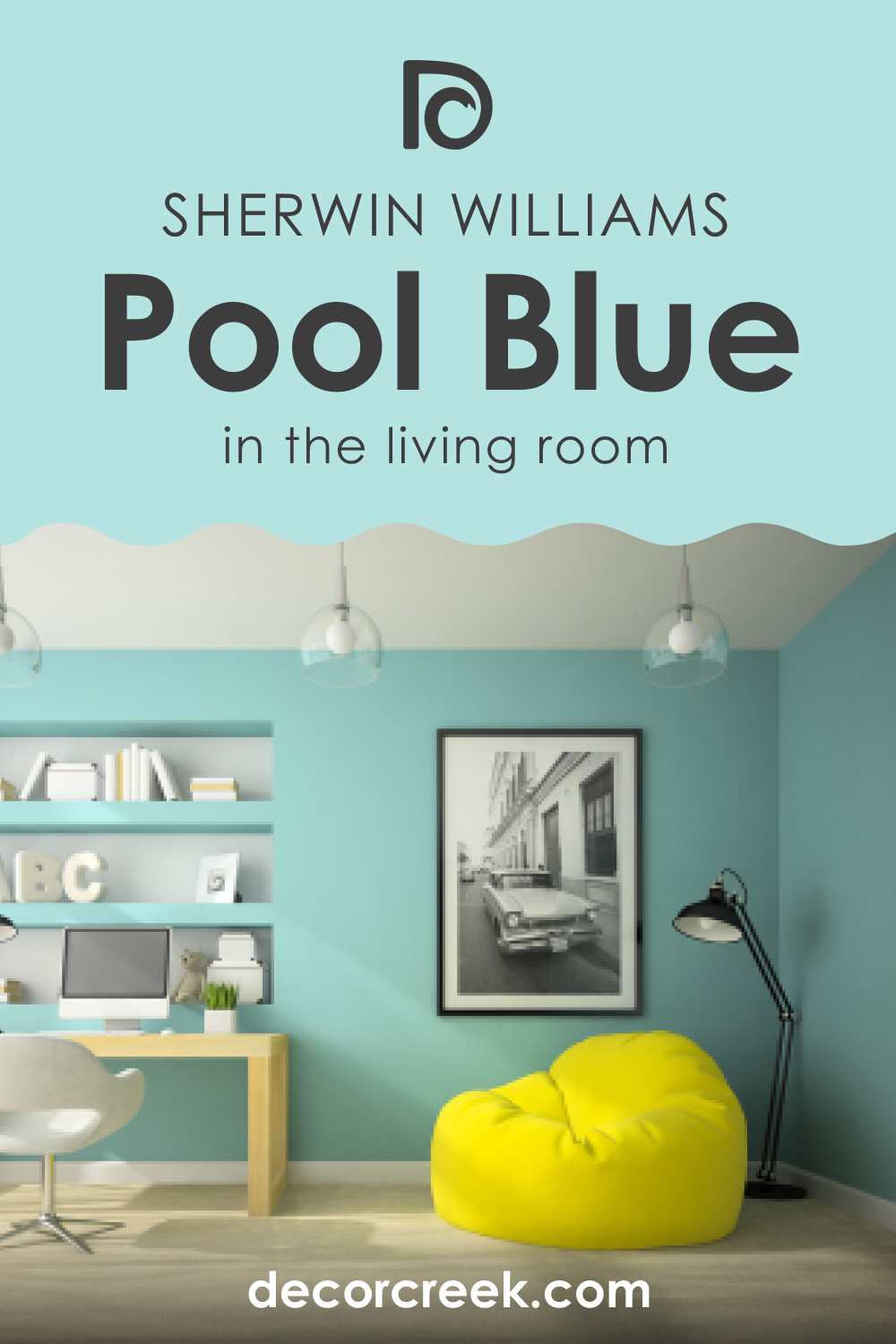 How to Use SW 6944 Pool Blue for an Exterior?
For the exterior, SW Pool Blue can be a bold, playful choice. It's especially suitable for beach houses or coastal-inspired designs. Pair it with crisp white trims for a timeless appeal, or go for a bolder look with contrasting colors like orange or yellow.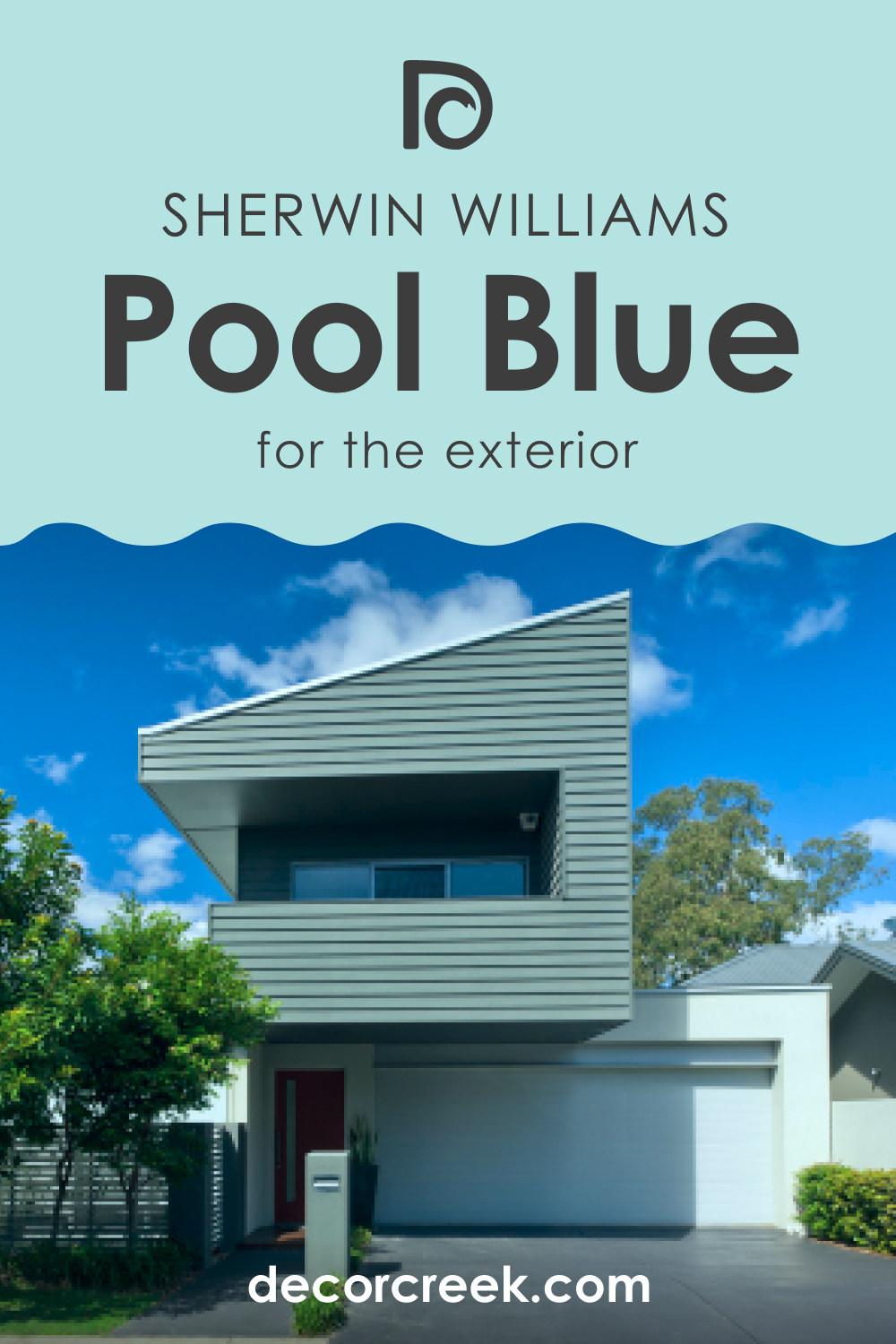 How to Use SW 6944 Pool Blue for the Kitchen?
SW Pool Blue in the kitchen can create a fresh, cheerful vibe. Paint the walls or the cabinets in SW Pool Blue, and complement them with white or neutral countertops and backsplashes. Metallic accents, especially in warmer tones, can create a stunning contrast and add a touch of luxury.
Comparing SW 6944 Pool Blue With Other Colors
To see how SW Pool Blue differs from other colors, we compared it with several hues below. Read on to see how this beautiful and bright color looks compared to similar paint colors.
SW 6944 Pool Blue vs. SW 6951 Flyway
When compared to SW 6951 Flyway, SW 6944 Pool Blue stands out due to its slightly lighter and more vibrant character. SW Flyway, being a shade deeper, is more grounded and slightly less playful, evoking a more serene feeling of the deep ocean. In a space where both these colors are used, SW Pool Blue can add a sense of brightness and light, while Flyway introduces a deeper, calming balance.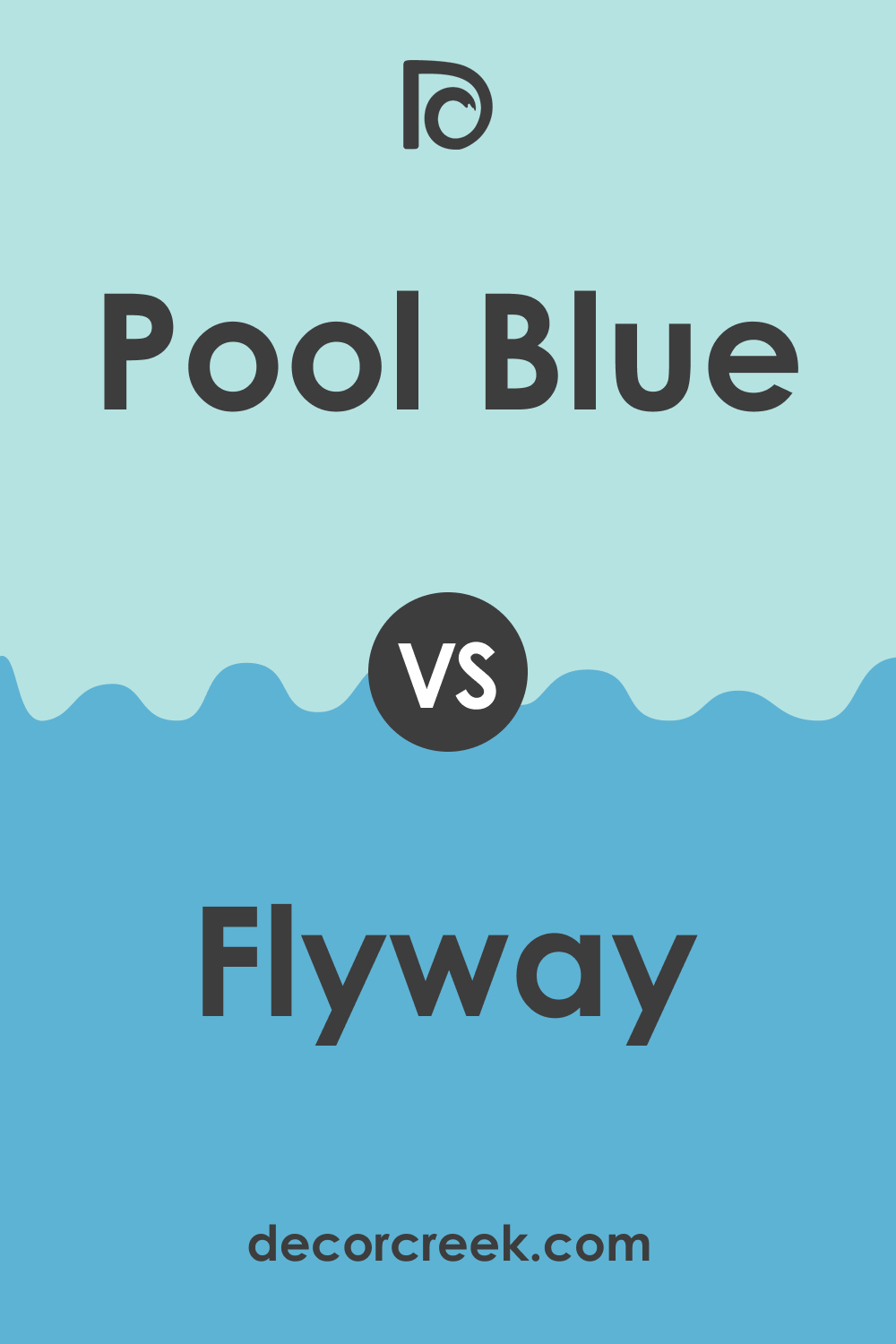 SW 6944 Pool Blue vs. SW 6246 North Star
SW 6246 North Star is a cooler, softer, and lighter shade than Pool Blue. It carries a sense of calm sophistication, whereas SW Pool Blue is more playful and energetic, full of tropical and summer vibes. Comparing the two, SW North Star could serve as a perfect subtle background to let the vibrancy of SW Pool Blue stand out as an accent in a room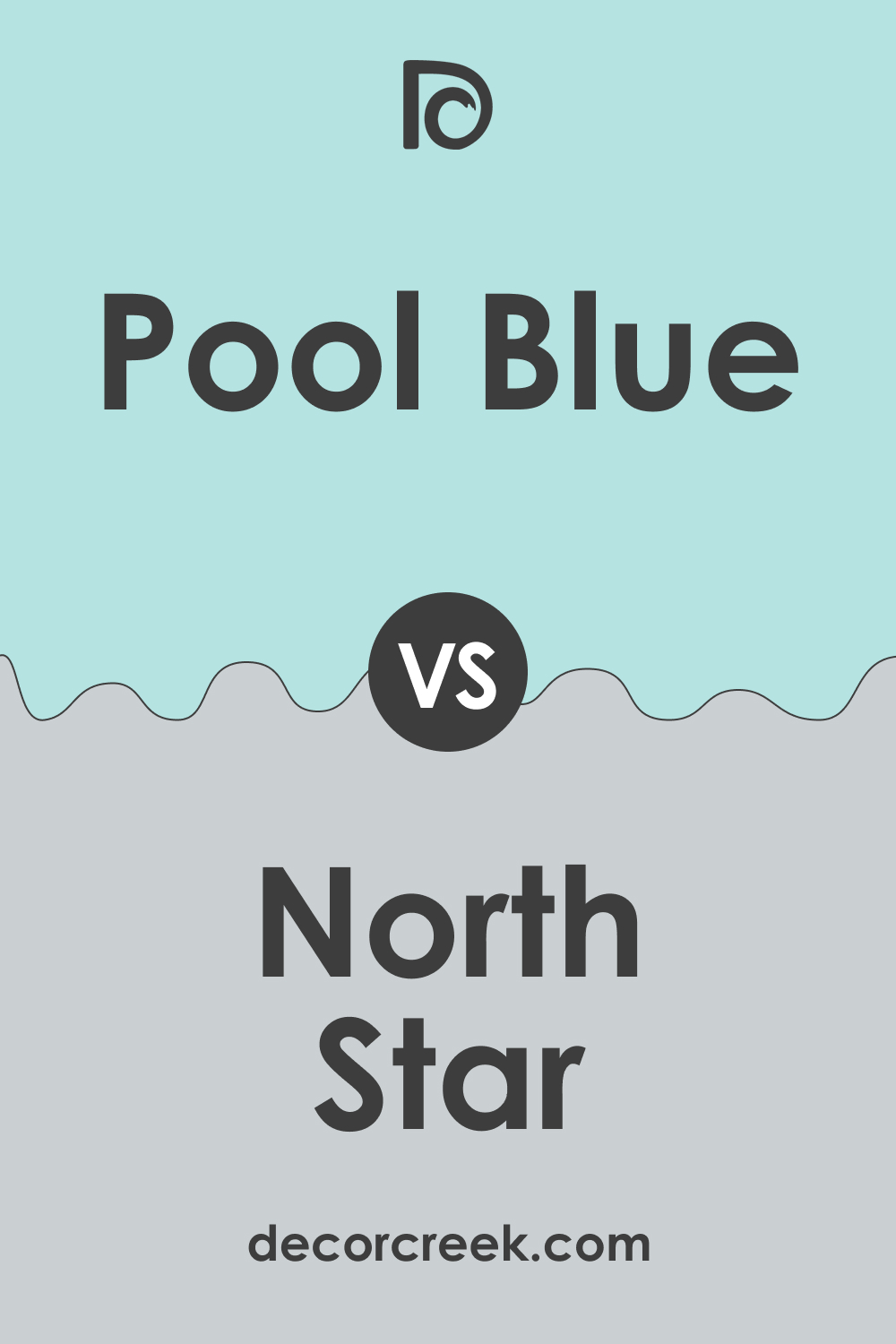 SW 6944 Pool Blue vs. SW 6239 Upward
SW 6239 Upward is a lighter, airy sky blue color. It brings a calm, tranquil vibe to the interiors, and its muted quality provides a perfect balance to the vibrant, more saturated SW Pool Blue. The cooling and calming influence of Upward can balance the bright energy of SW Pool Blue, offering a serene and peaceful atmosphere.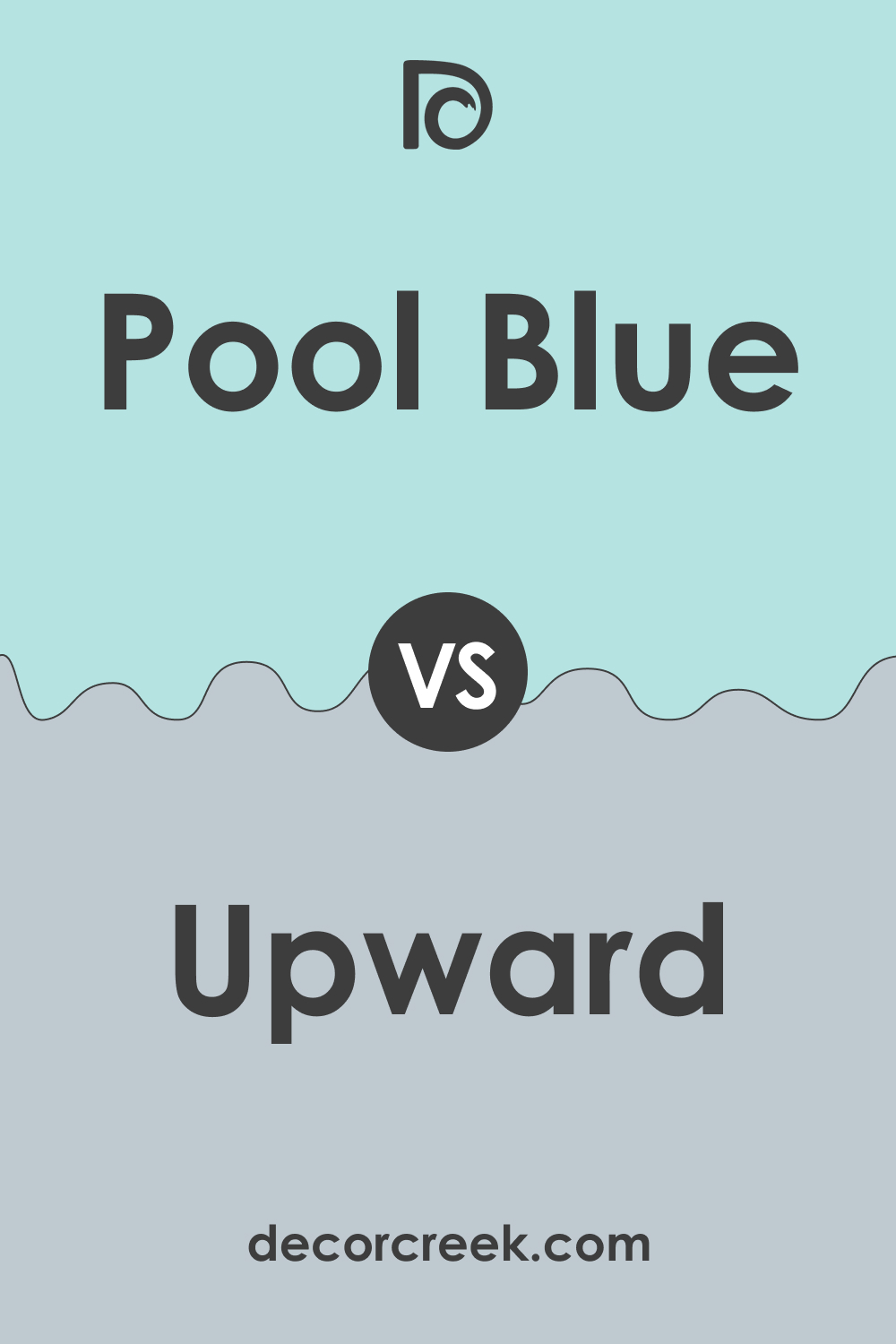 SW 6944 Pool Blue vs. SW 6806 Rapture Blue
Compared to SW 6944 Pool Blue, SW 6806 Rapture Blue is a deeper and more intense color. It has a rich undertone that evokes a feeling of depth and sophistication. In contrast, SW Pool Blue is lighter, brighter, and more tropical. Together, they can create a dynamic and exciting aquatic-themed space.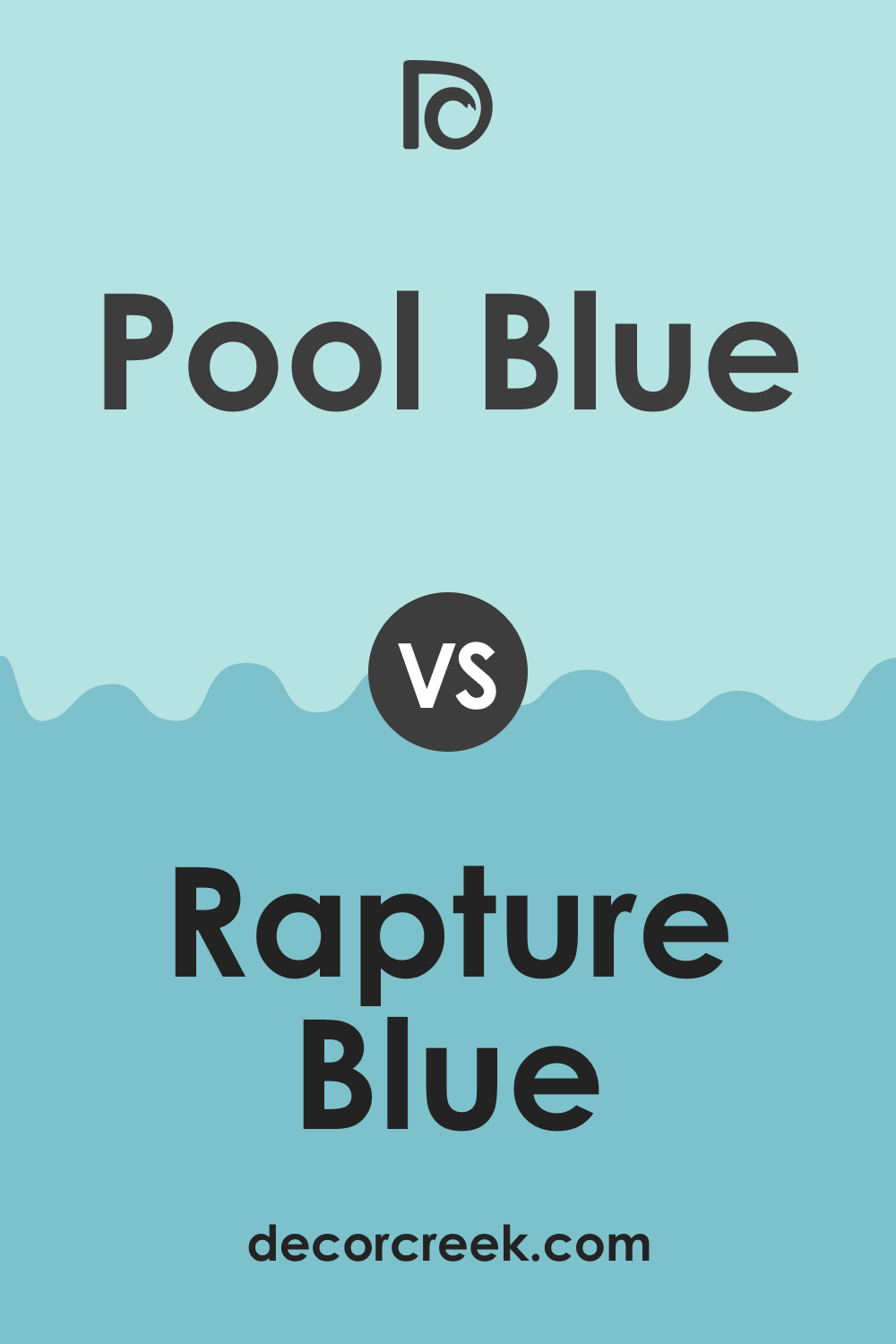 SW 6944 Pool Blue vs. SW 6486 Reflecting Pool
SW 6486 Reflecting Pool is a darker and richer hue than SW Pool Blue. SW Reflecting Pool carries a greater weight and depth, making it ideal for formal or mature spaces. On the other hand, Pool Blue, with its brighter and lighter character, injects more fun and energy into the room, making it ideal for casual and lively environments.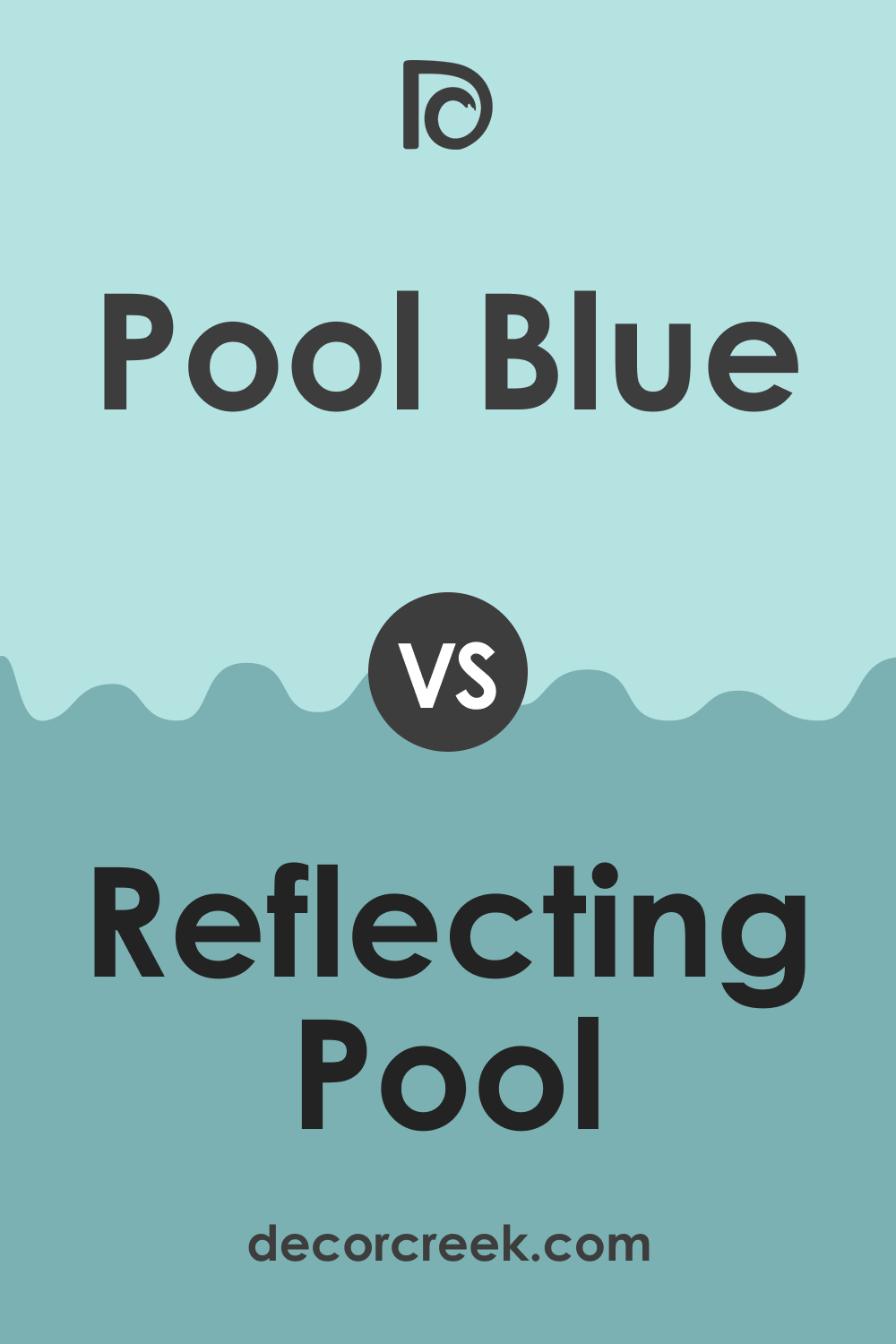 SW 6944 Pool Blue vs. SW 6946 Surfer
SW 6946 Surfer is lighter and has a softer presence when compared to the bolder Pool Blue. Surfer has an airy and open quality that can make a room feel expansive, while Pool Blue, being more saturated, can create a strong focal point. This pair could create a pleasing gradient effect in a room when used together.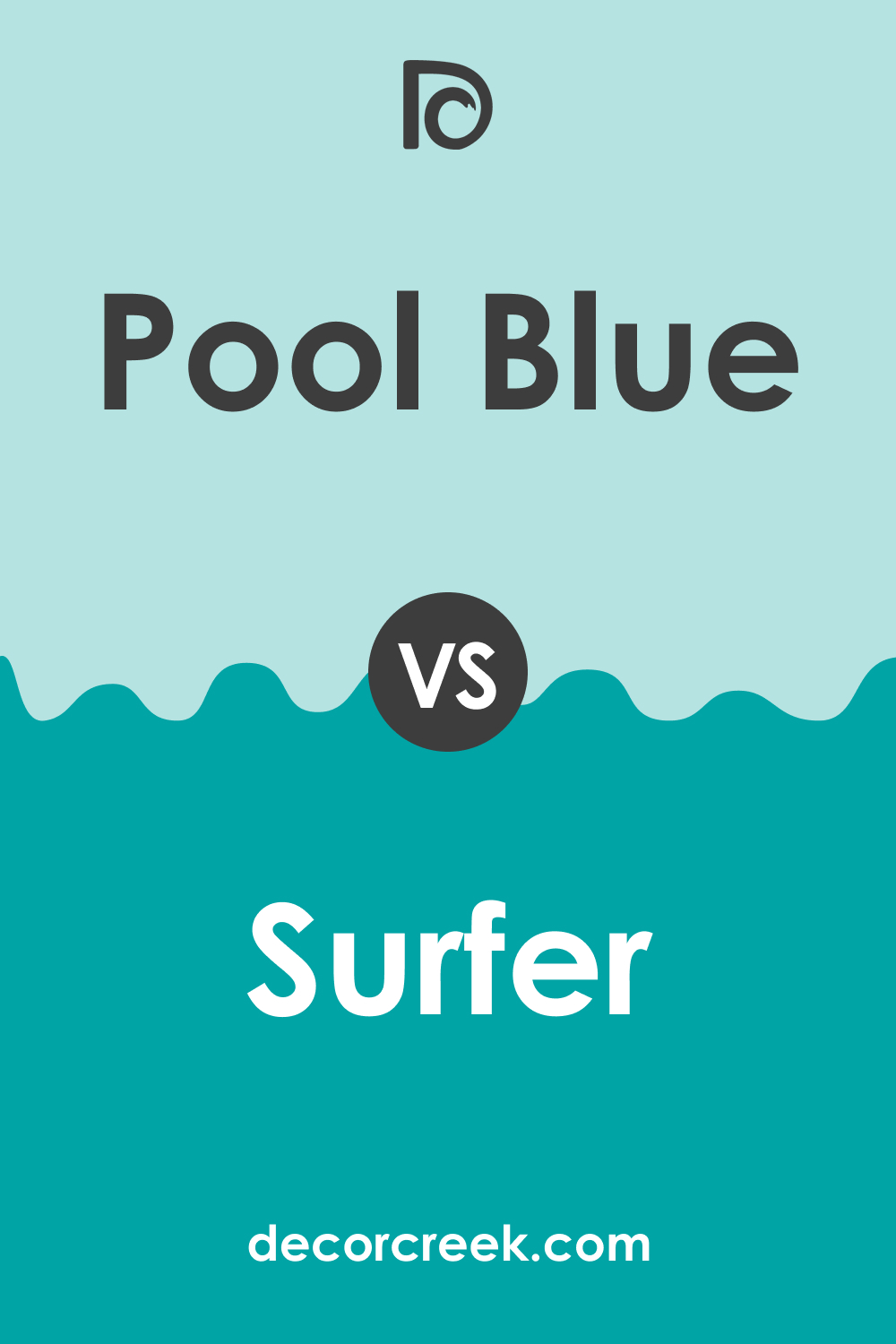 Conclusion
SW 6944 Pool Blue is a bright, refreshing color that can bring a sense of joy and vibrancy to any space. With its cool undertones and high LRV, it has the ability to brighten and open up a room, making it a great choice for a variety of spaces and design styles.
So, whether you're looking to create a relaxing bedroom retreat, a vibrant kitchen, or an inviting living room, SW Pool Blue can deliver a splash of color that truly transforms.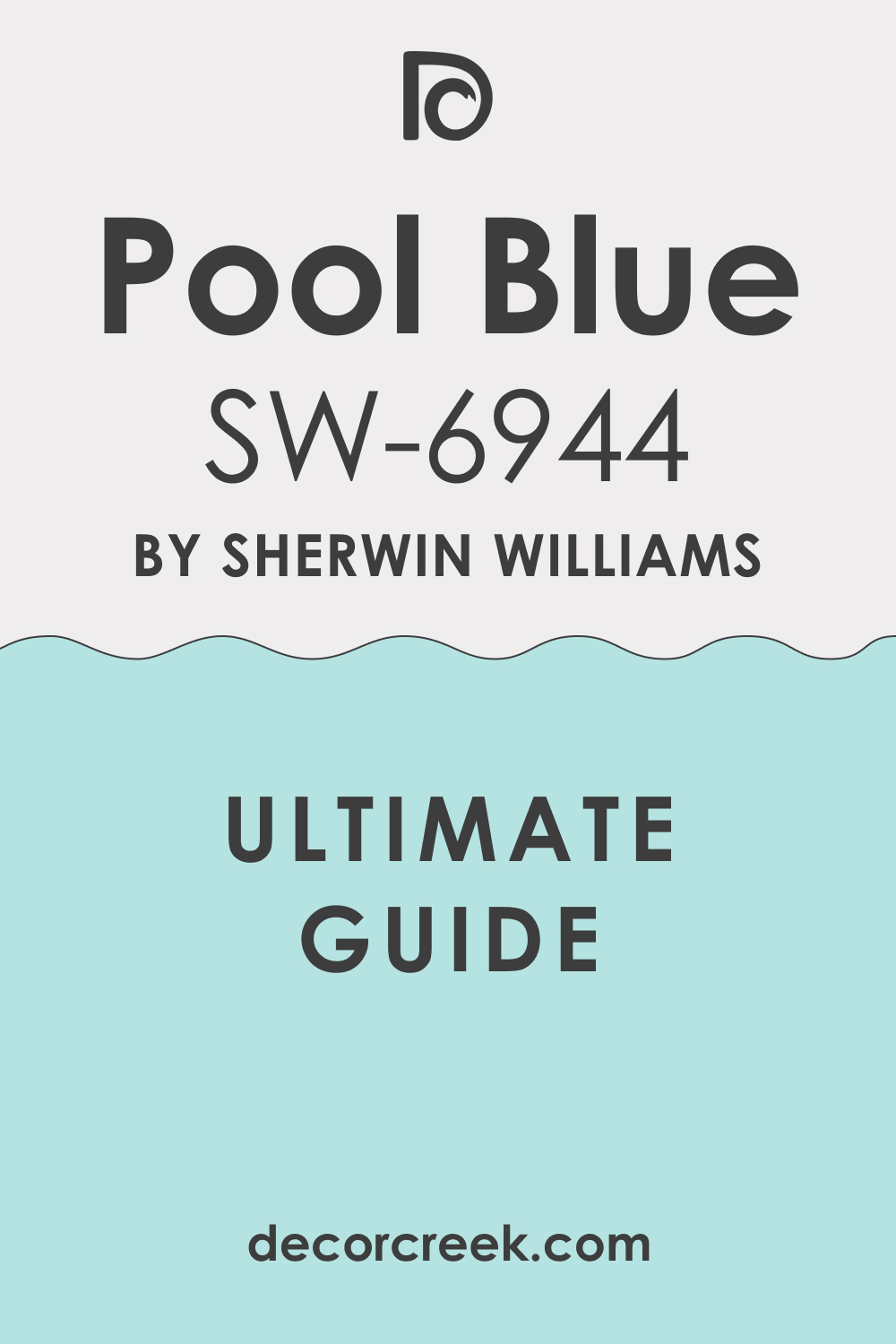 Frequently Asked Questions
⭐What kind of mood does SW 6944 Pool Blue create in a room?
SW 6944 Pool Blue can create a range of moods, from calming and tranquil to bright and energetic, depending on how it's used and the colors it's paired with. Its vibrant yet soothing nature can bring a sense of joy and relaxation, reminiscent of a peaceful pool or a bright summer sky.
⭐What are the best rooms to use SW 6944 Pool Blue in?
Pool Blue is a versatile color that can work in many rooms. It's an excellent choice for bathrooms, given its water-like quality, but can also be stunning in bedrooms or kitchens where a bright, refreshing vibe is desired. It can even work well in living areas or dining spaces when paired with the right decor and accents.
⭐What colors coordinate well with SW 6944 Pool Blue?
Pool Blue coordinates well with a variety of colors. Whites and other light neutrals can provide a crisp, clean contrast, while deeper blues can create a monochromatic theme. It can also pair well with light wood tones, warm earthy colors for a vibrant contrast, or even with some grays and silvers for a more modern look.
⭐Can I use SW 6944 Pool Blue as an exterior paint color?
Yes, SW 6944 Pool Blue can make a beautiful exterior color. It's bright and cheerful and can work well on a variety of home styles, from beach houses to modern homes. However, it's always important to consider your home's architecture, surrounding landscape, and neighborhood aesthetic when choosing exterior paint colors.
⭐How does lighting affect the appearance of SW 6944 Pool Blue?
Lighting can significantly affect how Pool Blue appears. In natural daylight, the color will look bright and vibrant. Under artificial light, depending on the type, it may appear slightly more muted. The color may also look different depending on the time of day. It's always a good idea to test a small area with different lighting conditions before painting an entire room.