In the world of colors, there's always a shade that captures our imagination, inspiring a sense of calm, warmth, and elegance. One such color is Sherwin Williams' SW 7610 Turkish Tile. This vibrant, deep hue has a sense of tradition, enveloped in the mystique of old-world charm. It is versatile, offering countless opportunities for application in different settings and styles of décor.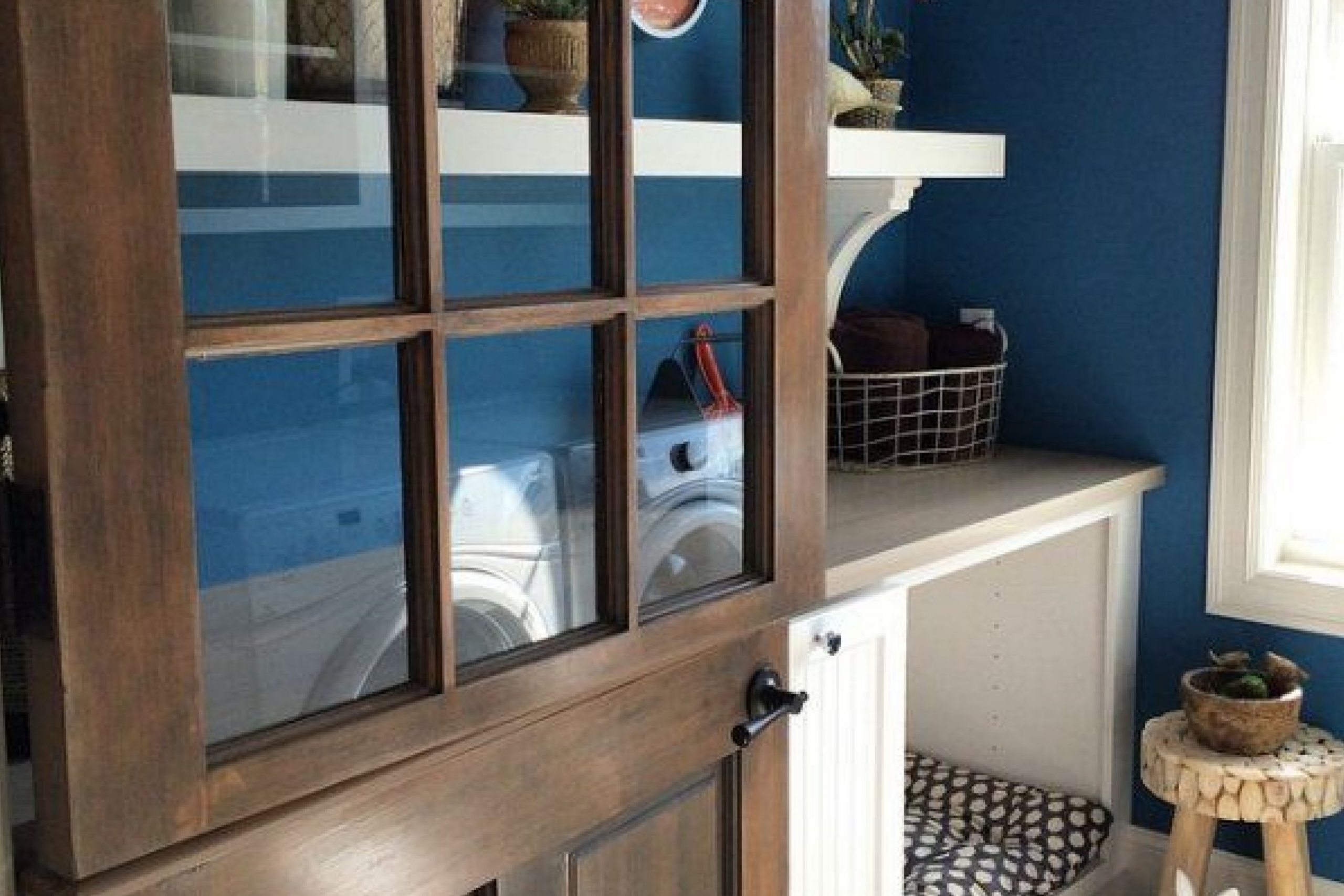 What Color Is SW 7610 Turkish Tile?
The SW 7610 Turkish Tile is a captivating blend of cobalt blue and a hint of turquoise. It's reminiscent of the alluring Mediterranean Sea and the ornate tiles that adorn the ancient Turkish baths. This blue hue balances vividness and subtlety, making it both an exciting and calming choice for any interior or exterior.
At its core, SW 7610 Turkish Tile is a medium-dark shade of cyan blue. It holds a certain richness that draws the eye, yet its intensity doesn't overpower or dominate. Instead, it adds depth and sophistication, instantly elevating the aesthetics of any space it graces.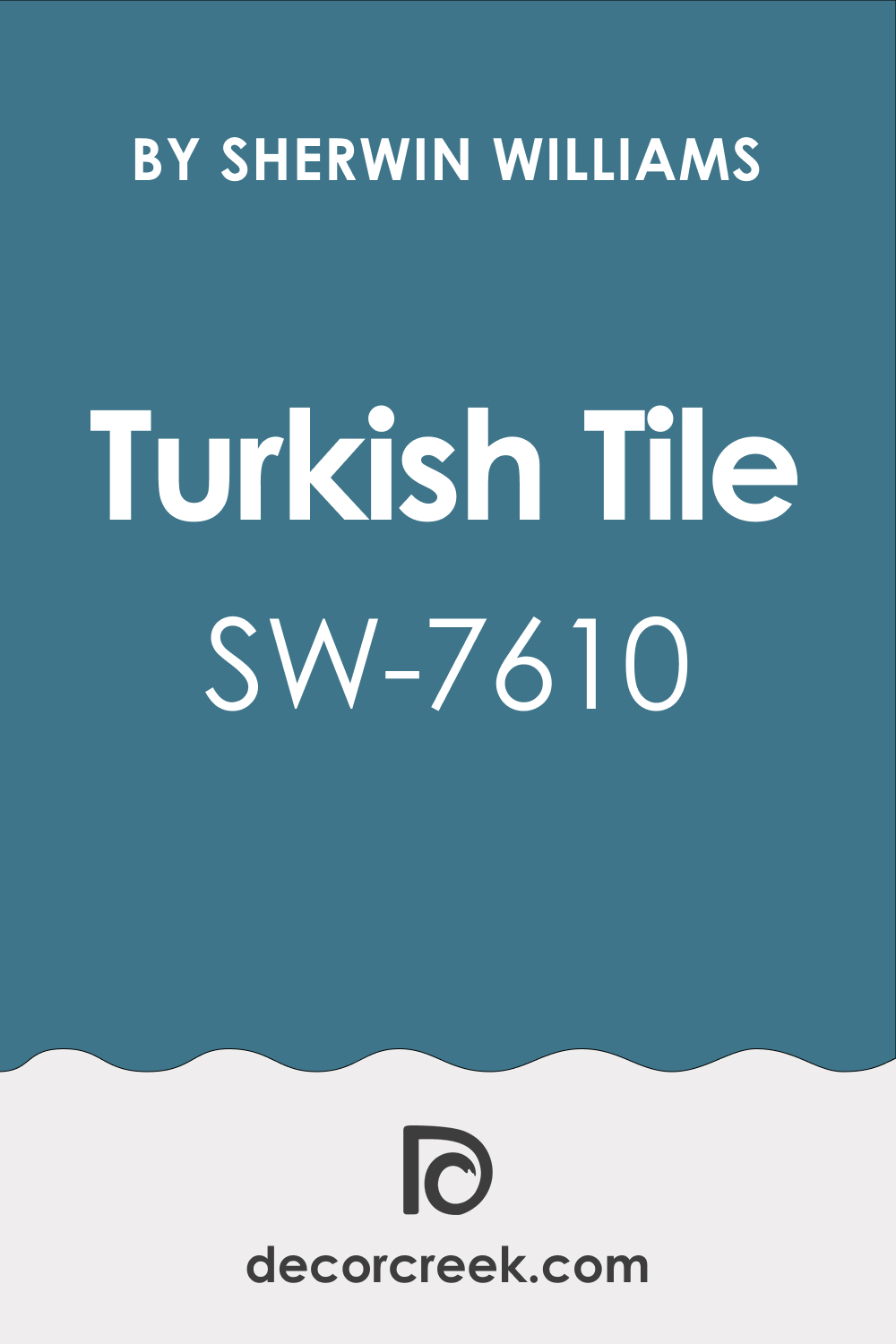 Is It a Warm Or Cool Color?
Although it might seem confusing to those new to color theory, blues can indeed be warm or cool. In the case of SW 7610 Turkish Tile, it falls under the cool color spectrum. Cool colors are known to create a calming and soothing ambiance, making them ideal for creating tranquil, serene environments.
Undertones of SW 7610 Turkish Tile
Undertones are subtle colors that lie beneath the primary color you see. They play a significant role in how the color behaves under different lighting conditions and when placed next to other hues. SW 7610 Turkish Tile has the following undertones:
Cyan: This undertone brings an aquatic feel to the SW Turkish Tile, reminding us of a seaside escape.
Azure: This deeper blue undertone adds depth to the color, making it more sophisticated.
Green: A very subtle undertone, the green gives the SW Turkish Tile a hint of warmth, balancing out its coolness.
These undertones affect the overall appearance of SW 7610 Turkish Tile, enhancing its complexity and adaptability. They can become more or less apparent depending on the lighting conditions and the colors surrounding the Turkish Tile, ultimately affecting our perception of the color.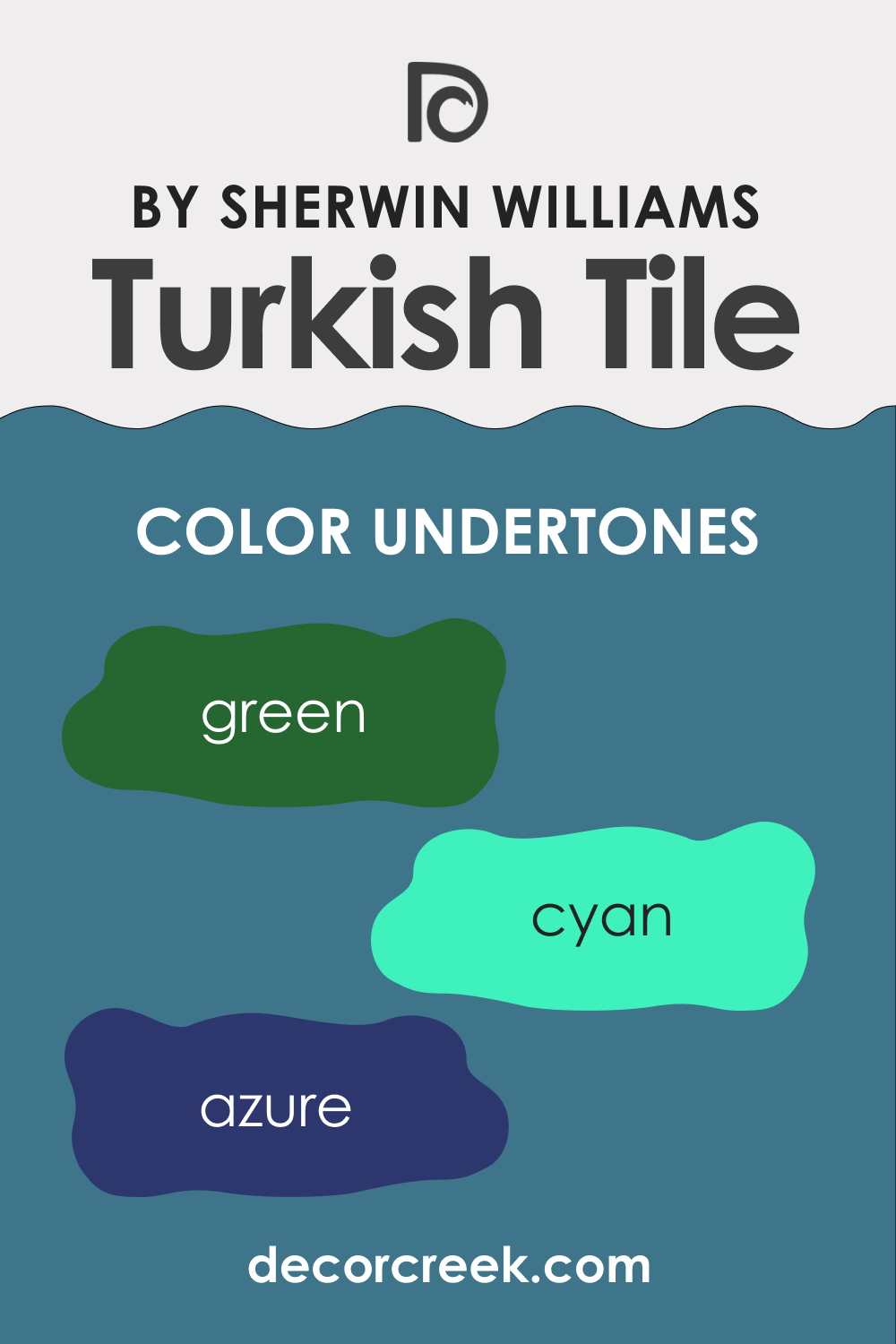 Coordinating Colors of SW 7610 Turkish Tile
Coordinating colors are hues that work harmoniously with a particular color. For SW 7610 Turkish Tile, they include:
SW 7006 Extra White: This pure, brilliant white provides a crisp contrast to Turkish Tile, accentuating its richness.
SW 9029 Cool Avocado: This muted green complements the subtle green undertones in Turkish Tile, promoting balance and tranquility.
SW 7570 Egret White: This off-white shade with warm undertones offers a softer, harmonious contrast to the Turkish Tile.
In addition, similar to the above colors, you may consider:
SW 9166 Drift of Mist: This is a soft, warm gray that would subtly highlight the coolness of Turkish Tile.
SW 6258 Tricorn Black: This strong, pure black would offer a dramatic contrast to the Turkish Tile, perfect for a striking design.
SW 7004 Snowbound: This is another white shade with a slight hint of gray, offering a gentler contrast to the Turkish Tile.
Coordinating these colors with Turkish Tile leads to a well-balanced and inviting palette, allowing for a range of moods and effects, depending on your desired outcome.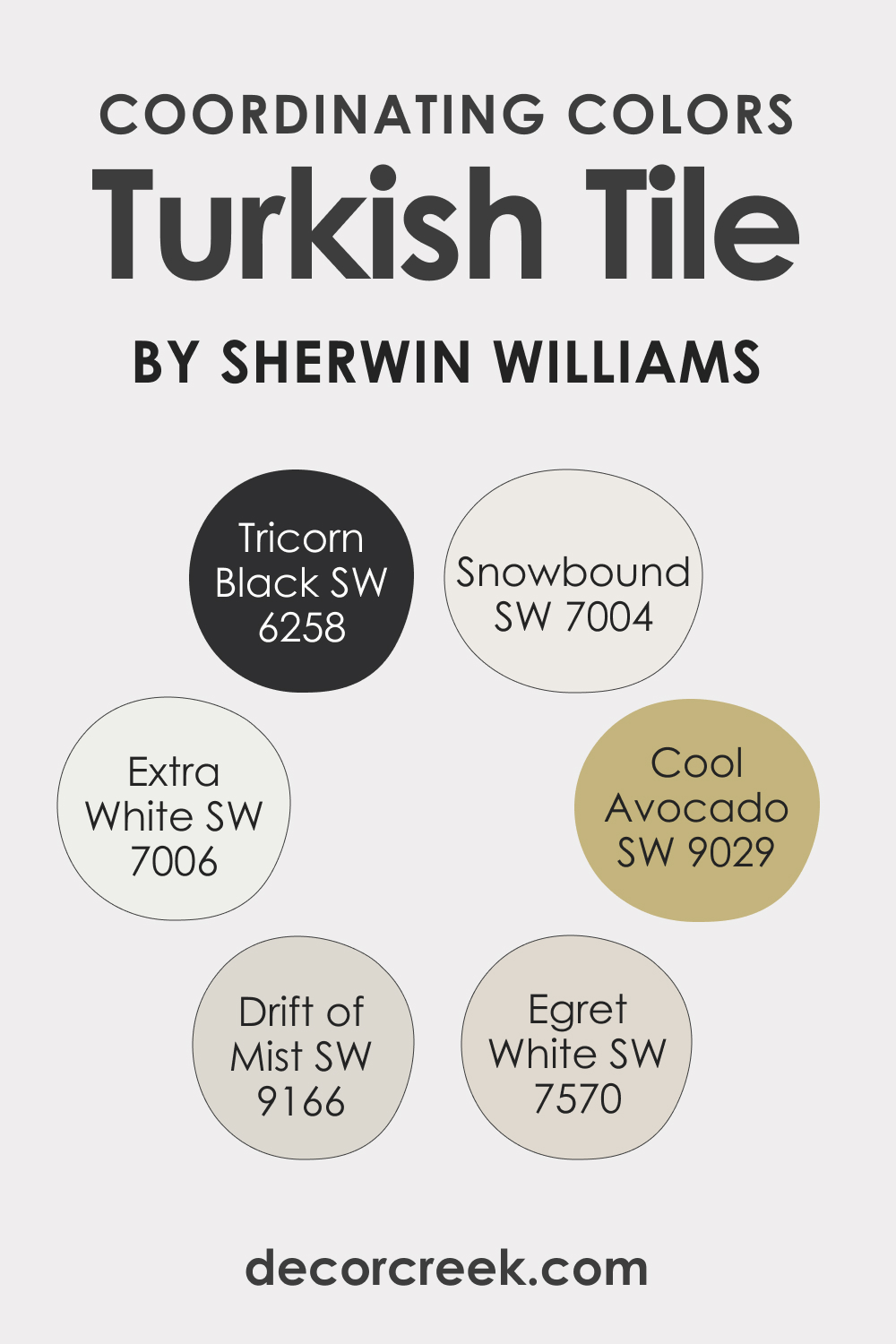 How Does Lighting Affect SW 7610 Turkish Tile?
Lighting has a profound impact on the appearance of SW 7610 Turkish Tile. In natural light, the color appears brighter, and its turquoise undertone is more apparent, giving it a vibrant, oceanic feel. As the day progresses and the light changes, the color becomes more muted, with the green and azure undertones becoming more noticeable.
Artificial lighting also plays a significant role. For instance, under warm, incandescent lighting, the color appears slightly warmer, with the green undertone becoming more dominant. Meanwhile, under cool, fluorescent light, the color's blue and cyan undertones come to the fore, making the color seem cooler.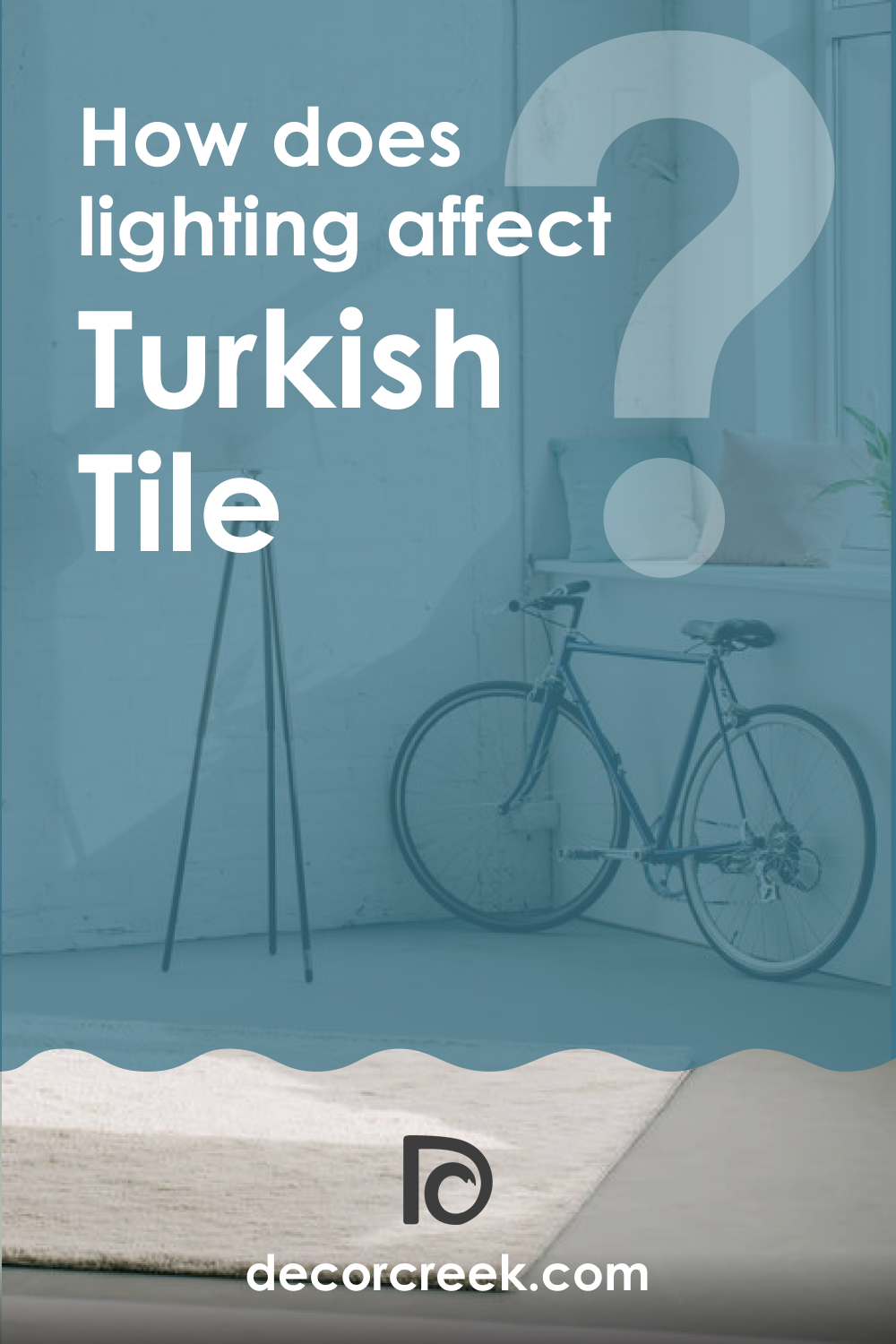 LRV of SW 7610 Turkish Tile
LRV, or Light Reflectance Value, measures how much light a color reflects. The LRV of SW 7610 Turkish Tile is 16, which means it's on the lower end of the scale, reflecting only a small amount of light. This low LRV makes Turkish Tile a deeply saturated color.
Colors with low LRVs are perceived as being rich and intense. They absorb more light than they reflect, giving them depth and feeling closer to the observer. This characteristic of SW 7610 Turkish Tile adds to its sophistication and allure, making it an ideal choice for creating cozy, intimate spaces.
However, due to the low LRV, it's essential to balance SW Turkish Tile with lighter colors to prevent it from overpowering the room or making the space seem too small or dark. Lighter colors, particularly those with higher LRVs, will reflect more light and provide a pleasing contrast to the richness of SW Turkish Tile.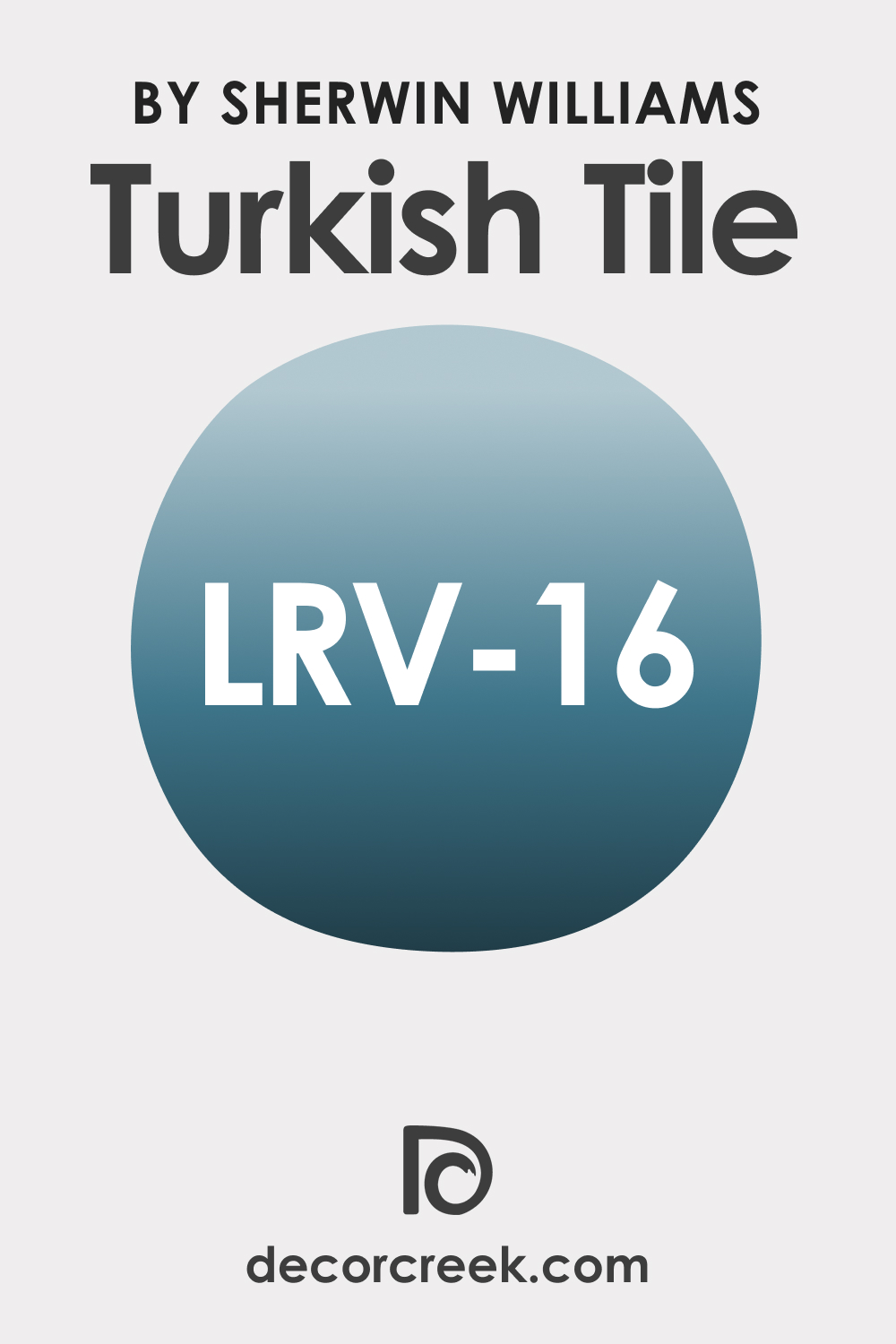 LRV – what does it mean? Read This Before Finding Your Perfect Paint Color
Trim Colors of SW 7610 Turkish Tile
Trim colors are used on the borders of walls, around windows, doors, and baseboards. They can dramatically alter the perception of the main wall color. For SW 7610 Turkish Tile, consider the following Sherwin-Williams white shades:
SW 7006 Extra White: This pure white will provide a sharp contrast, emphasizing the richness of SW Turkish Tile.
SW 7570 Egret White: This warm, creamy white offers a softer contrast, adding warmth to the room.
SW 7004 Snowbound: A slightly grayish white, it provides a subtle contrast that blends well with SW Turkish Tile.
These whites will help highlight the SW Turkish Tile while keeping the space light and airy.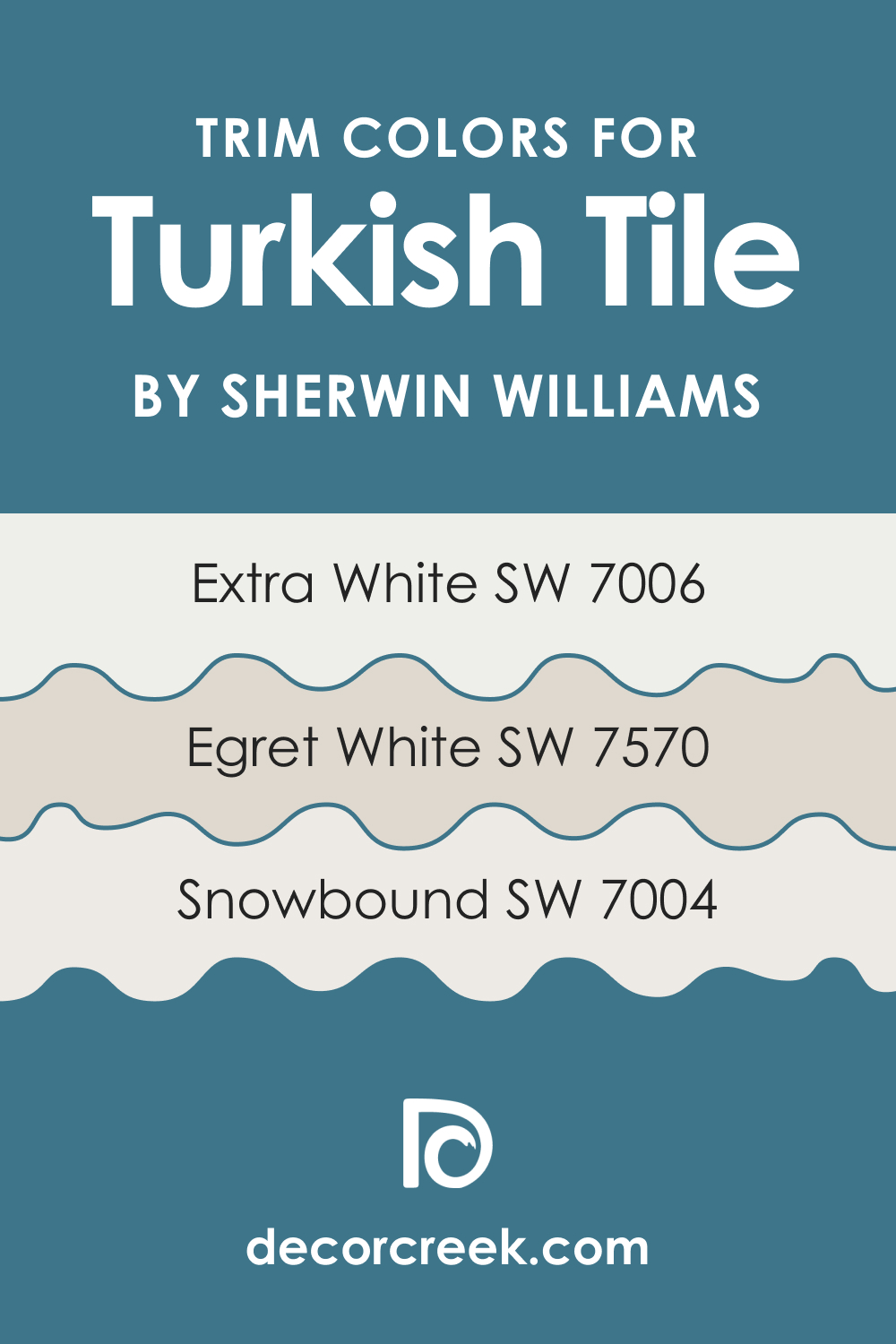 Colors Similar to SW 7610 Turkish Tile
Identifying colors similar to SW Turkish Tile can provide alternatives if you love the general feel of the color but want something slightly different. For instance, you might want a slightly lighter, darker, warmer, or cooler color. Similar colors also help when you're trying to create a monochromatic color scheme, where varying shades, tones, and tints of a single color are used. Below, you can check out several similar hues:
SW 6509 Georgian Bay
SW 6496 Oceanside
SW 6790 Adriatic Sea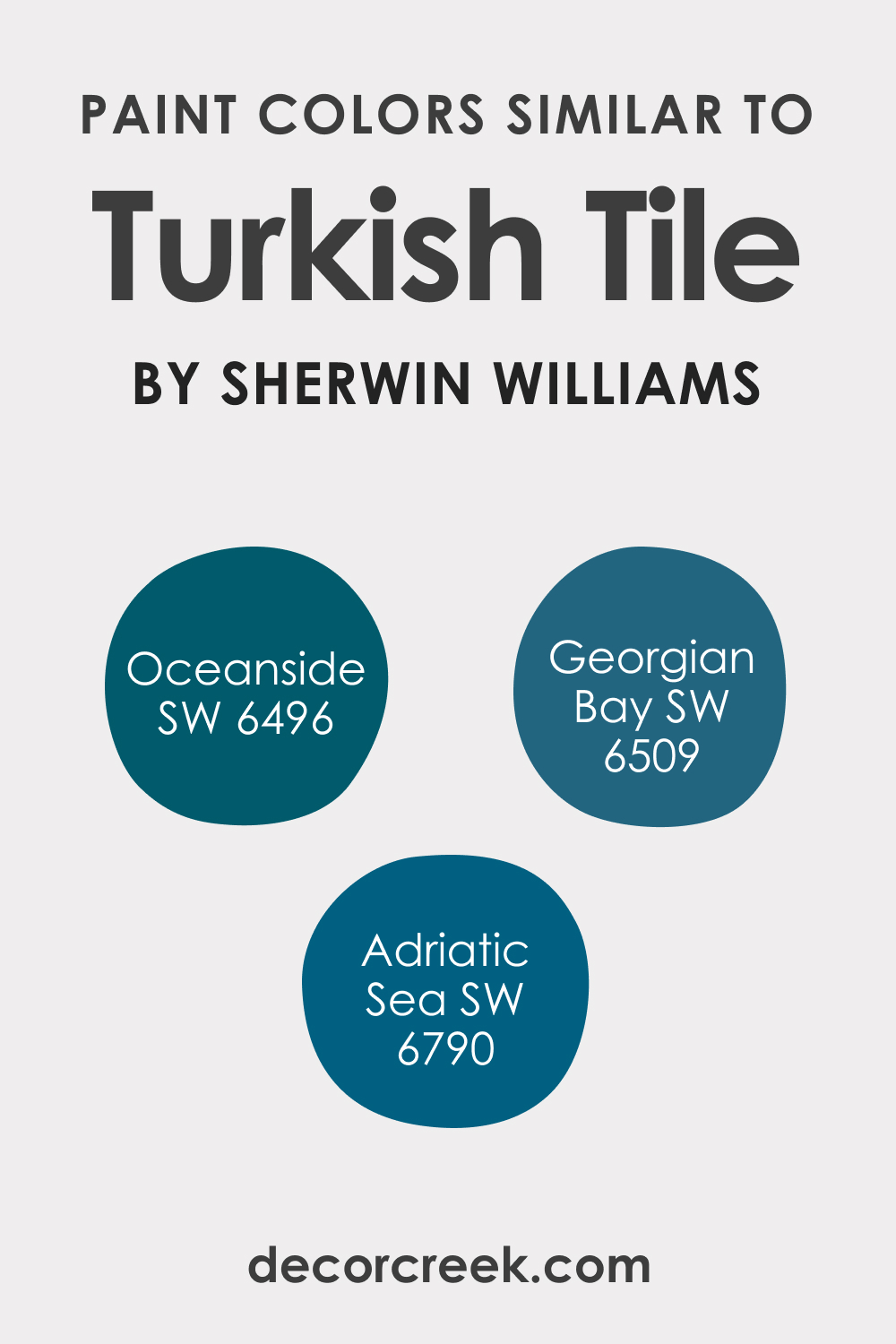 Colors That Go With SW 7610 Turkish Tile
Knowing which colors go well with SW Turkish Tile is essential for creating a harmonious color palette. Some colors that complement Turkish Tile are:
SW 6210 Window Pane: This soft, muted blue provides a soothing counterpoint to Turkish Tile.
SW 7036 Accessible Beige: This neutral shade harmonizes well with Turkish Tile, offering a warm balance to its coolness.
SW 6071 Popular Gray: This warm gray contrasts subtly with Turkish Tile, adding sophistication.
SW 7749 Laurel Woods: This deep, muted green brings out the green undertones in Turkish Tile.
SW 6044 Doeskin: This rich, warm neutral adds depth and warmth when paired with Turkish Tile.
SW 9138 Stardew: This light, airy blue offers a refreshing contrast to the deep SW Turkish Tile.
Using colors complementing each other in the same space contributes to a balanced and visually appealing aesthetic. They create harmony and unity, making the space feel cohesive and thoughtfully designed.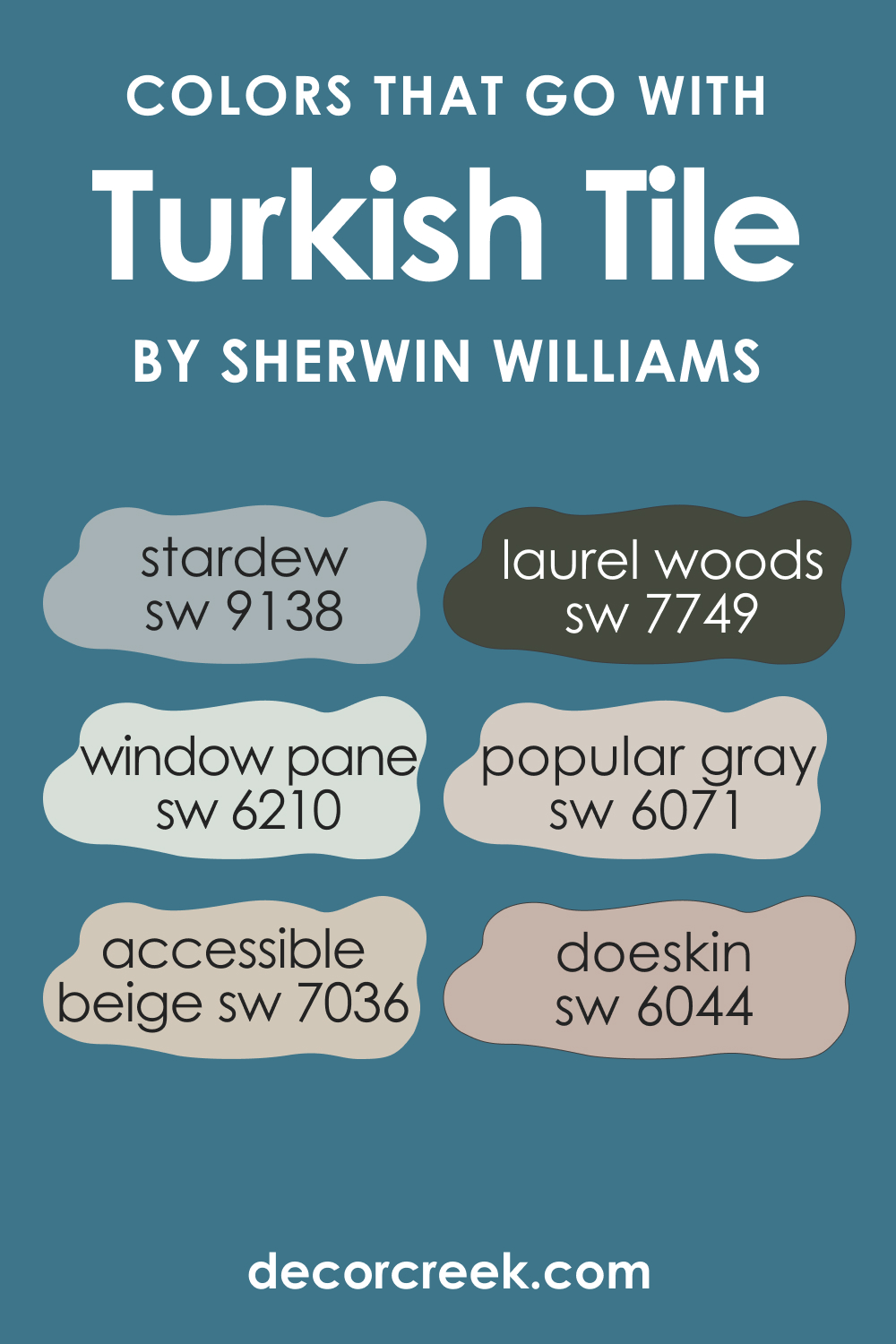 How to Use SW 7610 Turkish Tile In Your Home?
SW 7610 Turkish Tile is a versatile color that can be used in various rooms and fits a variety of interior design styles. Whether your aesthetic leans towards traditional, modern, boho, coastal, or even eclectic, SW Turkish Tile can add depth and interest to your space.
In traditional settings, SW Turkish Tile can be used to emulate the feel of historic homes and European design. For modern and minimalistic styles, the color can provide a pop of saturated hue against neutral backdrops.
The color's association with the sea makes it ideal for coastal and beach-inspired themes. In boho and eclectic styles, SW Turkish Tile can serve as a grounding color that ties together a mix of vibrant patterns and colors.
How to Use SW 7610 Turkish Tile in the Bedroom?
In the bedroom, SW 7610 Turkish Tile can create a serene, tranquil atmosphere. Painting the entire room in Turkish Tile might be too overwhelming, but using it on a feature wall behind the bed can create an inviting focal point. Pair it with white linens and soft, warm neutrals to ensure the room feels airy and spacious.
Alternatively, you could use SW Turkish Tile in your accessories like throw pillows, rugs, and curtains. These pops of color against a more neutral backdrop can add depth and interest to your bedroom without overwhelming the space.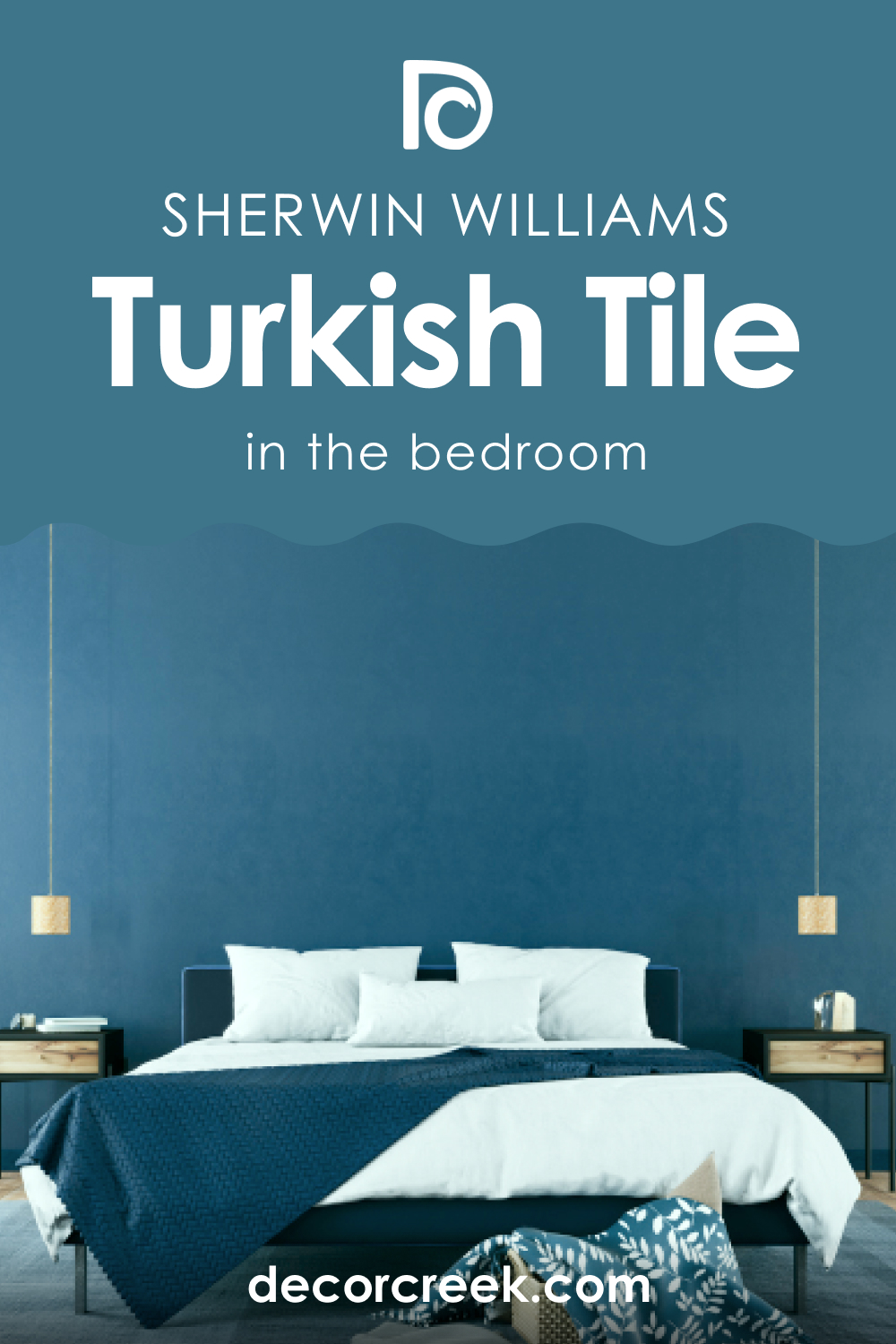 How to Use SW 7610 Turkish Tile in the Bathroom?
In the bathroom, SW 7610 Turkish Tile can evoke a luxurious, spa-like feel. Using SW Turkish Tile on the walls can create a soothing atmosphere, perfect for unwinding after a long day. Pair it with white fixtures and accents for a clean, fresh look.
For a more subtle approach, consider using Turkish Tile for your bathroom vanity or cabinets. This dash of color can add character to a white or neutral bathroom, giving it a unique personality.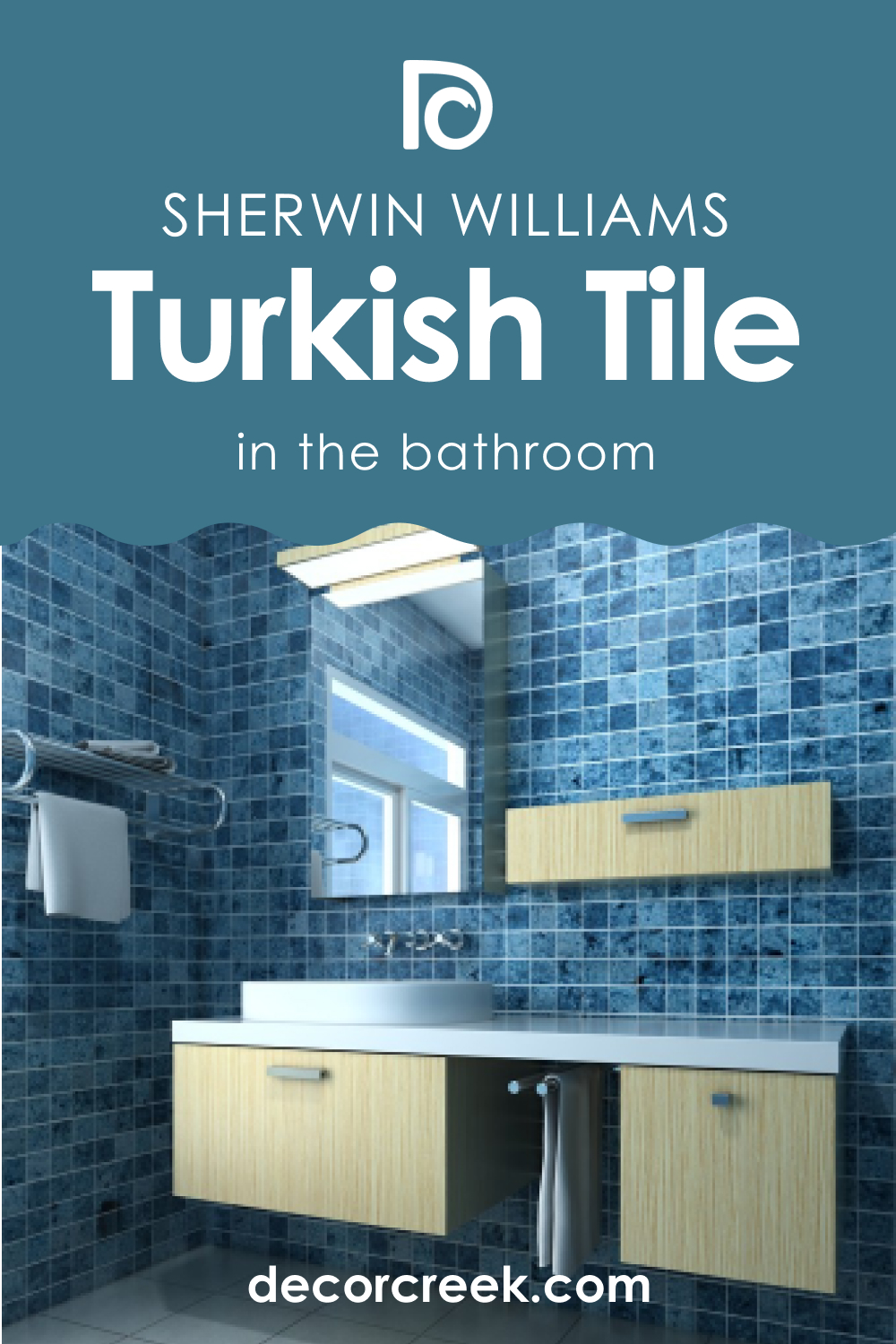 How to Use SW 7610 Turkish Tile in the Living Room?
In the living room, SW 7610 Turkish Tile can create a cozy, inviting atmosphere. Use it on an accent wall to add depth and visual interest. Pair it with warm neutrals for a balanced look, and add pops of complementary colors like muted greens and warm grays in your accessories.
For a modern, eclectic feel, try pairing Turkish Tile with bold, contrasting colors like yellows or oranges. Just remember to balance these strong colors with plenty of neutrals to prevent the space from feeling too busy or chaotic.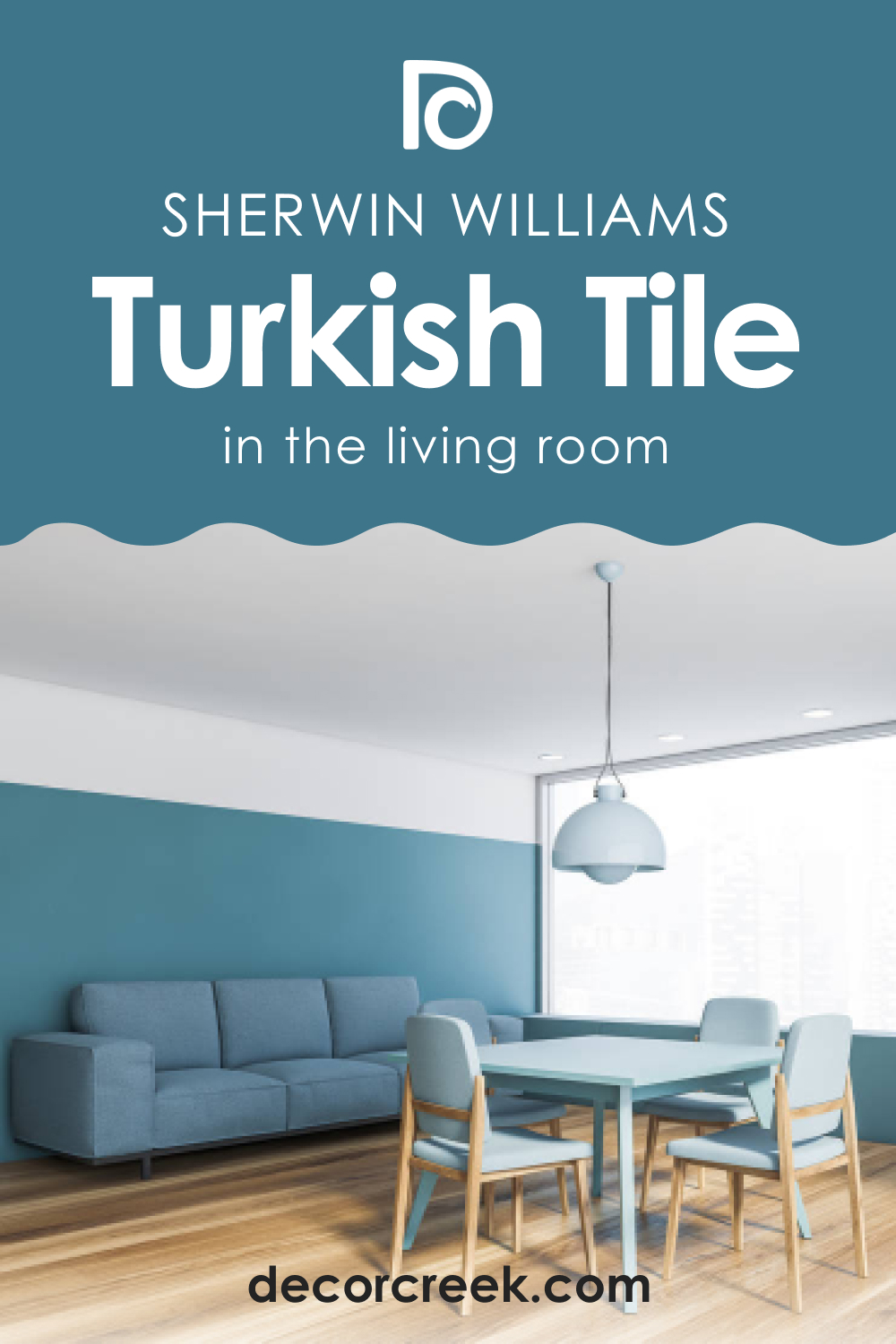 How to Use SW 7610 Turkish Tile for an Exterior?
Exteriors painted with SW 7610 Turkish Tile make a stunning statement. The deep, rich color stands out beautifully against natural landscapes, especially when complemented with white trim. It's a particularly excellent choice for Mediterranean or coastal-style homes.
However, since SW Turkish Tile is a bold color, you might want to consider using it on smaller exterior elements like the front door, shutters, or trim for a less dramatic effect. This allows you to incorporate the color without it overwhelming the exterior of your home.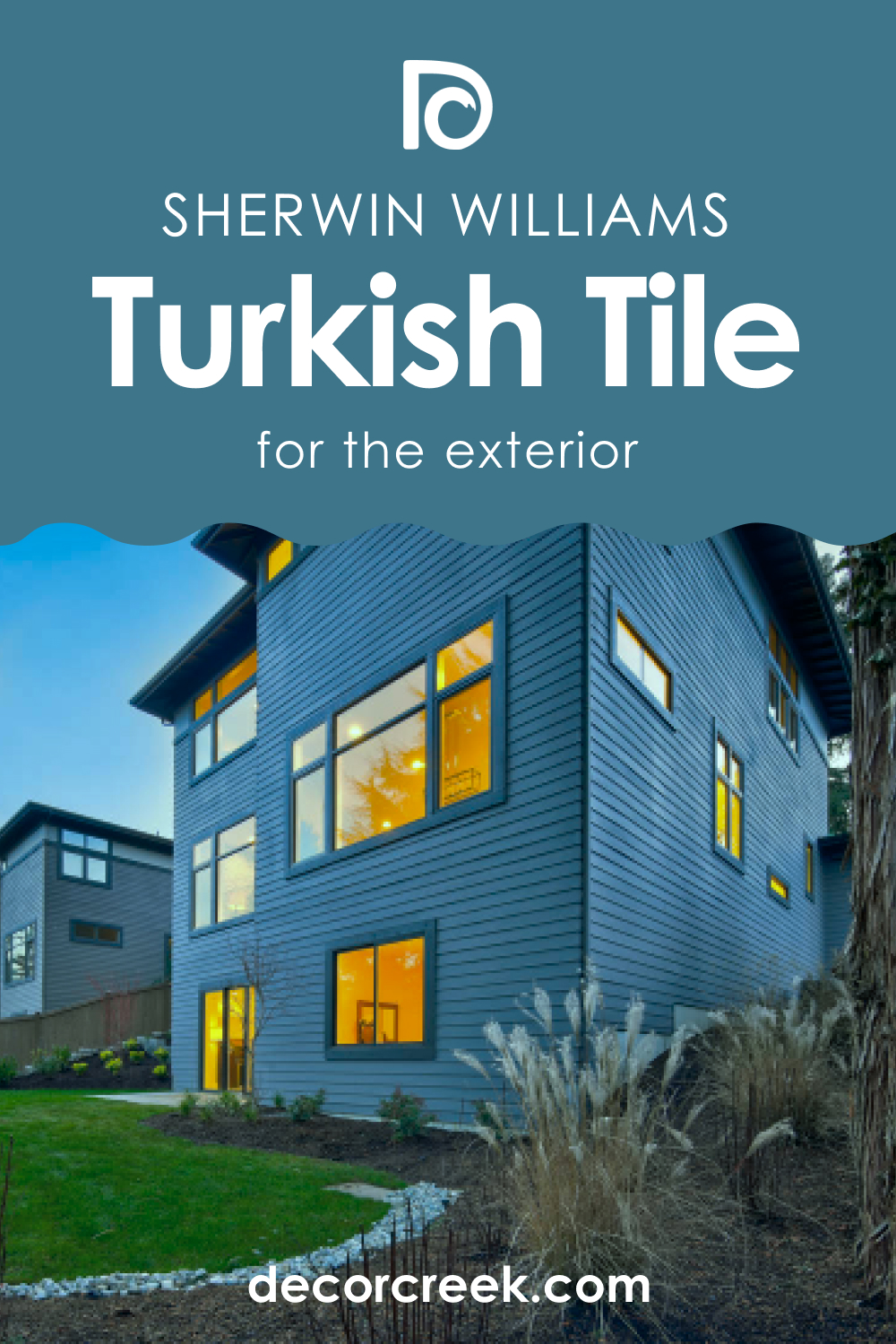 How to Use SW 7610 Turkish Tile for the Kitchen?
The kitchen offers many opportunities for incorporating SW 7610 Turkish Tile. One popular option is to use it on the lower cabinets or island, paired with white or light-colored upper cabinets. This creates a vibrant yet balanced look.
Alternatively, consider using SW Turkish Tile as a backsplash. Whether in tile form or painted directly onto the wall, a Turkish Tile backsplash can be a stunning focal point in a white or neutral kitchen.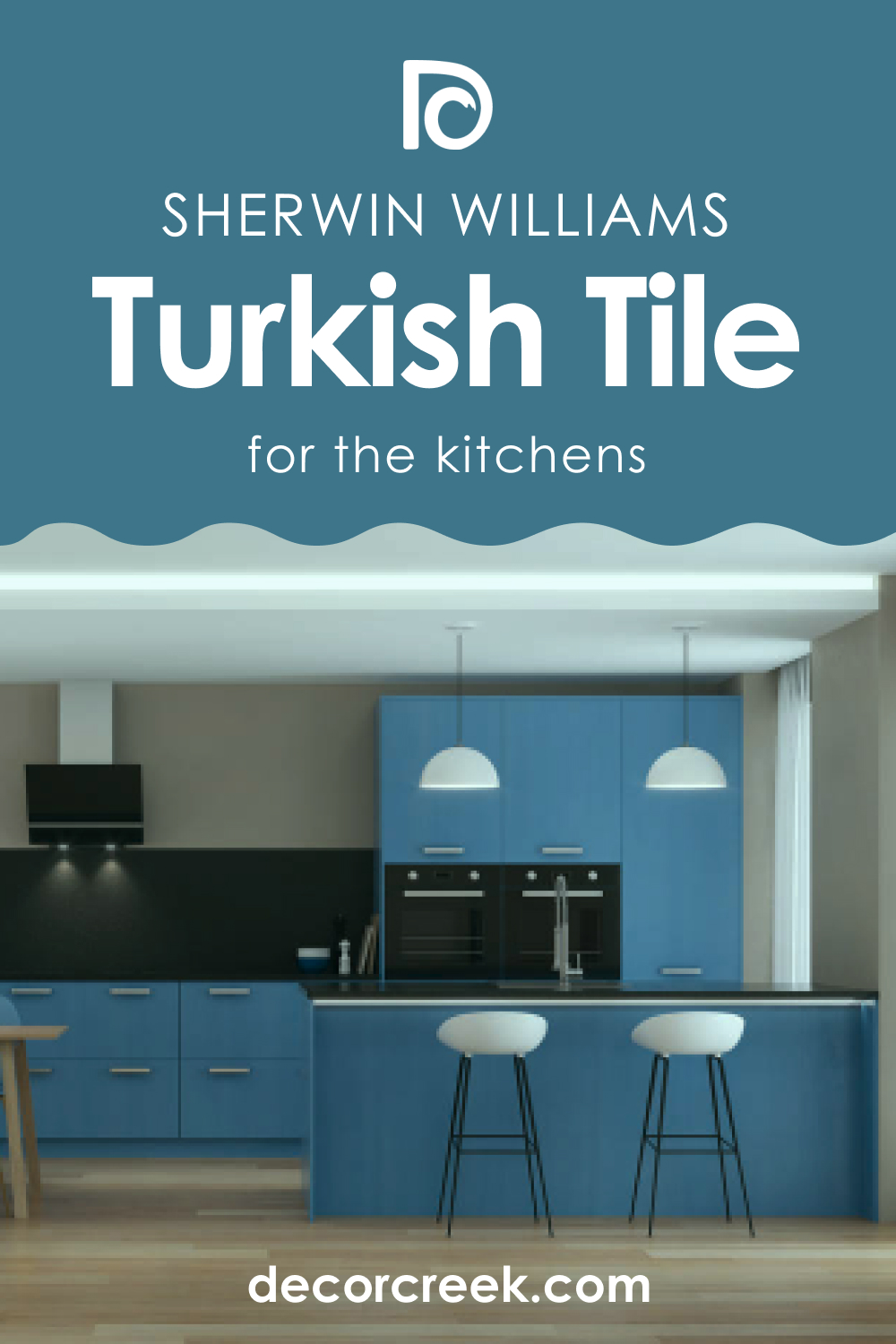 How to Use SW 7610 Turkish Tile for the Kitchen Cabinets?
Using SW 7610 Turkish Tile on kitchen cabinets can completely transform the look and feel of the kitchen. For a bold, dramatic look, paint all your cabinets in SW Turkish Tile. This works particularly well in larger kitchens, where the strong color won't overwhelm the space.
In smaller kitchens, consider using SW Turkish Tile on the lower cabinets only, paired with light upper cabinets or open shelving. This provides a pop of color without making the kitchen feel smaller or darker.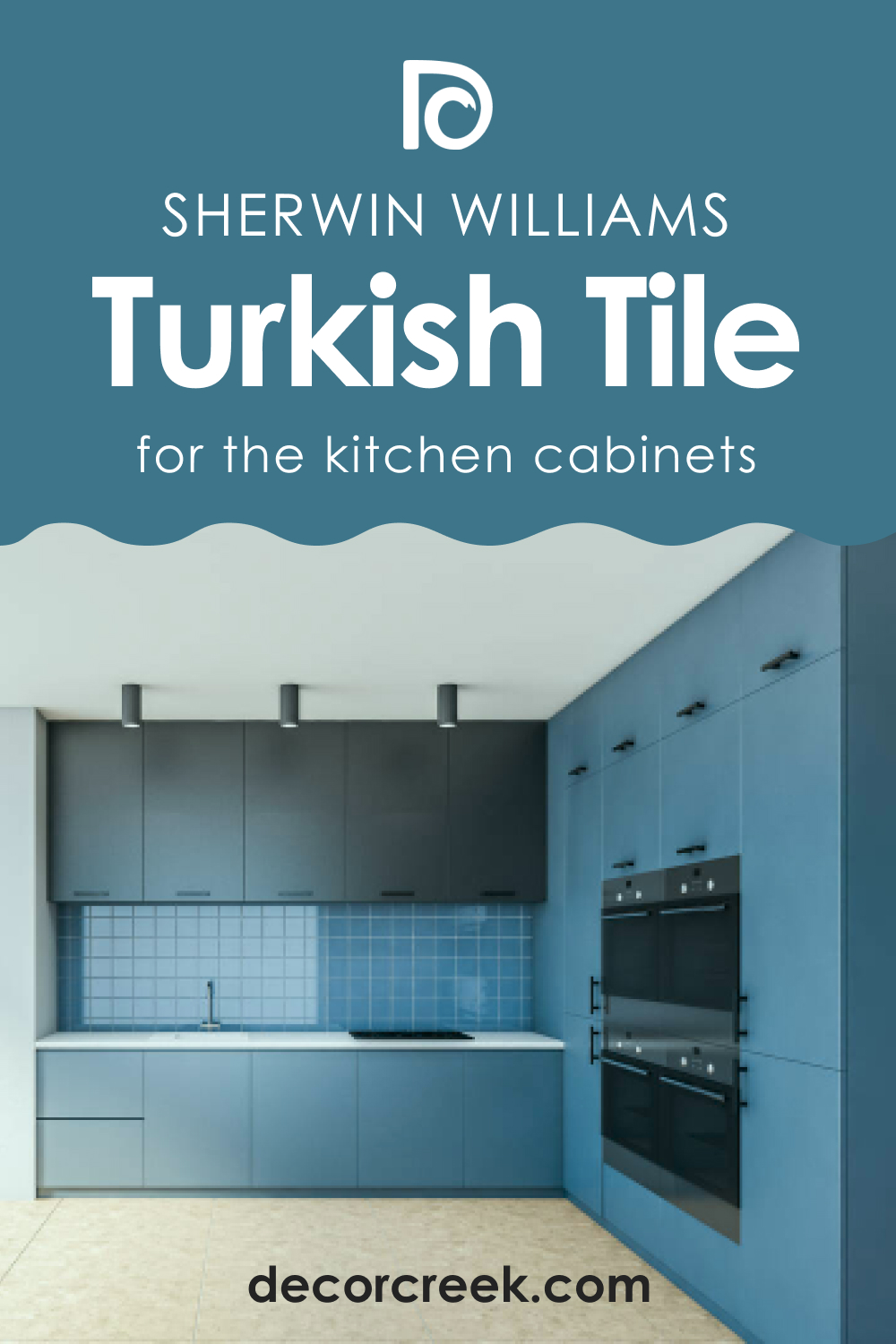 Comparing SW 7610 Turkish Tile With Other Colors
When compared with other colors, SW 7610 Turkish Tile stands out for its unique blend of sophistication and tranquility. Unlike lighter blues that can sometimes feel too icy or darker blues that can feel too heavy, SW Turkish Tile strikes a balance, making it versatile and universally appealing.
Its blend of blue, green, and azure undertones sets it apart from pure blues or greens, adding complexity and depth to the color. Compared to more vibrant, saturated colors, SW Turkish Tile feels calm and grounded, yet it's more exciting and engaging than pure neutrals. Below, you can see how this color reads compared to other hues.
SW 7610 Turkish Tile vs SW 6244 Naval
SW Naval is a rich, pure navy blue, offering a deep, oceanic feel that's slightly more traditional than SW Turkish Tile. Compared to SW Turkish Tile's balanced blend of cyan-blue and subtle green undertones, SW Naval is a deeper, more intense blue. It lacks the touch of warmth SW Turkish Tile possesses, which makes it feel more formal and majestic, whereas SW Turkish Tile feels more relaxing and inviting.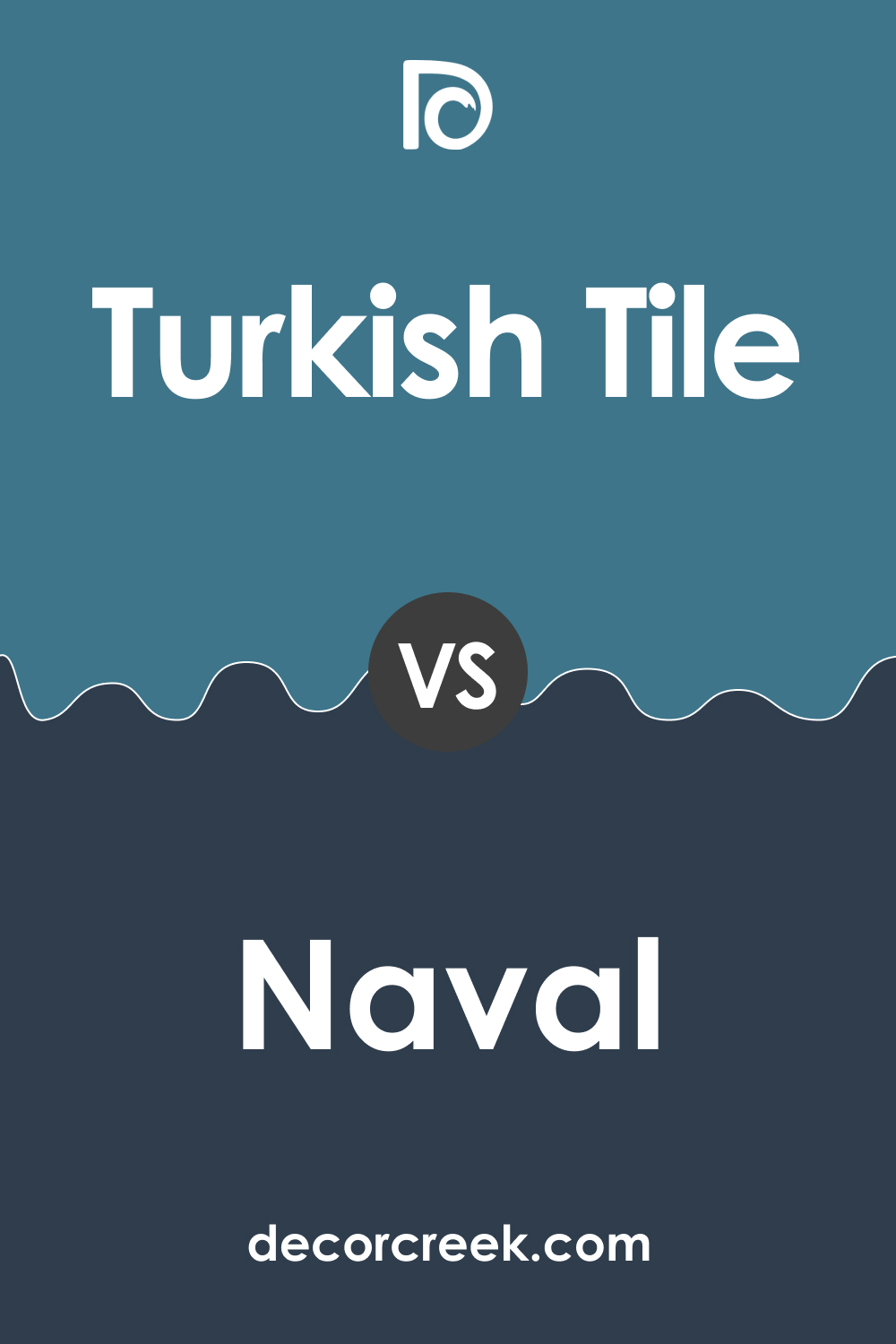 SW 7610 Turkish Tile vs SW 6785 Quench Blue
SW Quench Blue is a lighter, more vibrant shade of blue. It's brighter and less muted than SW Turkish Tile, evoking a sense of energy and cheerfulness. While SW Turkish Tile offers a sense of depth and calm with its medium-dark cyan-blue and green undertones, Quench Blue feels more open and lively, making it an excellent choice for spaces where you want to evoke an upbeat, joyful mood.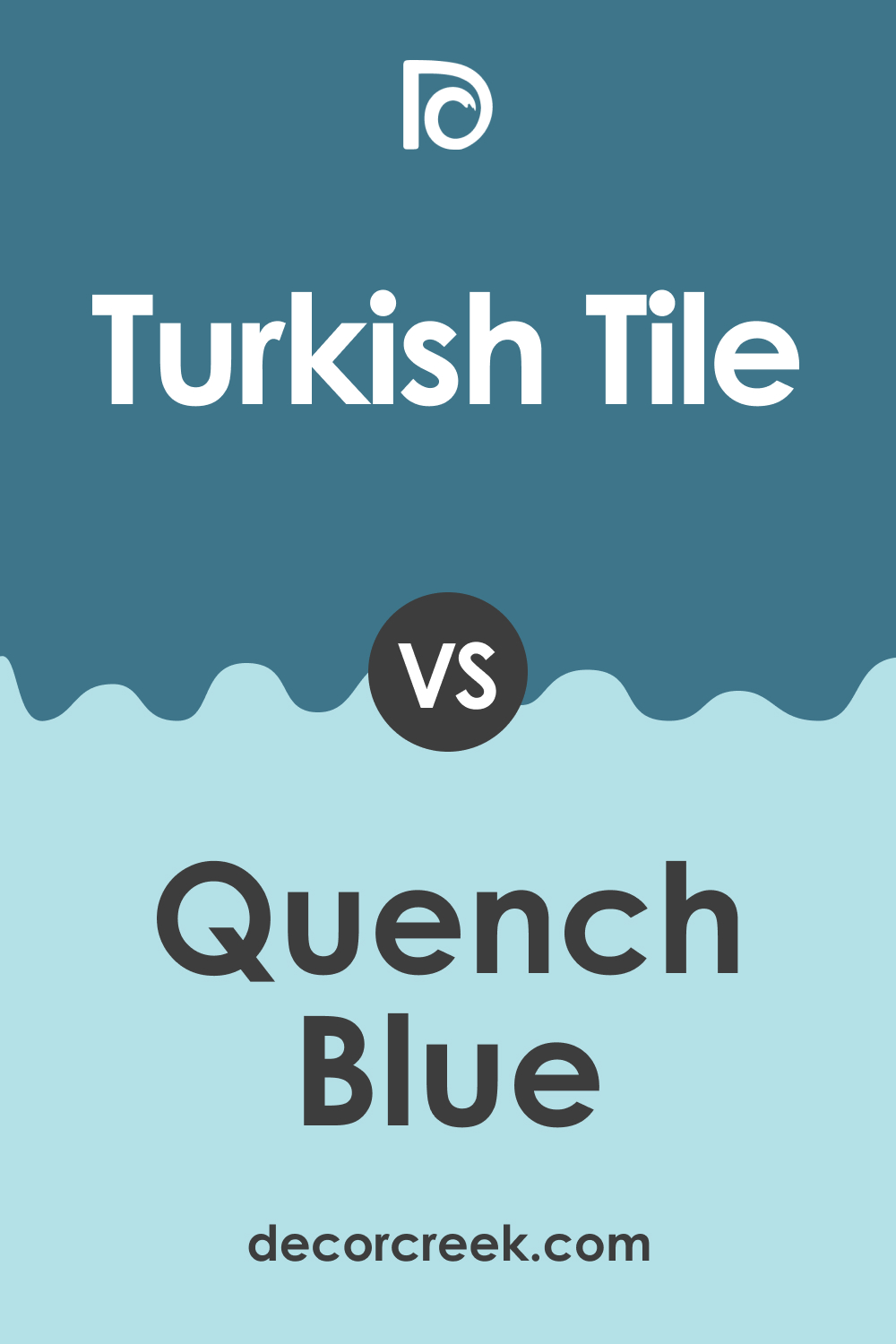 SW 7610 Turkish Tile vs SW 6486 Reflecting Pool
SW Reflecting Pool is a medium-light shade of cyan-blue, closer to turquoise than Turkish Tile. While both have green undertones, SW Reflecting Pool is significantly lighter and brighter, with a more noticeable green cast. It's the color of a tropical sea, evoking a refreshing, breezy feel compared to the more grounded, cozy ambiance Turkish Tile creates.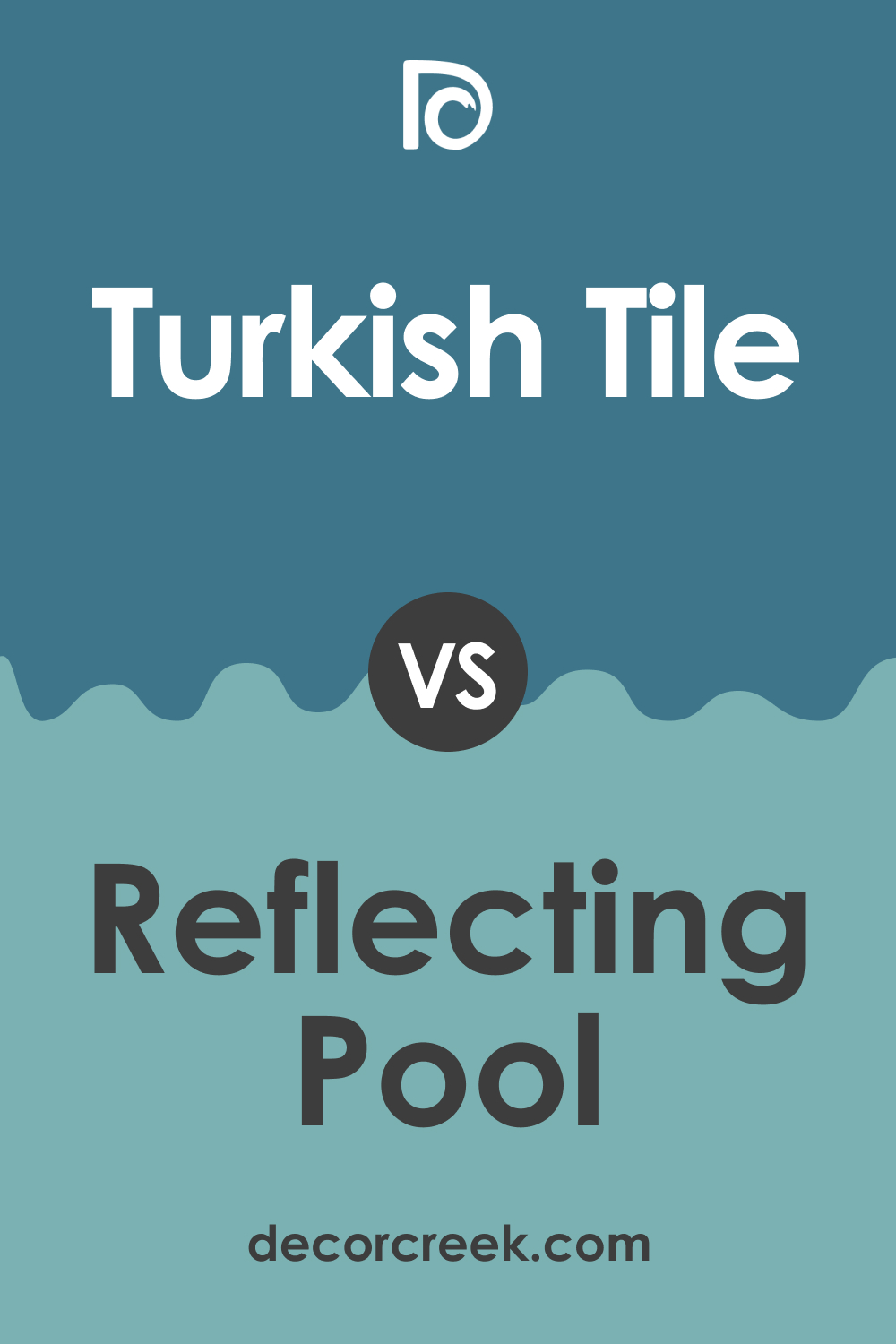 SW 7610 Turkish Tile vs SW 6204 Sea Salt
SW Sea Salt is a light, muted shade with gray and green undertones. It's a significantly lighter color than SW Turkish Tile, providing a more airy, open feel. While both colors carry green undertones, SW Sea Salt is far more subtle, offering a quiet, tranquil atmosphere in contrast to Turkish Tile's vibrant and energetic vibe.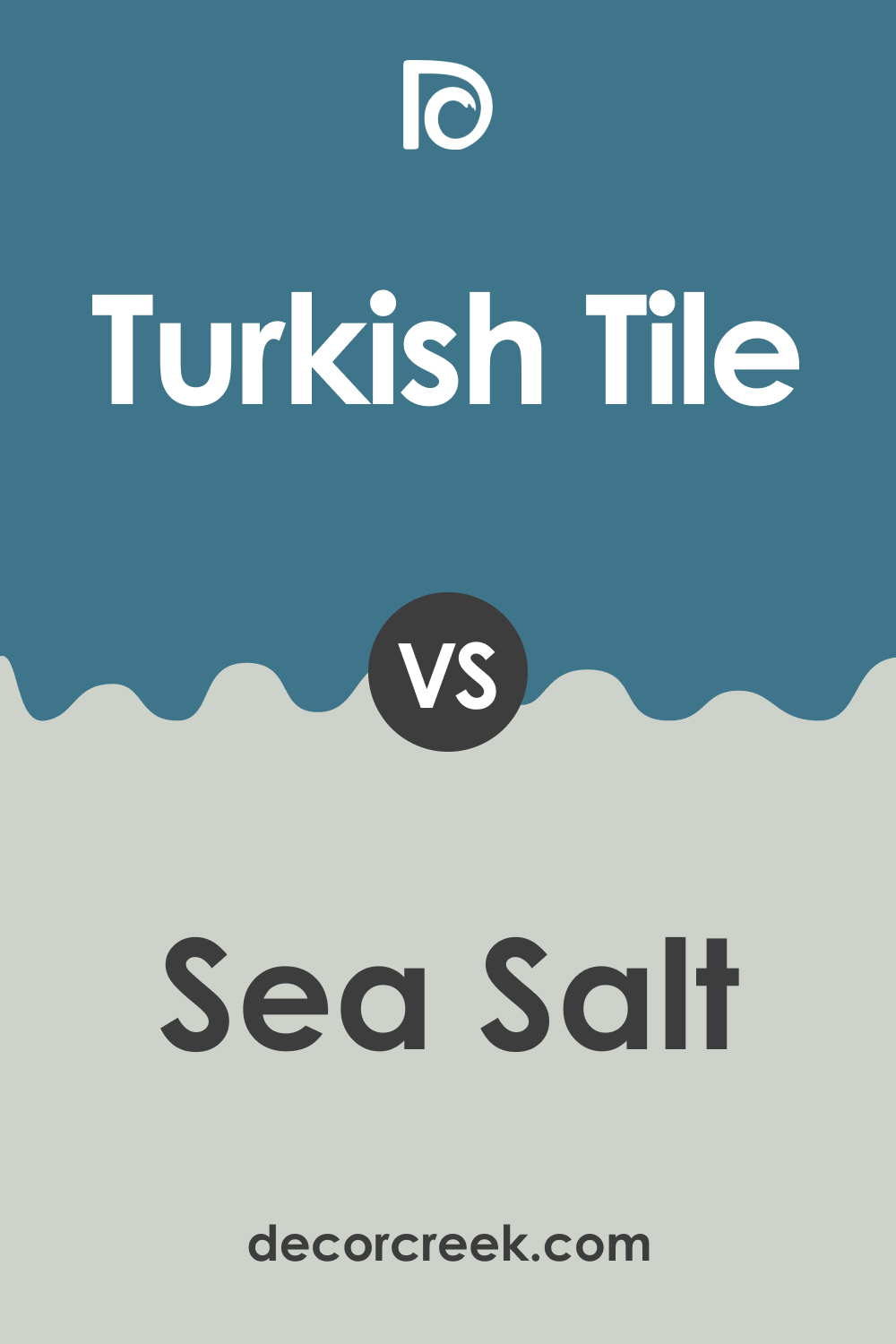 SW 7610 Turkish Tile vs SW 6533 Mild Blue
SW Mild Blue is a light to medium light shade of cyan blue. It's softer and lighter than SW Turkish Tile, with less intensity and depth. While both have an inherent calming effect, Mild Blue's subtlety makes it a good choice for those seeking a tranquil, peaceful ambiance, whereas SW Turkish Tile's richness adds drama and excitement.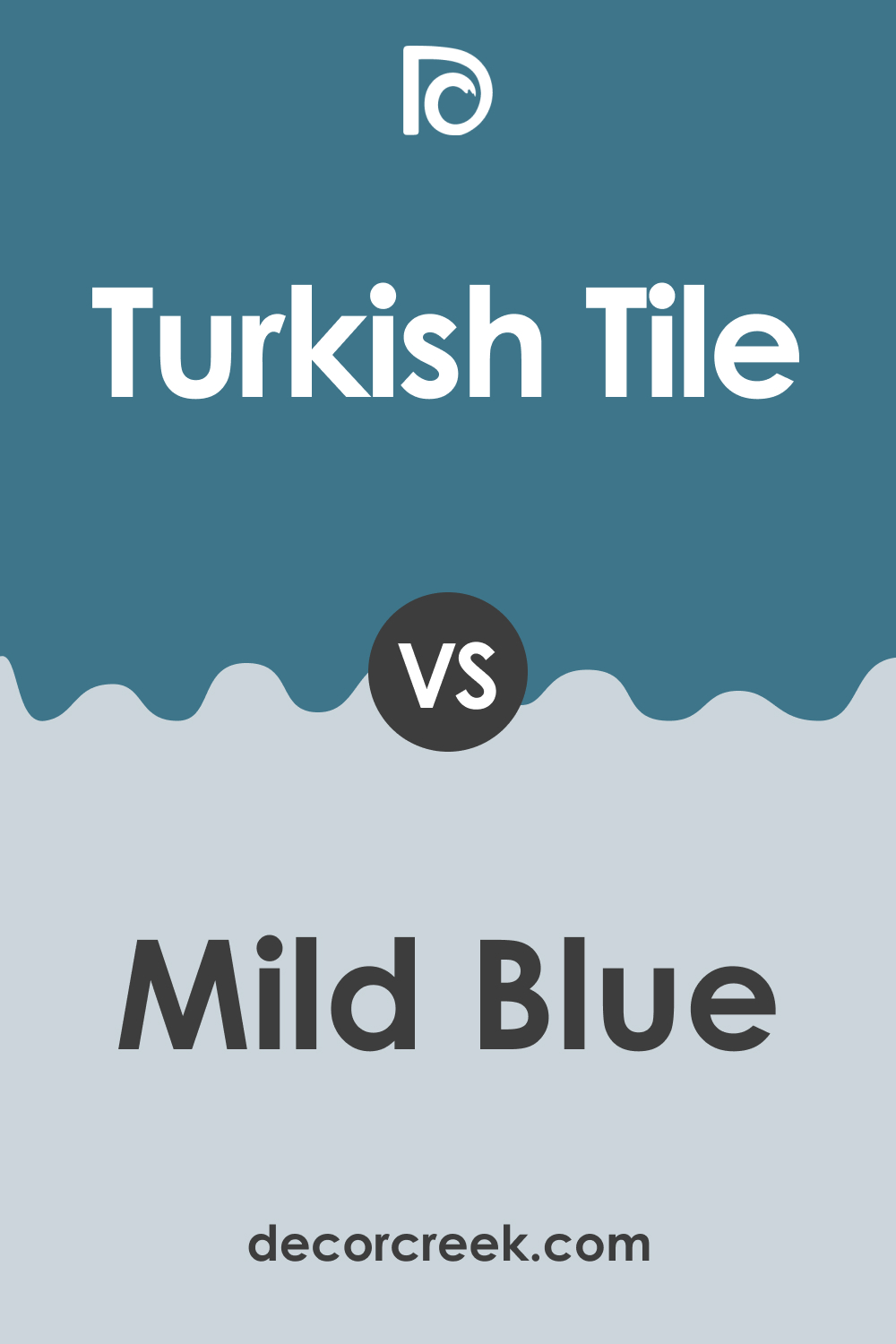 Conclusion
SW 7610 Turkish Tile is a rich, complex color that can add depth, sophistication, and a touch of tranquility to any space. Whether used as a main wall color, on cabinets, or as an accent, SW Turkish Tile creates a stunning visual impact.
Its versatility allows it to work beautifully in various settings and with various design styles. By understanding its undertones, LRV, and how it interacts with other colors, you can harness the full potential of this captivating hue in your home.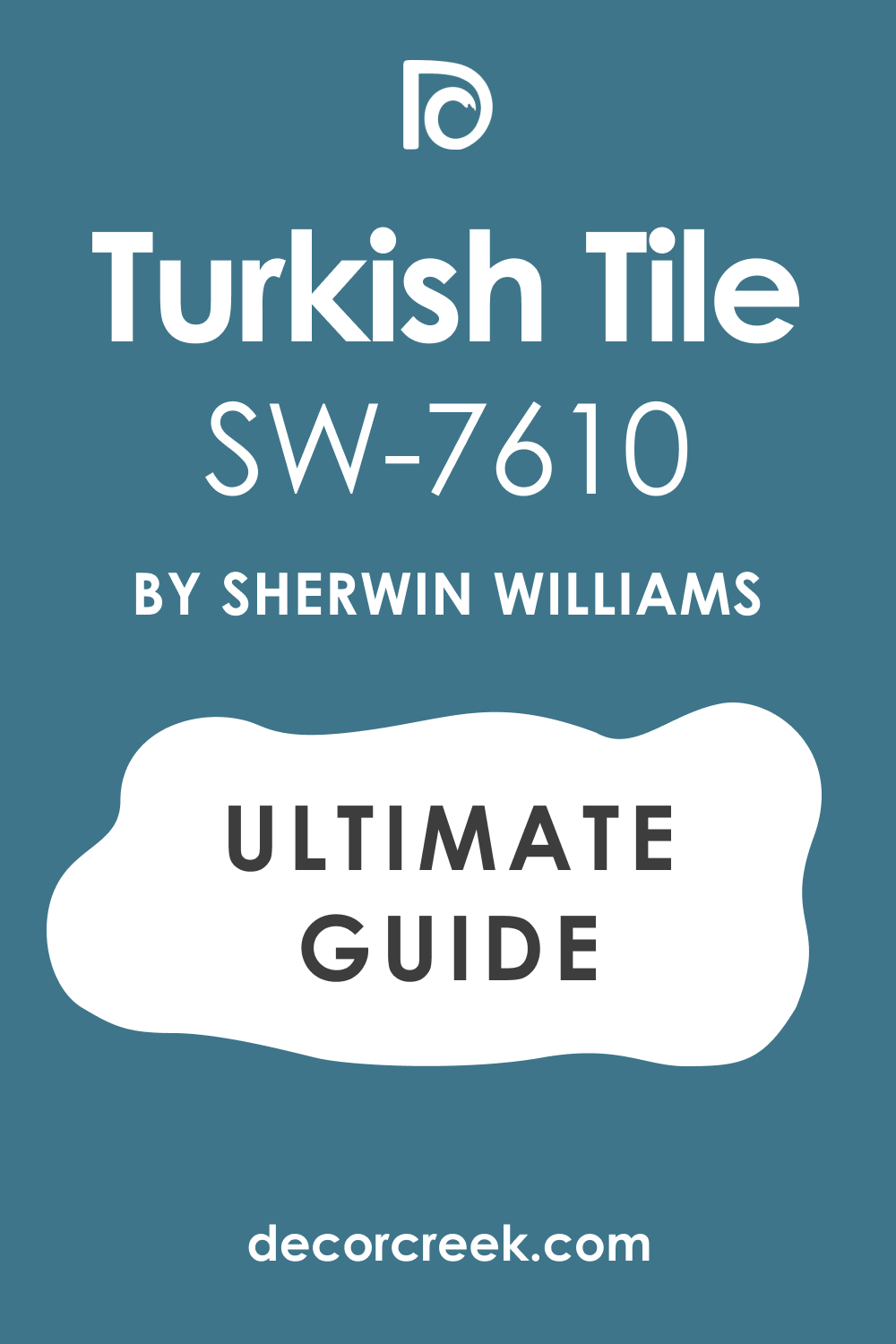 Frequently Asked Questions
⭐What type of room is SW 7619 Labradorite best suited for?
Labradorite is a versatile paint color that can suit a variety of rooms due to its tranquil, sophisticated appeal. It's perfect for spaces where you want to induce a calming effect, like bedrooms and bathrooms. It can also work well in a living room or kitchen, adding depth and character.
⭐What are some good trim colors to pair with SW 7619 Labradorite?
Trim colors for Labradorite can include light, neutral colors, such as SW 7006 Extra White, SW 7637 Oyster White, or SW 7008 Alabaster. These options provide a clean, crisp contrast against Labradorite's depth, highlighting architectural details.
⭐Can SW 7619 Labradorite be used for exterior paint?
Absolutely! Labradorite can give your home exterior a stylish, inviting look. The color's depth works beautifully with a variety of architectural styles and pairs well with natural elements like stone and wood.
⭐What are the undertones of SW 7619 Labradorite?
Labradorite has green and gray undertones that contribute to its sophisticated and tranquil feel. These undertones can subtly shift under different lighting conditions, adding to Labradorite's depth and intrigue.
⭐How does the lighting affect the appearance of SW 7619 Labradorite?
Like all paint colors, Labradorite can look slightly different depending on the lighting. In natural daylight, you may notice more of its green undertones, while artificial light can emphasize its gray component. It's always a good idea to test the paint in your space under different lighting conditions to see how it changes throughout the day.