In the fascinating world of colors, the subtlety, depth, and emotion that every hue conveys can transform a mere space into a personalized haven. Understanding the nuances of color can unlock a world of potential for design and decoration. In this respect, SW 9549 Touch of Grey from Sherwin-Williams is a mesmerizing shade that deserves a detailed examination.
This article aims to delve deep into the characteristics of Touch of Grey, exploring its undertones, how it behaves under different lighting conditions, its coordinating and similar colors, and much more.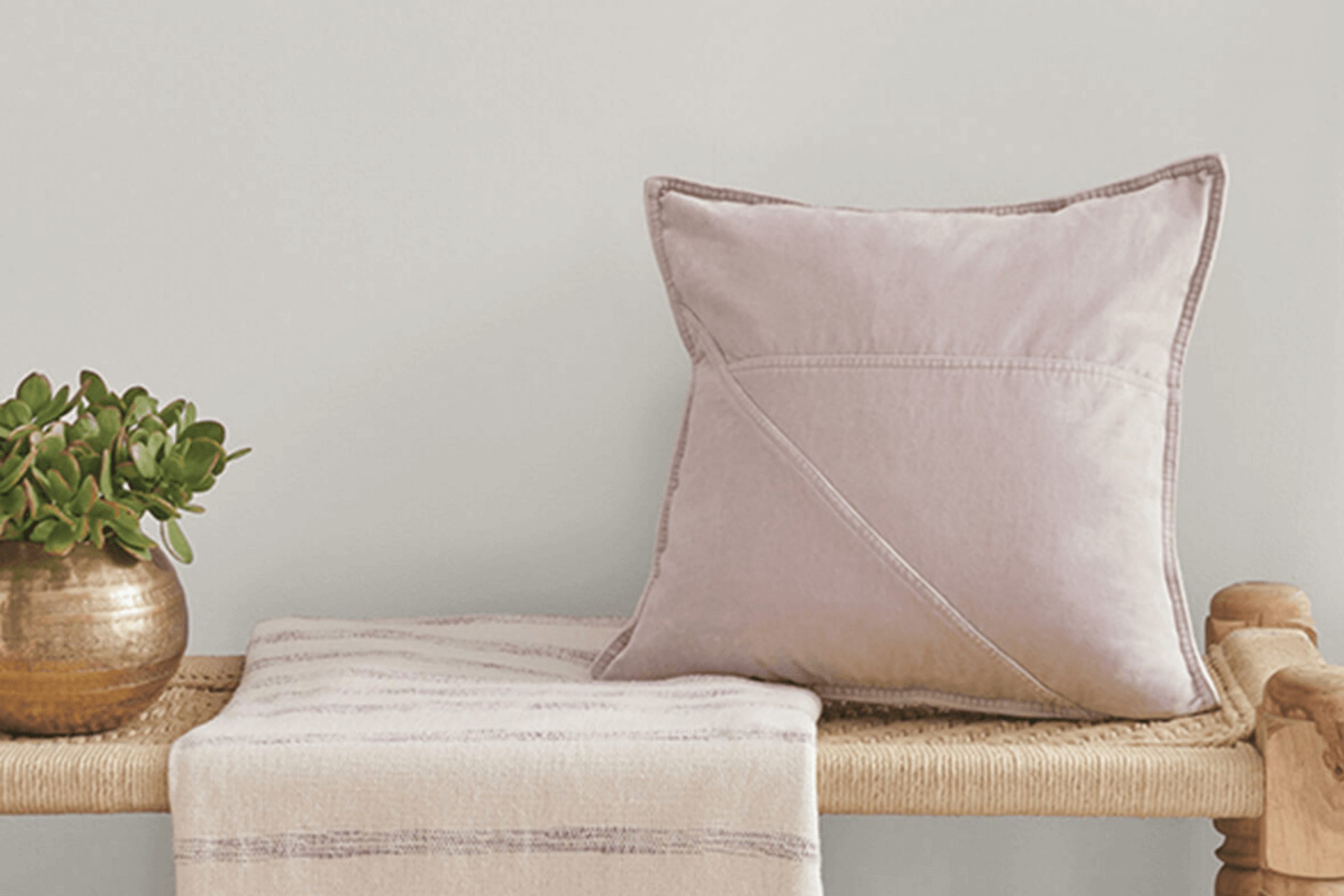 What Color Is SW 9549 Touch of Grey?
SW 9549 Touch of Grey is a captivating hue that resides between the realms of grey and beige. It is an elegant, nuanced color that exudes a sense of calm and understated sophistication. It's neither stark nor striking, instead offering a gentle blend of neutrality and warmth that strikes the perfect balance for any interior.
SW Touch of Grey, as the name suggests, carries an echo of grey that lends the shade an air of cool sophistication. However, the undertones of beige bring a warm, earthy dimension to this color.
This multidimensional aspect makes Touch of Grey a highly adaptable color that can seamlessly blend into a variety of settings, bestowing an aura of tranquility and elegance.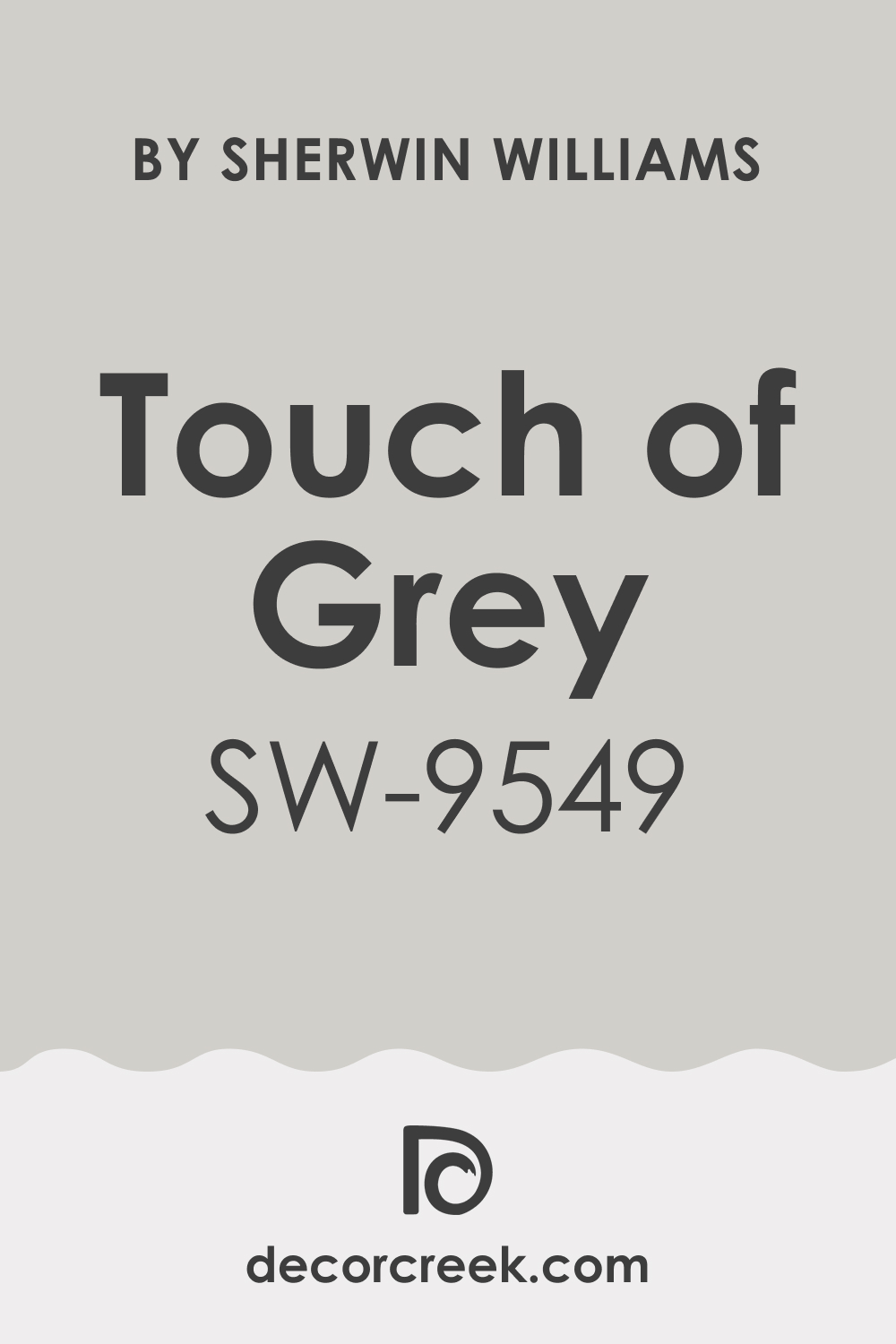 Is It a Warm Or Cool Color?
Despite the presence of "grey" in its name, SW 9549 Touch of Grey isn't a completely cool color. It beautifully marries the cool serenity of grey with the comforting warmth of beige, categorizing it as a 'greige' – a popular term in the design world for grey-beige hybrids.
This dual nature makes SW Touch of Grey incredibly versatile, capable of fitting into both warm and cool color schemes.
Undertones of SW 9549 Touch of Grey
Undertones are the colors lurking beneath the primary color, influencing how we perceive the overall shade. For SW Touch of Grey, its undertones balance the color's warmth and coolness, making it versatile enough to pair with various colors and suit multiple styles.
Grey: The most apparent undertone in Touch of Grey is, unsurprisingly, grey. This gives the color its sophisticated, elegant appeal.
Beige: A subtle beige undertone brings a touch of warmth to the otherwise cool grey, making it more inviting and comforting.
Taupe: There's also a very slight taupe undertone that bridges the gap between the grey and beige, adding depth and dimension to the color.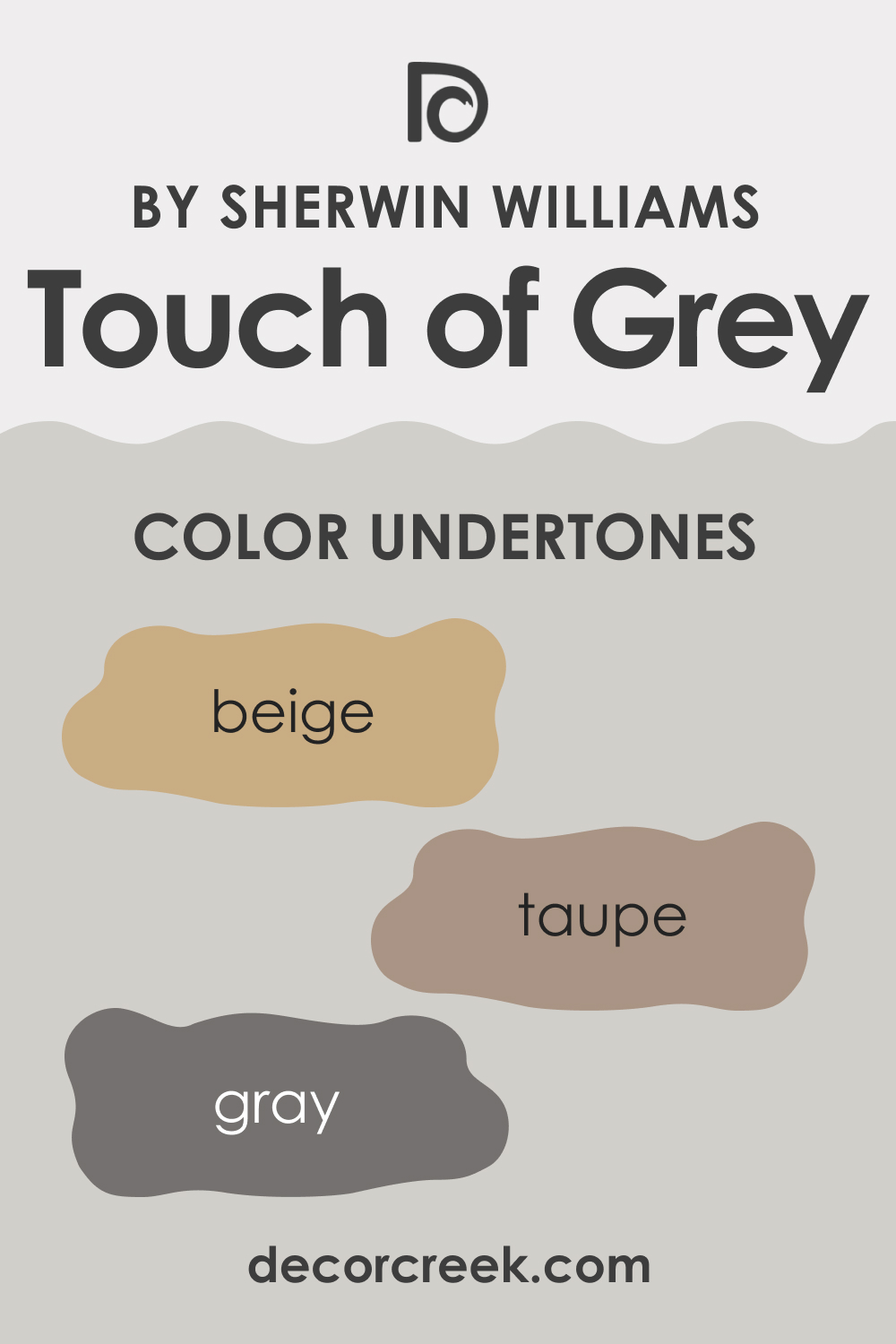 Coordinating Colors of SW 9549 Touch of Grey
Coordinating colors are those that work harmoniously together, either by complementing or contrasting with the main color, to create a pleasing visual experience. Understanding and selecting coordinating colors helps to create a cohesive, aesthetically pleasing design. For SW Touch of Grey, we recommend the following coordinating colors:
SW Snowbound (SW 7004): A clean, bright white with subtle cool undertones that offer a stark yet complementary contrast to Touch of Grey.
SW Bracing Blue (SW 6242): This is a medium, true blue that pops against Touch of Grey, adding an element of vibrancy to the serene base.
SW Repose Gray (SW 7015): A light gray that shares the same balanced undertones as SW Touch of Grey, making them an excellent match for a monochromatic scheme.
SW Shell White 8917: A very light, warm white that softly contrasts with Touch of Grey, highlighting its warmer undertones.
SW 9554 Going Grey: A slightly cooler and deeper gray that enhances the coolness in SW Touch of Grey.
Additional colors include:
SW 6044 Doeskin: A warm, rich beige that brings out the beige undertones in SW Touch of Grey.
SW 6230 Rainstorm: A deep, bold blue that provides a dynamic contrast to the understated elegance of SW Touch of Grey.
SW 7673 Pewter Cast: A medium to dark gray with green undertones that offers a sophisticated, complementary pairing with SW Touch of Grey.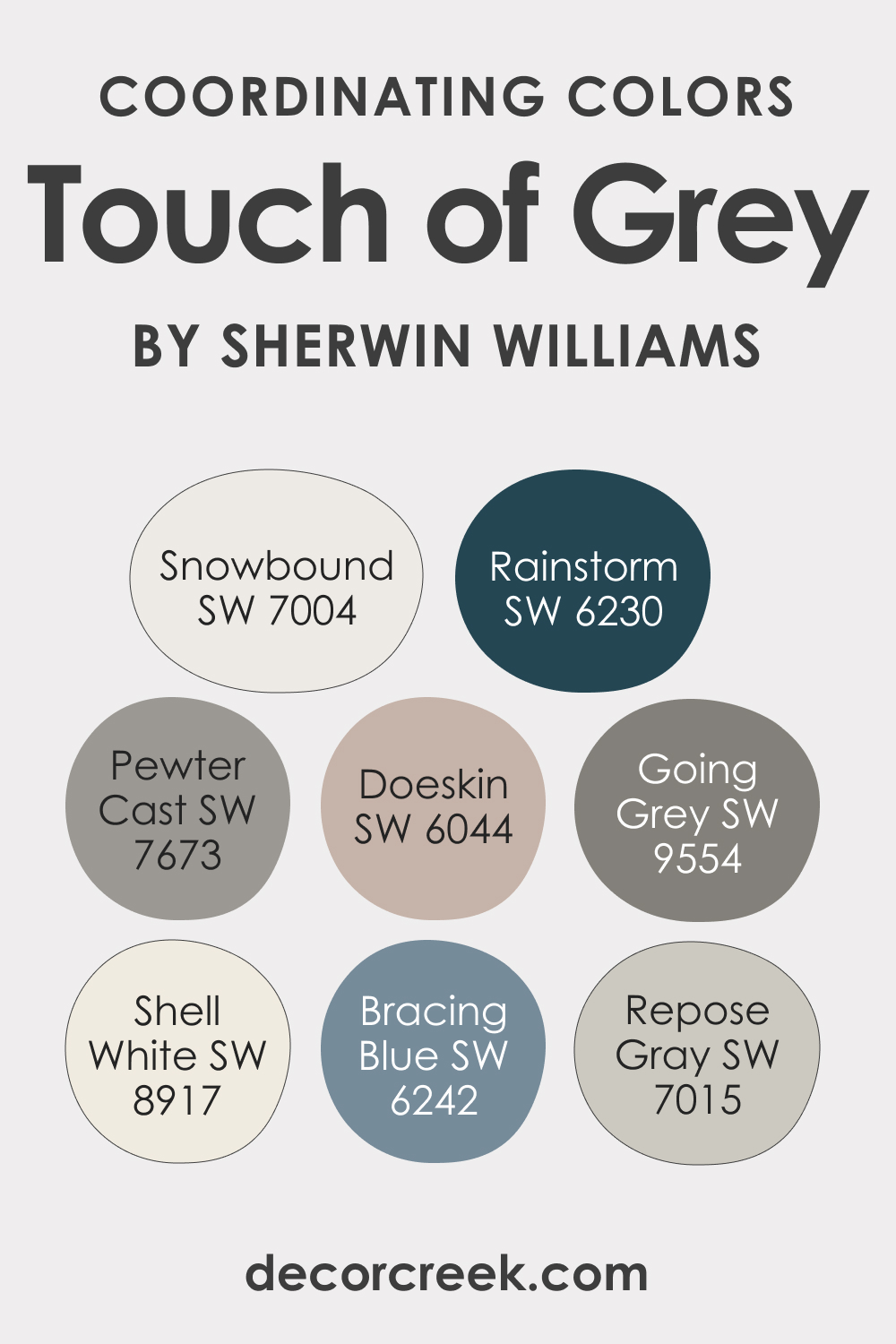 How Does Lighting Affect SW 9549 Touch of Grey?
Lighting plays a significant role in the perception of color. In a room with bright, natural light, SW 9549 Touch of Grey takes on a lighter, more nuanced tone, with its beige undertones becoming more prominent, adding warmth to the space.
However, in a room with less natural light, the color deepens, and the grey undertone of it becomes more evident, lending a more sophisticated and cooler feel.
Artificial lighting further manipulates this color. For instance, under warm, yellow lights, the Touch of Grey paint color will appear more beige, while under cool, white lights, the grey undertones will dominate. Therefore, it's crucial to consider the lighting conditions of a room when choosing to paint with SW 9549 Touch of Grey.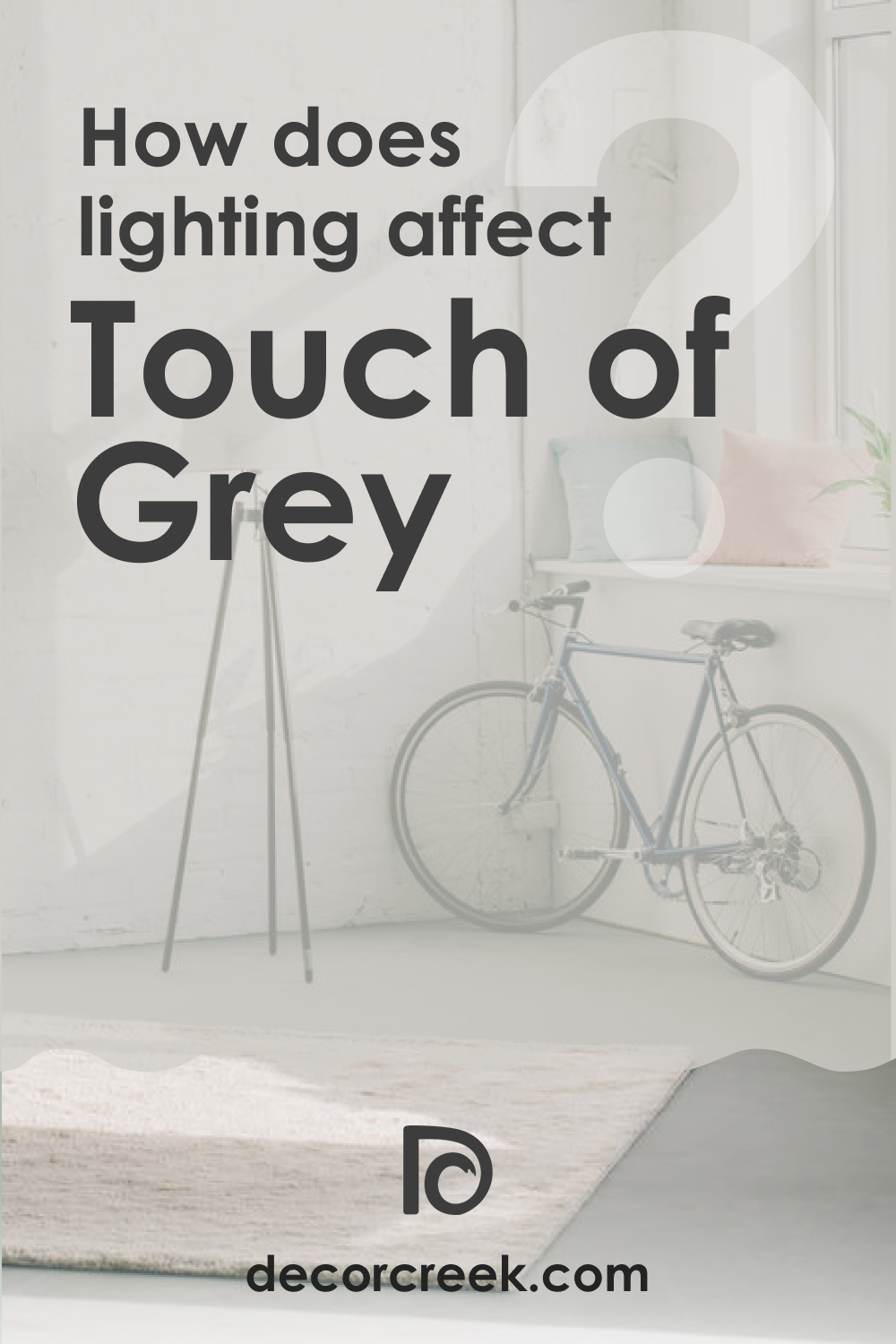 LRV of SW 9549 Touch of Grey
The Light Reflectance Value (LRV) of color measures the amount of light the color reflects. On a scale of 0 (absolute black) to 100 (pure white), Touch of Grey has an LRV of 62. This relatively high LRV means that it is a light color that will reflect a good amount of light back into the room.
A color with an LRV of 62 strikes a balance between brightness and depth. It's light enough to make a room feel open and airy yet has enough depth to add character and dimension to a space. This makes Touch of Grey a fantastic choice for rooms of all sizes, as it can make small rooms feel larger and large rooms feel cozy and inviting.
Moreover, the LRV of 62 implies that Touch of Grey can adapt well to different lighting conditions. In well-lit rooms, it appears lighter and more beige, while in dimly lit rooms, it takes on a cooler, greyer hue, providing flexibility in different room orientations and lighting setups.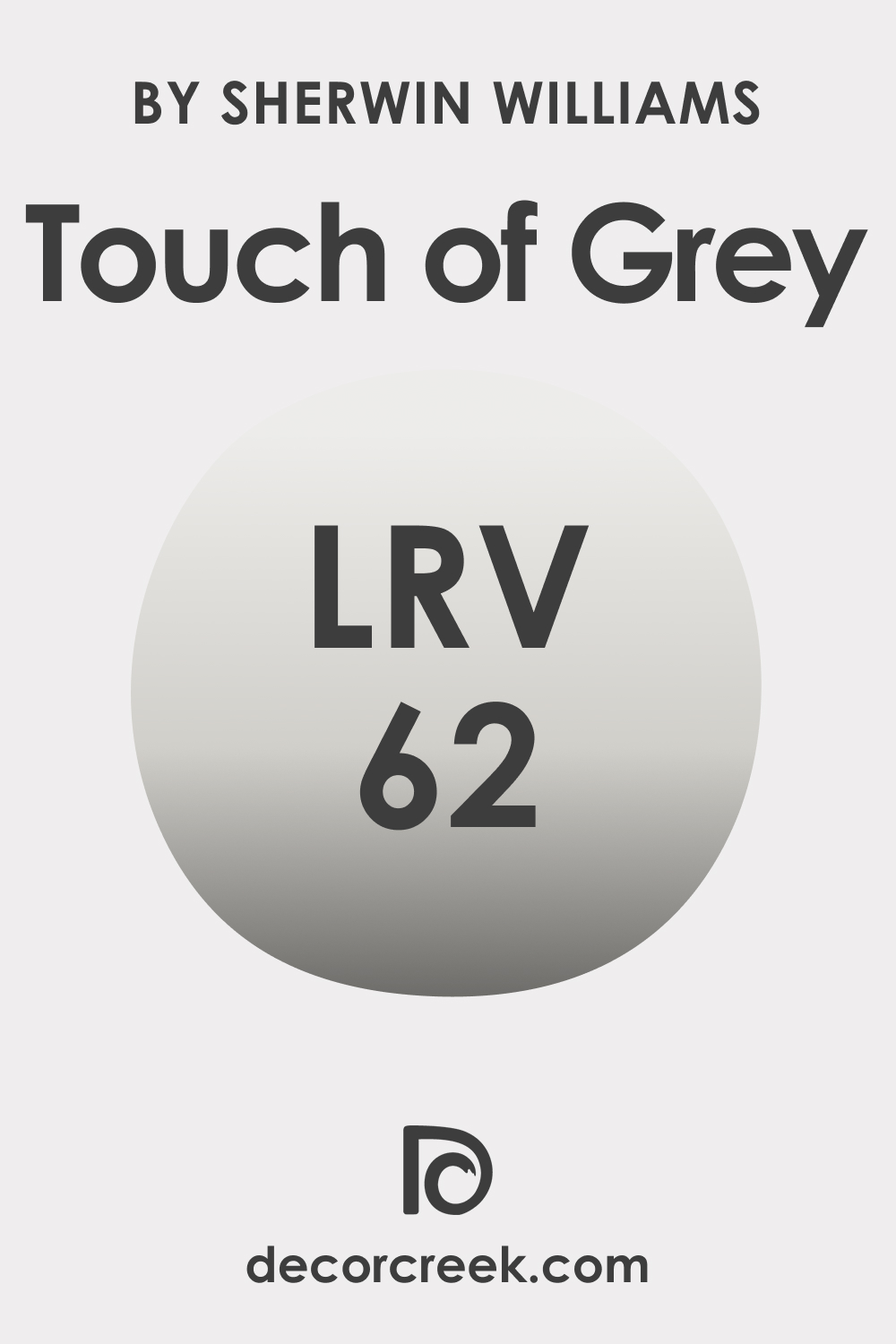 LRV – what does it mean? Read This Before Finding Your Perfect Paint Color
Trim Colors of SW 9549 Touch of Grey
Trim colors are the shades used on the trim, such as baseboards, crown molding, and window frames. These colors are crucial as they frame and accentuate the wall colors, creating a cohesive, visually appealing aesthetic.
Choosing the right trim color can enhance the depth and beauty of the main wall color, in this case, SW Touch of Grey. We recommend the following options:
SW 7006 Extra White: A pure, brilliant white that provides a crisp, clean contrast to Touch of Grey.
SW 7012 Creamy: A soft, slightly yellow-toned white that draws out the warmth in Touch of Grey.
SW 7008 Alabaster: A subtle, creamy white that works harmoniously with Touch of Grey, creating a smooth transition.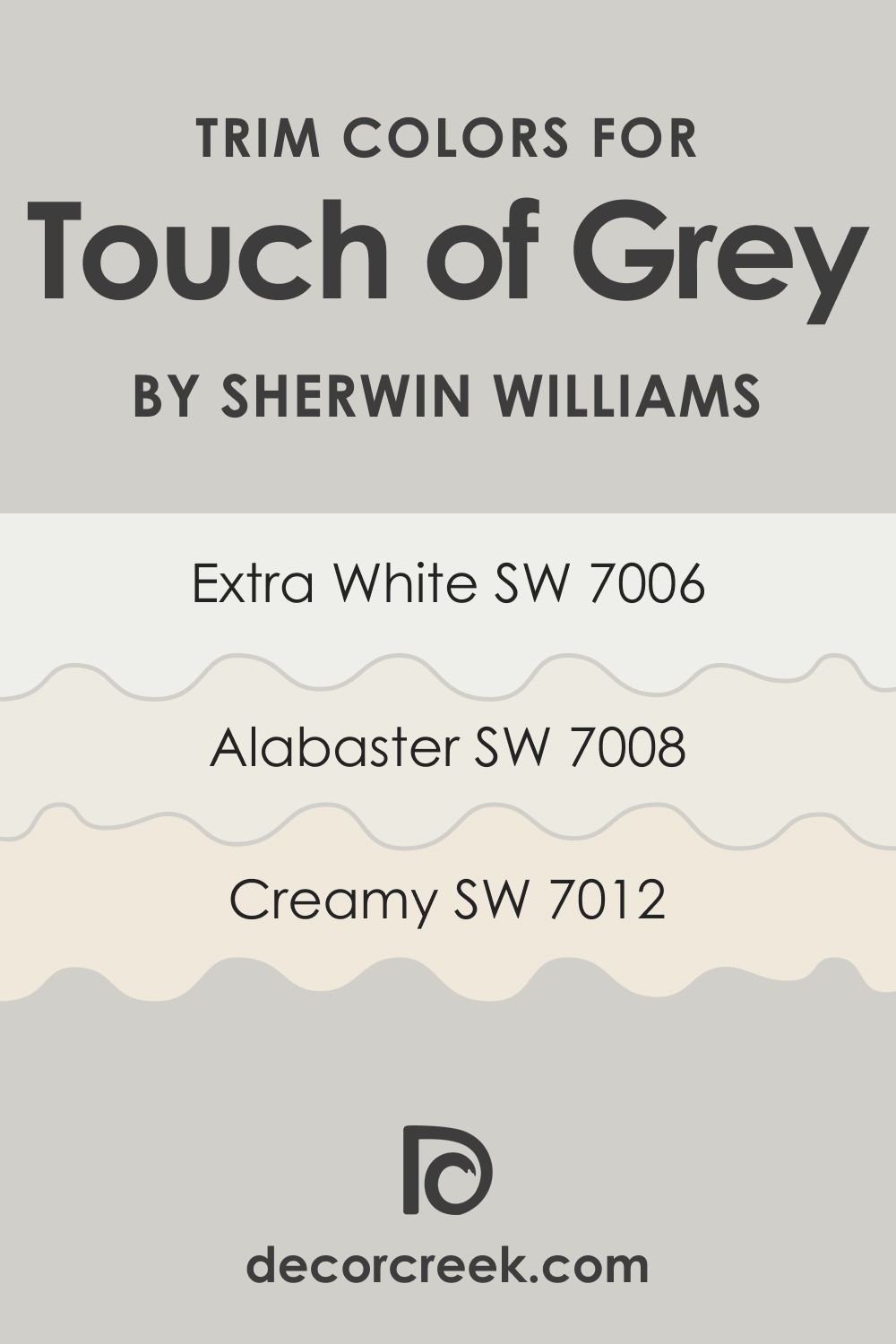 Colors Similar to SW 9549 Touch of Grey
Knowing similar colors is important because it provides options and variations on a particular shade. Each similar color has slight differences in undertones, which can drastically affect how the color looks in different spaces, lighting conditions, and alongside various other colors. If you need a few substitute colors that can be used instead of SW Touch of Grey, we have several options:
SW 7648 Big Chill
SW 9551 Skipping Rocks
SW 7671 On the Rocks
Each of them looks very similar to SW Touch of Grey, so you will easily incorporate it into your interior color scheme without needing to adjust it much.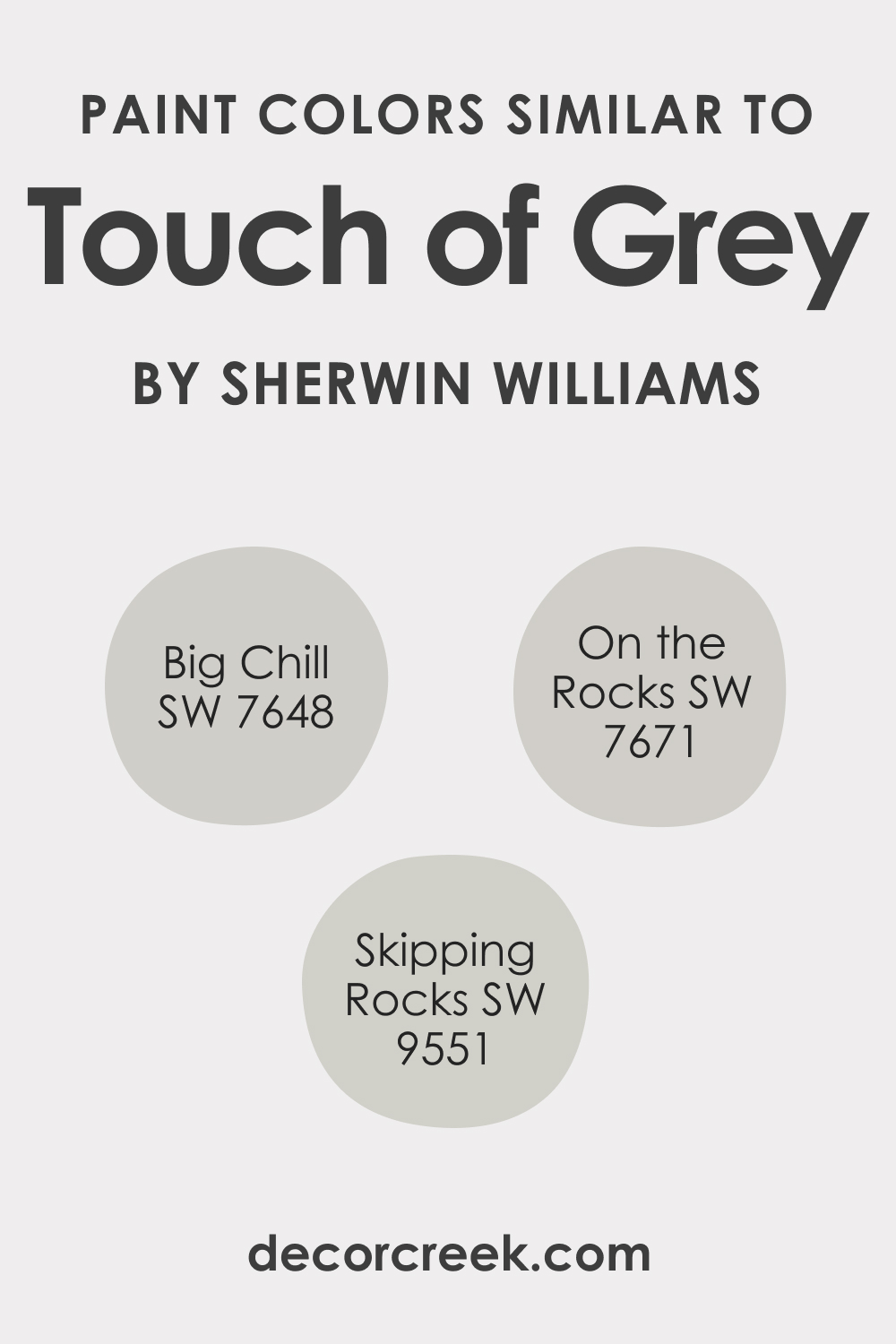 Colors That Go With SW 9549 Touch of Grey
Understanding which colors go well with a particular shade, in this case, SW Touch of Grey, is paramount in interior design. It ensures a room's colors harmonize with each other, creating a visually pleasing and balanced space.
Different colors can evoke different emotions, set distinct moods, and highlight various aspects of a room, making the selection of compatible colors a critical aspect of room design.
With SW Touch of Grey, you should consider using the following colors for the best effect:
SW 9173 Shiitake: This is a soft, warm neutral that will bring out the beige undertones in Touch of Grey, creating a harmonious and cozy palette.
SW 6249 Storm Cloud: This deep, cool gray-blue offers a striking contrast to Touch of Grey, making the lighter color pop and adding depth to your space.
SW 6126 Navajo White: A warm, creamy off-white that would complement Touch of Grey beautifully, providing a soft, light contrast that enhances the overall warmth of the space.
SW 7020 Black Fox: A rich, deep brown-gray SW Black Fox offers a bold and dramatic contrast to Touch of Grey, perfect for creating a striking and sophisticated design.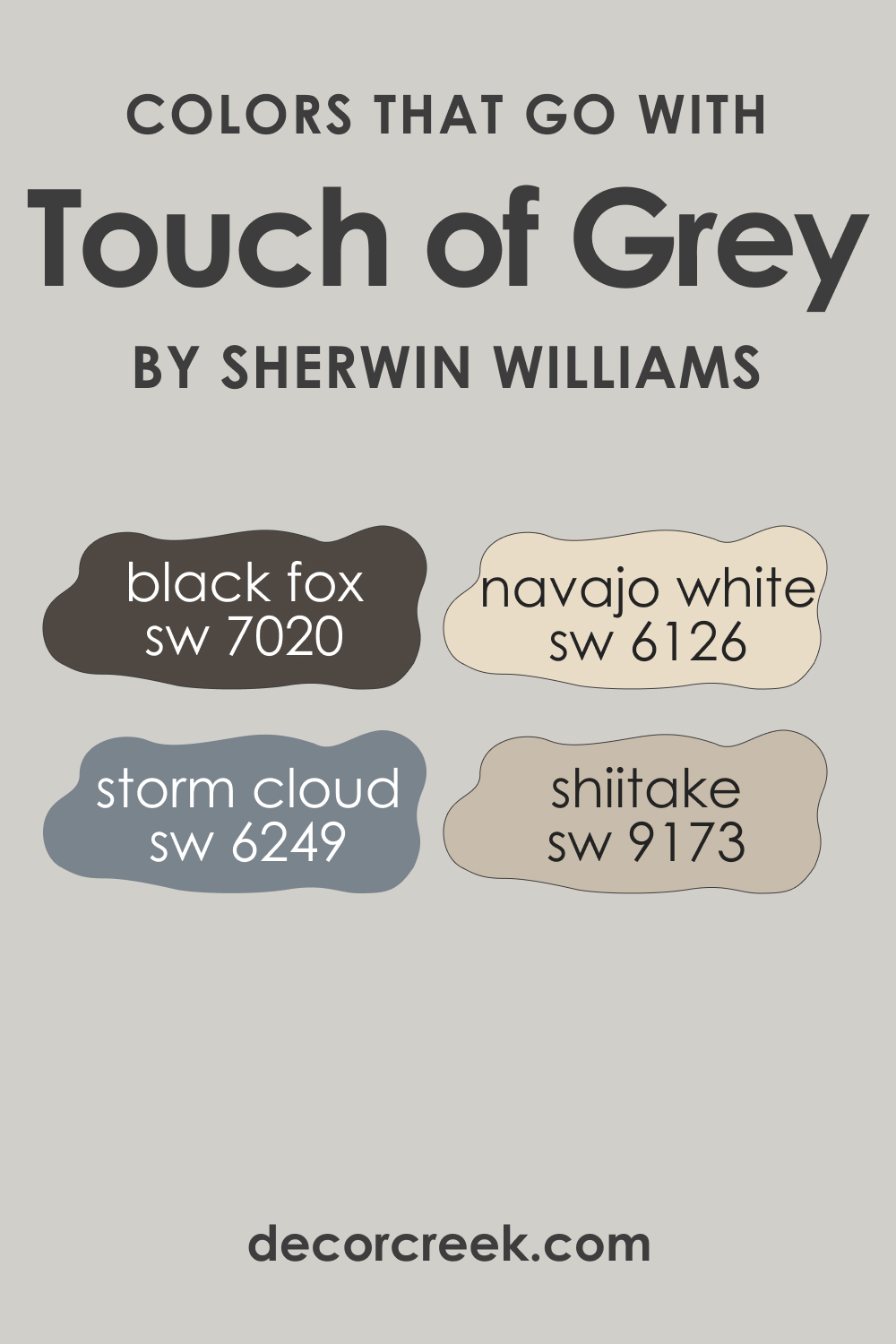 How to Use SW 9549 Touch of Grey In Your Home?
SW 9549 Touch of Grey is a versatile color that can be used in virtually any room of your house owing to its balanced undertones and high light reflectance value. It's a color that seamlessly fits into both traditional and contemporary interior design styles.
The shade's neutral character works beautifully in a classic design setting, providing a calming background for more ornate, decorative elements. In contemporary or minimalistic interiors, Touch of Grey brings in an element of warmth without overpowering the design aesthetics.
How to Use SW 9549 Touch of Grey in the Bedroom?
Touch of Grey can turn your bedroom into a tranquil retreat. Its subtle undertones create a serene backdrop, allowing you to experiment with various textures and patterns in your bedding and bedroom accessories. Pair it with white or cream-colored linens for a fresh, airy feel, or go for deep blues or warm taupes for a more cozy and inviting atmosphere.
Additionally, Touch of Grey works well with different finishes of furniture. Whether you have dark mahogany or light birch furniture pieces, this color can highlight their beauty without competing for attention. Plus, its high LRV helps make the room feel more spacious and open, which is a desirable trait for bedrooms.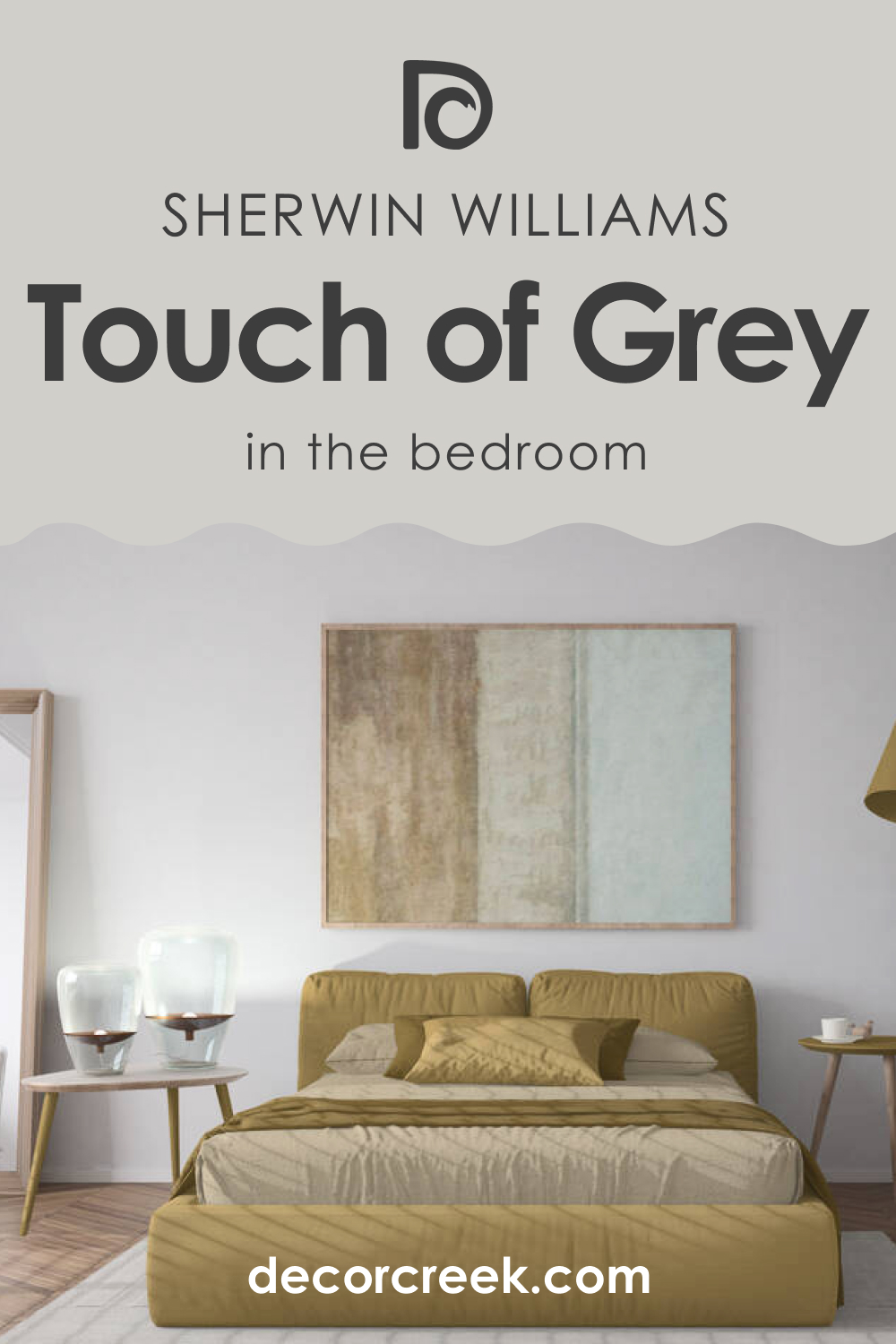 How to Use SW 9549 Touch of Grey in the Bathroom?
In bathrooms, Touch of Grey can lend a spa-like ambiance, creating a soothing, peaceful environment. It can complement a variety of finishes, from stainless steel to brushed nickel or polished chrome, making it ideal for a range of bathroom styles, from modern to traditional.
Moreover, Touch of Grey pairs beautifully with different types of countertops and tiles. Whether you have marble countertops or ceramic tiles, this color can enhance their elegance. Consider matching Touch of Grey walls with white or off-white towels and bathroom accessories for a crisp, clean look.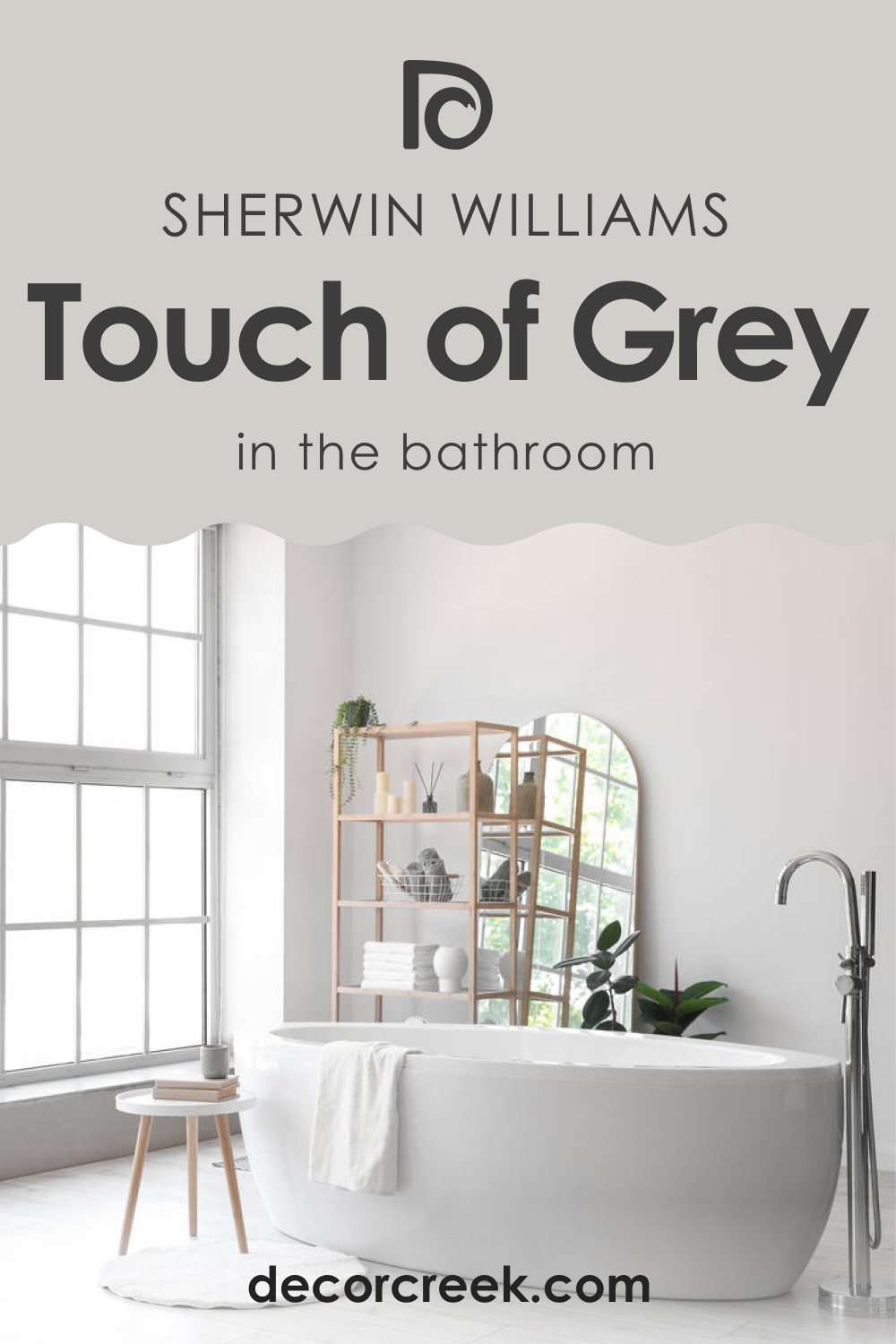 How to Use SW 9549 Touch of Grey in the Living Room?
In the living room, Touch of Grey can act as a unifying backdrop for your furniture and decor. Its neutral character makes it an excellent choice for living rooms with vibrant artwork, patterned rugs, or colorful throw pillows, as it allows these elements to shine without clashing.
Alternatively, for a monochromatic scheme, pair Touch of Grey with darker and lighter shades of greige in your upholstery and decor. The varying shades will add depth and interest to the room, while the overall greige theme will give the space a sophisticated and harmonious look.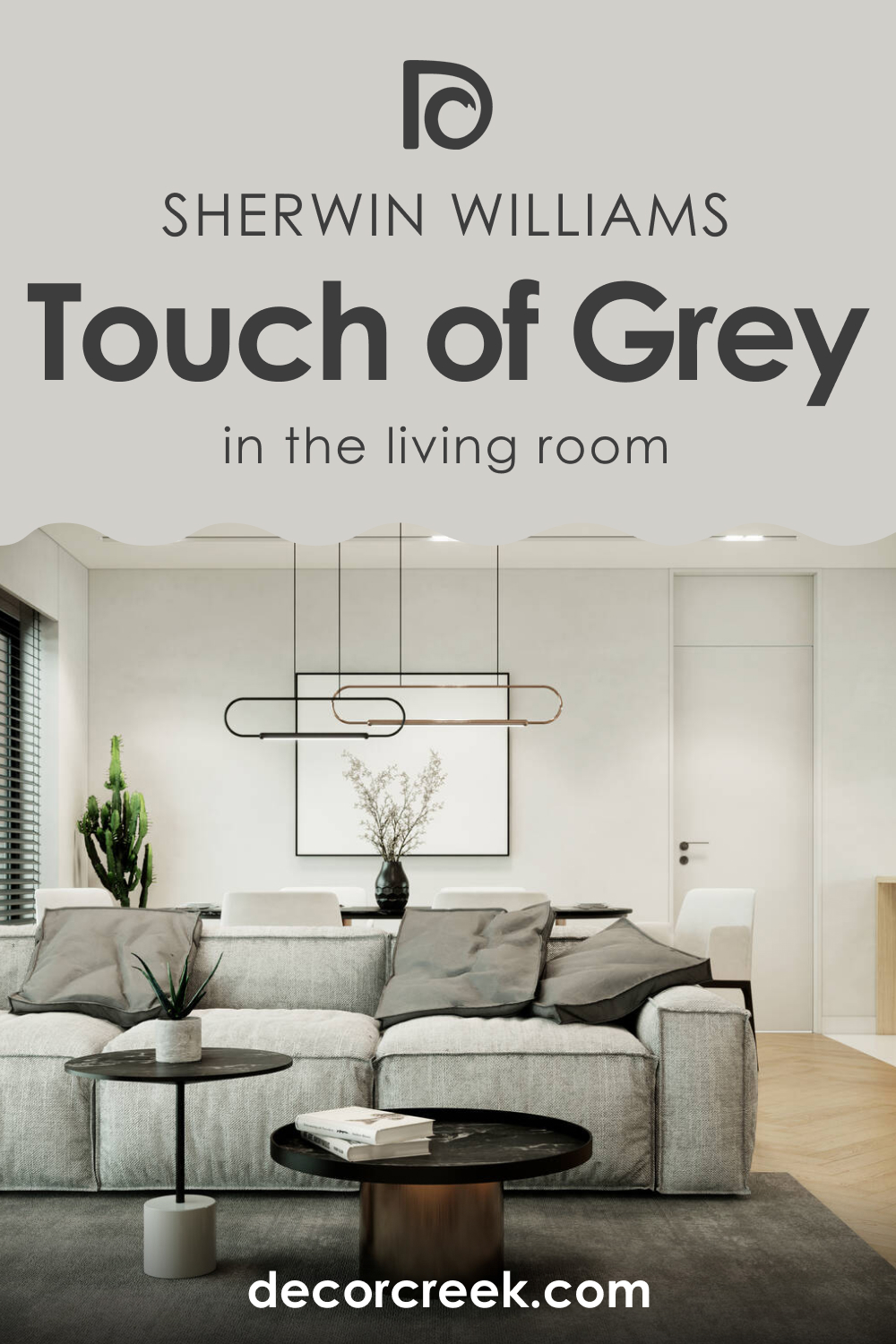 How to Use SW 9549 Touch of Grey for an Exterior?
When used on the exterior, Touch of Grey can give your home a timeless and elegant appeal. It's a neutral color that blends seamlessly into natural surroundings, whether you live in a wooded area, a suburban neighborhood, or by the sea.
SW Touch of Grey pairs well with both bright and muted exterior accents. Consider SW 7006 Extra White for the trim to create a classic, crisp contrast. For a more modern, striking look, try pairing Touch of Grey with a bold front door color like SW 2917 Mediterranean or SW 6614 Quite Coral.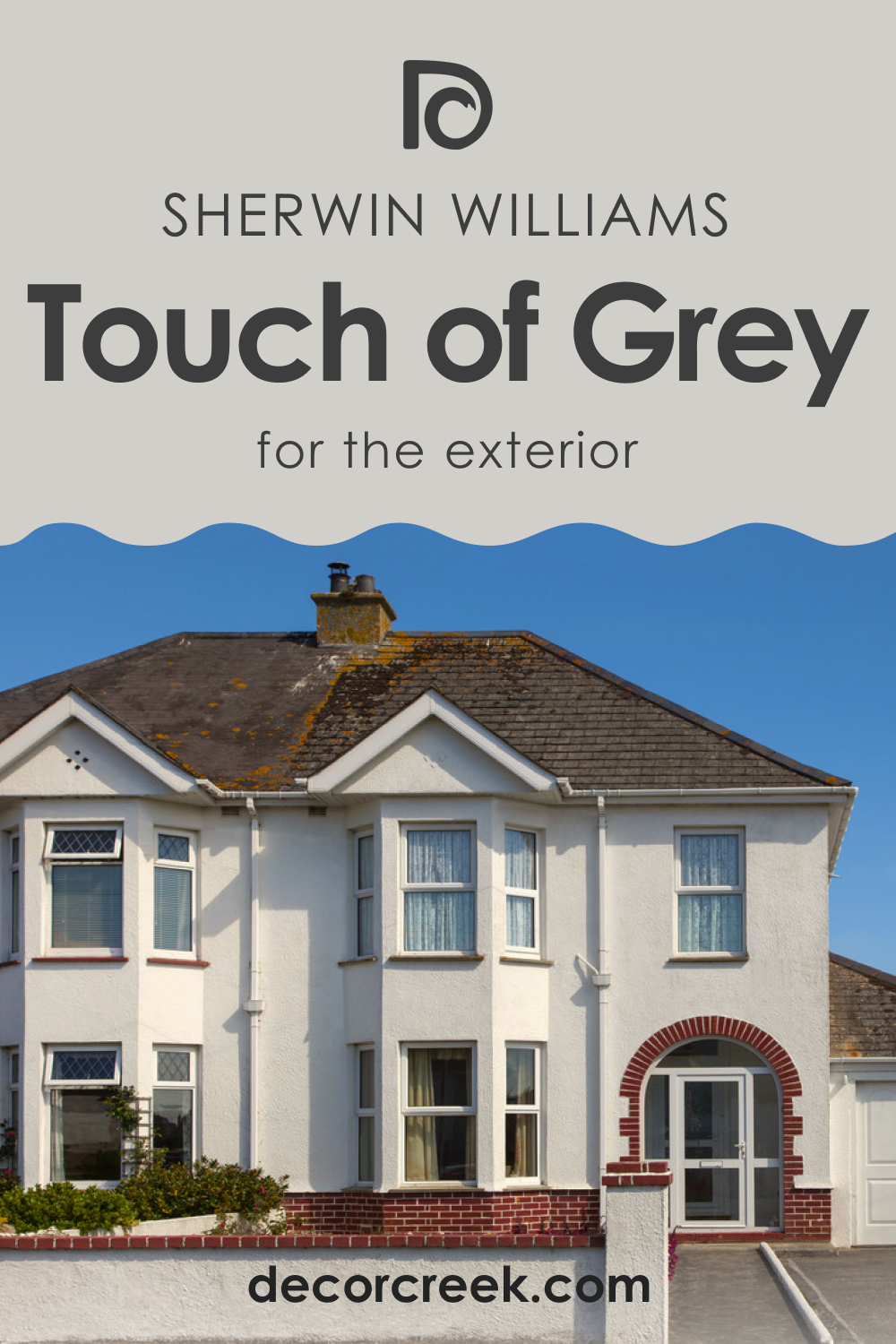 How to Use SW 9549 Touch of Grey for the Kitchen?
Touch of Grey can work wonders in the kitchen, adding a calm and balanced feel to the heart of the home. This color provides an excellent canvas for various kitchen styles, from modern to farmhouse to traditional.
Whether you have stainless steel appliances or vintage pieces, Touch of Grey walls can complement them all. For the kitchen backsplash, you might choose tiles in blues or whites to create a delightful contrast or go with beige and taupe tiles to highlight the warm undertones of Touch of Grey.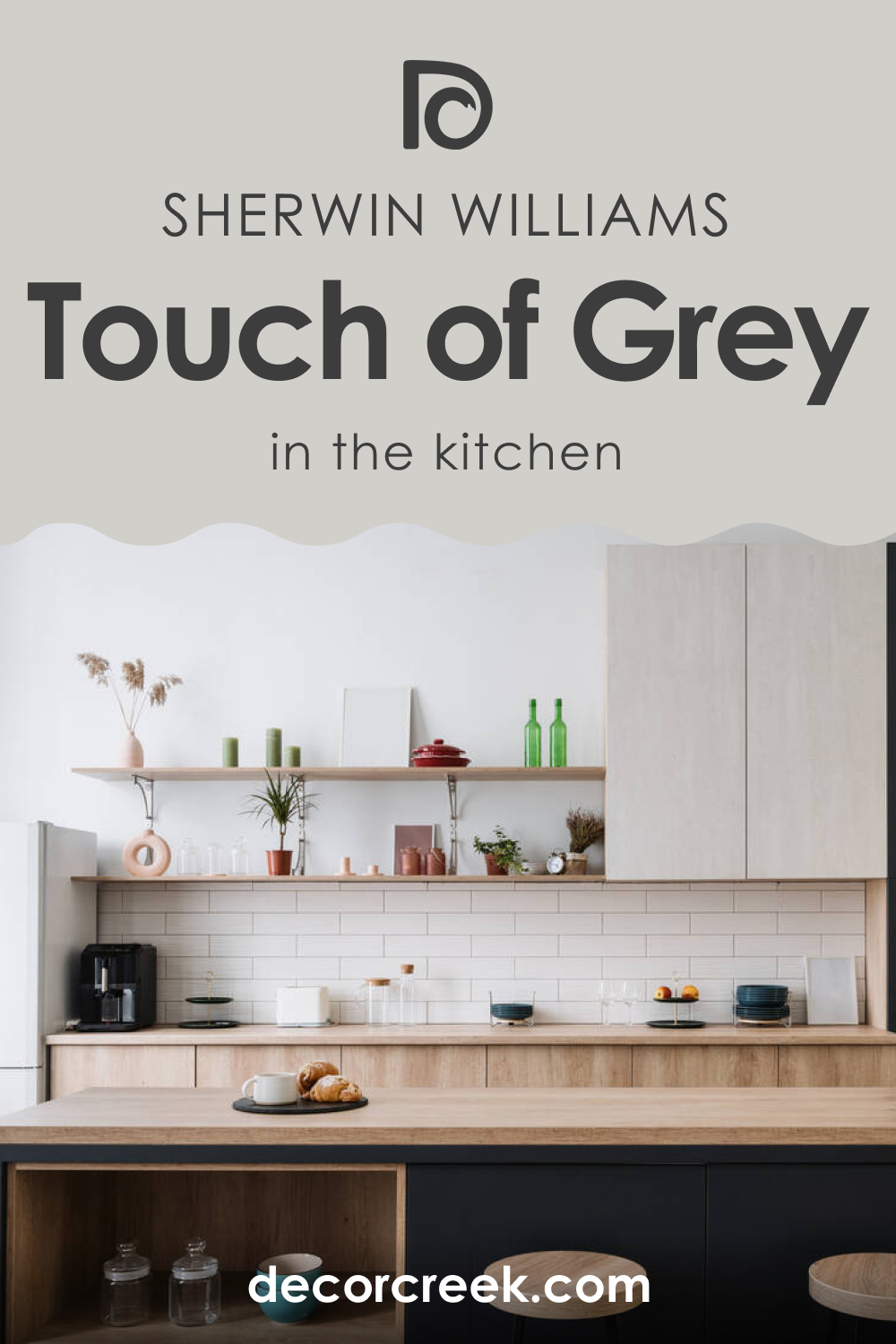 How to Use SW 9549 Touch of Grey for the Kitchen Cabinets?
Using Touch of Grey for your kitchen cabinets can bring a fresh, modern feel to your kitchen. It's a fantastic alternative to traditional white or wood cabinets and works particularly well in contemporary or transitional-style kitchens.
With Touch of Grey cabinets, consider using a crisp white like SW 7006 Extra White for the walls to make the cabinets stand out. For the countertop, darker hues like black granite or soapstone would offer a stunning contrast, while lighter options like white marble or quartz would give the kitchen a soft, harmonious look.
Touch of Grey cabinets also pairs well with both stainless steel and brass hardware, providing you with various options to complete your kitchen design.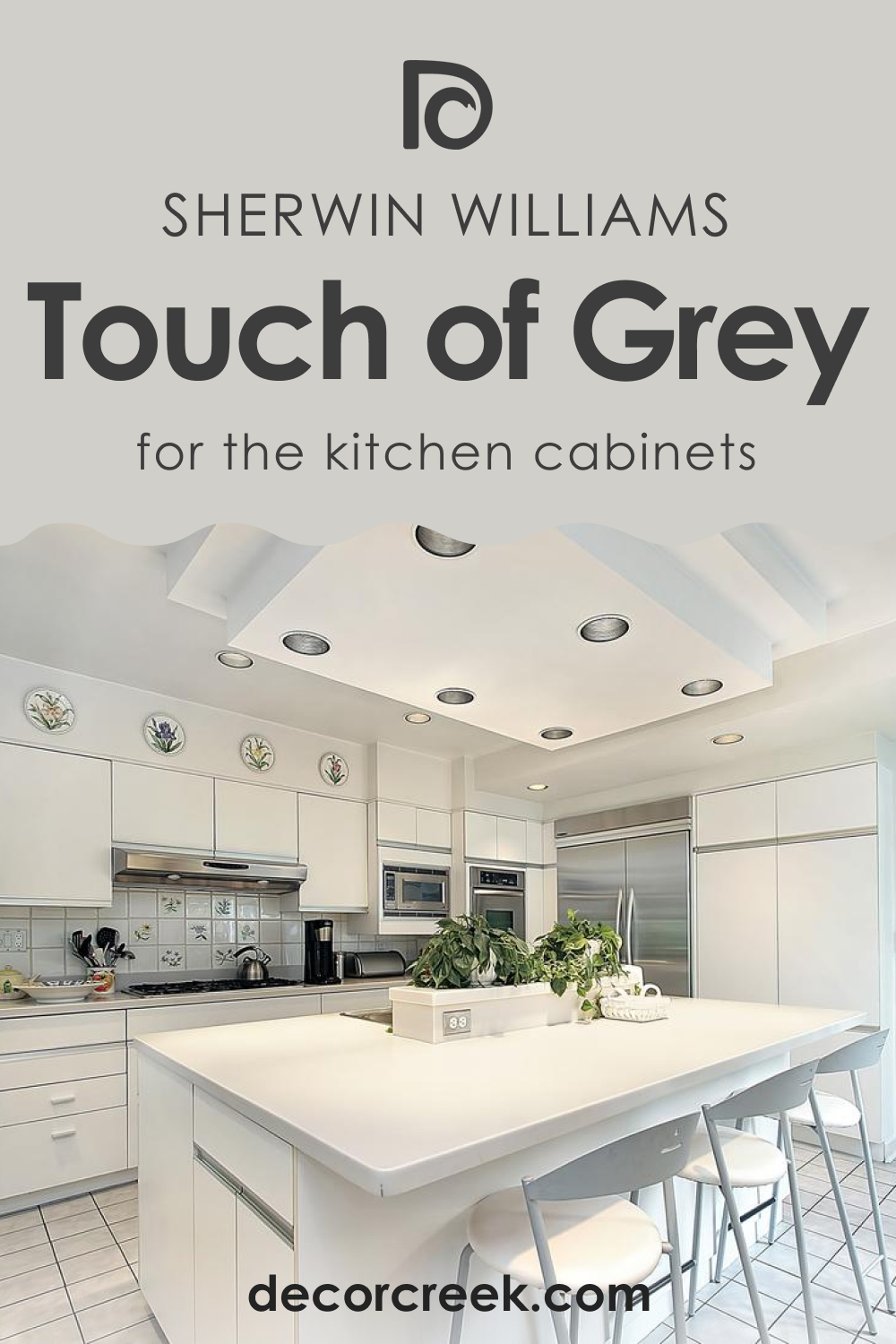 Comparing SW 9549 Touch of Grey With Other Colors
Understanding and comparing different colors is essential as it helps us visualize how various colors interact with one another. Different colors can either harmonize or contrast each other, altering the perceived color and the overall mood of the space. Also, comparing colors aids in understanding their undertones and how they can influence the appearance of the main color.
SW 9549 Touch of Grey vs. SW 7004 Snowbound
SW Snowbound is a bright, pure white with slight grey undertones, offering a stark contrast to the muted, complex character of Touch of Grey. While Snowbound creates a crisp, clean canvas that maximizes light, Touch of Grey adds more depth and character to a space, making it feel cozy and inviting.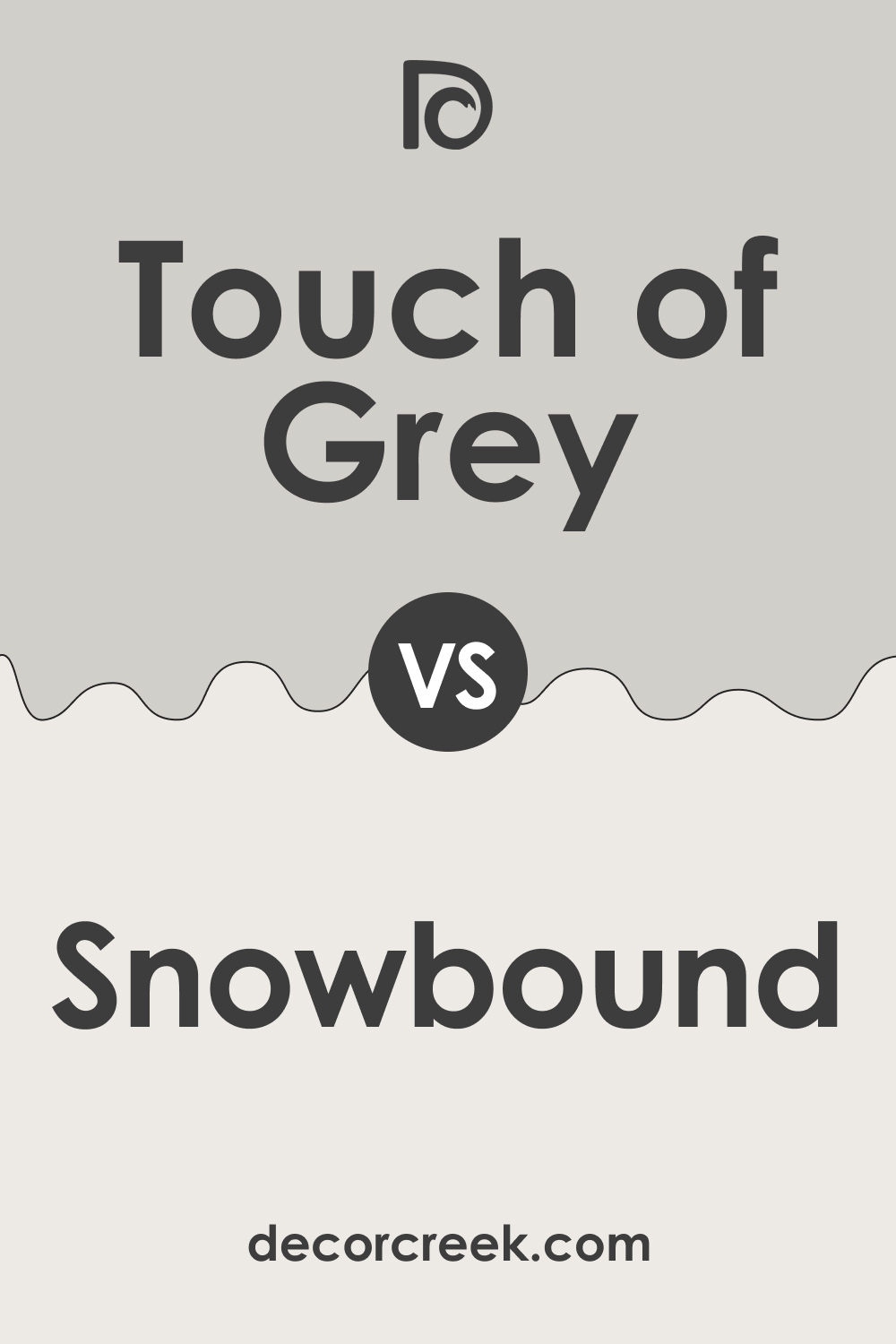 SW 9549 Touch of Grey vs. SW 6242 Bracing Blue
SW Bracing Blue is a medium, cool-toned blue with a dynamic contrast to Touch of Grey. While Bracing Blue brings depth and energy into a space, Touch of Grey acts as a calming counterpoint, creating a balanced, harmonious palette.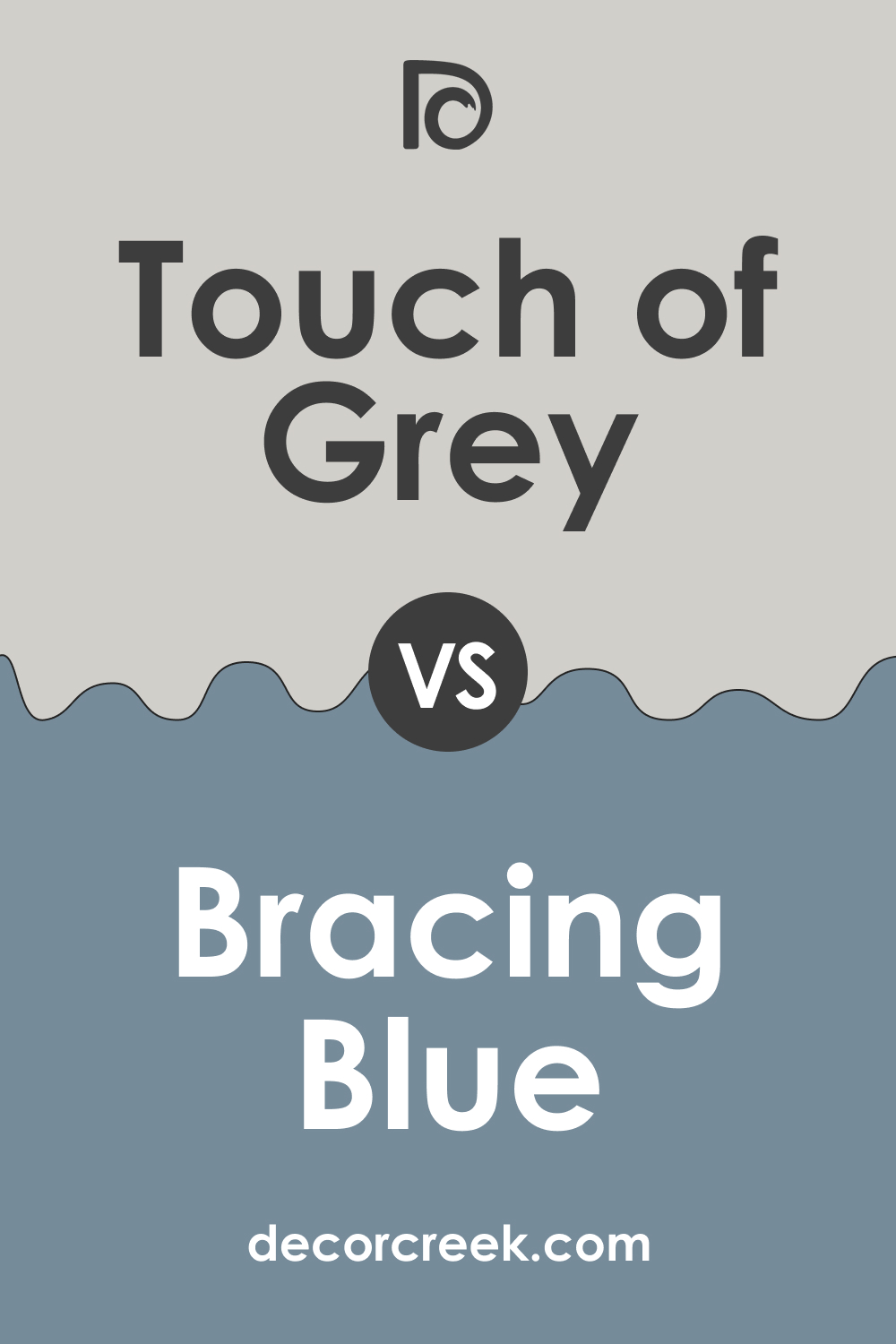 SW 9549 Touch of Grey vs. SW 8917 Shell White
SW Shell White is a soft, warm off-white that pairs beautifully with Touch of Grey. Both colors share a muted subtlety, but Shell White leans towards the warmer side, while SW Touch of Grey maintains a more neutral stance with its balanced beige and grey undertones. The selection between the two would depend on the desired warmth in the room's color scheme.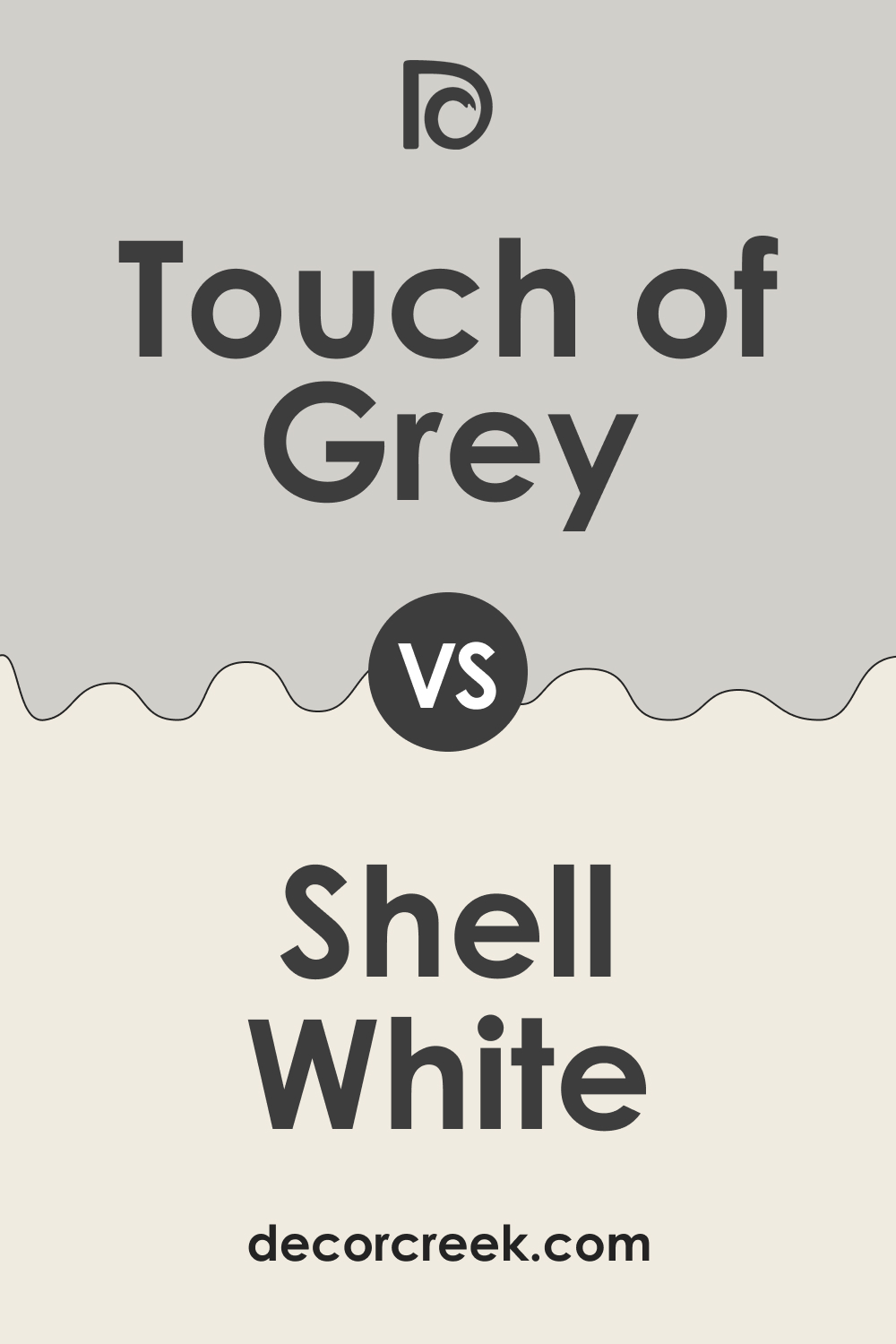 SW 9549 Touch of Grey vs. SW 6204 Sea Salt
SW Sea Salt is a light green with strong grey undertones. It gives off a soft, calming, and slightly coastal vibe. Compared to Sea Salt, SW Touch of Grey is a more neutral and versatile color that can blend with a wider range of color schemes.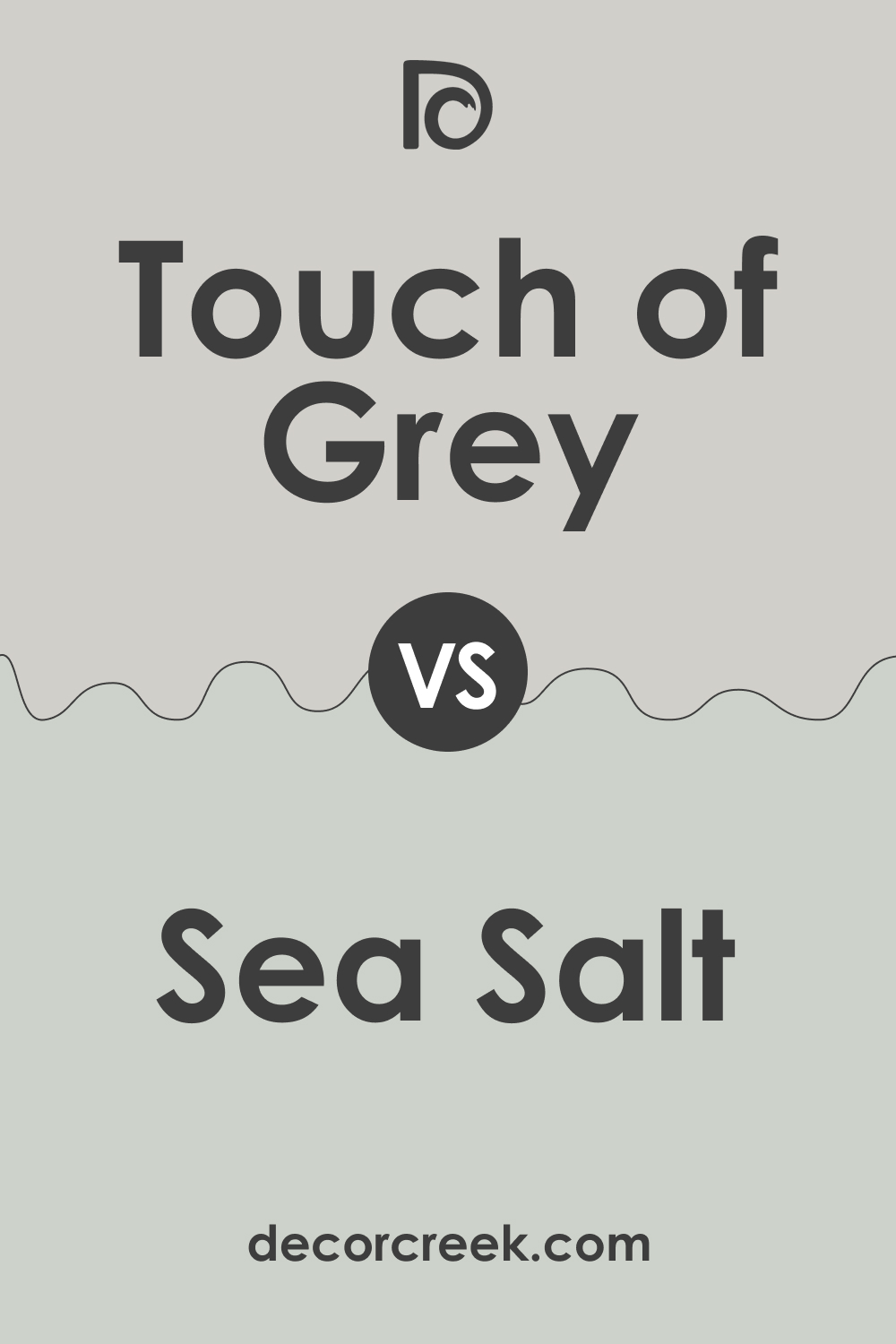 SW 9549 Touch of Grey vs. SW 7015 Repose Gray
SW Repose Gray is a true gray that straddles the line between warm and cool. It has a slightly cooler, more tranquil feel compared to Touch of Grey. SW Touch of Grey's beige undertones make it feel warmer and cozier, making it a great choice for rooms where a more inviting atmosphere is desired.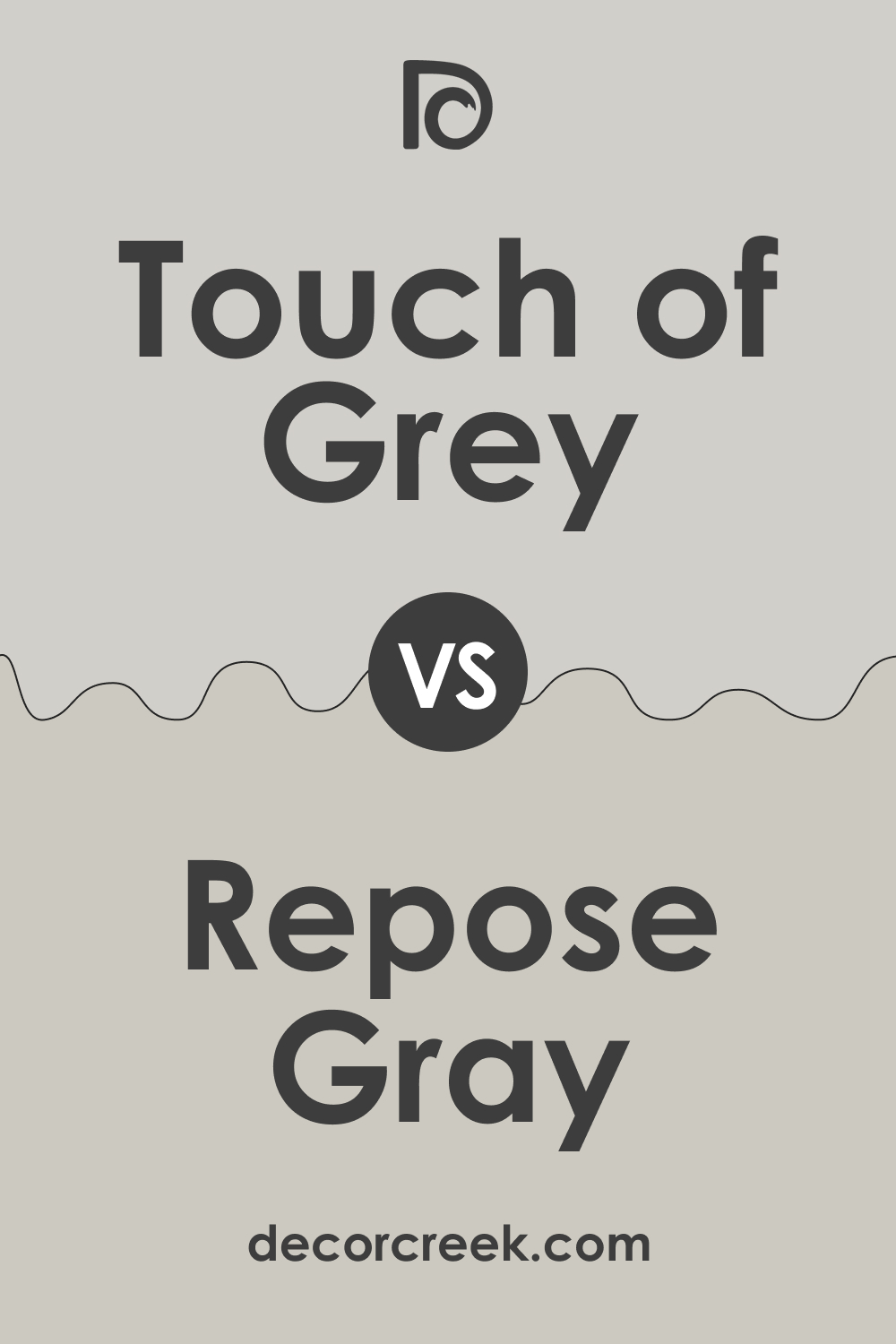 Conclusion
SW 9549 Touch of Grey is an incredibly versatile and universally appealing color that can be employed effectively in a myriad of applications across home interiors. Its complex blend of grey and beige undertones, its high Light Reflectance Value, and its ability to harmonize with a wide array of colors make it a compelling choice for anyone seeking a sophisticated, neutral palette for their space.
Whether you're contemplating a whole-home color scheme or focusing on a single room, comparing Touch of Grey with other colors can help identify the best possible combinations that complement your style and space.
From the tranquil bedroom to the inviting living room, from the timeless exterior to the contemporary kitchen, Touch of Grey offers endless possibilities to create visually pleasing and emotionally resonant environments.
Frequently Asked Questions
⭐What type of color is SW 9549 Touch of Grey?
SW 9549 Touch of Grey is a greige color, a beautiful blend of gray and beige. It's a warm, neutral shade that offers a touch of sophistication and versatility to any space.
⭐What undertones does SW 9549 Touch of Grey have?
SW 9549 Touch of Grey has balanced undertones of both beige and gray, making it neither overly warm nor too cool. These undertones make it a versatile color that works well with various other hues.
⭐Which colors coordinate well with SW 9549 Touch of Grey?
A range of colors coordinate well with Touch of Grey, including whites like SW 7004 Snowbound, cool blues like SW 6242 Bracing Blue, and other greiges like SW 7015 Repose Gray. However, the choice of coordinating colors can depend on your personal style and the mood you want to create in your space.
⭐How does lighting affect SW 9549 Touch of Grey?
Like any color, lighting can impact the appearance of Touch of Grey. In abundant natural light, it may appear lighter and slightly more beige. In artificial or low light, it can take on a more muted, grayish hue.
⭐What are some suitable trim colors for SW 9549 Touch of Grey?
Touch of Grey pairs well with several shades of white for the trim. SW 7006 Extra White, SW 7004 Snowbound, and SW 7008 Alabaster are all excellent choices that can give a fresh, crisp finish to your space.