Picking the right paint color for your home only seems to be an easy task! In fact, when it comes to color selection, most homeowners feel puzzled because of the wide variety of colors available.
This is why if you are not a professional interior designer, it might be complicated for you to decide what color to use for your home interior or exterior walls to make the whole color ensemble read harmoniously and balanced.
In this article, we will tell you more about the paint color called Windy Blue by the Sherwin-Williams brand.
You will learn what kind of color it is, how it works in different house rooms, how it reacts to light, and what other colors it may read well with.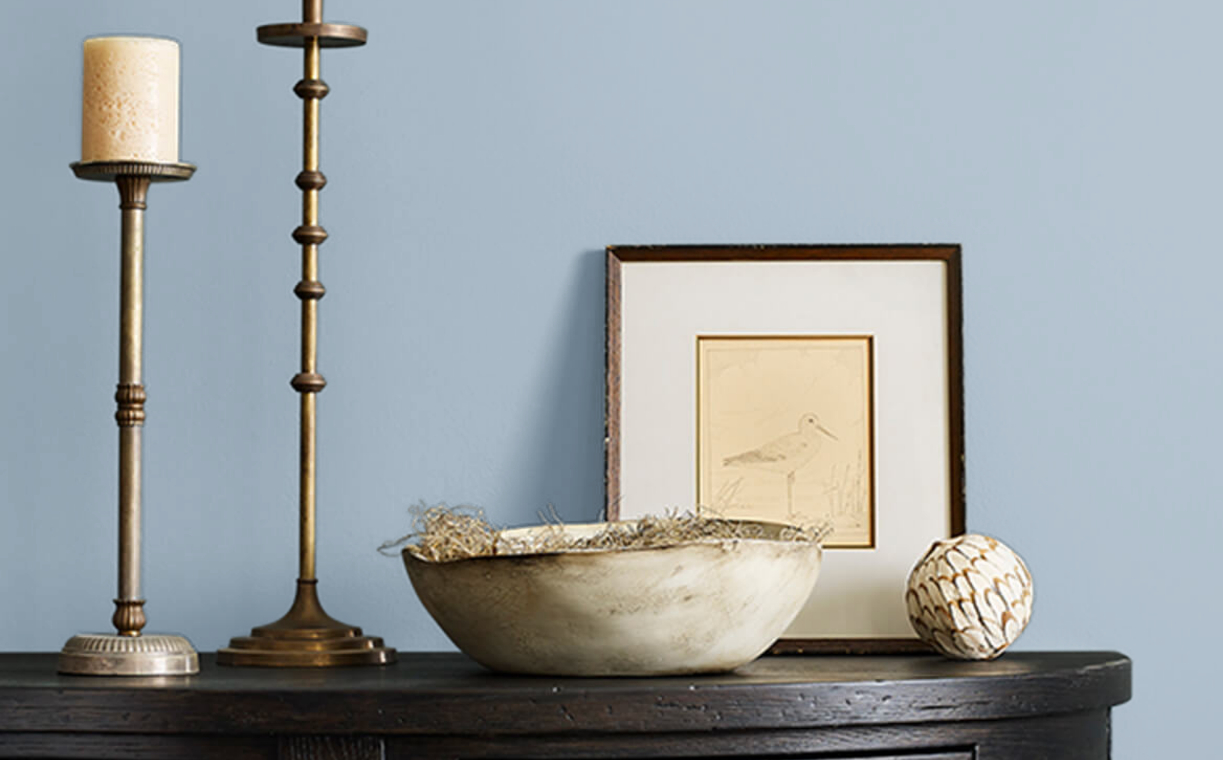 What Color Is SW Windy Blue?
Before you start using any paint color on the walls in your home, it is essential to figure out what kind of color it is. It will allow you to achieve the best results this color can give to your home.
Also, when aware of the color specifics, you will be able to pick the rest of the interior palette respectively. As a result, your interior will look harmonious and balanced.
Speaking of SW-6240 Windy Blue paint color, it is easy to guess that this paint is blue, as Encycolorpedia says.
However, don't think that it's so easy! Blue is a pretty versatile color that comes in cool-tone and warm-toned options. Besides, blue can be deep and rich or very light and delicate.
SW Windy Blue color is a nice mid-toned blue-gray paint color. It comes with a lot of gray undertones; however, the color doesn't look dark or "dirty" on the walls at all! This blue is what many designers would call a "dusty blue."
This color is very soothing, and it will work remarkably well in spaces where you want to feel relaxed and tranquil.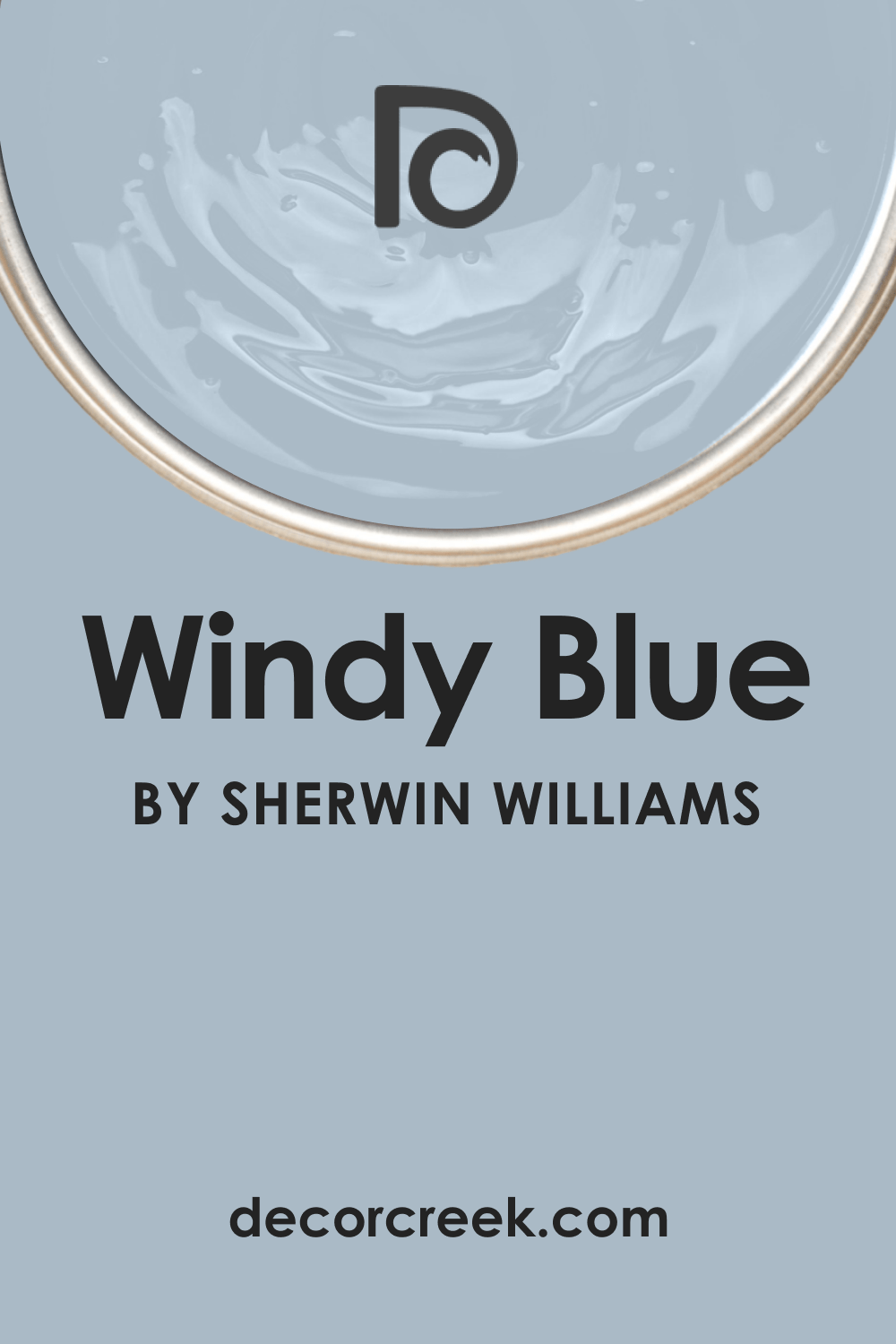 Undertones Of Windy Blue Color by Sherwin-Williams
Being aware of the paint's undertones allows you to use the color correctly in the living space, depending on the type of lighting you have there, as well as depending on the rest of the colors used to decorate the room.
SW Windy Blue paint color has gray undertones, which make this blue paint not too cold but not too warm either.
In fact, thanks to that grayish tone in it, SW Windy Blue color holds a good balance in the middle of the tone scale, being a pleasant and soothing mid-toned blue-gray color.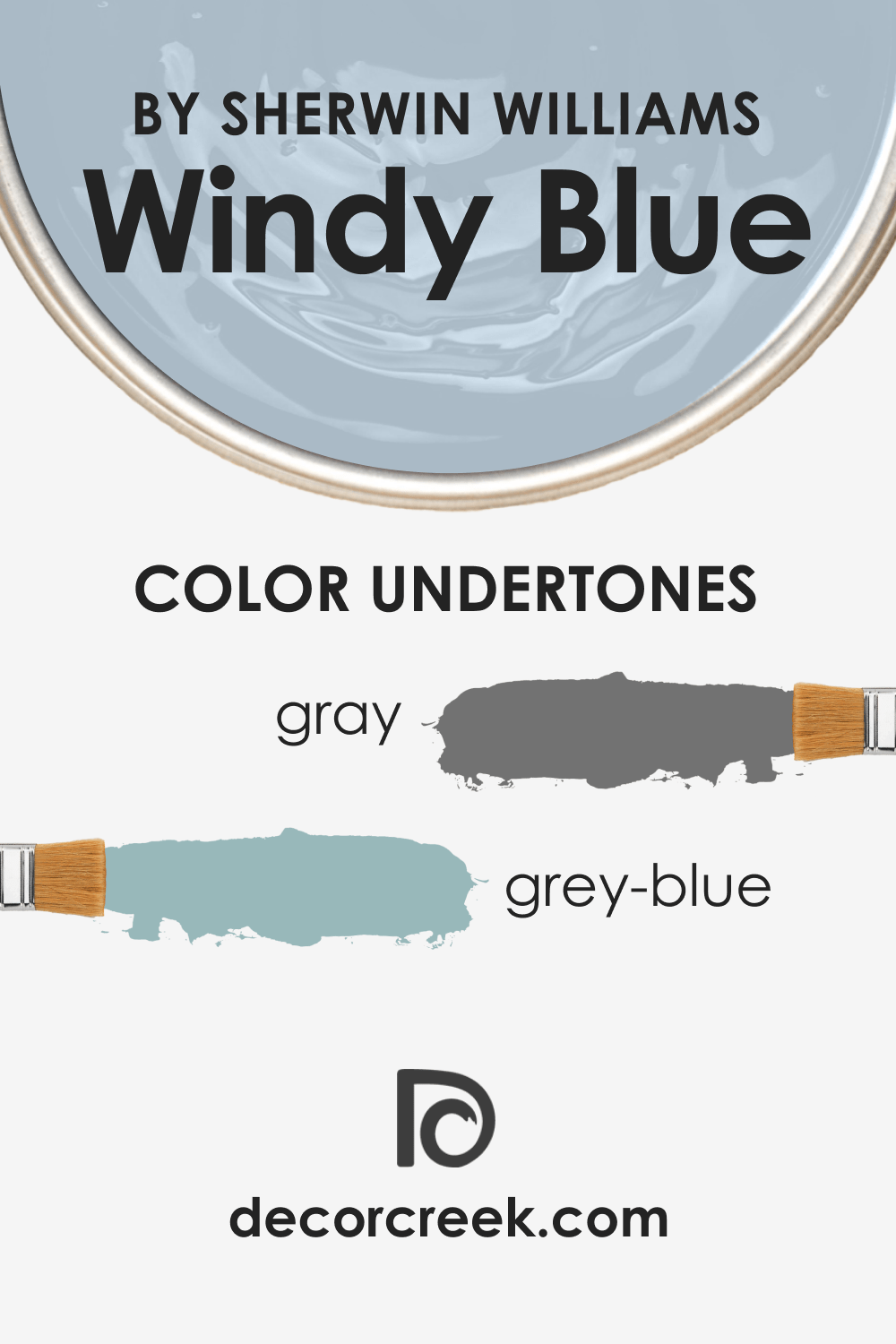 LRV of Windy Blue SW-6240
When you are choosing paint colors for your home, LRV is one of the most essential things to take into consideration. LRV stands for Light Reflectance Value, and it shows how much light the color can reflect when it is applied to the wall.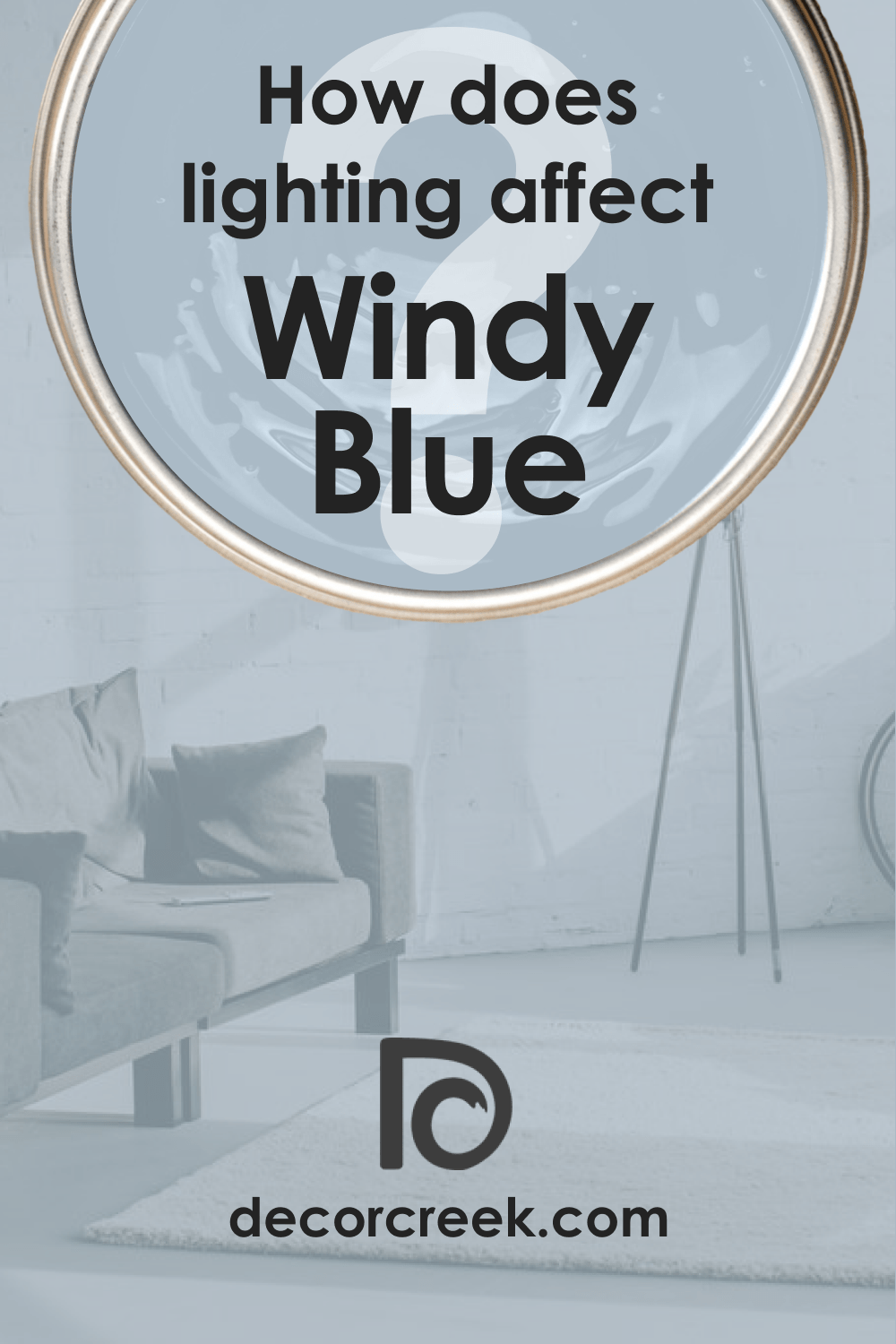 The LRV scale ranges from zero to 100, where zero stands for black and 100 stands for pure white. As for the SW Windy Blue paint color, its LRV is nearly 48. It means that this color is situated almost in the middle of the scale, being a mid-tone gray-blue color.
As for its light-reflecting properties, the Windy Blue paint color will not reflect too much light. As a result, this blue will make the room feel light enough. Although you should take other colors into consideration!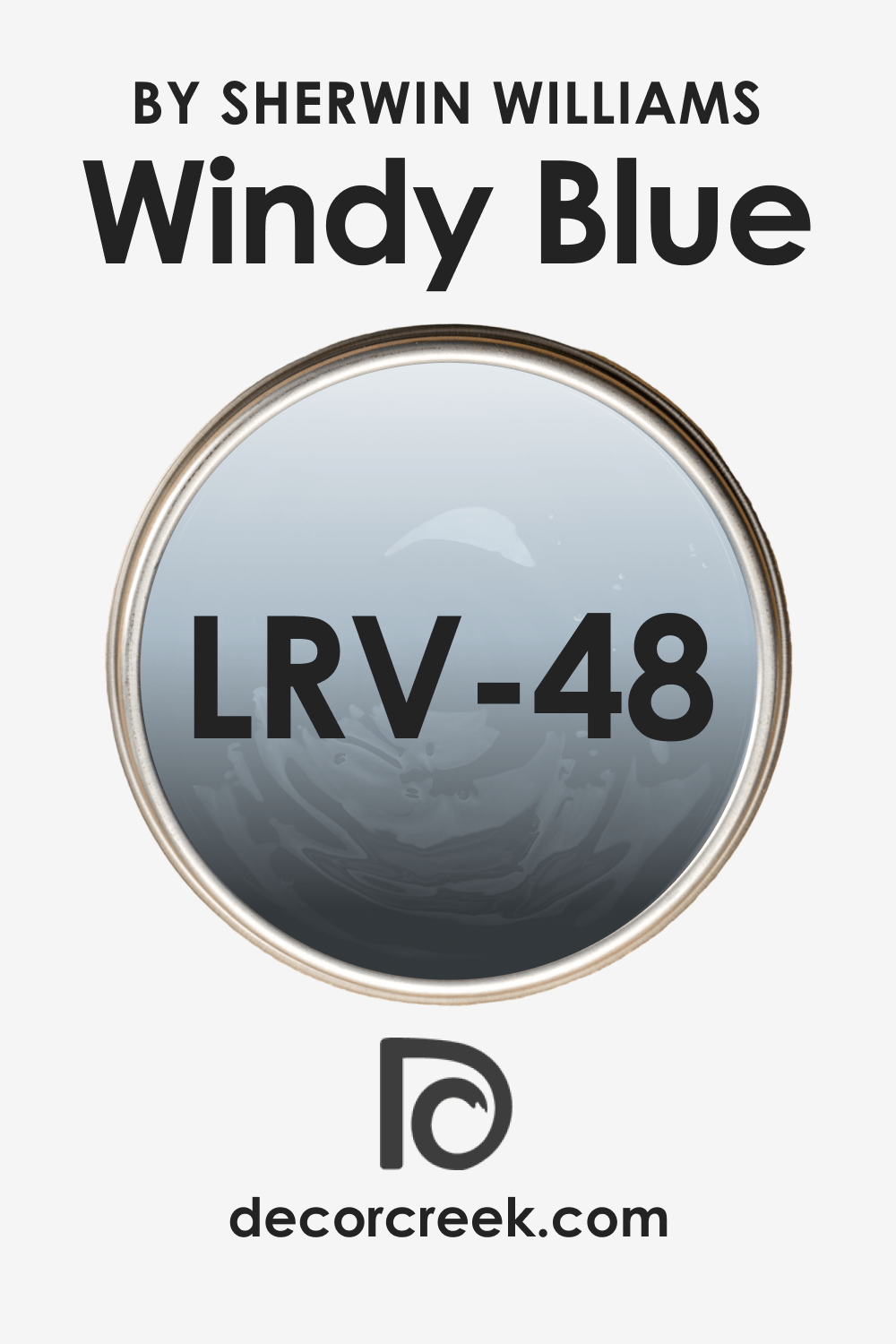 LRV – what does it mean? Read This Before Finding Your Perfect Paint Color
Colors That Go With Windy Blue by Sherwin-Williams
If you want to make the best out of the Windy Blue SW-6240 paint color, you need to know what colors will go with this shade of blue best of all.
For sure, not all of you have a sharp eye for colors and color shades, so we have prepared a list of several options that you might find helpful.
SW-0077 Classic French Gray
SW-7645 Thunder Gray
SW-6258 Tricorn Black
SW-7709 Copper Pot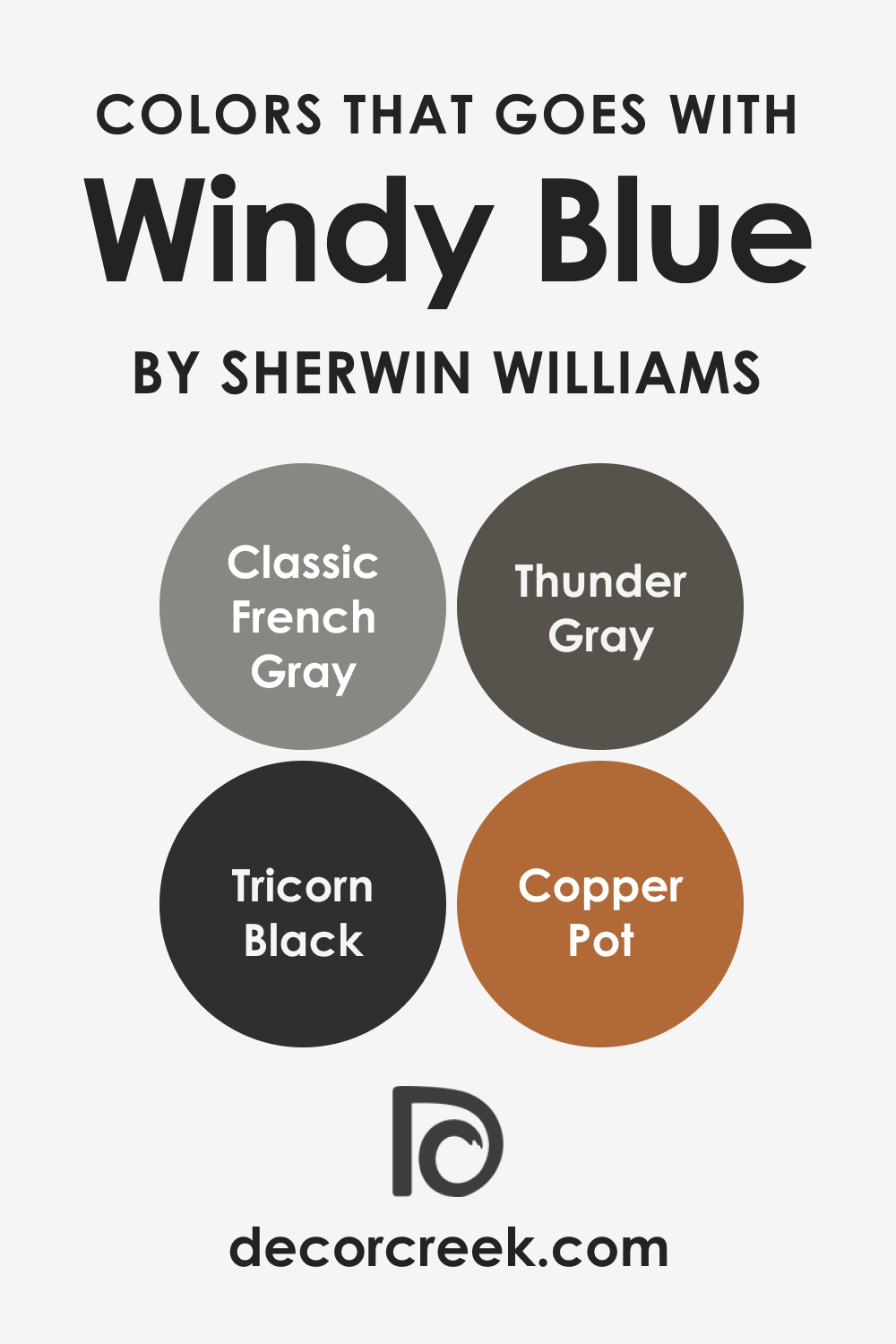 SW Windy Blue Coordinating Colors
To make your home read homogeneous in terms of colors used in it, it is essential to know what paint colors will coordinate with the color used on the walls. For SW Windy Blue paint color, the following will be coordinating ones:
SW-6238 Icicle
SW-6385 Dover White
SW-6387 Compatible Cream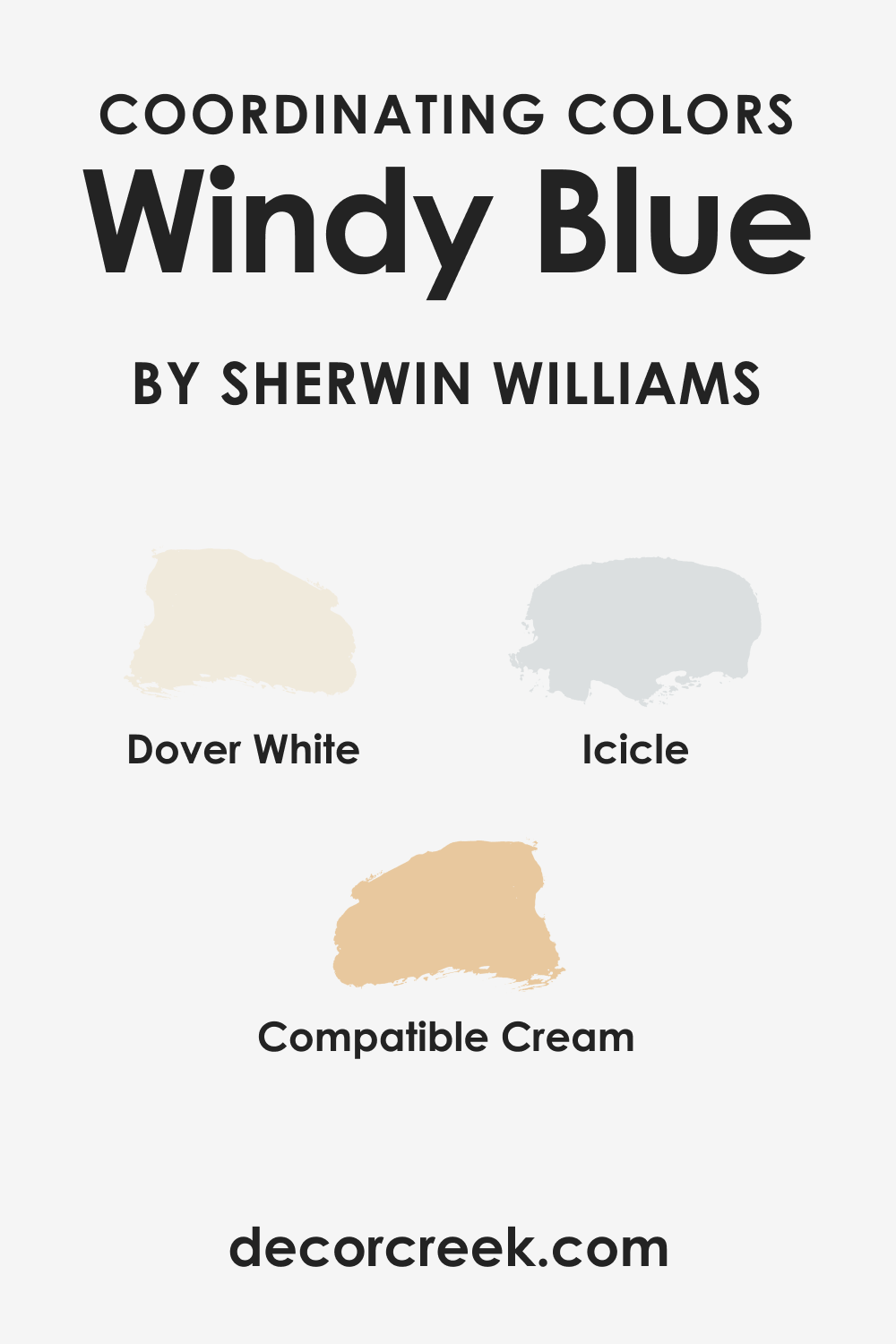 What Is the Best Trim Color to Use With SW Windy Blue?
Traditionally, white is considered the best trim color to use in your home. White is universal and flexible, as well as pretty neutral, which means it will work well with the majority of other colors.
And this rule works for SW Windy Blue paint color as well. For example, you can use SW Extra White or, if you prefer lighter whites, try out SW Extra White or SW Chantilly Lace.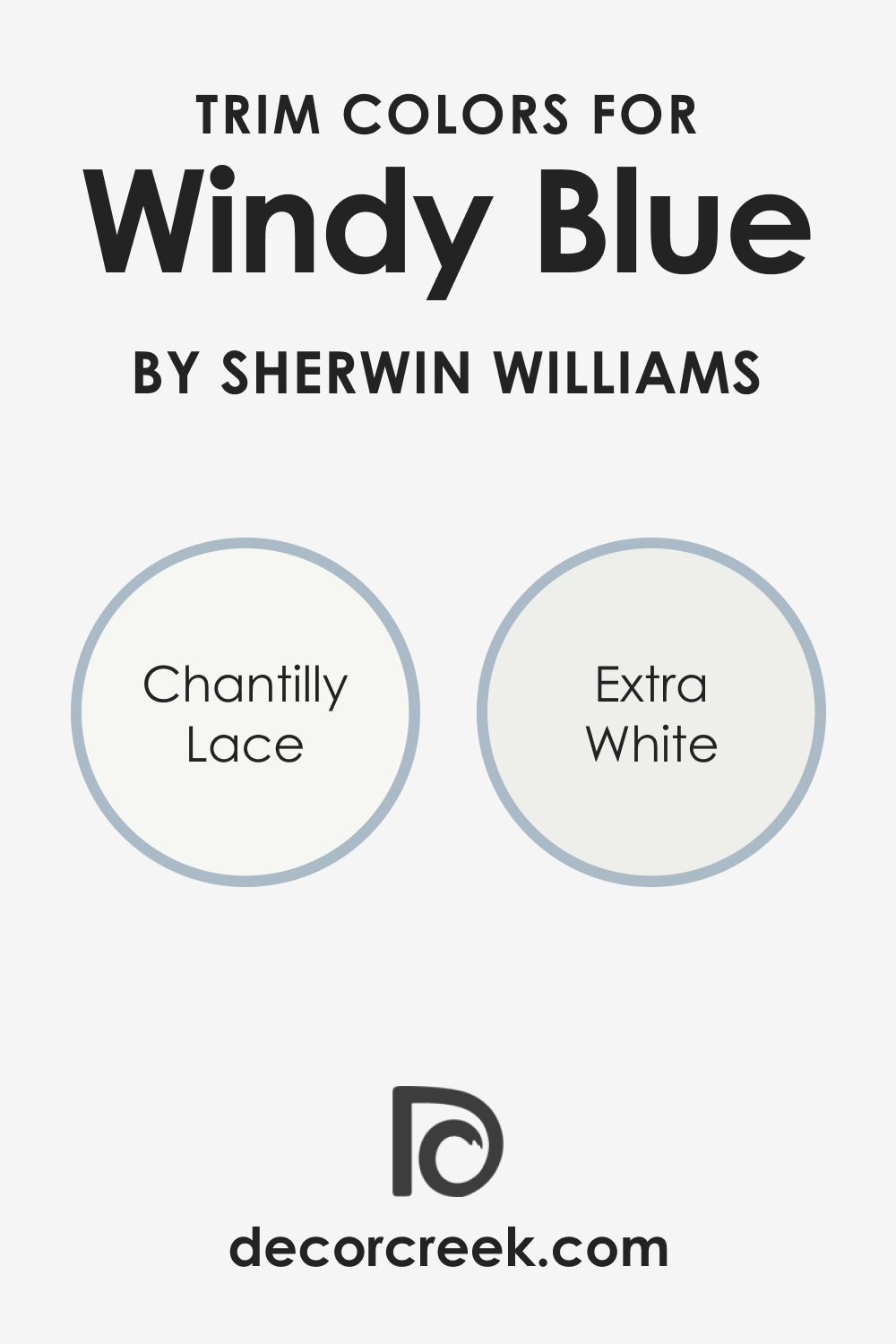 Paint Colors Similar to SW Windy Blue
Why would you need to know what similar colors your wall color has? Well, this information might be handy in case you realize that the color you initially selected doesn't quite suit your room or overall interior design.
Also, it sometimes happens that the paint color you wanted to paint your walls appears too dark or too light on the walls when you sample it.
Anyway, being aware of a few alternatives is a good idea! And if you want to paint your interior walls with SW Windy Blue, here are several similar colors you might want to consider.
SW-9146 Faded Flaxflower
SW-6520 Honest Blue
SW-6226 Languid Blue
SW-6527 Blissful Blue
SW-9145 Sleepy Hollow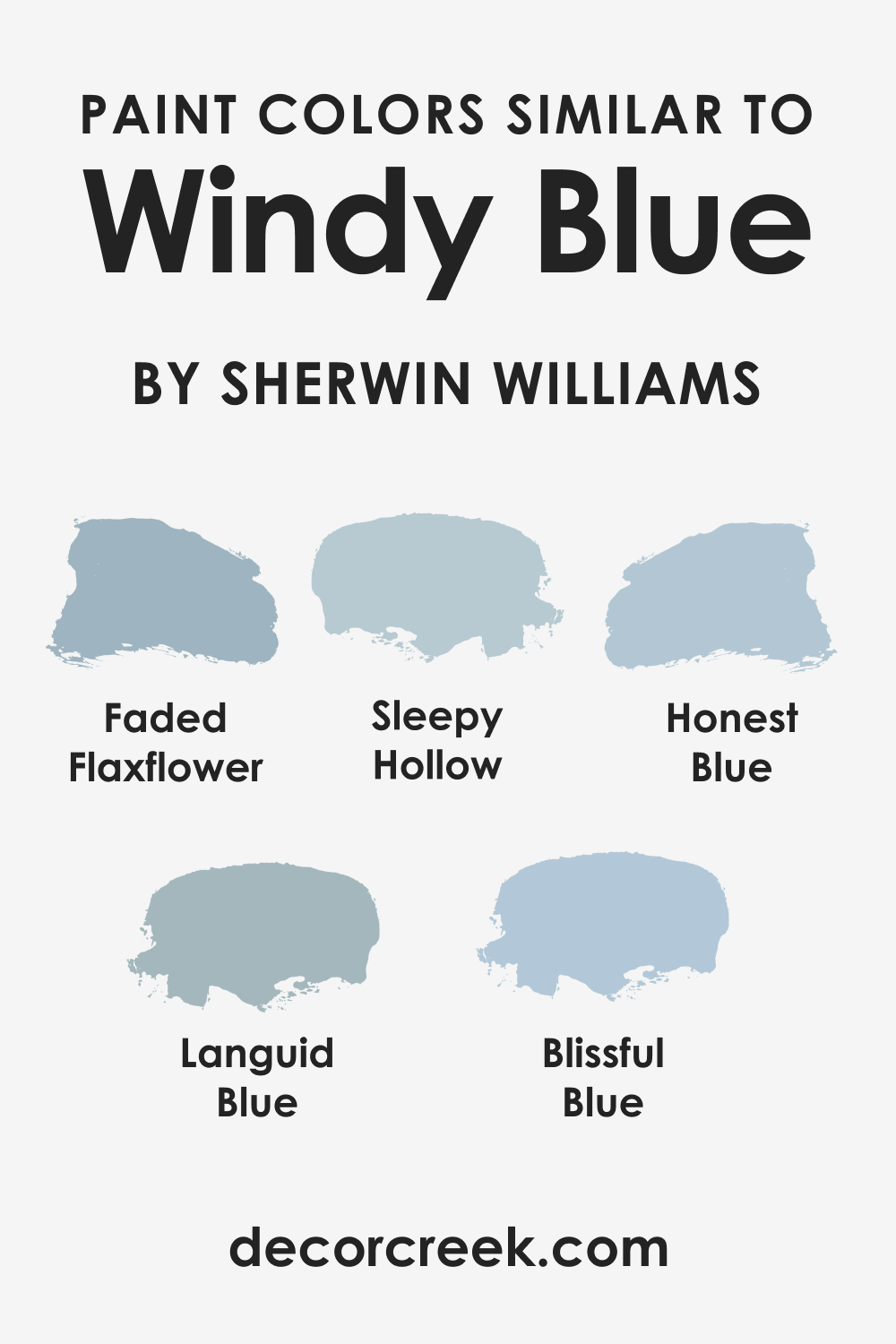 SW Windy Blue Color Combinations
Since blue is a pretty versatile color in terms of shades, it can be difficult for a non-professional to see the distinctions between some of them.
This is why, in order to help you out with shades of blue, we have prepared a few comparative pairs of colors. Each of them contains SW Windy Blue and one more blue color to help you see what makes them different.
SW Windy Blue vs Krypton
Sherwin-Williams Krypton is a crisp and super cool blue color with a hidden gray undertone. SW Windy Blue also has gray undertones, which might make you think these two are related.
However, in fact, Krypton color reads much grayer compared to SW Windy Blue. Also, SW Krypton has prominently cooler undertones.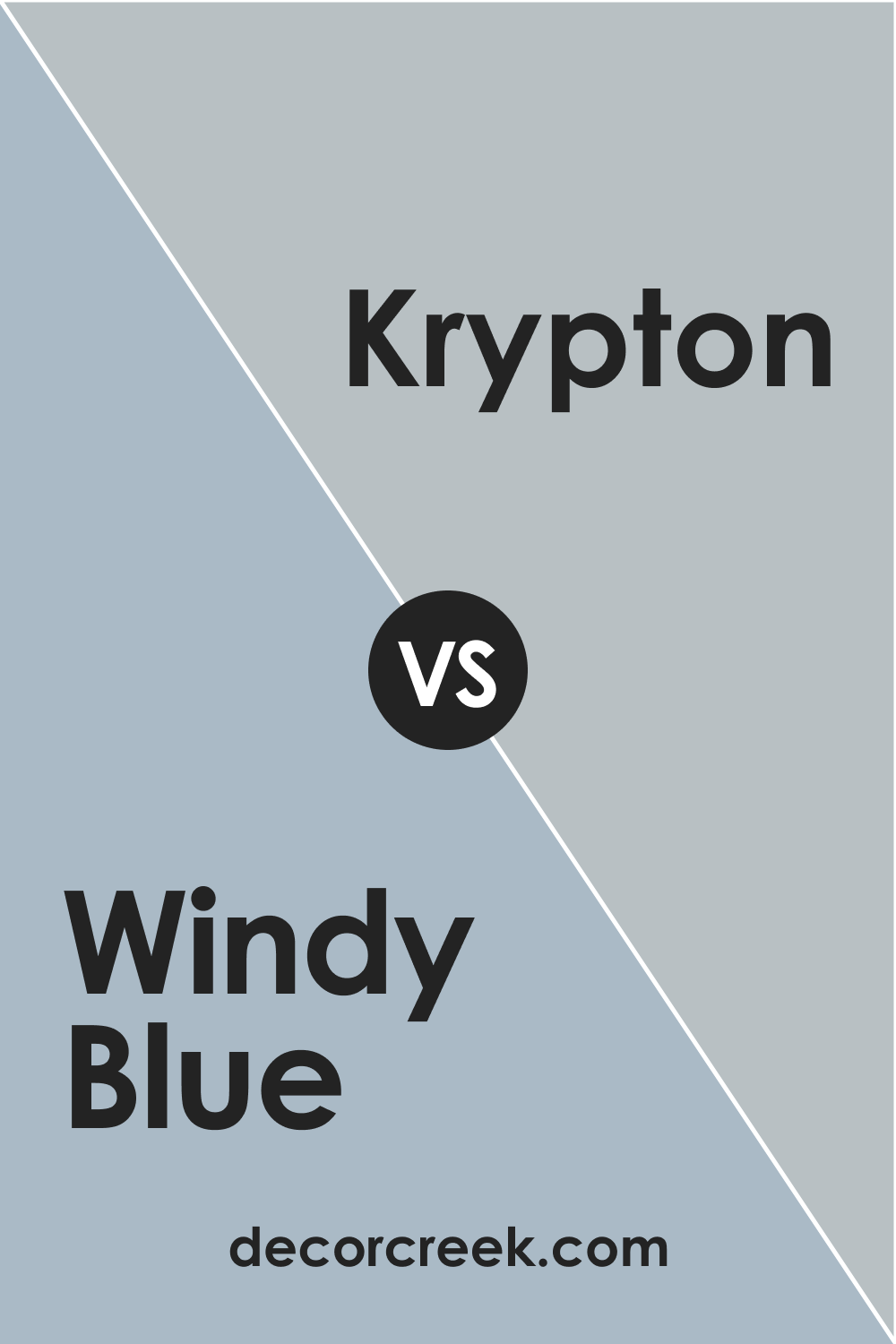 SW Windy Blue vs Aleutian
These colors read very well together. Aleutian color by Sherwin-Williams is also blue, but unlike its counterpart, it has a deeper tone and is somewhat darker. SW Aleutian is a soft blue with slight gray undertones, which makes it look nice with SW Windy Blue.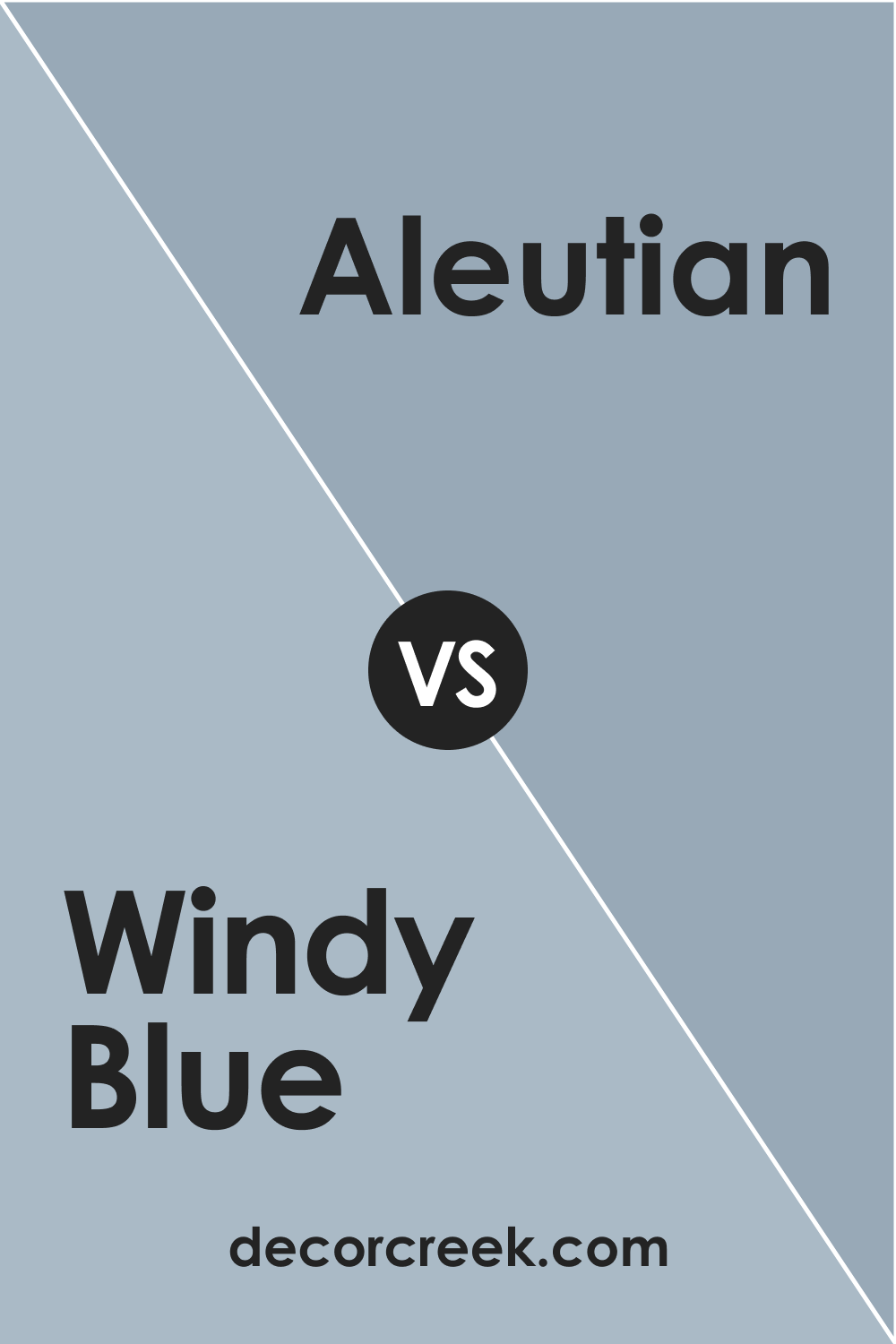 Stardew vs SW Windy Blue
Stardew paint color by Sherwin-Williams is a calming, muted grey with blue undertones. So basically, it can't be similar to SW Windy Blue. And indeed, the two read too dark when used together, so we'd not recommend you use them in the same room!
Now you know more about the Windy Blue paint color by Sherwin-Williams. You learned what type of blue it is, how it reacts to light, and what LRV it has. Also, now you know how this shade of blue may work with other blue colors and what paints will coordinate with it well.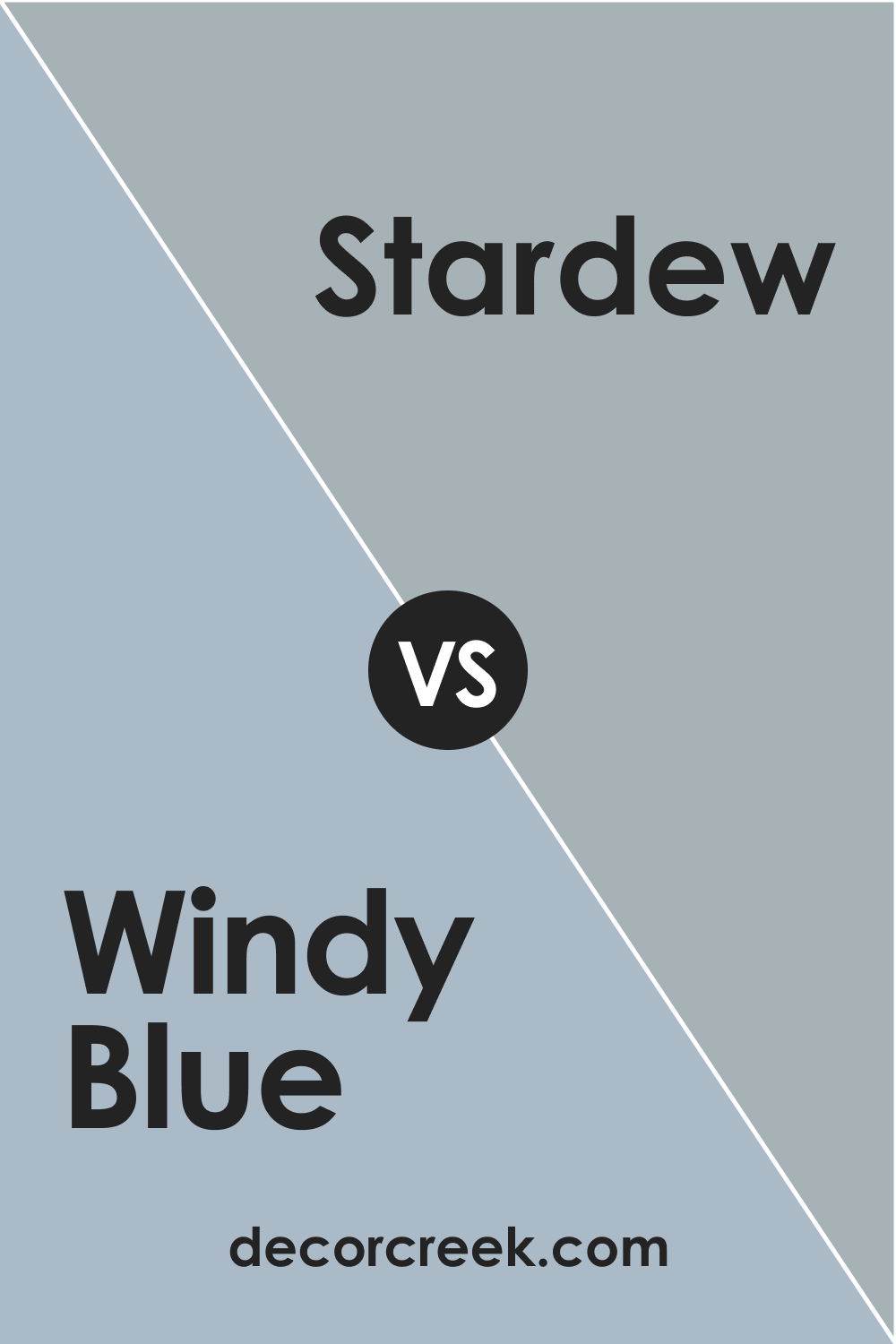 Where to Use SW Windy Blue Paint In Your Home
One of the biggest concerns and the biggest stumbling stones for many homeowners is finding the room that will host the selected paint color best of all. See, not all paint colors are so versatile that you can use them in any room successfully.
Often, you have to consider the way the room is lit, other colors used in it, and even the texture of fabrics and furniture!
Below, you can find a description of how SW Windy Blue will work in different rooms of your home. This guide will help you understand better where in your home this blue will be a win-win color choice and where you should avoid using it.
Living Room of Windy Blue SW-6240
Basically, this color is a nice choice for a living room, but only if the room is adequately lit and has plenty of daylight. In a dim room, this blue may read dusk and "dusty," losing its fresh beauty.
Also, if your living room is lit with bulbs, their warm light can make SW Windy Blue read darker.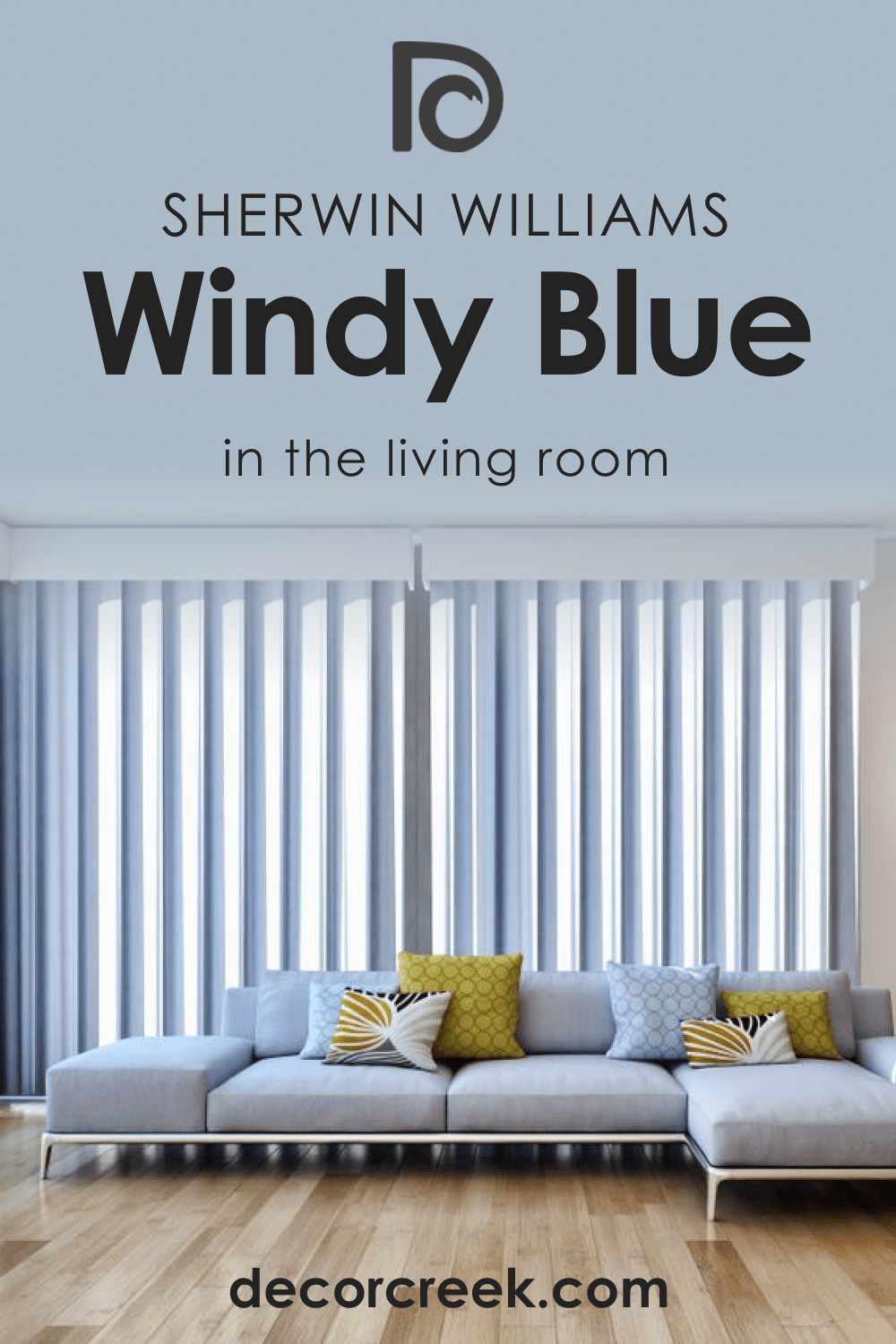 Windy Blue SW-6240 in the Bedroom
If you decide to use Windy Blue paint color by Sherwin-Williams in your bedroom, make sure it is well-lit. Also, there should be no dark-colored furniture, as well as dark drapes, curtains, or carpets.
Any dark colors will most likely make this blue read dusty and dim, which is why the entire room will look smaller.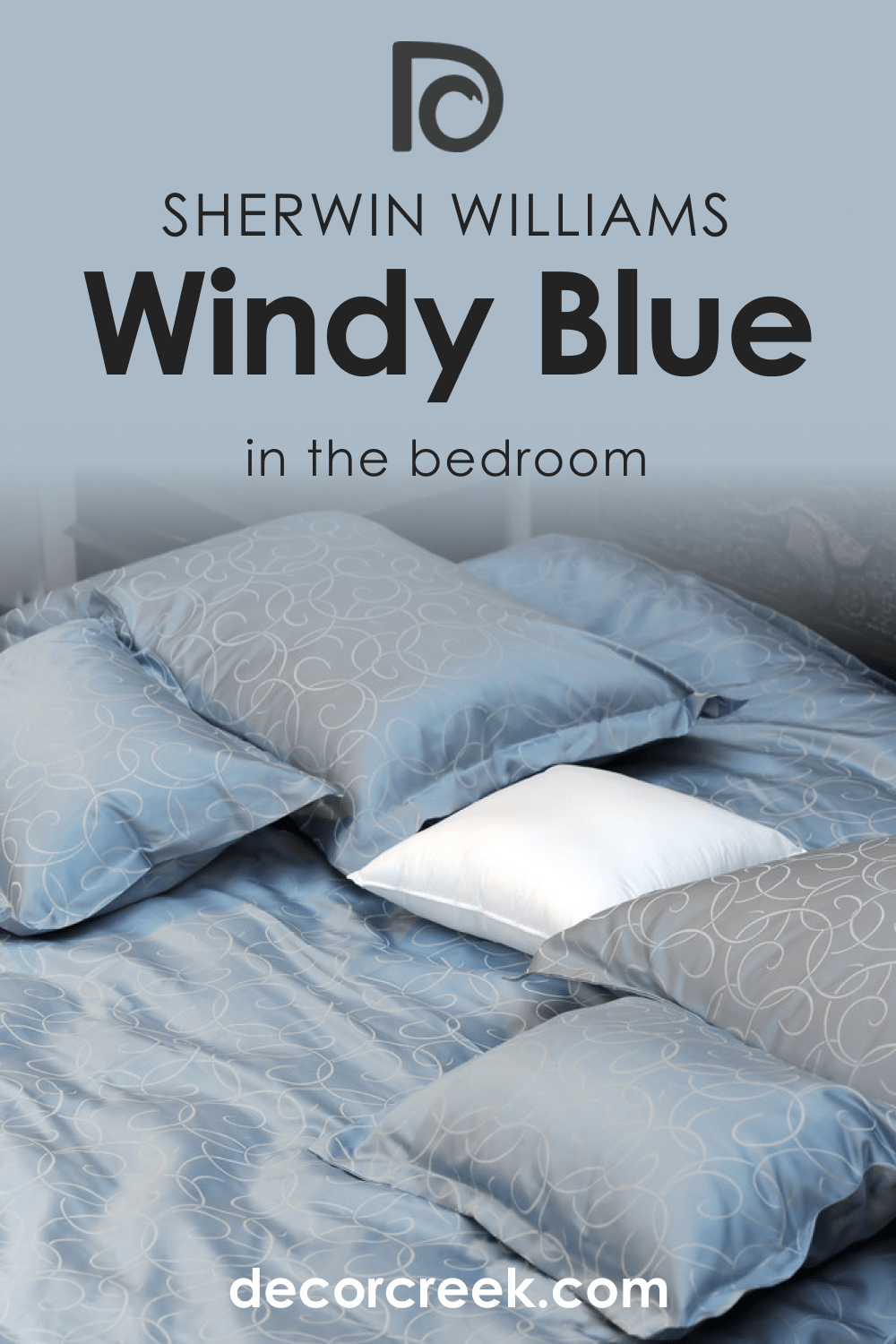 Kitchen with Windy Blue SW-6240 Paint Color
Windy Blue by Sherwin-Williams can be used in a kitchen, but it will work much better as a color used on cabinets or drawers or as an accent wall color.
It may also read nicely on a kitchen island. But we would not recommend you paint the entire room with it! This can only work if your kitchen is large enough and has plenty of warm daylight!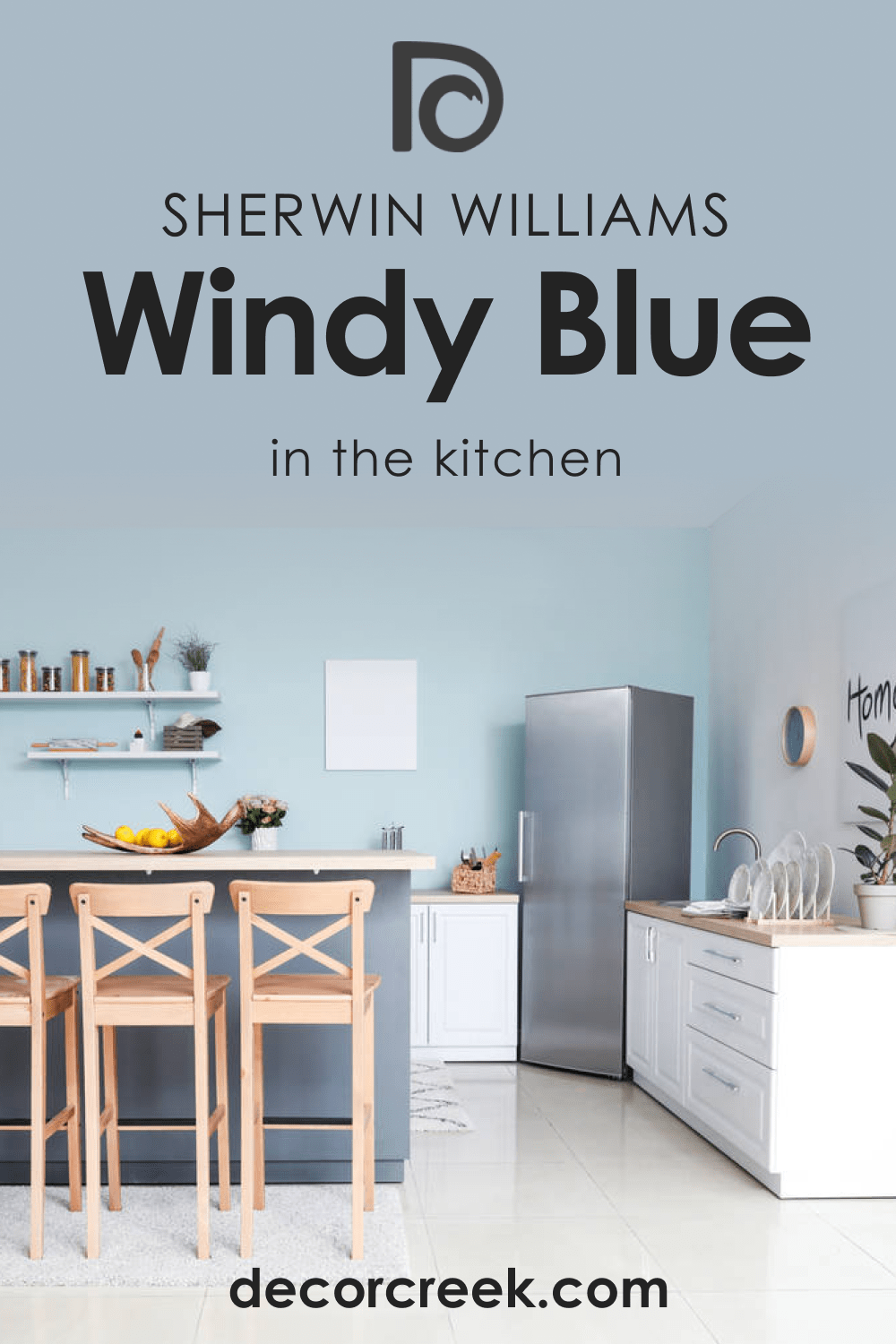 Bathroom and Windy Blue SW-6240
Since Sherwin-Williams Windy Blue belongs to the blue color family, it will work great in a bathroom. Depending on the size of the room, you may want to use this color on all the walls or only on an accent wall. But anyway, this blue will read marvelous on cabinets or vanity sink as well!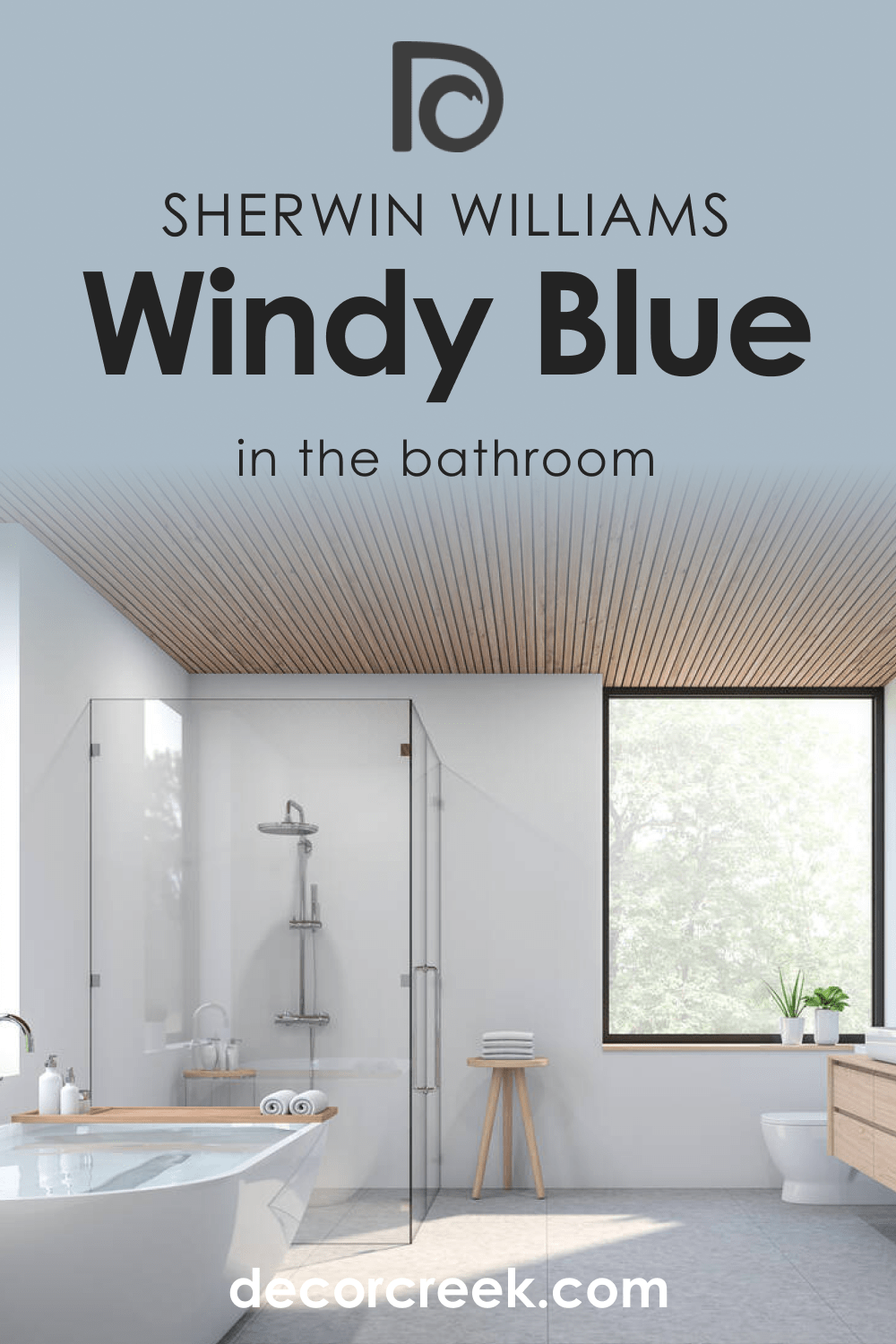 Sherwin-Williams Windy Blue On Exterior Walls
Can you use SW Windy Blue as an exterior paint color? Absolutely! However, this should be done with care. First of all, not all landscapes will accept a blue house well. This color is a good option for facade paint if your house is located at the seaside or in an area with sunny weather.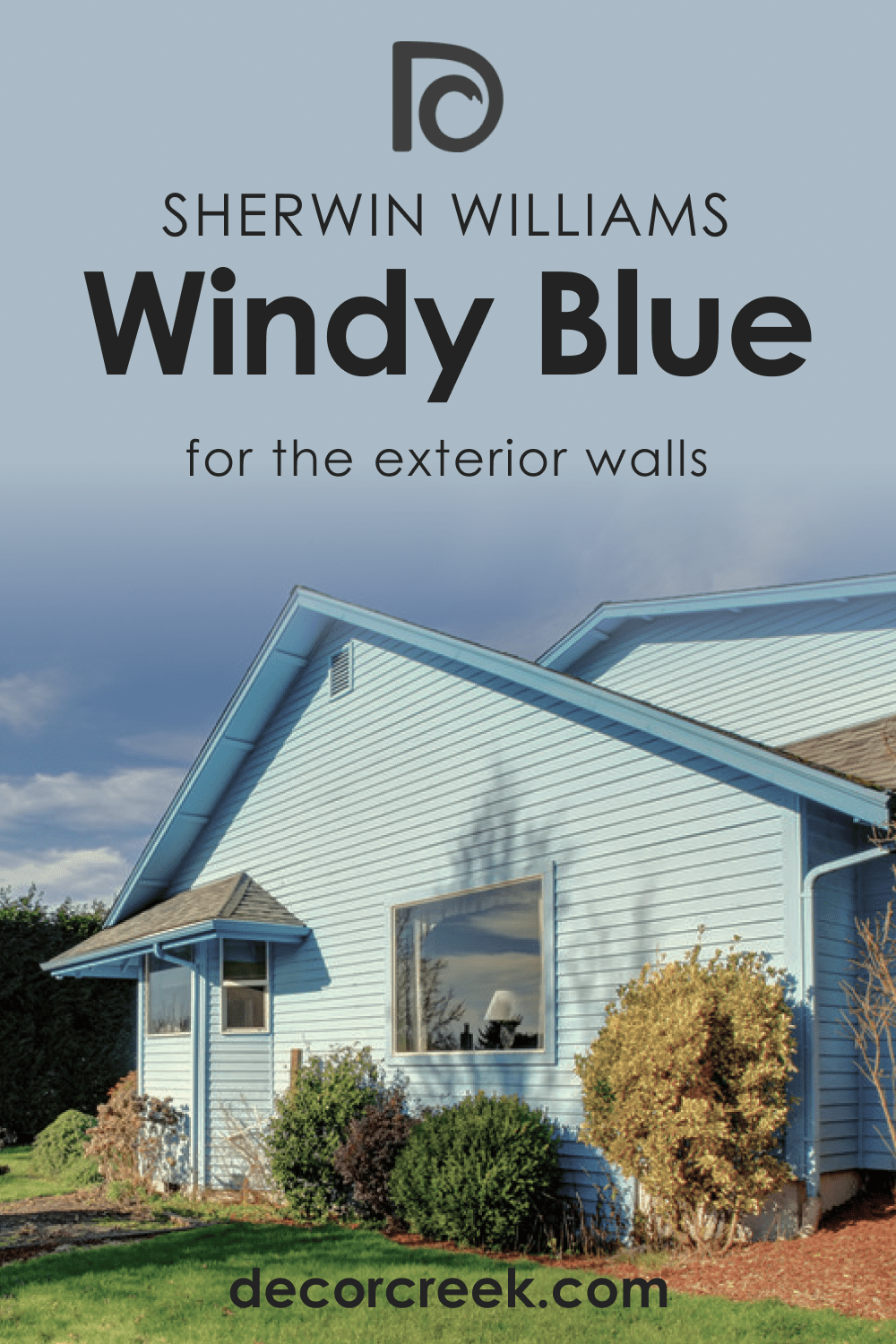 So, now you know all the nuances that may come with the marvelous shade of blue called Windy Blue by the Sherwin-Williams brand.
We told you what kind of color it is, how to use it in your home to make this paint color work, and what colors will work best of all with it.
Also, you know what trim colors and coordinating colors will fit this shade of blue.
We explained in what rooms this blue color will be a better option to use on the walls, and also, now you know what undertones and LRV it has. With all that in mind, you will be able to use this wonderful shade of soft blue in your home to make it even cozier than before!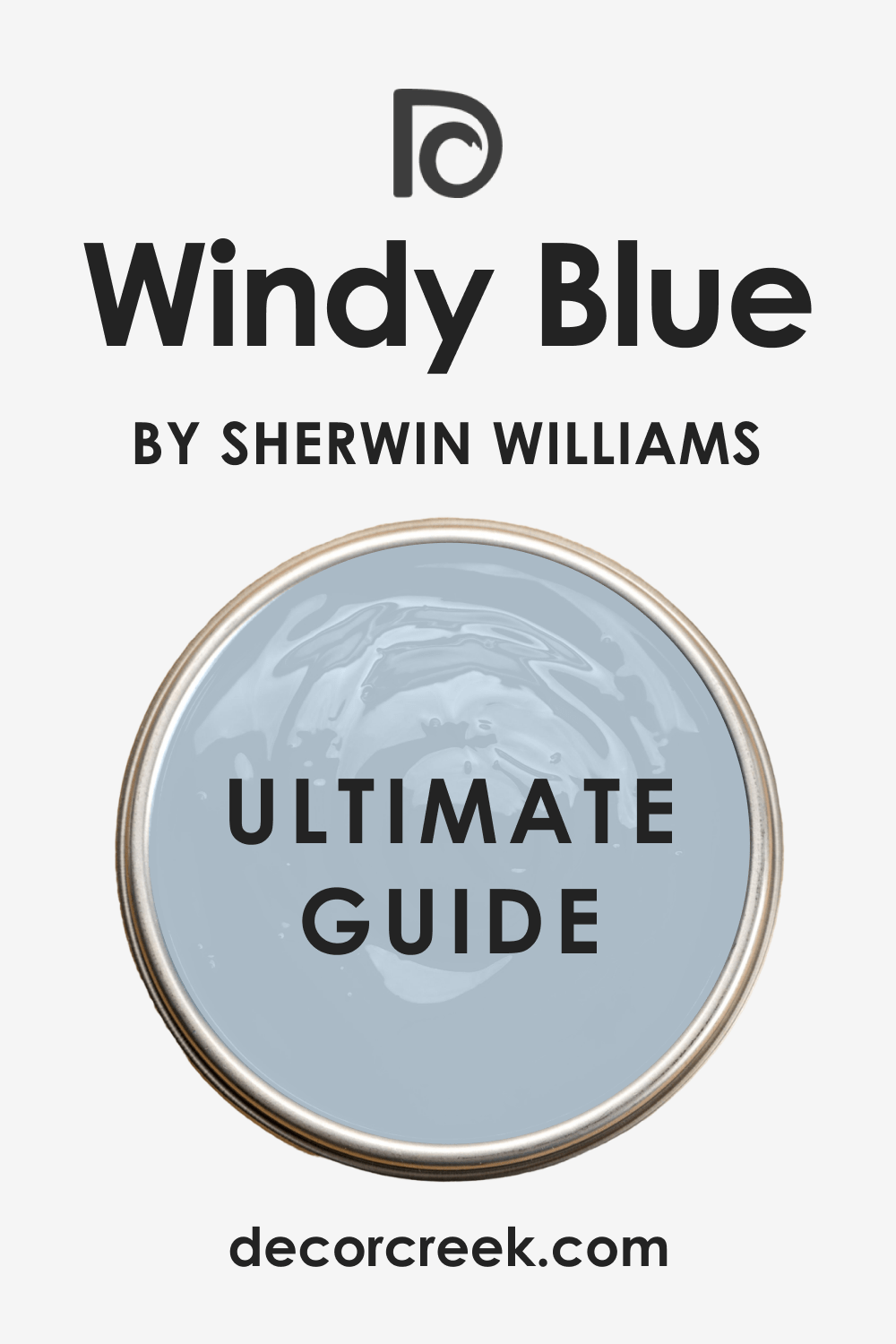 Frequently Asked Questions
⭐What do you call the Windy Blue color shade?
It is a soft and mid-toned cyan blue with gray undertones.
⭐Will SW Windy Blue work in a nursery?
Technically, it can if the room is well-lit. But we'd recommend you warmer colors like beiges or greiges.
⭐Can I use SW Windy Blue to paint my garage?
Yes, you can. This color can be used as exterior paint as well.