Compared to whites and neutrals, green might not be that popular as an interior color. However, there are shades of green that are so beautiful that nobody can resist them! And today, we will introduce you to one of such colors called Privilege Green by Sherwin-Williams.
This detailed guide will help you to explore Privilege Green SW 6193 on a much deeper level. This article will teach you how to pair this paint color with suitable and nice coordinating colors.
Also, you will learn how to create a room that stands out by creating lovely color palettes with SW Privilege Green. Read on to learn more!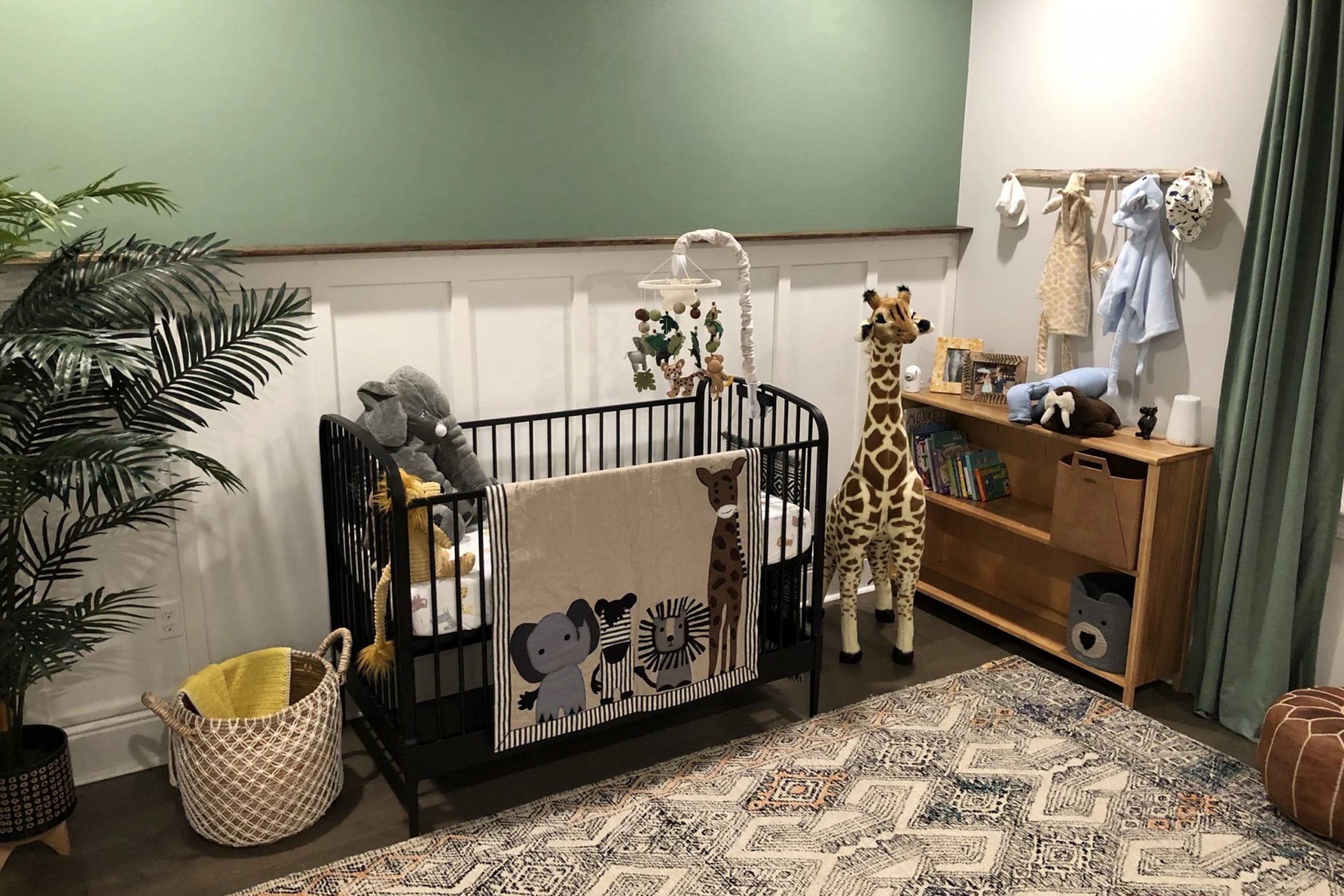 What Kind of Color Is Privilege Green SW 6193?
SW Privilege Green by Sherwin-Williams is a calm and deep shade of green that gives off a nature-like feeling. While Sherwin-Williams Privilege Green is deep enough, it doesn't make your home feel gloomy or dark. Instead, it brings a natural vibe to your interiors.
As Encycolorpedia says, Privilege Green SW 6193 is not neutral. In some lighting conditions, you may notice this cool-toned and deep color gives off a dose of blue or grey. However, green still dominates in all lighting conditions.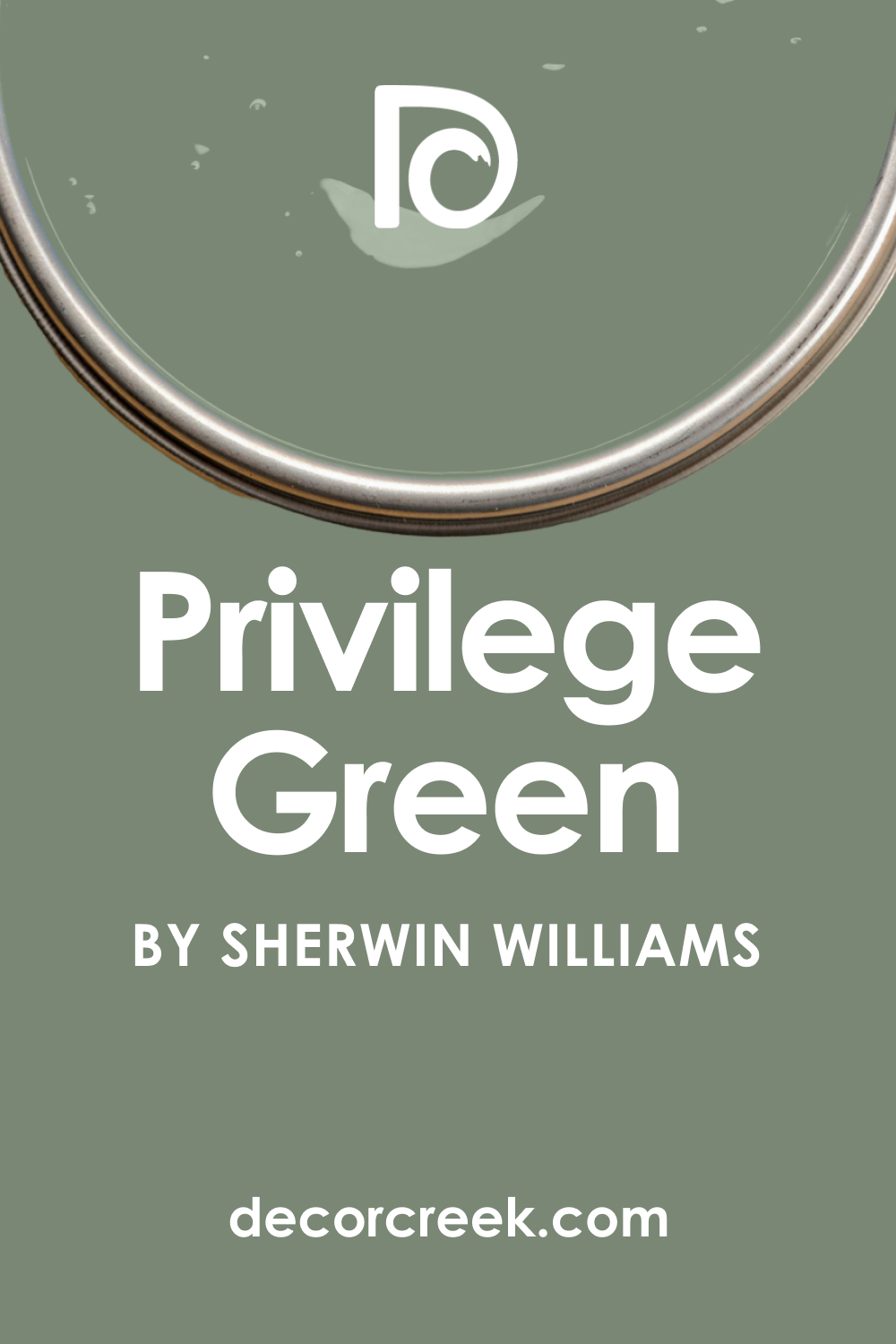 What Undertones Does Privilege Green SW 6193 Have?
Knowing what undertones paint colors have is a must if you want to achieve a harmonious and pleasant color palette in your home. Undertones can often hide deep within the layers of color, showing up under specific lighting conditions. But when it happens, the color on your walls is very likely to read completely different from what you expected!
SW Privilege Green has blue-grey undertones, but they are quite well-balanced. This is why you should not be afraid that this green might read prominently blue or grey on your walls.
In fact, its balanced undertones help create a sense of calm in any room where this color is used.
What LRV Does Privilege Green SW 6193 Have?
The LRV (Light Reflectance Value) of SW Privilege Green is 23, which means this green is pretty dark and deep. However, unlike other dark colors, it won't make your home feel enclosed or dark.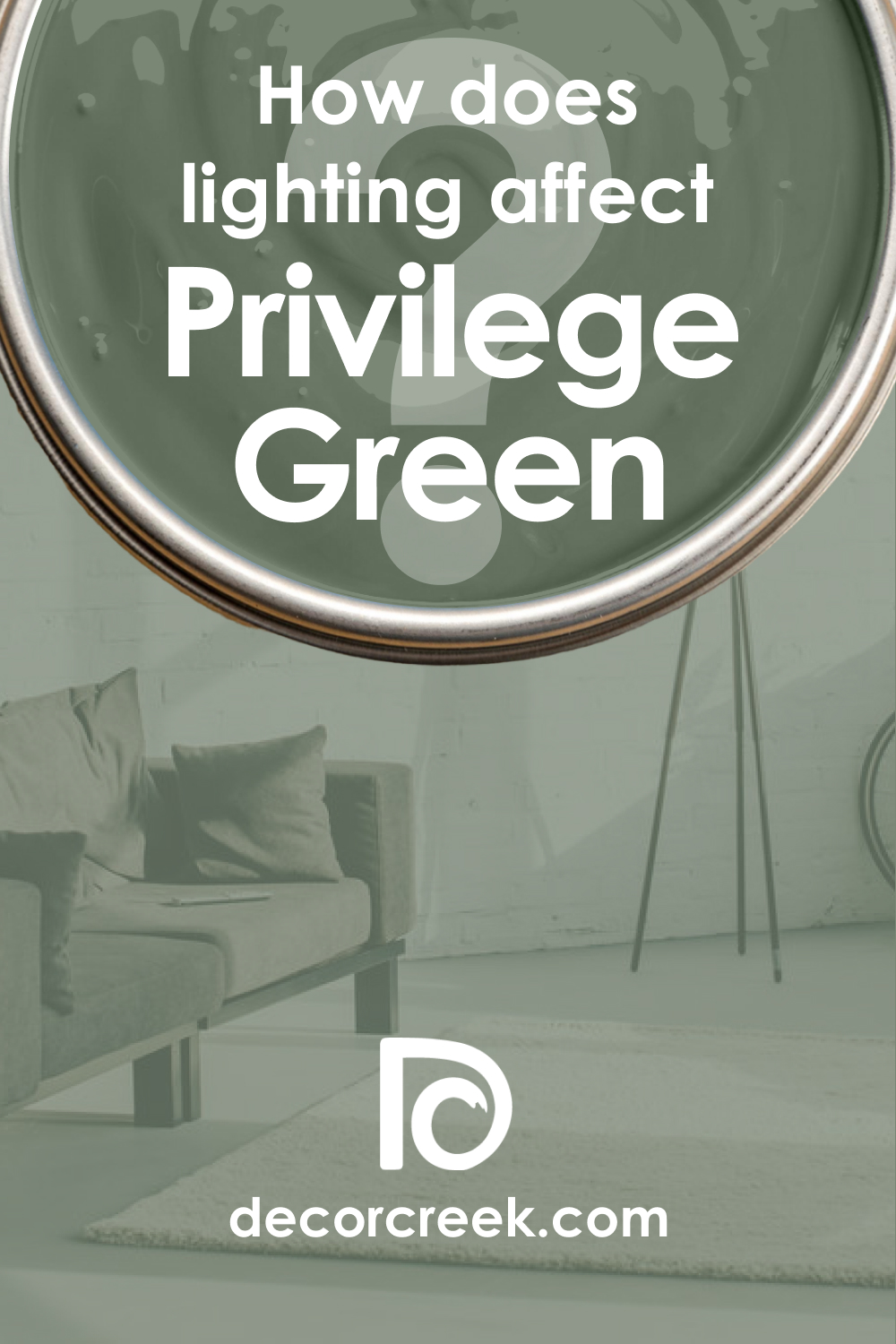 On the other hand, you should still use it with caution since SW Privilege Green still has the tendency to make a room seem smaller if this color is sued in the wrong lighting conditions.
Because of the low LRV value, this color reads pretty cool-toned. Also, its low light reflectivity will affect how it reads in different lighting conditions. SW Privilege Green's coolness will become specifically noticeable when you use this shade of green in a north-facing room where the light is already cool.
Also, you should note that sometimes, in a north-facing room, SW Privilege Green may feel a bit icy. In a south-facing room, however, the warm light will balance the cool hue in SW Privilege Green. As a result, this color will not make the space feel too cold.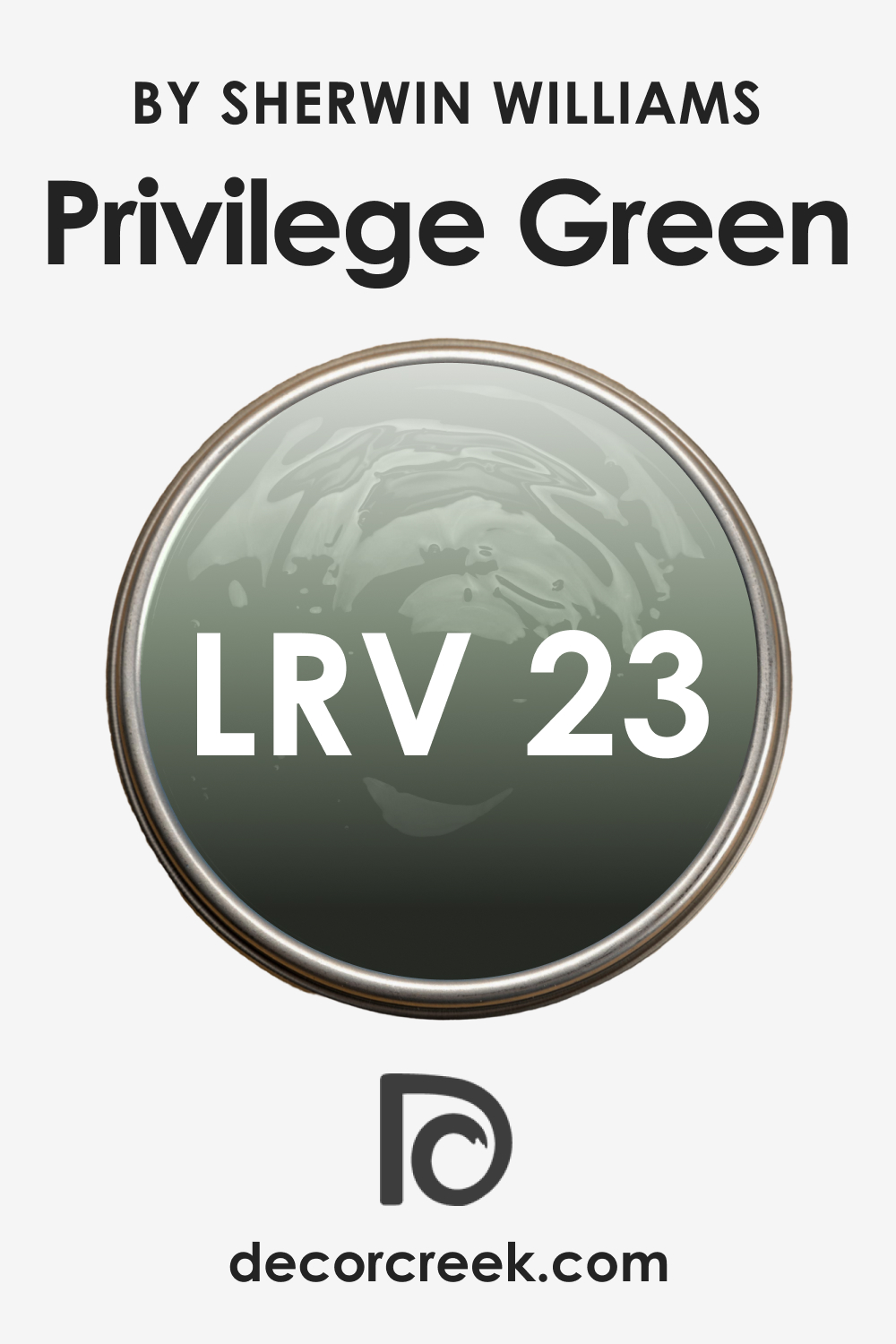 LRV – what does it mean? Read This Before Finding Your Perfect Paint Color
Coordinating Colors That Work With SW Privilege Green
Because of its complex undertones, this green color can be rather challenging to coordinate since you have to pick suitable colors considering their undertones as well.
Should you really have any issues with that, we have prepared a few color suggestions for you to use. Below, there are the best and optimal coordinating colors that will work with SW Privilege Green:
SW Opaline
SW Repose Grey
SW Grays Harbor
SW Jogging Path
In case you prefer monochromatic palettes in your home, consider using one of these colors instead:
SW Rock Garden
SW Jade Dragon
SW Contented
SW Basil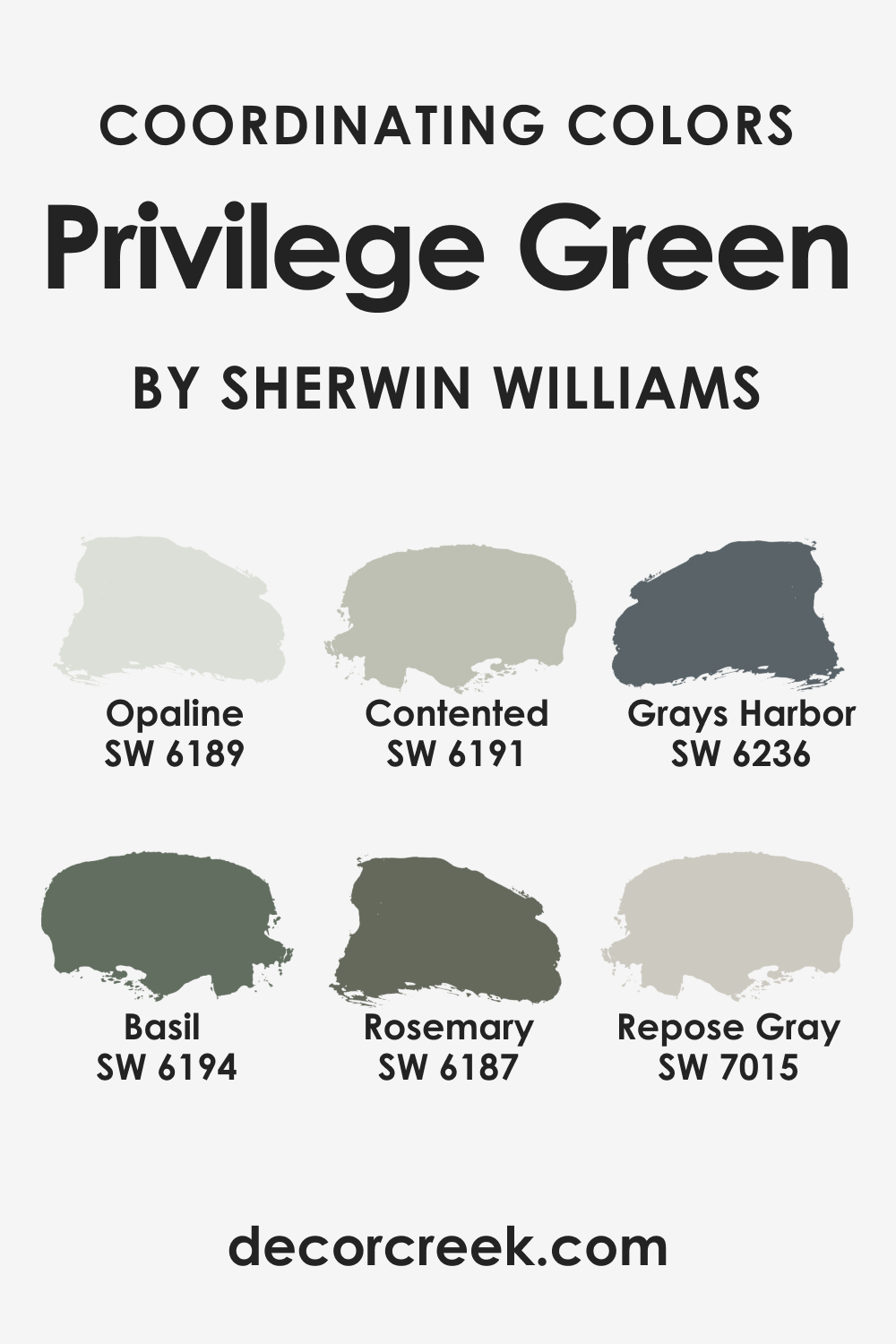 For the complementary color scheme, the following paint colors will work best as coordinating ones:
SW Rosemary
SW Conservative Gray
SW River Rouge
SW White Truffle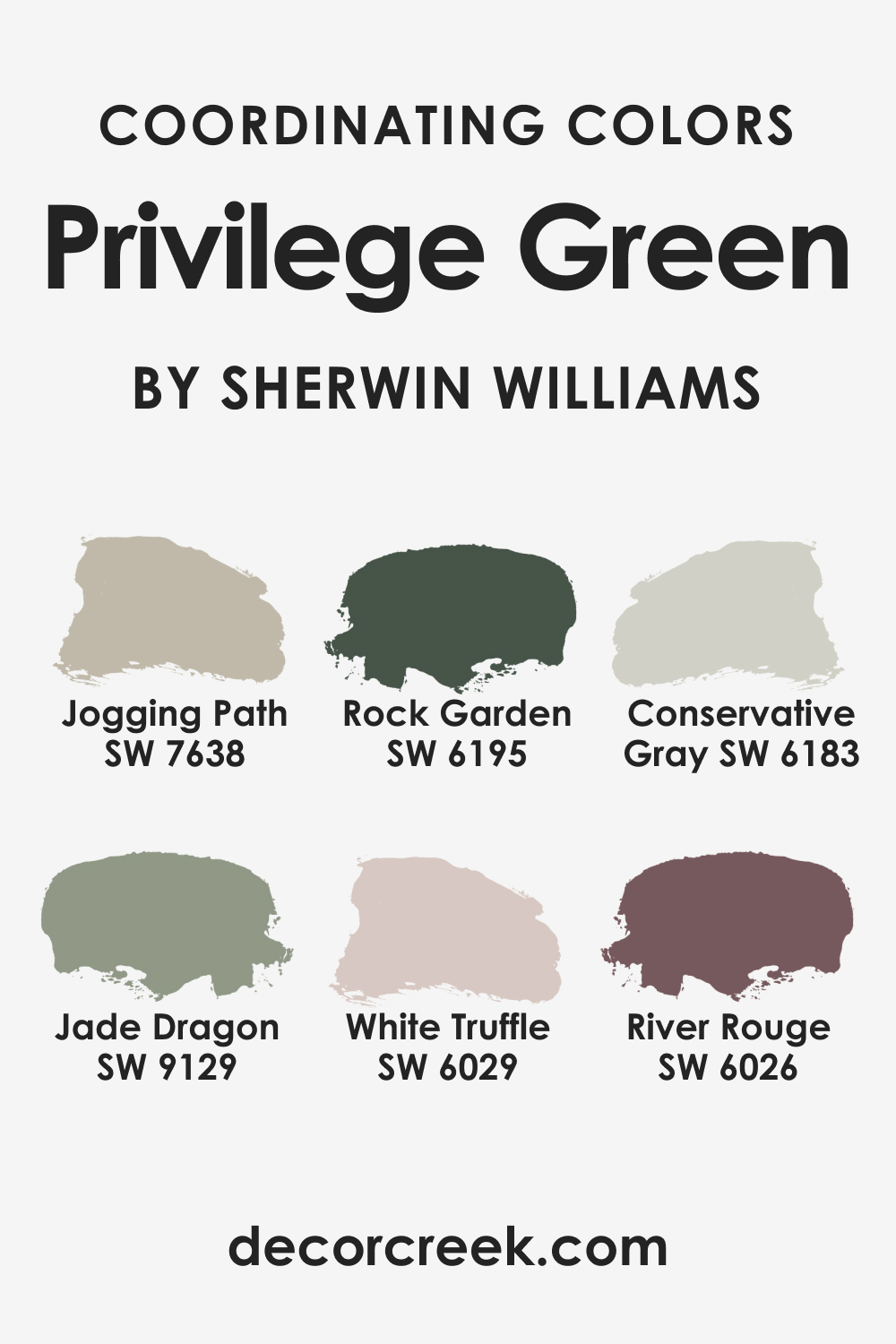 What Is the Best Trim Color For Privilege Green SW 6193?
White is traditionally the best trim color to use since it pairs successfully with most wall colors. For SW Privilege Green, white will also be the best color option to use on trim and molding.
However, SW Privilege Green will also work well with other trim colors except for white! In particular, we recommend you the following trim colors to pair with this cool-toned and calm green:
SW Pearly White
SW Kilim Beige
SW Radiant Dawn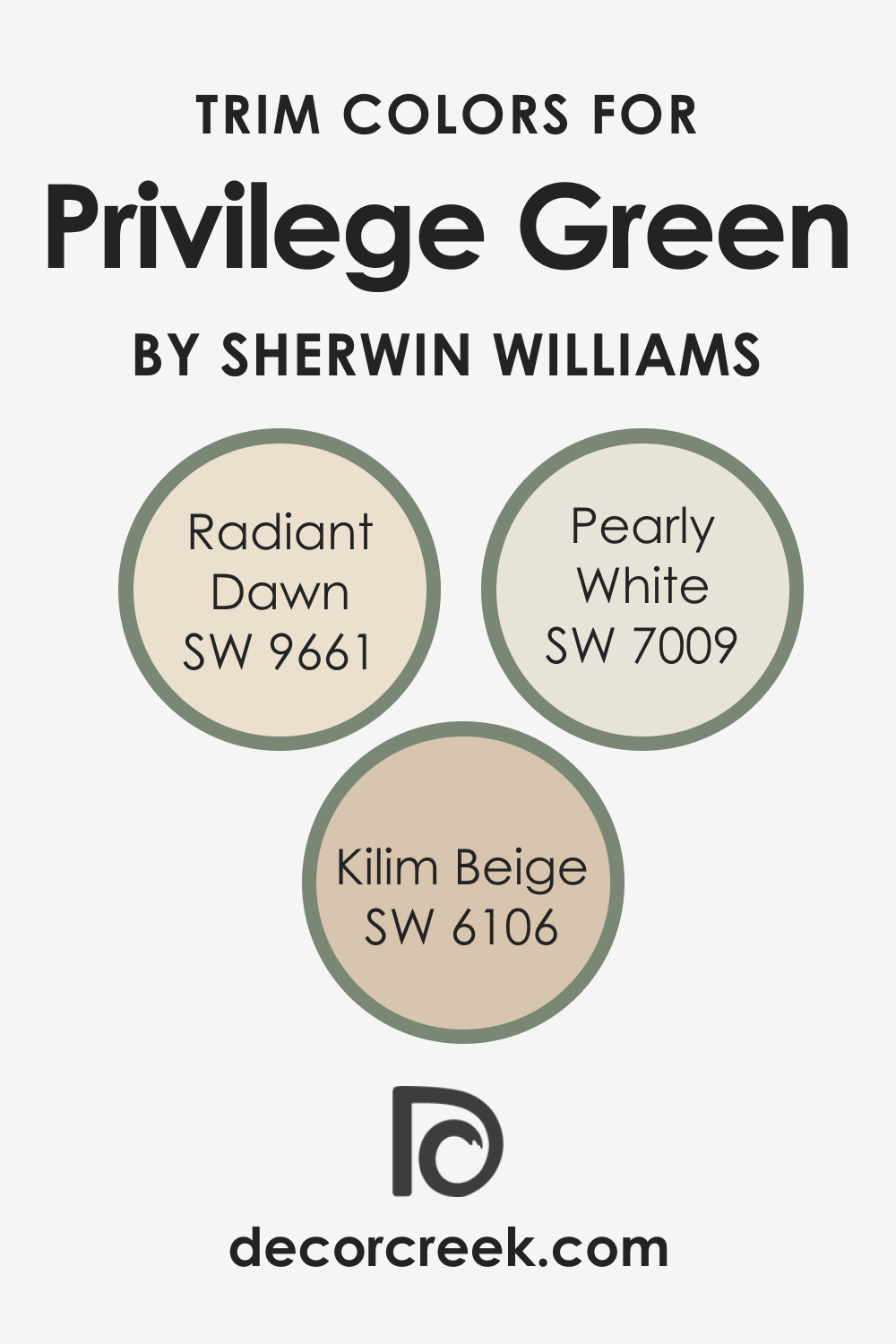 Similar Colors to Use Instead of Privilege Green SW 6193
Knowing similar colors can help you easily find the best color substitute should you realize you need to adjust your home's palette a bit. We recommend you the following alternative green colors that can work perfectly well instead of the SW Privilege Green:
Farrow & Ball Green Smoke
Sherwin-Williams Acacia Haze
Benjamin Moore Cushing Green
Farrow & Ball Card Room Green
However, note that none of these colors is a 100% match! Some of them read a bit lighter or darker, plus these colors still differ a bit due to their LRV and undertones.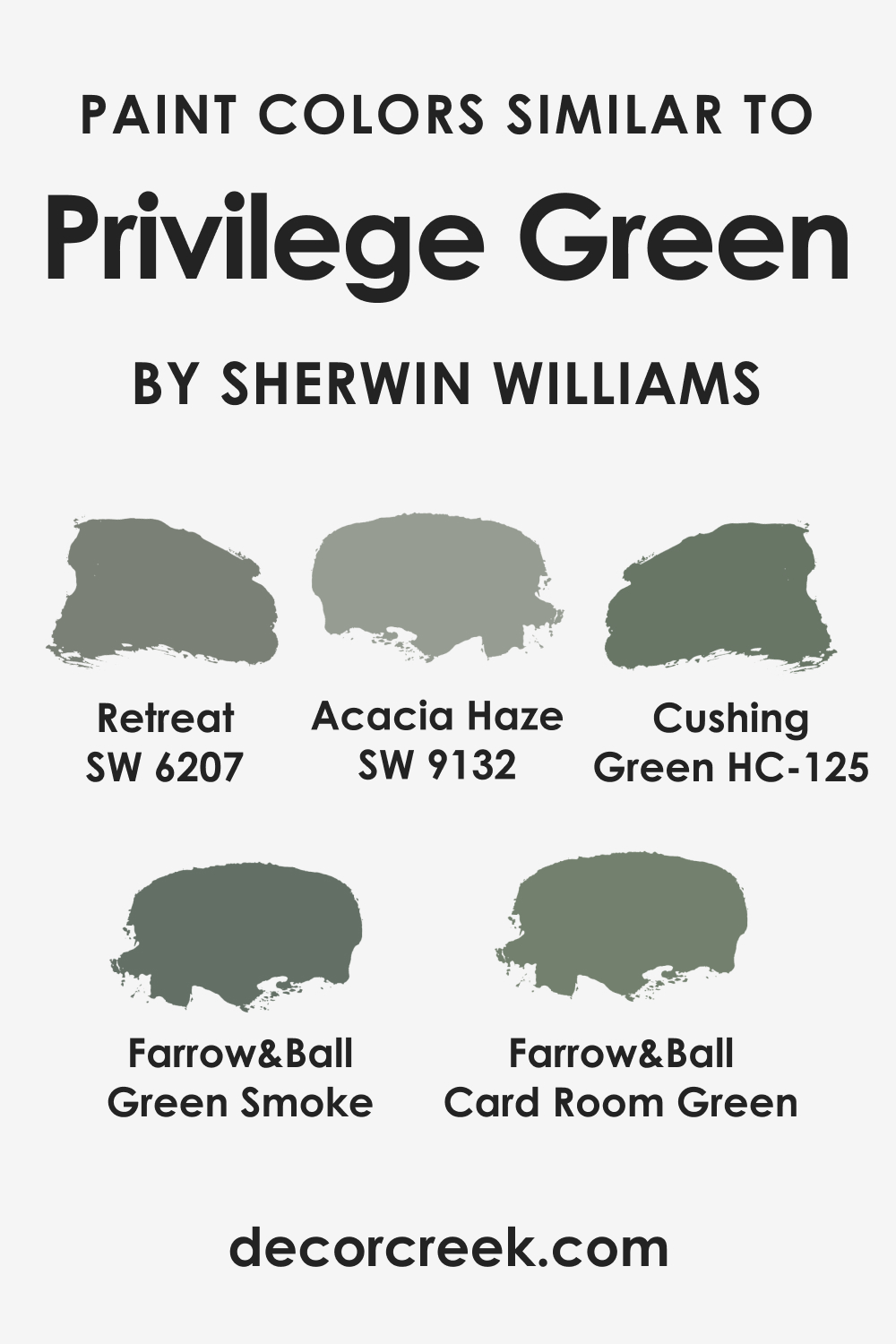 Colors That Go With SW Privilege Green
Green is fairly easy to pair with other colors even if you are not knowledgeable in color theory. Most greens will work great with yellows, and SW Privilege Green is not an exception.
For example, you can use it with SW Friendly Yellow or similar shades of yellow. However, more saturated and brighter yellows (e.g. mustard-yellow or yolk-yellow colors) will also work well.
You might also want to try red with SW Privilege Green to add a bit of drama to the space. For example, reds like SW Sierra Redwood will pair nicely with this cool-toned and natural-looking green.
Also, darker blue colors might work lovely with this cool-toned green, but only if you use them very moderately. In particular, SW Privilege Green might work well with SW Rainstorm.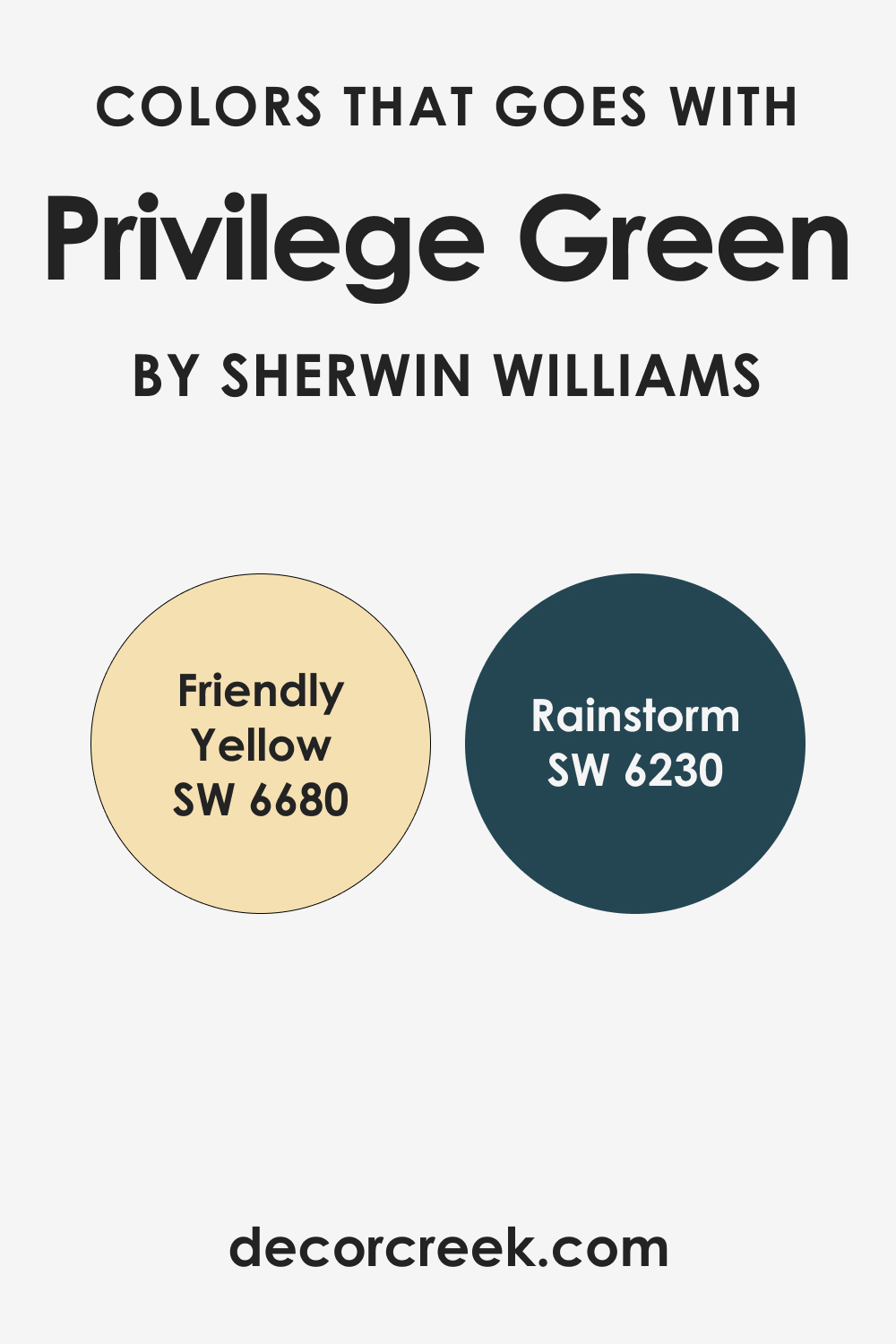 Comparing Privilege Green SW 6193 With Other Colors
You can't properly understand the color until you compare it with other colors that look very similar. This is why we have prepared this brief guide for you. You can see what makes SW Privilege Green different from other colors and, thus, learn to read the color deeper.
Privilege Green vs Evergreen Fog
Compared to SW Evergreen Fog, SW Privilege Green reads much greener, giving off a leafy natural hue. Also, their undertones are different. SW Evergreen Fog is a mix of grey, green, and blue undertones, whilst its counterpart has blue-grey undertones.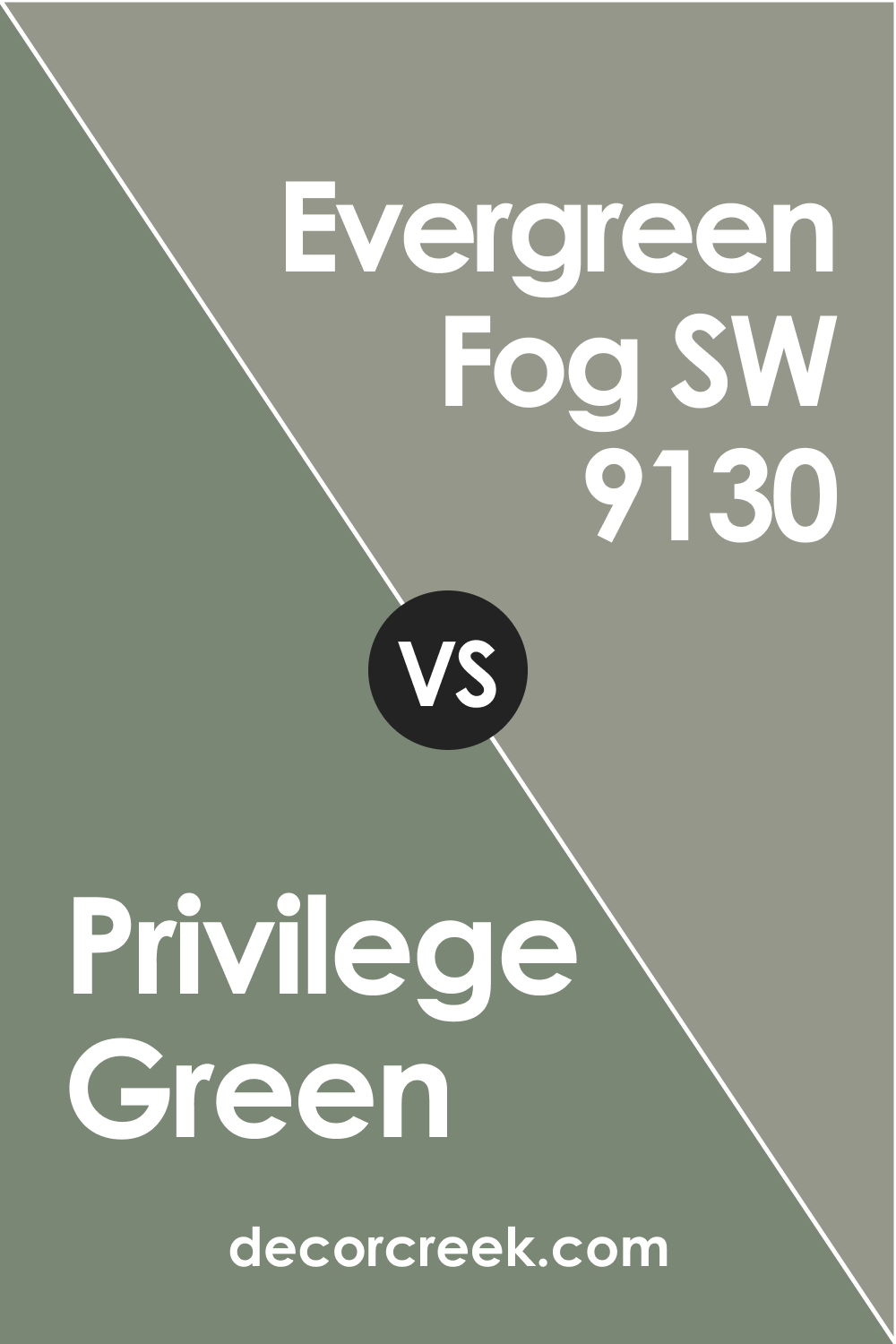 Privilege Green vs Rock Garden
Sherwin-Williams Rock Garden is a dark, saturated green, much darker than SW Privilege Green. Also, SW Rock Garden has a much lower LRV of 8. At the same time, both colors share blue and grey undertones.
Another similar feature is that both SW Rock Garden and Privilege Green are cool colors, sharing the ability to balance the warmth in south-facing rooms.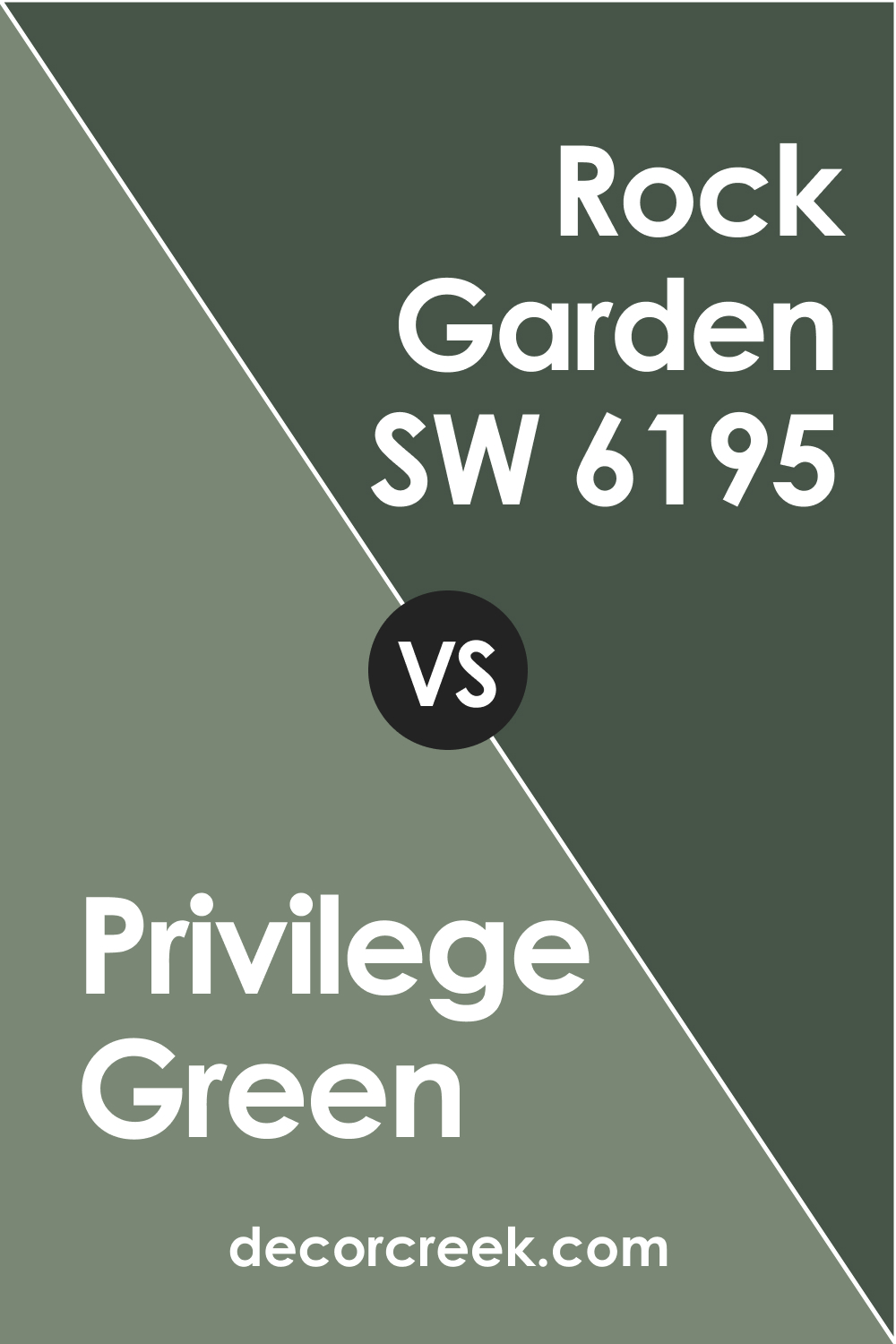 Privilege Green vs Basil
Sherwin-Williams Basil is one shade darker than Privilege Green with an LRV of 15. These two colors are highly similar, though. Sherwin-Williams Privilege Green and Basil both have grey and blue undertones. Also, these two colors work well in spaces that need a nature-inspired, serene vibe.
They are also both cool-toned, which means they can make a north-facing room feel much colder. However, they will read nicely in a southern-facing room, making it read calming and relaxed.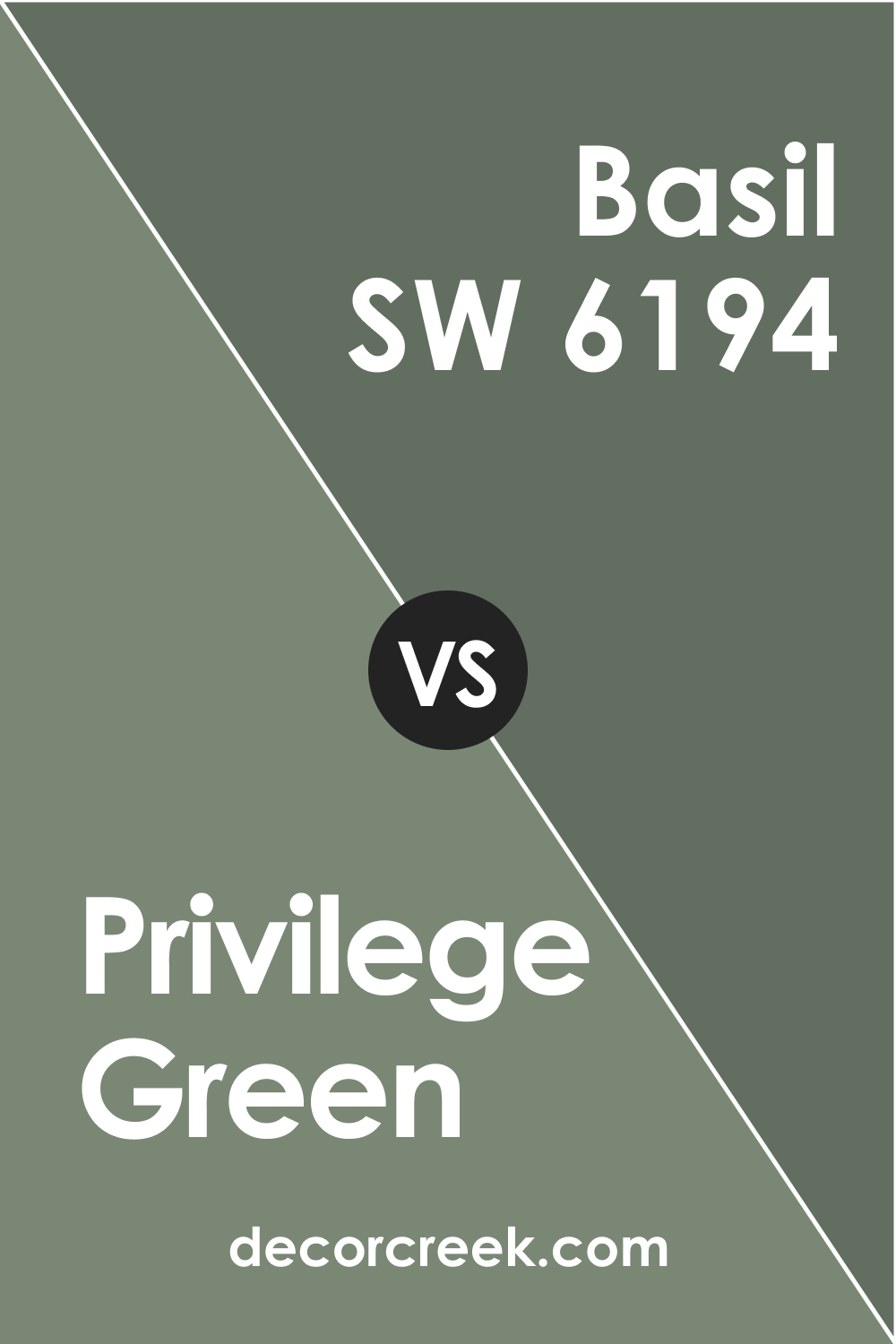 Privilege Green vs Jade Dragon
Privilege Green and Jade Dragon share many similarities. At the same time, they have some differences that distinguish them from one another. For instance, SW Jade Dragon also has blue-gray undertones. However, the grey undertone is more visible in Jade Dragon.
Another difference is their LRVs. While both colors are on the darker side of the LRV scale, SW Jade Dragon is a little bit lighter with an LRV of 30, whilst SW Privilege Green has an LRV of 23.
The two paint colors also bring a nature-like feel to any room. However, SW Jade Dragon tends to add a romantic vibe to the space. Also, both are cool-toned paint colors. However, Privilege Green is cooler than Jade Dragon.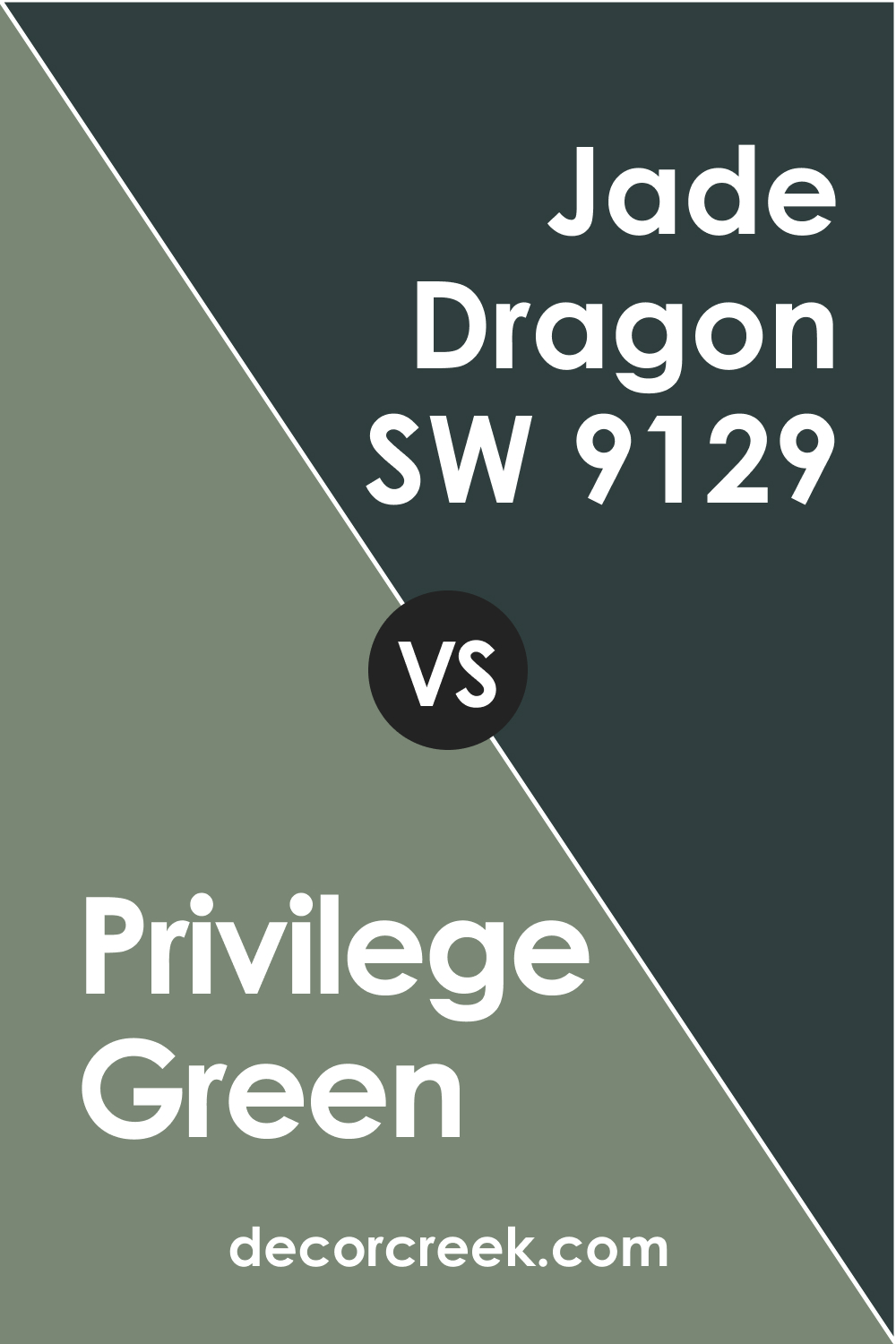 Privilege Green vs Coastal Plane
Sherwin-Williams Coastal Plain is another cool green color. It has an LRV of 37, but it will still look dull in a room with minimal light, just like SW Privilege Green.
SW Coastal Plain and SW Privilege Green create the same feeling in a room too, adding a relaxed elegance vibe. Moreover, both of them have the same undertones, sharing blue and grey.
Finally, SW Privilege Green and SW Coastal Plain are on the cool side of the scale, which is why they work better in warm rooms. In rooms with colder light, the two may feel too cold and may even lean on the icy side!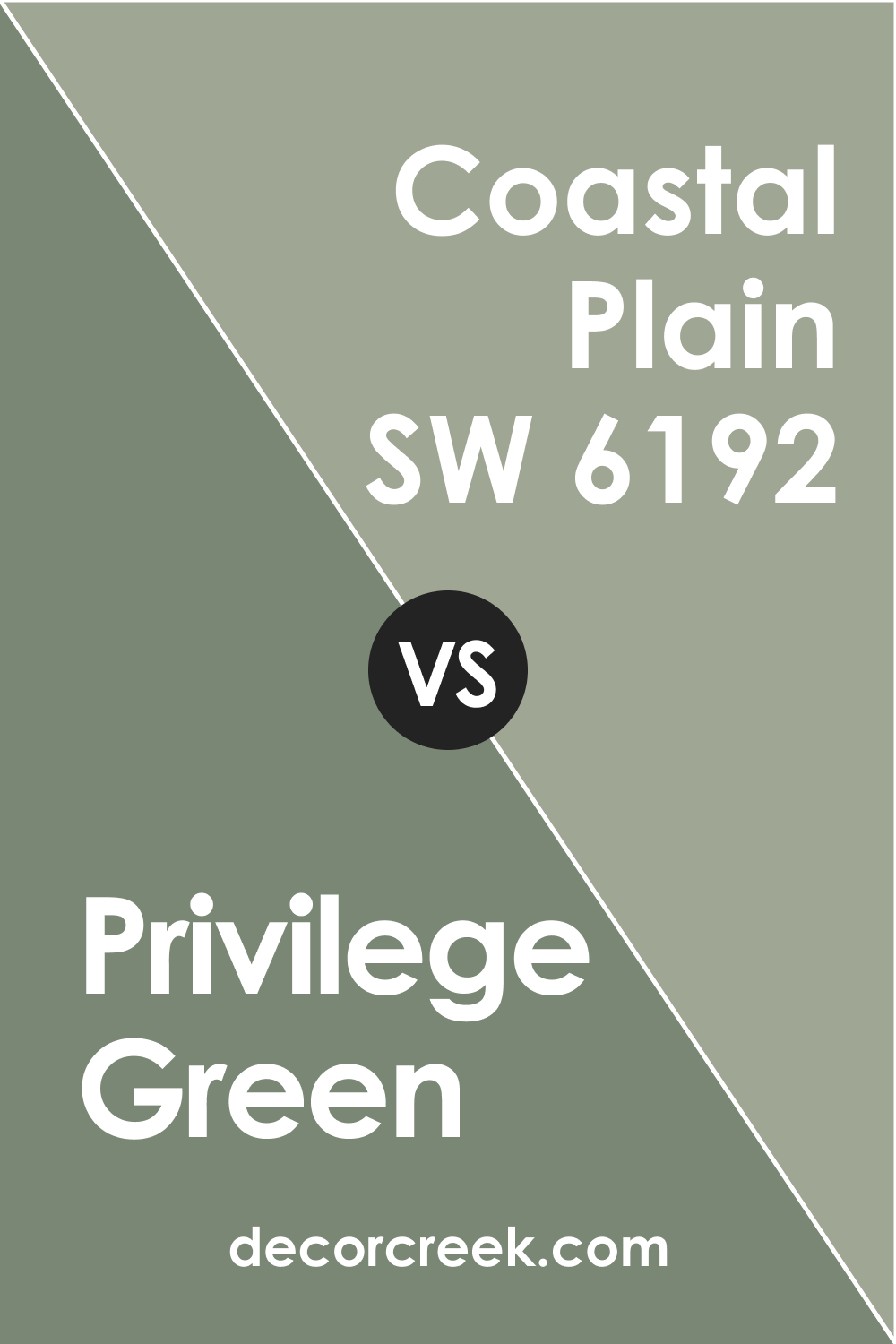 Privilege Green vs Illusive Green
SW Illusive Green has cyan and grey undertones and an LRV of 29, which is why it reads lighter, softer, calmer, and paler than SW Privilege Green. Also, compared to SW Privilege Green, SW Illusive Green reveals a more grey hue with a barely noticed bluish/cyan undertone deep within.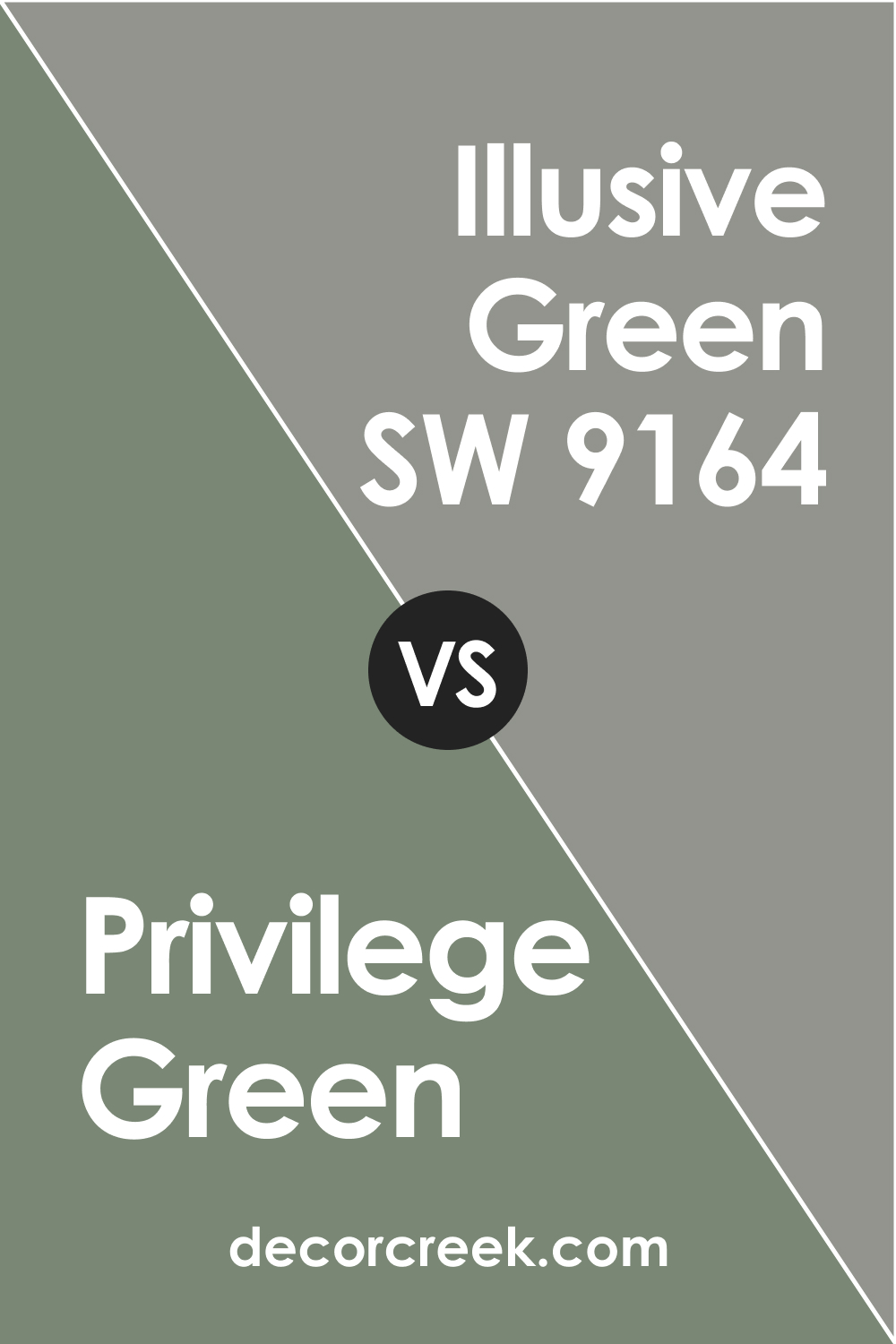 Where to Use Privilege Green SW 6193 In Your Home?
SW Privilege Green may seem to be a tricky color to use, which is why we recommend you learn how it can work in different rooms of your home. This way, you will know for sure in what spaces it will do its best and where it should be avoided.
Privilege Green SW 6193 in the Living Room
If you want this green in your living room, ensure it has proper lighting! Depending on it, the color will read either cool or warmer. But if your living room has warm light, SW Privilege Green will work lovely with wooden furniture, soft whites and neutrals, as well as lighter beiges and greiges.
Also, the room will benefit from the use of lighter browns and golden accents. And don't forget about using enough white!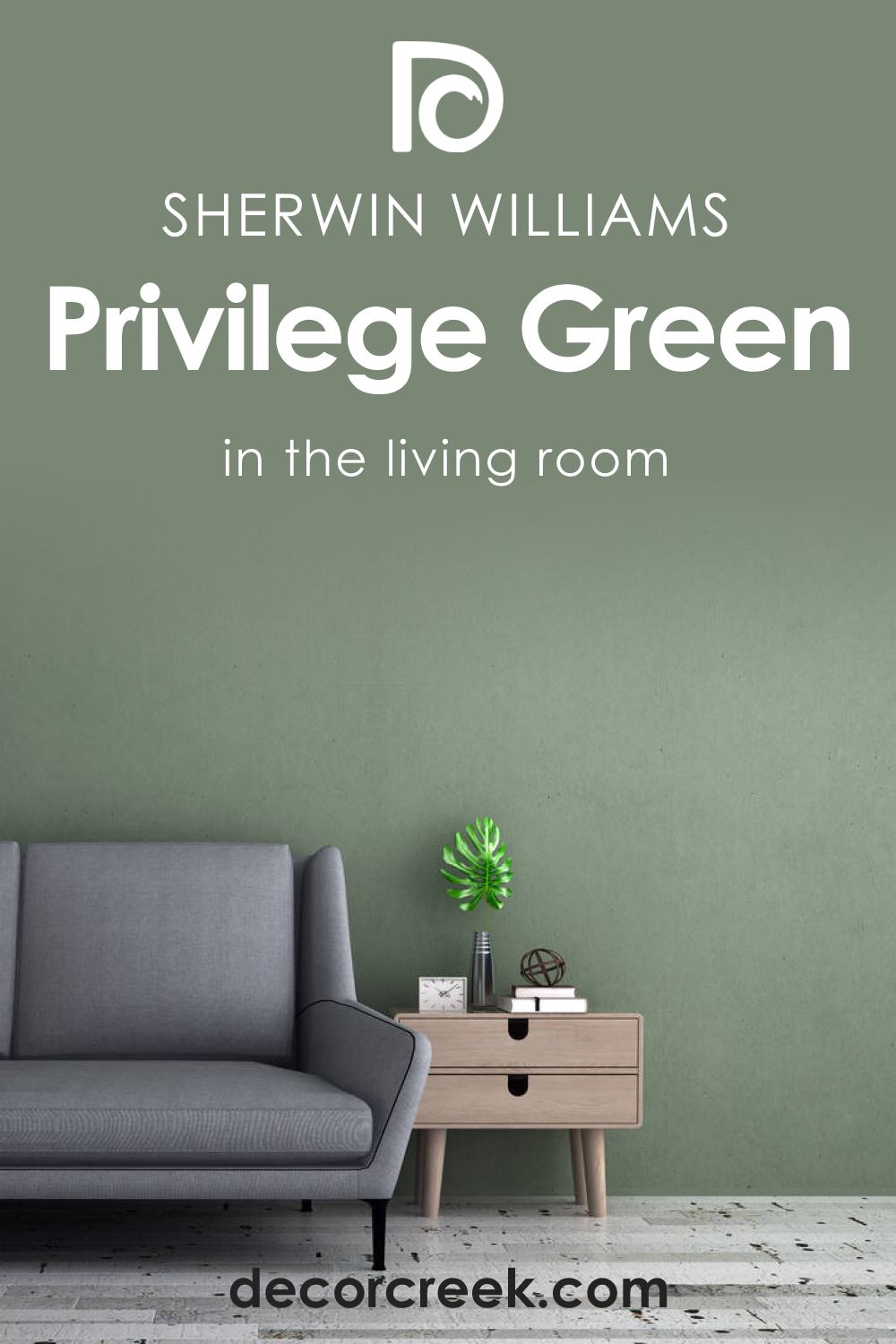 Privilege Green SW 6193 on Bedroom
Sherwin-Williams Privilege Green looks attractive in bedrooms. It brings a sense of calm and relaxation that is so much needed in this space. In your bedroom, SW Privilege Green will be paired nicely with whites and off-whites, creating a unique appearance.
Also, coordinate this green with whites and greys to achieve a relaxing yet attractive vibe. In the evening, in artificial lighting, SW Privilege Green will display its full beauty. However, you have to ensure the room still has enough light!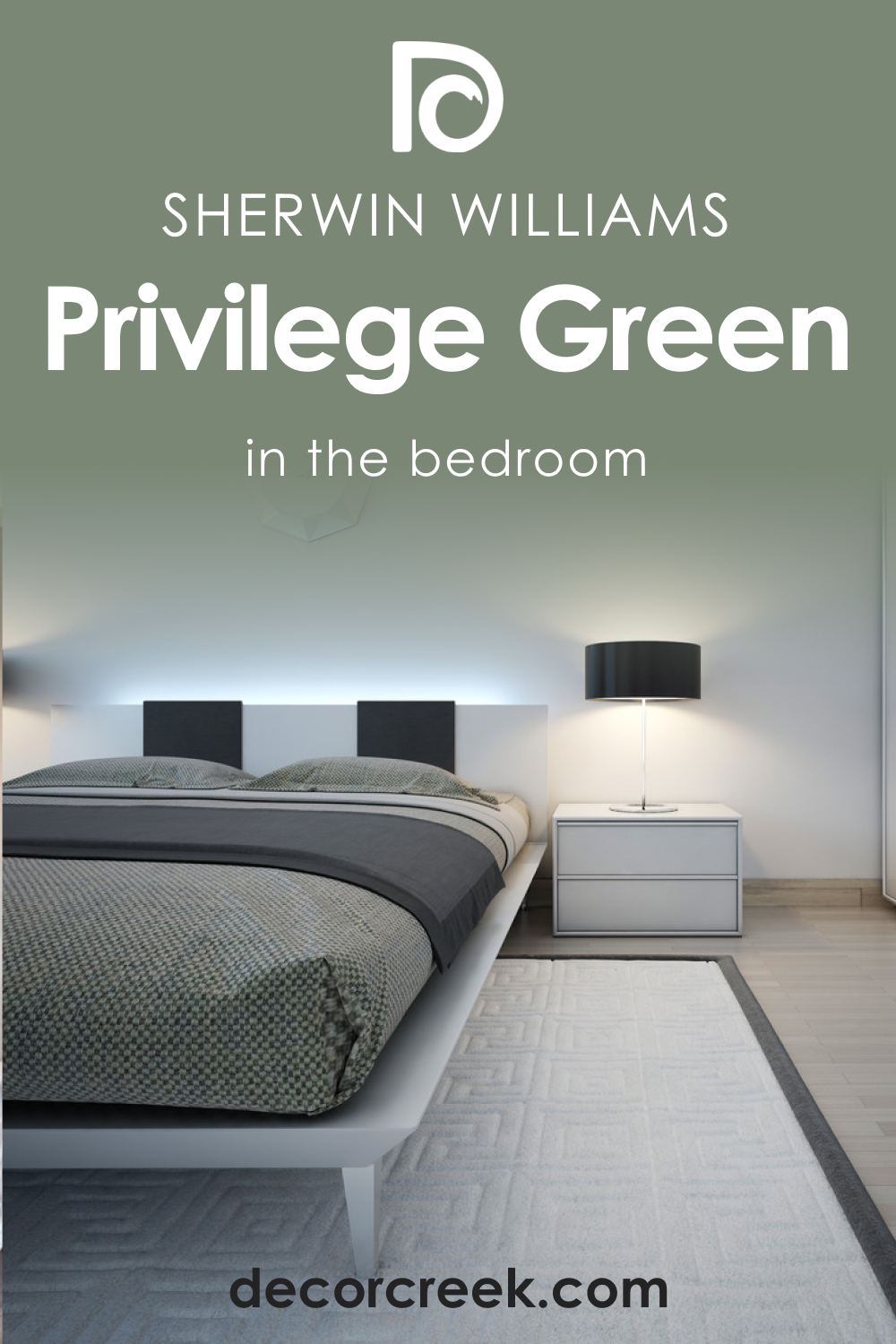 Privilege Green SW 6193 and Kitchen
SW Privilege Green works exceptionally well on kitchen cabinets, especially when you pair it with whites and off-whites. You will also hit the ten if you pair SW Privilege Green with warm whites closer to the creamy side.
Also, remember to surrounde it with enough whites. This way, this green will get enough light.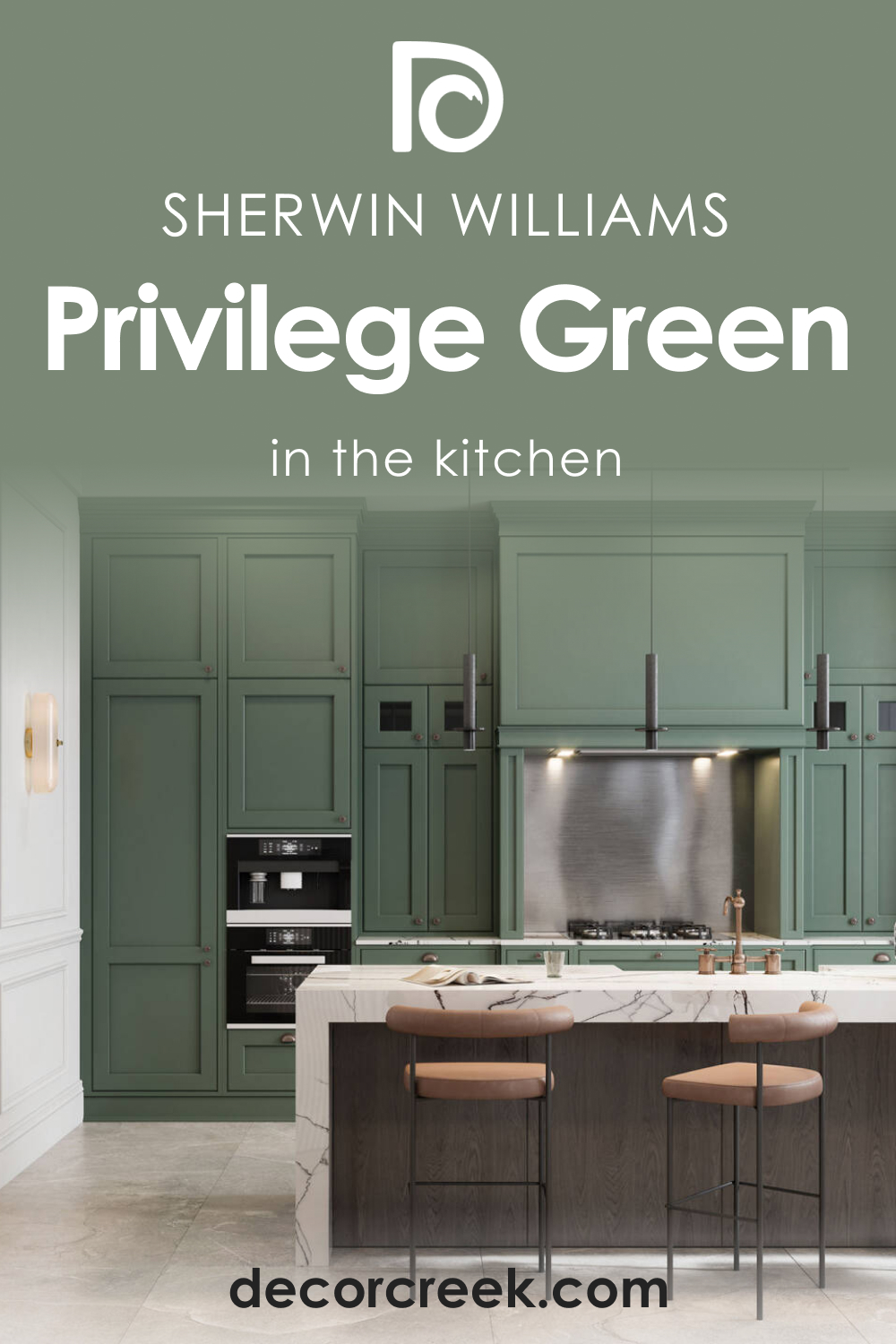 Privilege Green SW 6193 for Bathroom
In your bathroom, the safest way to use this green is to paint the vanity sink or the drawers. Since the color needs enough natural light to work properly, try to avoid using it on all the walls!
Privilege Green SW 6193 for Exterior Use
This might not be the best color for exterior walls, but it doesn't mean you can't use it. SW Privilege Green will still work lovely on your front door, for example. Also, you can pair it with the stone decor of your facade. Add white trim, and this green will look refreshed and bright enough!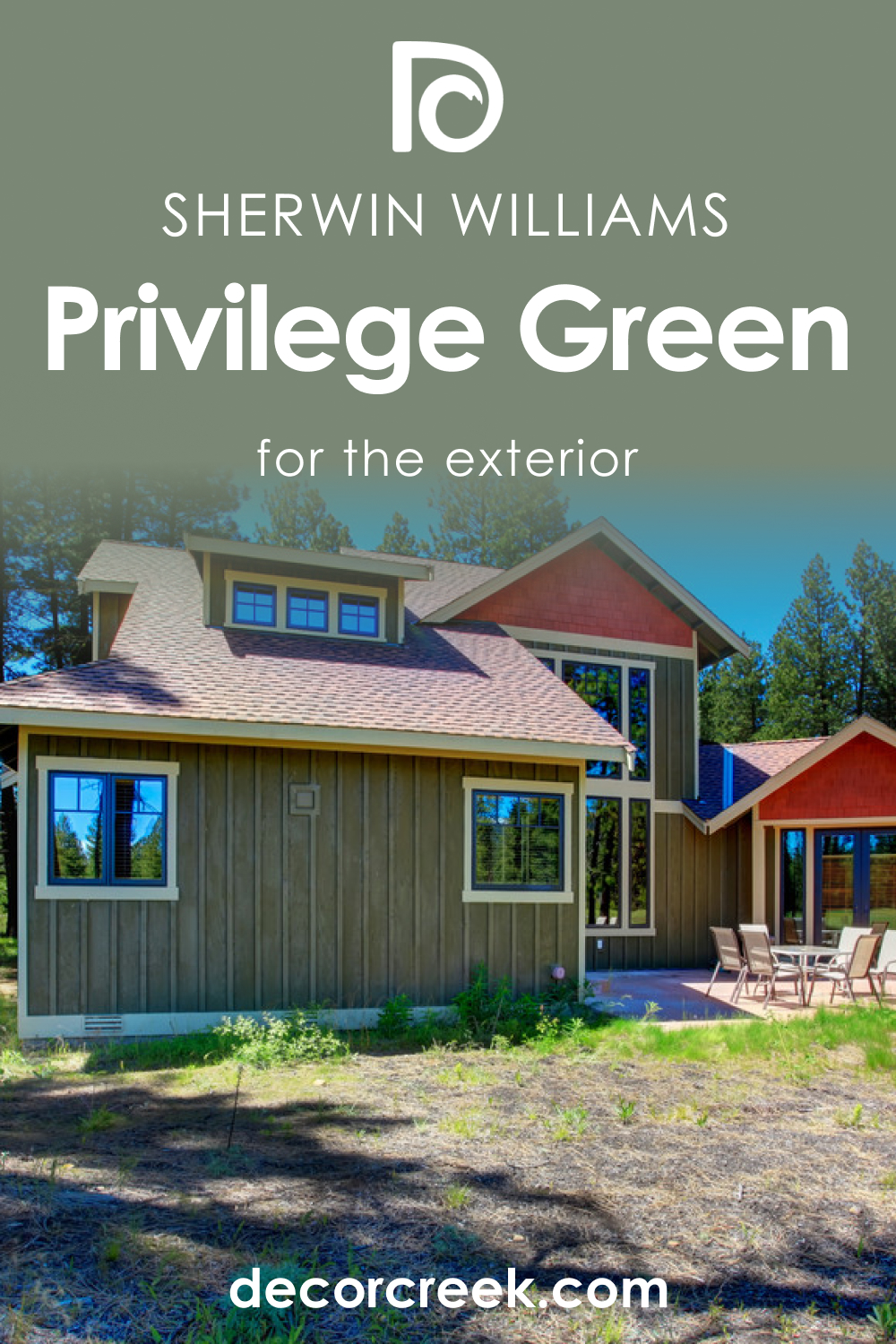 Now you know this paint color a bit better, we hope. SW Privilege Green may seem to be tricky and challenging to use, but at the same time, it can work lovely both indoors and outdoors if you know how to make it work!
Thanks to this article, now you have a complete instructions for this beautiful and calming natural green by Sherwin-Williams.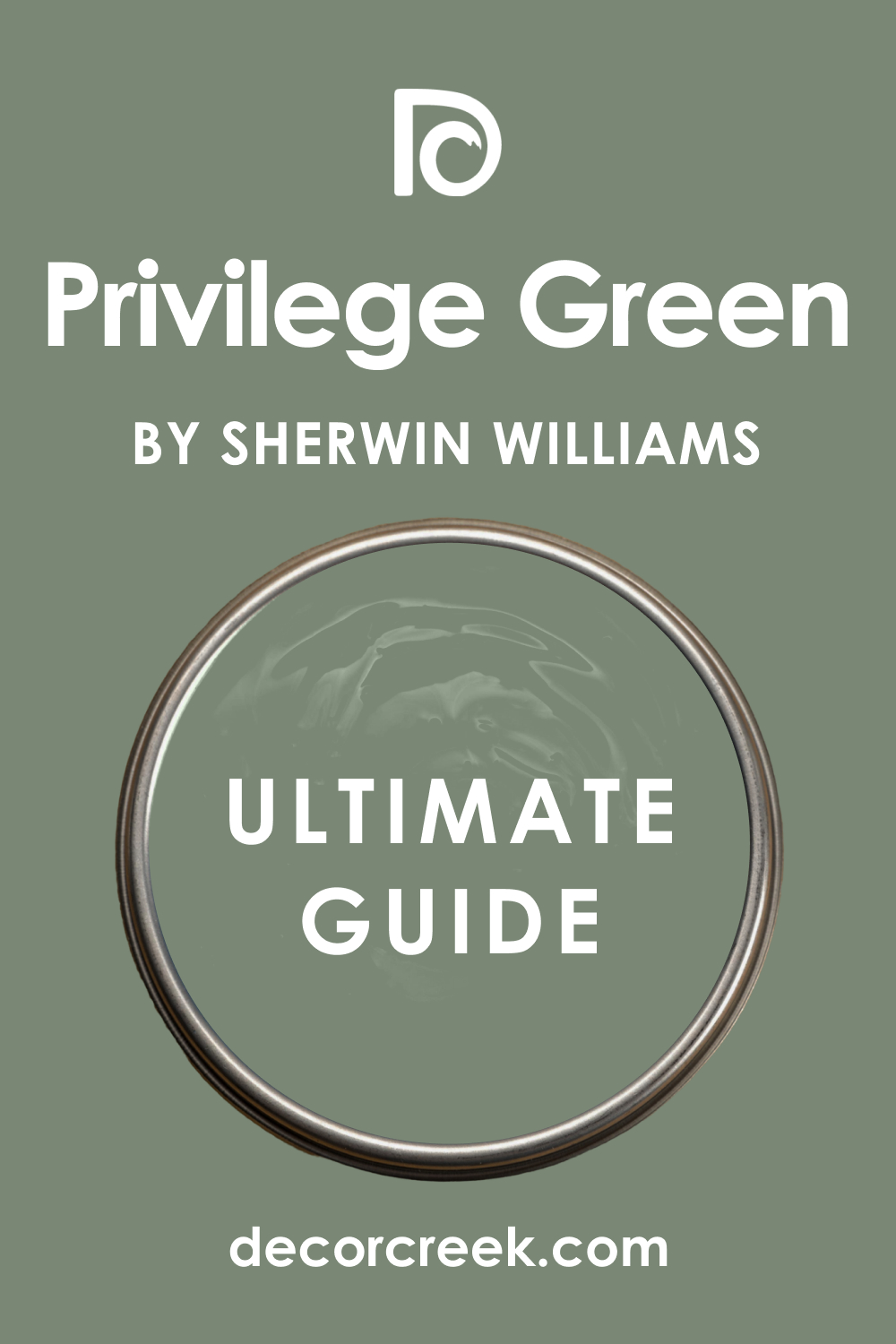 Frequently Asked Questions
⭐Is SW Privilege Green a neutral color?
No, this green is cool-toned.
⭐Is SW Privilege Green a popular color?
It's hardly the top color for homes, but people use it quite often.
⭐Is this green an interior color?
SW Privilege Green can be used both indoors and outdoors.