Dark blue colors can become your headache or be your discovery as the way to incorporate a character into your interior. On the one hand, darker hues might be challenging to use and coordinate, but on the other hand, dark and saturated colors can add a bold statement to nearly any space!
Today, you will learn about one of the dark blue colors from Sherwin-Williams called Tempe Star.
We will tell you what kind of color it is, how it works in different rooms, and what type of light will make this blue hue show its best.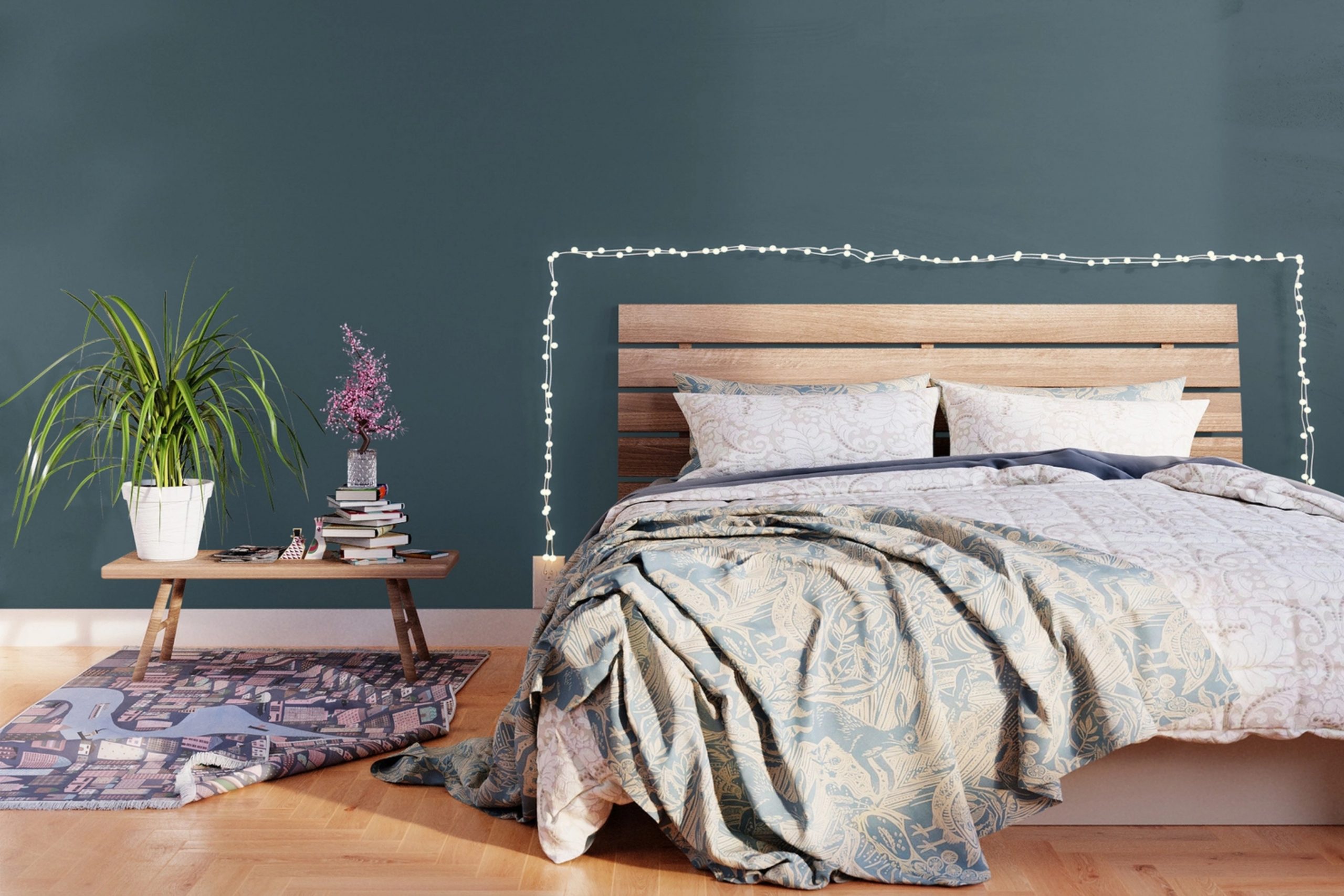 What Kind of Color Is SW 6229 Tempe Star?
If you are looking for a deep and sophisticated blue color, SW Tempe Star  might be the one you need. As Encycolorpedia says, this is deep blue paint color with a tinge of green in it. It will add a perfect touch of sophistication and elegance to your home with a hint of drama. It looks eccentric, unusual, mysterious, and very noble!
So, if you are into an instant transformation of the appearance of your room, this is the paint color that you definitely must try! It reads neither navy nor cobalt. Instead, SW Tempe Star displays a true shade of blue that looks bold and exquisitely dramatic.
SW Tempe Star will add a bold, refined, crisp, dramatic, and daring vibe to your space.
Thanks to its strong and dark hue, this color will look majestic and glamorous, becoming a great option for luxury and rich backdrops.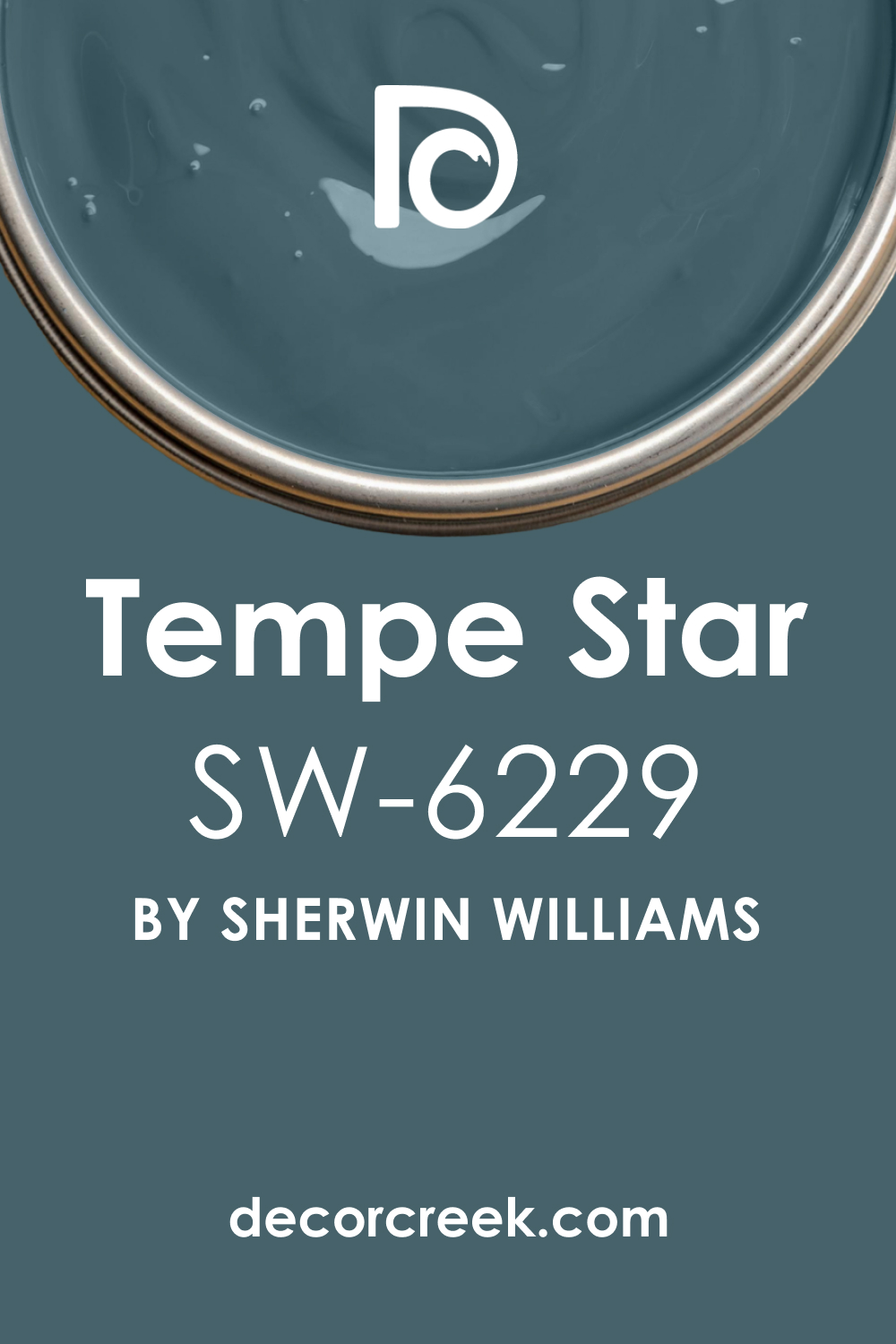 Is It a Warm or Cool Color?
If you are not sure whether SW Tempe Star is cool or warm, here is the answer: this blue color is cool-toned. This dark paint color has a cool base with an eye-catchy and bold look. However, don't be afraid to see a cold and chilly blue on your interior walls! With SW Tempe Star, the room will look fresh enough and pleasantly cool but with no crisp feel.
What Undertones Does SW Tempe Star Paint Color Have?
This blue color has slate-gray undertones, which is why it reads fairly soft and moderately cool on the walls. The grayish base is what makes SW Tempe Star display a softer and more delicate appearance.
However, such mixed undertones can also play tricks on you, so be careful! See, slate-gray undertones mean SW Tempe Star may sometimes read a bit grayer, and in other circumstances, this bold hue may seem somewhat greenish on the walls.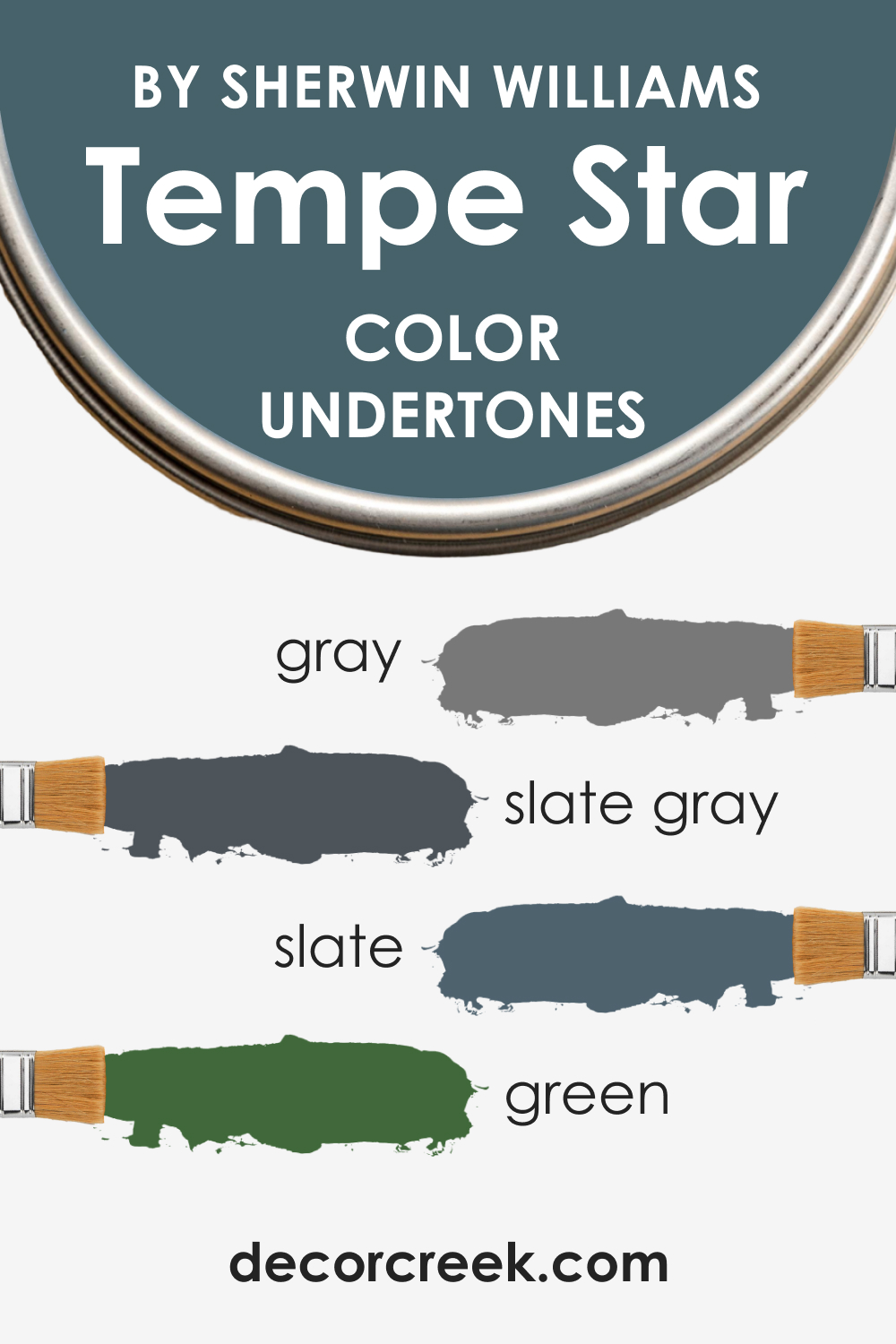 SW Tempe Star Coordinating Colors
Despite having rather complicated undertones, this elegant and deep color is quite easy to deal with! All you have to do is pair it with lighter-toned neutrals, off-whites, and contrasting hues to make SW Tempe Star work. To help you choose the best-coordinating colors for your home that can make it look appealing, we have prepared several coordinating palettes. This one contains a few common coordinating colors:
SW 9180 Aged White
SW 9134 Delft
For the analogous color palette, try the following paint colors along with SW Tempe Star:
For the monochromatic color palette, we recommend you the following hues instead:
SW 6228 Refuge
SW 6226 Languid Blue
SW 6227 Meditative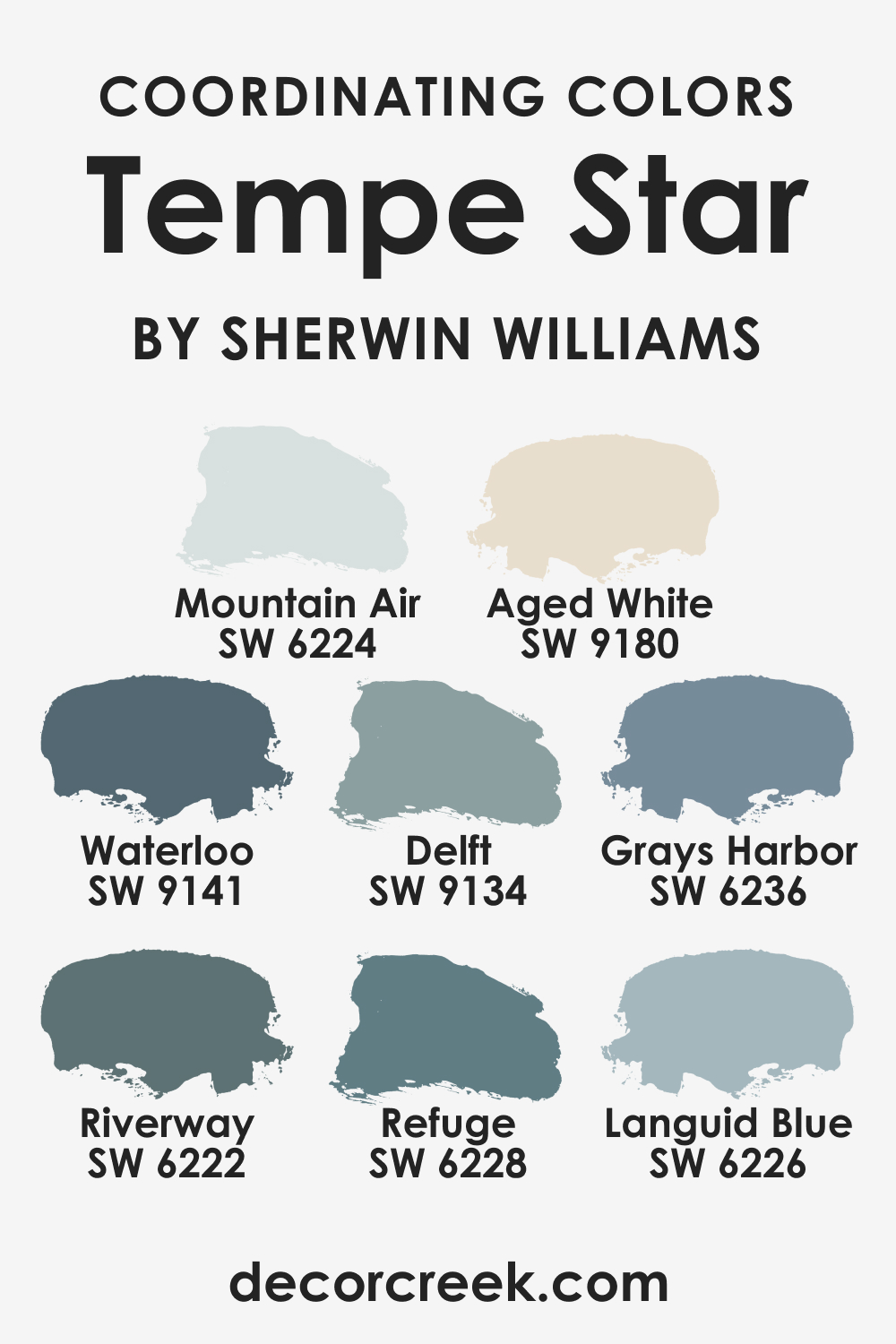 Should you prefer a complementary color scheme, you might want to use the following paint colors:
SW 6106 Kilim Beige
SW 9108 Double Latte
For a contrasting color palette, try these hues instead:
SW 7064 Passive
SW 7551 Greek Villa
SW 6689 Overjoy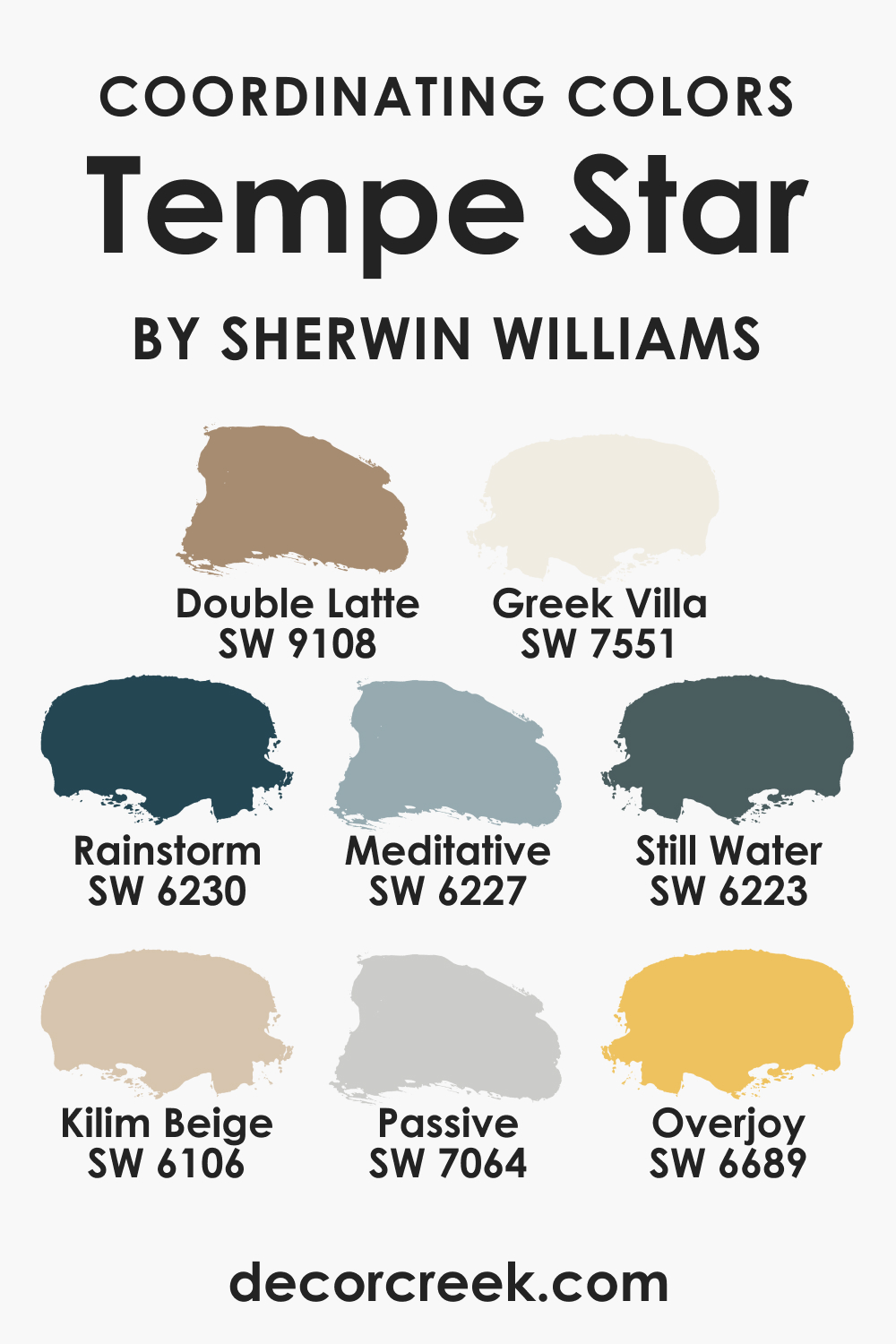 What LRV SW Tempe Star Paint Color Has And How It Reacts to Light?
LRV (light reflectance value) is another essential feature paint colors have. This measurement shows how much light the color can reflect from the wall. Since darker colors have lower LRV meaning, it's easy to understand that the higher the LRV rate, the lighter the color. And vice versa.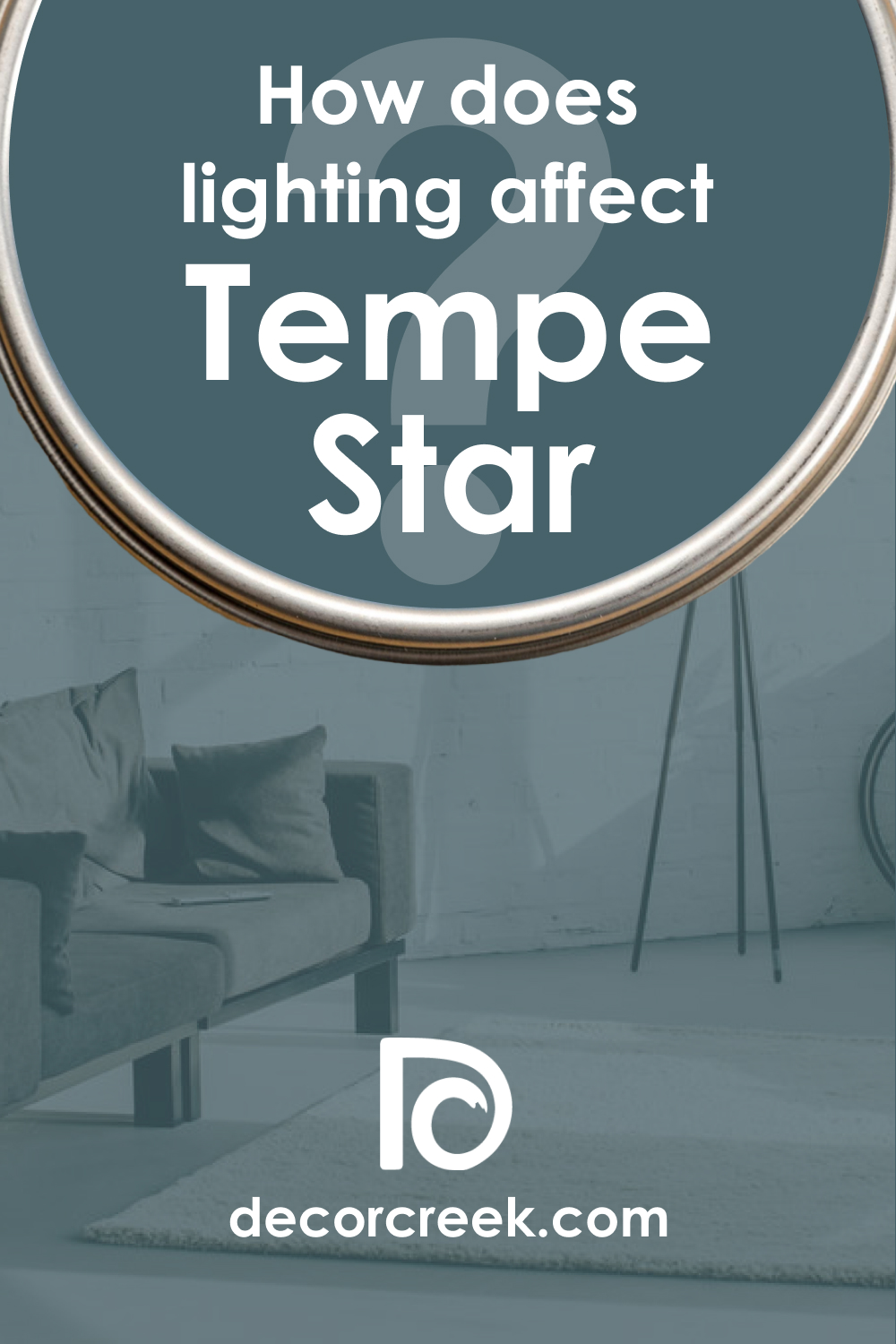 The LRV value of SW Tempe Star is 11, which means this color is on the darker end of the light reflectance scale. With an LRV 11, this color has a low reflectivity value, which means it tends to create an illusion of a smaller space.
This dark color can work great if you need to to deal with extra higher ceilings to make them feel less unwelcoming. All you need to do is simply use SW Tempe Star on your ceiling to "pull" it downwards, making the space feel cozier.
However, in smaller spaces, you'd better avoid this paint on all the walls since it can easily make a small room feel cave-like and enclosed. Instead, use it only as an accent color. Also, note that the more light this color receives, the brighter the room will appear.
This is why we recommend you use this color in rooms with ample natural light to feel the depth and beauty of SW Tempe Star.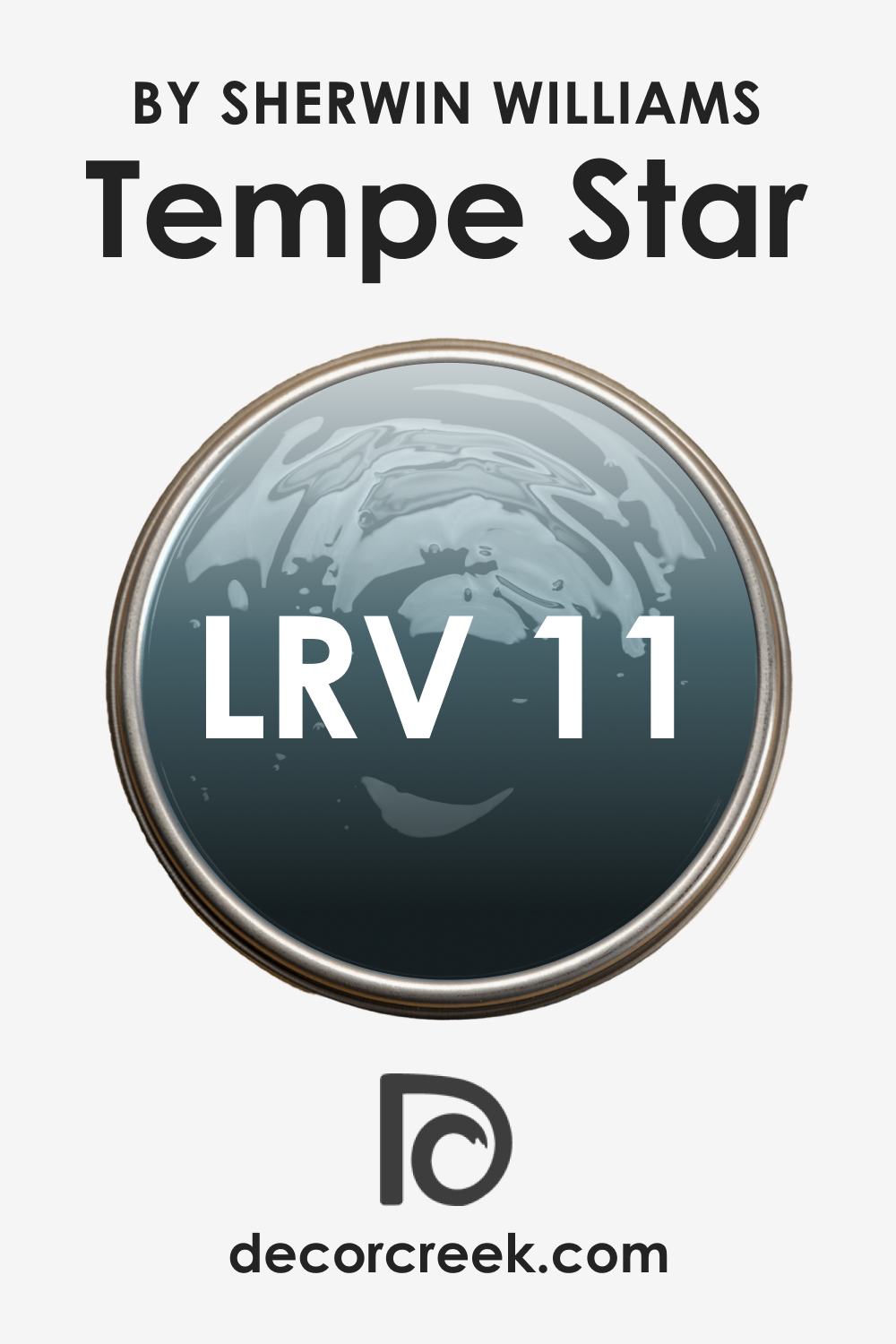 LRV – what does it mean? Read This Before Finding Your Perfect Paint Color
What Is the Best Trim Color to Use With SW Tempe Star?
White is traditionally the best and optimal paint color to use on trim and moldings. This is explained by its versatility and the ability to pair well with most colors in the space.
If you want to use SW Tempe Star on your interior walls, we recommend using SW High Reflective White as a trim color. It will give a clean and crisp appearance, highlighting the saturated and rich hue of this gorgeous blue!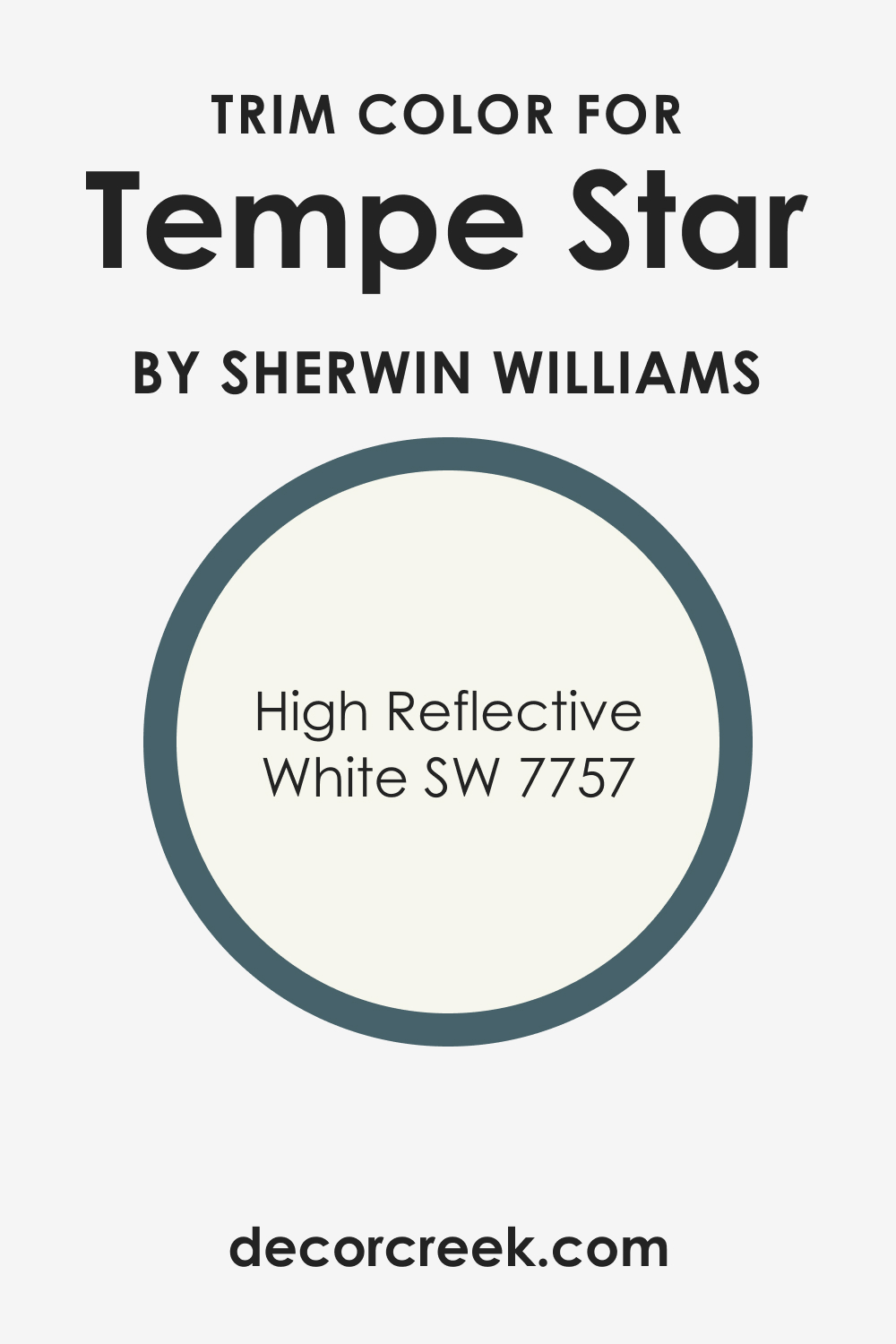 Colors Similar to SW Tempe Star
In case you need to find the color that reads almost the same on your walls as the one you were going to use before, knowing similar colors is essential. When you know what colors can be used as substitutes, you can easier find the best-matching alternatives. In case you decide to search for SW Tempe Star alternatives, you might want to try one of these:
SW 6223 Still Water
BM HC-158 Newburg Green
Speaking of SW Still Water and SW Tempe Star, the major difference these two colors have is the undertones since SW Still Water has dominant green undertones, and SW Tempe Star also has gray undertones.
Furthermore, SW Still Water reads comparatively stark and bright as compared to its counterpart, which reads pretty subtle and calm.
As for BM Newburg Green, it is a blue paint color that reads slightly more blue as compared to the former paint colors. However, with an LRV of 10.5, BM Newburg Green is equally deep and dark, just like its alternatives.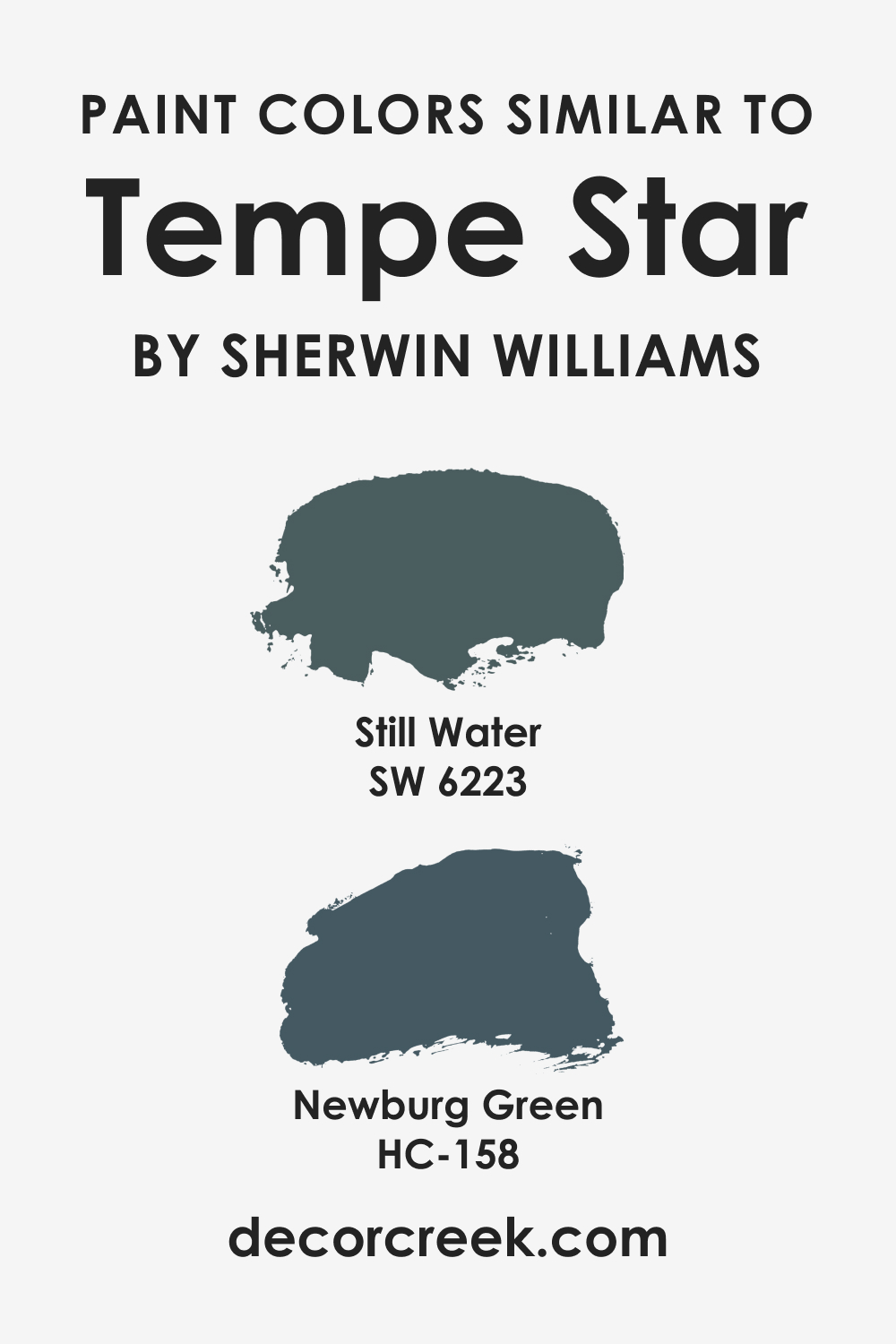 Colors That Go With SW 6229 Tempe Star
If you have a sharp eye for colors, you can select the most harmonious color palette for your home. But if you don't, you should know what colors will work well with the blue you are going to use on your walls. For example, SW Tempe Star can be best paired with true whites, gray-whites, mustard, coral pinks, light blues, and grays. In particular, you can pair it with the following colors successfully:
SW 7057 Silver Strand
SW 7657 Tinsmith
SW 7004 Snowbound
SW 6494 Lakeshore
SW 7613 Aqua Sphere
Farrow & Ball India Yellow
SW 7636 Orihami White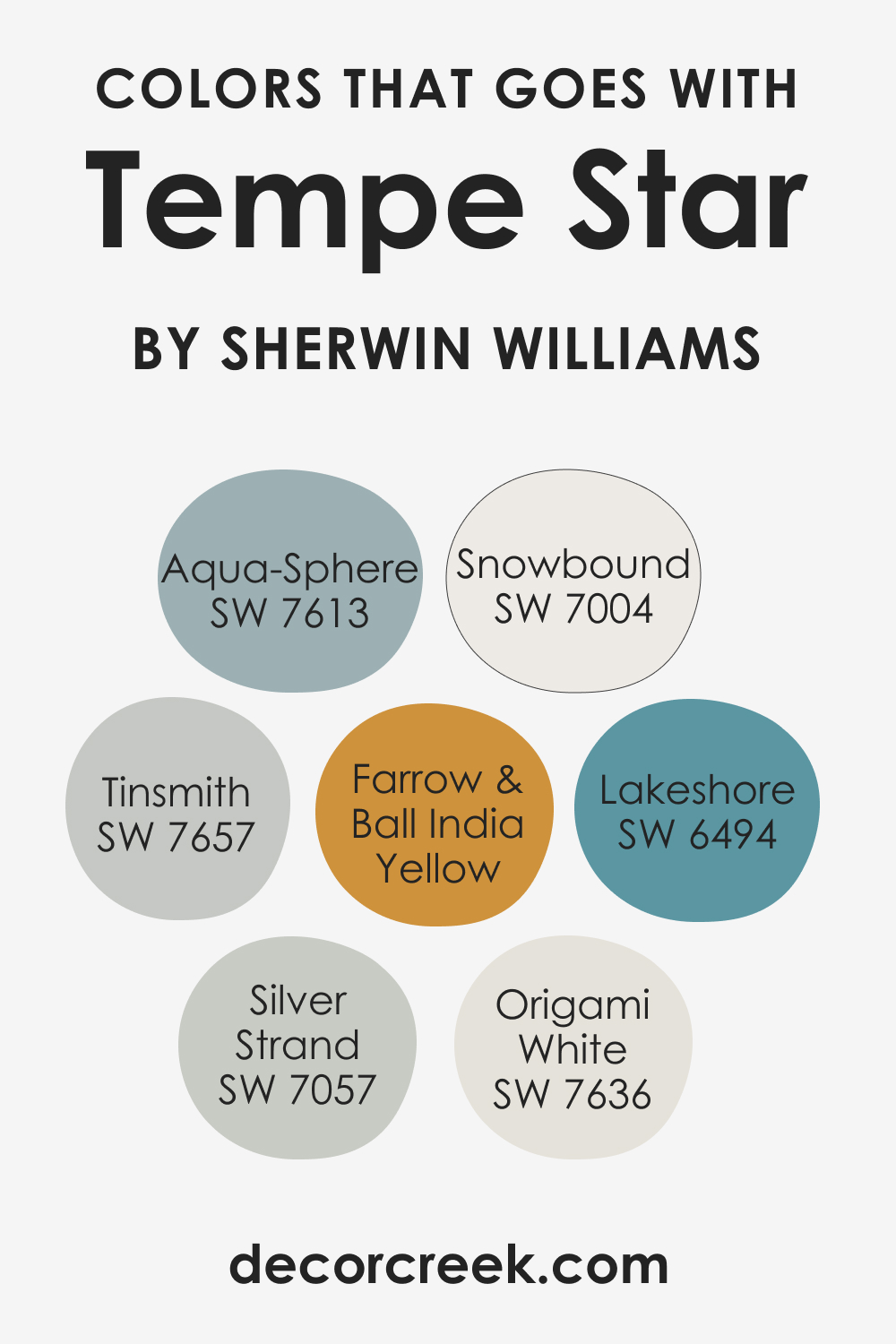 Comparing SW 6229 Tempe Star With Other Colors
To help you better understand the differences between similar colors, we have compared the Tempe Star paint color by Sherwin-Williams with a few shades of blue that read alike. Read on to discover what distinctions they have.
Tempe Star vs. Waterloo
Compared to SW Waterloo, SW Tempe Star displays a noticeable greenish hue. Also, SW Tempe Star reads more saturated than its muted and calm counterpart. Speaking of LRV values, they are pretty close here since the LRV value of SW Tempe Star is 11, and SW Waterloo's LRV is 13.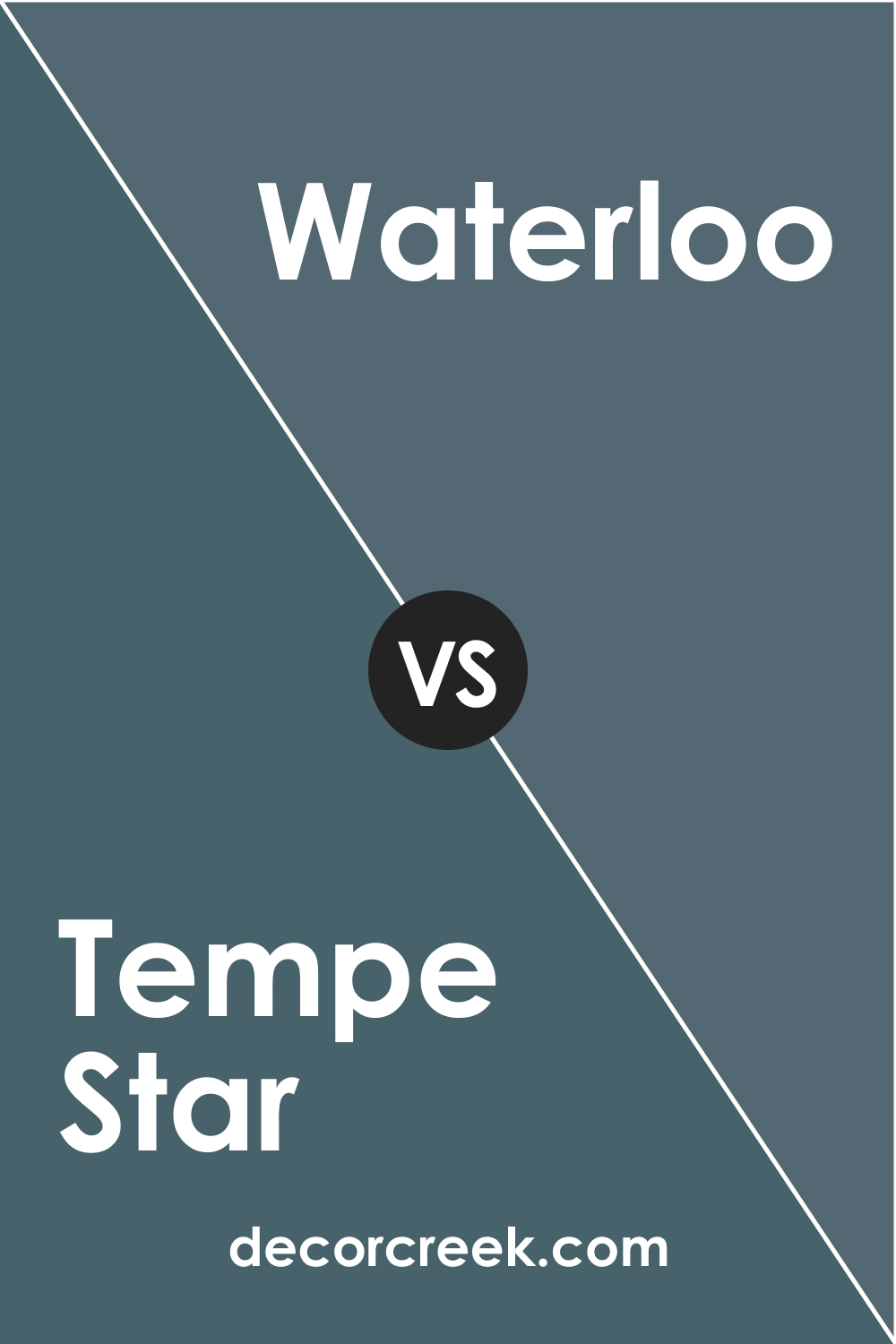 Tempe Star vs. Naval
SW Naval reads much darker and deeper compared to SW Tempe Star. Some of you might even say that SW Naval seems black! This is because the LRV values of these colors differ. SW Tempe Star has an LRV 11, and SW Naval has an LRV 4.9, which makes it much darker and way less reflective.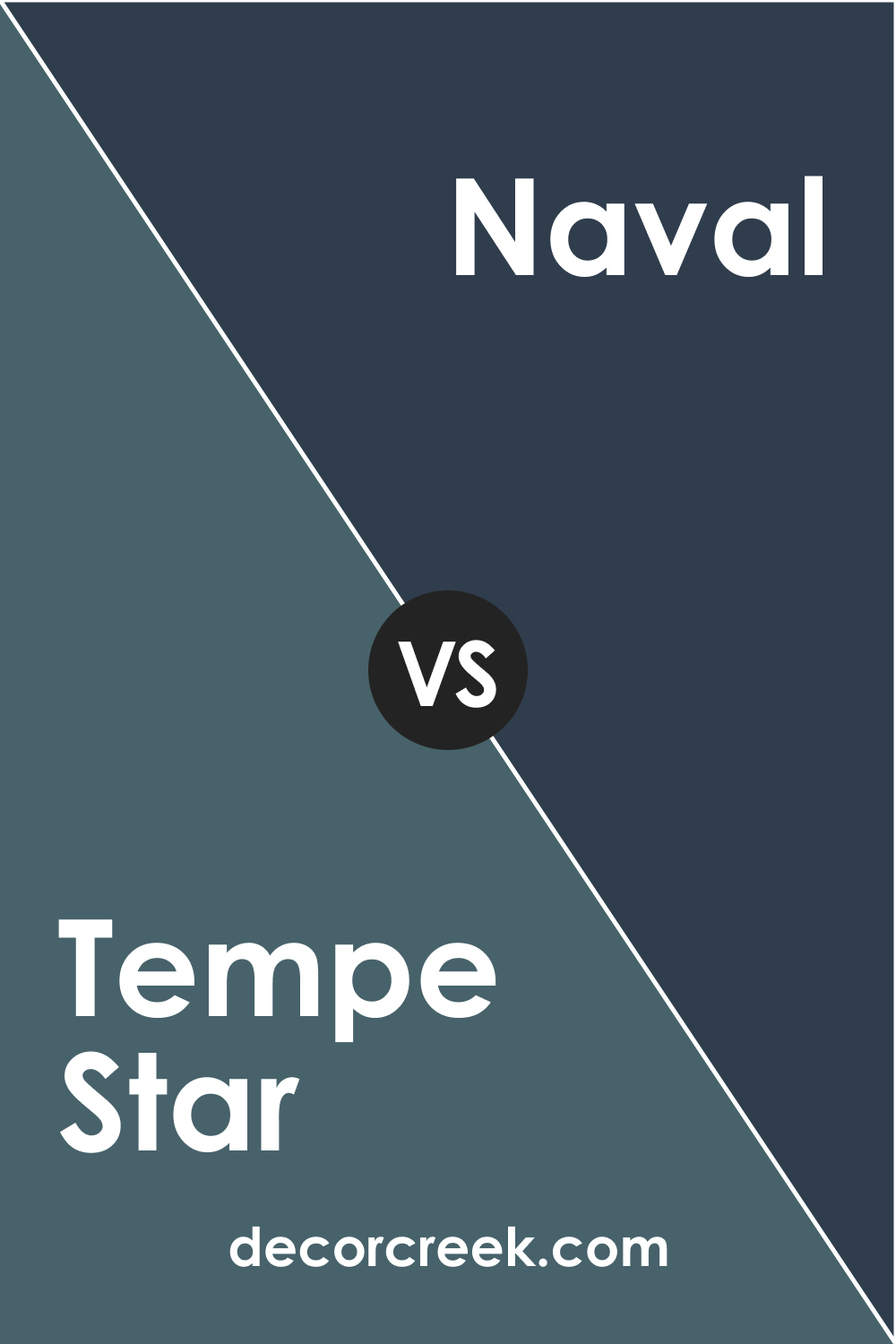 Tempe Star vs. Still Water
SW Still Water reads greenish compared to SW Tempe Star, whose hue reads prominently bluer here. However, these colors have very close LRVs! SW Tempe Star has an LRV 11, and its counterpart's LRV is nearly 10.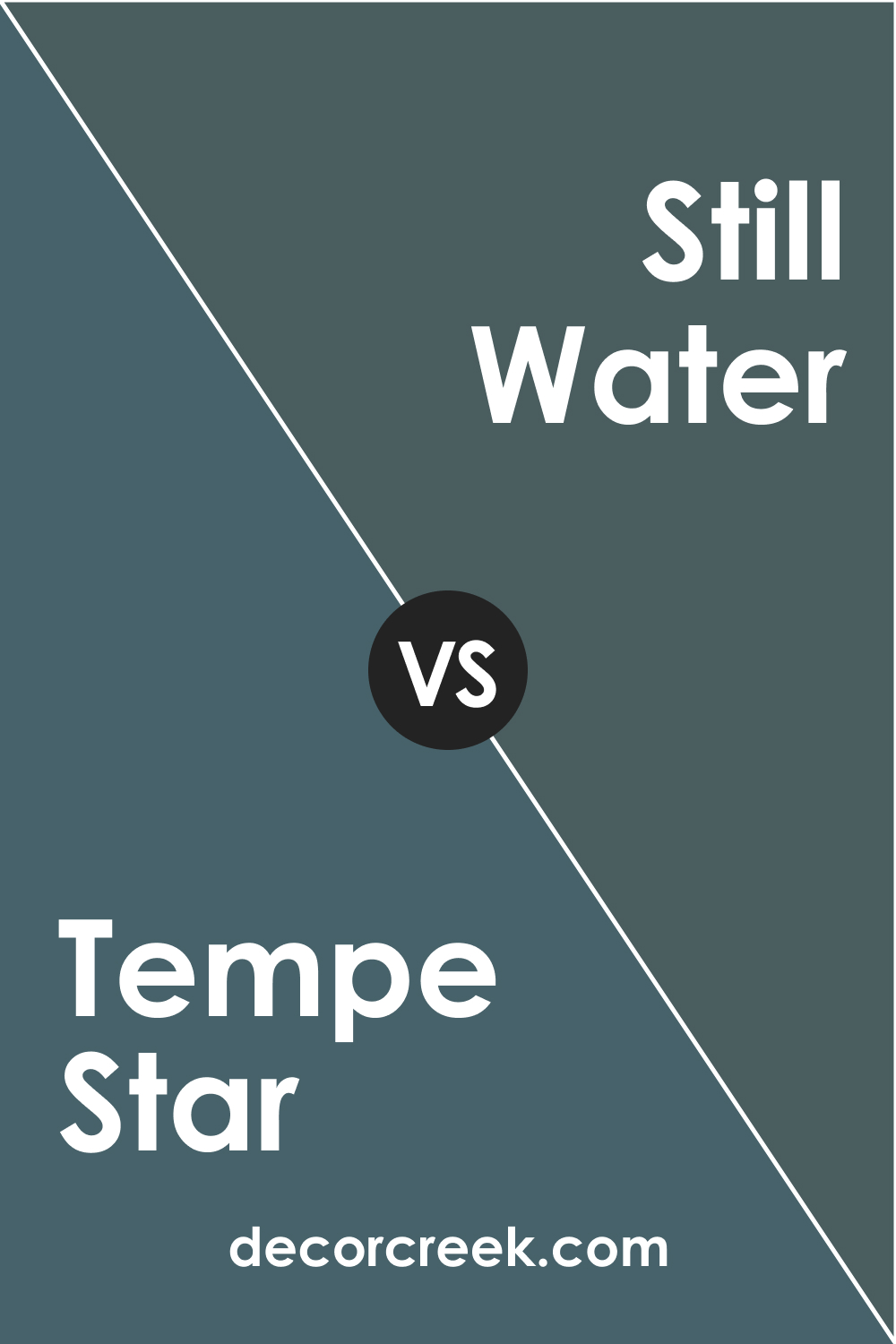 Tempe Star vs. Indigo Batik
SW Indigo Batik shows a noticeable and pronounced navy blue hue, whilst SW Tempe Star reads greener compared to it. Because of this greenish hue, it may also seem somewhat warmer. With an LRV 8, SW Indigo Batik is a bit darker than SW Tempe Star, whose LRV is 11.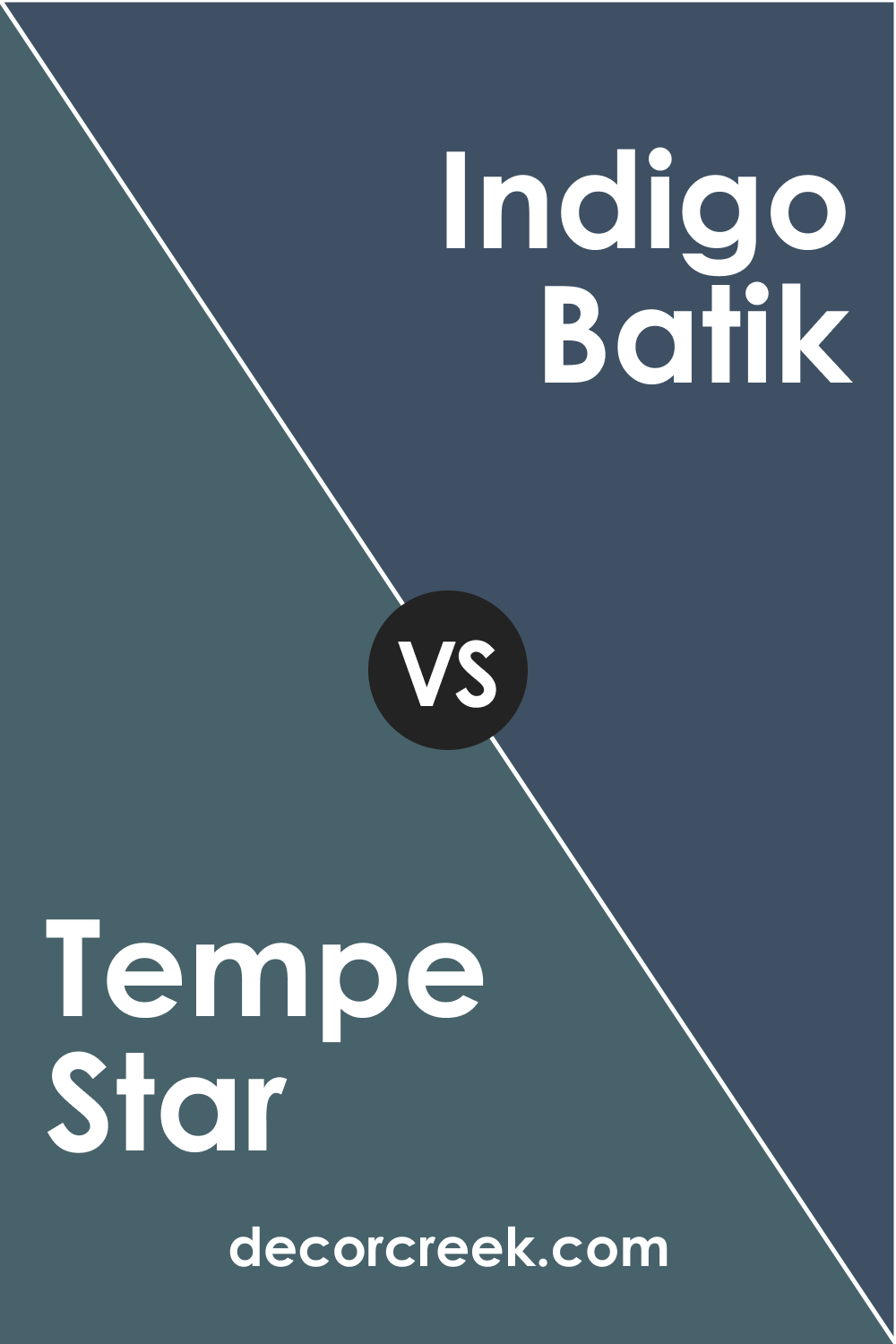 Tempe Star vs. Blue Note
BM Blue Note has an LRV 8 and navy undertones, but this color reads rather dark (almost like black-blue!). Compared to it, SW Tempe Star is lighter (due to the LRV value of 11) and greener, showing its green undertones clearly. Also, BM Blue Note reads cooler, unlike its counterpart, which seems warmer.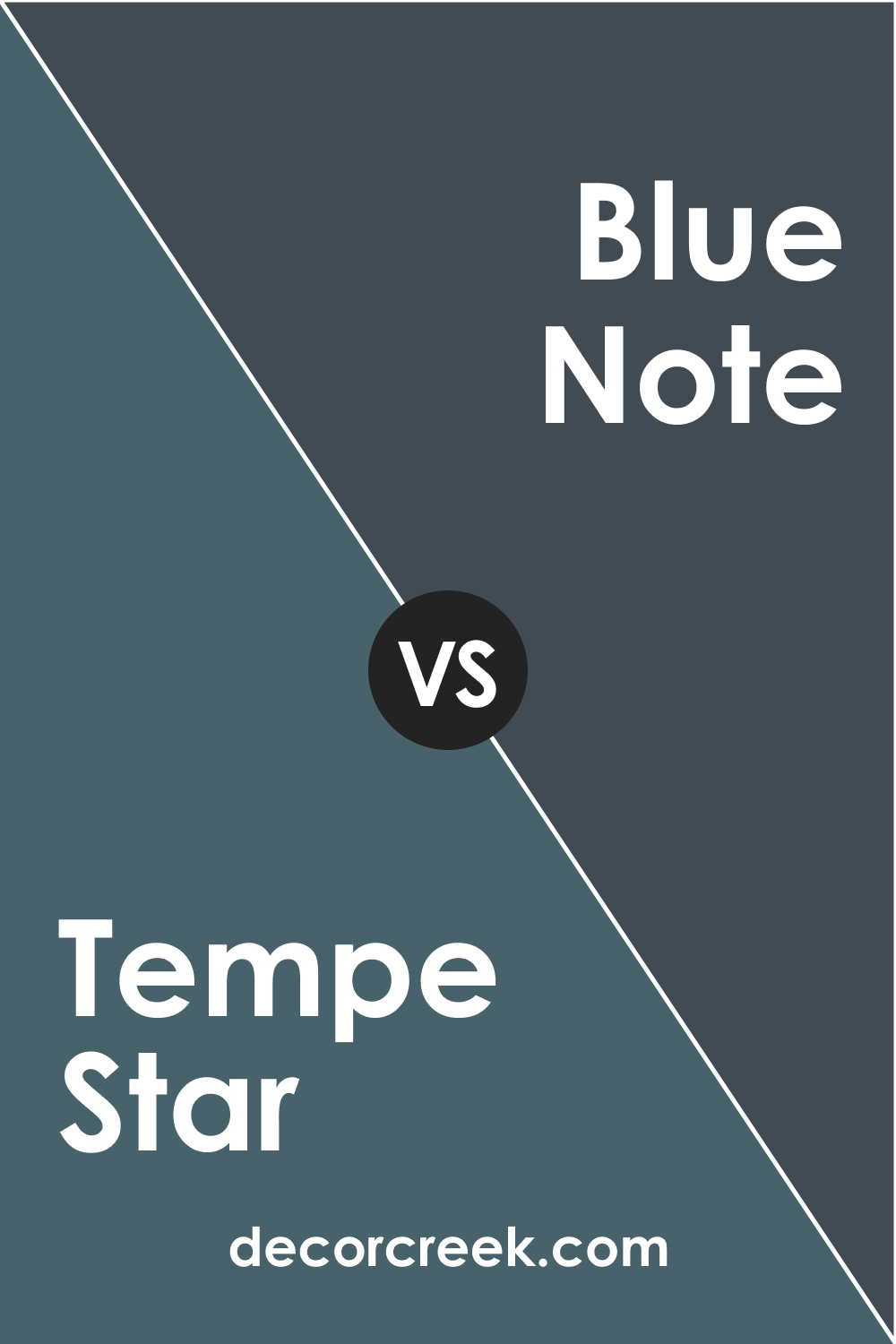 Tempe Star vs. Smoky Azurite
SW Smoky Azurite has yellow-gray undertones and an LRV 25, which makes it different from a much darker SW Tempe Star, whose LRV is 11! Also, SW Tempe Star reads greener compared to its blue and saturated companion.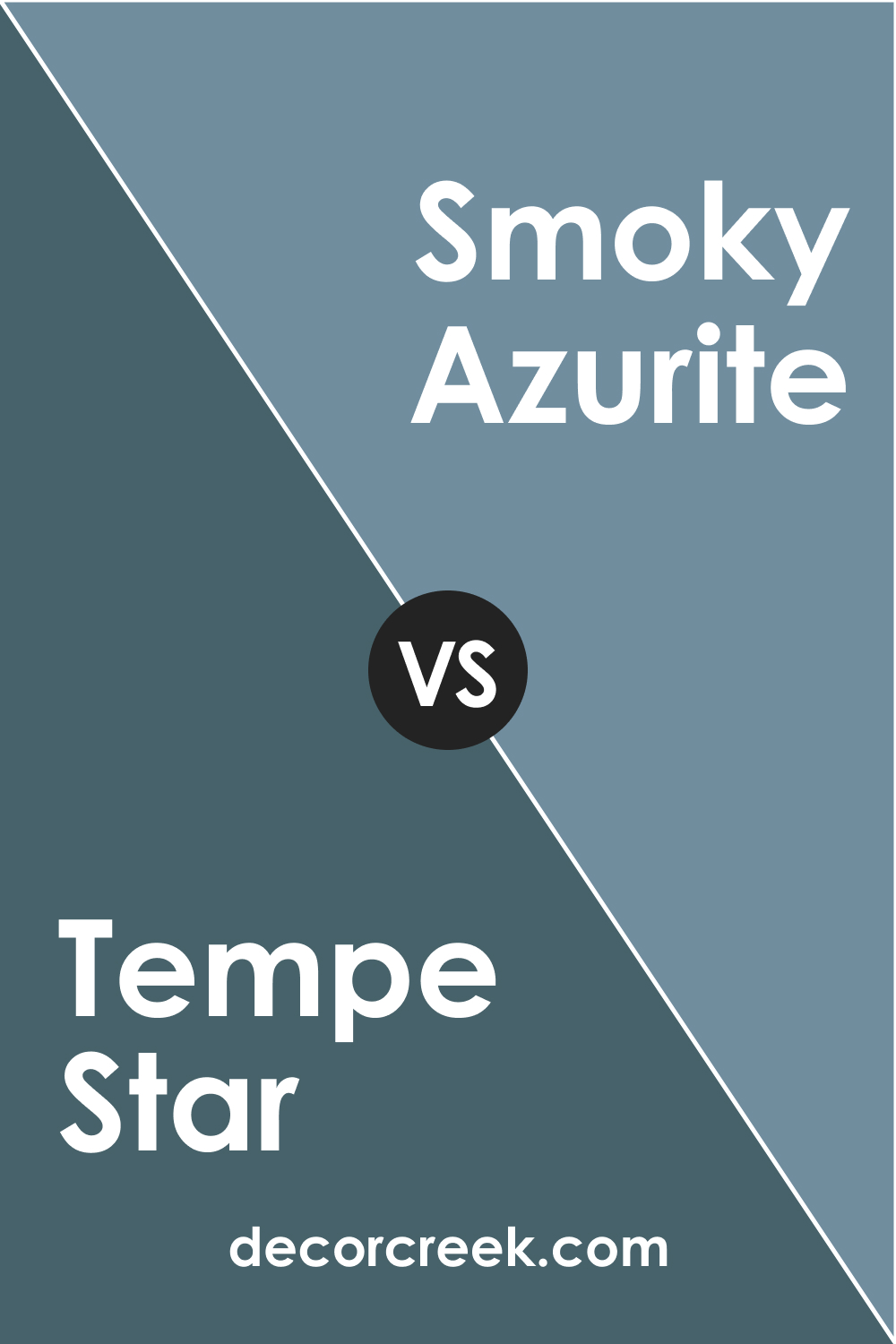 Where to Use SW 6229 Tempe Star Paint Color In Your Home?
SW Tempe Star is a gorgeous blue paint color that can be used almost anywhere in your home. With a little hint of hidden green undertones, this exquisite and bold color reads quite refined and elegant in space. Below, you can read how exactly it may work in different rooms.
Tempe Star SW 6229 in the Living Room
In the living room, use this color on the accent wall. However, if you want to introduce an impressive effect – don't hesitate to try painting all the walls in this color. Just keep in mind it will work better in spacious and large rooms this way!
Add a touch of crisp white on the trims, moldings, and ceiling, and incorporate a shade of either gray or beige on the linen and upholstery to make the room feel cozier.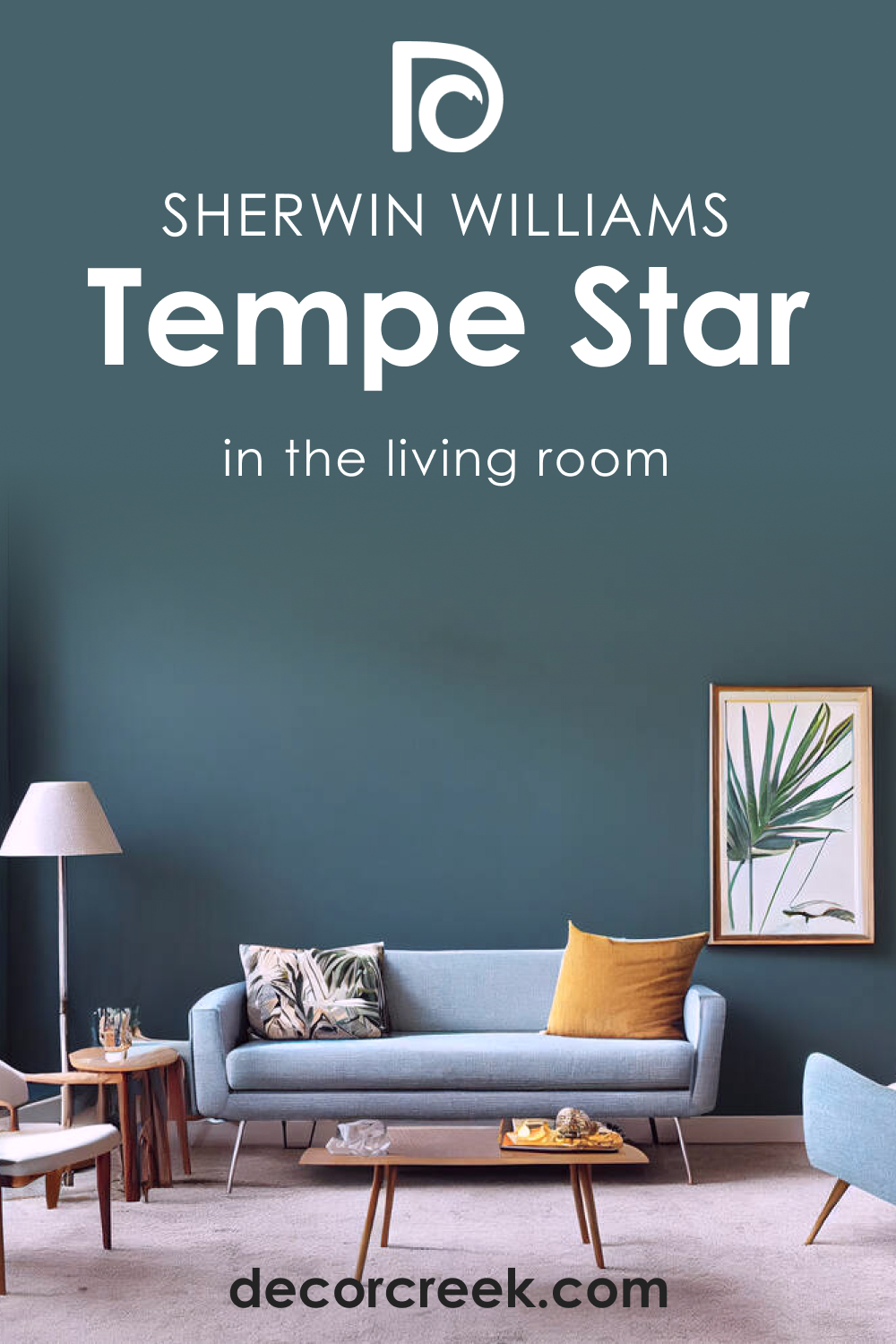 Tempe Star SW 6229  in a Bedroom
Do you want to try this gorgeous hue in your bedroom? Then paint the accent wall in it! SW Tempe Star will give a sense of depth to your feature wall and balance the space. You can also add a creamy white on the adjacent walls and upholstery to make the room feel lighter.
Also, don't hold back from mustard or burnt umber accents on throw pillows! They will make your bedroom feel more cheerful.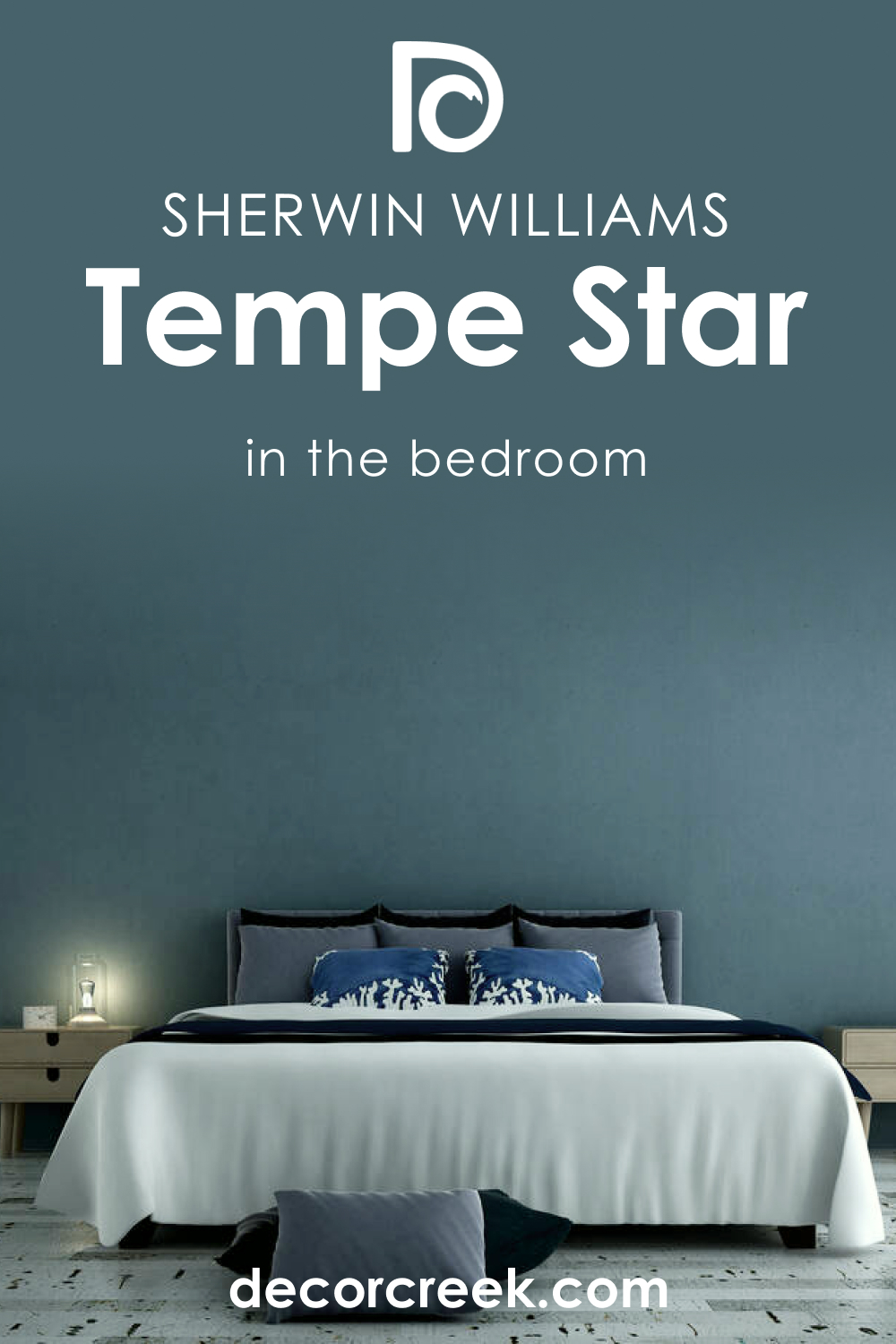 Tempe Star SW 6229 and Bathroom
In bathrooms, this color will work best on the vanity paired with white walls and ceiling. However, if your bathroom is large and has ample natural light, try this blue hue on the accent wall!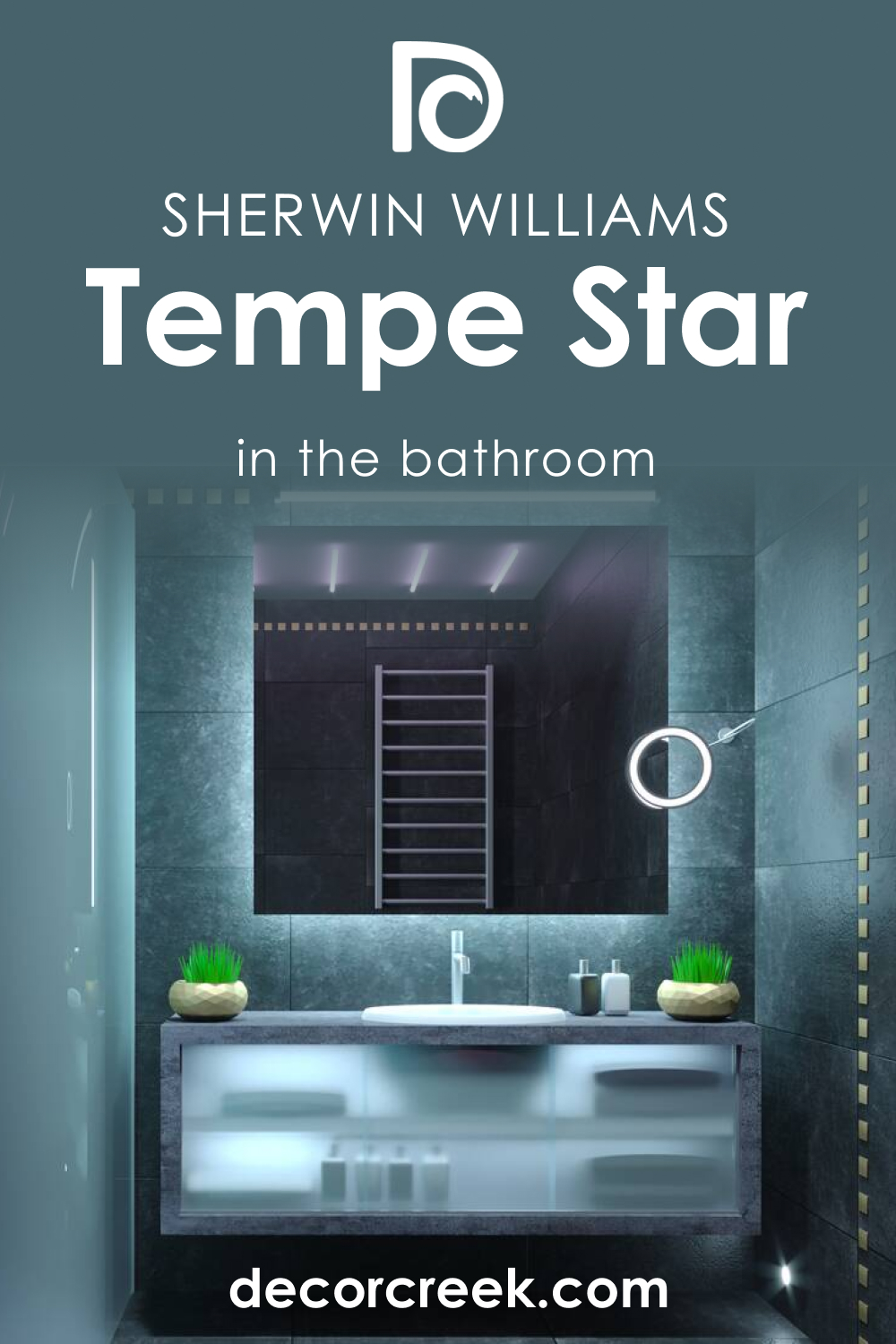 Tempe Star SW 6229  on the Kitchen
This color will look flawless on the kitchen cabinets! You can also add shades of off-white on the backdrop wall. Besides, SW Tempe Star will work well with white marble countertops and white backsplash tiles. For the pull handles, consider a touch of brushed brass or gold to enhance a luxe and rich look.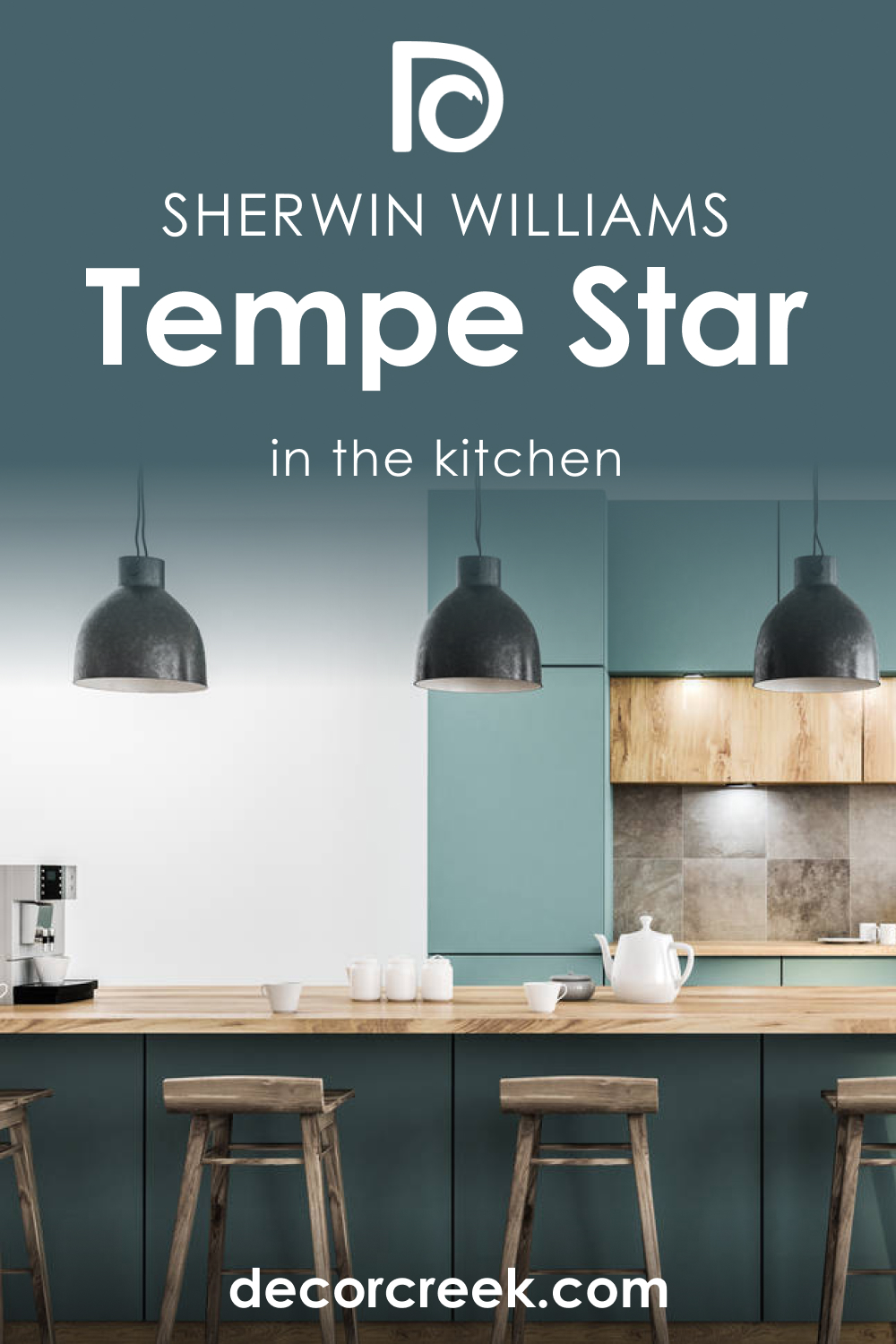 Tempe Star SW 6229  for the Exterior use
If you have a Craftsman, Coastal, Ranch, or transitional style home, Sherwin-Williams Tempe Star will make a wonderful, calming, and bold statement on exterior walls. You can paint the trims and moldings in SW Pure White and choose gray for the shutters, door, and window frames.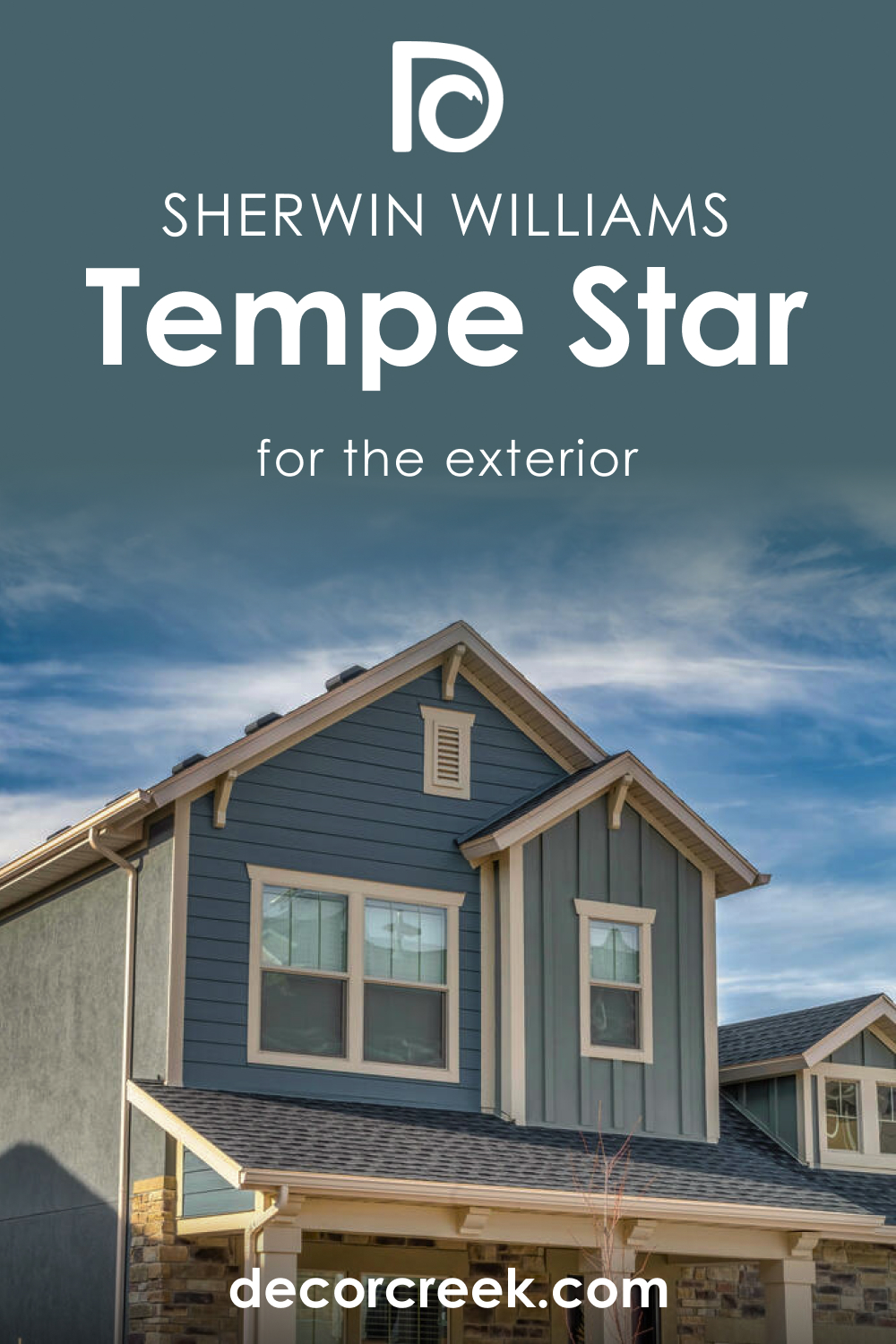 As you can see, even such dark and seemingly complicated colors as SW Tempe Star can be tamed and work well in your home if you know their secrets! We told you what kind of blue it is and what to consider if you want to reveal its true hue indoors or outdoors.
Now that you know its LRV, coordinating and trim colors, and more, using this awesome and elegant blue will only be fun for you!
Frequently Asked Questions
⭐Is SW Tempe Star green?
No, it's not. But this blue color does have greenish undertones.
⭐Will SW Tempe Star read black?
No, this hue won't read black or close to black since it's not that dark.
⭐Will SW Tempe Star work as a front door color?
It can work, indeed. Just ensure the walls are painted with the proper color that pairs this blue well.