There are so many shades of blue out there that you may feel puzzled trying to pick up the blue hue for your home interior walls. This is why the article we have for you today can be very helpful! It will tell you about the blue paint color called Smoky Azurite by Sherwin-Williams.
You will learn what kind of blue it is and how it works in different rooms. Also, we will explain how this color reads in different lighting conditions and what colors should be used to coordinate with it.
You will also get more helpful information and tips on how to use SW Smoky Azurite correctly.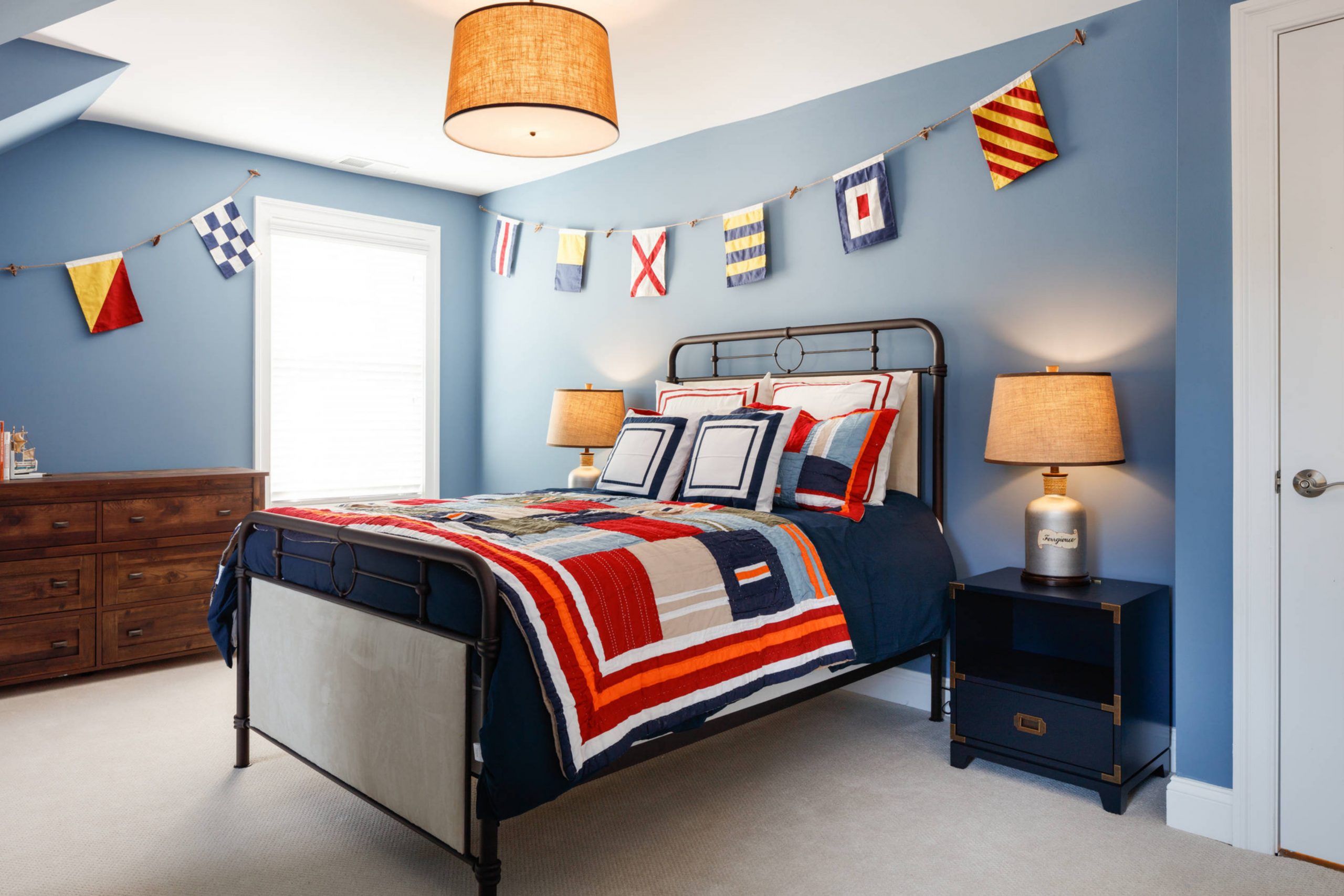 What Kind of Color Is SW 9148 Smoky Azurite?
SW Smoky Azurite  is a cool denim blue color that can add some murky sophistication to your living space. As Encycolorpedia says, this color is pretty deep and dark-looking, it's best to be used in well-lit rooms to enable the hue to display its depth fully.
In most cases, this color reads blue, but it may display a slightly different tone depending on lighting conditions.
This is why you should always sample it in advance to ensure this blue works exactly as you want. But generally, it is quite versatile and will work well in most spaces.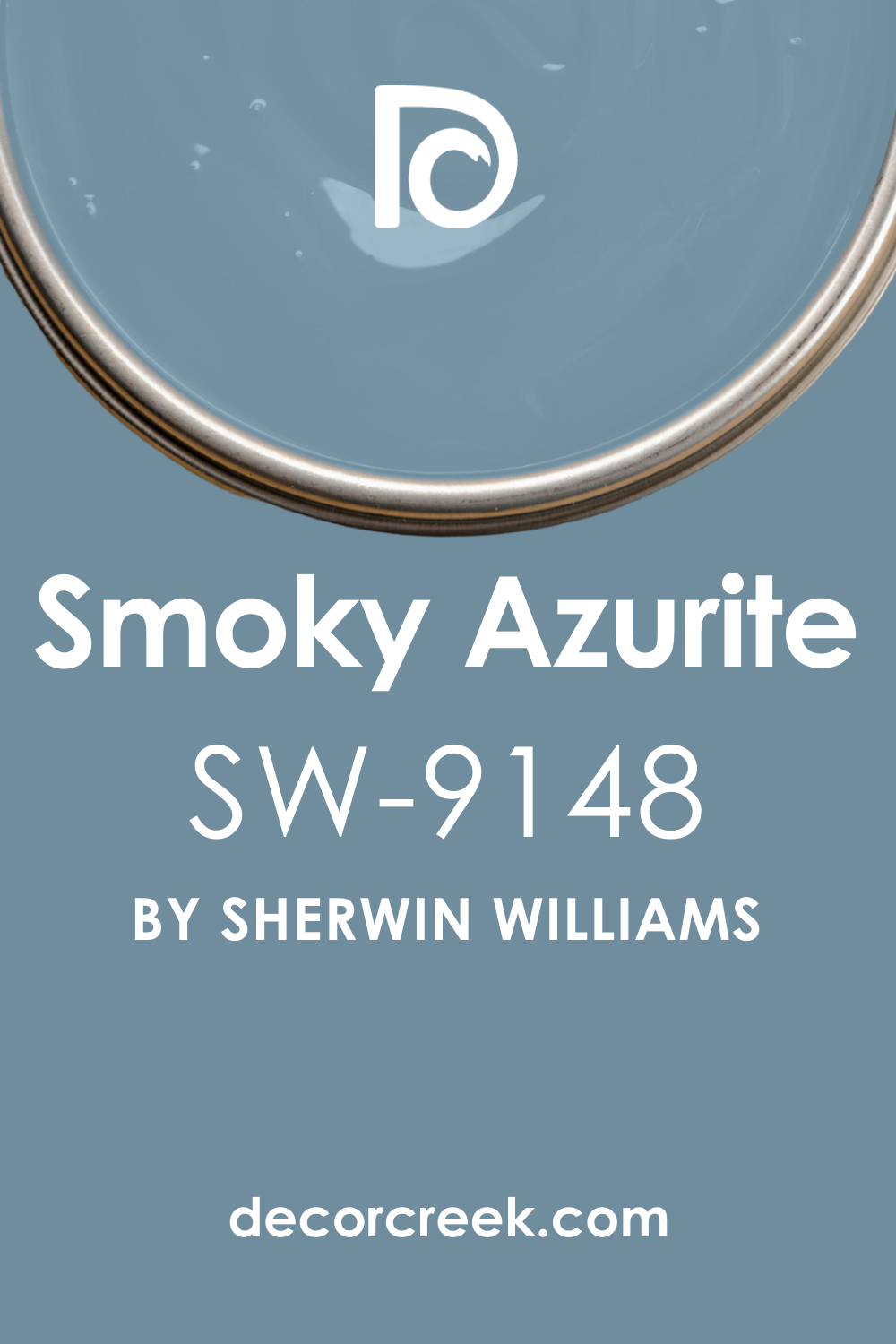 Is SW Smoky Azurite a Warm or Cool Color?
This color is somewhat tricky when it comes to the perception of its tone. See, it is technically a cool-toned blue color. However, due to the yellow undertones in it, SW Smoky Azurite may read less chilly on your walls occasionally.
It will also look a bit different in tone depending on the lighting conditions in a room. Nevertheless, this color mostly shows a pleasantly fresh and cool blue hue.
What Undertones SW 9148 Smoky Azurite Has
SW Smoky Azute is one of those tricky colors that homeowners would prefer to avoid in their homes. See, this blue color has complex yellow and gray undertones, which is why the hue may sometimes work quite unpredictably.
In spaces with ample cool lighting and prevailing cool-toned colors, SW Smoky Azurite will display its grayish hue more prominently, reading cooler.
However, in warm light, this blue may seem a bit less cold. Anyway, it won't read yellowish and warm or extremely crisp since its undertones are pretty well-balanced.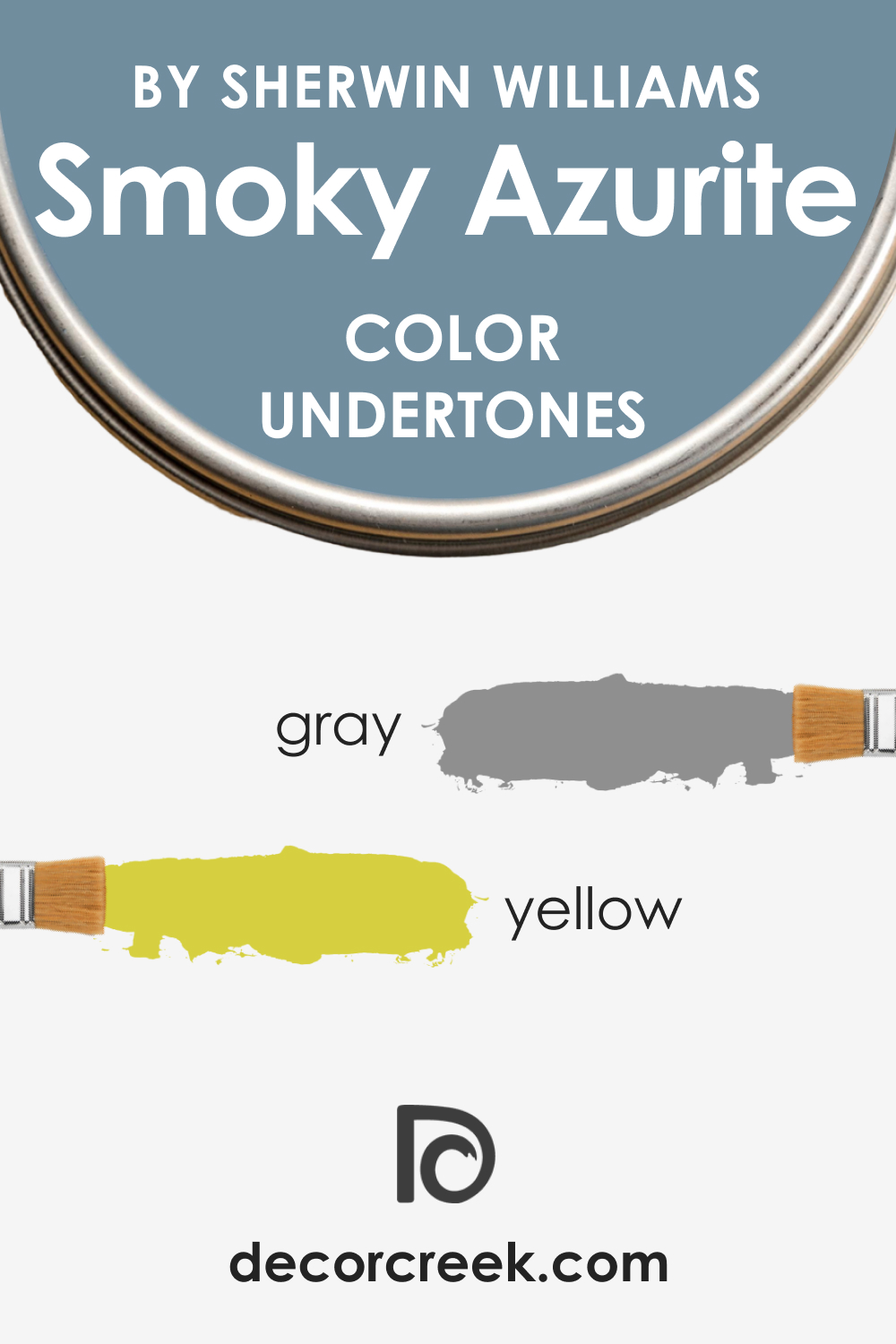 SW 9148 Smoky Azurite Coordinating Colors
Due to the complex undertones, you may have problems picking up the correct coordinating colors for SW Smoky Azurite. This is why we have prepared several suggestions for you to check out. Below, you can find a few universal coordinating colors, as well as colors for a monochromatic and more varied palette.
SW 6238 Icicle
SW 7035 Aesthetic White
SW 7038 Tony Taupe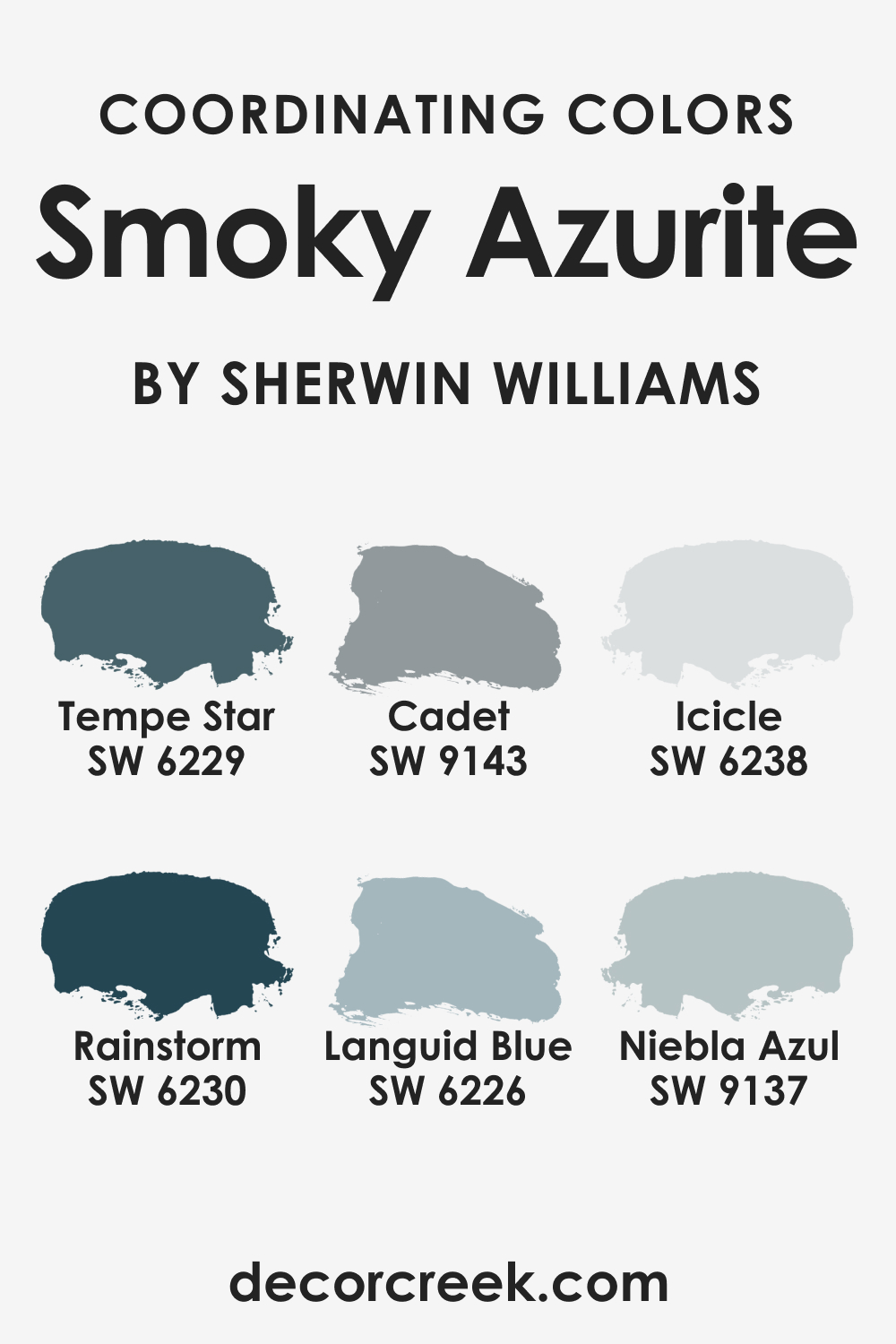 For a monochromatic palette, we recommend you opt for the following colors:
SW 6229 Tempe Star
SW 6226 Languid Blue
SW 6230 Rainstorm
SW 9137 Niebla Azur
For a more varied and colorful palette, you might want to use other colors instead to coordinate them with SW Smoky Azurite:
SW 6039 Poised Taupe
SW 9117 Urban Jungle
SW 6149 Relaxed Khaki
SW 9143 Cadet
SW 6232 Misty

What LRV Does SW Smoky Azurite Have?
LRV (light reflectance value) is an essential feature you must know about paint colors. This measurement shows how much light the color can reflect when it is applied to the wall. Darker colors have lower LRV values, whilst lighter colors have higher LRVs. There are also neutrals that have LRVs around 50. Simply speaking, the higher the LRV, the lighter the color. And vice versa.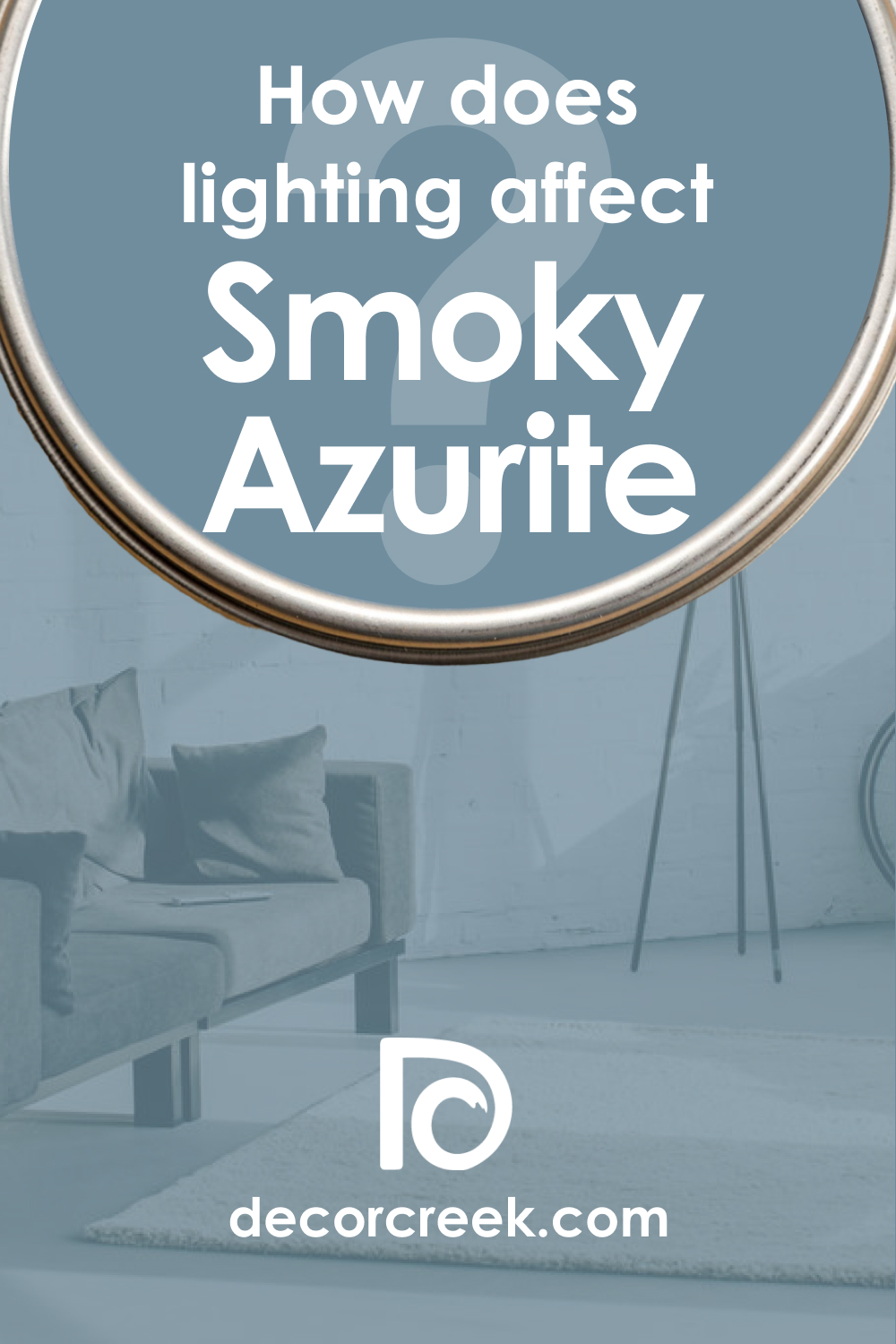 The LRV value of SW Smoky Azurite is 25, which means this blue is pretty dark. However, this is still not the darkness that makes the color read nearly black.
With an LRV of 25, SW Smoky Azurite will read nicely deep and saturated on your walls, adding a note of personality and character to any space.
Also, with this LRV value, the color is not very reflective! Consider this if you have little to no light in a room where it's planned to be used! Otherwise, this beautiful hue may turn into a nightmare and make the space feel enclosed and moody.
We recommend using SW Smoky Azurite in well-lit rooms to help the hue reveal its true beauty.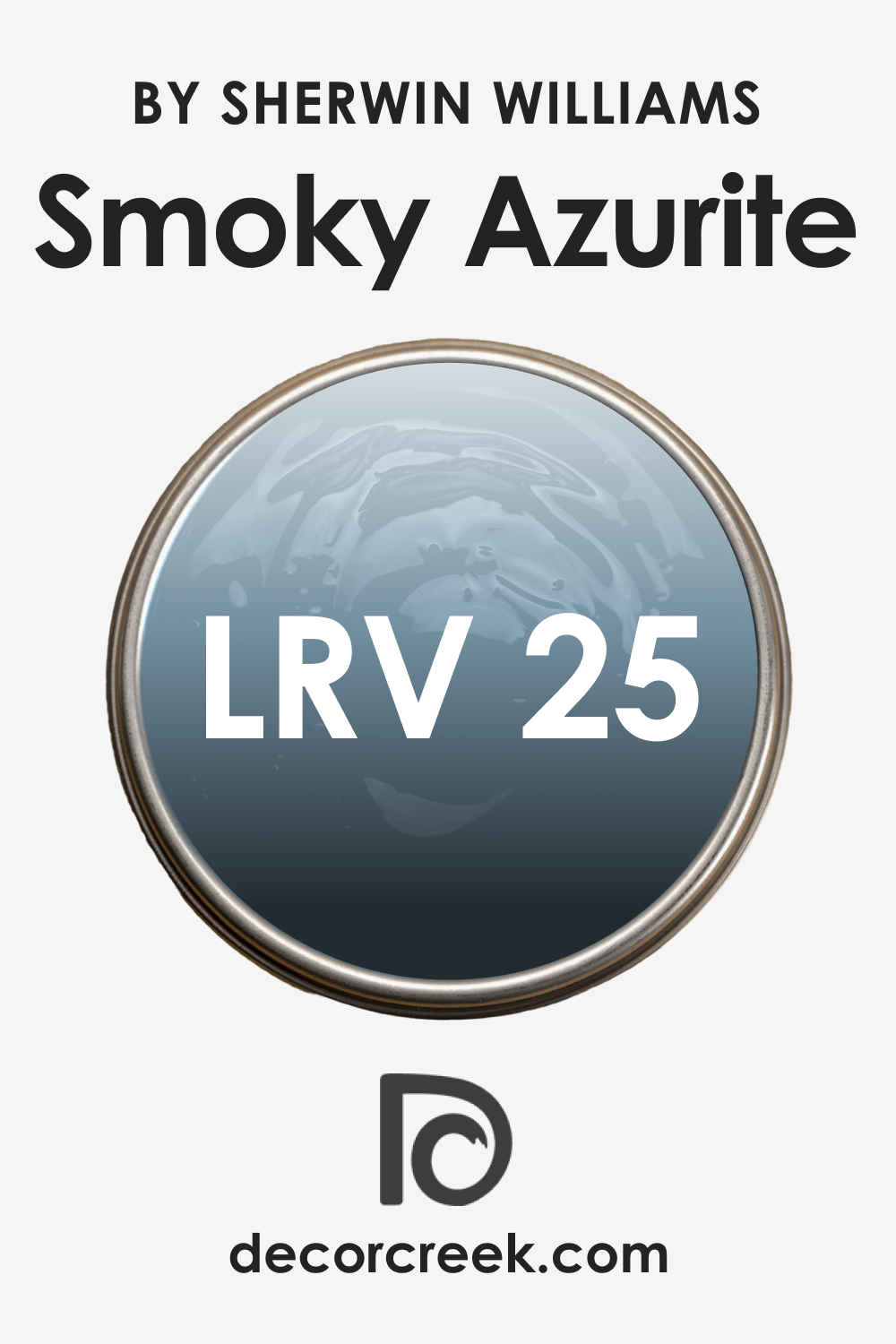 LRV – what does it mean? Read This Before Finding Your Perfect Paint Color
What Is the Best Trim Color to Use With SW Smoky Azurite?
Like for many blues, white is an ideal trim color that will work with SW Smoky Azurite and highlight the true hue of this denim blue. In particular, we would recommend you opt for cooler whites that read crisp enough. Such colors will highlight the cool undertones of SW Smoky Azurite, making the color feel fresher and brighter. For example, you might want to use SW Extra White or SW High Reflective White.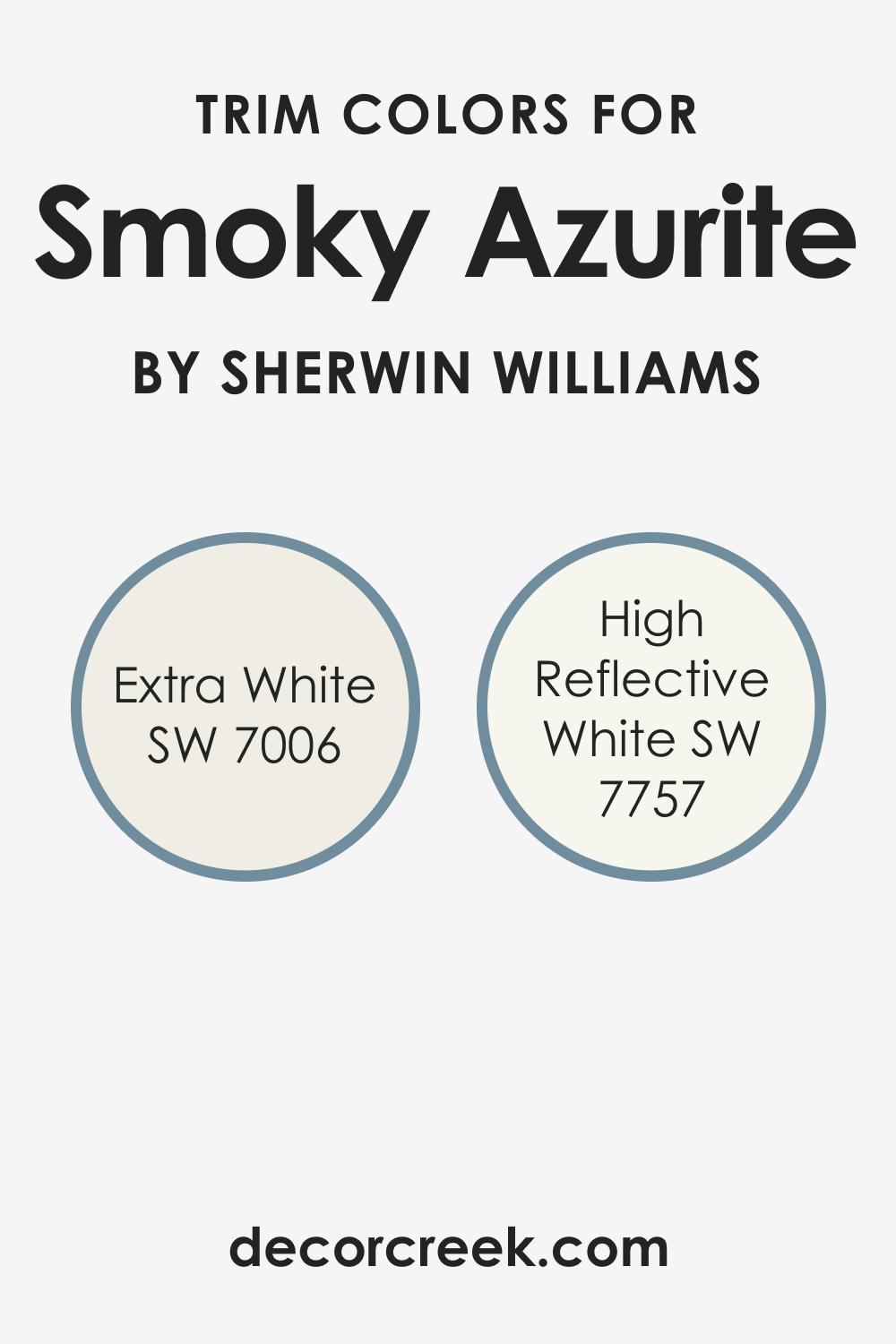 Colors Similar to SW Smoky Azurite
If you need to find a color that reads almost the same as the one you were initially going to use, learn what similar colors exist. When you know what colors can be used as substitutes, you can find the best-matching alternatives pretty quickly without changing the overall color palette much.
For SW Smoky Azurite, we would recommend you the following similar blues:
Behr Thundercloud
BM 1664 Sea Reflections
Farrow & Ball Stone Blue
PPG Baritone
Valspar Cat's Pajamas
BM Oxford Gray 2128-40
SW 6242 Bracing Blue
SW 9151 Daphne
They read nearly the same as this deep denim blue. However, note that each of the colors on this list will still vary a bit! They have different LRVs and undertones, so distinctions won't go anywhere.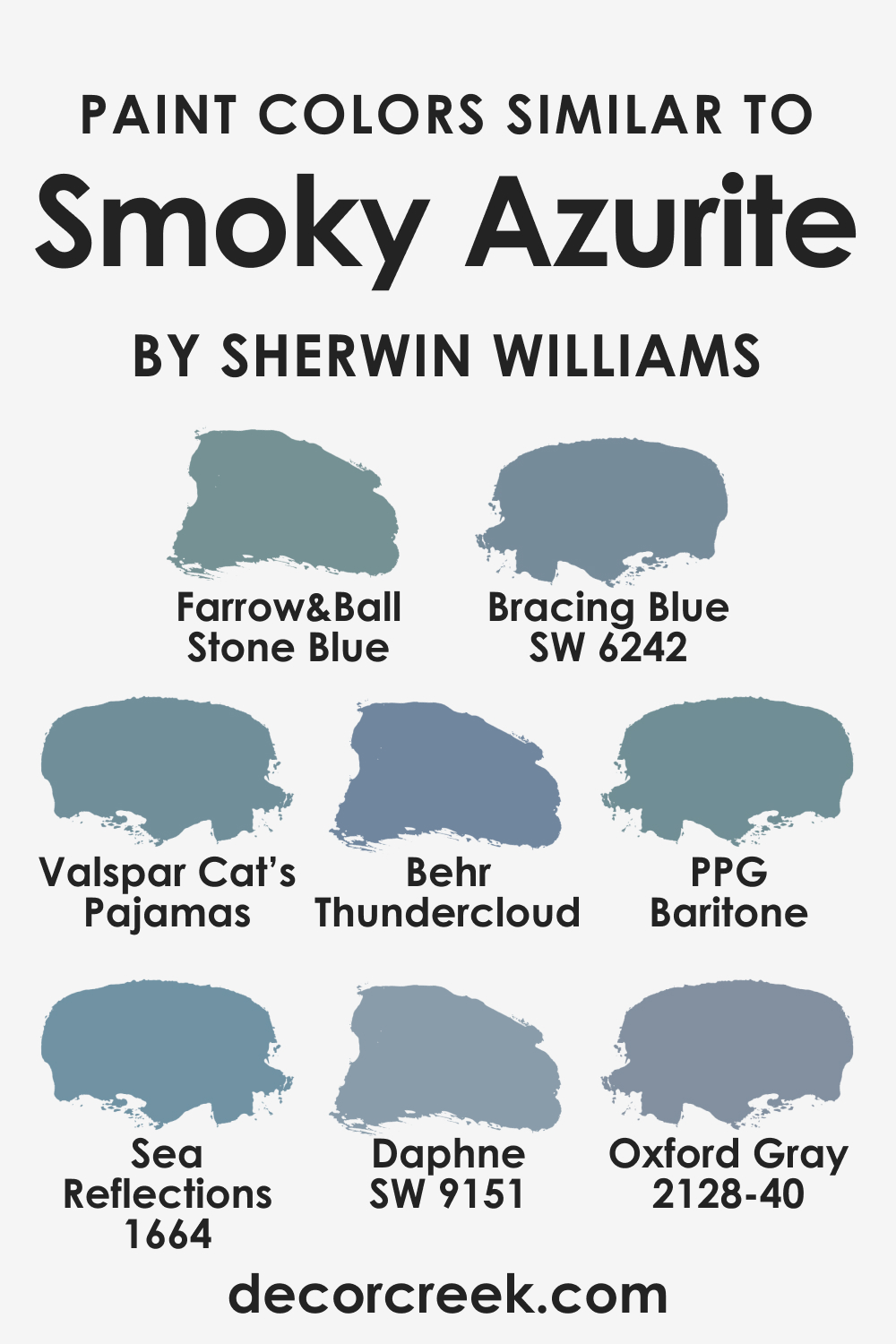 Colors That Go Well With SW Smoky Azurite
To select the most harmonious and good-looking color palette for your home, you should know what colors work well with the blue you are going to use on your walls. At this point, note that most blues work well with golden colors, off-whites, whites, shades of grey, mustard yellows, browns, and greiges.
Speaking of SW Smoky Azurite, you can use this deep-toned denim blue with the following colors:
SW 7006 Extra White
SW 7015 Repose Gray
SW 7007 Ceiling Bright White
SW 7029 Agreeable Gray
SW 7672 Knitting Needles
SW 7660 Earl Gray
SW 7646 First Star
SW 9018 Honey Bees
SW 2814 Rookwood Antique Gold
SW 6383 Golden Rule
SW 6913 Funky Yellow
SW 6118 Leather Bound
SW 6069 French Roast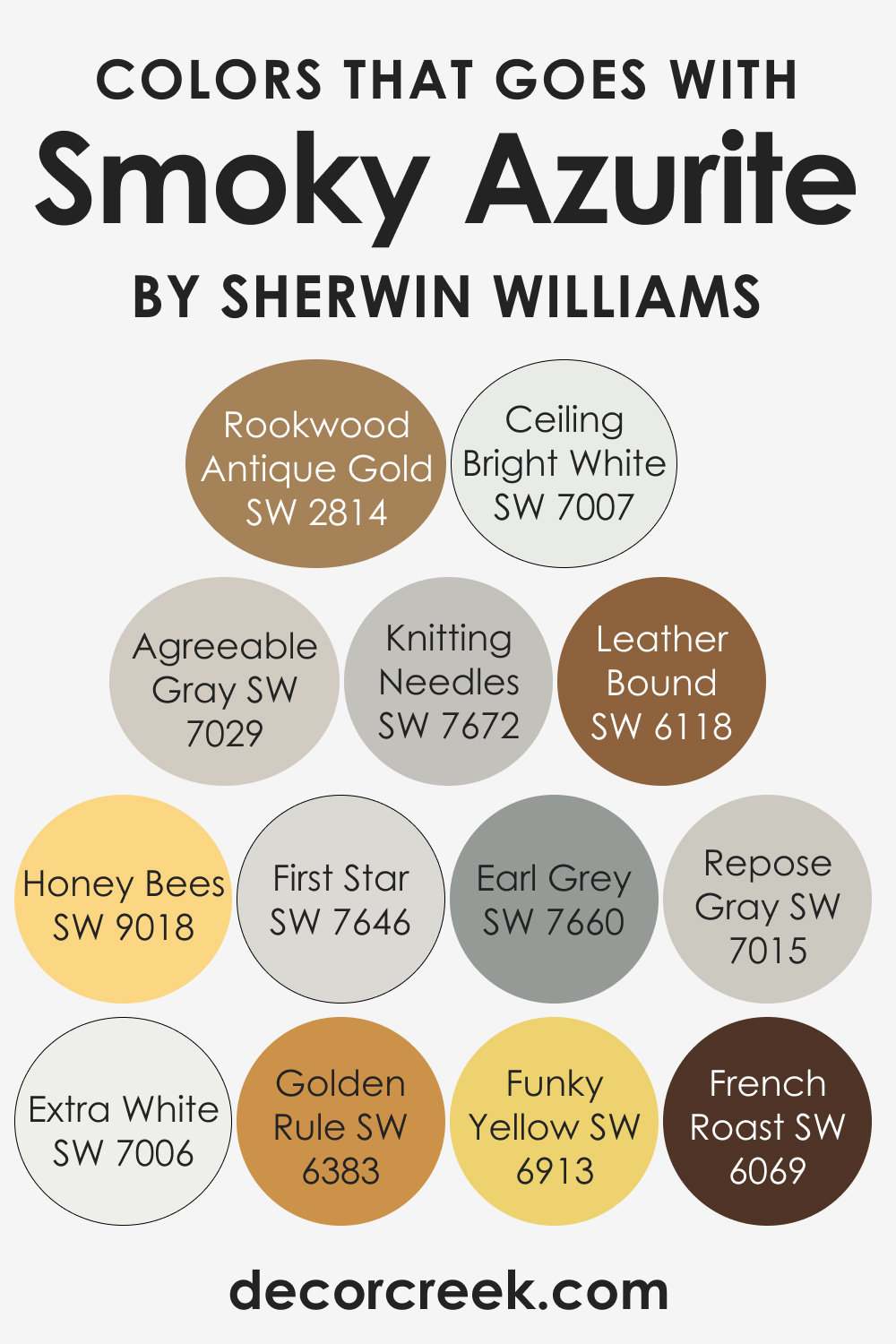 Comparing SW Smoky Azurite With Other Colors
To help you better get the differences and tone nuances between similar colors, we have compared the Smoky Azurite color by Sherwin-Williams with other shades of blue that read more or less alike. Read on to discover what makes them distinct and unique.
Smoky Azurite vs. Endless Sea
SW Endless Sea is a deep and complex mid-tone blue paint color that looks rich due to the complex undertones of yellow and gray. Its LRV is 9, which places this color on the darker side of the light reflectivity scale.
Compared to SW Endless Sea, SW Smoky Azurite reads much lighter due to the LRV value 25. Also, it looks bluer and cleaner, looking nearly glowing blue, unlike its deeper counterpart.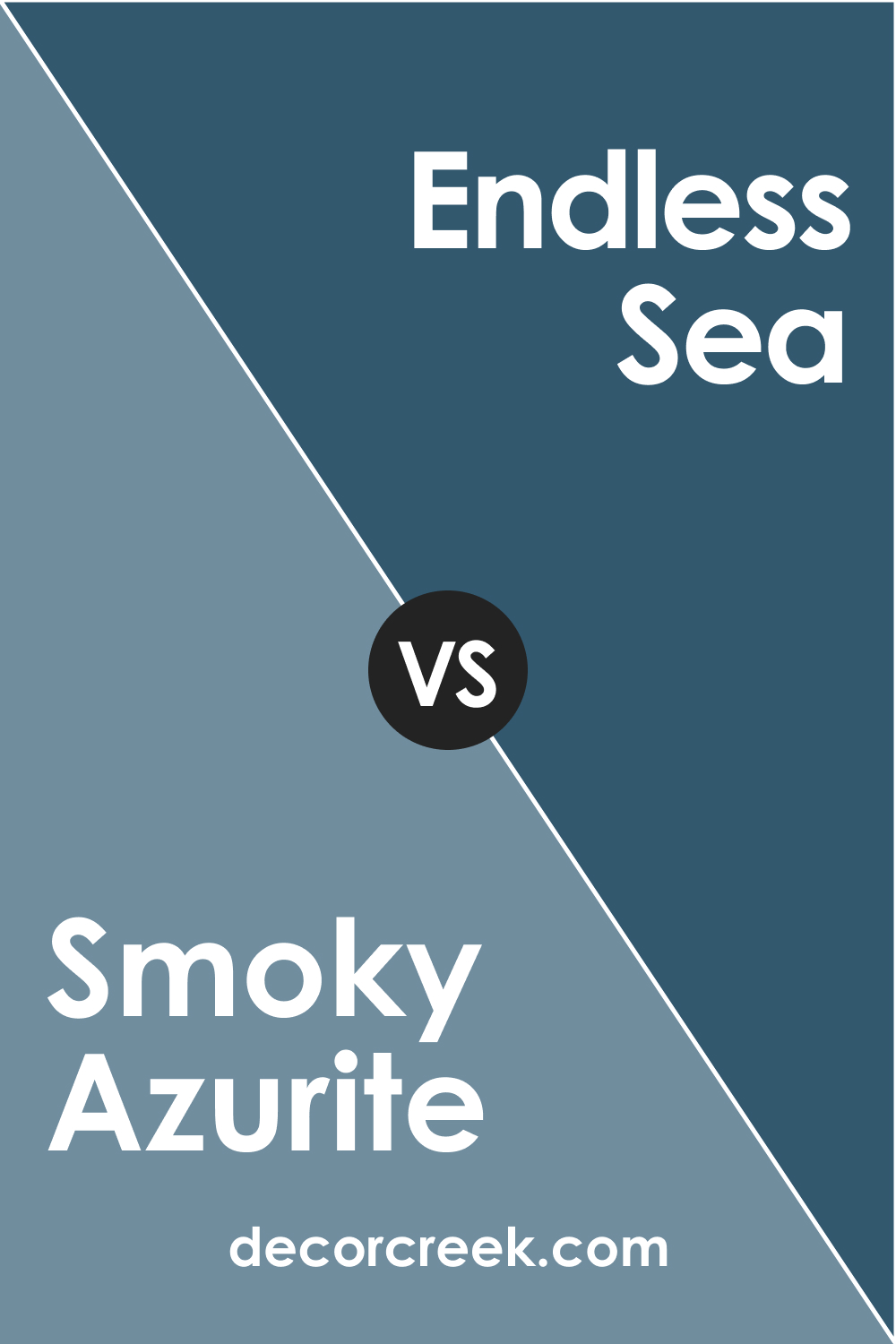 Smoky Azurite vs. Misty
SW Misty is a cool-toned blue with an LRV value of 64, which makes it very light. Also, this color has very delicate gray undertones. Compared to SW Smoky Azurite (whose LRV is 25), it looks much lighter and significantly less blue. On the contrary, SW Misty reads grayish if you compared it with the saturated blue hue of its counterpart!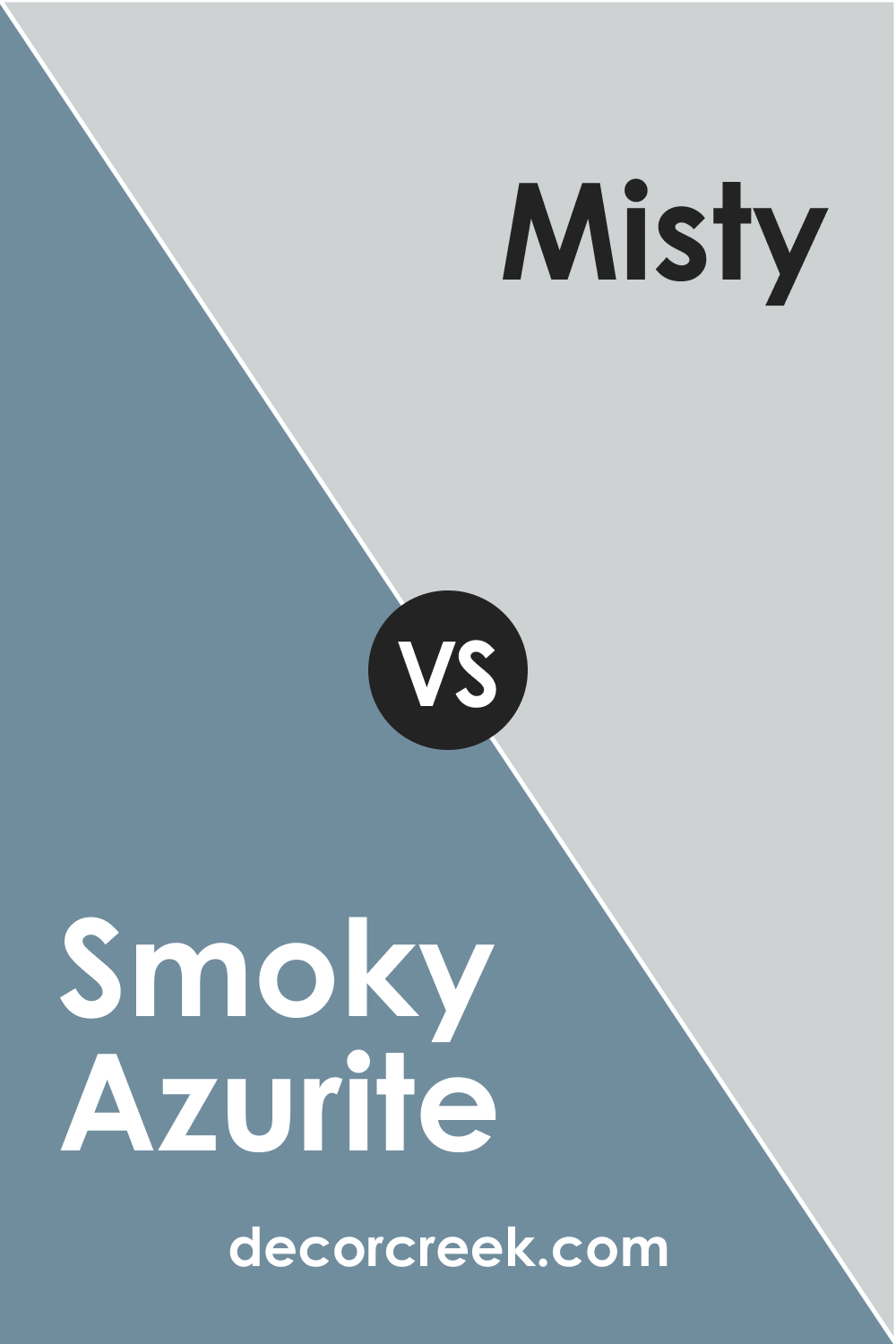 Smoky Azurite vs. Whirlpool
SW Whirlpool is a medium blue with gray undertones and an LRV of 29. Compared to it, SW Smoky Azurite, whose LRV is 25, reads somewhat deeper but not too dark. Also, SW Smoky Azurite displays a cleaner blue hue than SW Whirlpool, which looks a bit mixed because of a prominent gray undertone.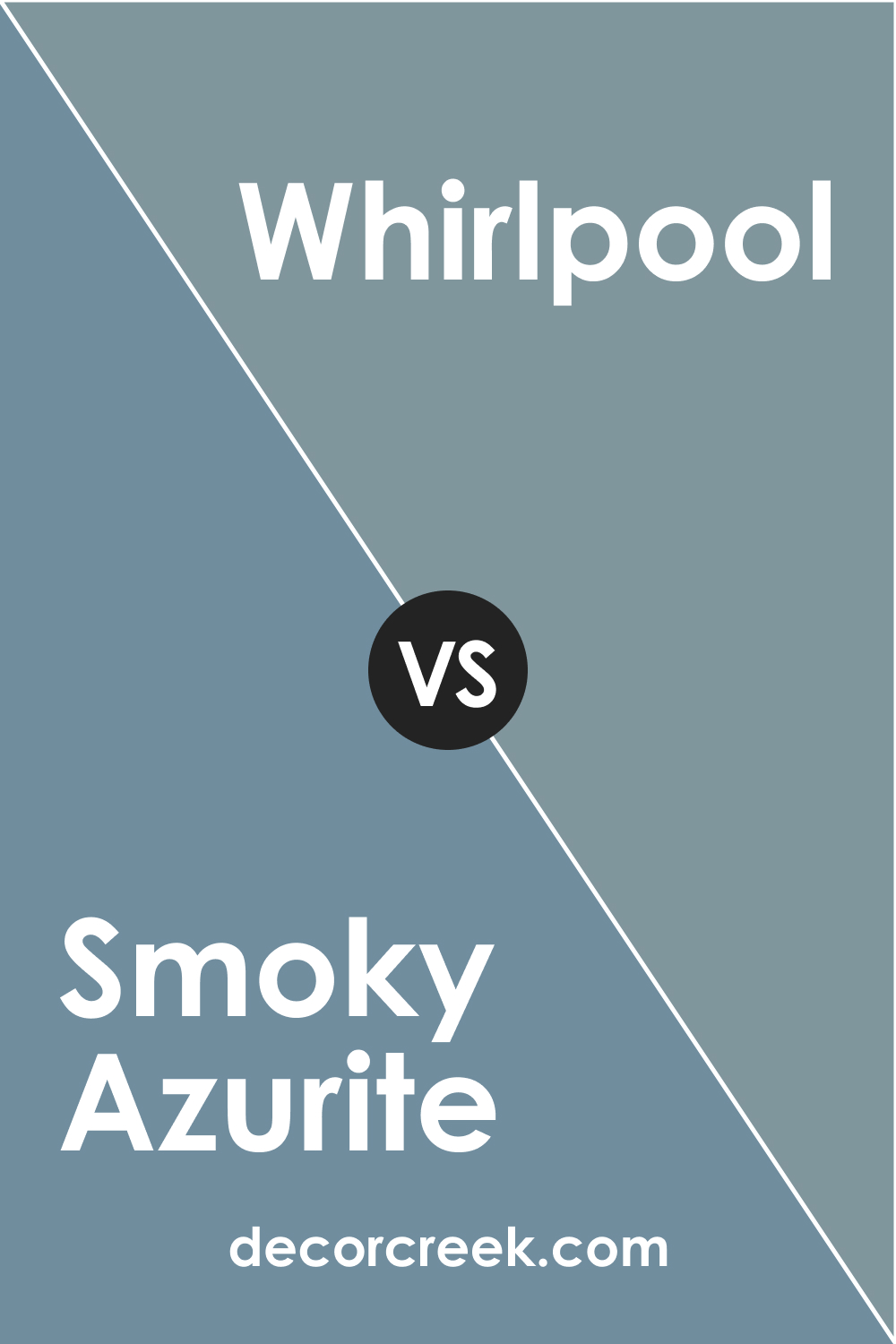 Smoky Azurite vs. Still Water
SW Still Water is much darker than SW Smoky Azurite due to the lower LRV of 10. Also, these colors have different undertones. SW Still Water has green-gray undertones that make this deep and dark blue read rather complex. Compared to SW Smoky Azurite, SW Still Water reads much greener.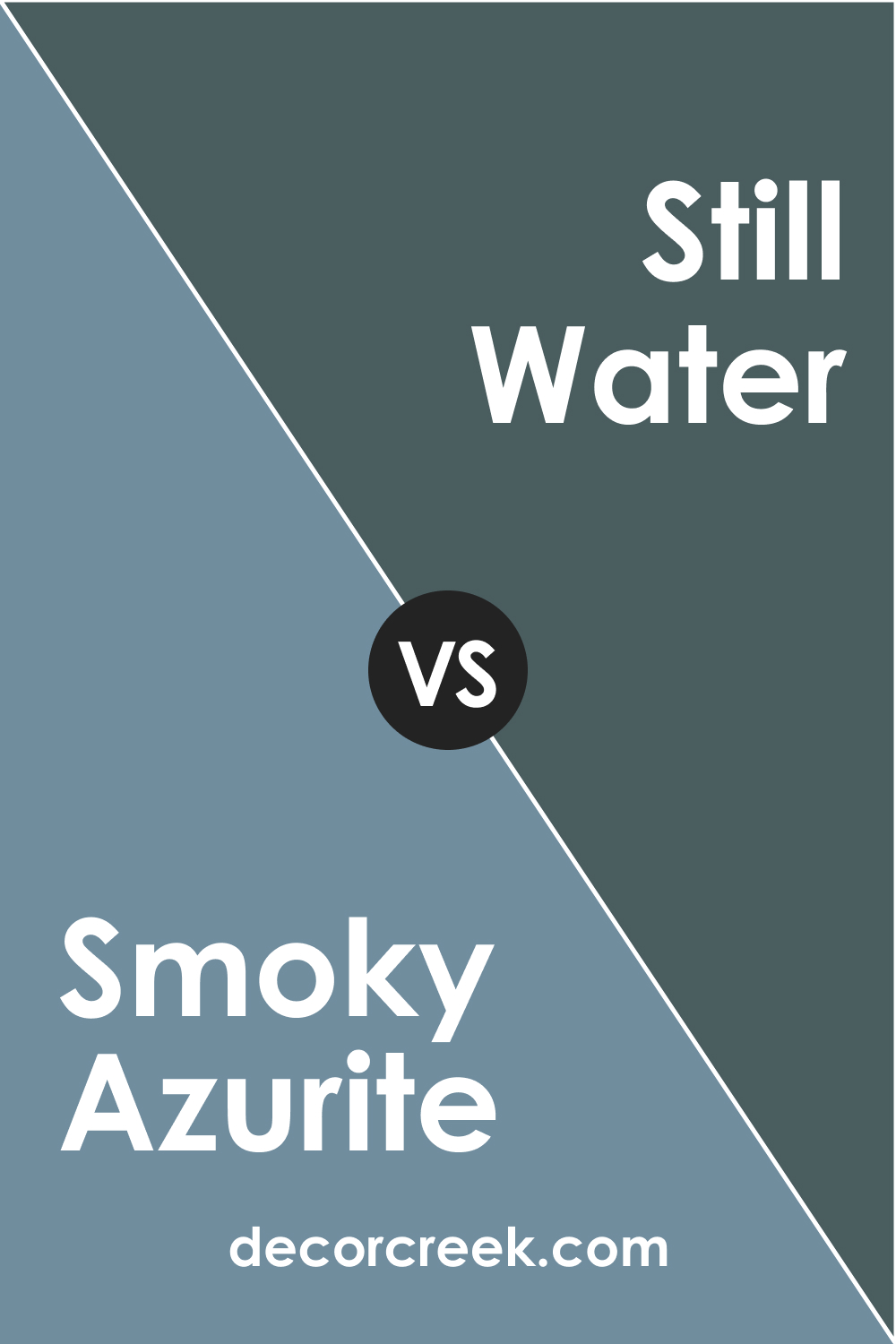 Smoky Azurite vs. Moonmist
SW Moonmist is a cool-toned blue that has an LRV of 67. It makes this color much lighter than SW Smoky Azurite, whose LRV is 25. However, SW Moonmist has yellow and gray undertones, which relates it to SW Smoky Azurite, whose undertones are the same. However, despite similar undertones, these blues look different.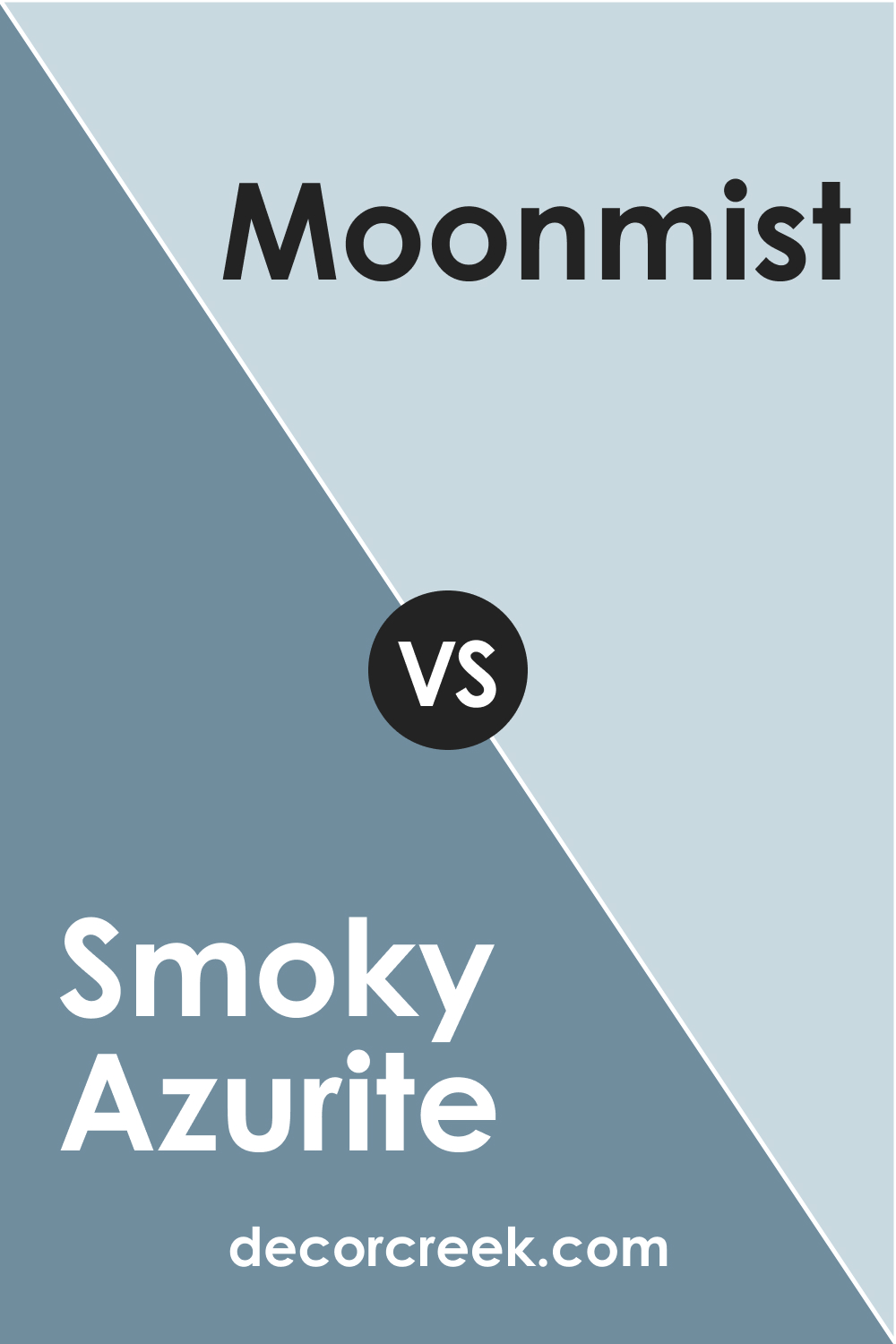 Smoky Azurite vs. Waterloo
SW Waterloo is a blue color that's moderately dark and deep. It reads fairly soft due to delicate gray undertones. And since its LRV is 13, the color is pretty dark. Compared to it, SW Smoky Azurite looks bluer and significantly lighter due to the higher LRV of 25.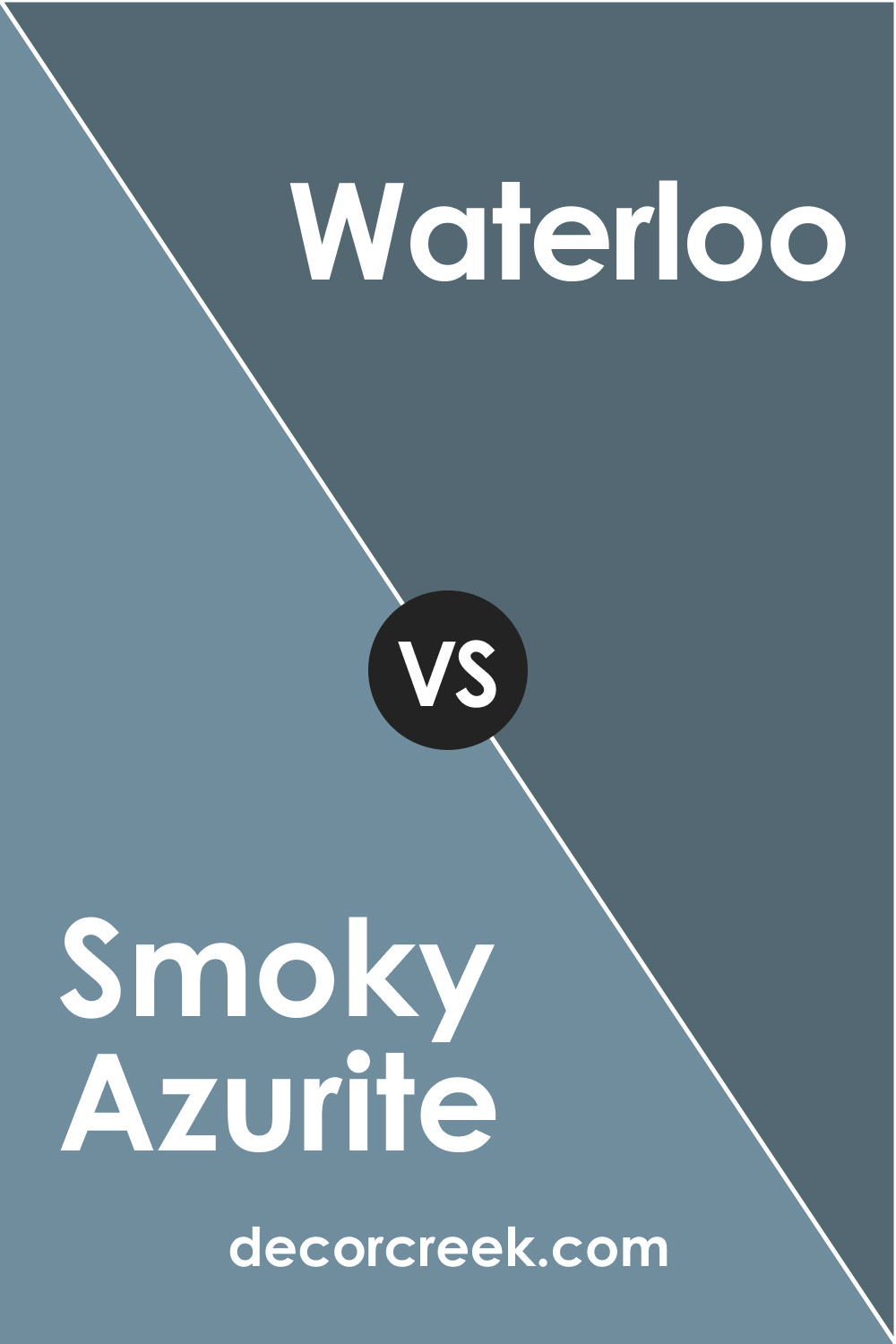 Where to Use SW Smoky Azurite Paint Color In Your Home?
Despite its complex undertones of yellow and gray, SW Smoky Azurite is very versatile! You can use it in different rooms with equal success. The only thing you must keep in mind is the way this color reacts to light, as well as its undertones. Below, you can see how exactly it may show itself in your home interiors.
Smoky Azurite SW 9148 in the Living Room
In a living room, this color works best on the accent wall with other walls being white. However, you can also use it on all the walls if the size of the room (and the lighting in it) allows that. Pair this blue with the white trim and window frames, and use more of light colors like whites or greiges to make the space feel brighter and cozier.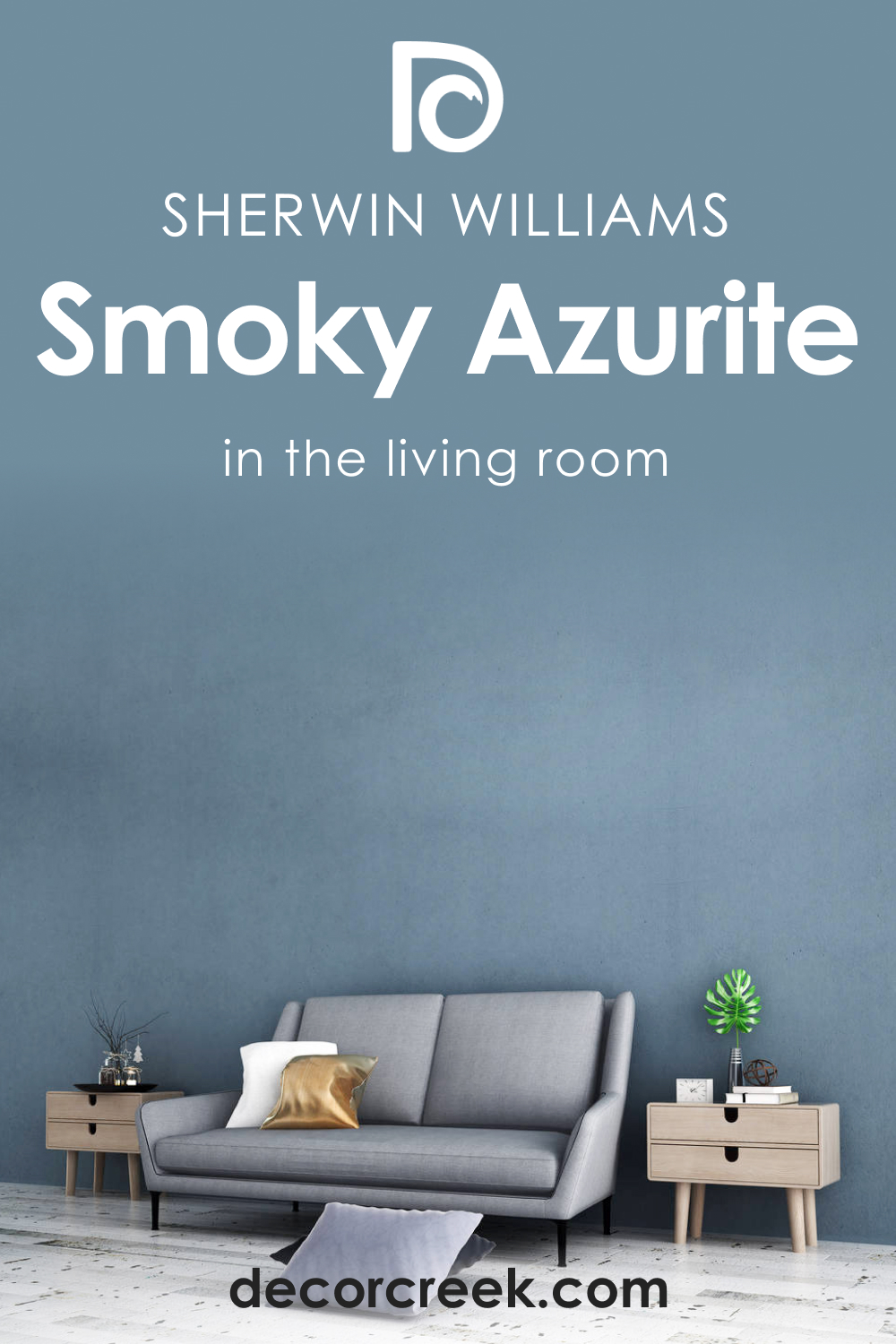 Smoky Azurite SW 9148 in a Bedroom
Thanks to its calming and balanced look, SW Smoky Azurite can work great in bedrooms! This blue creates a relaxed feeling, which is exactly what you need in a room you use for rest and sleep.
Pair this blue on the walls with the light beige/greige bedding and upholstery, and make sure you have enough white on the ceiling and trim to brighten up the space.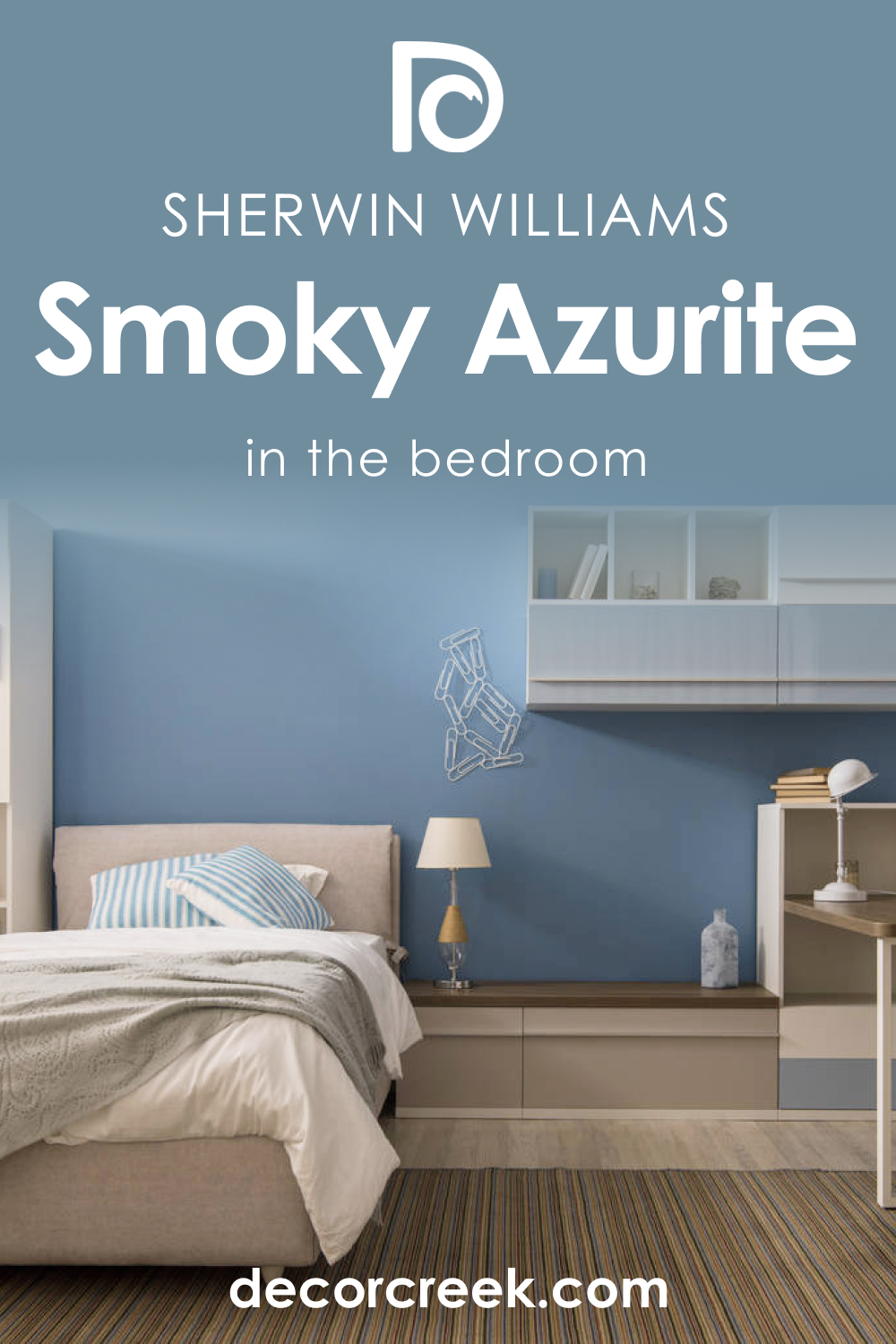 Smoky Azurite SW 9148 and Bathroom
In bathrooms, we recommend you use this shade of blue moderately. Best of all, paint your vanity in it and leave the walls white. This color combination will make the room look more attractive and colorful yet not overwhelmed with the blue.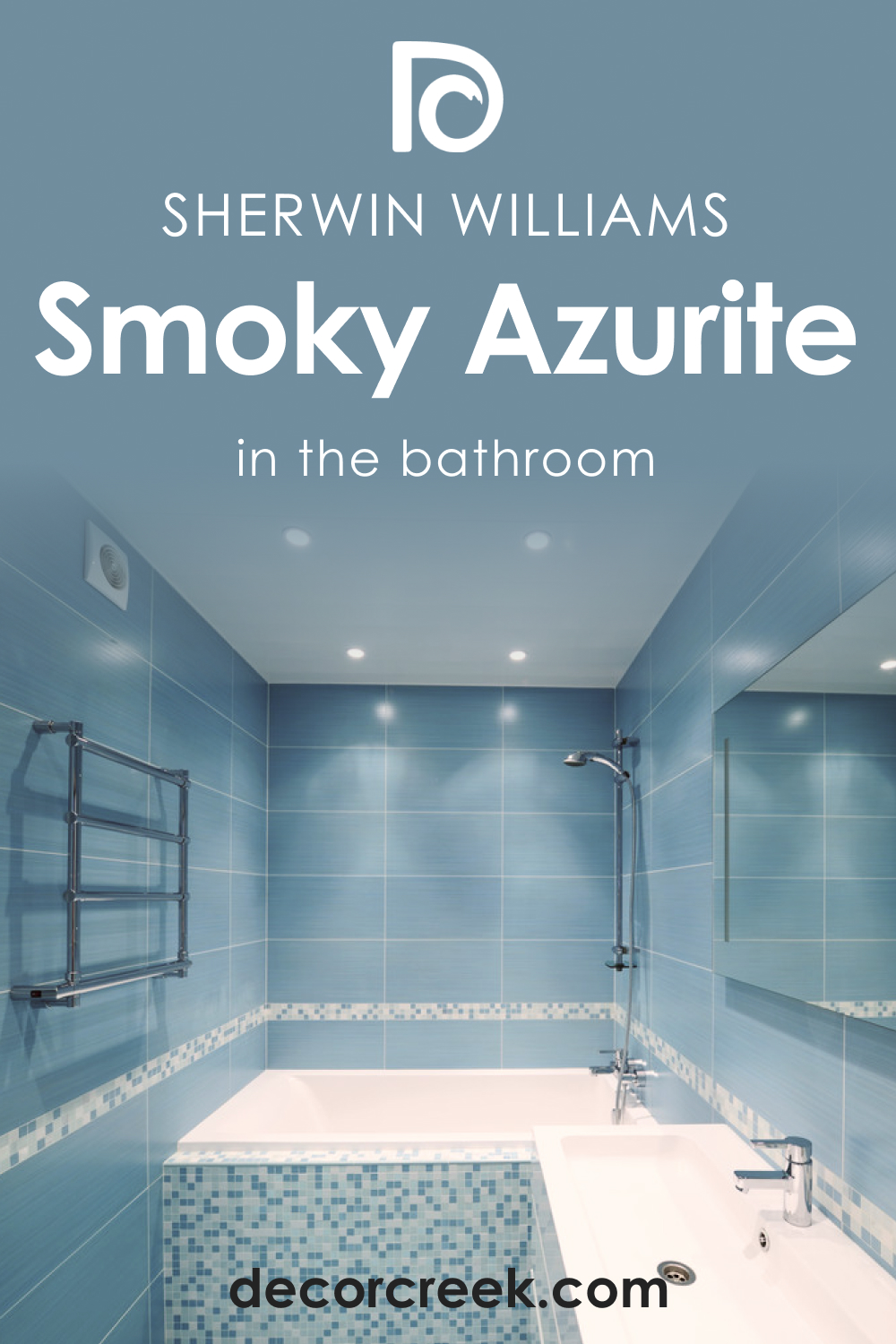 Smoky Azurite SW 9148 on the Kitchen
If you think blue is not the kitchen color, you haven't tried SW Smoky Azurite there! This color works well on cabinets (upper and/or lower) and the island. The walls can be white or very light gray/greige that coordinates with the blue well.
Also, don't be afraid to use this blue hue if you have wooden surfaces in your kitchen! SW SMoky Azurite pairs with wood pretty well, especially in a well-lit and spacious room.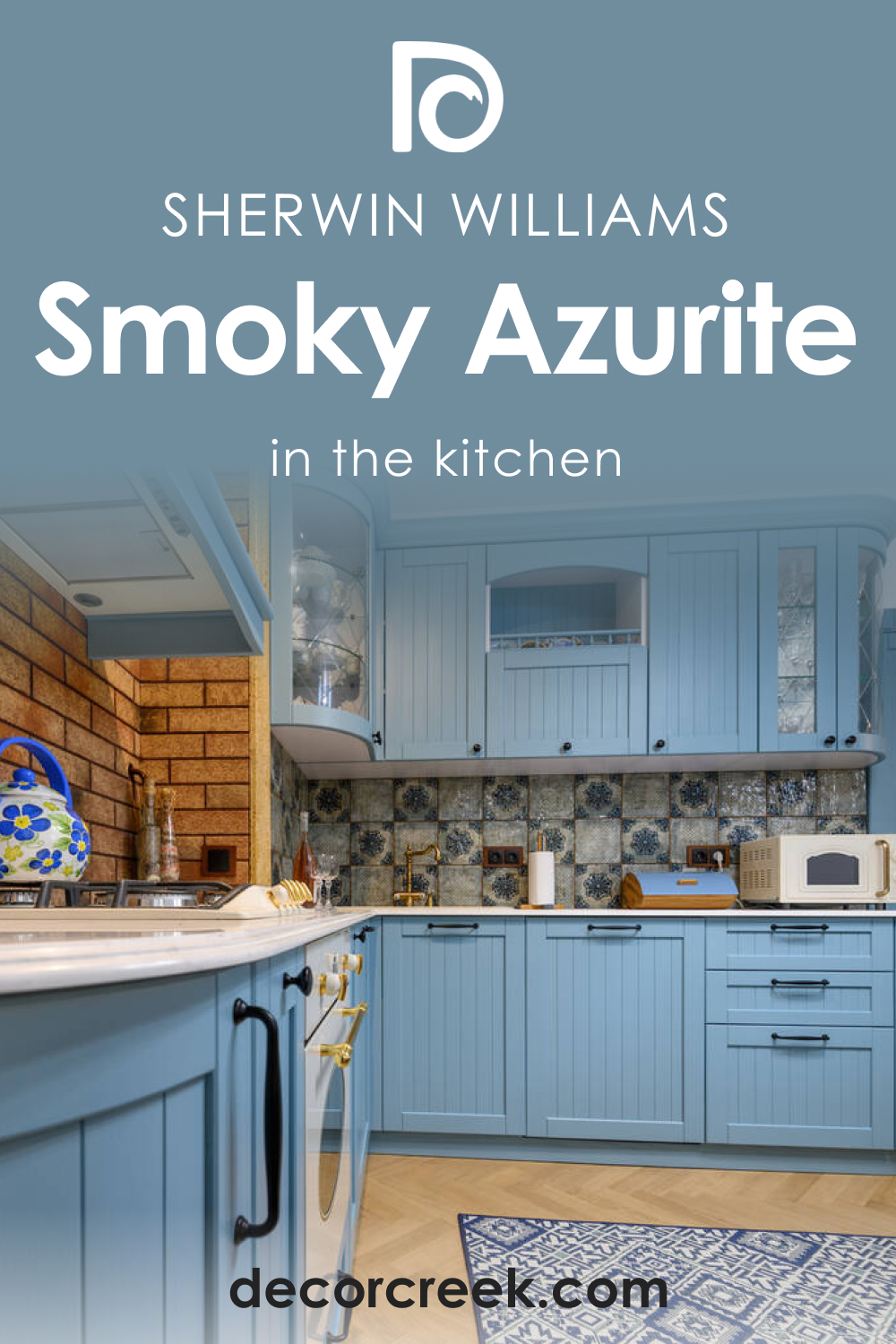 Smoky Azurite SW 9148 for the Exterior Use
You should be careful with this blue on exterior walls since it often reads much brighter outdoors! In direct light, this color tends to seem bluer and cleaner, sometimes reading almost sky-blue! So if you're not ready for such an effect, better opt for a more muted blue.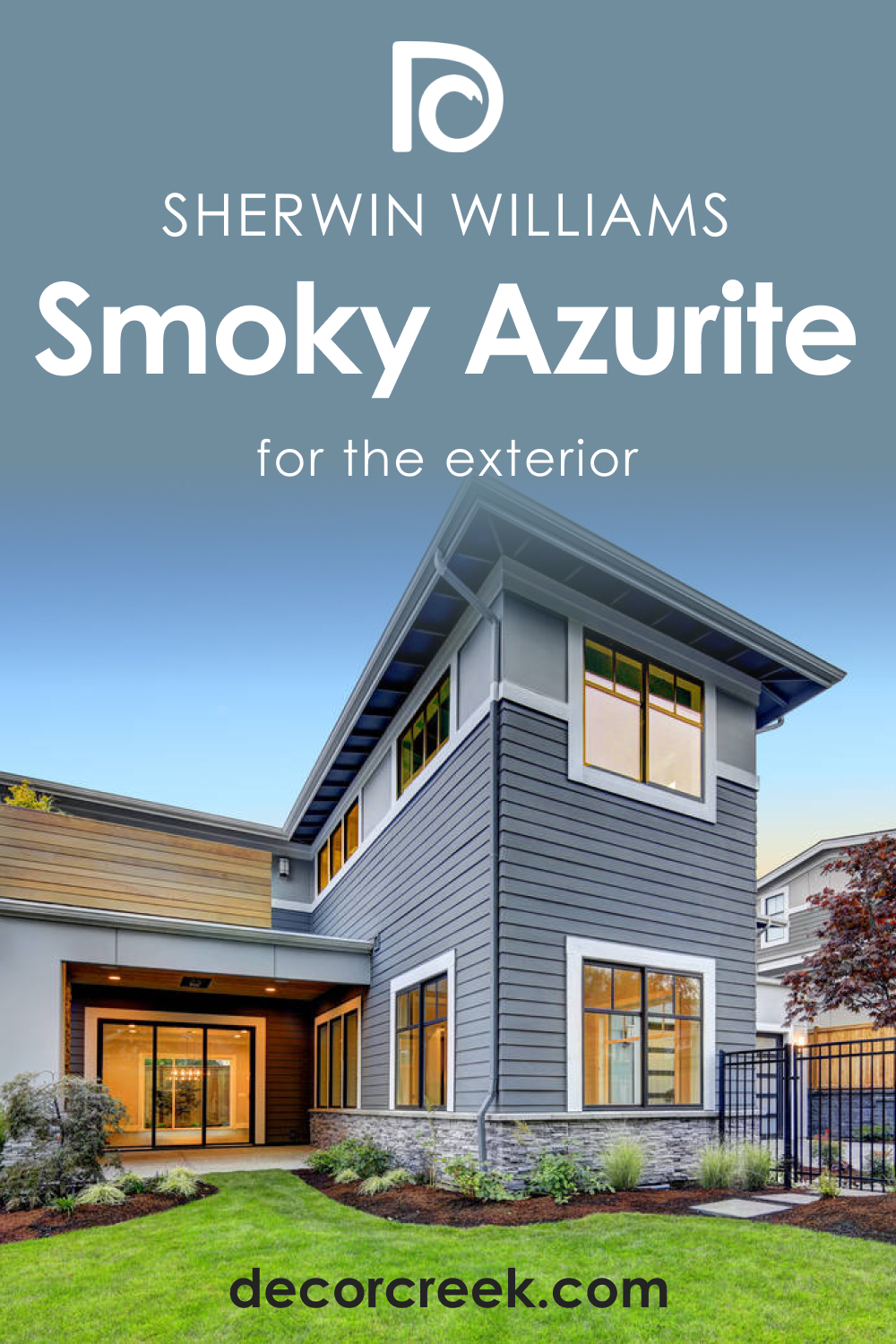 As you can see, SW Smoky Azurite is not only beautiful but also rather tricky! Although this color mostly reads blue, it may display a bit brighter or muted hue depending on the lighting conditions.
This is why you have definitely found this article helpful! Now you know what undertones and LRV this color has, how it works in different rooms, and how to coordinate it correctly.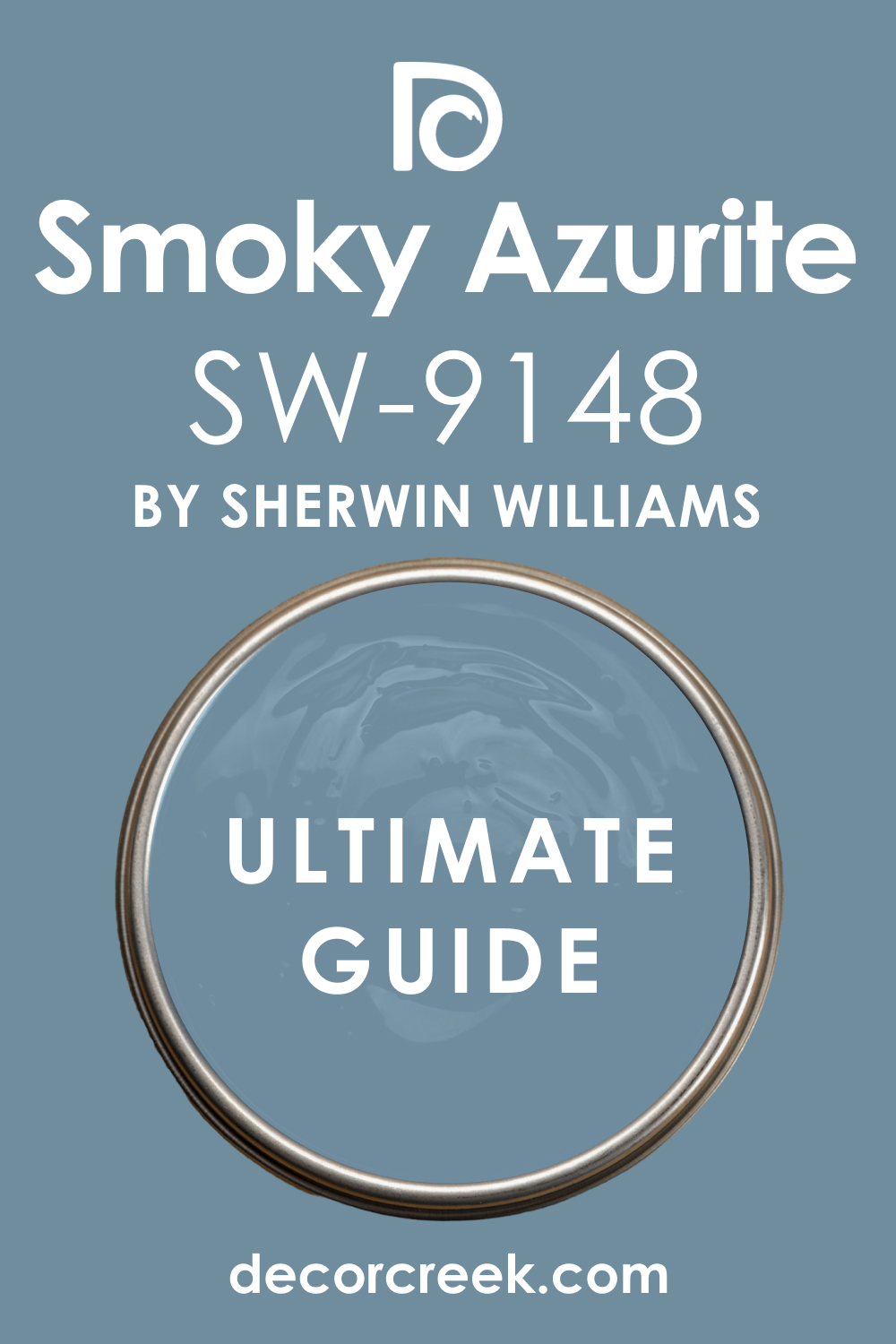 Frequently Asked Questions
⭐Does SW Smoky Azurite work with other blues?
Yes, this color can be used with other blues, but only if they're much darker.
⭐Is SW Smoky Azurite a warm color?
No, it is cool-toned. However, it doesn't read crisp.
⭐Does SW Smoky Azurite work with brown colors?
Yes, this blue can be used with certain brown hues.