We often believe that blue is not very suitable for interior walls. This color is often seen as cool-toned, and people think blue can make their homes feel more chilly and less welcoming. As a result, most homeowners stick to warmer colors to achieve a cozy vibe or use neutrals to pair them with other colors easily.
However, today we would like to show you that blue can also be lovely. We will tell you about one of the most beautiful blue colors by Sherwin-Williams that will make your home look unique and feel cozy!
It's called SW Tidewater, and you will learn what kind of blue it is, how it works in different rooms, and what specific features it has.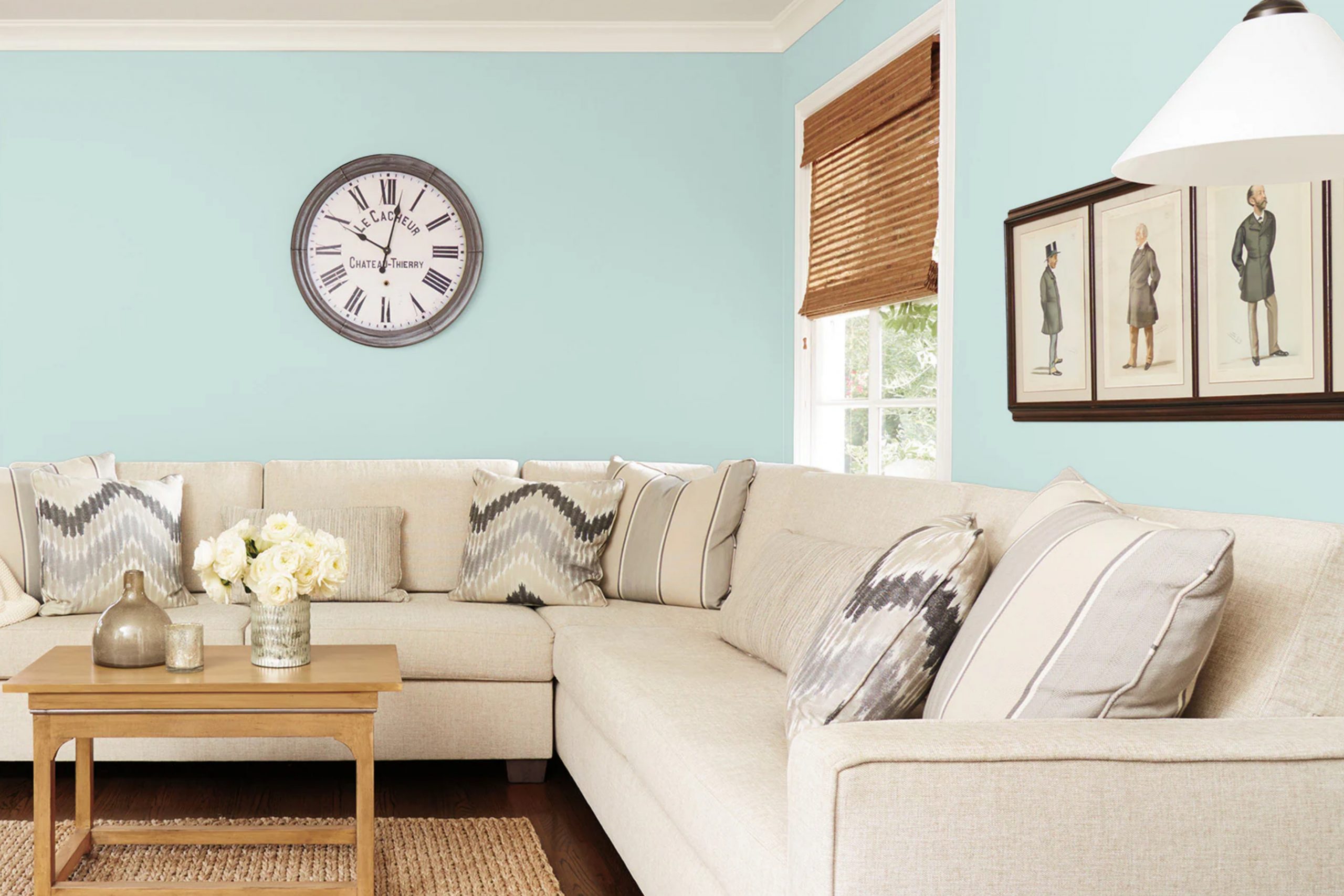 What Kind of Color Is Tidewater SW 6477?
SW Tidewater is a lovely and cheerful blue color that can easily add a fresh and coastal vibe to your home! This aqua-blue hue is light and warm enough not to read cold or extremely crisp on your walls.
As Encycolorpedia says, SW Tidewater exhibits a perfect beachy vibe, making any space it is used in feel cozy and, at the same time, bright and relaxing.
This color will work great in coastal-style homes, as well as in homes that are situated in sunny areas close to the seaside.
It will look especially awesome in all the continental states' homes too. But even if you don't live by the sea/ocean, you can absolutely use this hue in your home!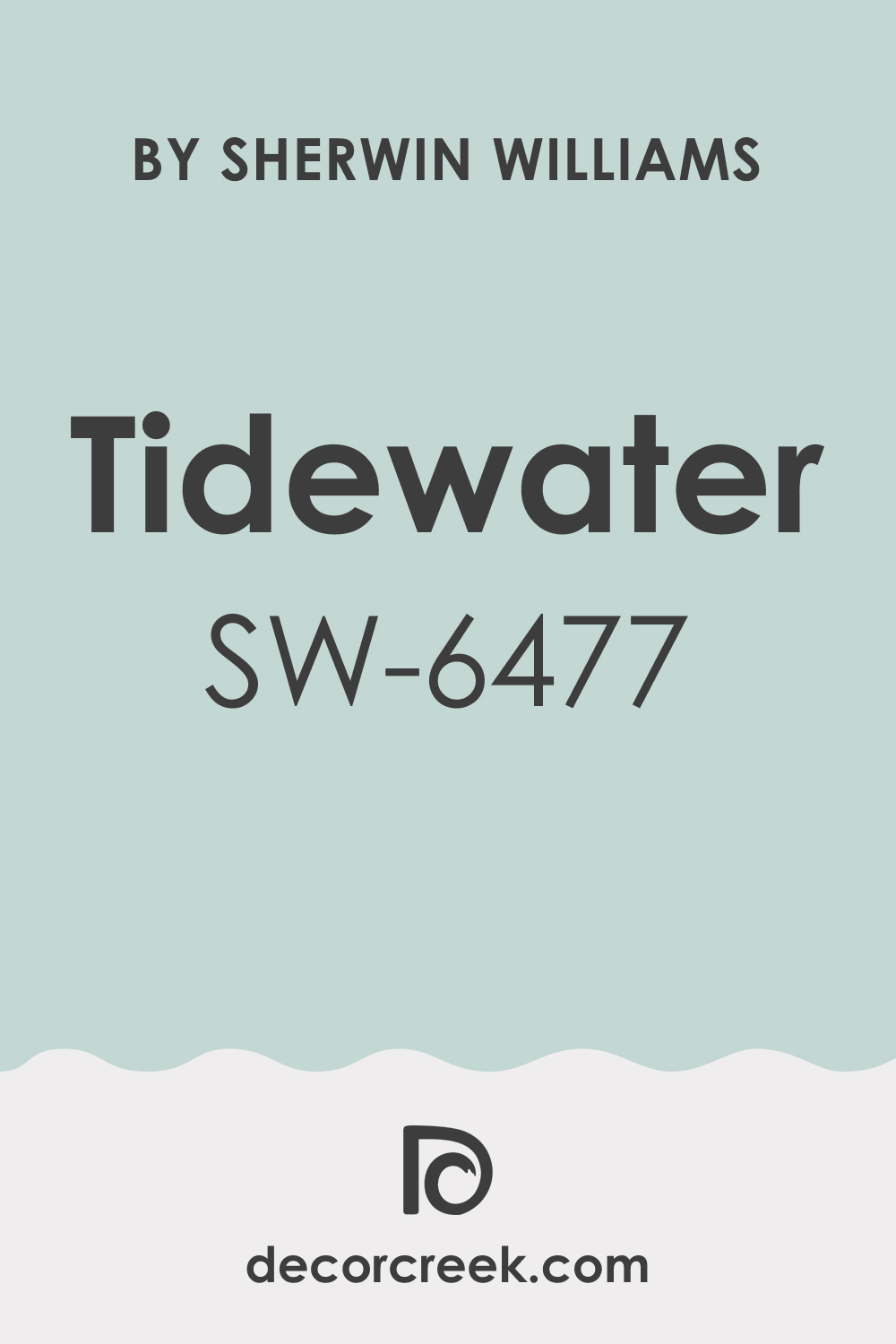 Is It a Warm or Cool Color?
At first, SW Tidewater may seem to be somewhere in between the middle and the warmer side of the scale. However, note that this color has deep green and blue undertones, which means it aligns towards the cooler side of the scale.
However, you won't see a traditional chilly and "icy" hue if you use SW Tidewater on your walls!
This blue color is well-balanced. Besides, part of its undertones is warm, which is why it looks pleasantly fresh and cool rather than freezing cold!
What Undertones Does SW Tidewater Paint Color Have?
SW Tidewater has rather complex undertones. To be precise, this aquatic blue has deep green and blue undertones, which makes this color lean toward the cooler side of the scale. Also, its green undertone is fairly warm, which is why this relaxing beach-style hue doesn't read too crisp.
However, due to mixed undertones of green and blue, you should keep in mind that this color may read slightly differently on your walls.
Its appearance depends on the lighting conditions, and we will explain this nuance in detail soon. But in some cases, SW Tidewater may display a more greenish hue indeed.
Tidewater SW 6477 Coordinating Colors
It might be challenging for you to coordinate this shade of blue correctly, taking its undertones into account, which is why we have prepared a few coordinating colors that will work best with SW Tidewater.
Below, you can find commonly used colors, as well as those that will work best for a monochromatic or a more varied color palette in your home. These coordinating colors are considered optimal for this blue hue:
SW 6476 Glimmer
SW 8917 Shell White
SW 9150 Endless Sea
For a monochromatic palette, we recommend you use the following colors instead:
SW 6478 Watery
SW 9051 Aquaverde
SW 6479 Drizzle
On this list, you can find a few of the colors we would recommend for a contrasting color palette:
SW 9109 Natural Linen
SW 7067 Cityscape
SW 7009 Pearly White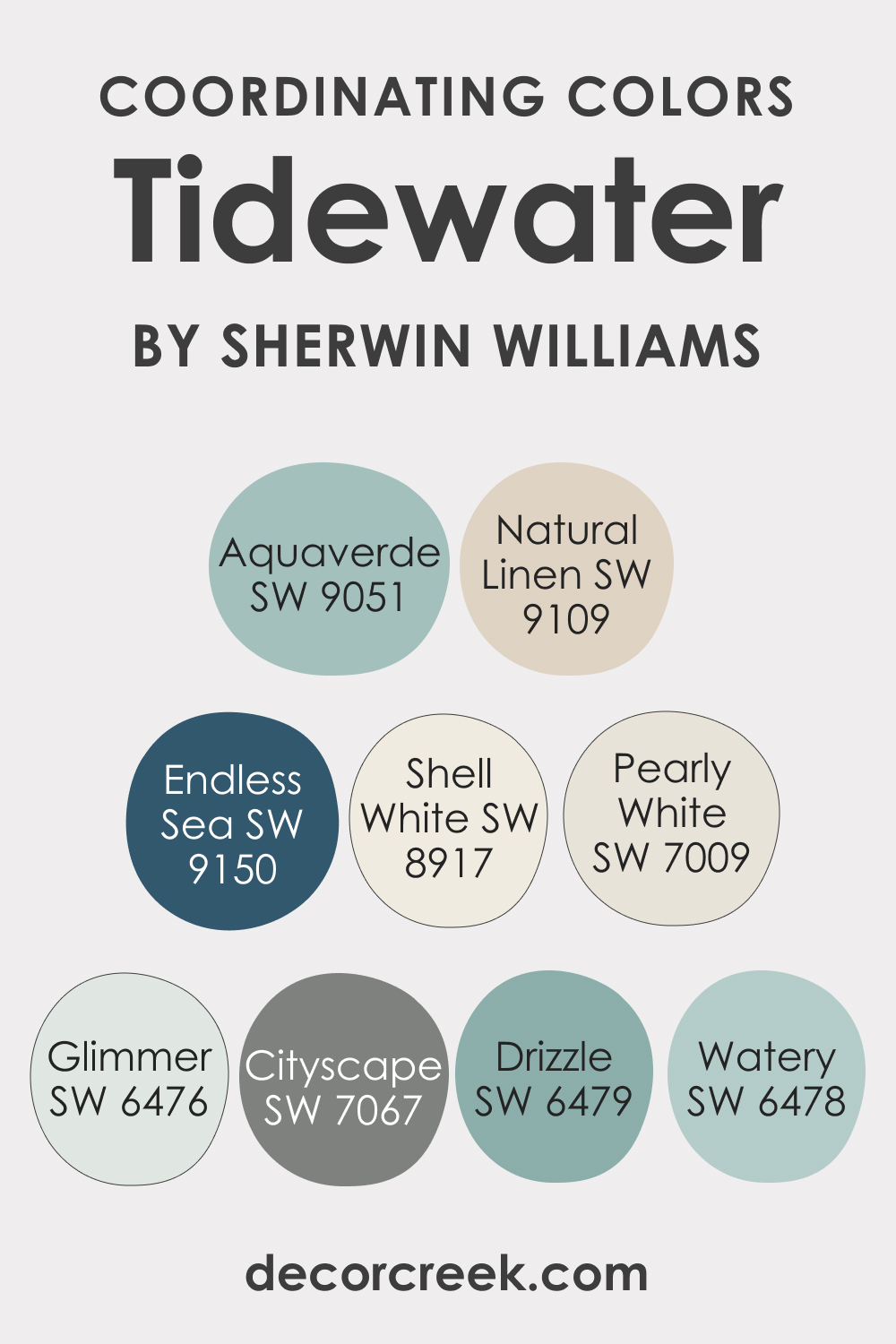 What LRV SW Tidewater Paint Color Has And How It Reacts to Light?
LRV stands for the light reflectance value. This measurement shows how much light a color can reflect when it is applied to the wall. The higher the LRV value, reaching 100 points, the lighter the color, and vice versa. Respectively, the closer the LRV value is to zero, the darker the color.
Sherwin-Williams Tidewater has an LRV value of 65, which means this blue color is light enough. It also reflects quite a lot of light, making a room look spacious and airy, but may feel different in different rooms!
In the North-facing rooms, SW Tidewater will feel quite cool, calm, relaxed, and crisp. The same effect will occur in South-facing rooms in the morning/evening. However, in the West-facing and East-facing rooms, the same hue will feel somewhat warmer and even creamier blue, reading slightly lighter as the sun washes away the hue.
As for the best climate zones for this color, it's a great color option, especially for the warm and tropical states! By the way, this light and reflective aquatic blue paint will also work in smaller rooms successfully.
In such rooms, SW Tidewater will create an illusion of a larger and airier space thanks to its high reflectivity. So if you want to add brightness to your home, consider this blue! Even on smaller accents, it will incorporate a refreshing and chilly vibe.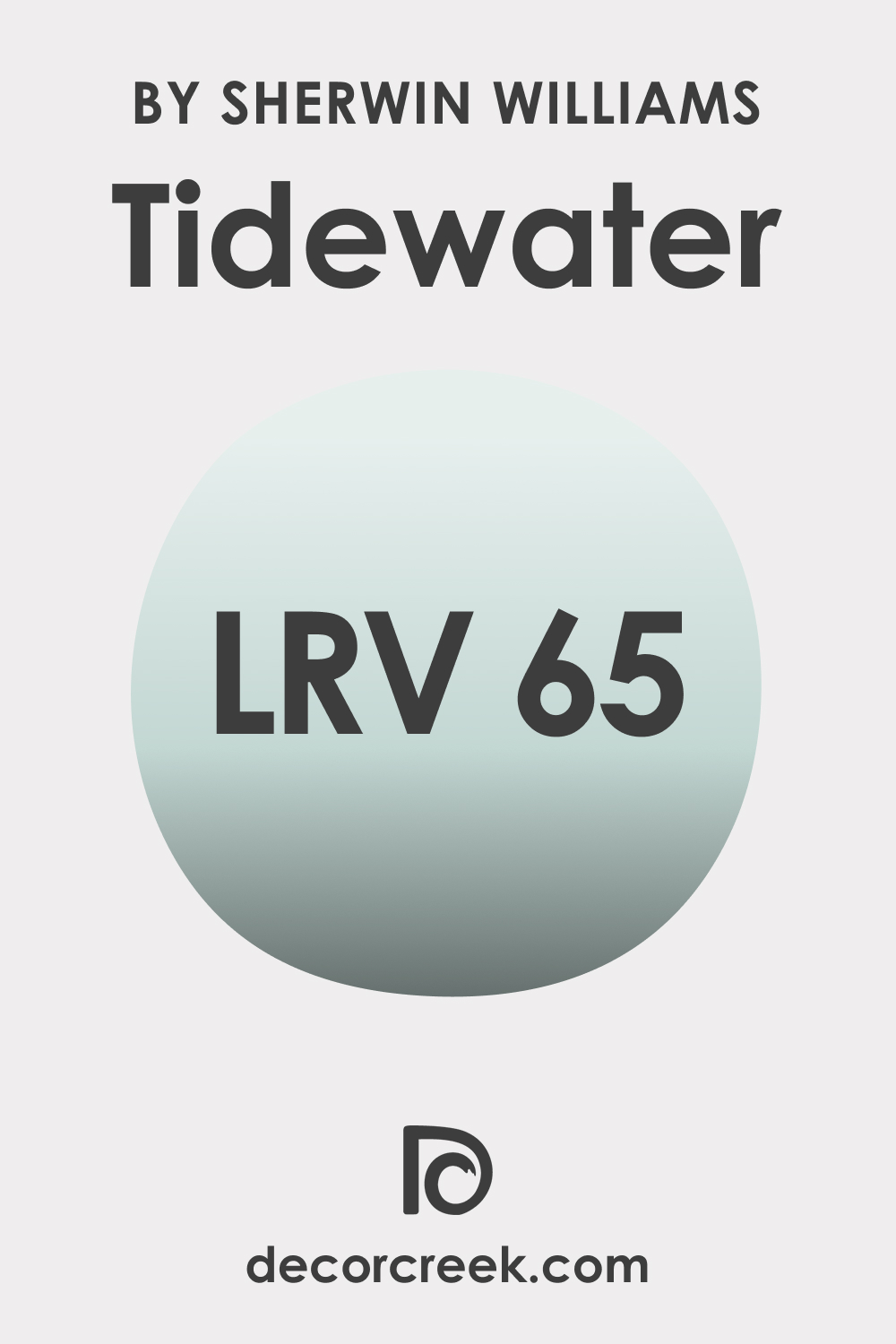 LRV – what does it mean? Read This Before Finding Your Perfect Paint Color
What Is the Best Trim Color to Use With SW Tidewater?
White is considered the best and the most optimal paint color to use on trim and moldings. That's because white is versatile and can pair well with most colors in the space successfully.
If you want SW Tidewater as your interior wall color, white trim will also work best with this blue.
In particular, you might want to try SW High Reflectance White or even SW Extra White to complement your color palette further.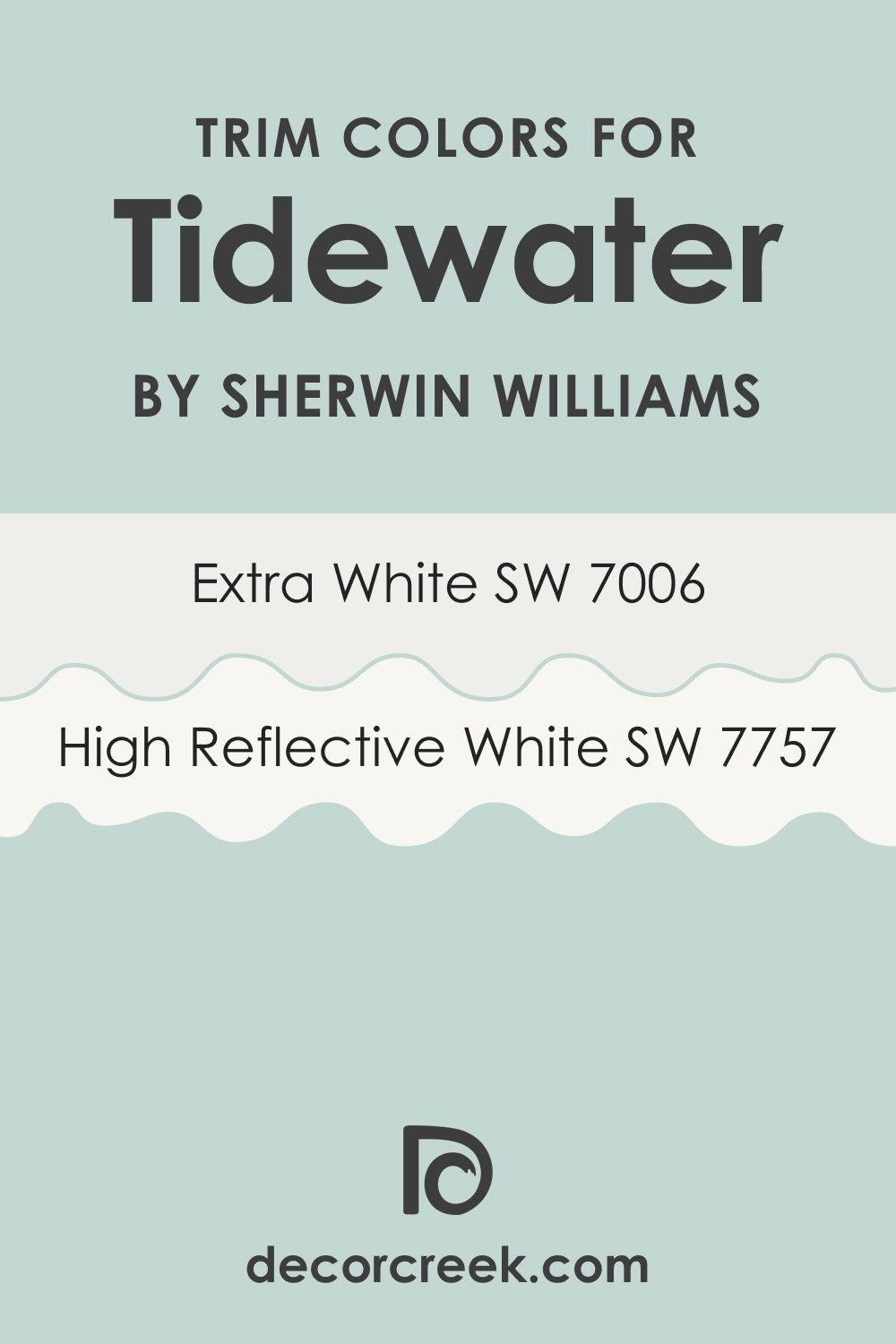 Colors Similar to SW Tidewater
Knowing similar colors is essential if you happen to be not satisfied with the hue you choose. When you have a bunch of alternative colors that can be used as substitutes, you can easier find the best-matching options for your interiors without the need to adjust the overall palette.
Speaking of SW Tidewater, it can be pretty challenging to find proper alternative colors to use instead of this aquatic blue. This is why we have prepared a few color suggestions you might want to consider:
SW 6218 Tradewind

BM 1632 Glass Slipper

SW 6484 Meander Blue 

SW 6470 Waterscape
Of course, you should realize that none of these blue colors will be a 100% match. Each blue on this list will vary slightly due to the distinct LRV values and undertones.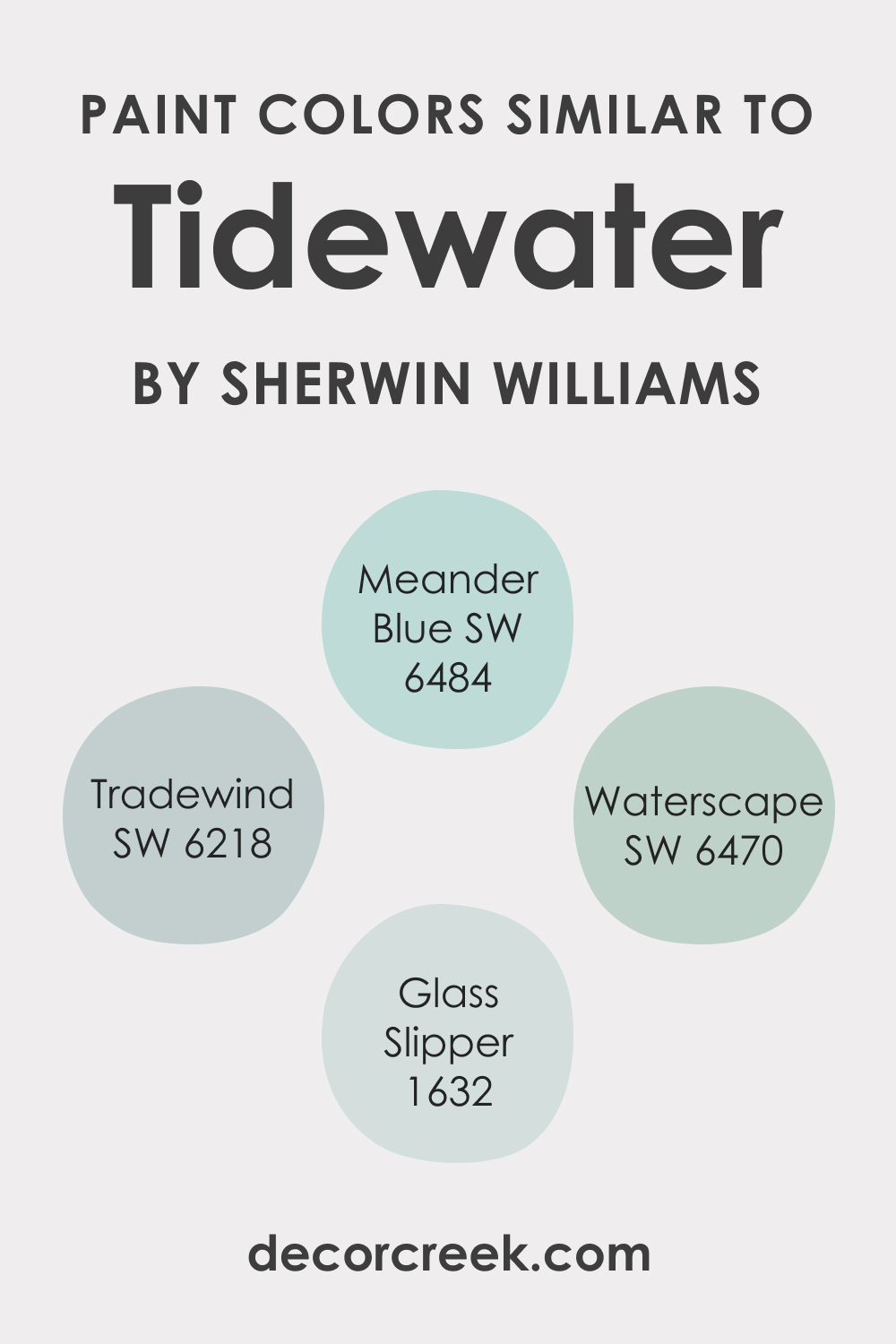 Colors That Go With Tidewater SW 6477
To achieve a balanced color palette in your home, you should know what colors will work with the wall color best of all. However, it might be tricky to find suitable matching colors that will pair nicely with SW Tidewater. This is why you can check out a few colors below that will create an eye-pleasing and good-looking palette when used with this cool-toned blue on the walls.
SW 0070 Pink Shadow
SW 9692 Cotton Candy
SW 7015 Repose Gray
SW 7005 Pure White
SW 7075 Web Gray
Such colors will create a varied and vivid yet balanced and muted palette that will read tranquil and relaxing.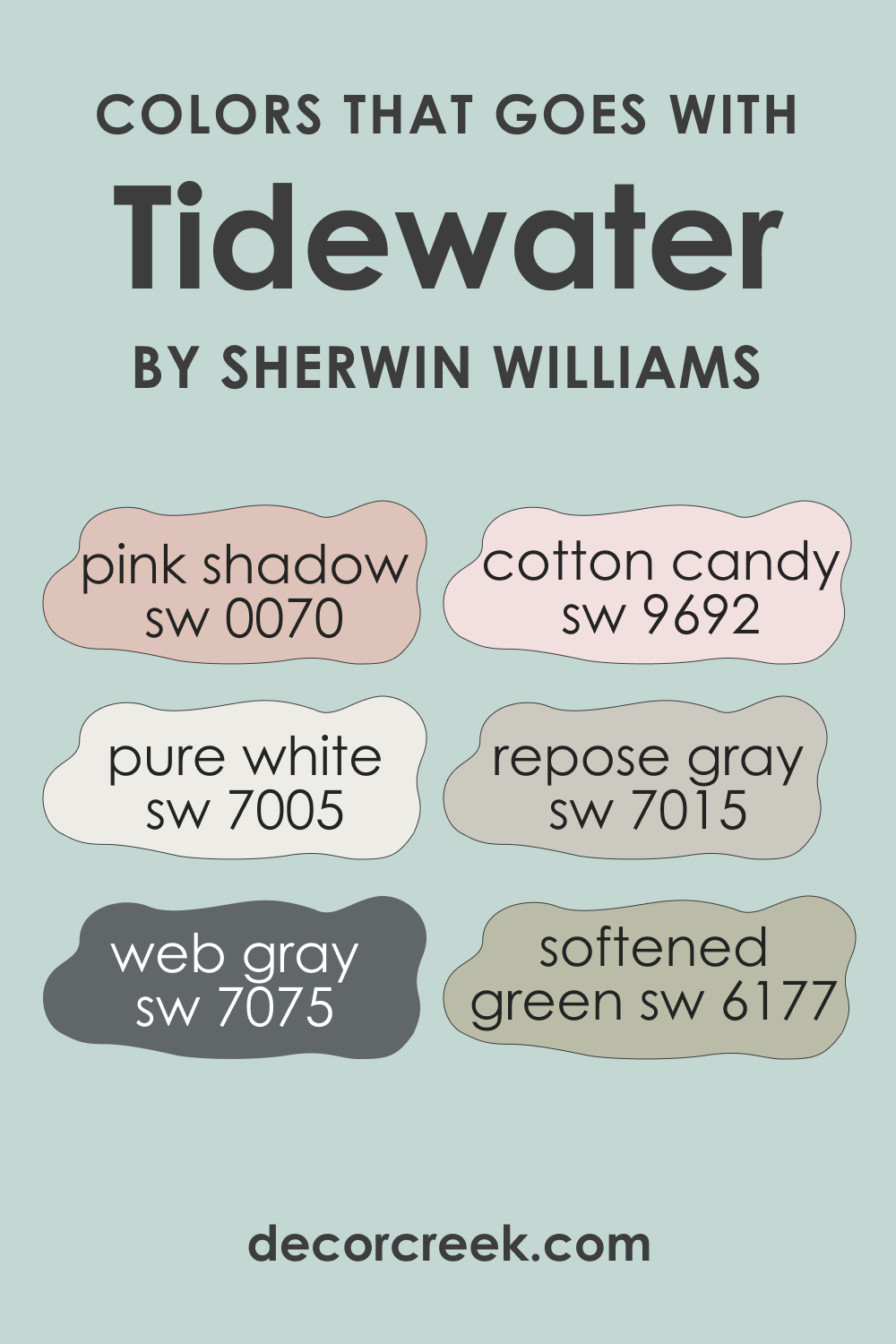 Comparing SW Tidewater With Other Colors
To help you better understand what makes this cool-toned and refreshing shade of aquatic blue distinct from other similar colors, we suggest you read the description of SW Tidewater and a few similar blues that look nearly the same.
Tidewater vs. SW 6218 Tradewind
This color comparison involves two colors that come from the same color collection. However, they read differently. SW Tradewind is a soft blue paint color with an LRV 61 and a slight and sneaky green undertone. You can also detect a gray undertone in it.
SW Tidewater has an LRV value of 65, which makes it somewhat lighter than SW Tradewind. Also, SW Tidewater reads brighter and bluer compared to its counterpart, which displays a noticeable grayish hue.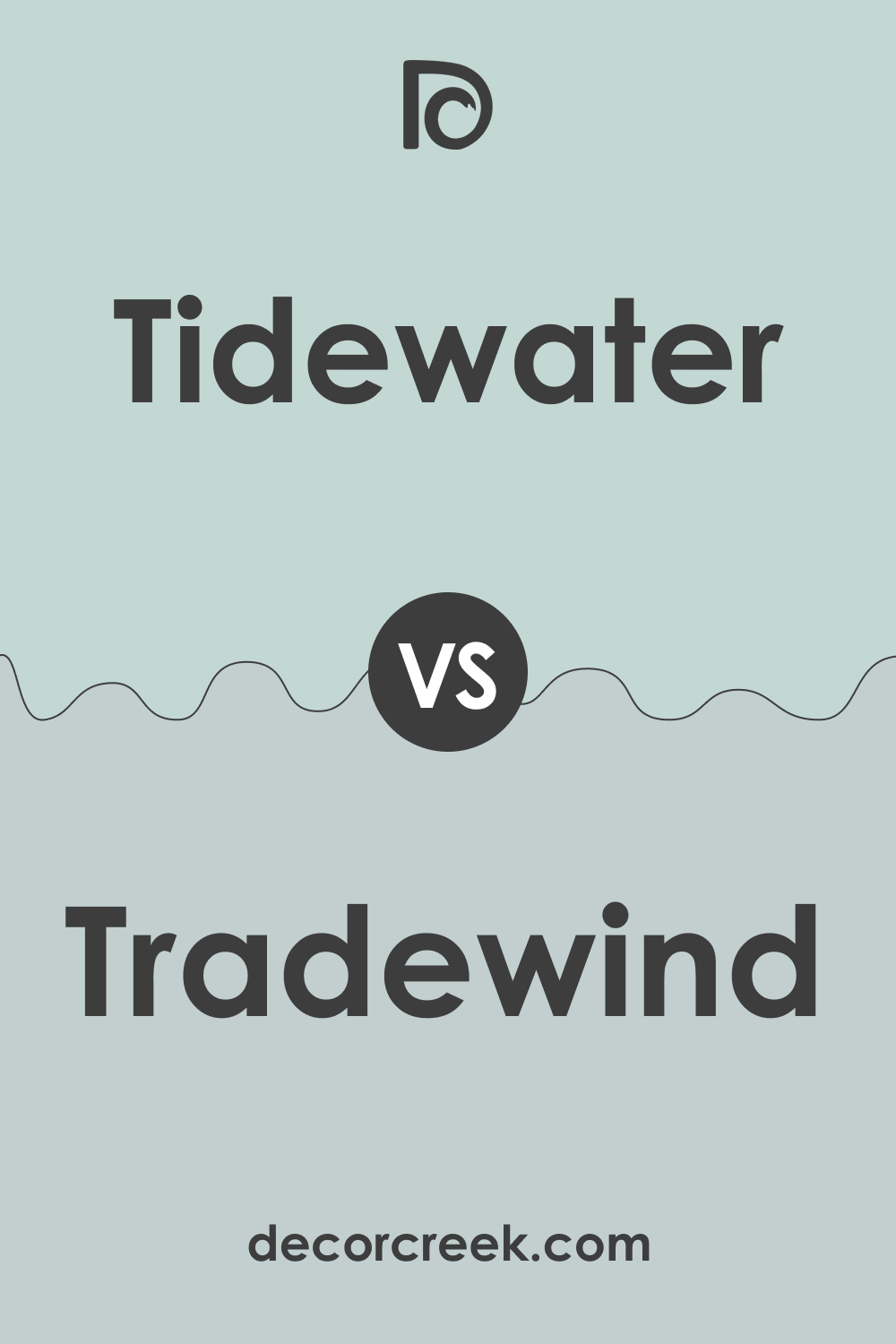 Tidewater vs. Copen Blue
SW Copen Blue has an LRV of 59, which is lower than the LRV value of 65 that SW Tidewater has. It means that SW Copen Blue reads darker than its counterpart. Also, compared to SW Tidewater, SW Copen Blue looks grayer and more muted, also displaying a barely seen greenish undertone.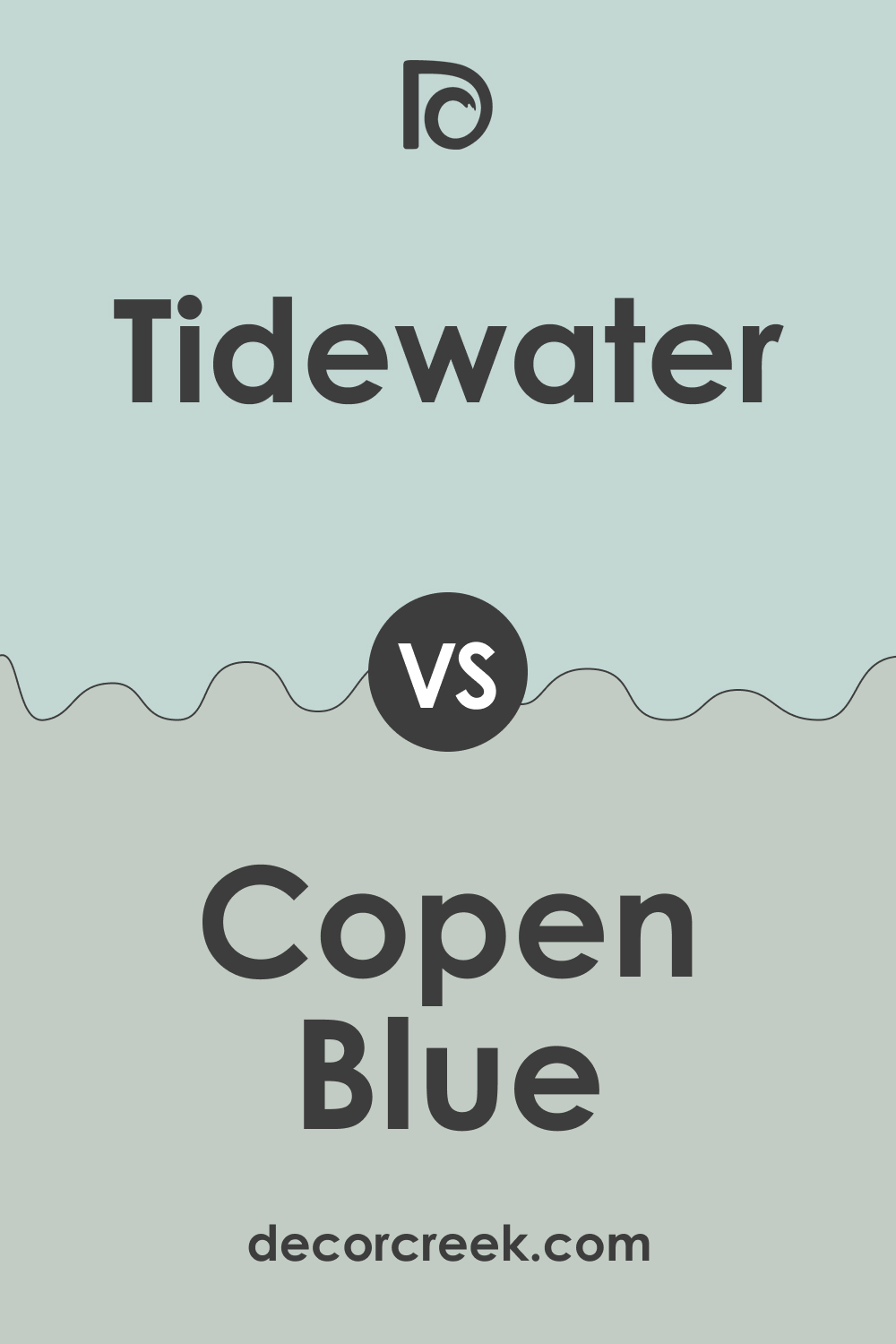 Tidewater vs. Rainwashed
SW Rainwashed has undertones of blue, green, and gray and an LRV 59, which makes it a light-depth paint color. However, it's not on the higher end of the light range due to enough depth. Compared to it, SW Tidewater reads lighter with a higher LRV value of 65. Also, it shows much bluer and cleaner undertones.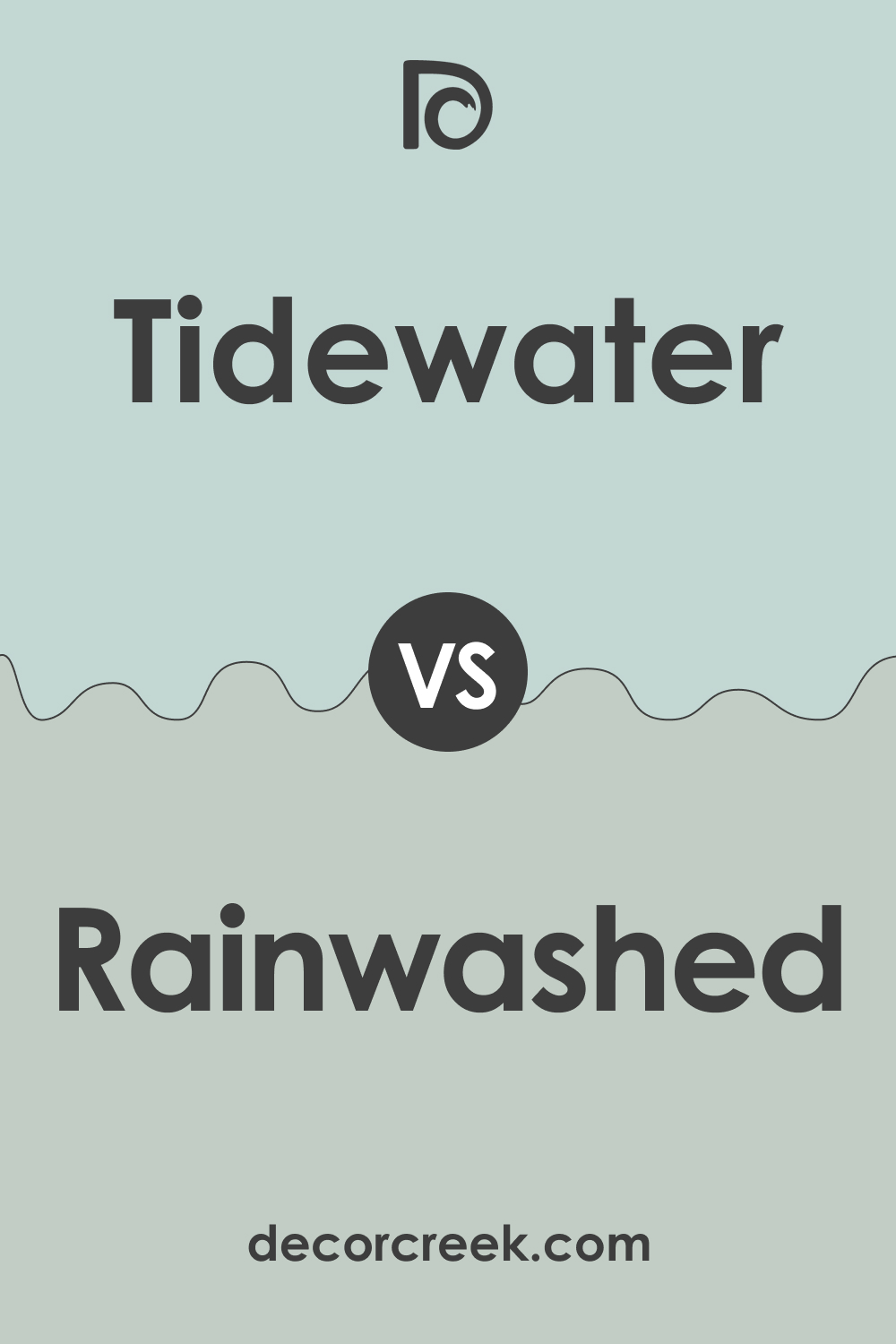 Tidewater vs. Still Water
These two are completely different! SW Still Water is cool-toned and dark, with complex green-gray undertones and an LRV 10. Compared to SW Tidewater, it reads much deeper and moodier. Also, SW Still Water reveals a noticeable greenish hue, unlike its aquatic blue counterpart.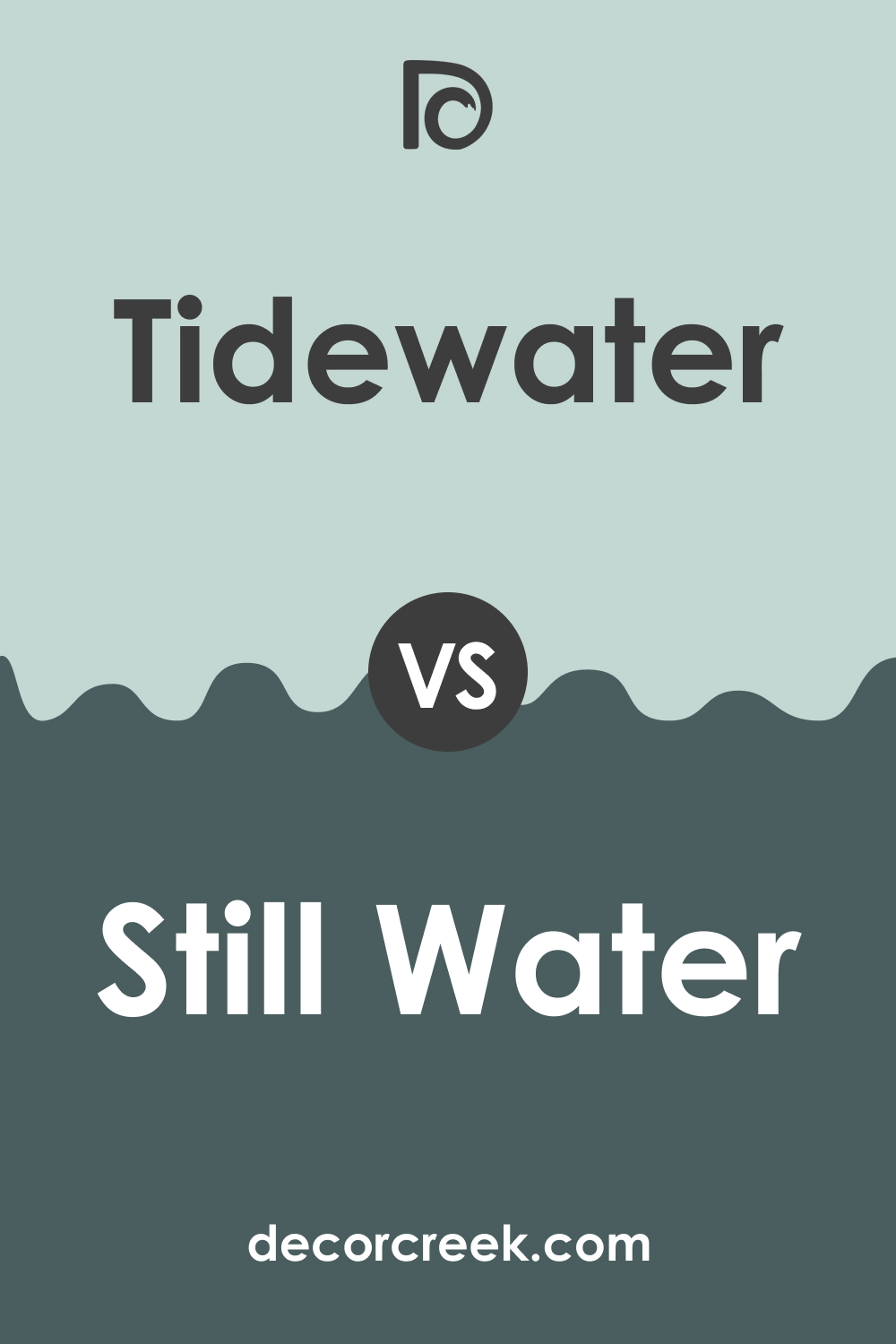 Tidewater vs. SW 6232 Misty
SW Misty is an airy and light blue that reads soft and aquatic, which relates it to SW Tidewater somehow. Besides, its LRV value is 63, which is very close to the LRV 65 of SW Tidewater. However, their undertones are different. SW Misty has slate gray undertones, and SW Tidewater has deep green and blue undertones.
Compared to SW Tidewater, SW Misty reads much bluer. Its counterpart reveals the greenish hue much more, in its turn.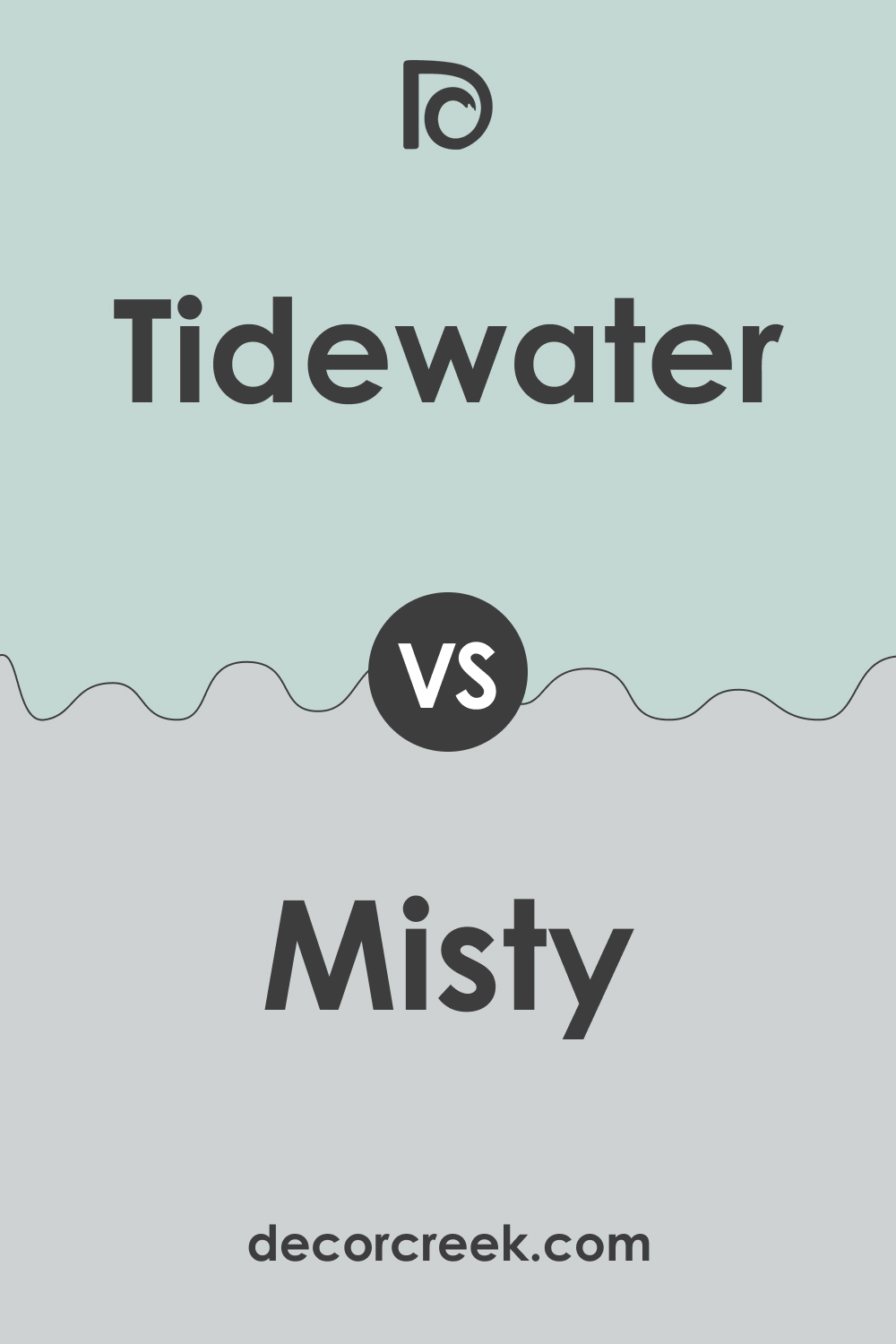 Tidewater vs. SW 9144 Moonmist
SW Moonmist is a bit lighter than SW Tidewater due to the higher LRV of 67. Also, it has cool yellow and gray undertones. Compared to SW Moonmist, SW Tidewater looks noticeably greenish (but, of course, not green!) and a bit warmer in tone.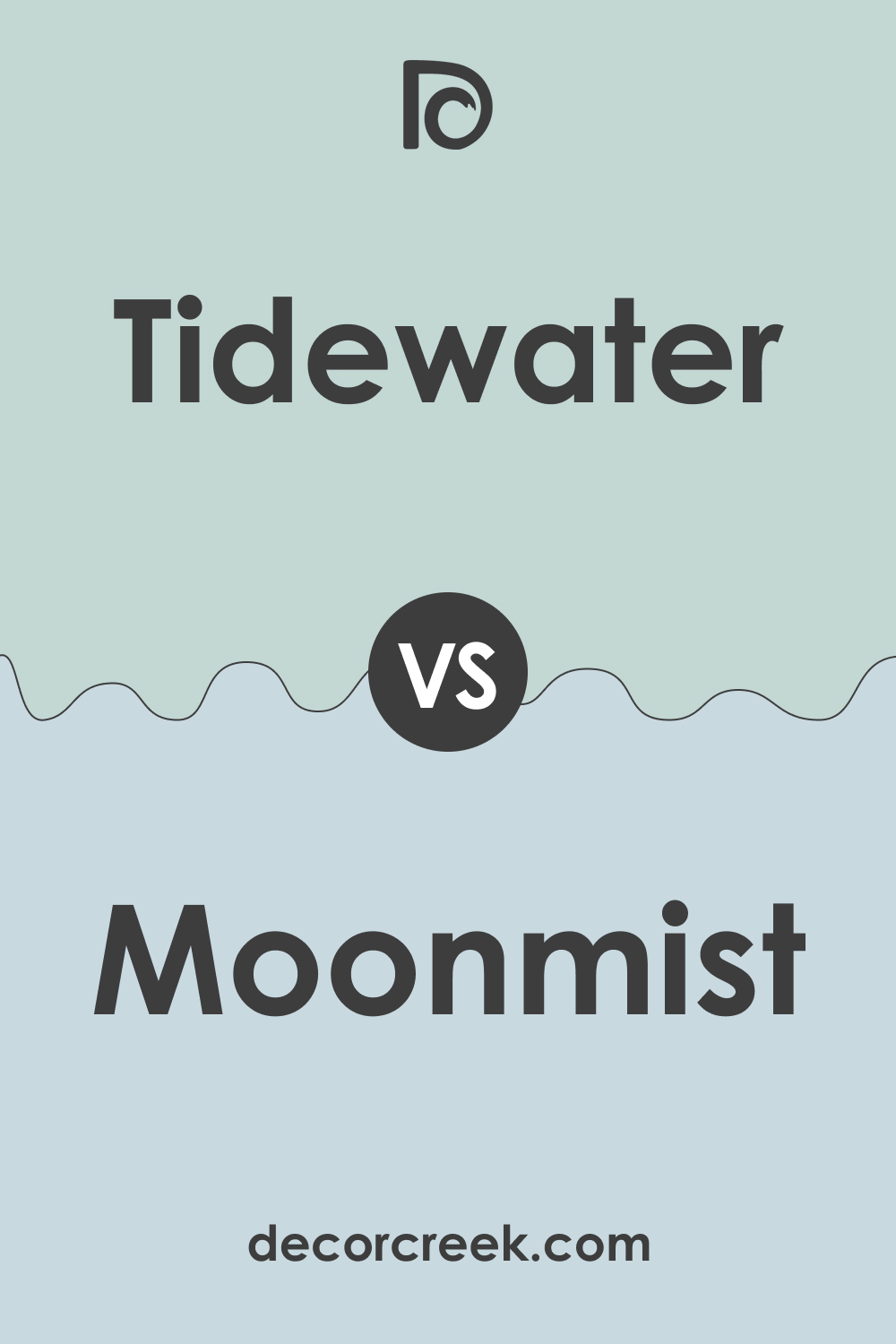 Where to Use Tidewater SW 6477 Color In Your Home?
You might think that SW Tidewater is tricky to use in your home due to its cool-toned appearance and mixed undertones. But, in fact, you will be shocked to learn how surprisingly versatile this coastal and aquatic blue is!
It can successfully work in different rooms and on various surfaces as long as you take the lighting conditions into consideration. Use this hue in living rooms, bedrooms, bathrooms, home gyms, exteriors, and kitchens – and this is not even a complete list!
Below, you can read how this paint color may work in different areas of your home.
Tidewater SW 6477 in the Living Room
If you are not afraid of experimenting with the hue a bit, you can paint all the walls in this paint or simply use the upper half of the paneled wall. Use creamy whites on the ceilings, doors, and windows, and add bold grays and blues as accents.
We also recommend pairing this hue with white wooden or black metal furniture and airy furniture that allows the room to upscale the fresh aura of SW Tidewater further.
And don't forget to use as much wood as you can! Wooden surfaces will contribute to a refined palette a lot!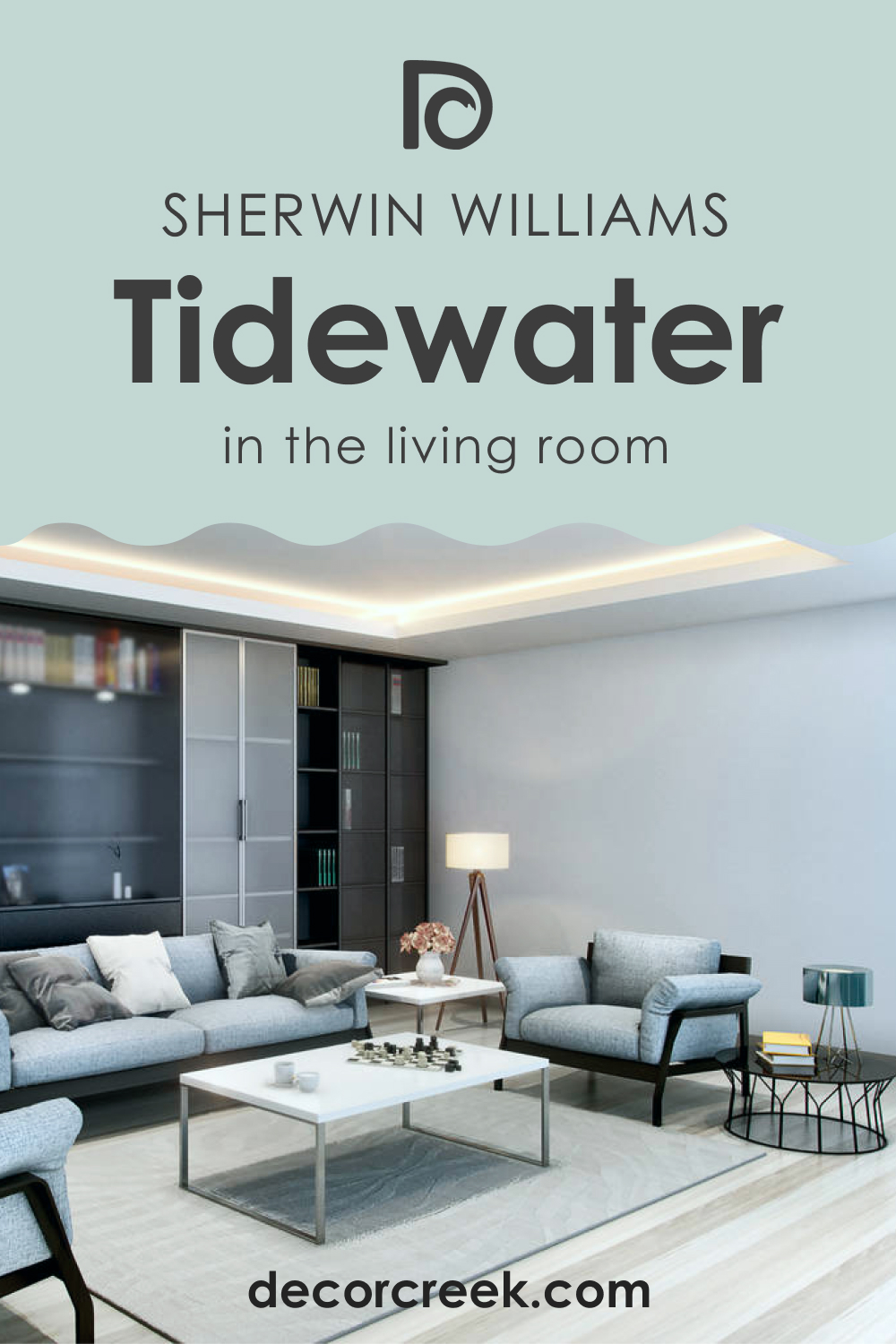 Tidewater SW 6477 in the Bedroom
This hue will also look fabulous in your bedroom. You can paint a focal in SW Tidewater or use it on all the walls. In any case, this color will add a playful and cheerful vibe to the whole space.
If you strive for more color in your bedroom, don't hesitate to pair SW Tidewater with colors like pinks and yellows as accents on the pillows, upholstery, and curtains. Such vivid accents will make the room read brighter.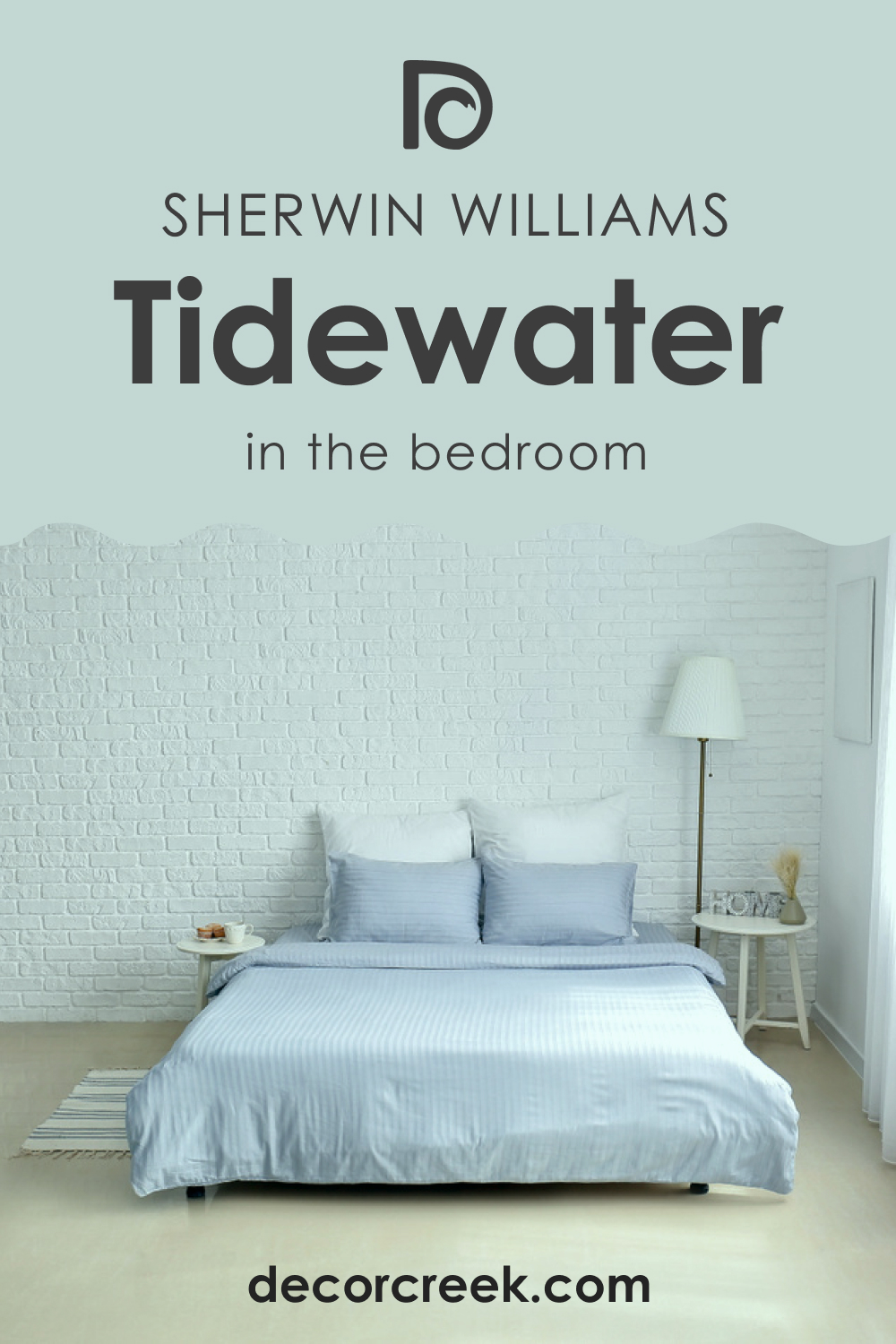 Tidewater SW 6477 on the Bathroom
Thanks to its aquatic feel and high reflectivity, SW Tidewater works great in bathrooms. You can create a cohesive touch and continue this color in your bathroom pairing it with authentic stainless steel light fixtures.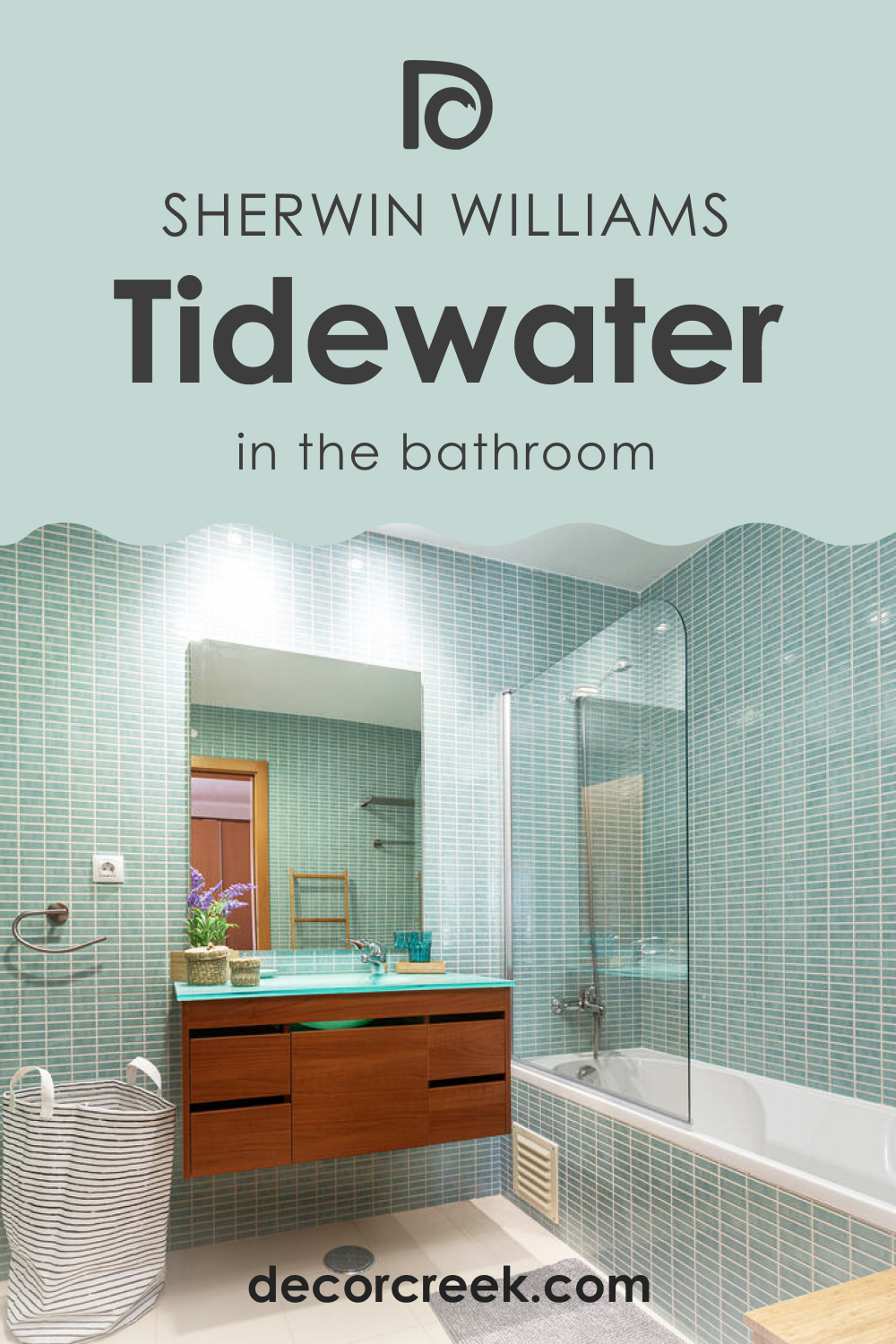 Tidewater SW 6477 on the Kitchen
Used in the kitchen, this hue will definitely create a captivating and attractive vibe there! SW Tidewater will work on kitchen cabinets the same well as on the walls. So you can either paint your cabinetry system in it or choose to use this color on the walls of your kitchen.
Just remember to avoid brass items and stick with stainless steel fixtures for this kitchen!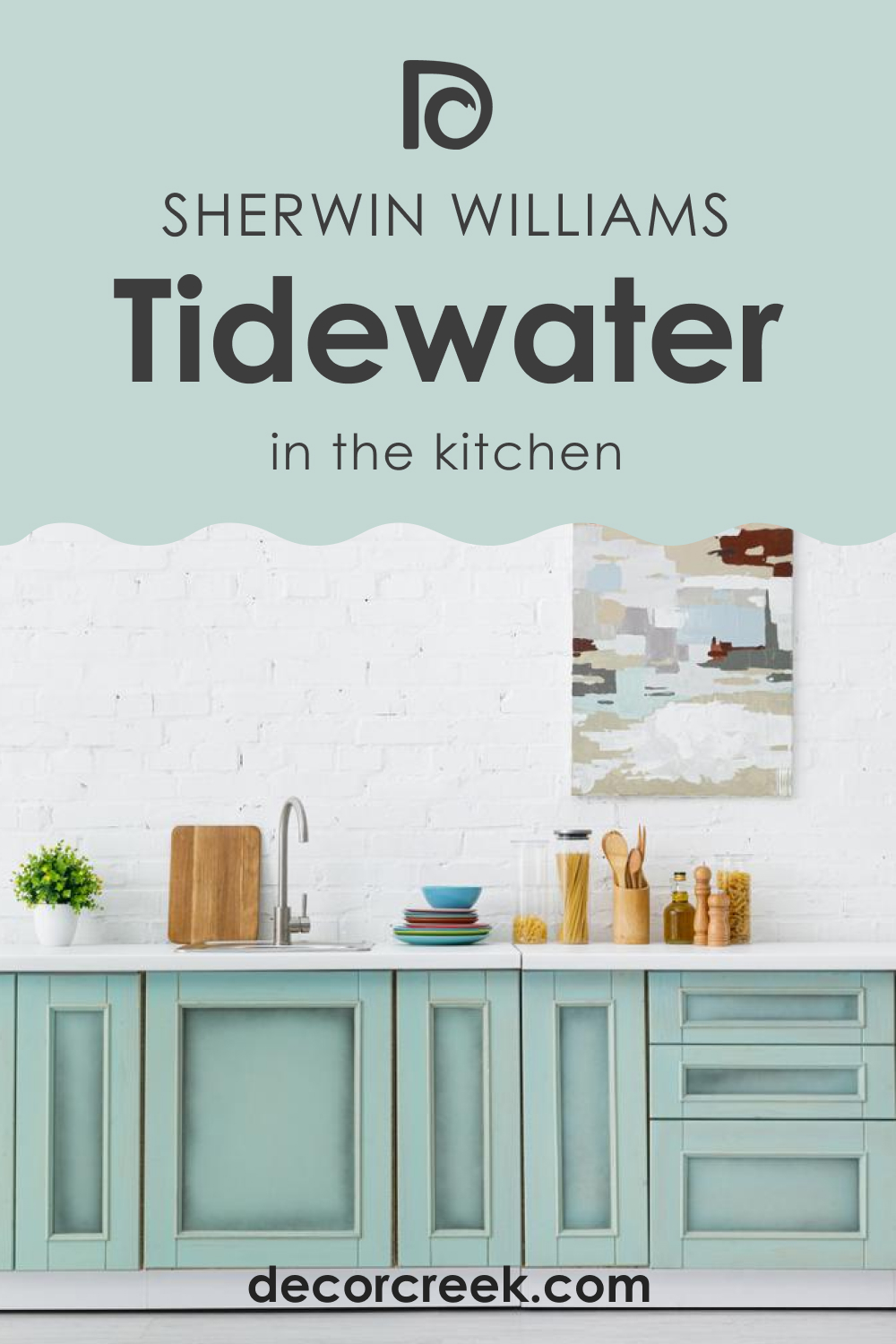 Tidewater SW 6477 for the Exterior Use
This light blue color will work great on exterior walls too! It will be particularly awesome on Cape Cod, Caribbean, and Coastal-style homes. You can either pair it with whites or grays on trims, moldings, and door and window frames. You can also use natural stone wainscotting for the patio columns and surroundings.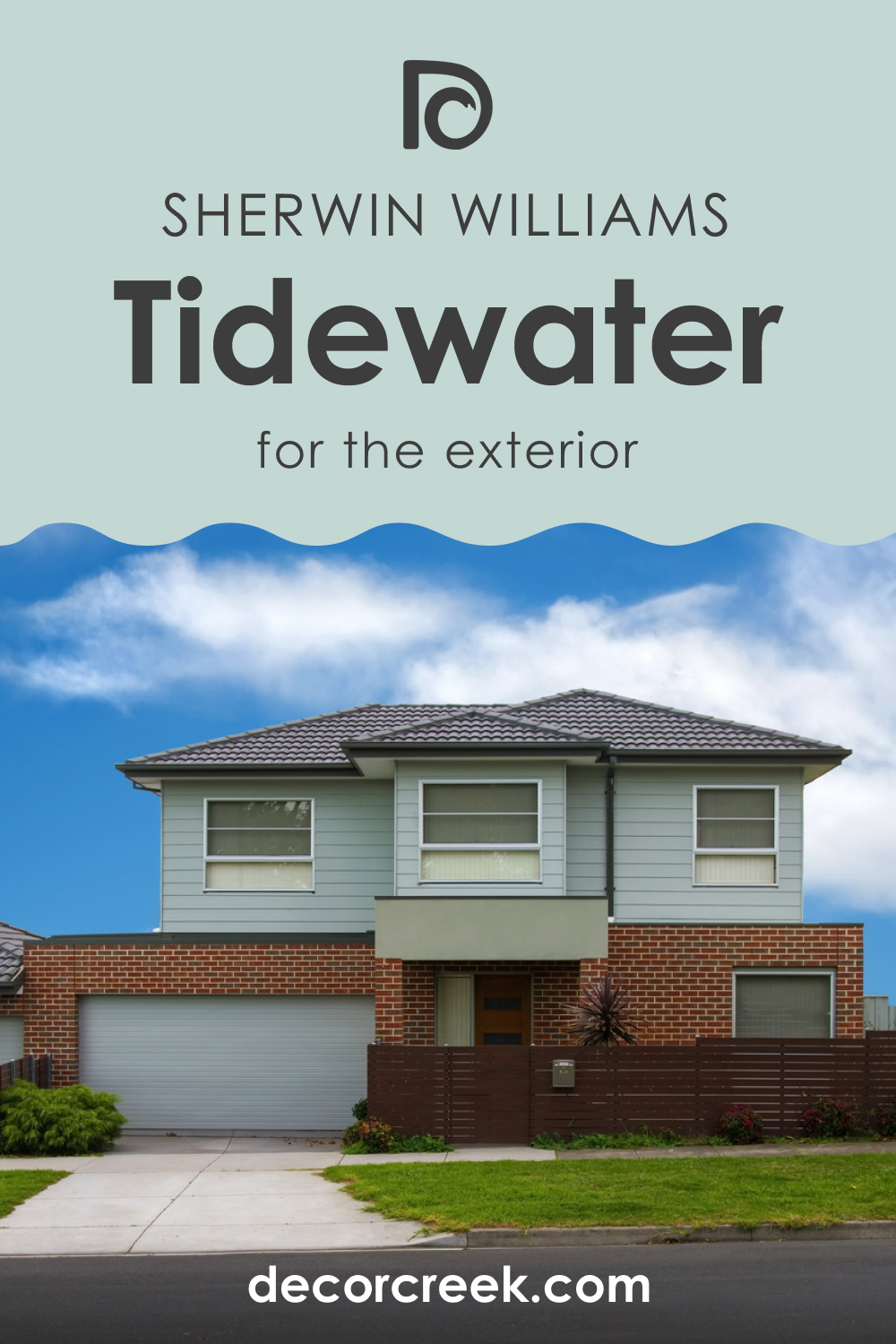 Well, now you way more about this gorgeous dusty blue color! You know what kind of paint color SW Tidewater is and how it works in different rooms.
You know how it reacts to light and how this aquatic and beachy blue will read depending on the lighting conditions in a room.
Also, you learned how to coordinate this tricky color correctly and what colors will work best with this beautiful hue on your walls. With all the tips we shared, you will find the best place for it in your home.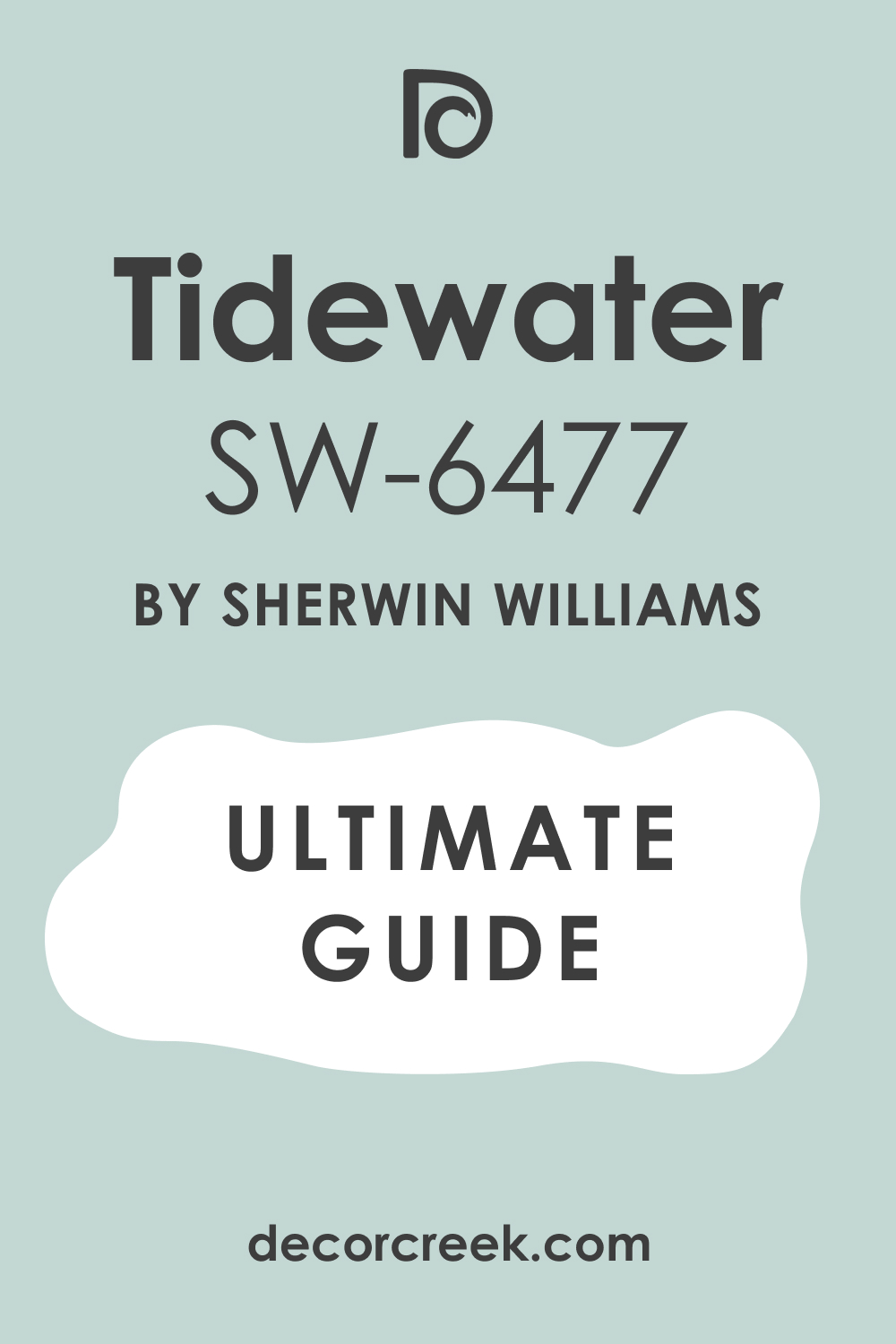 Frequently Asked Questions
⭐Does SW Tidewater have yellow undertones?
No, this blue is cool-toned with grey undertones.
⭐Will SW Tidewater work with any shade of white?
Not quite. It works best with crisper whites and off-whites, as well as with softer whites. In any case, the white must not read yellowish!
⭐Will SW Tidewater pair with marble countertops?
Yes, this blue can work well with marble surfaces, but try to avoid brown countertops! The brown color won't pair nicely with this cool-toned blue.