Today, we will tell you about one of the most popular and loved shades of blue that is gaining popularity across the country!
Meet SW Slate Tile paint color that has won hearts of not only American homeowners, but also hearts of people around the world!
You will learn what kind of blue it is, how it reads in different spaces, and how it reacts to light. We will explain what LRV it has and what colors are best to use with it. Also, you will discover other features this blue paint has.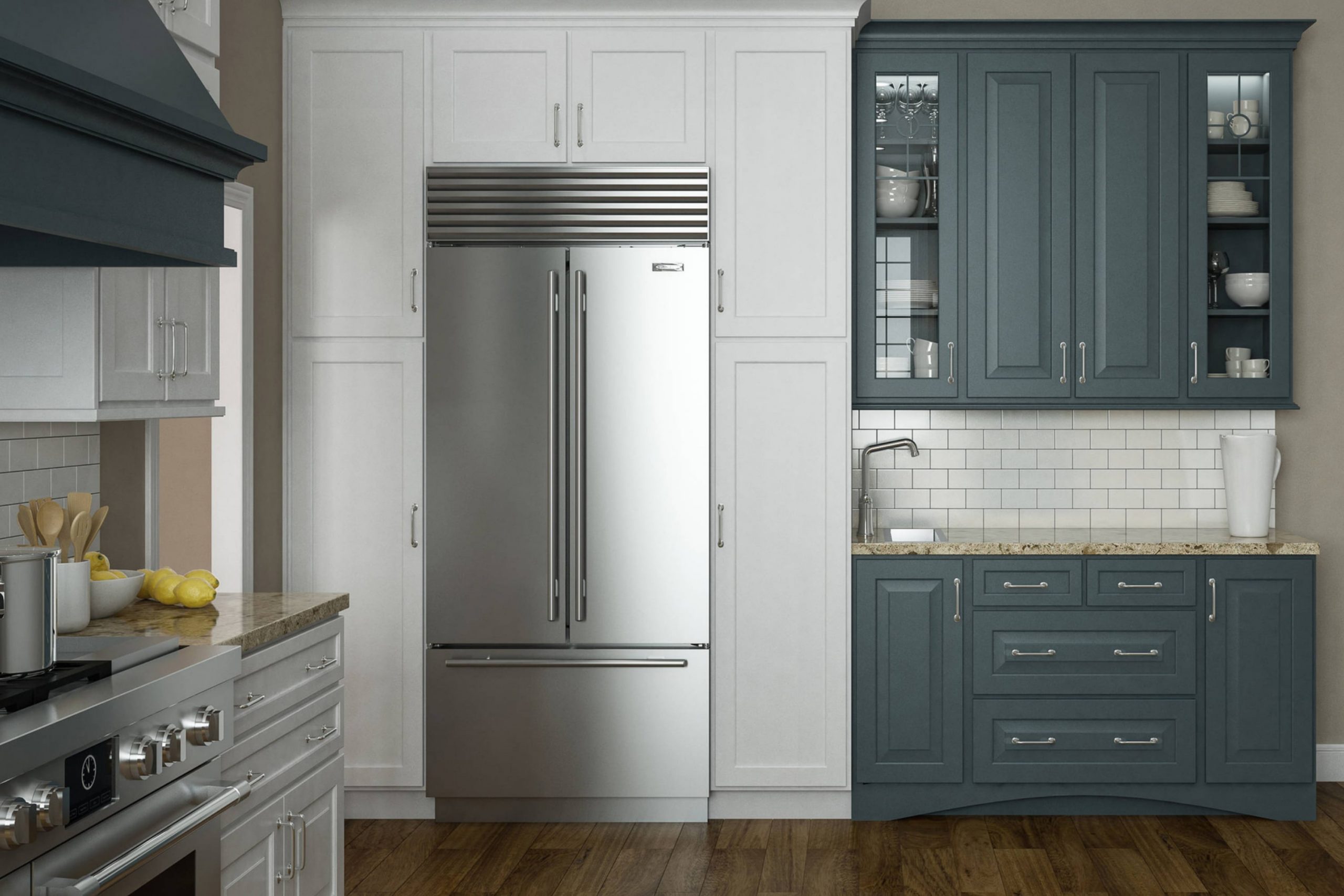 What Kind of Color Is Sherwin-Williams Slate Tile SW-7624?
As we have already said, the Slate Tile color by Sherwin-Williams is blue. To be precise, this is a lovely and cool-toned blue-gray that delivers subtle elegance and calmness. As Encycolorpedia says, it is pretty dark and muted, but it will feel suitable in almost any room.
With this color, your home interior will get a modern look since SW Slate Tile adds a clean, crisp, and sleek look to any room. With a definite dark tone, this paint will add a sense of boldness and intimacy to your spaces.
It can be used on all the walls or just for a backdrop with equal success.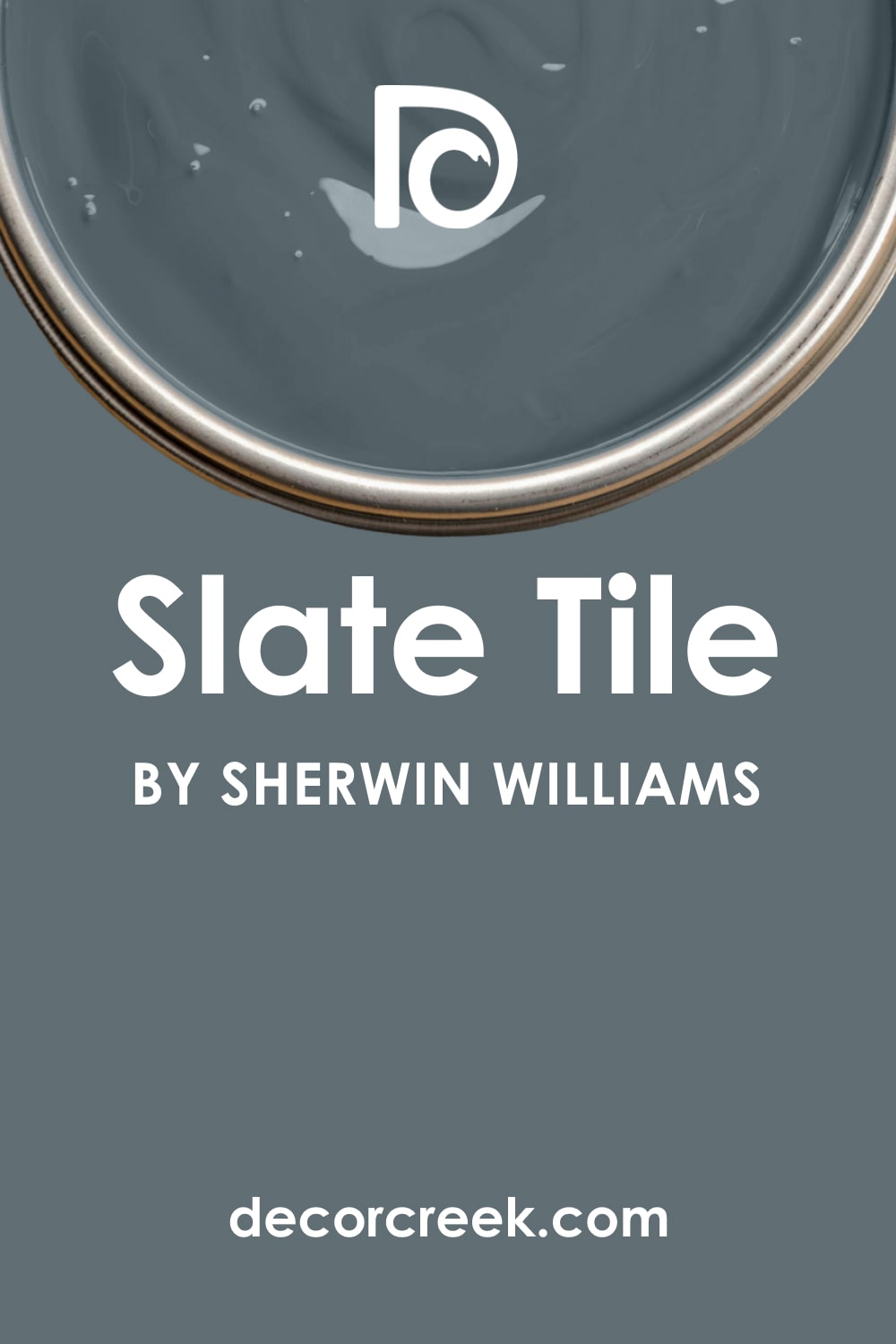 What Undertones Does Sherwin-Williams Slate Tile Color Have?
The Slate Tile paint color by Sherwin-Williams is pretty dark-toned and might reflect various undertones in certain lighting conditions.
Also, other colors used in the same space with this blue can also affect the way this color reads on the walls. This is why you should know more about its undertones to tell in advance how it might look in a room!
Speaking of undertones, SW Slate Tile has a very subtle gray undertone. It is delicate enough to not make the color read prominently grayish, but it still adds a warmer hue to this bold blue. Also, in certain lighting conditions, this color may read grayer.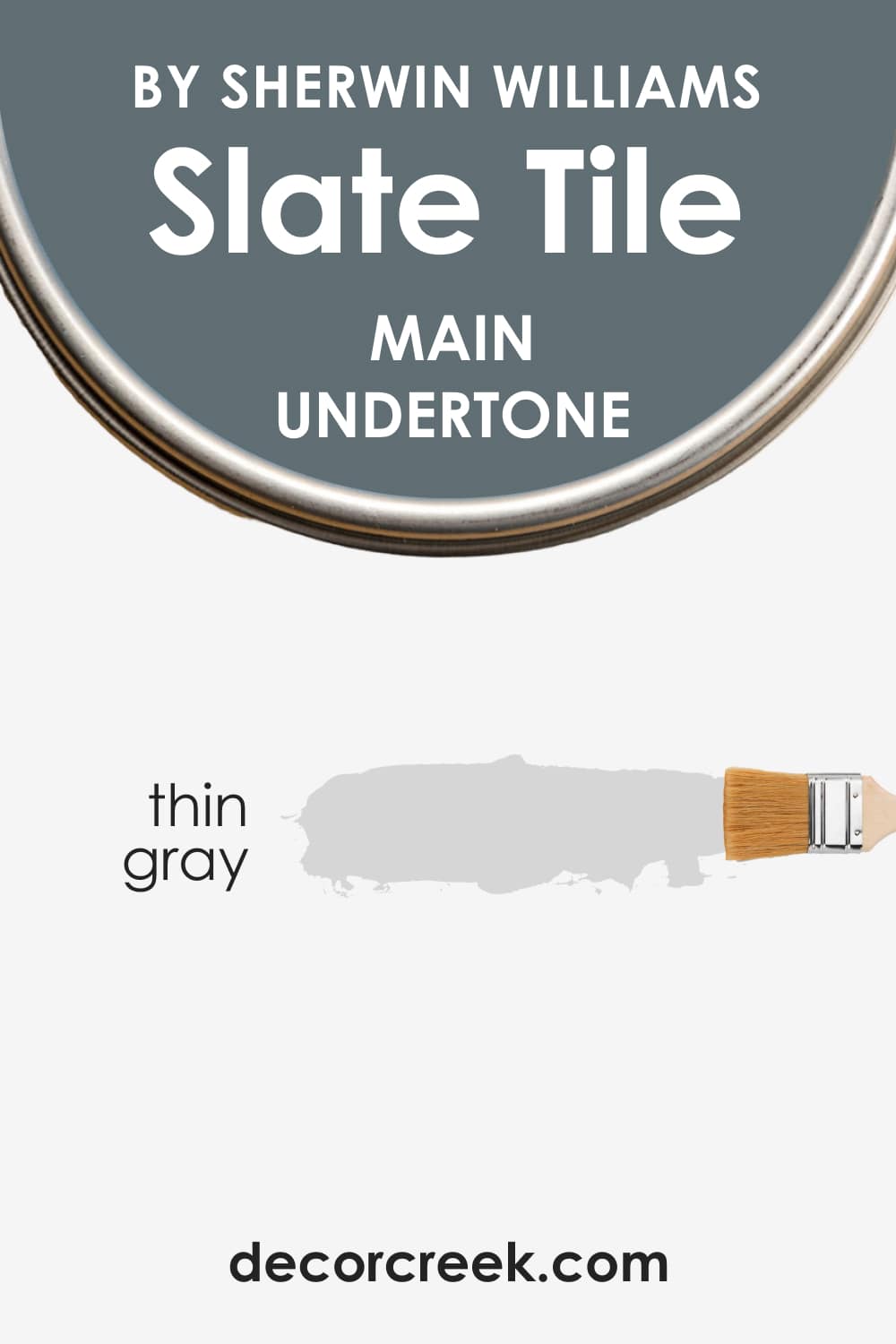 Slate Tile SW-7624 LRV
The LRV of SW Slate Tile is 15, which means it is a dark-toned color. The LRV (light reflectance value) shows how much light the color can reflect when it is applied to the wall. The higher the LRV percentage, the lighter the color. And vice versa.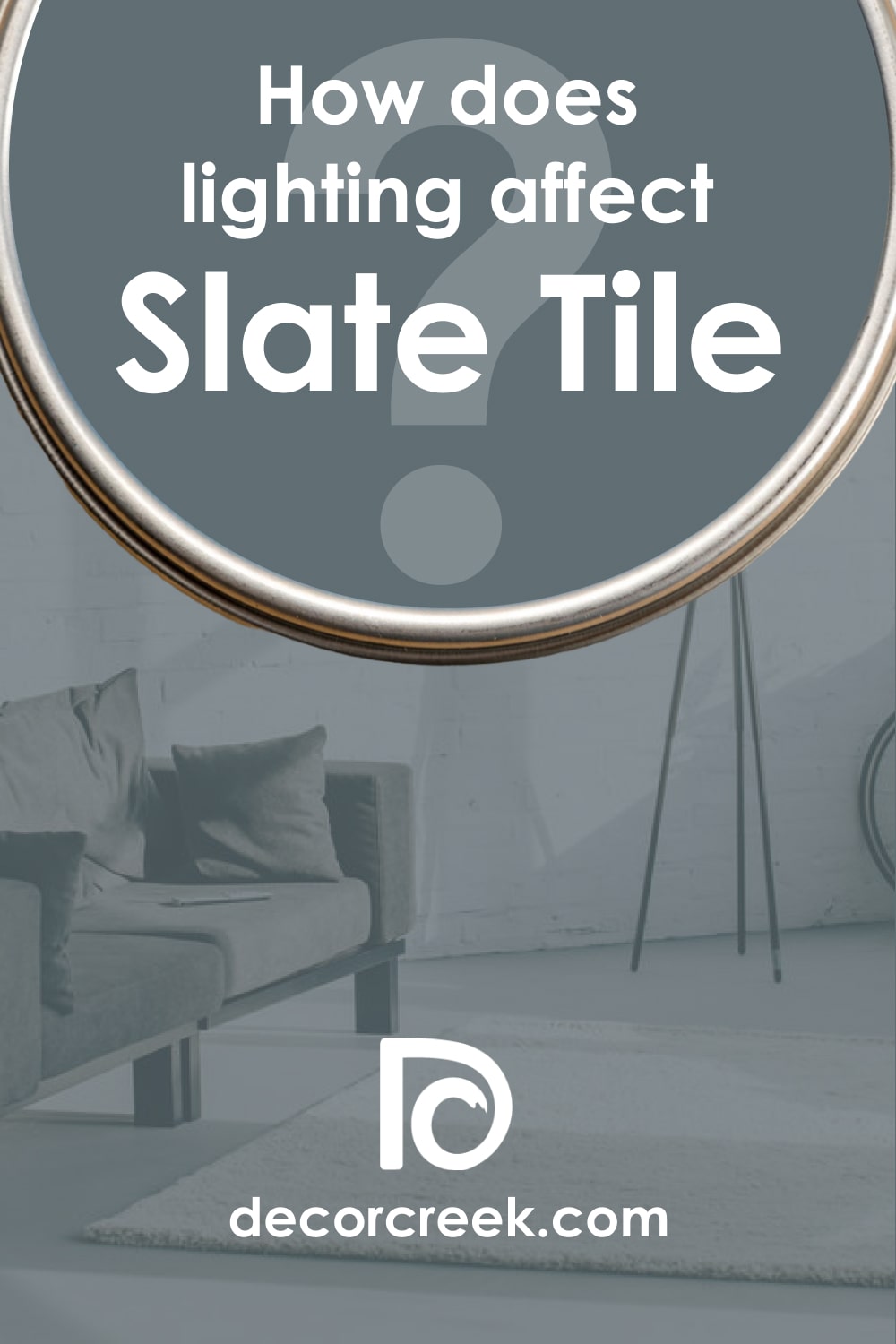 With the LRV of 15, SW Slate Tile can't reflect much light. However, it's still not a pitch-dark color!
It can read quite lovely and less dark in a well-lit room, revealing the true hue. On the other hand, in spaces with little or no light (as well as in rooms with poor or dim light) this shade of blue may seem darker than it is.
In some lighting conditions, SW Slate Tile may read almost black! Because of this specific feature, we would not recommend using this paint color in smaller rooms or in rooms that lack proper light.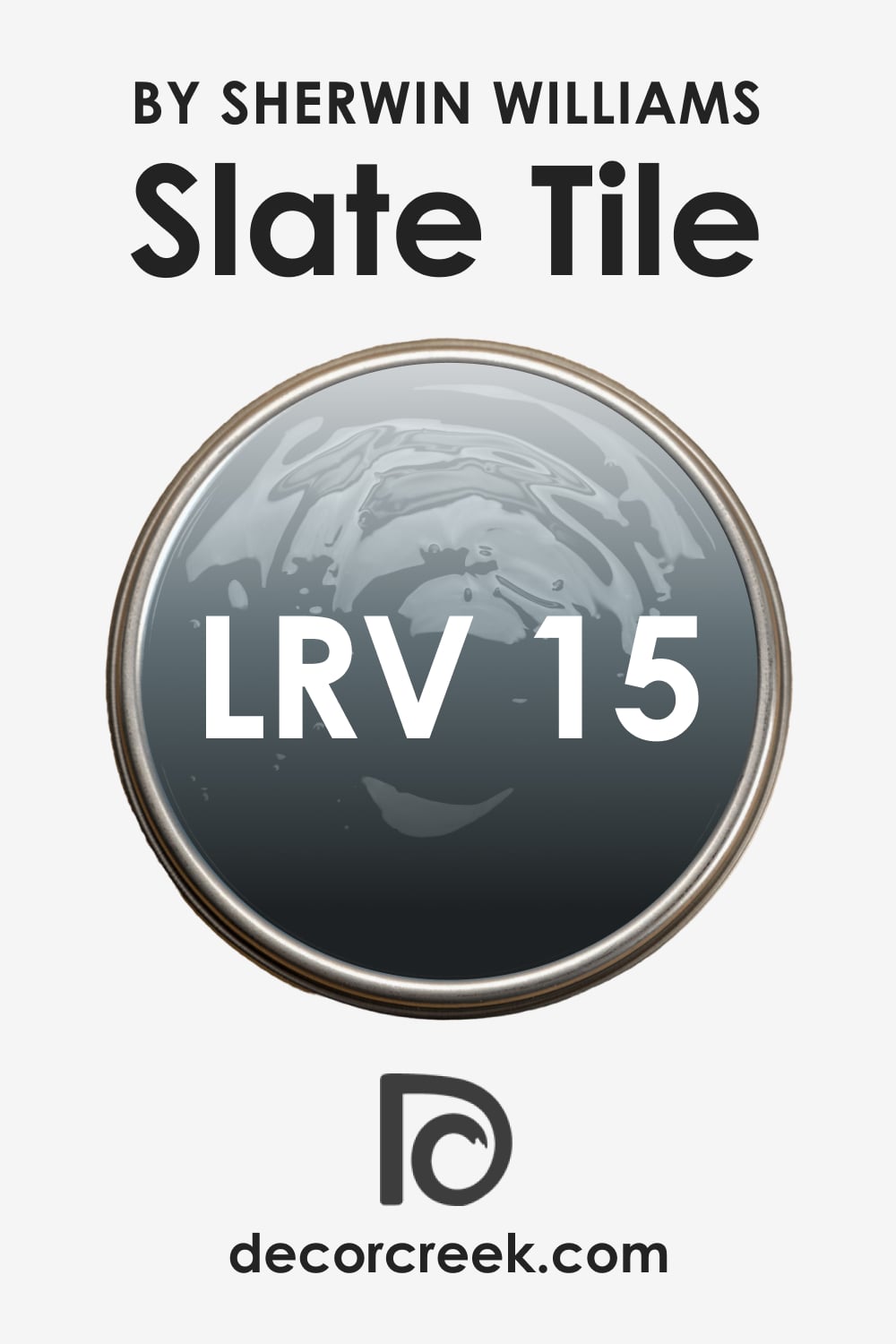 LRV – what does it mean? Read This Before Finding Your Perfect Paint Color
Is SW Slate Tile a Warm or a Cool Color?
The tricky thing about this paint color is that it doesn't read cool-toned or warm-toned. Generally, SW Slate Tile reads moderate in tone leaning neither toward the warmer nor toward the cooler end.
However, in certian lighting conditions, this shade of blue can read cooler or warmer. Usually, when it is directly lit with natural lihgt, SW Slate Tile looks more cool-toned. On the other hand, in shady spaces and/or with the lack of light, it will looks significantly warmer.
Coordinating Colors to Use With SW Slate Tile
You need to know what coordinating colors work best with the color on the walls. This will help you to pick up the most suitable color palette for your home that will make the space read balanced in color and harmonious.
For the Slate Tile SW-7624, we would recommend the following colors as the best ones to coordinate:
SW Ice Cube
SW Shoji White
SW Intellectual Gray
For a monochromatic palette, you might want to consider using these colors instead:
SW 7663 Monorail Silver
SW 7664 Steely Gray
SW 7665 Wall Street
Finally, if you prefer more contrasting color combinations in your home, opt for the contrasting color palette to coordinate the SW Slate Tile color!
SW 6253 Olympus White
SW 7073 Network Gray
SW 7037 Balanced Beige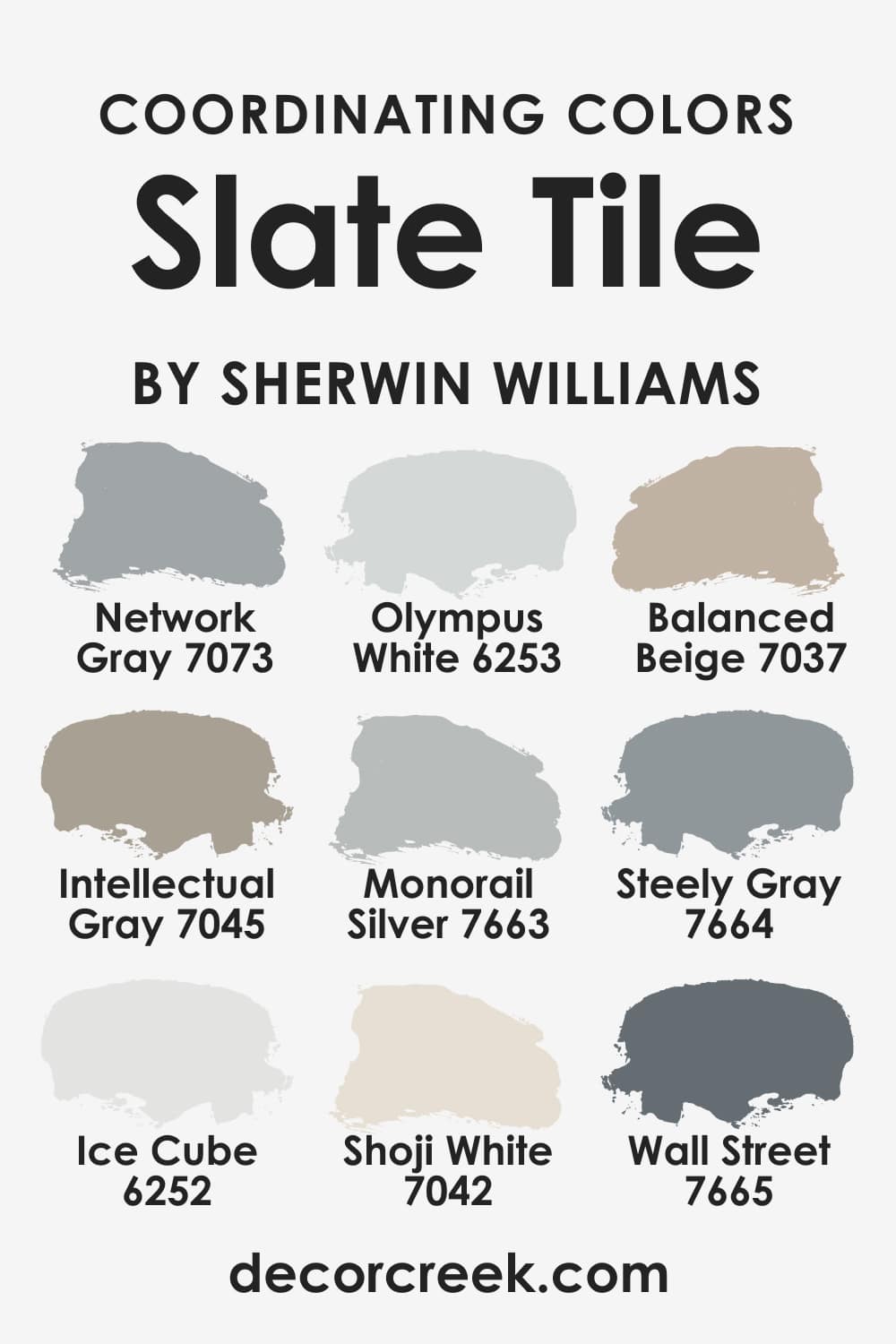 What's the Best Trim Color For SW Slate Tile Paint?
We mostly use different shades of white on trim and moldings because this color is very versatile and can work well with most other colors in our homes.
Typically, neutral whites and off-whites are used as trim colors, but it is also popular to use creamier whites (or crisper whites) if that fits the overall color palette in a room.
For SW Slate Tile, white is also the best trim color. To be precise, we recommend you use SW Pure White. It will help this blue to reveal itself better in your space.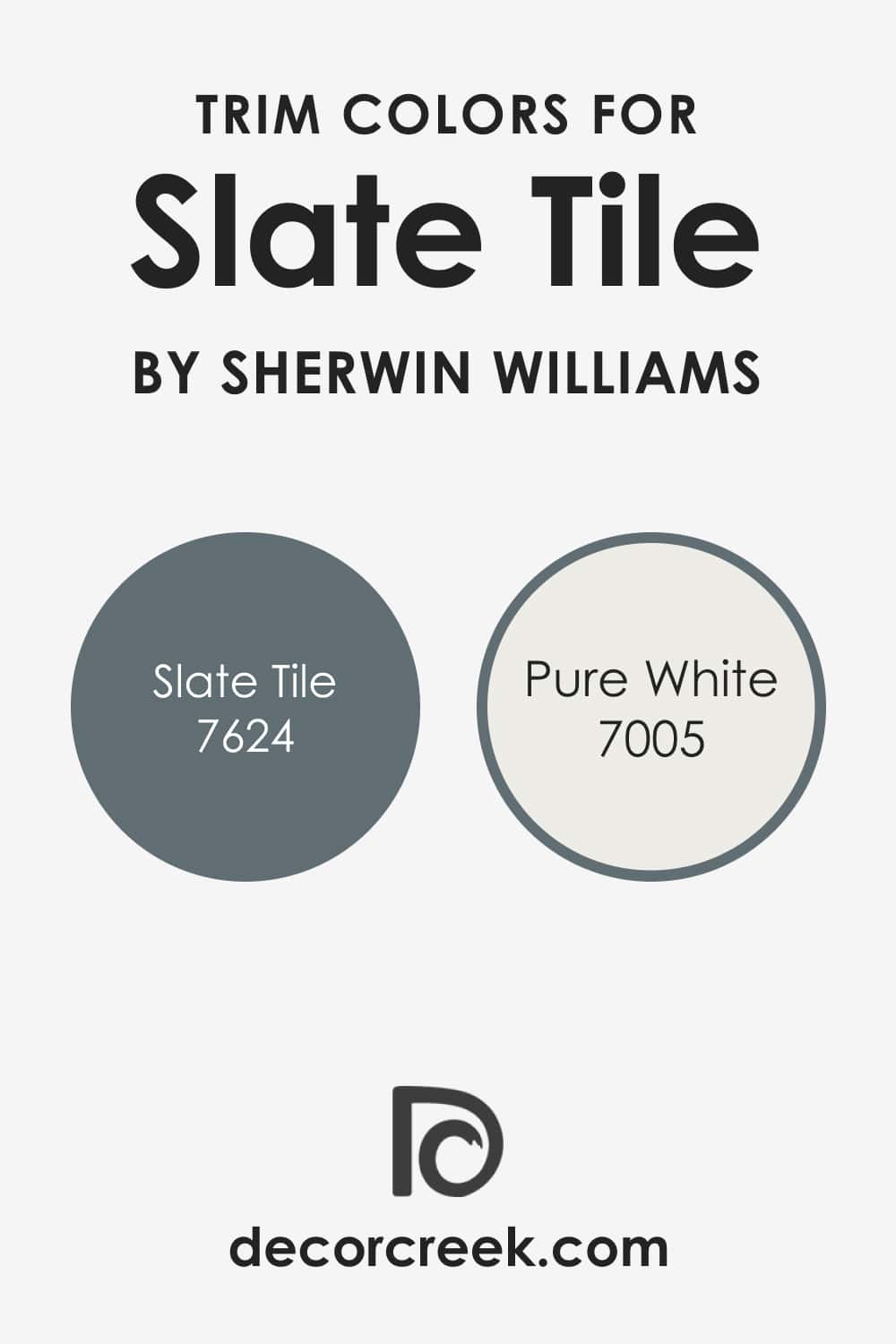 Paint Colors Similar to Slate Tile SW-7624
If you are looking for similar blues to use instead of the Slate Tile paint in your home, it is essential to pick the most fitting shades. The trick is to find the color or colors that would read nearly the same as SW Slate Tile in tone!
We recommend you the following color options since they are the closest matching blues that can successfully substitute the Slate Tile blue.
Benjamin Moore Van Deusen Blue
Sherwin-Williams Indigo Batik
Benjamin Moore Newburyport Blue
Sherwin-Williams Distance
Sherwin-Williams Waterloo
Benjamin Moore Kensington Blue
However, you need to realize that none of these colors is an absolute copy of the Slate Tile color! Some of them read slightly darker, whilst others look a bit lighter.
Also, some of these alternative colors have somewhat distinct undertones. Nevertheless, the resemblance between them and SW Slate Tile is amazing!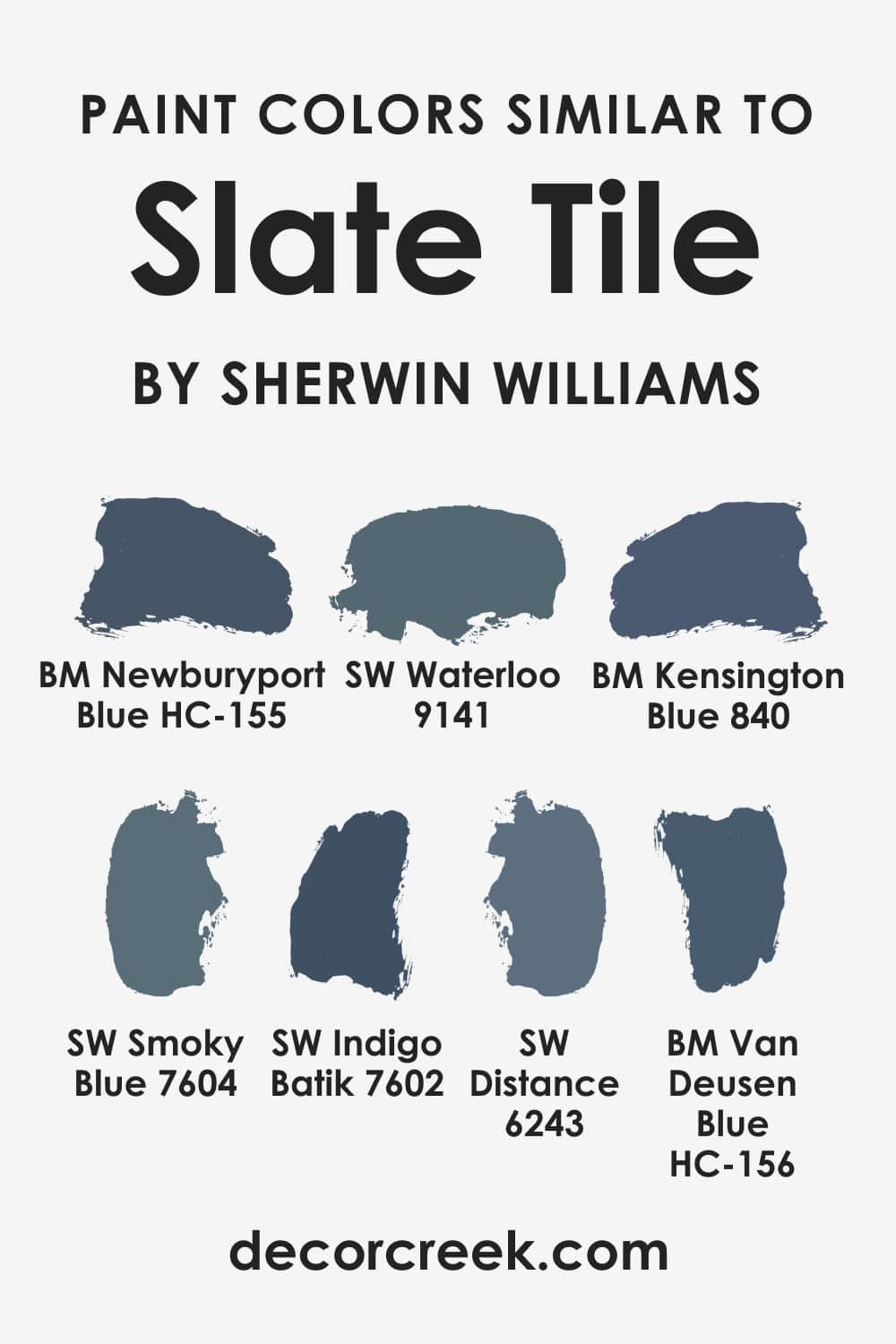 Colors That Go With Slate Tile SW-7624
To ensure you choose the most good-looking color palette for your home, you must know what colors will work best with the paint you use on the interior walls.
Such a deep and bold blue with gray undertones as SW Slate Tile will work best with whites (both warmer and crisper/cooler), as well as with grays,
SW Light French Gray
SW Alpaca
SW Choice Cream
SW Alabaster
SW Quest Gray
SW Requisite Gray
SW High Reflective White
SW Umber
SW Hushed Auburn
SW Honey Bees
As you can see, there is quite a wide selection of colors here, which means you can always make your living space look appealing and cozy!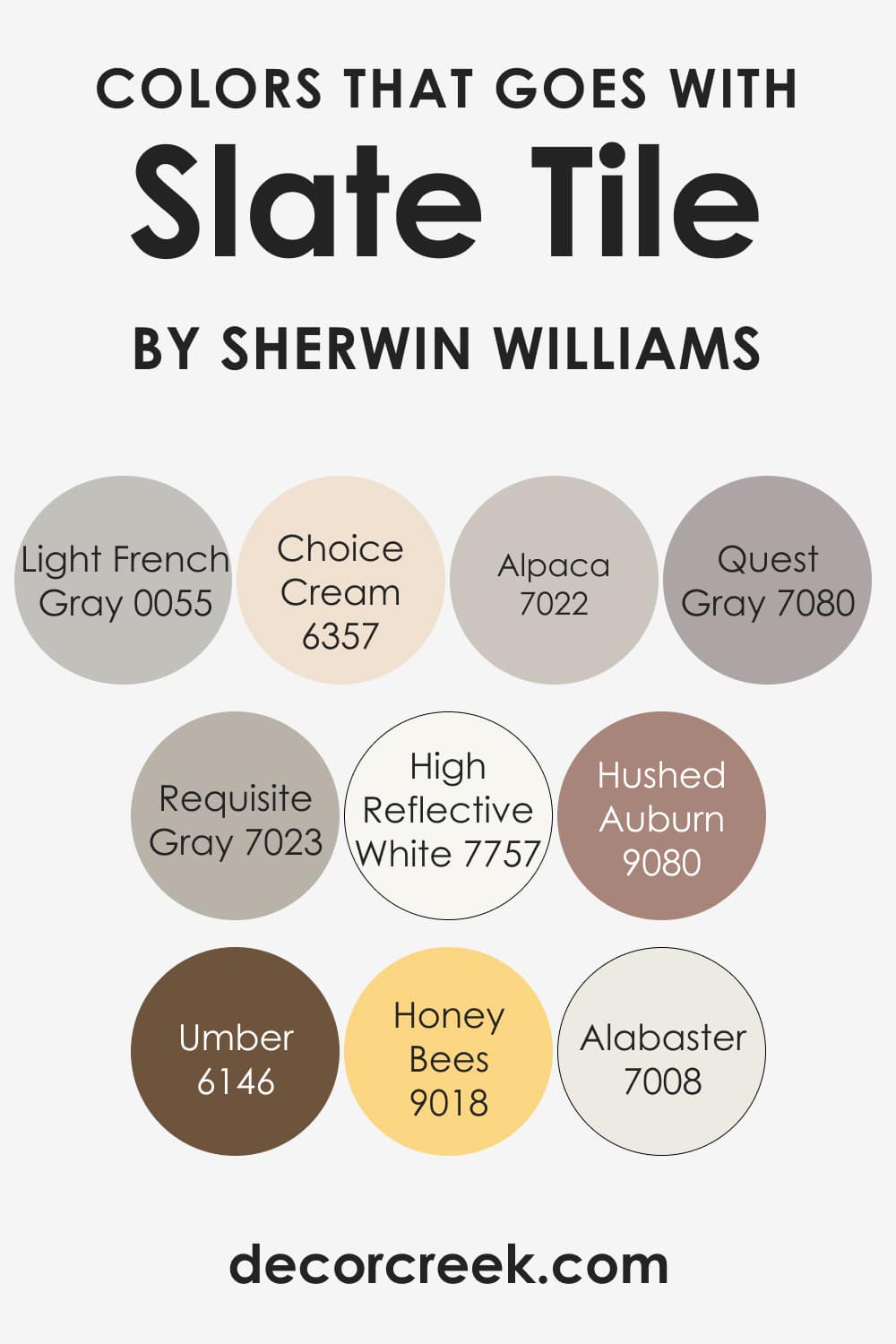 Comparing SW Slate Tile Paint Color With Other Colors
Similar colors might look so alike that you can't even notice any distinctions between them.
However, it's essential to be able to notice nuances in tone and LRV to understand how different shades of the same color may work in your home. Below, you can read how SW Slate Tile differs from several similar blues.
Slate Tile vs Storm Cloud
SW Storm Cloud is a blue color with deep gray undertones and an LRV of 23. Compared to SW Slate Tile, it reads lighter (due to a higher light reflectivity) and bluer. However, grayish undertones are still visible pretty well.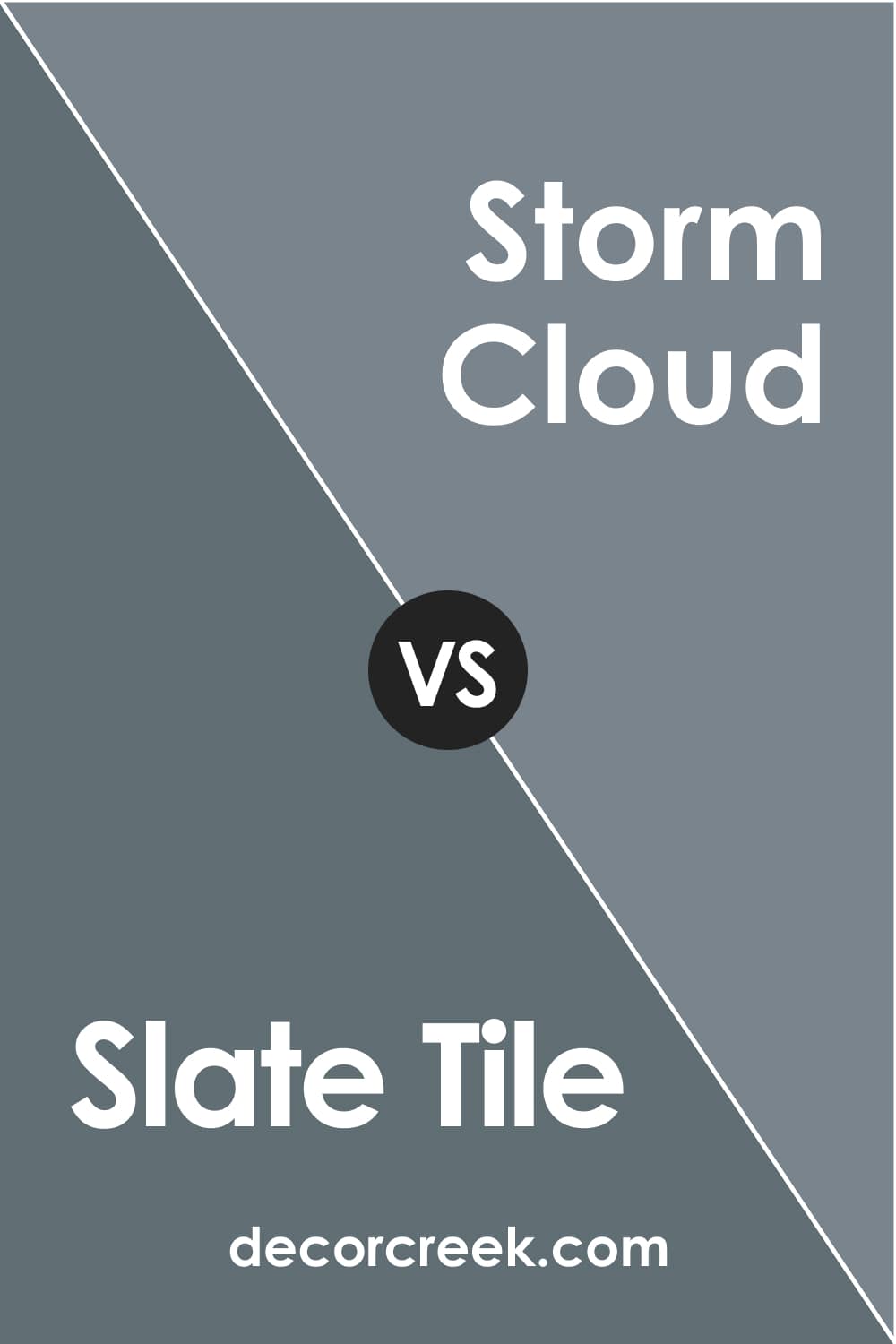 Slate Tile vs Riverway
These colors have the same LRV of 15, but SW Riverway reads noticeably greener due to its pronounced green undertones. However, these colors can't be sued in the same space since both are pretty dark. Also, you can't use them interchangeably because of distinct undertones.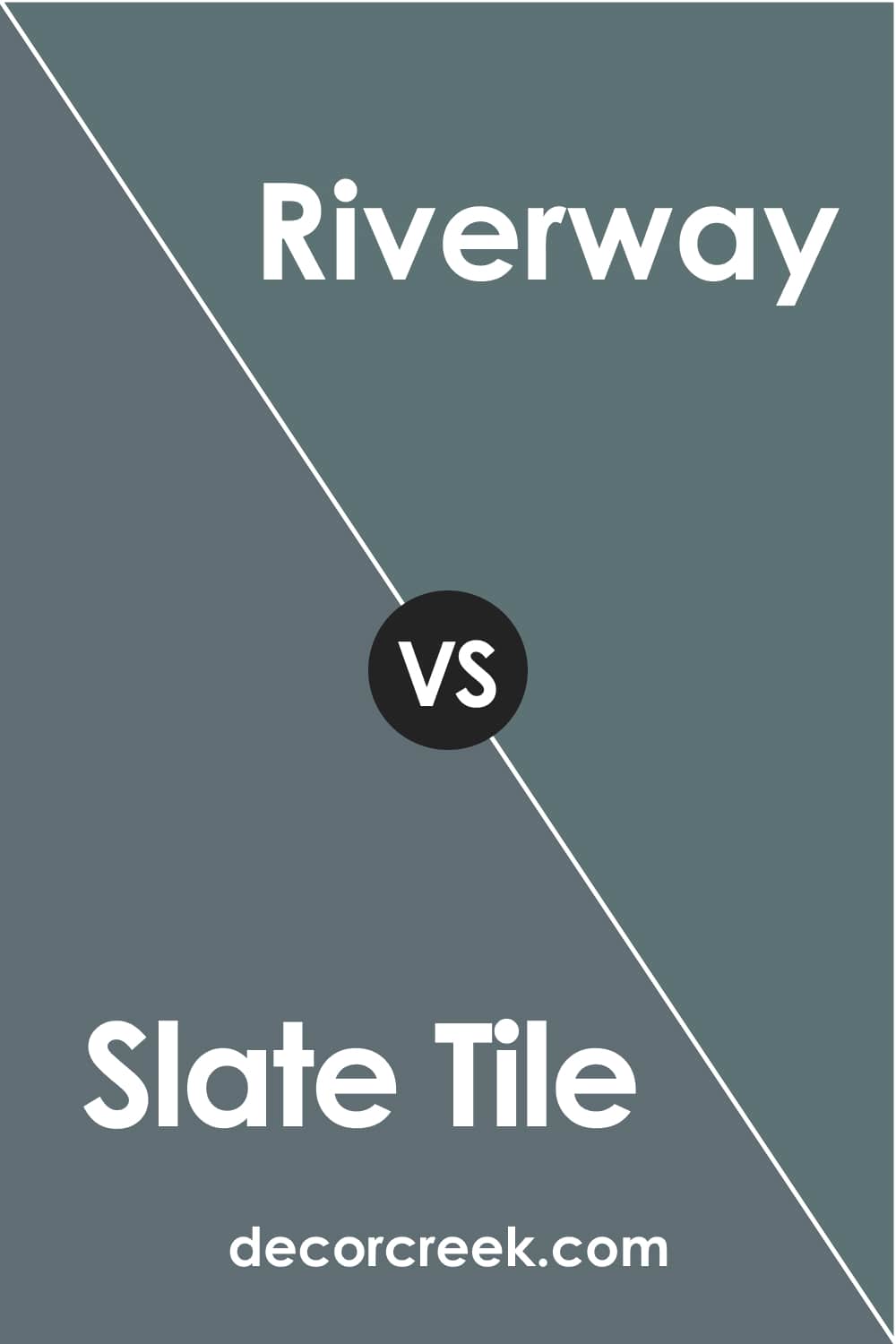 Slate Tile vs Smoky Blue
Compared to SW Slate Tile with its gray undertones, SW Smoky Blue reads bluer. However, these colors have the same LRV of 15, which makes them similar in how much light they can reflect and how dark they read on the walls.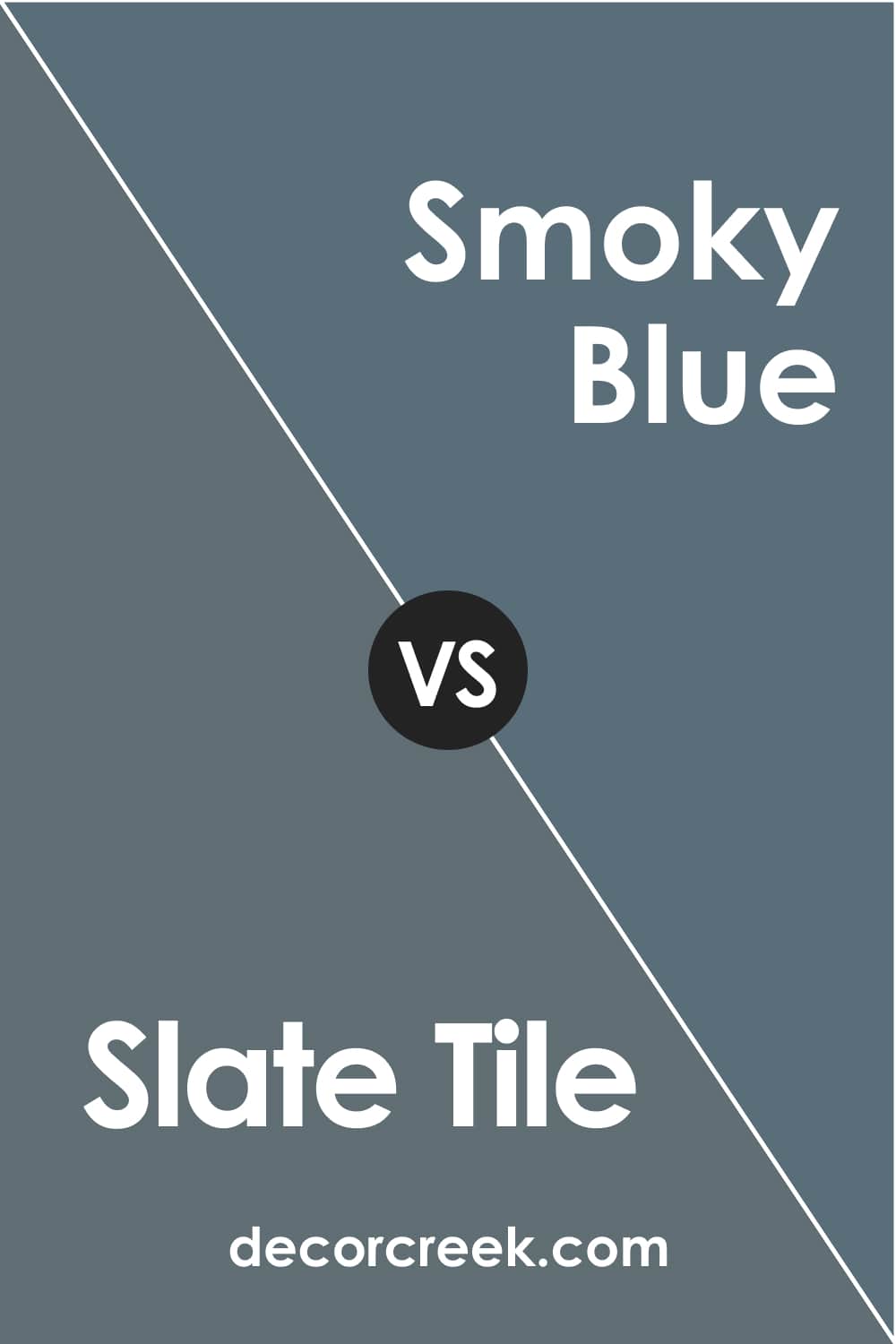 Slate Tile vs Hale Navy
BM Hale Navy reads darker with a more pronounced blue hue than SW Slate Tile. Compared to BM Hale Navy, the Slate Tile color looks lighter and grayer. Sometimes, it may even seem slightly greenish!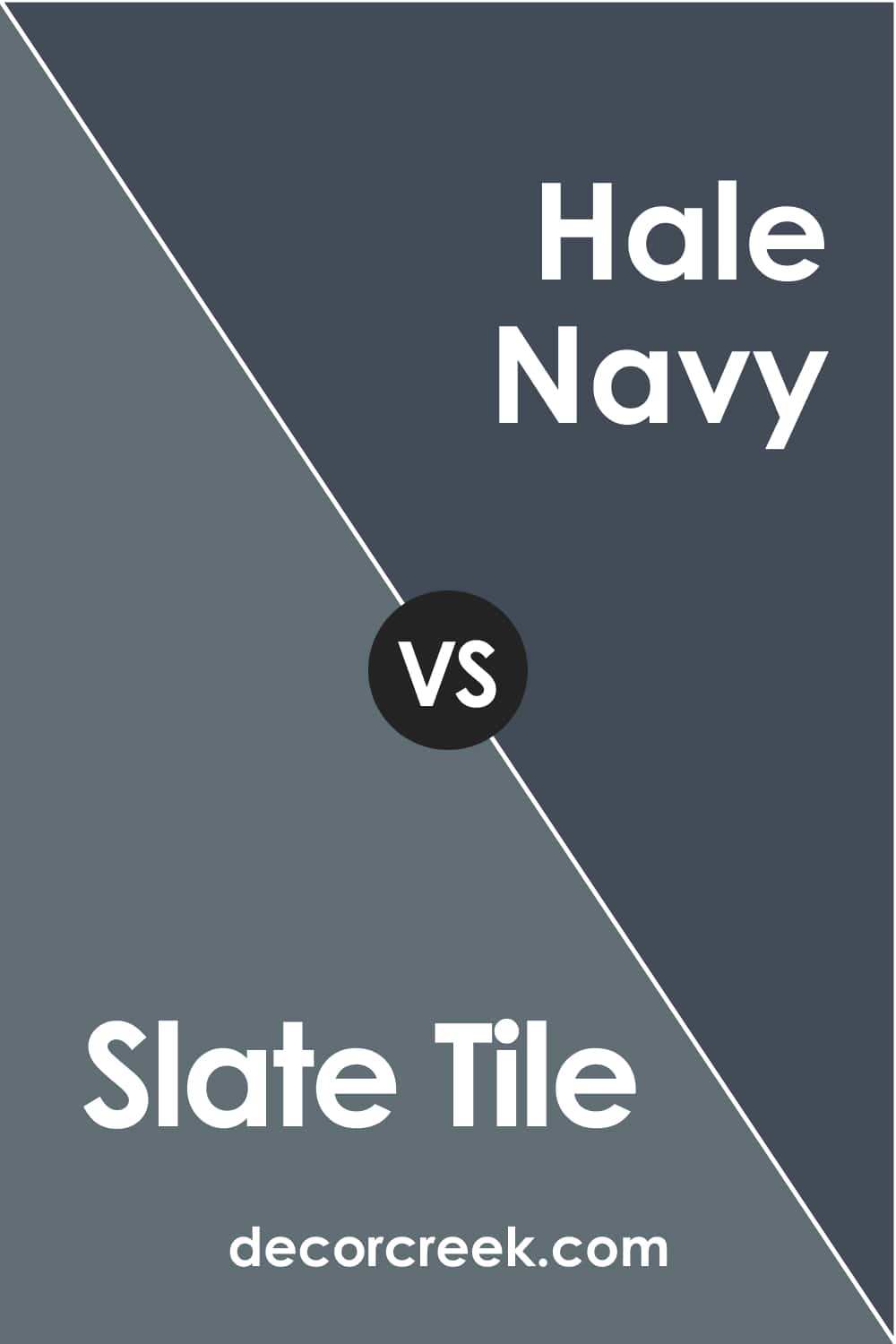 Slate Tile vs Grays Harbor
SW Grays Harbor has an LRV os 12, which is a bit less than the LRV of SW Slate Tile (15). That means the Grays Harbor color reads somewhat darker. On the other hand, undertones of these paints look very similar, being grayish.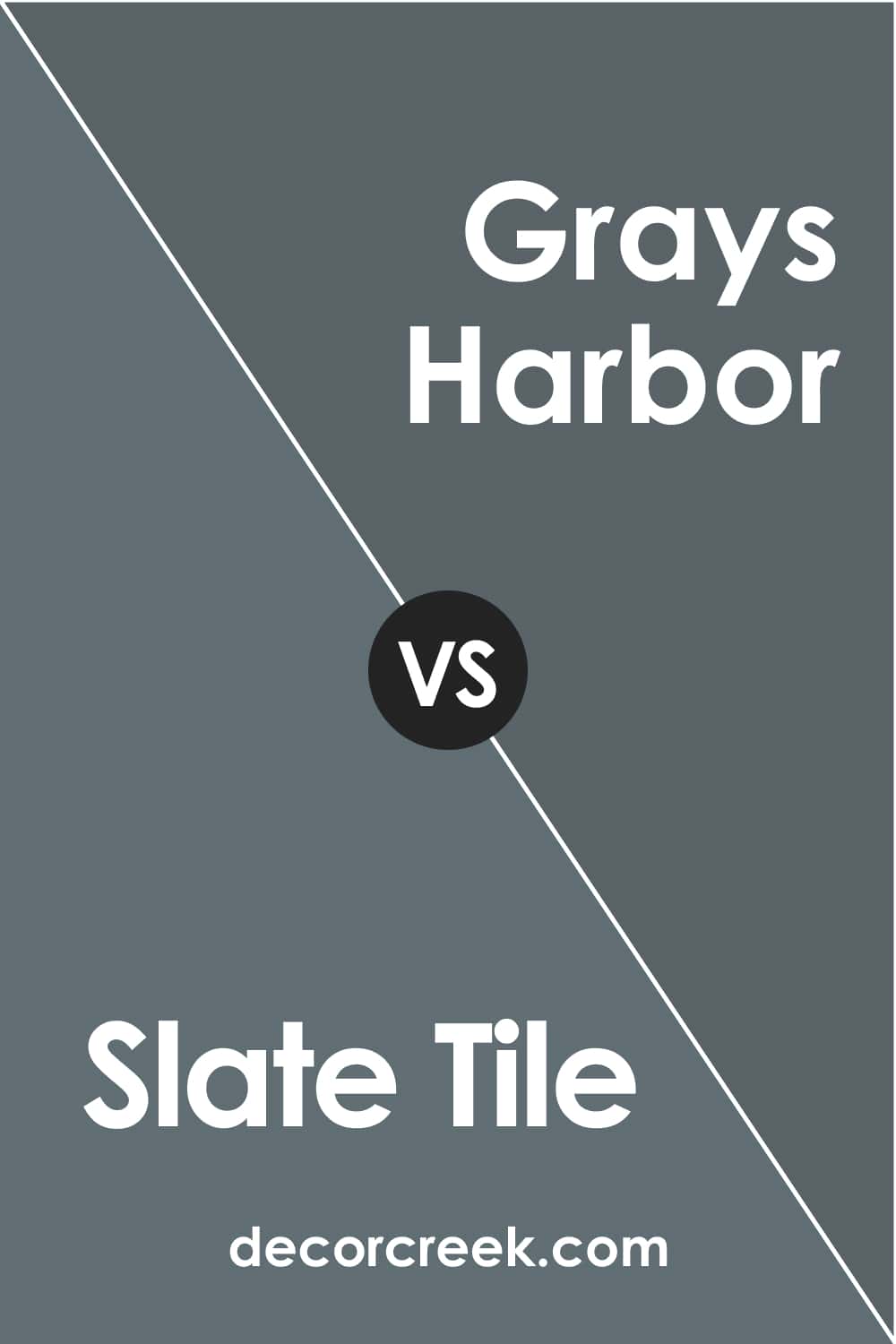 Where In Your Home to Use Slate Tile SW-7624 Color?
In this section, you can find information on how SW Slate Tile blue color may read in different rooms of your home. It will help you better understand where this color should be used to achieve better effect.
Slate Tile SW-7624 in a Living Room
In a living room, we recommend using this blue color on an accent wall or the fireplace wall. This bold shade of blue will pair with greys, cool whites, off-whites, and some warm greys best of all.
Alongside, you can use rattan, or a wicker decor elements like lampshades. They will definitely look great with this color backdrop!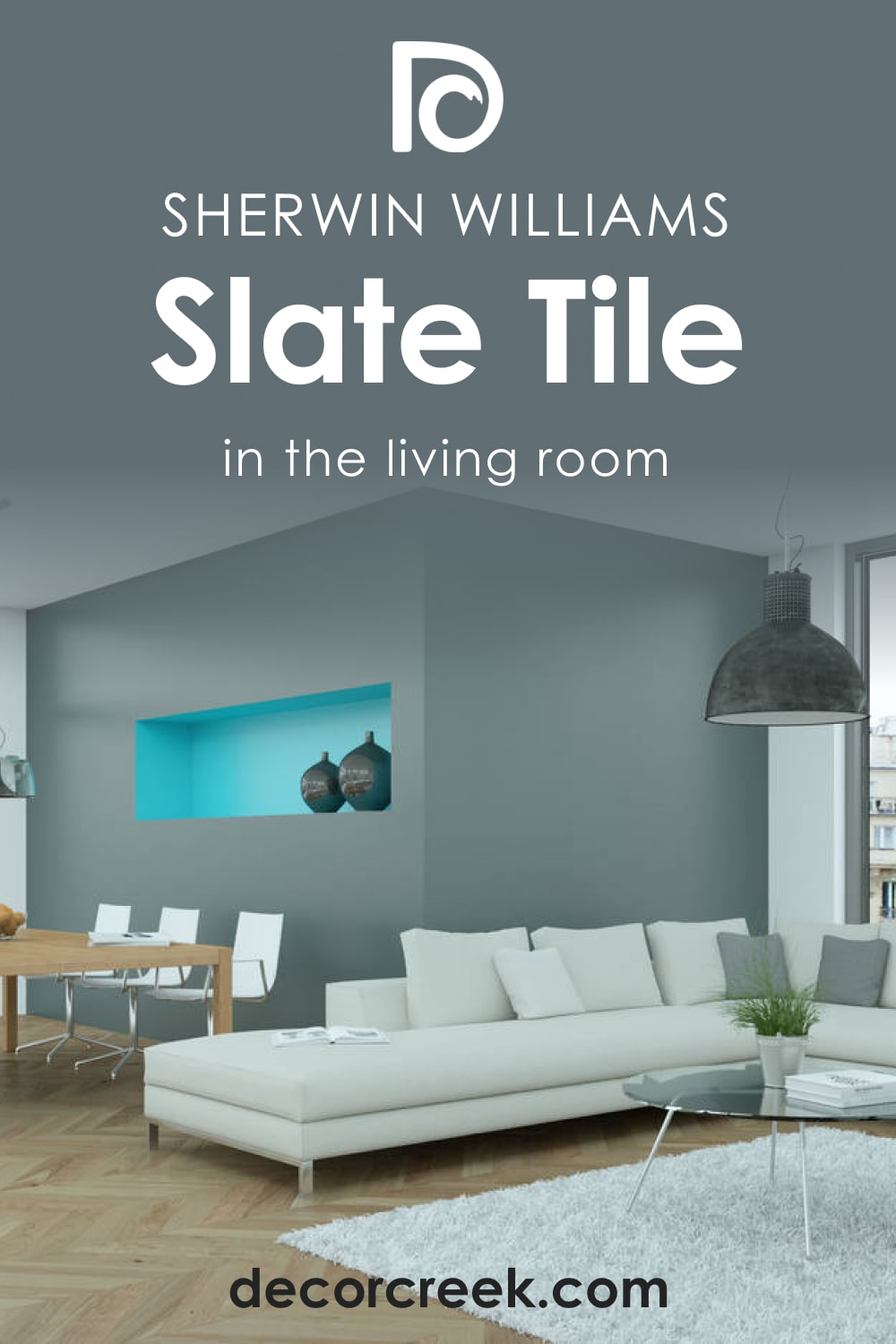 Slate Tile SW-7624 in a Bedroom
If you prefer a cool, bold, yet calm atmosphere in your bedroom, we would recommend this paint color. However, ensure you don't overuse this blue! Otherwise, it might make the space look overwhelming and less cozy.
Also, we recommend you incorporating SW Slate Tile with natural materials and textures, some whites, off-whites, and grays. You can do it through throw pillows, curtains, and other decorative items.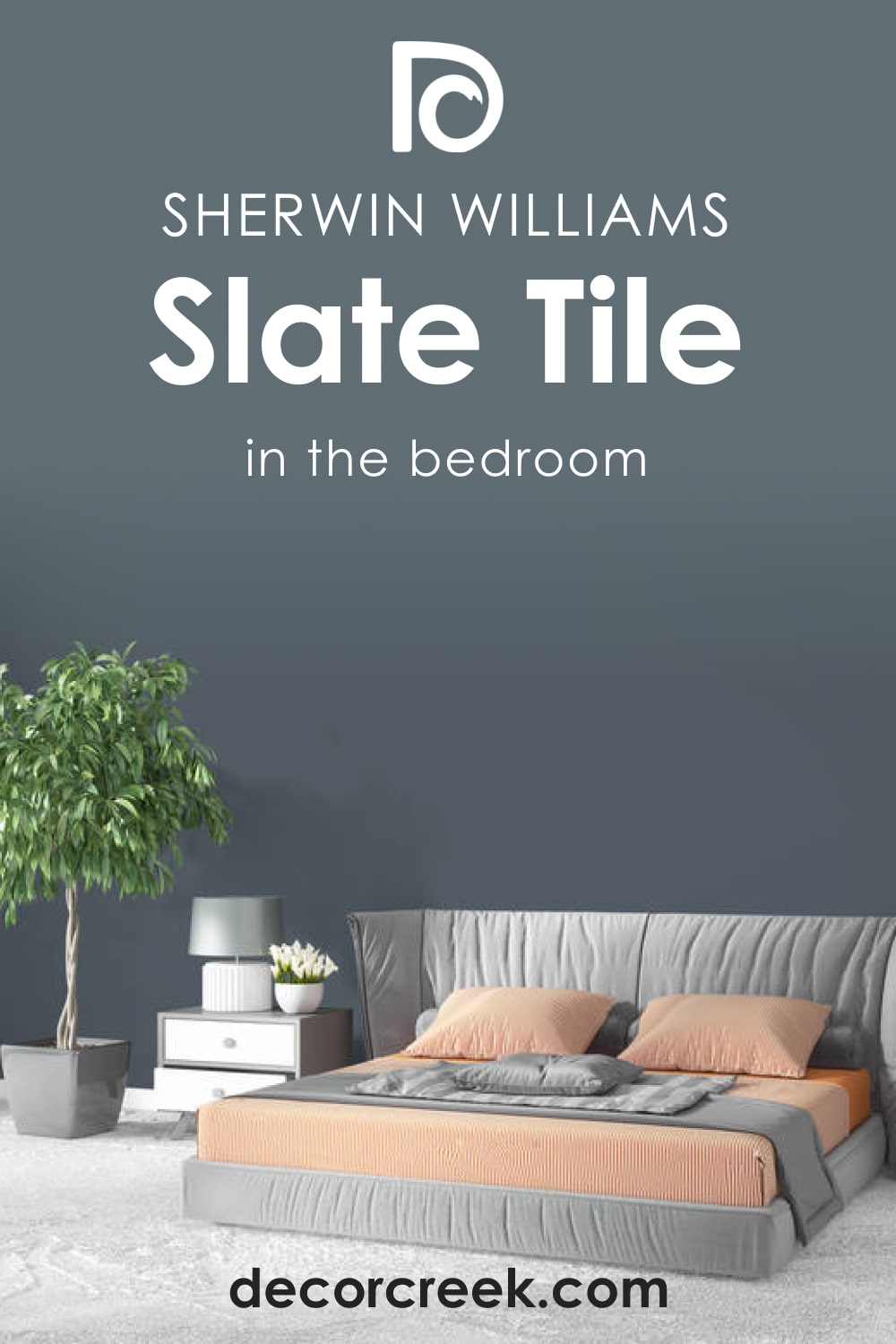 Slate Tile SW-7624  for the Bathroom
In your bathroom, this blue is best to be used on the vanity sink or drawers. If the size of the room allows, and if it's well-lit, you may want to try this color on an accent wall too. To make the space read larger and airier, as well as add more light to it, use whites.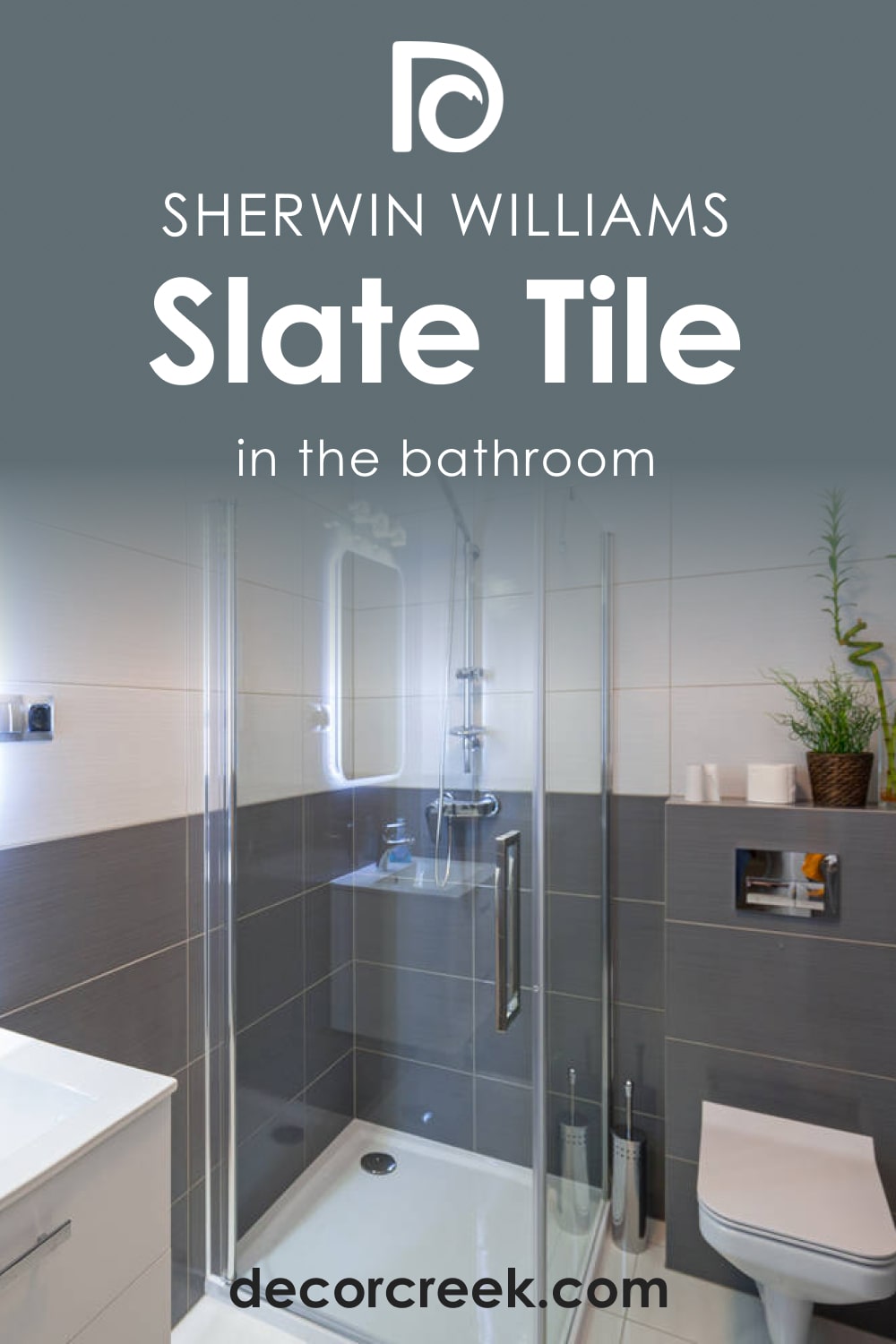 Slate Tile SW-7624 and Kitchen
For the kitchen, we recommend using this paint color on the cabinets. To complement, pair it with white backsplash tiles, marble white-veined countertop, and some golden-tinted pull drawers and handles. White and golden will make the space read airier and more welcoming.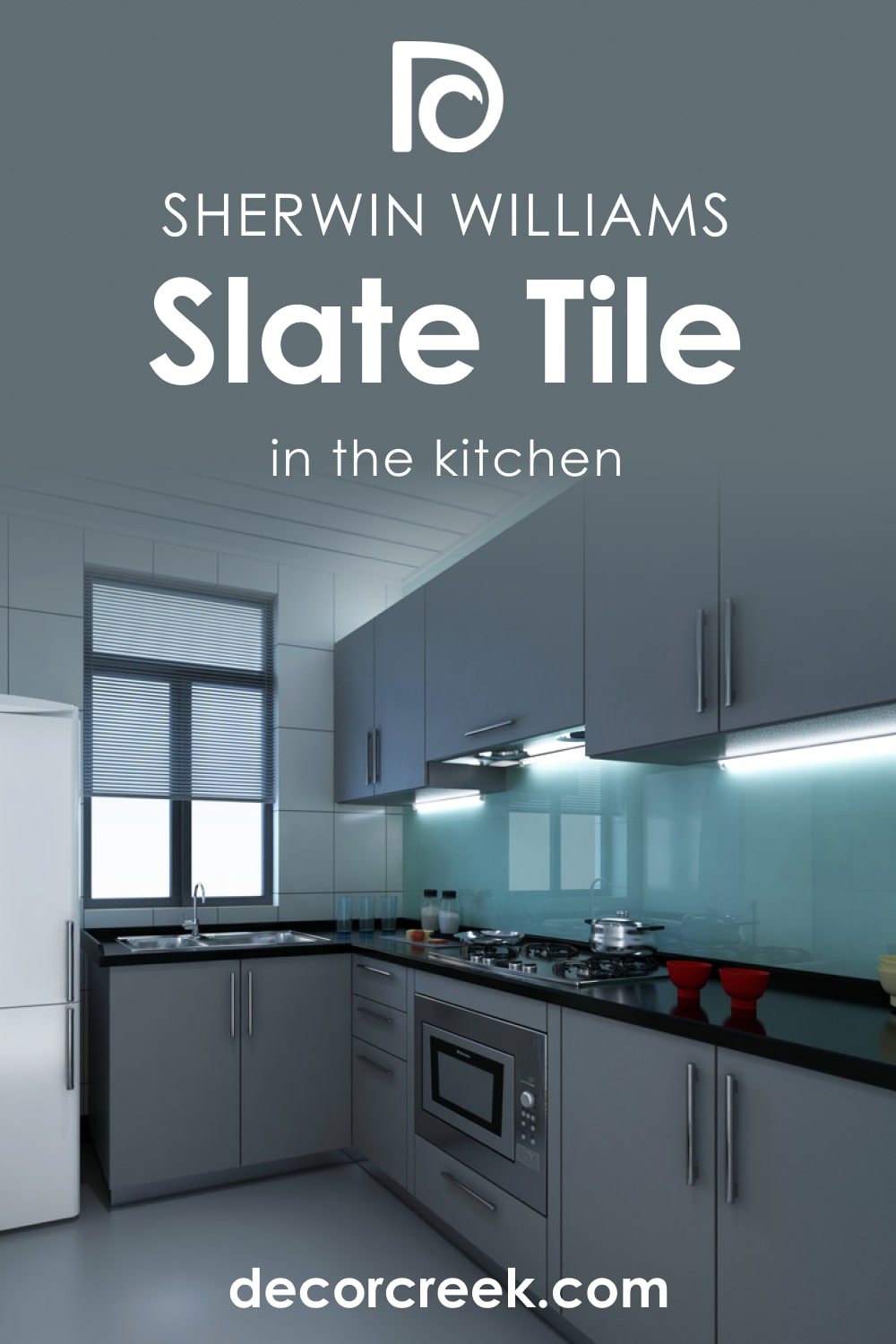 Slate Tile SW-7624  for the Exterior
This paint color can be used on exterior walls, but you must note that it will definitely look lighter. So, if you are planning to use it for painting the house from the outside, we would recommend pairing this blue with lighter greys and whites on the front door and window frames and trims.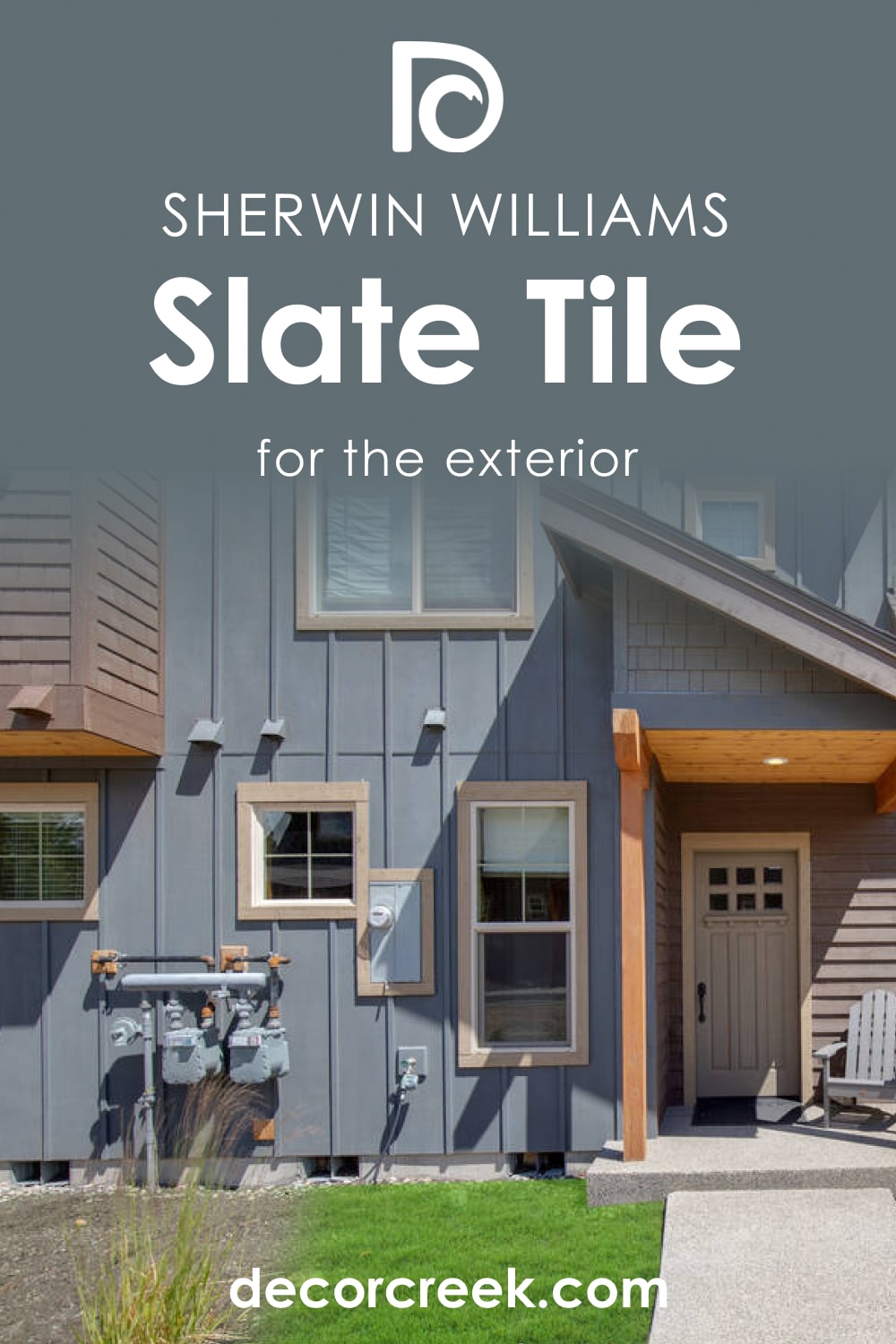 This is how SW Slate Tile color works in different rooms and on different surfaces. We told you what LRV and undertones it has, how it coordinates with other colors, and what color palettes would be best for this blue to highlight its beauty.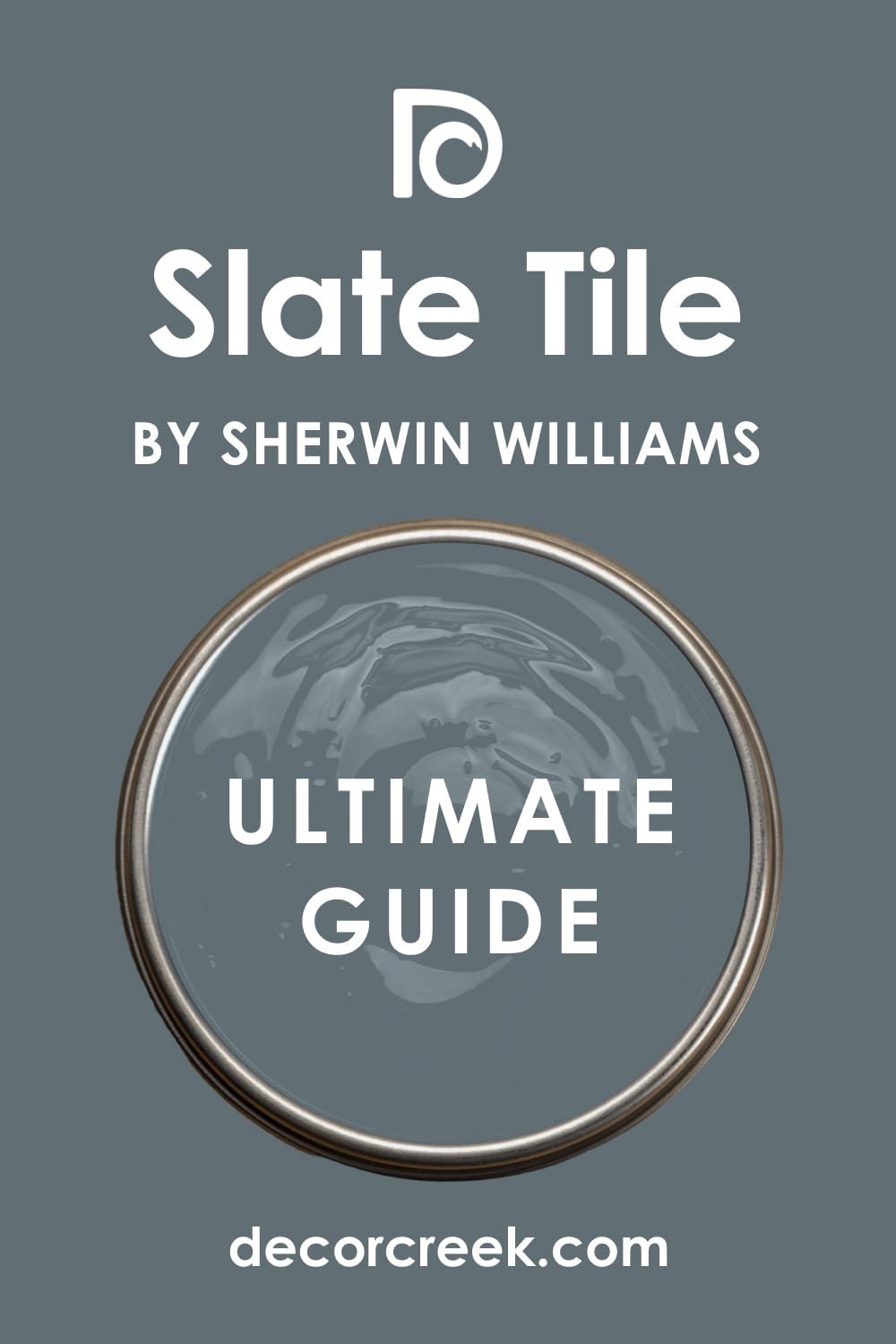 Frequently Asked Questions
⭐Does SW Slate Tile have green undertones?
No, this color only has gray undertones.
⭐Does Slate Tile color work with greiges?
Yes, this blue might work with lighter greiges quite well.
⭐Is it best to use crisp whites or warmer whites with SW Slate Tile?
Warmer and softer whites, as well as neutral whites and off-whites will work better.