The gray color is one of the favorite paint colors people use in their homes because it is pretty versatile and looks stylish and elegant in most spaces. However, grays can also be tricky enough!
They often have complex undertones, which make the color read differently on the color swatch and on the wall. This is why you should be more aware of the specifics of the color if you want to use it in your home.
Today, we are going to talk about the Lazy Gray paint color by the Sherwin-Williams brand.
You will learn what kind of gray it is, how it reads in different rooms, and how to coordinate it. Moreover, we will explain what LRV it has, how it reacts to light, and what makes it different from other similar colors.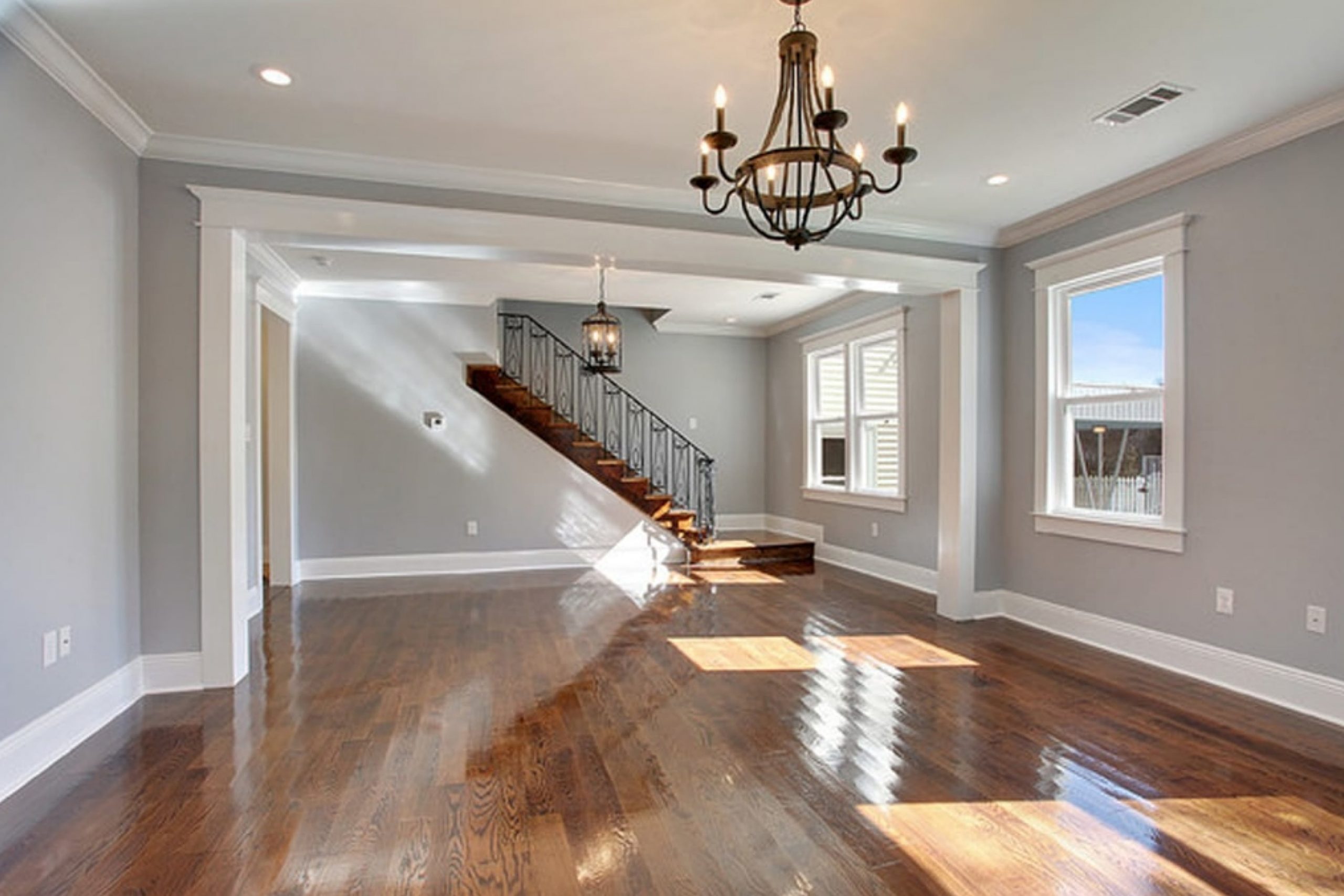 What Kind of Color Is SW Lazy Gray?
If you look at this color in the color swatch, you will see that it is a lovely light gray that's almost blue but not quite. We would say that SW Lazy Gray is a balanced and relaxed mix of both. Thanks to such a balanced nature, this color is perfect for any space where you want to have a relaxed and laid-back atmosphere.
As Encycolorpedia says, this color reads plain and simple, reading neither too light nor too dark. Also, it is rather cool-toned but with no sterile or too-cold hue in it. You can be sure that with this gray on your walls, the room will not look chilly.
Instead, SW Lazy Gray is a great color for opening up spaces that are smaller since it creates a soothing feel due to the blue undertone.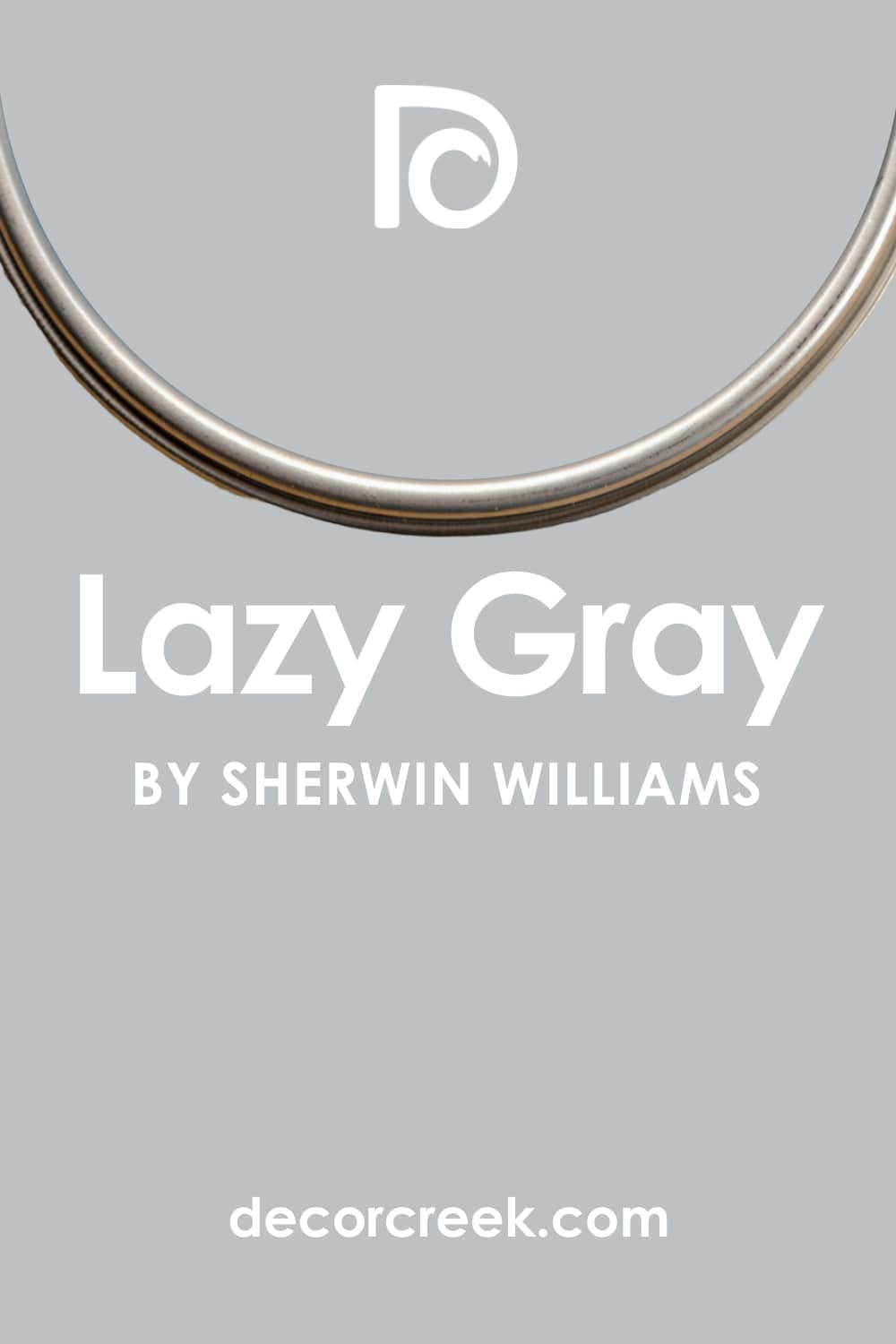 SW Lazy Gray Undertones
Why is it important to know what undertones each paint color has? When you know what undertones are hidden in color, you can tell in advance how it will read on the walls, depending on the lighting in the room.
Speaking of SW Lazy Gray, this soothing color has blue undertones. However, this blueness won't make the color look literally blue or even noticeably bluer! Instead, the blue undertones are perfectly mixed in and balanced with the gray in this color, resulting in a tranquil and harmonizing shade of gray.
This color will never look baby blue, for sure!
Nevertheless, we want to warn you that sampling this color is still essential! That's because, depending on the lighting, SW Lazy Gray can look bluer or grayer.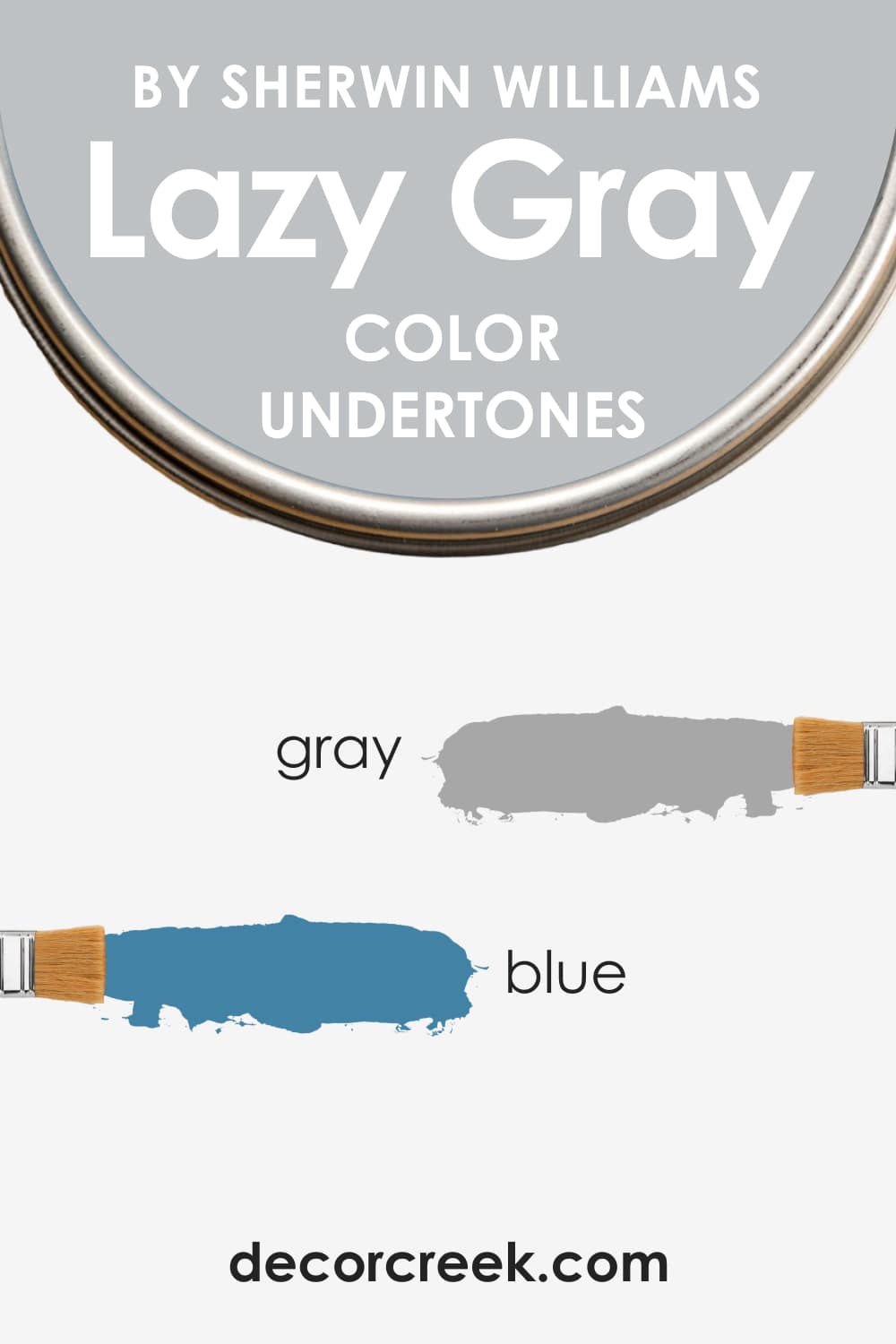 LRV of Lazy Gray SW-6254
What is LRV? This stands for Light reflectance Value, and this measurement shows the percentage of light the color can reflect when it is applied to the wall. The LRV scale ranges from zero to 100, where zero stands for black, and 100 is pure white.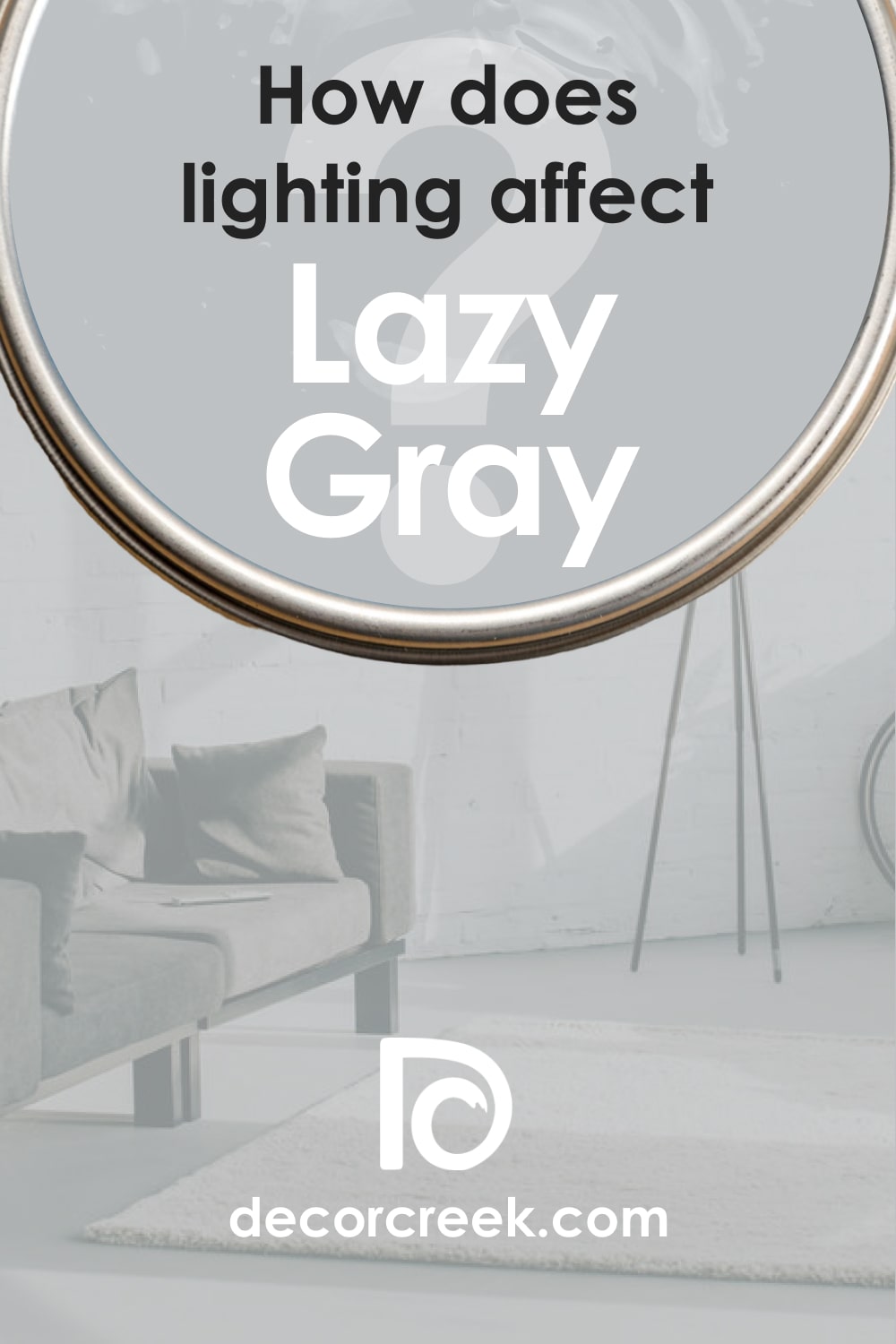 In the case of SW Lazy Gray, its LRV is 53, which means that this color is neither too light nor too dark. It is somewhere in the middle of the scale, which makes it a nice balanced shade of gray that is pretty versatile.
Also, such a balanced LRV value means that this color will read quite predictably on the walls. All these features make SW Lazy Gray a nice paint color for almost any room and space in your home.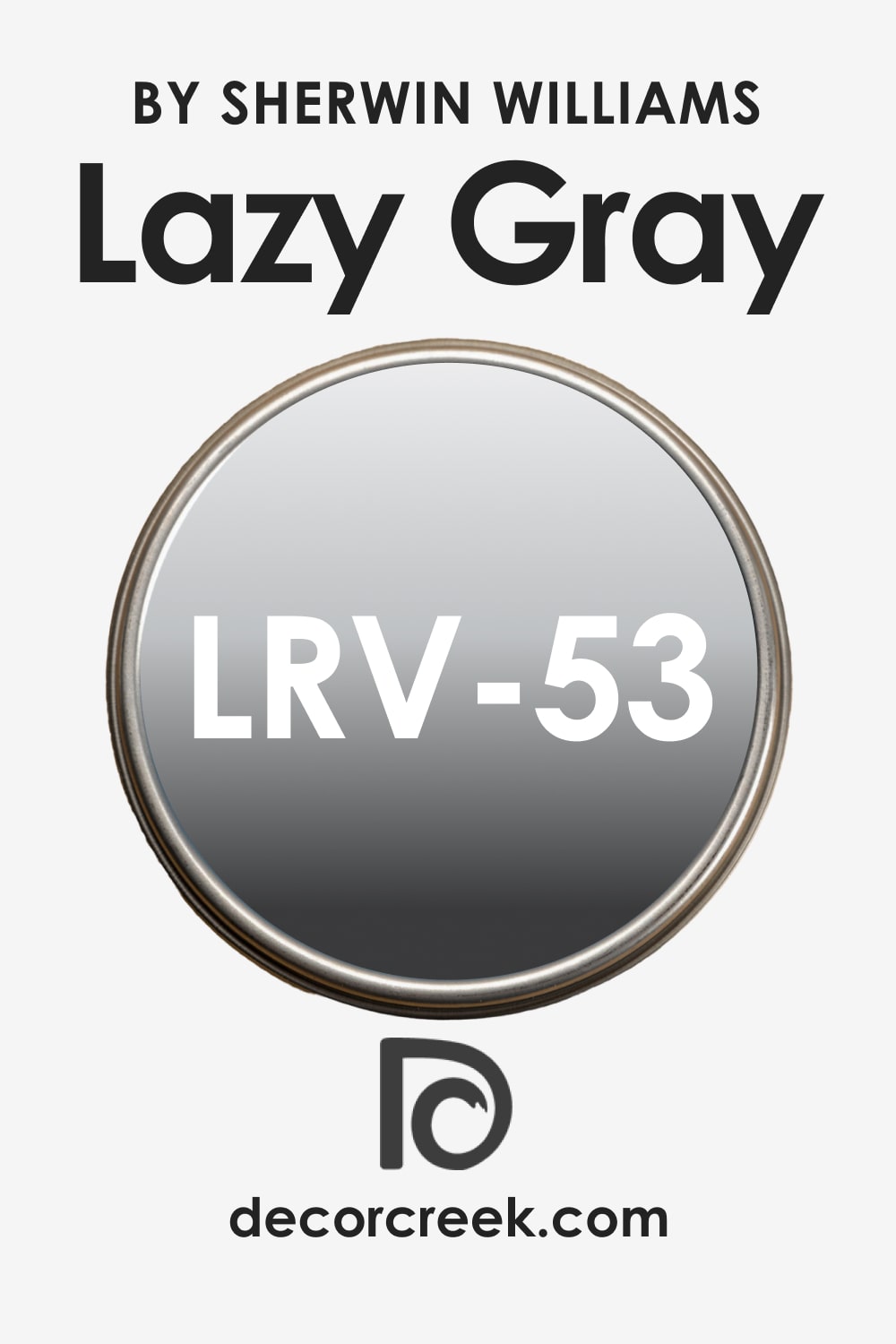 LRV – what does it mean? Read This Before Finding Your Perfect Paint Color
SW Lazy Gray Coordinating Colors
When you know what colors to use to coordinate the wall color, you know the secret key ingredient to a successful and balanced home color palette. For SW Lazy Gray with its balanced blue undertone, we recommend you opt for the following colors to coordinate it:
SW Ice Cube
SW Peppercorn
SW Cornwall Slate
SW Salty Dog
SW Koi Pond
SW Pearly White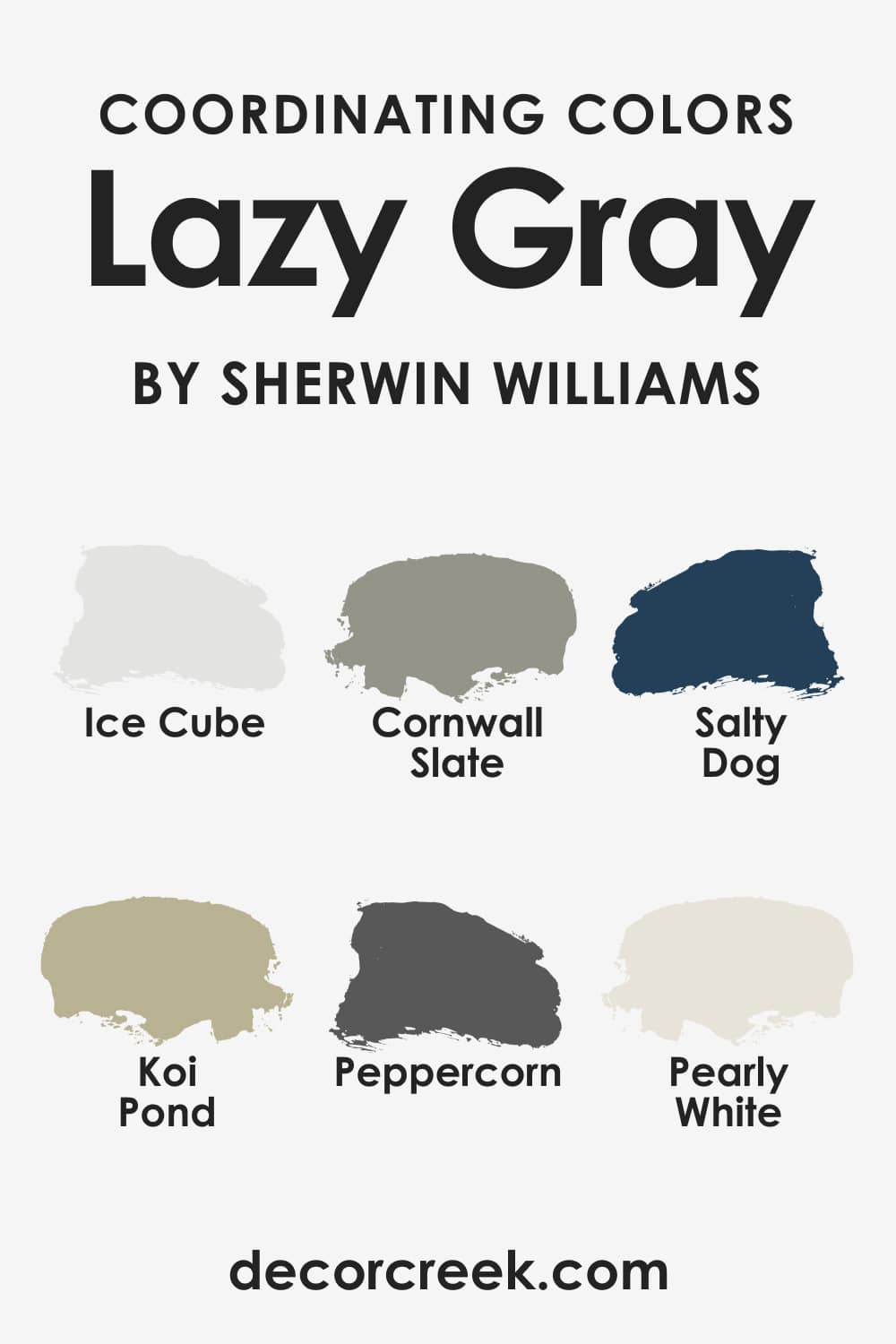 What Is the Best Trim Color to Use With SW Lazy Gray?
White is a traditional trim color that is considered versatile and universal because it typically matches any color used on the walls. However, you should still pay attention to the tone and shade of the white you use! If you have a cool-toned color on the walls, you'd better use a cool-toned white on the trim. Otherwise, different tones will look imbalanced.
However, with SW Lazy Gray, you can play with whites a bit. Since this gray looks neither cold nor warm, you can use neutral whites with it. As an option, to add a bit of a crisp feel, you can use a cooler-toned white on the trim (but avoid using stark whites!).
For example, you can use SW Snowbound if you don't want a too noticeable contrast between the trim and the walls. Or you might want to use SW Extra White for a slightly more pronounced white accent.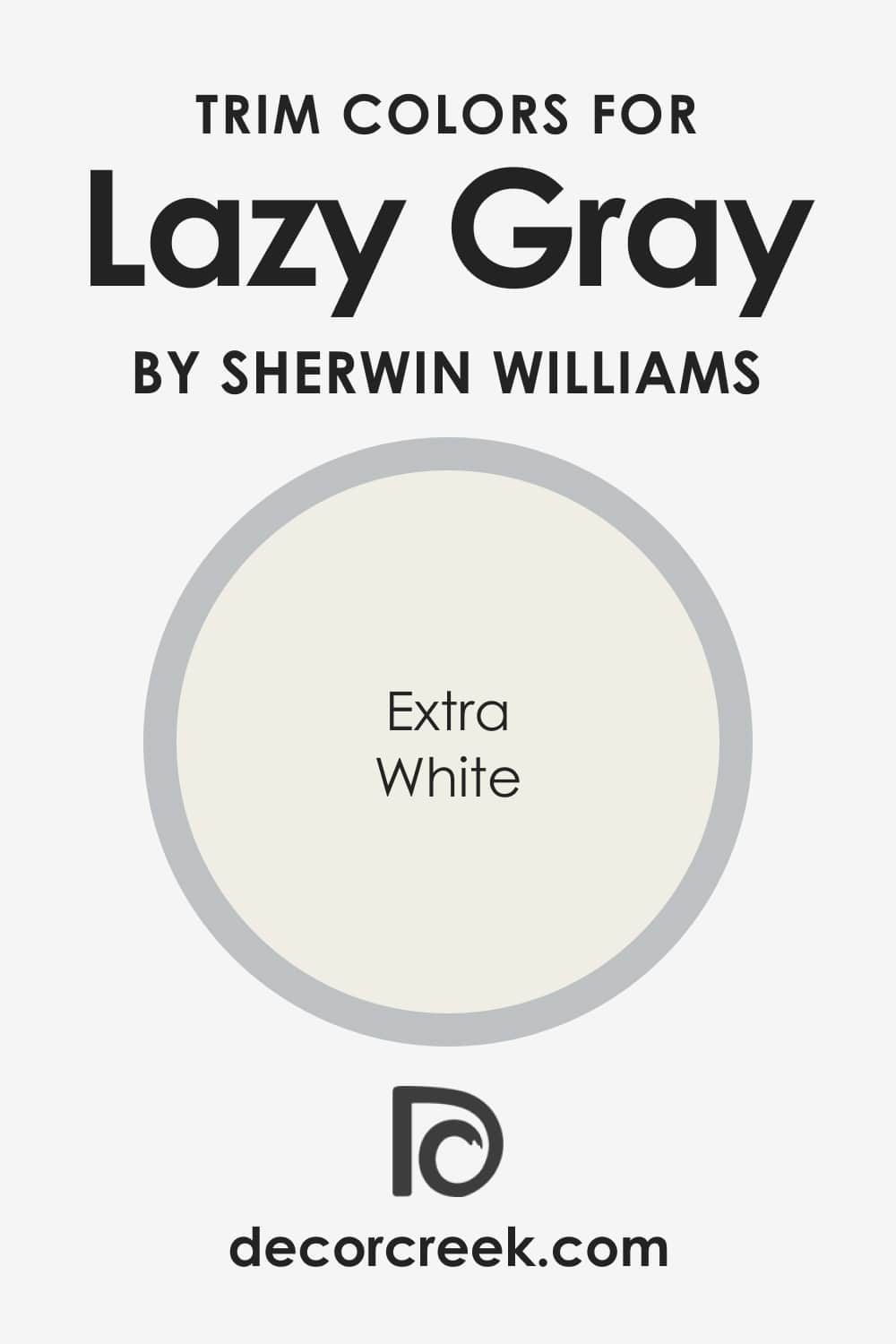 Colors That Go With SW Lazy Gray
This shade of gray is pretty versatile due to its balanced tone. This is why it will read nicely with many different colors. But we would recommend you stick to calmer and muted shades anyway. They will look more harmonious with this calm and tranquil gray blue. For example, you might want to consider the following colors:
SW Alabaster
SW Solitude
SW Watery
SW Windy Blue
SW Mineral Gray
SW Perle Noir
SW Abalone Shell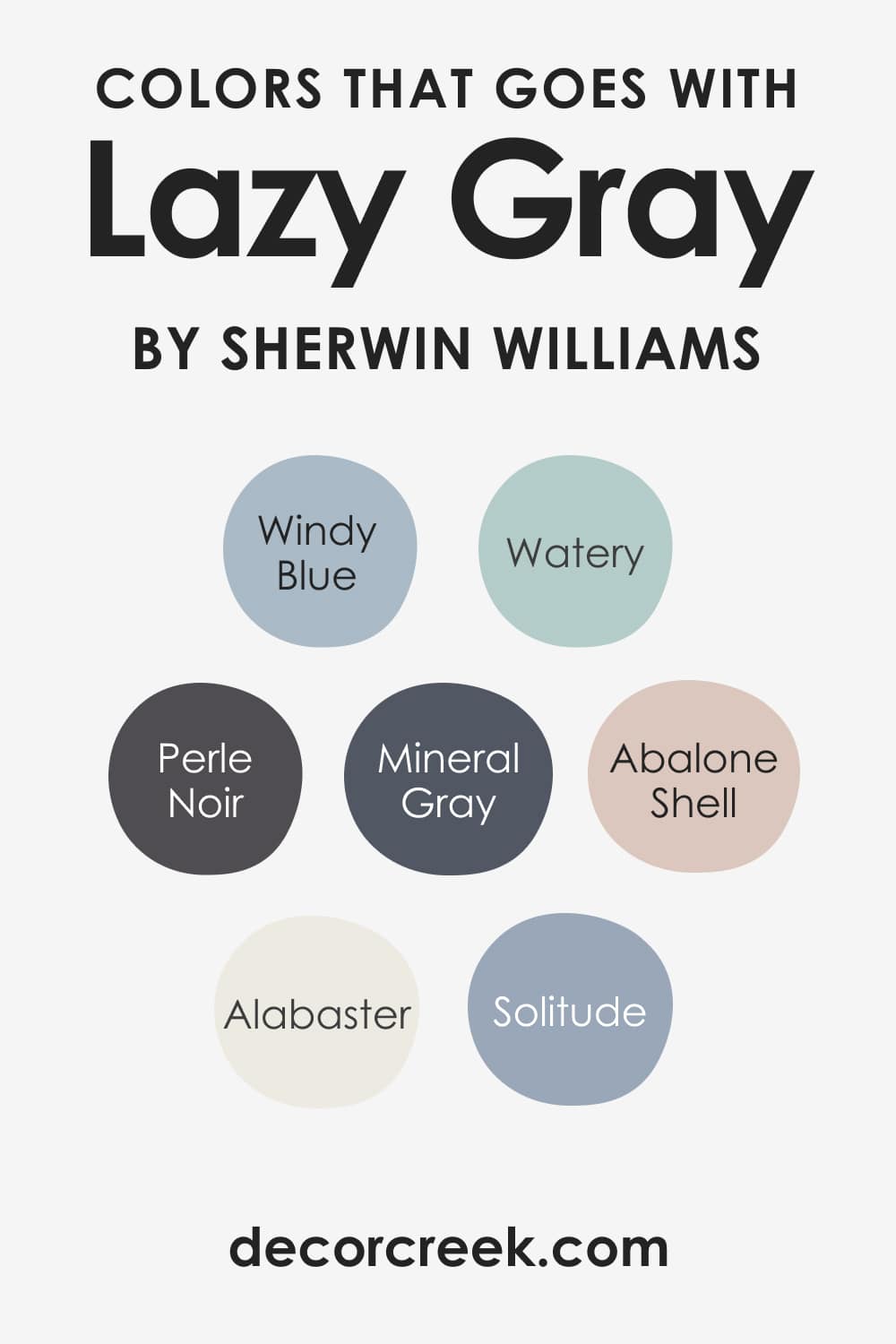 SW Lazy Gray Similar Colors
It is good to have at least a couple of alternative colors in mind when you start a painting project in your home. This way, you will always be able to shift the color you initially chose in case you see it doesn't work well for the space. For SW Lazy Gray, you should consider the following similar paint colors as substitutes:
SW Gray Screen
SW Polished Silver
SW Samovar Silver
SW Monorail Silver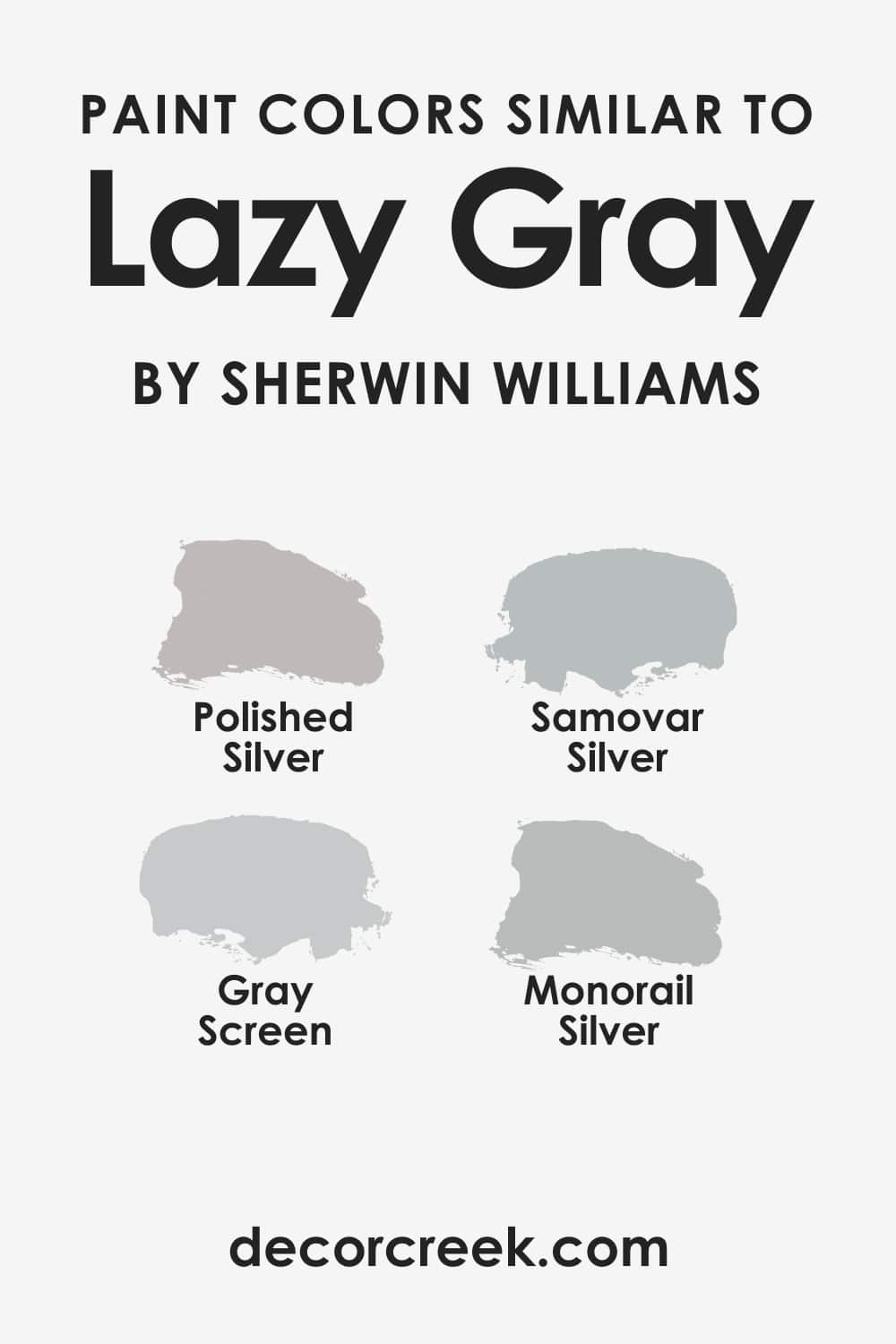 Comparing SW Lazy Gray
Although this shade of gray is rather versatile due to its balanced tone, it can still be hard to tell the difference between it and other grays that look pretty similar. However, being able to see these distinctions is essential! This way, you can understand how the color will read in the space.
Lazy Gray vs. Light French Gray
Although these colors have the word "gray" in their names, they look different. SW Lazy Gray has prominent blue undertones whilst its counterpart reveals a pronounced vague purple undertone. This purple can lean slightly purple-blue in cool light and read softer in warmer light. Nevertheless, it won't go purple-pink.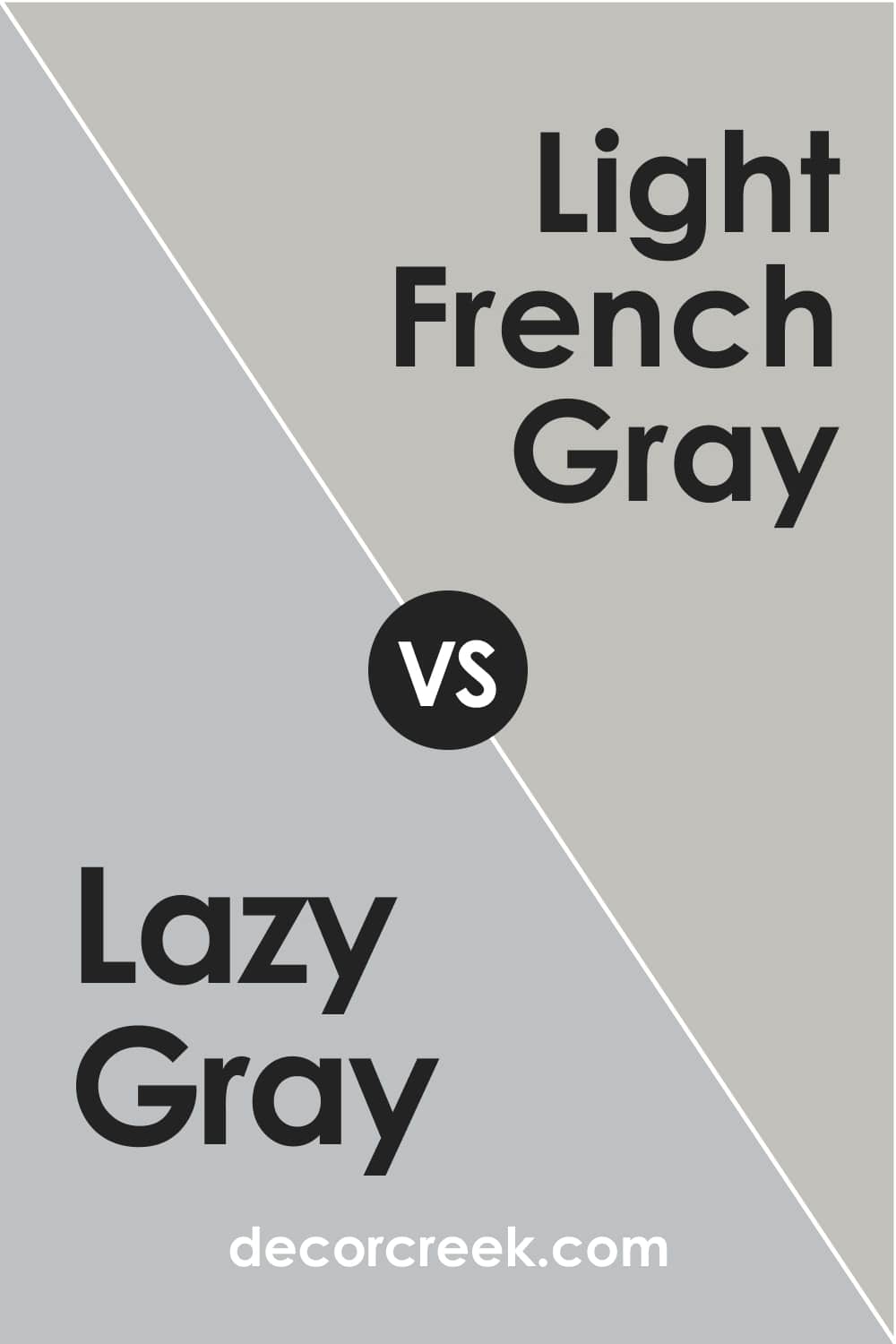 Lazy Gray vs. Morning Fog
SW Morning Fog is a pale, shaded, aqua-green with a foggy undertone. In general, it reads quite hazy whilst SW Lazy Gray looks lighter and less heavy. Both are muted, but you don't want to pair them since the space reads too dark and moody.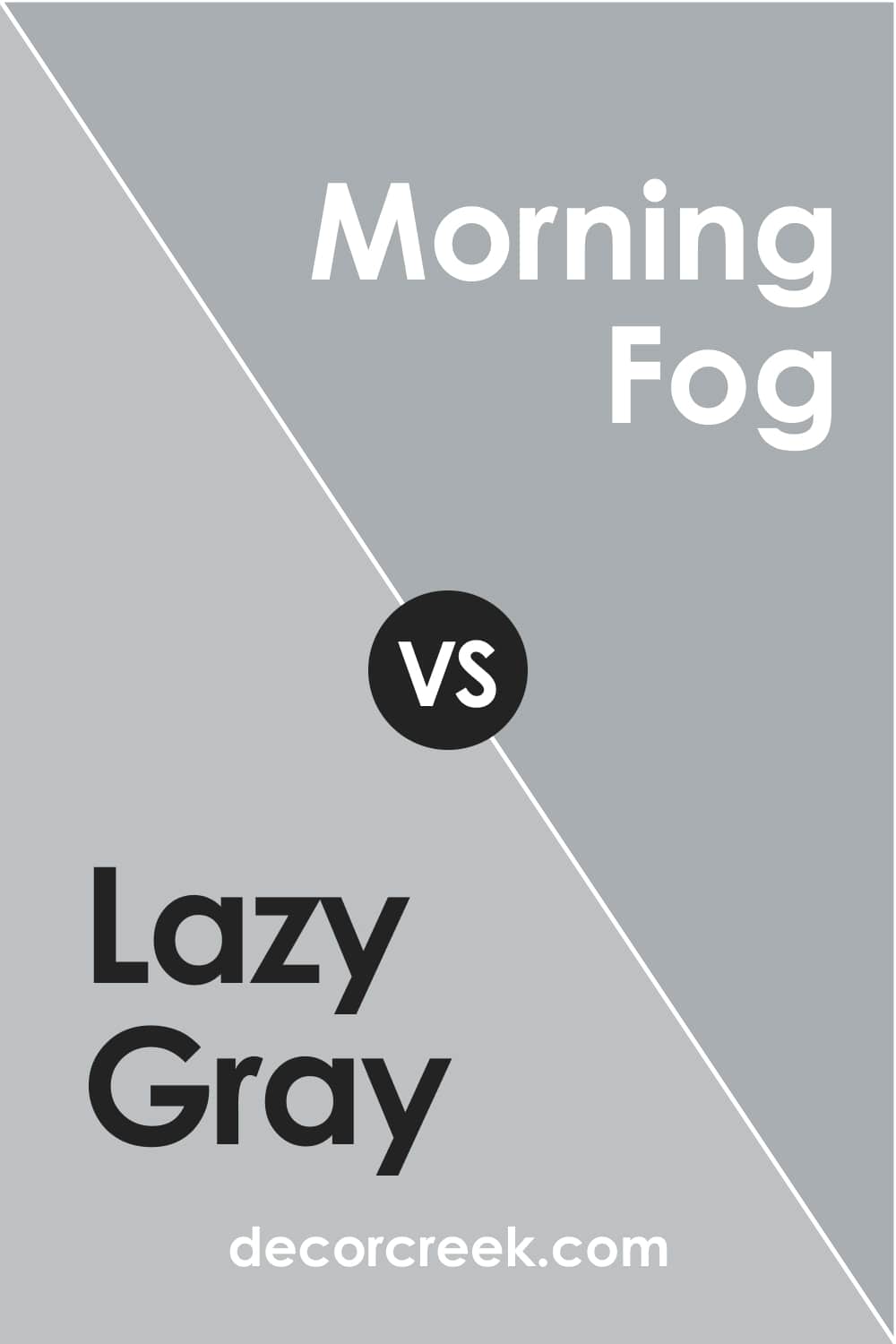 Lazy Gray vs. Dustblu
These two are very different. SW Lazy Gray looks much lighter with a pronounced blue undertone compared with SW Dustblue, which is a cool gray with cyan undertones. Both grays create a noticeable contrast, but they won't look well in the same room because of the gloomy feel they both add.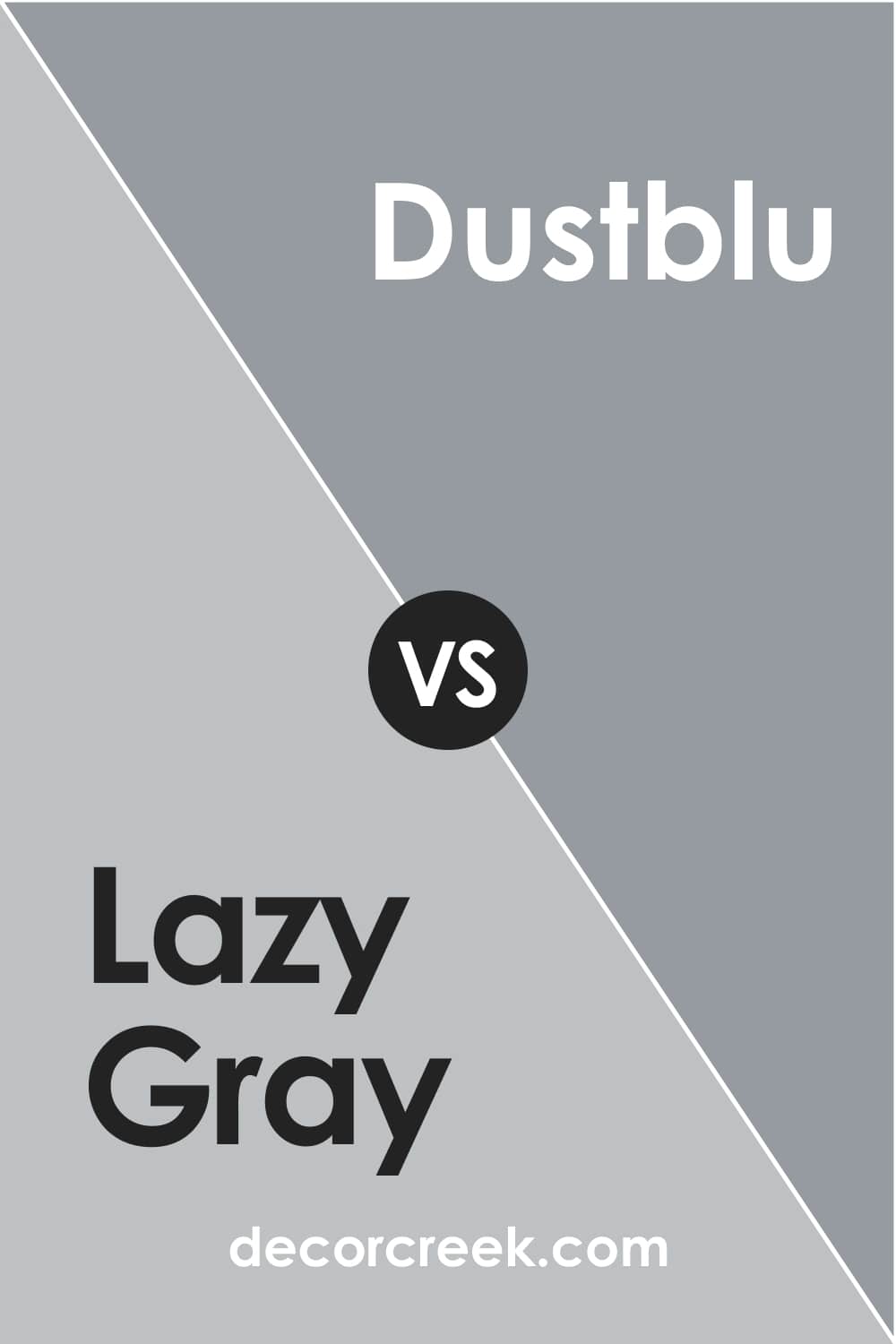 Lazy Gray vs. Gray Screen
These can work as substitute colors, in fact, because SW Gray Screen also has blue undertones. Thanks to this feature that relates it with the Lazy Gray color, they are pretty similar. The only difference is that SW Gray Screen reads lighter and a bit bluer. So if you need a slightly fresher gray on your walls, go for it!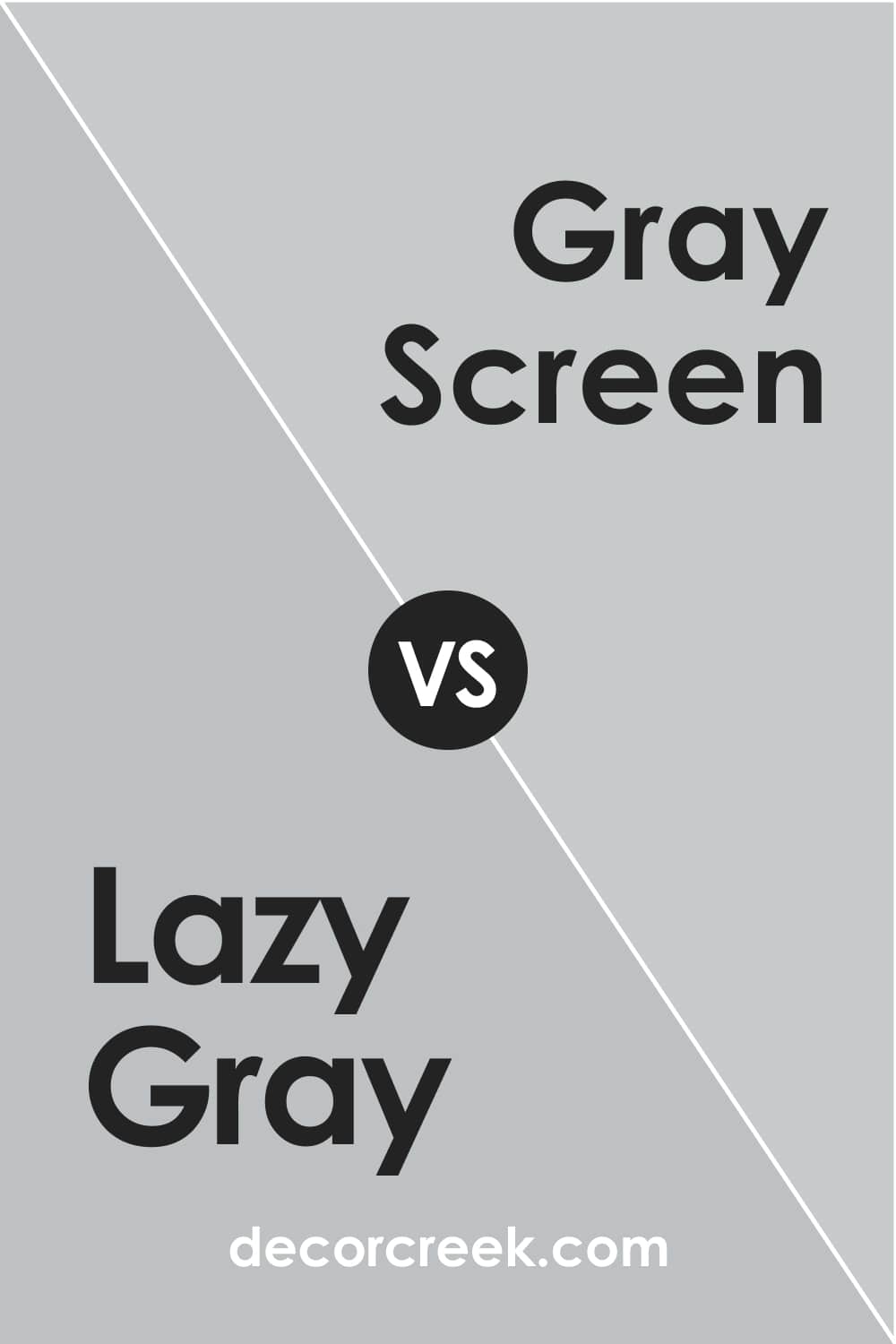 Lazy Gray vs. Gray Owl
SW Gray Owl has a soft green undertone that can also look blue in certain light. This green hue is perfectly seen if you compare this color with the SW Lazy Gray, which reveals its blue undertones very prominently in this color combo!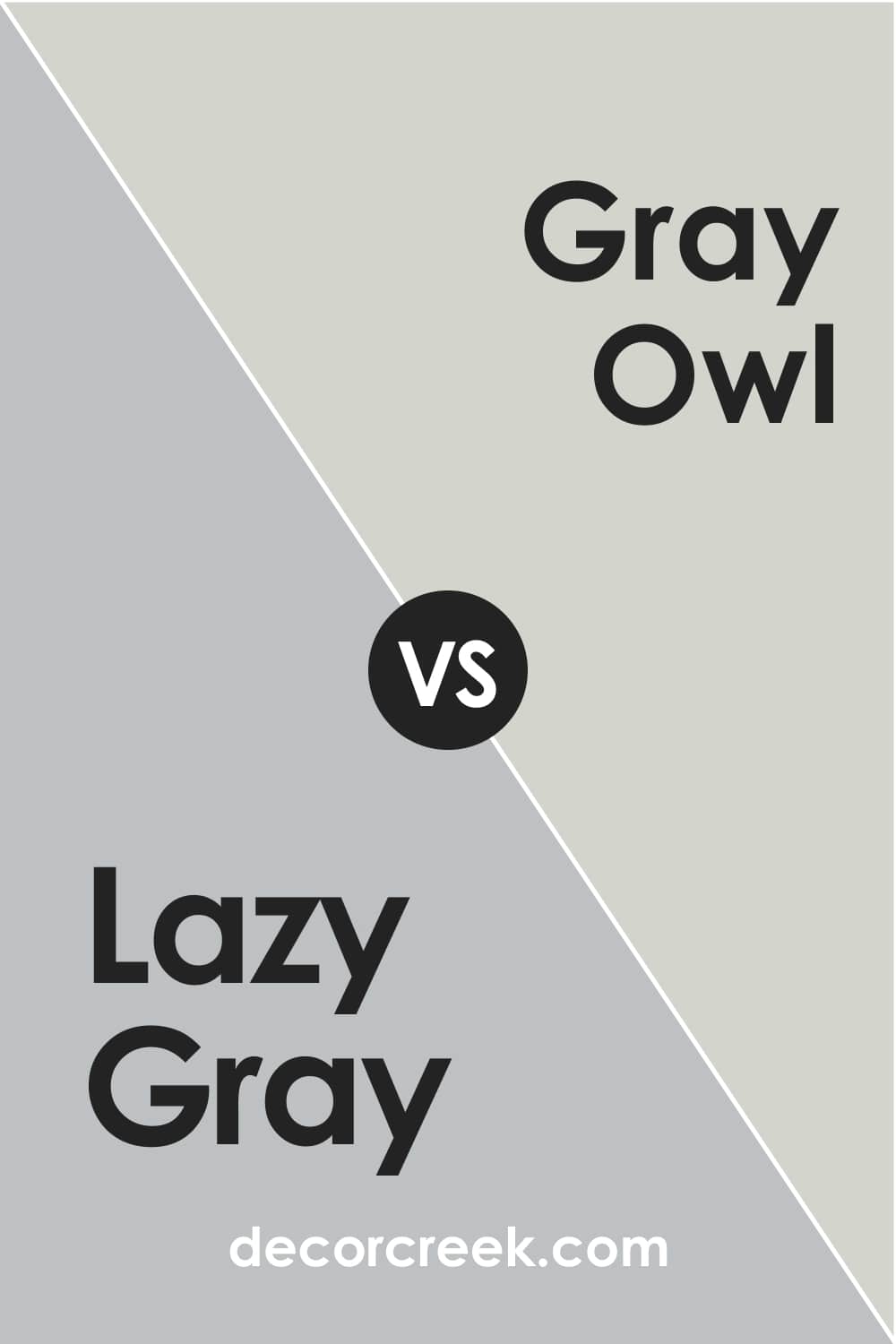 Where to Use This Color In Your Home
SW Lazy Gray is a versatile color due to its balanced tone. It works perfectly well as an overall main paint color for the walls, especially in homes where the owners want to achieve an open and relaxing feel.
Also, since this gray has balanced blue undertones, they make the color look cooler, helping to create spaciousness and freshness while adding a soothing and tranquil feel at the same time. Below, you can read how this gray will work in different rooms.
Lazy Gray SW-6254  in the Living Room
In the living rooms, this color gives a sleek effect. Thanks to its muted blue undertones, it can highlight various decorative pieces. Also, since this color is well-balanced in tone, it will not make the space read overwhelming. If you pair SW Lazy Gray with cooler whites on the doors or trimmings, it will create an organized, crisp vibe.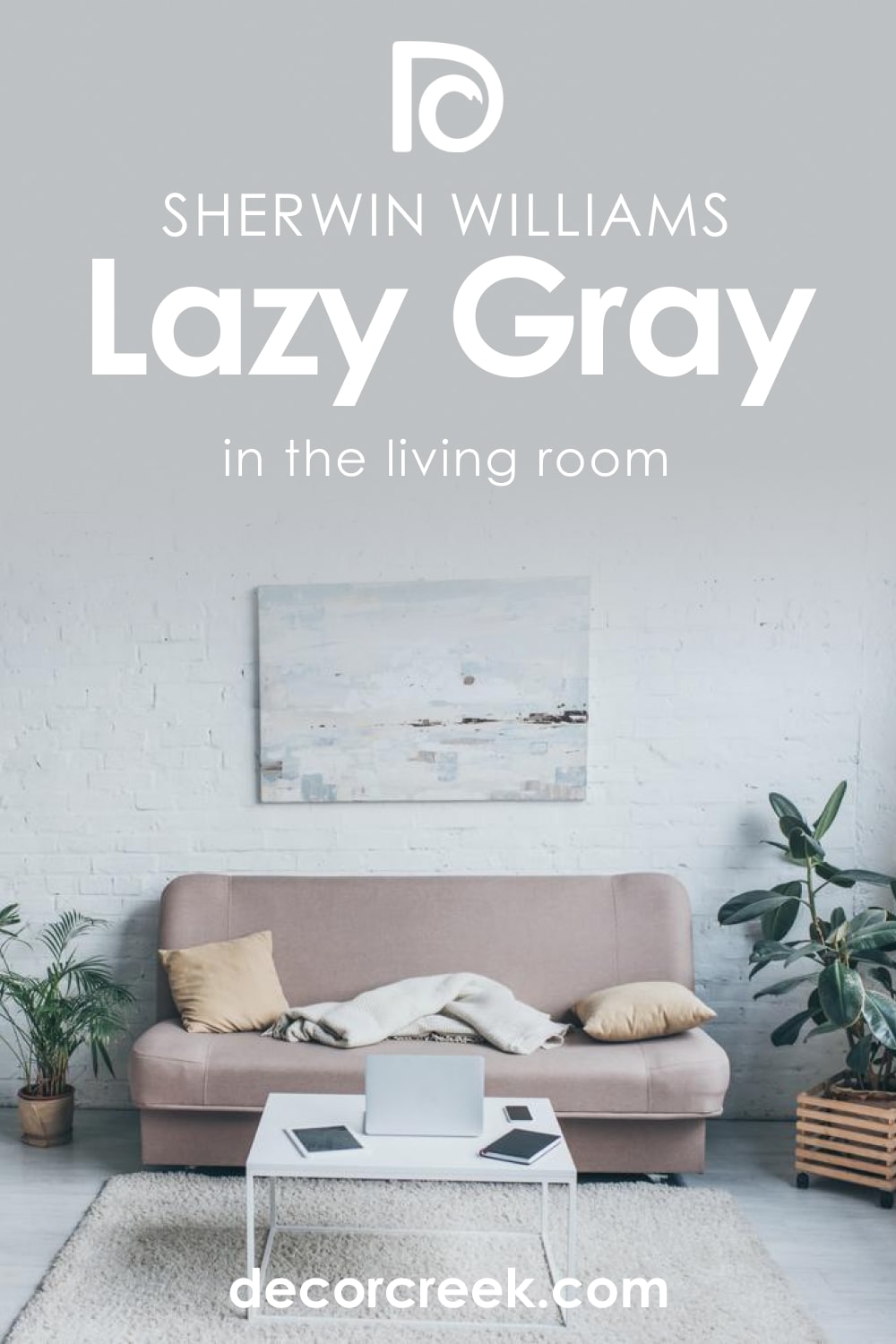 Lazy Gray SW-6254 in a Bedroom
Your bedroom is another space where SW Lazy Gray will work well for creating a relaxing feel. SW Lazy Gray pairs nicely with soft bedding that helps to warm up the space. And if you want to add some contrast and color to a backdrop of SW Lazy Gray, use artwork and other accessories.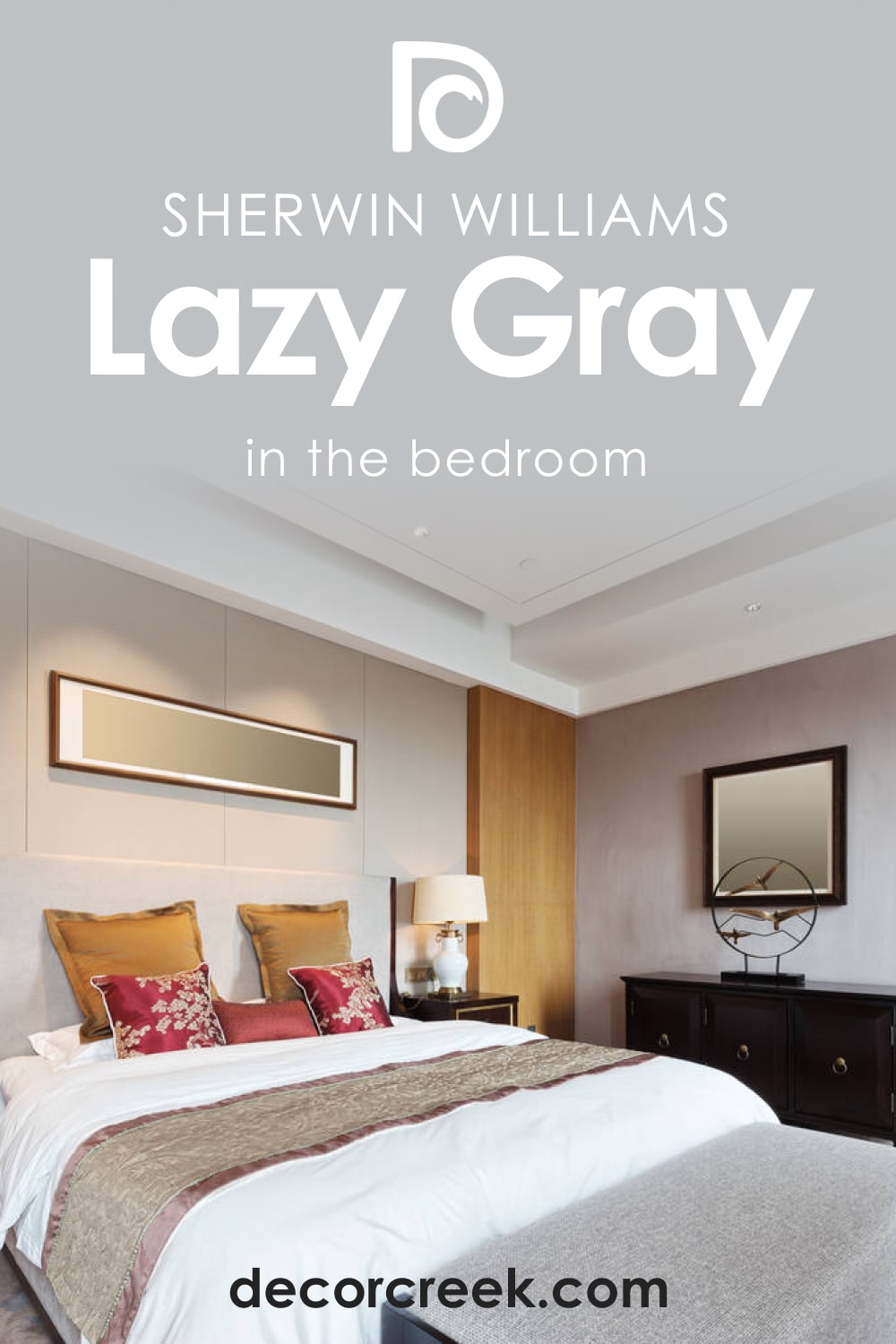 Lazy Gray SW-6254  with Bathroom
Since this gray has cooler tones, it automatically creates a tranquil vibe in your bathroom. With SW Lazy Gray as the wall color, you can add a spa-like feel to your bathroom. Paired with white cabinets, trim, and backsplash tile, this color will work just flawlessly, creating a clean, bright, and soothing look.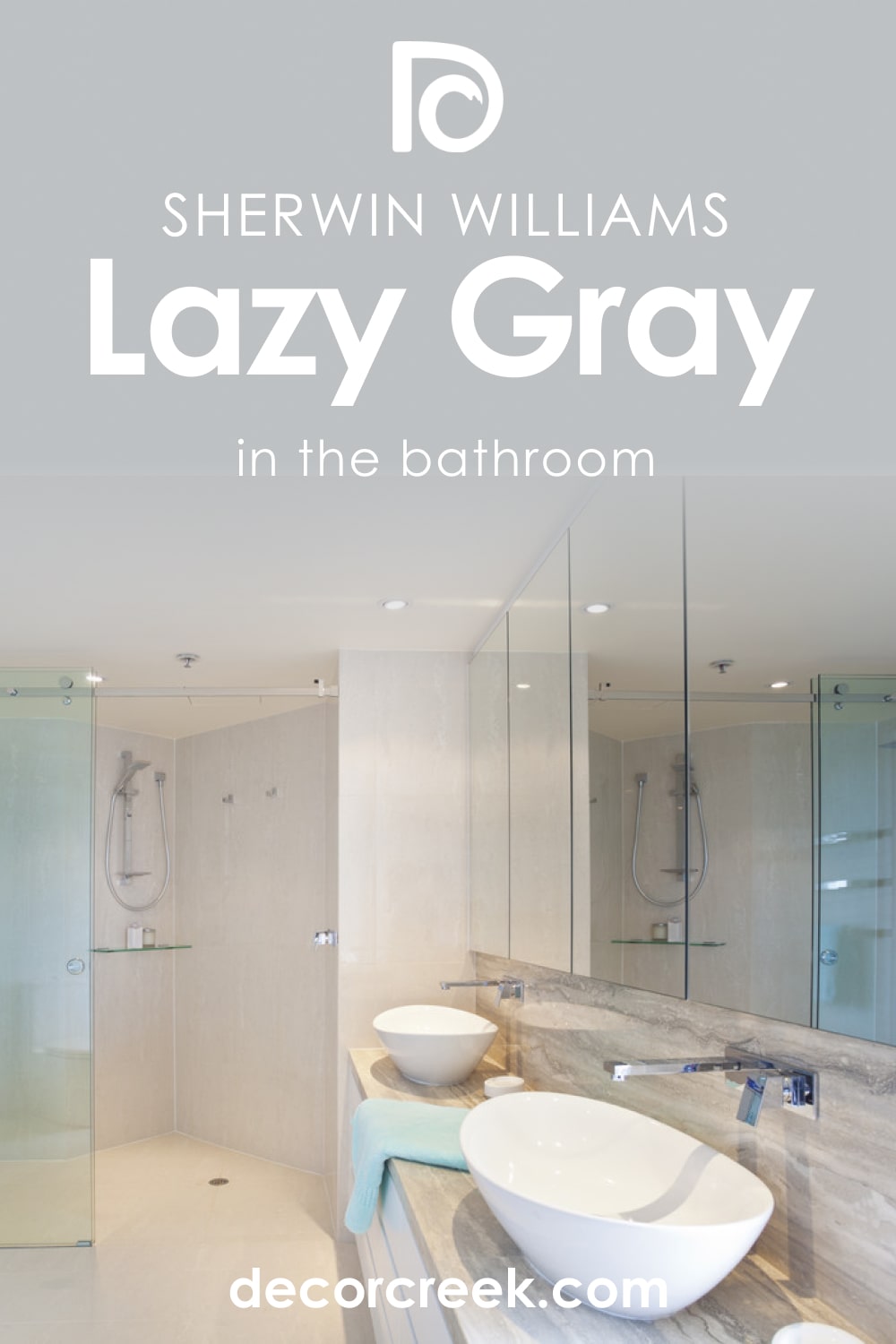 Lazy Gray SW-6254 and Kitchen
In your kitchen, you can also use this shade of gray. You might not want to use it on all the walls, but painting an accent wall with it will work great! Also, in white kitchens, it will read nicely on the backsplash and/or cabinets/drawers.
Lazy Gray SW-6254  for the Exterior Use
SW Lazy Gray can also perform well on the exterior walls. This shade of gray tends to take on lighter shades, which means your house won't read gloomy and moody. As an option, you can paint the main body darker to make the house appear larger, and SW Lazy Gray accents will give off a modern or mid-century style.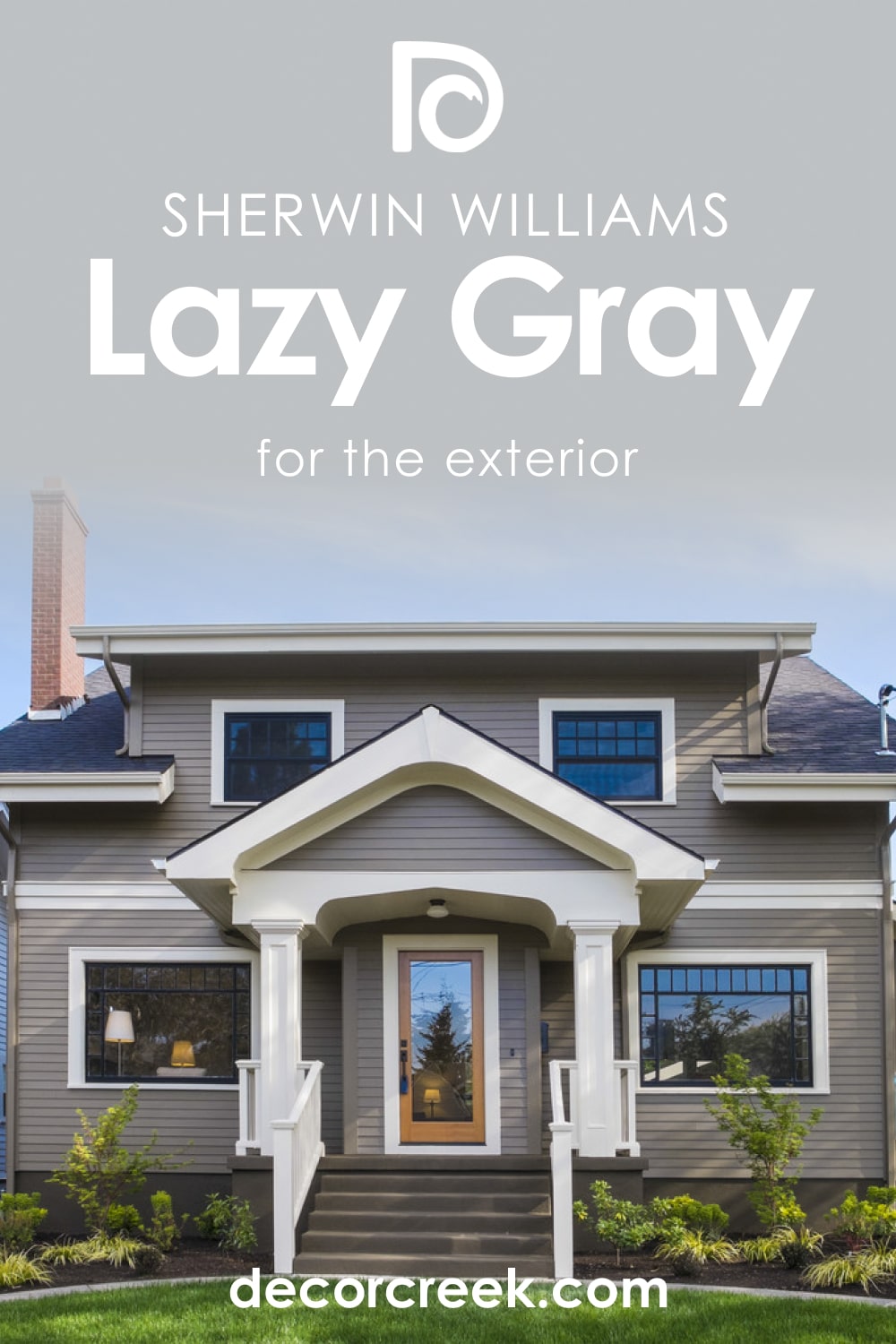 Now you know how kind of color SW Lazy Gray is. This balanced and calm gray with blue undertones is so versatile that you can literally use it anywhere in and outside of your house. It will create a soothing and calm vibe indoors and help to make the house read bigger when used on exterior walls.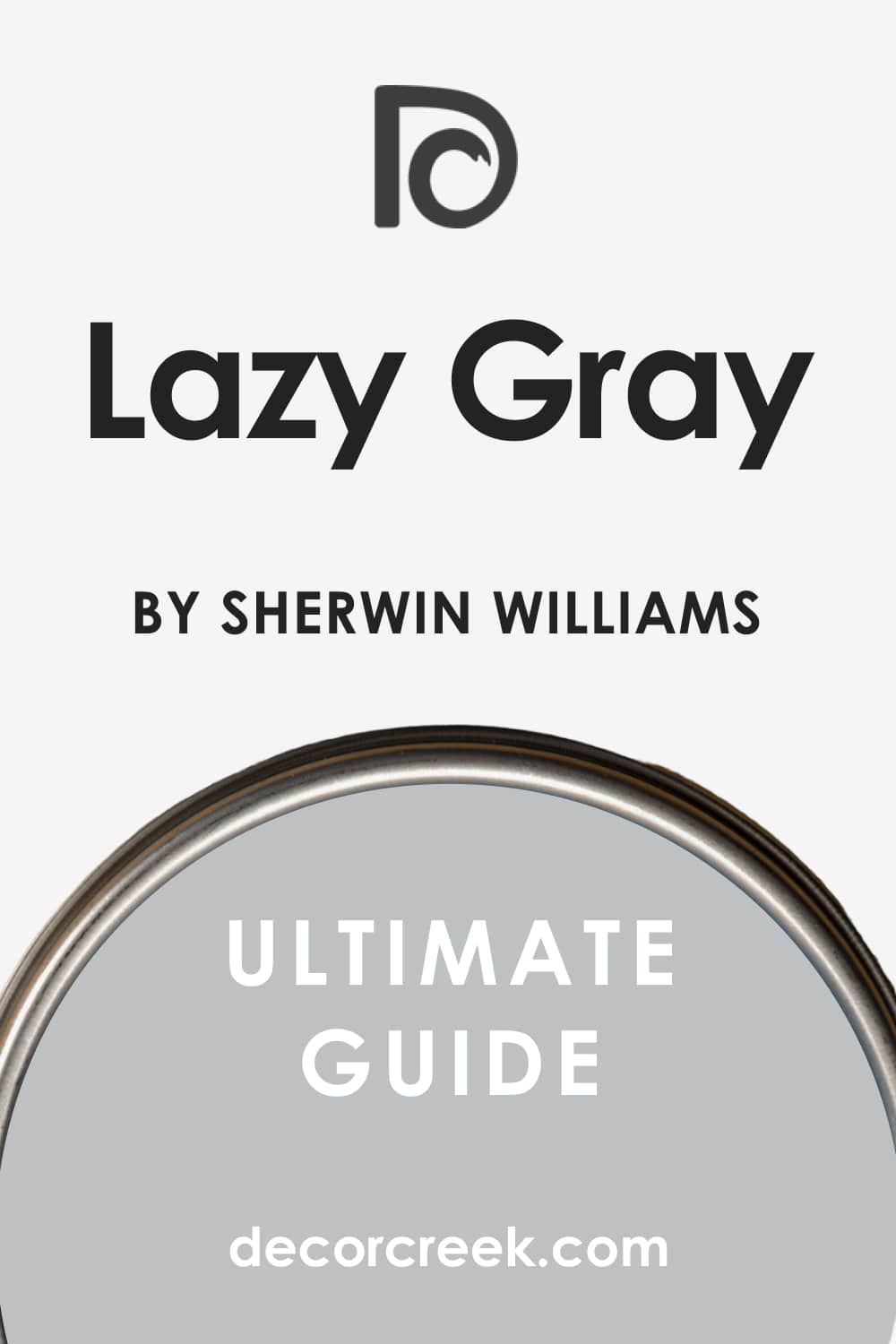 Frequently Asked Questions
⭐Does SW Lazy Gray Work with black colors?
Yes, this gray will read nicely with black.
⭐Is SW Lazy Gray a cool or warm color?
This gray with blue undertones is a cool-toned color.
⭐Does SW Lazy Gray color read dark?
It's neither dark nor light since its LRV is 53, which meansit's a mid-toned color.