We tend to believe that blue colors are not very suitable for interior walls. Blue is often seen as a cool-toned color that would give off a watery feel when you use it in your home. As a result, people stick to warmer colors for achieving a cozy vibe or use neutrals to pair them with other colors easily.
However, we would like to introduce you to one of the most beautiful blue colors by Sherwin-Williams that will make your home look unique and feel cozy! Meet SW Dockside Blue!
We will tell you what kind of blue it is, how it works in different rooms, and what specific features it has.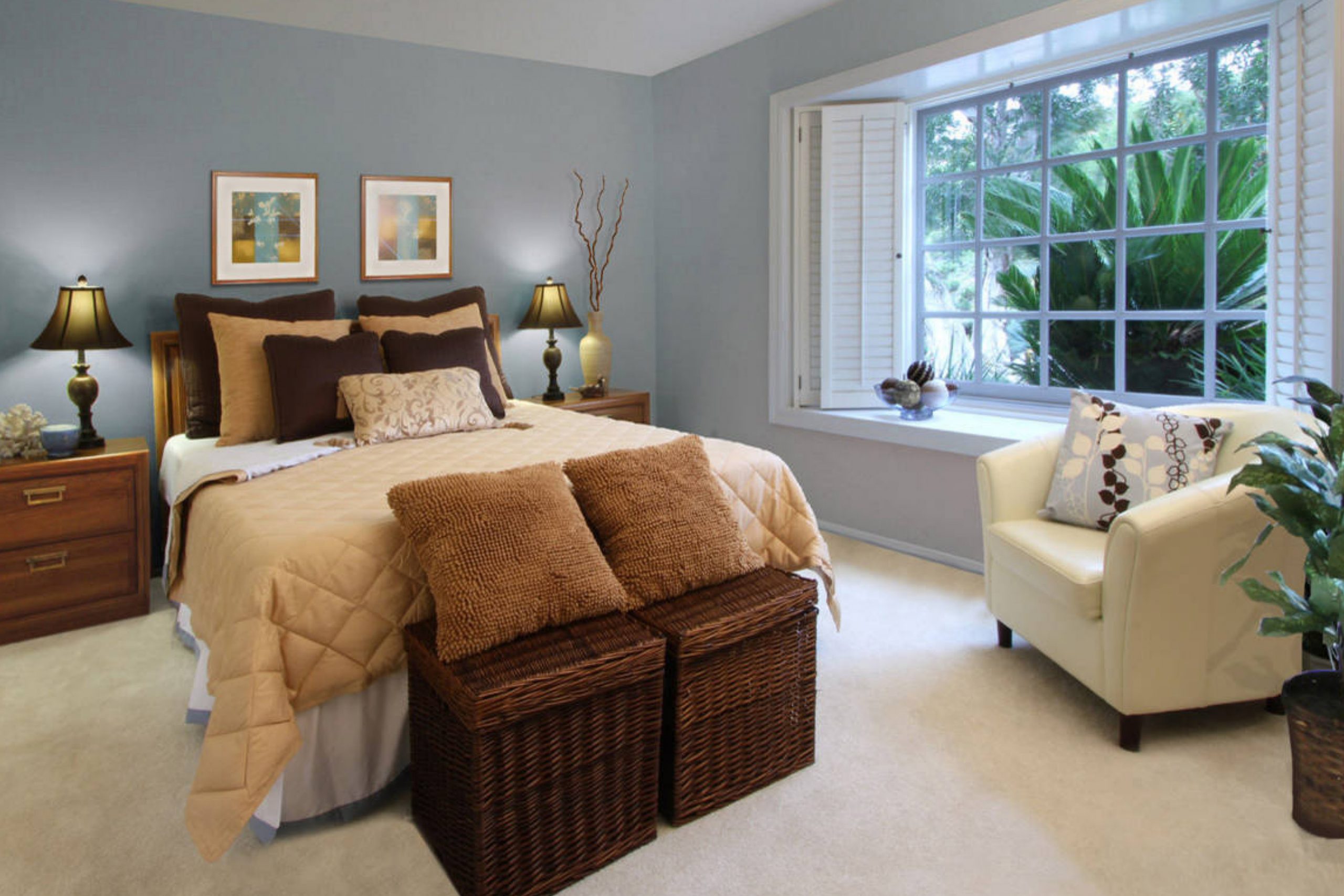 What Kind of Color Is Dockside Blue SW 7601?
As Encycolorpedia says, SW Dockside Blue is a cool slate blue paint color. However, although it's cool-toned, it doesn't read cold or icy on the walls! Instead, it gives off a lovely and breezy feel, making a room read fresh.
This is why this blue color is so good for your bathroom or bedroom walls. By pairing it with a cool white, you will only make its fresh nature reveal better.
At the same time, you should note that SW Dockside Blue is not very light. It will hardly be your color option if you are looking for blue paint that will make a space read airy or bright!
Nevertheless, it's a good choice for those who strive for a cooler and fresher feel in their homes!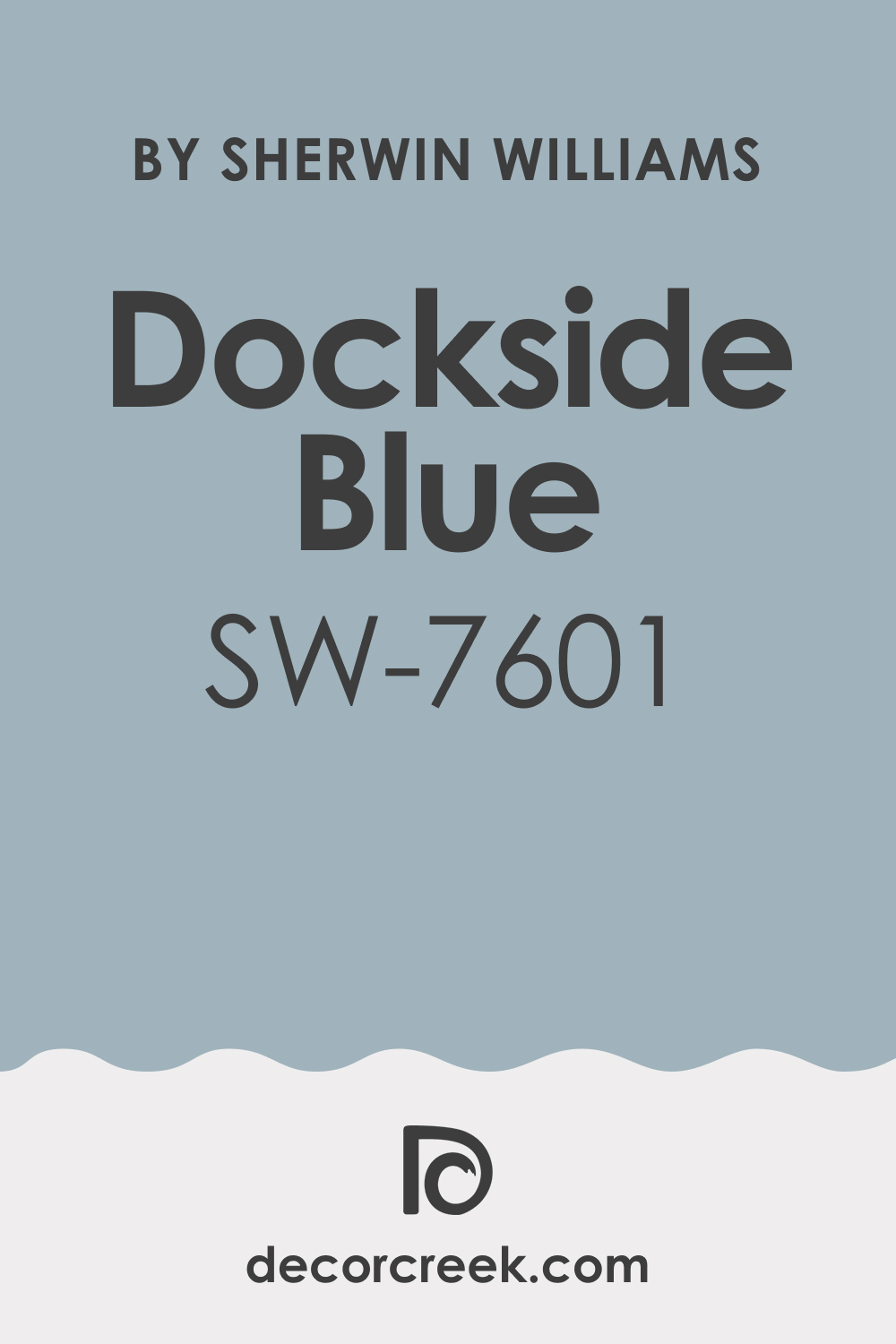 Is It a Warm or Cool Color?
SW Dockside Blue is definitely a cool-toned color. However, you should not be afraid of this coolness! This blue will hardly ever read cold or crisp on your walls. Also, this is not the color that tends to give off an icy look!
There is another good feature this color has. Its tone is pretty moderate, which means you can make it feel even cooler and add a crispy note if you pair this blue with a cooler and crisper white!
Thanks to several white accents, you can make your home feel fresher.
What Undertones Does Dockside Blue SW 7601 Have?
Knowing paint's undertones is a must if you want to use colors correctly in your home and avoid unwanted color effects. Since undertones are often not seen at once, it's good to learn about them in advance and then sample the color, considering its base.
SW Dockside Blue SW 7601 has slight gray undertones. This grayish hue is barely seen, but it is what makes this color read dusty blue and pleasantly soft. Also, gray undertones keep SW Dockside Blue away from turning baby blue on the walls, even in direct light.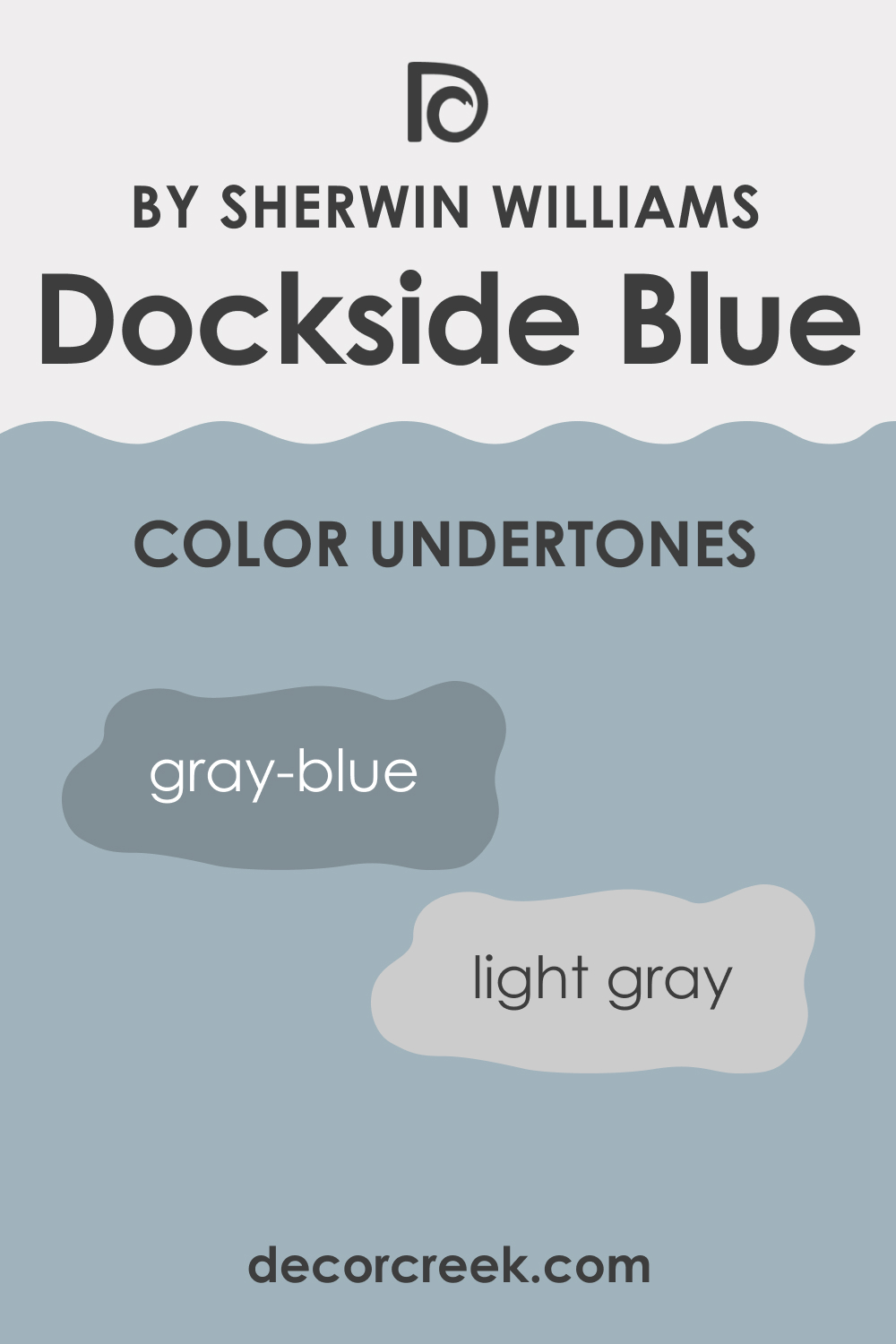 SW Dockside Blue Coordinating Colors
Since it might be challenging for you to coordinate this shade of blue correctly (taking its undertones into consideration), we have prepared a few coordinating colors that will work best with SW Dockside Blue. Below, you can find commonly used colors, as well as those that will work best for a monochromatic or a more varied color palette in your home.
SW 8917 Shell White
SW 9118 Tarnished Treasure
For a monochromatic color palette, we recommend you opt for the following paint colors:
SW 9150 Endless Sea
SW 9145 Sleepy Hollow
For a more varied and colorful palette in your home that includes colors other than blue, try out the following one:
SW 6029 White Truffle
SW 7039 Virtual Taupe
SW 7036 Accessible Beige
SW 6236 Grays Harbor
SW 6232 Misty
SW 9112 Song Thrush
SW 9109 Natural Linen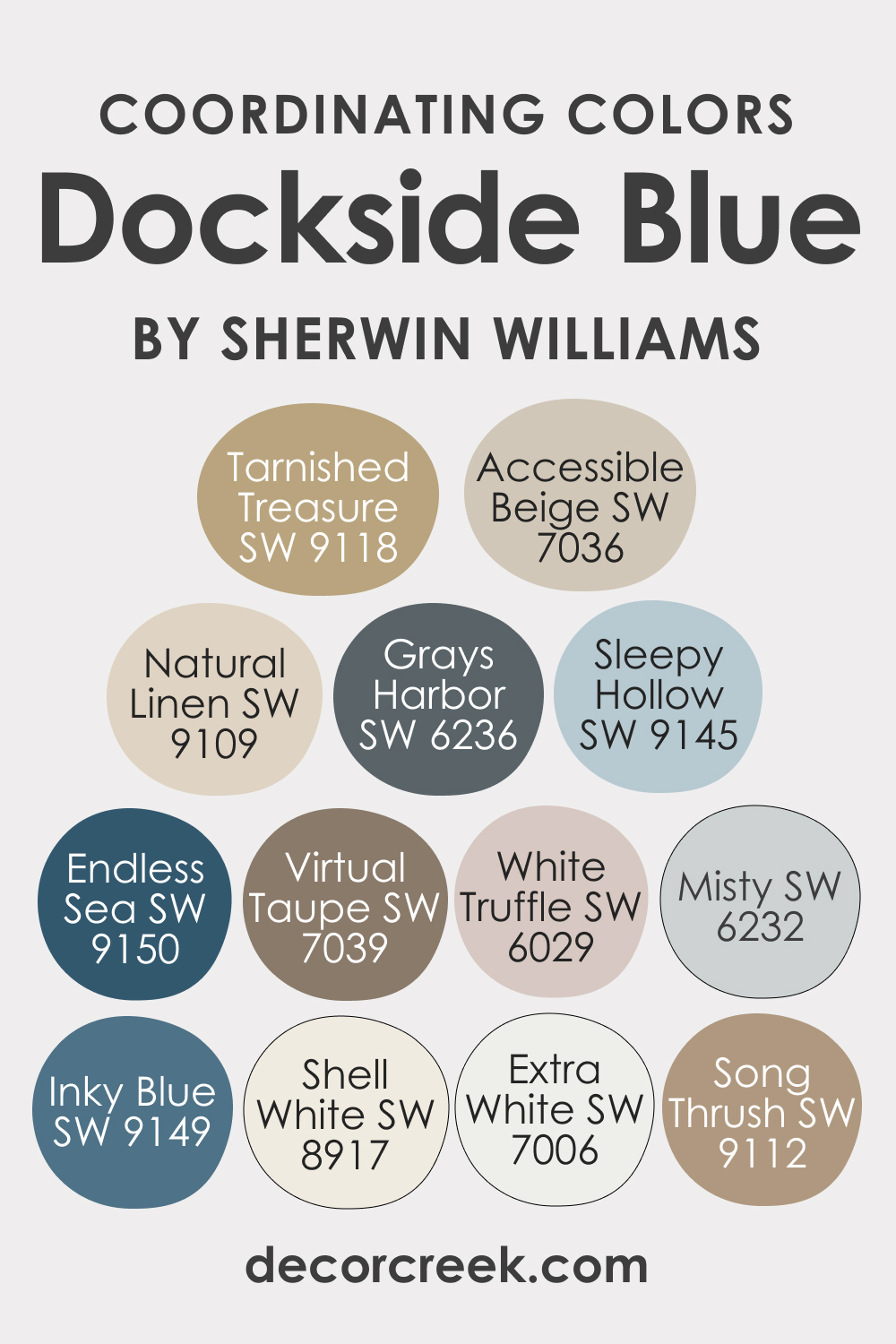 Dockside Blue SW 7601 LRV by Sherwin Williams
LRV stands for the light reflectance value. This measurement shows how much light a color can reflect when it is applied to the wall. The higher the LRV rate, the lighter the color, and vice versa.
The closer the LRV is to zero, the darker the color. If the LRV climbs up to reach 100, the color gets lighter.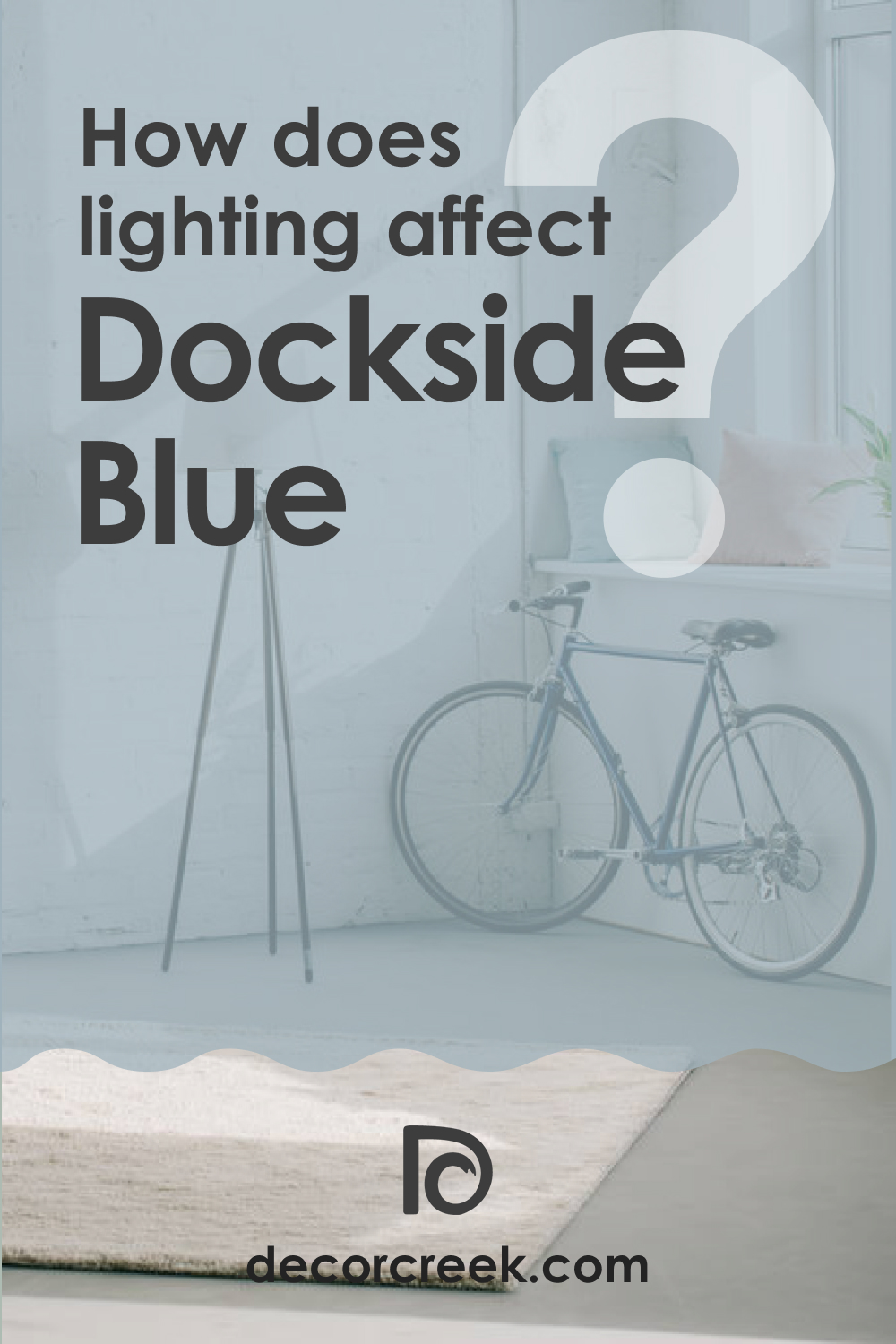 The LRV value of SW Dockside Blue is 43, which means this color is somewhere closer to the middle of the LRV scale. As a result, SW Dockside Blue is pretty reflective, but it won't make your room feel bright.
At the same time, this is not the color that can make a space seem dark or moody.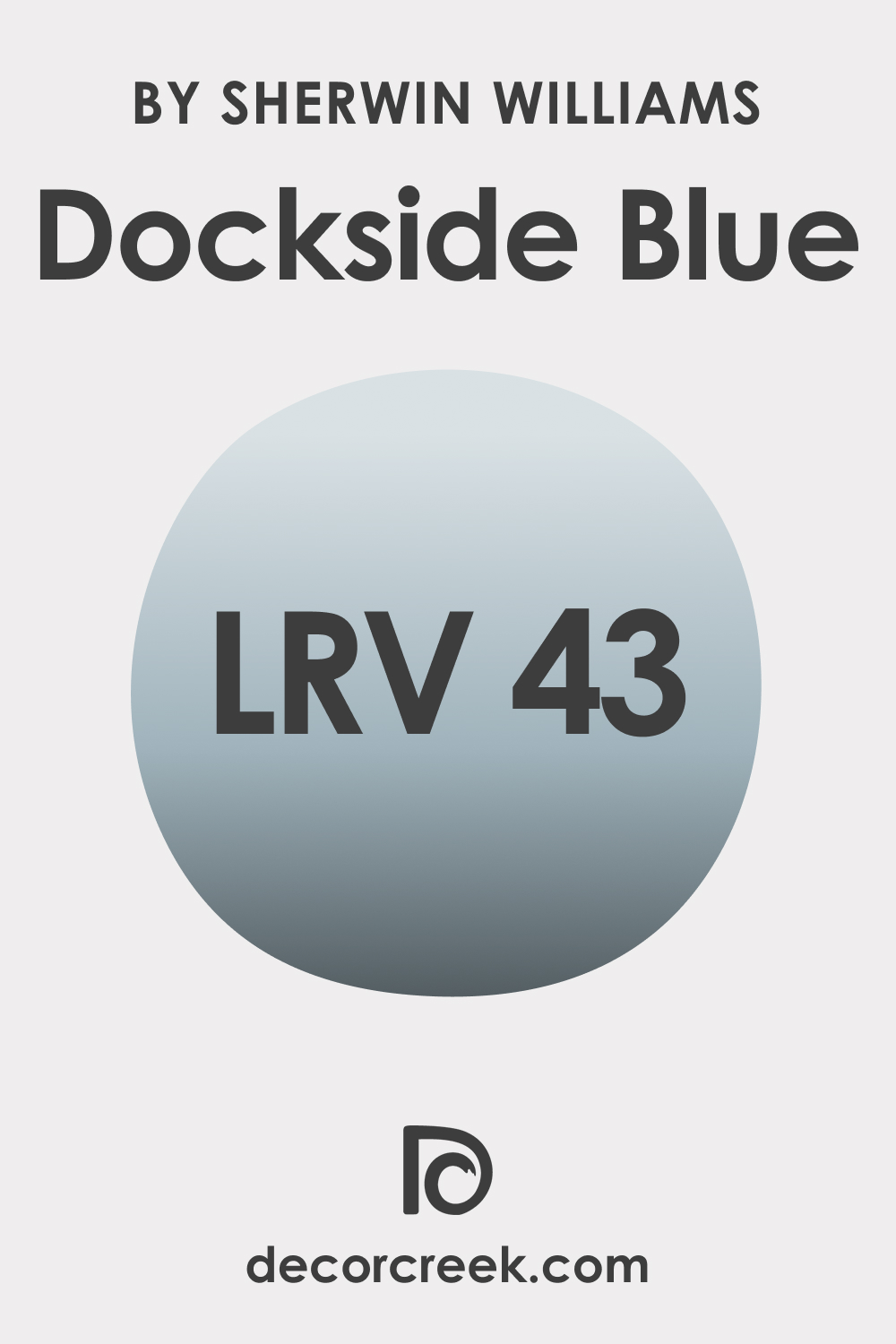 LRV – what does it mean? Read This Before Finding Your Perfect Paint Color
What Is the Best Trim Color For Dockside Blue SW 7601?
White is considered the best and the most optimal paint color to use on trim and moldings. That's because white is very versatile and can pair well with most colors in the space.
With SW Dockside Blue, you should also use whites on your trim, but the good news is that you have a pretty wide selection of white to choose from!
For example, if you strive for a crisper look in a room, opt for cool-toned and crisp whites on your trim and moldings. Cooler whites will not only pair nicely with SW Dockside Blue, but they will also help to reveal its coolness much better!
But if you prefer a cozier and warmer feel, stick with warmer and softer whites. However, try to avoid yellowish hues! For example, you might want to try the following white colors on the trim:
SW 7566 Westhighland White (for a softer look)
SW 9503 Cheviot (for a softer look)
SW 7006 Extra White (for a brighter look)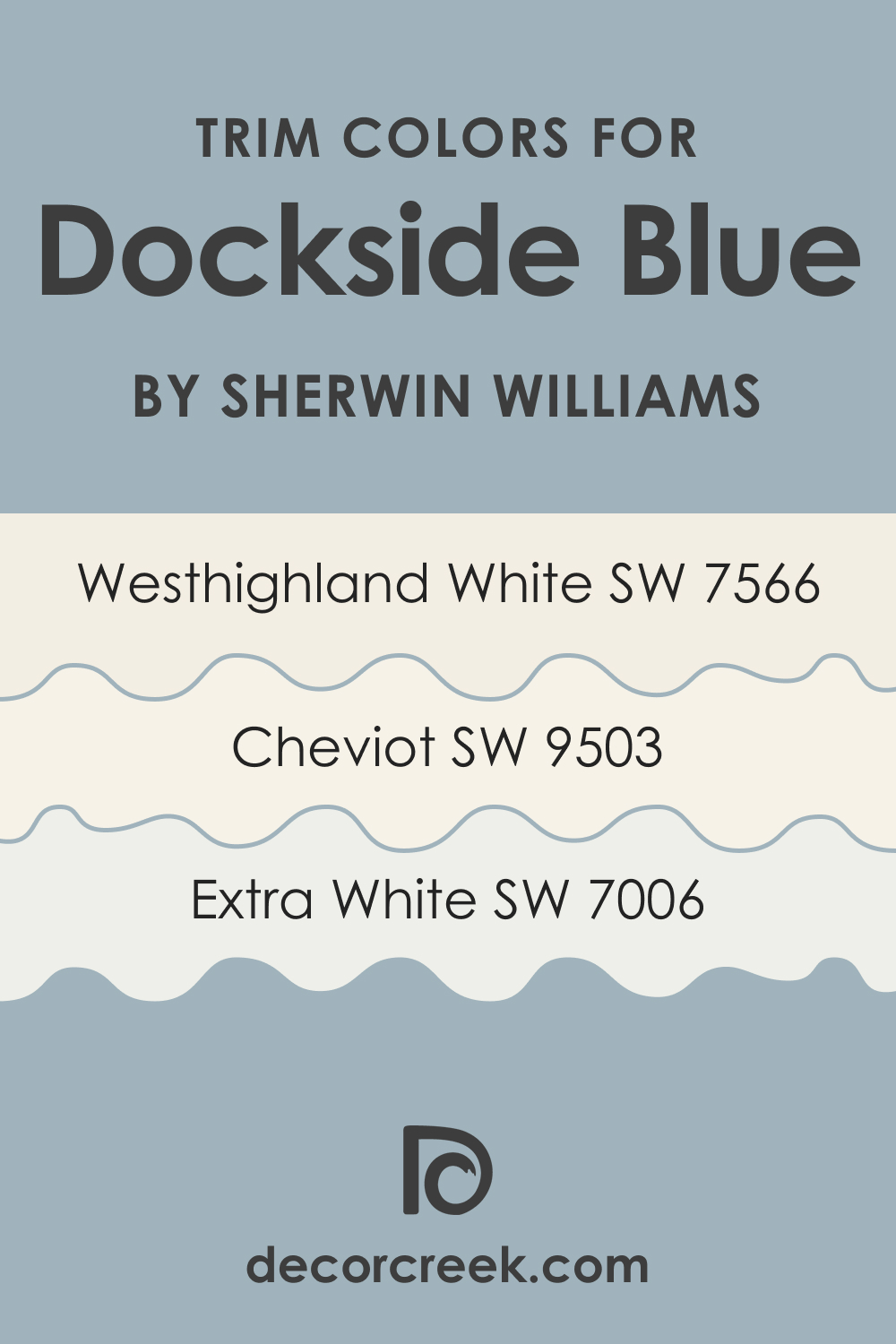 Colors Similar To SW Dockside Blue
In case you need to find the color that reads on your walls very close to the one you were going to use, knowing similar colors is very essential. When you have a bunch of alternative colors that can be used as substitutes, you can easier find the best-matching options for your interiors without ruining the overall palette.
For SW Dockside Blue, we recommend you the following blues that can be used as substitute colors instead of this lovely cool-toned blue with gray undertones:
SW 9146 Faded Flaxflower
SW 6226 Languid Blue
SW 6227 Meditative
SW 6514 Respite
SW 9056 French Moire
Of course, you should realize that none of these blue colors will be a 100% match. Each blue on this list will vary slightly due to the distinct LRV values and undertones.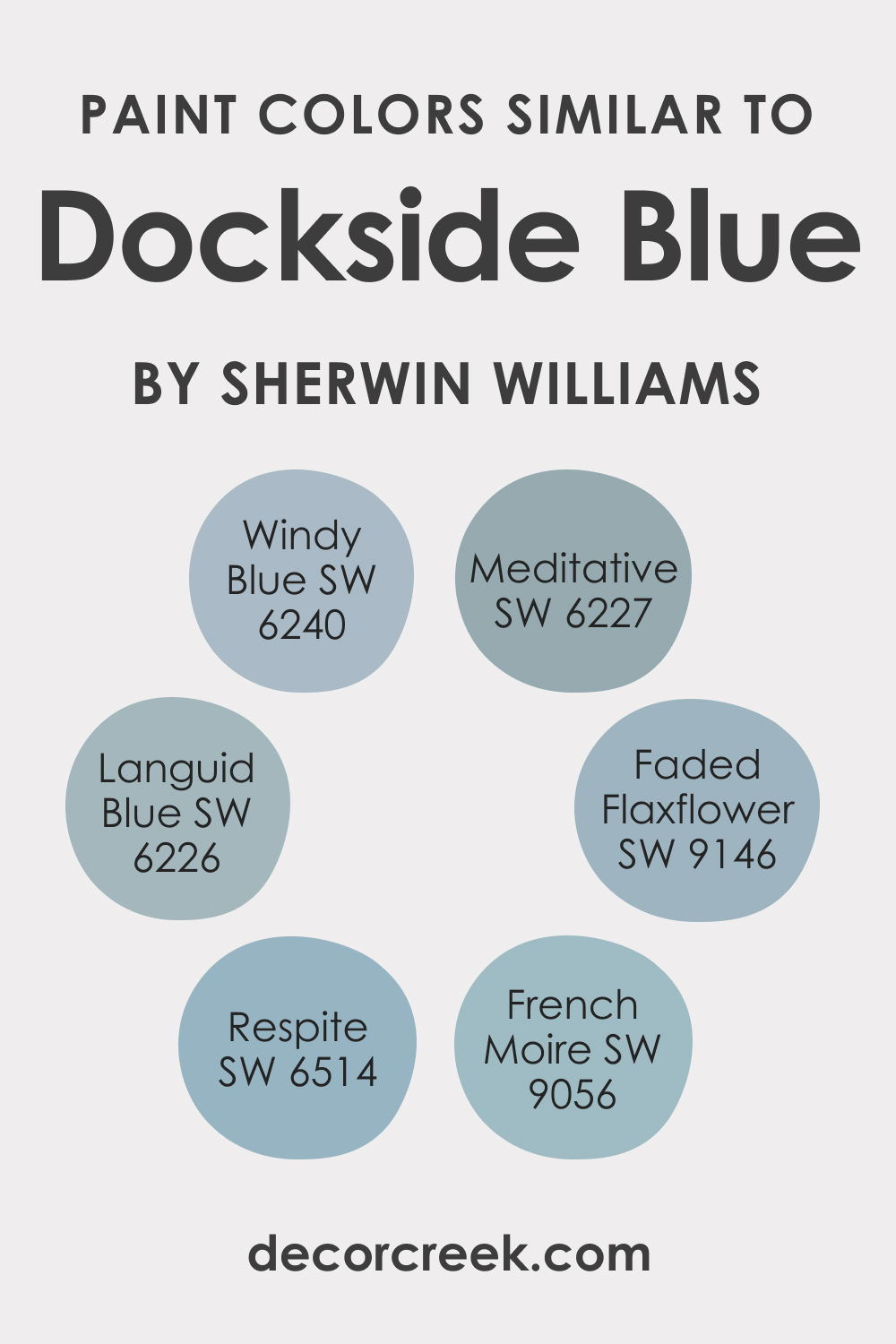 Colors That Go With Dockside Blue SW 7601
To be able to achieve a balanced color palette in your home, you should know what colors will work with the wall color best of all. However, it might be tricky to find the most suitable matching colors that will pair nicely with SW Dockside Blue.
This is why grab a helpful list of colors that will surely create a lovely palette when used with this cool-toned blue on the walls!
SW 7605 Gale Force
SW 0055 French Gray
SW 7015 Repose Gray
SW 9120 Tumblin Tumbleweed
SW 9698 Corallite
SW 9643 Intense Teal
SW 6780 Nautilus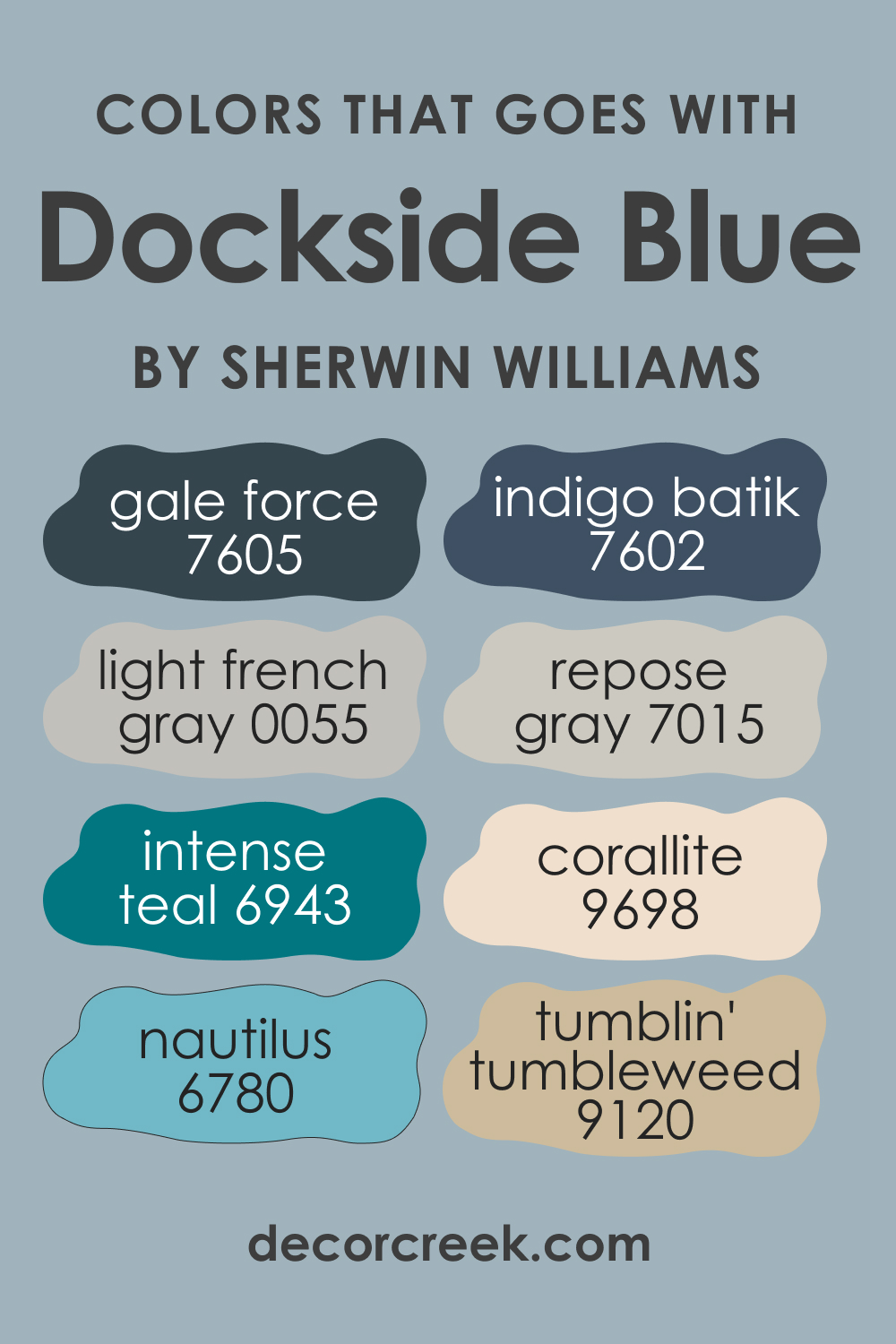 Comparing Dockside Blue SW 7601 With Other Colors
To help you better understand what makes this cool-toned shade of dusty blue distinct from other similar colors, we suggest you read the description of SW Dockside Blue and a few similar blues that look nearly the same.
Dockside Blue vs Smoky Blue
SW Smoky Blue is darker than SW Dockside Blue, plus it reads more saturated, revealing a navy-like hue. But despite being different in their depth, these blues share the same gray undertones that make them read soft and a bit dusty on the walls.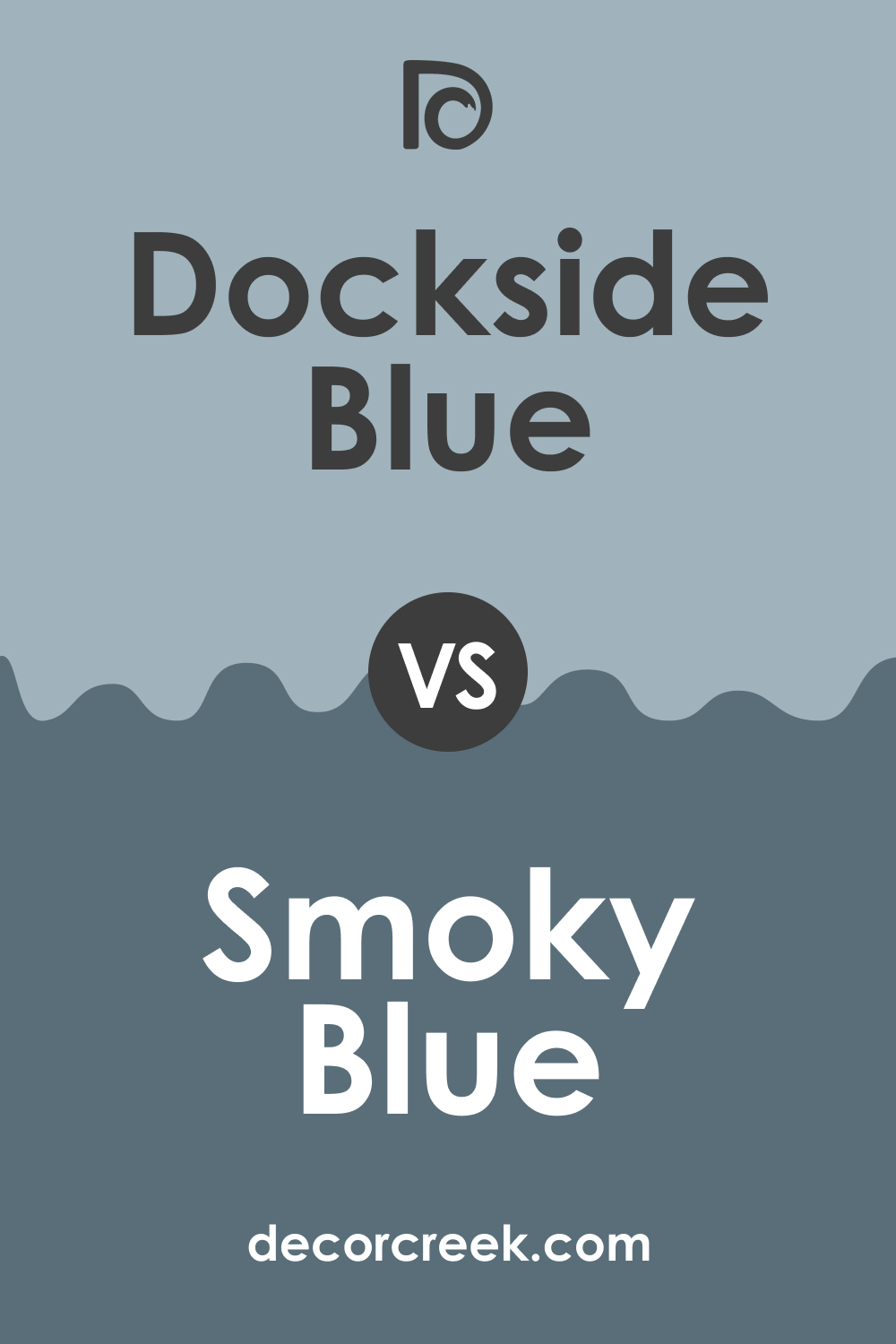 Dockside Blue vs Daphne
SW Daphne is a medium and cool-toned blue that reads perfectly neutral on the walls. It has denim gray undertones and an LRV of 32. By its LRV value, SW Daphne is slightly darker thN SW Dockside Blue, but grayish undertones make these two colors kind of related.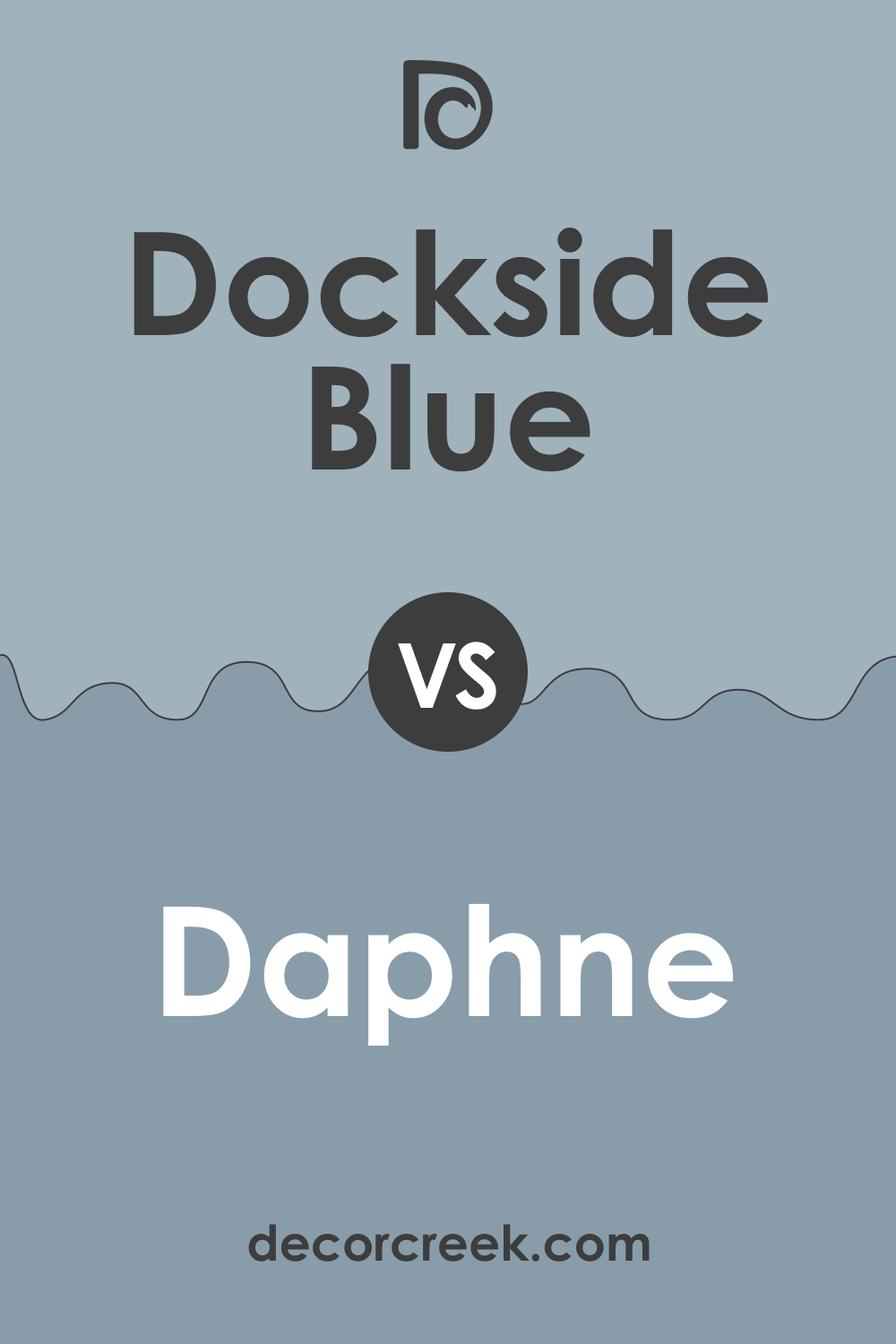 Dockside Blue vs Tradewind
SW Tradewind is much lighter than SW Dockside Blue, having an LRV of 61. However, SW Tradewind also has gray undertones, which is why it is somewhat related to SW Dockside Blue. Both colors have a tendency to reading soft and a bit dusty.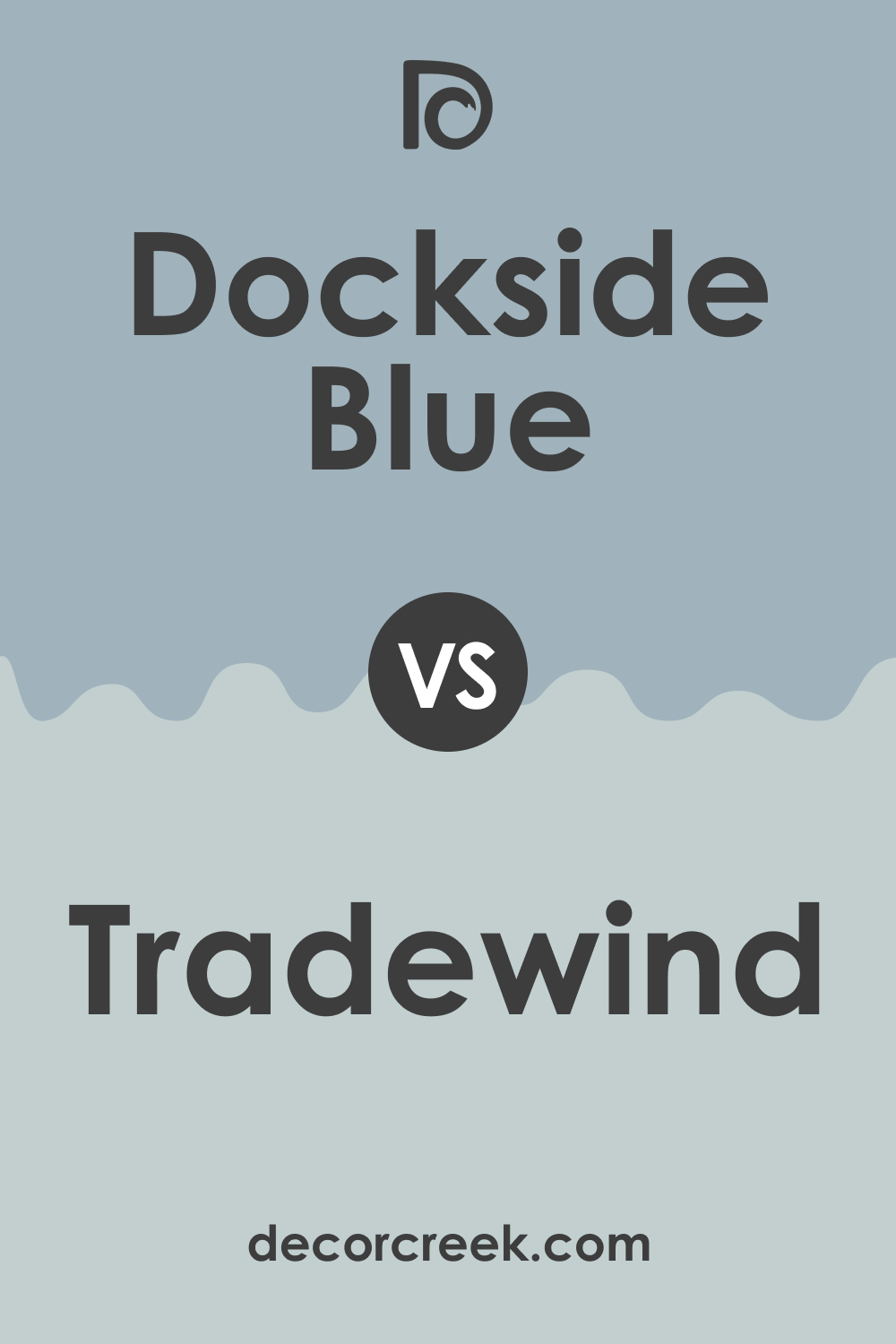 Dockside Blue vs Niebla Azul
SW Niebla Azul is another blue that reads lighter than SW Dockside Blue. Besides, it has greenish slate undertones. They are not clearly seen, but they make SW Niebla Azul different from SW Dockside Blue with its grayish base.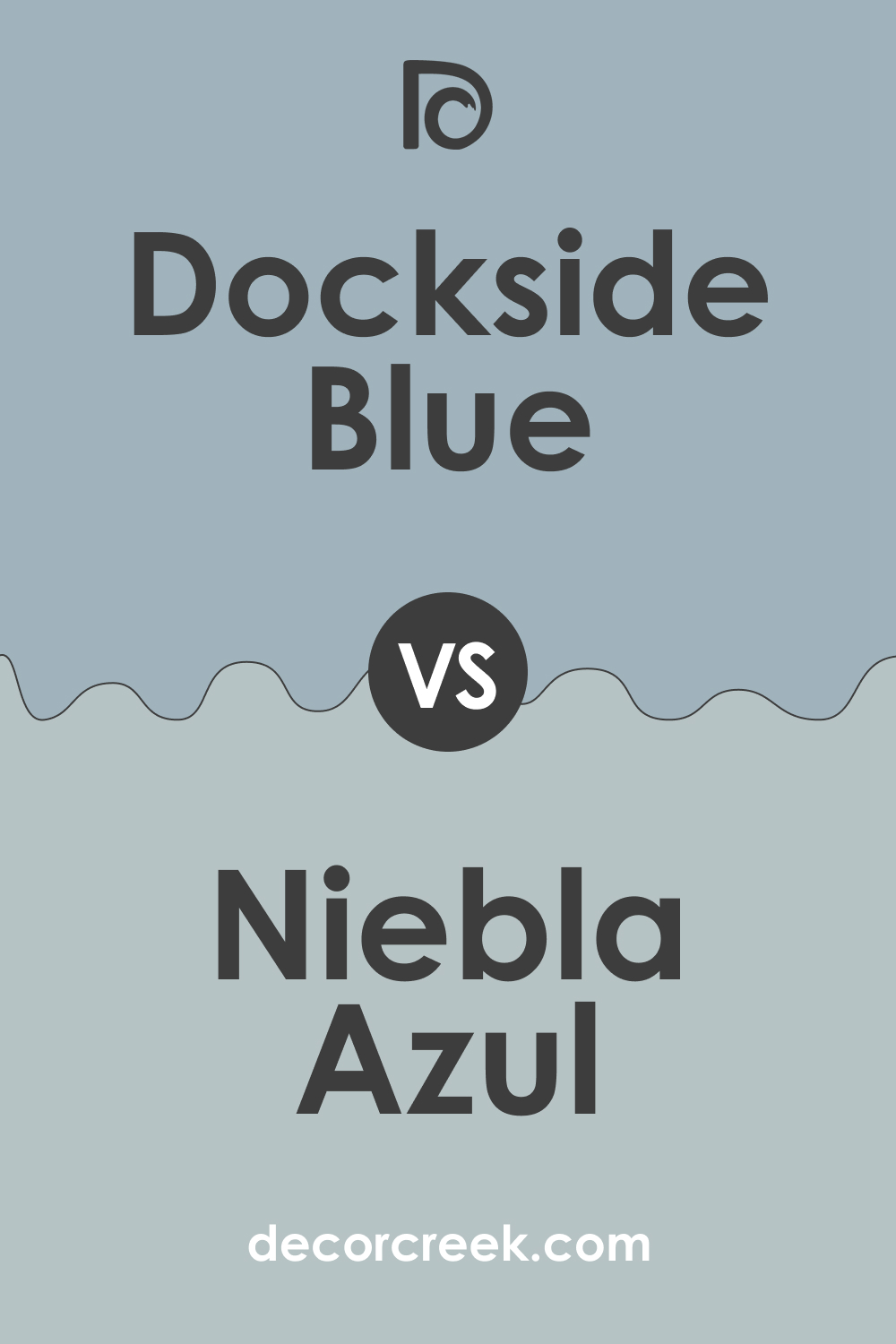 Dockside Blue vs Indigo Batik
Sherwin-Williams Indigo Batik is a dark blue color with an LRV of 8 that has a cool purple undertone. However, this purple hue won't come out at first glance. Nevertheless, by its LRV value and undertones, this color is different from SW Dockside Blue, which reads lighter.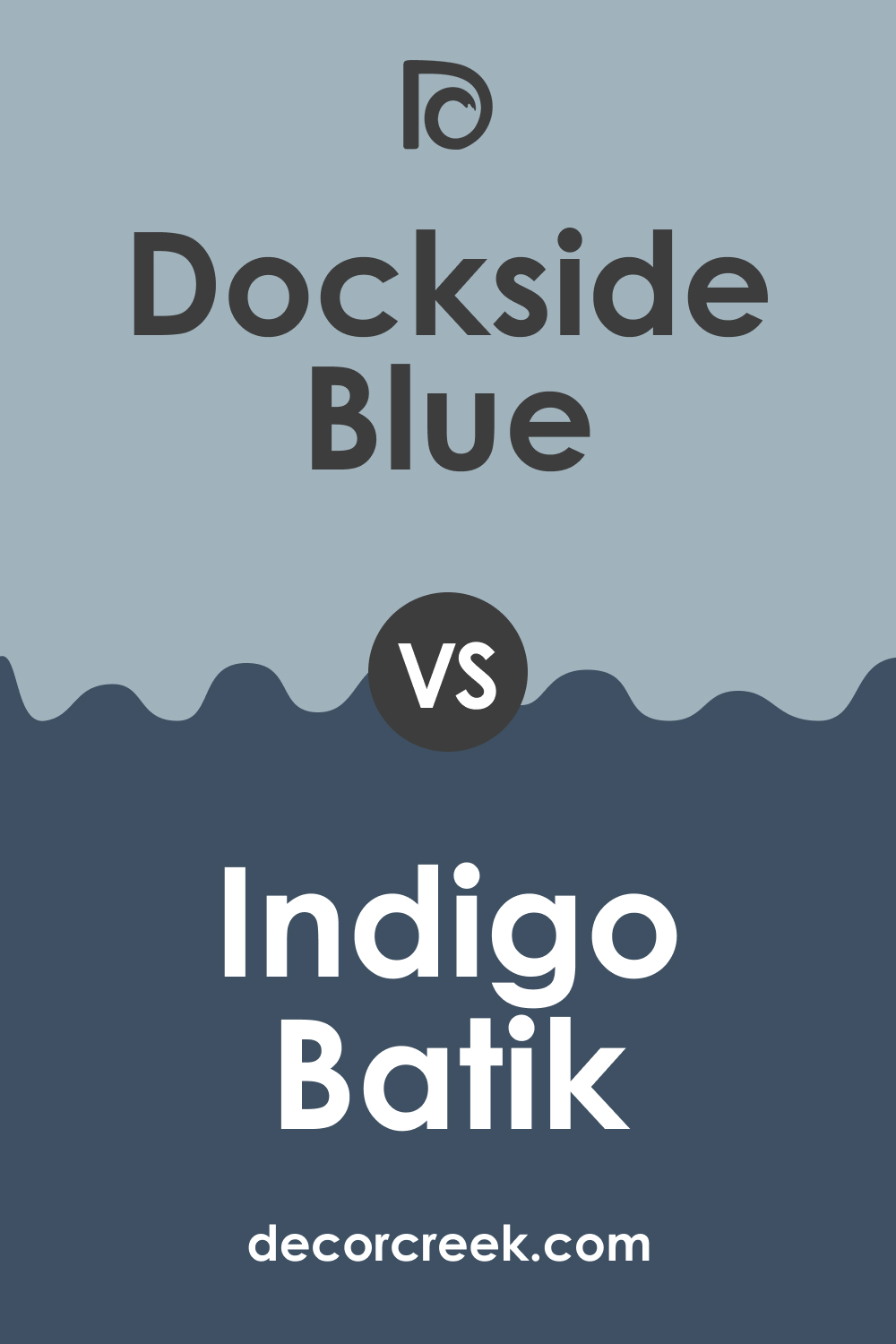 Where to Use SW Dockside Blue Paint Color In Your Home?
You might think that SW Dockside Blue is tricky to use in your home, but in fact, this blue is surprisingly versatile. It can successfully work in different rooms and on various surfaces as long as you take the lighting conditions into consideration.
Below, you can read how this paint color may work in different areas of your home.
Dockside Blue SW 7601 in the Living Room
Use it carefully in your living room since SW Dockside Blue may read darker if you use it in a small and/or poorly lit space! In a room with little to no natural light, this blue will reveal its gray undertones much more.
As a result, the color will read more dusty and dull. However,in a room with plenty of natural light and enough white accents, SW Dockside Blue will show its cool-toned blue beauty perfectly well!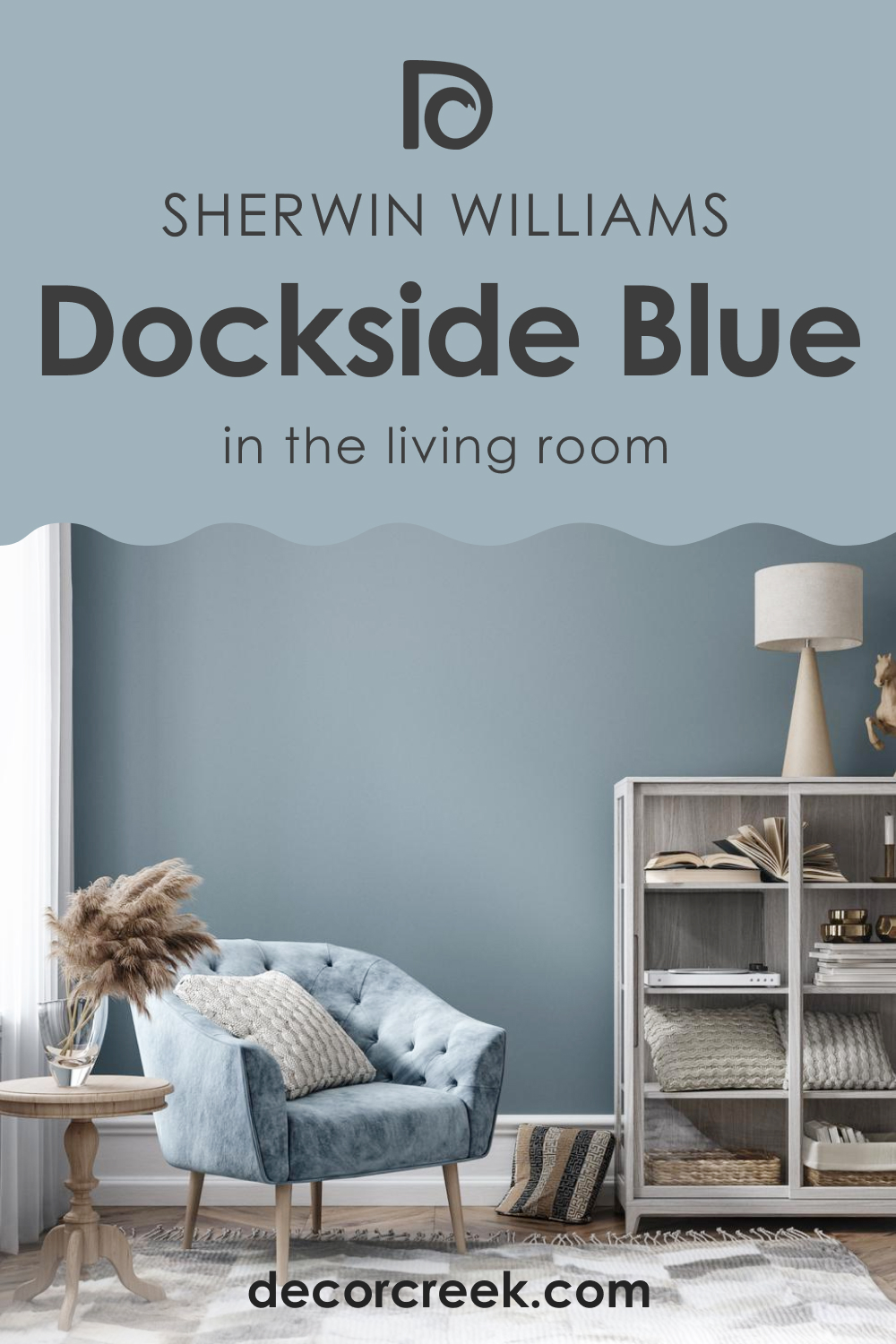 Dockside Blue SW 7601 and Bedroom
SW Dockside Blue is a lovely color for bedrooms as long as the room has enough natural light. You can pair it with white trim and ceilings, using white or other light-colored accents like throw pillows and/or carpets. White curtains will also make the room feel airier and brighter.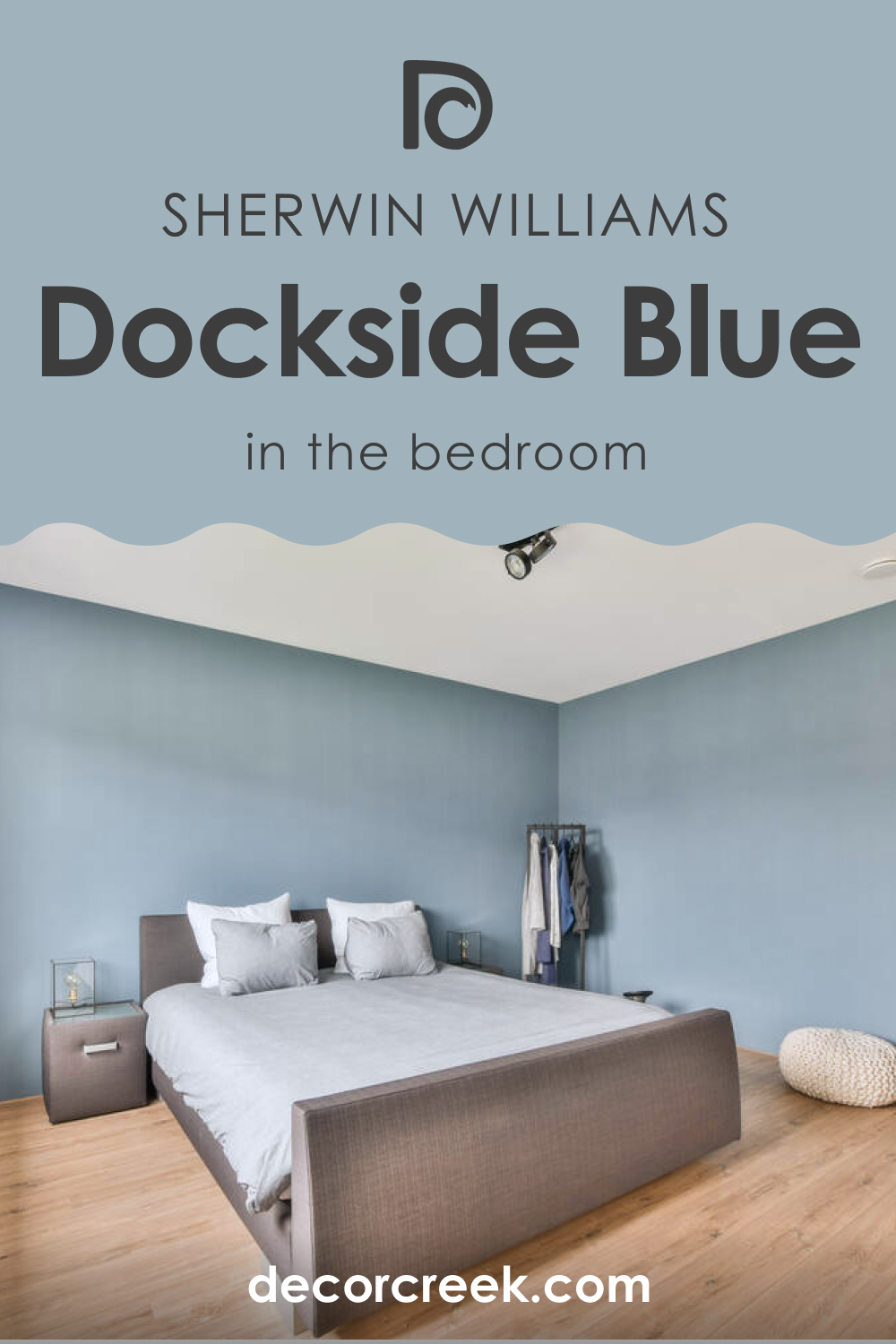 Dockside Blue SW 7601 for the Bathroom
Your bathroom is another ideal spot where this blue can work. Since the color gives off a lovely watery feel, use it either on the accent wall or on the vanity sink/drawers It will make the space read fresher and add some color (especially if your bathroom is mostly white).
Dockside Blue SW 7601 and Kitchen
SW Dockside Blue is so versatile that can work even in your kitchen! Paint it on lower and upper cabinets, leaving the walls white, and your kitchen will get a fresh and airy feel. However, this blue will work best in kitchens with enough daylight.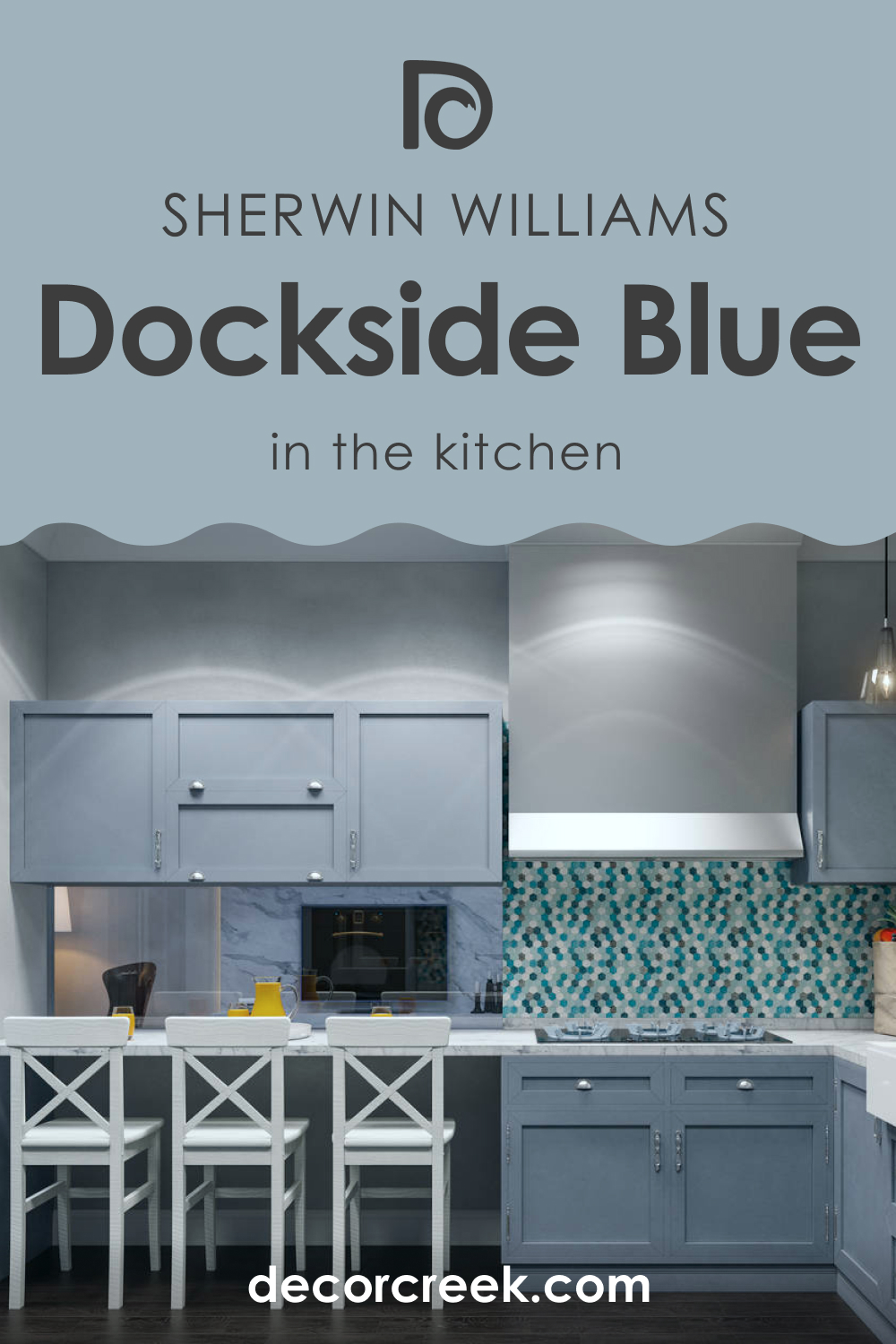 Dockside Blue SW 7601 for the Exterior Use
This blue paint works exceptionally well on coastal-style homes, but you can use it on other exteriors too.
You just need to keep in mind that with a lack of sunshine, SW Dockside Blue may read a bit dustier, revealing its grayish hue. On the other hand, this can easily be fixed by painting the trim and moldings crisper white!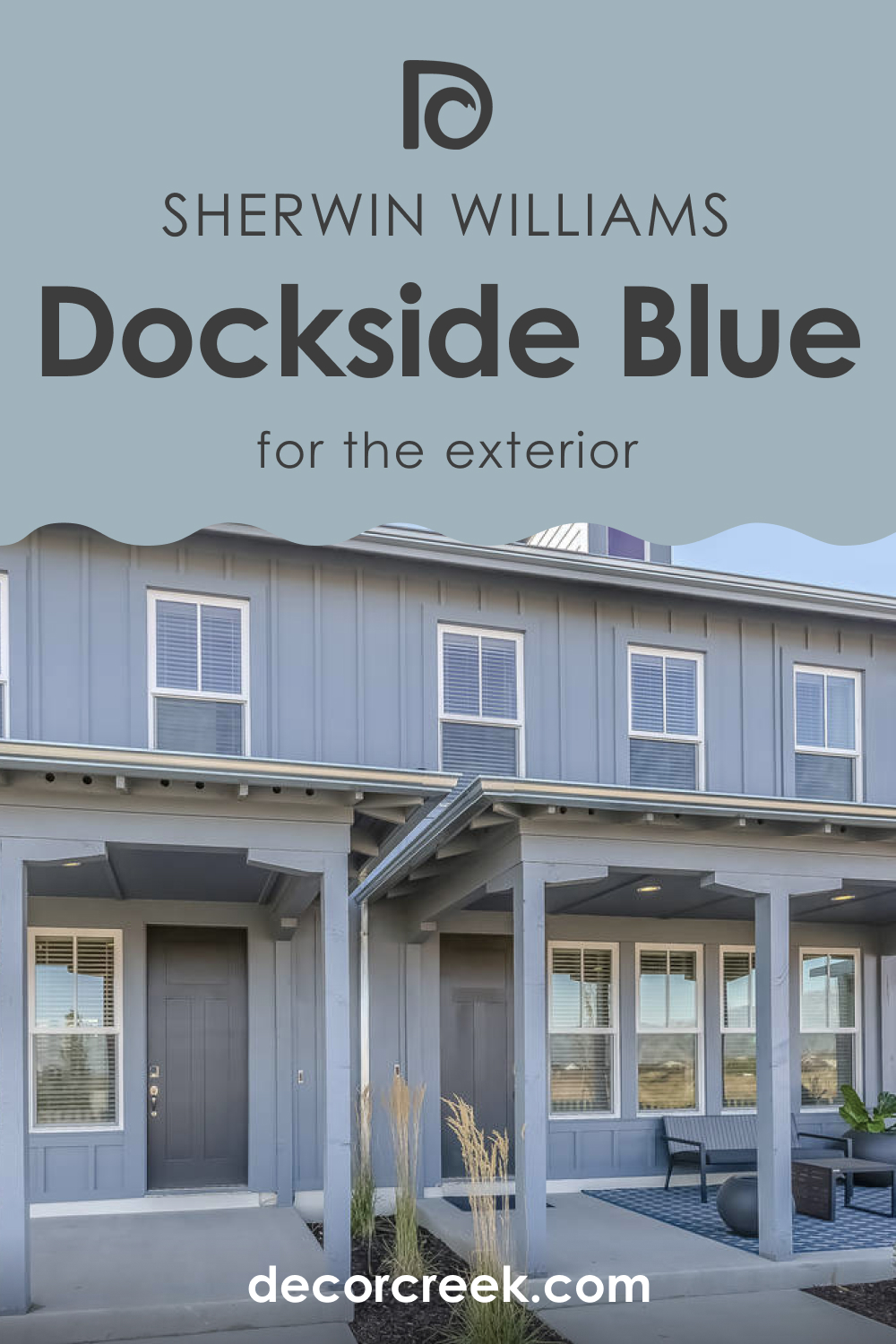 Well, now you way more about this gorgeous dusty blue color! You know what kind of paint color SW Dockside Blue is and how it works in different rooms. You know how it reacts to light and how this blue will read depending on the lighting conditions in a room.
Also, you learned how to coordinate it and what colors will work best with this beautiful shade of blue on your walls. With all the tips we shared, you will find the best place for it in your home.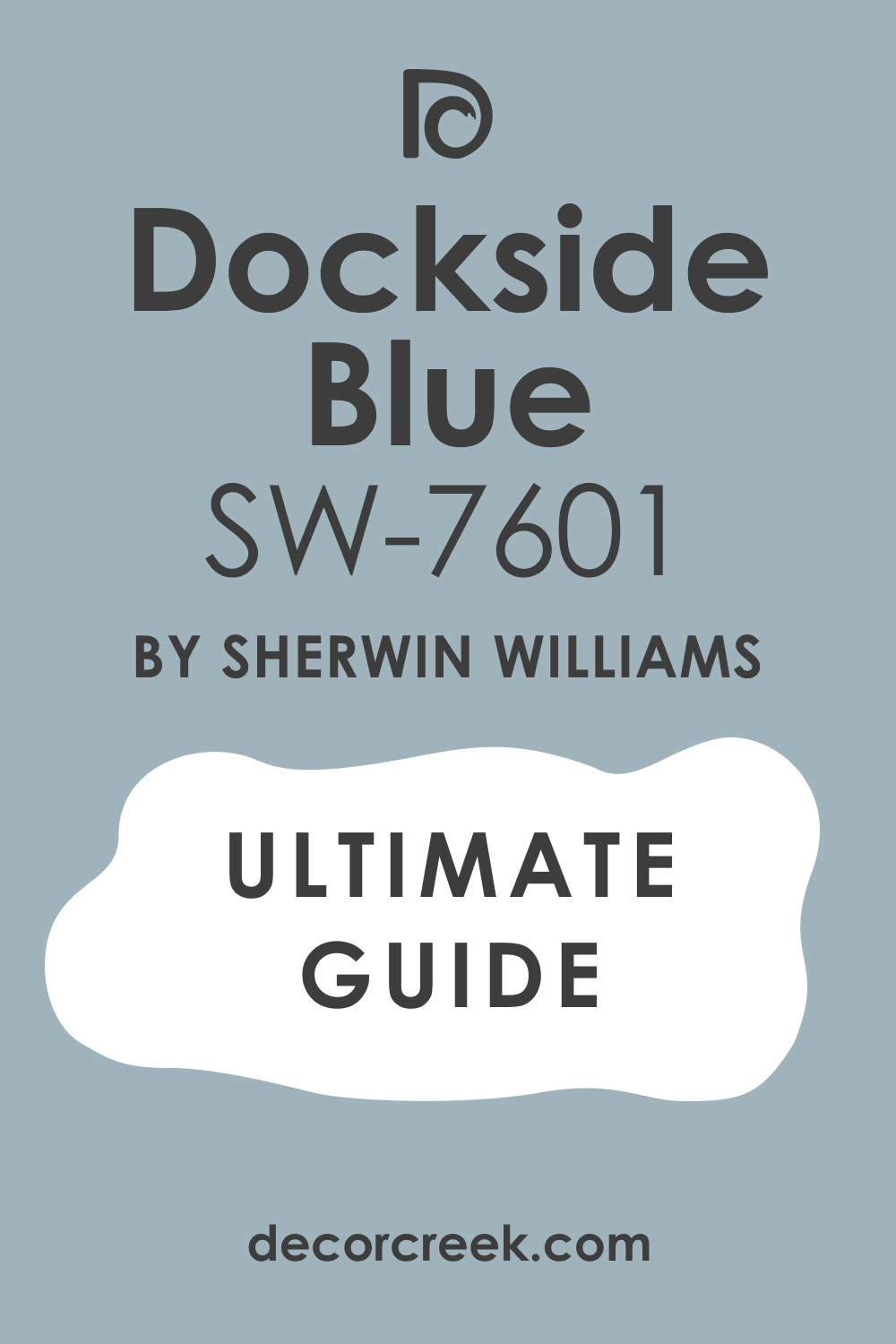 Frequently Asked Questions
⭐Does SW Dockside Blue have yellow undertones?
No, this blue is cool-toned with grey undertones.
⭐Will SW Dockside Blue work with any white?
Not quite. It works best with crisper whites and off-whites, as well as with softer whites. In any case, the white must not read yellowish!
⭐Does SW Dockside Blue work with red?
Yes, brighter reds with cool undertones pair nicely with this color.